Ooze confidence, square up to the bar, catch a bartender's eye and capture their fleeting attention for a moment, make your order known and feel satisfied that you've mastered pintxos –– the only way to eat around San Sebastian (or Donostia as it's known in Basque). These are some of the best pintxos bars in San Sebastián that we found. If you're looking for our Guide to San Sebastián itself, click here, but if pintxos bars specifically is what you need recommendations on, keep reading!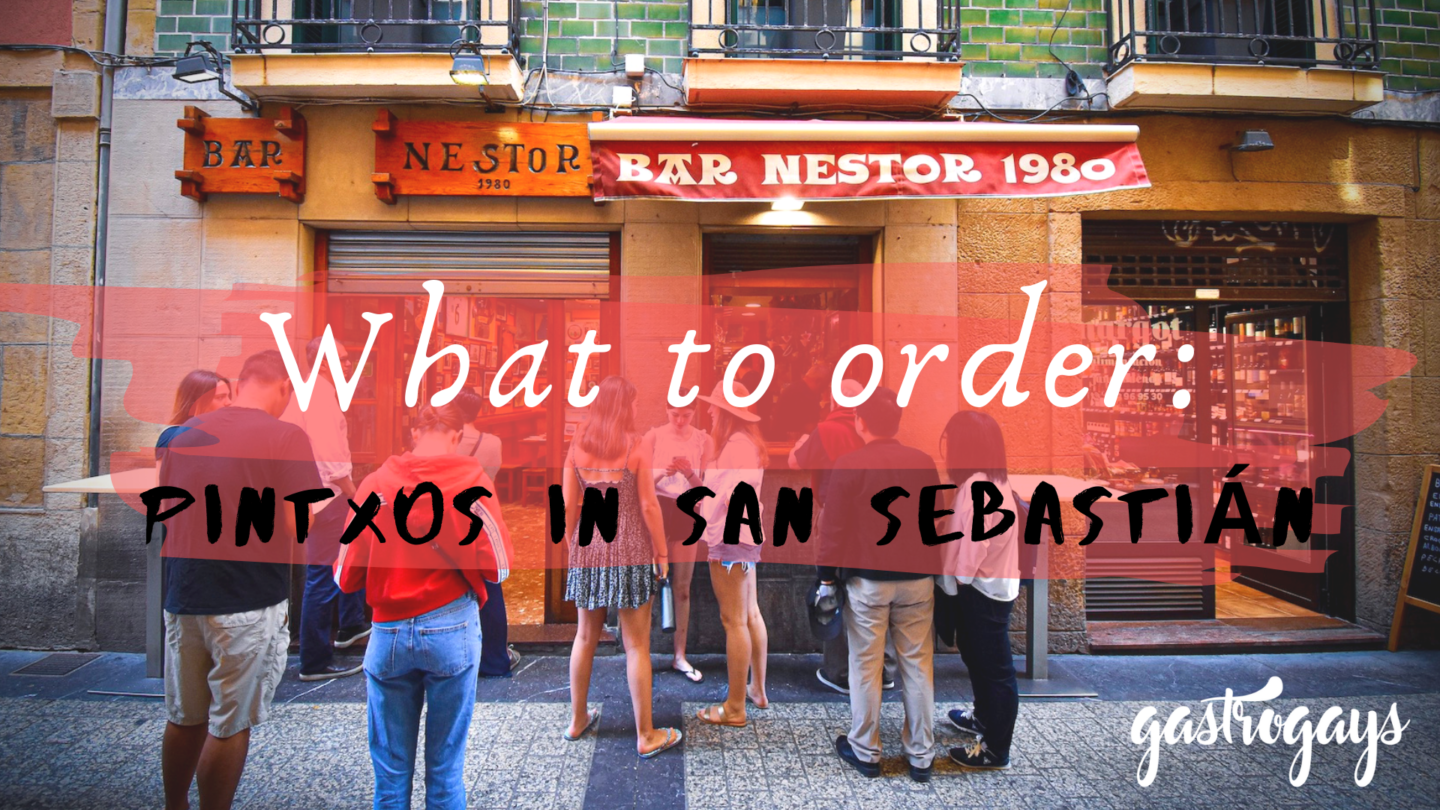 It can be a little nerve-racking to order with complete confidence in a brand new city, but throw inhibitions out the window and have courage and assuredness because in this delicious Basque city that's what's required.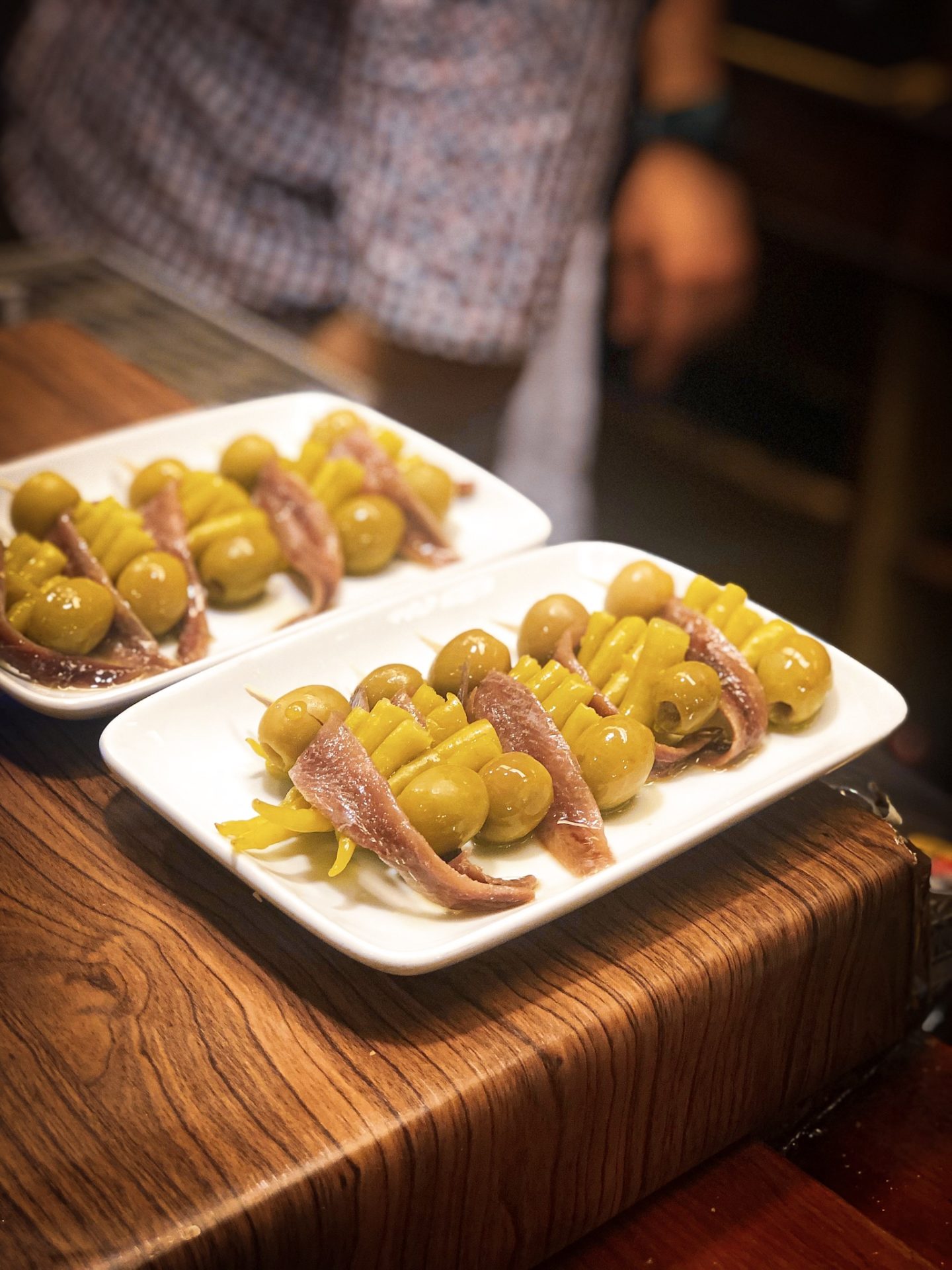 Pintxo eating is a way of life. Pintxos are so integral to San Sebastián (and its pintxos bars) that it's not only the name for a type of dish, it's also both a way of eating *and* a verb. Locals will "pintxos" for the evening, meaning moving from bar to bar eating bite-size delicious morsels, grabbing a drink and if they're in a big group you may even see them standing in a cuadrilla (a tight circle so no one can jostle into their lucrative space).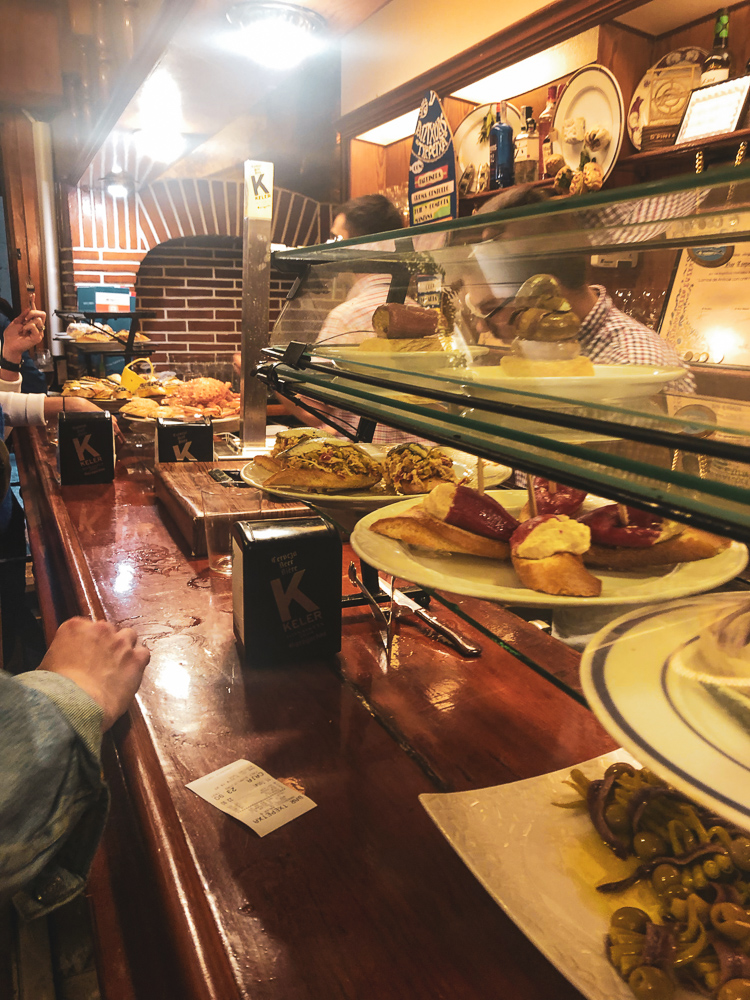 Usually smaller than a tapa, which is more of a sharing small plate served at the table, another differentiation is that in other parts of Spain there are sometime tapas dishes offered freely once you purchase a drink, but in San Sebastián, you must order – and pay for – both.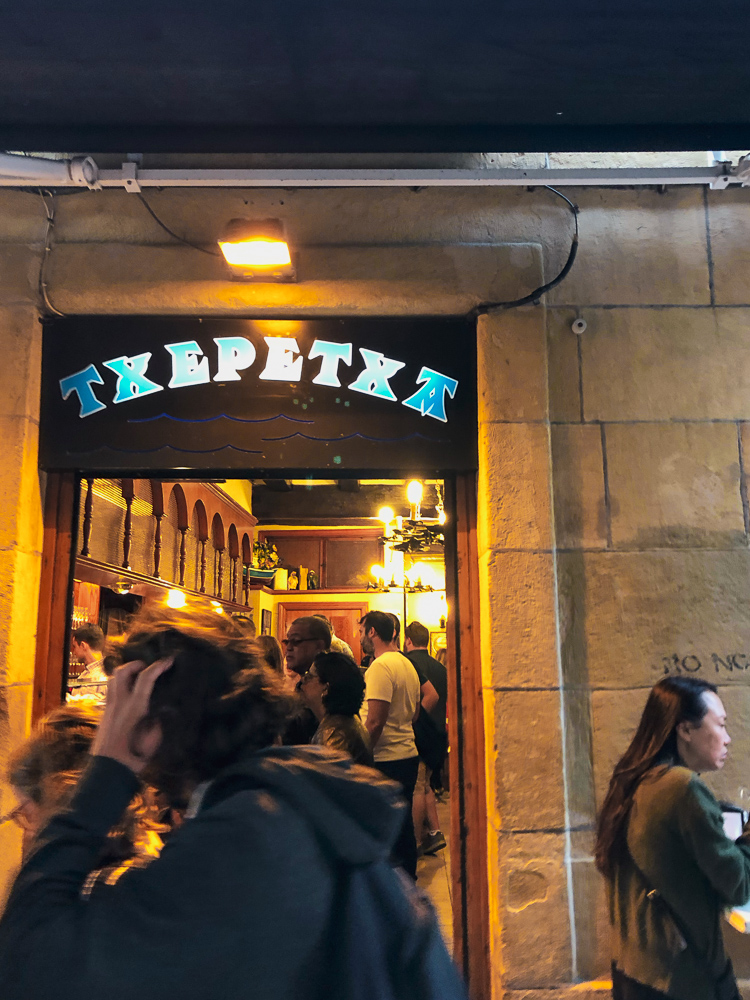 Think of it as a "pinch" of food, much like how it sounds. Pinch-oss. A small, bitesize, often handheld bite of something delicious, enjoyed standing in a busy bar whilst cradling a glass of something gorgeous and refreshing like txakoli (lightly sparkling white wine), aerated local, sharp cider or a rich red from nearby Navarra or Rioja.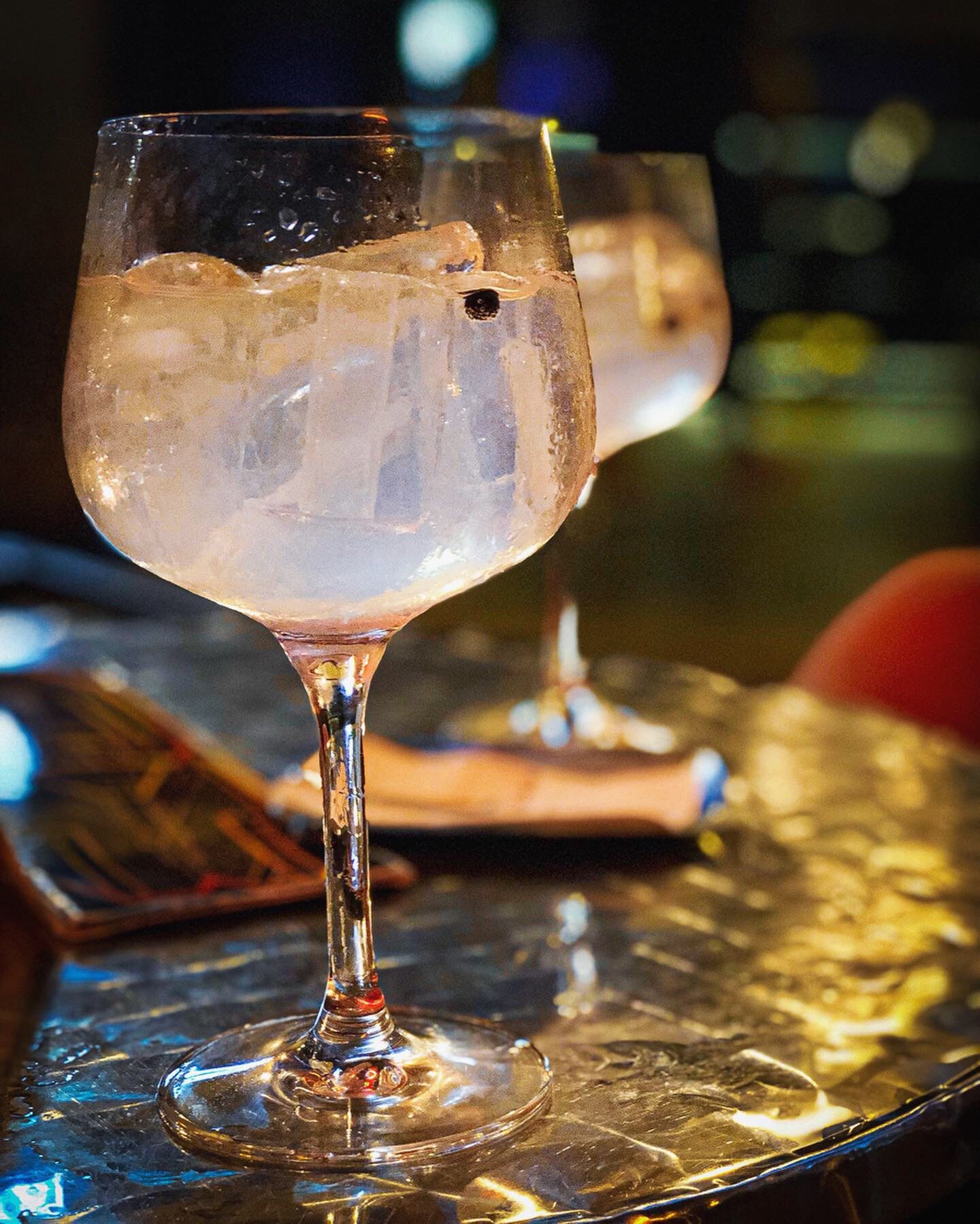 A note on grabbing from the bar. These pintxos are displayed proudly on the bar to tempt you in from the street. Basically it's a colourful, tempting market stall, a showcasing of wares, but if you want really, really fresh pintxos, these are just an indication –– order from the server to enjoy what you want straight out of the kitchen. That's not to say what's served on the bar is bad, if you are interested, simply ask for a plate and you can fill with your desired bites.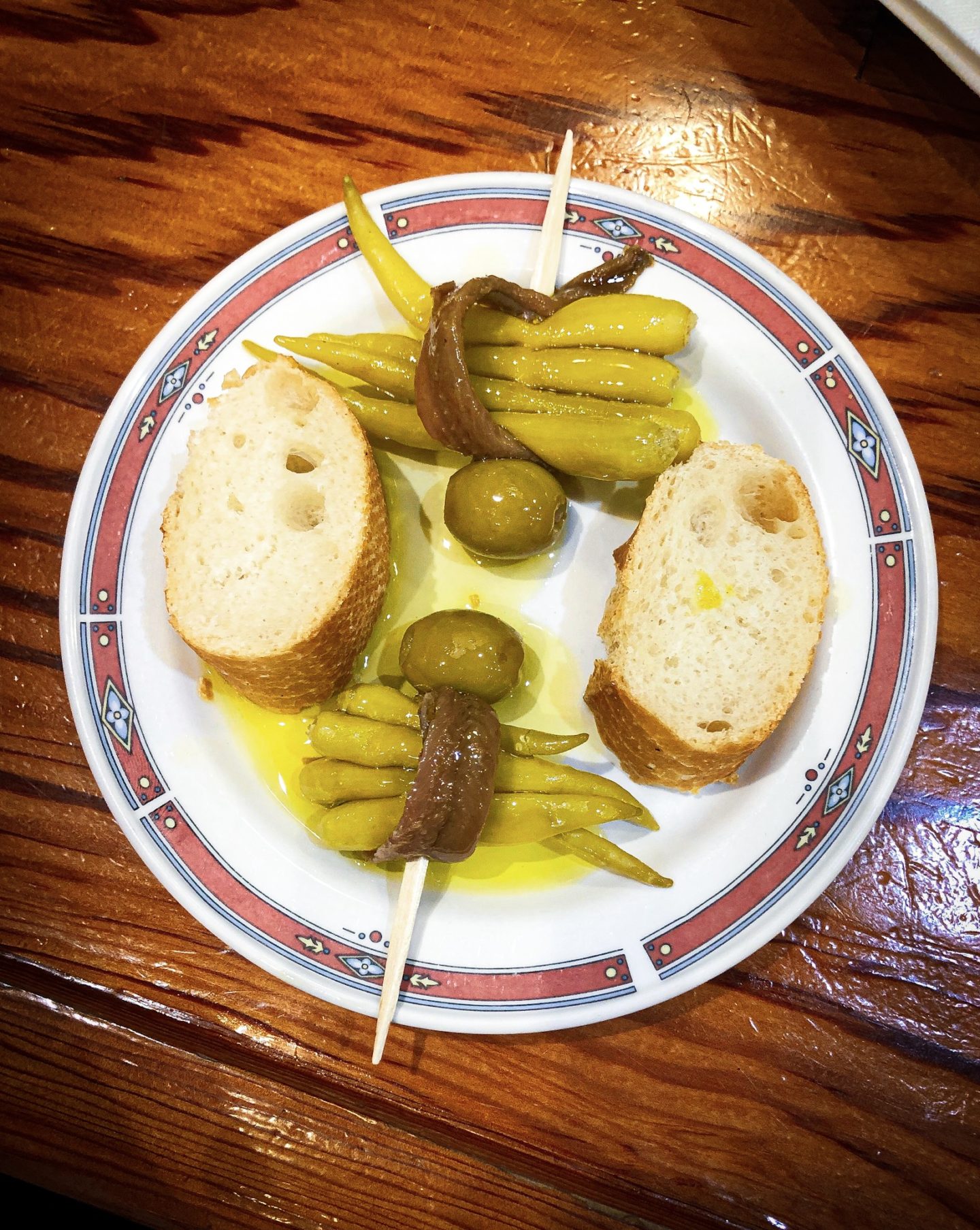 Pintxos are THE method to eat your way around the most delicious bites of San Sebastián and here's our overview of the must-visit pintxos bars in San Sebastián, plus what to order and eat in each one. Up front, this is by no means the most definitive list and isn't exhaustive. It was hard whittling it down to just a dish or two in each place, but these are the specific bites we loved and the exact way we would recommend for anyone who asks us how to eat around San Sebastián – "order X here, then Y there and finish with Z around the corner".
Basque Tarte de Queso (Cheesecake) in La Viña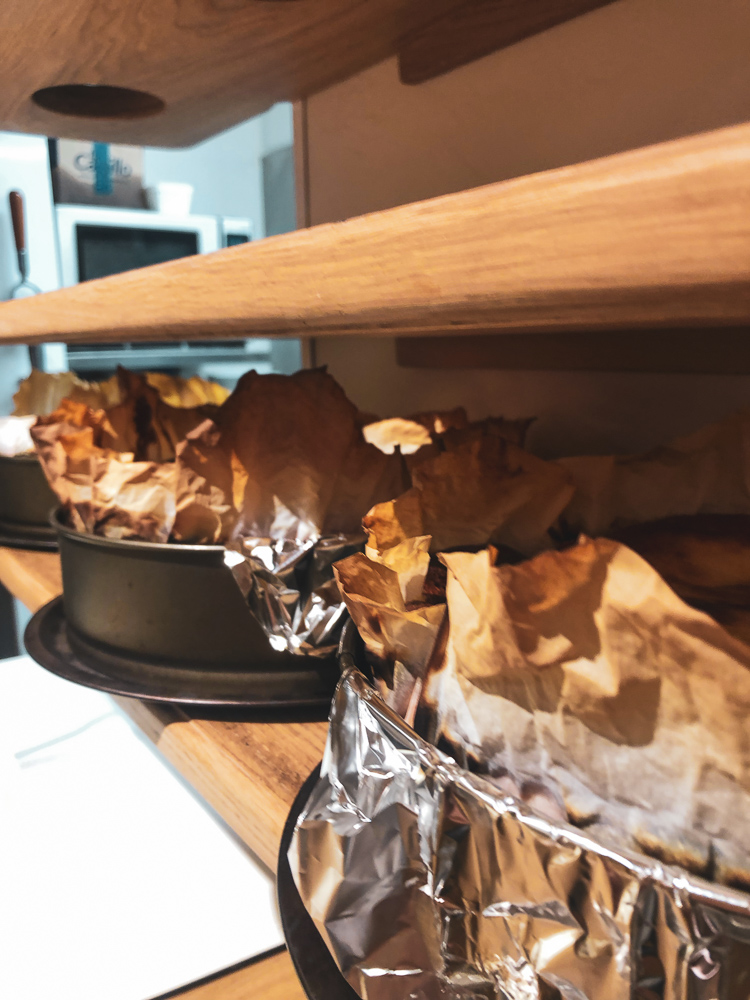 Here's the deal. These take over 24 hours to make, and are not in plentiful supply, so if you manage to get a slice of this edible heaven, be pleased with yourself. Let's track back a little –– this Tarte de Queso is a traditional Basque recipe for a baked cheesecake, but unlike the Stateside version these are crustless and have a unique texture and sharp cream cheese flavour plus a golden brown, almost burnt top.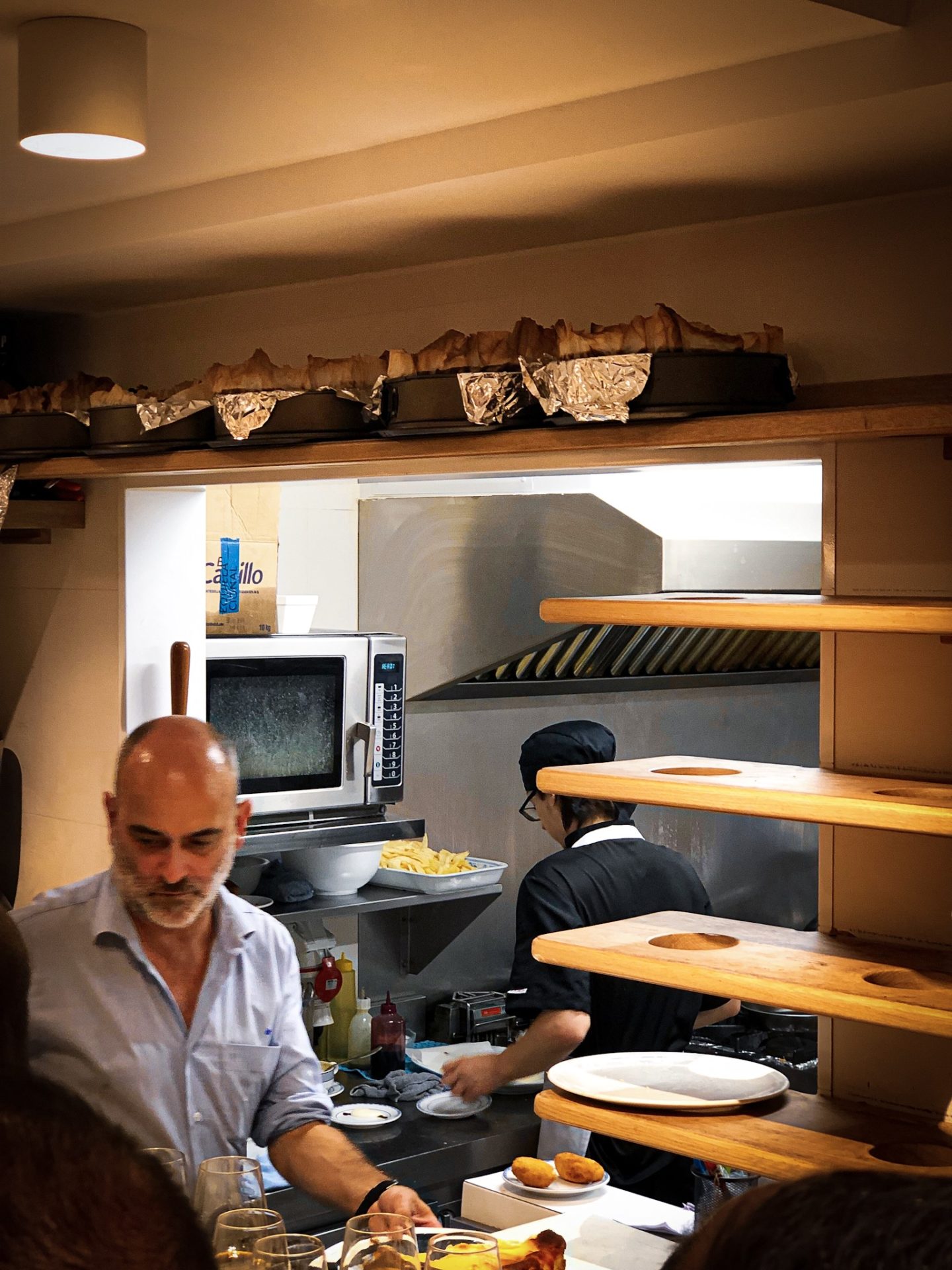 Served cold, once baked these are left 24 hours on the counter in their tins at La Viña before being cut – you can see them lined up above the kitchen pass, patiently waiting to be ready. The reason being, if they try to slice it beforehand (even with big demand) the texture will not be right and it will fall apart. You need to patient for this deliciousness, which is around €5 a slice.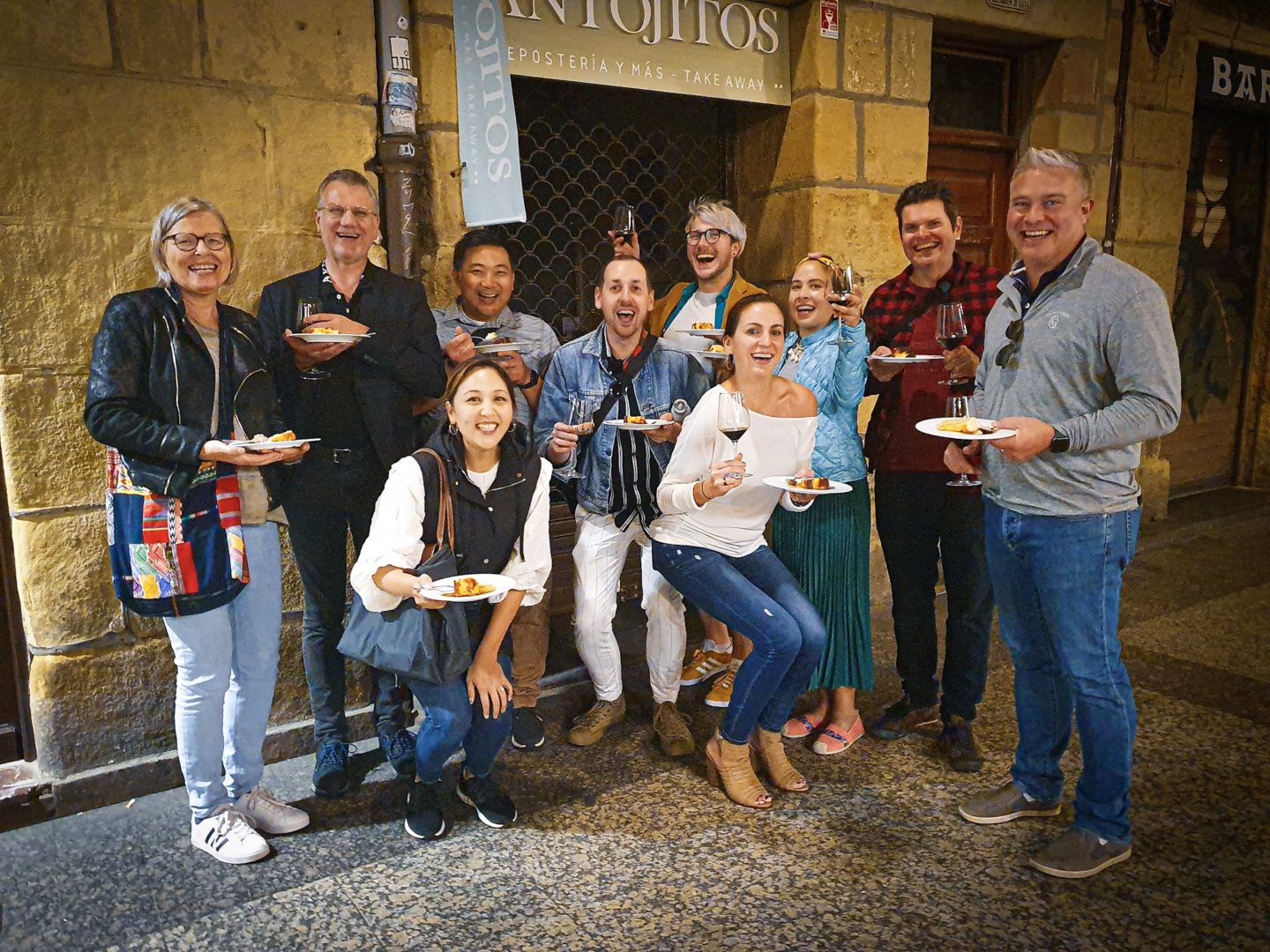 Enjoy alongside a glass of raisin-sweet, viscous Pedro Ximeniz sherry, which offsets and complements the full-flavoured cheesecake perfectly. We suggest tipping a little of your glass over the cheesecake. Trust us. Open 11am – 2:30pm; 7pm – 10:45pm, Tuesday to Sunday, located at 31 Calle de Augusto.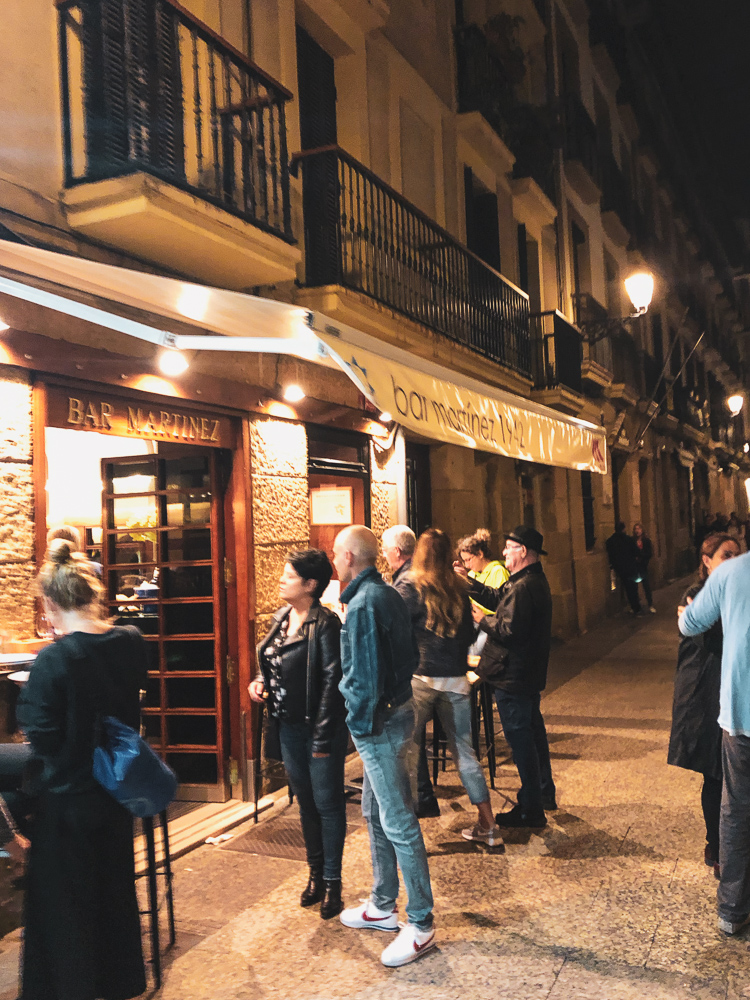 Grilled Octopus at Atari
Part of the Gastroleku group with several bars and restaurants across the city, Atari is set on the corner right opposite the Basilica on Calle Mayor.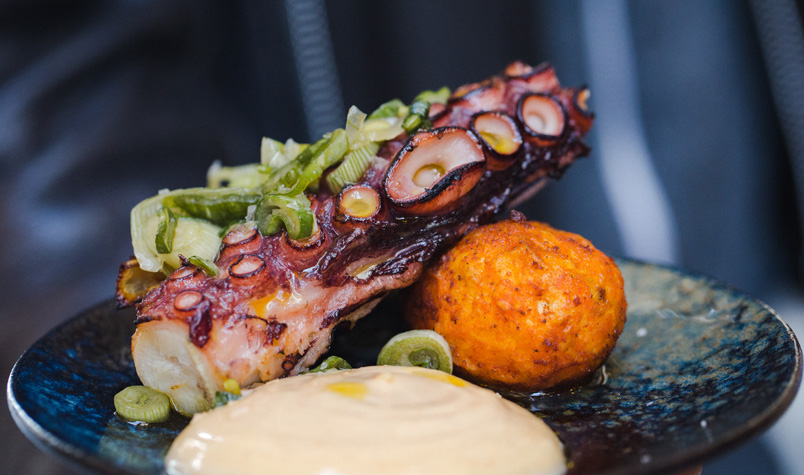 What you need to try here is the octopus with new potatoes, onions and spiced aioli. A version of this (with sweet potato puree instead of potato and kimchee mayo instead of the spiced aioli is available in Aste148, also part of this group). This is not technically a pintxo, but a larger plate served in a pintxo bar. The colours, the textures, the freshness –– it just looks so tempting, doesn't it? It costs around €20 a plate, but worth it.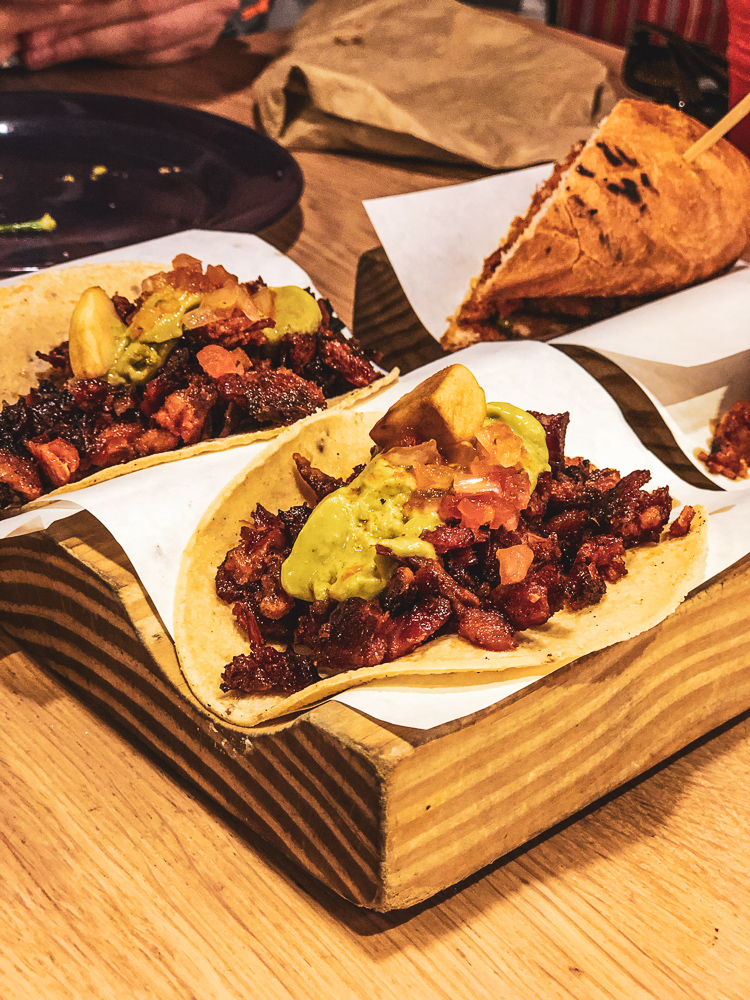 We also had the beef cheek with mash here which was fabulous too, as well as a choripan pintxo too. They have a huge selection of gin here, so also a great shout to order a gin and tonic, we had one each and also a vermut and tonic each. The bar Sirimiri next door is also part of the same group.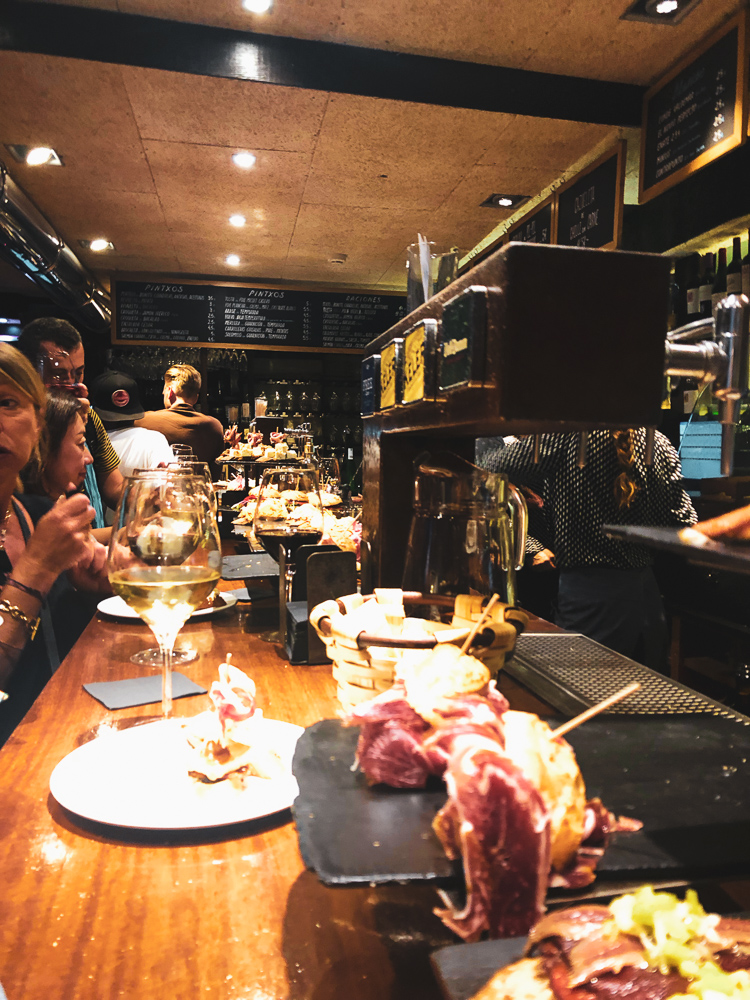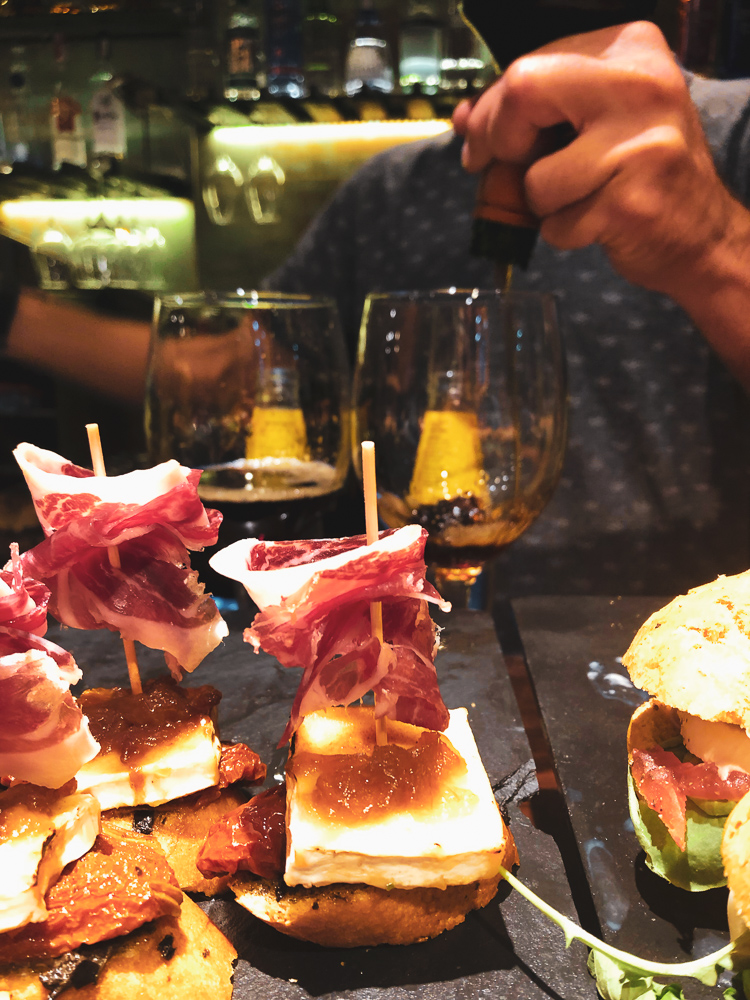 Atari opens from midday every day until 1:30am daily, with a later opening until 3am on Friday and Saturday nights.
Solomillo a la Plancha (Grilled Sirloin) at Gandarias
It has to be said, Gandarias has one of the most inviting and delicious-looking spreads of pintxos in all of San Sebastián. Top tip, too, is that this place doesn't close for siesta (like Atari and Aste148) –– so in the middle of the day when you're craving something delicious, this place will be your saving grace!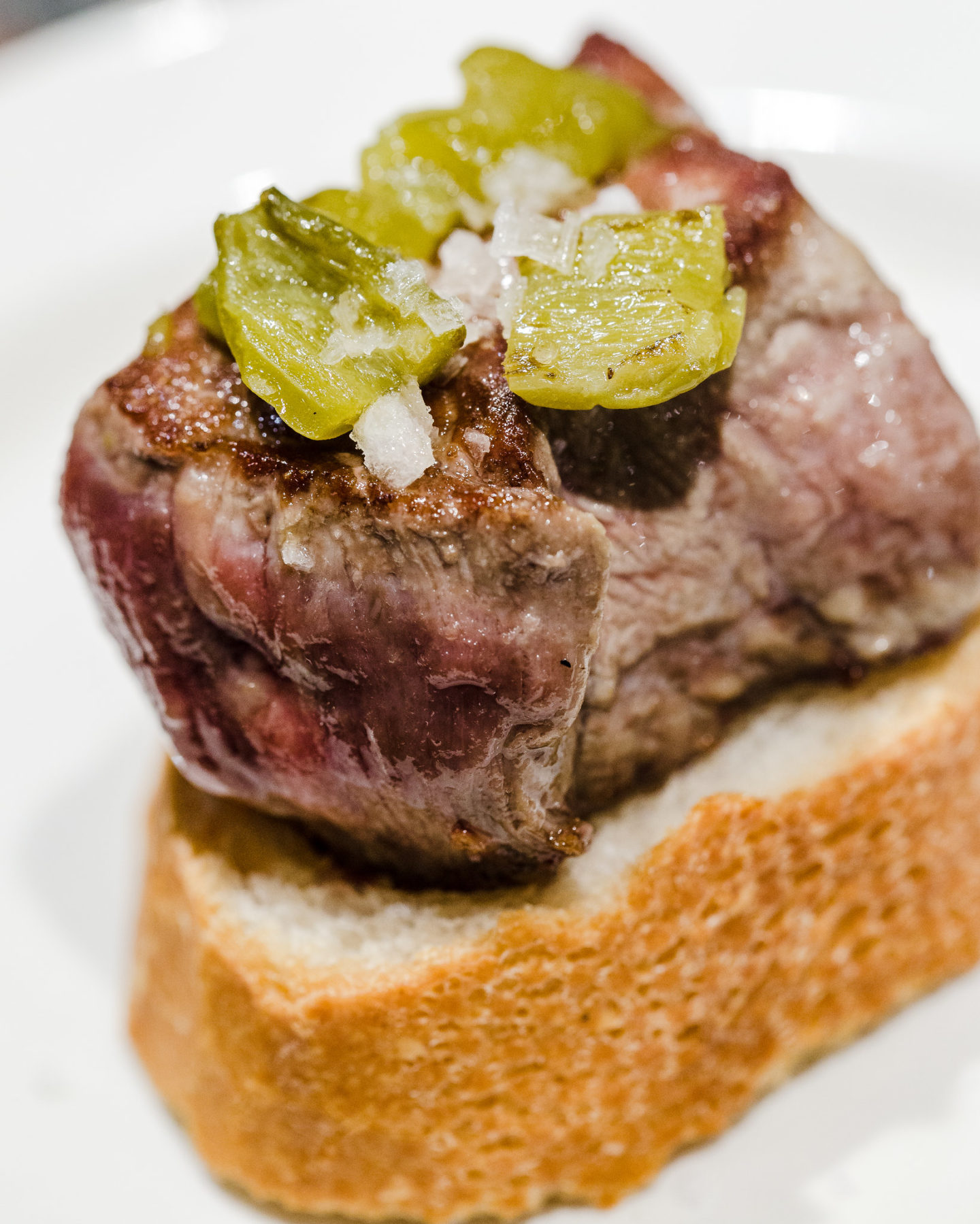 Incredibly inviting – located on the corner unit at 31 de Agosto Kalea, 23, – this is a sprawling spot with a large bar, high ceilings and hanging hams with tile interior and high tables. The iconic, most-ordered and most popular pintxo here is one of the simplest and most straightforward –– solomillo a la plancha, grilled, aged sirloin steak in a bite-size, served on a slice of untoasted baguette with a fried padron pepper and lots of flaky salt. Juicy, sharp, a light kick of backnote spice, salty, soft, charred. One (or maybe two) mouthfuls of pure flavour. They also have an incredible selection of wines, especially really rich, juicy, spicy, oaky reds. Gandarias, located at 31 de Agosto Kalea, 23, opens from 11am 'til 12am every single day!
Antxoa (anchovies) & Gilda at Txepetxa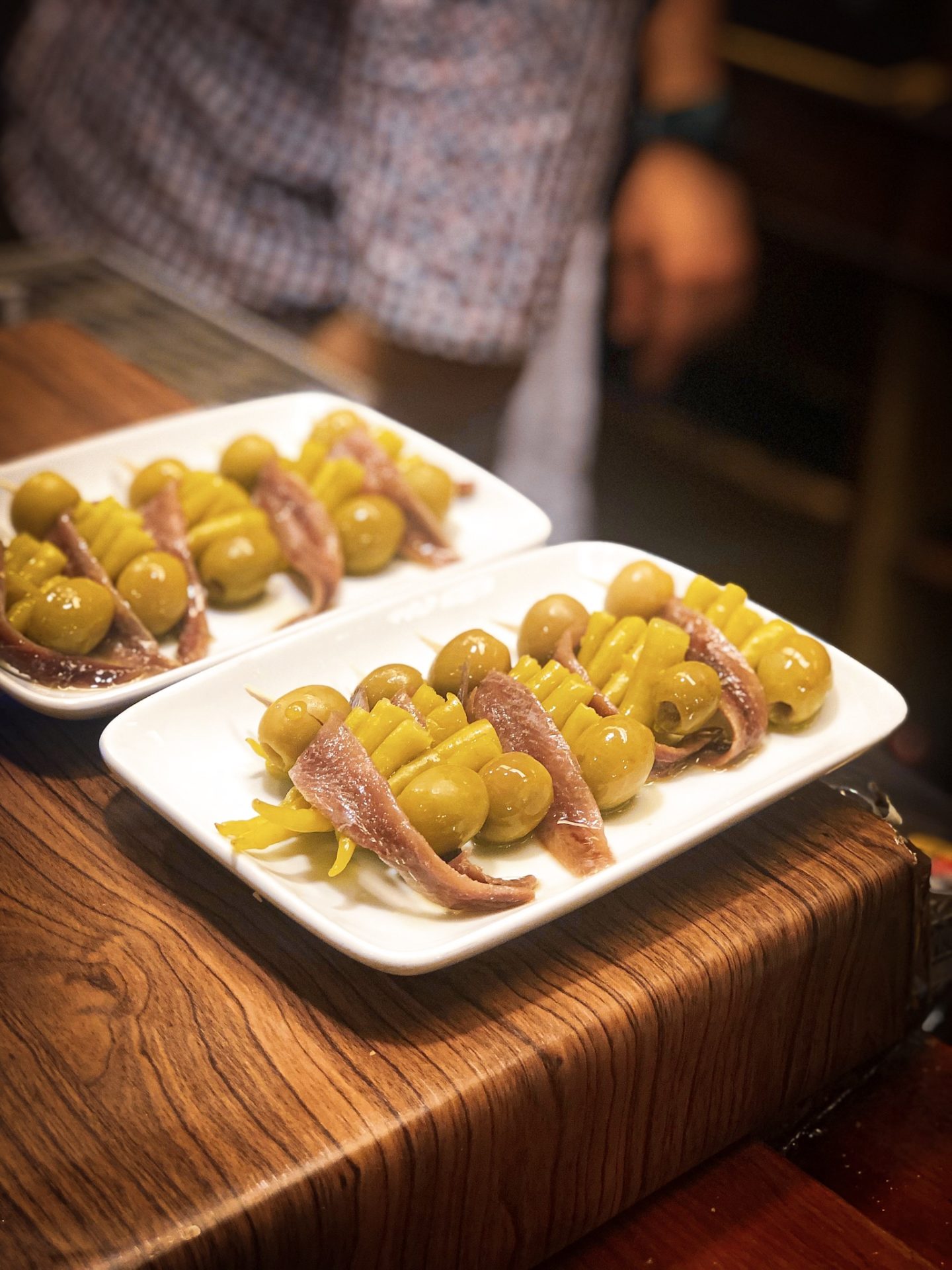 The Gilda (which is pronounced 'Hilda' in a Spanish/Basque accent) is possibly the most iconic Donostian pintxo of all, because it was the one that started it all. A simple combination on a cocktail stick – the traditional method for serving pintxos, as the word comes from spike/pincer/spear – consisting of a couple of guindilla peppers (those pale green, long peppers) sandwiched between a briny olive and a sharp anchovy.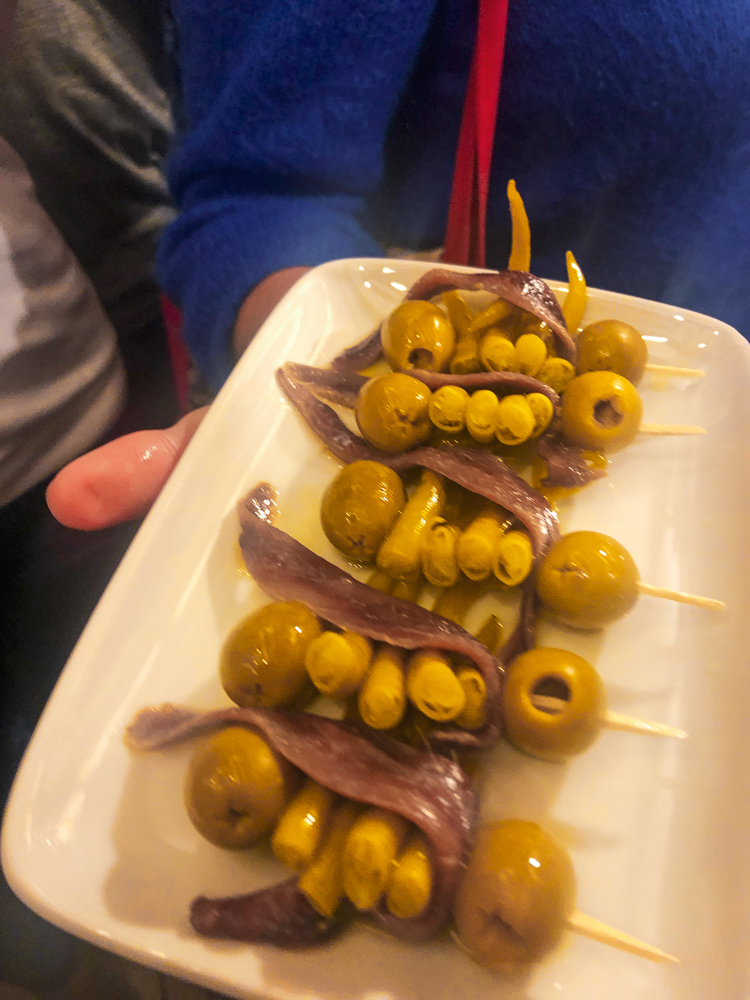 A flavour explosion in one mouthful of hot, sweet, salty and savoury with both crunch and soft meltiness, its beauty lies in its simplicity.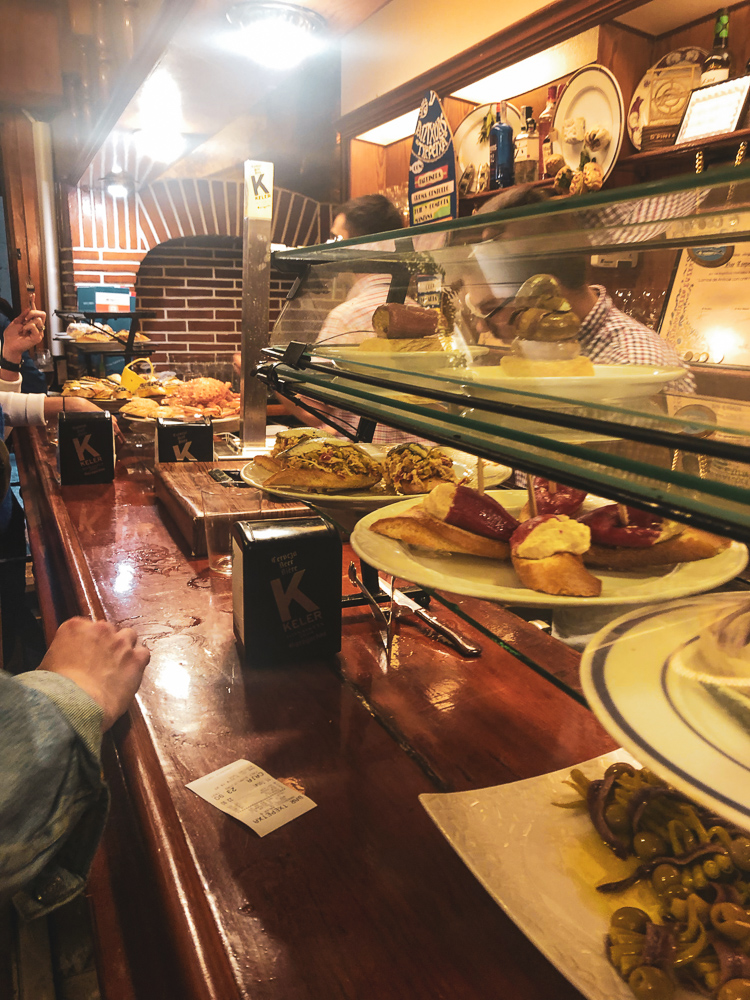 Named after Rita Hayworth, who played the lead role in the film of the character's name, the Gilda dates back to the mid-Forties when the film came out and at Txeptxa they are renowned for their anchovies so this is one of the best places to try this small bite.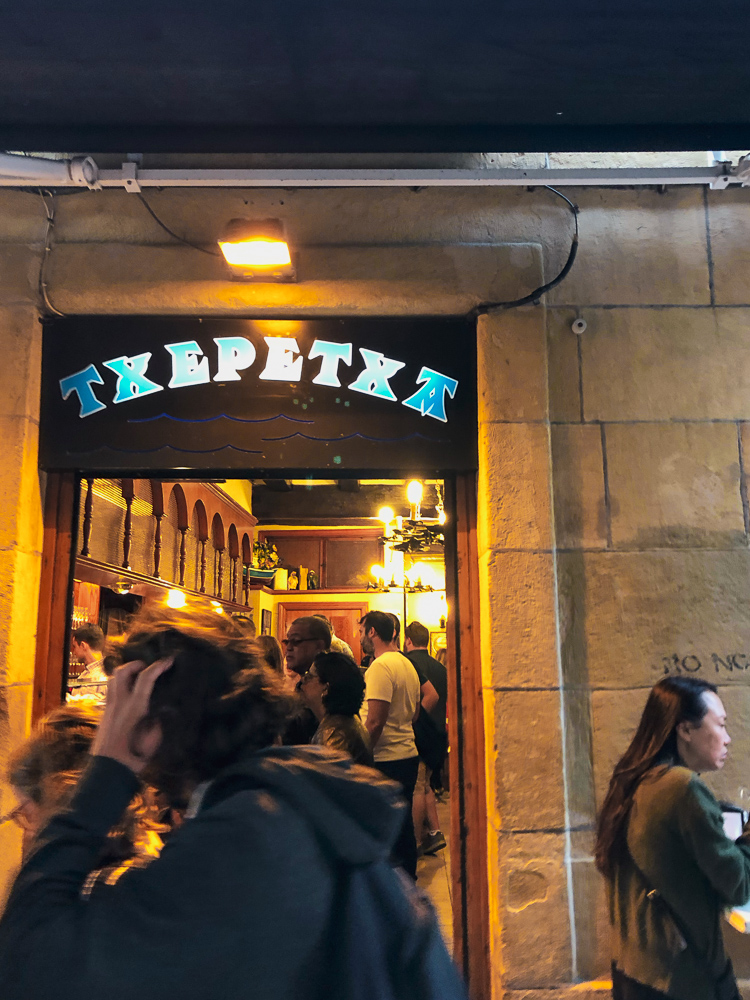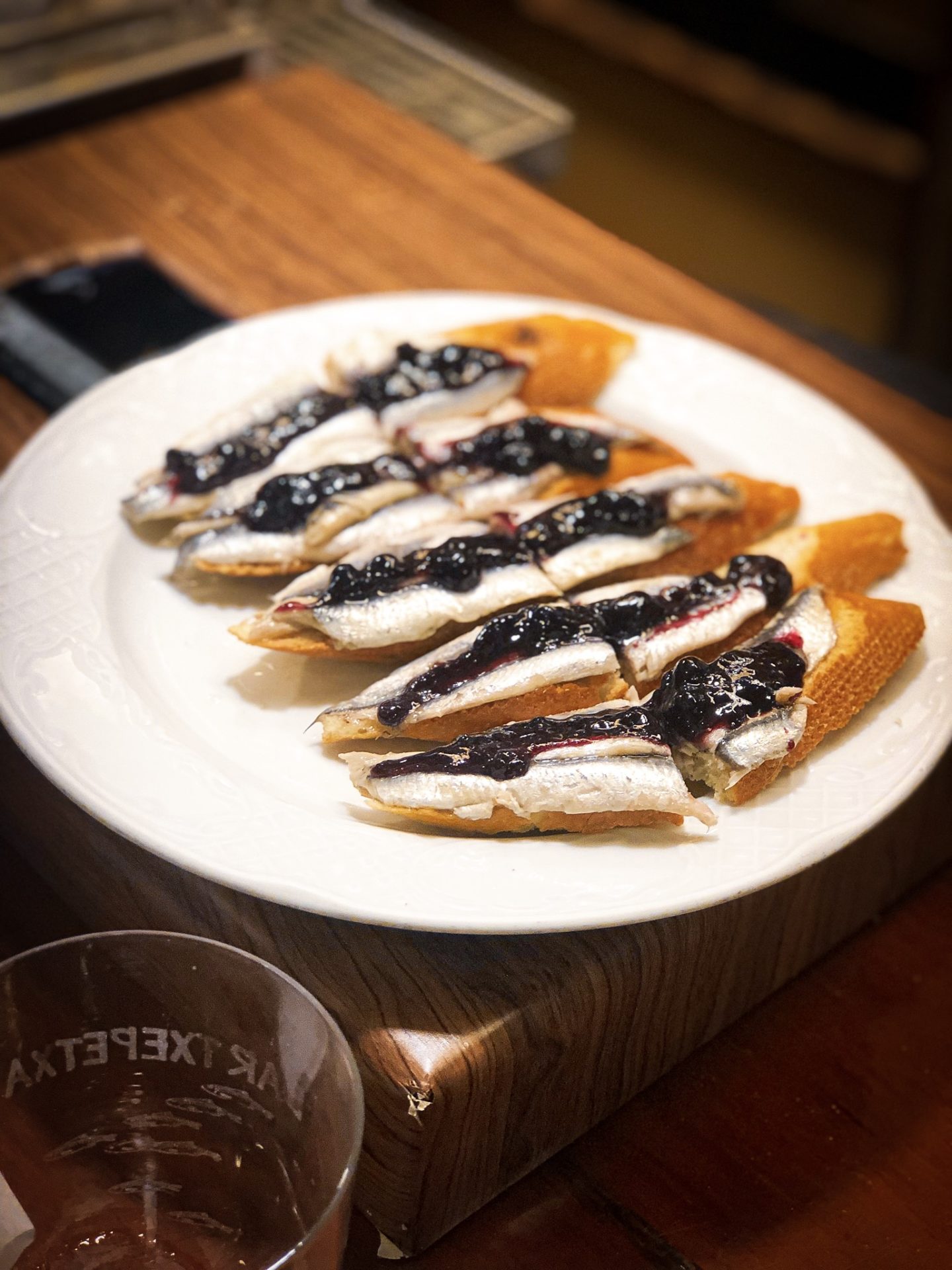 Award-winning for their pintxos, their anxoa marinade is still a closely-guarded secret, and they serve them in various different ways, always using local Cantabrian anchovies and usually on rustic slices of fresh baguette. Try some with tapenade, some with jardinera (onion and pepper) salsa and arándano, with blueberry jam spread atop –– again, trust us. You'll thank us later. Open 12 – 3pm; 7 – 11pm, Tuesday (evening only) to Sunday and located at Arrandegi Kalea, 5.
Tortilla & Txuleta (steak) at Bar Néstor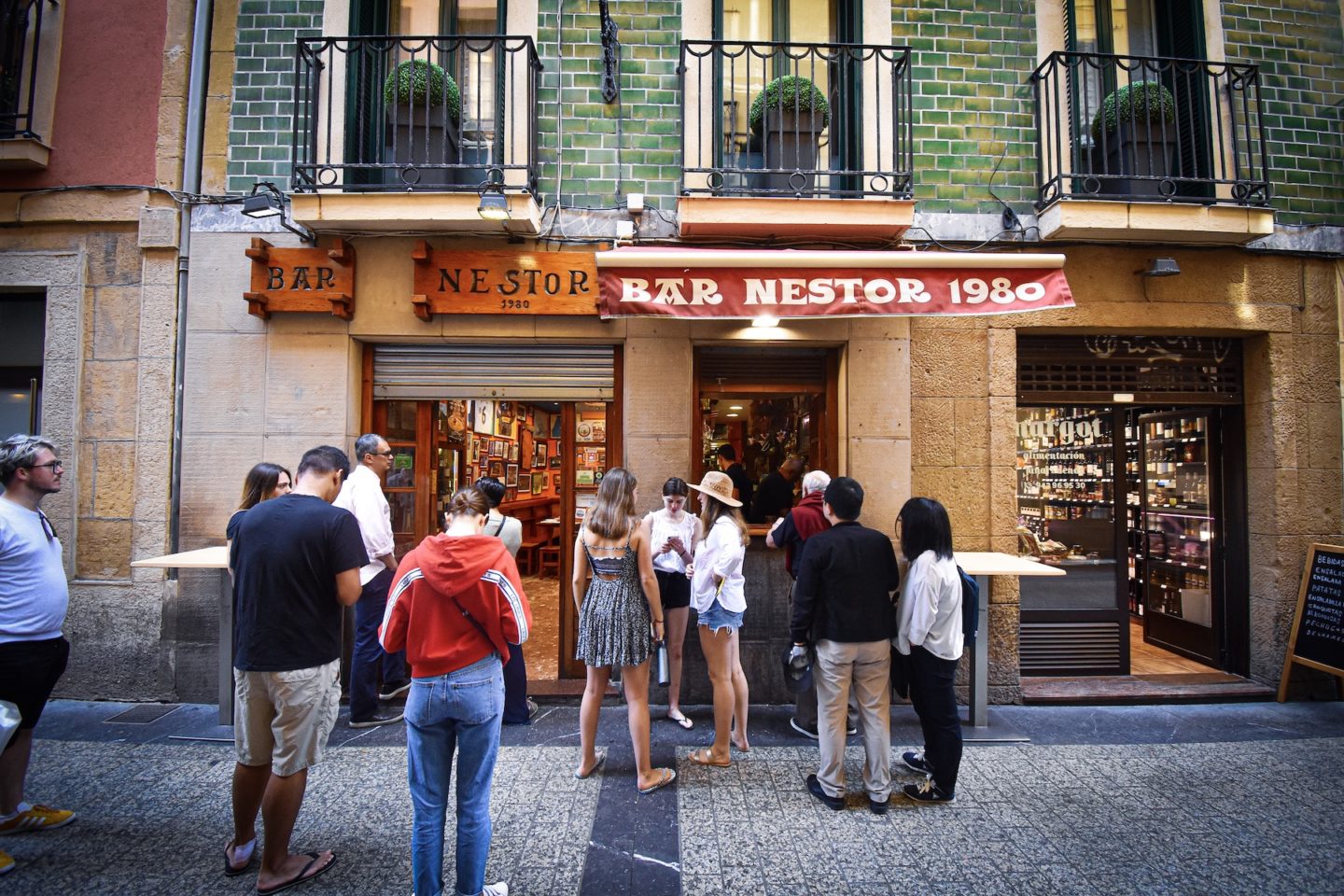 Another two-for-one here but both dishes are so iconic. Bar Nestor is an internationally-known bar at this stage and, truth be told, the only one in this list we had heard of long before we even planned a trip to San Sebastián. The reason this place is legendary (other than being in situ since 1980) is for two dishes in particular – the soft-in-the-middle, just-out-of-the-oven Spanish tortilla comprising very simply eggs, onion and potato; and the cooked to-order aged txuleta (steak) on the bone. So technically speaking, this is not a pintxos bar. But forgive us, because we need to tell you everything…

Timing is everything here. They open at 1pm, but you really need to be in the queue at about 11am. The shutters may only be just about up and there may be a queue of people already. Join the queue, put your name down for one of the slices of tortilla. There is only one made every lunchtime and one every evening, cut into 16 slices. So when it's gone, it's gone. AND you need to come back early, or at whatever time you've been told, to get your slice –– which is brought out of the kitchen almost in ceremony, but the moustached Néstor himself.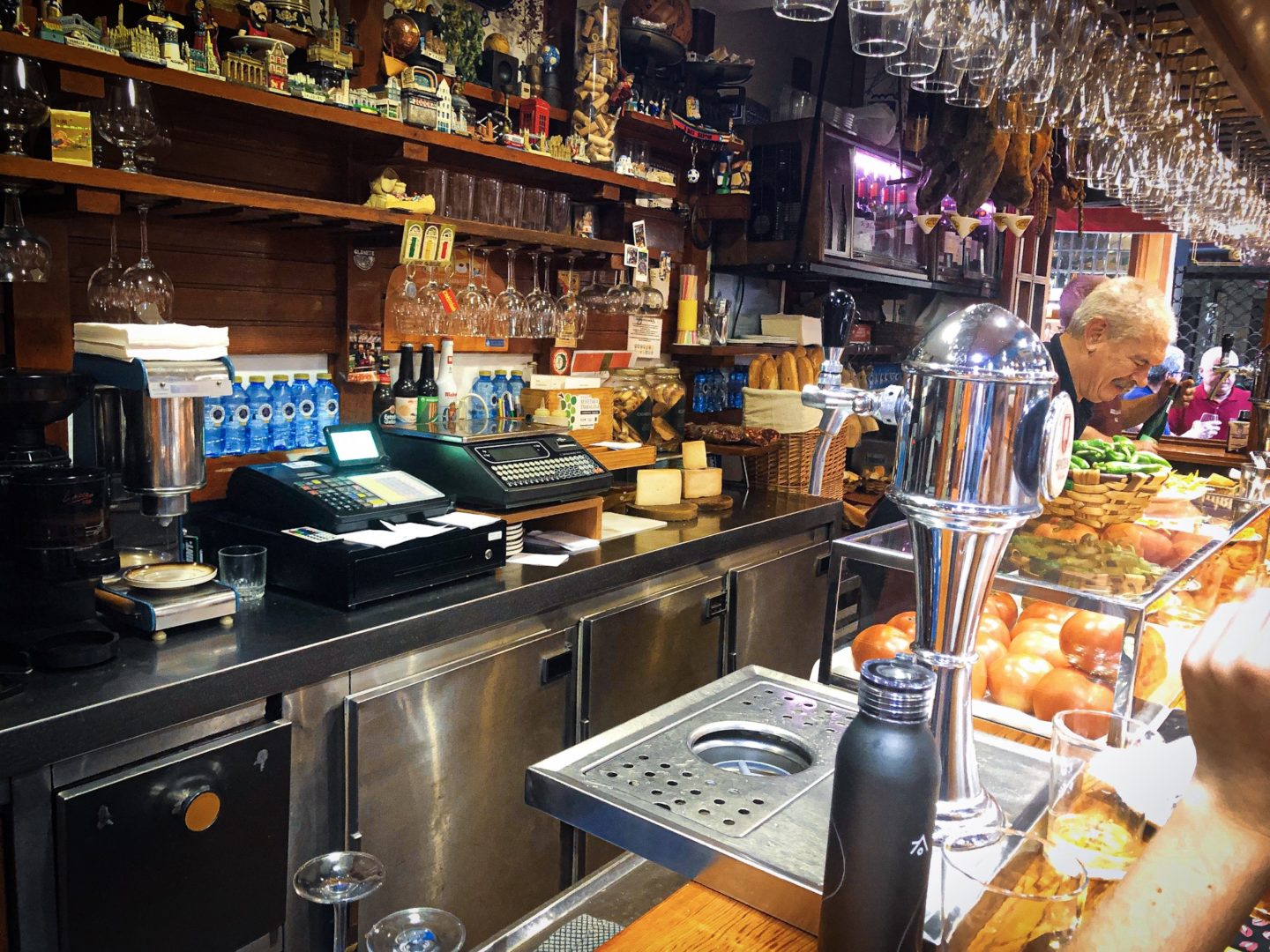 There's also only two tables, so you'll most likely be standing or perched by the bar. Sadly, we missed out on a slice even though we were just a few people shy of the top of the list, but we're including this because apparently it's a must-try, so it's top of our list for next time.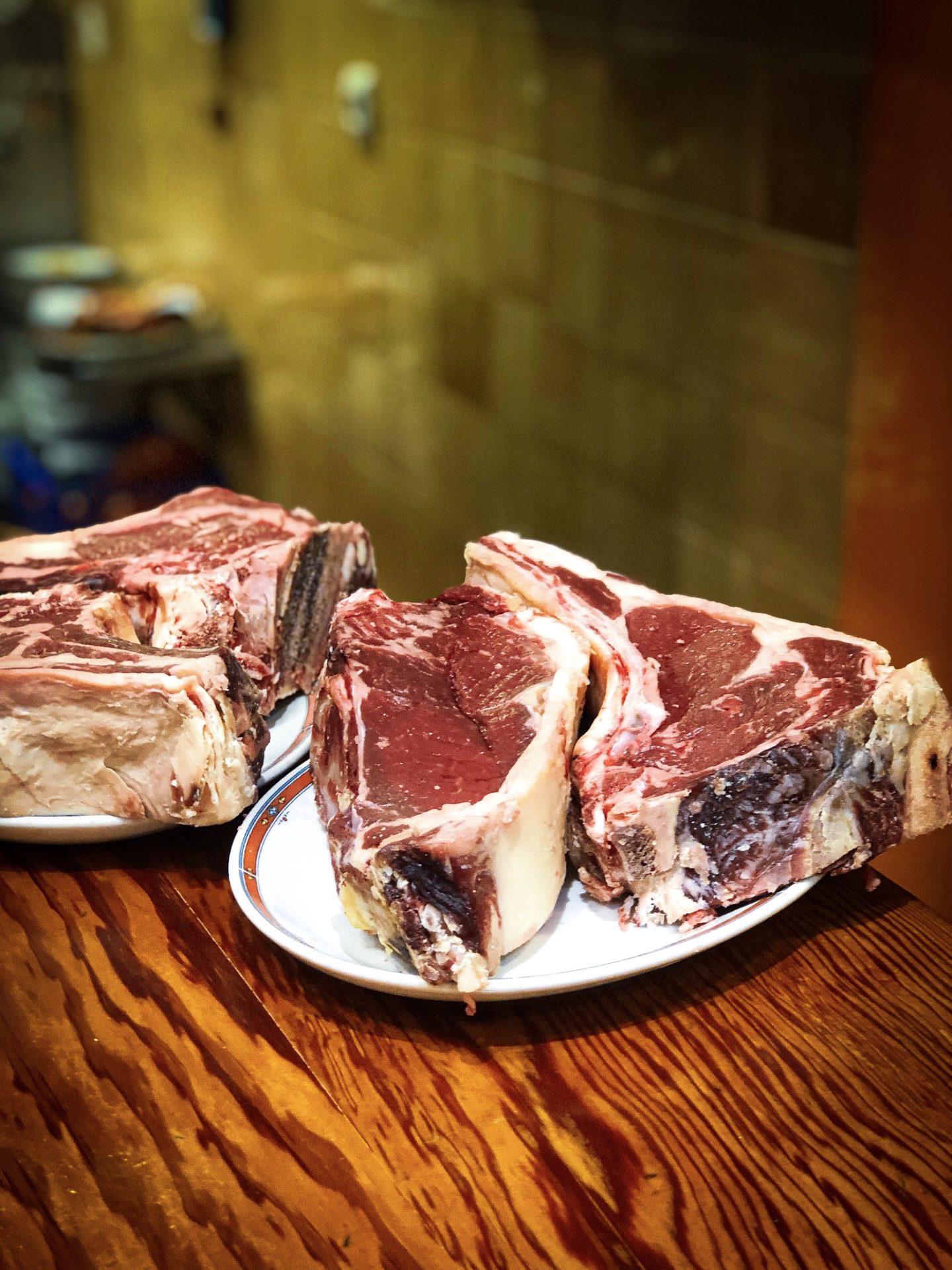 What we *DID* have was the txuleta, with which you choose from either a sirloin or rib-eye aged steak, brought out to you and chosen by appearance before being weighed and whisked back to the pokey kitchen to cook each one to medium-rare perfection. To sate you while you wait, you can also order the padron peppers (which are pain-stakingly pan-fried in lots of oil and then liberally scattered with flaky salt) and the tomato salad, which is very simply fresh tomato, roughly chopped and doused in oil and salt plus a basket of bread (which we didn't touch as we didn't want to fill up before the steak) on the side.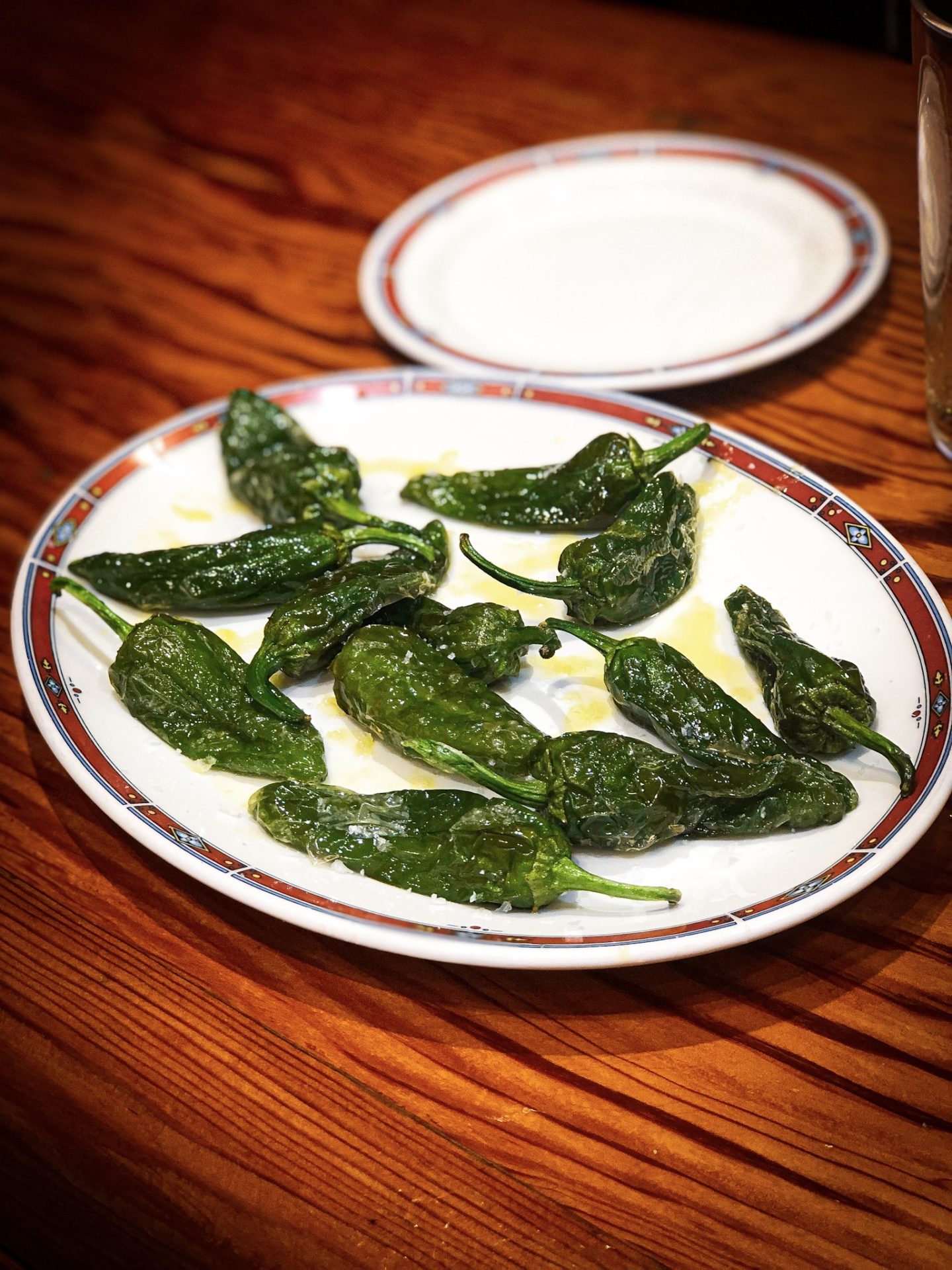 The steak arrives still searing on its hot stone, sliced thickly for you and finished with a scattering of salt flakes. The fat is juicy, sweet and intense, the meat aged to perfection, seared and smoky on the outside and meltingly soft and supple within. One will feed two perfectly, it may even stretch to three or four, combined with the other dishes.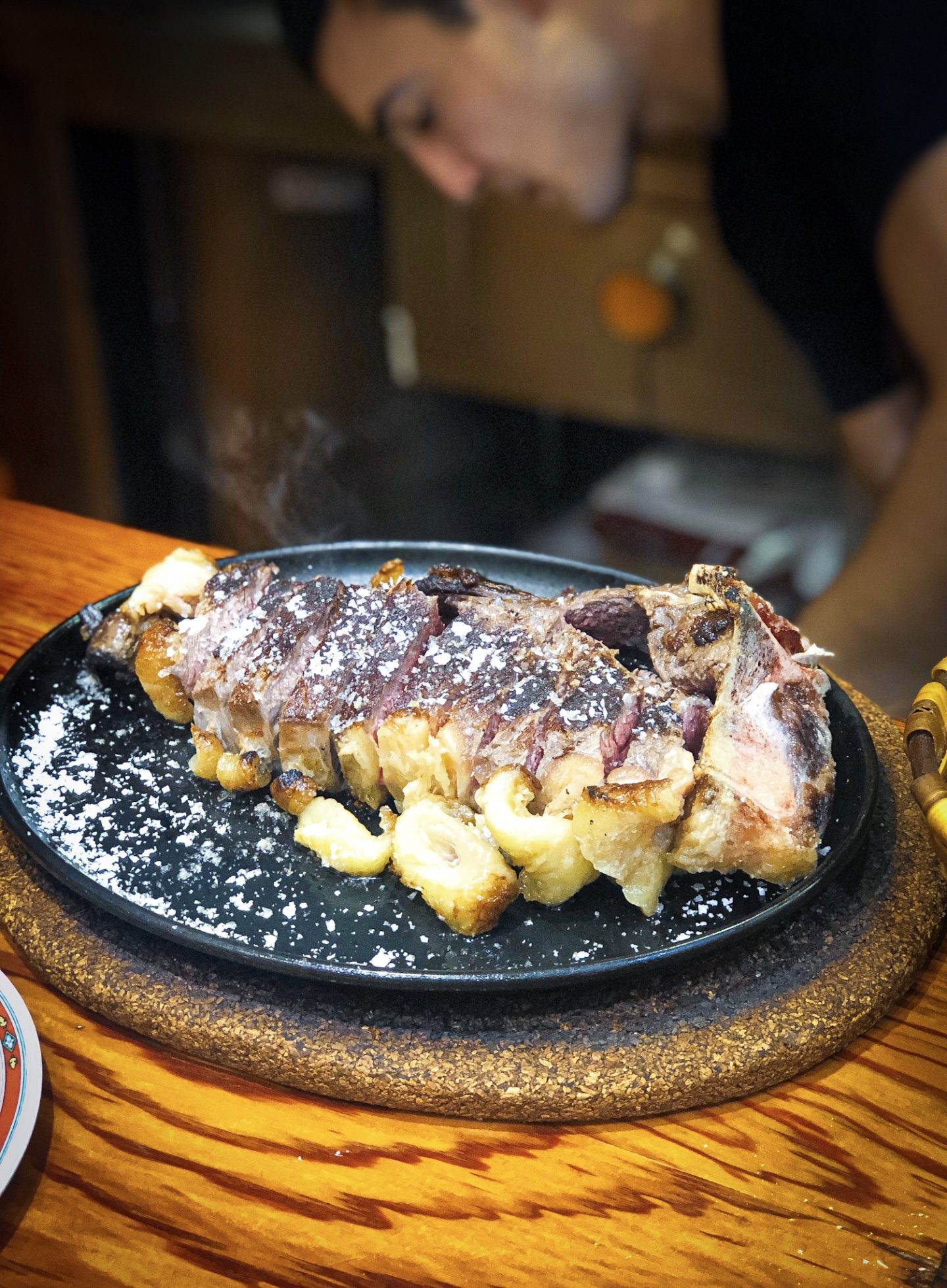 We barely spoke to one another whilst eating it. It was perfection. The whole experience for us was about €50, and it was our last bite of food on our very first trip to the city. What a way to go! Opens 1pm – 3:30pm; 8pm – 11pm, located at Arrandegi Kalea 11.
Grilled Duck Breast with Pineapple at Aste148
Also part of the Gastroleku group, this place has a prime spot just tucked off a corner of Constitución Plaza and is well-regarded for several dishes and has a busy counter filled with tempting pintxos. Try get one of the small tables and order a couple of raciones, which are like tapas-sized portions, and the best of the them is the grilled duck with pineapple which is an absolute steal at €5. Now, we know duck and warm pineapple can polarise people – ourselves included – but take our word for this. This is mouthwateringly beautiful, rich, sticky, sweet and juicy. Savour every mouthful.
There's also a grilled octopus dish here, served with sweet potato purée and kimchi mayonnaise (kind of a twist on a similar dish at sister site Atari) but it's a hefty €22 but they do a smaller pintxo portion for €6 too. Sometimes they also have truffle risotto on the board, which is well worth ordering too! We think it's the 'seasonal rice' dish on the menu, but we could be mistaken. Worth asking for anyway!
Aste148 opens from midday 'til 1:30am every day of the week, so like Gandarias is open right through the afternoon.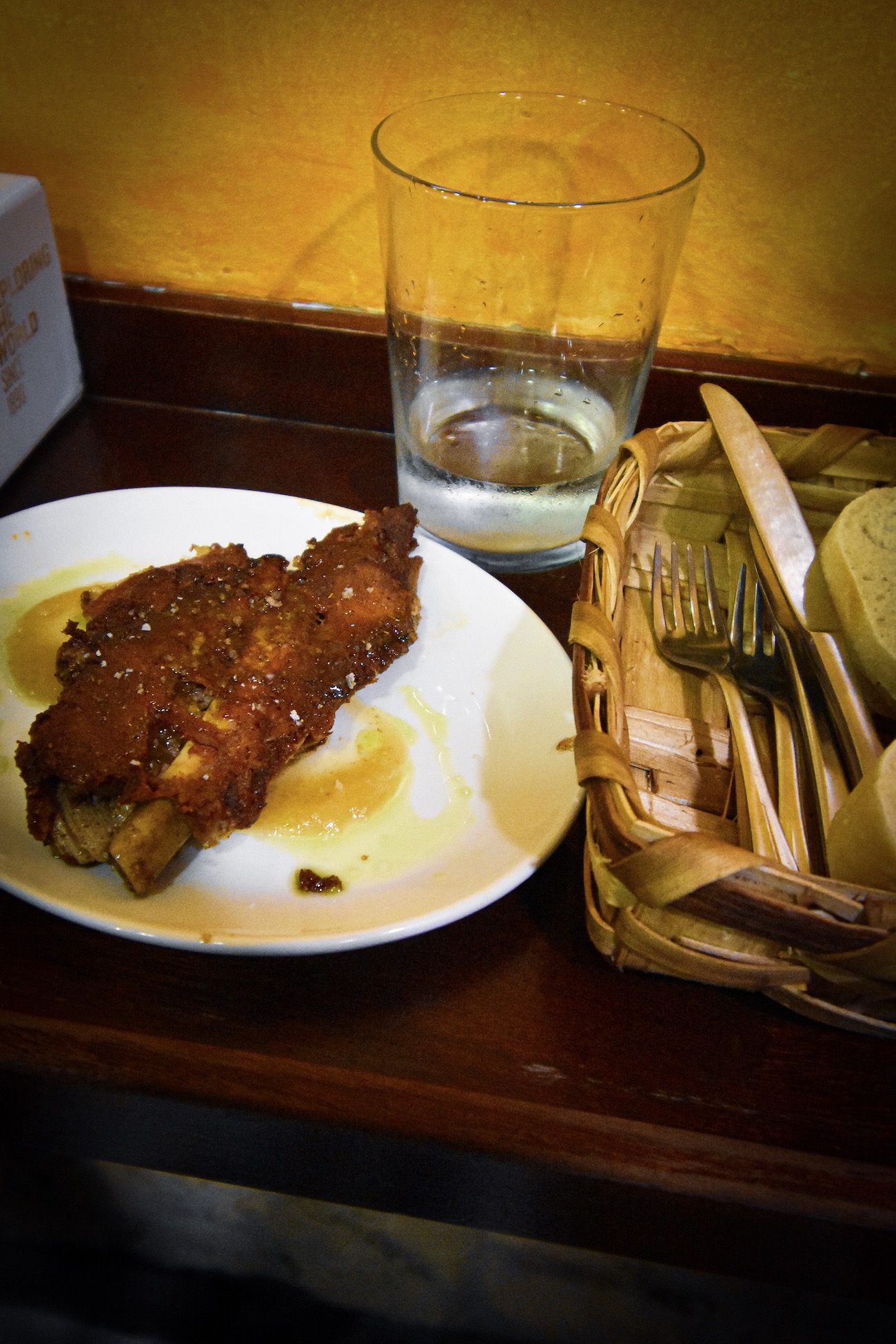 Not a kebab in your traditional sense, these are pork ribs (costilla de cerdo) that are melt-in-the-mouth delicious, sticky and charred from the grill. So moreish and the perfect hot bite for a cold glass of cider. We think our portion cost like €4 and there is a small blackboard with all the menu items on it, so the menu changes frequently with what's in season and what's freshest/best.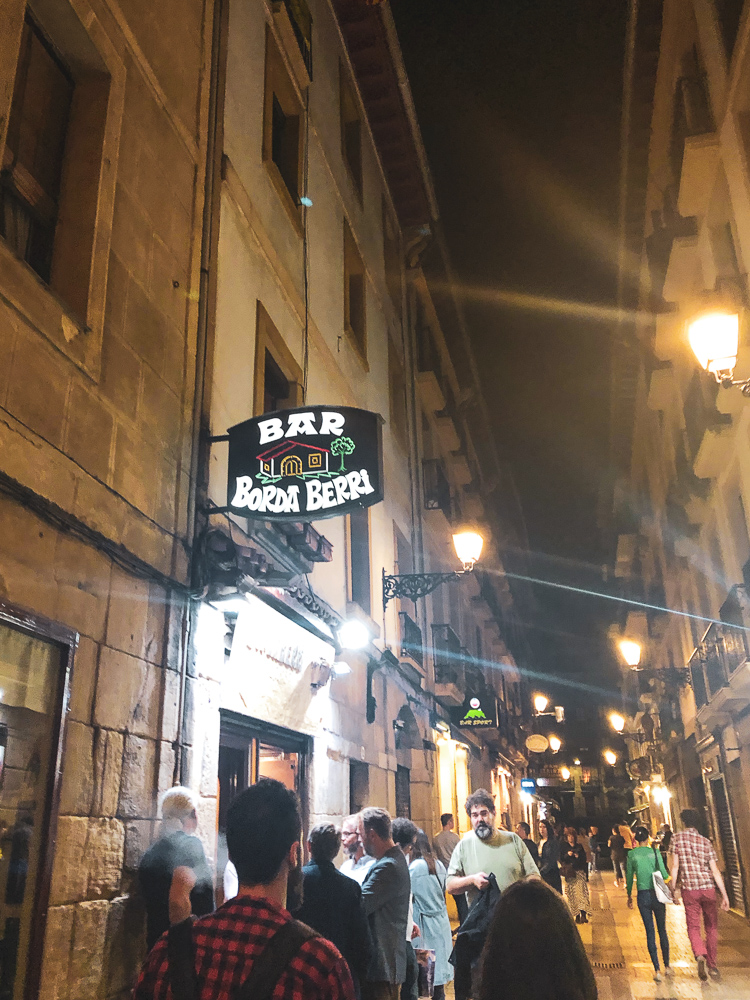 Opening hours are Tuesday – Sunday 12:30 – 3:30pm; 7:30pm – 11pm (Tuesday evening only) and closed on Monday, located at Fermin Calbeton Kalea, 12.
Onion-dressed mussels at La Mejillonera
Located on Calle del Puerto, this place is all about mussels (hence the name) served in various ways, the best are the mussels topped with onions! They also serve calamari and patatas bravas. Cider is the speciality here, too – the perfect pairing for the sweet seafood. Throw your shells and napkins in the trough under the bar!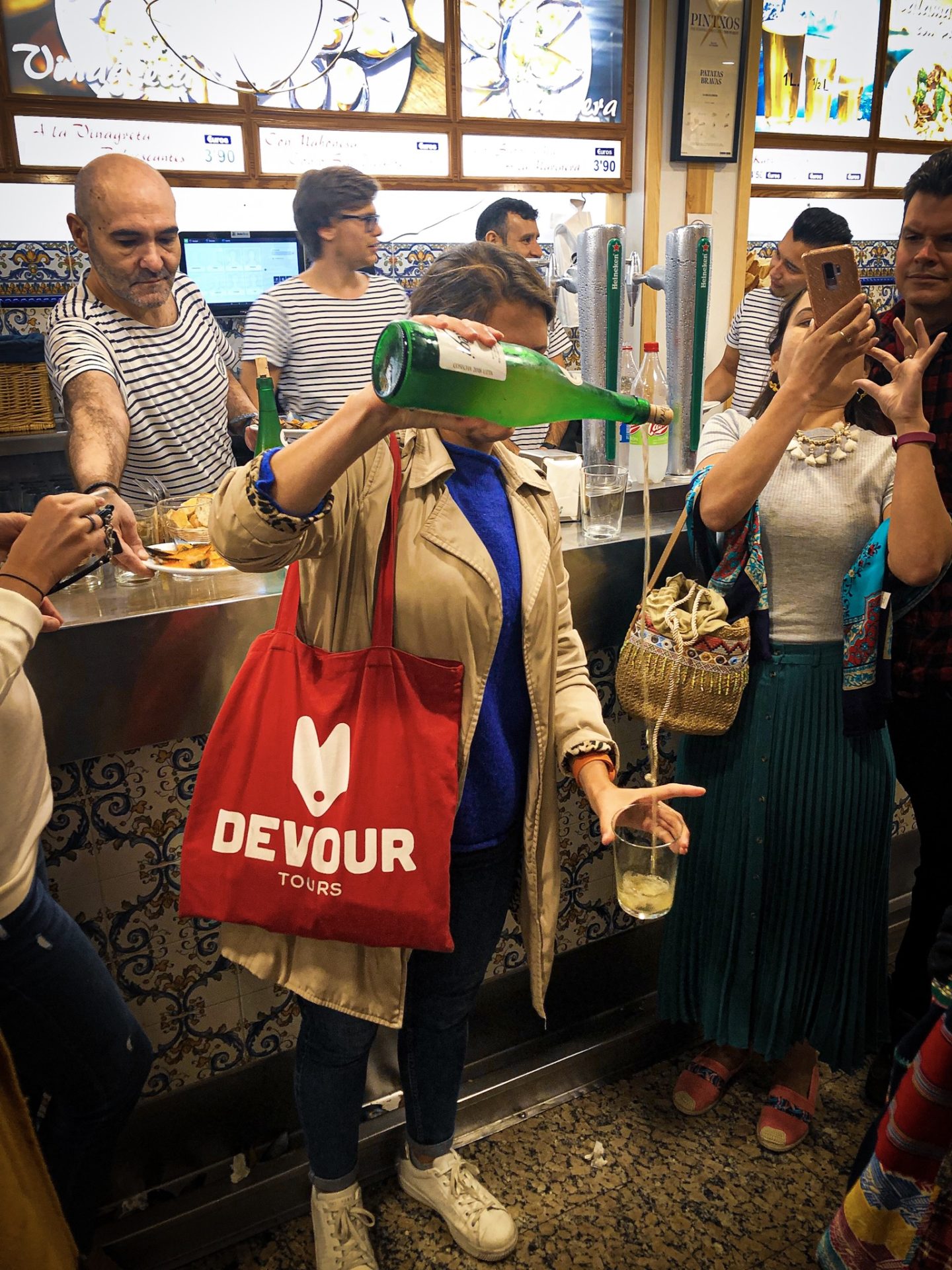 La Mejillonera is located on Calle de Puerto, 15, and opens from 11:30am until 2:45pm daily (no lunch service on Monday), and then every day of the week it has dinner service from 6pm 'til between 10:45pm and 11:30pm.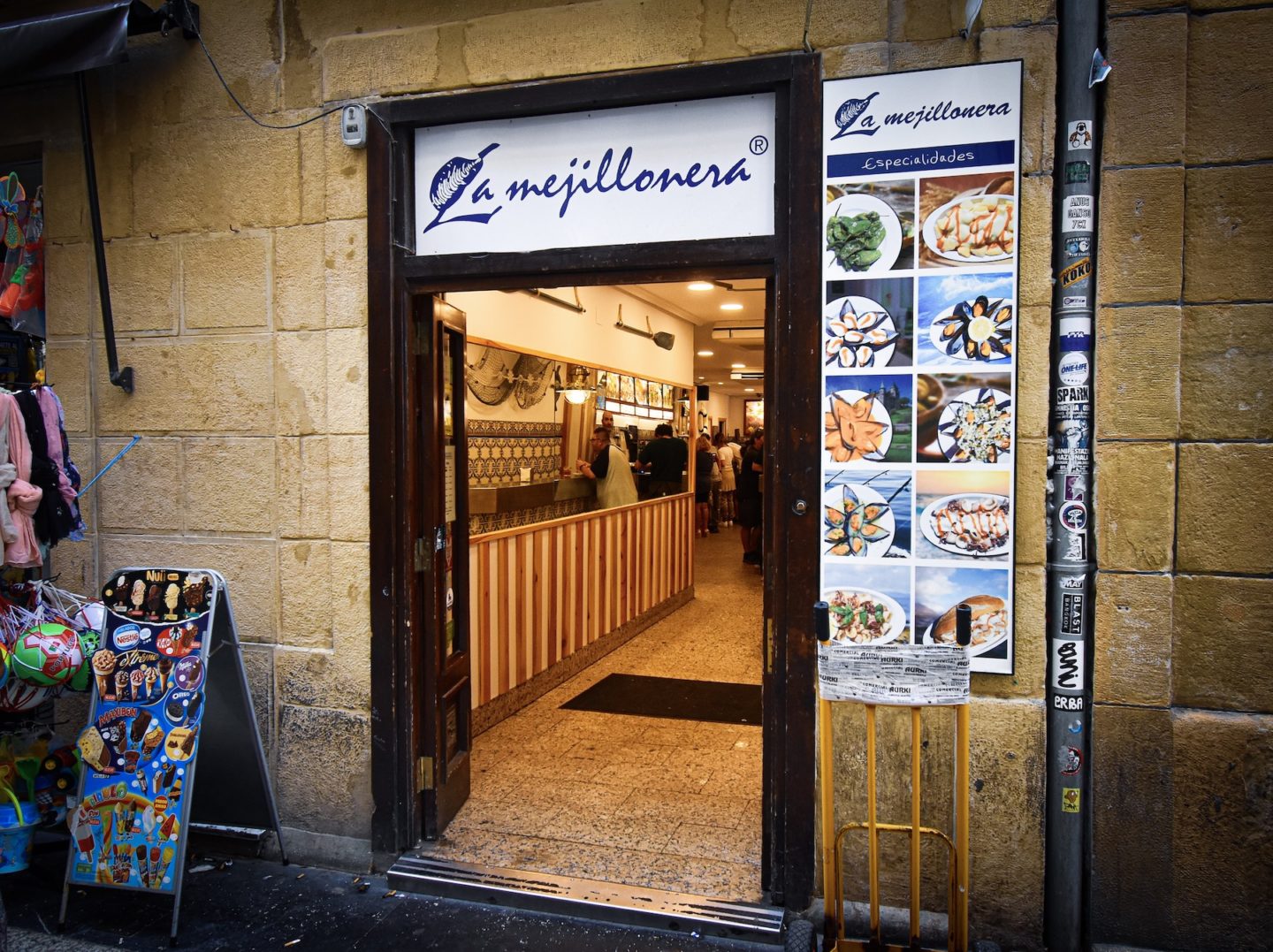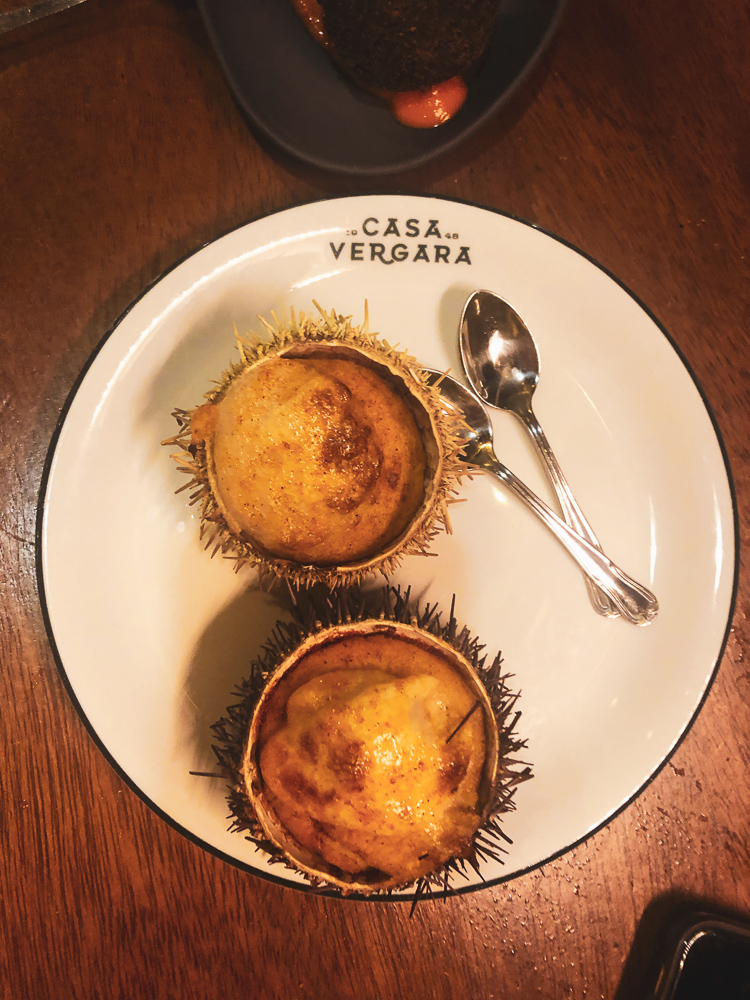 Right by the Basilica in the old town is Casa Vergara, where you can find this special pintxo on the bar. Fresh sea urchin (itsas trikua) which has a gratiné top. Something unusual and delicious that's worth trying if you're a bit adventurous! We actually had only tried our very first raw sea urchin only a couple of weeks before we tried this, so we had the taste for it.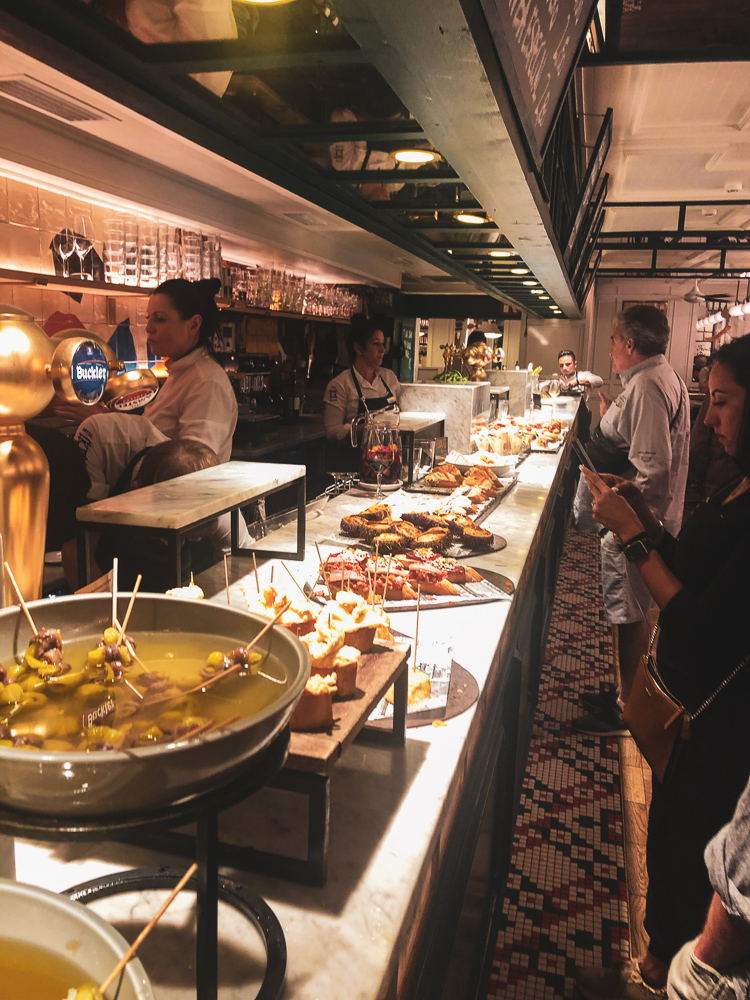 Part of the Garrancho group of bars and restaurants, Casa Vergara is located Open daily from 11am to midnight.
A Dozen Oysters at Aita Mari
Just 100 metres from the iconic La Concha beach, right by the water to one side of the old town, Aita Mari restaurant and bar is next to the Puerto Deportivo y Pesquero with a little hatch and a couple of high tables to perch at if you're feeling peckish.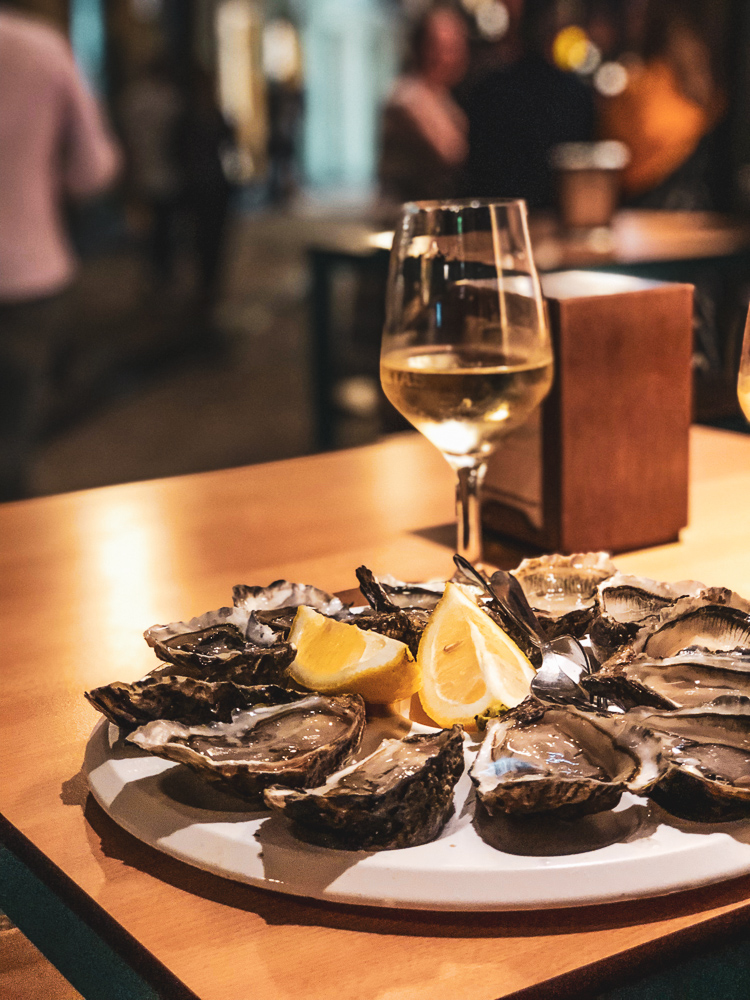 Here's where we started one of our nights and ordered a dozen oysters (French Breton oysters, small, salty and sweet) with fresh lemon and two glasses of Txakoli. We stood for 15-20 minutes enjoying the tantalising flavour combination within earshot of the lapping waters of the Bay of Biscay.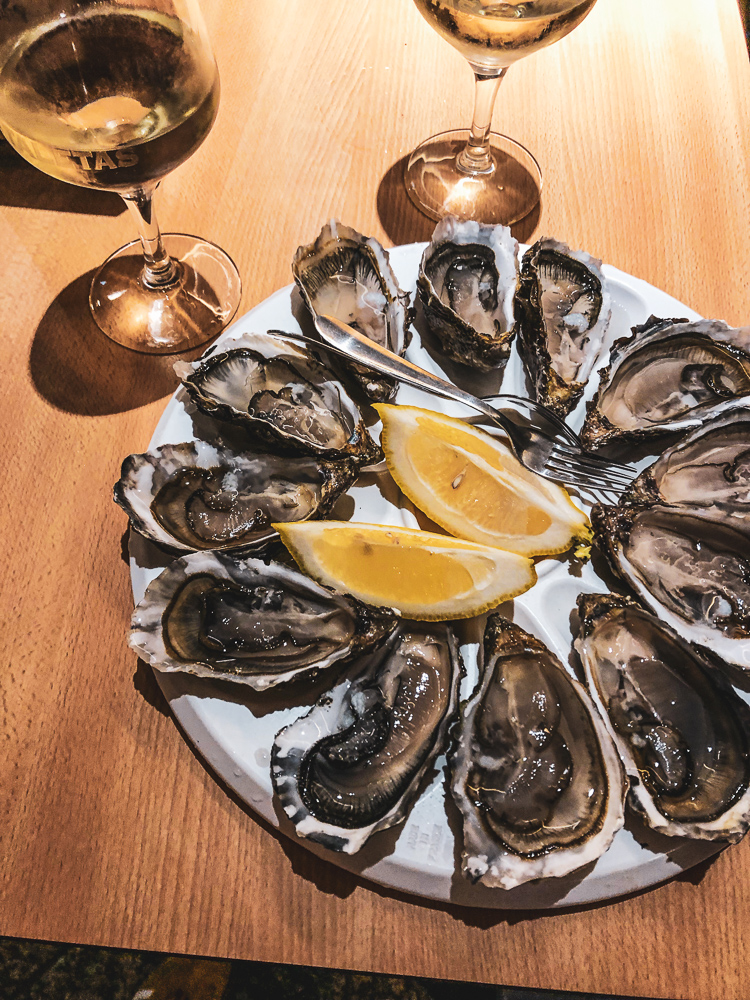 A dozen with two glasses came to around €28 if we remember right, but you can just get four if you wish. Aita Mari opens from 11am 'til midnight six days a week –– closed every Wednesday.
Where are your favourite pintxo bars in San Sebastián? What are your must-order bites?