Okay, bear with us, this is a liiiitle bit different..
So ETM Group – the team behind some of the most celebrated gastropubs in London – have declared this week (16 – 22 November 2015) National Pheasant Week – a UK first, apparently! Celebrating one of the most underloved, lesser menu spotted and underappreciated game birds, they have a host of events and specials across the board, but one in particular caught our eye – a Kentucky-style, fried pheasant bucket – and we tried it out the first chance we got…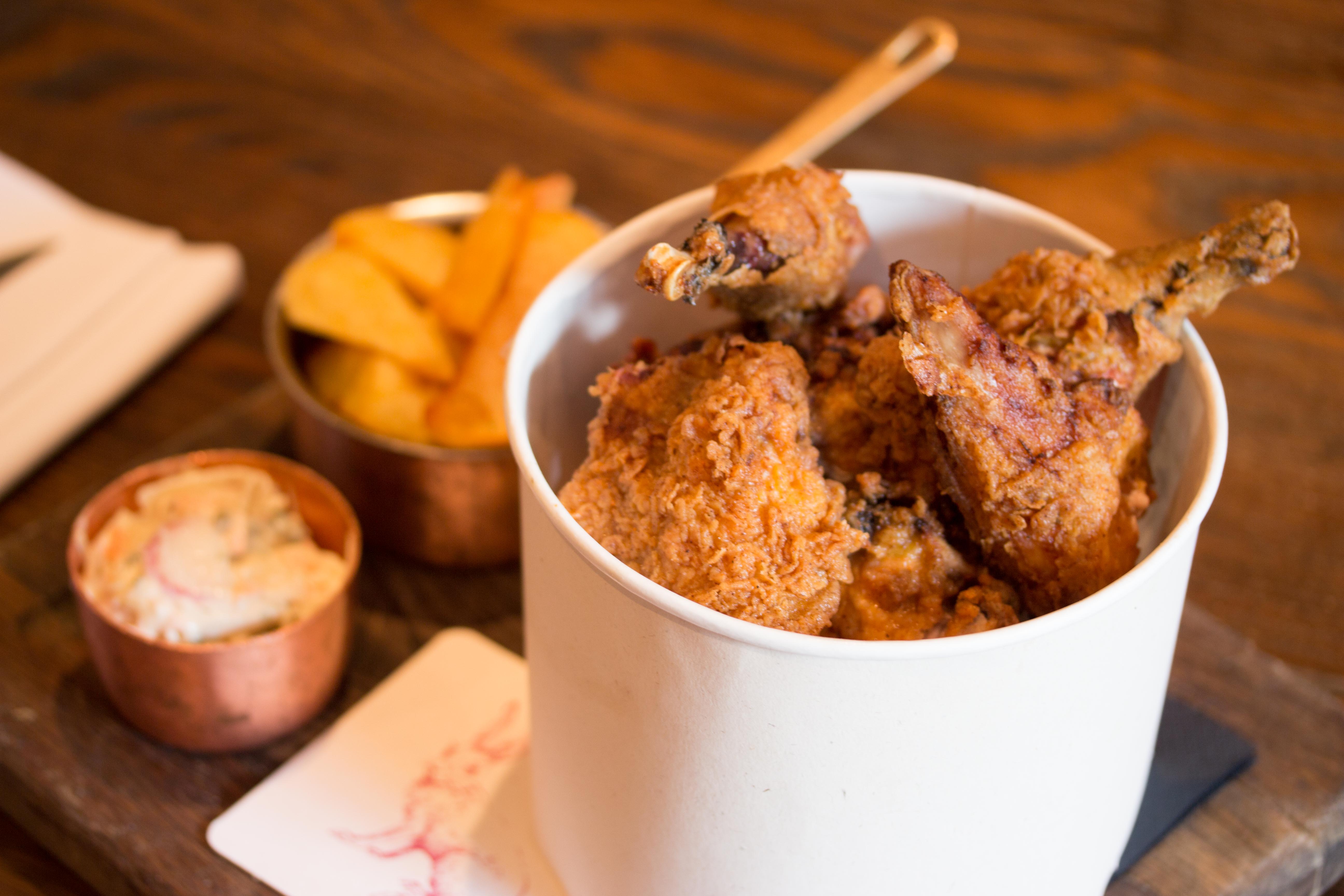 How often have you eaten game? When we think of it we think of country estates or fine dining restaurants (where we always feel uncomfortable and like we don't belong); so game rarely ever registers on our radar. We have eaten roast grouse at Corrigan's Bentleys Oyster Bar & Grill and we had a spectacular (and cheap) wild rabbit in cherry sauce dish in Brussels – a Belgian speciality – but that's the extent.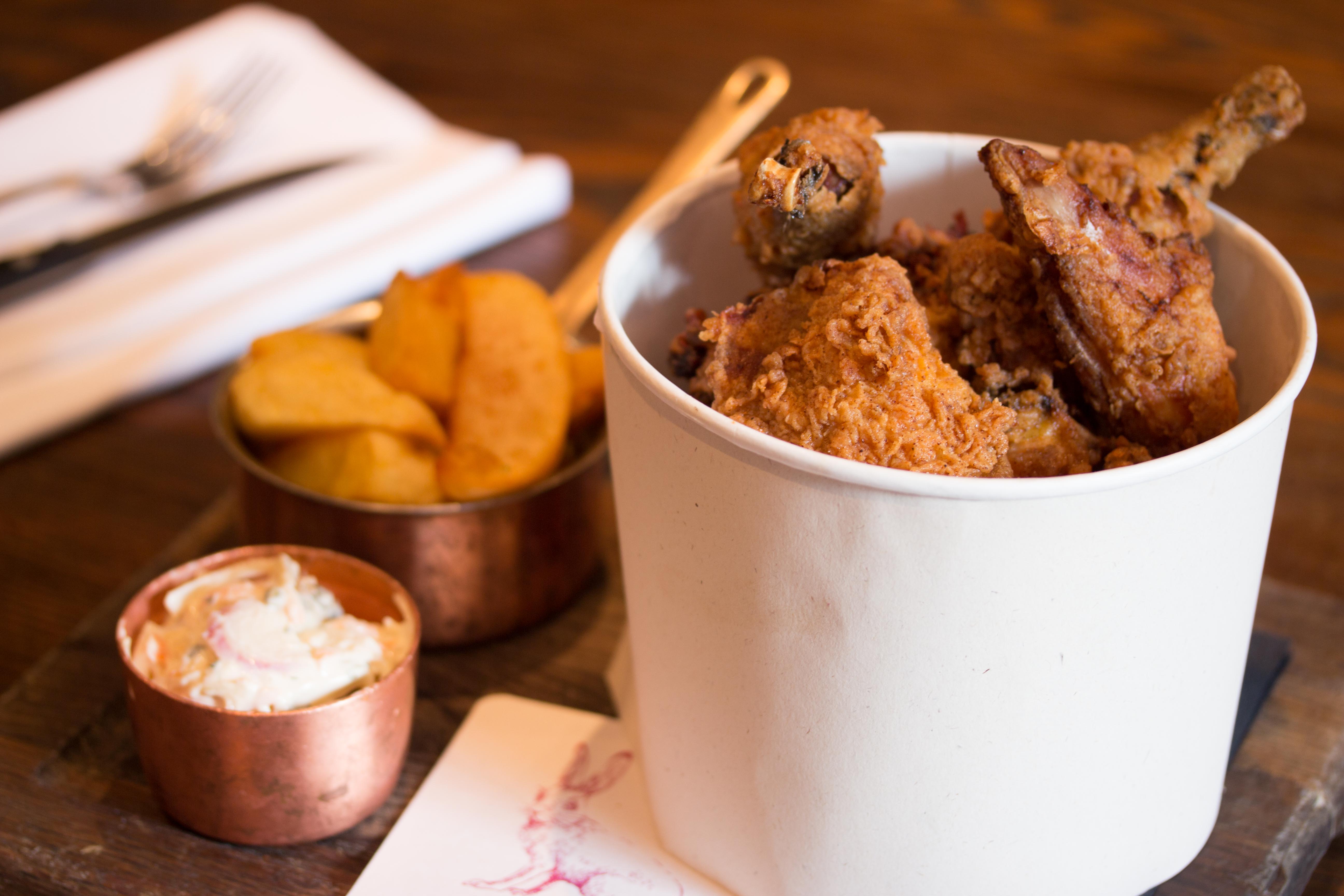 We headed along to The Jugged Hare beside the Barbican to get an advance try of this (thanks ETM!) and we were a little skeptical but really shouldn't have been. This is KFC but on another level; imagine a rich-tasting wild meat coated in a seriously delectable crisp crumb and fried to golden perfection. Cut to-size for finger-lickin' fun, this is game like you've never experienced it before. Think chicken thighs, but five times the flavour.
The pheasant, being a wild, freely-roaming bird, is naturally not akin to the chicken texture you may expect (sidebar: lots of chicken, especially of the cheap takeaway variety, is pumped with all sorts to make it larger and more moist) so the legs in particular are a little tougher but the overall flavour is truly something to behold and there was literally nothing but gnawed bones left in the bucket when we were finished. The pheasant is steeped in milk to tenderise for a number of hours before being coated in a top secret spice mix.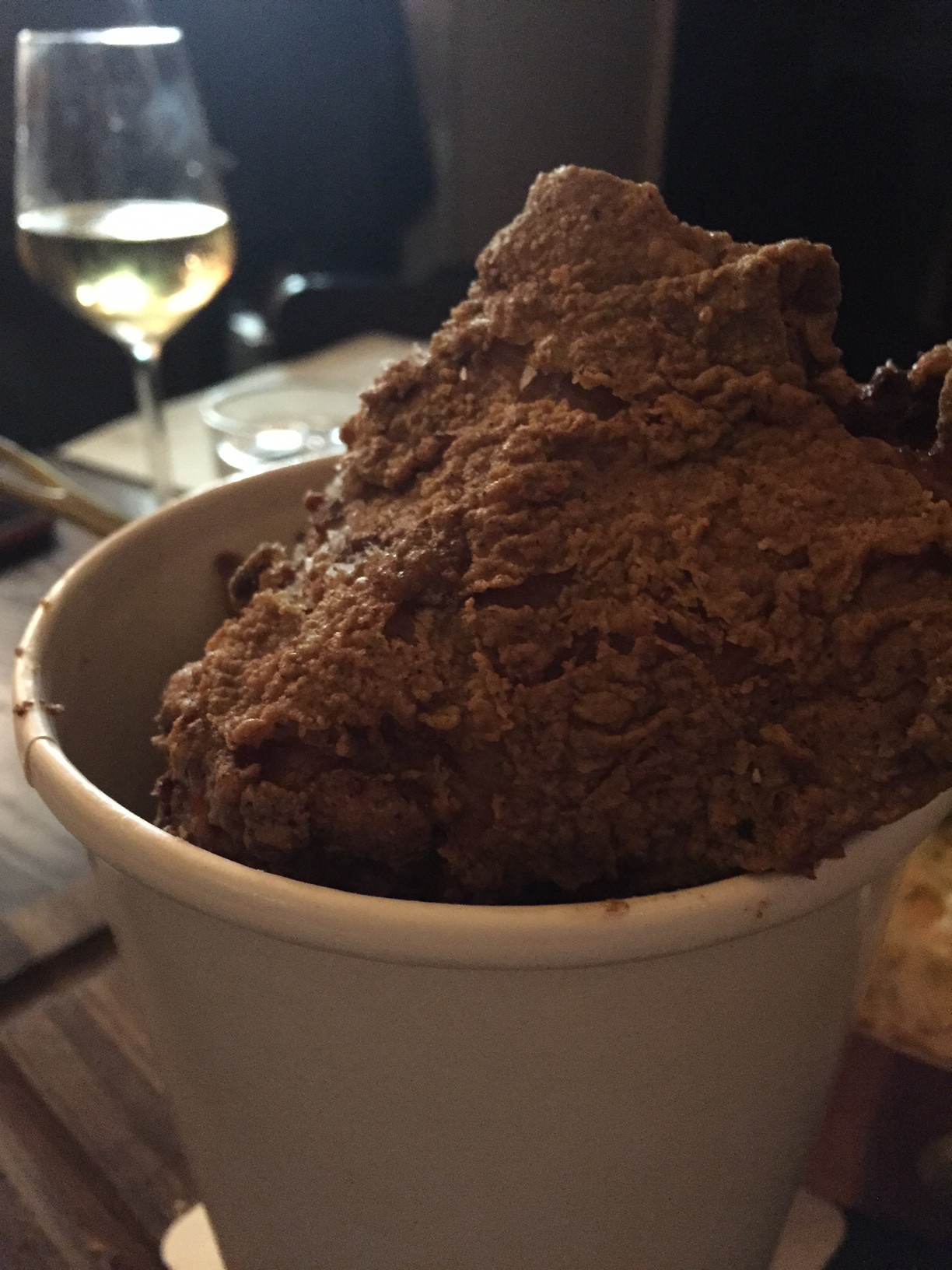 We cheekily managed to wrangle some of the spices out of the chef, which include five spice, cinnamon and cayenne amongst many others so it's a really deep sweet/savoury blend that we hadn't ever come across before. We guarantee you won't have tried anything like this before…
It's also pretty good value, both of us shared one bucket (£15) which came with humungous hand-cut chips (fluffy, could have been crisper) and freshly-made coleslaw, which was crunchy, creamy yet sharp as it was speckled with capers – a novel idea we're now going to add to every coleslaw we make at home.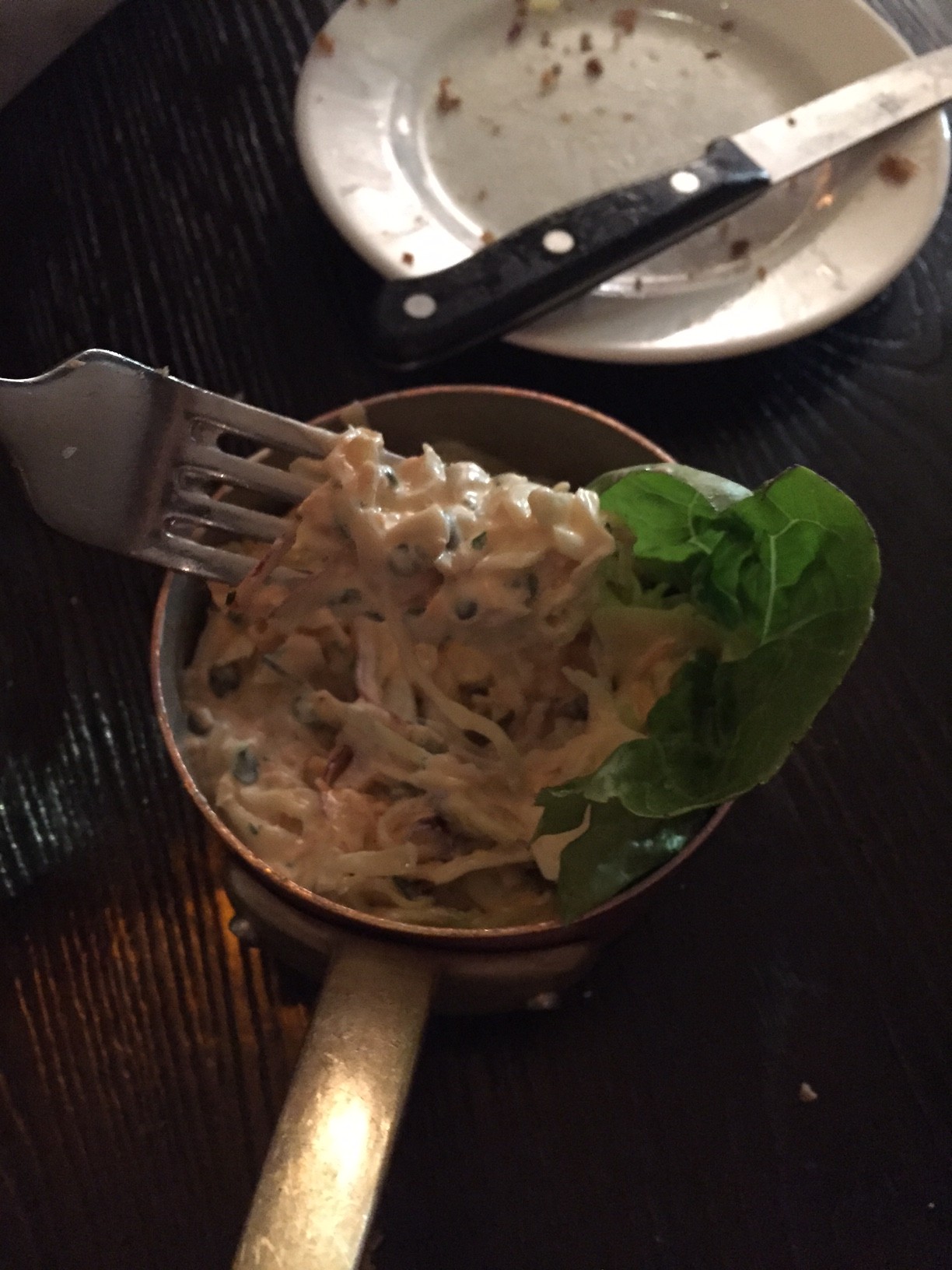 We actually started on croquettes, ordering both the haggis and the black pudding varieties, and they were seriously good. Really crisp in perfect cigar-shapes and arriving well seasoned in a trio of each, the haggis came with a roasted apple, caramel and whisky sauce whilst the pudding ones were matched with a Guinness and HP sauce. Both are a must-try, if you ask us.
We suggest you put down the turkey twizzlers and step away from your local Chicken Cottage, head along to gamey gastropub The Jugged Hare (or a number of the other ETM sites – The Botanist, One Canada Square, The Gun, The Well, The White Swan, etc.) to cross this delicious dish off your foodie bucket list. Not sure if this actually on the menu, so best to book your table in advance and pre-order the bucket.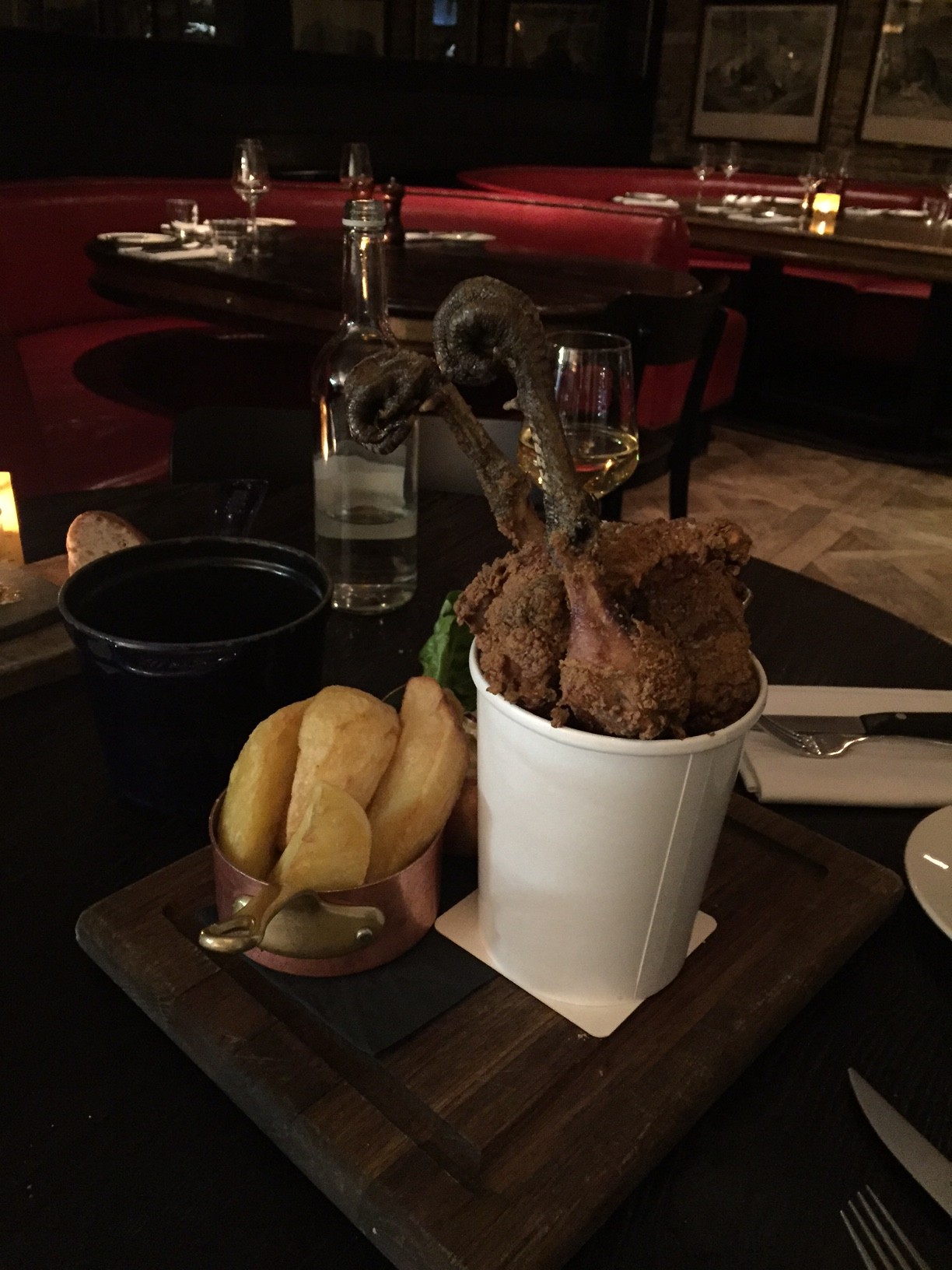 Who's game to try?
*You know our review policy by now and we aim to try places two, even three, times before featuring on our blog. This post comes under special circumstances as this is only on the menu for one week (in a short game season as it is) so we wanted to spread the word as we really enjoyed it and think lots of others will too!)A ra