This is part of our Eurovision series – offering you ideas for simple, easy-to-eat recipes when you're entertaining a big group of Euro-fans on Eurovision Final night, or just set up in front of the TV mid-week as the semi-finals entice and entertain.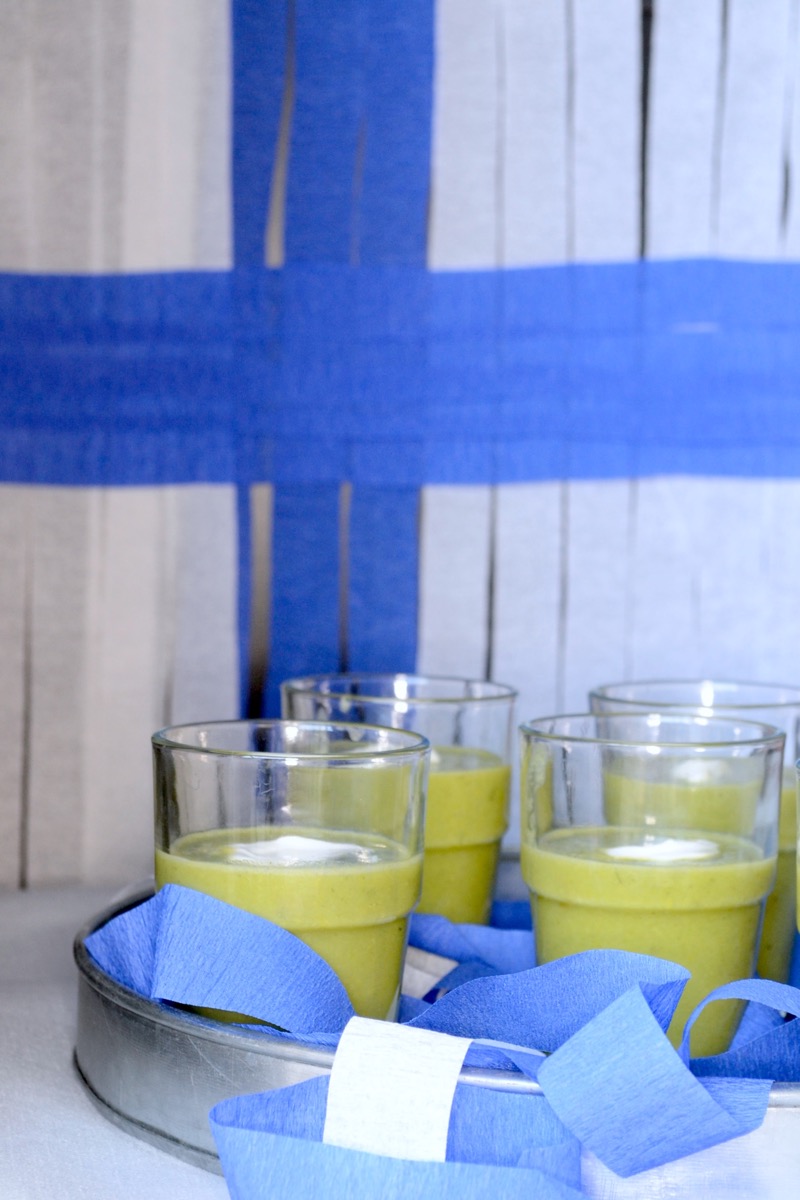 It's almost Eurovision time, peoples! Pea soup is common across all of the Scandinavian countries. Apparently the Finnish love to have pea soup every Thursday? Who knew! Now, that could be as big a stereotype as Irish people having potato with every meal and all Brits having bad teeth. But we've heard pea soup on a Thursday is a social custom and casually observed by all, so we had to honour that tradition with a recipe of our own.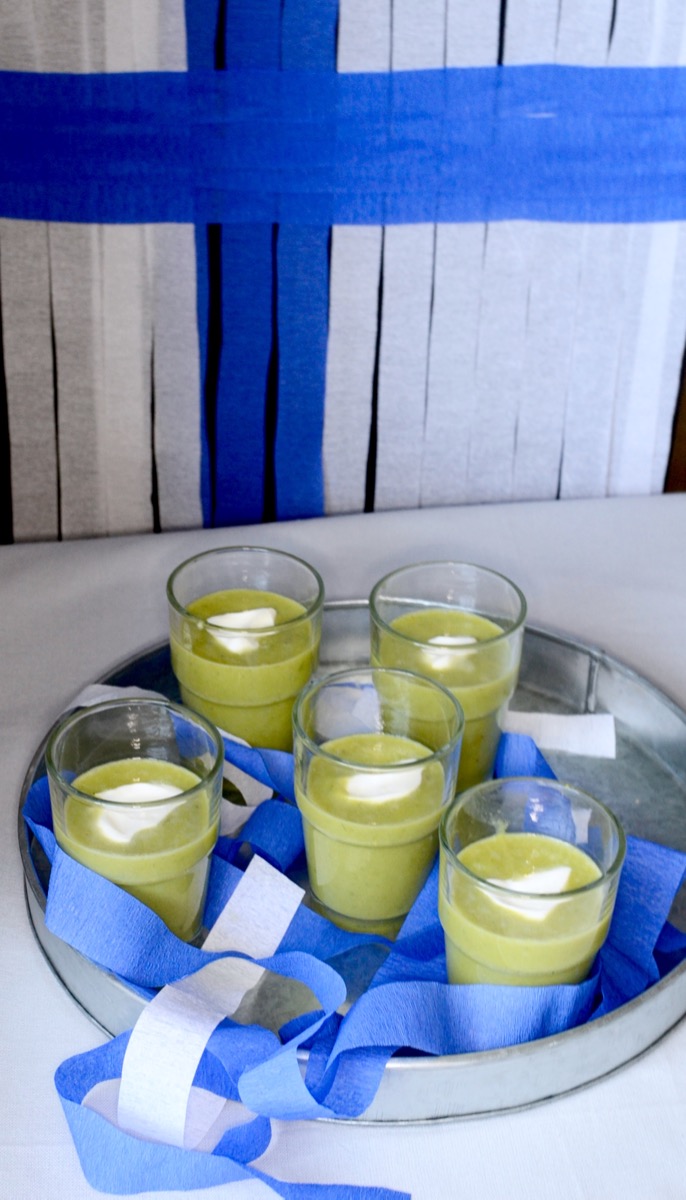 We've never been to Finland, so don't quote us on all of this backstory, by the way. But it seems a very nice little sup to start the night with. We love a big bowl of steaming, freshly-made soup as much as the next person, but it's a little impractical when you've got the gang round and you're all huddled in front of the TV cheering on and arguing over opinions on each act and country.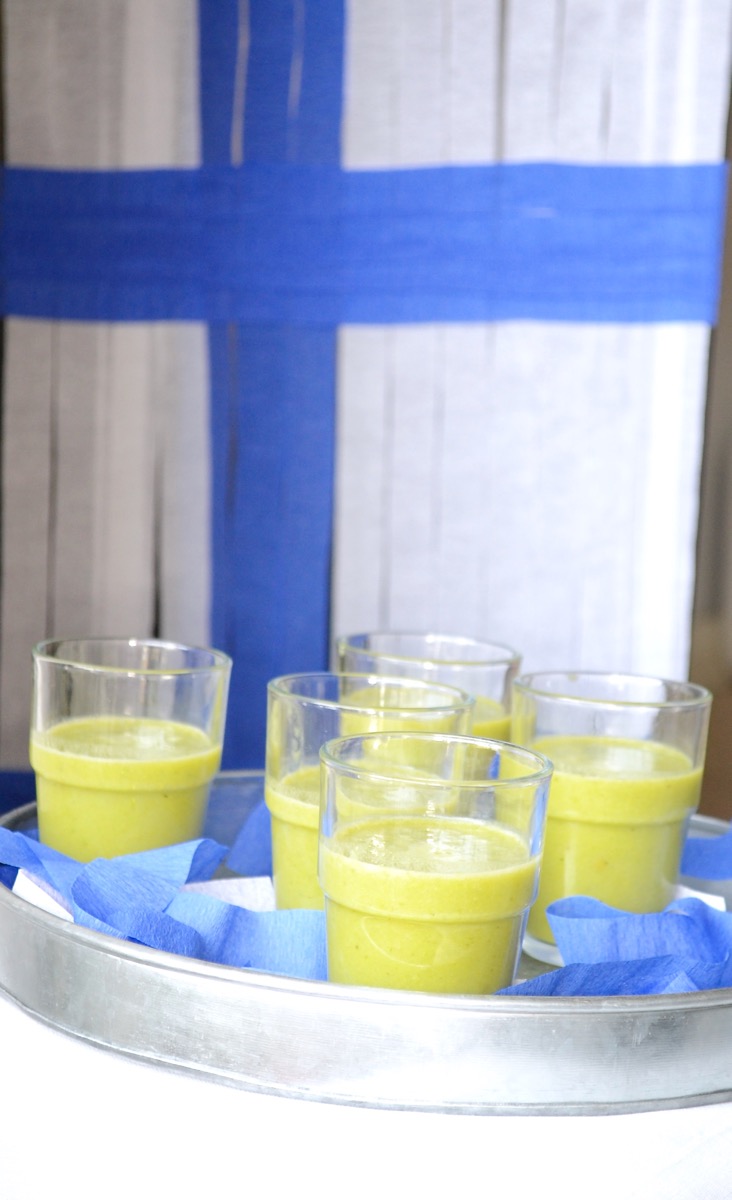 For this very reason, we love serving sipfuls of soup in little shot glasses or small glass (or ceramic) tumblers at the start of the night. It's something warm and fulfilling, really casual yet stylish. In fact, it doesn't even have to be served warm. This would be a joy straight from a chilly fridge.
There seems to be a few different traditions and tastes with regard whether the traditional pea soup recipe includes fresh garden peas or dried split peas. We don't want to break with conformity, but in our heads frozen peas are quick, simple and satisfying for use here, and where we can take the express route, we often do. It also helps that it only takes about three minutes to make. Prepare it the day before and keep it chilled or simply assemble it seconds before guests arrive; this is versatile and impossibly easy – a great recipe to have in your back pocket for any occasion, whether it's Sunday lunch, a sit-down dinner soirée or a down-in-the-dumps day swaddled with a flu in mid-winter, this works its magic year-round.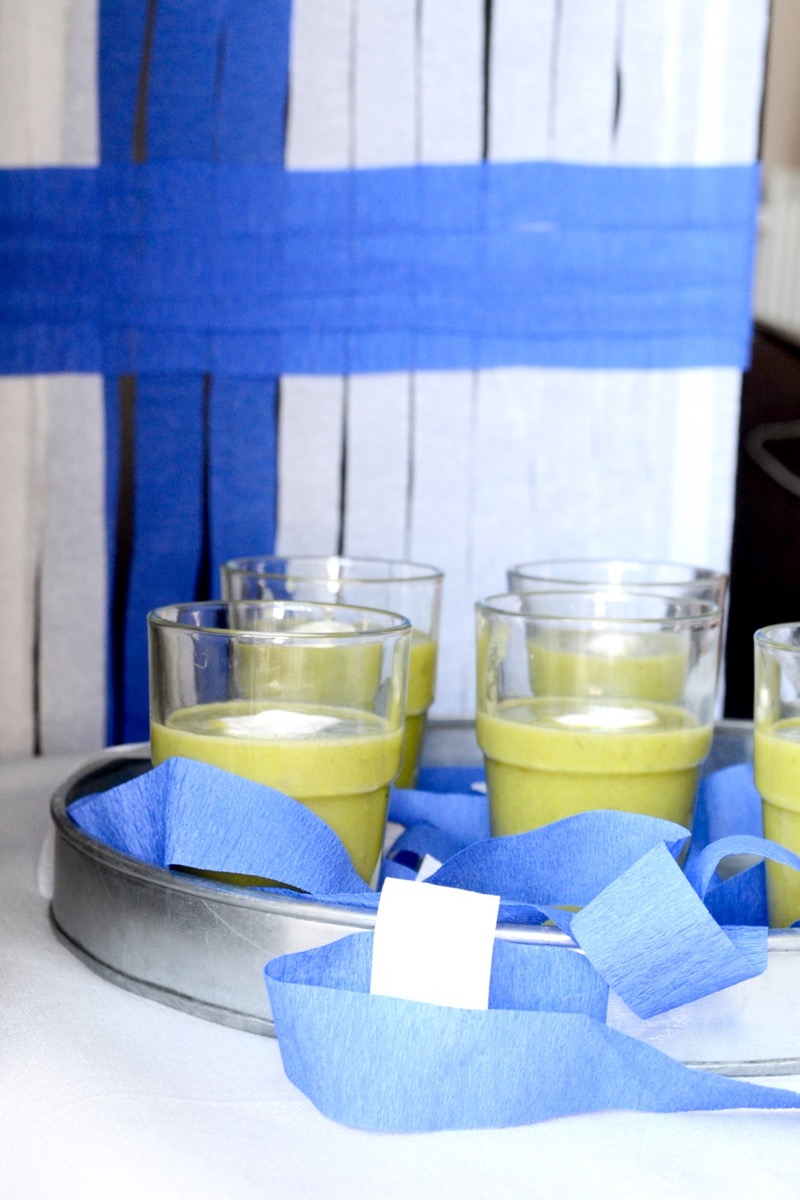 But then, we endeavour to break with tradition yet again as this is no ordinary pea soup. We wanted to lift this to new heights, inject extra green vibrancy and make it light as air. We include green apple and cucumber in our recipe for watery freshness, spring onions for a sprightly subtle spicyness and a good spritz of lemon juice for an acidic, refreshing bite. We've chucked in a medium potato too for creaminess. We may be heathens, but this tastes damn good!
 Once you've boiled the kettle (sweating down ingredients in the pan as you do so) and added everything together it really is as good as done, simply requiring blending before serving. You want to keep the vibrant green of the peas as much as possible so simply blanching them from frozen in the hot stock is enough.
Finland-inspired Pea Soup
 300g peas
400ml vegetable stock
3 spring onions, chopped
1 medium potato (pre-boiled or pre-roasted)
1/6 of a cucumber (seeds scraped out and chopped)
1/2 a green apple (seeds removed, chopped)
crème fraiche, to drizzle on top
1. Sweat the spring onions, cucumber and green apple together in a large saucepan, keeping the heat medium as you don't want to colour anything, just soften it.
2. Add the peas and potato and toss together on the heat. Season very well.
3. Pour over the vegetable stock and bring everything to the boil.
4. Take the pan off the heat and, using a hand blender, blend until smooth – taking care as it's a very hot mixture!
5. If you want it silky smooth, run the mixture through a sieve once or twice, but we're very much low maintenance!
6. Serve immediately in small glasses or mini tumblers and drizzle the top with a little crème fraiche.
 If you're looking to dip something into these, our Parmesan shortbreads are a great idea to serve alongside – we have three recipes to choose from!