Looking for accommodation can be one of the most tiresome tasks when travelling. Most major cities are full of choices, filtered by star ratings, visitor comments, location, amenities and meals. Knowing where to begin to find the best deal in the best location can be a bit much. When we're looking for a quick weekend break in Europe, our primary concerns are location and quality. In Antwerp, Park Inn by Radisson is stylish, great value and located literally a few doors up from the main train station.
In the shadow of the mind-blowingly beautiful Antwerpen-Centraal Station, the Park Inn by Radisson is clean, comfortable and hospitable – an ideal spot base to explore everything this city has to offer. If we're honest, we often tend to venture towards independent design-led hotels, but in Antwerp we wanted to keep at the heart of the city, be well connected (as we were travelling around Belgium by train) and have simplicity and style with guaranteed quality.
Located on Koningin Astridplein, our business room on the fifth floor was bright, airy and gave us a great vantage point to look at the city from, taking in the giant wheel, whizzing trams and the bustling public green space below.
The double room included all the essentials, plenty of power sockets, powerful air condition, ironing board and iron as standard, Nespresso machine, as well as a welcome gift of some Belgian biscuits and complimentary water.
The mini-fridge wast left empty, as we'd prefer in all hotels, but particularly useful in an historic beer-loving city like Antwerp! The bathroom was spacious and clean, all yellow tiled and an unusual long shape, even with a window at the opposite end of the shower area providing some natural daylight which is very rare, we've tended to find! Dove products, a partner of the Park Inn group, were provided in generous amounts.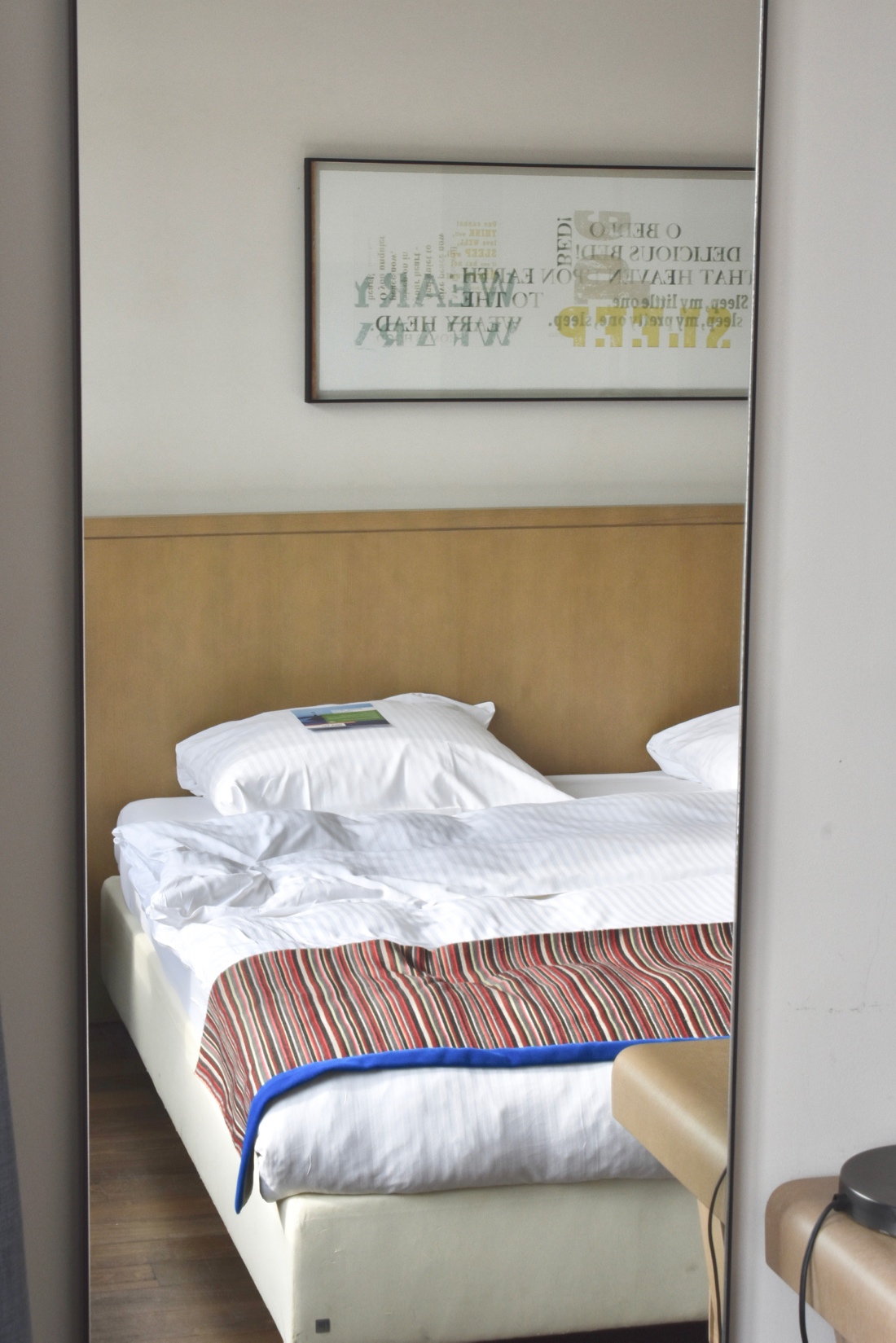 Breakfast isn't included in all room rates but can be added on for €18 per person per day. A continental spread of cheeses, meats and breads, cereals, fruit and yoghurts is available, alongside a warm buffet with bacon, scrambled eggs and European sausages. Tea and coffee, a selection of each, is also on offer. In our research on the city, attractive breakfast options aren't aplenty in Antwerp mid-week, so sticking about the hotel might be the best choice for you – not something we always recommend, but here we do.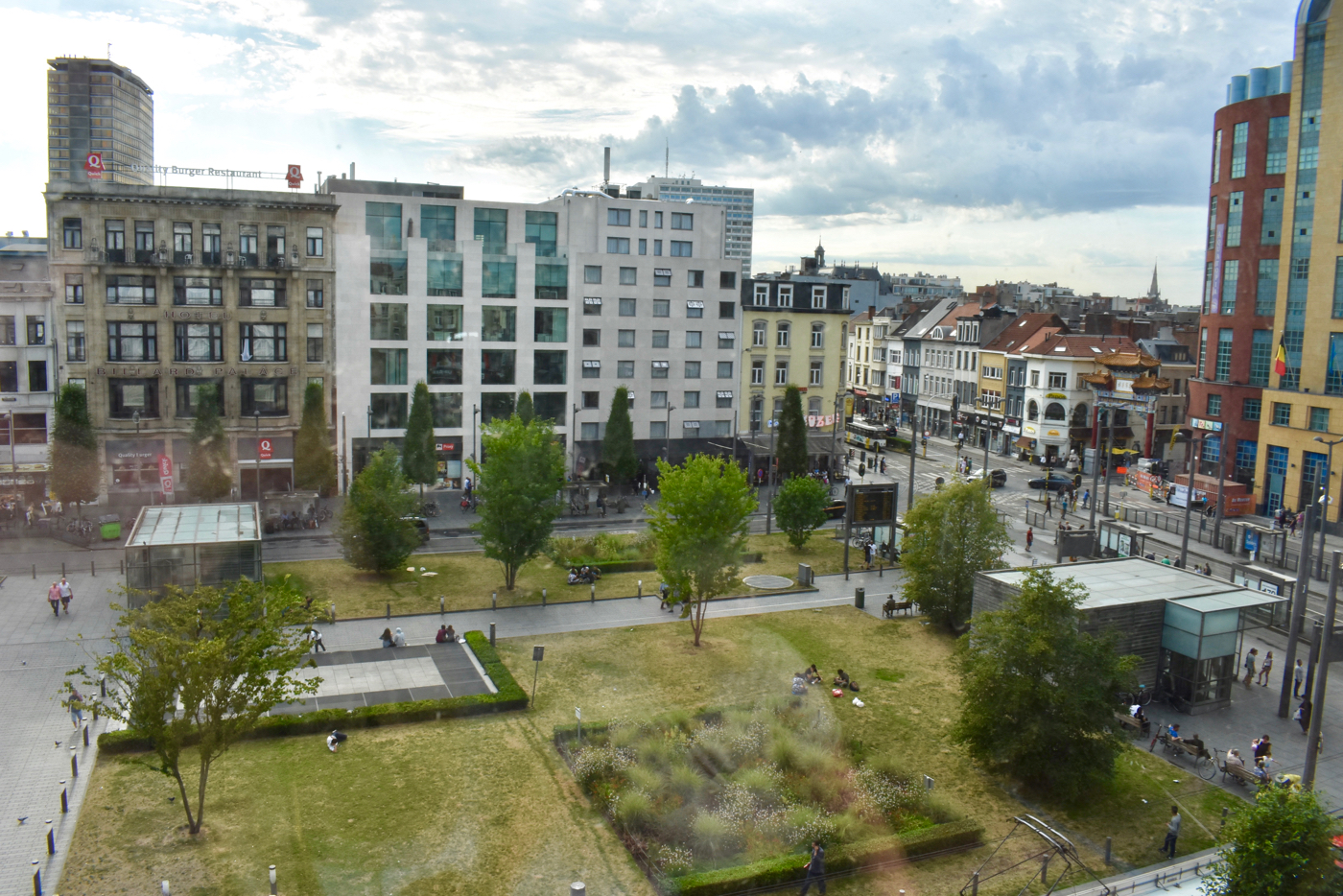 A fitness centre within the hotel is available to all guests 24/7, while the nearby sister hotel, the Radisson Blu across the street, has a swimming pool and sauna. The team at reception will be able to grant you access to it. We also glad to hear that if you were a guest at the Park Inn and you dined at the Radisson Blu restaurants, you'd receive 10% off your bill. Handy if you're on a flying visit, or don't fancy exploring the city too much.
Thinking of visiting Antwerp? Book a stay at Park Inn by Radisson Antwerp (Central) via our #AffiliateLink and you'll help support us in a small way, as we receive a tiny percentage commission for all stays booked via our website.
Disclaimer: We paid our way, but the Park Inn by Radisson did offer us a slightly discounted media rate.