Throughout the various lockdowns, every so often, we tried to test ourselves with the more technical dishes that take time, effort and skill. One was a beef wellington. There is no beating about the bush with it- it is time consuming, but it's also a true joy to behold. We've made several of them over the past few years, and while using a crêpe in place of the Parma ham is more traditional, we found that on all fronts, the ham makes life far easier. For added effect, invest in a pastry lattice roller cutter to really impress your dining guests – adding a leaf of rosemary into every gap is optional.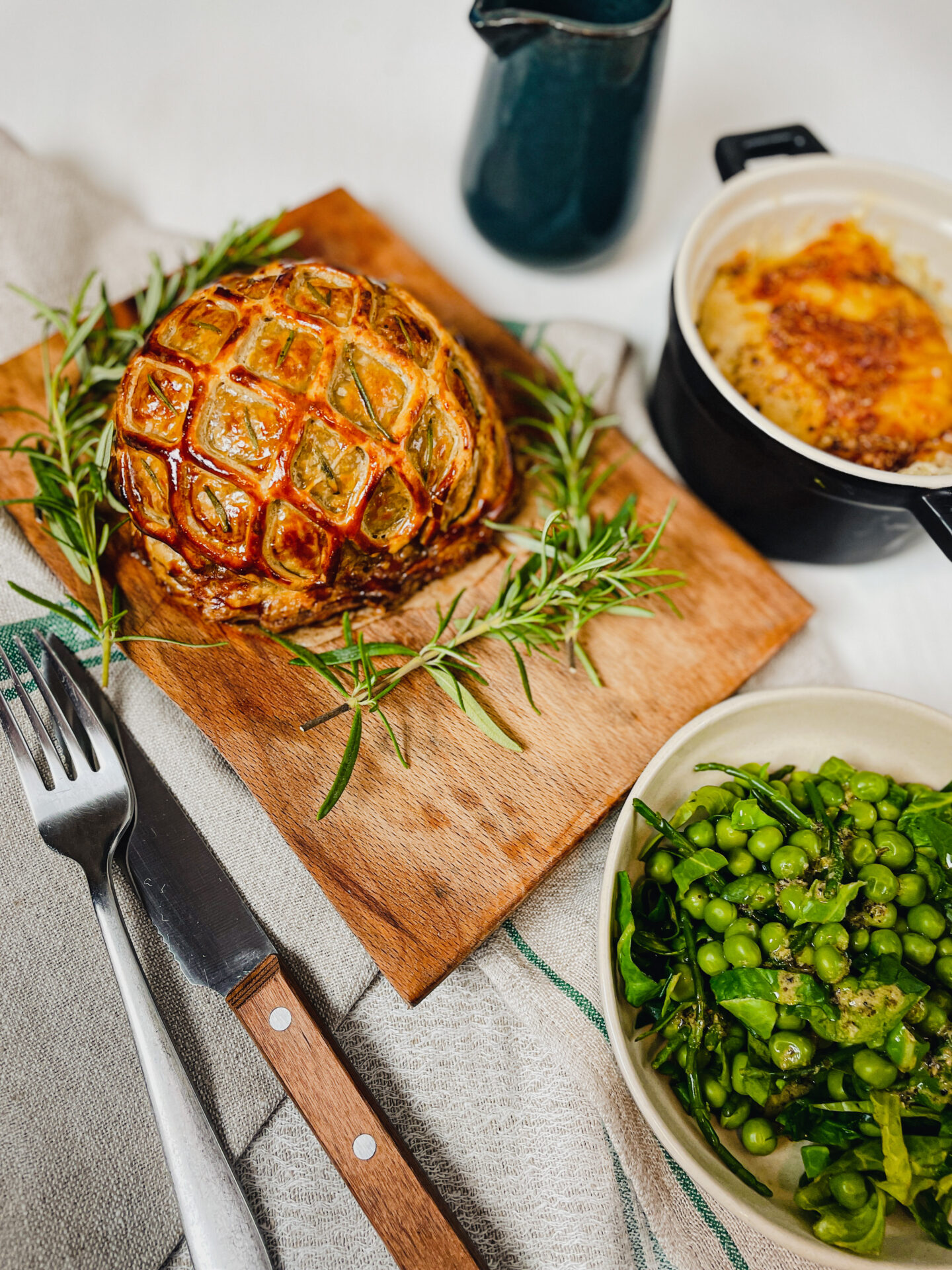 Our top tips for success with this dish: chill & rest. No, not you. Chill the beef. Chill the pastry. Chill the duxelle. Rest the wellington. Don't cut corners.
When purchasing the fillet steaks, keep an eye out for the shape. Some fillets, especially pre-packed ones, might unfurl. It's probably a good opportunity for you to try and buy direct from a butcher to ensure you get the right shape and size (diameter of around 6cm or thereabouts). If they aren't perfect rounds, remove from the packaging and wrap into shape with some tin foil and leave in the fridge to try hold the perfect shape.
Individual Beef Wellingtons
Makes 2
– 2 Beef fillet steaks
– 400-500g Mushrooms (a mix of varieties)
– 1 tsp dijon mustard
– 1 tsp dried Herbes de Provence
– 1 sheet all butter puff pastry
– 2 packs Parma Ham
– 2 egg yolks, slackened with water for egg wash
– 25g butter, for frying
– olive oil
– salt & pepper
– rosemary sprigs, for garnish

1. Finely chop the mushrooms with a sharp knife rather than pulsing in a food processor, as this can make it too mushy. You want it to appear like it has been pulsed, however.

2. Heat a about a tablespoon of olive oil and butter in a pan on a medium heat and fry the mushrooms, stirring often until all the liquid is released and evaporated. Stir through the dried herbs & mustard then leave this mushroom duxelle to cool in a bowl completely then keep in the fridge.

3. Heat another pan with some olive oil over a medium-high heat. Season the steaks very well and try to maintain their circular shape. Flash fry for around 45-60 seconds on one side, and 30 on the other. Leave to cool.

4. Roll out your pastry: You can wrap these up as squares or cut large circles out. Keep remaining pastry for decoration. Keep in fridge covered in parchment paper until assembly.

5. Lay some cling film out on a surface, placing 4-5 slices of Parma ham in the centre. Place a spoon of the duxelle on it, then the beef, then some more mushroom. Wrap up in the cling and chill for 15-30 min.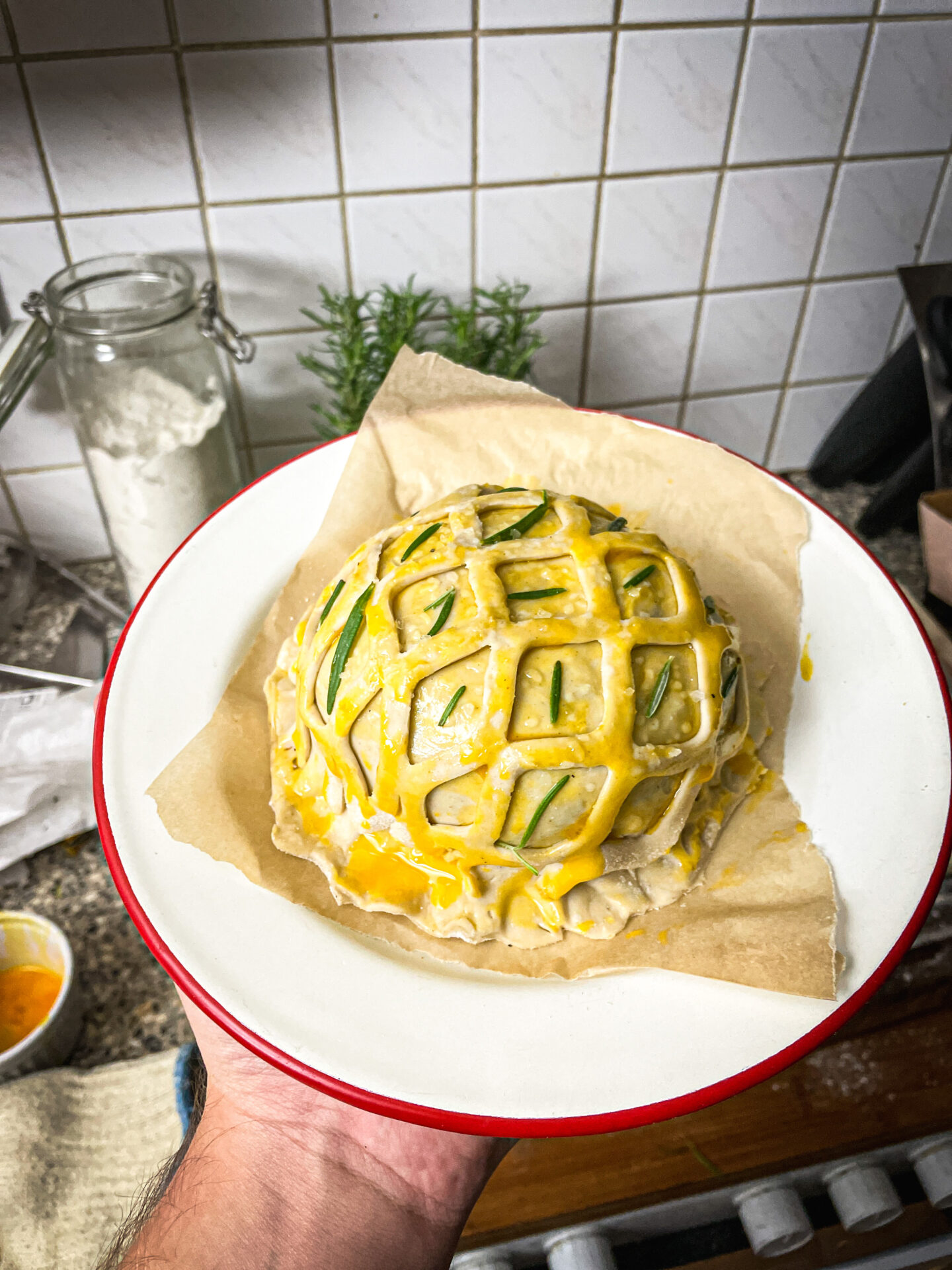 6. Take the pastry out and assemble the wellington, using egg wash all over the top and edges followed by some sprinkled sea salt flakes on top. We used a lattice cutter for the top, placing rosemary in the gaps. Leave in fridge for 30 mins (or make the day before, but keep covered with parchment paper or cling film to avoid the pastry drying out).

7. Heat oven to about 210ºC/190ºc fan and then place on a baking tray baking for around 30 minutes until golden. Leave to rest for about 20 mins before carving – really important to leave it to rest. It won't go cold and not suitable to serve- and it will ensure the juices are soaked back into the fillet. Serve with a hearty beef gravy, gratin & dressed greens