The definition of 'neighbourhood cafe', Olive has been a fixture on the main street of the well-heeled harbour town of Skerries in North Co. Dublin for just shy of 15 years, run by husband-and-wife Peter Dorrity and Deirdre Fahy.
The couple, who jointly owner-operate whilst keeping up with three children, go way back in the cafe scene. In fact, way back and right in the heart of the capital, in Temple Bar. At age 21, having met in college and "done the travelling thing" for a year, the pair embarked on the idea of opening a cafe/sandwich bar, half-serious went looking for a premises, signed the lease almost on the spot and were open within nine days, having begged, borrowed and clobbered together what they could. On a cold December day 25 years ago, Cafe Irie opened its doors… and there it stayed for an entire decade.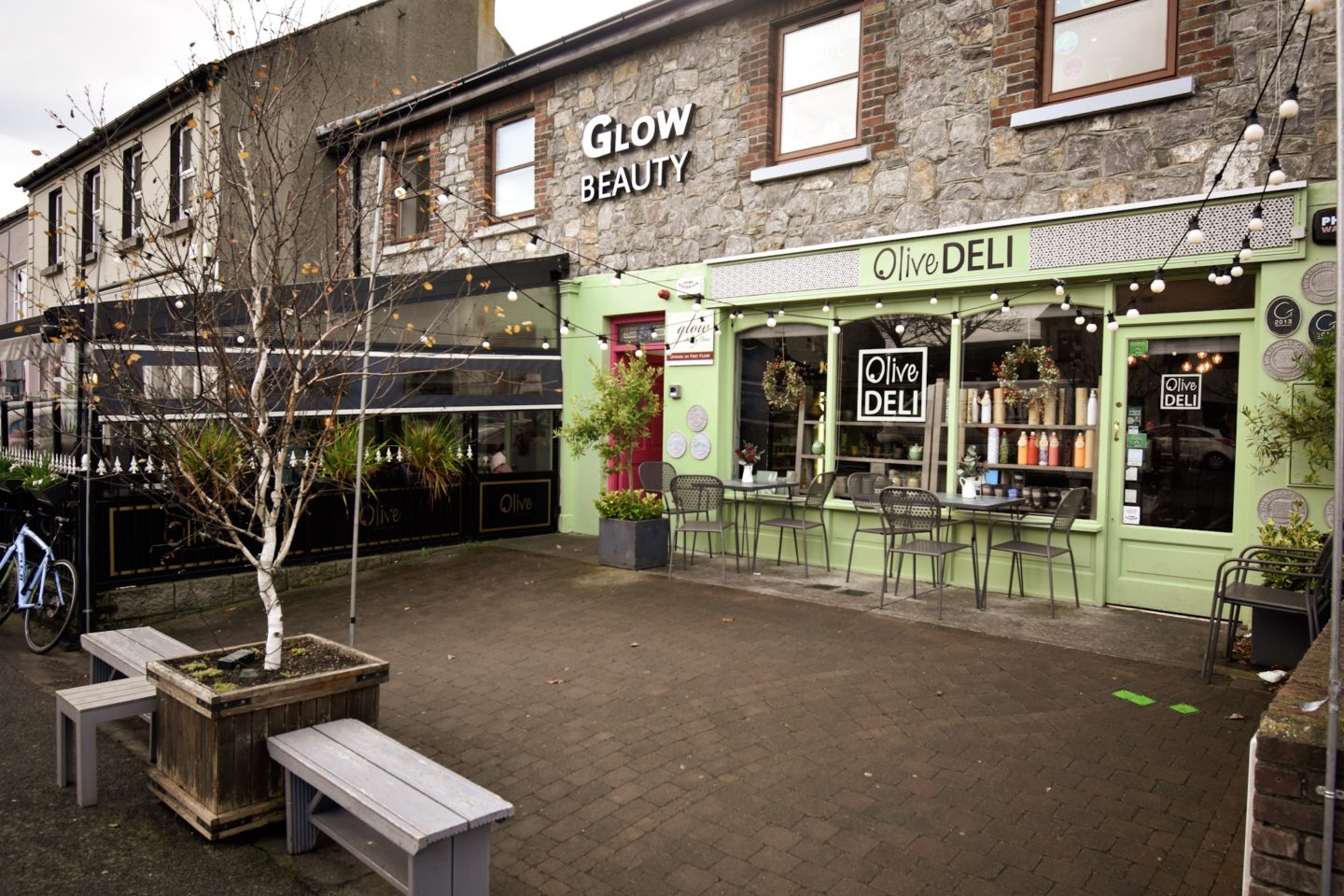 But having just had their first child, the pair wanted a change, a fresh direction and a different pace by the seaside, so they sold up then bought up in Skerries, almost one day into the next. Irie bid farewell and Olive made its first appearance, almost in the next breath.
"Like any town in Ireland, everything has sprung up around us since 2005," Deirdre explains as we pull up stools by the marble countertop overlooking the covered terrace outside on a chilly November morning. Sipping flat whites, Deirdre continues – "we were probably the first proper coffee shop in Skerries at that time, and since then we've had a loyal base of regulars, whilst also attracting visitors and tourists, so much so that we expanded into the next property".
From early breakfast through to late afternoon/early evening, Olive's menu – served seven days a week – runs the gamut from morning classics to tempting lunches, packed full of delicious sandwiches, soups, wraps and salads. "Right from the start in 1995, we've had purely vegan sandwiches on our menus and have always been a 'for all' business in terms of veggie and meat offerings," Deirdre explains in relation to the modern surge in plant-based options, and there's a huge emphasis on fresh greens and vegetables across the board on the menu, ensuring both balance and flavour in all the dishes.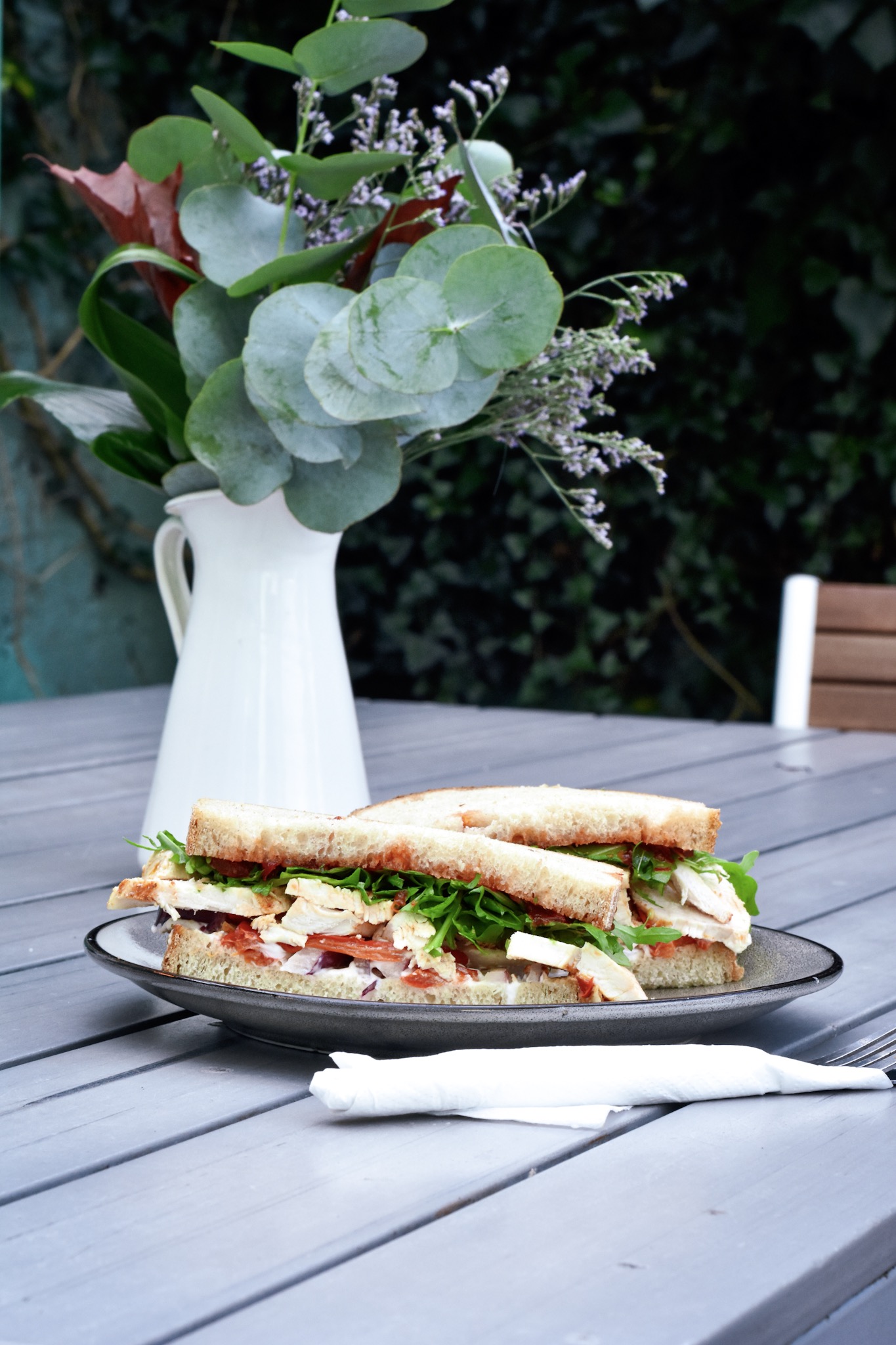 The name? Well Deirdre and Peter were toying with a memorable, one word name when they were coming up with this new business. They originally envisaged a deli-meets-wine shop, and so Olive symbolises both –– but then for years, some locals called Deirdre 'Olive', mistaking that the cafe was her namesake! Deirdre reminisces, "I moved here knowing nobody, but now I really feel a part of the community".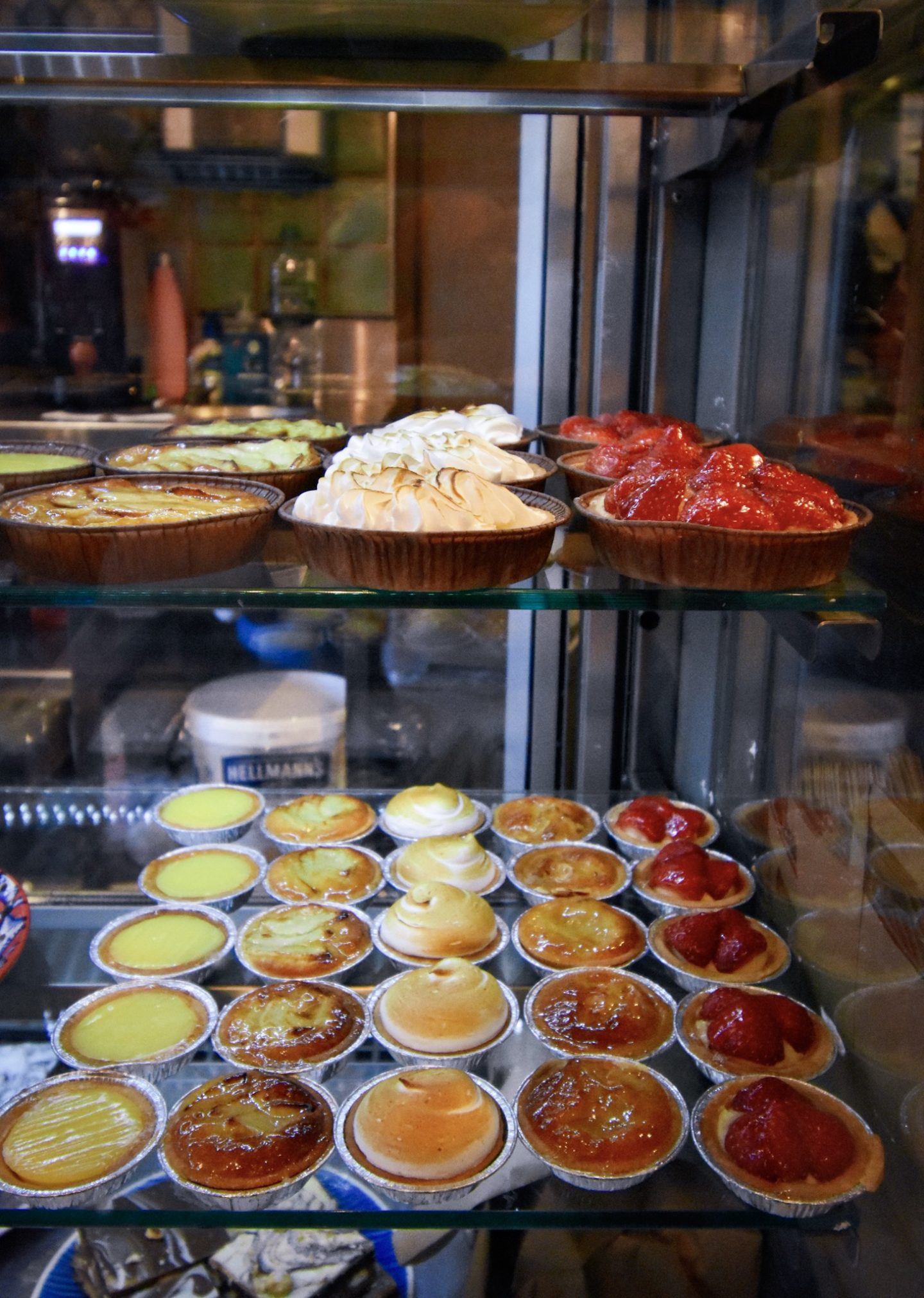 And local community is what Olive is all about –– "we're definitely a neighbourhood cafe," Deirdre explains, "and what we do is good ingredients, unprocessed, made fresh, a great vibe, wholesome, making a lot of what we serve ourselves, and the local produce…" showcasing that they're big supporters of small, artisan and local, which is central to their offering, for example bakers (like Orla McMahon, Shane Murray of Mud Bakery in Lusk, and Eimear Reynolds of Bakealicious in Navan) for their sweet offering and daily bakes, as their space is so limited but also because it's a great symbiosis stocking them. Deirdre continues through the list of local suppliers, so many of which are within a small radius of Olive itself: Wines arrive via Red Island Wine a few doors up; Aidan O'Brien in the town provides fresh meats; chicken and eggs are both free-range and locally sourced; fish comes as nearby as possible whilst bacon comes from Tom Lynch in Ardee and fruit and vegetables come from up the road in the nearby town of Rush.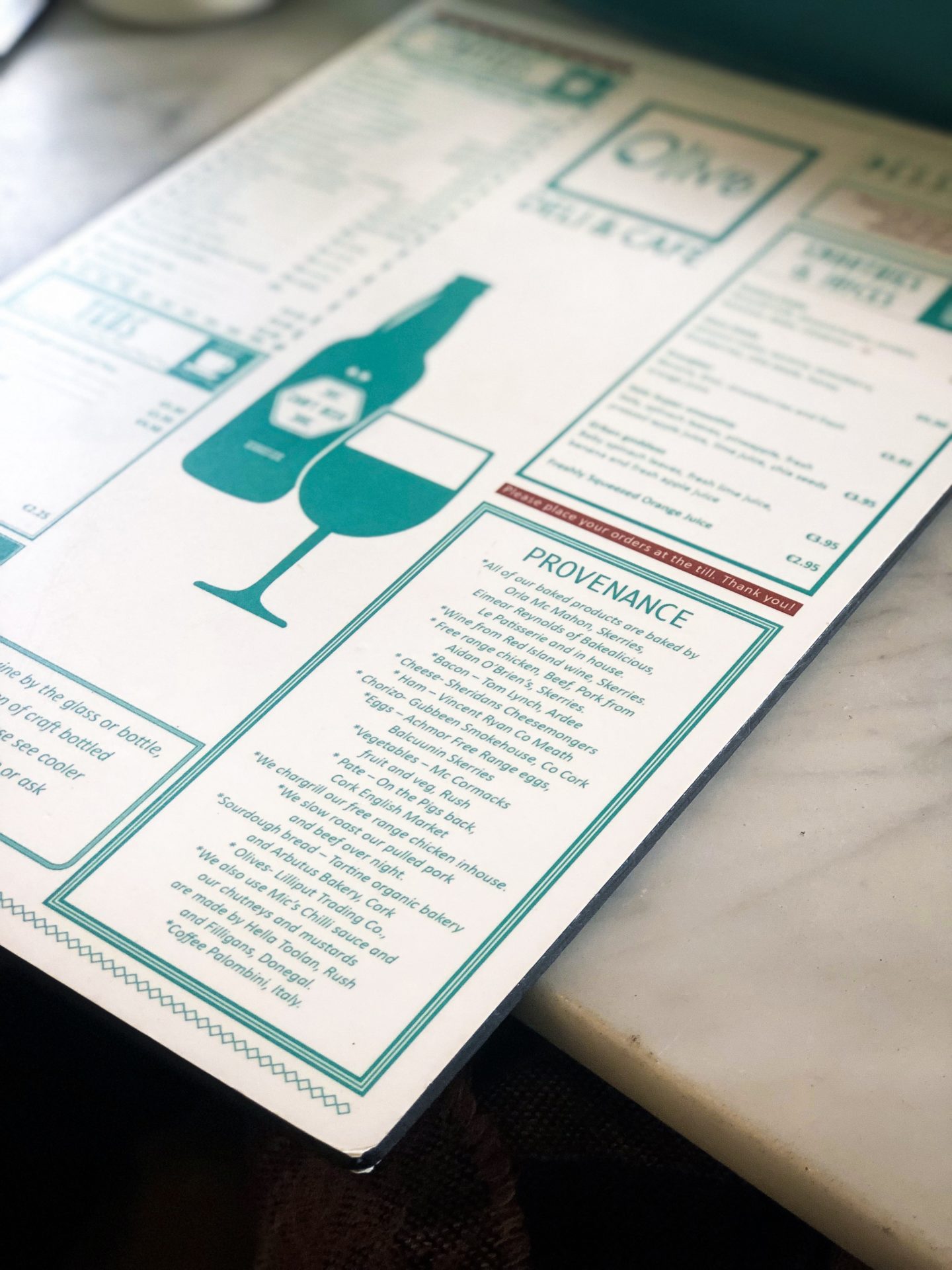 Where ultra local may not be available, the best of Irish produce is gladly used, from Gubbeen chorizo and Sheridan's Cheese to sourdough bread from organic baker Tartine, On The Pig's Back pâtés and terrines to chutnies and mustards from Hella's Kitchen mere miles away in Rush. Deirdre remarks Lilliput Trading Co. as being a wonderful supplier, not least for their olive oils but for their range of wonderful hard-to-source ingredients, both Irish and international.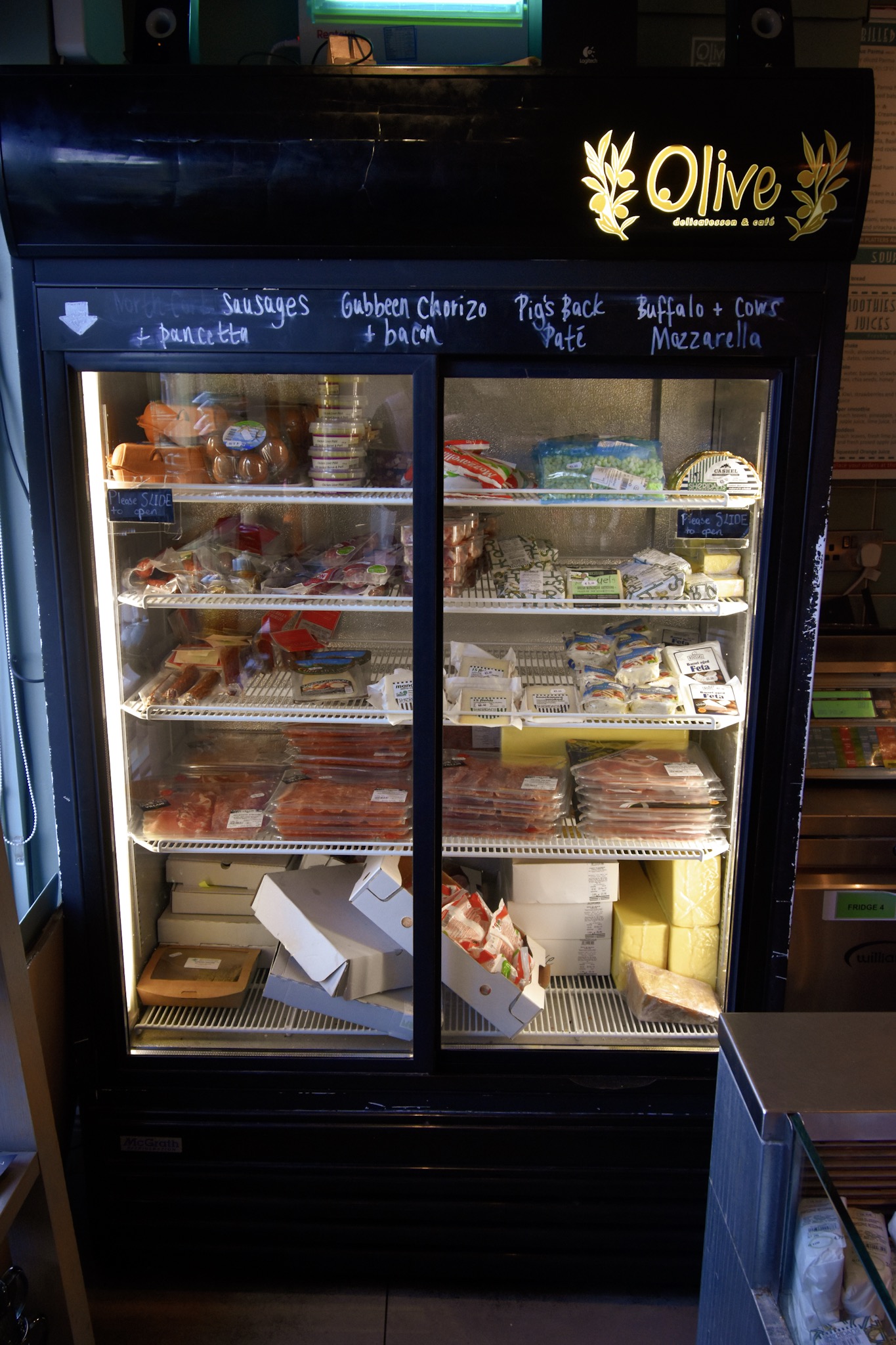 It's that same dedication to quality local produce and provenance of ingredients that has clinched Olive the accolade of being named Just Ask Restaurant of the Month for November 2019. Awarded by renowned food writer Georgina Campbell and Bord Bia, it recognises eateries across Ireland that exhibit proper transparency and best practice in the sourcing of the food and drink on their menus.
What's more, there's an entire accompanying deli, where you can peruse the shelves filled with local (and hard-to-find international ambient) products, as well as pick up cheeses, charcuterie, prepared salads, cakes and sweet treats, as well as grab a coffee or a hot roll. There's also a small selection of beautiful homewares, too.
In the sit-down (or takeaway) café, the menu changes often – daily specials, with which the chefs have free reign, as well as a focus on fish on Fridays and a toastie of the day – so that the offering is never "one note" and a friendly competition within the kitchen keeps boundaries being pushed and encourages bringing new flavours and ideas to the menu. "It's important to keep innovating, and keep things moving," Deirdre says.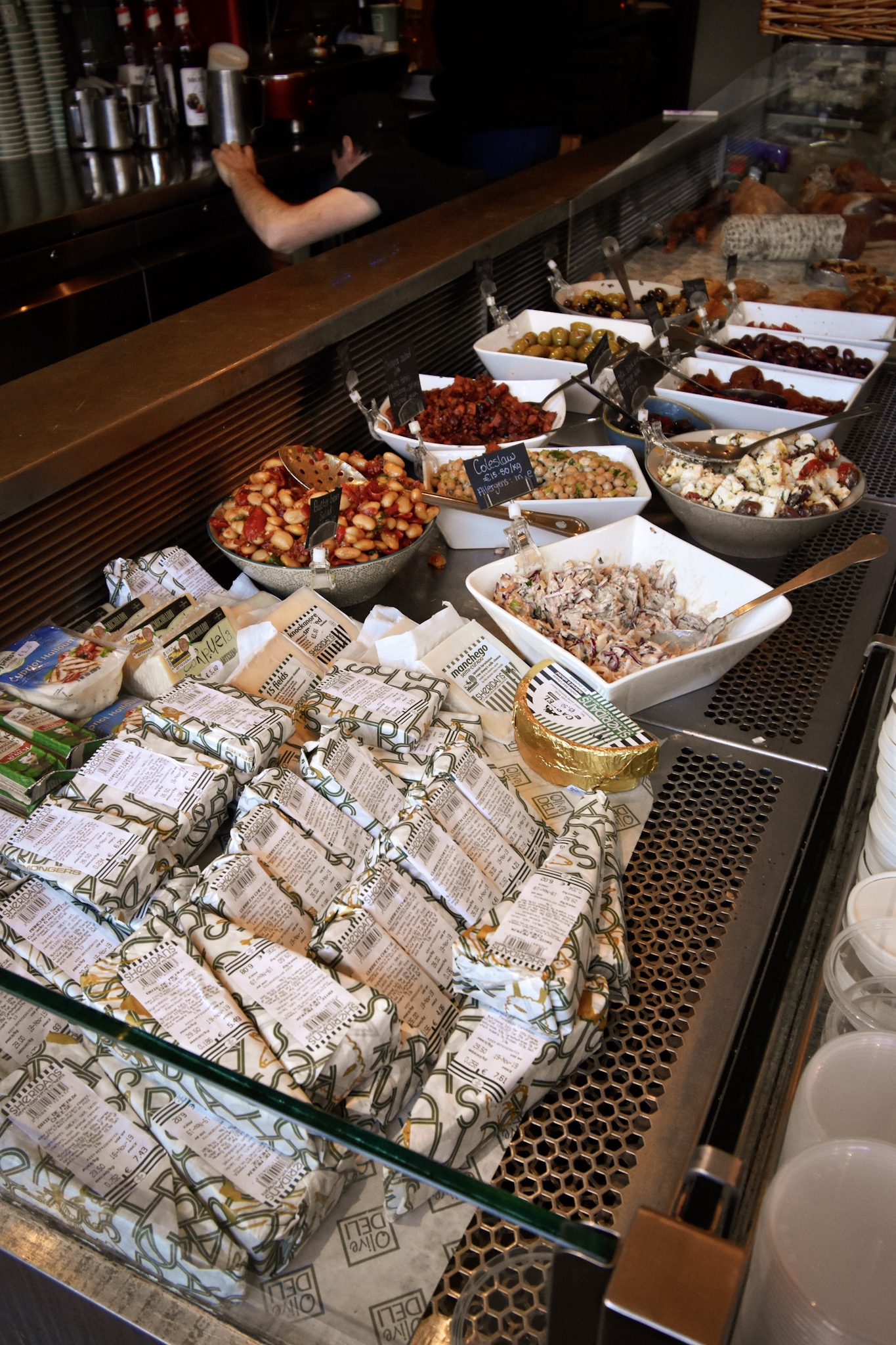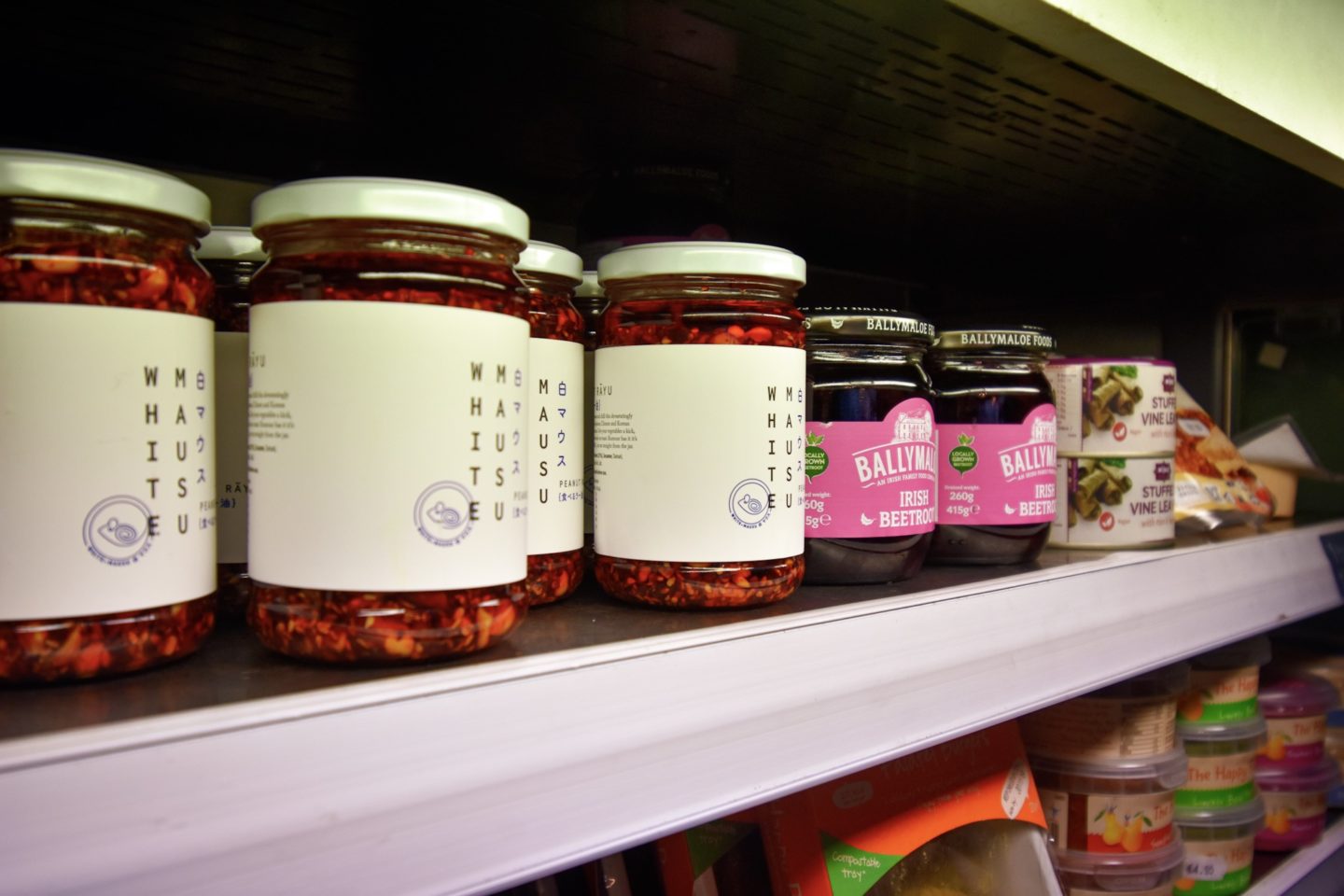 We point out the interior, which is just the right side of quirky, but with a base of elegance and clear a tuned eye has been cast on it –– and it turns out Deirdre styled it herself. This is a well-thought-out, beautifully styled cafe for a few reasons. It's approachable, there's no wacky colour scheme or mismatched trinkets everywhere, merely soft shades offset by statement Portuguese tiling behind the counter, handwritten blackboards and a rich teal wrap-around panelling. You'll find cosy nooks for tables of two, high stools and tables to gather around at, quiet corners to tap away on a laptop or take a call, as well as both a garden and a street terrace –– the seemingly small space is incredibly deceptive. Simple, fresh flower arrangements appoint every table, compiled by someone who has a very good eye for blooms; an abundance of eucalyptus on every table on this November morning.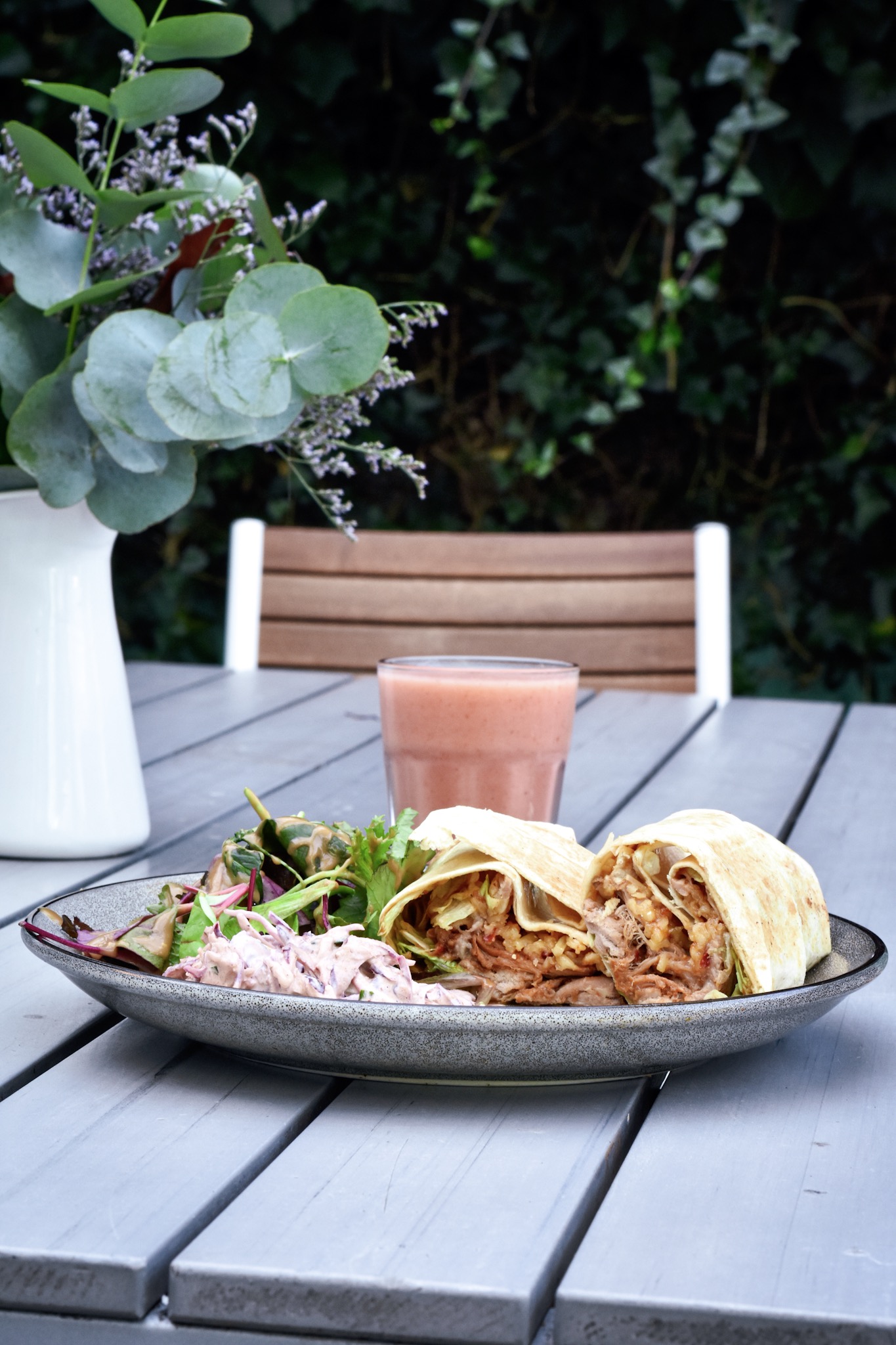 We can't take all the photography we want as it's almost lunchtime and it's packed. People are jostling for space, the room is abuzz in conversation, laughter, stories being told, orders being taken. The little details have to be left to imagination –– until you visit and see for yourself. Like the proper glass bottles of Coca-Cola in the drinks fridge, the brown paper takeaway bags hanging high atop the glass fronted counter/prep area filled with a seriously tempting selection of sweet treats. If there were a blueprint for an ideal sandwich shop-cafe-deli, this might well be it.
"We've had the same manager, Colm, with us since the Cafe Irie days –– 1996; and our other manager has been with us here in Olive since 2005, so with us and our staff it really is one big family," Deirdre explains, and we reply that she's "cracked it". She laughs, but we're serious. What herself and Peter have managed to do is hold on to skilled staff – who are so well-trained in customer service, it's an effortless performance; smiling, energetic, interested, kind, every customer matters, even when the place is thronged – in spite of all of the industry challenges over the years. Staff have left, and even come back into the fold, such is the staff morale and team effort at Olive. For business owners, if ever there was a doubt, let us tell you: customers can tell these things, they can feel on a deeper level when there's staff or team issues; when something's just a bit off and the love is lost –– and unfortunately often that permeates through to the food and drink. What they possess here at Olive in Skerries is magic.
At Olive, the dishes hug you from within, and the staff stop short of wrapping you in a blanket, such is the joy and warmth in this neighbourhood spot.

DISCLAIMER: THIS IS A PAID POST IN CONJUNCTION WITH BORD BIA.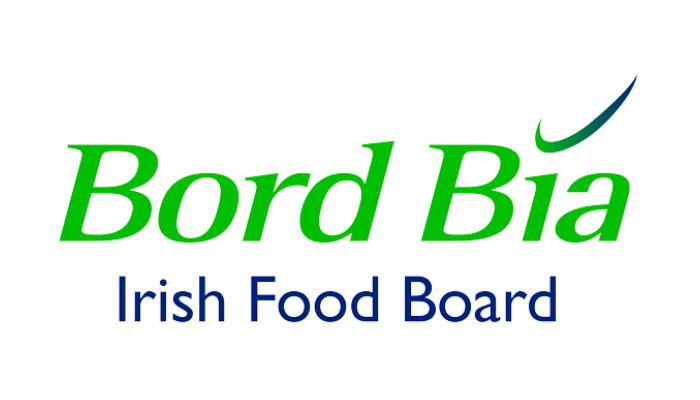 SEE MORE OF OUR FEATURES OF THE JUST ASK RESTAURANT OF THE MONTH WINNERS HERE:
FEBRUARY 2019 – BASILICO, ORANMORE, GALWAY
MARCH 2019 – THE WILDS, ENNISCORTHY, CO. WEXFORD
APRIL 2019 – BLACK CAT, SALTHILL, GALWAY
MAY 2019 – DUNMORE HOUSE, CLONAKILTY, CORK
JULY 2019 – FOYLE HOTEL, MOVILLE, CO. DONEGAL
AUGUST 2019 – WATERFRONT HOUSE, ENNISCRONE, CO. SLIGO
October 2019 – Lemon Tree, Dunmore East, Co. Waterford
November 2019 – Olive Skerries North Co. Dublin