We recently took a trip up norf' for a long-awaited first taster of Manchester. We've wanted to explore what we call second city of England (Sorry Brummies!) for so, so long, so we were full of excitement to plan and pursue our trip with military precision. We steamed into the City by train and must have rolled all the way home on our bellies as we tried so much of the food and drink that Manchester had to offer. In this post, we will talk about where we stayed and some of what we saw…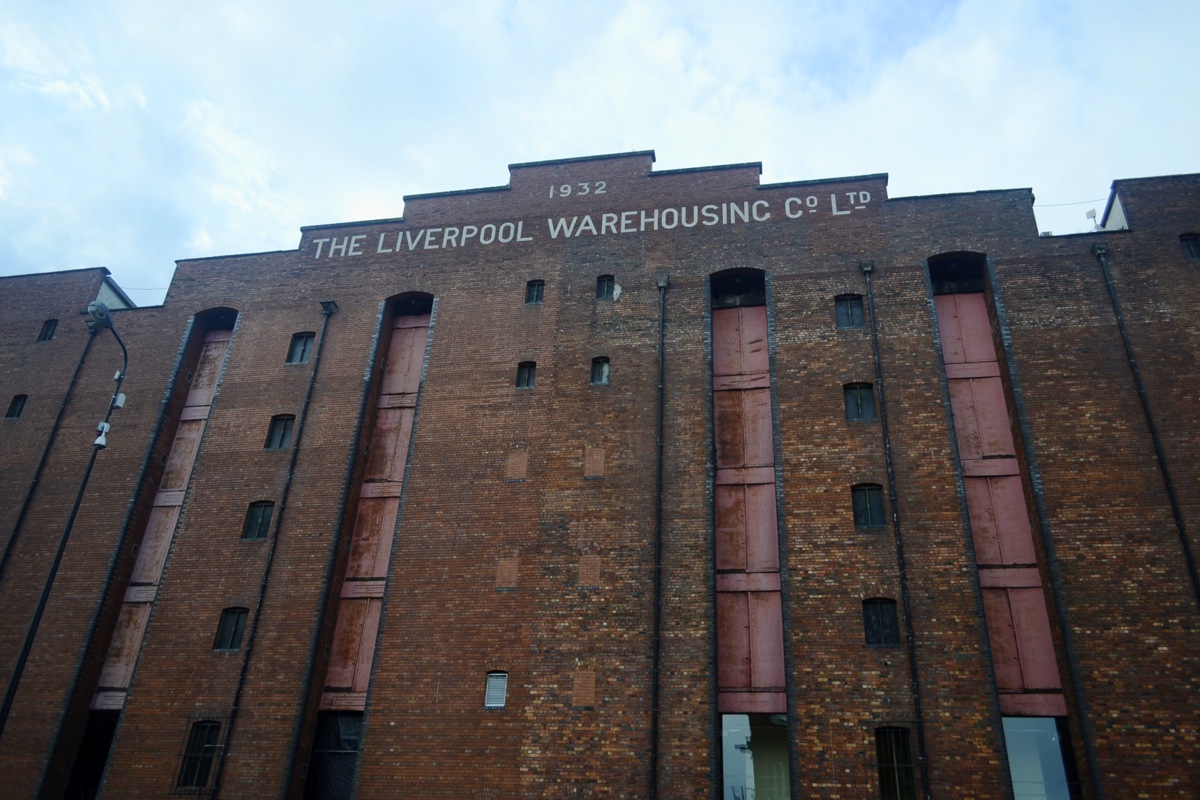 We took the Virgin Train from London Euston, which we got dirt cheap as we booked far in advance (about three months) and used our Two Together RailCard. To slightly go off topic for a minute, the Two Together is a fantastic card to have for couples, families, or even friends, where you usually travel together. It offers 1/3 off rail fares and we've used it to get to a heap of places across the UK, including Exeter and Brighton this year, as well as making journeys to and from the airport really inexpensive.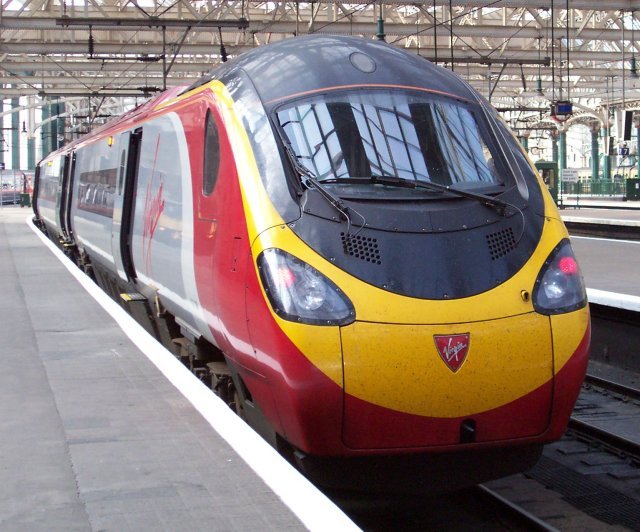 The train takes about 2.5 hours, and book a seat on a quiet coach if you can, we much preferred it and you can get some work done or sleep a little while you travel which is a time-saving bonus. The train terminates at Manchester Piccadilly.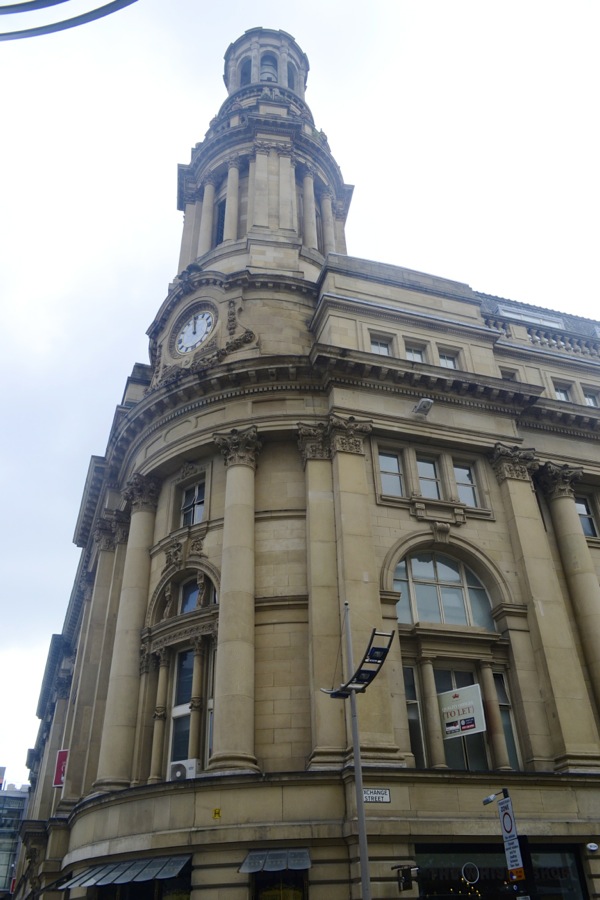 We then traversed Manchester City centre itself and tried to navigate their transport system, which can be a bit confusing at first. They use a combination of tram and bus, of which the latter has some buses that are free and others that aren't. The free buses are small single deckers, and are clearly marked as MetroShuttles, providing links between transport hubs and shopping districts. We got a day ticket for each of the days that we stayed, and those were either £5 or £7 for unlimited tram use across all the network. The £5 fare is available weekends, and outside of rush hour on weekdays, so maybe wait until after the 10am cut-off to purchase your ticket on weekdays.
The tram is a nice way to see some parts of the city, as it traverses the width of the city centre and then runs to the outskirts of the city on various lines. The line we used allowed us this beautiful view of Salford Quays and MediaCity above.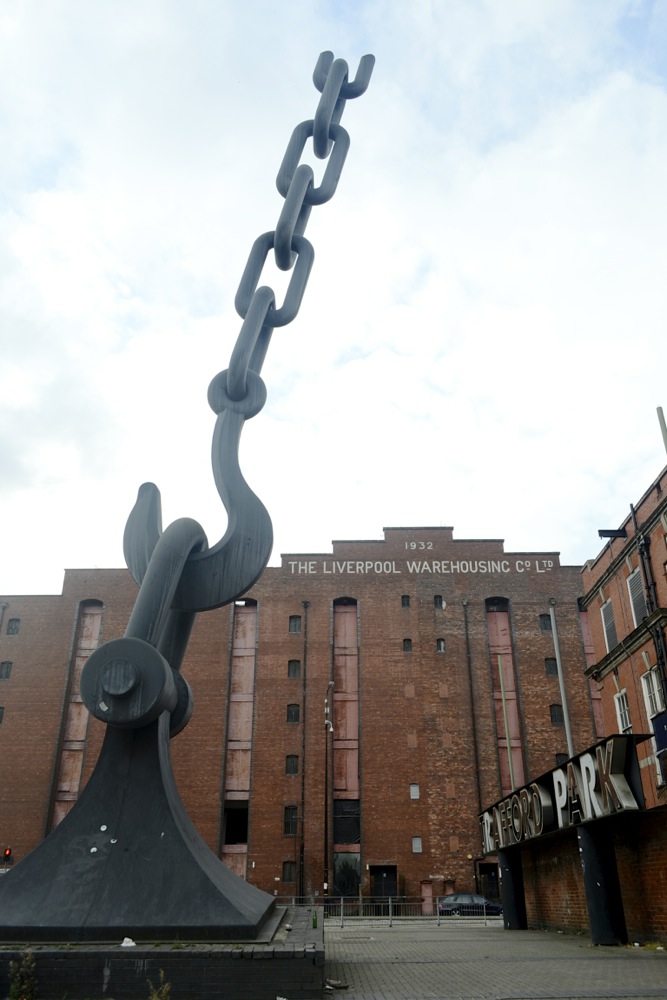 When you get off the tram (the nearest stop if Exchange Quay), a short walk across a busy junction then brings this beautiful monster into view. An old, dominant, cold-looking warehouse looks out along the Quays, emblazoned with it's former name 'Liverpool Warehousing Co. Ltd.'
The hotel is literally around the corner from Old Trafford Stadium, so on match days, like the day we arrived – suitcases and all, expect there to be crowds and busy trams while you make your way Westwards to check in.  Chip vans with the smell of sizzling, sweet onions and burgers frying fill the air, while a sea of red flags wash through the area, all merry, chanting and sharing a laugh.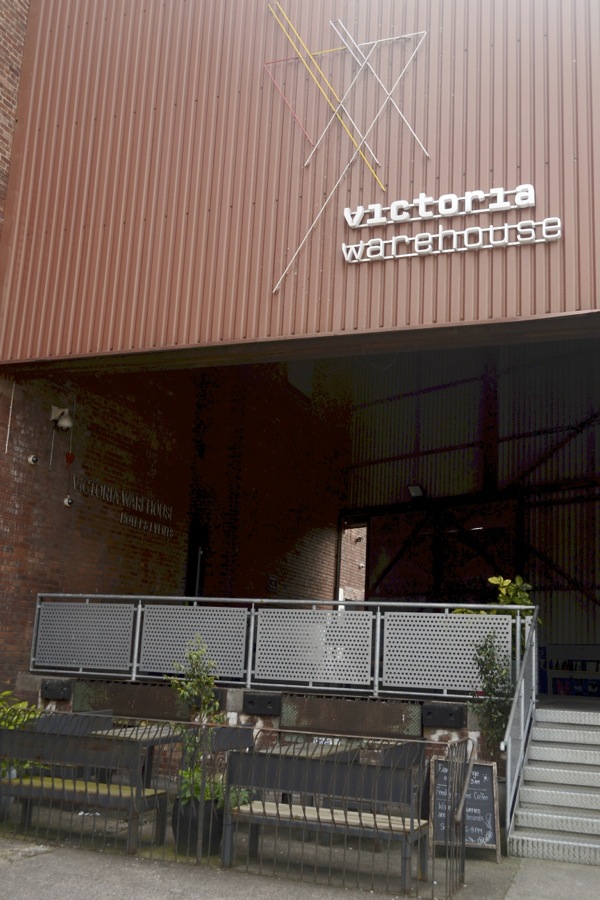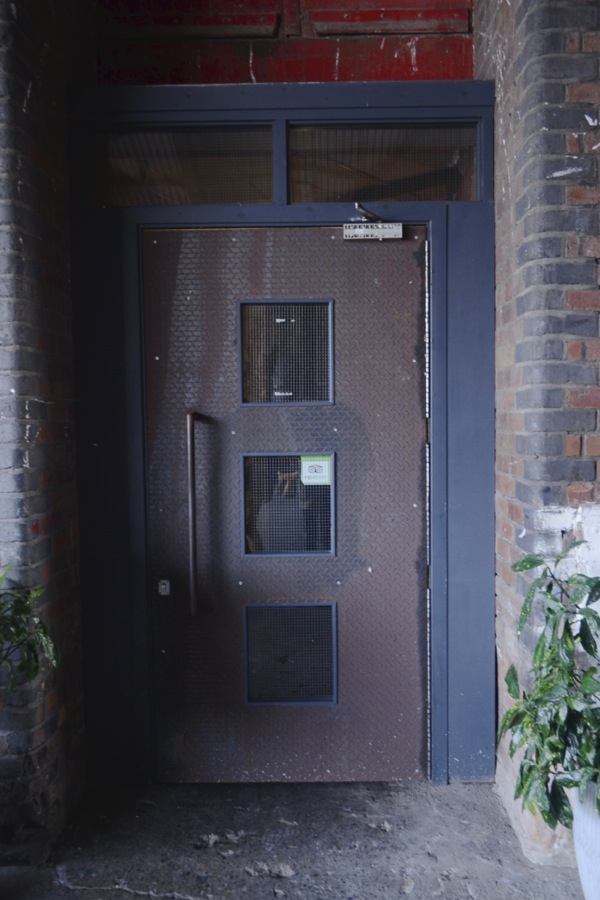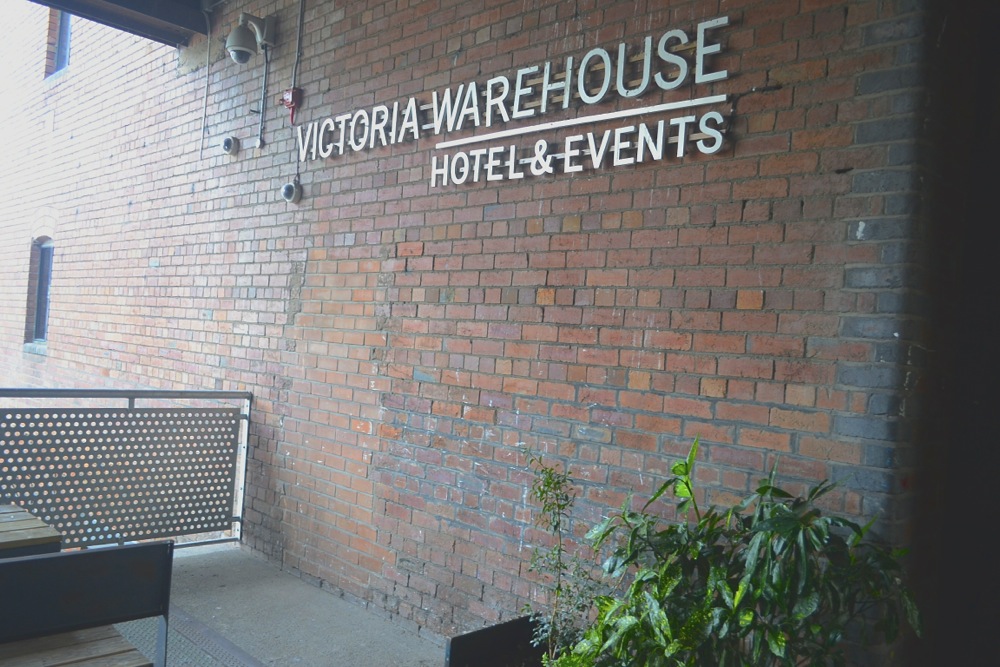 The Victoria Warehouse, as this hotel and events space is known, has done some job by transforming itself. The renovation of this impressive structure is fantastic to see, and it's multi-functional use means it's a real asset and economical use of the space, and also continues the legacy of the building's former glory by drawing it from the past to the present and breathing in a new lease of life for the future.
There's an eclectic interior style, with lots of wood, metal and glass. There is exposed fittings and reclaimed furniture, so if that's not your thing, this might not excite you as much as  it did us. We loved this cosy little corner hidden in the expansive foyer in the picture below. It's right in front of the maybe 20 shelf-strong library of books, guides and magazines that are free to read. A fantastic 'Quiet Corner' of sorts, that's just far enough from the bar that it's secluded, but it doesn't cut you off. Don't you agree a few hours spent reading is always more worthwhile washed down with a glass or two of wine? We certainly like to think so.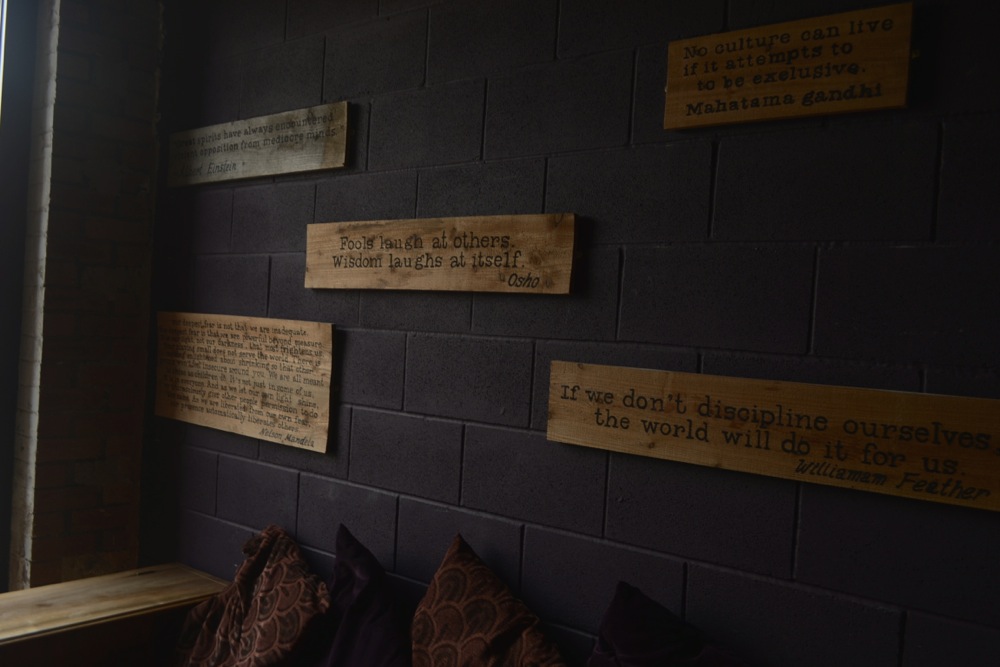 Now, up to the rooms. As far as we know, it's just the one floor that's been renovated and so has all the rooms on it.  Again, there's a theme continuing from down below through to  upstairs. Exposed brick, harsh and basic lighting and metal, staircases guide the way to the rooms.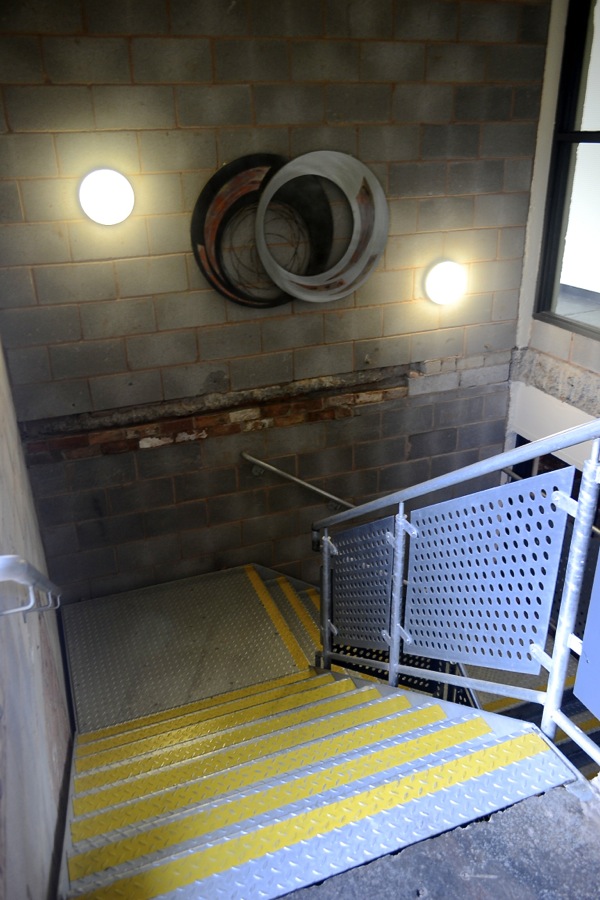 The hallway is bright on one end and quite dark and looming on the other (as one side of the building is exposed to daylight with big bay windows, and the other isn't).  The rooms have colourful, yet still stripped back and basic interiors, but with welcoming, bright doors.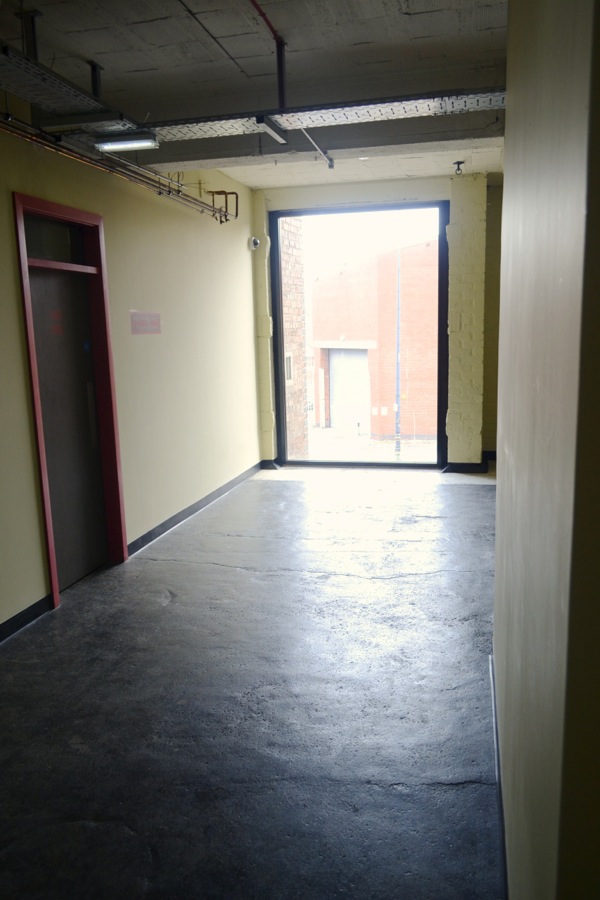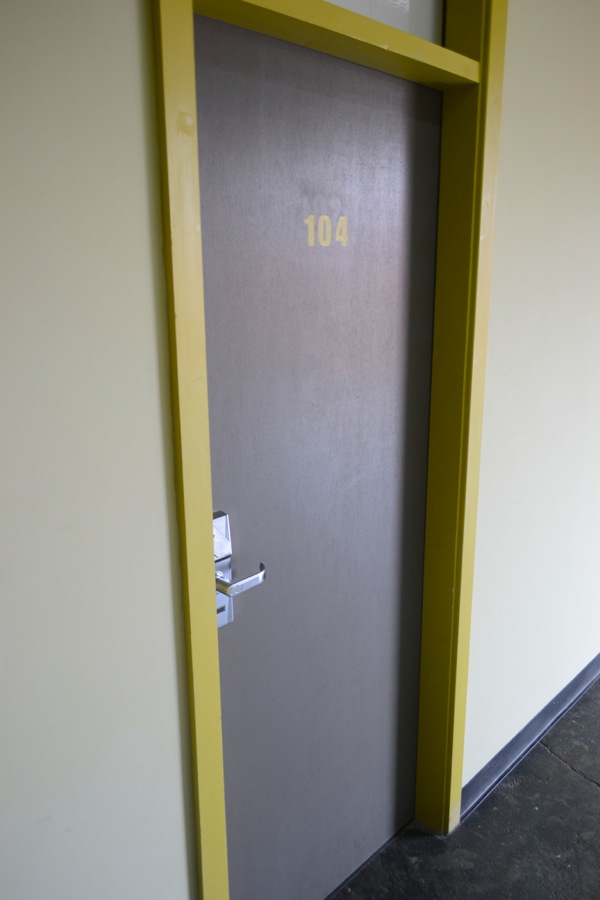 There's a number of reviews online that complain about this hotel feeling like a prison. It's very industrial and exposed, but inside the hotel has been cleverly restored and pops of colour, culture and charm are evident throughout. There's cosy, large seating in the foyer, with internet available, a library where you can spend hours pouring through the great variety of books available, and a fully stocked bar.
We went for the deluxe, private room, pictured above, which is the most expensive room available in the hotel. We say that, and it sounds expensive or indulgent, but compared to other hotels in Manchester City, it's an absolute steal. Obviously we can only comment on this room type, and we are aware that some of the less expensive, dorm-style rooms which sleep groups of people don't have windows at all. Our room did, and was nicely positioned just above the entrance to the hotel, made bright and light throughout the morning and afternoon. The reclaimed metal shutters are a really nice touch, but we can understand the 'prison' references and distaste from some guests.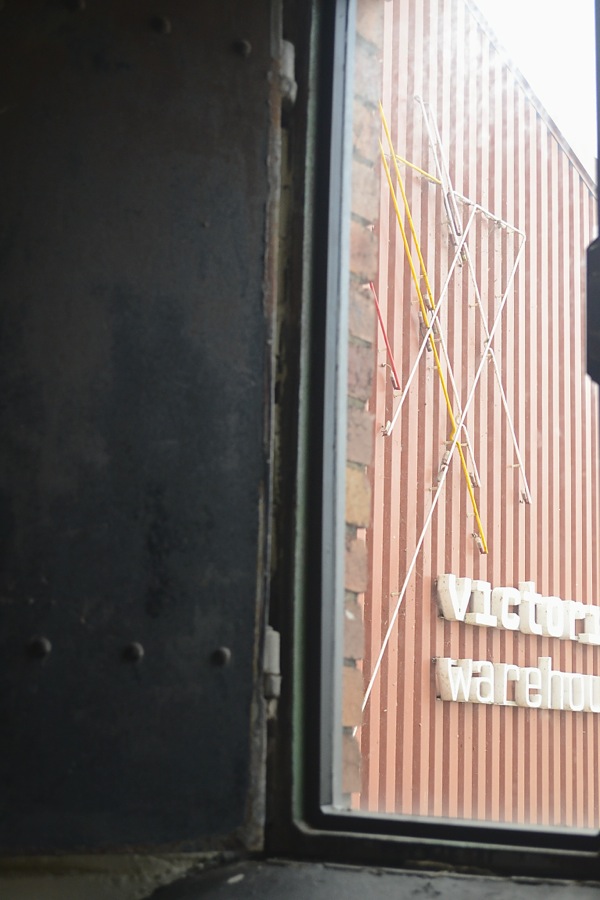 It's all pared back to the basics, and that's all we needed. A simple, clean but welcoming place to rest our heads while we explored everything the city has to offer – and that's usually how the two of us travel, so it suits us down to the ground. The one grievance we had was the overwhelming citrus smell that the cleaners used very liberally throughout the hotel. It lingers in the rooms well into the night, it announces the location of the reception toilets before you stumble across them,  and it even came home with us – seeped into our clothes inside our bags.
The staff were ultra friendly, for the most part, and a couple of them were really accommodating with our movements, as well as being very helpful and interested – asking us about our day, our plans for the next, and offering tips and advice on where to eat and what to do.
It's an acquired taste, that's no lie. Some people are going to love and adore the layout and look of this hotel, and others are going to balk at this beast. For us, it was right up our street, we love the quirk, the exposed and industrial style, offset with some really cosy, comforting and even elegant interiors.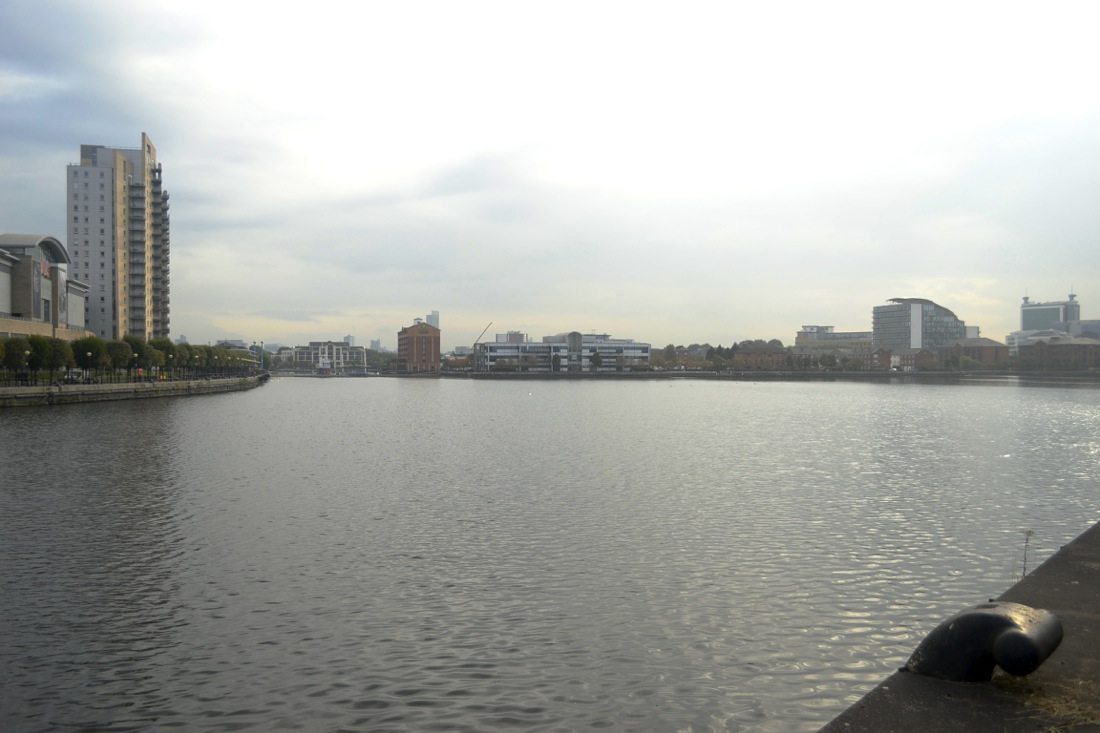 We also took a walk once or twice along the quays towards MediaCity and The Lowry and spotted a few different sculptures and artwork celebrating  to the lustrous Golden Age of shipping that this part of the North experienced. The jaunt up to MediaCity is worthwhile, there's a great selection of restaurants (especially Damson, which we wanted to try but just didn't get the time to), as well as ITV and BBC side by side, as well as exhibitions in the Lowry close by and quite good shopping at the Lowry Outlet.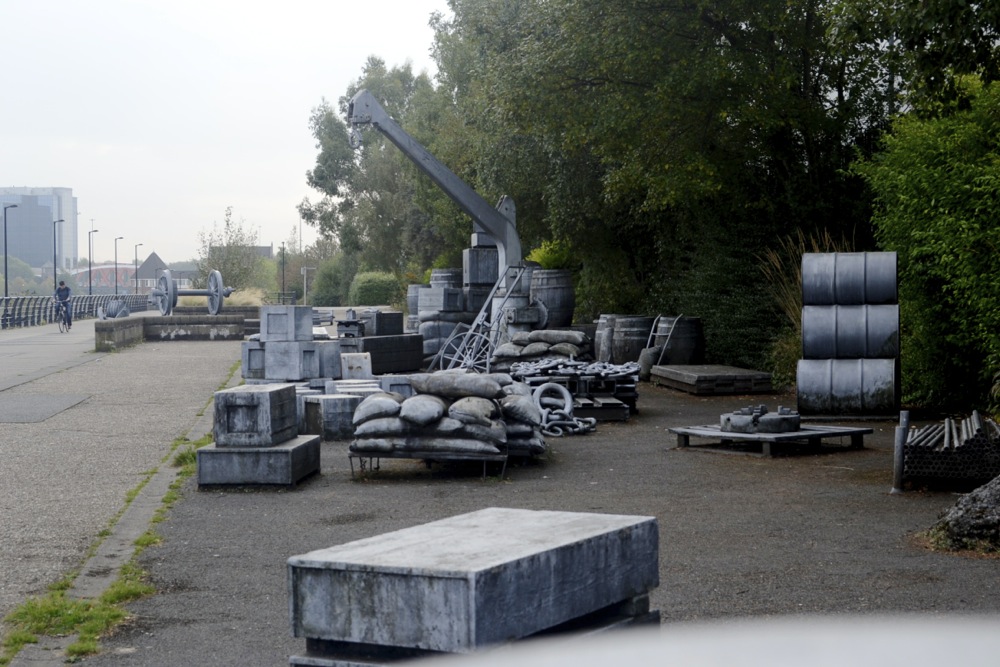 Loved the sculpture below which was created in 2010 to celebrate the workers of Salford Quays' lives and their 'Union Cards' which had to be presented daily in the Twenties and Thirties in order to work. The men would queue up daily in the hopes of being luckily picked at random for a day of work, often leaving disappointed and returning home to face their hungry families. It's entitled 'Casuals' by Broadbent.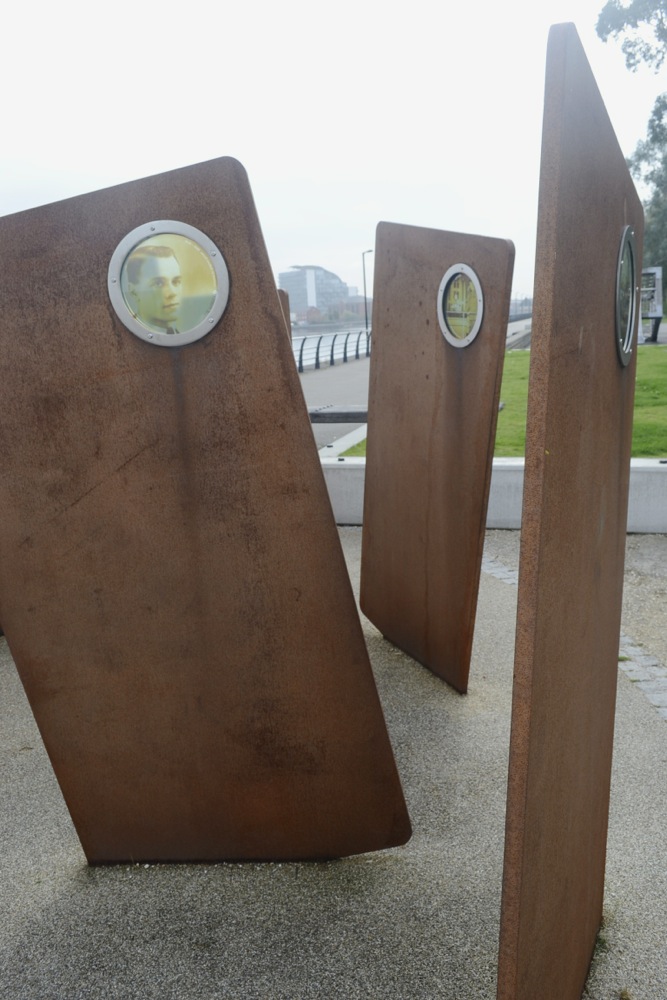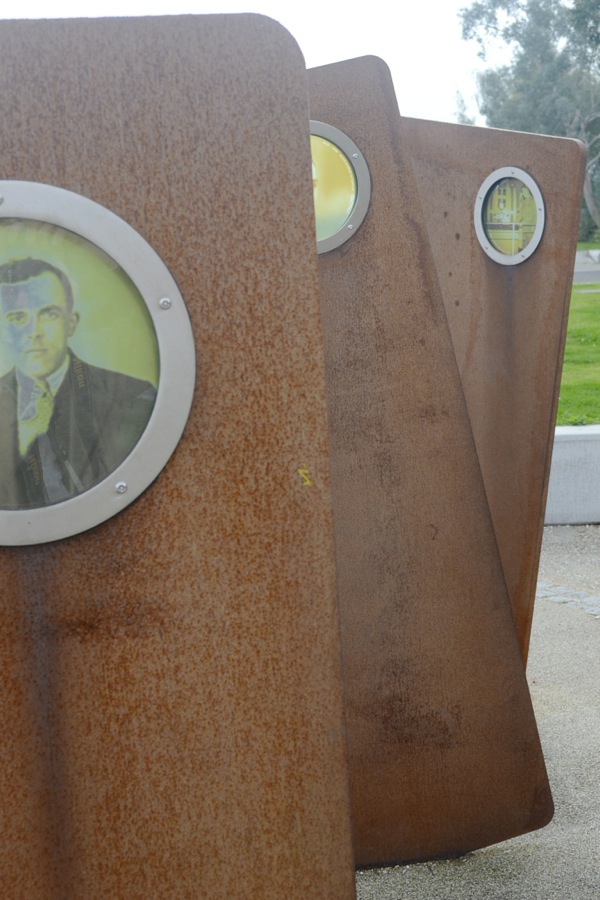 We had a fantastic stay in Manchester (the first of many in the future), and keep your eyes peeled for the next post coming soon, where we report on the food and drink that we sampled (and overindulged) in Manchester.
P.S. Have you followed our new Instagram account yet?