"The only other rule is no empty glasses," we're told as the room reverbs in excited chuckles, an 18-strong group sat one-to-a-station at the individual copper pot gin stills of Listoke Distillery and Gin School, just outside Monasterboice in County Louth. We're creating gin using a wide variety of flavours and botanicals from grain spirit at Listoke Distillery –– Ireland's largest gin distillery, and a brand and business leading the way where gin is concerned, and by all estimations will thrive long beyond the craft gin boom in Ireland slows.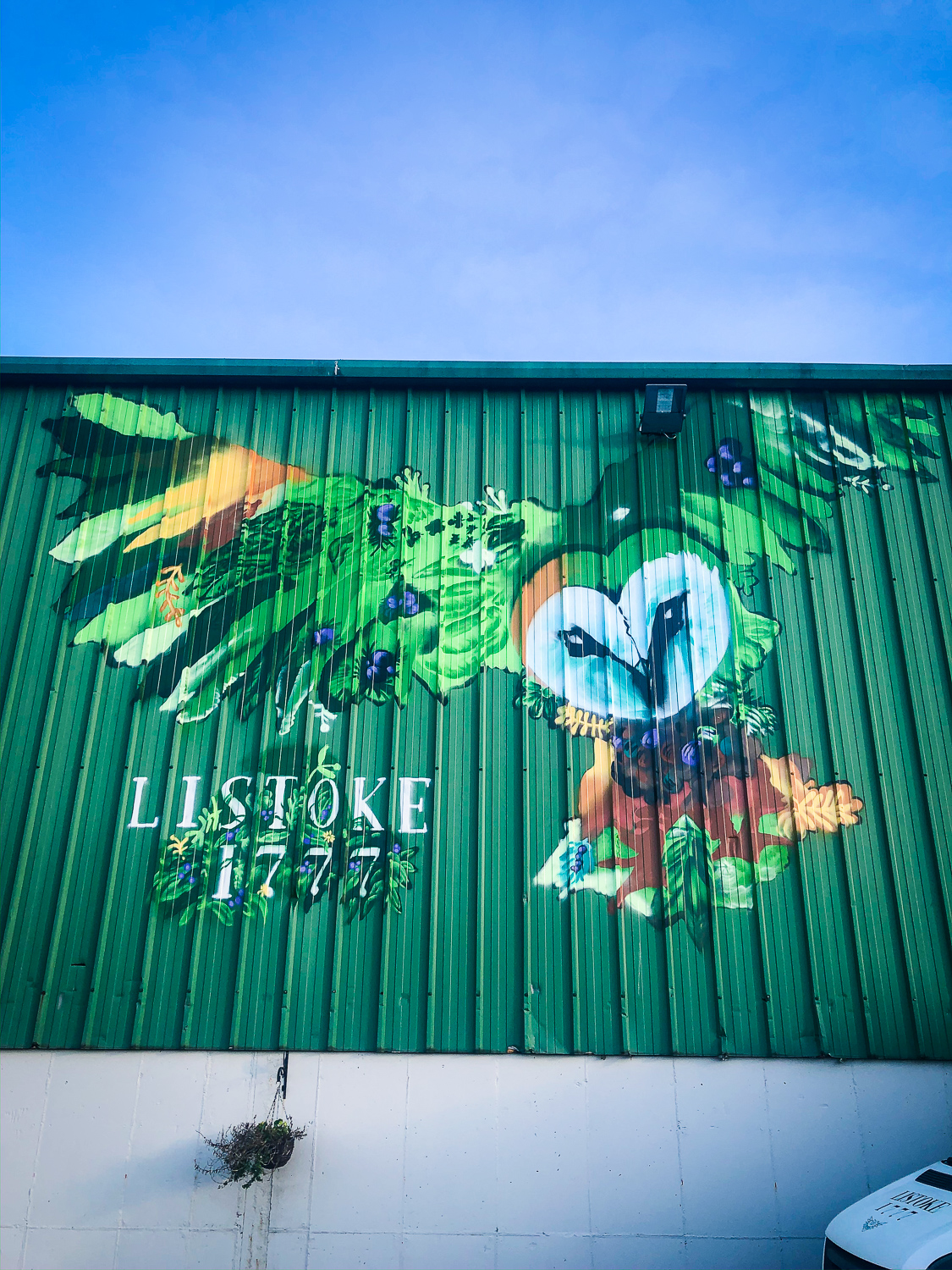 After a few house rules, the group is taken first on a short tour of the production process which sits alongside the Gin School in the same unit here in a quiet corner of Louth…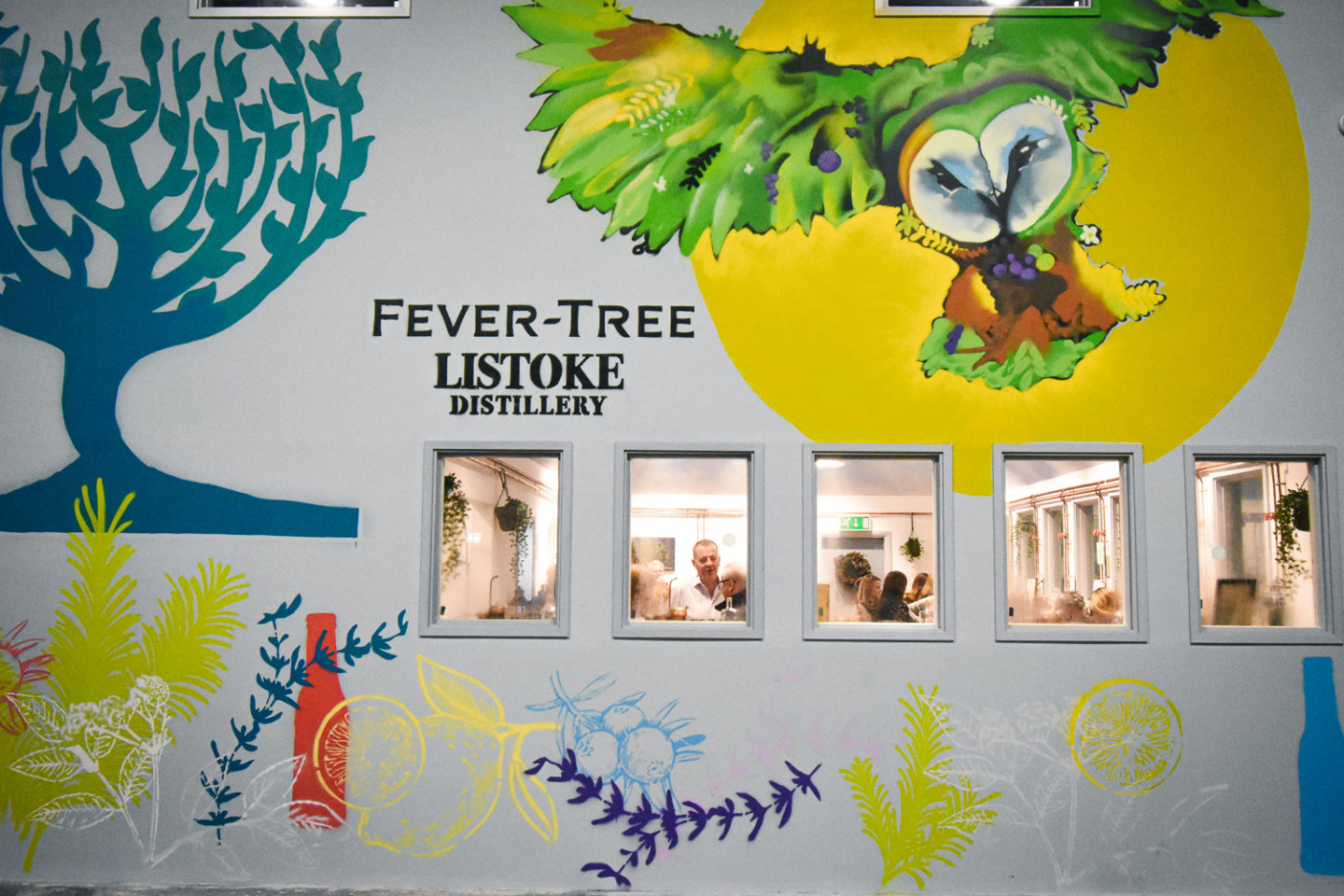 Just over three and a half years ago Listoke Distillery screeched into business, racking up headlines for the slick branding, story and the creation of Ireland's very first Gin School. First based at the historic Listoke Estate on the outskirts of Drogheda in Co. Louth, soon the demand for both their product and gin experience meant they were squeezed for space so had to relocate to a far bigger space. Under founding partner and MD Bronagh Conlon, they've relocated to a bigger space in the village of Tinure, just off the M1 motorway with both a production base for their range of gins as well as their gin school –– Ireland's first.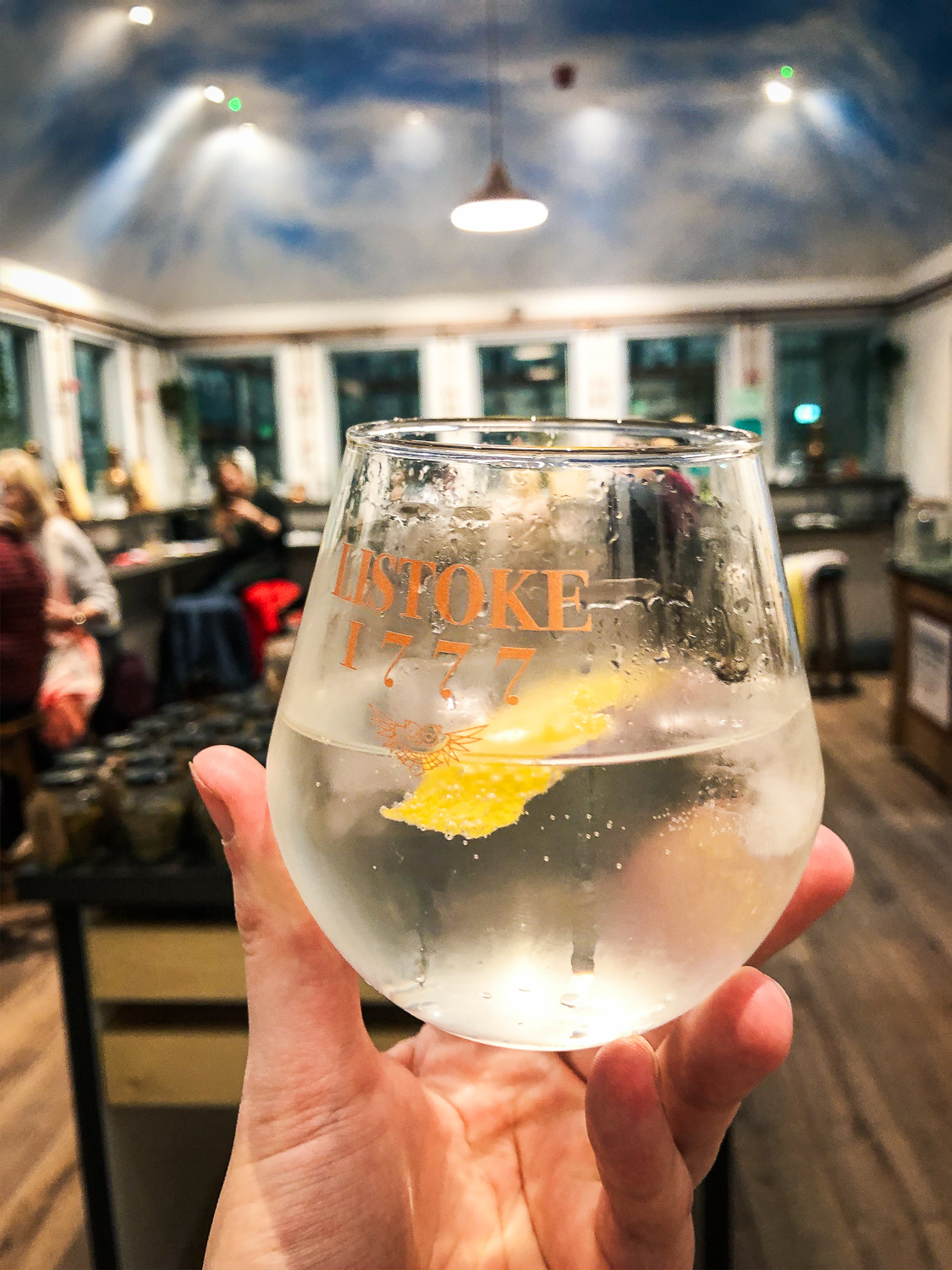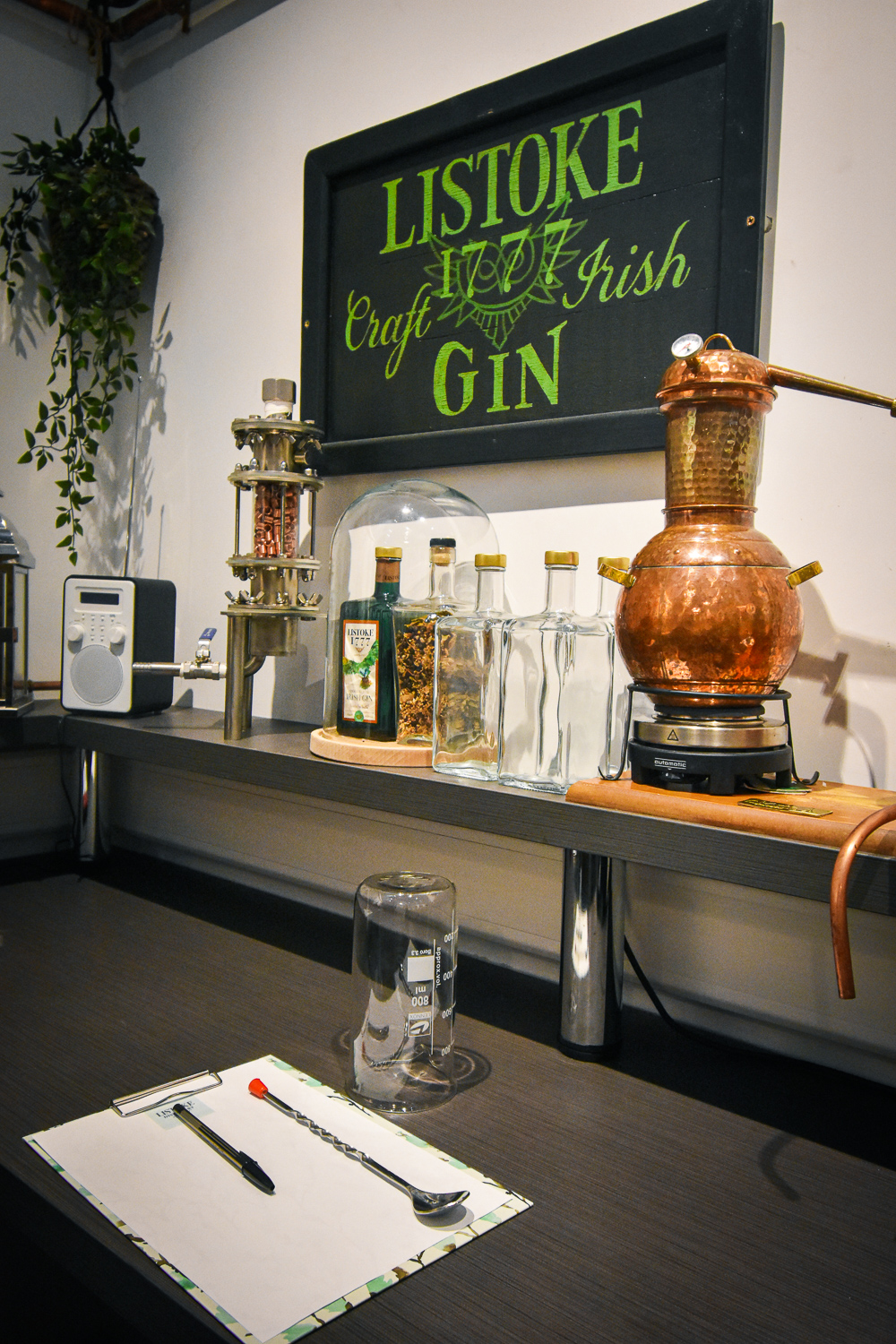 At Listoke Gin House, you'll find three stills. Each technology-equipped, these iStills are stainless steel rather than copper pot, Gráinne explains and are responsive at the touch of a few buttons so super streamlined and easy to troubleshoot if they run into bother. Their original, a mere 50L, started everything off when the founders moved from testing recipes at the kitchen sink to going into proper production. Now, the original is dwarfed by two newer stills –– a 500L and a mammoth 1,000L, whilst there's scope in the very near future that they will need to add in a 2,000L!
In a small handful of years, that growth seems exponential, but Gráinne explains they couldn't keep up with demand, casually dropping some of the big awards their signature gin – Listoke 1777 – has received, as well as namechecking some of the biggest supermarkets in the land who put in big orders early on. This national interest turbo-charged their production and growth, whilst the unique element of the gin-making school grew immediate brand awareness and interest, both in Ireland and internationally.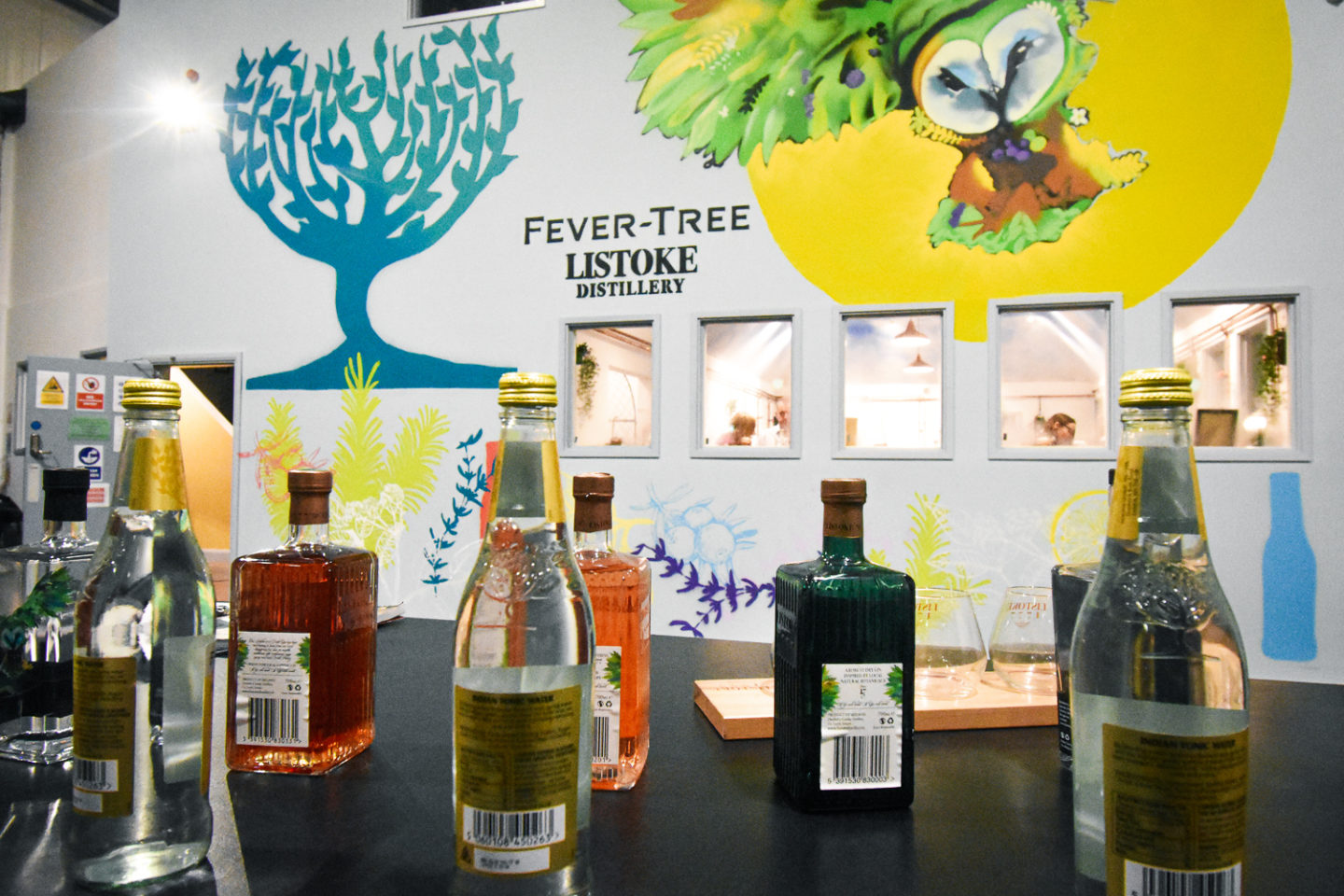 With several partners and funders involved in the creation and continued growth of the brand, both at home and abroad (you'll remember we interviewed co-owner Blánaid for the very first ever episode of Chew The Fat? She and husband James, both partners in the business, are based in the US working on establishing the brand over there) on the ground here in Co. Louth, family makes up much of the operation. Bronagh's husband Séan is leading the distillation, whilst her daughters Gráinne and Sarah have both come on board in recent years working alongside a small, skilled, local team running both the production line, export and the booming Listoke Gin School business.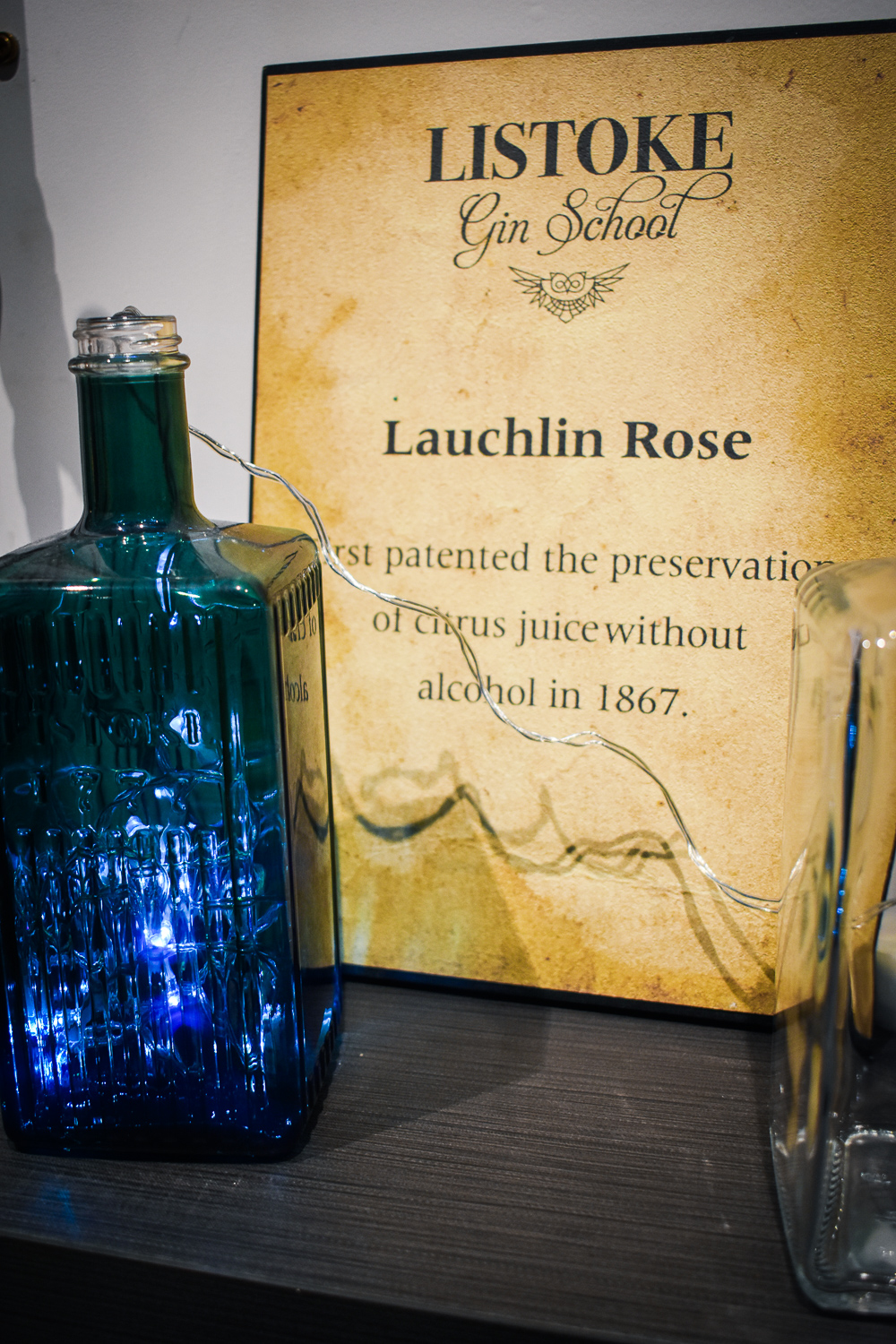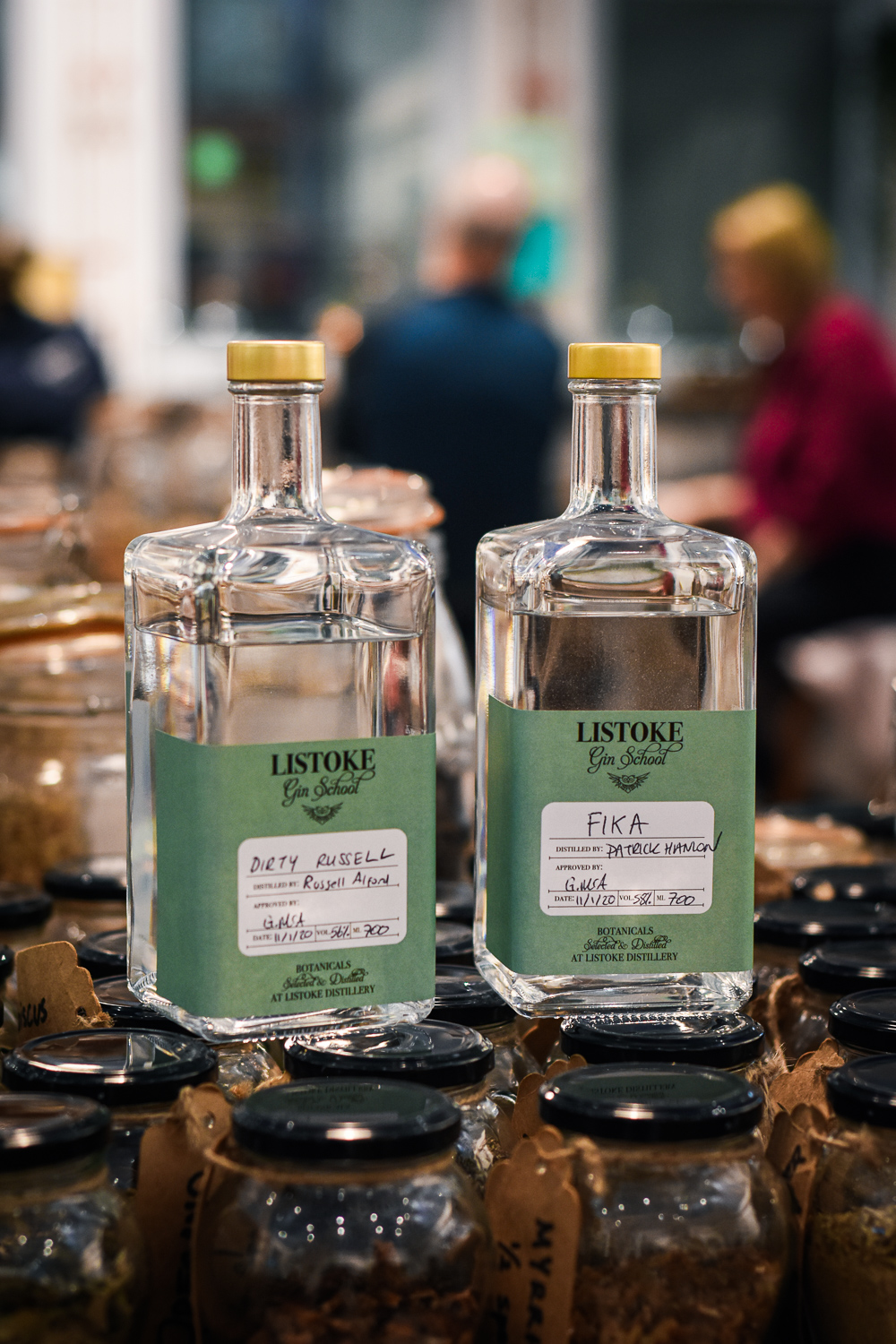 "We'll be the first to say, we don't produce spirit here, and it isn't Irish" Bronagh – who happens to be on the tour on the day we're there – explains to the group, "we buy in grain spirit from the continent, because 95% of grain spirit produced in Ireland is earmarked for whiskey, so the availability just isn't there" whilst she further delves into the red tape in terms of bond and excise duties; spirit is cheap and quick to make, but creating gin from that is where the cost escalates –– and quality, premium gin will always speak.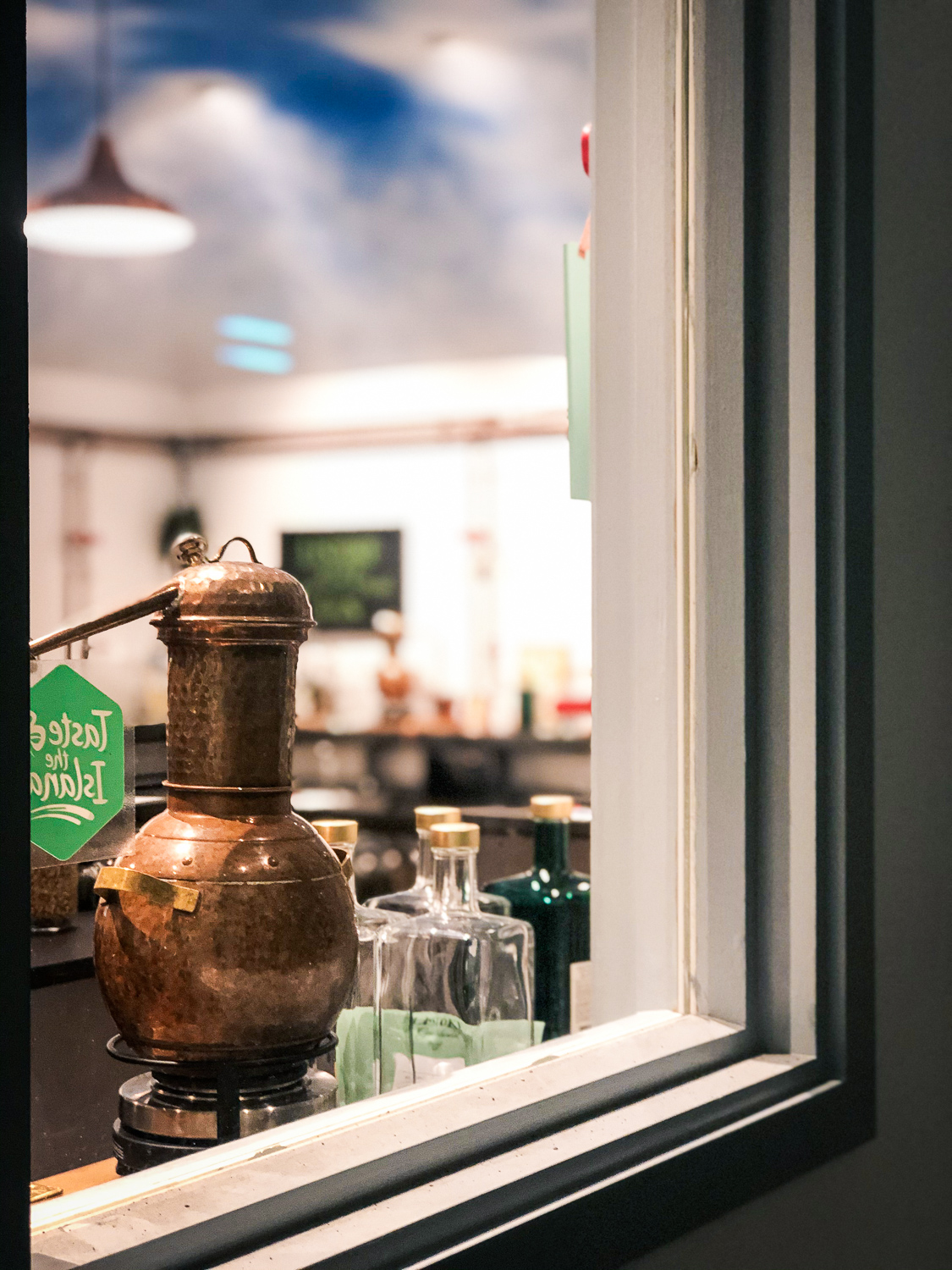 The regulations in Ireland to create, and hold the title of Irish whiskey, are strict (must be aged 3 years minimum in wood, produced and bottled on the island etc.) whereas gin production regulations are very lax in comparison –– Bronagh and a number of other key figures in the Irish gin industry have recently banded together to try to eke out an 'Irish Standard', which is important, she discloses, because internationally gin is having huge exposure but traditionally it's a spirit and product associated with the UK, and London in particular, so gin producers in Ireland need to sing from the same hymn sheet to stand out and to compete for market share.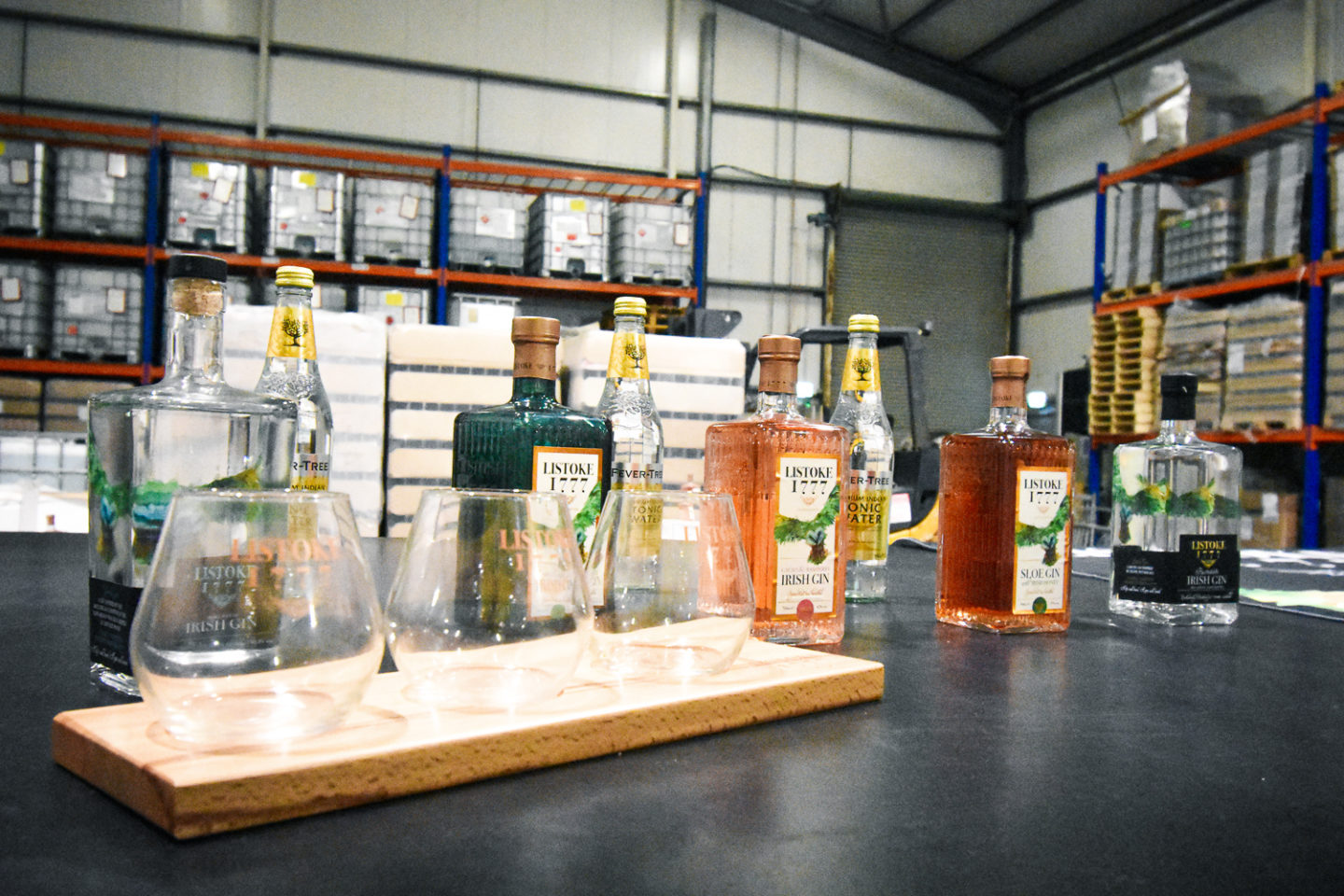 What they make here is a London Dry-style gin, Listoke 1777 being the signature product whilst they also produce several others brands, styles and expressions. Barnstorm, an off-shoot of the 1777 product created exclusively for The Loop Duty Free at Dublin Airport is a spicier, sharper sip than its counterpart. Tower Gin, a brand produced for Aldi both in Ireland and Australia, is also created here, with special flavours and limited editions whilst they also produce for two other quite well-known gin brands in Ireland –– James Joyce Gin and Galway Gin Co.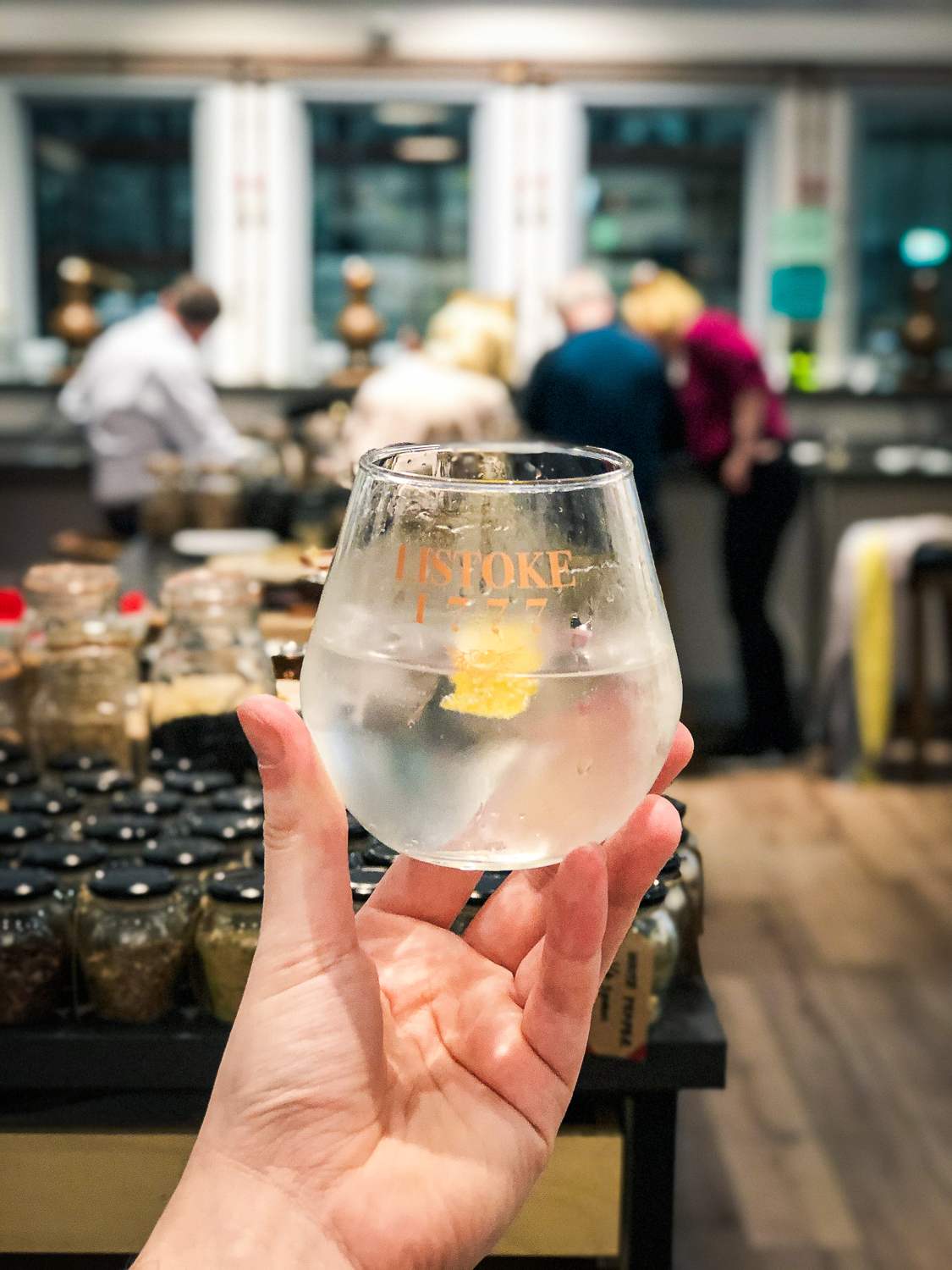 But the Listoke Gin School is where guests come, roll their sleeves up and become individual distillers for the day. A session is usually around three hours in length, beginning with a welcome tipple in the school before embarking on the short tour as described before. Then, the group – anywhere from a small handful to a max pax of 18 – reconvenes in the school, sits at their station and begins to craft their unique spirit. Top-ups of G&Ts and tasters of their other brands are offered throughout the session, so you could never say that they aren't generous with their time and their hospitality.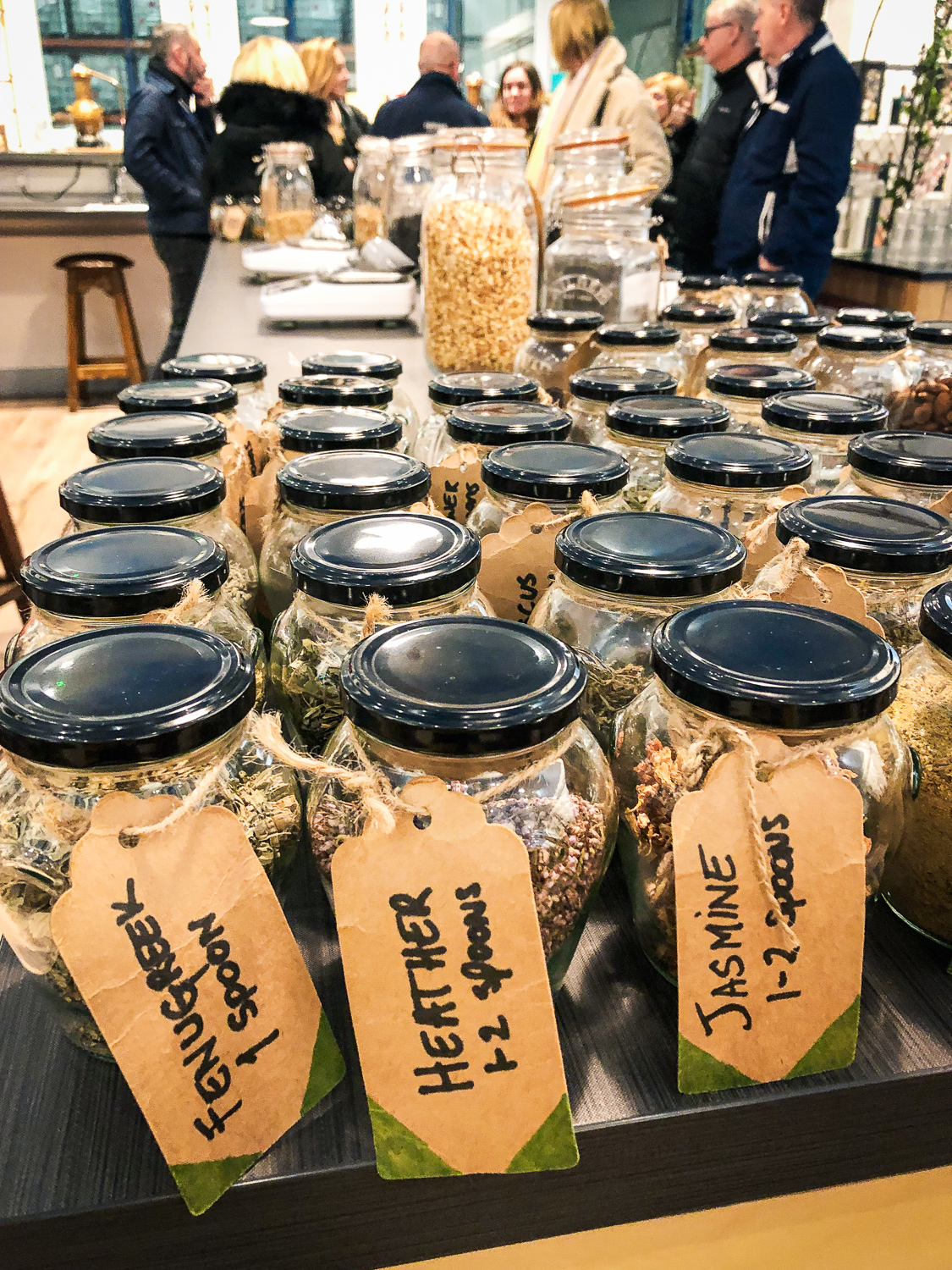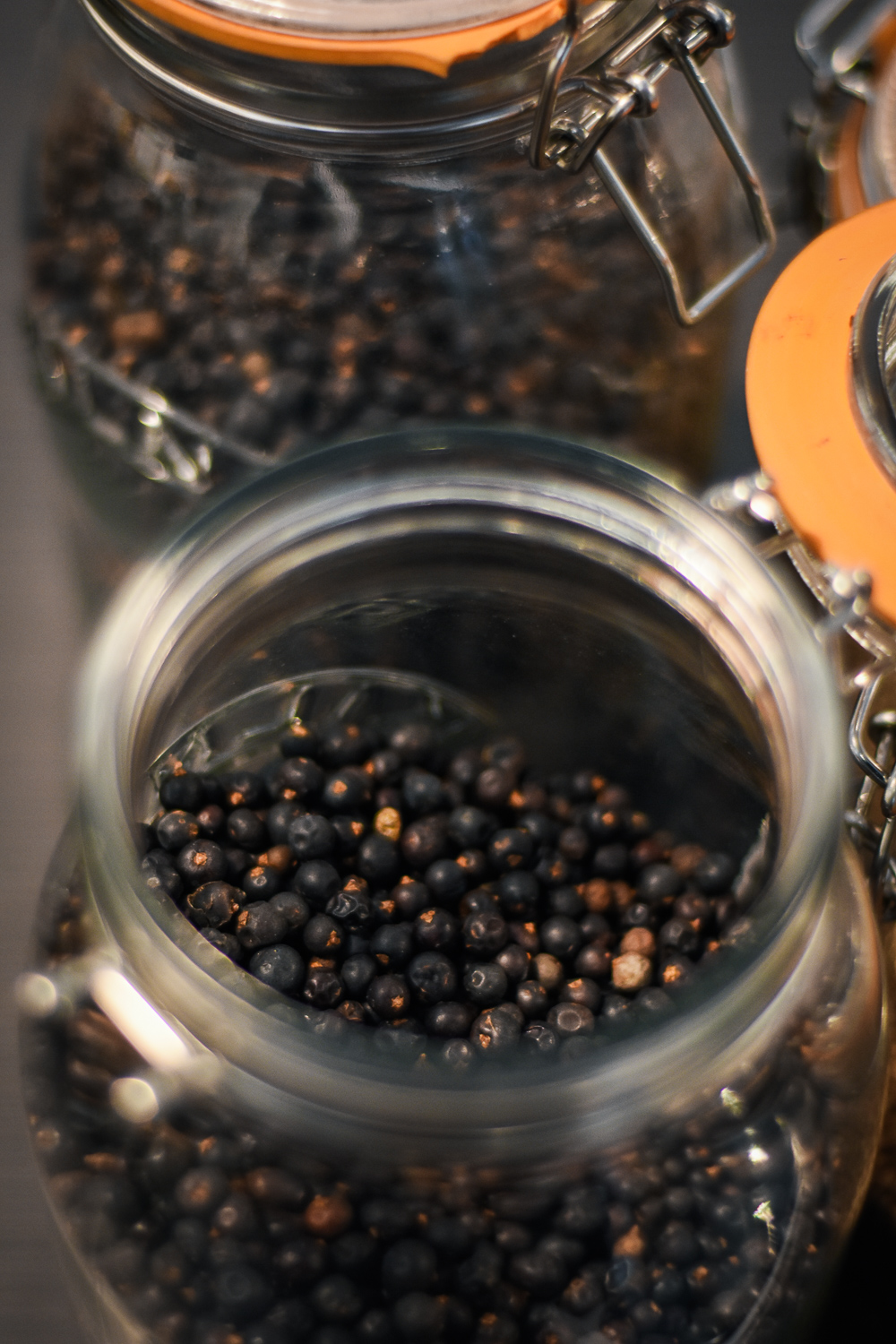 In the central island of the school, a tidy sum of spices, florals, herbs and all manner of botanicals sit. Each prettily packaged in glass jars with labels (and serving amounts), the team talk through how a gin is made and what the preferable balance of botanicals may be. Each gin must have juniper as the lead botanical, which anyone who has ever enjoyed a gin or two will recognise and understand, but little may people know that coriander seed, angelica and orris are also staples, making up what the Listoke crew call "the core four". After that, there's four categories of flavours guests will find –– floral, spice, citrus and miscellaneous.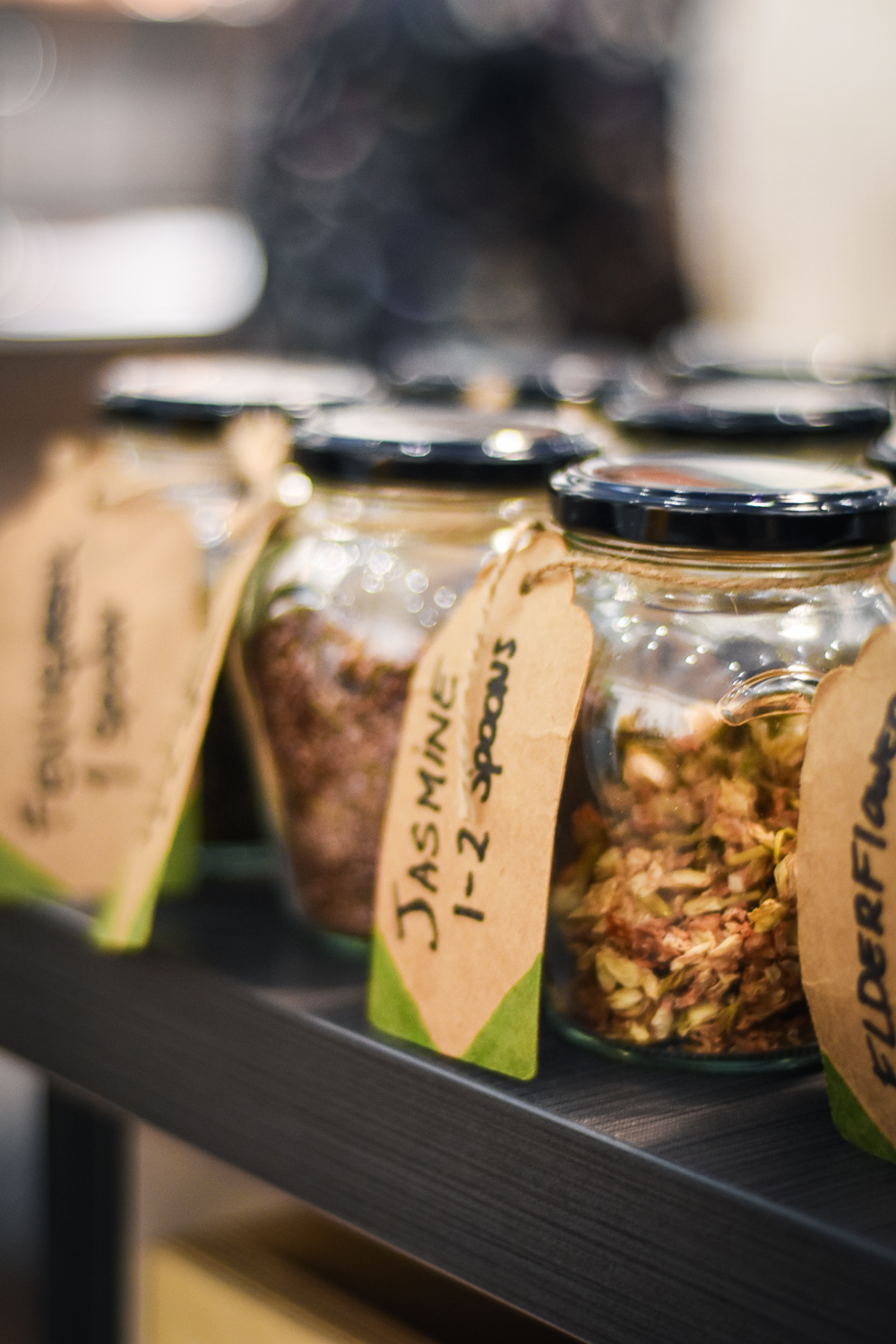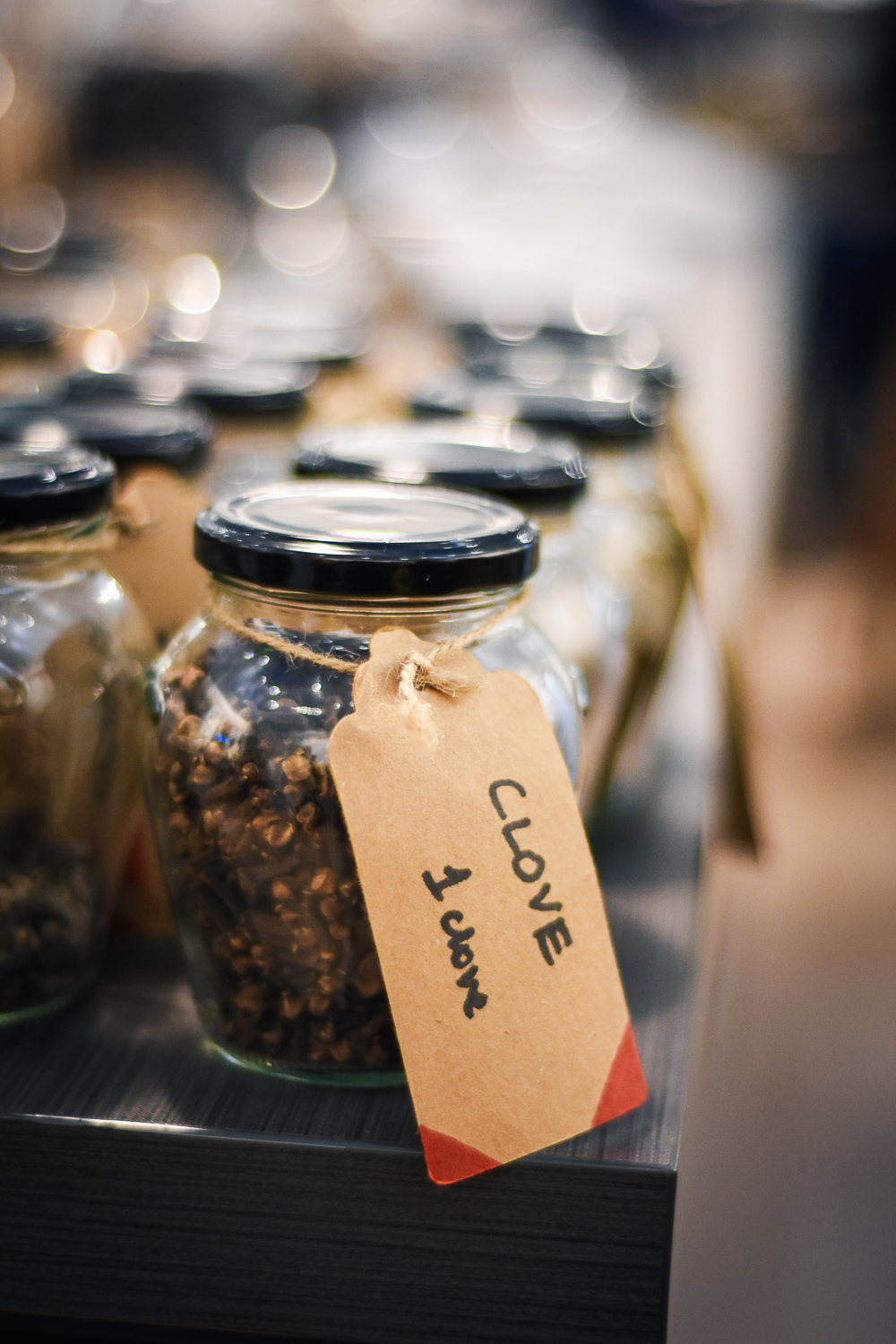 Florals run from elderflower and ivy to grains of paradise and even dillisk. Choose a citrus – or a combination – between lemon, lime, orange and grapefruit, which all have quite wildly different results when captured in gin. Spice is pretty self-explanatory and you'll find everything from sweet to fiery spices, whilst also some more unusual ones like sumac. The world is your oyster and the combinations are limitless, so a good thirty minutes are spent sniffing, discussing, flavour combining and weighing out your ultimate gin blend in little copper buckets.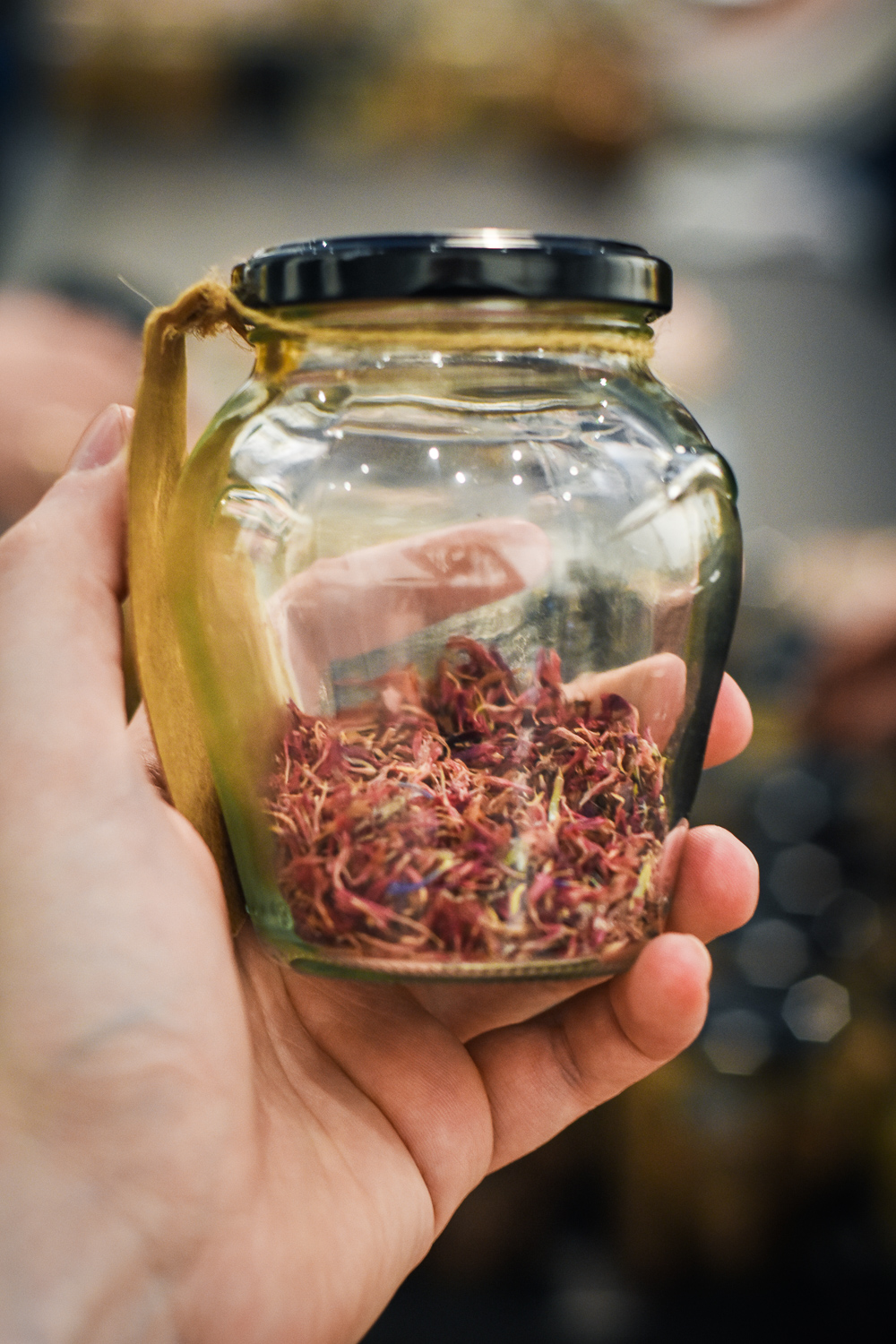 Back to base, each still is turned on with the botanicals lingering in the base spirit, which is slowly set to boil. A gin is essentially flavoured vapour, so you're capturing the flavours in the steam which boils off, and is then condensed back to a liquid. Around 400ml is captured, which is then cut down with Boyne Valley spring water (reversed osmosis) to an acceptable ABV, as it may come off the still at 75% but the ideal range is somewhere in the mid to high fifties.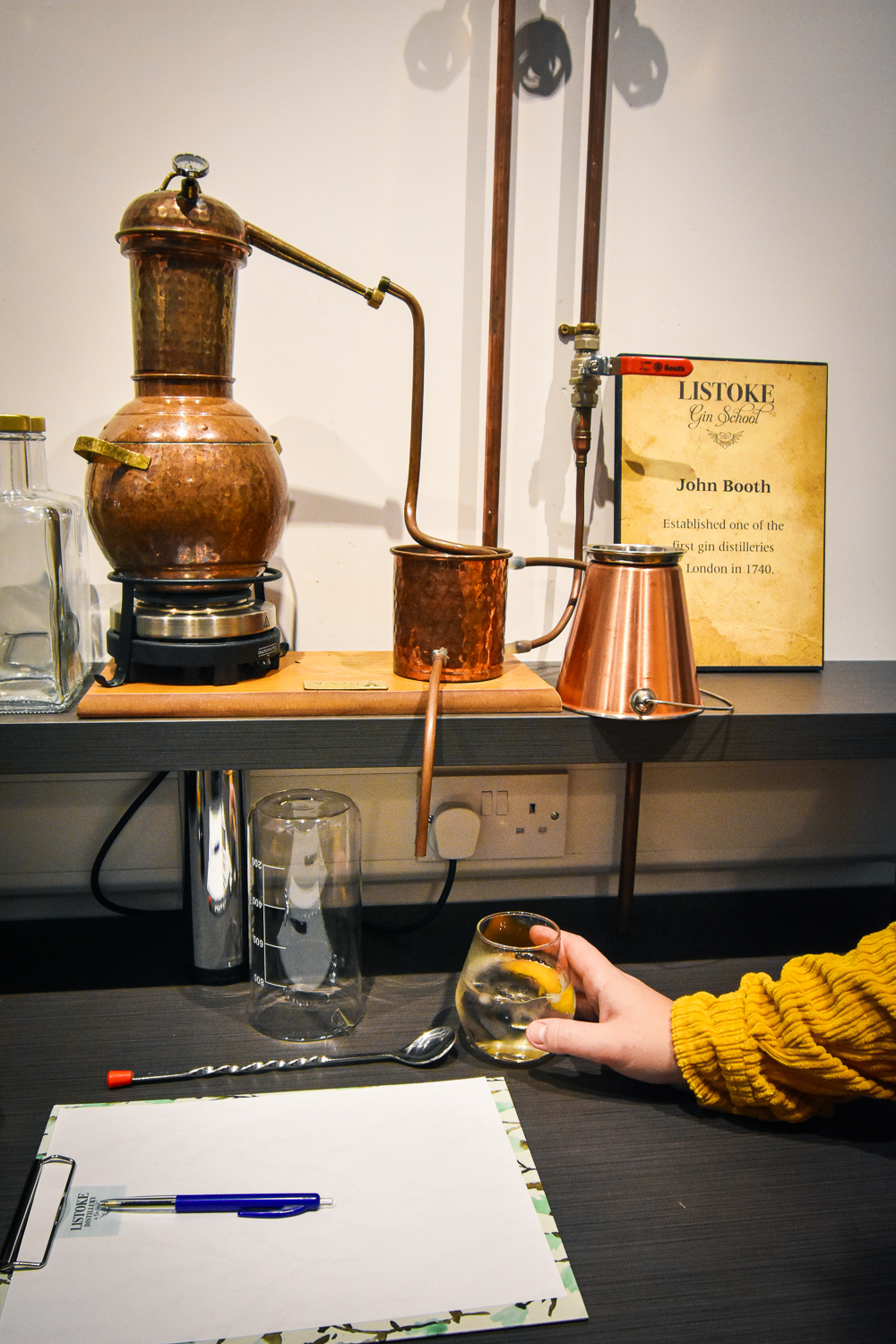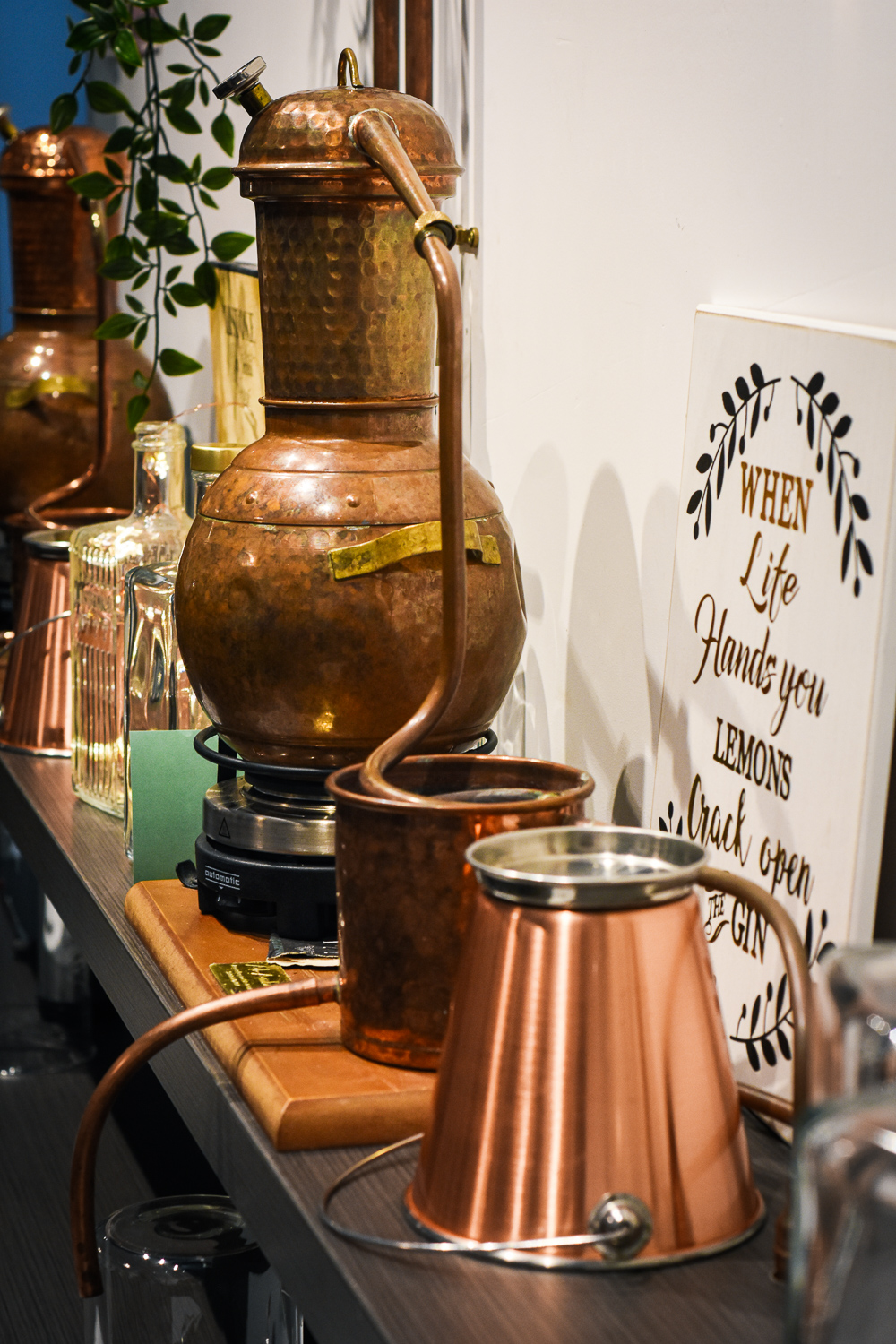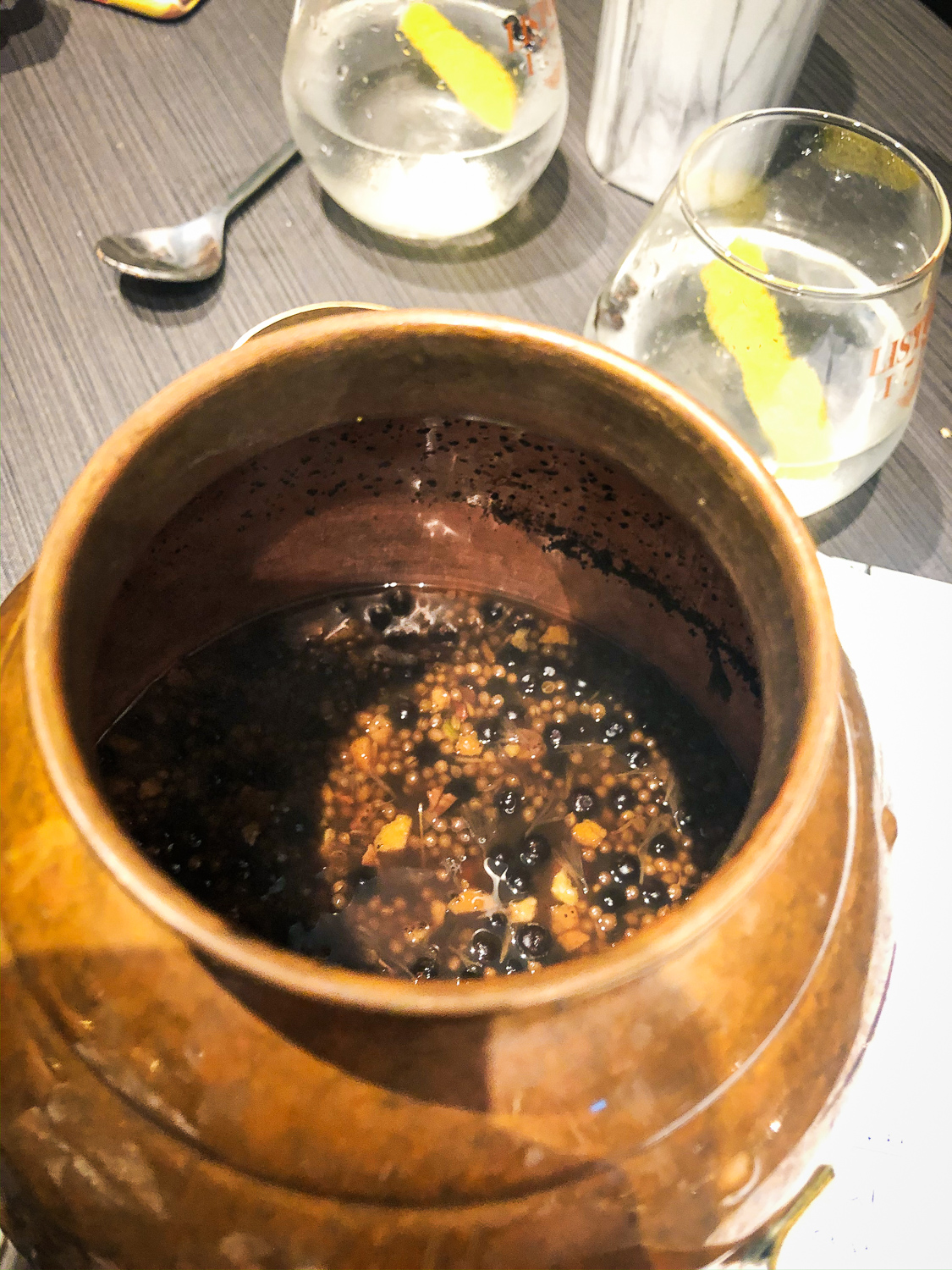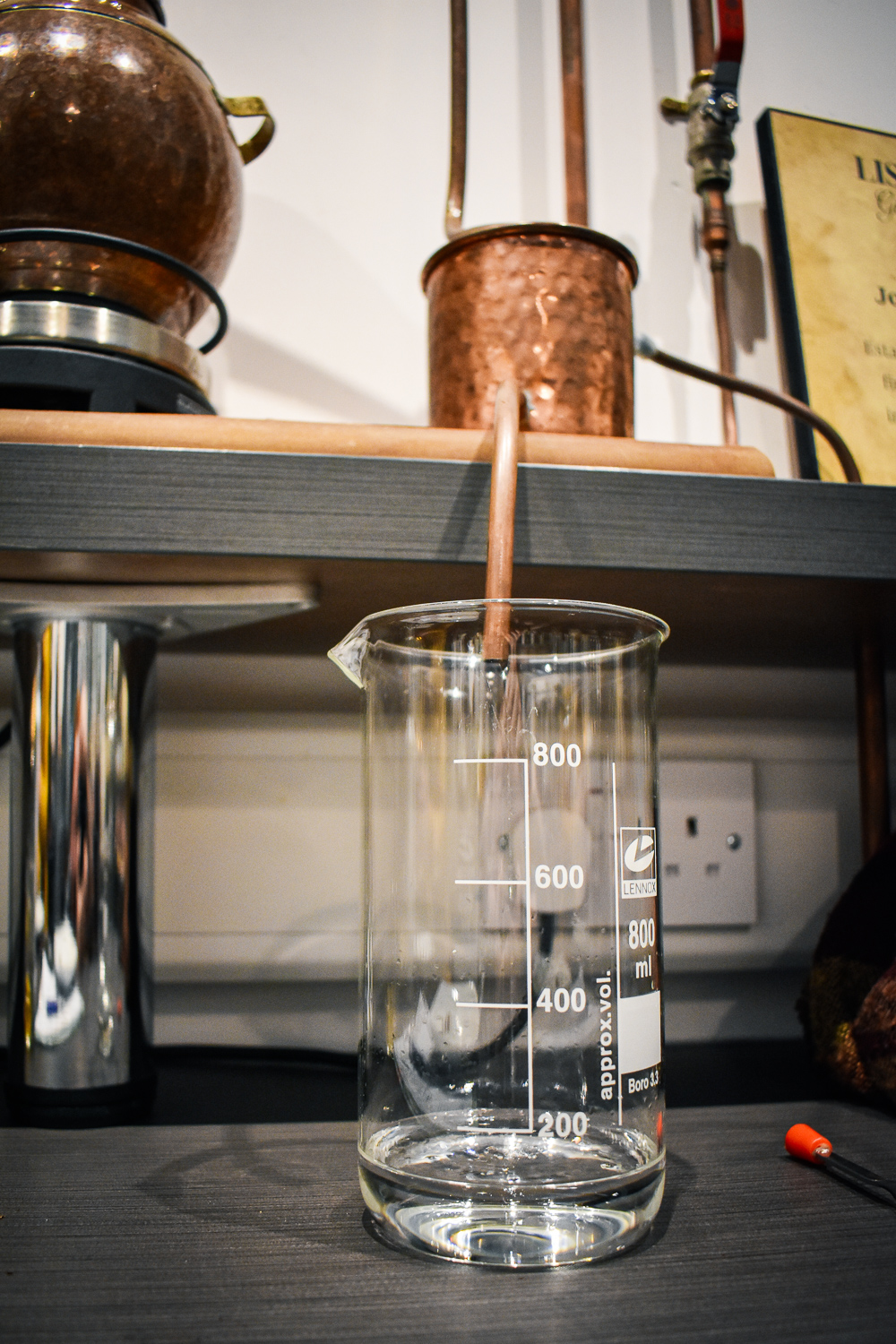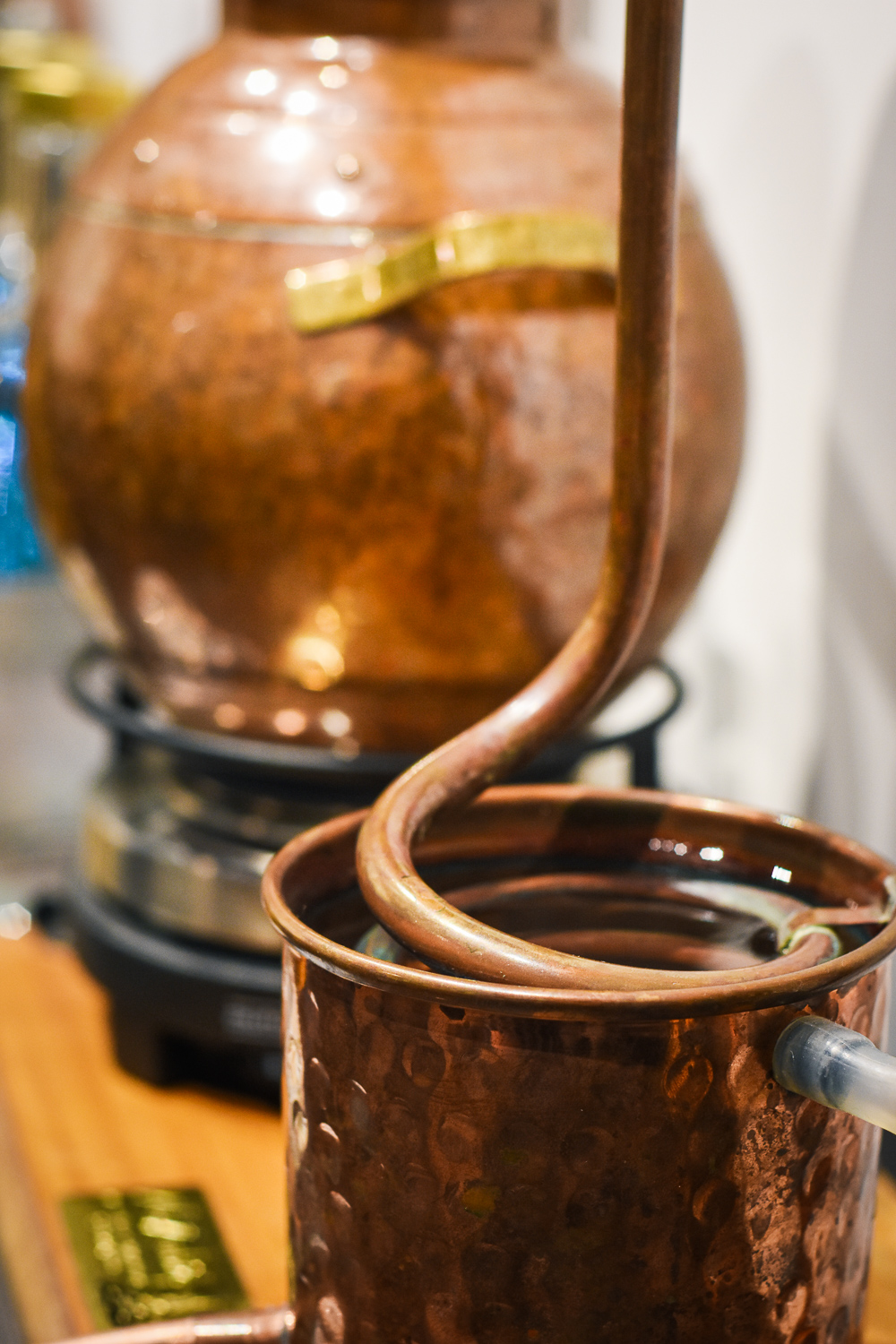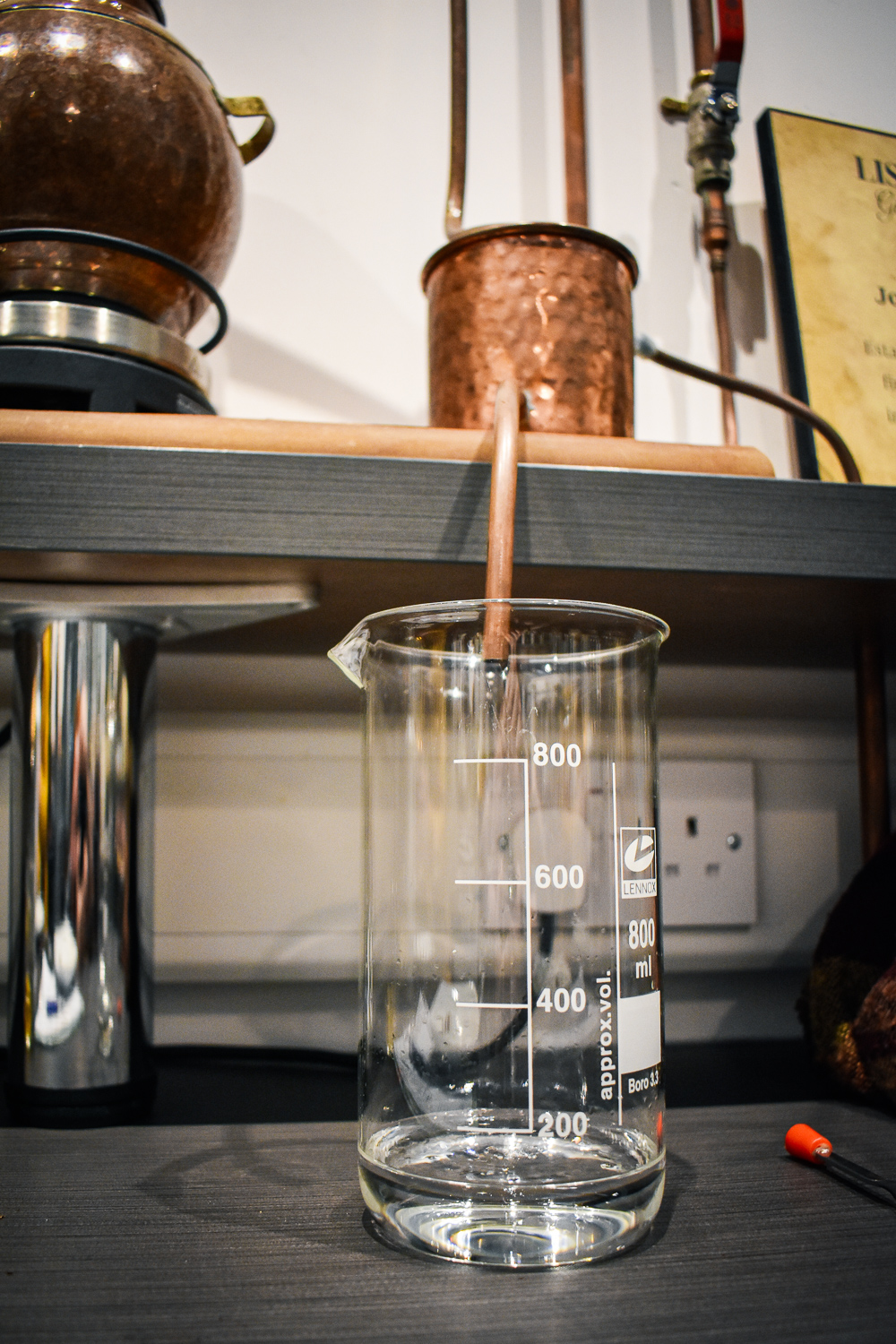 Taking miniscule sips as you go, the team demonstrate it's an art to cut to the gin down in ABV while retaining the flavours, some may be more present at the higher ABV, others may only emerge when it's brought down, then down again. It's a real art and a very personal process.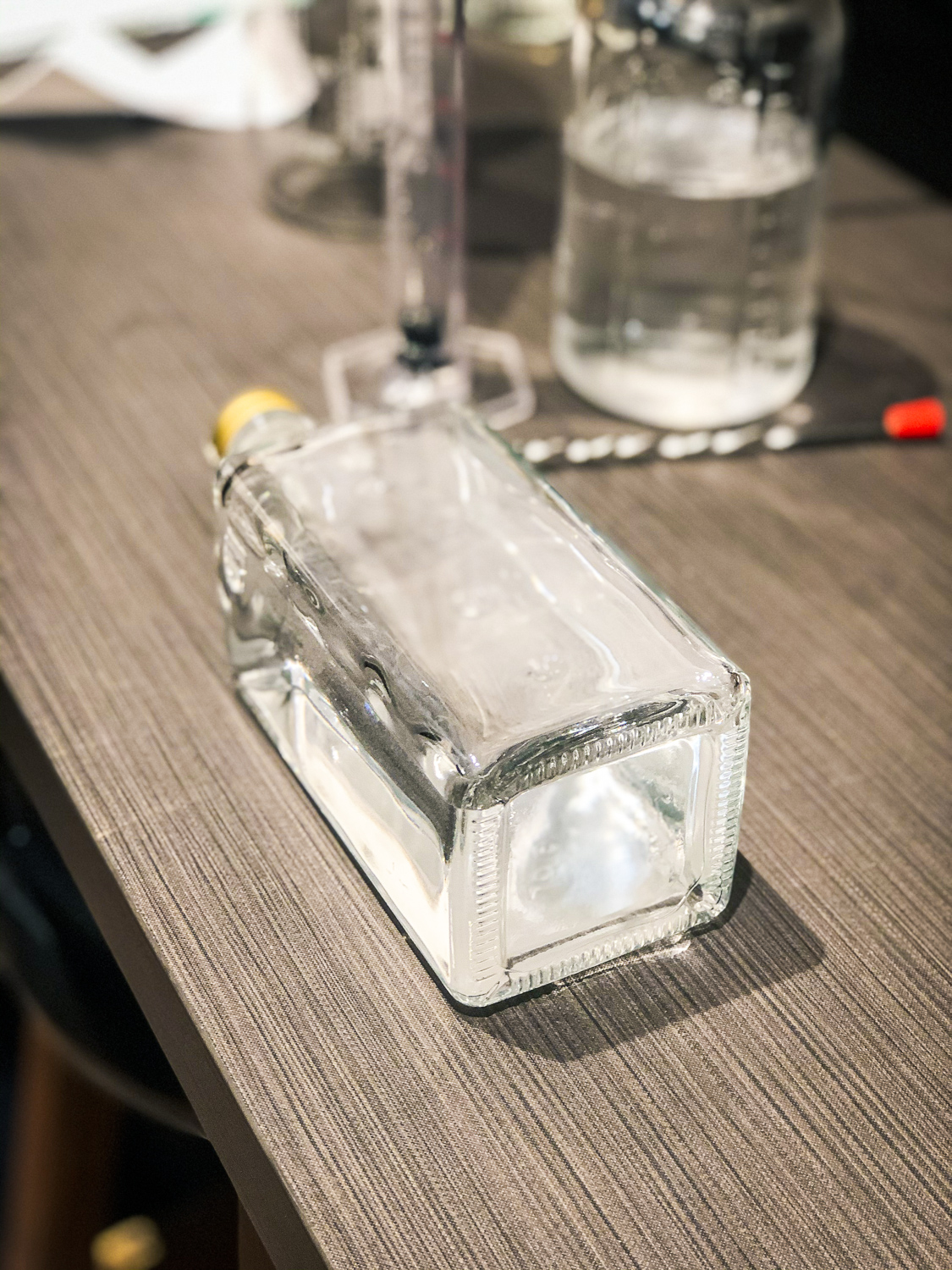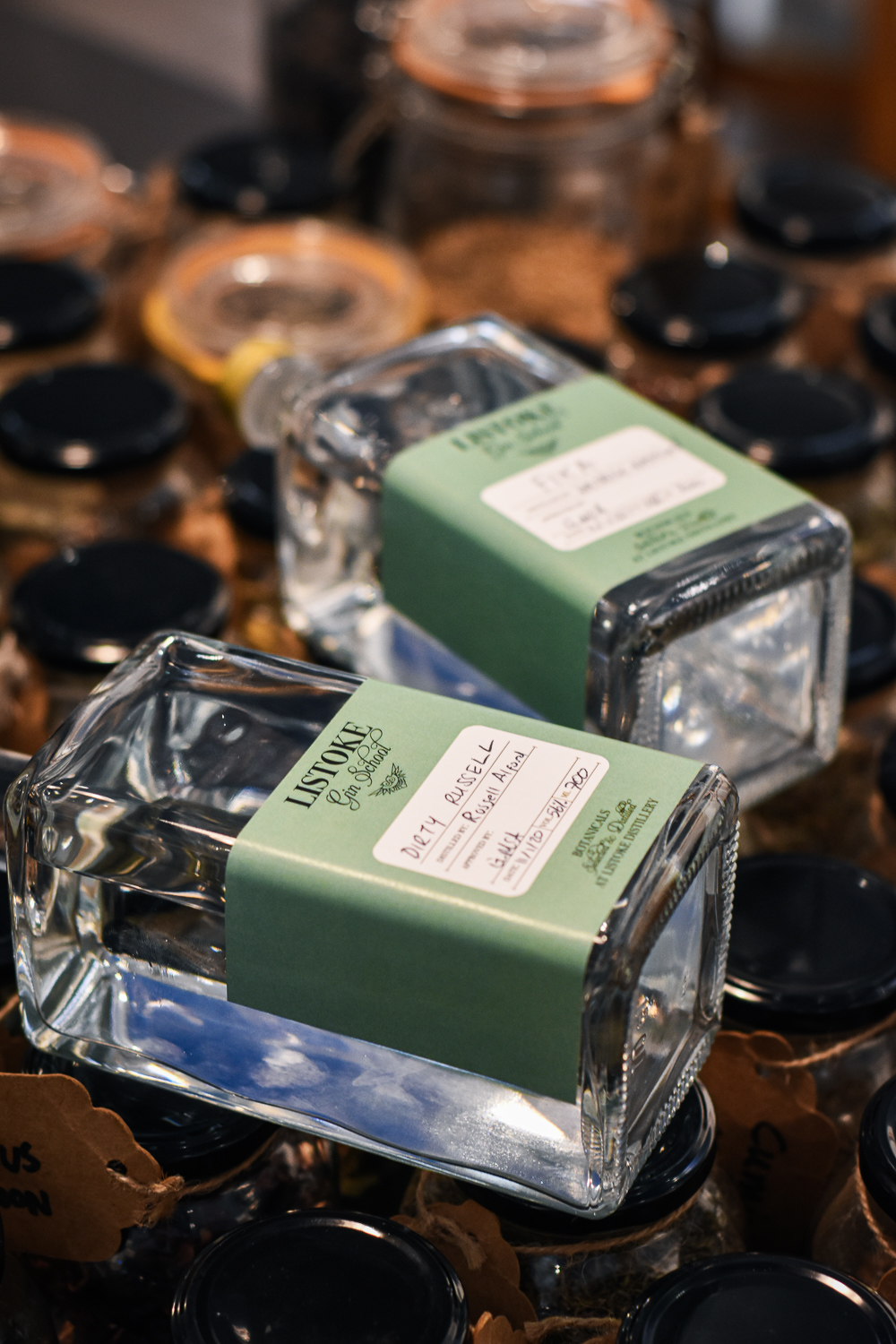 Your gin now bottled, all that's left is to label with the distiller's name and date, the creator's name and their chosen name for their gin –– which the team warn: start thinking about early! "Usually picking the name of the gin takes way longer than actually choosing the botanicals, so while you're gin is distilling we recommend having a think about what you might call it," Gráinne advises the room. There's also often a little prize for the best named gin, so some friendly competition is encouraged too!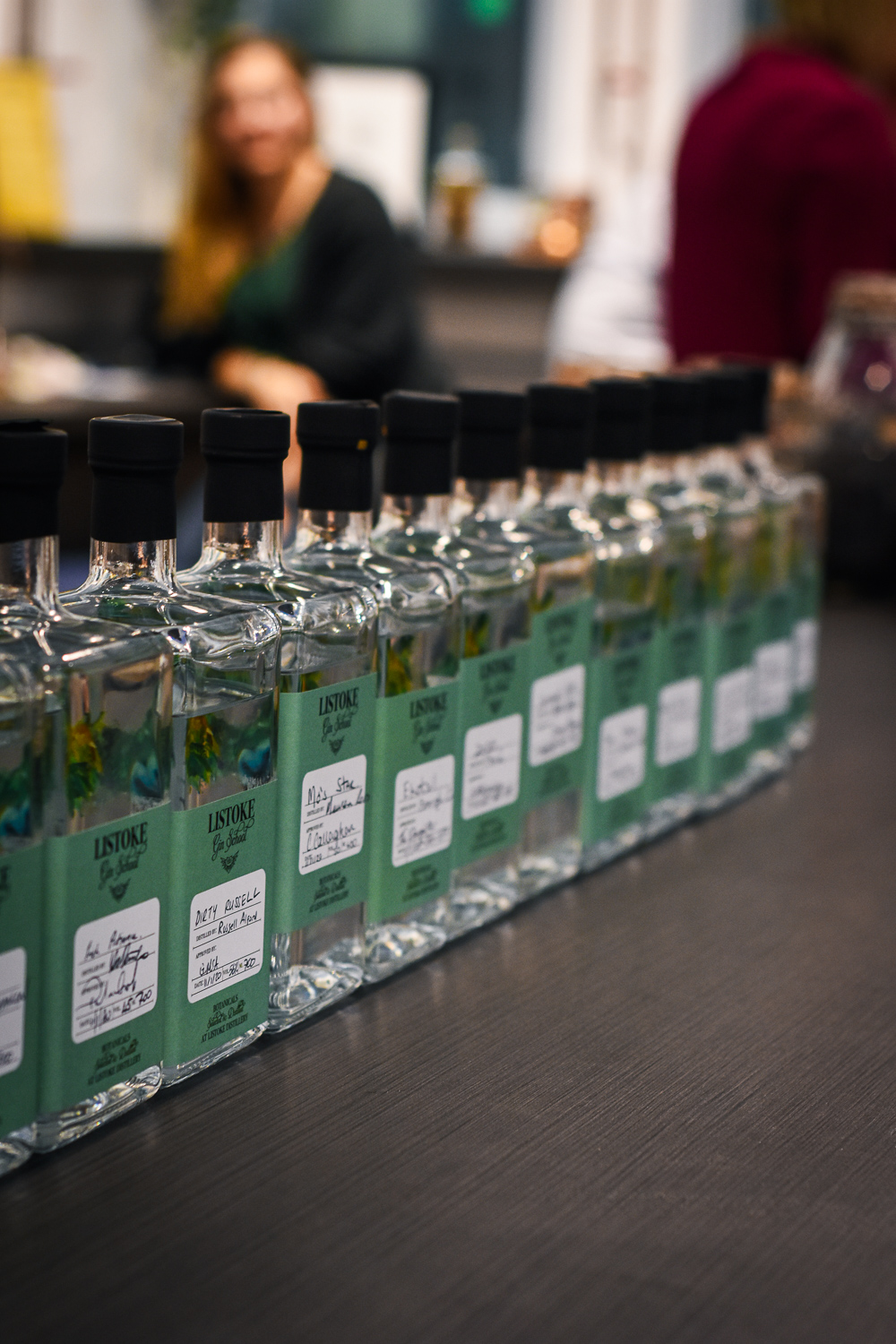 They've thought of pretty much everything here at Listoke, with nibbles and food served for a little soakage during each session and also a link in with a taxi company to whisk people to and from the distillery and gin school and Drogheda so that no one needs to get behind the wheel, a perfect group activity, team building exercise or a nice little day trip from Dublin or Belfast on the train.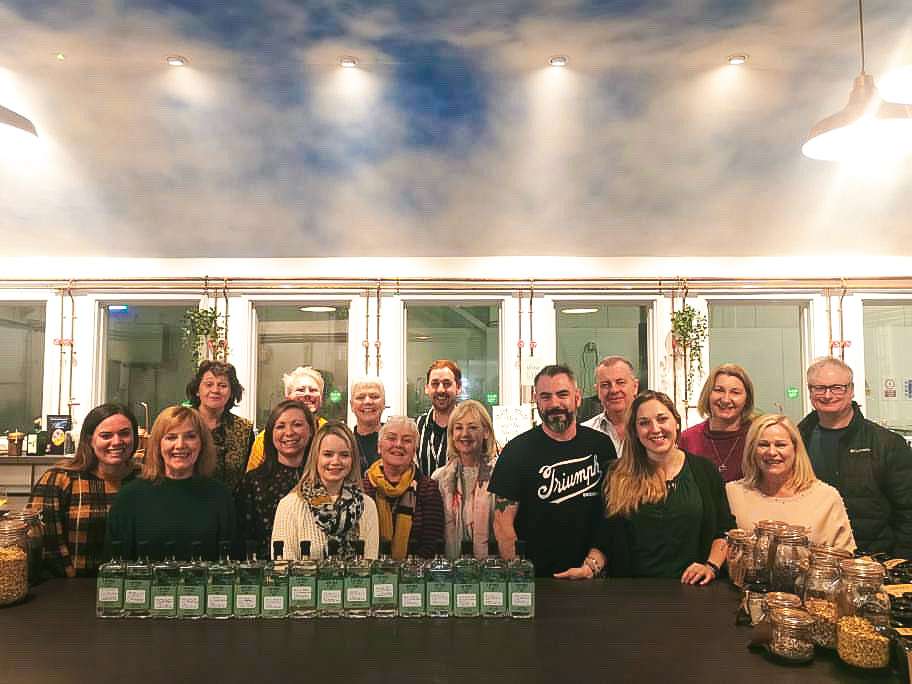 Whether you're a gin aficionado and eager to get your mind before a still, or you're just looking for something unique, unusual and interesting as a bit of an activity with family, friends or colleagues, Listoke Distillery and Gin School has you covered. We're lucky to work with Boyne Valley Flavours as ambassadors and we're doubly lucky that we have this on our doorstep (we literally live five minutes' drive away), and what Bronagh and her team have created is nothing short of genius.
Listoke Distillery & Gin School are members of Boyne Valley Flavours- the local food & drinks community here in Counties Louth & Meath, where we are Brand Ambassadors for. More details boynevalleyflavours.ie
🎉 COMPETITION 🏆
Do you fancy a chance to pop along to the Listoke Gin School sometime soon? We've got two tickets to giveaway to one lucky winner! All you have to do is go to our Instagram page, ensure you follow both @GastroGays and @ListokeDistillery, and comment on the image below (or linked here) tagging your best gin loving friend who you'd bring along!
Competition closes at the end of Ginuary (aka January 31st)