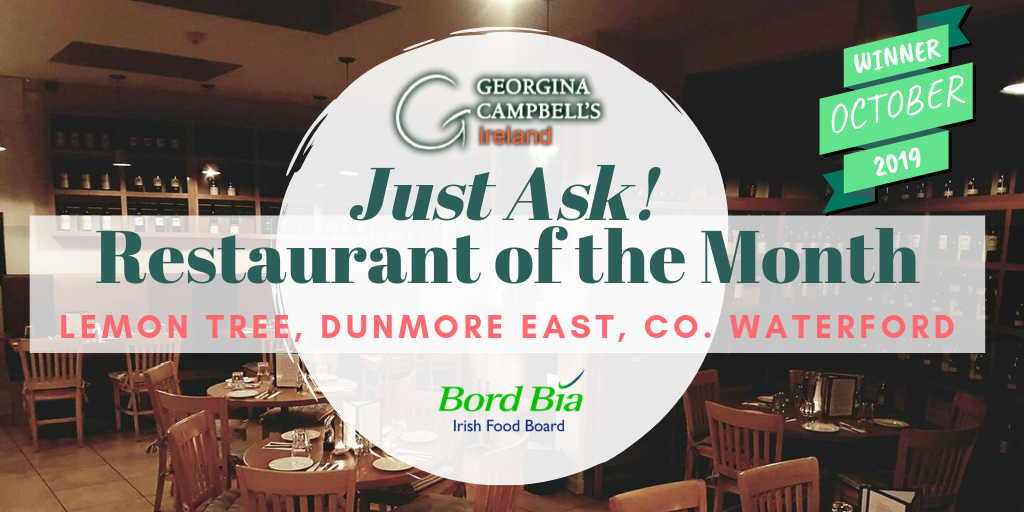 Waterford is well appointed with picturesque coastal towns and villages with stunning views and delicious bars and restaurants. Ardmore and Dungarvan to Tramore –– and Dunmore East to the eastern reaches of the county is no exception. One of the town's shining lights of its dining scene, The Lemon Tree Seafood Restaurant, has been awarded Just Ask Restaurant of the Month for October.
Rewarding restaurants, cafes, bars and gastropubs across Ireland exhibiting best practice in provenance and transparency of sources and suppliers, the Just Ask Restaurant of the Month is selected by renowned food writer Georgina Campbell and Bord Bia, the Just Ask Restaurant of the Month.
Joan Boland already boasted a loyal following for her Lemon Tree Catering company which began in 2003 and became a roadside café in 2008. Over a decade later, and her restaurant has consistently proved a popular destination for regulars who appreciate the tasty homemade food and the notable focus on showcasing the best of a wide range of local Irish produce in season.
Known for wonderfully fresh fish, delicious home baking and a warm, friendly atmosphere, Georgina Campbell dubs this a "gem of a restaurant –– well worth the short walk up from the harbour at Dunmore East".
Both the website and a large blackboard displayed in the dining room proudly detail the restaurant's cherished suppliers, including beef from Ballymooney Foods and Lisduggan Farm Foods and, of course, Comeragh Mountain Lamb for its incredibly unique flavour (of which Will Drohan, the young farmer behind the brand, has PGI status). Some other unique suppliers include Aeron James' Portally Lamb and Country Style for gammon and bacon. Wild Irish Game also supply whilst chicken comes from Quinlans.
Being by the sea, naturally they are extremely close to their seafood and shellfish suppliers, with oysters from Woodstown Bay Shellfish just steps away at the harbour in the town. Other seafood comes in daily from Flanagans Fish, crab and lobster fishermen Mick Fitzgerald and Richard Power and Ballyhack Smokehouse near Arthurstown for their naturally smoked fish including salmon, trout and haddock –– wonderful to see on the breakfast menu!
Rathmoylan Free Range Eggs in Waterford supply the restaurant with Bord Bia Quality Assured eggs and Inch House in Thurles supply their famed traditional recipe Black Pudding (hear more from Máirín on our recent episode of Chew The Fat!). Vegetables and herbs are carefully sourced from Grantstown Nurseries in Ballygunnercastle as well as from just over the county border from Tom Cleary Vegetables in Wexford.
Serving daily from 9am to 5pm, with additional evening service on Friday and Saturday (5:30 – 9:30pm) as well as Sunday 'til 4pm, Georgina Campbell says: "As well as being open all day for breakfast, snacks and lovely lunches, The Lemon Tree Seafood restaurant is an especially upbeat destination for weekend dinners".
Campbell continues, "even if you just pop in for a coffee and cake it will be outstanding – their baking is renowned and many regulars would come here for the locally hand-roasted Barista Bay coffee alone. All round it's a super spot – and it's all about their great suppliers".
DISCLAIMER: THIS IS A PAID POST IN CONJUNCTION WITH BORD BIA.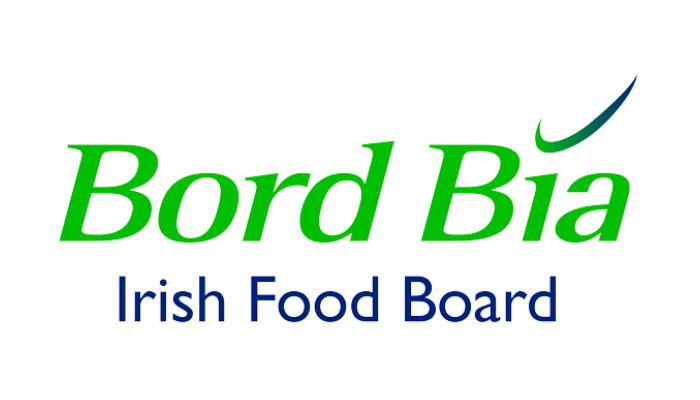 SEE MORE OF OUR FEATURES OF THE JUST ASK RESTAURANT OF THE MONTH WINNERS HERE:
FEBRUARY 2019 – BASILICO, ORANMORE, GALWAY
MARCH 2019 – THE WILDS, ENNISCORTHY, CO. WEXFORD
APRIL 2019 – BLACK CAT, SALTHILL, GALWAY
MAY 2019 – DUNMORE HOUSE, CLONAKILTY, CORK
JULY 2019 – FOYLE HOTEL, MOVILLE, CO. DONEGAL
August 2019 – Waterfront House, Enniscrone, Co. Sligo