Traditionally hailing from Lancashire, when we think of 'hot pot' we think of rich lamb and sweet onions caressed in a full-flavoured gravy, with a crisp crowning of sliced potatoes served warm from the oven. So rich and tender, a knife and fork are supplementary to requirement here as a spoon will fit the bill beautifully.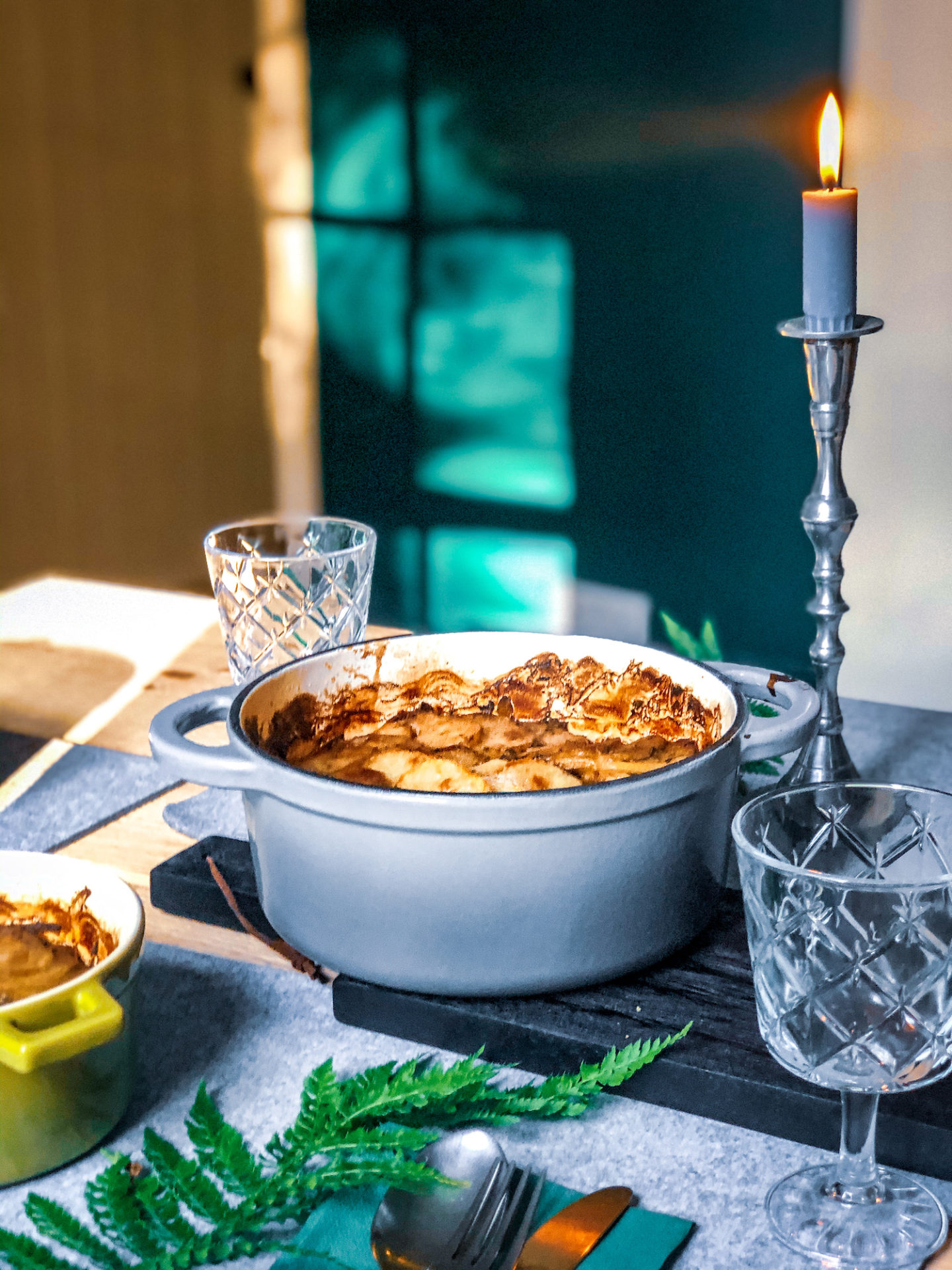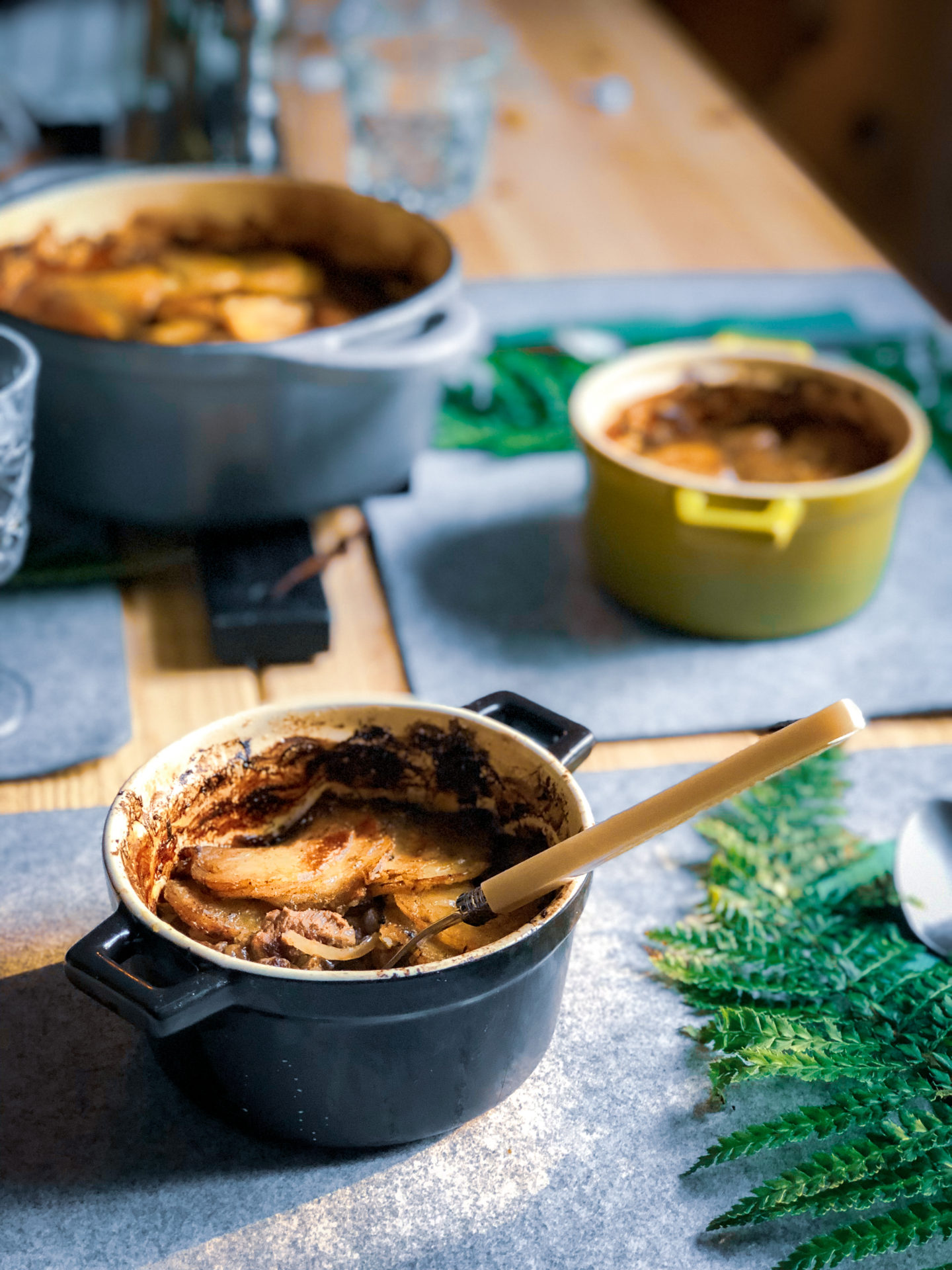 Such a simple recipe, it really celebrates the few ingredients within and local lamb is the shining star here. Lamb is one of our favourite meats, and we cook with it so often because it's incredibly versatile and great value, especially if you know your way around some of the less popular cuts. We love to slow-cook shoulder of lamb (like our spiced lamb flatbreads recipe here; which can be prepared using shoulder or leg of lamb –– try it, they are slightly different flavours and textures) but in this new recipe we've taken all the work, and most of the time, out of that same process, instead asking our local butcher to take lamb meat off the shoulder and chop into bite-size pieces so it cooks quicker and guarantees that each hot pot will be meltingly tender and full of flavour.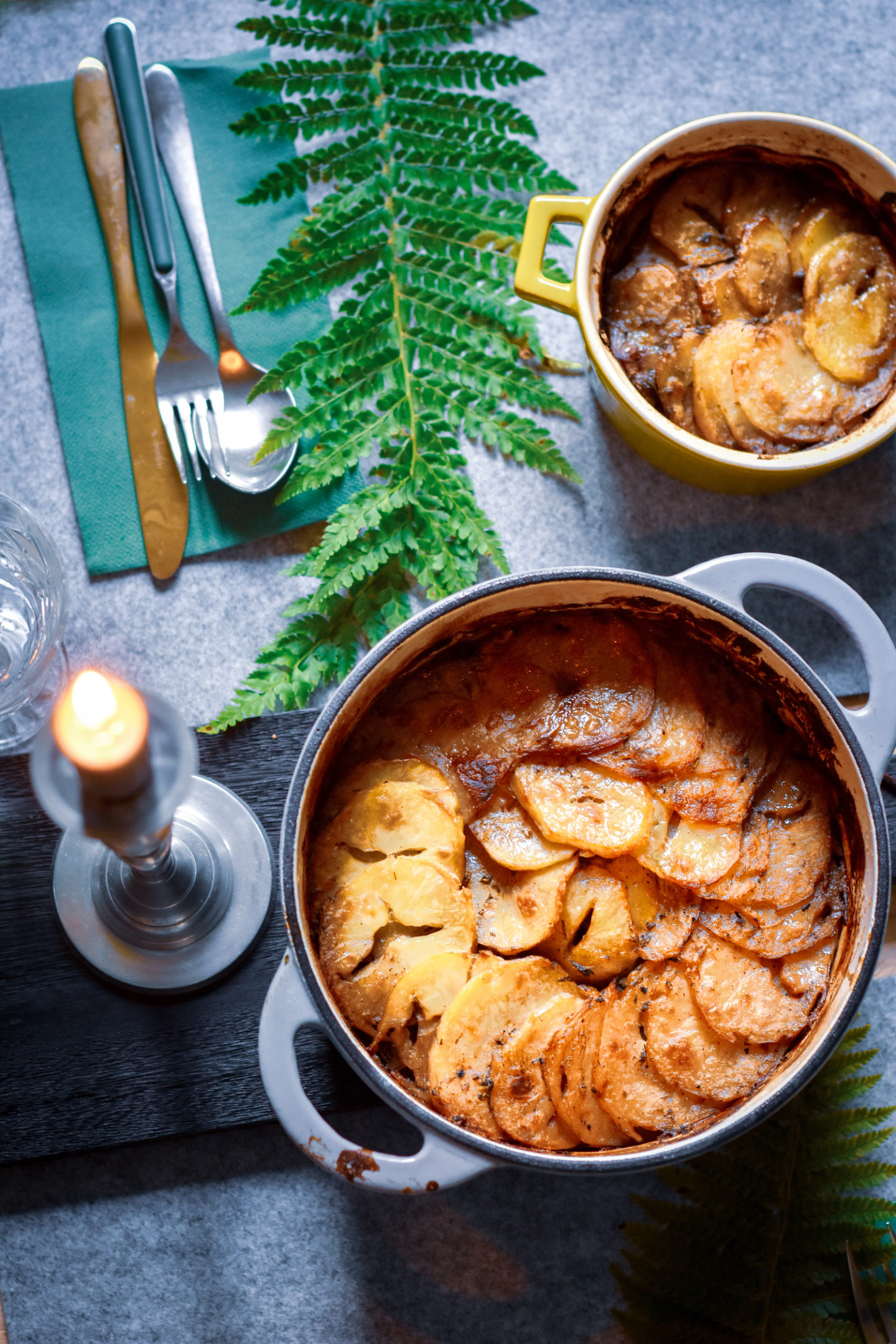 Cooking the lamb hot pots individually in little mismatched, colourful casserole dishes is the perfect way to serve this recipe if entertaining for a dinner party. Each guest has a little 'wow' moment with their own full topping, personal-sized portion and you don't have to ruin the look by portioning out from a larger casserole dish. You can, of course, make this recipe in one big dish, which will comfortably serve four people.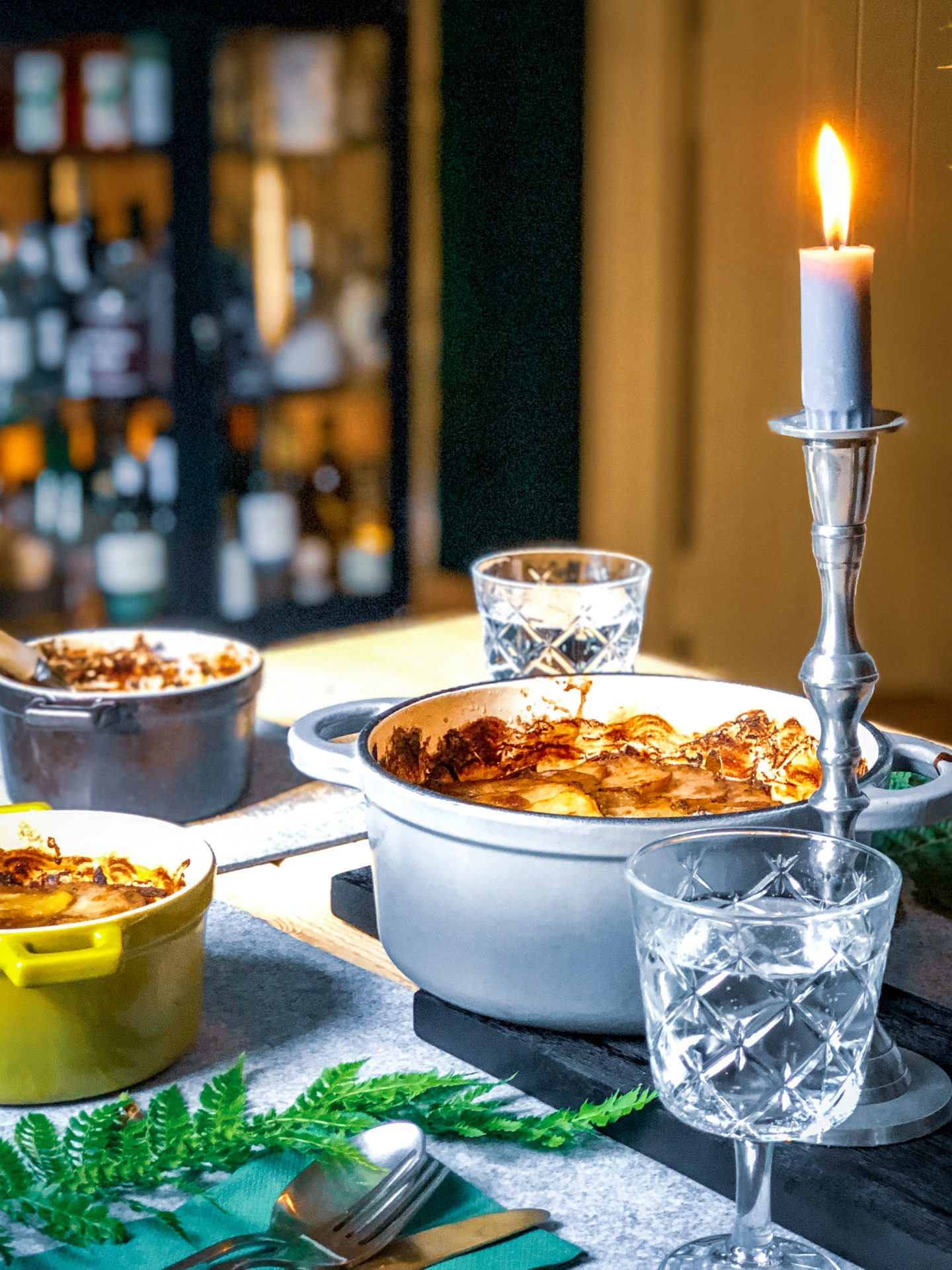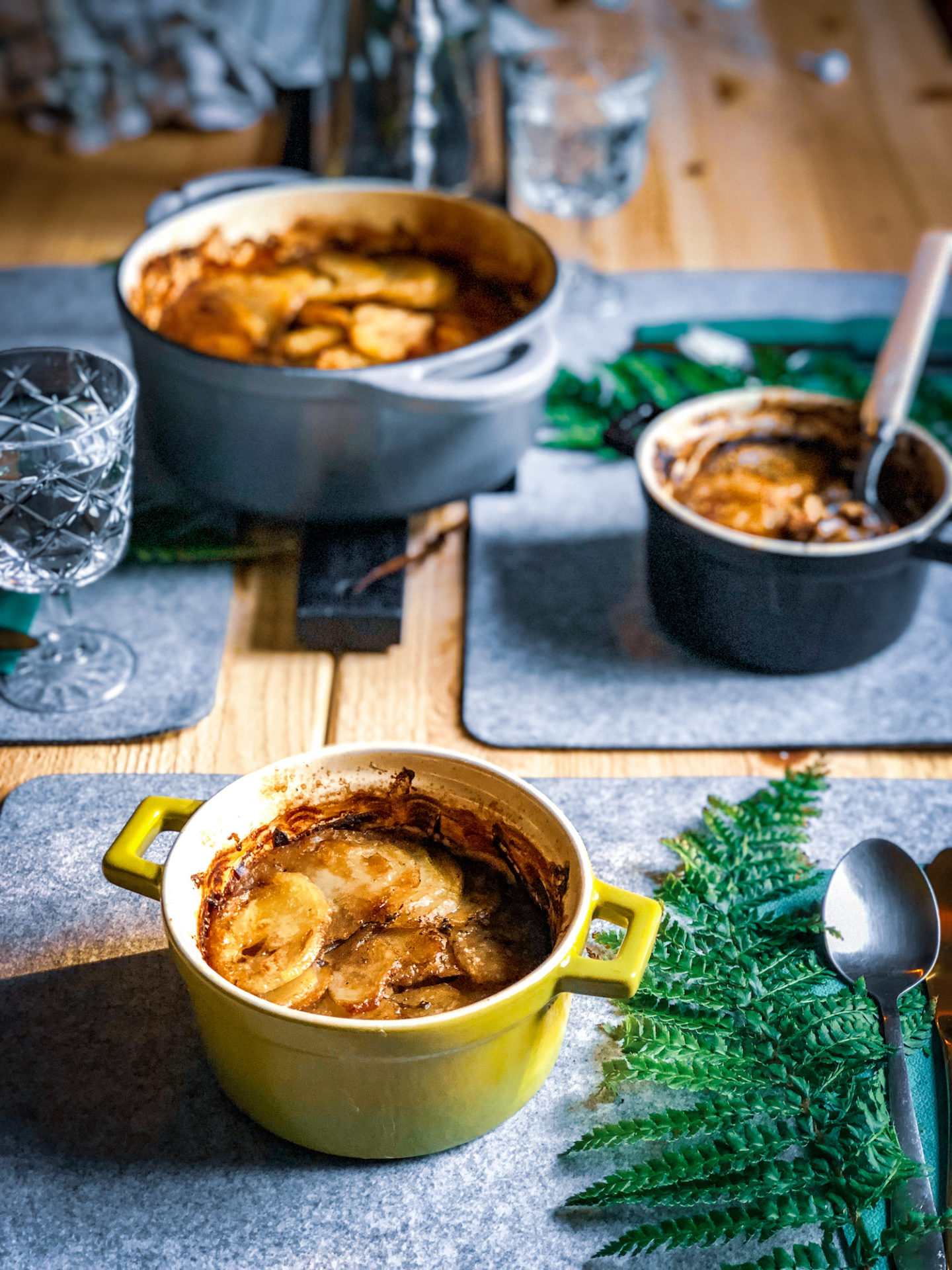 Individual Lamb Hot Pots
Serves 4
500g diced lamb shoulder, 1" pieces
4 large Maris Piper, peeled and sliced into 1/4"/1/2cm piece
2-4 tbsp flour
4 bay leaves
2 large garlic cloves, sliced
3 large white onions, halved and sliced
A couple of sage leaves, chopped
3-4 large sprigs of rosemary, stalks removed and chopped
A small handful of fresh thyme
700ml stock*
A little butter and oil for frying
*a note on the stock, lamb stock will work best, but it can be hard to find if you haven't made it yourself with bones and vegetables. Instead, you can use vegetable stock but beforehand, in the pan that you browned the lamb pieces in, add some sliced onion and cook down until coloured and soft, then add in a large glass of red wine, 100ml of freshly-brewed coffee and allow time to reduce until the mixture is thick and almost evapourated. Then, add in the 700ml vegetable stock and when it's all come to the boil, strain out the onions and you're ready to go. 
1. Pre-heat the oven to 160ºC (150ºC Fan). Coat the lamb pieces in a tbsp or two of flour and fry in batches in a heavy frying pan or skillet in foaming butter and oil until browned. Don't crowd the pan, and remove with a slotted spoon to a bowl. Repeat until all the pieces are browned, and then add another tbsp or two of flour into the cooked lamb pieces to coat them again –– this will ensure the sauce thickens in the oven.
2. Grease four mini casserole dishes with some butter and with a quarter of the sliced potatoes, make a layer in the bottom of each dish. Season with a little salt and pepper.
3. Divide the lamb between each of the four dishes, season the meat with a little salt and pepper and add the sage, rosemary and thyme. Place a bay leaf on top.
4. Follow with the onions, divided evenly between each dish, and then pour an even amount of stock over each.
5. Cover each casserole dish with a layer or two of potatoes, then dot some butter carefully over the top.
6. Put a round of parchment paper on the top, followed by a layer of foil and then the lid of each casserole dish.
7. Bake in the oven for 75 minutes, at which point the potato topping should be soft, then, increase the temperature to 200ºC (180ºC Fan) and remove the lid, foil and paper to allow the potatoes to turn golden and crisp in the oven for a further 15-25 minutes. You can add some extra butter to the potatoes if they look a little dry and in need of some help crisping up.
8. Serve warm from the oven to the table.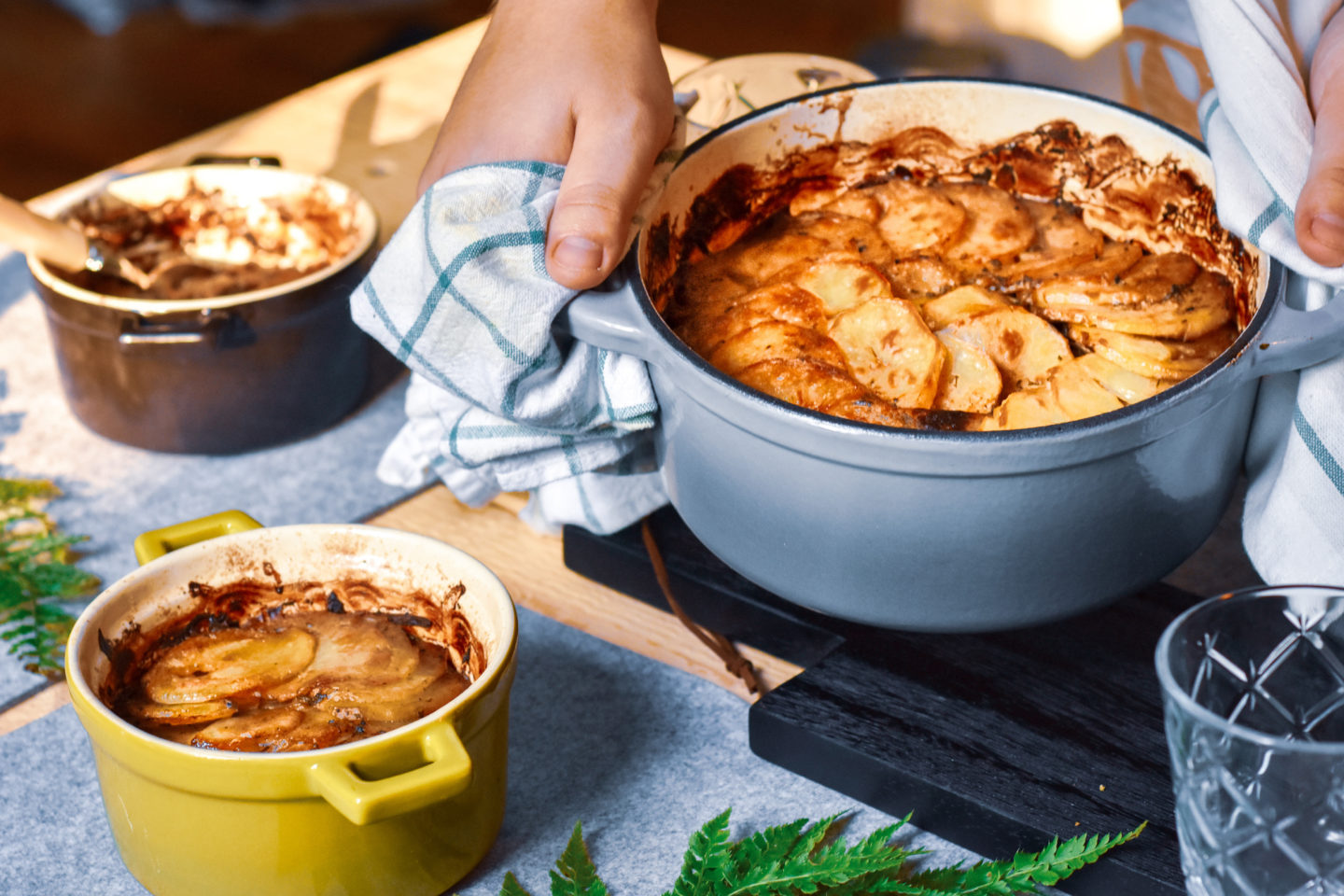 THIS IS A SPONSORED POST IN SUPPORT OF #LAMBTRYITLOVEIT, A CAMPAIGN HIGHLIGHTING THE BENEFITS OF COOKING WITH EUROPEAN LAMB. FOR MORE RECIPE INSPIRATION, FOLLOW @TRYLAMB ON FACEBOOK AND INSTAGRAM