This North African slow-cooked stew dish, with its origins in Algeria and Morocco, is rich and comforting, combining delicious lamb, spices and sweet dried fruits like apricots and dates. We're delighted to share this recipe as part of the Try Lamb campaign, which we're 'lambassadors' for for a third year.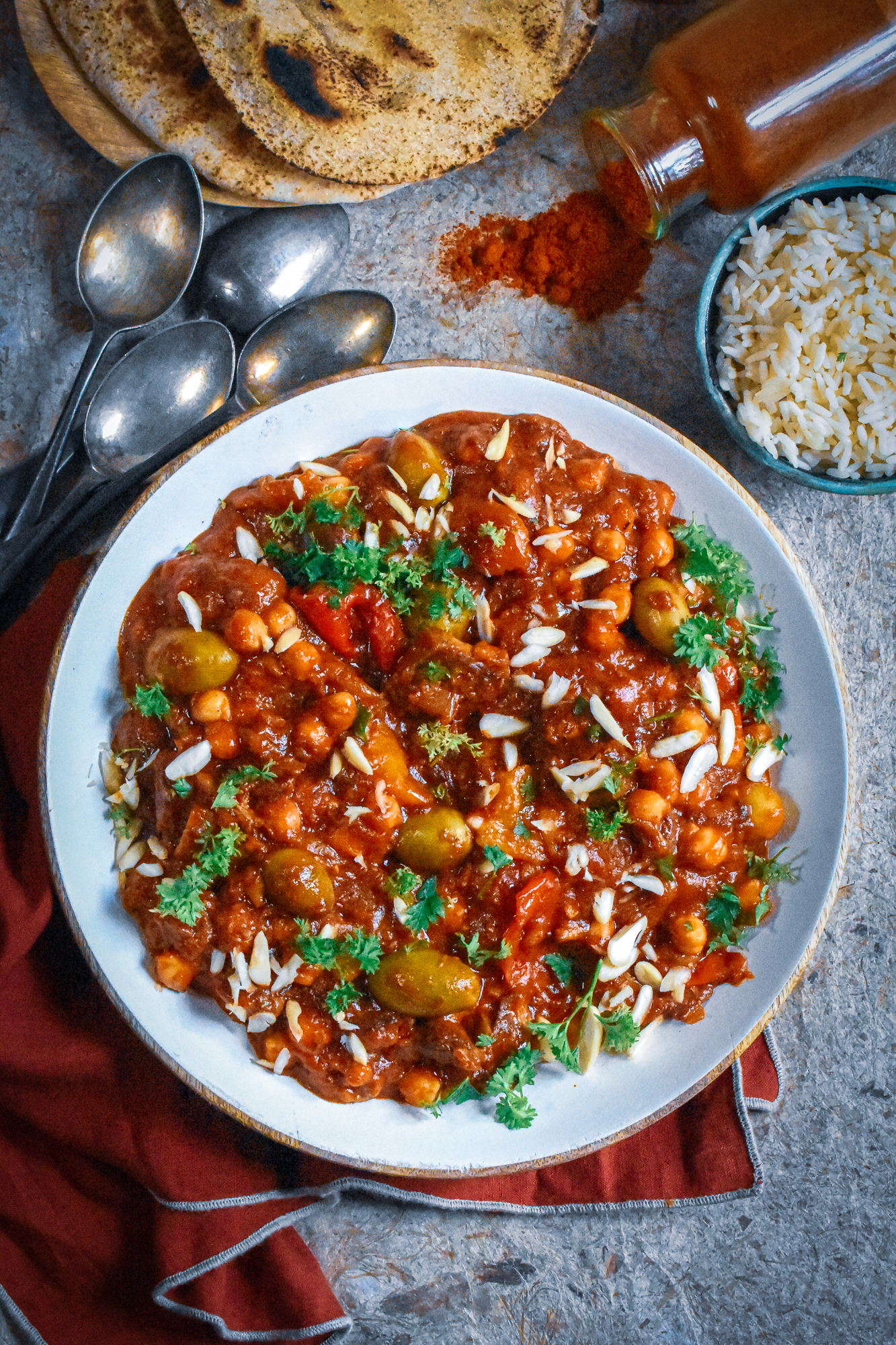 We adore the North African spice blend harissa and have used it before, like in our harissa lamb flatbreads recipe also for the Try Lamb campaign, and here it marries key flavours in one neat little package. Best made yourself fresh, using a grinder or mortar and pestle at home, you can also find pre-mixed/ground harissa spice blends in most large supermarkets these days. Failing that, a world foods store or African/Middle Eastern supermarket will stock it.
Tagine (or tajine) is a dish but also refers to the receptacle the dish is cooked in: a heavy clay pot with stumped bottom dish and a neat-fitting curved chimney which keeps in the steam and returns it as condensation to the bottom of the pot ensuring it doesn't need much water to make whilst also doesn't dry out. Here, this method offers a non-traditional alternative, using a heavy, lidded pot or casserole dish; you can also make this in a slow-cooker.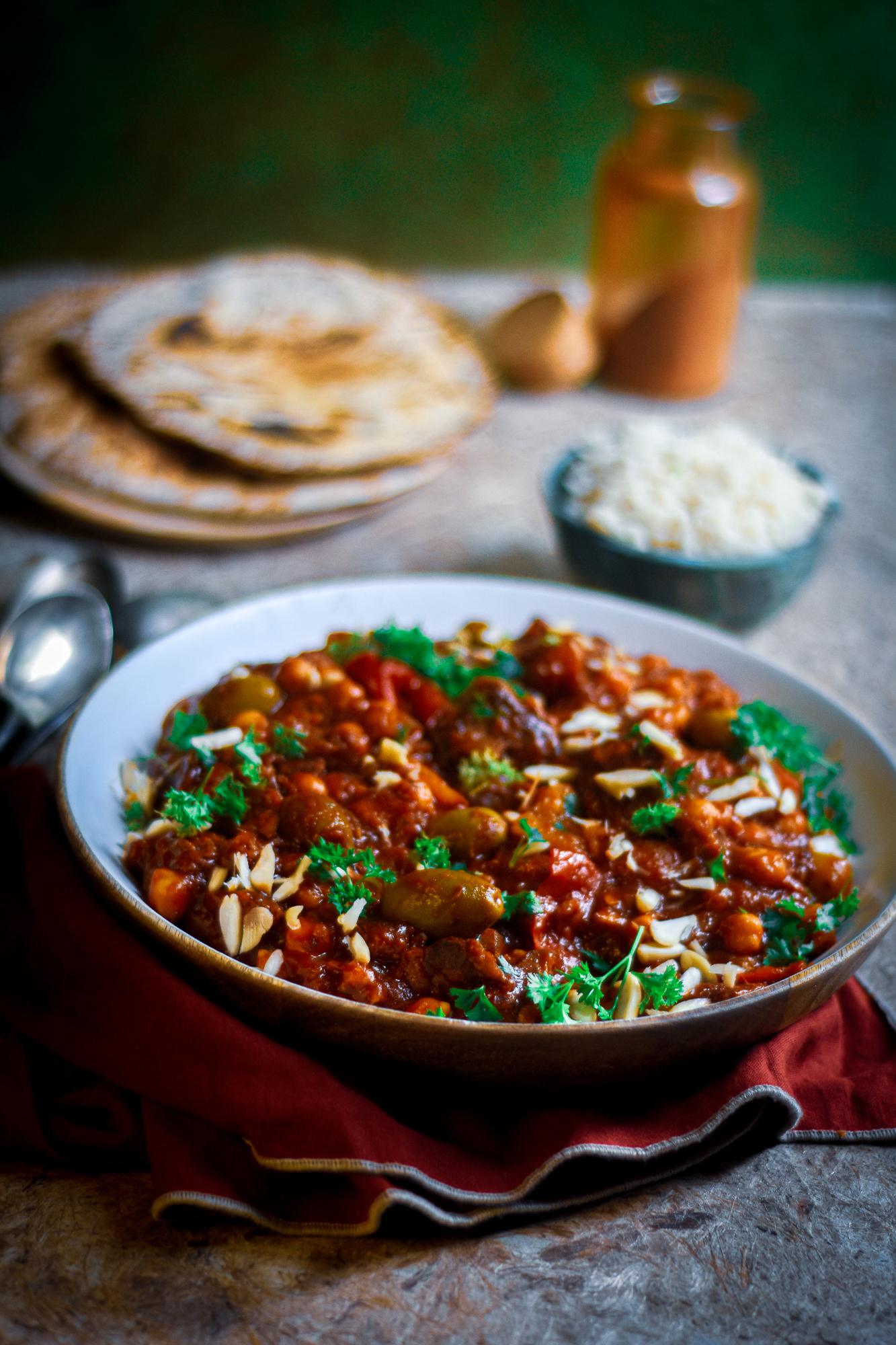 Lamb, Date, Olive and Apricot Tagine
Serves 4
400g diced lamb shoulder
1 large white onion, sliced
Lamb (or chicken, vegetable) stock pot/cube
350ml tomato passata
1 tbsp double concentrate tomato purée
2 tsp each plain flour and cornflour, mixed together with a little water to pouring consistency
3 cloves of garlic, peeled and roughly chopped
A thumb-sized piece of ginger, peeled and grated
100g dried apricots, whole
100g pitted dates, whole
(optional) baby peppers (yellow, orange, red), in half of thirds and seeds removed
1 tsp smoked paprika
1 tsp cayenne Pepper
1 tsp white pepper
1 tsp dried ginger
2 tbsp Harissa (our recipe for our spice blend HERE)
1/2 tsp ground cardamom
5-10 saffron threads
2 tsp salt
2 tsp runny honey or maple syrup
Add later
Chickpeas, drained (pre-cooked)
A handful of large green olives, washed (pitted, if you prefer)
Sliced almonds, to serve
Parsley or coriander, chopped, to serve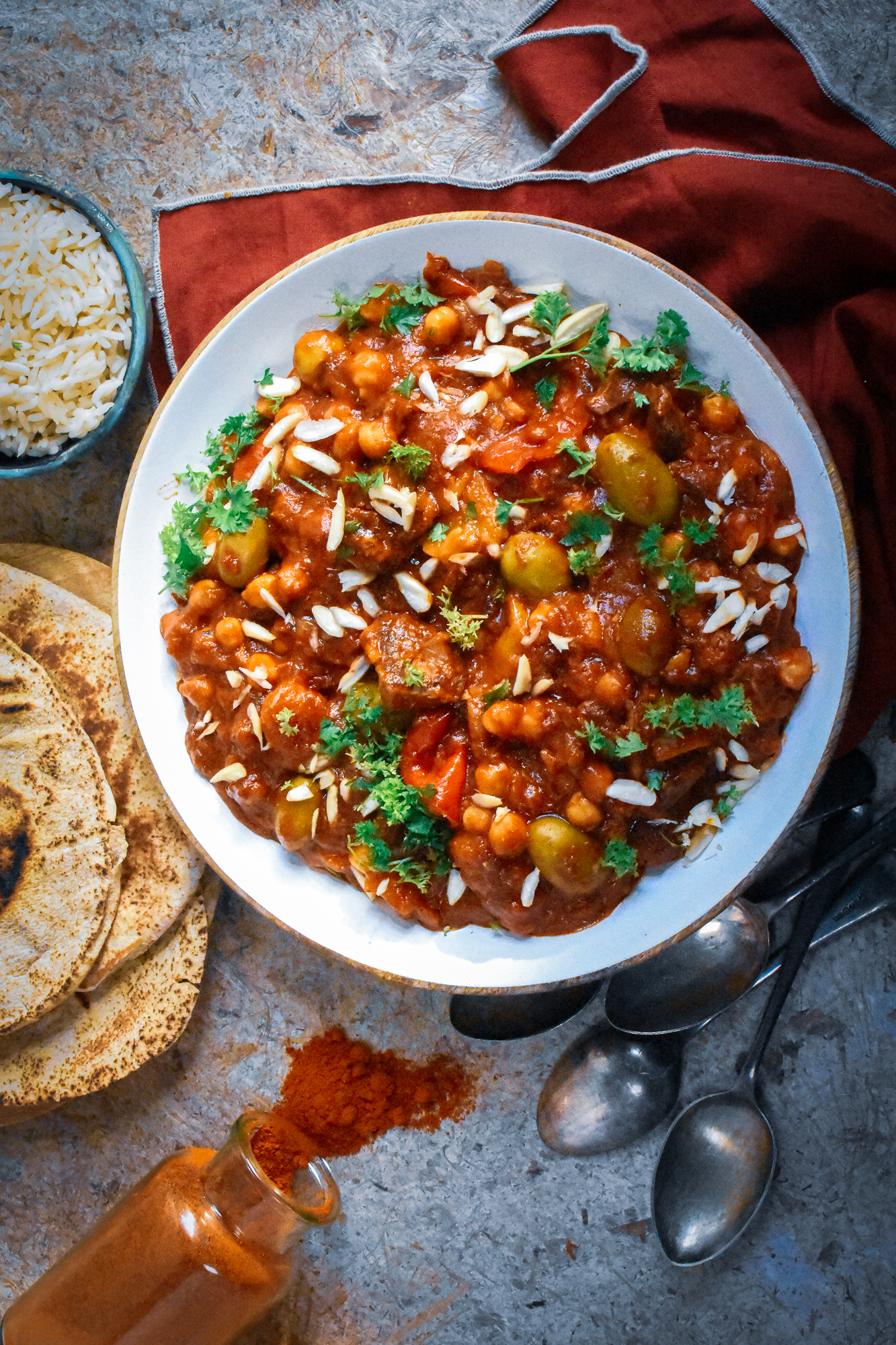 In a heavy pot on a medium-high heat, heat a tbsp or two of oil until shimmering and add in your lamb in two batches, turning eventually until each piece is sealed and golden. Remove the lamb with a slotted spoon and set in a clean bowl to one side.
In the same pot, add a little extra oil, if need be, and turn the heat down to medium-low and gently fry the onions, followed by the garlic and ginger, until softened but not overly browned.
Add your spices (smoked paprika, cayenne, harissa, white pepper and salt) and stir the vegetables to coat them whilst cooking out the spices a little.
Add your tomato puree and cook for a further minute, stirring through the rest of the ingredients before deglazing with a little water.
Add your tomato passata, honey, saffron threads and stock pot and bring the mixture up to the boil before stirring in your flour mixture.
Add in the peppers, apricots and dates and finally return the lamb to the pot. Remove from the heat, clamp on a lid and cook at 150ºC in the oven for 2.5 hours. Then, add in the chickpeas and olives, cooking for a further 30-60 minutes until the lamb is tender, the dried fruit plumped and softened and the sauce thick and rich. You can achieve similar by cooking in the 'high' setting of your slow cooker for 3-4 hours; in that method you can just add every ingredient
Finish with a scattering of the almonds and the chopped herbs, serving alongside some steamed rice and/or flatbread.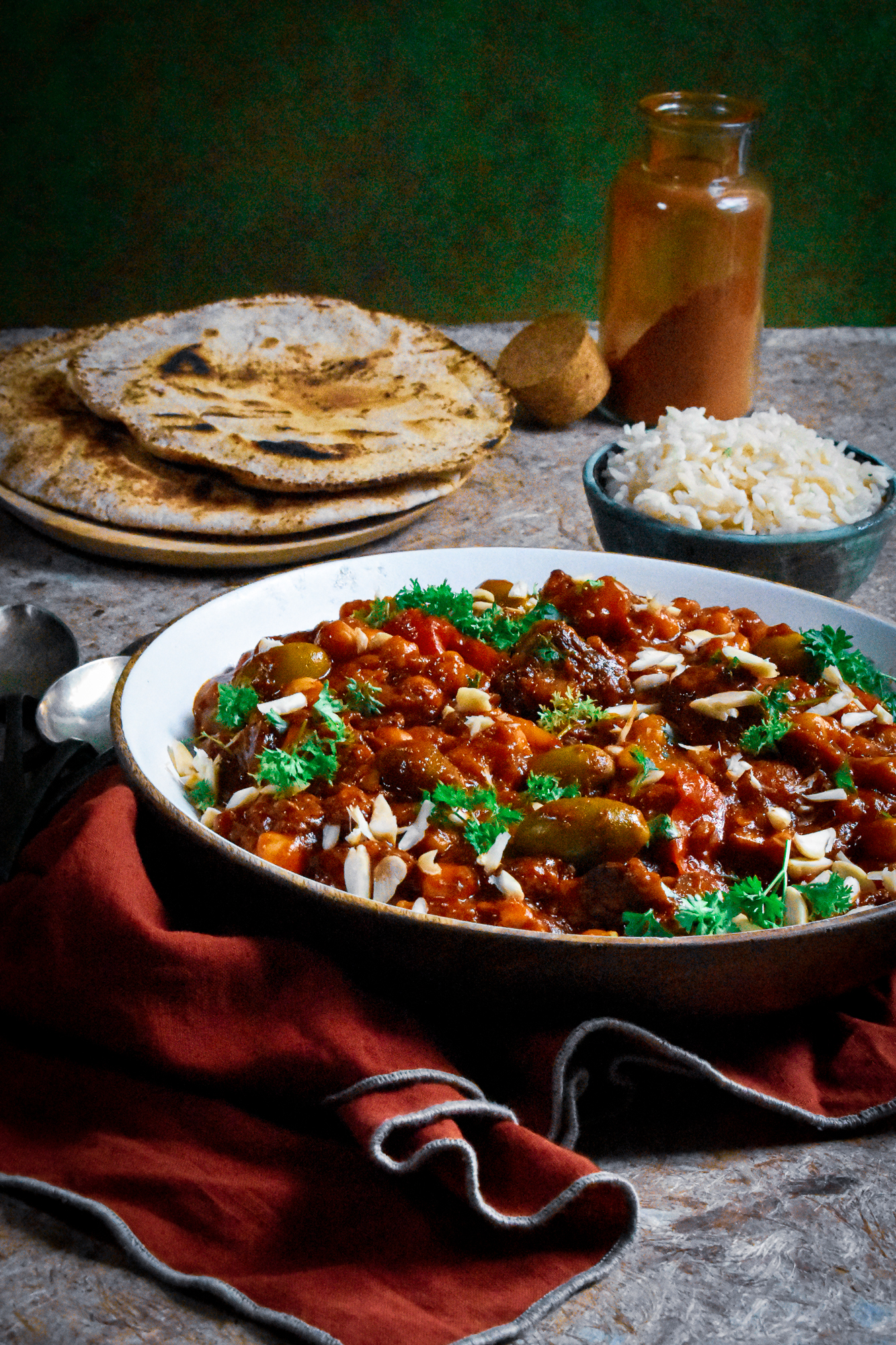 THIS IS A SPONSORED POST IN SUPPORT OF #LAMBTRYITLOVEIT, A CAMPAIGN HIGHLIGHTING THE BENEFITS OF COOKING WITH EUROPEAN LAMB. FOR MORE RECIPE INSPIRATION, FOLLOW @TRYLAMB ON FACEBOOK AND INSTAGRAM