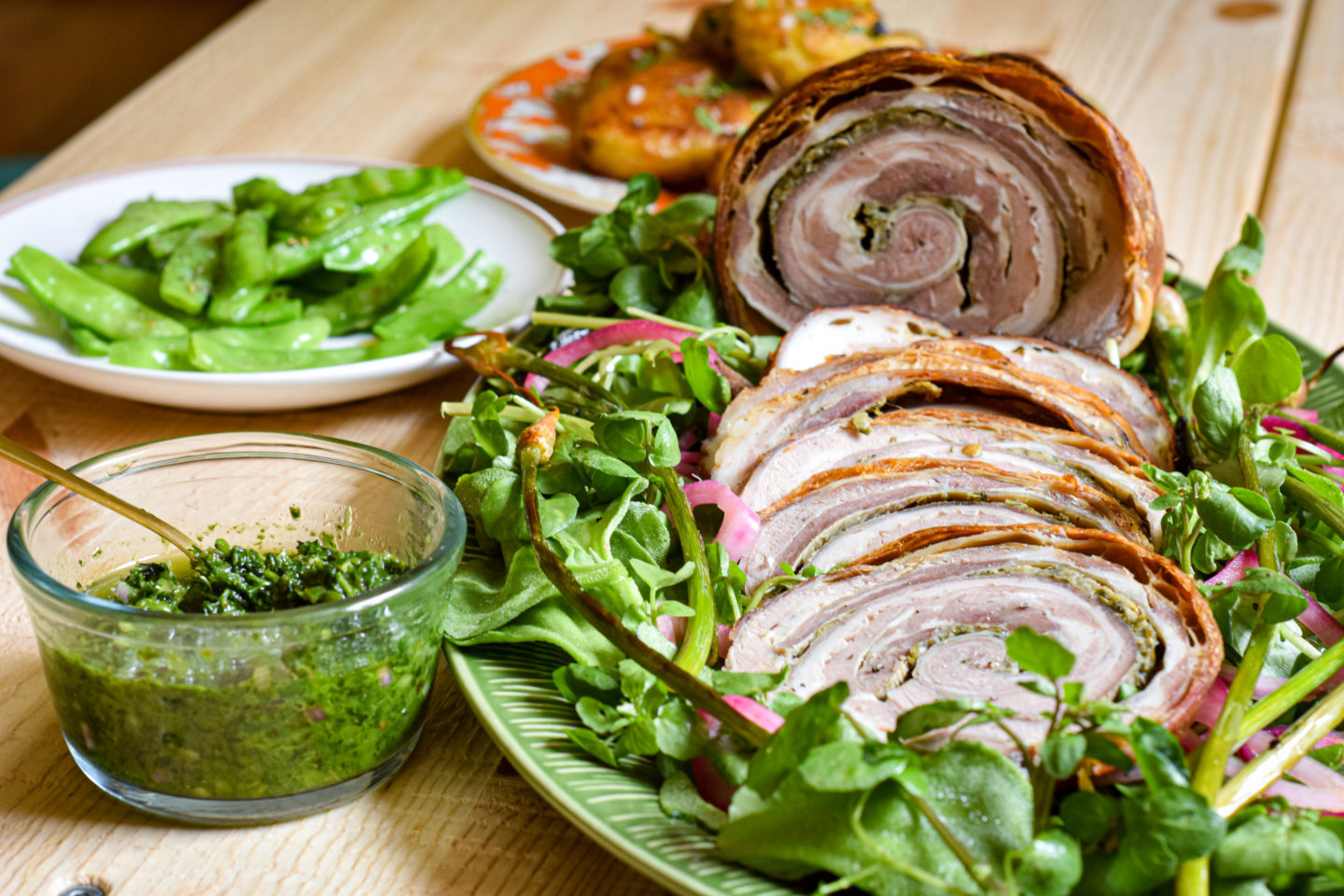 A twist on European porchetta, this, to us, is summer on a plate. Those warmer times of year when greens are abundant, new potatoes are prime for the picking and you want something lighter but still full-on flavour, our go-to meat is lamb for its versatility, flavour and value. 
We always seek to use lesser-known cuts in unique ways to showcase what can be done for little cost that often can have a far superior flavour to the prime cuts. Lamb breast is a thin enough cut which comprises the outer skin, a soft fatty layer which melts away and a tender layer of lamb meat – the combination of which results in a crisp, crackling-esque exterior, a juicy, melting middle layer and a delicious, intense meaty layer.
Lambchetta with New Potatoes, Summer greens and Salsa Verde
Serves 6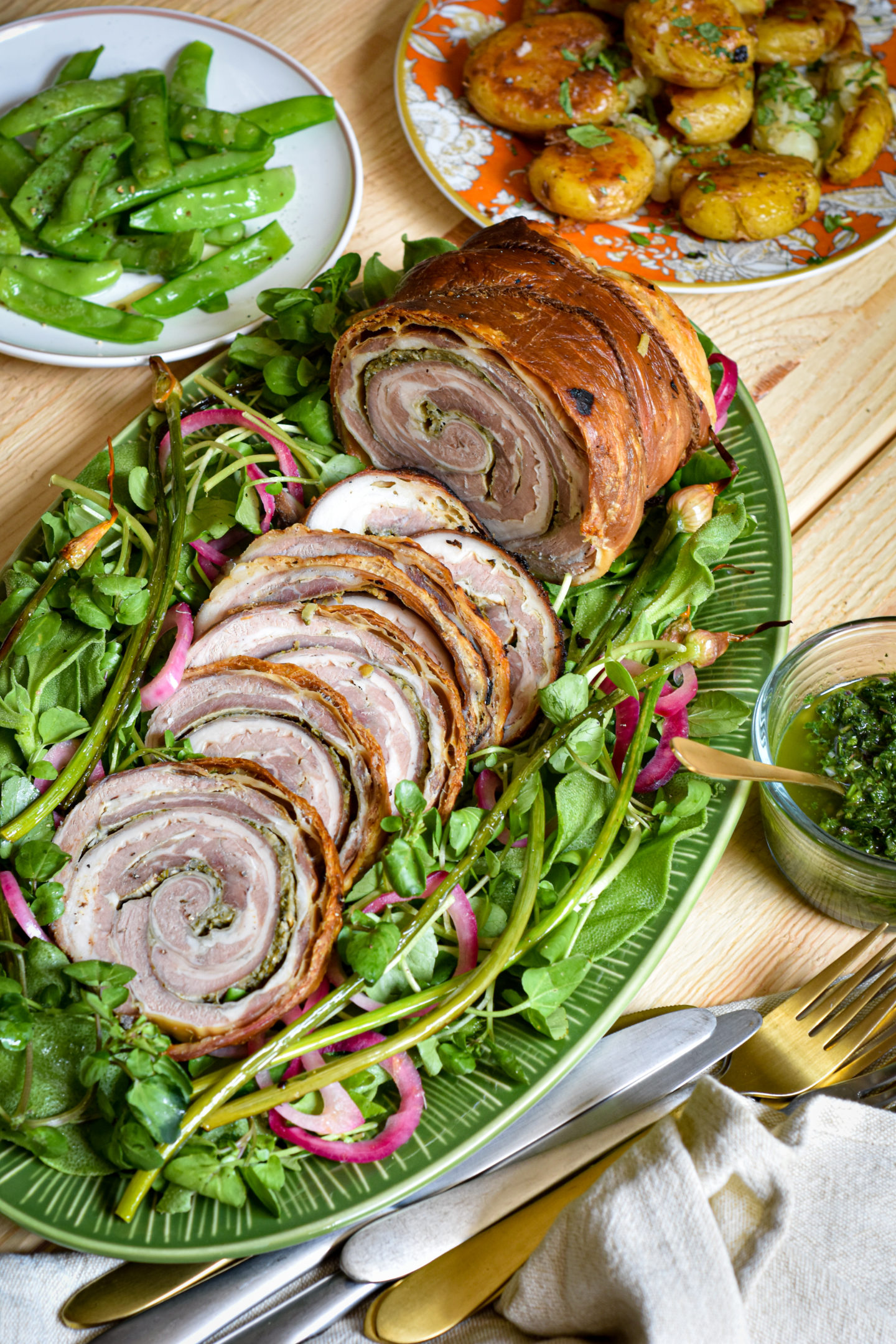 For the lambchetta
2 lamb breast pieces (ask the butcher to debone and trim the cuts tell them what you're planning to make)
5-10 garlic cloves, depending on how garlic-y you want it
A generous handful of oregano (fresh is best, dried will suffice)
10-12 sprigs of rosemary, de-stalked and roughly chopped
1 tsp fennel seeds
Salt and pepper
5-6 onions, chopped into thick rounds (3 rounds per onion, as a cooking base)
For the Salsa Verde
1 bunch of basil, leaves only
1 large handful of flat-leaf parsley, leaves only
1 bunch of mint leaves
100ml white wine vinegar
1 shallot, very finely diced
2 small garlic cloves, crushed
Juice of half a lemon
Olive oil
Flaked sea salt
New potatoes, fresh greens or slices of bread, to serve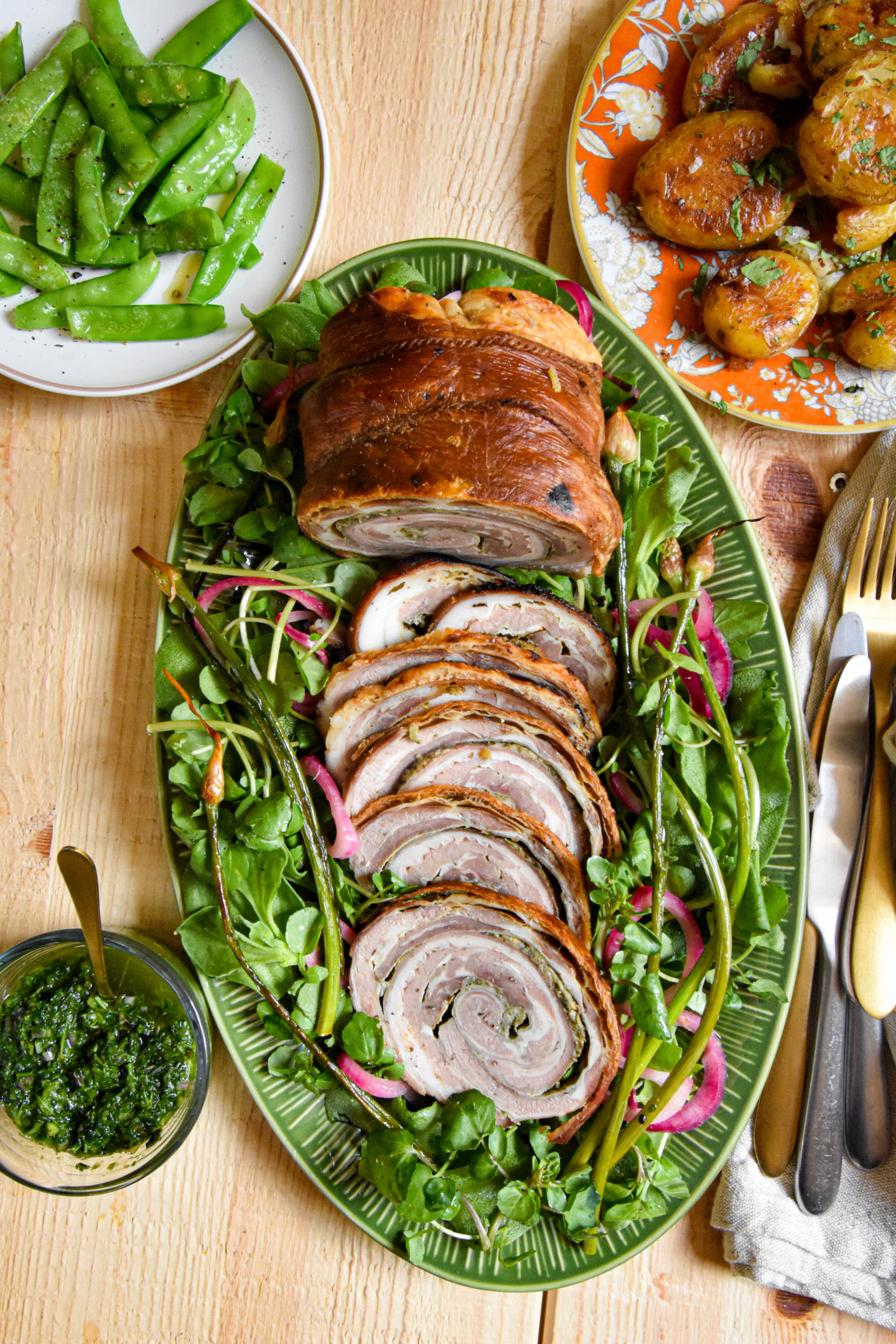 1. Make the filling mixture for the lambchetta by using a pestle and mortar, starting with grinding the fennel seeds with a little salt, then adding the garlic and grinding to a paste before mixing it with the chopped herbs and a little oil or lemon juice.
2. Lay the lamb breast pieces skin side-up, one slightly overlapping the other. Season generously and spread the garlic and herb mixture equally generously over the opposite side, keeping a 1inch border at the edges to avoid it spilling out and catching in the oven. From the short side, roll the two breasts tightly together and secure with string to keep it tight and together in the middle and on the sides. This can be done 24 hours before you begin cooking and kept in the fridge, simply remove the lamb an hour before it goes in the oven to get to room temperature. If cooking the same day, set the oven to 220ºC.
3. Lay the rounds of onion at the bottom of a roasting pan and put the lamb on top, so it's not directly touching the bottom. Place in the centre of the oven for 30 minutes, before knocking the temperature down to 140ºC for 2.5-3 hours (depending on the size of the piece). If by the end of cooking time the fat still hasn't quite rendered down sufficiently enough, you can increase the heat back to 220 and keep in for a further 15 minutes to get it to render out and get crispy. 
4.Take the lamb out, cover loosely with a little foil and rest for at least 20 minutes. 
5. Steep the finely diced shallots in the white wine vinegar for 20-30 minutes whilst the lamb is resting and as you prepare the rest of the ingredients.
6. With a pestle and mortar, add all the herbs and grind until they're somewhat broken down, then add the garlic, the flaked sea salt and grind further until you get to a rustic paste which still has a little bite and is intensely green. 
7. Add the lemon juice, the shallots, a little of the vinegar and stir to combine before stirring in olive oil bit-by-bit until you get the desired consistency. 
8. Serve the lambchetta warm, in thin or thick slices with a vibrantly green and fresh side salad and some crushed (steamed, then roasted) new potatoes and appoint the lamb generously with the sharp salsa verde.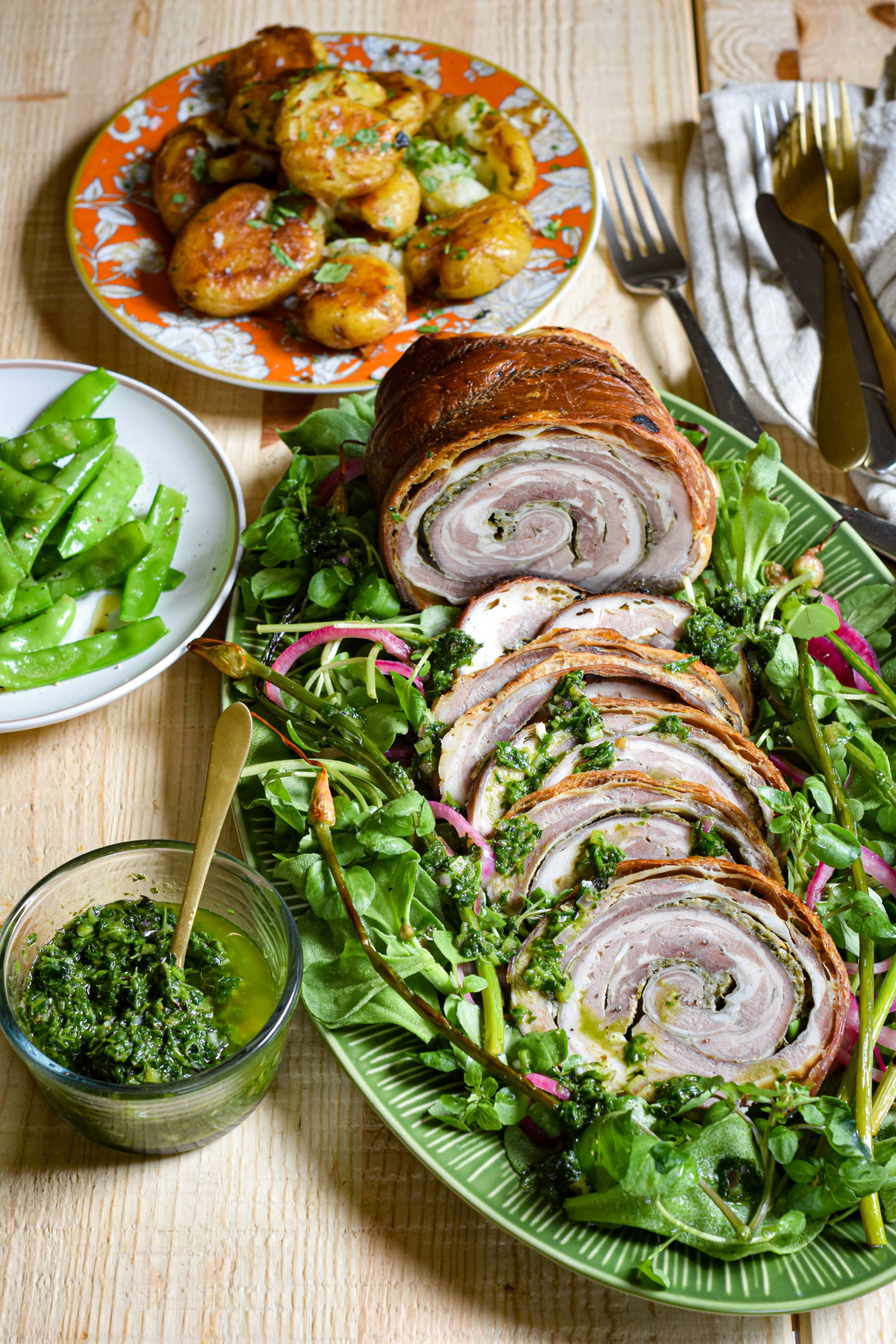 This cut is full of flavour and packs a real punch, so two or three slices per person is more than enough. This recipe makes incredible leftovers and actually goes quite a long way, so only slice what you need and try keep the piece in-tact if you want to slice further for leftovers. We adore this in sandwiches with thick, fluffy bread (like our batch loaf), mayonnaise, leaves and some caramelised onion jam or relish. When you want to have it cold, remove from the fridge and slice thinly and layer up your sandwich – this would also be gorgeous between two hunks of focaccia. Make it your own, lamb is so super tasty, easy to cook and fun to experiment with!
THIS IS A SPONSORED POST IN SUPPORT OF #LAMBTRYITLOVEIT, A CAMPAIGN HIGHLIGHTING THE BENEFITS OF COOKING WITH EUROPEAN LAMB. FOR MORE RECIPE INSPIRATION, FOLLOW @TRYLAMB ON FACEBOOK AND INSTAGRAM.