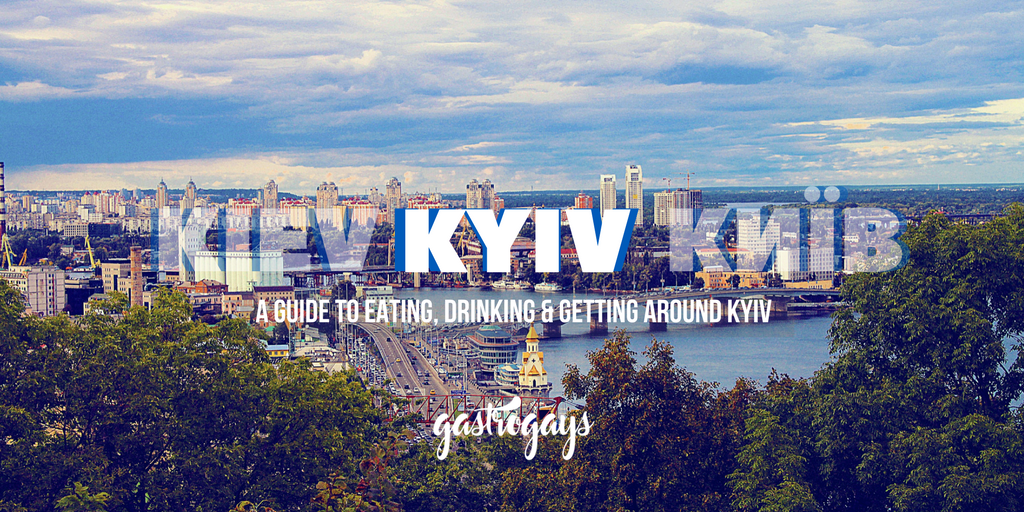 Every year before Eurovision rolls around we like to compile a useful guide to the host city for visiting music fans and 2017 was no different as we discovered the wonderful capital of Ukraine, Kyiv.
This year we couldn't make it to Kyiv for a recce trip before Eurovision itself so we enlisted the help of two local bloggers and tour guides Amy of The Wayfarer's Book and Sviatoslava of Kyiv Friendly Tours. Combined with our own experiences during a week in Kyiv in May 2017, we've got all the information you'll need to know about visiting Kyiv on a 48 hour trip – where to eat, what to see and do, and how to get around!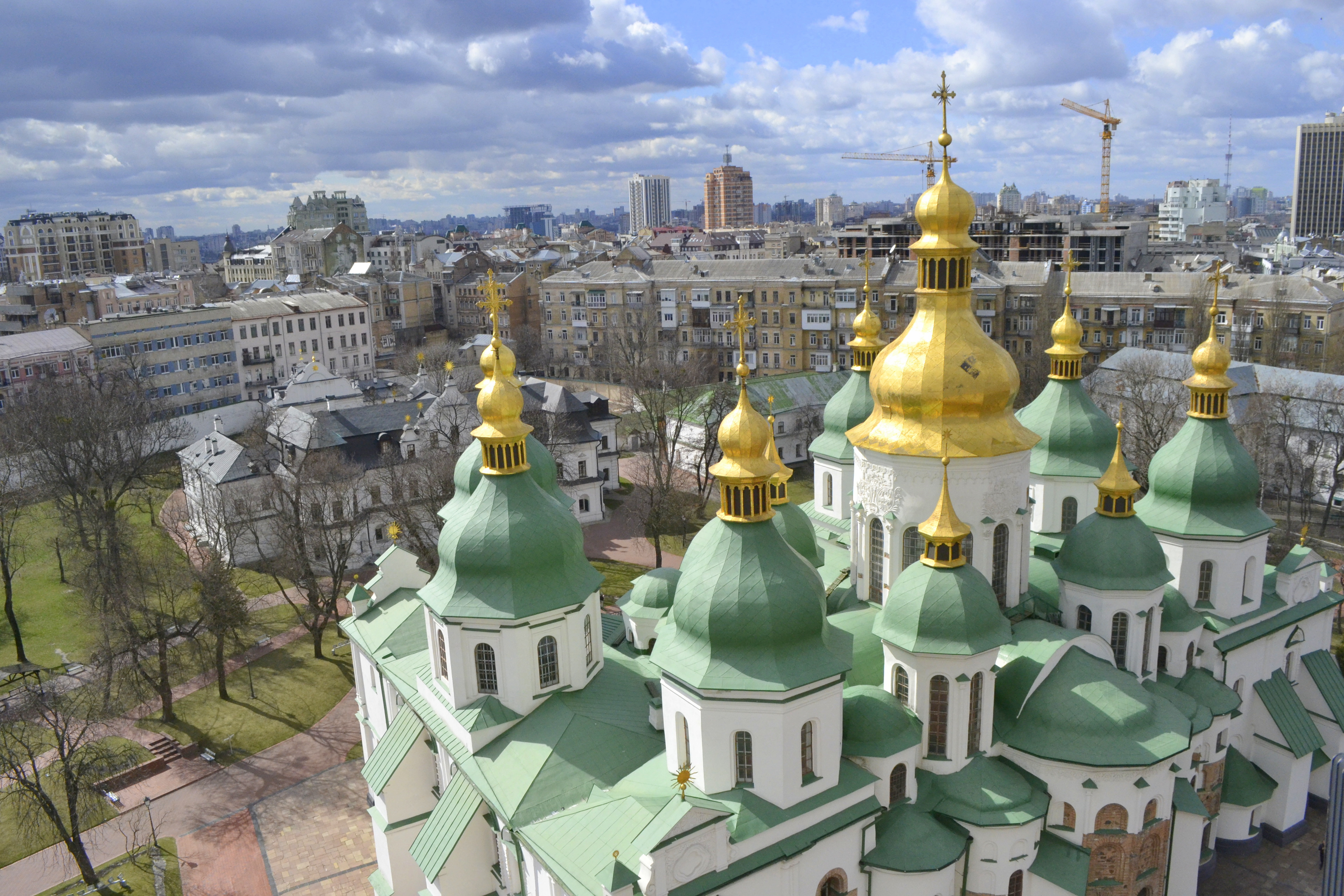 Київ
You've seen the city's name written as both Kiev and Kyiv, which may have confused you, but here's a tip: use the latter. The former – Kiev – is the anglicised version of the Russian name for Ukraine's capital city. But, Kyiv, or Київ, is the Ukrainian version and has been the widely adopted version for the past decade.
It's worth noting just how huge Ukraine is in relation to other European countries (about twice the size of Germany and seven times the size of Ireland) and Kyiv is equally massive in comparison to other capitals. Similar to the populations of cities like Rome, Madrid and Chicago, to put it into perspective: Kyiv's population matches that of Munich and Milan combined, five times that of Oslo, and approximately 25 times the population of Reykjavik.
It's a youthful and eclectic city with a historic backbone, its architecture tells a story – from early medieval monasteries and Polish-influenced baroque to post-Soviet kitsch and Russian Art Nouveau – whilst its people are welcoming to tourists and its Eastern European cuisine is inexpensive and delicious.
Kyiv Boryspil is where pretty much every international flight lands and it's most likely you will arrive in to Terminal D. There is no rail or metro link from the airport to the city centre and the journey is around 35km, which can take anywhere from 30-45 minutes.
The Sky Bus departs from the airport terminal every 15-30 minutes linking the airport and southern station (Pivdenny) with an hour's journey. However, it's just easier to book with one of the 'Official Taxi' stands at the airport, especially if carrying heavy luggage. Avoid the taxi men standing around arrivals, you will most likely be hassled with 'Taxi? Taxi?' but best to stick to the official system. You'd get into the city for less €20. Uber is also available, but for some, might be a bit more chaotic.
Arriving To and Getting Around Kyiv
Kyiv is an incredibly good value city to explore. Renowned for its cheap food and drink, transport is equally as affordable. Easyway is a English language route map that you can use to navigate the city's transport system.
Three metro/subway lines connect the city and a single journey is 4 hryvnia, which is the equivalent of 10p/15c! You can get tokens are the automatic machines in the stations, dispensing up to 5 tokens at a time (we just always put in 20UAH). 
Arsenalna is the deepest metro station in the entire world and the escalator journey can take up to five minutes whilst 'Golden Gate' station was named one of the most beautiful in the world! It's worth noting: as Kyiv is a big and spread out city, distances between stations can be incredibly long so be ready for lots of walking.
Kyiv's main avenue, Khreschatyk, traces an ancient river, now in an underground tunnel, and is busiest at weekends when it's strictly pedestrianised. Maidan (Independence Square) is the main meeting point and plaza of the city, notable in the past years for the violent and tragic Euromaidan demonstrations.
Kyiv has both Uber and Uklon, taxi smartphone apps that make it easy to get around. So if you've found an intriguing restaurant but it's a little off the beaten path, don't hesitate to order a taxi – which can be as little as £1/€1! Sometimes getting a taxi direct to a location really does make more sense than navigating public transport. The local taxi drivers effectively have no English so negotiating fares and distances can be difficult, using one of the taxi apps is advised for comfort and ease and pre-payment via card.
Food in Kyiv: Eating and Drinking
The cuisine is Eastern European, of course, so you'll find lots of dumplings, borsch, potato and cabbage, rye bread and sour cream  year-round but also watermelon and fresh, juicy fruits in early summer, lots of zingy pickled salads, kefir, Ukrainian wine and even Ukranian pasta. Salo, a Ukranian pork fat appetiser which is like an equivalent to speck, is a must-try! If you're looking for Chicken Kiev, we wish you luck! It's historically not a Ukrainian dish (we believe it's either French or Austro-Hungarian) so it won't be on the menus of good places to eat – it might be a more tourist-y restaurants, but it's not authentic to the city.
Lots of neighbourhoods have local markets and supermarkets but the main, biggest and most famous one in the city is right in the centre, Bessarabsky Market. The market is VERY local and can be intimidating as traders do not speak english and everything is quite close together, so you won't spend much time here but it's worth seeing a buzzing Kyiv food market at least once.
Reserve Your Table in Kyiv and Tip!
Ukraine, like much of Eastern Europe, is all about the reservation system but walk-ins are generally accepted. If staying in a hotel, ask them to call ahead and book for you – most restaurants do not have online bookings yet. Even the elegant coffee shops take reservations, so if your heart is set on somewhere, do your best to organise your dining plans well in advance. Most of the city's popular bars and restaurants are staffed with hospitable Ukrainians who are capable English-speakers. Nearly everywhere has English menus, or you can do your best with the Google Translate app. Tipping, around 10%, is customary – which is agreeable as food and drink is so seriously cheap in the city.
Vegetarians and Vegans, Take Note..
Traditional Ukrainian cuisine is very carnivore-centric, thrifty and pragmatic. "With everything from braised tongue to fried brain on the menu, vegetarians might find themselves with limited options," Amy from The Wayfarer's Book told us. However, it's not impossible to find vegetarian – or even vegan – food. One in particular is Vegano Hooligano at Besarabsky market, which we didn't get to try but we heard has amazing falafel.
Traditional Ukrainian Food in Kyiv
You're visiting Kyiv for Eurovision, so it's only customary to try Ukrainian food. Sviatoslava recommends two different restaurants for an authentic dining experience which illustrate Ukrainian cuisine perfectly, the first is O'panas in Shevchenko park (about a 5 minute walk from Bessarabska Market) which boasts the city's best blyny pancakes served in an unusual shack. The second is Sixties stalwart Spotykach near St Michaels square. Spotykach is a spot-on example of retro Soviet-era dining and Lonely Planet calls the menu and experience "October Revolution Day banquet in the Kremlin… with a Ukrainian twist!" The name comes from a local super strength vodka-based spirit imbued with different flavours – have a sip!
Set beside designer boutiques like Chanel, Dolce & Gabbana and Saint Laurent is an equally high-end designer bakery cafe and restaurant, The Cake.
Situated between Berasabsky market on the ground floor of the Arena City complex is this incredibly stylish and modern café with seriously couturier cakes from the hands of expert pâtissiers. The Cake has a big pink statue of a balloon animal dog right in the centre of the seating too, by the way! Check out the block coloured bathrooms too!
Great Brunch in Kyiv: Milk Bar
If you ask anyone in Kyiv where you should go for brunch, Milk Bar on Shota Rustaveli Street will undoubtedly rank among their top three at the very least. With its cool, Brooklyn-esque interior and healthy but seriously tasty choices, Milk Bar is the epitome of a bustling brunch venue.
With crunchy granola, fresh avocado on toast, egg dishes and more, you can round out your sensible brunch with a slice from one of their towering layer cakes. Order the '3 milks' to try, we're told…
Read more about Milk Bar in our review here.
Modern Fine Dining, Ukrainian Style, in Kyiv: Kanapa
There are few restaurants that can match Kanapa's commitment to the integrity of Ukrainian cuisine, even while the chefs work to reimagine these traditional dishes for the 21st century.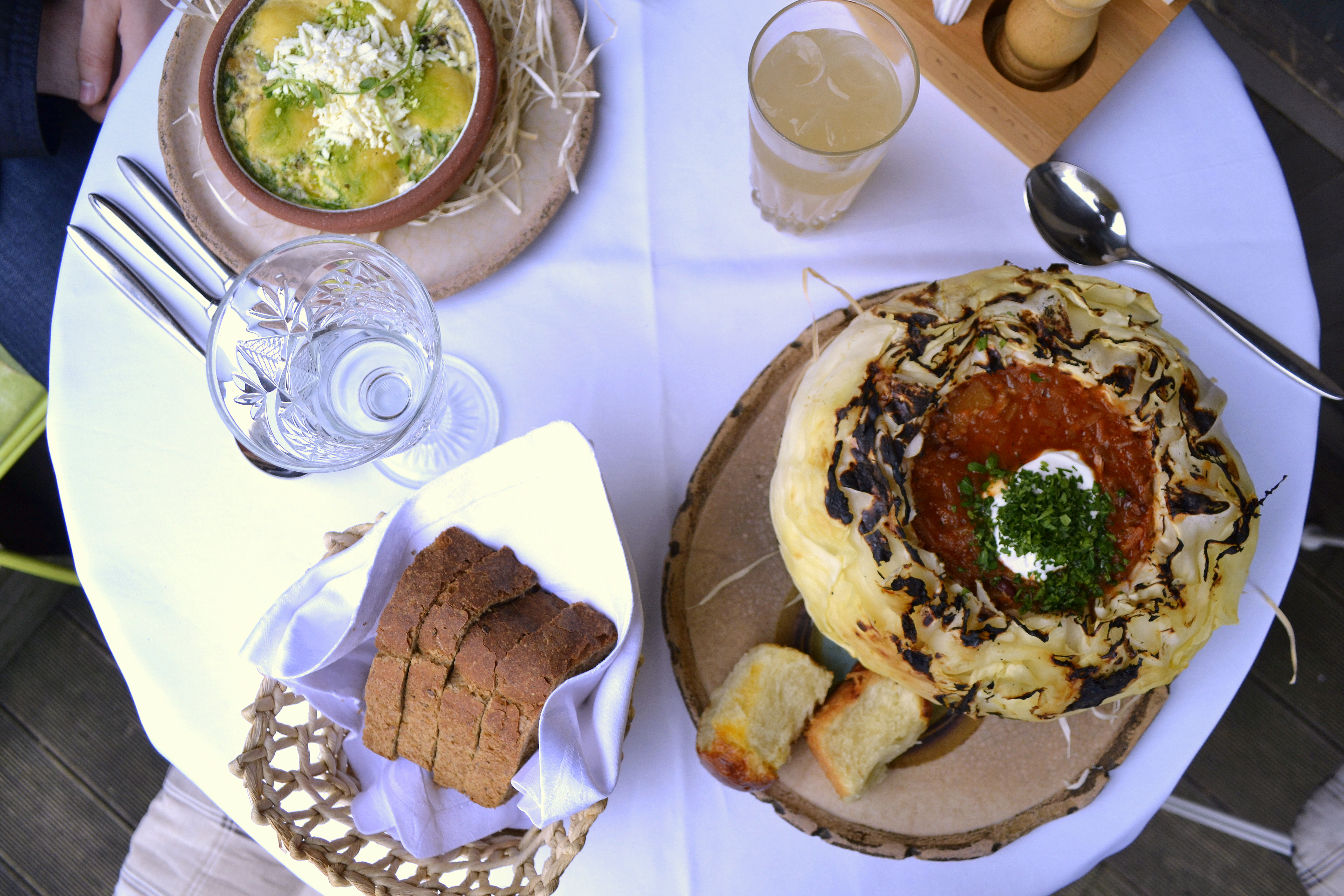 The fact that they serve you borscht in a cabbage bowl is reason enough to adore this charming restaurant, Amy tells us. Set in a enchantingly restored 19th century wooden building on historic Andriivsk'kyi Descent, Kanapa relishes its role as a Kyiv fine dining institution. Booking is essential.
The Best Varenyky in Kyiv: Katyusha
Katyusha sits somewhere between fast food and fine dining, but it's a sure bet for where to find some of Kyiv's best dumplings, called varenyky, and it's open 24 hours! This lost-in-time chain specialises in these fluffy floury balls – there are of course other items on the menu here, but so many patrons only come in for the ₴2 varenyky plates, time and time again. When we visited we gorged on lots of different dumplings and they even delivered slices of the below cake free of charge! Total win! The servers had absolutely no English, but the menu is in colour and has pictures so you can use expert pointing skills to make your order!
Have Lunch at Druzi, Kyiv's Hidden Café
Actually nearby to Kanapa and tucked into an unassuming courtyard away from street view, Druzi is a popular, albeit hidden, little café which is open from early morning 'til midnight on Andriivs'kyi descent. Whether stopping by for breakfast, lunch, a light dinner or just coffee and tea, this is a neat and cosy little cafe with a cycling theme where friends can catch up, work and even play board games!
Fast Food in Kyiv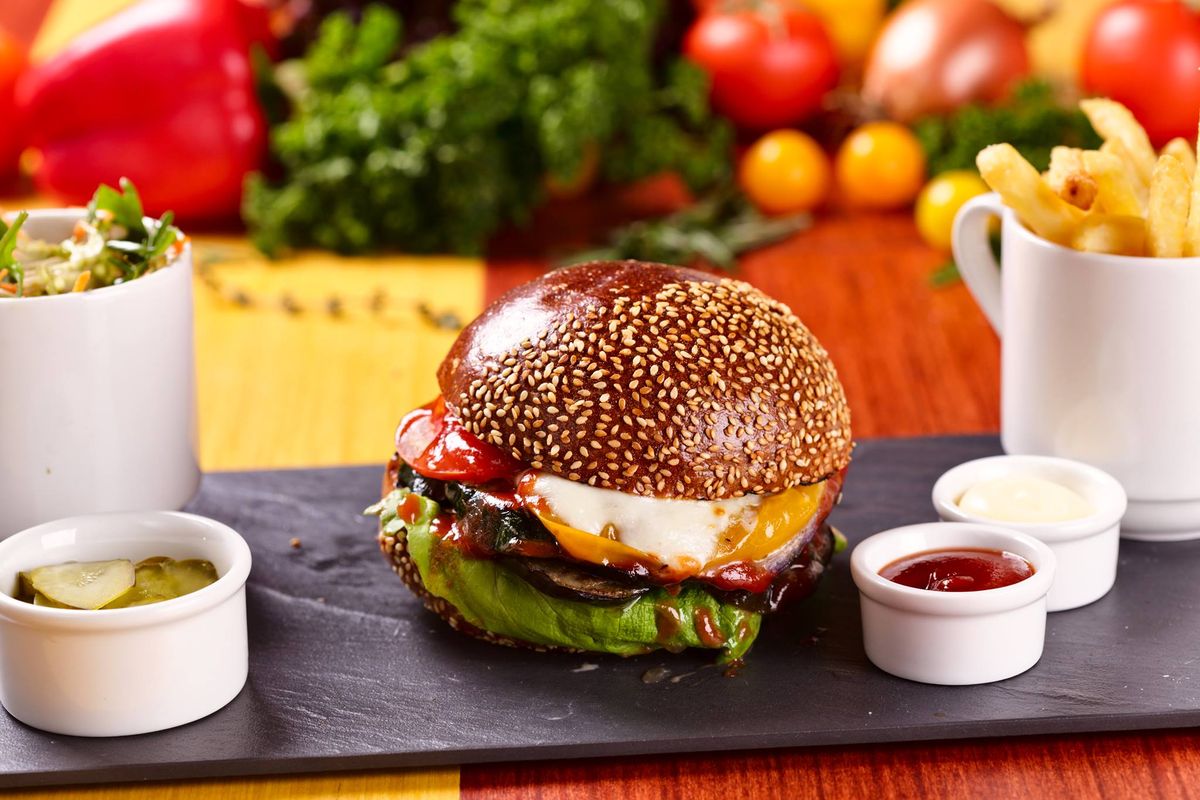 The Burger in the Arena City complex is the best burger in town, and it was the first meal we had when we arrived (likewise for our two friends who arrived two days later). You will not believe how cheap this place is, and it's actually right beside designer patisserie The Cake, which we mentioned earlier, and on the other side of the complex from super coffee pit-stop One Love, which we talk about a little further down this post! Back to comforting fast food though, Sviata also told us that Kyiv's hot dogs could even rival New York's ones, specifically at Dogs and Tails – a high end hot dog restaurant which also serves elegant cocktails.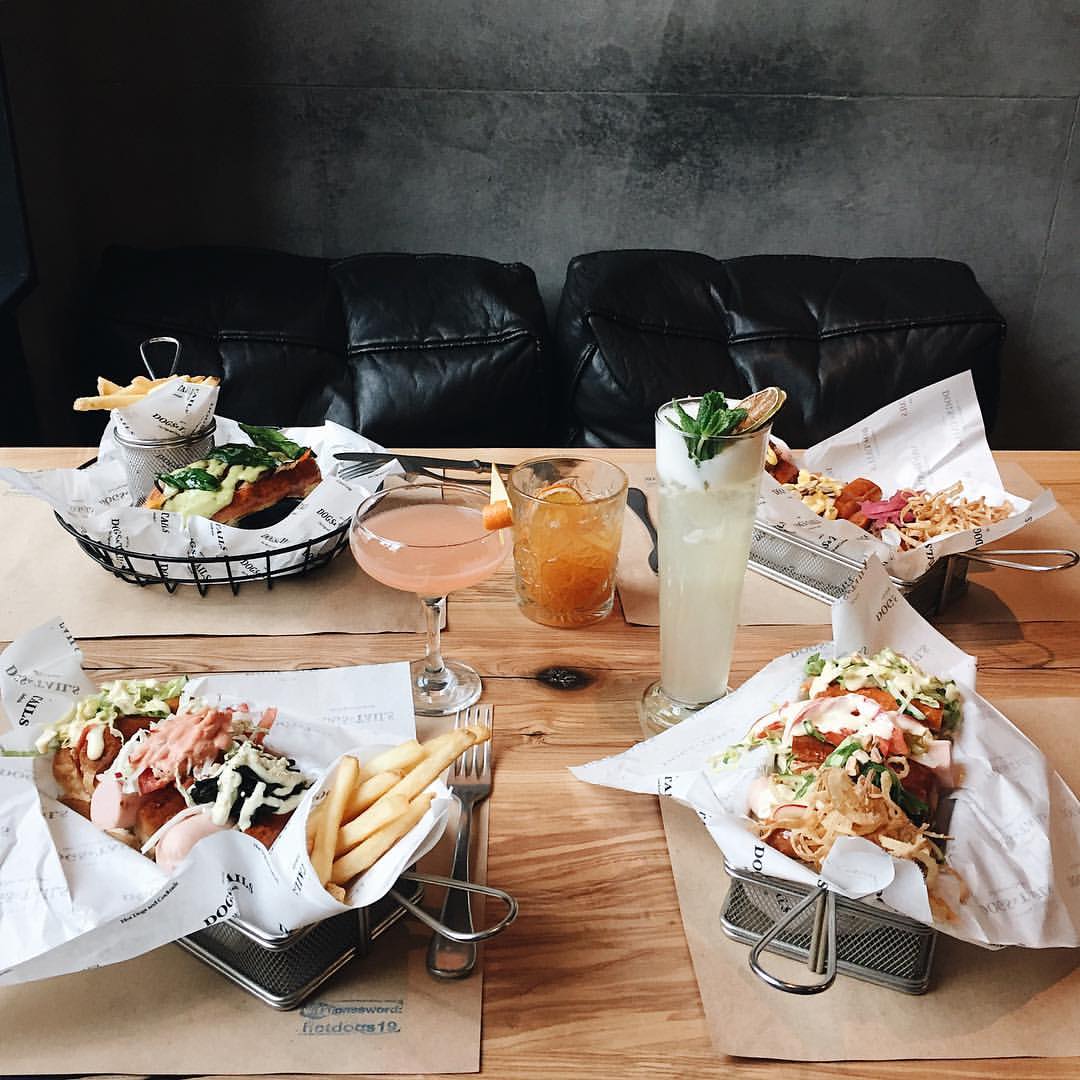 A must-try grab-and-go item in Kyiv are the batter-fried hot dogs at Kyivska Peripechka. A small hut on Khmelnitsky Str. 3 (across from the incredible TSUM department store) with only one item on the menu, a sausage encased in deep-fried dough. The queue is always long, but fast-moving, and the pay-off is worth it. We shared one and it cost ₴12, which is less than 50c/40p. There are quite a number of 24-hour restaurants, including fas food chains like McDonalds.
The Best non-Ukrainian Food in Kyiv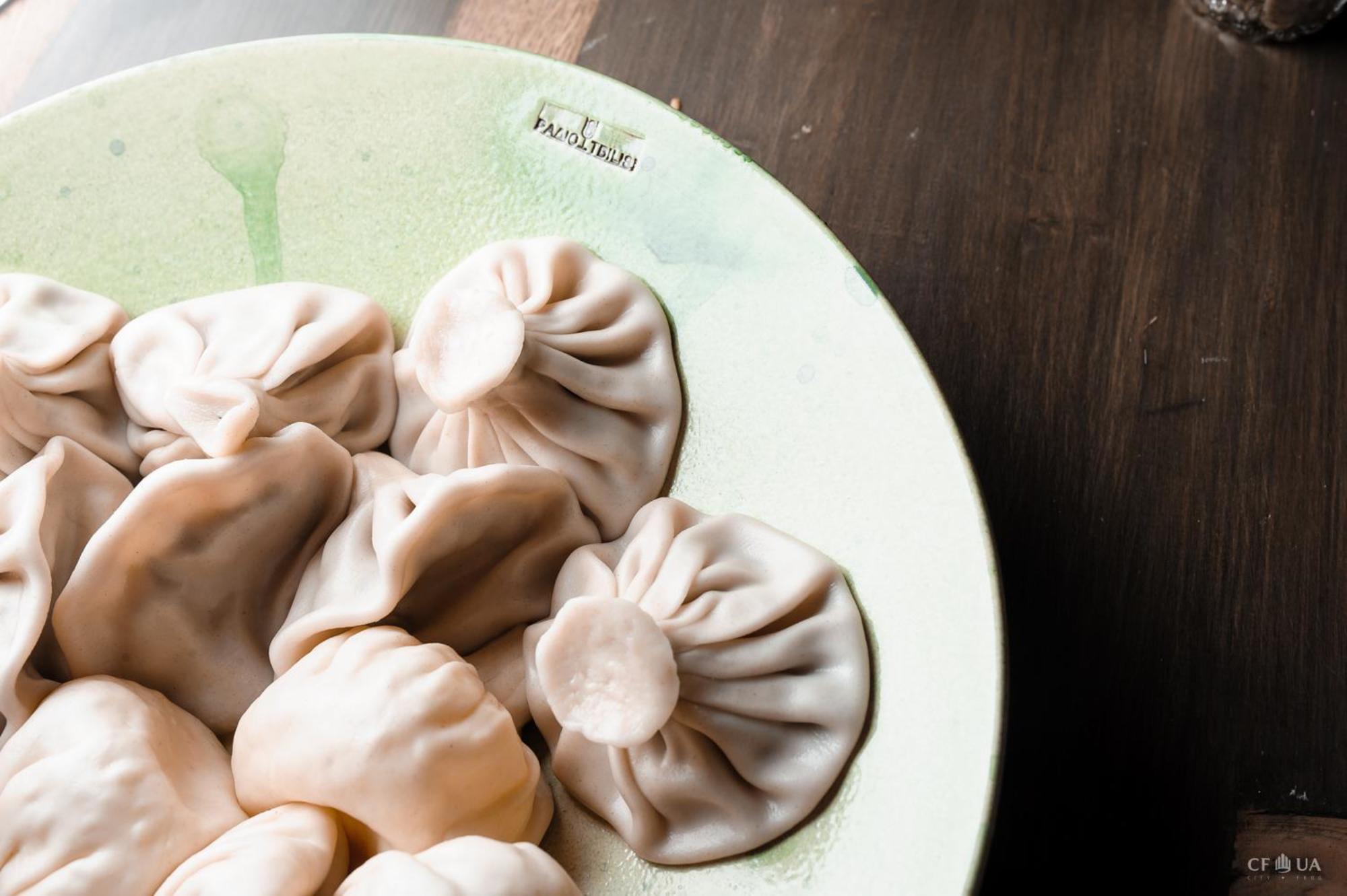 We know from the wonderful Olia Hercules' debut cookbook Mamushka, that Georgian cuisine has had a lot of influence on Ukraine. Possibly the most comforting cuisine of all, with its khachupuri, which is basically a bread boat of cheese, and khinkali (soul-nourishing dumplings), Georgian restaurants are spread throughout Kyiv accommodating every budget, from the classy Shoti to the charmingly off-beat Radio Tbilisi.
We ate at Radio Tbilisi and absolutely adored it, it's a little off the beaten track in the suburbs but well worth the journey for the quirky and cool interior, the great menu and the delicious wine choices!
Arbequina is where Barcelona and borshch mix and mingle, a Spanish tapas restaurant near Maidan which uses Eastern European ingredients in unique ways to create exciting fusion dishes with a Spanish heart. Another non-Ukranian place is Zheltok, a take on an American diner with comforting breakfast and lunch options – the takeaway lunch is particularly good and cheap, which you can enjoy nearby in Shevchenko Park or the Botanical Gardens.
Drinking in Kyiv
The tap water is not safe to drink in Ukraine, so make sure you're stocked with lots of bottled water. Take note: you are not allowed to drink on the street or in open spaces like parks in Ukraine, so beware of this or you'll become an easy target for police. Drinking age in Ukraine is 18 and alcohol can be purchased from many of the supermarkets.
Coffee in Kyiv: ONE LOVE Coffee
Ukraine's coffee culture stretches back hundreds of years, but recently it's seen a modern reinvention. Kyiv is rife with caffeine suppliers for coffee connoisseurs, from the tiny coffee vans parked on seemingly every street corner to quirky cafes. One Love, with its minimalist design inspiring a real warm yet zen location to sip on some espresso, perched at the top of the Pinchuk Art Centre – we couldn't find the entrance the first time but it's actually to the left-hand side of the Arena City complex, just look for the quite unassuming Pinchuk Centre door, go through the security and take the life to the cafe floor.
Because it's part of an art gallery, you do have to go through a metal detector and burly security to get inside but if you cannot find the elevator just ask a security guard or member of staff.
There's a separate One Love Espresso Bar right across from the St. Nicholas catholic church on Velyka Vasylkivska street.
Kyiv's Speakeasy Experience: Hendrick's
There's a speakeasy boom happening in Kyiv (despite the sale of alcohol being perfectly legal). In fact, some of these so-called hidden bars are so popular it's hard to get in! Amongst the best is Hendrick's, an unpretentiousness and high-quality speakeasy that serves you cucumber water inspired by its British gin-producing sponsor. Hendrick's tackles cocktails with a range of exotic liquors, shaking up drinks with creative flair and unusual flavours like cardamom, eucalyptus, rhubarb, and black salt.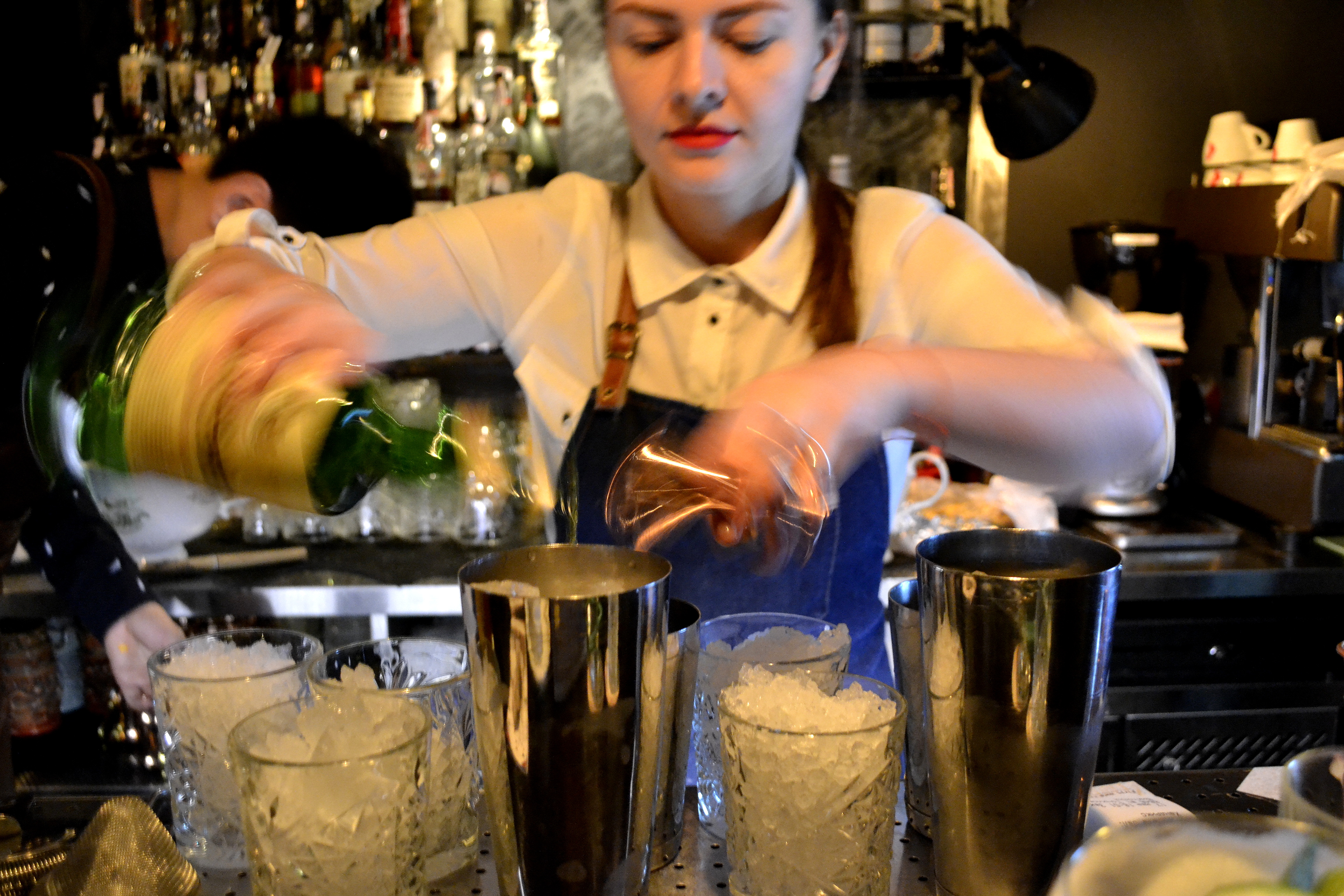 Paravoz, Loggerhead, and Barman Dictat are all excellent speakeasy establishments too, well worth visiting. Discovering each one's secret location is up to you – it's half the fun!
Kyiv Groceries: Silpo & Good Wine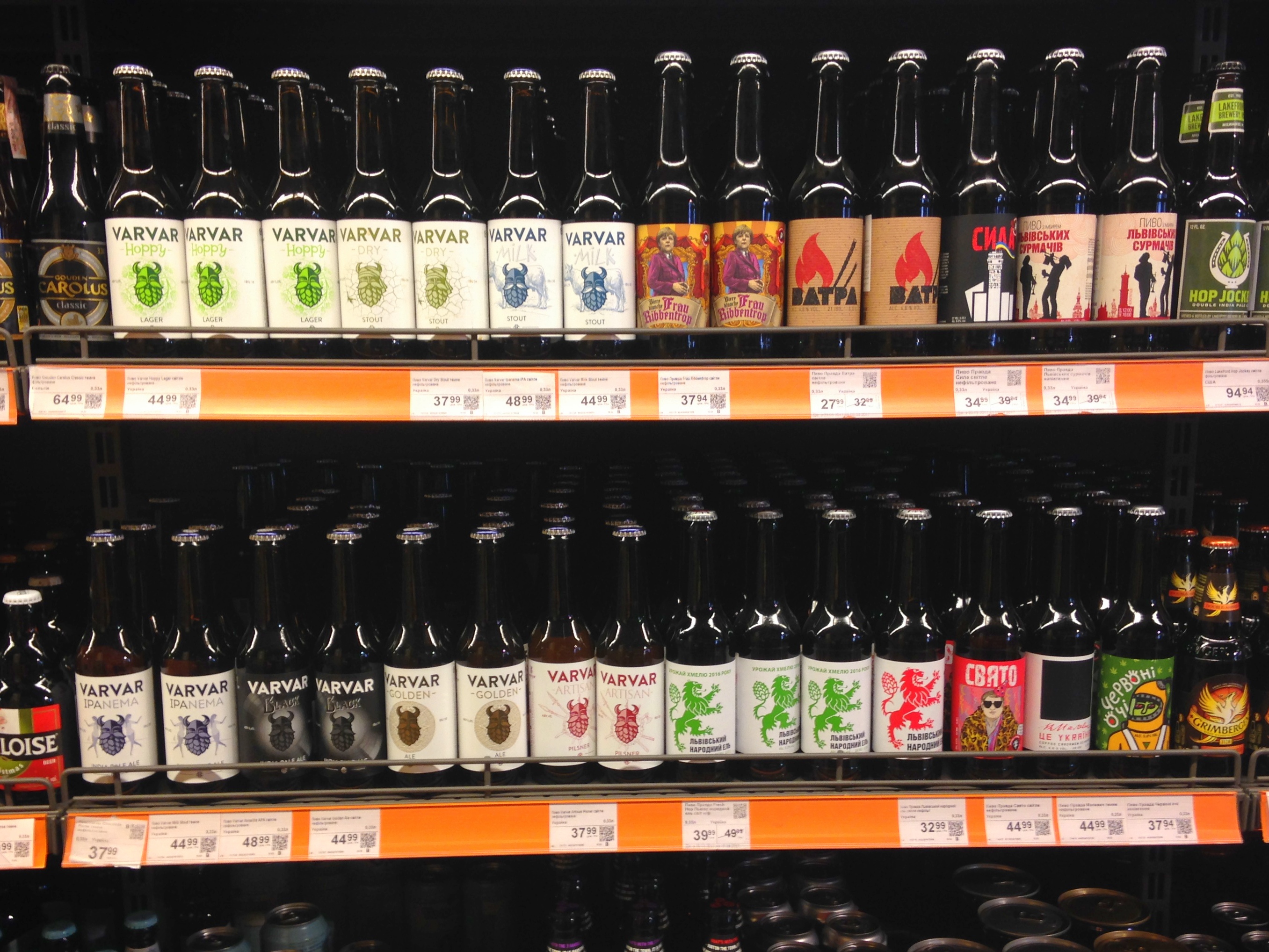 Silpo is a grocery store chain that's typically well stocked with fresh produce, imported cheeses, Ukrainian craft beer, and a decent ready-made food bar, Amy tells us. The mother of all Silpos, complete with a dine-in café, is in the bottom of the Gulliver Centre by Sportyvna Square – it's kind of Kyiv's equivalent to Whole Foods.
Good Wine is also a rabbit-hole of culinary delights. As a fine foods store, it offers everything from tomato chutneys to fresh shellfish to kale chips to raspberry-swirled meringues. And, of course, a truly impressive selection of wine.
🇺🇦5 Tourist Must-Sees in Kyiv🇺🇦
Sviatoslava actually runs tours of the city through her company Friendly Tours Kyiv, so if you want to see particular aspects of the city on a specialised, guided tour in english, check out her website. But first, we've asked her to round up five must-see things in Kyiv.
1. St Michael's and St Sophias Cathedrals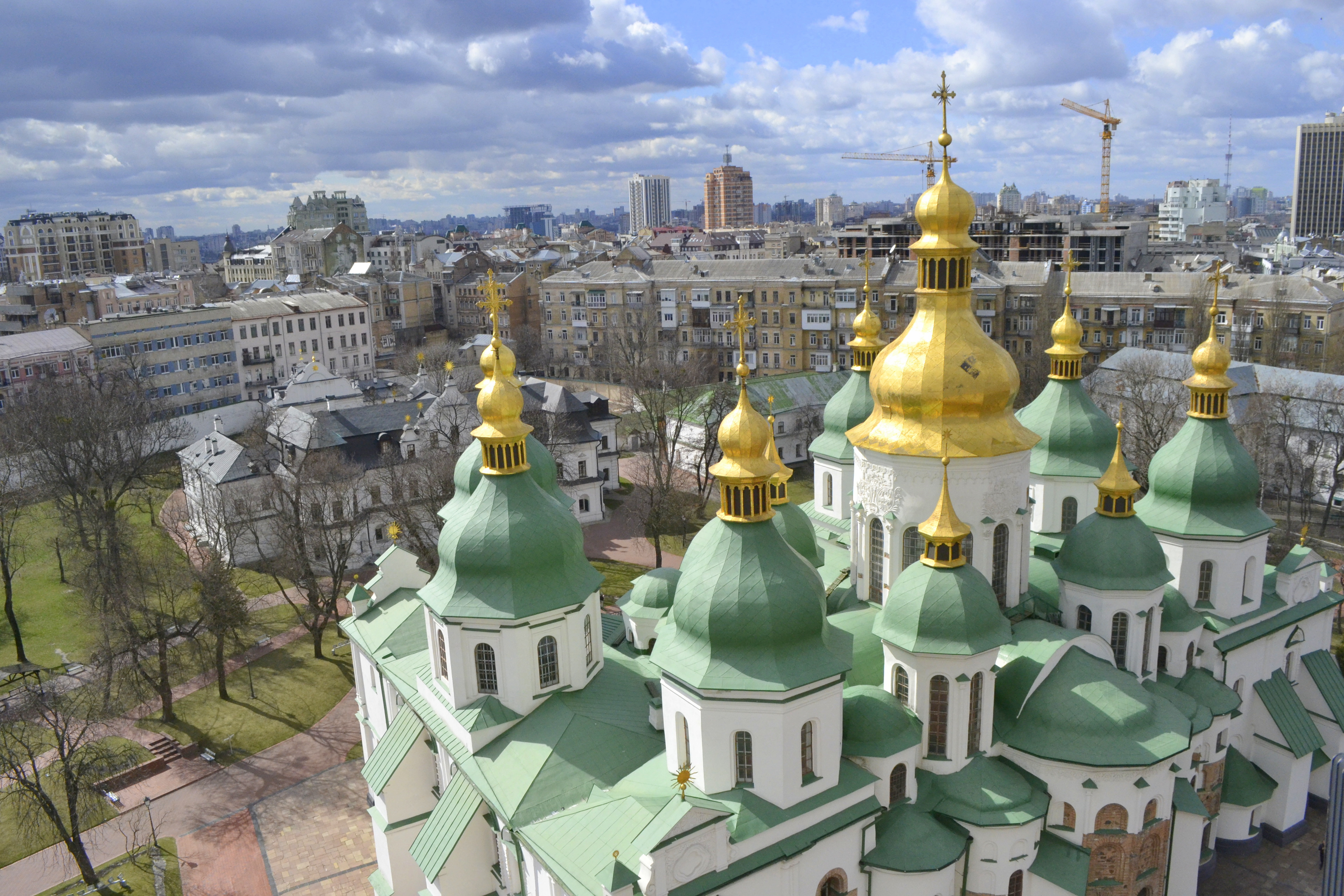 "Kyiv has more then 1,500 years of history, you will be amazed with our golden-domed churches and ancient monasteries mixed with Soviet-era architecture. Both St. Michael's and St. Sophia's cathedrals are just five minutes away from one another. St. Michael's, rebuilt in the late Nineties, is still an active church and you can visit free in the morning and catch mass. St. Sophia's Cathedral is a UNESCO World Heritage site with mosaics from the 11th Century and the sarcophagus of Yaroslav the Wize."
2. Golden Gate
"Visit this replica of a triumphal Arch in the style of Constantinople, which was the main passageway into the city during 11th-13th centuries. No original structures still stand but this replica was completed in 1982 to celebrate the 1,500th anniversary of Kyiv."
3. Maidan Nezalezhnosti (Independence Square)
"Kyiv's main square has seen three revolutions in last 26 years, as recently as 2014. Don't miss the Heavenly Hundred Alley nearby, dedicated to the memories of over 100 who lost their lives in support of a more democratic and independent Ukraine."
4. Kyiv's Green Spaces
"Kyiv is a city with 88 parks. Don't miss an opportunity to relax in the Botanical Garden, play chess with grandpas in Shevchenko park or cycle in Mariinsky park."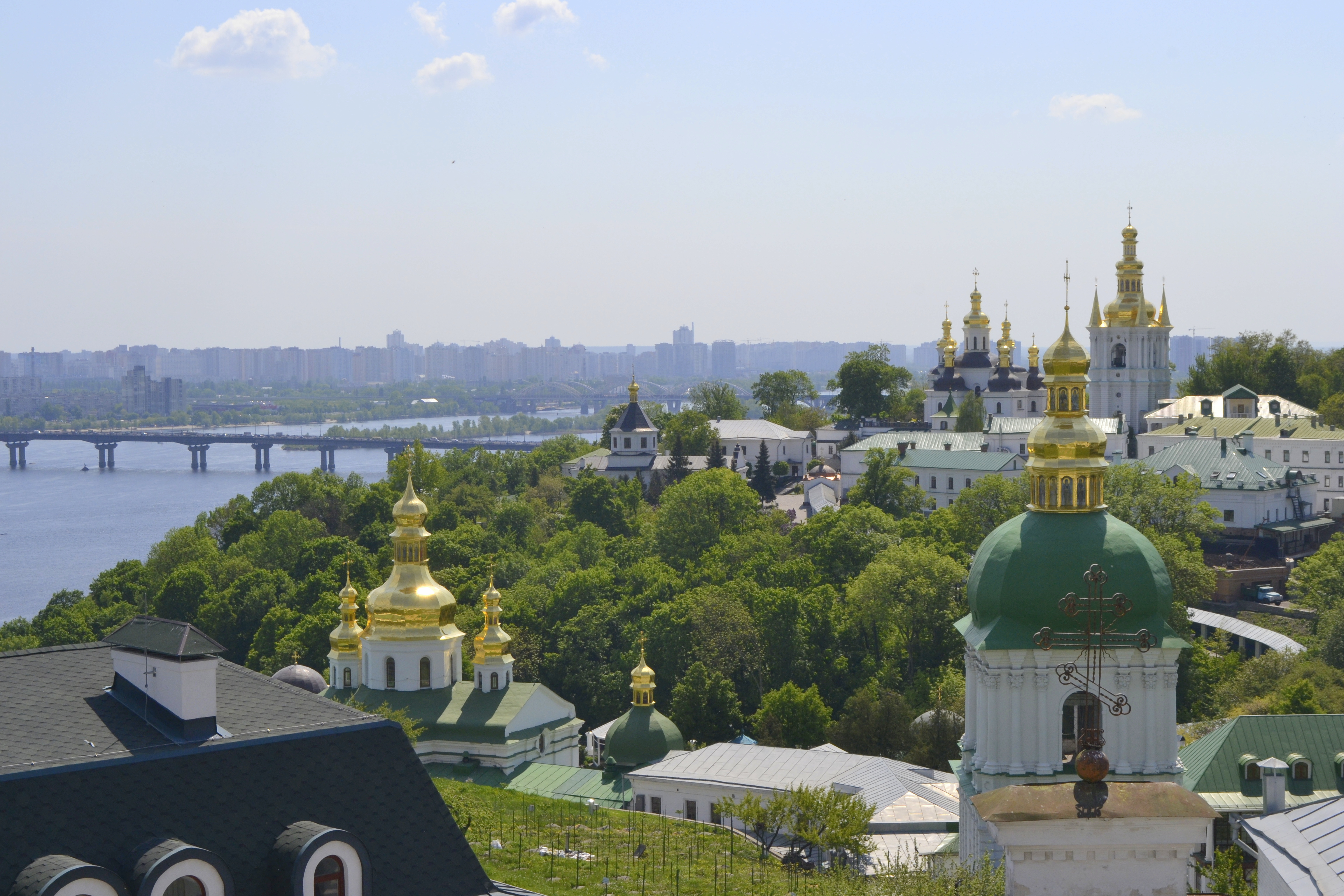 5. Statue of The Motherland
102m in height stands a woman brandishing her sword and shield, greeting all guests into the city and protecting her people. Built in 1981 to honour WWII veterans and those who lost their lives, there's a museum inside too. There are two viewing platforms, one at her feet, the other in the shield. The latter will require climbing up an internal ladder system which frankly wouldn't be for the fainthearted.
Finally, we've pasted our handy little Google Maps guide below for you to navigate your way around the city, highlighting all of the places mentioned in this post… and more!
Big thanks to both Amy and Sviata for their helpful tips and insights on Kyiv!
Amy Butler is a travel blogger and English teacher living in Kyiv and pining for just one good American-style fried donut. You can check out more of her solo female and budget adventures in Ukraine and wider Europe on her blog, The Wayfarer's Book. You can find her on Facebook, Twitter and Instagram too!
Sviatoslava Maksymchuk runs Kyiv Friendly Tours, offering a wide range of tours across the city and further afield in Ukraine. See her website, Facebook and Instagram for more details.