Marion Roeleveld of Killeen Farmhouse Cheese in East Galway has scooped the top prize for Irish cheese at the recent British (& Irish) Cheese Awards 2022.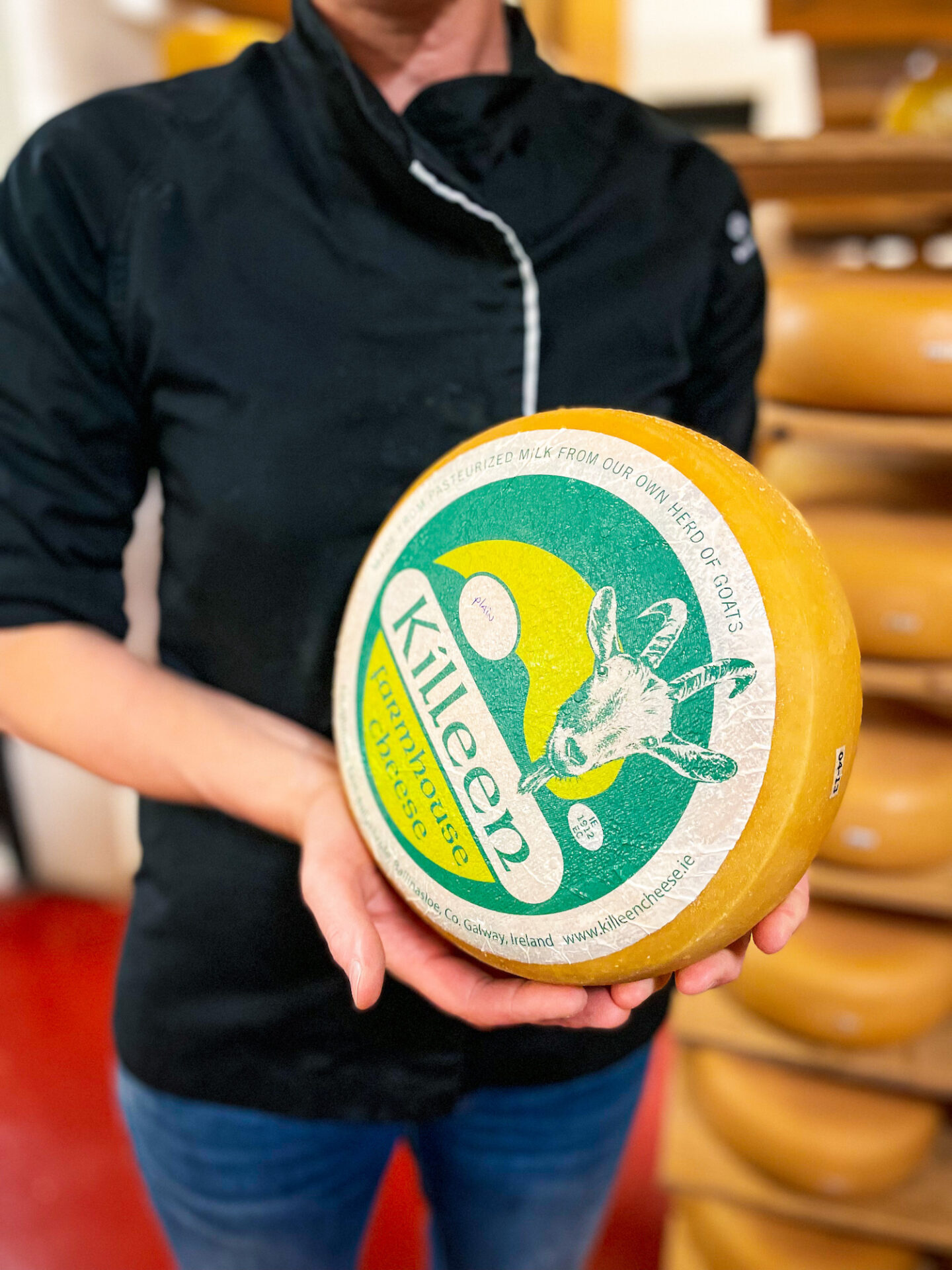 Marion's Kilmora – a Swiss-style (Emmental-like) cheese using locally-sourced cow's milk – clinched the top gong in the Irish cheeses category, judged by a 50-strong panel of judges made up of cheesemakers, cheesemongers, cheese experts and retail buyers. After a two-year hiatus due to the pandemic, the awards ceremony took place at The Bath & West Showground on Wednesday 5th October, with the top award, Supreme Champion, going to the Morbier-style Ashcombe by King Stone Dairy in Gloucestershire as well as a Reserve Champion, the soft, lactic mould-ripened St. Jude by St. Jude Cheese in Suffolk. 
Killeen Farmhouse Cheese also won a second category for another cheese made on the farm, gold in the 'Goats mature (3+ months)' category for Killeen Goat's Mature, which we believe is five month-aged. Marion's other style of cheese – which is actually produced in larger quantity than her cow's' – is a Dutch gouda-style goat's cheese, made using milk from her own herd, which her business partner Haske manages, just shy of 200 goats. Her cheesemaking facility is located on the same farm, just outside Portumna, Co. Galway. Marion has been making cheese since 2004 and has won multiple awards, including the top nod at the Cáis Irish Cheese Awards on three separate occasions, most recently in 2019 –– we actually judged that year, as it happens. On a recent trip to visit her with Bord Bia we got taken around her whole farm and facility, which you can watch in a snappy reel below!
Marion's younger-aged Killeen Goat's got a silver in its category, whilst her fenugreek-spiced goat's cheese received a bronze in its category. Altogether, including the country champion gong, Killeen received four medal placements.
Other Irish cheesemaker medals
Other Irish cheesemakers who received accolades at the British Cheese Awards 2022 included Cashel Blue Cheese who received a pair of medals in the 'Blue' category –– a silver for their signature cow's milk blue Cashel Blue and a bronze for their sheep's milk Crozier Blue. Burren Gold Cheese from the Aillwee Caves got a silver in the 'Flavour Added' category of cheeses and Belfast-based Greenfields got a pair of bronze medals, one for their unsalted butter and one for their salted version.
About the Awards
The British Cheese Awards date back to 1994, founded by Juliet Harbutt and taken over by The Royal Bath & West Society in 2015. 2022 marks the 27th edition of the UK-based awards and included hundreds of products and over 75% of "the nation's producers", including 20 brand new cheeses only born since the awards last took place in 2019.