We haven't really cooked much food from the Indian subcontinent if we're honest. We love Indian food but the furthest we've gotten is creating curries from scratch and playing around with home-ground spice blends – which is a pretty good start! However, this is a take on one of our favourite breakfasts from London: Dishoom's Keema Per Eedu. Dishoom is one of the city's most incredible restaurant groups with branches of their unique 1950's-style, Bombay Irani cafes across the city and growing throughout the wider UK.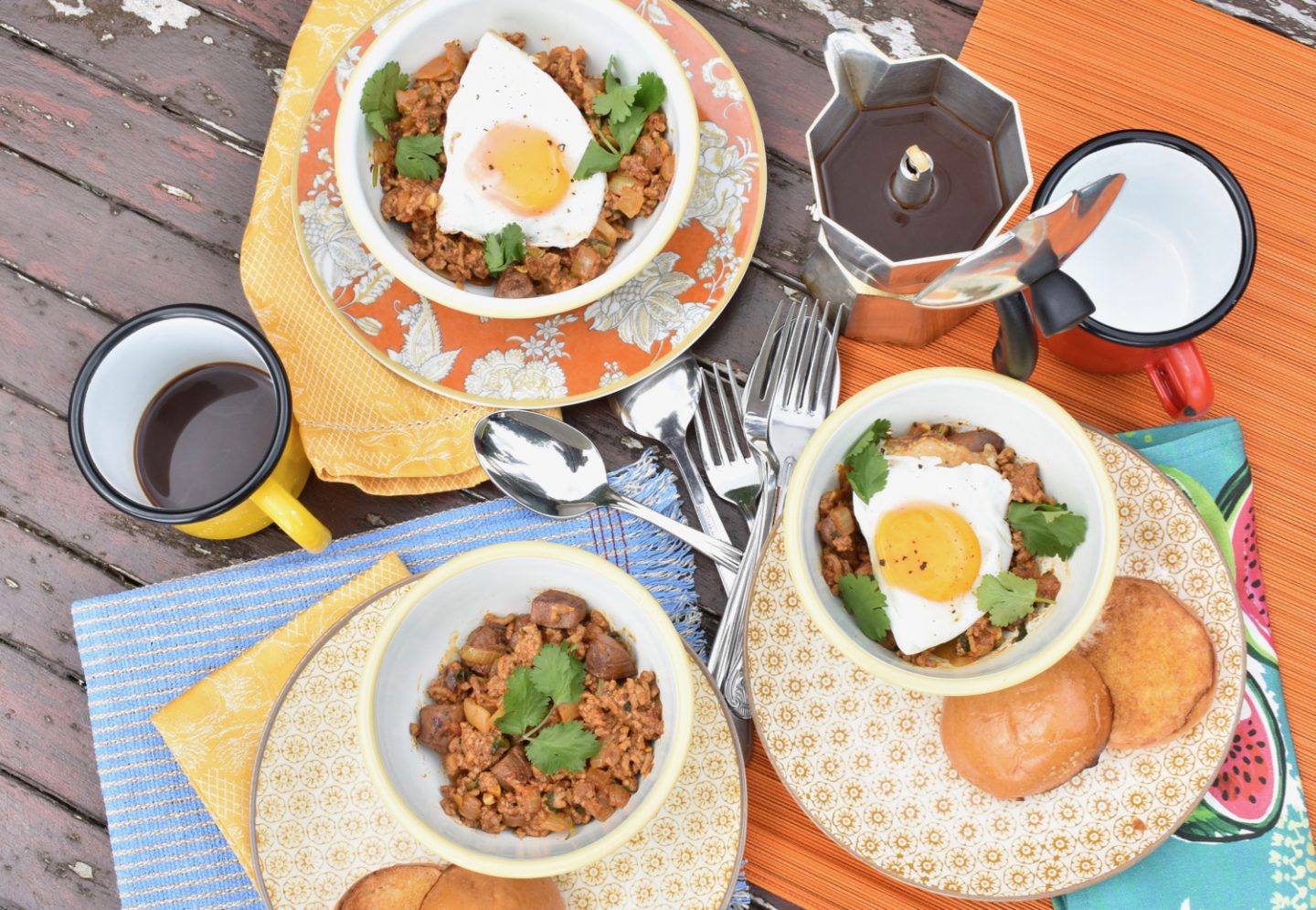 This is a traditional dish that's found mostly in India's Punjab region right by the border with Pakistan. Keema Khaleji, we believe, simply translates as 'liver and mince' – keema: minced meat; khaleji: liver. It's basically a semi-dry, spiced meat and offal curry that's usually served with chunks of potato and lots of peas stirred through, but we've tried to recreate the kind we always order in Dishoom that's packed full of fresh coriander, topped with a fried egg and served with a sweet buttered bun on the side.

Keema Khaleji
Serves two
250g lamb mince

100g lamb liver, cubed

1/2 a large white onion, finely diced

2-3 cloves of garlic, finely diced

A thumb-sized piece of ginger, peeled and finely diced

1 tsp Garam Masala

1/2 tsp Cayenne Pepper

1 tsp Coriander seeds

1 tsp Cumin seeds

1/4 tsp turmeric

Tomato purée (or one fresh tomato, grated)

Bunch of coriander leaves

2 fried eggs
Small buns, halved and toasted – brioche if possible but not essential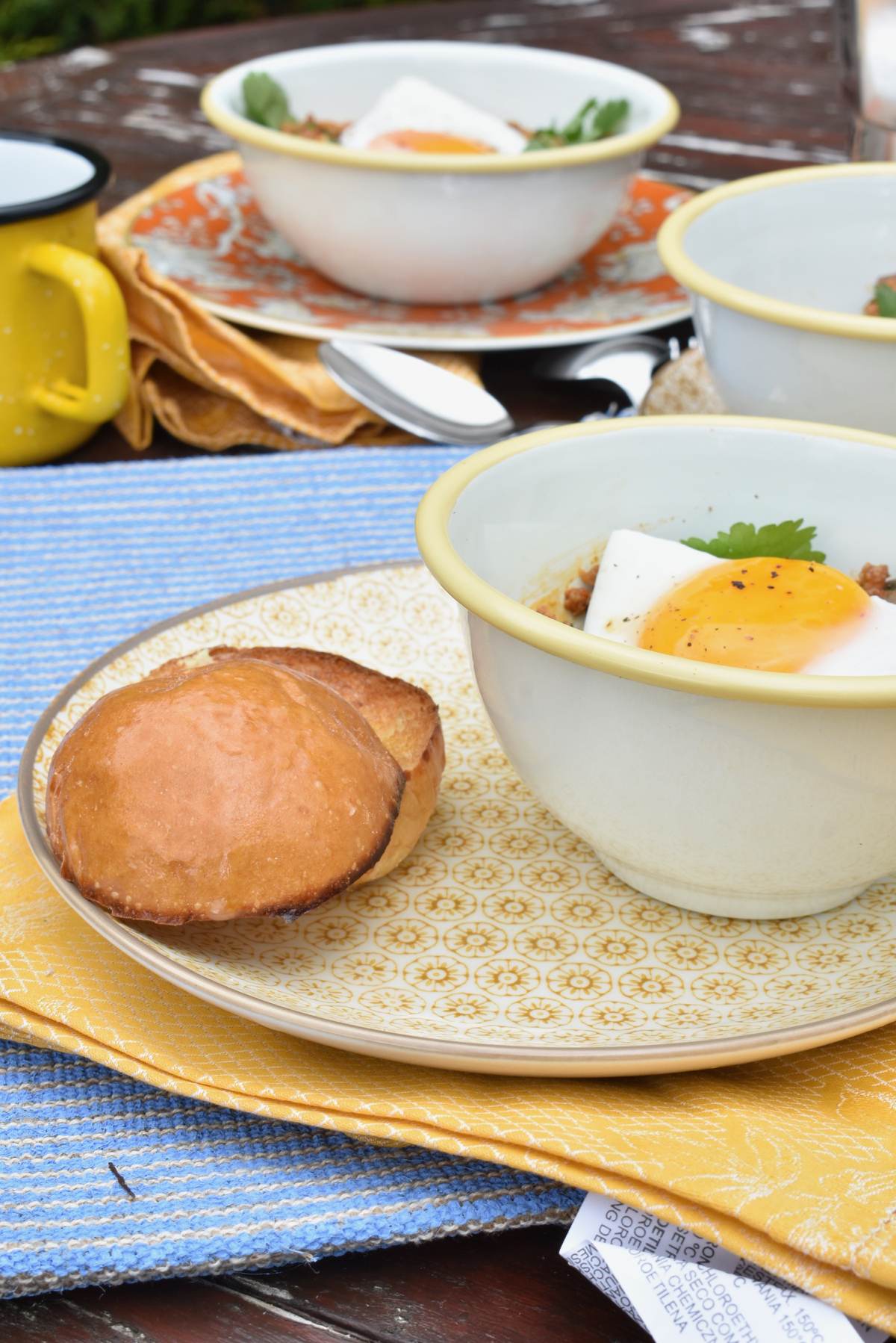 1. Cut any sinew from the lamb liver and dice into chunks.
2. Heat a little olive oil, butter or ghee in a pan until foaming and add the onions, ginger and garlic, cooking to soften on medium heat.
3. Prepare your spices – whether using fresh or pre-ground and add to the vegetable mix. Allow to cook out for a minute or so until everything is coated and fragrant.
4. Add the minced lamb, turn up the heat a little and allow to cook down, breaking it up as you go along into bitty pieces.If you have coriander stalks, finely chop them and add them in. Don't be afraid to let it catch a little on the base of the pan and get as much water out of the lamb as possible. Add a tsp or two of tomato purée and some water, just enough to coat everything as you cook it out for a minute more. Alternatively, grate a fresh tomato and use that instead.
5. Remove from the pan and clean, then pan-fry the lamb livers in butter for just a minute or so – only until just browned but still a tiny bit pink in the middle. Trust us, you don't want overcooked and claggy-tasting liver in this dish, you want it cooked yet so soft that it's only a whisper of flavour. Add to the lamb mince mixture.
6. Clean the pan and quickly fry your eggs in some oil on a high heat, seasoning mid-way through and covering with a lid about 30 seconds to a minute before they're done just to ensure the top cooks.
7. Assemble with a base of the meat mixture, top with the fried egg, strew over some fresh coriander leaves and serve with the sweet buttered bun on the side. This is the kick out of bed you need on a dark and damp day!