Crunching through knee-height snow at 10am on a chilly Thursday morning in the island of Vaxön, one dot of land set within a 30,000-cluster of isles and skerries dappled amidst this inlet of the Baltic Sea, we make our way through a small residential road prettily appointed with varied styles and sizes of homes. Most sleepily hibernating in the tough Swedish winter shuddering with that Baltic breeze, we arrive to a house and knock the door, the sound of a dog barking from within before the scent of freshly brewed (read: black, short and strong) coffee wafts out as the door opens.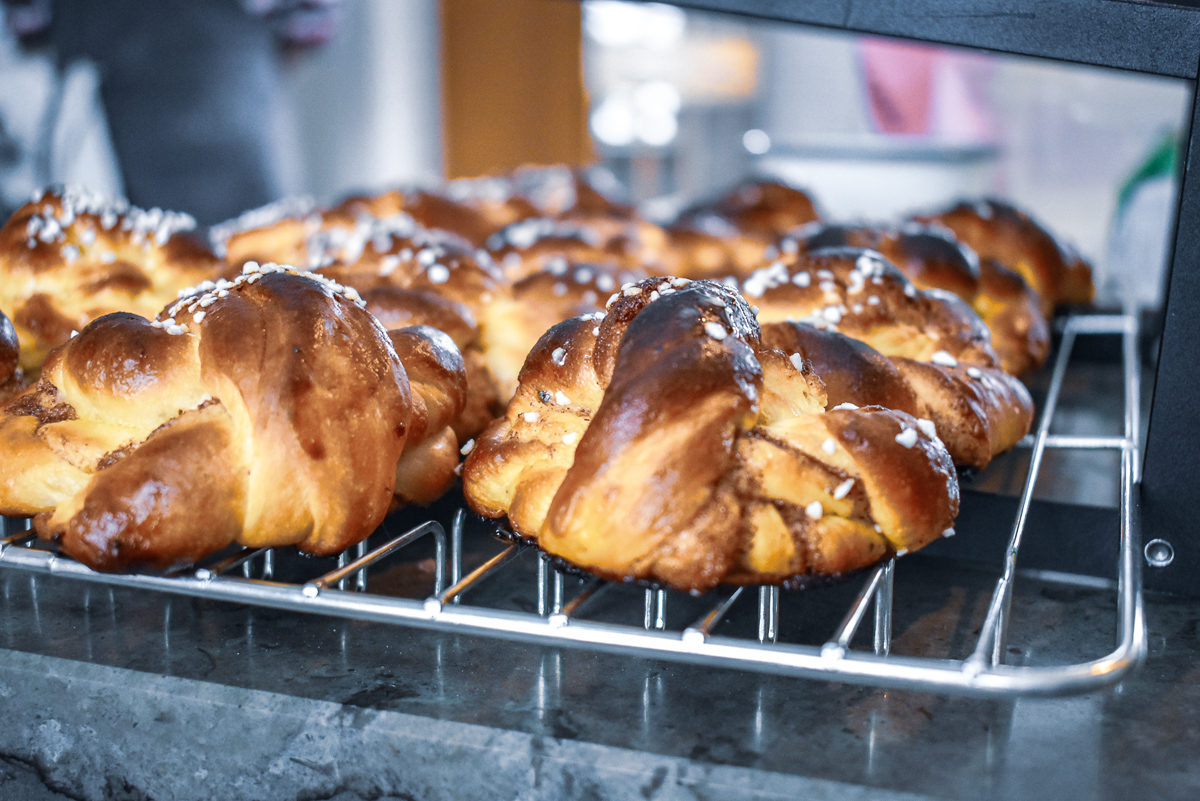 Brushing the fluffy snow off our woolly hats, scarves and coats, our thick boots having dripped mini puddles around Linda Wahlström's doorway, we hang our outerwear and shift in our socks towards Linda's gorgeous open plan Swedish kitchen, ready for a day of traditional Swedish baking.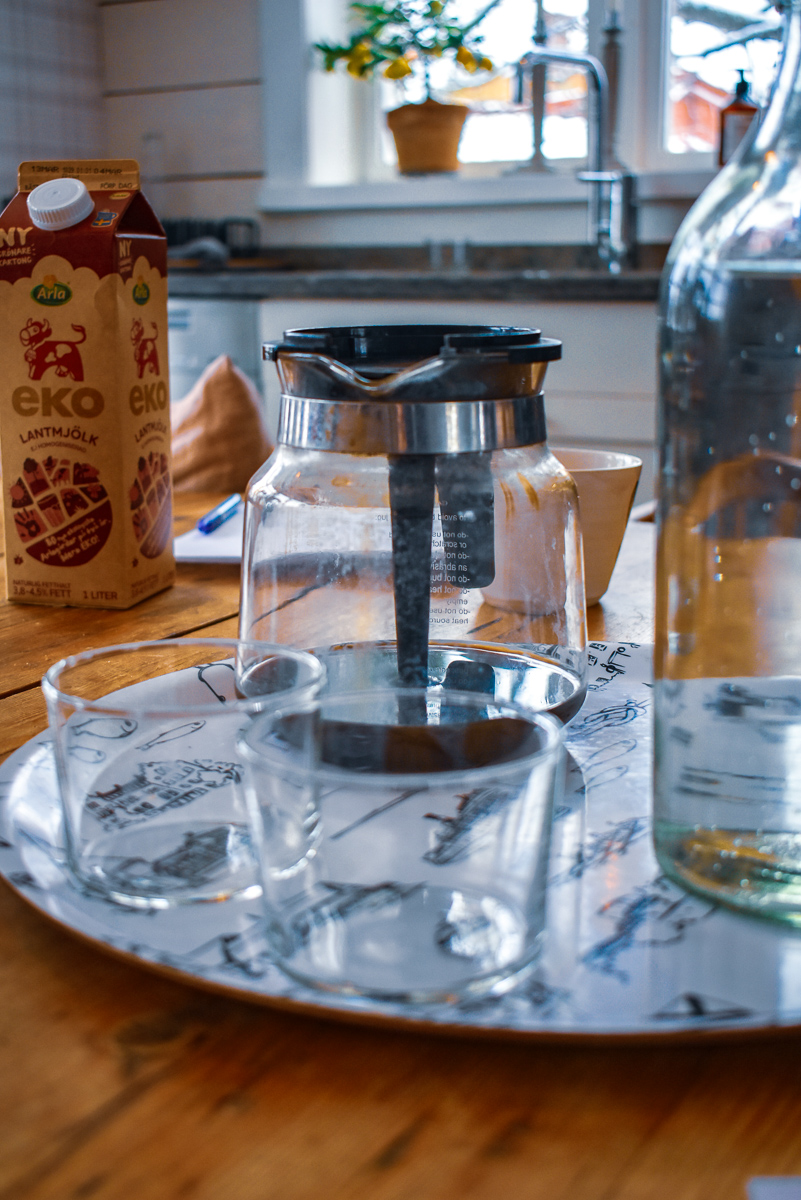 Linda has opened her home, welcoming us with a big hug, a cup of much-needed strong stuff and the prospect of perfecting kanelbullar, the iconic sweet Swedish bake also known in english as the cinnamon bun. Naturally, we feel right at home the second we walk in – and what a home it is!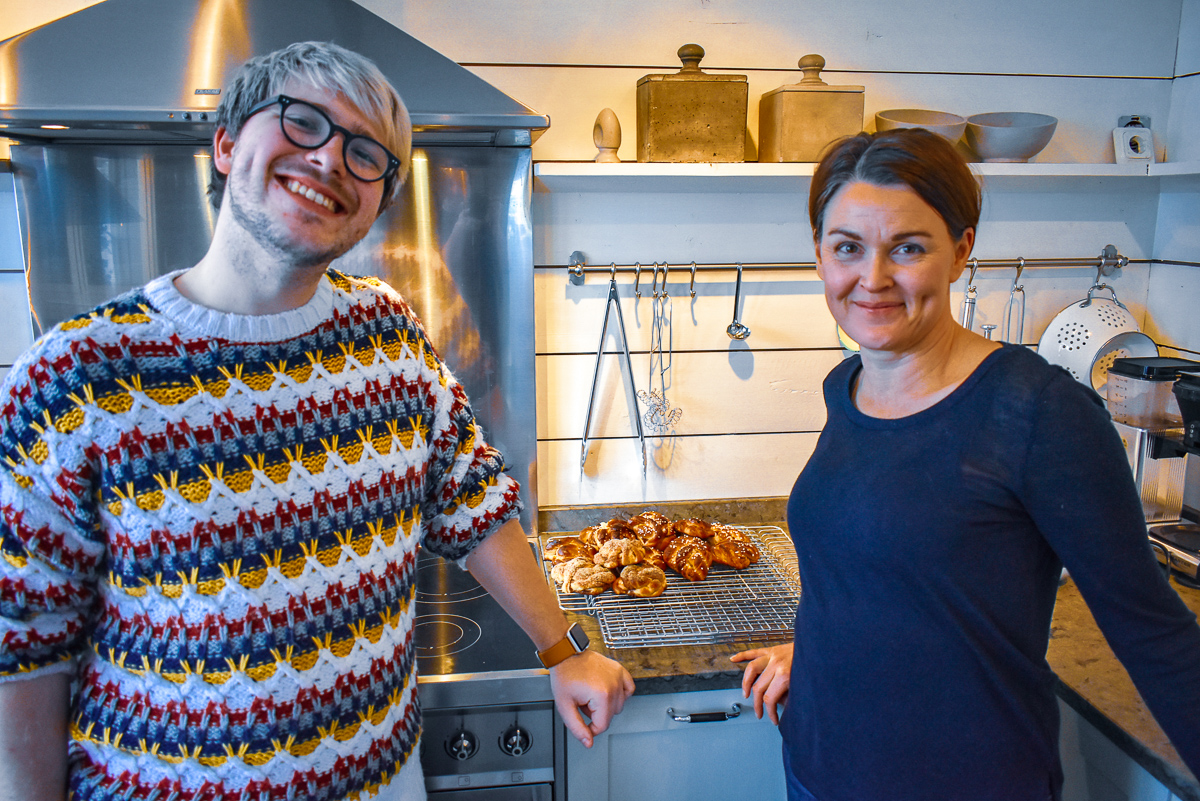 A kanelbulle (the singular of plural kanelbullar; likewise kardemummabulle/kardemummabullar) is a yeasted, enriched bun (bulle) spiced with cinnamon or cardamom, sometimes both, and shaped before baking in a hot oven and dipping in spiced sugar, pearl sugar (parlsocker) or icing. Rich, spongy, spicy, warm and sweet, these are addictively delicious and one of the iconic tastes of Sweden.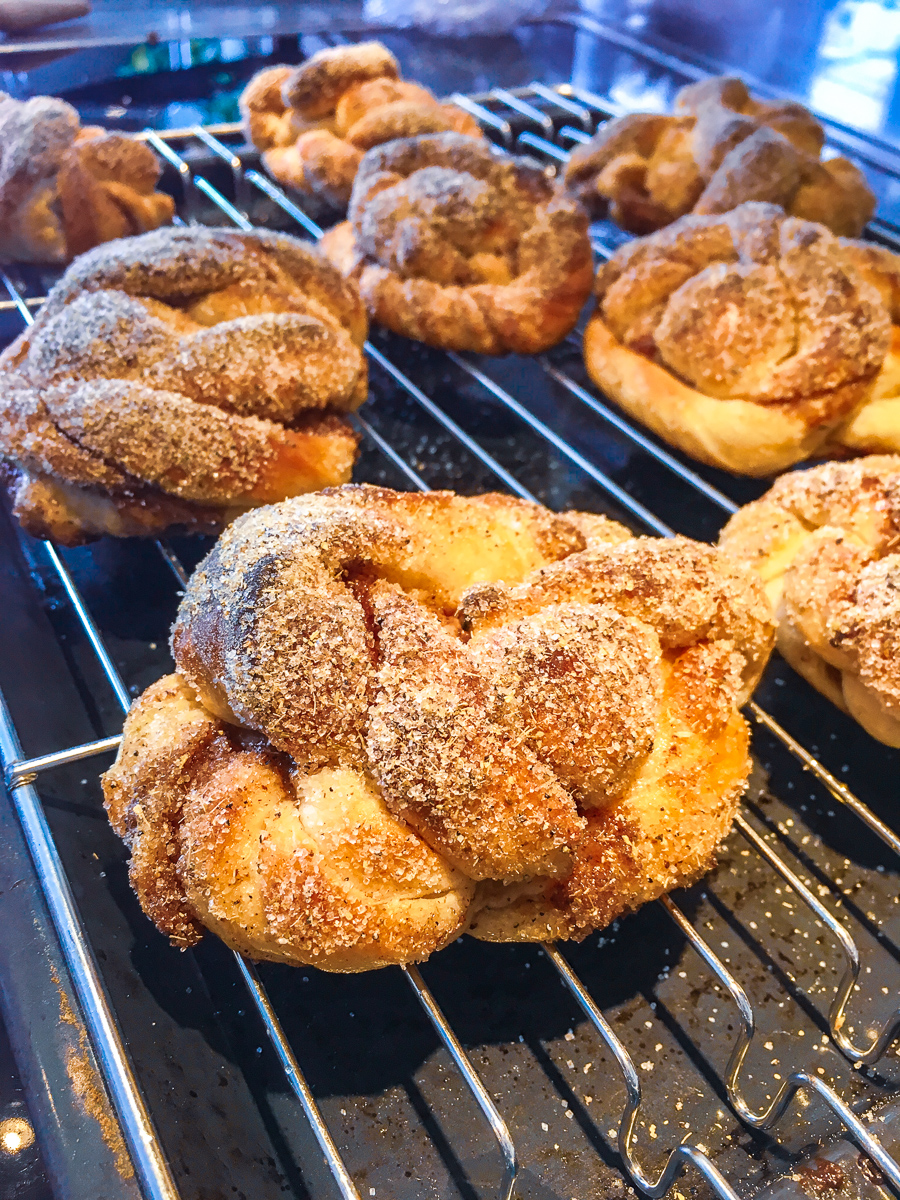 Linda has opened her home on the island to visitors for almost a decade now, since Vaxholm Bed & Brekfast was born in 2009. Formerly an expert in marketing, she and her photographer/artist husband moved here in 2000 to settle down before having kids. Now, just shy of two decades later, it's one of the island's premier places to stay – and she's already working on summer bookings a year in advance, that's how popular this place is. We didn't check out the guest accommodation, but there are separate entrances, kitchenettes and the feeling that these are standalone apartments rather than a room-in-someones-house.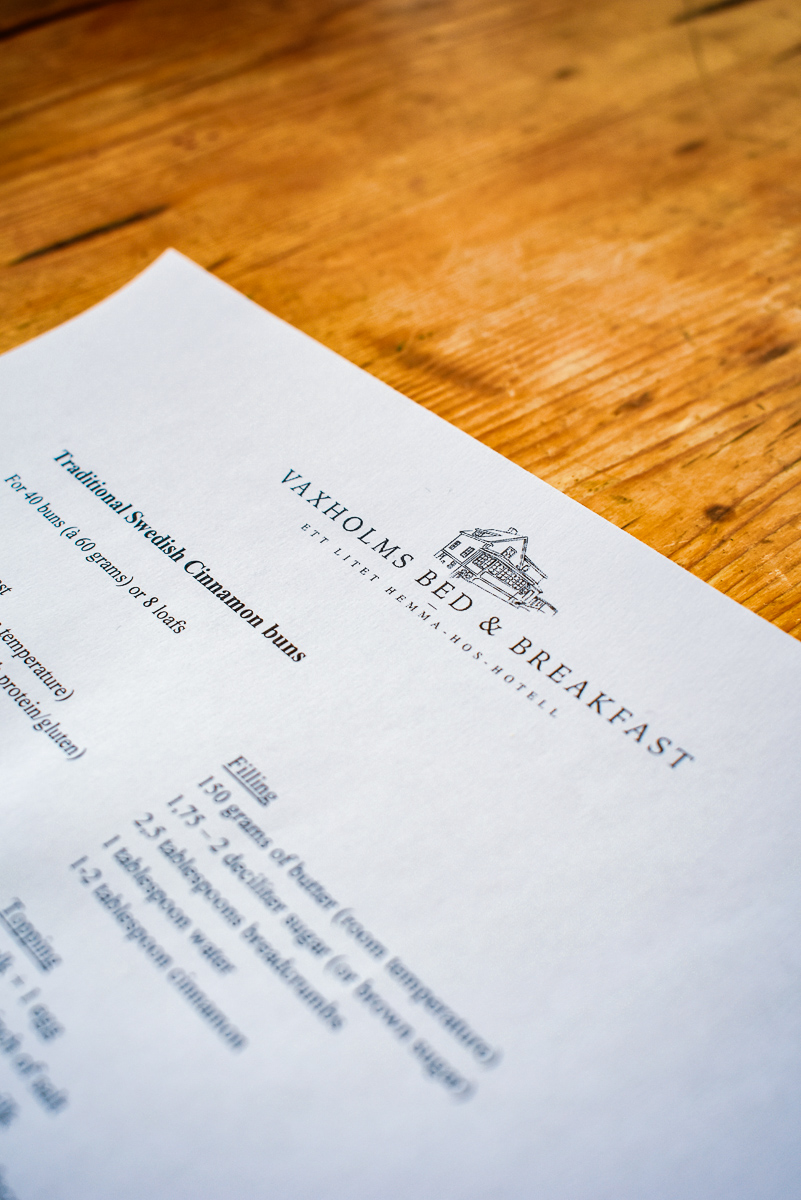 At the kitchen table – little Zelda the dog underneath eagerly meeting her guests and coaxing rubs and scratches under the table – Linda hands us printed recipes that we can follow and assures us the drip coffee maker will be on throughout the morning, to top up our cups as we see fit. Just like any Scandinavian kitchen you can imagine everything in the kitchen has its place; it's proper, organised, spacious but cosily lived in.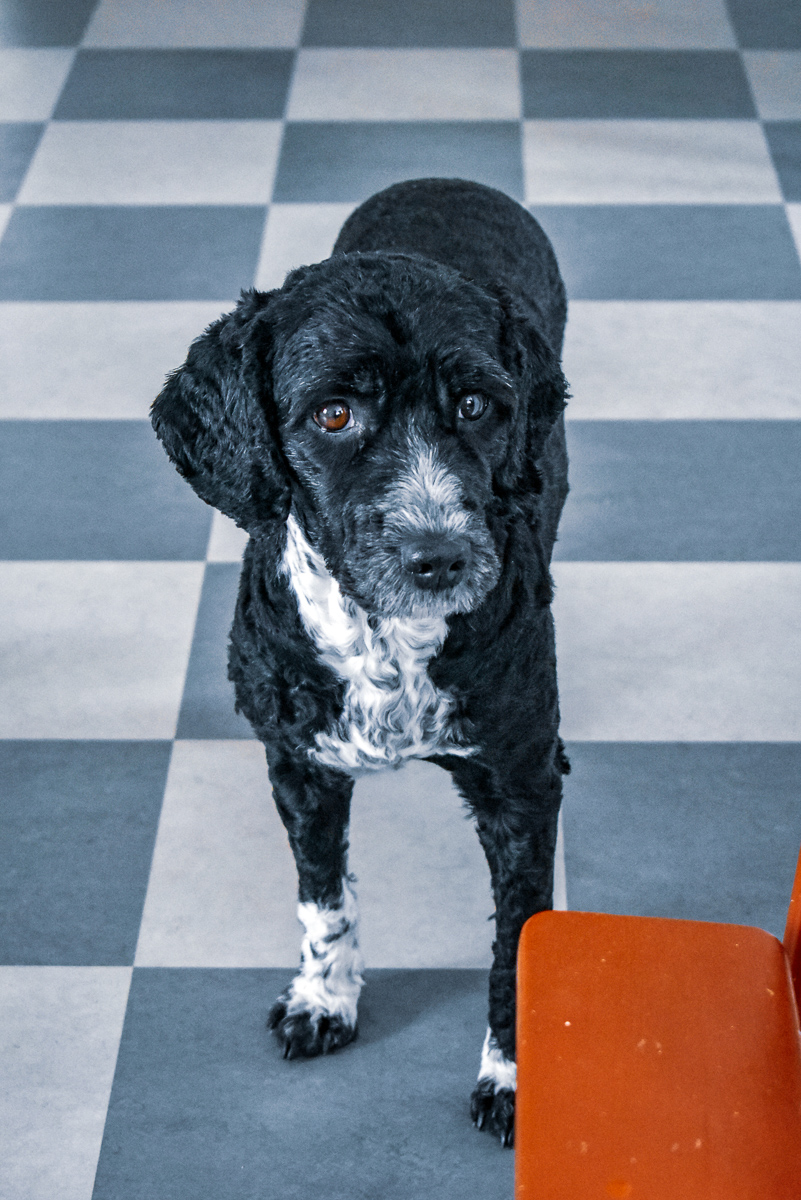 Linda lets us in on a secret: even though lots of Scandinavian recipes suggest that you heat the milk and melt the butter in sweet, yeasted bakes as per tradition, she says: "Don't do that".
We tell her we've made kanelbullar once or twice before (from a Scandinavian cookbook – and no, we're not divulging which one) and that they turned out a little dry, crispy and slightly unfurled. Yes, they tasted the part, looked almost the part but didn't quite feel the real deal – not as taut as we would have liked and not quite the perfect Scandinavian fika fantasy we had in mind and pined for.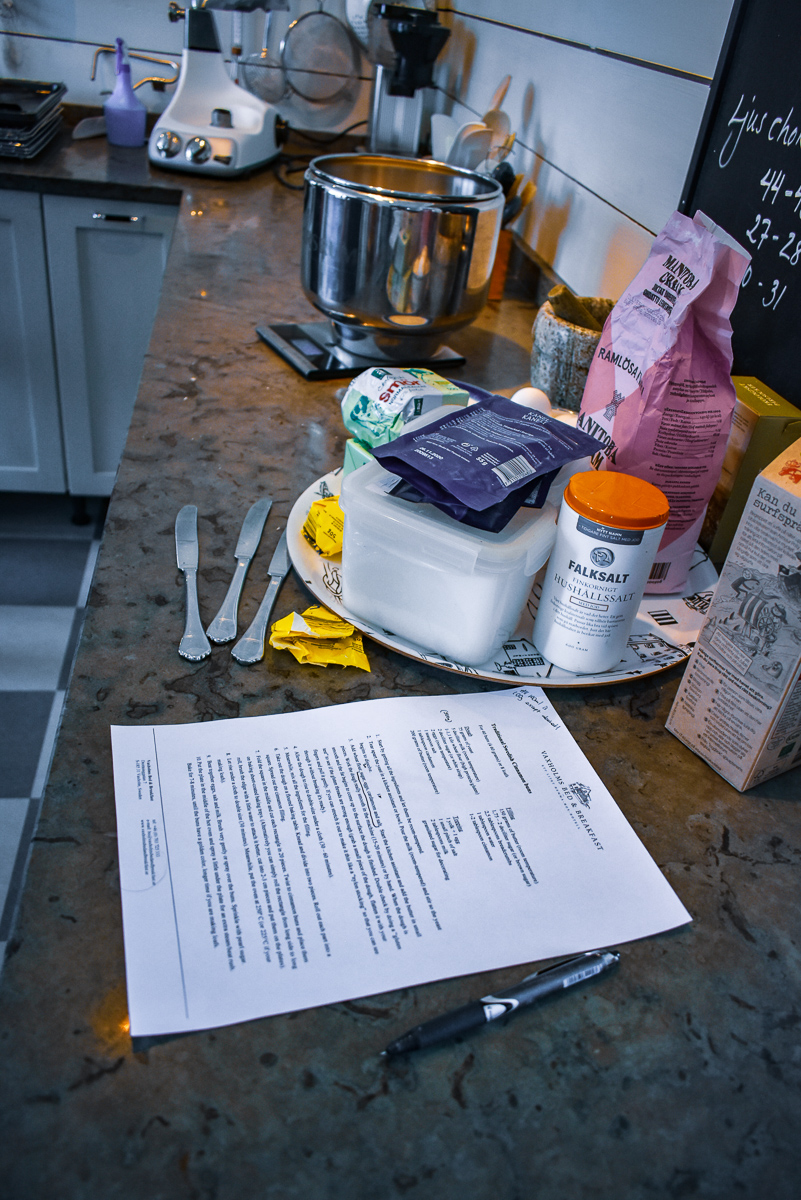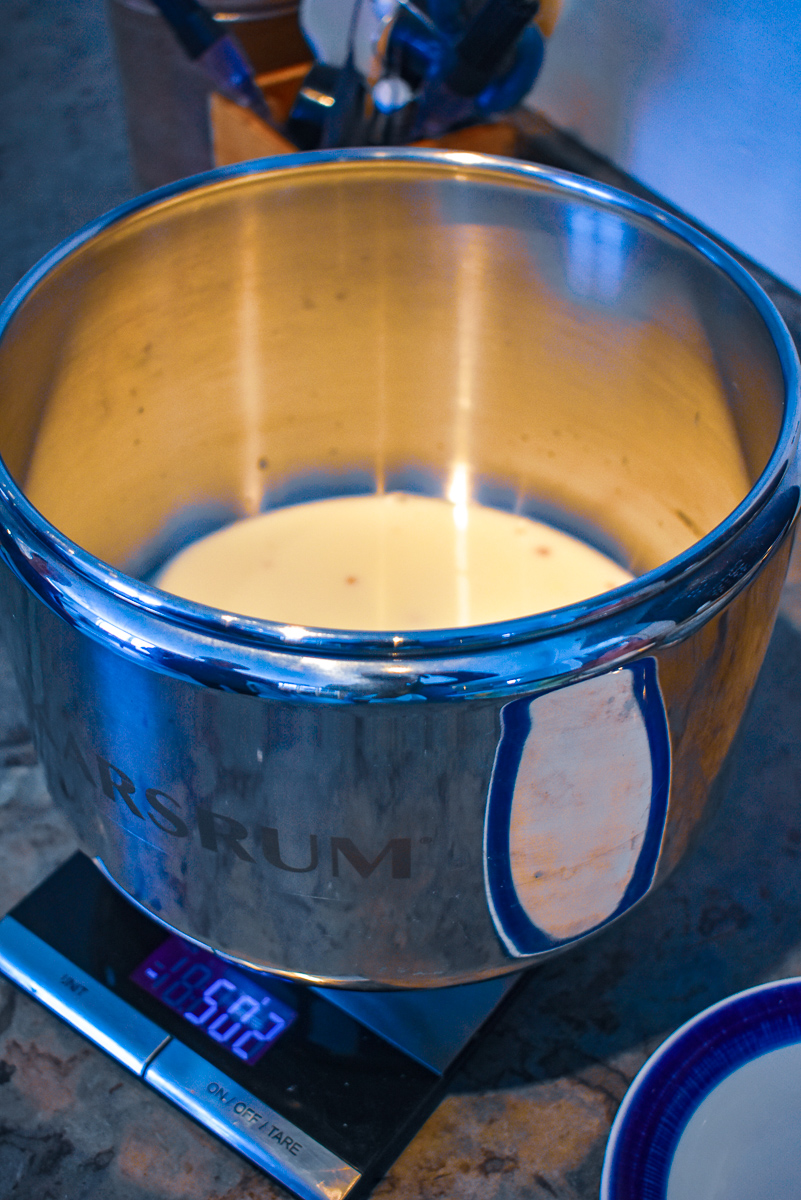 So, warming everything up? "Don't do that," she repeats, shaking her head and widening her eyes in quiet frustration, before explaining to us that in her recipe she bungs everything into the bowl at room temperature; and it works every time. We can already tell we're going to adore this.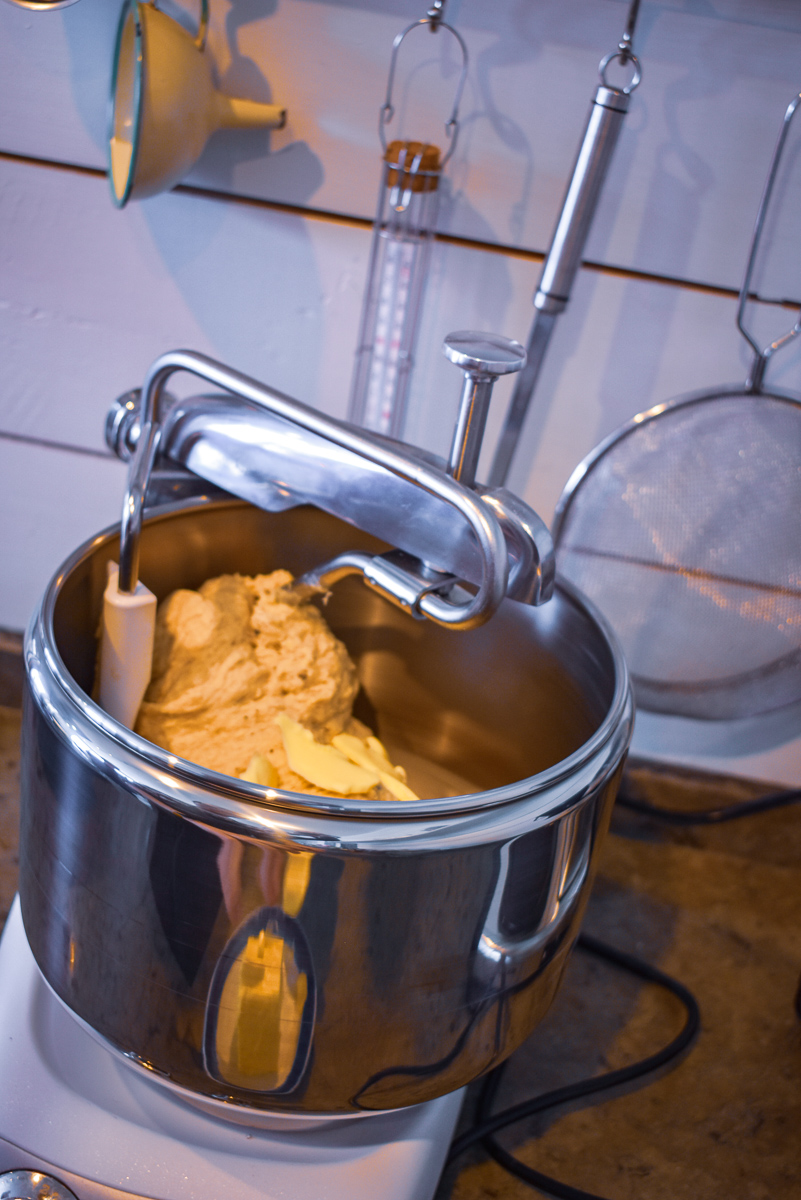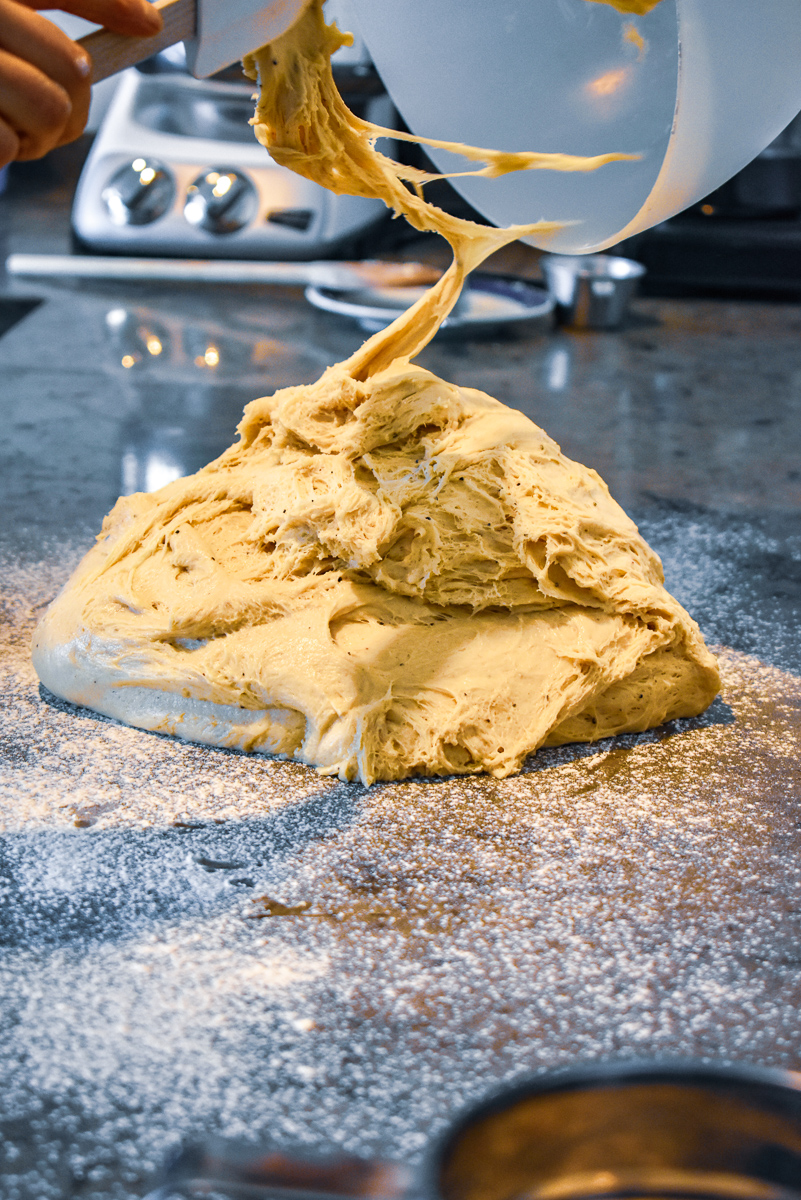 Though a warm kitchen is wonderful to help the dough to rise, the fridge and freezer is your friend, Linda assures. Proving in the fridge is fabulous, "keep it in the fridge for a day" we're told – slow proving develops flavour. A little sceptical, but intrigued, Linda beams from ear to ear when she tells us "you can have fresh buns every day" by using cold temperatures to delay your baking – though a butter and egg-heavy recipe like this probably needs an hour or two to come to room temperature before baking in a hot oven. Likewise, with the freezer, take the shaped buns and freeze in single layers, uncovered for an hour or two until frozen, then put in a plastic freezer bag until you need to use them in future. Just defrost to room temperature and watch the yeast come back to life and continue its process as if it had never even seen that sub-zero chill.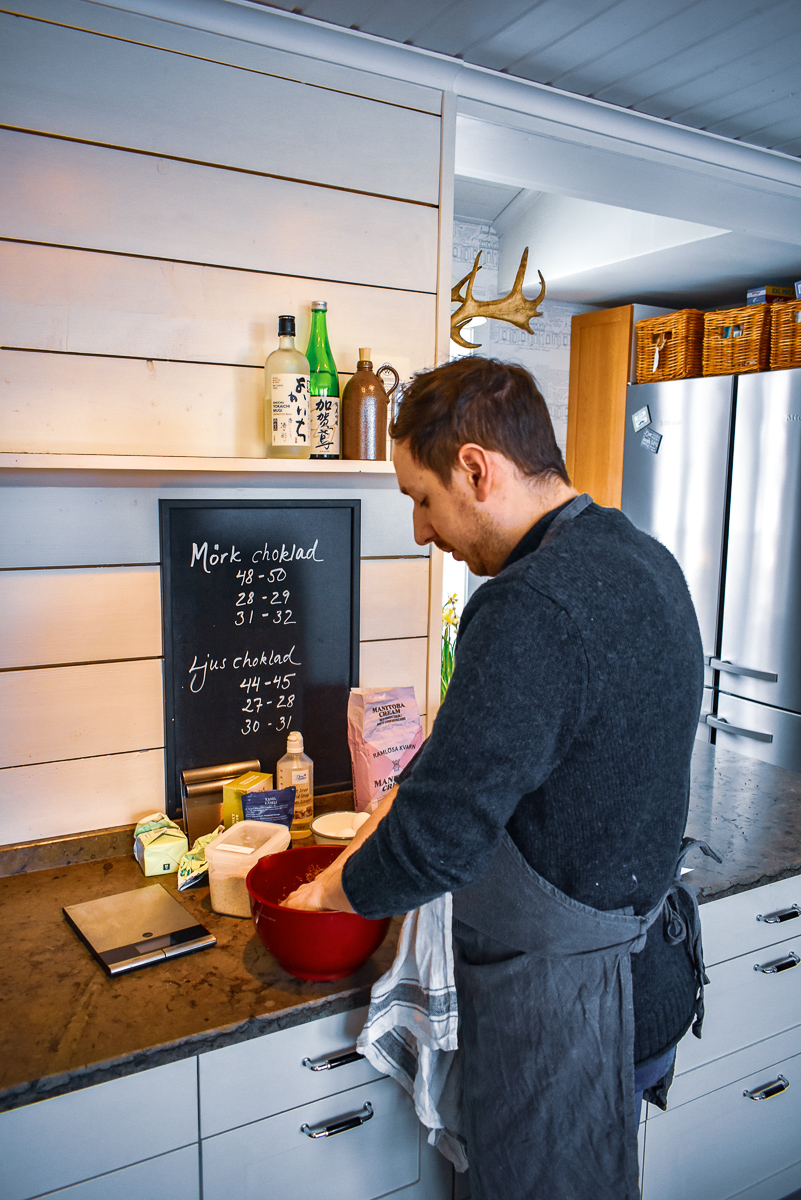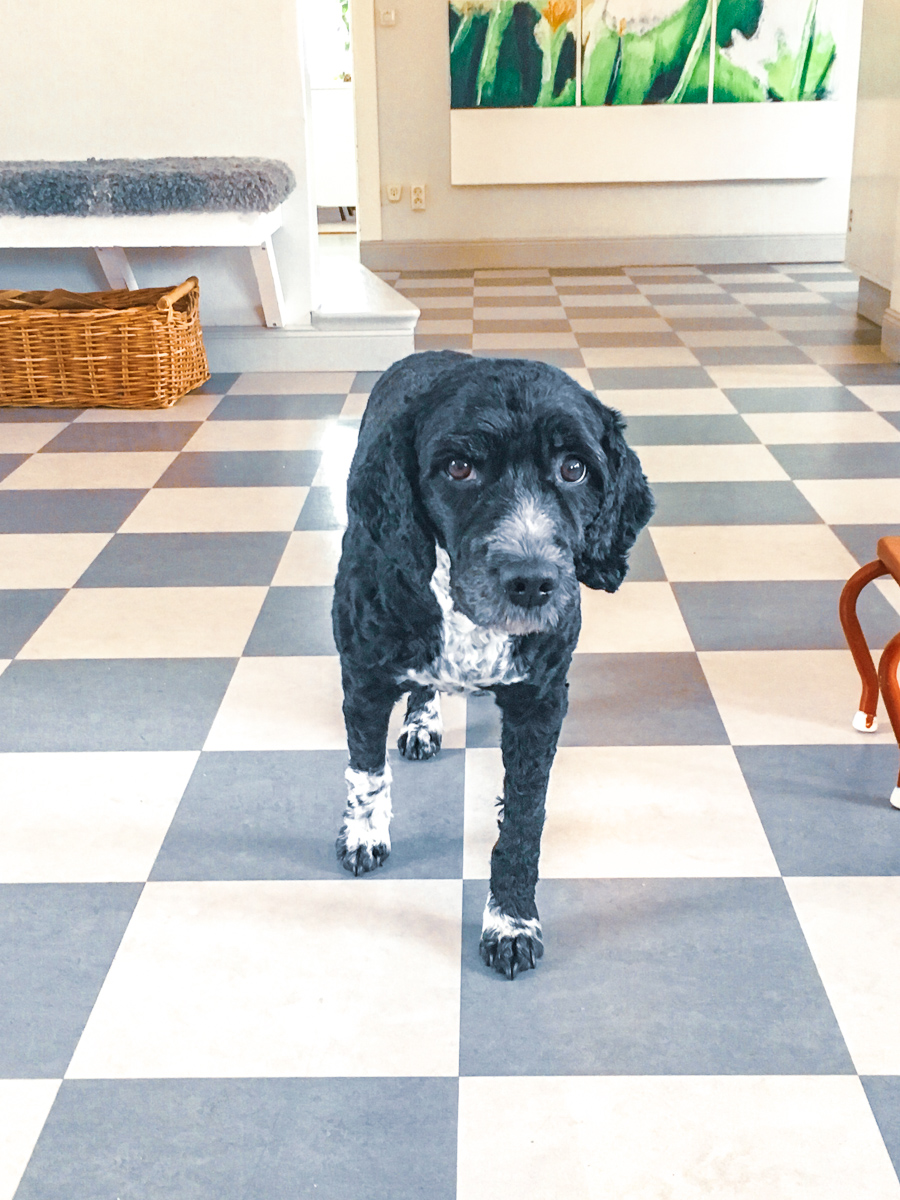 All the while as we're weighing out measurements, whipping spiced butter by hand to make it spreadable, kneading on the counter, Zelda is stealing our hearts too in between tactical naps. It's a dog's life, right? "This dog has it right," we think to ourselves. (Note: she was just outside the kitchen lounging around when we were baking and we always work with washed hands when in the kitchen, that's a given).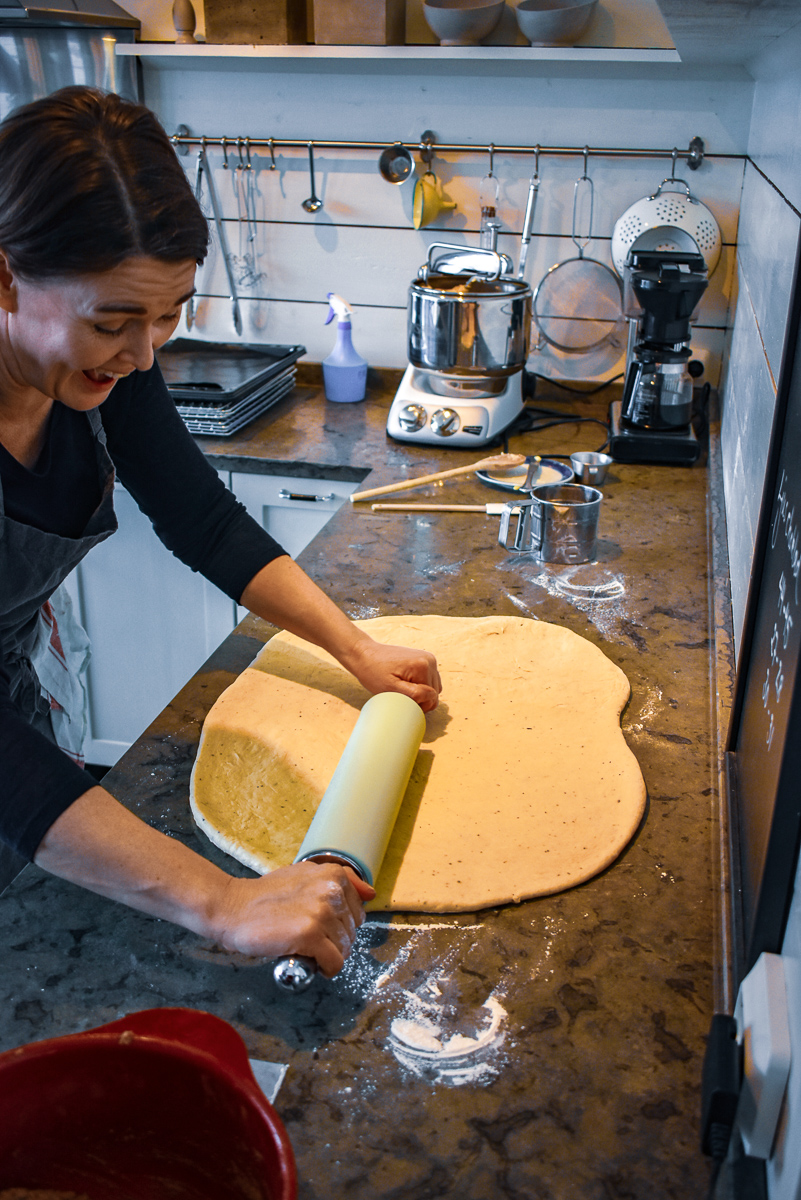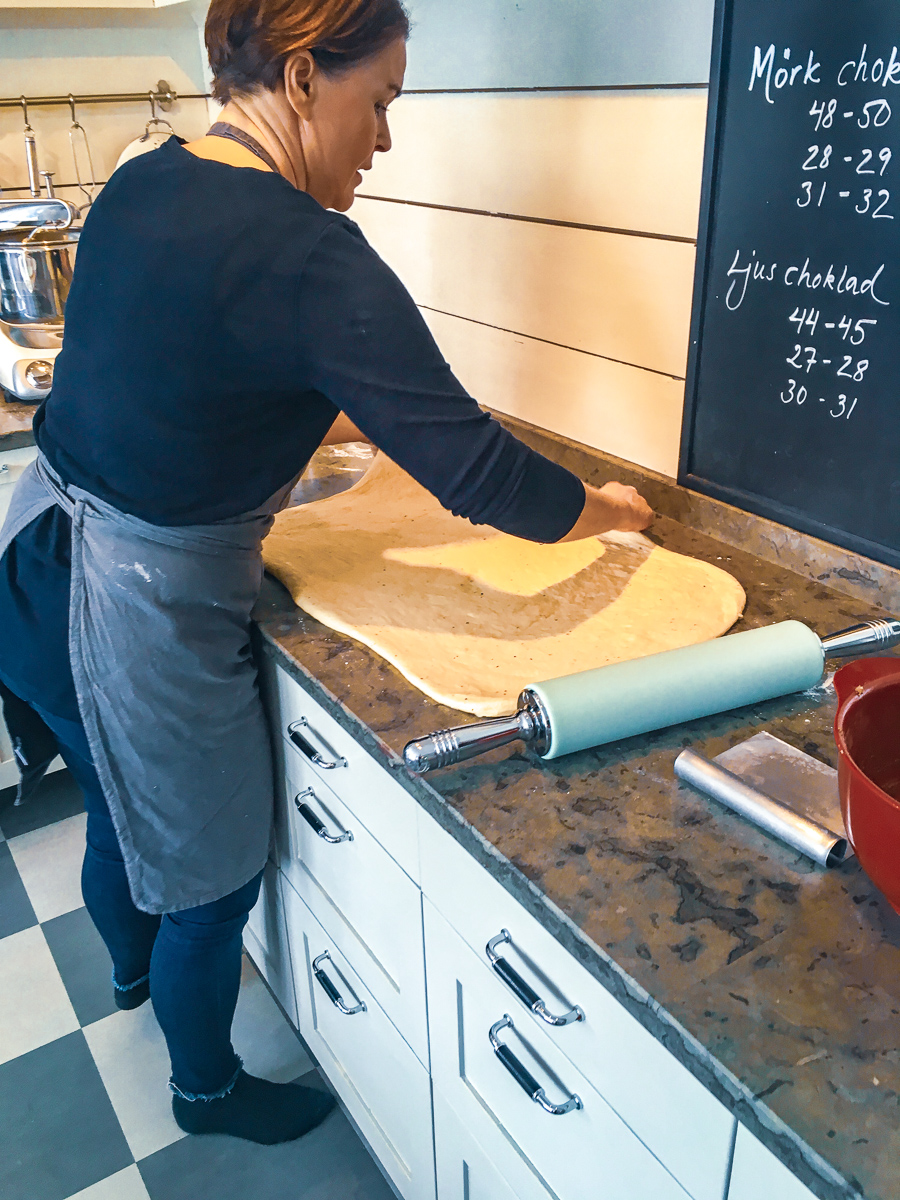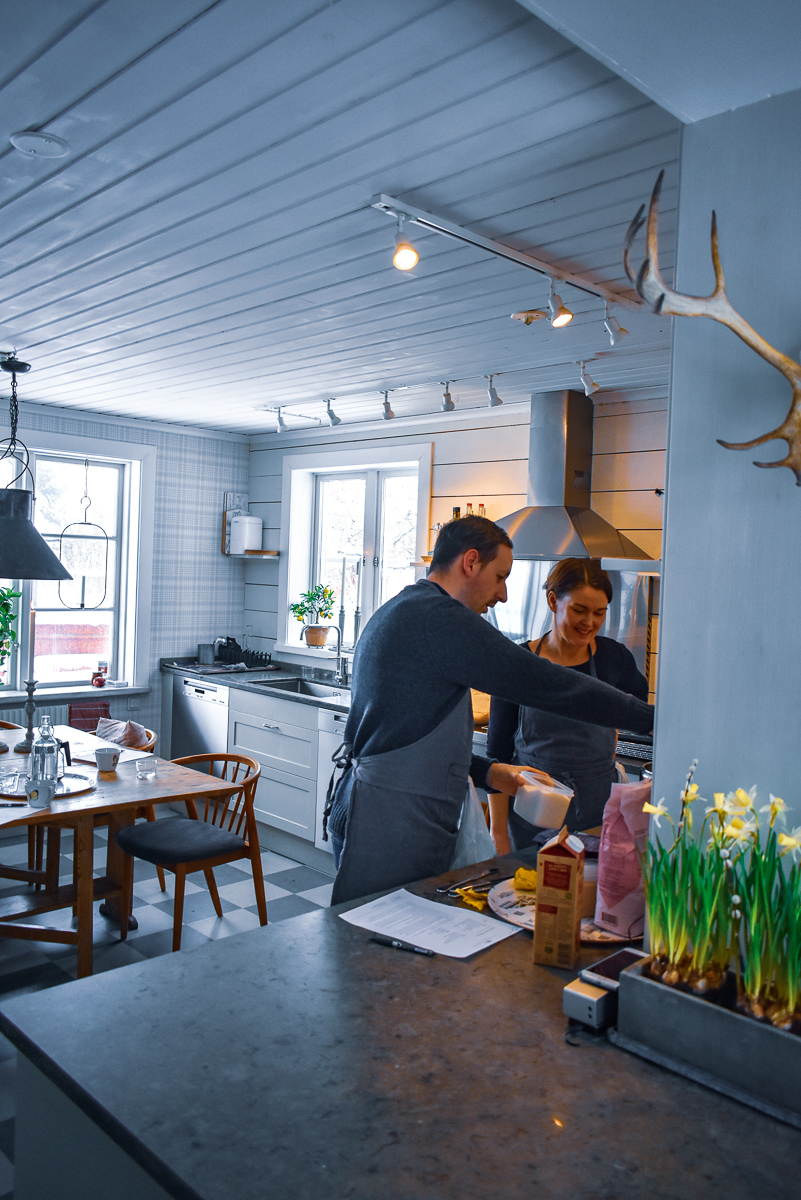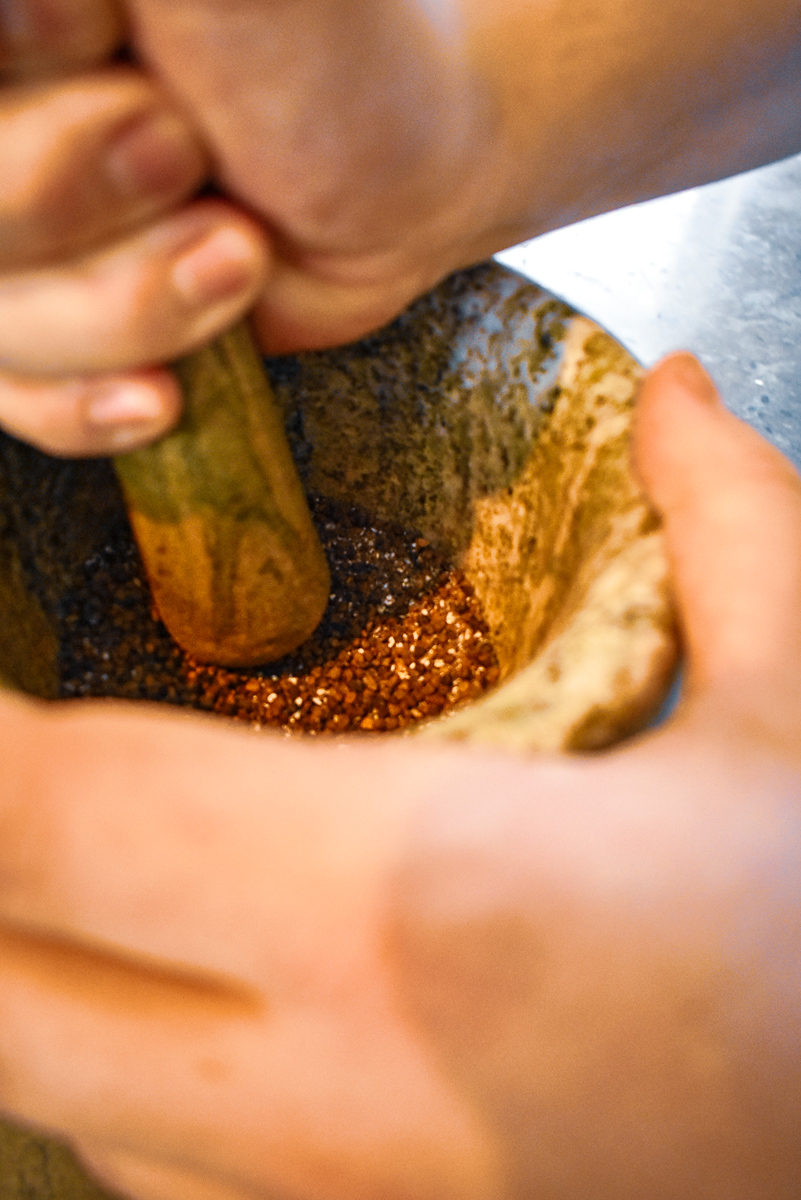 "You know the difference between cinnamon, right?" Linda asks, before seeing her work cut out for her when we look back in puzzlement. Linda explains, with examples, the Cassia bark version of cinnamon and the Ceylon ("true") cinnamon version. Your mind might wonder about a cooking class in someone's kitchen in rural Sweden, maybe thinking it might not be too interesting or exciting, but this was really a lesson to us and from the structure of the day to the information shared, a lot of thought and effort has gone into what Linda does. No stone is left unturned.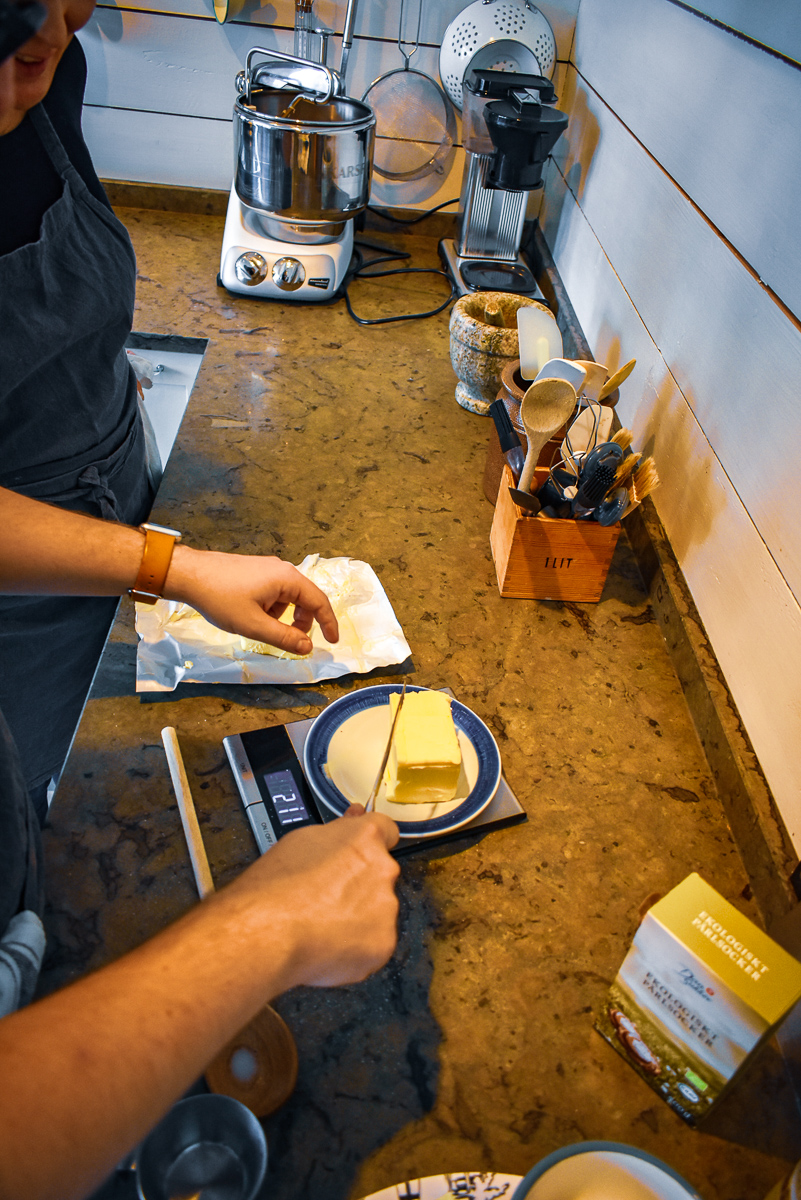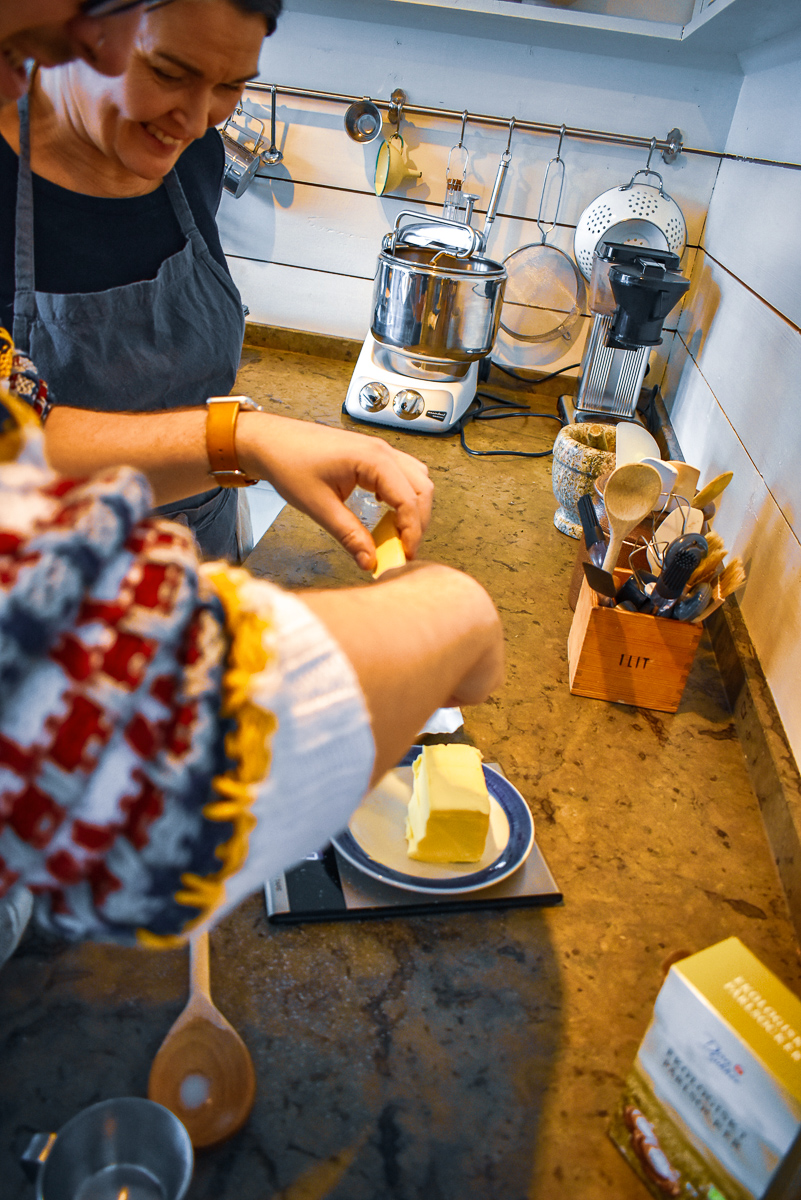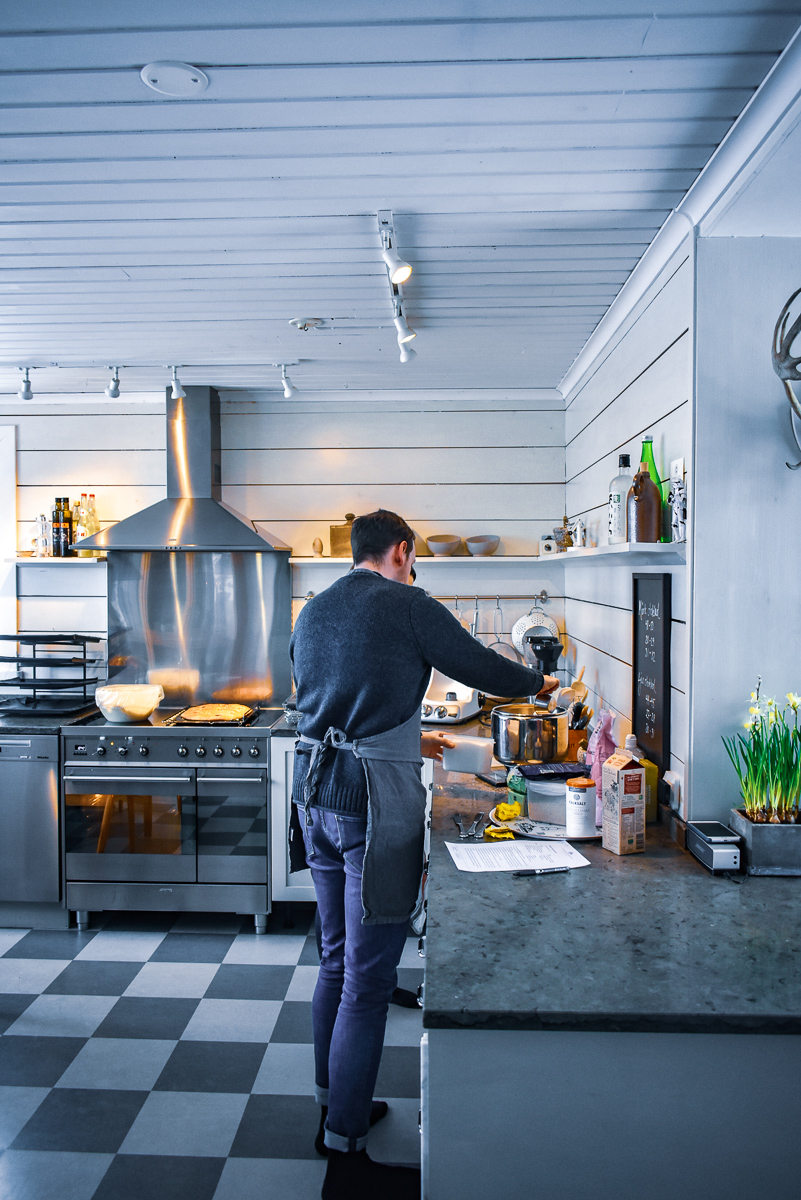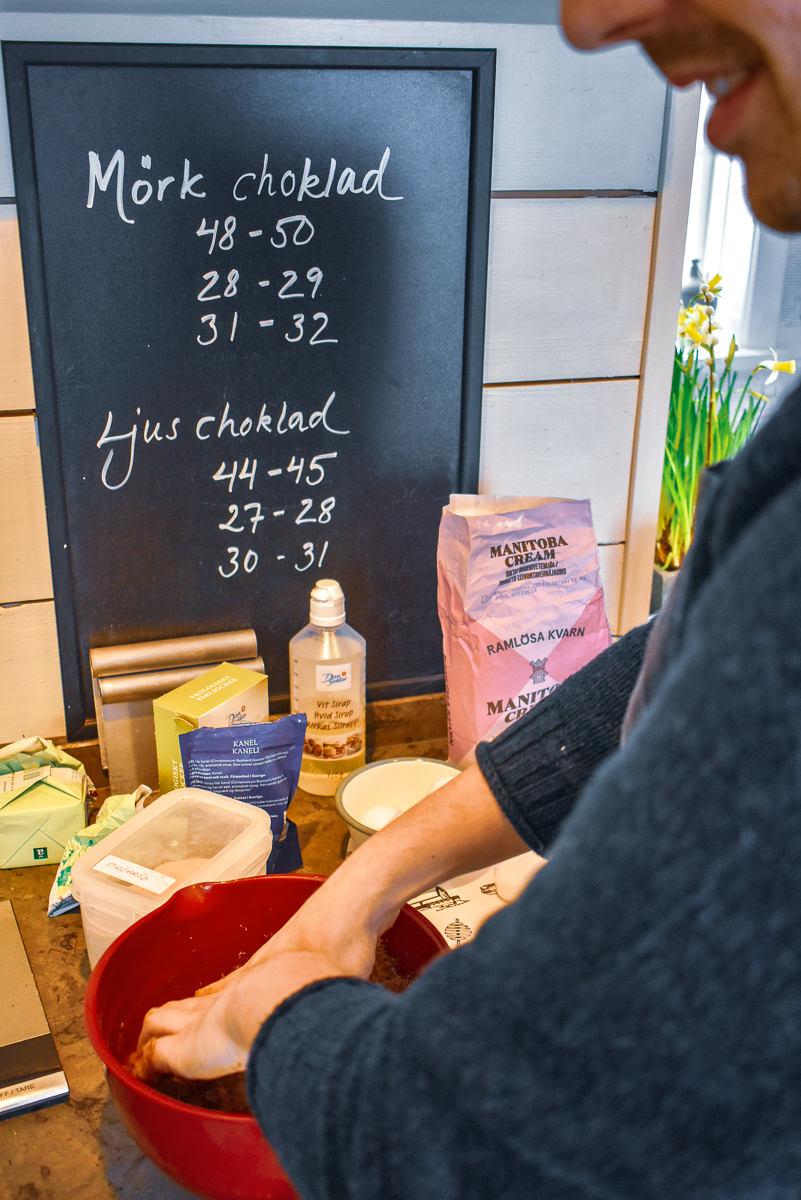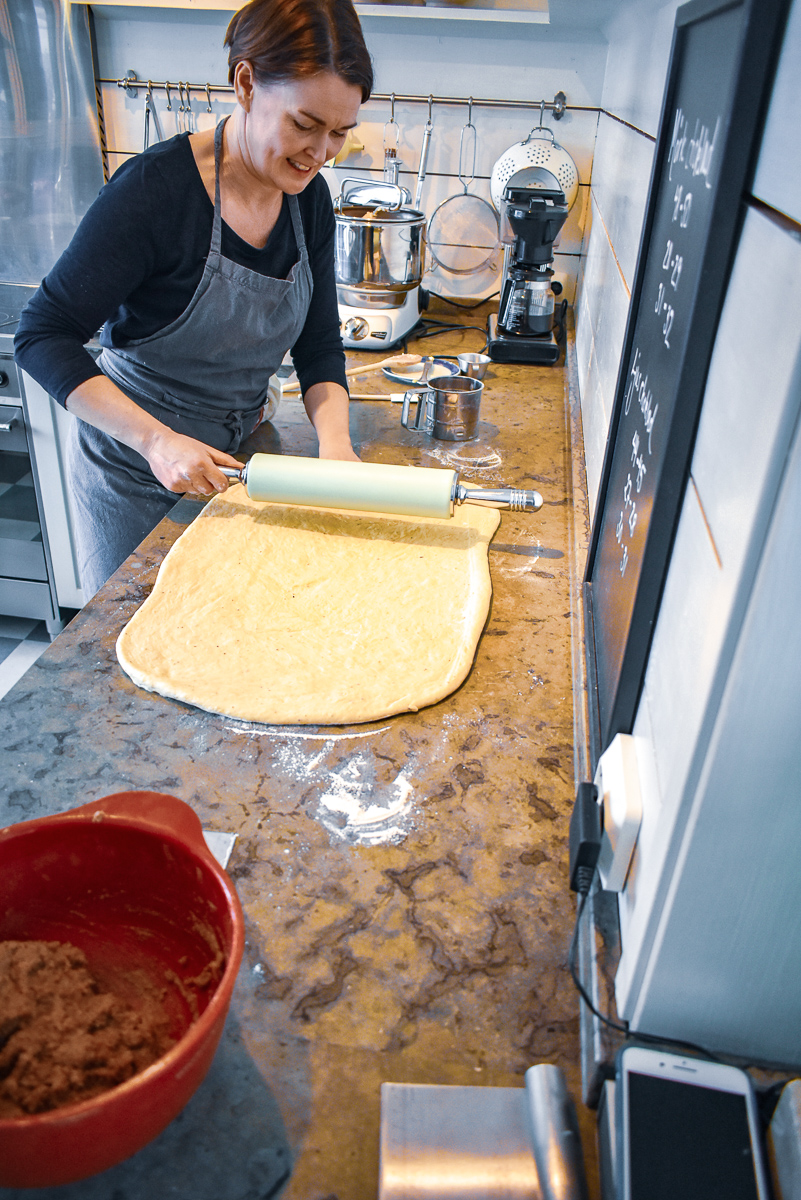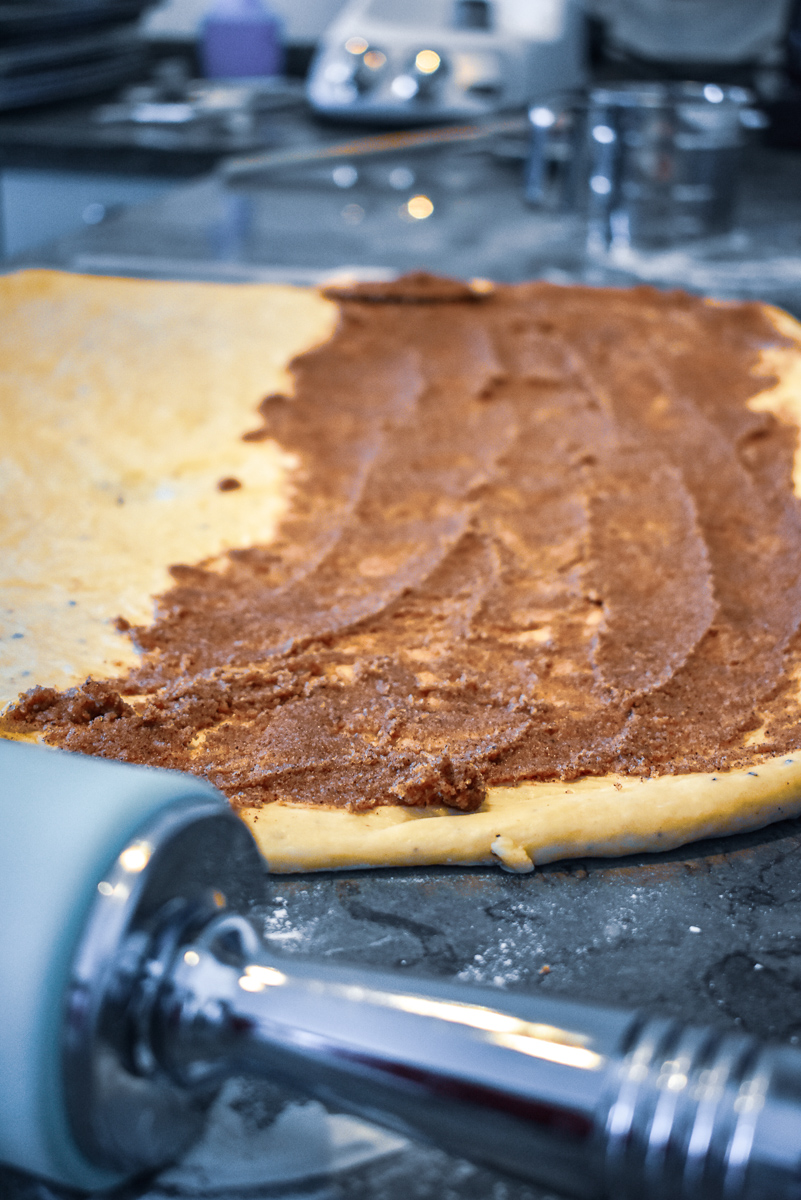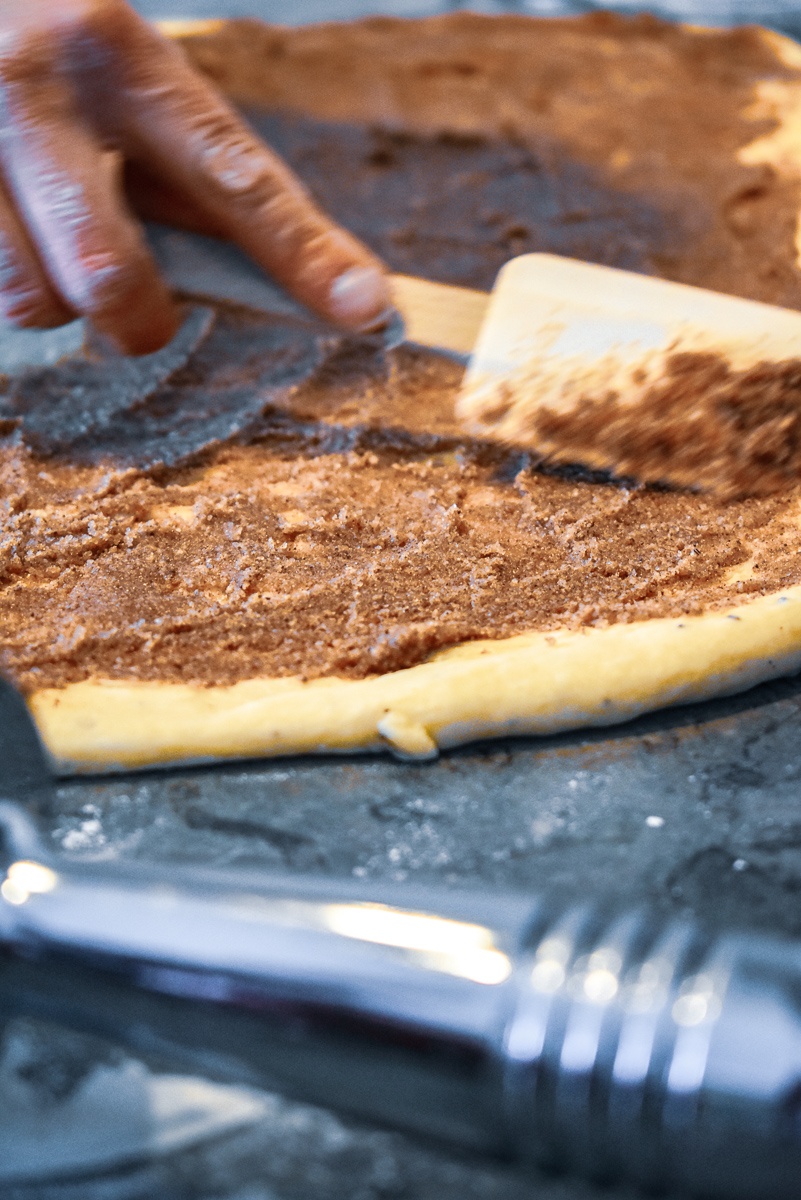 From mixing to shaping, portioning to proving before baking, Linda takes us hand-in-hand through the entire process, and we make the bulk of the buns once shown the tricky way to tangle them into shape. Our hands all satisfyingly oily from the butter melting under our touch and now coated in sugar, we break for lunch whilst the buns prove.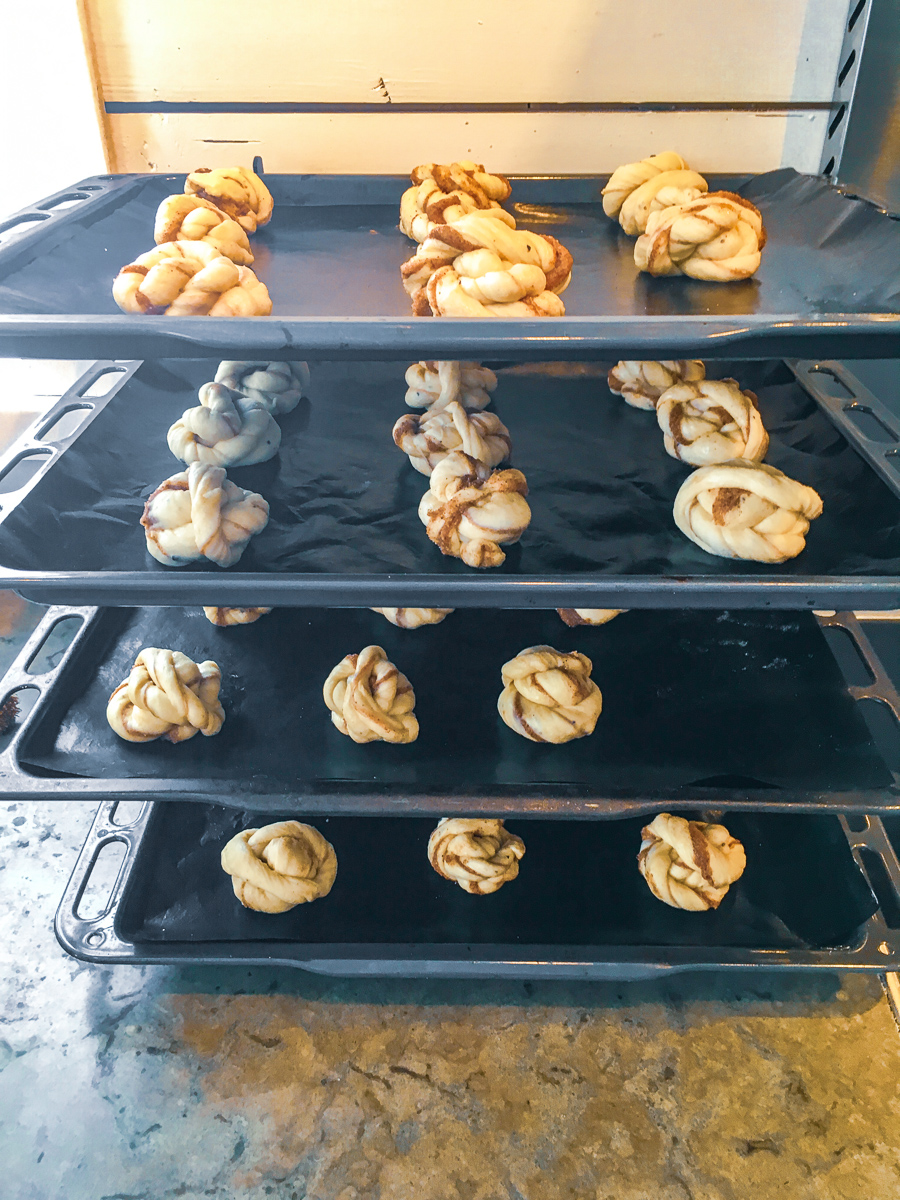 The hours pass in a heartbeat as Linda is fully invested and interested in her guests whilst still being a competent teacher and seamlessly corralling together an enviable and delicious lunch spread of soup, fresh bread and salads. We talk all about our 6 week travel adventure across Sweden, baking with our parents, what the food scene is like in London and Dublin, experiencing Sweden in winter and we barely feel the hours slip by.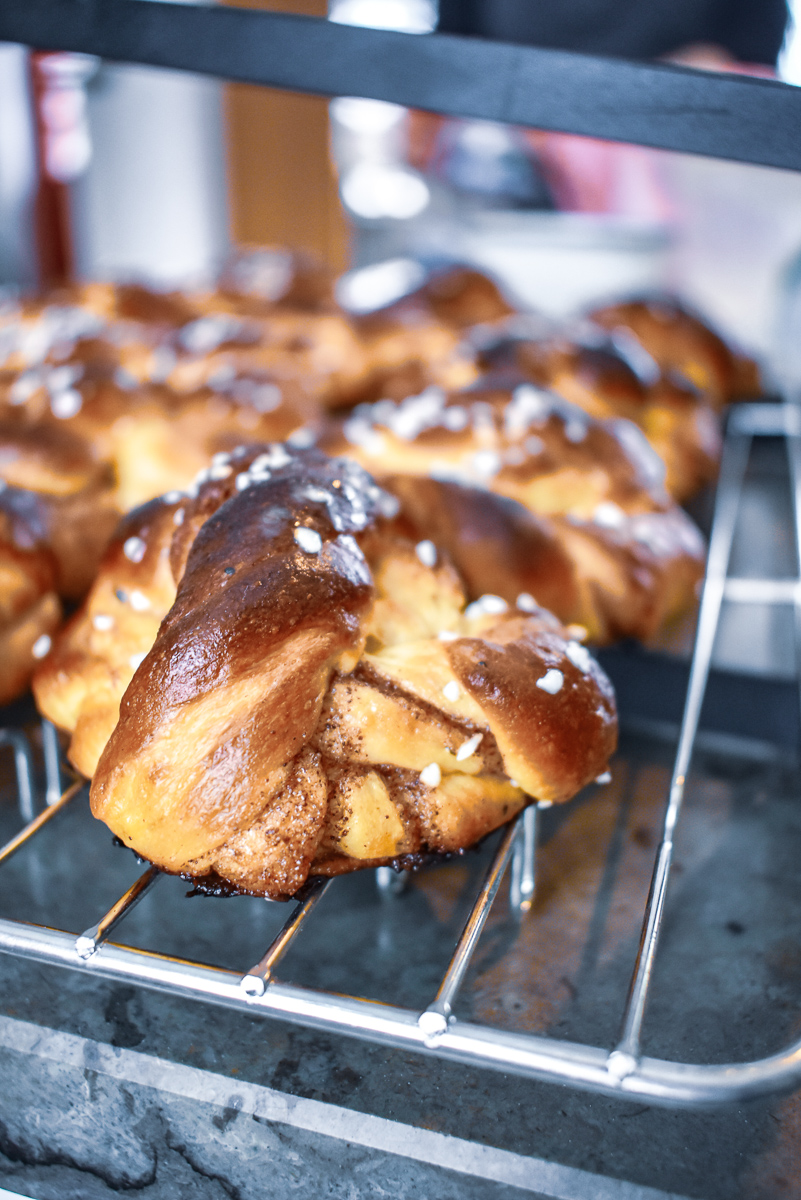 Before we know it, the saccharine scent of cinnamon buns is heavy in the kitchen as batch-after-batch of bullar emerge from the oven in a puff of steam from which you can almost taste the buns. Some stickier than others, they are all then slicked with melted butter and adorned with a silky shower of spiced sugar. Not only is she an accomplished baker, host and cookery tutor, Linda is also a talented chocolatier, too – as her active Instagram and Facebook pages document, you should absolutely follow! We have a huge crush on her, truth be told.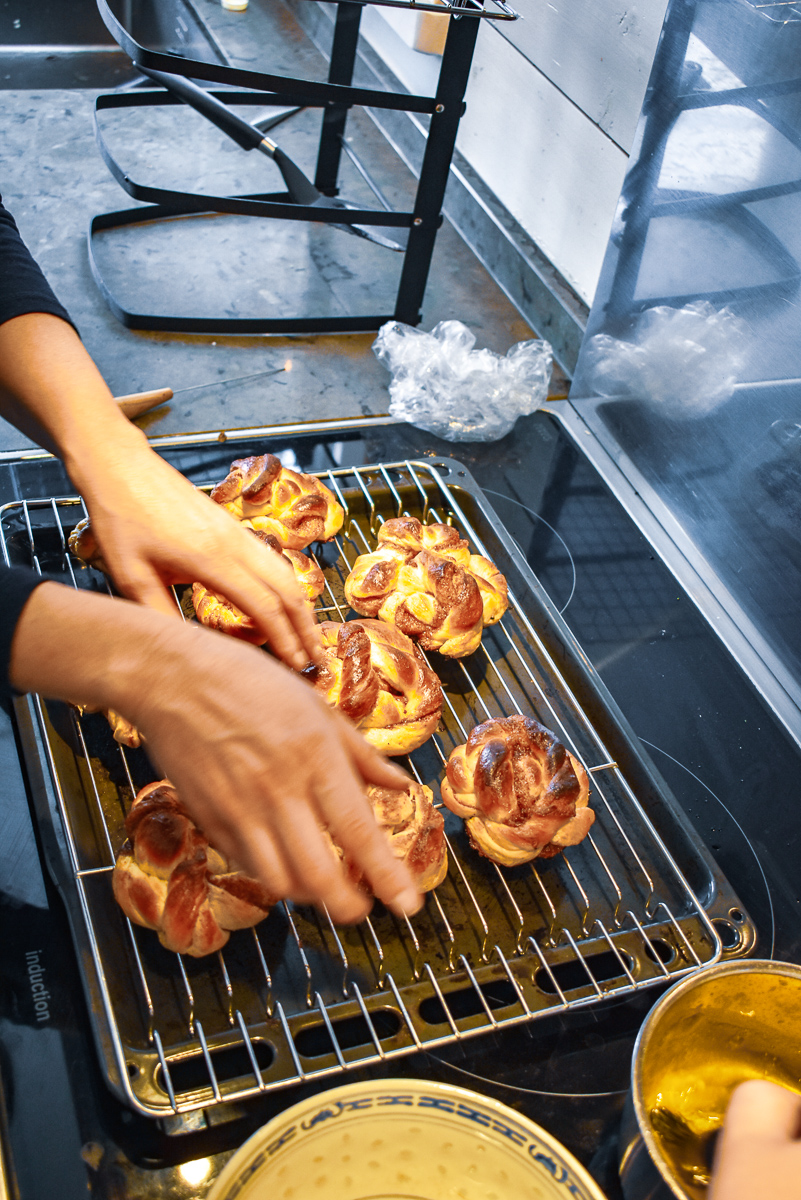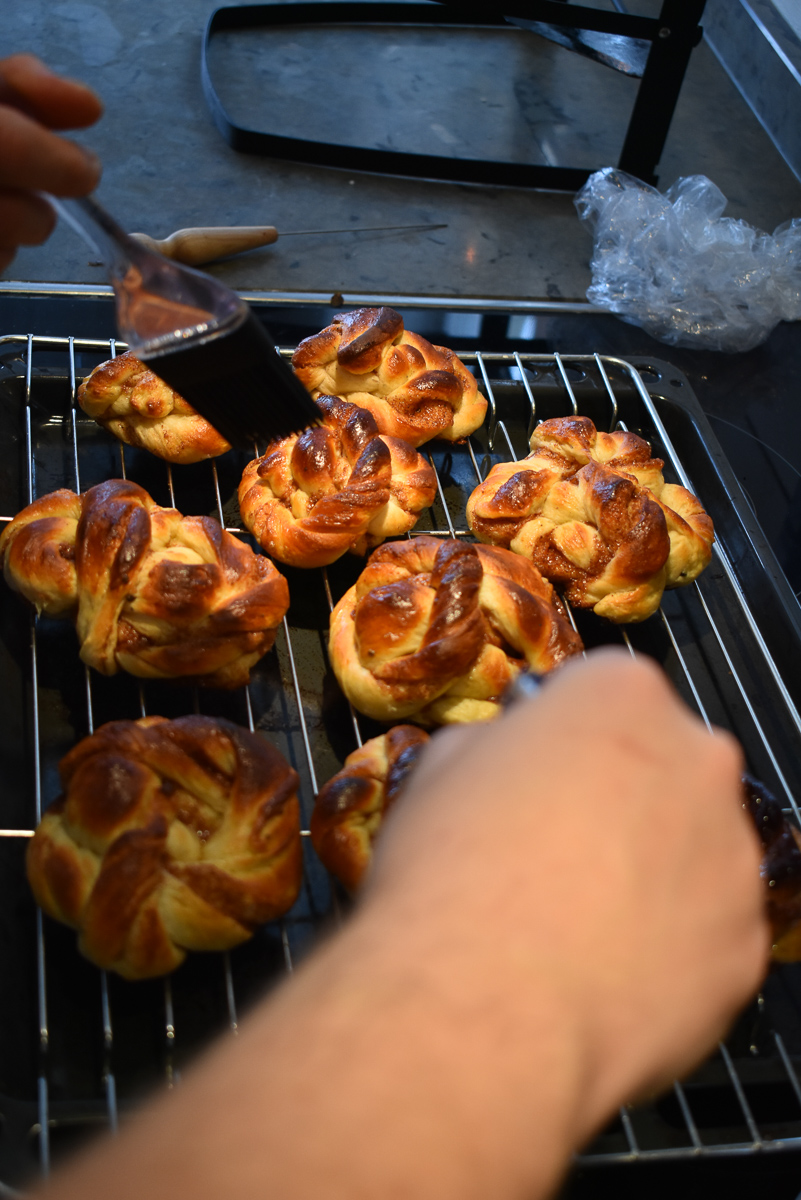 Kitchen cleaned down and buns cooling in preparation for us to take a couple back to the hotel and onwards throughout our food-led adventure through Sweden, we decide to have fika in the lounge before we hit the road.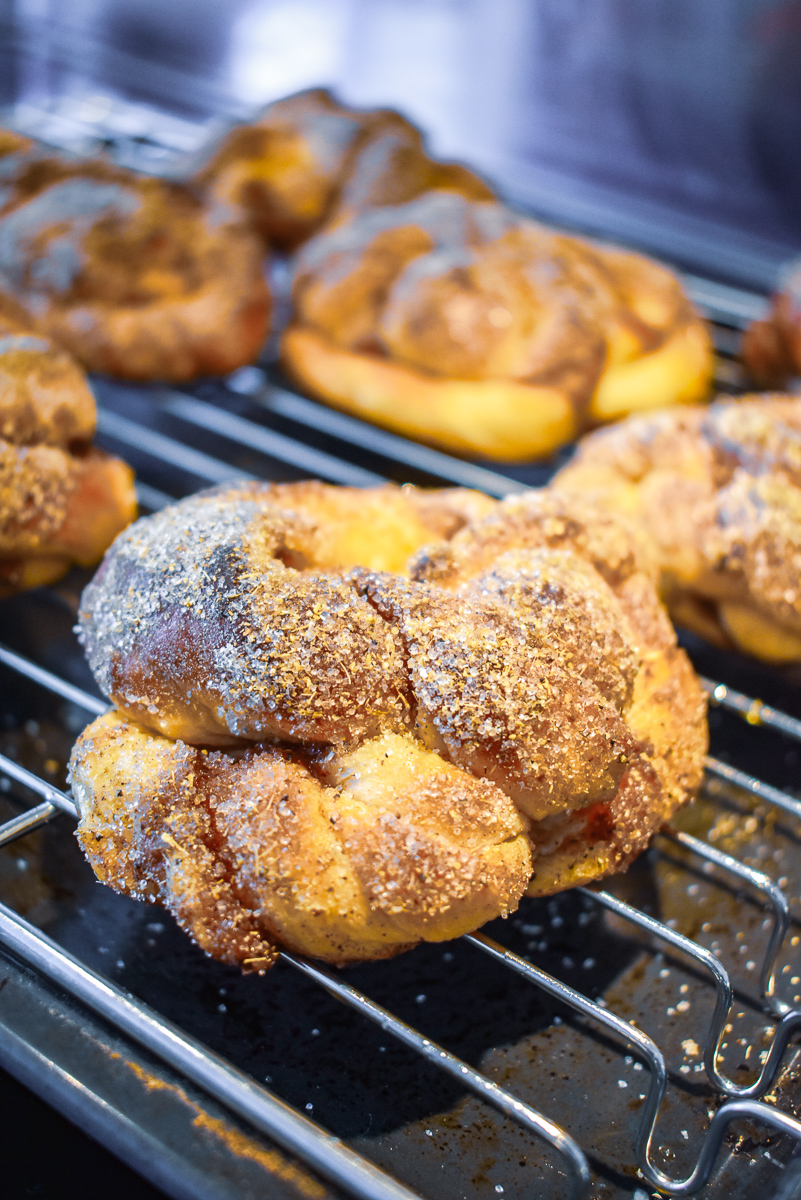 The buns are meltingly soft as you bite into it with sweet richness and the gorgeous crunch of sugar and spice. After tasting a couple of her handmade truffles, too, each melting middle filled with keen flavours like lemon and blackcurrant, we catch sight of the time and jostle to get a move on.
At this point we realise Zelda, who has been our shadow and within eyeshot all morning, has gone awfully quiet. "ZELDA! DÅLIG!… DÅLIG!" Cleverness disguised as cuteness, as Linda discovers the greedy pup has just stolen and polished off four buns left on the table. A time out in doggy prison (the tvåttrum – utility room) handed out, we say goodbye to Zelda and Linda as we begrudgingly pull on our outerwear once again, armed with warm buns wrapped in branded tea towels, feeling a little sad that the most blissful day has come to an end.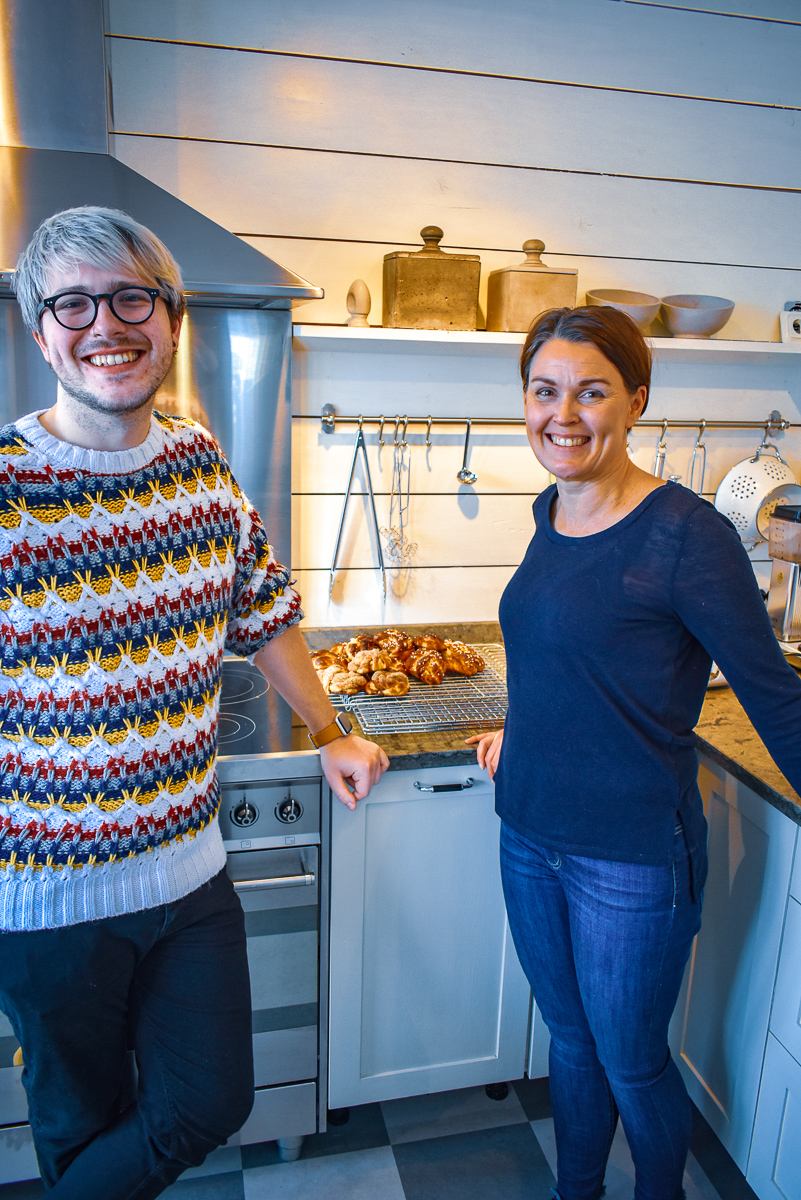 Even though we left with the recipe, we're not sharing it here. We're not mean, we promise, but we want you to go to Linda's house in Vaxholm. We want you to experience her home, her friendly warmth, enthusiasm and passion. Drink coffee together. Break bread and share laughs over lunch. Bake these buns under her guidance with her cheering you on as you learn a brand new skill.
This is what home cooking is all about – passing on recipes and sharing the enjoyment of food together.
That's magic, and – to us – that's worth travelling for, and what we believe travel is all about.
See here on the Vaxholms Bed and Breakfast website for dates and details for booking your own place at one of Linda's cinnamon bun making workshops. It's four hours in length in total and the price is 1950SEK for up to four including recipe, ingredients, lunch and a dozen cinnamon buns to bring home.