The eagle-eyed amongst you will have spotted Josephine (or Joey) from a certain UK-based competitive cooking reality TV series. Yes, it's MasterChef: The Professionals alum Joey O'Hare, who we loved watching on the small screen and can now call a friend of ours. We were in awe of her cookery on the series – where she made it to the semi-final stage – and fell head over heels for her dishes when we tasted them at her incredibly popular supper club Hare on the Hill in London. We chat to her about her TV turn, training at Ballymaloe, her culinary ethos and where and when you can taste Joey's cooking!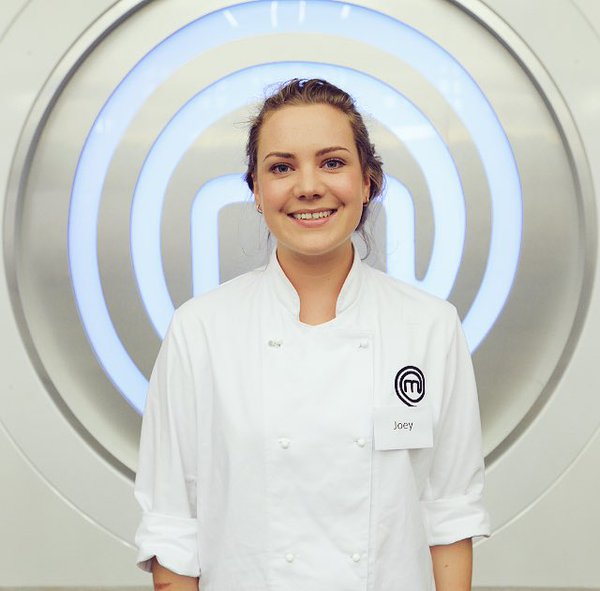 "Would I do it again? I'm not sure I would…" Joey tells us as we ask the inevitable – what was Masterchef: The Professionals really like? "(I don't think you're allowed) but once was enough and it was the coolest thing I've ever done," she adds.
"It was utterly terrifying at the time but such a rush – the most incredible experience! I honestly had no idea I would get on, let alone do pretty well. A friend worn me down into applying and I am eternally grateful that she did – it's brought about so many new opportunities in my career and given me so much confidence, both in my food and myself."
For those who might not watch MasterChef: The Professionals (a more skill-based, technical, chef-y cousin of MasterChef and Celebrity MasterChef), it really is a televisual triumph of technique and kitchen flair, judged and presented by Gregg Wallace, Marcus Wareing and Monica Galetti. Joey's series, which aired in late 2015, was eventually won by Mark Stinchcombe.
One of the only female contestants, there was jubilation that Joey made it to the final 12 as the last-standing female, following heat after heat of pitting her against male chefs. She says "I didn't mind being the only girl in my rounds. If you don't let it intimidate you, it's always possible to find empowerment in standing out a bit!"
However an online backlash against the show followed her elimination as the final 10 chosen to proceed were all male. Cue Twitter erupting with cries of sexism and gender imbalance. For Joey, gender is becoming less of an issue in the industry, so it's slowly improving. "I remember being the only female chef in two kitchens when I was younger, sadly at the time it didn't feel empowering at all. Now, top female chefs, especially Monica Galetti and her position on Masterchef, have helped to break down ideas of top cooking being only for men."
Looking back on the experience and the series, Joey discloses "the production team and the judges were friendly and supportive, and there was genuine camaraderie amongst the other contestants – we all still keep in touch!" 
What about her background? Joey trained professionally at Ballymaloe Cookery School – Ireland's most prestigious chef training ground and one of Europe's most celebrated food Meccas, led by Darina Allen alongside her brother Rory O'Connell and her daughter-in-law Rachel Allen.
We told Joey that we've had quite a number of friends and acquaintances embark upon the 12-week course (Miriam from BakeMyStyle amongst them!) and we're always enamoured by the experience, wisdom and skill imparted upon them. "Ballymaloe is such a special place, it certainly shaped the way I think about food" Joey reminisces. "It's not just about how to cook, it's about understanding and appreciating food in its broadest sense and teaches you to ask questions about your food, from field to fork. It instills in you the importance of seasonality, sustainability, animal welfare, shopping at local markets, supporting organic farming, growing your own, recycling, composting… the list goes on!
"The experience itself is great fun – cooking all day, tasting new things, living right along the coast at the beach and spending evenings at (local traditional Irish pub) The Blackbird in Ballycotton!"
We love Joey's food ethos and first got to taste her dishes at the supperclub Hare on the Hill that Joey runs from a gorgeous space in Clapham Studios in south London. Here, she discusses her culinary vision and viewpoint.
We had the pleasure last night of dining at the #HareOnTheHill supper club by Masterchef: … https://t.co/aMFySZ32zd pic.twitter.com/m0ZSDEcbER

— GastroGays (@GastroGays) April 10, 2016
"My food, in the first instance is seasonal and veg-centric; a healthier bent comes in second. I've always been passionate about seasonality, even having a small food business a few years ago where we produced and sold a range of  pestos, all of which were seasonally-changing to reflect the different ingredients available from the UK throughout the year. Eating seasonally is a brilliant thing for us and for the planet and it taps into a timeless harmony with nature, and I think that's a wonderful thing.
"The veg-centric thing is pretty cool, and I see this as my main point of difference. I love meat and fish, and absolutely believe that they have their place in a balanced diet and in good cooking. However, the reality is that we simply don't need animal protein at every meal, and certainly not always as the focal point of each – this becomes both unhealthy and unsustainable. The enormous demand has lead to intensively reared animals with appalling welfare standards.
"My philosophy is less meat, better meat, or as one friend puts it, 'meat's a treat!' At my supper clubs, meat and fish feature in the pre-dinner snacks and in the sharing plates we serve at the beginning. The starter and main course are vegetarian, although it's never set in stone or labelled as such.
"Tying all that together means my dishes err on the healthier side. I love to work with seasonal vegetables to create dishes with big flavour, yet ones that feel light . This doesn't mean avoiding carbs, but rather thinking about the balance of each dish: its textures, colours, and flavours.
"A lot of people have come away from Hare on the Hill saying that while they've eaten plenty they don't feel bloated or uncomfortable, as can be the case after a 5-course dinner!"
https://www.instagram.com/p/BFlwtfgDudq
Shining a light on seasonal produce is exactly how we also cook too (with a side of indulgence for our sins!) and some of the produce that makes us sing as home cooks is rhubarb, wild garlic, gurnard and fresh, ripe cherries. We asked Joey what ingredients she adores cooking once bountiful in season and abundantly available: "Firstly, I'm also totally with you on the rhubarb and wild garlic!
"From time to time I cook in Berkshire for a long-standing client. They have a wonderful kitchen garden and the rhubarb patch is monstrous! When I'm down there in summer it's on the menu as much as possible, I always make lots of compote to bring back to London too! I often go foraging in the woods there and that part of the country is just carpeted with wild garlic in early summer. I love it blitzed into wild garlic pesto or salsa verde."
"My parents live on the coast so another big one for me is samphire. It grows all over the muddy banks of the Blythe Estuary and I often go foraging for it. It's fabulous with fish, of course, but a recent favourite is a Nicoise-inspired salad with some boiled eggs and new potatoes. And finally, blackberries. I adore all berries and love fruity puddings."
Talk, of course, turns to London dining. We're always asked for our favourite places to eat and drink in in the city, though we'd go blue in the face if we tried to even begin to pick favourites. So we posed that, naturally, to Joey! "I think the food at The Dairy (run by Irish chef Robin Gill and his wife Sarah in Clapham)  is so innovative and totally delicious – one of the best meals I've ever had. I also find Nopi (Ottolenghi's Soho fine-casual dining restaurant) really inspiring for vegetarian food. I live in Brixton and am a big fan of lots of the local restaurants, Salon and French and Grace are just two that spring to mind."
Another inevitable we had to ask – where does Joey see herself in five years' time? "Oh my gosh, I don't know! At the moment I am absolutely loving running Hare on the Hill, and who knows where that might lead? I'm keen to do more food writing and I would be lying if I didn't say that writing a veg-centric cook book is a big dream of mine – I studied English Literature at university, so it would be incredible to couple writing with food."
To keep an eye on what Joey is getting up to, visit her site www.foodwithtime.com which details all her events, pop-ups and vegetable-based recipes split by the season. Do follow her on  Twitter whilst if you're not convinced yet, one longing glance at Joey's Instagram will capture your tastebuds…
❤
Read more of our GastroGays Meets... interviews with some of our favourite familiar faces in food