If anyone has complained to you about the length of the Eurovision Grand Final since 2011, you could basically say that it's partially Italy's fault. The 'Big 4' became the 'Big 5' when RAI – the Italian broadcaster – decided that following a 13 year-long absence, Italy would return to the Eurovision Song Contest, thus lengthening the run of the final by a couple more minutes.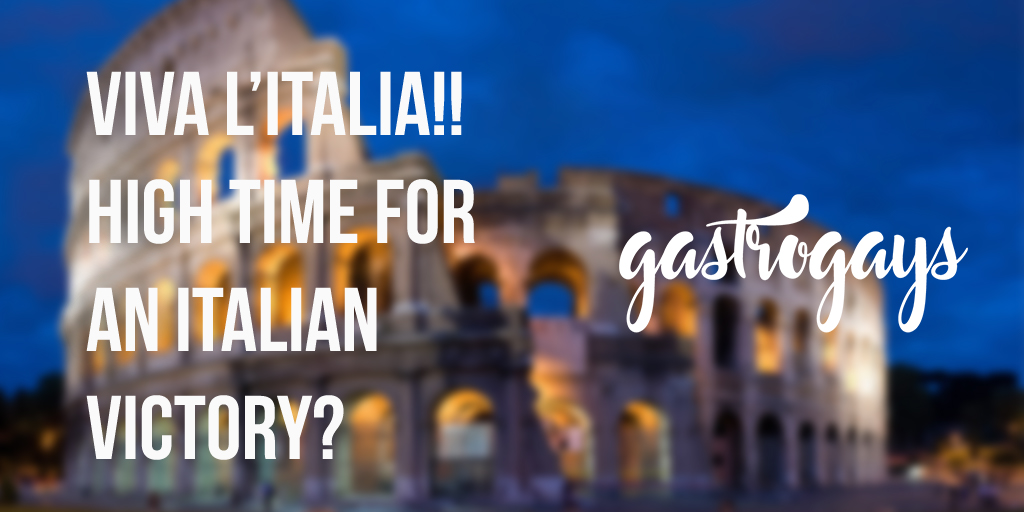 Prior to their extended absence between 1998 and 2011, the Italians had a decent enough track record with wins in both 1964 by Gigliola Cinquetti and 1990 by Toto Cutugno and quite a number falling within the Top 10. But without explanation, they withdrew before the turn of the Millennium – wildly believed to be due to a lack of interest in the contest on home turf. Not surprising – the length of their absence was a dark, odd time in Eurovision history.
For Eurovision, Italy usually chooses its artists via the San Remo Music Festival – which actually pre-dates the Eurovision Song Contest and was a blueprint for the idea of the Contest. At San Remo, not only do you win the accolade of the Big Artists Award, but you also win the right to represent the country at the contest. A right which you don't have to accept or act upon, just like in 2016 when winning act Stadio decided not to go to Stockholm and Francesca Michielin, the runner-up and former X Factor winner, represented instead.
Italy has given us some incredible tracks, and many of the recent years have been firm fan favourites, which makes us wonder, is it almost time for Italy to snatch the crown and host Eurovision one more time? We're going to take a look at some of Italy's finest songs and singers.
Italy at Eurovision: Emma, Italy's Gaga
It's sad that Emma Marrone's entry didn't do too well, points-wise, but 2014 was one of the strongest years competitively in modern Eurovision. While Conchita Wurst reigned supreme for Austria, the night wasn't without a stiff dose of competition from the likes of The Netherlands (The Common Linnets), Sweden (Sanna Nielsen), Hungary (Andras Kallay-Saunders) and Armenia (Aram MP3, the bookies' favourite).
Italy's entry was one of just three songs not sung entirely in English and stood out for being a gutsy, rock 'n' roll performance with a fantastic beat – not dissimilar to the likes of Gaga. Maybe the vocals weren't spot-on and the crawling on stage was too much, but damn, it's a tune. A golden crown of leaves? Surely that's the mark of a queen? It finished in 21st place and, to add insult to injury, technically it's the word placing Italy has ever gotten. Ouch!
Italy at Eurovision: Rockabilly Nina Zilli
Scraping just inside the Top 10 with 9th place at Eurovision 2012 in Baku, Azerbaijan, Nina Zilli's L'Amore 'L'amore è femmina' was bang on trend for the time, fusing together styles and sounds with something different. Of course, the song drew comparisons to the likes of Amy Winehouse and Imelda May with its glam rockabilly style and sound.
It was confident, different and fun. Interesting though, this was not the winning song at San Remo. Originally it was 'Per Sempre', more of a piano ballad with a jazz kick. Zilli announced it would be re-recorded and represented at Eurovision half in English, half in Italian. However, months later it was announced the song was shafted in favour of 'L'amore è femmina'. We think it was a good move.
The only problem with the new song and its performance on the night could have been the similarities between Zilli and Winehouse, which Zilli refuted when questioned by media, plus the fact Amy Winehouse had died tragically less than a year ago. A tricky one to get right – might it have been a smart move as the Winehouse style was in everyone's hearts and minds or was it a cheap and tacky move? You decide, but we adored it.
Italy at Eurovision: 💦💦 (also known as Il Volo)
Not your typical Eurovision fare, a male operatic trio, but what a reception these boys got in Vienna. And when you look this good… what's not to like?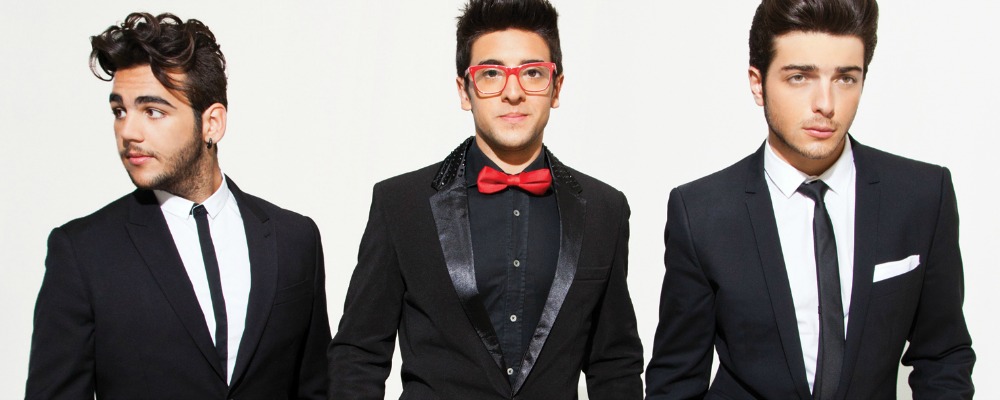 Already an accomplished musical trio in Italy, Il Volo stormed the stage triumphantly at Eurovision 2015. Performing last, the perfect place for their rousing and melodic love ballad, the boys were a favourite ahead of the final and fared excellently in the voting sequence.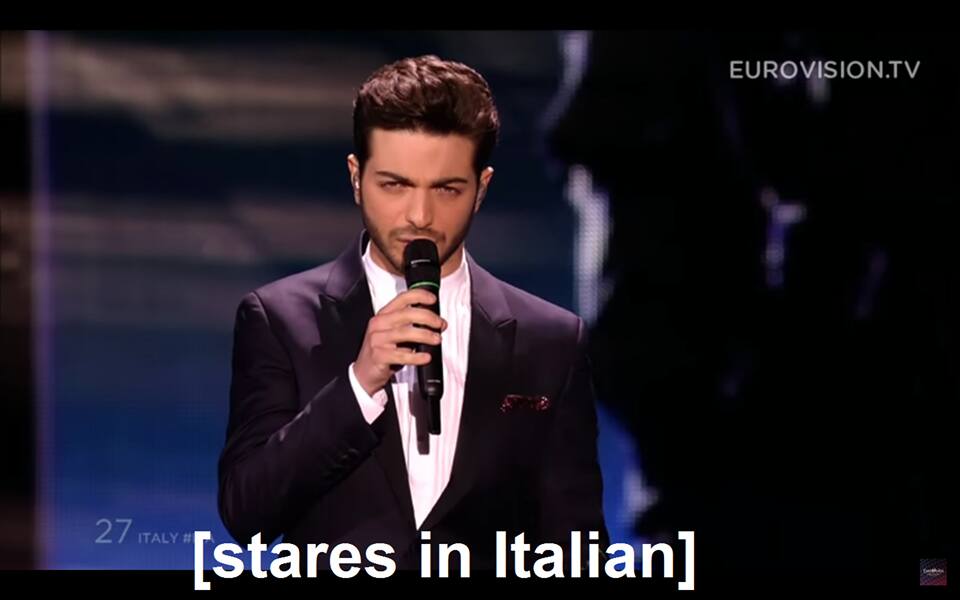 Taking the top spot several times as the votes came in, they were sadly knocked down to second late in the game and eventually shunted to third place at the last second by Russia's Polina Gagarina.
Italy at Eurovision: Francesca Michielin's X Factor
Francesca Michielin was a big hope for a Big Five victory in 2016, her performance and song most definitely one of the better received. It also had striking visuals, a soft, sweet quality and an inclusive message of togetherness. Once again, Italy refused to buckle to pressure and sang in their native language, and more power to them, we say. Sadly for them though, statistically since the language rule was changed in 1999, English language songs (or ones with English and another) tend to perform better points-wise.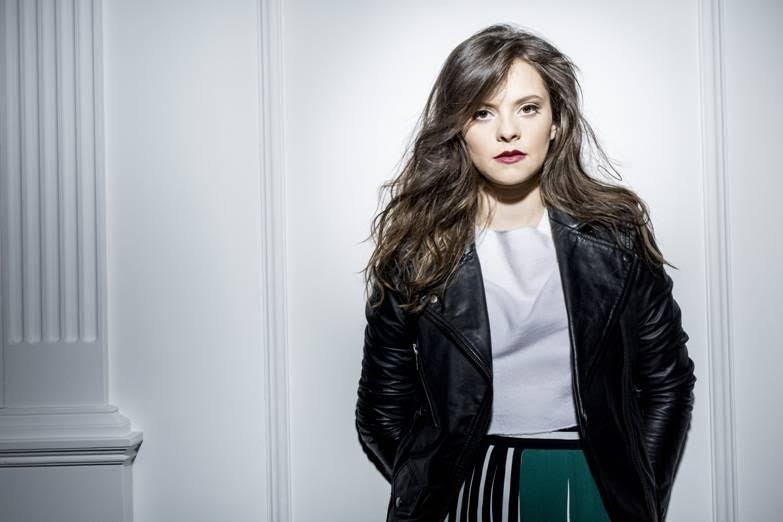 However, even the star power of a recent X Factor winner didn't measure up to points on the scoreboard, ending up in 16th place – France came top of the 'Big Five' by placing 6th.
Side note: some say that being part of the 'Big Five' is a curse, because you don't get to perform in both a semi-final and a final, well in 2016 each of the acts did (sort of) by having extended clips of their dress rehearsal performances shown, evening the playing field more.
Italy at Eurovision: Queen Gigliola Cinquetti 👑
We cannot talk about Italy and leave out Italy's Queen of Eurovision, Gigliola Cinquetti. Arguably the most successful entrant of all time for Italy, she brought Italy their first victory in 1964 as a 16 year-old girl with the sweet ballad 'No Ho l'Età'.
Devastatingly, she almost took the title again, a decade later, coming second to the powerhouse that was Abba, no less, so it isn't all bad! Her second Eurovision appearance is an interesting one. With her calming, beautiful and charming voice, she became a national talking point with her song called 'Sì', translated as 'Yes' in English.
However, it wasn't all positive, even though she was runner-up. In fact, her own country censored her performance. The nation was going to the polls in a referendum on divorce law a month after the contest, and it was considered to be trying to influence the voting public with a seemingly political song. Needless to say, the 'No' vote won.
In 1991, when the contest took place in Rome following Toto Cutugno's win with 'Unite Europe', Gigliola moved from entrant and former winner to centre-stage as host, alongside the reigning champ. A professional TV presenter and journalist by then, Gigliola's ability to remain professional and reign back proceedings saved the show. Toto was, in our eyes, one of the worst presenters to ever take to the Eurovision stage, making constant mistakes and acting like a bit of a fool. However, it wasn't all bad,  Sweden's Carola finally, but very narrowly, won with 'Fangad av en Stormvind'.
🇮🇹So what's next for Italy?🇮🇹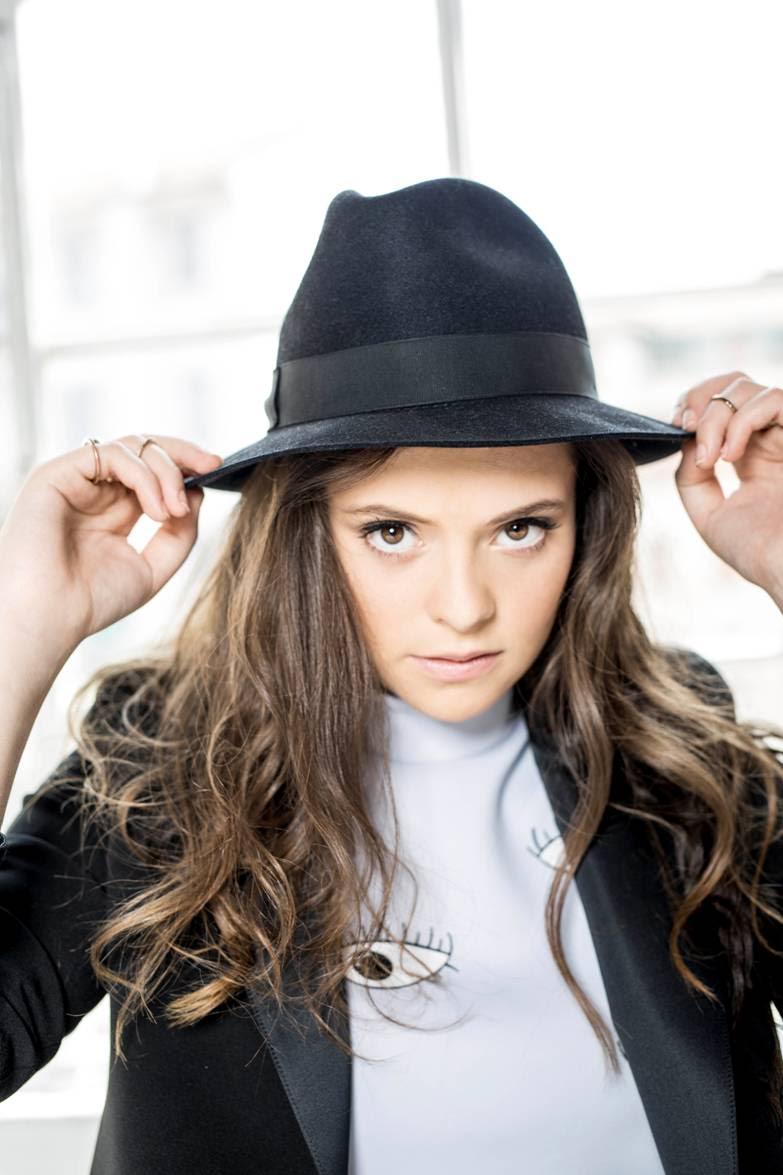 Italy's been there since the beginning, 1956. It took quite the breather when Eurovision lost its way in the 2000s and then came back battling, a force to be reckoned with, hungry for the title once more. Since their return, they've rarely been out of the top 10 and have played around with musical styles, but have always sent a younger act, usually in their twenties. Will they change tack or keep climbing the way they are on their way to victory again?
#GGEurovision