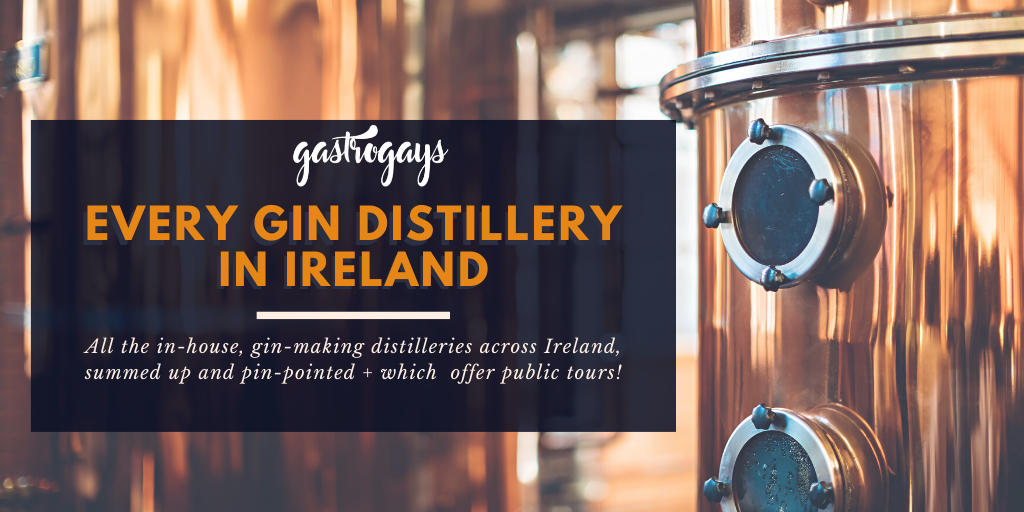 Ireland has had a gin BOOM over the last number of years. Seemingly every county has a local gin at this stage, producers are popping up all over the place and there are gin brand names flooding the market from all four corners of the island… but, which gins actually have their own bonafide distilleries? Have you ever considered that not all gin brands are bonafide distillers in their own right? Contracting is widespread and lots of producers share units and manpower by going in with larger distilleries, so we're here to document who, what and where…
Now, this isn't a read at gin brands that don't have distilleries. Everyone has to start somewhere and contracting is one of the simplest, fastest, most economical ways to break into market, but this is celebrating those spaces that have bricks and mortar distilleries to their name –– almost all of which offer tours and experiences for the public to visit the space and understand their approach to gin distillation.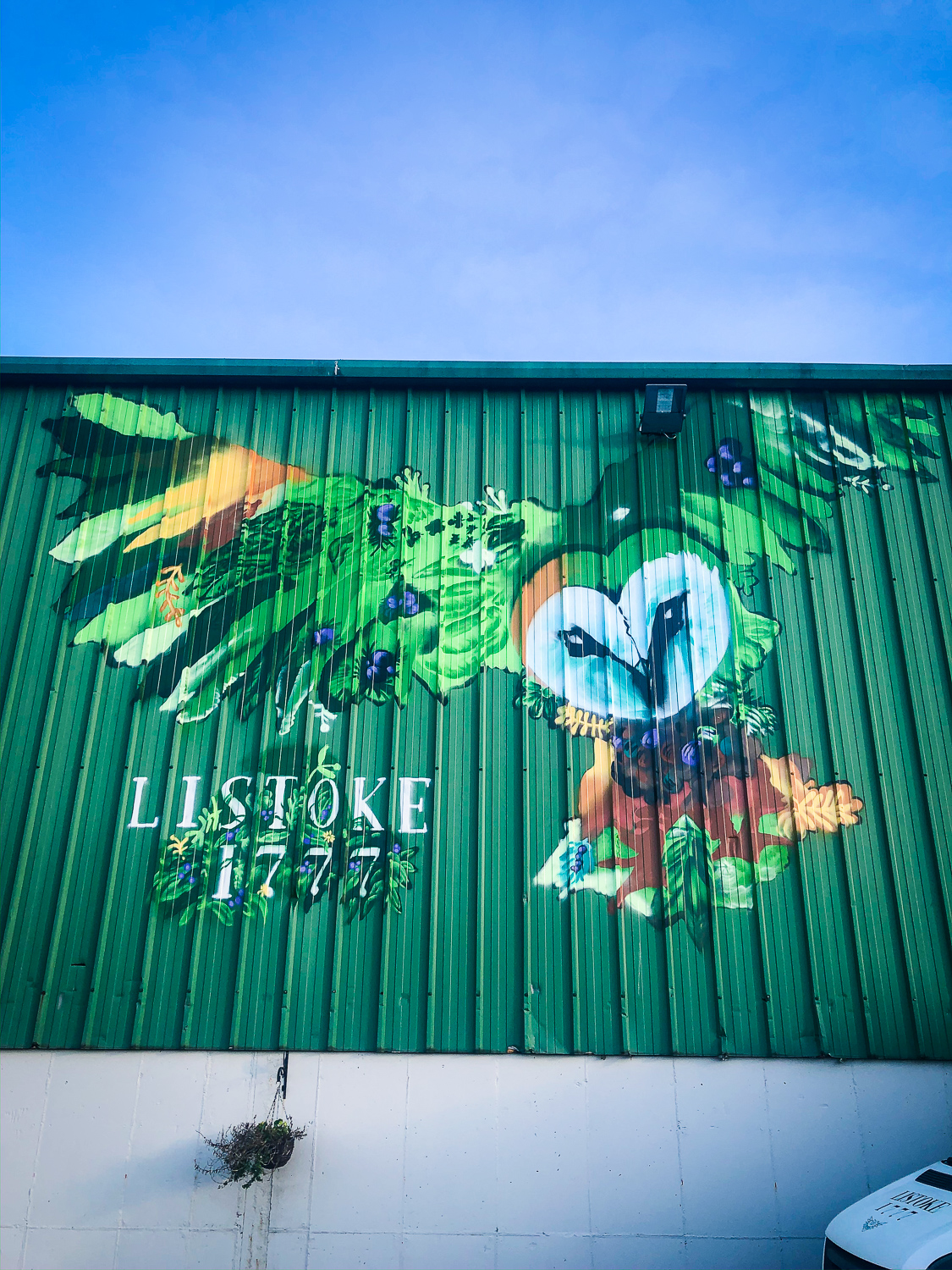 We'll start with the one most local to us! Though Boann Distillery is a behemoth in our area of the Boyne Valley, as is Slane Distillery, both are focusing on whiskey (and beer, with double duty in Drogheda at Boyne Brewhouse in the same facility as Boann) for the immediate future, and rightly as there's already a keenly-established gin distillery on the outskirts of the large town in Louth, and that's Listoke Distillery.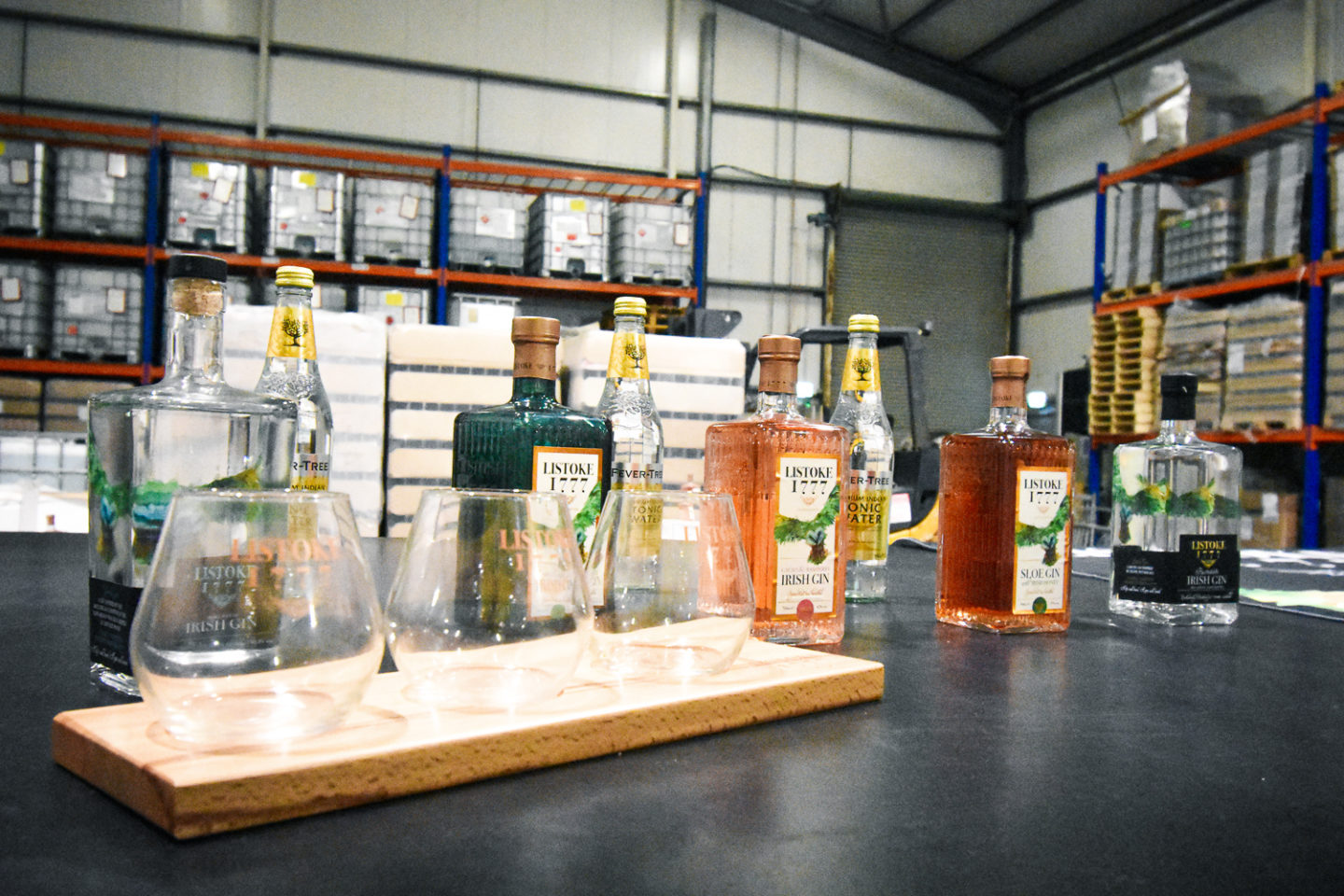 Overseen by MD Bronagh Conlon alongside her small team and a number of key partners, Listoke Distillery produces their signature gin Listoke 1777 as well as producing for the likes of James Joyce Gin and Galway Gin Co. for other owners, as well as Tower Gin (an exclusive for Aldi both in Ireland and Australia) and Barnstorm, a riff on their signature Listoke 1777 gin which is an exclusive made for and only available at The Loop Duty-Free in Dublin Airport.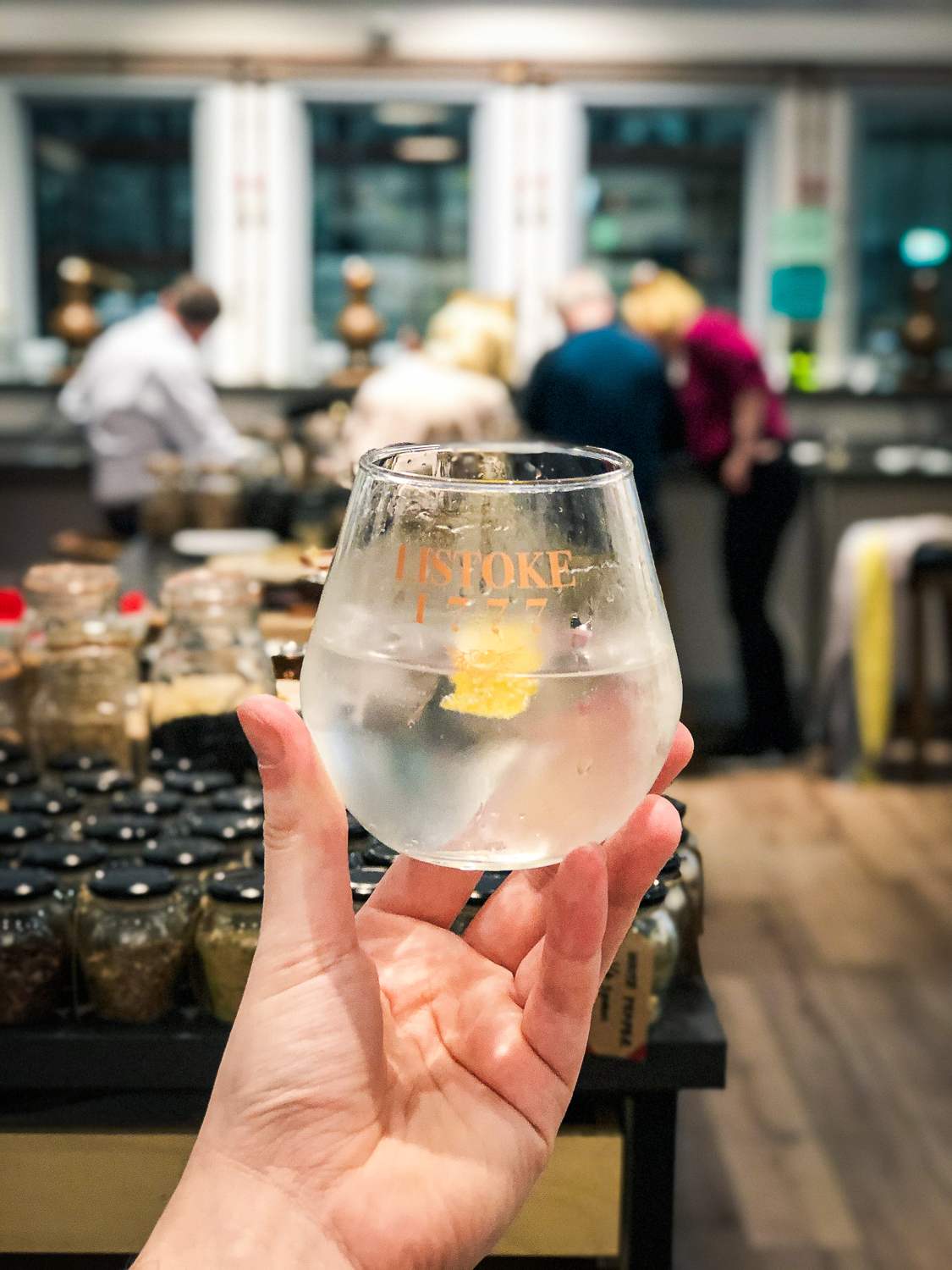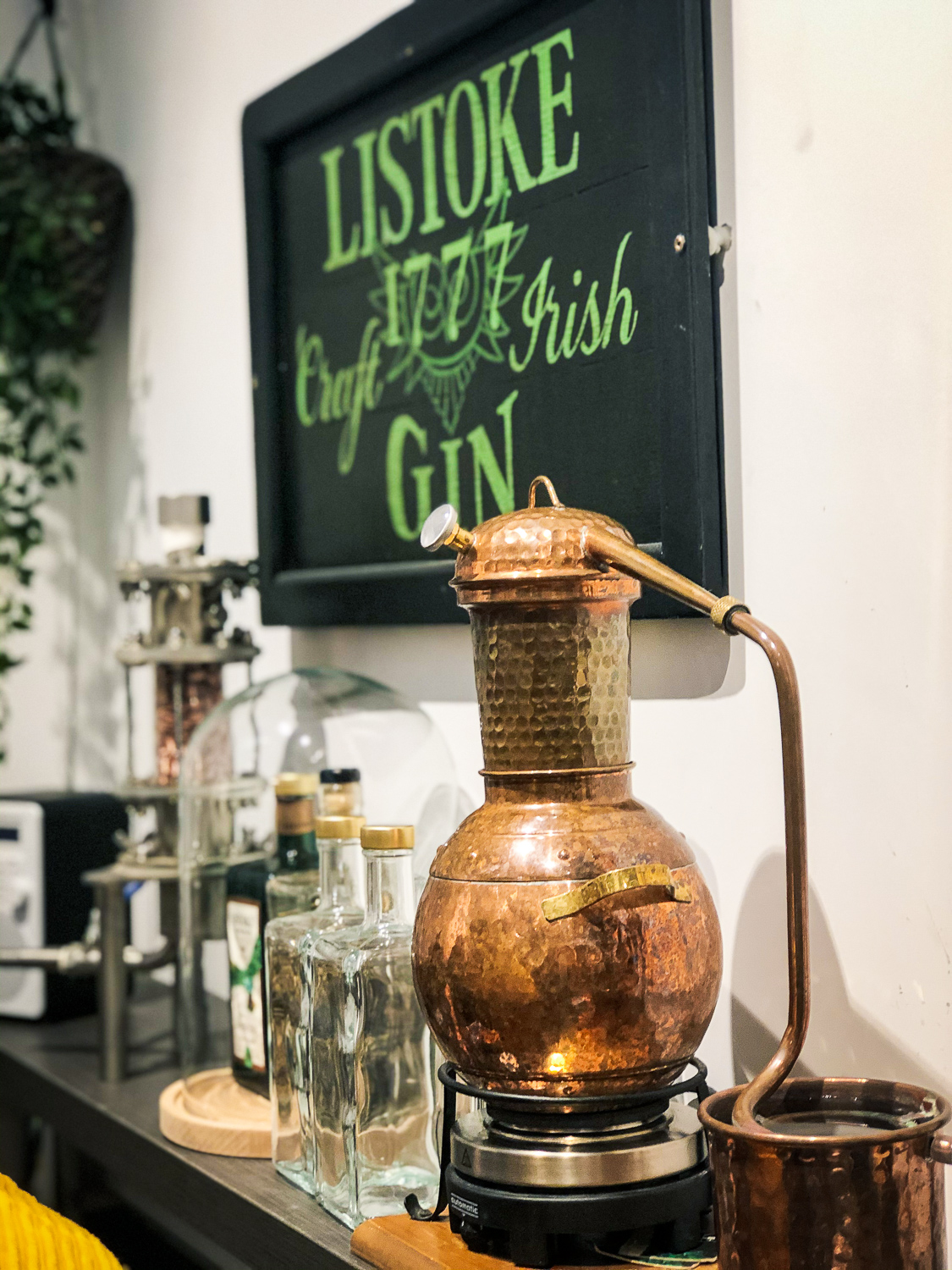 We've written up more about what they do, their range and their unique Listoke Gin School –– the first of its kind in Ireland! Click through to read more about Listoke Distillery and Gin School.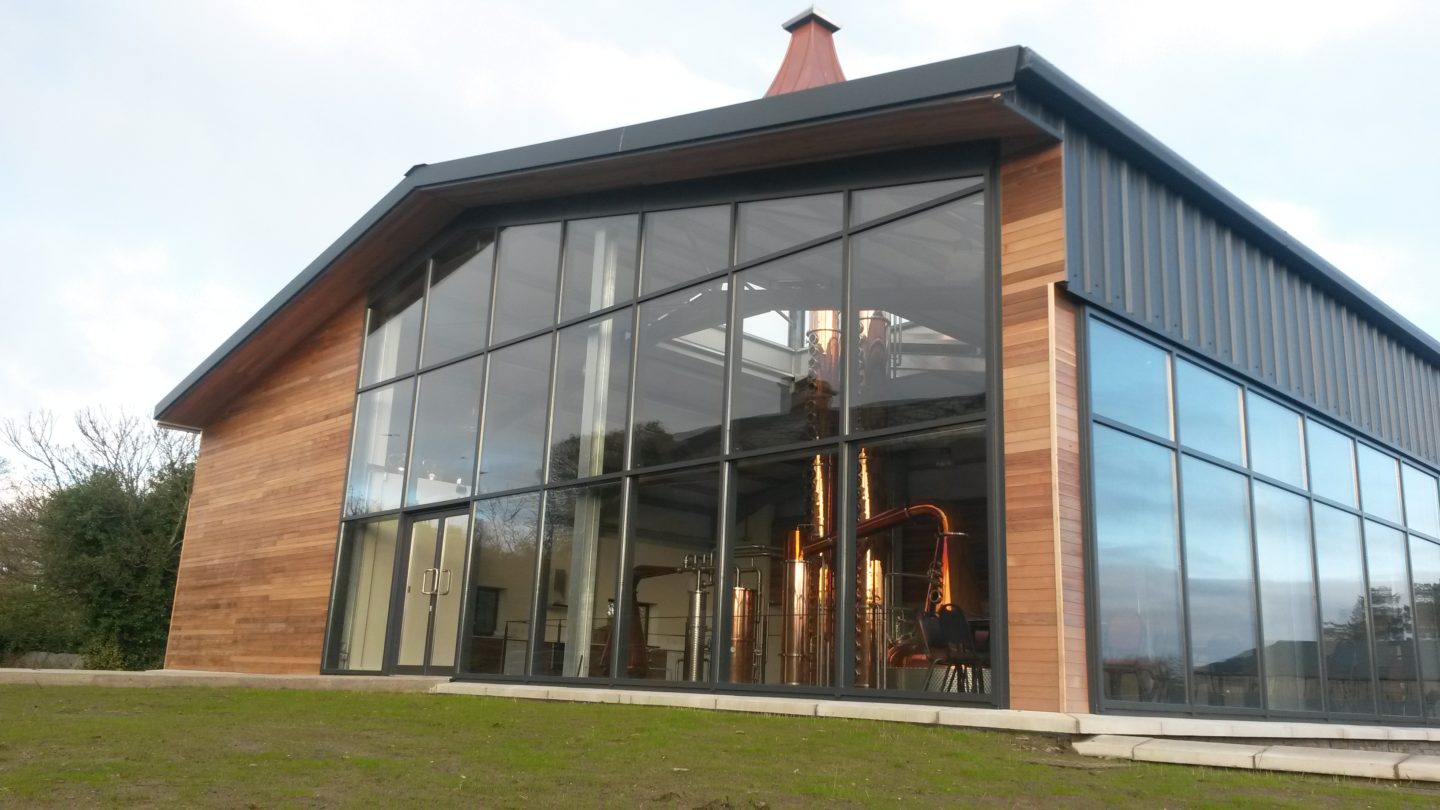 Begun in 2013 in their location on the Ards Peninsula in Northern Ireland, Echlinville is focused on creating the finest whiskey possible –– but in the meantime they are crafting premium gin. Set on a working farm, tilled and tended by generations of the same family, they produce their own pot still gin called Echlinville Irish Pot Still Gin, distilled with whin bush petals and Strangford Lough seaweed giving it that local terroir.
Impressively floral, you'll find hint of lavender, rose and elderflower in it too. What's rare too, is they create a base spirit distilled from homegrown floor malted barley –– a process that's been in decline for many years.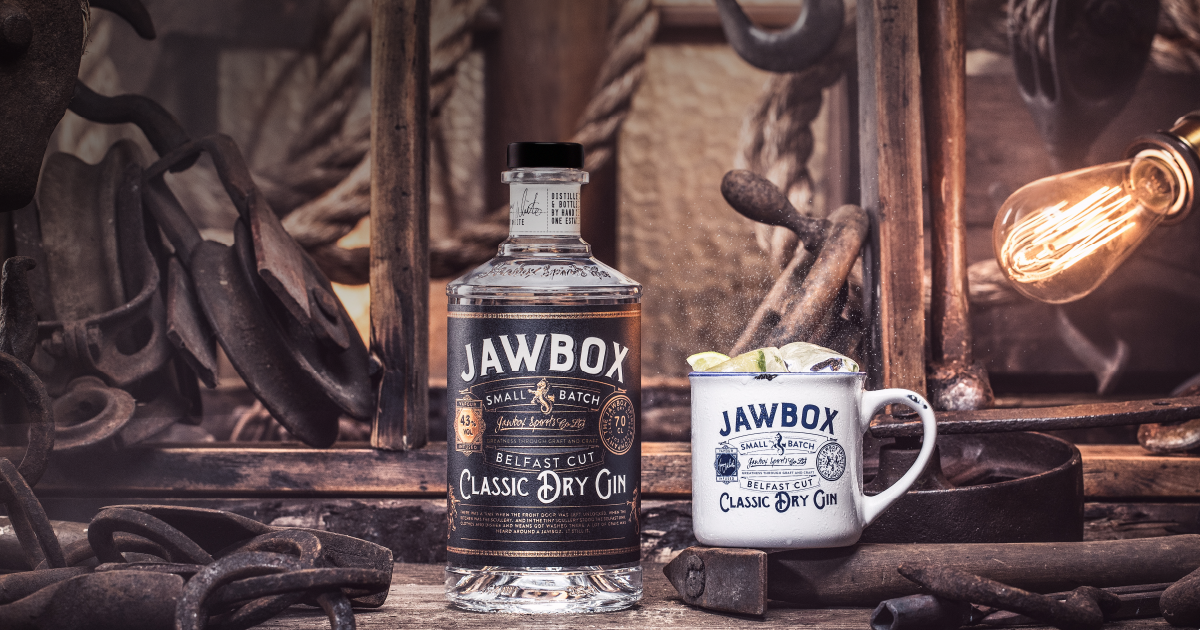 They also run production for Jawbox Gin for Belfast publican-turned-gin producer Gerry White, and Weavers Dry Gin – a flax seed-infused gin (flax was a huge industry for NI in time gone by, particularly for weaving).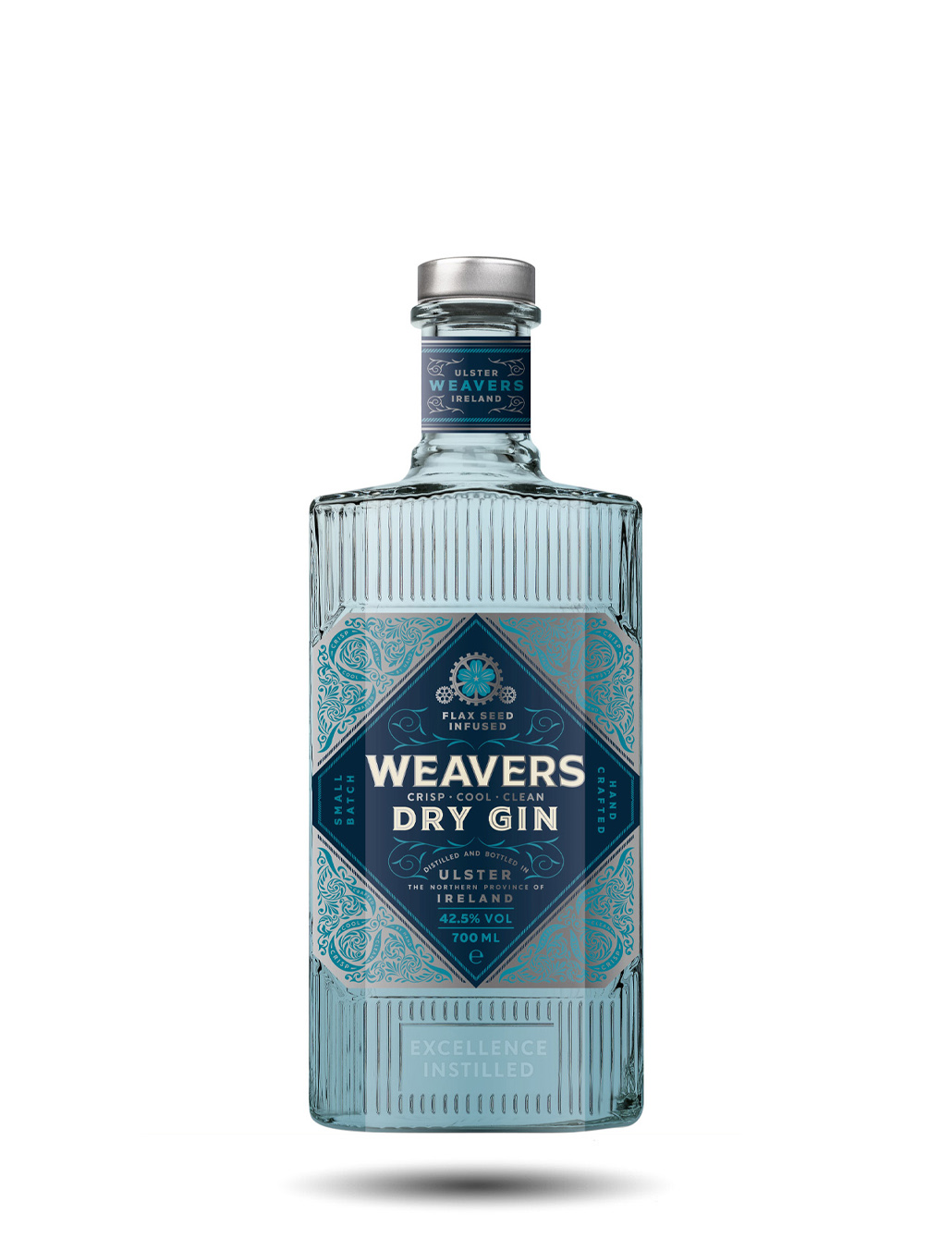 Set on a 500 acre estate, Rademon Estate Distillery is owned and operated by husband-and-wife team Fiona and David Boyd-Armstrong. Together, they produce Shortcross Gin, a heavily citrus-flavoured gin which has been on the market since mid-2014.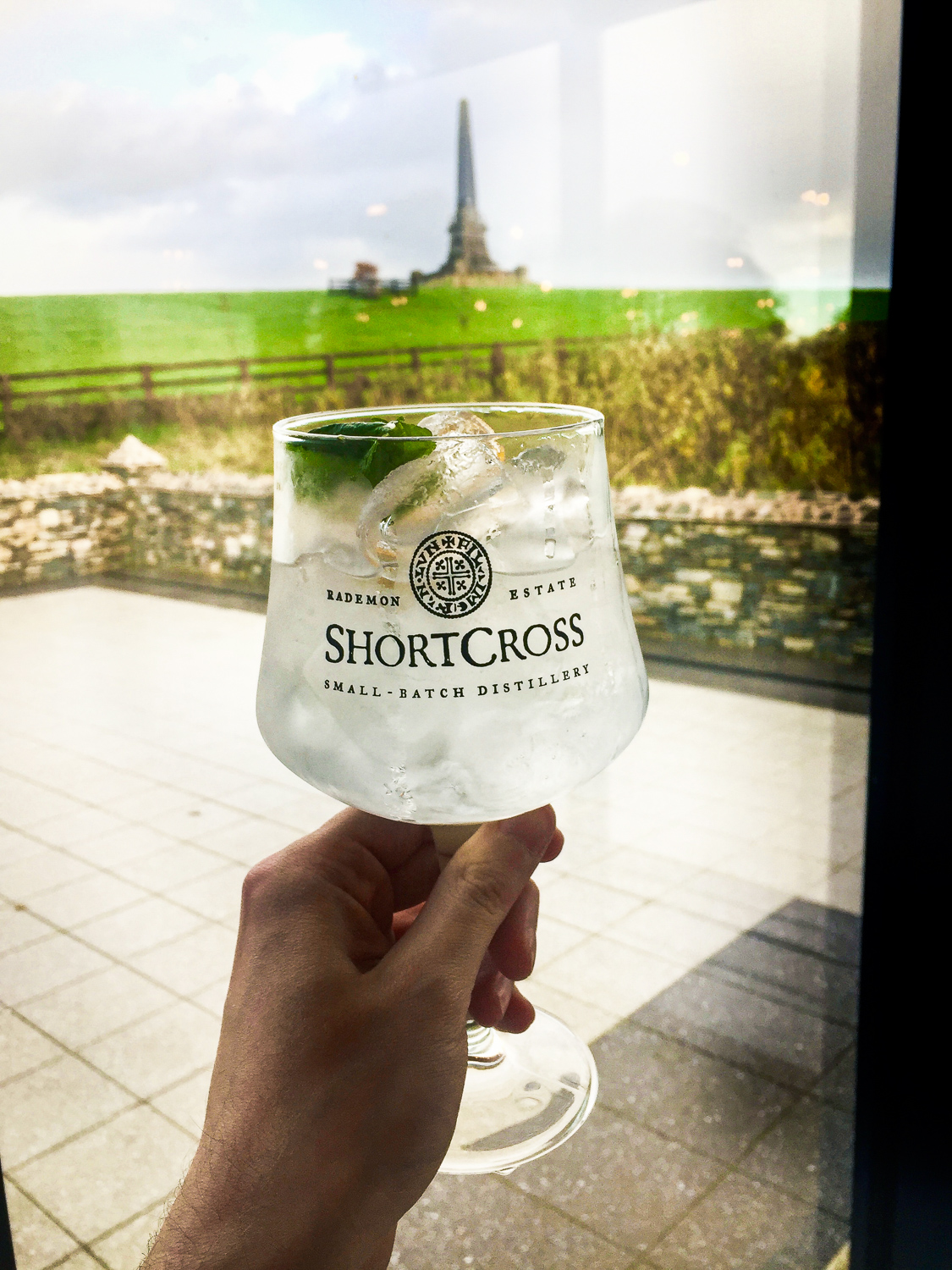 Their distillery and visitor experience is set in a truly stunning, contemporary building, an expansive yet cohesive melange of glass, metal and wood, and of course houses a lengthy bar and their distillation room appointed with their copper still. They've also hosted several events in the space, which is an ideal spot for gatherings.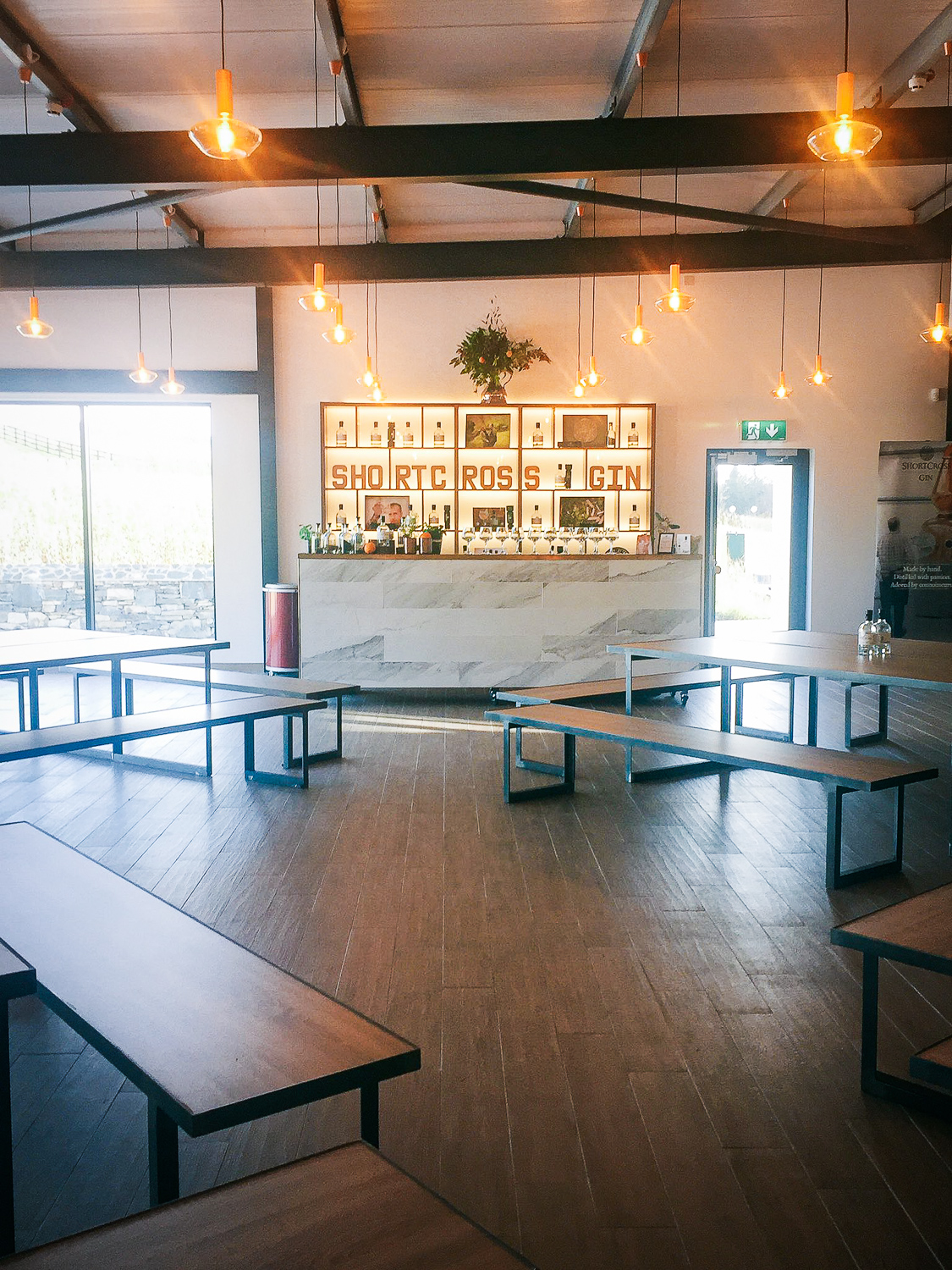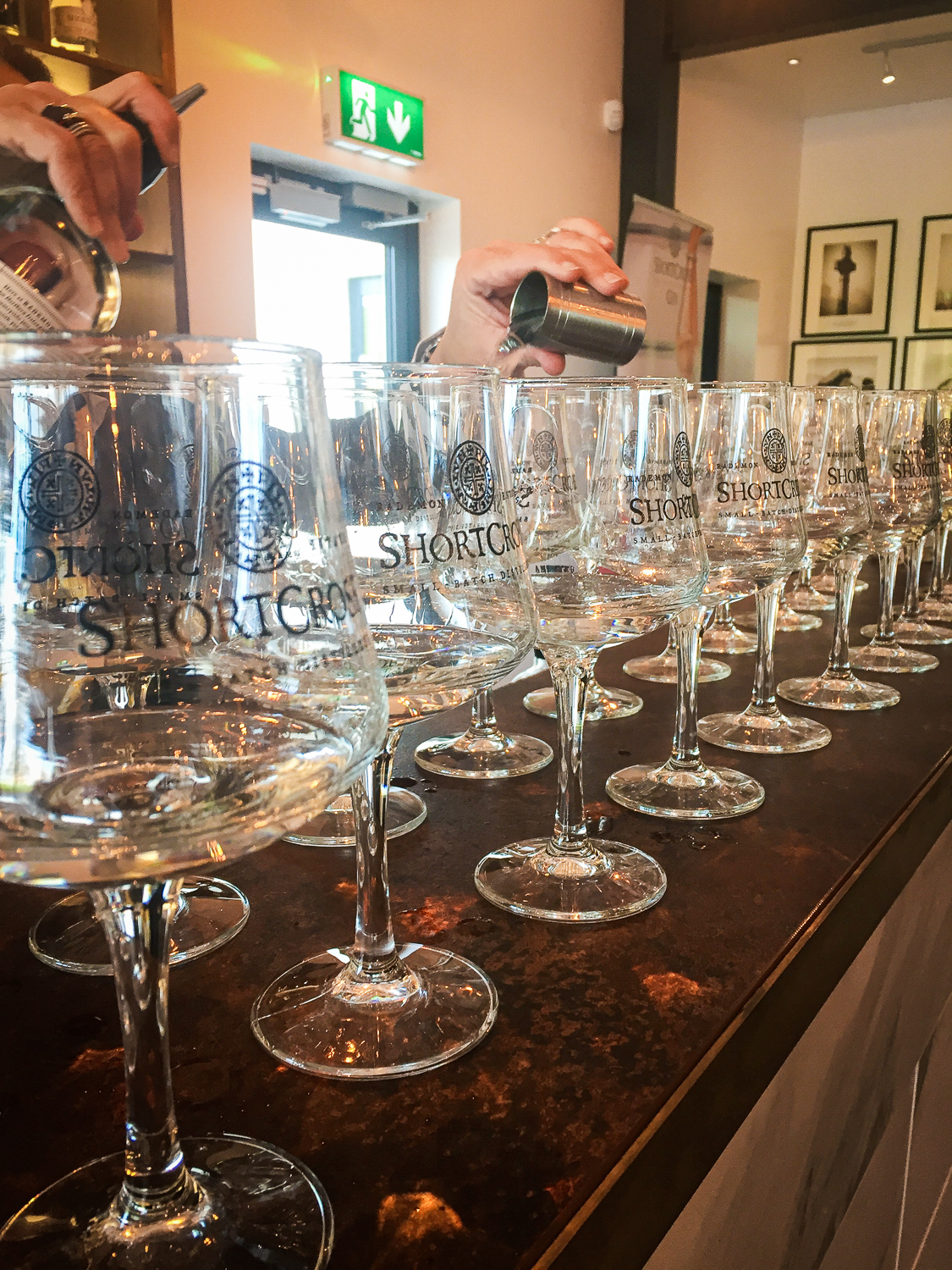 The name of their gin comes from the translation into English of the name as Gaeilge of the nearest local village to them, Crossgar (Chroiss Gearr) which means short cross. What they pair wanted was to reflect the location of this beautiful estate in a global-focused gin, so the botanicals include wild clover, elderberries, elderflower and apples from the estate, as is the water from the on-site well that the distillate is cut with to form the final gin. Of course, lots of other worldly spices are added to the final recipe. Each bottle is also hand-dipped in black wax to seal, which is a nice, unique touch.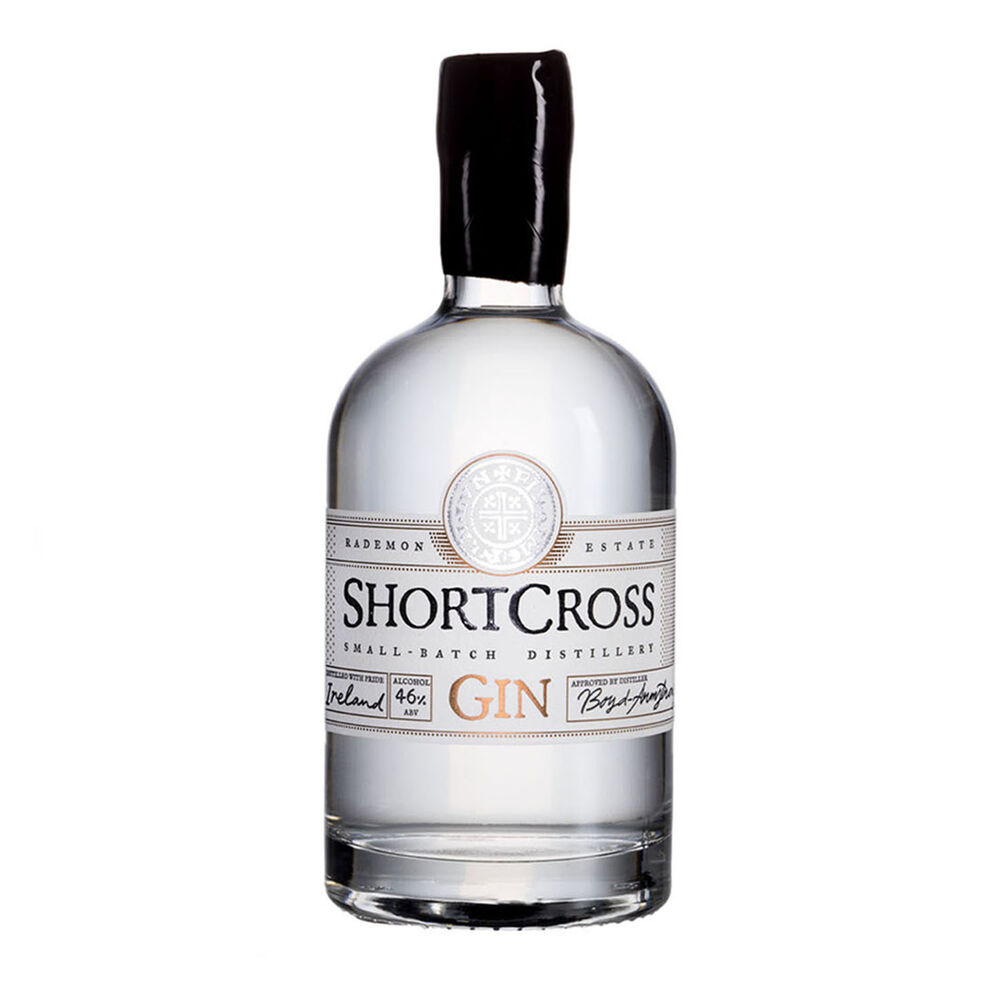 They are also whiskey-minded, with whiskey ageing and coming down the line, whilst four years into production they've added a pink gin to their line-up, Shortcross Rosie's Garden Gin with strawberries and raspberries, and vapour-infused lavender and camomile.
They offer frequent tours of the facility, usually led by founder David and encompassing some history, tastings, masterclasses and you'll even get to take home your own branded Copa glass and a voucher towards future purchase. Tours run for approx. 90 minutes and cost £24.50, bookable here. Side note: they also have one of the best, slickest, sleekest websites of a gin distillery we've come across yet!
Drumshanbo is a name now synonymous with spirit making as that's where The Shed, PJ Rigney's distillery complex, is based. An oriental-inspired sip, his Gunpowder Gin would probably be tied with Dingle Din and closely followed by Blackwater Gin as being early adapters, high shelf visibility and top brand awareness for an Irish gin –– but all the aforementioned have a lot of friendly competition and market share to fight for if everyone else on this list is considered.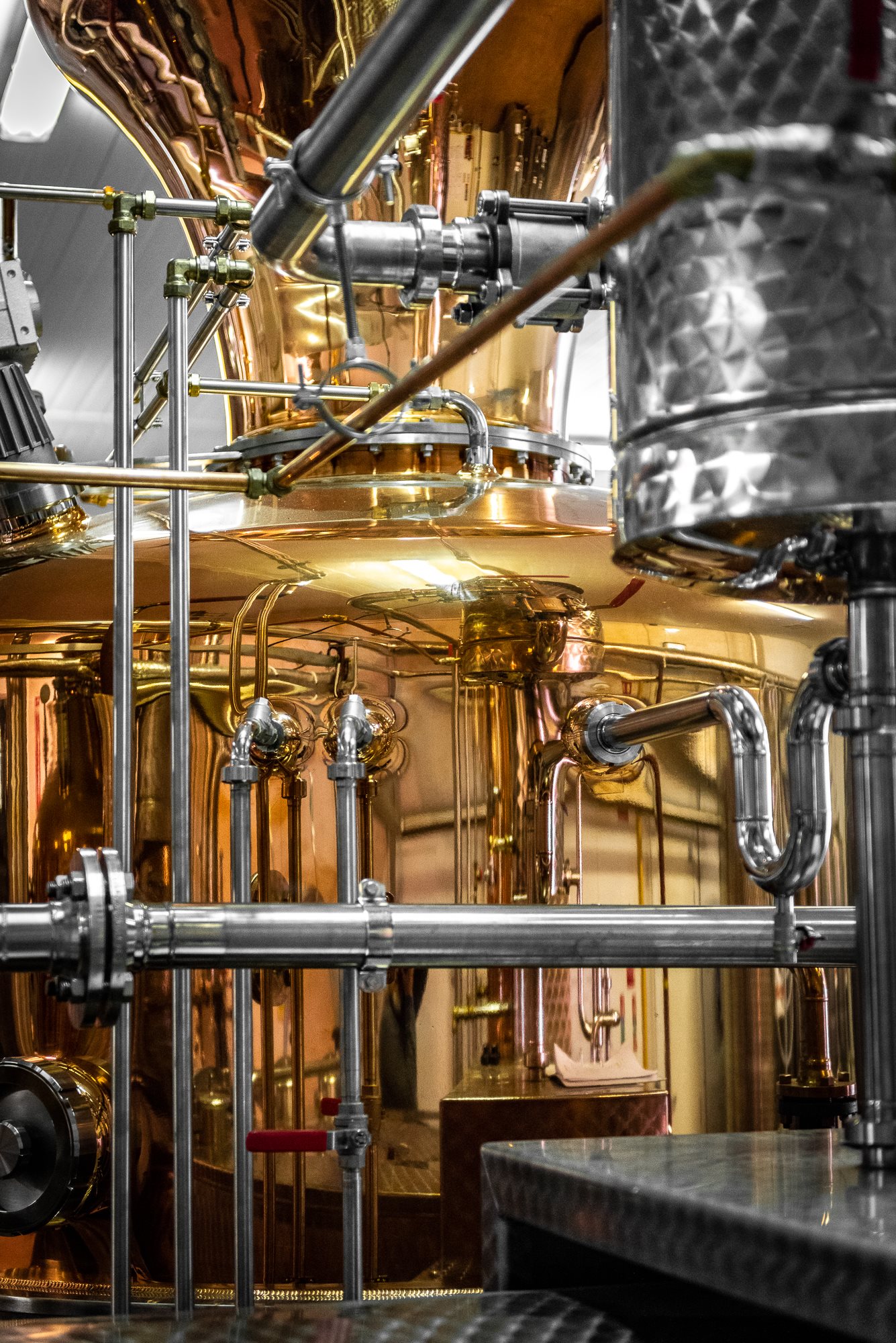 A ground-breaking distillery when it was founded in 2014, it went right back to medieval copper stills but was future-proofing and forward-thinking by making itself multi-purpose. Set on the shores of Lough Allen, Rigney and his team (50+ strong!) are passionate about spirits (he was behind the popular Boru Vodka) and have experimented with gins, vodkas and a novel number of liqueurs, as well as whiskey –– of course. Though tours were offered, they are halted for the moment whilst a brand new visitor experience is being put in place –– watch this space, if ever there was a reason to take a detour to deepest Leitrim…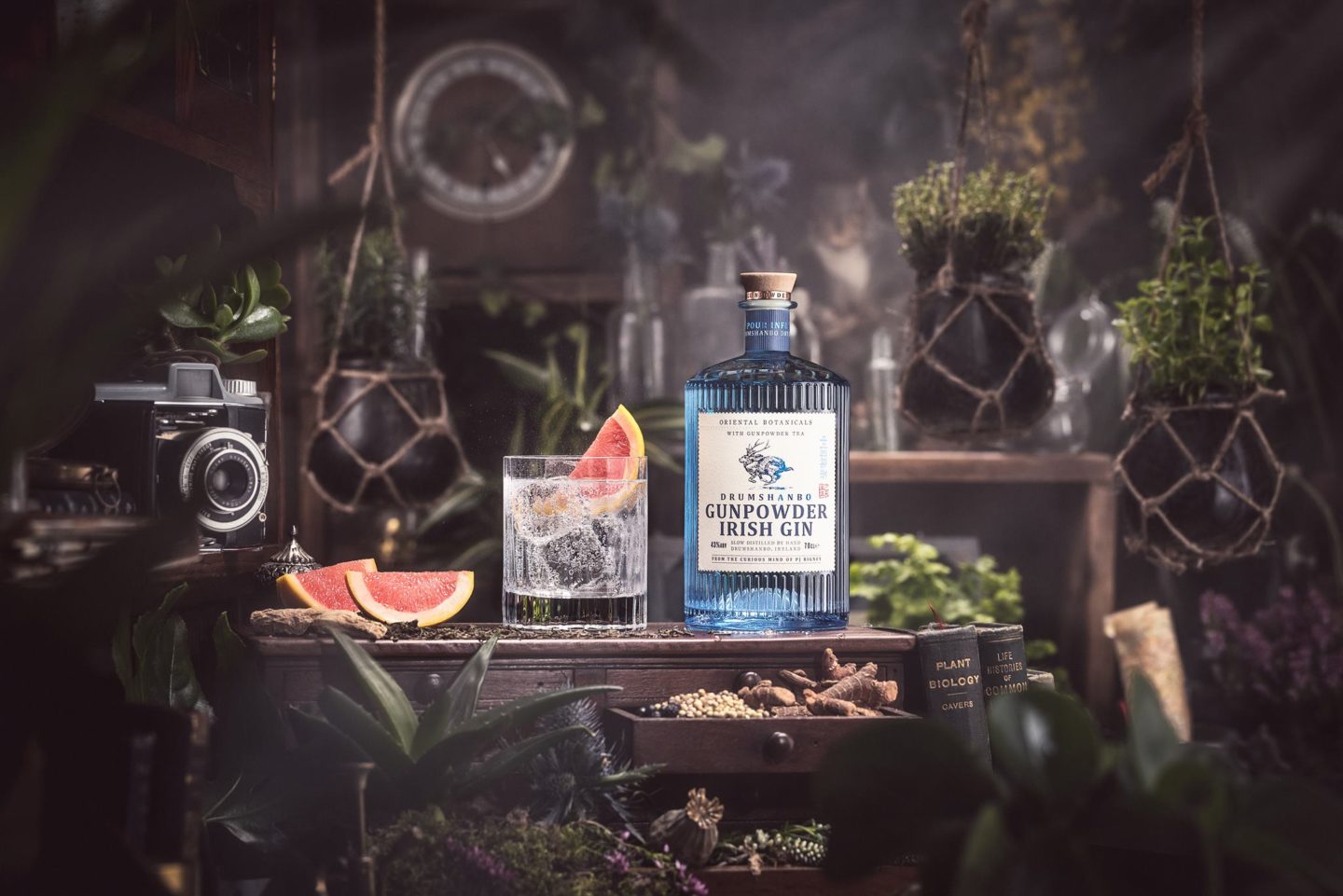 Zoning in on their gin offering, Gunpower Gin is their signature expression, it's sharp, crisp and sprightly, with citrus and juniper, mellow gunpowder tea in the background, meadowsweet and coriander intermingling and the reason it's so popular is due to its keen balance and harmony in flavour.
We don't like typing it in the English Slieve League, but that's how to pronounce the name of this distillery (sleev-leeg, phonetically) –– which takes its name from the breathtaking mountain range it finds itself sitting within. Set within the rocky, rugged west coast of Donegal, An Dúlamán Distillery is the first imprint of Sliabh Liag Distillers, a family-run unit having opened the first distillery in Donegal in 175 years –- with more to come. Seem confusing? It's unique in the fact that the owners are dedicating their first site just to gin, followed by a second site further up the coast as a home for their whiskey offering –– rather than combining both under one roof. The latter is only undergoing the first stages of construction at the moment.
You'll notice one thing that sets An Dúlamán Irish Maritime Gin apart from its rivals and contemporaries instantly, it's a petite 500ml bottle. The name is also as Gaeilge as standard, and refers to a traditional Irish folk song that depicts seaweed collectors in conversation. Unique to the Donegal coast, terroir is seriously present here with no fewer than five locally harvested varieties of seaweed in the distilling process, as well as six other botanicals. They've recently dabbled with a Navy Strength gin too, unveiling the higher ABV An Dúlamán Santa Ana Armada Strength Gin, which also relates to the bottle shape the distillery specialises in as it's the same style that would have washed up on Irish coasts during the time of the Spanish Armada.
Tours are offered at the distillery, three times daily (12pm, 2pm, 4pm) Monday to Saturday weekly at a cost of €10 per person (12 pax max as the space is small), bookable via their website.
Owned by a visionary of the Irish craft distilling industry, Peter Mulryan, alongside Kieran Curtin, both cut their teeth in journalism, new media and television production before defecting to the dark side of white spirits making.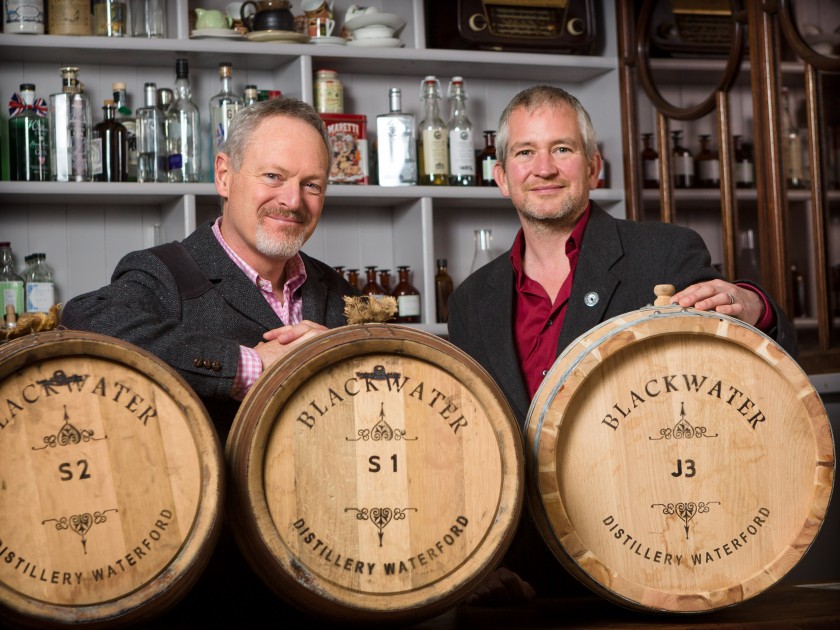 Blackwater Gin comes from Cappoquin in West Waterford, named after the river which runs nearby and they run this micro-distillery in which they proudly proclaim that they do things "the old fashioned way" by using 100% Irish spirit –– not grain neutral spirit (GNS) which almost all of the time comes from Continental Europe. They also declare that the only automated machine in their facility is the coffee grinder, to keep them energised, and everything is done by hand, eye, sight, sound and taste.
Their range runs from their signature Blackwater Irish Gin to various riffs on that signature using other flavours, so for example Barry's Tea Gin, Tanora Gin, Juniper Cask Gin and Wexford Strawberry Gin as well as producing the highly successful Boyle's Gin for Aldi which comes in bottle, can and in a variety of unique flavours, too. Tours in their newly-expanded and renovated distillery are set to begin in earnest, we believe!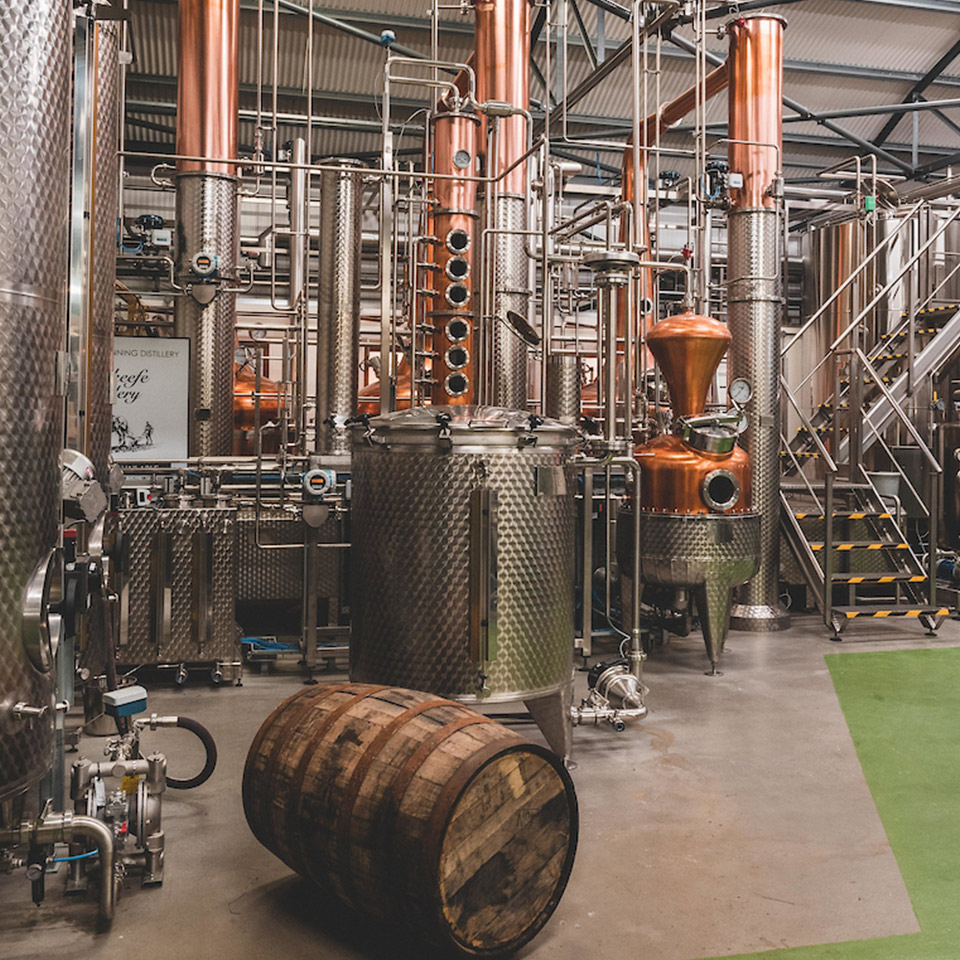 Irish farming and whiskey go hand-in-hand in tradition and in folklore for generations upon generations, and that's where the Ballykeefe Distillery story starts. Family-owned and operated by Morgan and Anne Ging on their farm in rural Kilkenny,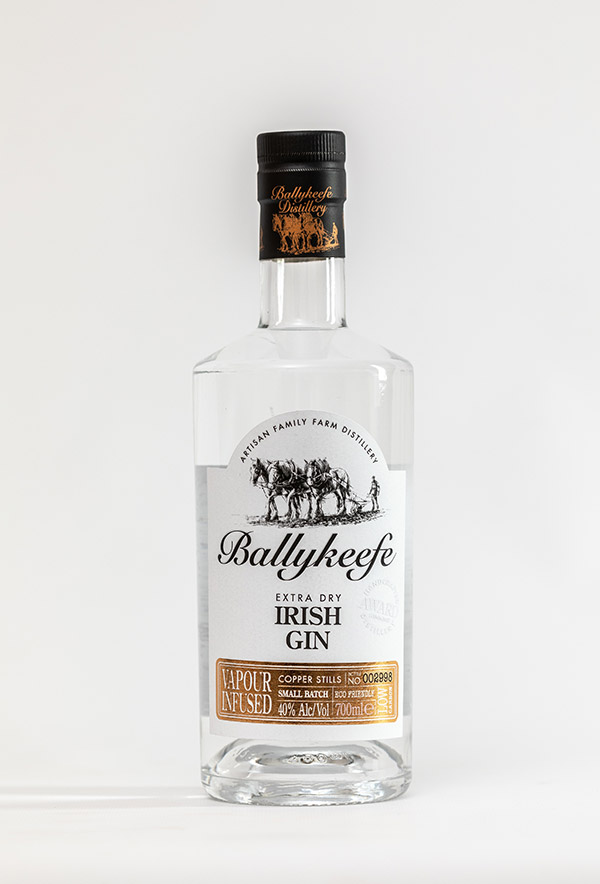 Extra dry and vapour-infused, Ballykeefe Extra Dry Irish Gin is distilled with 12 botanicals, balancing floral, spice and citrus harmoniously. It swooped gold in the London Dry style on its first foray into the World Gin Awards in 2019. Other Limited Editions include a Lady Desart Gin, an oriental take on their signature with long pepper and lemon and a Sloe Gin, whilst they've also dabbled in vodka and moonshine.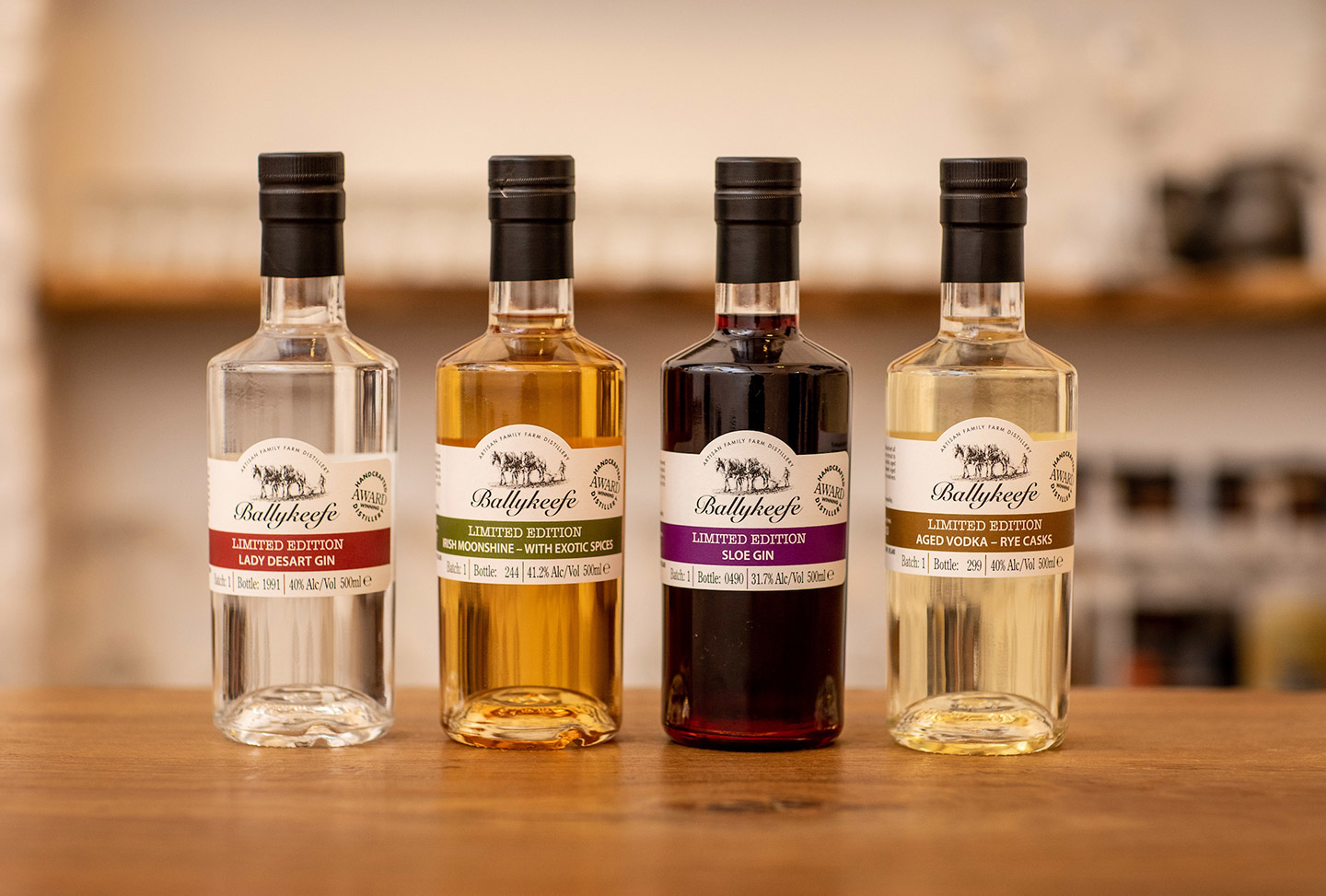 Like many others on this list, whiskey is next and the Gings are passionate about sustainability and the environment, so their eco-conscious credentials include growing the grain for their Single Estate Whiskey on the site of the farm, and then feeding the spent grain to their cattle. They are members of Bord Bia's Origin Green scheme.
Hour-long public tours of the distillery take place at 4pm on weekdays, from March to October. Prices cost €25 per person and are bookable through Eventbrite on the distillery's site.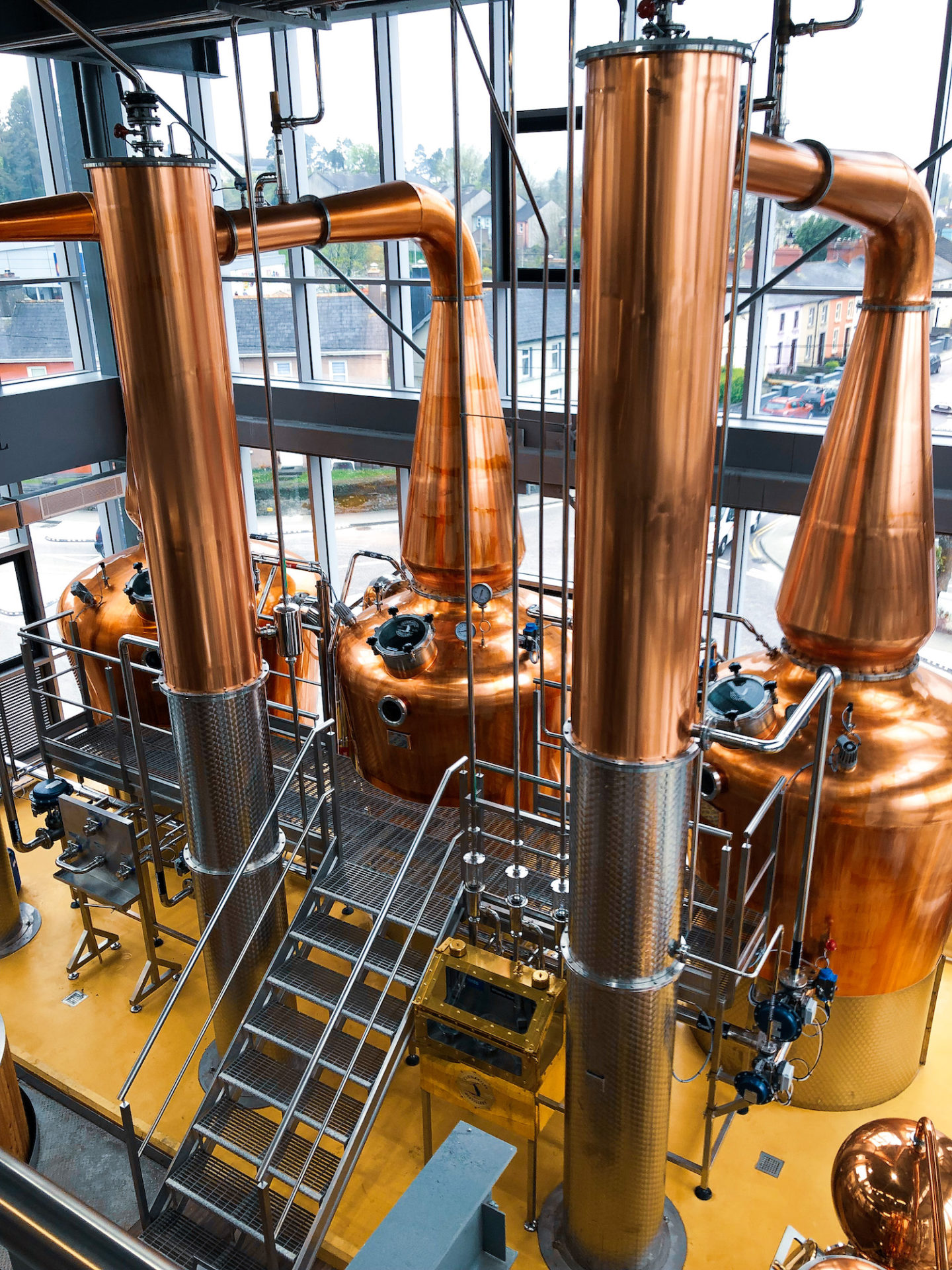 A state-of-the-art whiskey distillery that opened in Spring 2019 and we managed to get inside for a tour in one of the first weeks, but though whiskey is their raison d'etre, gin also makes up a portion of their output.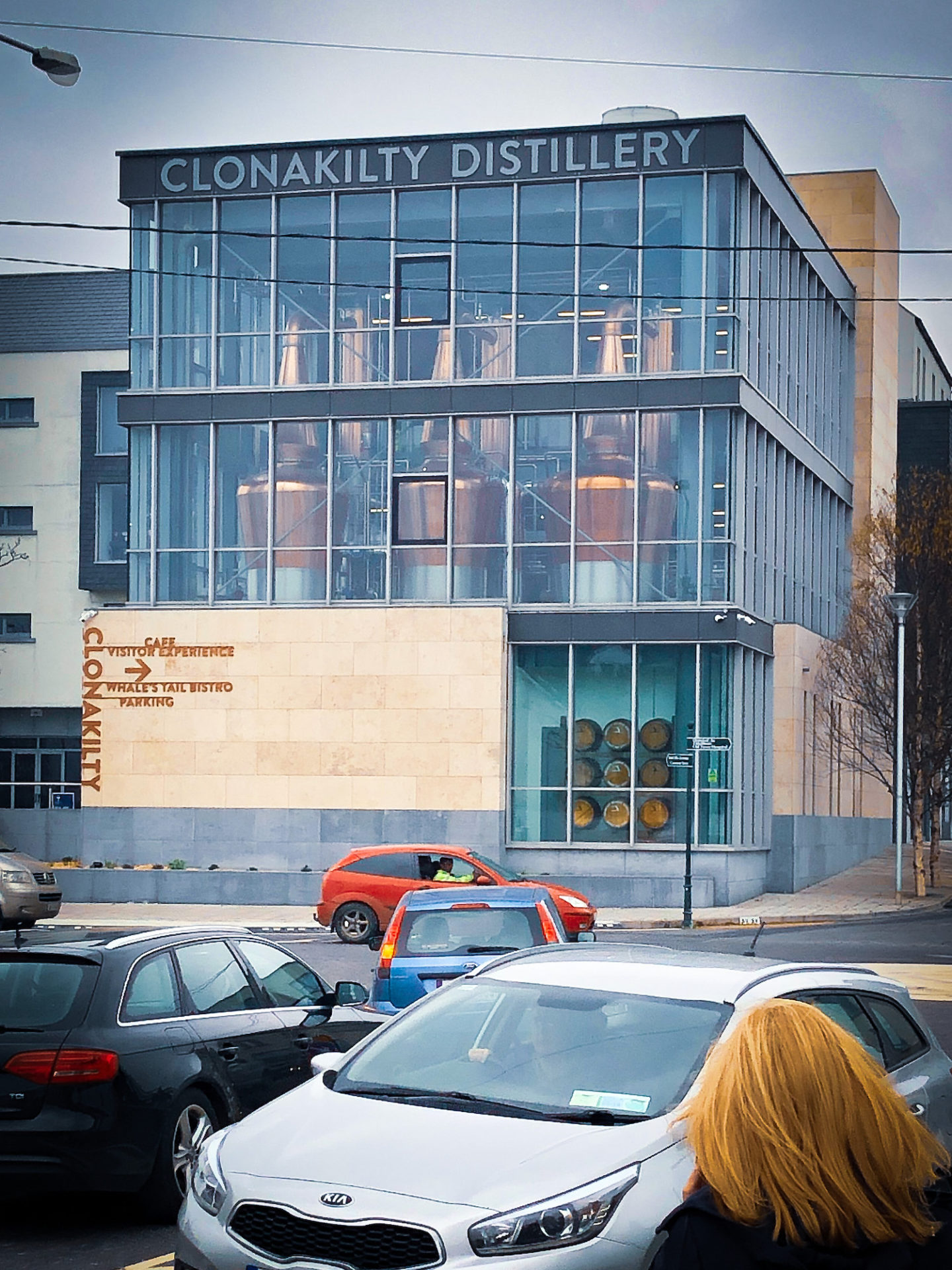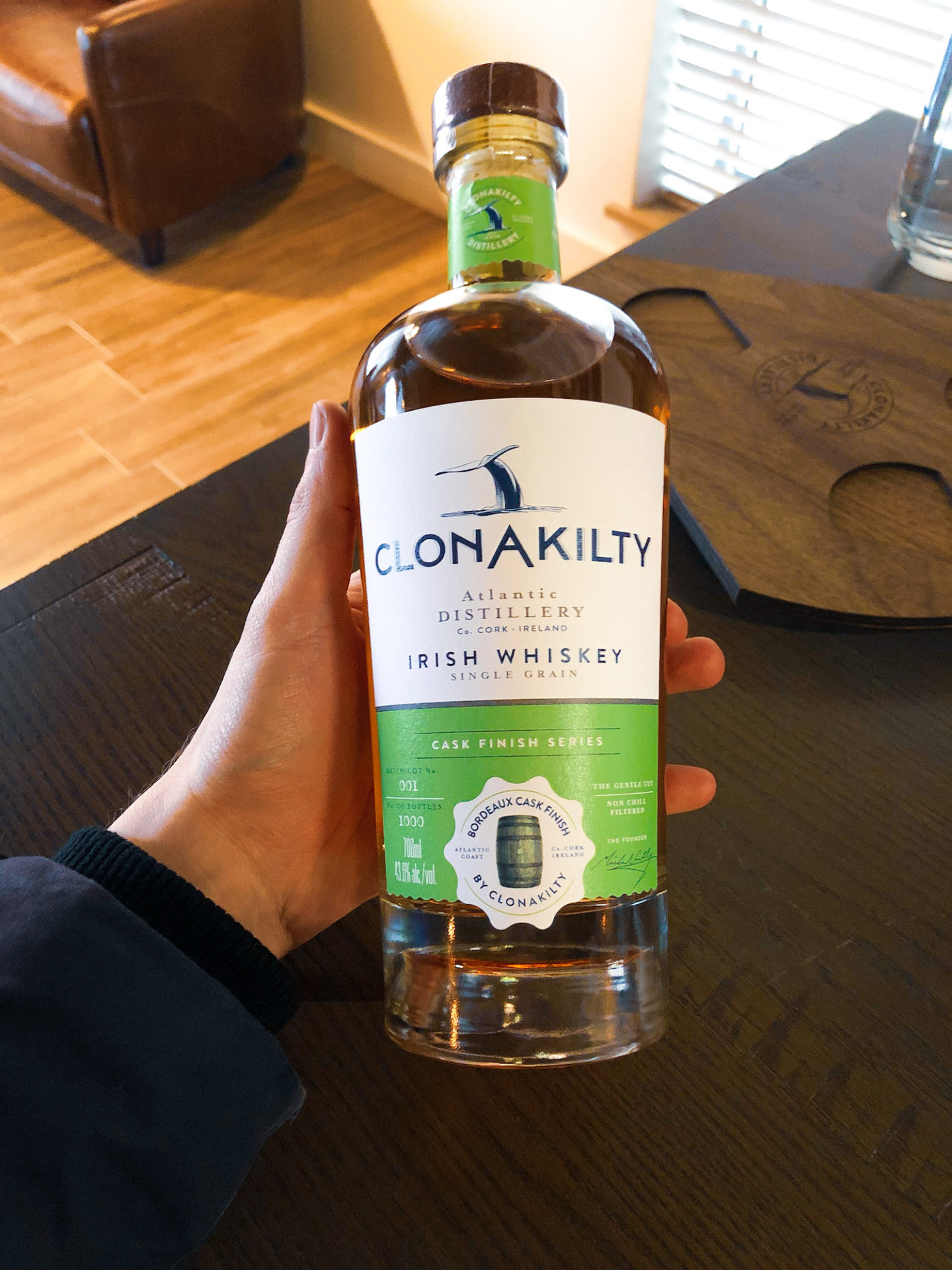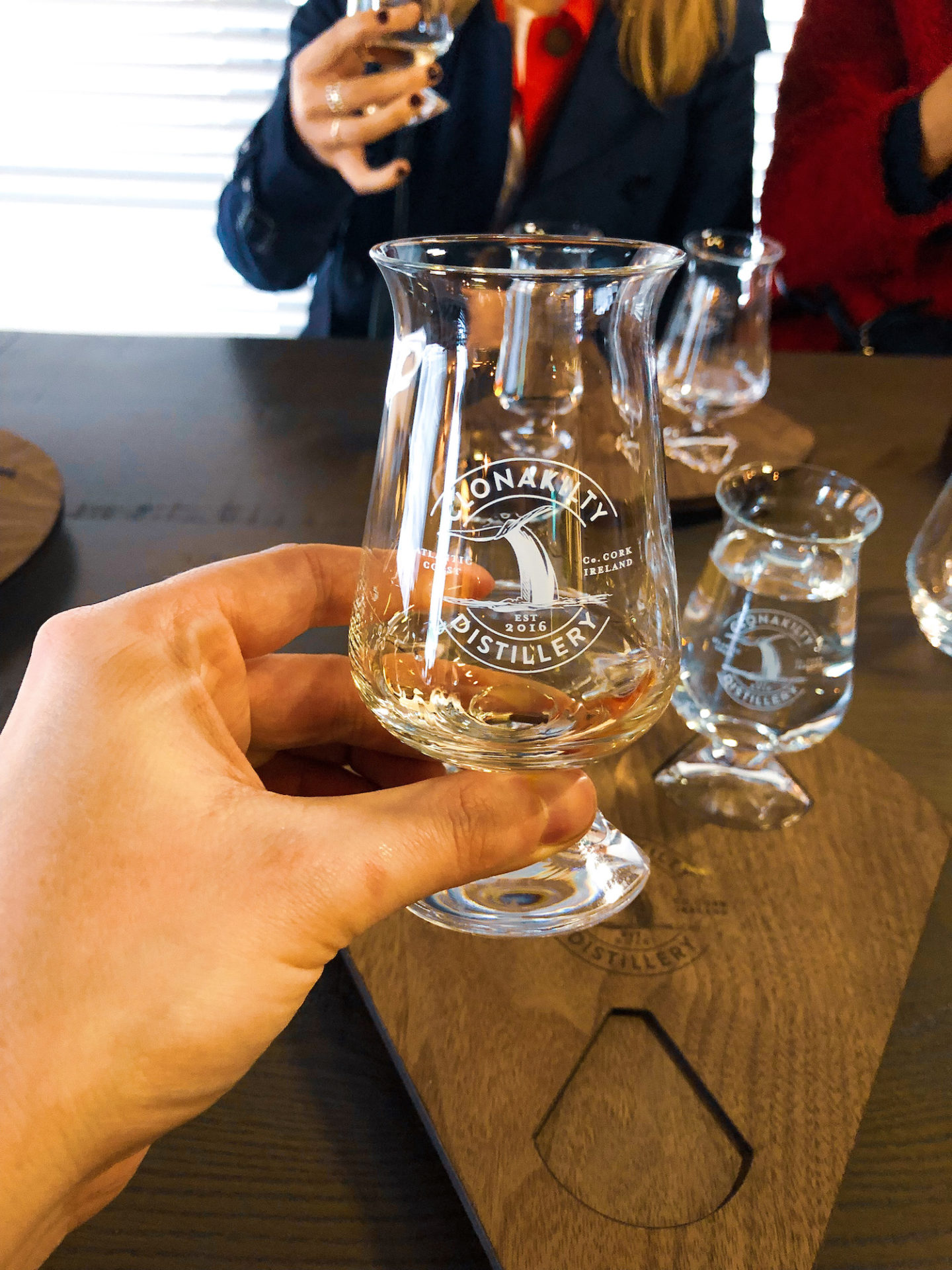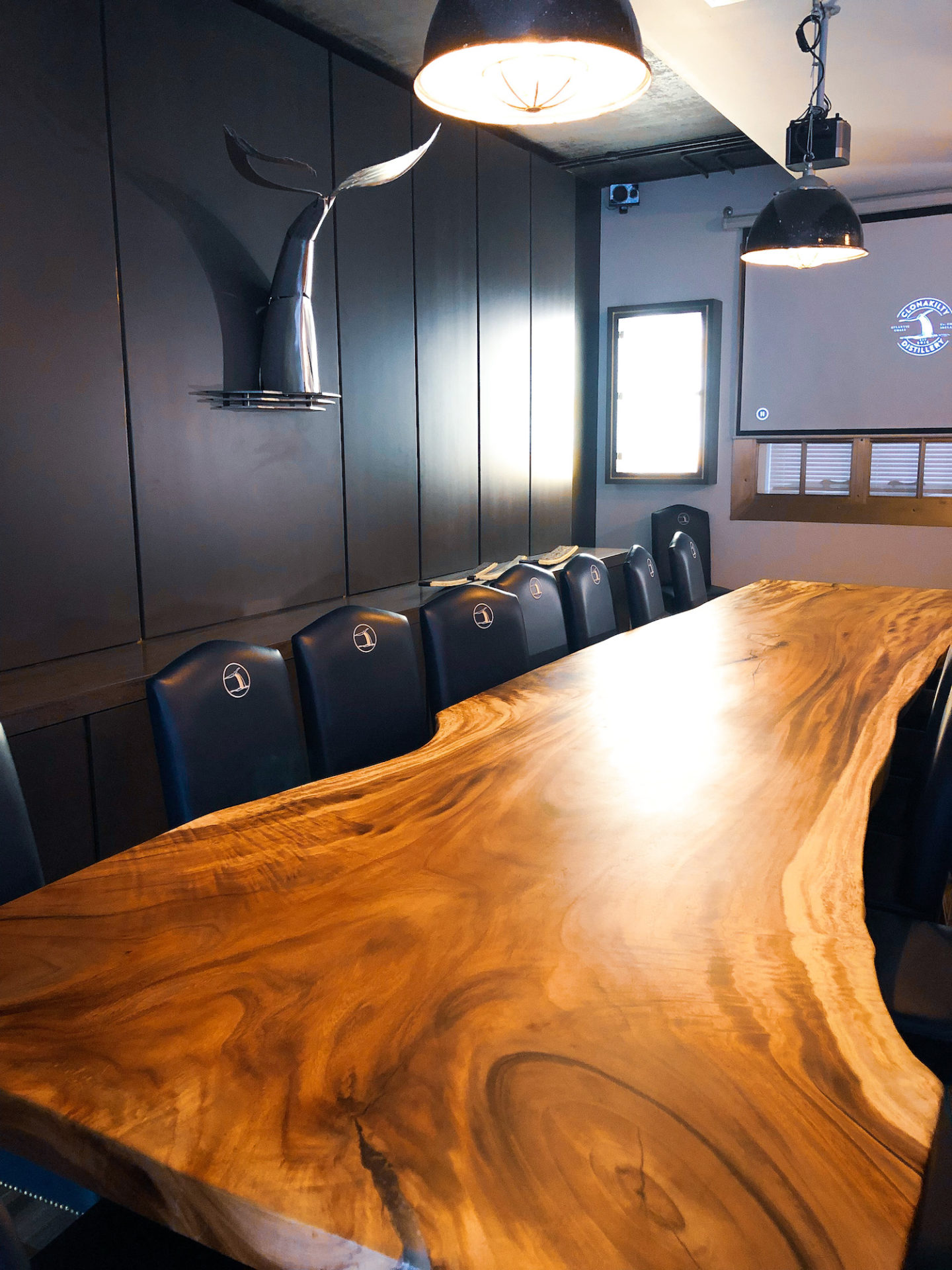 The gin they make is Minke Gin, an Atlantic coastline-inspired gin which takes its name from the majestic whales that often swim nearby and bears a beautiful salinity in the backnotes of this crisp and refreshing gin.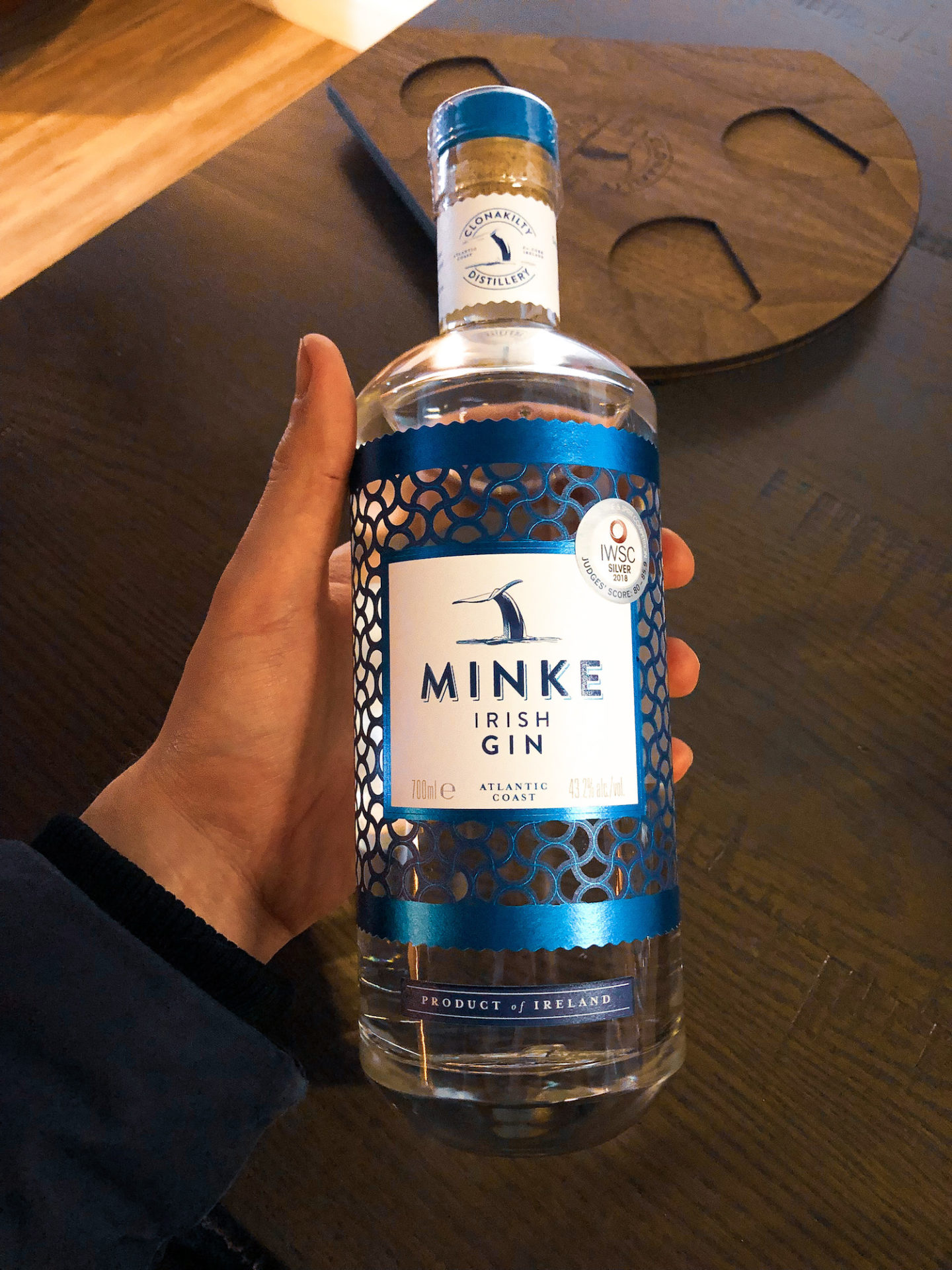 A spirit-producing behemoth based in the town of Skibbereen in West Cork, WCD has a number of gin brands under its belt which it produces via order for independent brands, such as Chinnery Gin, MíL and Ha'penny (both owned by Pearse Lyons Distillery), Glendalough, Garnish Island Gin, and Graham Norton Gin, among others.
The name Teeling is synonymous with Irish whiskey, of course, and though the Teeling Distillery has been a staple of Dublin city for the last number of years (with their in-house, in-aged whiskies slowly trickling onto market) Teelings is not a new whiskey by any stretch, and before their was their Dublin base they were distilling out of the Cooley Peninsula in Louth.
What were the operators of the Cooley Distillery, who also ran the Kilbeggan Distillery, GND is their new all-in space that's been in operation for around five years. They produce Ireland's only cloudberry-infused Sixling Gin for local Louth couple Tom and Nicola Grills under their Grills Spirits company.
One of the forerunners of the current craft gin explosion, who would have thought the town of Dingle would be advertised on bar and retail shelves internationally due to the success of the town's namesake spirits. Dingle Distillery is based just on the outskirts of the thriving West Kerry town and produces gin, vodka and whiskey at their facility. Established in 2012, they obviously cottoned on to the trend emerging before many others and they were right there when things went rumble before staying the course when it all went stratospheric for gin in Ireland. But, there's no doubt that this distillery is all about whiskey. Whilst their gin is incredibly popular, at a very value-focused price point and omnipresent on bar line-ups across the country, it seems it's their whiskey offering that they're really pushing and growing.
Dingle gin is crisp and lightly dry with flavours of rowan berries, bog myrtle, hawthorn and heather, subtly remarking the Kerry landscape, plus it's cut with local water accessed via a well within the distillery.
Tours are available at a cost of €15 per person, running for an hour and usually taking place at midday, 2pm and 4pm daily. Bookable beforehand online, they offer a slight discount for groups of 8 or more.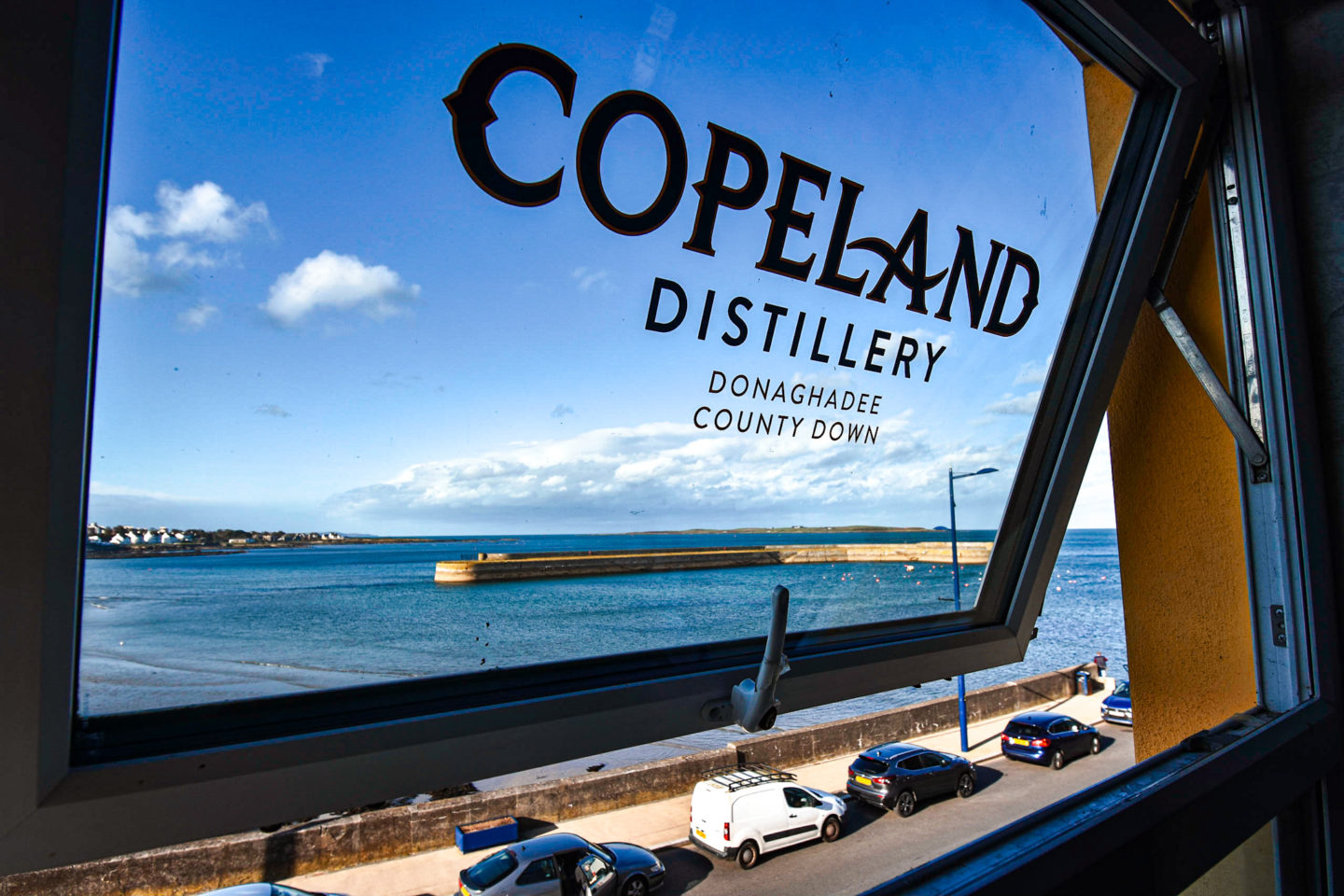 Whilst gin is taking preference for now, whiskey is going to pull focus and be a big draw for Copeland Distillery in Donaghadee down the line. We visited in late 2019 to see what their set up is like and they have a wonderful little operation going on in the coastal Co. Down town. We met two of the three partners in founder Gareth Irvine's distillery, Zoe and Tim, and Tim took us and the others booked on the public tour around for a closer look.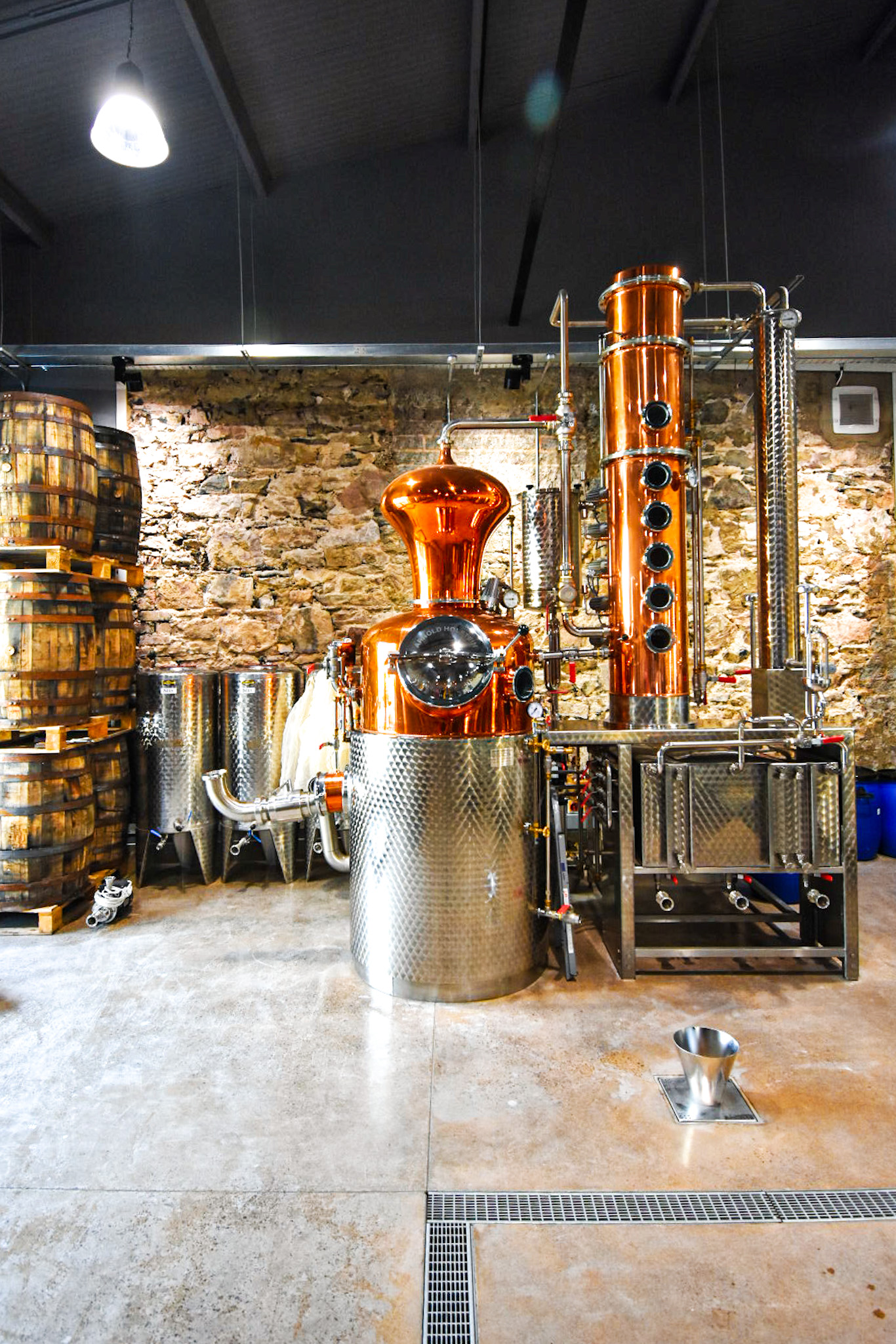 A lot of time and money has gone into setting this distillery up (which is housed in a former cinema beloved by the locals and now given a new lease of life) which has a tour and then a tasting session held nearby above a restaurant and bar in their self-styled Copeland Loft Bar. Of course, the nautical motif reflects the history of the town as a seafaring people, Copeland Islands which come into view from the second floor tasting room, and also the refreshing seaside taste that's captured in the sip. Unique botanicals in their namesake gin include cubeb berries, pine needle and Sea Pink Maritima whilst a punchy Navel Orange citrus note punctuates the serve. What's more, they've also just announced a collaboration, producing a premium own-label gin for Galgorm Estate using certain botanticals grown on its own estate.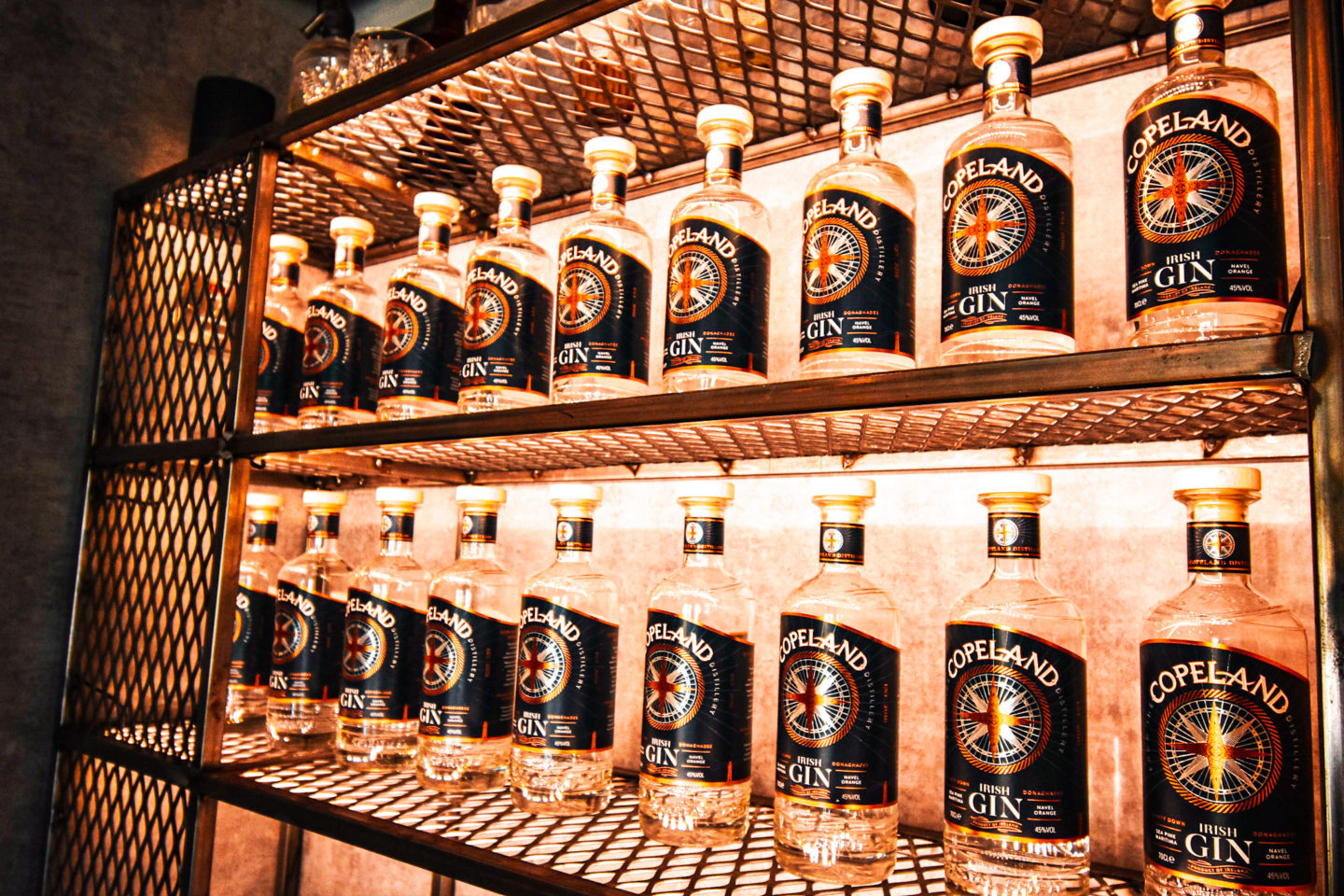 Whilst Copeland's whiskey experimentation is ongoing and their gin production is increasing, tours are big business for the small team and they run tours daily, lasting 1.5 hours at a cost of £20pp and must be pre-booked online.
13. Drioglann Lough Measc, (Lough Mask Distillery) Toormakeady, Co. Mayo
Now, much of the juniper used in Irish gins is not from Ireland –– not even close, with the best of it coming from the Balkans and North Macedonia, we believe. But there are a few wild juniper to be found here and there, in in Co. Mayo Lough Measc Distillery imbue their namesake gin, Lough Measc Gin, with the wild ones they find that "thrive around" their lakeside distillery, which began in 2018.
So the flavour you'll find is intensely juniper led and captures an essenxe of the Irish countryside. Good in a G&T, they suggest, but try it in a classic Negroni, too! They also produce a copper still Vodca (vodka, but as Gaeilge) using the Lough's water. They're also, like many others, focusing on Irish whiskey for the future investment of the distillery –– and if you ever wanted to own 400ish bottles of whiskey at your disposal, this is your opportunity. You can buy a founding cask of their future Single Cask, which will trickle onto market in 2021 after aging in oak barrels.
Hour-long tours (€10 per person) run year-round, a couple of days a week and if busy at four times daily – 11am, 12pm, 1pm, 2pm, bookable on their site.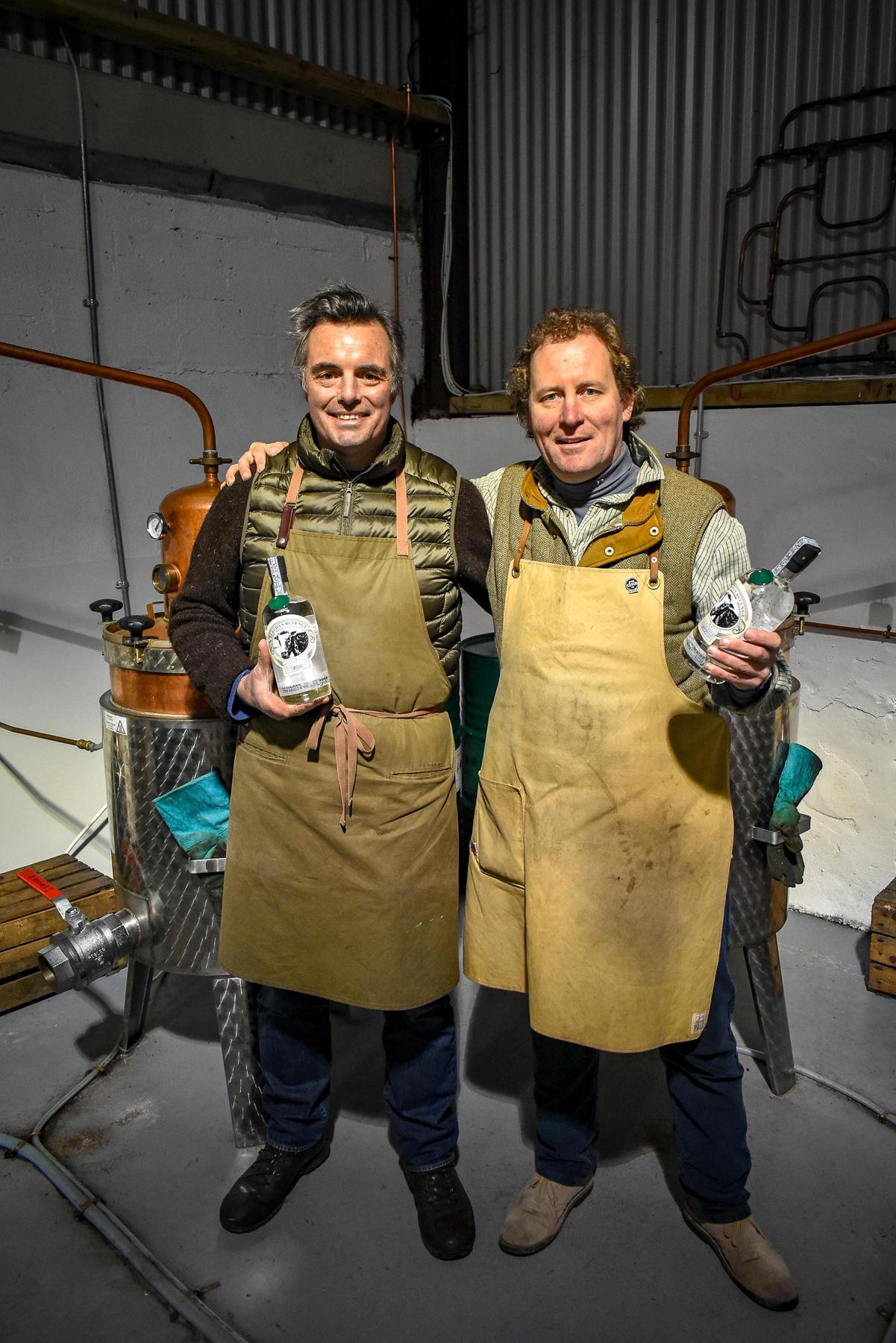 Based out of the wonderful period home and guesthouse Ballyvolane House just outside Fermoy in North Cork, Justin Greene and business partner Antony Jackson produce Bertha's Revenge Irish Milk Gin –– one of the most celebrated, premium gins in all of the land, and a personal favourite of ours, too.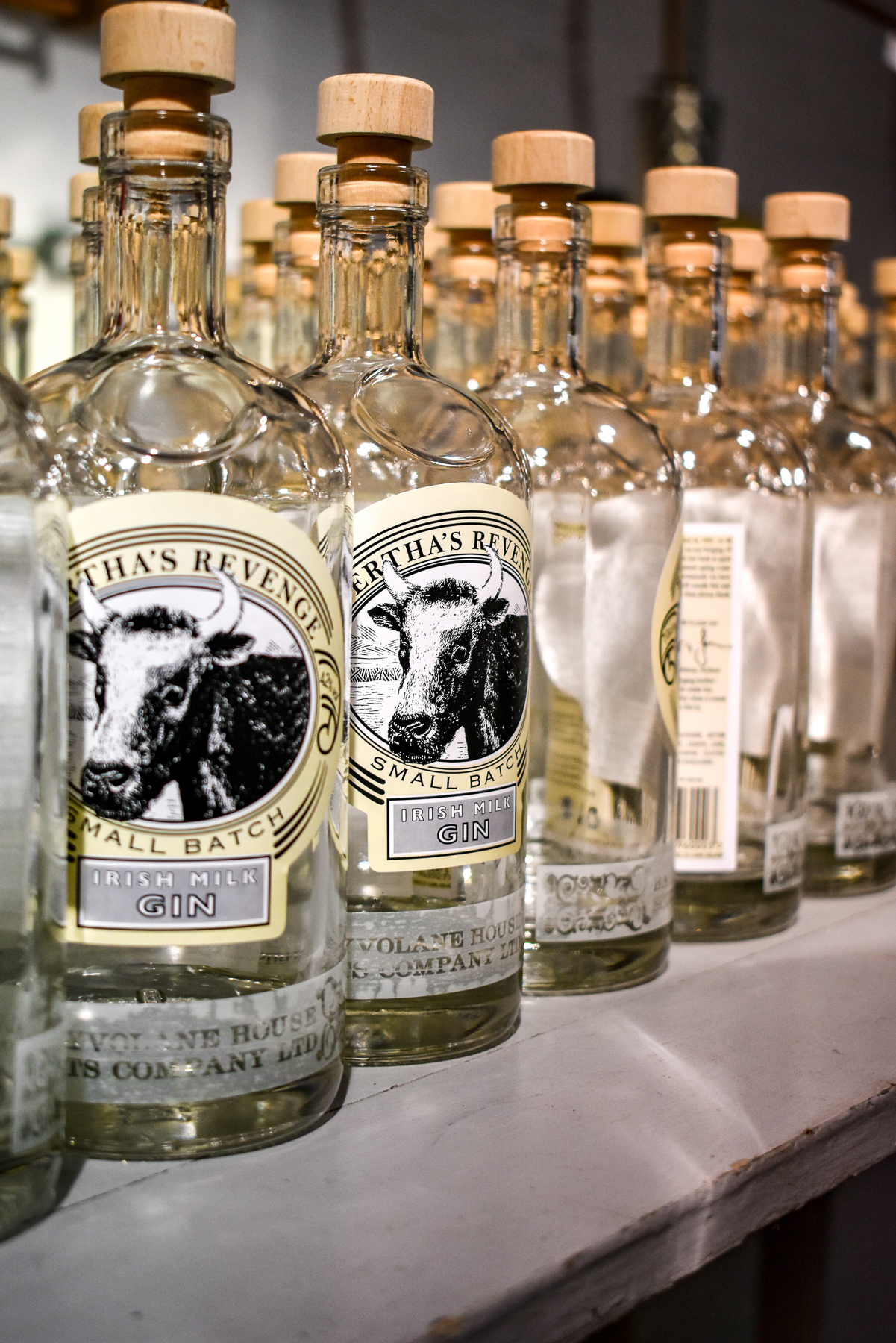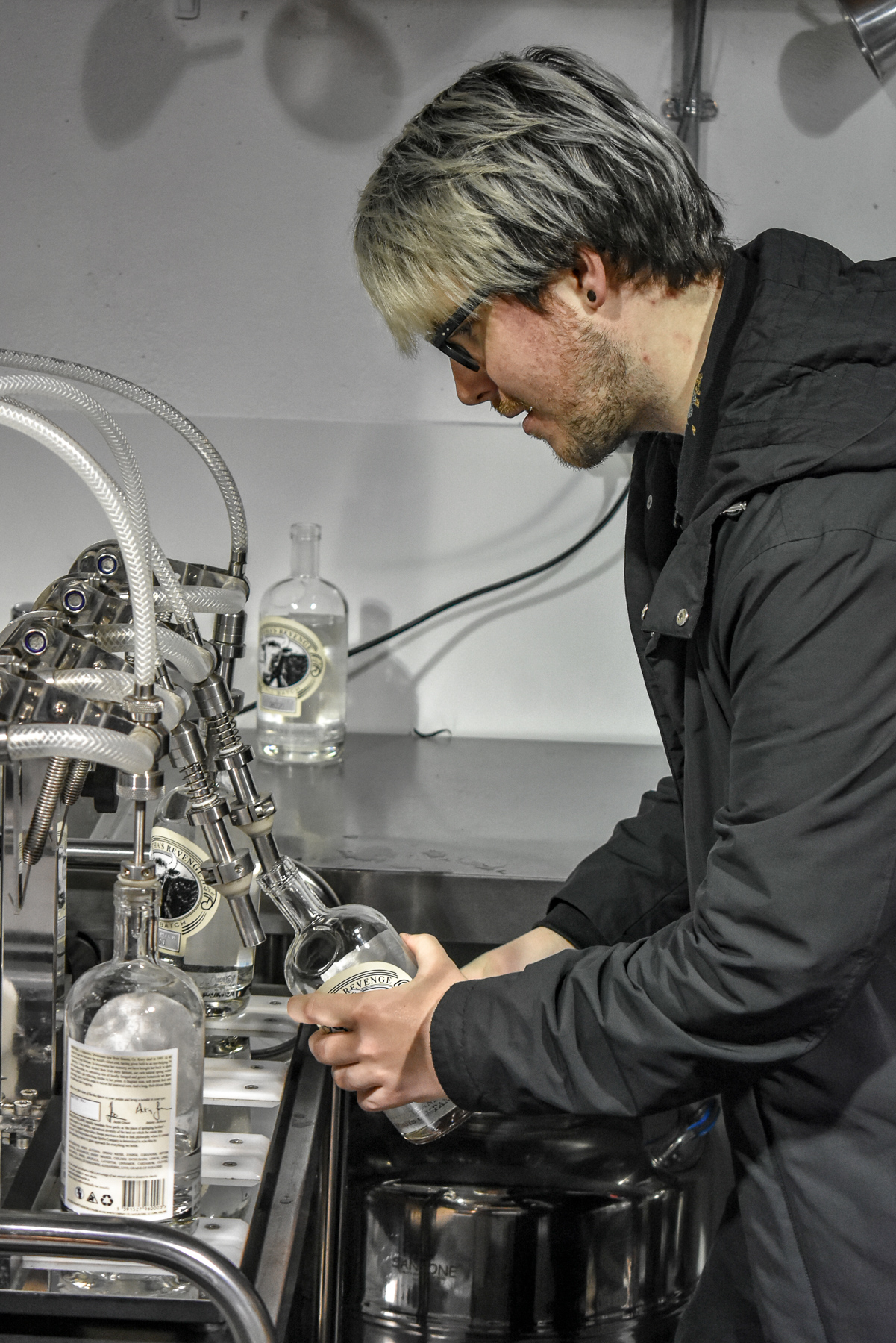 Listen back and remember the time we headed down and interviewed the pair for Chew The Fat, where we got an insider insight into their ultra small-scale production and their unique method of distilling their own whey spirit, a by-product of the dairy industry.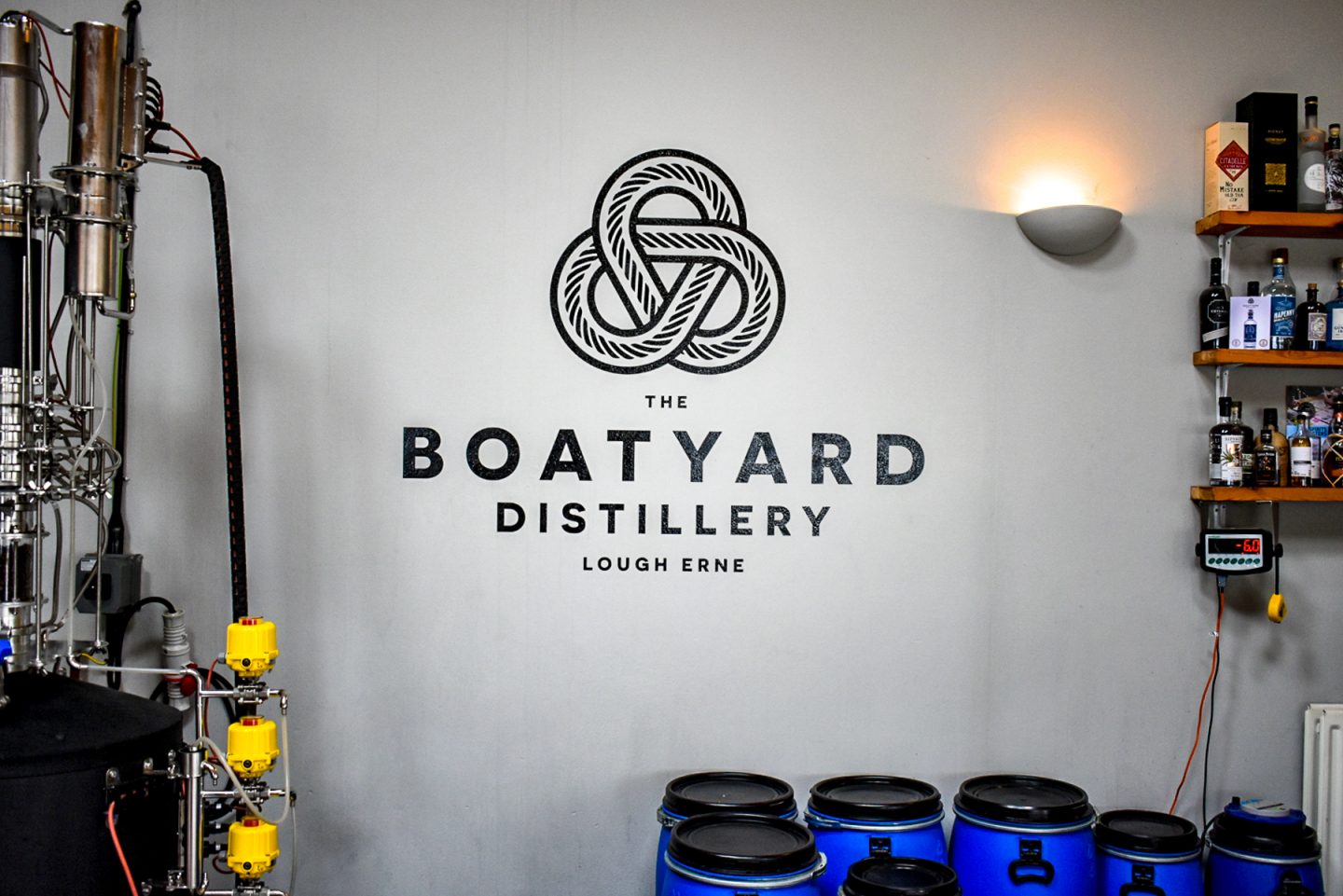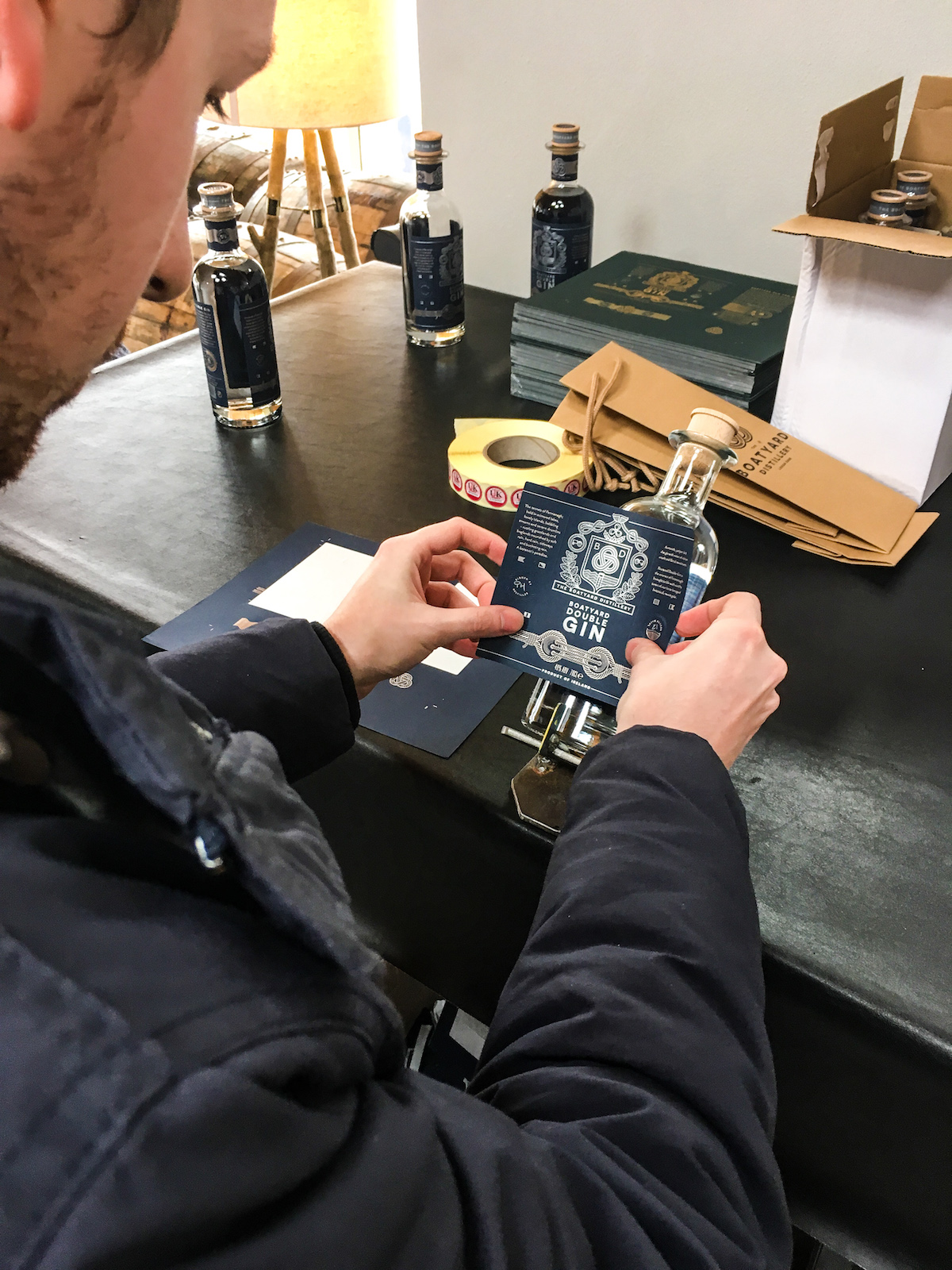 A family-run operation in renovated former boat buildings by the shores of Lough Erne, Boatyard's super smooth and impressively sharp gin is the toast of some of the best bars in London and beyond. They also produce a vodka, but their gin is all distilled, hand-bottled and shipped from their own distillery in Fermanagh, which offers tours to the public and which we booked on ourselves in 2017 when we visited Lough Erne Resort.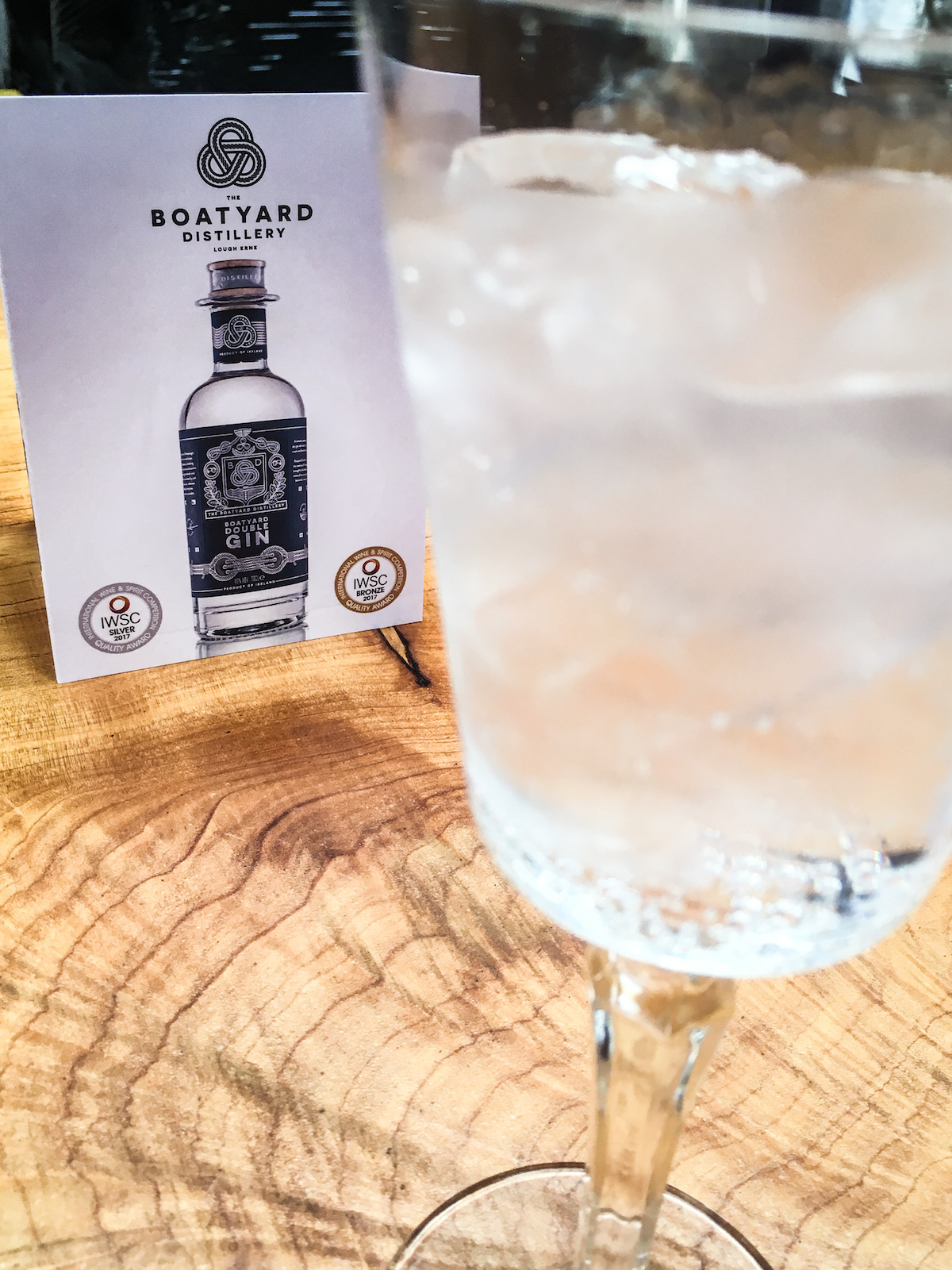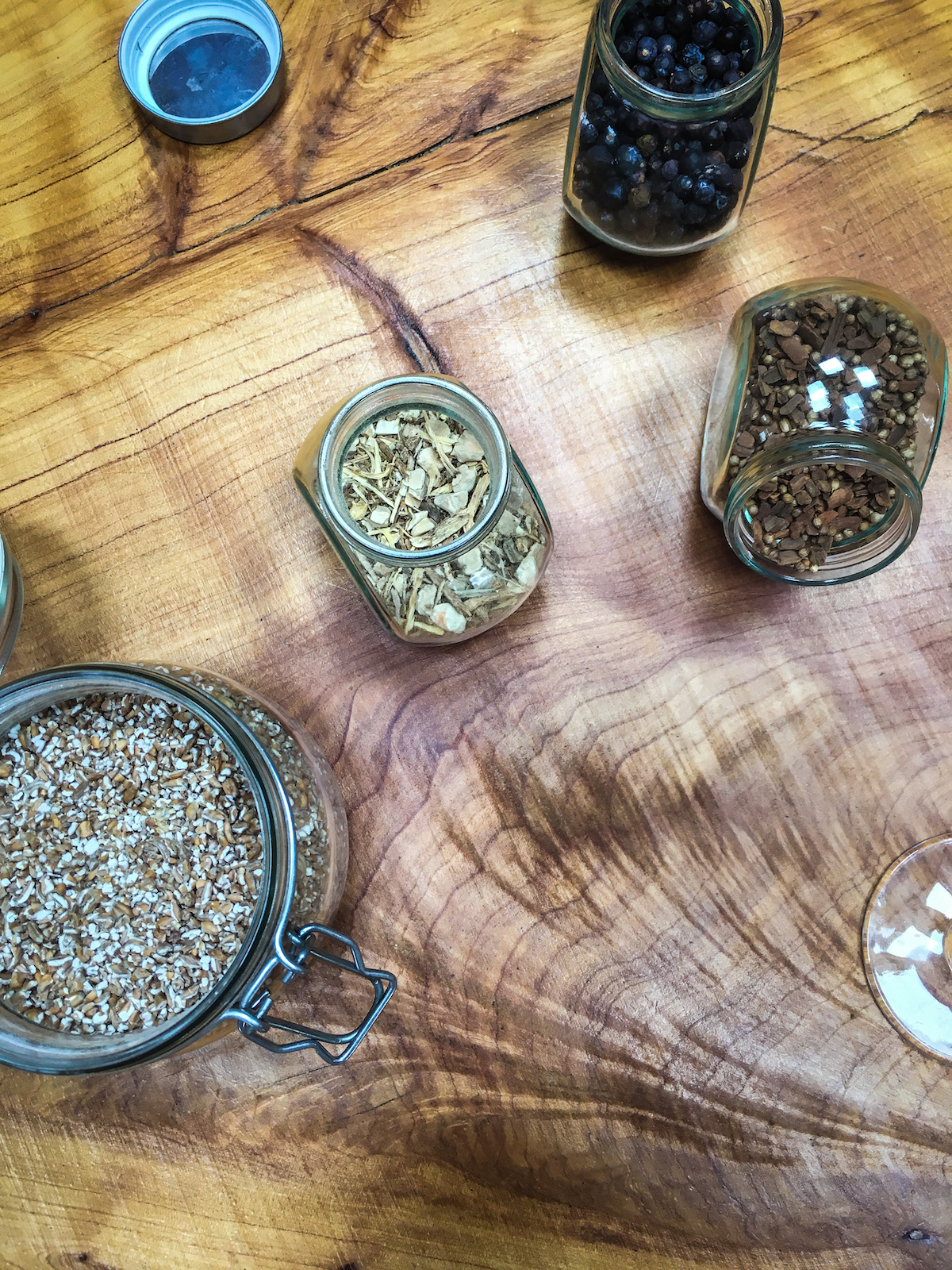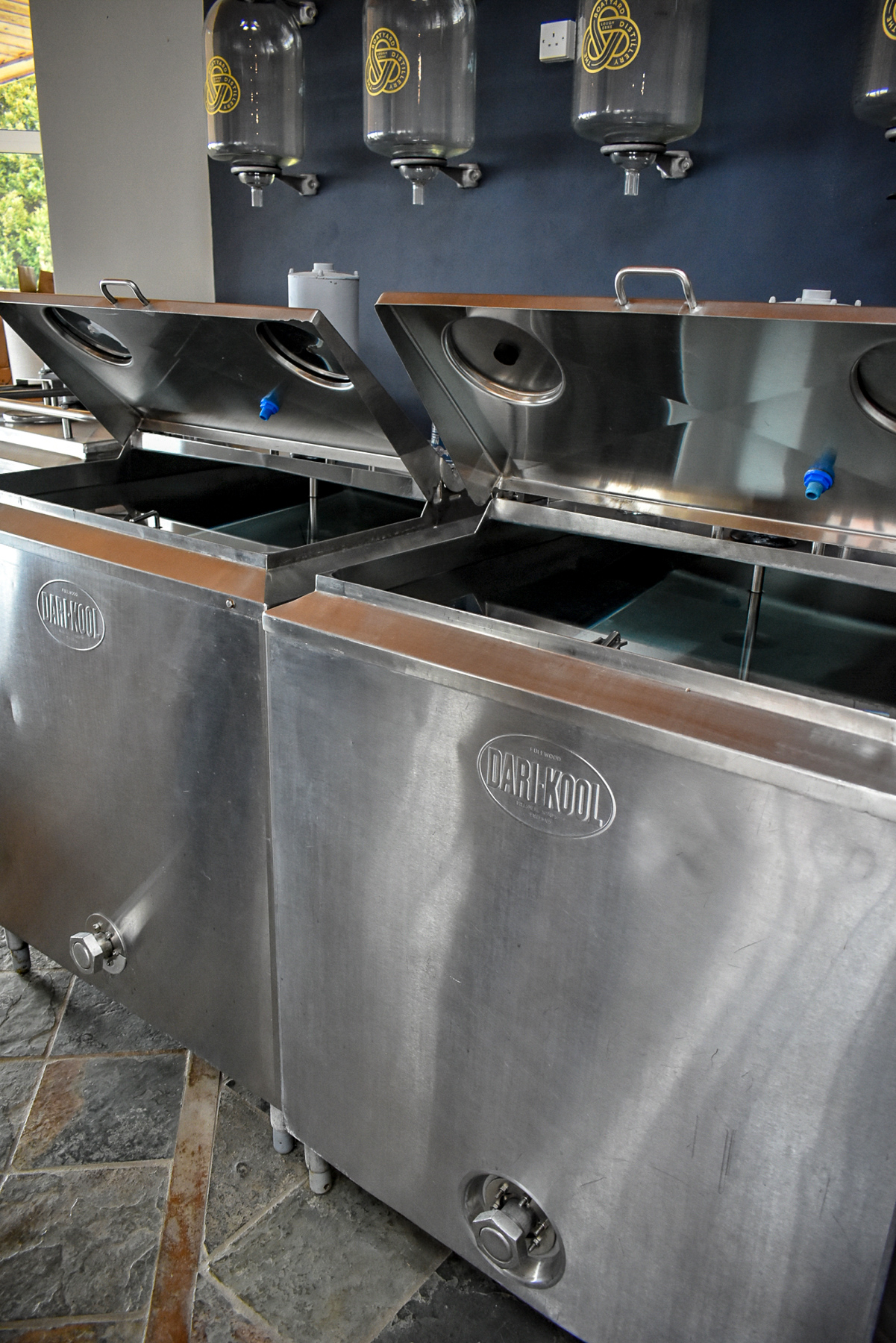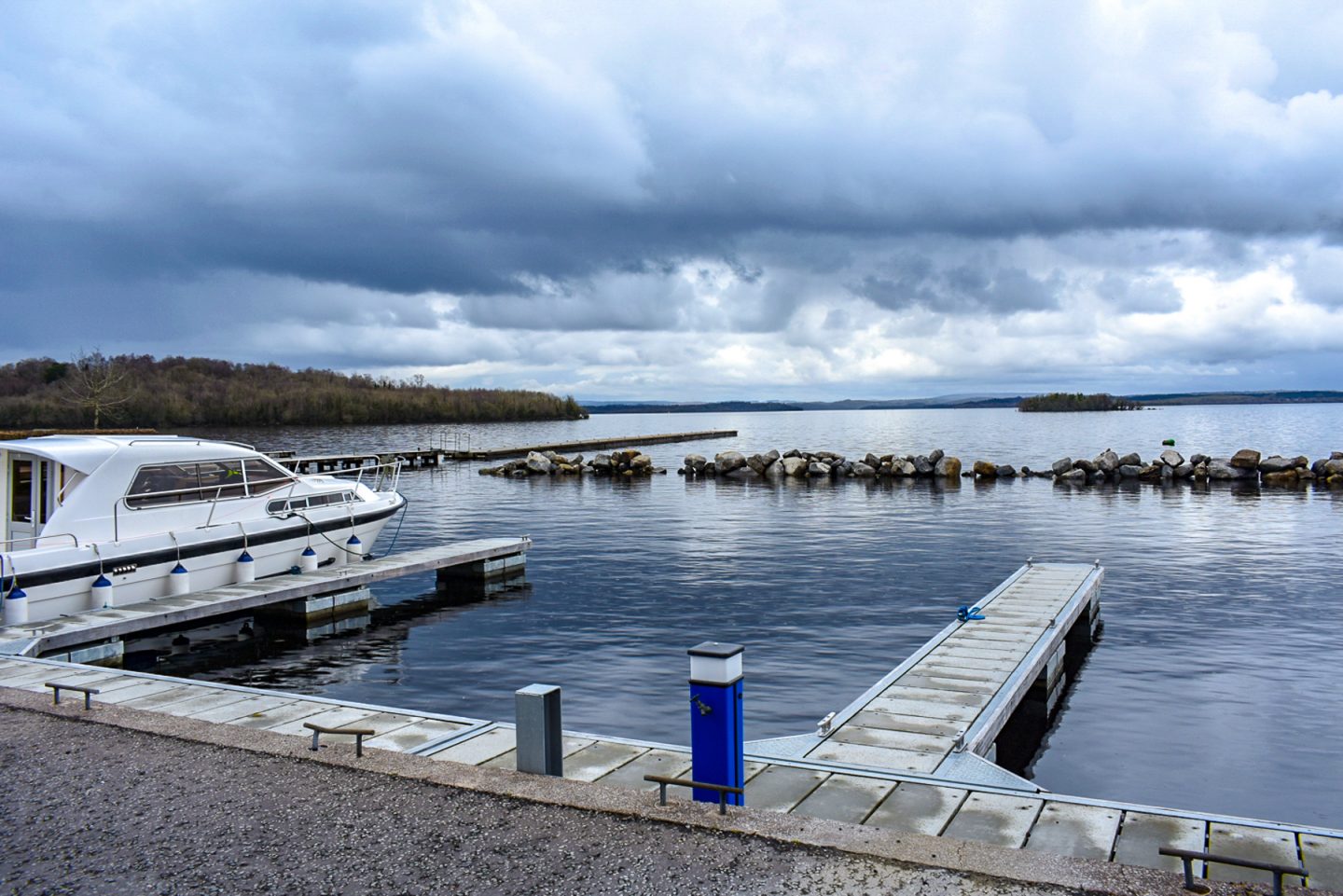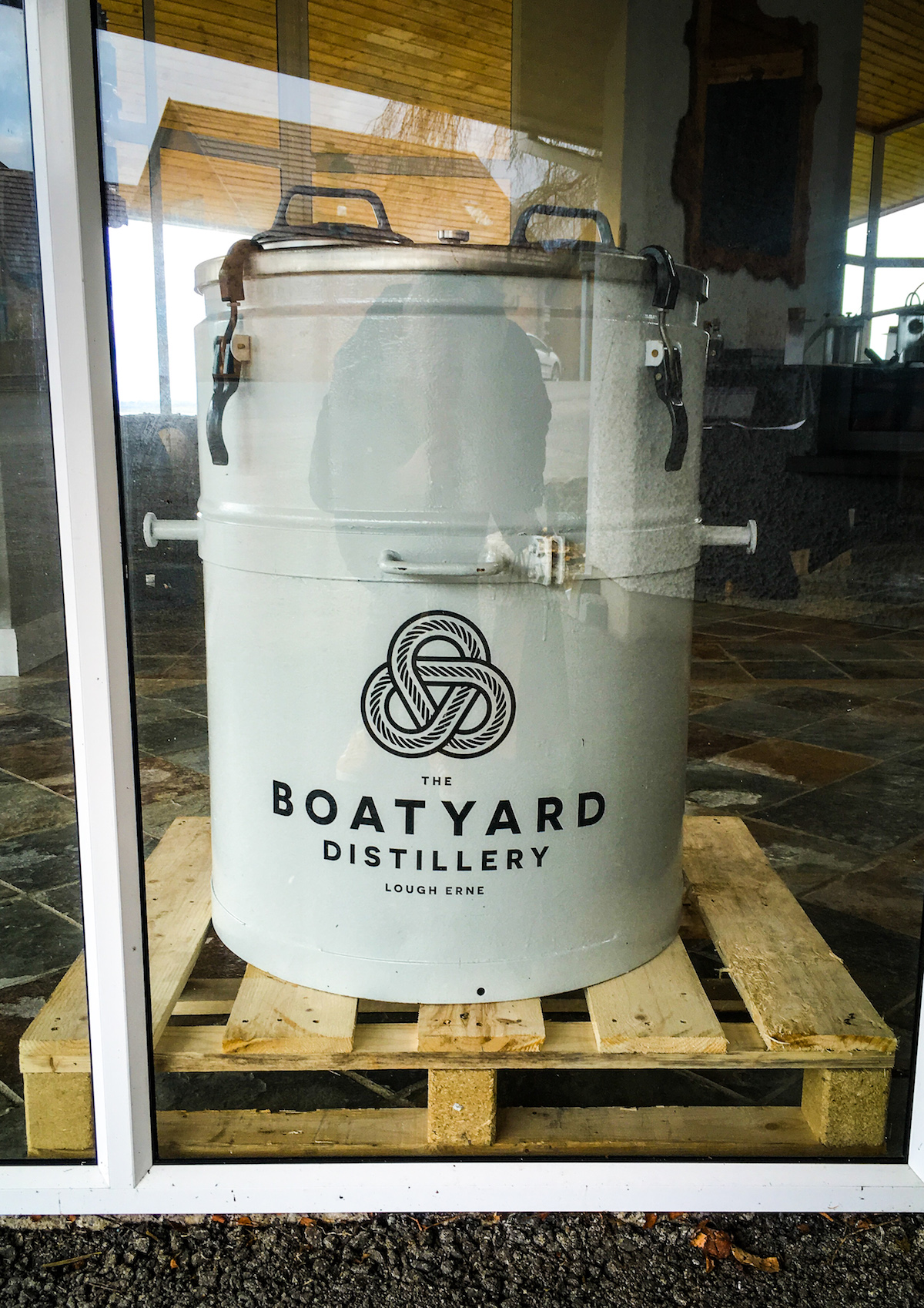 16. Drioglann Inis Cléire (Cape Clear Distillery), Cléire, West Cork
Barely out of nappies (or diapers, if you're reading stateside), Cape Clear is amongst the newest distilleries on the island, but, actually, it's not even technically on the island of Ireland –– it's the only distillery in the country set on its own island. A Gaeltacht (Irish speaking) island of just over 100 inhabitants, set eight miles from the coast of West Cork, Cléire – or Cape Clear Island as bearla (in english) – is home to the community-run Cape Clear Distillery. [Side note: which is open to investment, if you're eager to become a small shareholder and help them grow! More info on their website]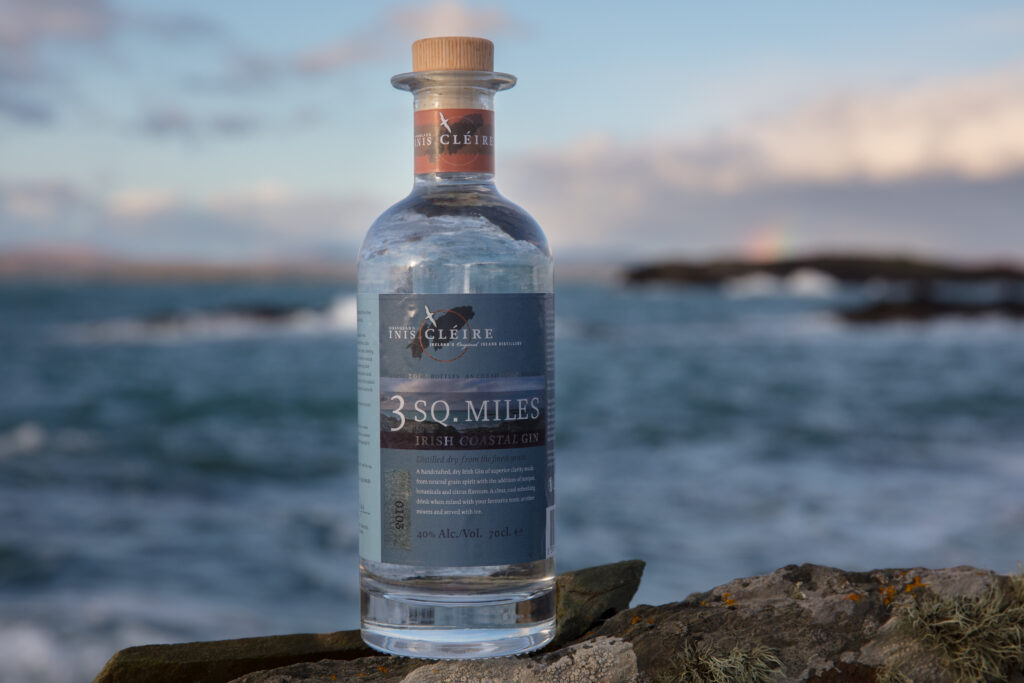 3 Sq. Miles is the name of their gin and no surprises for guessing that it's inspired by the wild Atlantic and what grows on the coastline all around them. Dry in style and made in super super small batches, 3 Sq. Miles Gin features the flavour of laminaria digitata, a brown, leathery, long seaweed more commonly known as 'oarweed' as well as fuschia and honeysuckle, whilst of course juniper and citrus sit at the forefront and their gin is described as 'refreshing an evocative of the brisk Atlantic air'.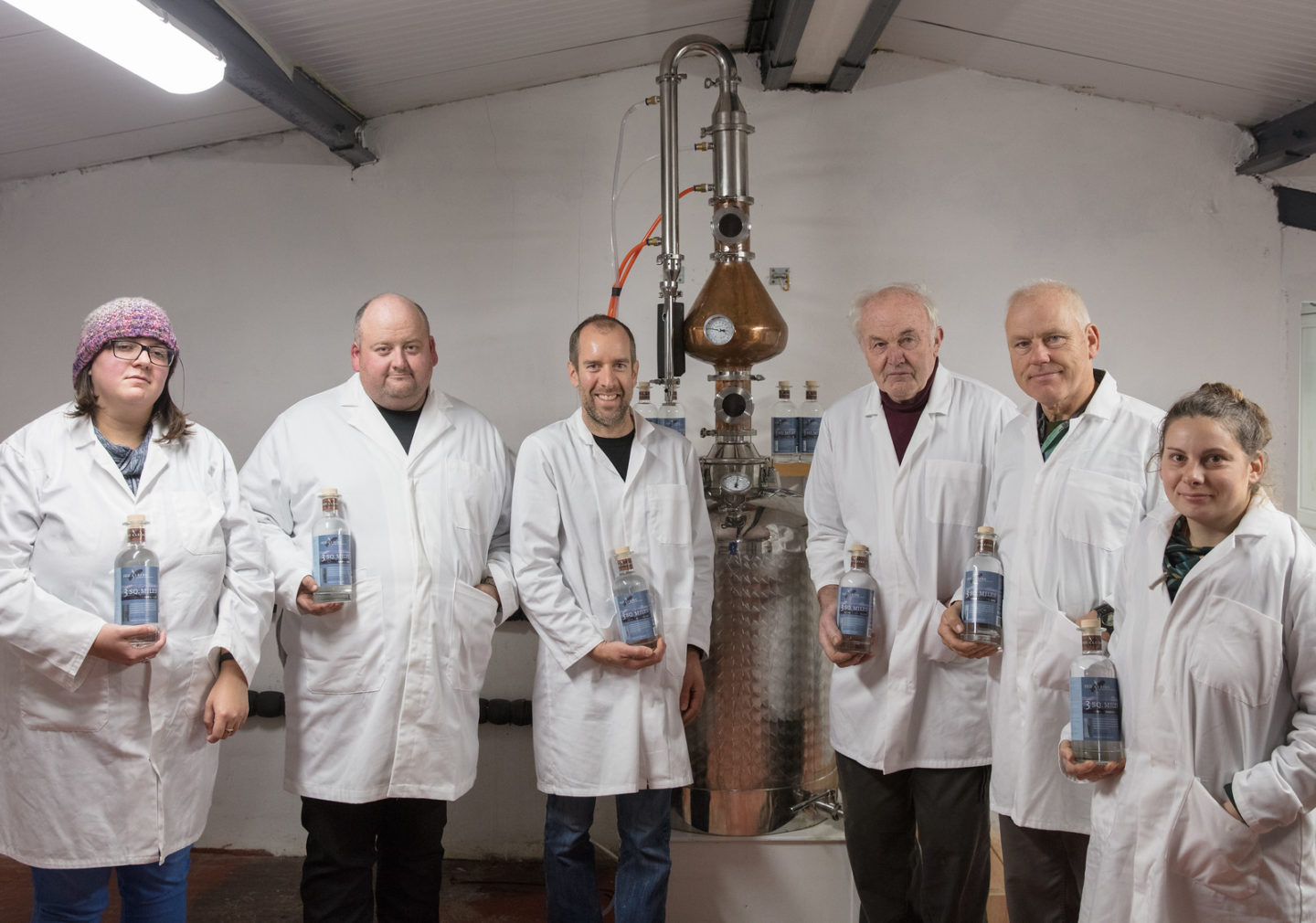 We're told whiskey will follow, and a fun fact this will be the southernmost spot Irish whiskey is allowed to be produced at, but for now this is their first product to-market, and is begining to rack up stockists across Munster and beyond. If looking for something interesting, keep an eye on this!
Based just below the border in Co. Monaghan and outside Carrickmacross, Old Carrick Gin (in small batches) is produced by this distillery, operated by Stephen Murphy and began in 2014. The distillery is set on the grounds of an old mill that dates back two centuries in Ireland's Ancient East region, hence the name.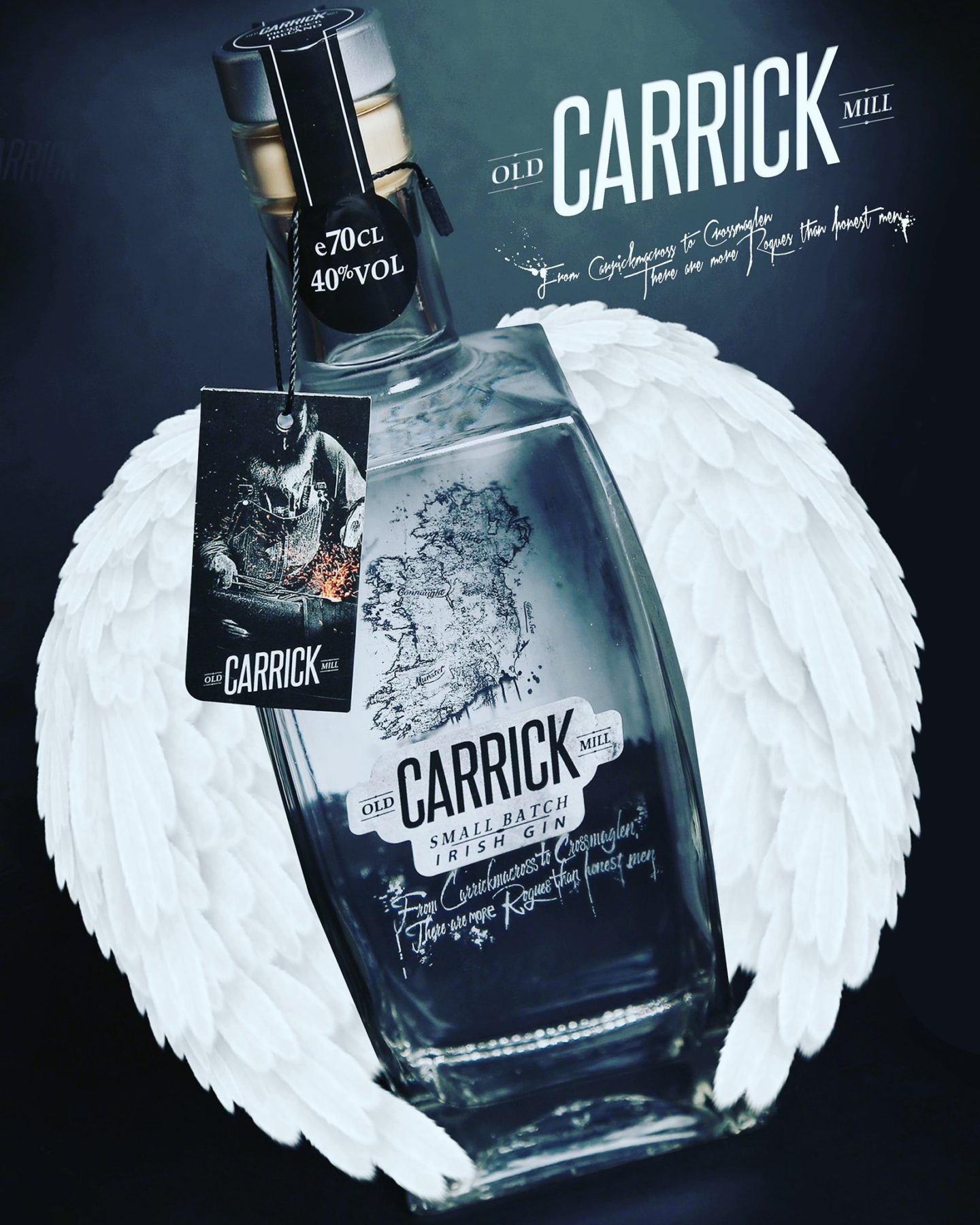 Stephen produces gin made using water from two privets wells onsite, coming filtered through the Co. Monaghan limestone. Old Carrick Mill Gin is distilled with ten botanicals added to the recipe resulting in unique flavours of pear and black tea, alongside the dominant flavour of juniper. Like many others on this list, whiskey is the ultimate objective and a visitor's experience/tour is planned for the future.
The Clancy family set out on a whiskey mission when the idea of a distillery was first discussed. Like many other distilleries waiting to produce whiskey, gin is a great, quick stop-gap and so Sling Shot was born, whilst they also produce a Zesty Citrus Vodka, too. What makes Sling Shot unique is that it's the first gin to be distilled using peat as a botanical; a very Irish twist! So think of Scotch whisky compared to Irish whiskey, now apply that to Sling Shot versus its competitors, and you'll begin to form the picture. Though, this isn't heavy or smoky, it's high on citrus, spice and features a hefty whack of mint to balance out that earthy undertone. The family are currently renovating a Georgian property to move production and create an enhanced visitor experience right by the Shannon river, set to open at the end of 2020. The also have a Gin School, the second one in Ireland after Listoke in Louth, which unlike Listoke isn't actually on the site where the gin is produced, but it's based in a bar called Churchtown Stores in Churchtown in the Dublin suburbs… but we wonder if they will also include a school in their plans for the new distillery?
Pádraic Ó Griallais came to gin by way of poitín, that once-outlawed-for-two-centuries high proof Irish white spirit, sometimes produced using potatoes or sugar beet but more commonly using grain. Pádraic traces this distilling heritage 170 years within his own family, with his great-great-great grandfather first producing the spirit in Connemara in 1848, and after 200 years illegal, since 1997 poitín has been slowly coming back and having a resurgence.
So that's where he began, but that's not where this story ends, and having opened Galway's first legal distillery in over 100 years, Pádraic quickly added a gin to his line-up.
Micil Gin is self-described by the owner (and head distiller) as 'A West of Ireland take on a London dry' and uses local botanicals where possible, sourced – and even hand-picked – from bogs, hedgerows and the rugged Connemara seashore. It has a fragrant citrus nose, with hints of heather and bog-myrtle, and has a delicate, sweet liquorice back note with a warm spice linger and a silky finish. They offer tours of the working distillery since mid-2018 five days a week (Tuesday – Saturday, usually at 2pm, 4pm and 6pm) at a cost of €18 per person.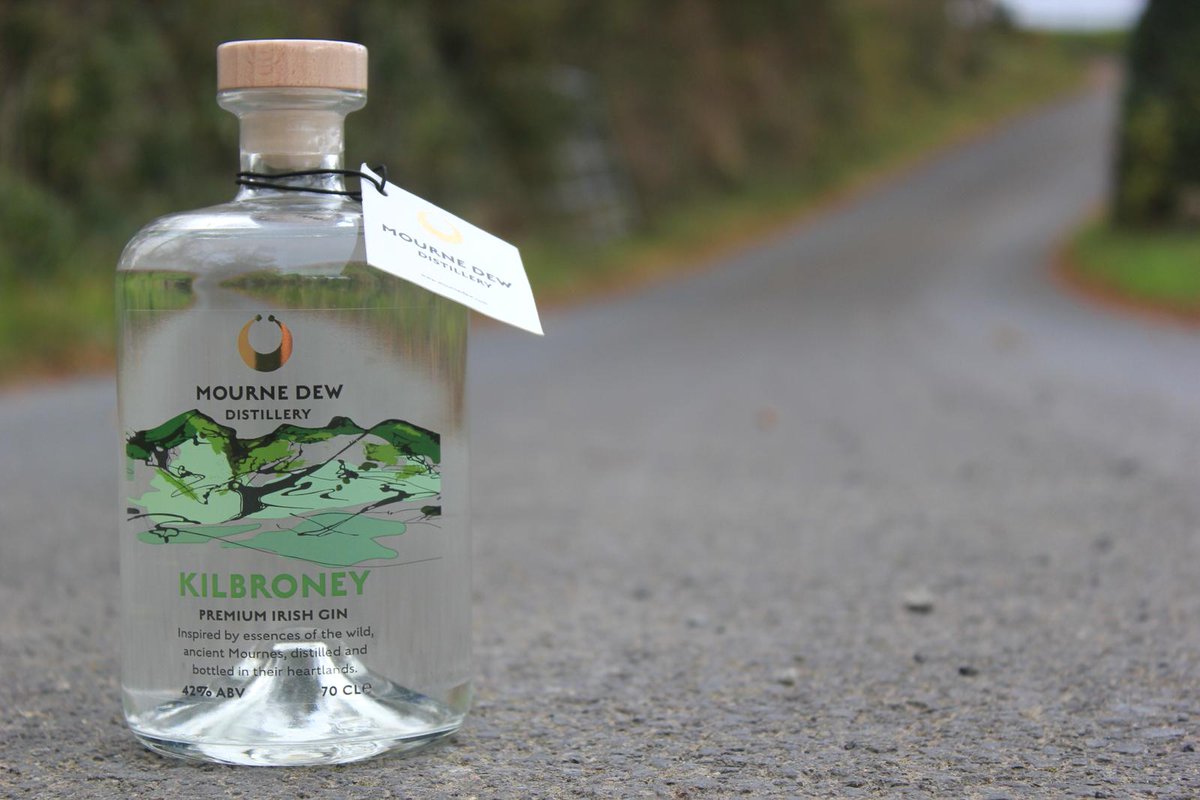 A relatively new player on the market, this is a distillery based out of Warrenpoint just inside the Northern Ireland border which doesn't offer tours or visits to the public, but has an award-winning range of gin and poitín –– including their hazelnut poitín which won gold at the Blás na hEireann Awards in 2019. Being judges at it, we didn't judge their category but we tried it and many of us judges were blown away by the unique flavour and the softness of such a famously harsh white spirit.
Their gins are a pair so far: Kilbroney Premium Irish Gin & Rostrevor Ruby Irish Gin, the former a quite classic melange of citrus and floral, whilst the latter is a berry-packed, fruit flavour with an intense ruby colour.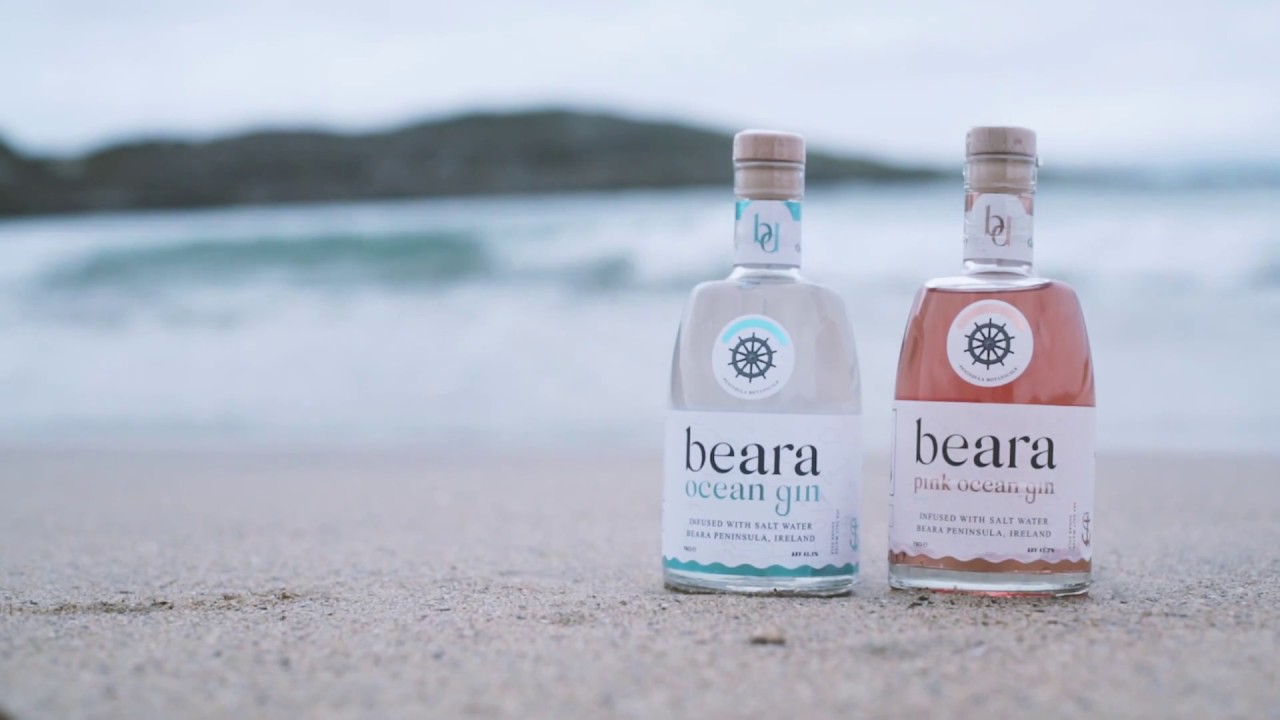 Another family-owned distillery, Beara produces a duo of gins, both ocean-inspired and proverbially sea-sprayed: Ocean Gin distilled with the flavours of Ventry Harbour sugar kelp and Beara fuschia flowers; and Pink Ocean Gin, featuring many of the same botanicals with added rosewater and cranberry.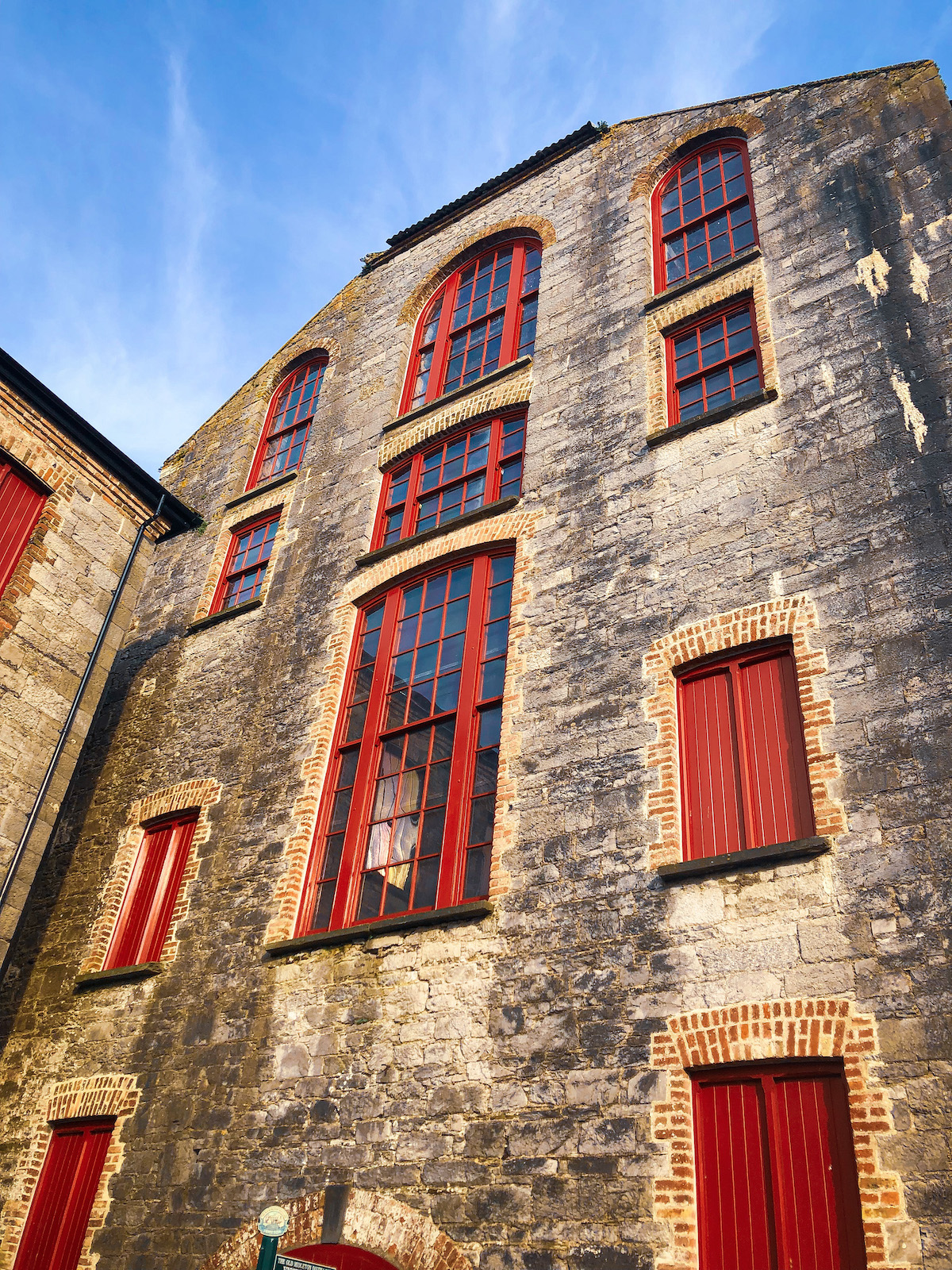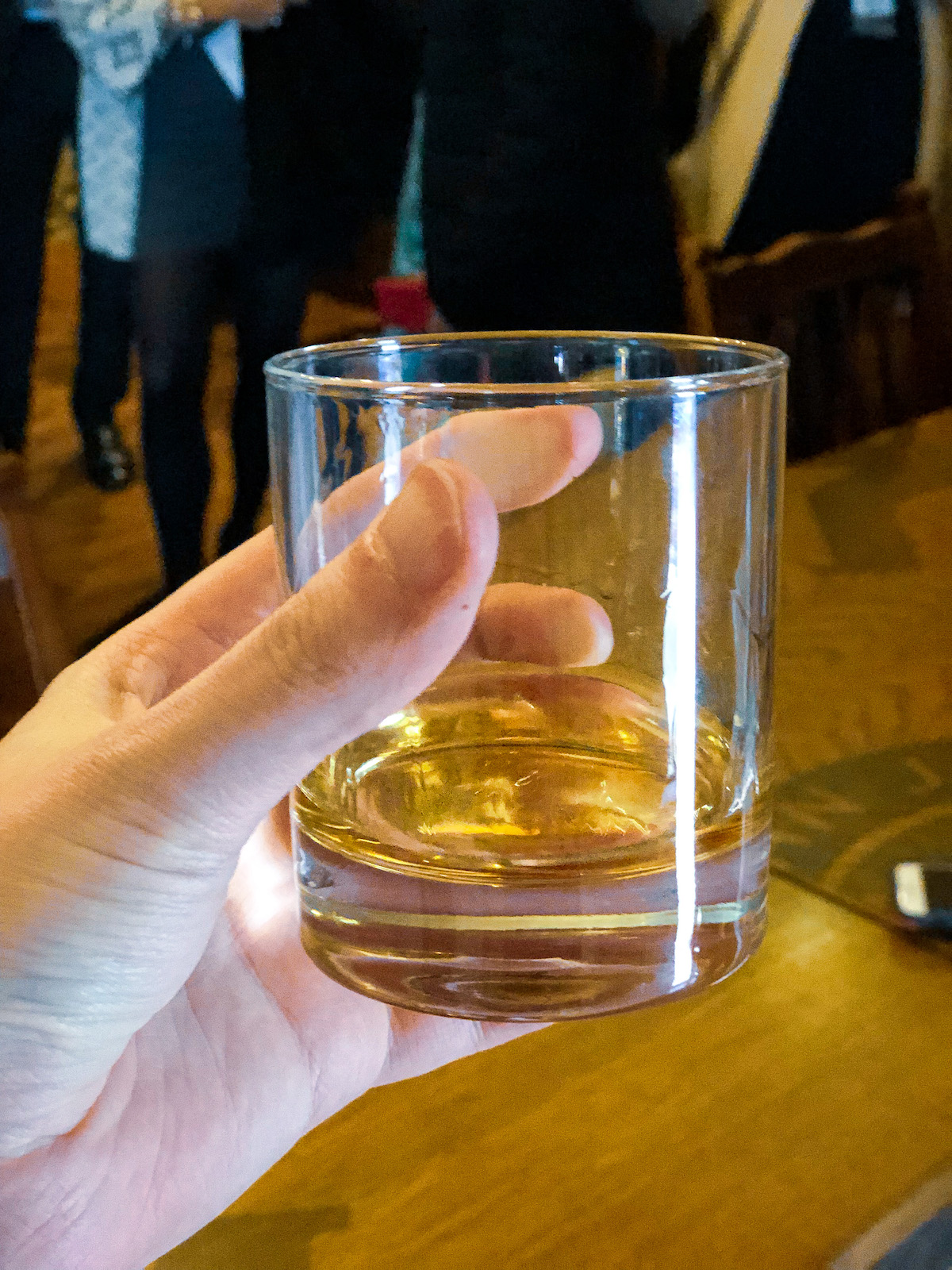 Pernod Ricard-owned mega distillery Irish Distillers (which formed back in the mid 1960s when three whiskey distillers merged together) is the largest producer of Irish whiskey on the island, famed for their ownership and production of brands Jameson, Powers and Paddys, as well as Redbreast and Yellow/Green/Red Spot. Bushmills was once owned by the group (fun fact, at the time when they owned it they effectively controlled all of the whiskey trade in and going out of Ireland), but sold to Diageo 15 years ago. Paddys Whiskey was also a house brand, sold to Sazerac more recently, but is still produced at Midleton.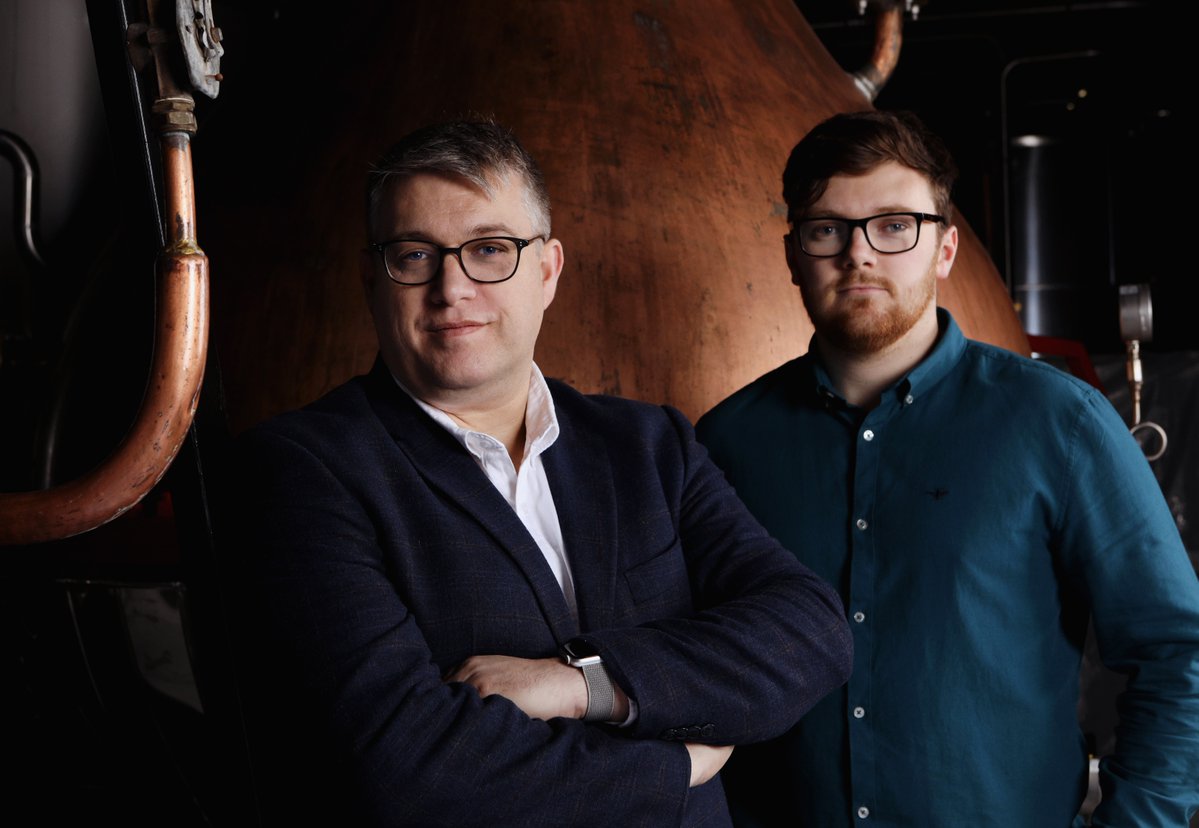 So what's all this about whiskey, eh? Well they have a dab hand in gin, producing Cork Dry Gin which has been omni-present on shelves for generations, whilst they also took the first foray into craft gin many moons ago with Crimson Gin, which Munster natives of a certain generation may remember! Recently, they've unveiled a new brand Method and Madness, which encompasses a range of premium whiskies and a new premium craft gin offering. We attended the launch at the distillery in 2019, so read on to find out more about Method & Madness gin.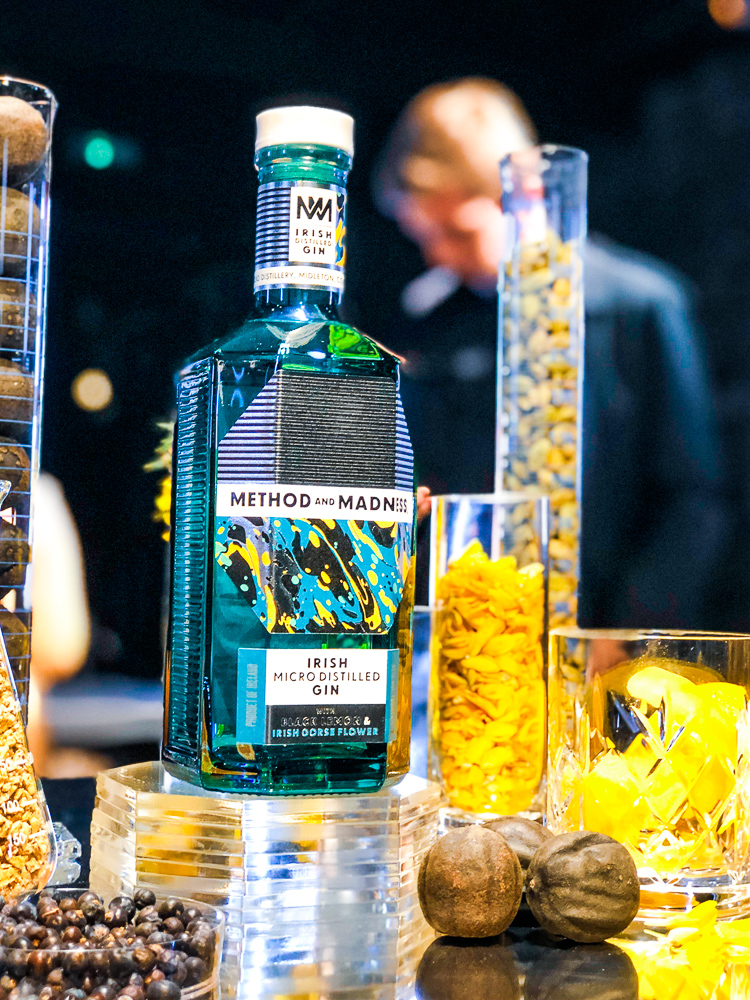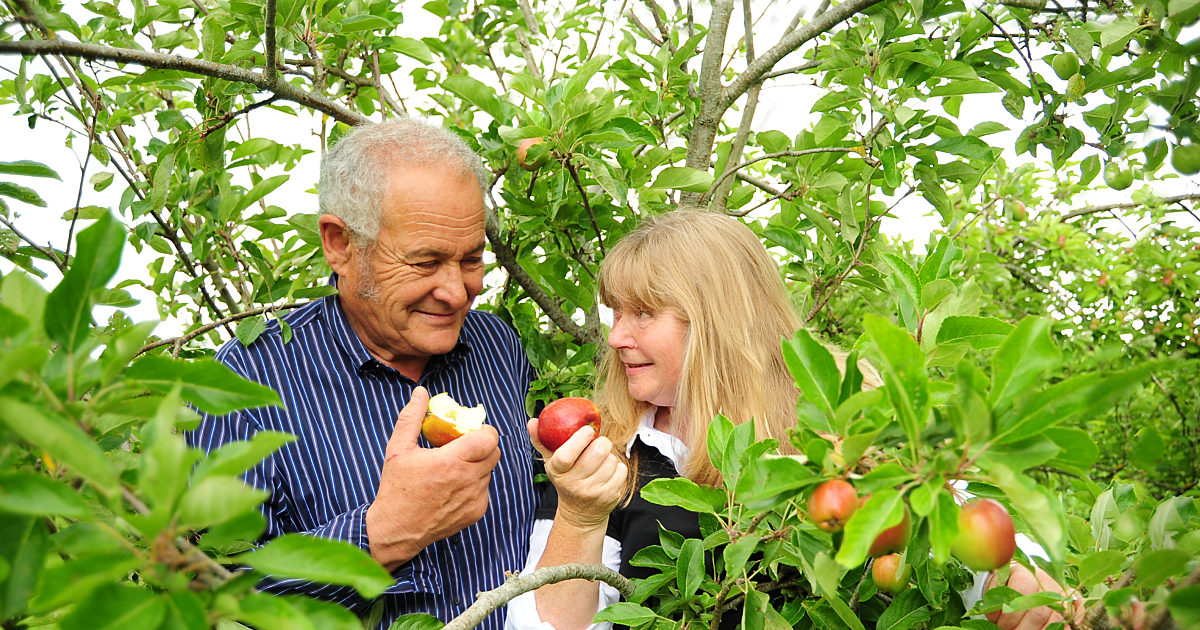 Rod and Ruth Calder-Potts are famed for their apple products from their organic farm Highbank Orchard in Kilkenny. From Orchard Syrup to Treacle, Highbank produces cider and cider vinegar, Pommeau and Orchard Spirit and Orchard Liqueur as well as vodka. The list goes on and on and this enterprising family are an award-winning force within Irish food. Not only are they famed for their organic farming methods, but they've also created a completely unique, organic orchard-to-bottle gin which has a distinct apple flavour, as it's made from apples grown on-site. In fact, the entire process is single estate, single site. Rod and the distilling team mash and ferment apples into cider and then distill it to create their own pure apple-based spirit, which is then used for creating Highbank Orchard Organic Kilkenny Apple Crystal Gin.
The farm shop is open Monday to Friday 9am – 5pm for visitors who can come, purchase and peek into the whole operation whilst 75-minute private guided tours are available, subject to previous booking enquiries online made direct via their site.
Though whiskey was honestly the first port of call and first thought for three Americans and an Irishman when the idea for the Connacht Distillery first came into being, they've quickly added a gin to their distilling arsenal too. Conncullin Irish Gin is pot-stilled and features the flavours of hawthorn berry and elderberry with a mixture of other botanicals, married with big, bold juniper and citrus. Conncullin is a portmanteau of two lakes in Co. Mayo – Lough Conn, Lough Cullin – which is where the water is sourced for the distillery, apparently, and both are represented intermingling in the logo of the gin.
Guided tours at the distillery are available Wednesday to Saturday at 12:30pm and 3:30pm, but must be pre-booked via their website.
25. Bonac Distillery, Newtownmountkennedy, Co. Wicklow
Father and son team Michael and Gavin Clifford set up their own micro-distillery in Co. Wicklow – the Garden county of Ireland – in and around 2016/2017 and have been solely producing gin since then. Their namesake product, Bonac 24, or Bonac Irish Gin as it's also known, has heralds of mint, star anise and and juicy citrus.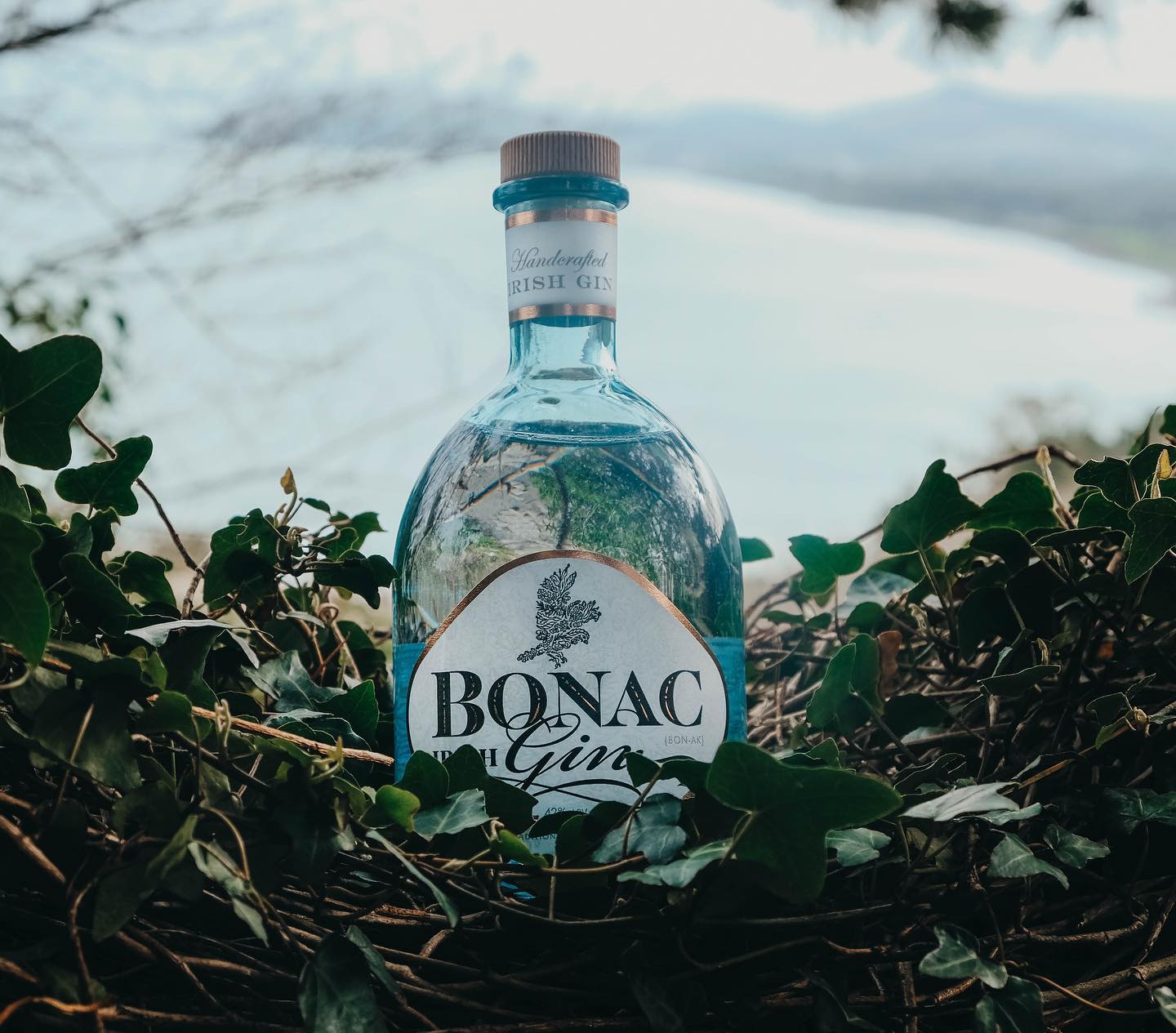 Gavin's experience extends to top bars and the drinks industry in America, where he emigrated after studying in his native Ireland and upon returning home went about setting himself up in the distilling business. His time in the States influenced him so much, the name is actually related to The Hamptons. Straightforwardly, 24 represents the winning 24th recipe test that resulted in the recipe you enjoy today. The pair are beginning to open up their distillery to the public on a small scale for tours, so watch this space in 2020.
26. Dundalk Bay Brewery & Distillery Co. (Spectac International), Dundalk, Co. Louth
First a brewery, now a bona fide distillery in 'The Town' as Dundalk is known –– this is an off-shoot of Spectac International who have long been crafting stainless steel equipment for the purposes of brewing and distilling from their base in the Finnabair Business Park on the perimeter of the wee county's county town.
At the end of 2019 after a few years getting crafty with brews, they unveiled their gin to market –– Ravenrock Irish Gin.
Set up by Eoin Bara back in 2015 in the town of Tullamore, Arderin Distillery is a micro-distillery producing its own brand entitled Mór Gin –– which currently has three varieties: Mór Wild Berry Gin, Mór Pineapple Gin and Mór London Dry Irish Gin. Unusually, the flavoured options arrived on the market first before the more traditional offering. The London Dry style is described as "refreshingly soft, complex with a hint of spice and a creamy long smooth finish…[using] local Irish botanicals and Persian lime and lemongrass, for a crisp mouthfeel with citrus undertones". The Berry Gin is distilled with raspberries, blackberries and cranberries with a peppery finish, whilst the Pineapple variety does what it says on the tin with a tropical, Caribbean twist.
Bara came to distilling through a love and appreciation for crafting spirits, but also through blood, as his grandfather was once a master distiller for Tullamore Dew. He explored the world and honed his craft training specifically in gin making in South Africa before returning home and setting up shop, currently based out of Cloncollig Industrial Estate.
Distilling in their space in the Wicklow town of Newtownmountkennedy since 2014, Glendalough Distillery was founded by a handful of friends who truly appreciated craft spirits. Their distillery produces both gin and whiskey (as well as a popular poitín) with the former being reflective of the Irish seasons and the fauna around them in the 'Garden of Ireland'. Foraging some of the locally-grown herbs and flowers from the surrounding mountains, their small batch runs are in 250L and they favour smell and taste over automation.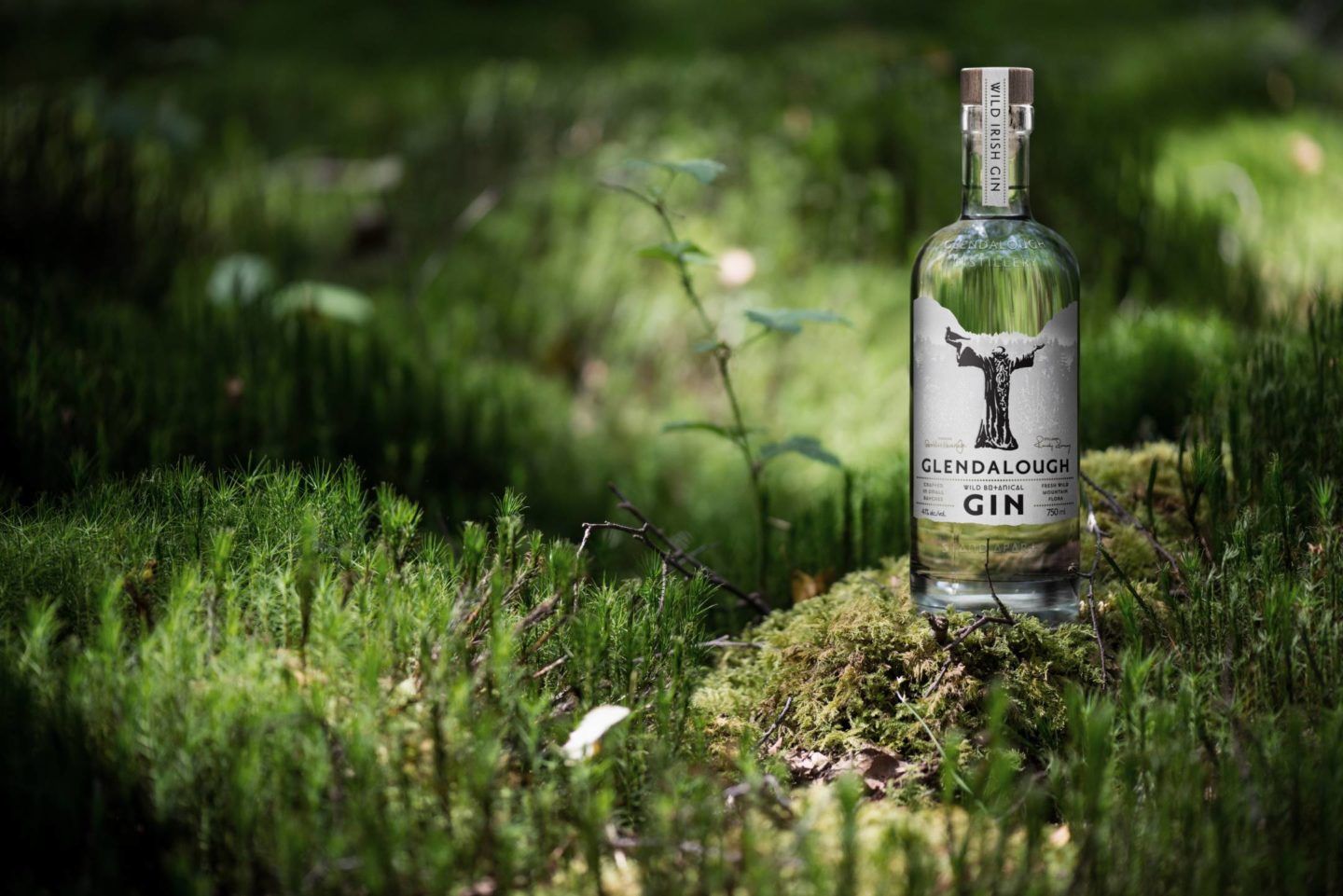 Not only relying on their signature Wild Botanical gin, they also produce a Rose Gin, a Sloe Gin, and a selection of 'seasonal' gins, each remarking the unique flavours of the four seasons of each year. The French have the word 'terroir' where the place and time is reflected in the ingredient or product, and that's what's captured here in-bottle.
Describing this unique bottle run themselves, they say "the Spring Gin is a fresh mix of young green shoots and wild young leaves, Summer is more floral, like a meadow in bloom, with some light early fruits… Autumn Gin is packed with wild fruits and berries; Winter, is woody and spicy, and a tough one to make. Some years we can't even make a batch, it completely depends on how the season is that year."
Part of Bord Bia's Origin Green programme (supporting and championing sustainability and a greener approach by food and drinks businesses), the guys sometimes offer private tours of their distillery, but they don't open full-scale to the public for tours just yet.