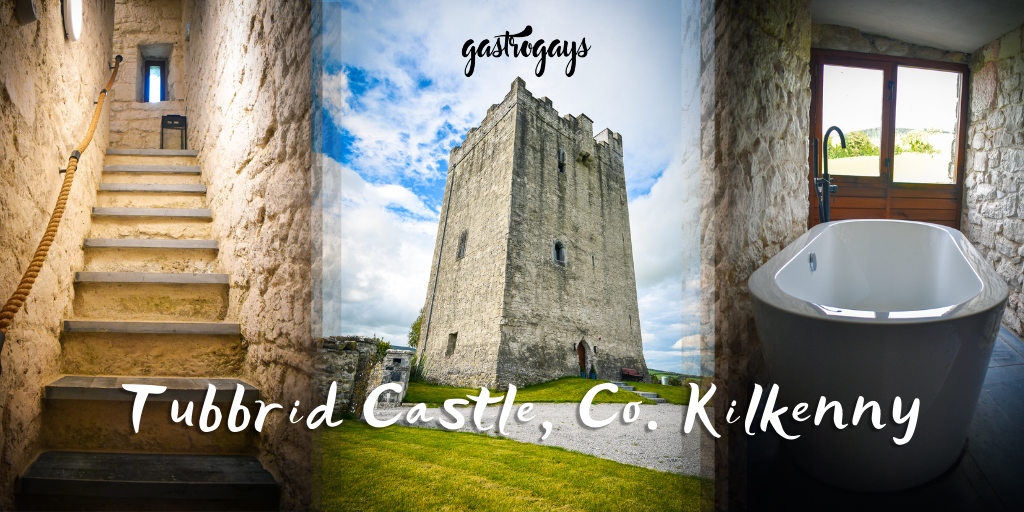 Did you know we've never seen a single episode of Game of Thrones? That whole phenomenon was kind of lost on us, or we came to it too late to catch up, but we can appreciate from afar. If you've dreamed of being whisked away to a whimsical castle stay or daydreamed about letting your hair down like Rapunzal, sequestered to a tall tower in a remote land… well, this place may see your vision come true! Enter: Tubbrid Castle, a 15th Century Stone Tower in rural Co. Kilkenny –– one of the most unique and incredible places to book an overnight stay in Ireland's Ancient East.
Note: this post contains an Affiliate Link to book this property –– appreciate the support if you found this content useful or unique!
John Campion Jnr and his family invested significantly in the property, which sits on their family farm, and have painstakingly restored, preserved, invested in and updated with serious class and a luxe touch. Set equidistant between Dublin and Cork (a 90-minute drive from either) it's also within 60-75 minutes drive of Limerick and Waterford, but the closest city to this property is Kilkenny which you'll find a 15-20 minute drive away.
Bookable entirely for small groups and families, this private hire Irish castle boasts three bedrooms across four levels, a kitchen and living area equipped with all the mod cons, central heating, WiFi and some of the most beautiful bathrooms and en-suites imaginable.
Welcoming guests since 2019, since 2004 John's late father had begun the process of renovating this incredible piece of history – which lay uninhabited for a century – by roofing it and sealing the structure, however he sadly passed away before he could see the project come to fruition and the property habitable again. This is where John took the reins around 2018 and ensured this project got finalised. For the last year or so they've been welcoming guests to stellar reviews. There's a lightness of touch to the fixtures and fittings, whilst quality is paramountly important, and sparseness is celebrated in a modern Scandinavian style within the Medieval property.
With space for several cars in a dedicated car park, as you pull up it's quite breathtaking to imagine this property is yours for a night or two (maybe more?!). From the heavy, wooden arched door you enter into the ground floor level which is given entirely to the main bedroom of the property –– 'Seomra Sheáin', named after John's late father. This comes with a modern, arched, wooden, four-poster king-size bed and a dreamy en-suite. You'll find a stunning standalone bath tub in a secluded castle breach, with a personal and private view of the rolling countryside around as well as a spacious rain shower with glass screen. In all the bathrooms you'll find locally-produced Handmade Soap Company toiletries, which actually come from our region of Ireland, The Boyne Valley.
One floor up is the heart of the home, the Great Hall where guests can convene and – let's face it – will spend most of their time. Though the name sounds grand, this vaulted double-height room is properly cosy, with a Stovex Gazco glass-fronted wood burning stove set into the traditional open fireplace. Traditional elements like the original corbelstones are retained.
A modern kitchen island houses all the storage and appliances you need, with the fridge and a glassware cabinet hidden within a pair of matching cabinets towards the back wall. On the island, the Neff oven and induction hob are seriously up-to-date with all the modern functions to make cookery a cinch, whilst the kitchen also boasts a brand new dishwasher and microwave too.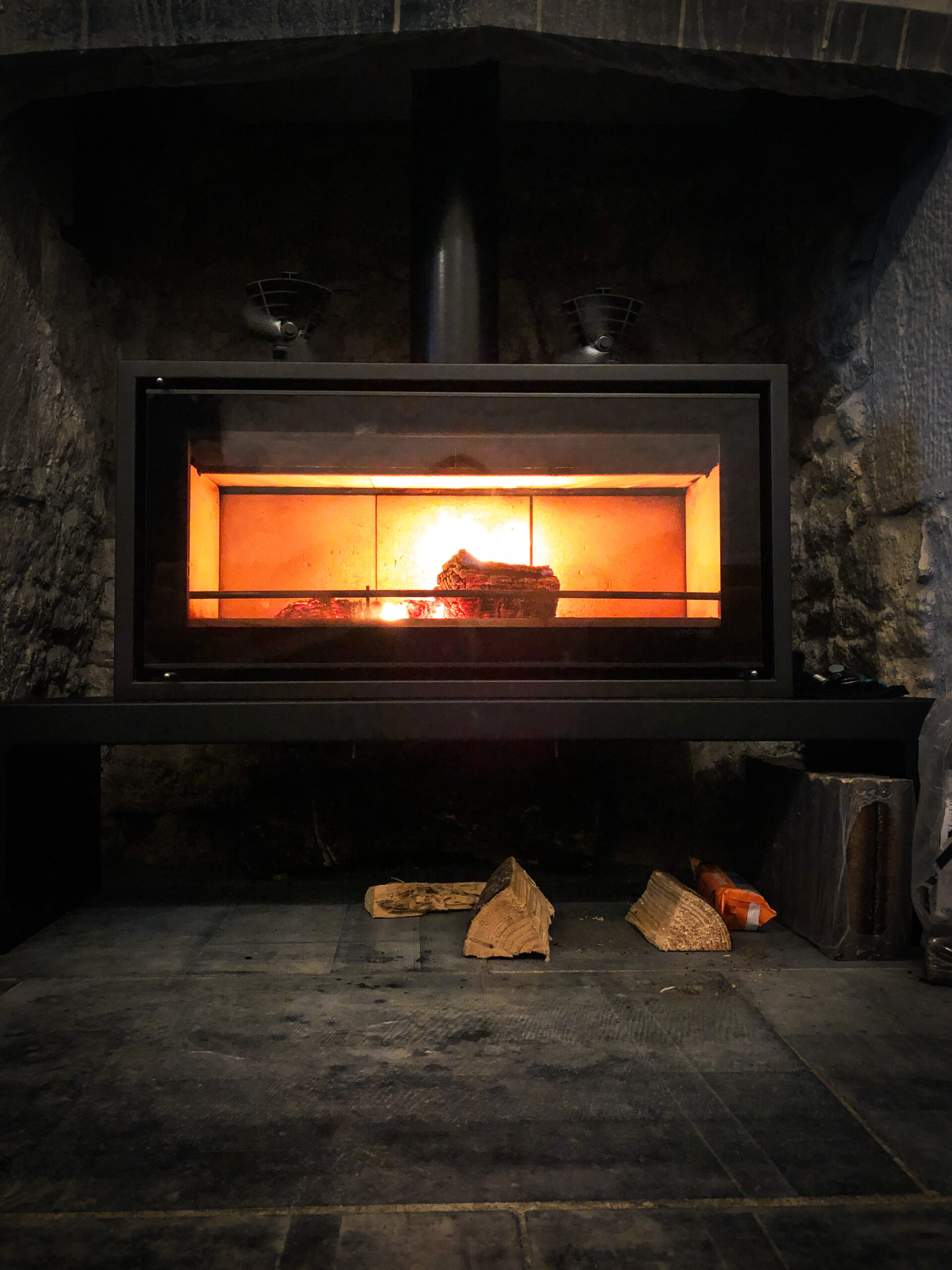 Underfloor heating in this room bulks up the hyggelig cosiness, but so does the trio of couches –– two smaller in emerald jewel tones and one longer and larger in bright mustardy yellow. We have a feeling these also open out as sofa beds, which means this property could potentially sleep a couple of extra people, FYI. Note –– there is no TV in this property.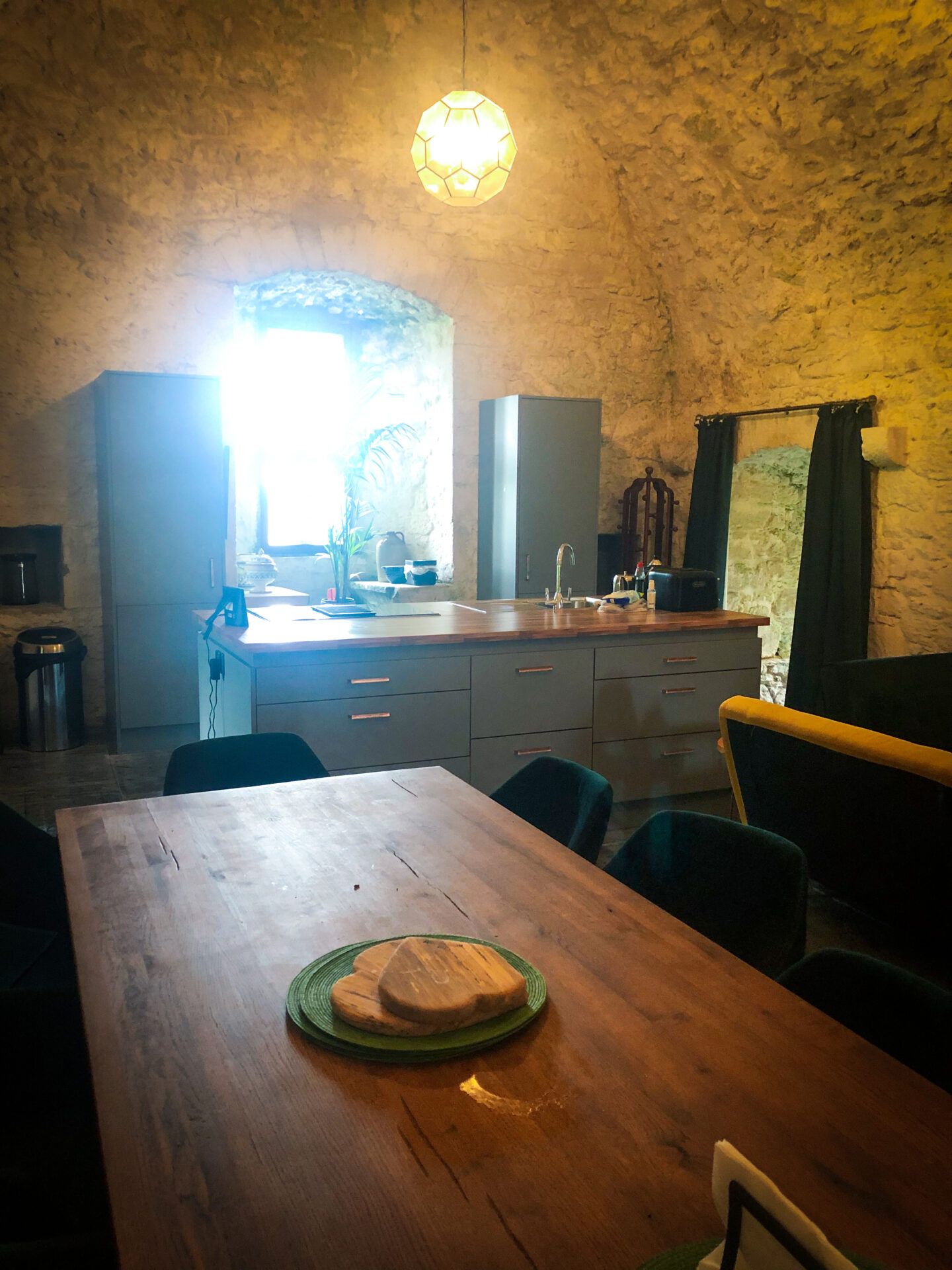 The heavy solid oak 'banquet' table (sourced from Meubles in nearby Kilkenny City) to one side of the room is complete for feasting, flanked by gorgeously comfy emerald velvet dining chairs and comfortably sitting eight guests. Toast to life and health, have a family-style feast and finish an evening with board games or stimulating conversation before returning to the fire for more drinks or a nip of uisce beatha.
On either side of the room are two gorgeous stone window seats, set behind heavy drapes, where you can take some time out with a cup of tea and admire the view. Elsewhere, a small bathroom is located just around the corner from this room on the same level.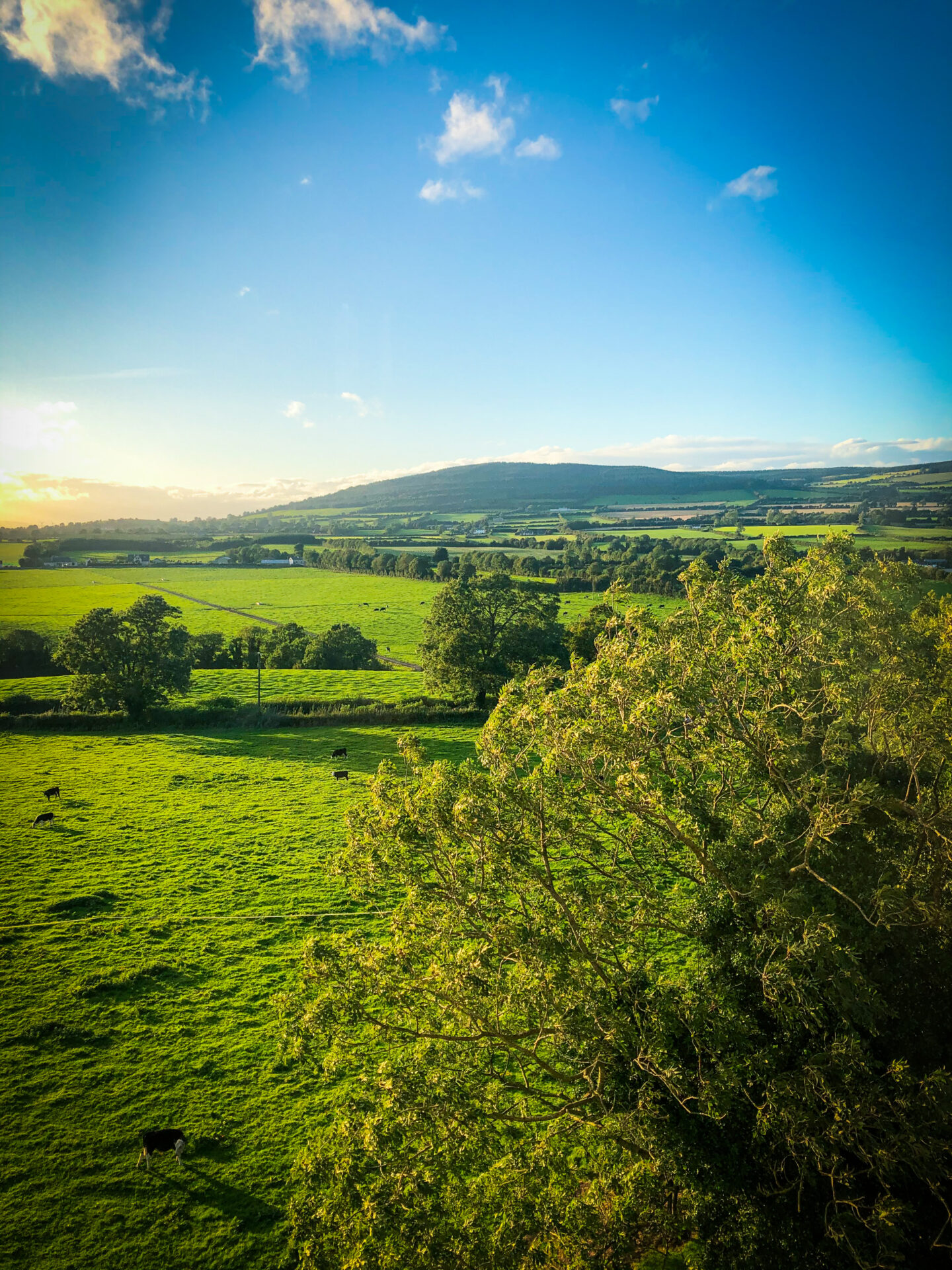 Oh, have we mentioned the views yet? As you ascend the levels, peek out the windows – both small and large – which offer individual vistas and viewpoints to breathe in, becoming more dramatic and expansive as you climb upwards. From the battlements on the roof apparently you can see three counties on a clear day.
Another floor up, now on level three you'll find the grand bedroom 'Rí Áilig'. Another four-poster kingsize bed, this time in a more traditional style, sits in the middle of this lofty, quadruple height room.
Dual aspect, the large windows either side of the bed offer stunning views, whilst like downstairs there's a (smaller) wood burning stove set within a former fireplace, flanked by two comfy print snug chairs and a wooden table. There's also ample storage in the drawers.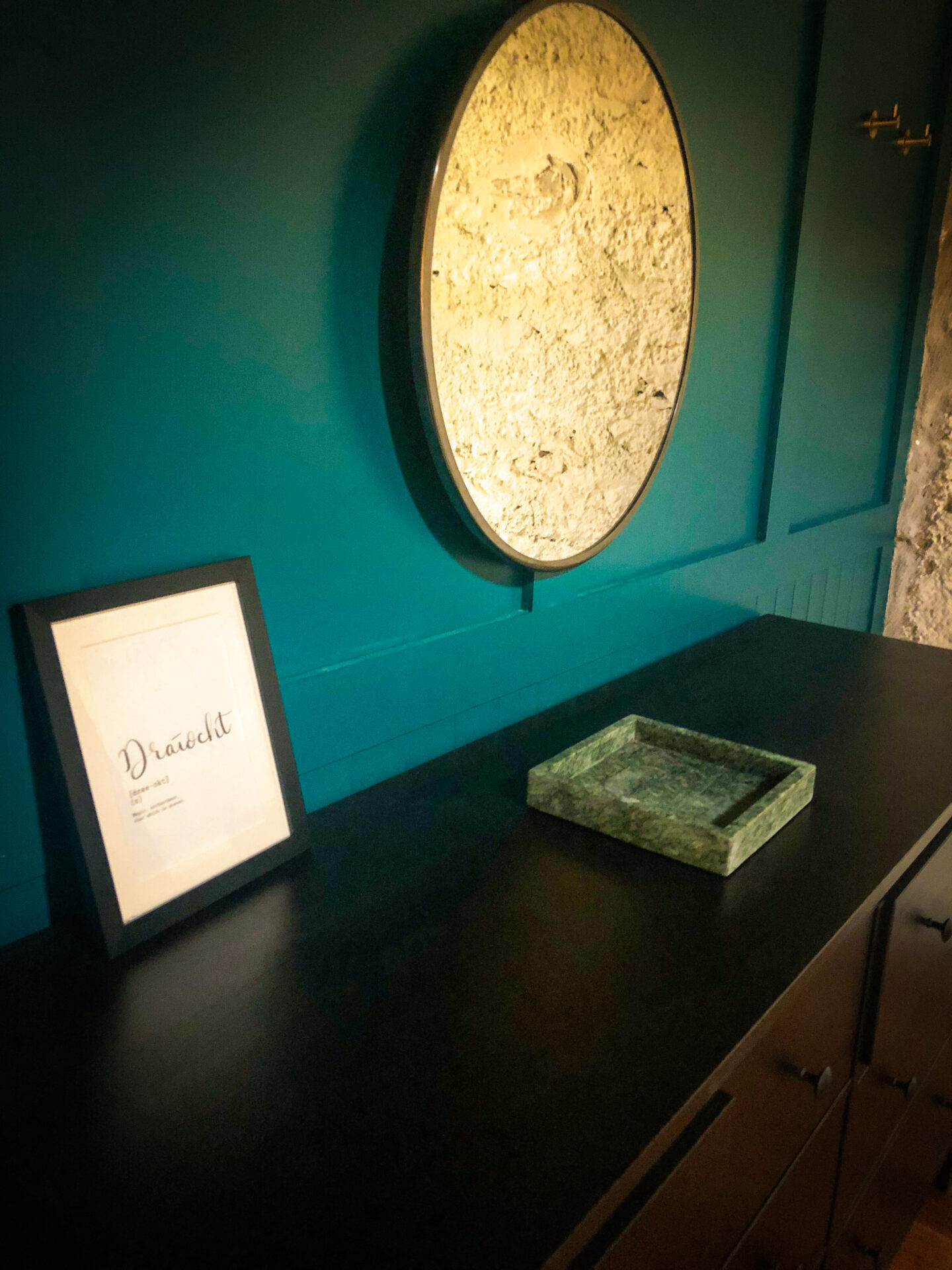 Continuing a notable support for Irish artisans and craftspeople, it's also great to see in the décor details that there's framed Irish poetry, history and also Irish language line prints by Three Little Birds. We actually have that same 'Draíocht' print in our own home, as it happens!
Adjoining this third floor bedroom is a dedicated shower room, shared between these two rooms whilst around the corner is another toilet room, also shared between these two bedrooms.
Finally, a floor is the mezzanine fourth level bedroom 'Leapa Mhairgead', which offers a duo of double beds. A much more compact, far cosier place to rest your head, it's worth noting that the noise may travel between these two rooms as there's no stone wall separation. Also worth noting the bed linen across the property is comfortable down whilst every bed is equipped with one or more electric blankets, so even in this lofty castle property you'll have a warm and restful sleep.
The stone truly is the star here at Tubbrid Castle. Every room celebrates these behemoth building blocks that have had a life of their own and a story to tell through the ages keeping this piece of architecture standing to this day. It's exposed and surrounds everything –– most notably in the petite toilet rooms. Even the staircases are contained within the thick stone walls, and in a previous life enemies or armies would have to fit their way up, all step by step (all 64 of them), level by level to siege this castle tower.
Outside, there's a cute little outdoor dining space set within ruined outbuildings –– we stayed in September in very changeable weather (almost all seasons in one day) so we neglected to bring our little portable Kamado BBQ in the car with us, but could you imagine a gorgeous, sun-soaked Midsommar or Summer Solstice party here? So fabulous and secluded.
To the price, and a quick glance over dates and availability shows that this property is €575 in the quieter ends of the year and €675 in the more popular, peak season. Now, you can come to your own conclusions about that price (note: we booked and stayed here independently and paid for our stay, this is in no way sponsored content or a complimentary stay) but to put into context if three couples are sharing the property that's just over €200 a night per couple –– like what you'd pay in a nice hotel.
We have nothing to gain or lose by recommending or 'selling' this property to you, so the price is not ours to justify, however we think this is a very unique and unforgettable place to stay that certainly has a luxe and premium feel to the offering, so the price represents that.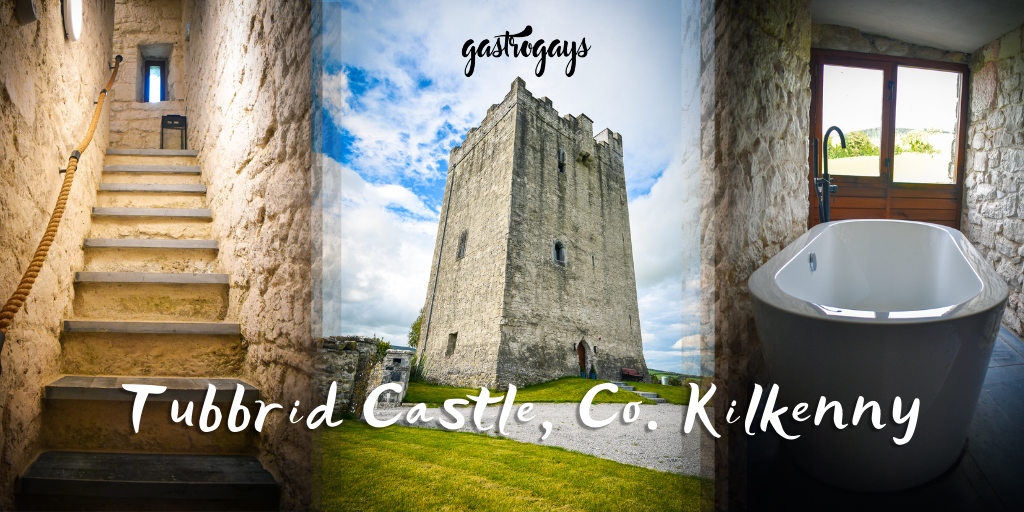 You can book this property directly if you're interested in checking availability, reading more or are already considering booking a stay.