Ireland has a curious relationship with street food. Where other food destinations (London, Copenhagen, LA) are adorned with a multitude of trucks, stalls, vans and pitches that run the gamut from side-of-road ramshackle to purpose-built resplendence, Ireland has so much red tape when it comes to permits, health and safety et al that almost stops street food as a concept in its tracks on this island. "For good reason," some may argue, but after living in London and enjoying the likes of Brockley Market every weekend on our doorstep, as well as travelling the world and exploring cuisine from street food right up to Michelin star, we can't help but wonder why Ireland isn't embracing the street food truck more.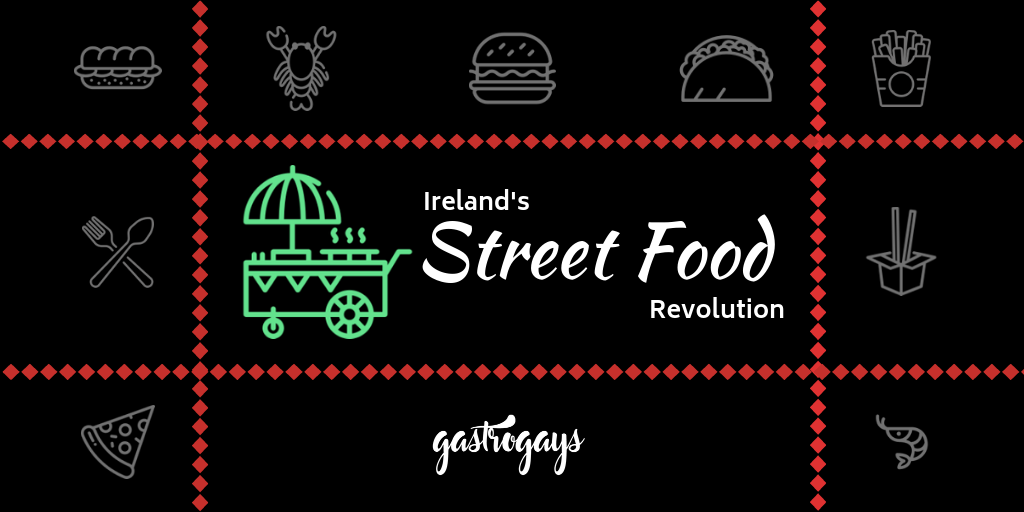 With this in mind, we're taking stock of the little corners of the island where the best street food is found and fabulously celebrated –– each one a destination worthy of discovering all on its own, but all happen to be gateways to some of Ireland's most beautiful and interesting landscapes, too! Not an exhaustive or definitive list or in any order; so please let us know if we've missed any of your favourites in the comments below. And remember, we're talking trucks, not stalls!
Misunderstood Heron, Killary Coastal Park, Connemara, Co. Galway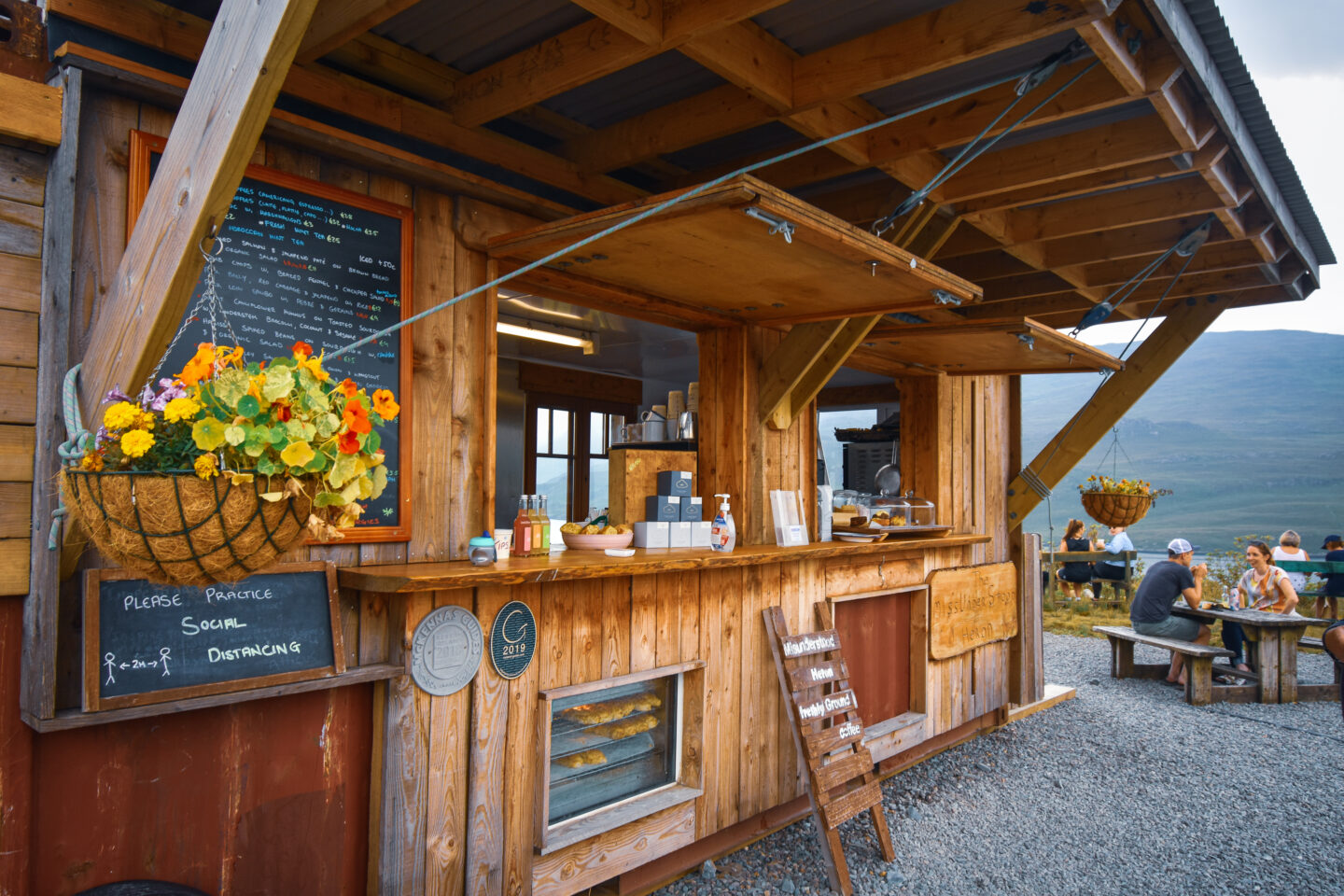 Misunderstood Heron, pitched perfectly atop the most scenic viewpoint over Killary Fjord in Connemara, has gotten a lot of press of late. Recently named by Lonely Planet as among the ten 'Coolest Food Trucks' in the world, it's also been awarded 'Street Food of the Year 2019' by Georgina Campbell and her Ireland Guide – so it's certainly gotten people talking.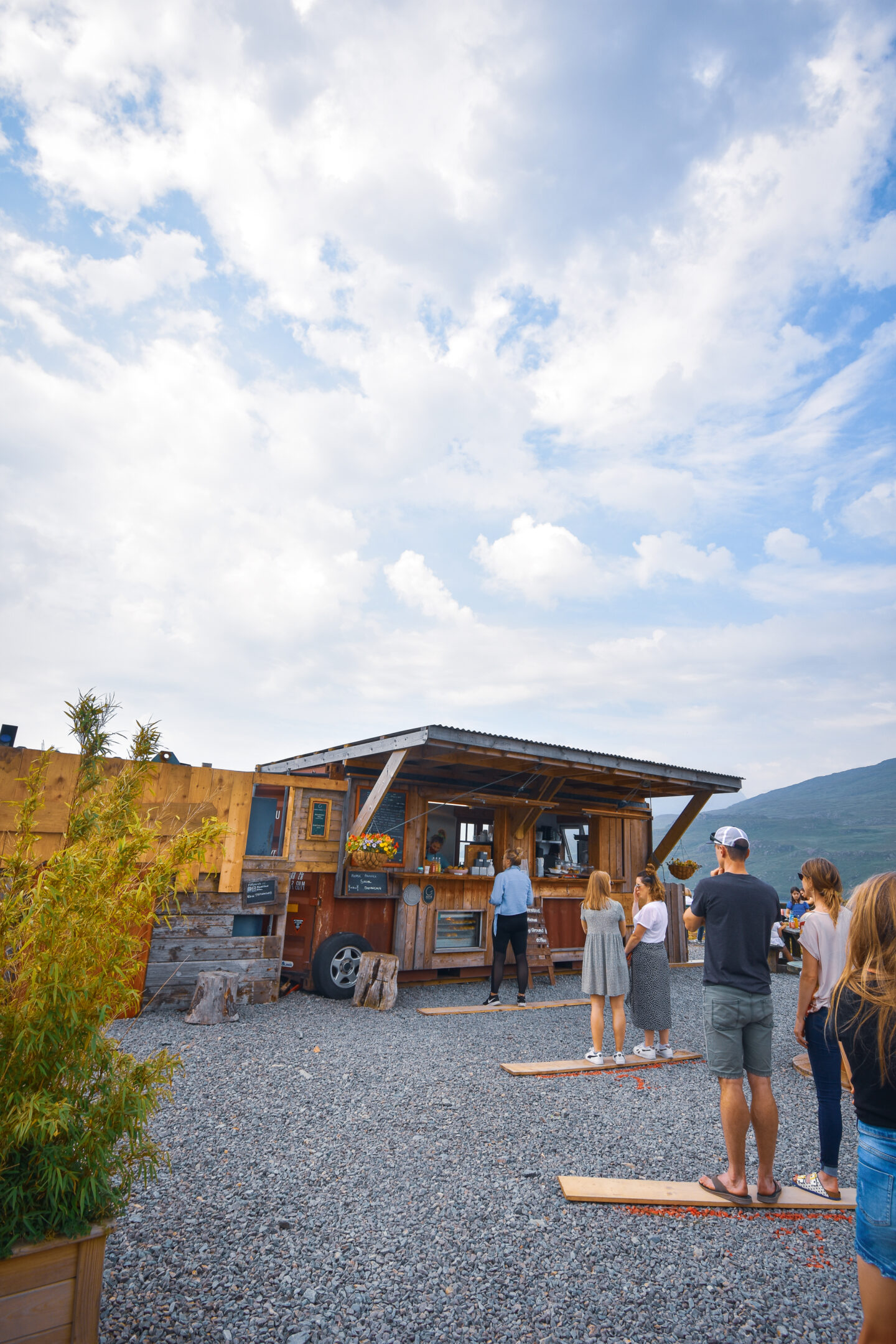 After a recent revamp of their pitch, the queues have now gotten longer and longer as word continues to spread about the magic that's being served up in this majestic location.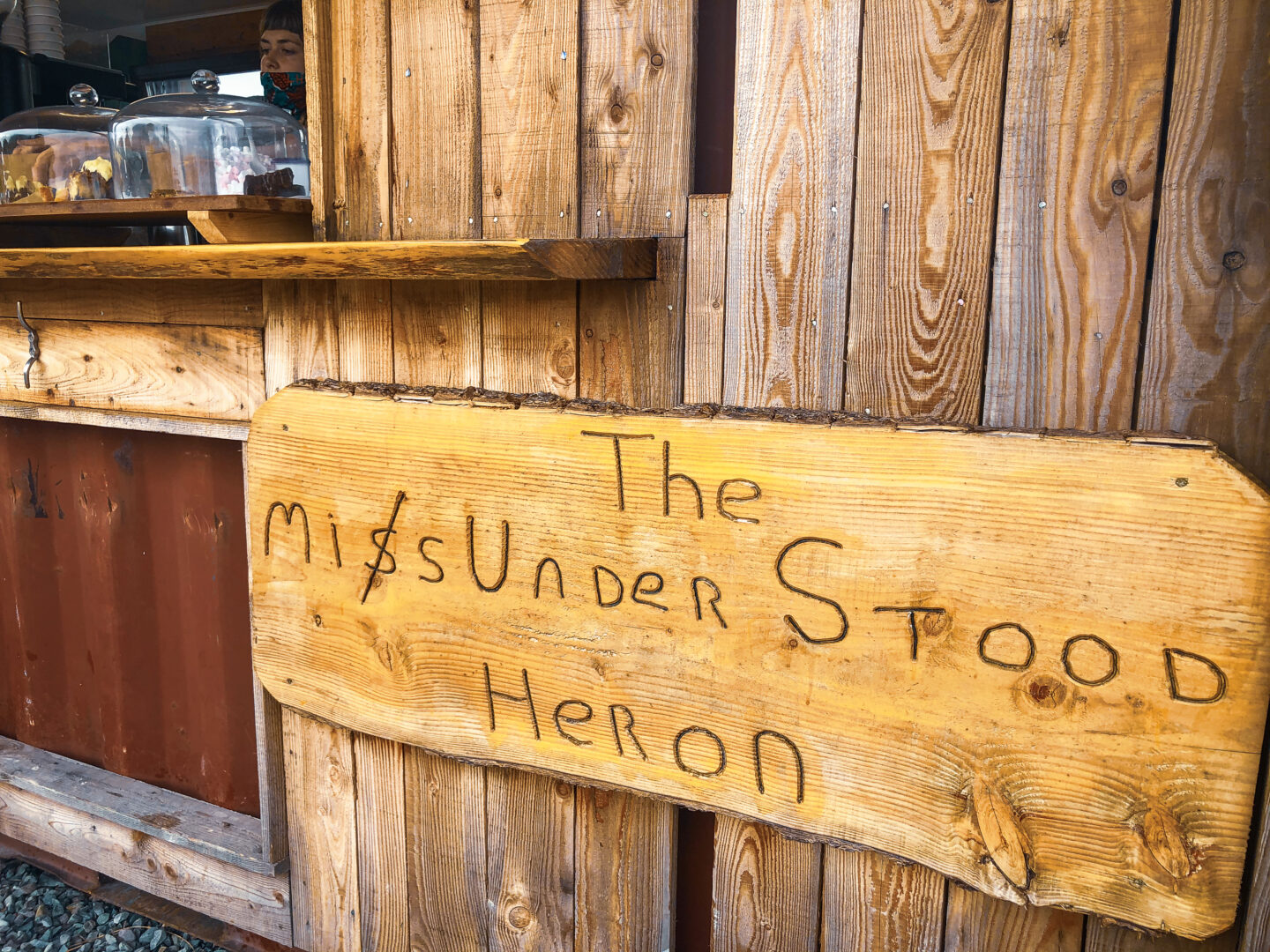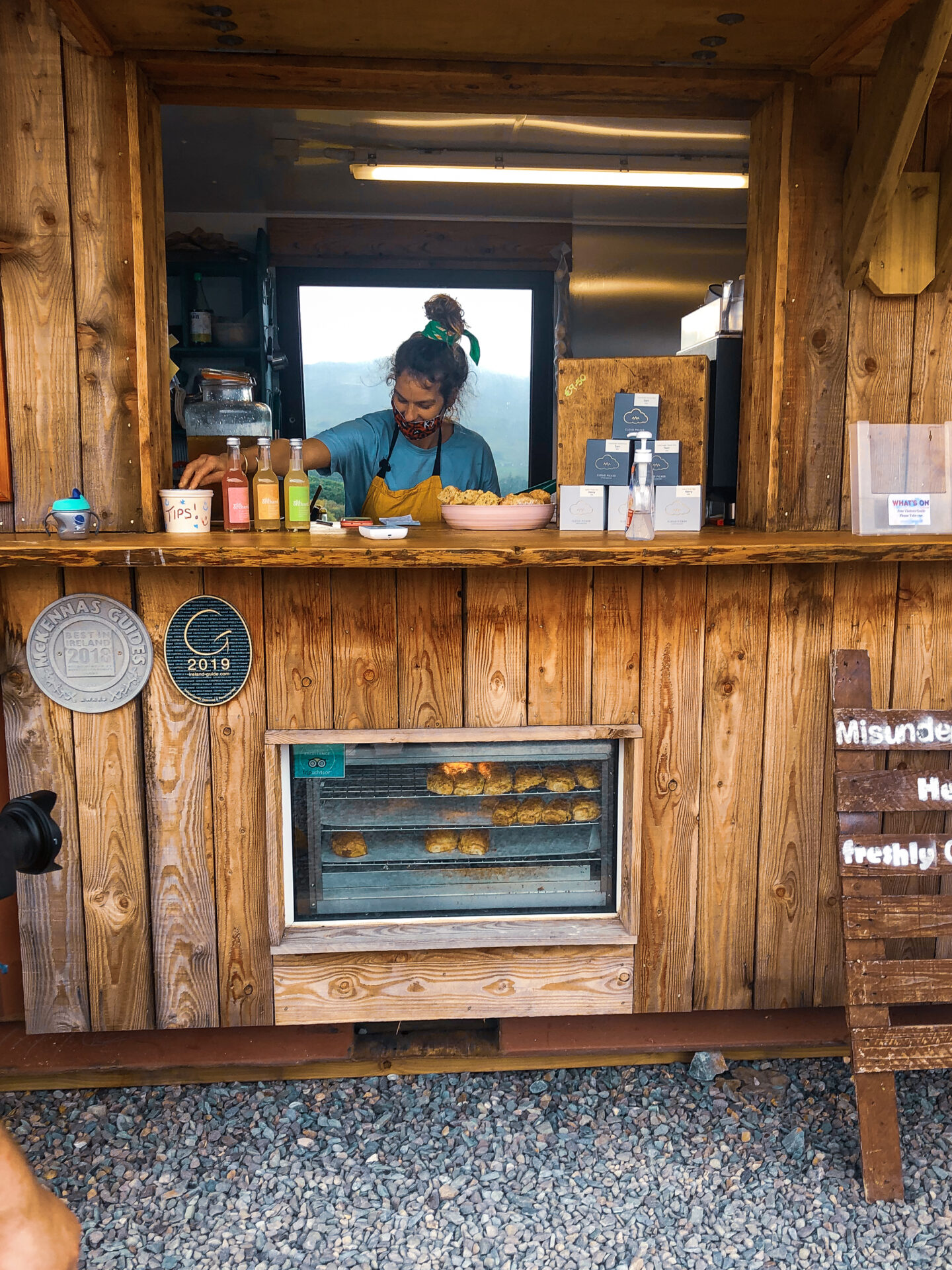 Located just off the N59 and by the car park of the Killary Adventure Centre, it's a stunning stop-off and a beautiful location for brilliant food. Couple Reinaldo Seco and Kim Young co-run this street food venture that begun in 2017. Reinaldo hails from Chile, whilst Kim is from the nearest town, Leenaun, and her parents own the nearby Killary Adventure Centre. The pair travelled the world before deciding to settle down right where they first met.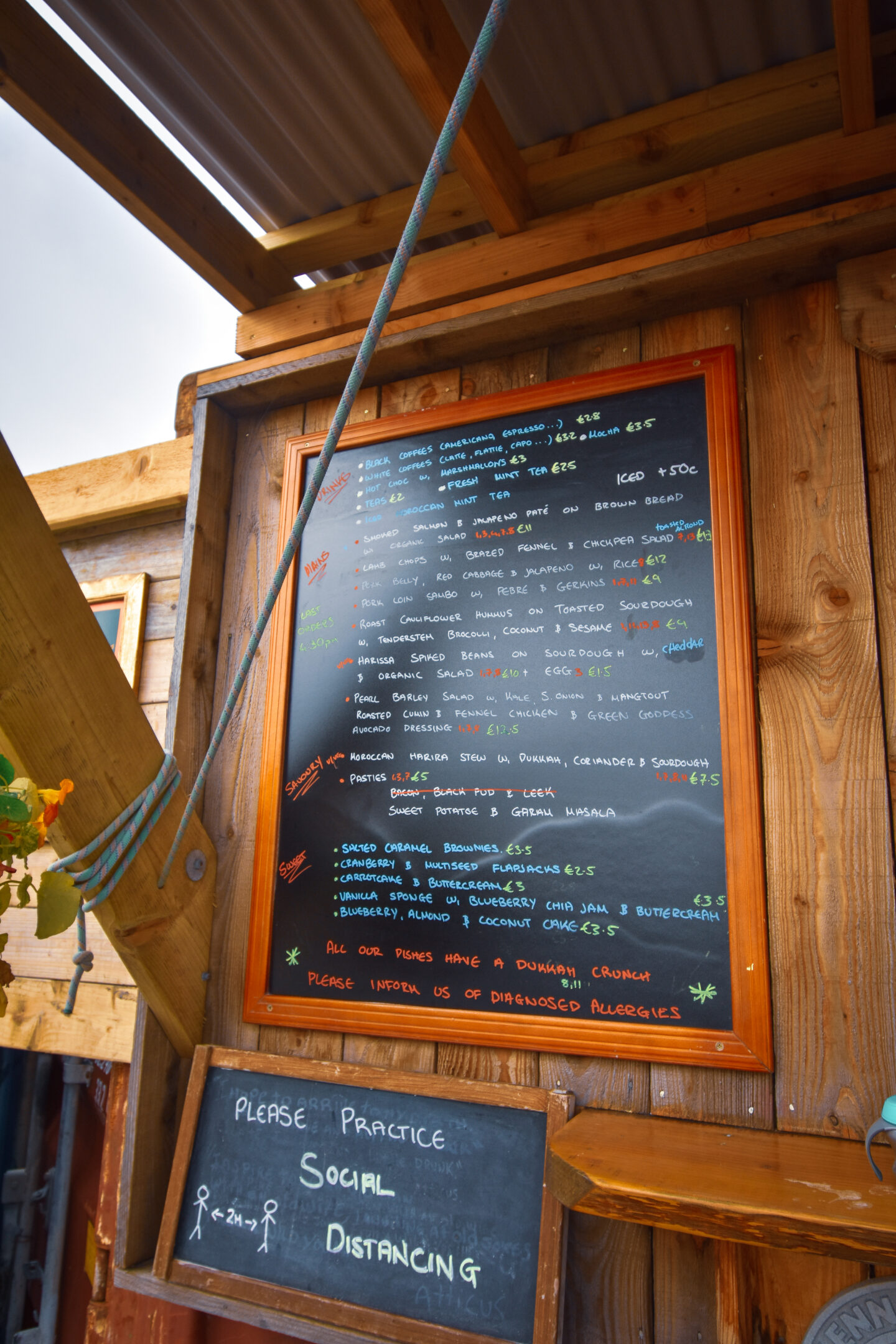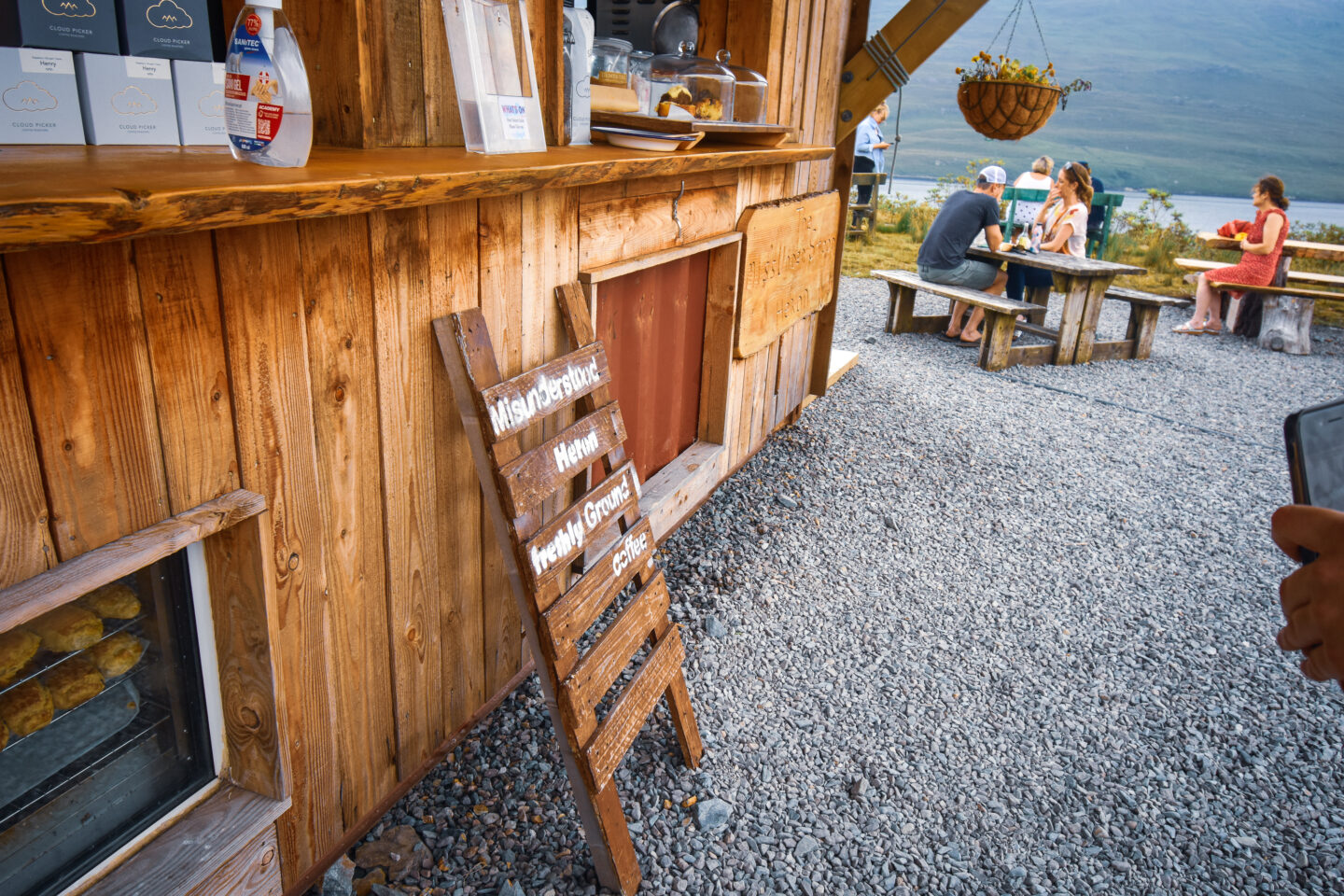 Now they are finding their stride and the accolades and praise catches moss, the recent renovation has included an evolution to a converted container with wood surround (so not really a food truck anymore, but for the location, remoteness and individuality we're keeping it in this post!). There's a fairly expansive car park beside you can park at, we wouldn't suggest parking on the hard shoulder at the main road as it's a little dangerous.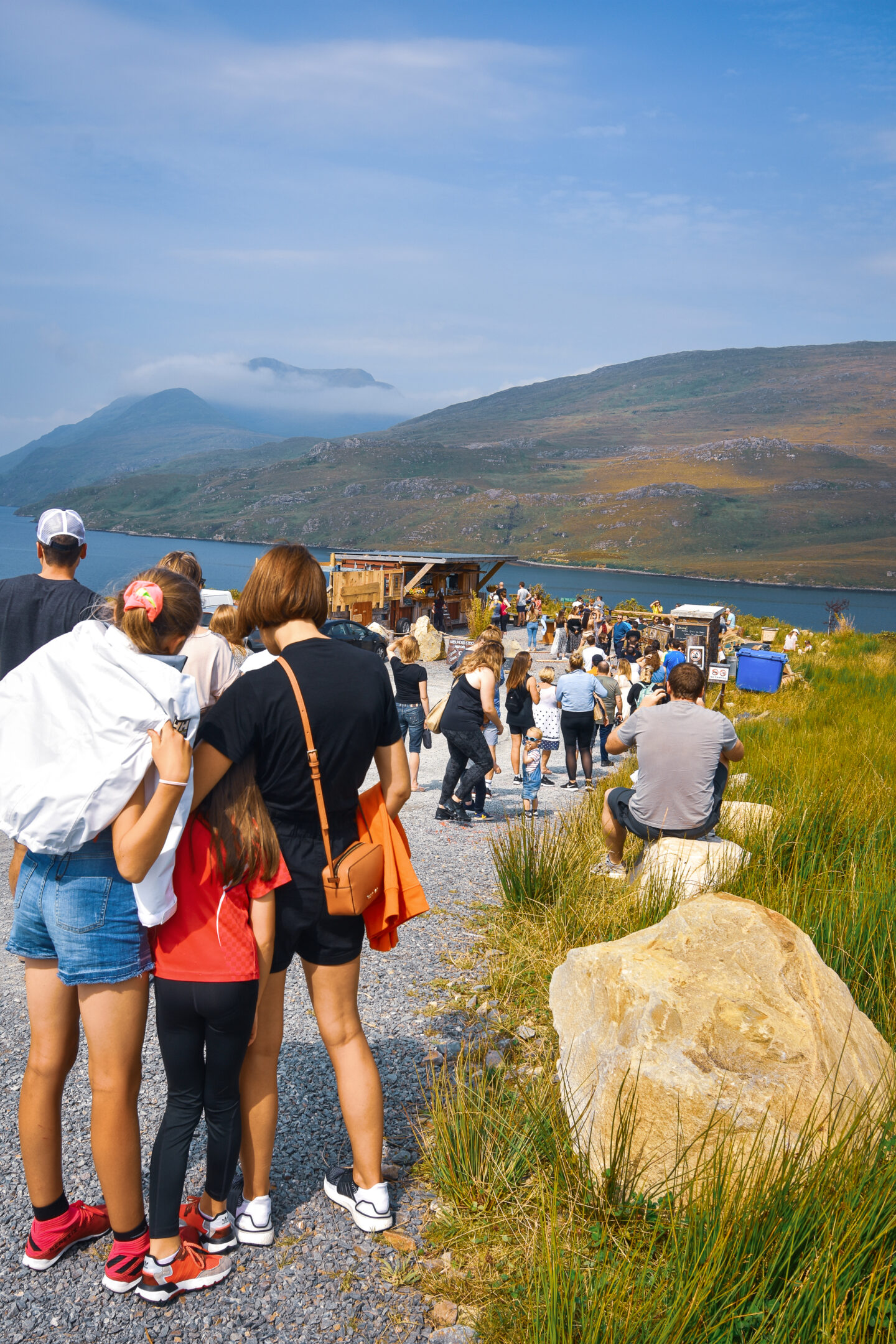 A note on the popularity of this spot: it's insanely popular, so be prepared to queue, possibly up to two hours. Trust us, it's worth it and the team are wonderfully warm and friendly whilst the dramatic view is the perfect screensaver whilst you wait! Sometimes the weather is adverse, sometimes they run out of food, some times the queue is far longer than others –– don't take it out on the team, these things are usually completely out of their hands.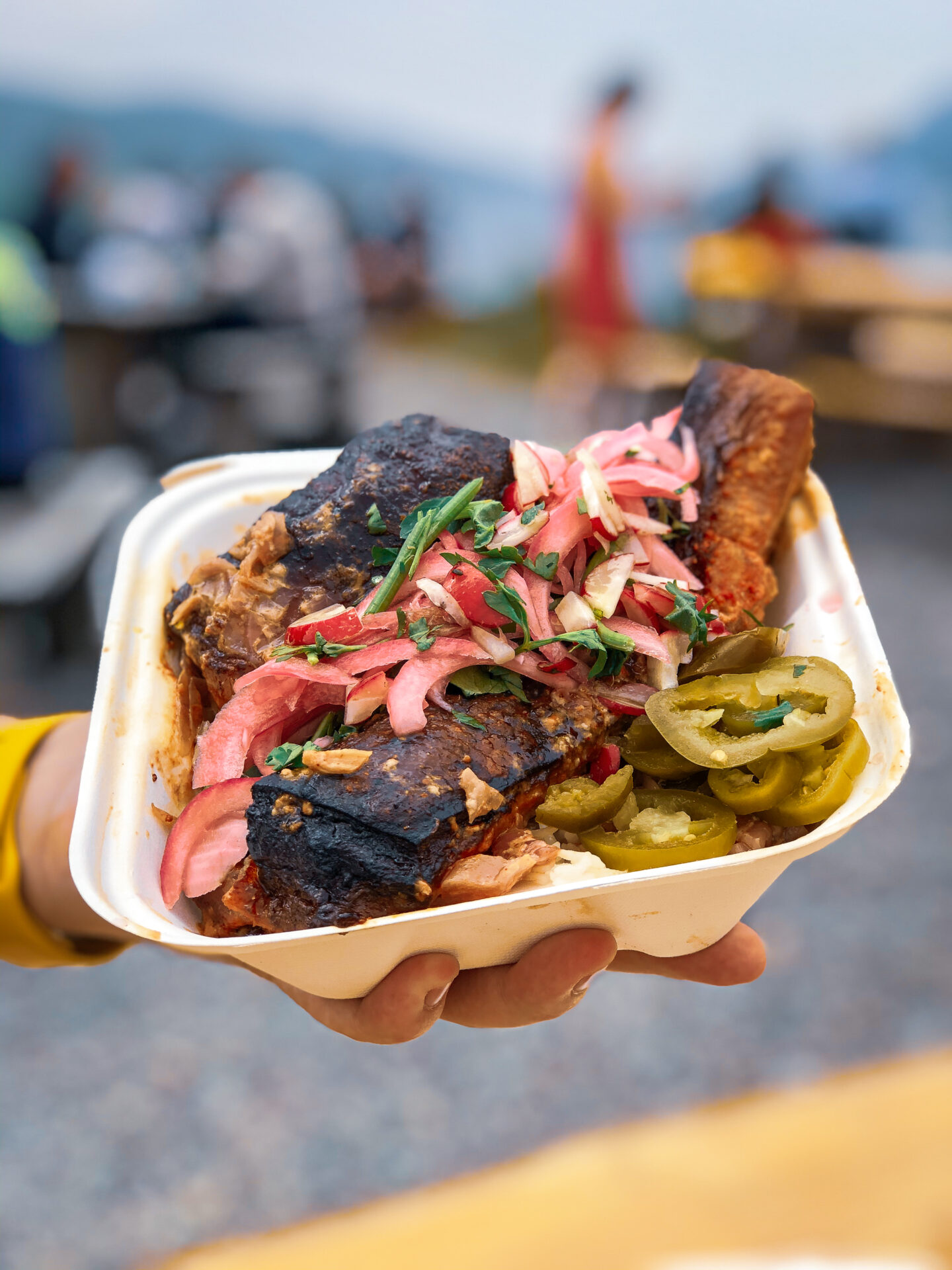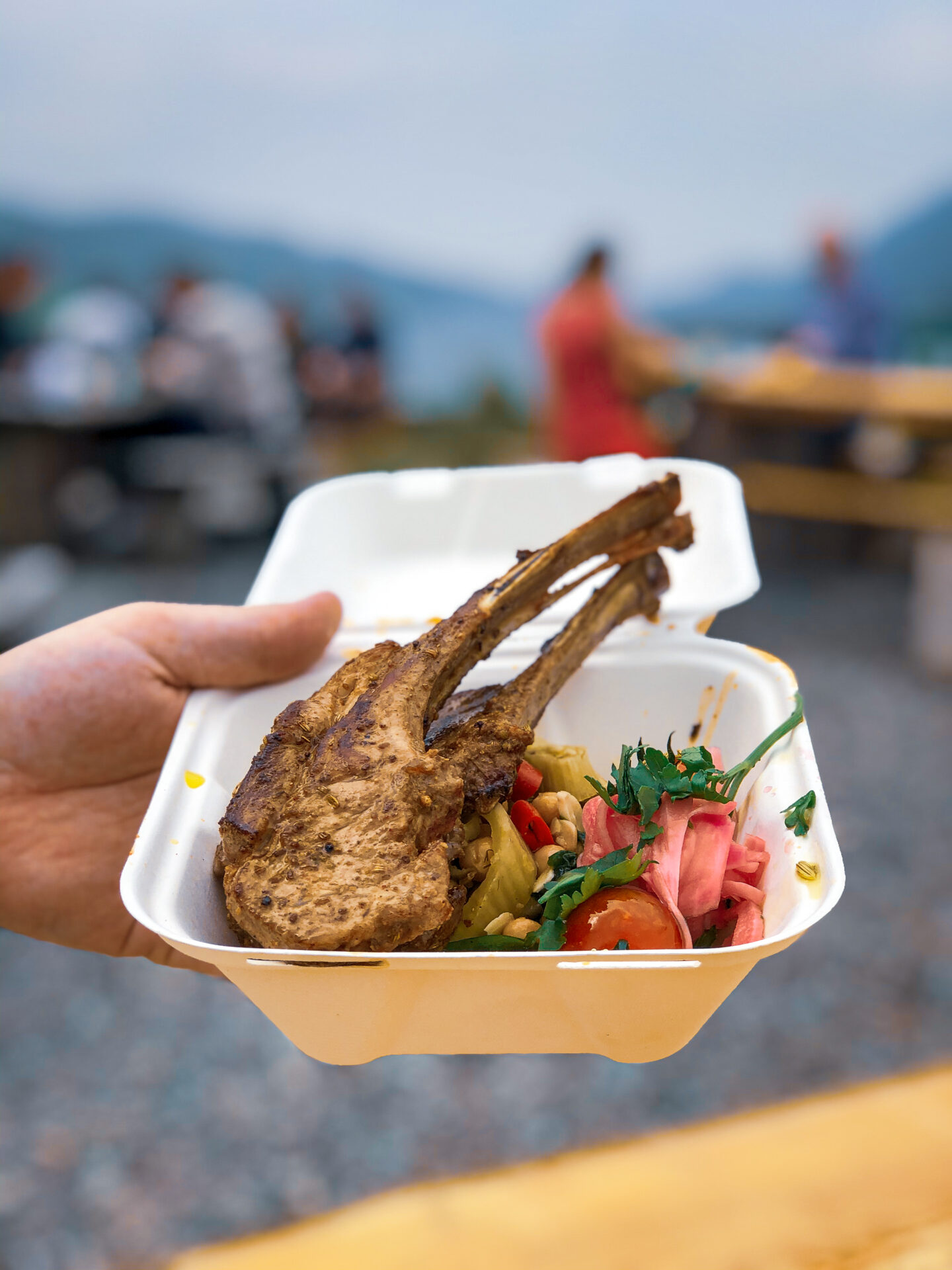 Local is celebrated – naturally, with this vast, remote seaside setting around them – so expect Connemara lamb and Kate and Simon Kennedy's Killary Shellfish mussels and clams on the daily-changing menu alongside other homegrown, locally sourced and seasonal ingredients. Cloud Picker coffee (who you can listen to in a recent episode of our podcast Chew The Fat) are the guys behind the coffee, too, and the flat whites are exceptional.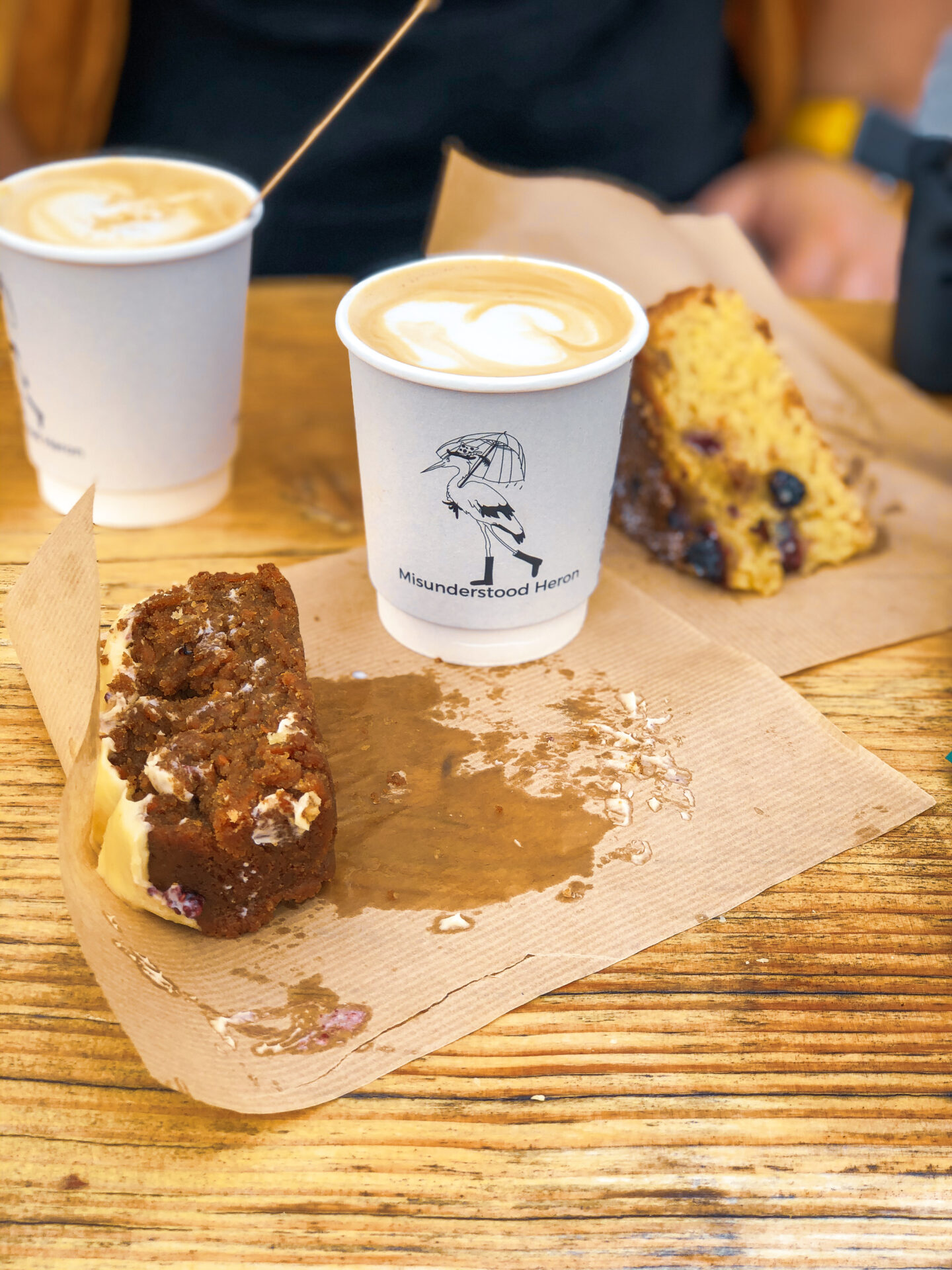 Appoint one of the picnic tables, and savour both the food and the view – where better to stop off for lunch on a wonderful drive along Ireland's Wild Atlantic Way?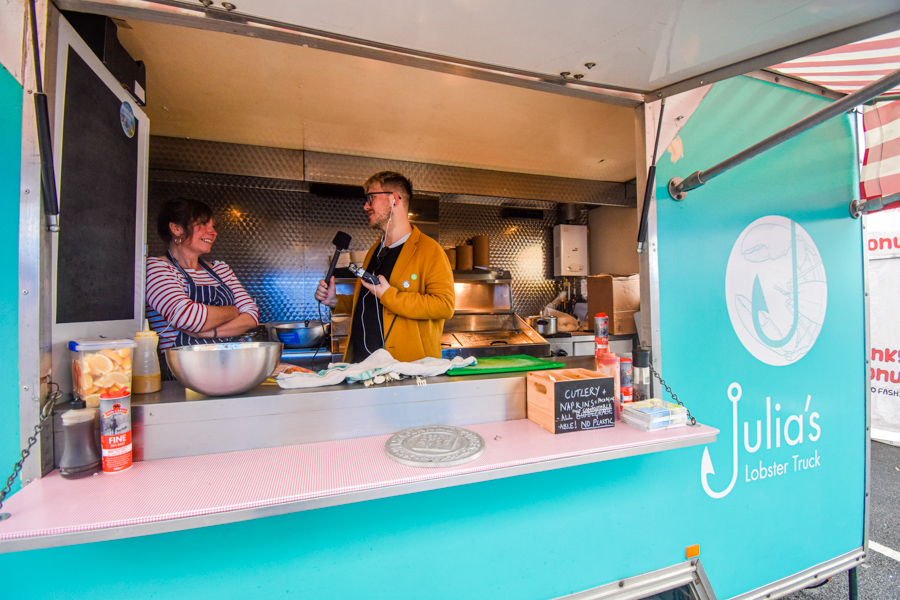 Julia Hemingway arrived in Ireland a quarter of a century ago and cut her teeth in seafood restaurants before being a private chef for Rolling Stones' Ronny Wood a number of years. Now, she's on the road with the aim to make fresh seafood and delicious shellfish accessible to all with Julia's Lobster Truck.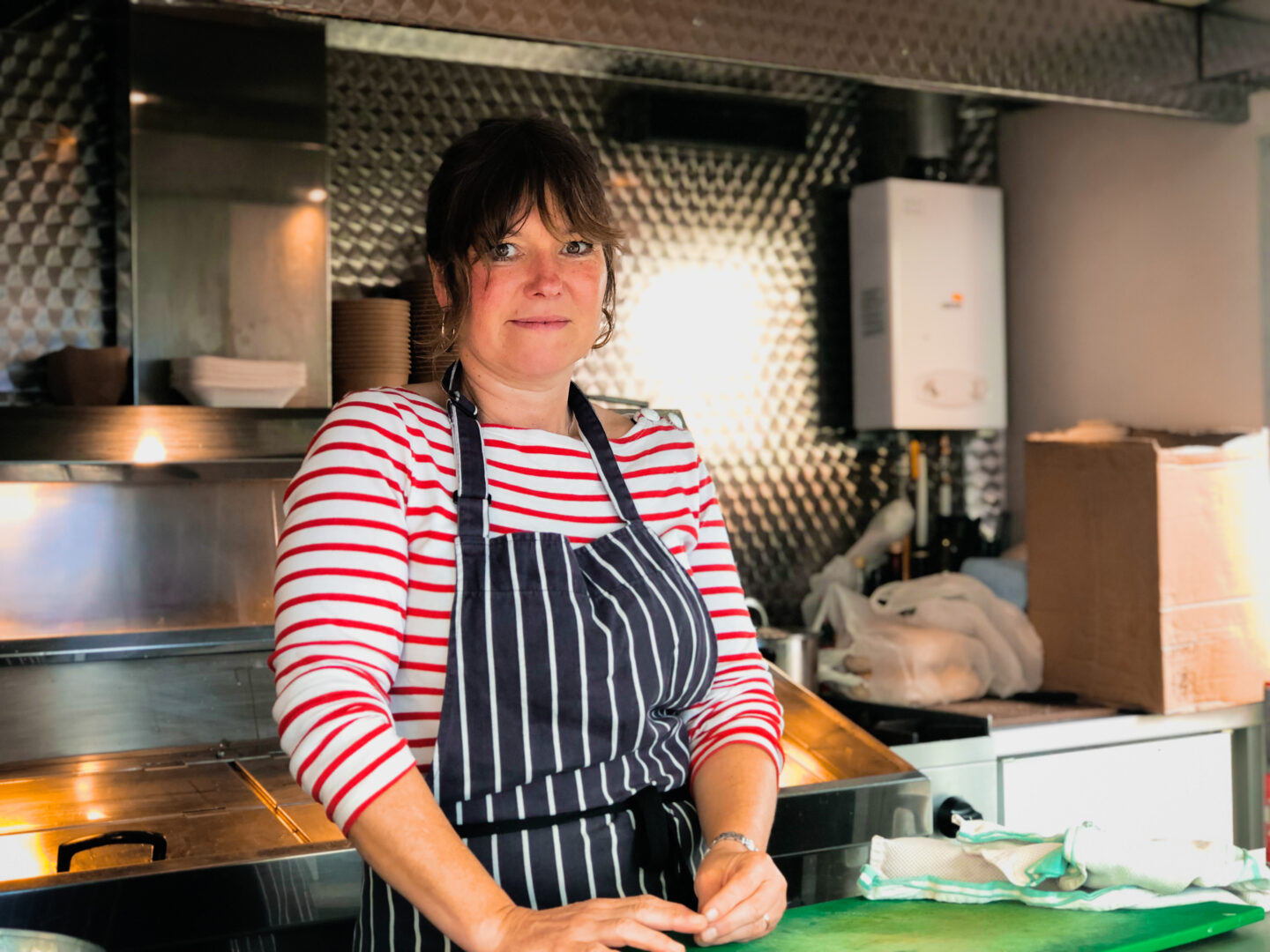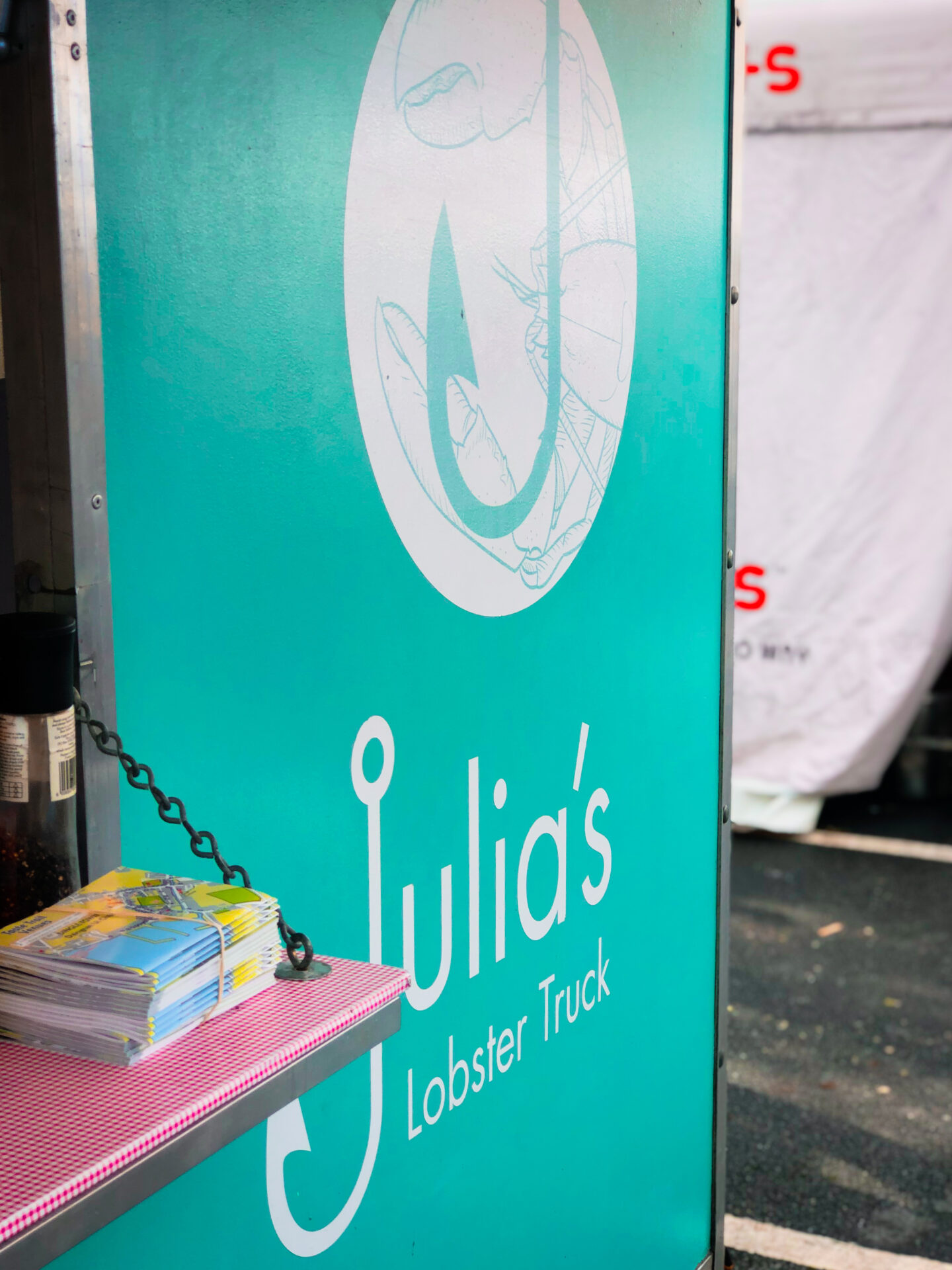 We've struck up a lovely little friendship with Julia and once we tried her food we needed to hear and see more, so we interviewed Julia Hemingway of Julia's Lobster Truck for our podcast Chew The Fat in late 2019 –– listen in!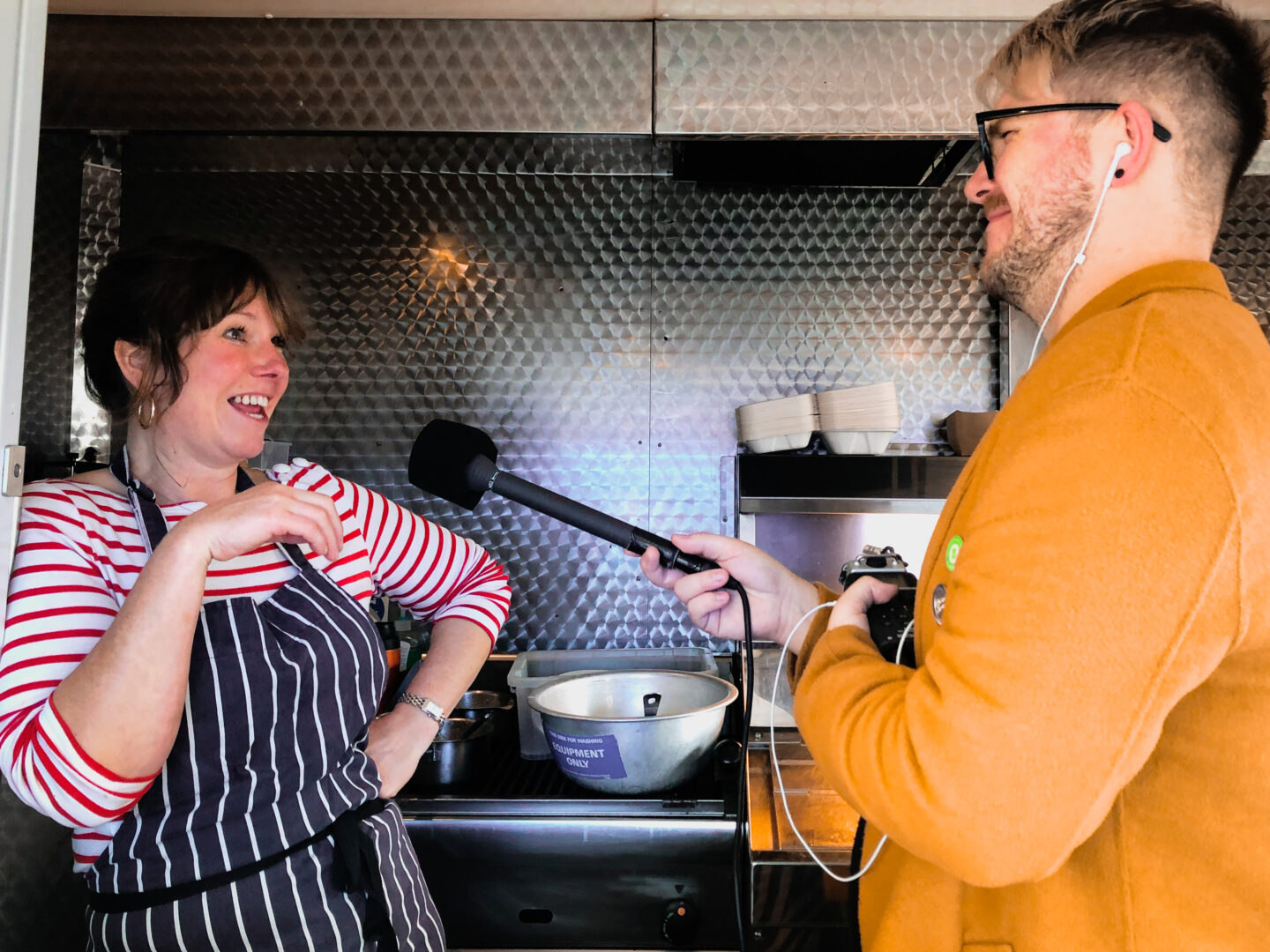 A staple at the best food and music festivals each summer (like All Together Now, Dingle Food Festival and Body and Soul) Julia has a more permanent presence around her home area of Co. Clare and pops up reguarly by Davy's Pub in Bell Harbour and Moher Cottage by the Cliffs of Moher, as well as sometimes in the towns of Kinvara and Liscannor.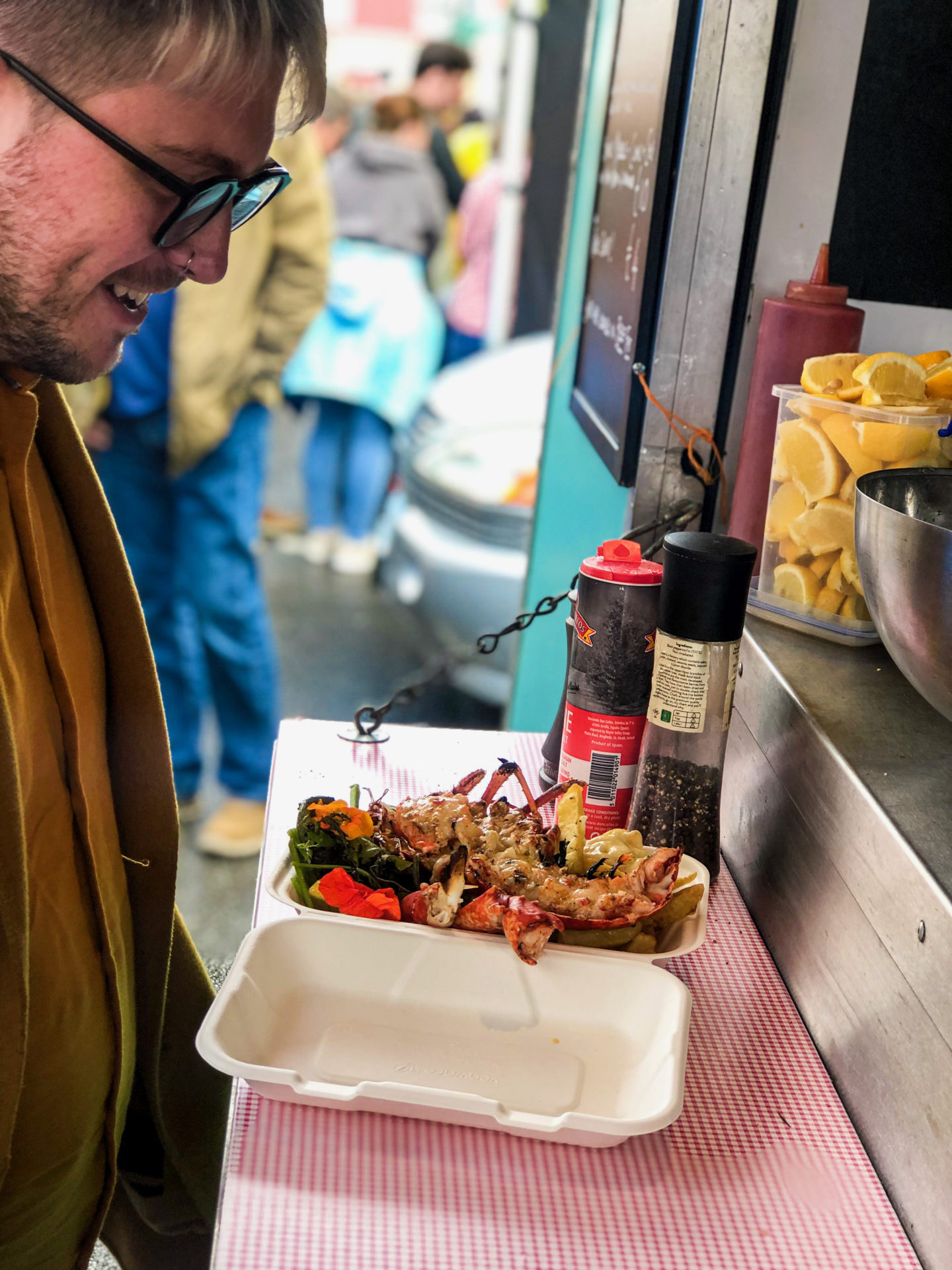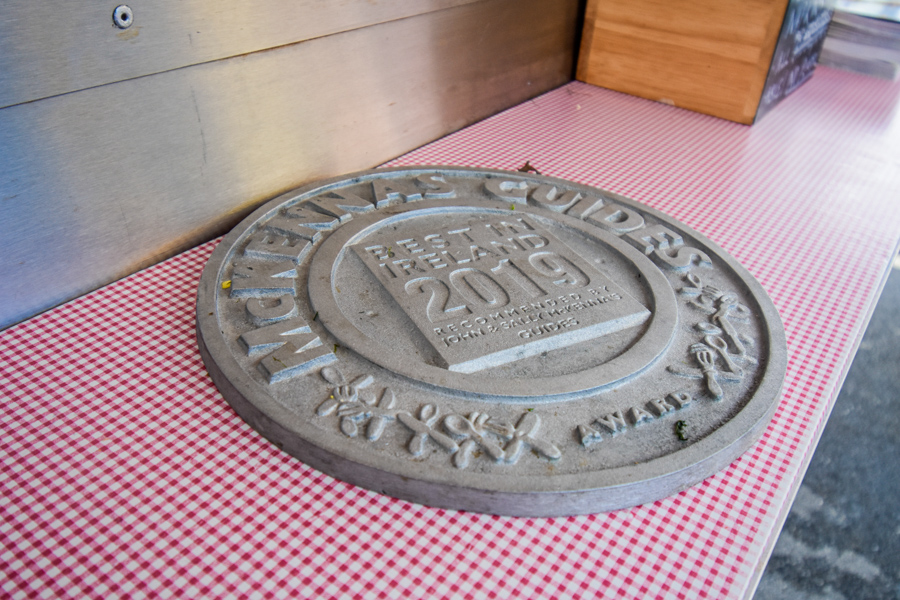 Freshness and quality underpin everything on Julia's menu, which varies according to what she can get her hands on – crab, mussels, fresh white fish, oily fish, bisque, oysters – but lobster is a mainstay, and when it's gone it's gone, because unsold lobster is a major loss maker. So this food truck only just about stocks enough per day, often taking pre-orders.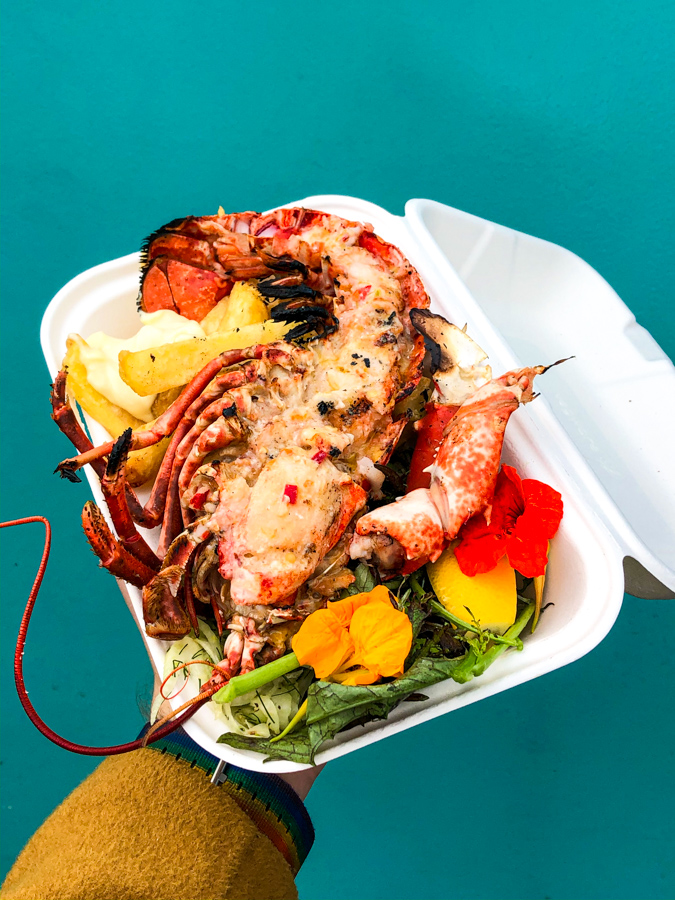 Garlic butter-basted grilled lobster is truly a thing of beauty, and eating Julia's lobster and chips, served by the sea somewhere with a glass of wine is truly one of Ireland's greatest edible pleasures.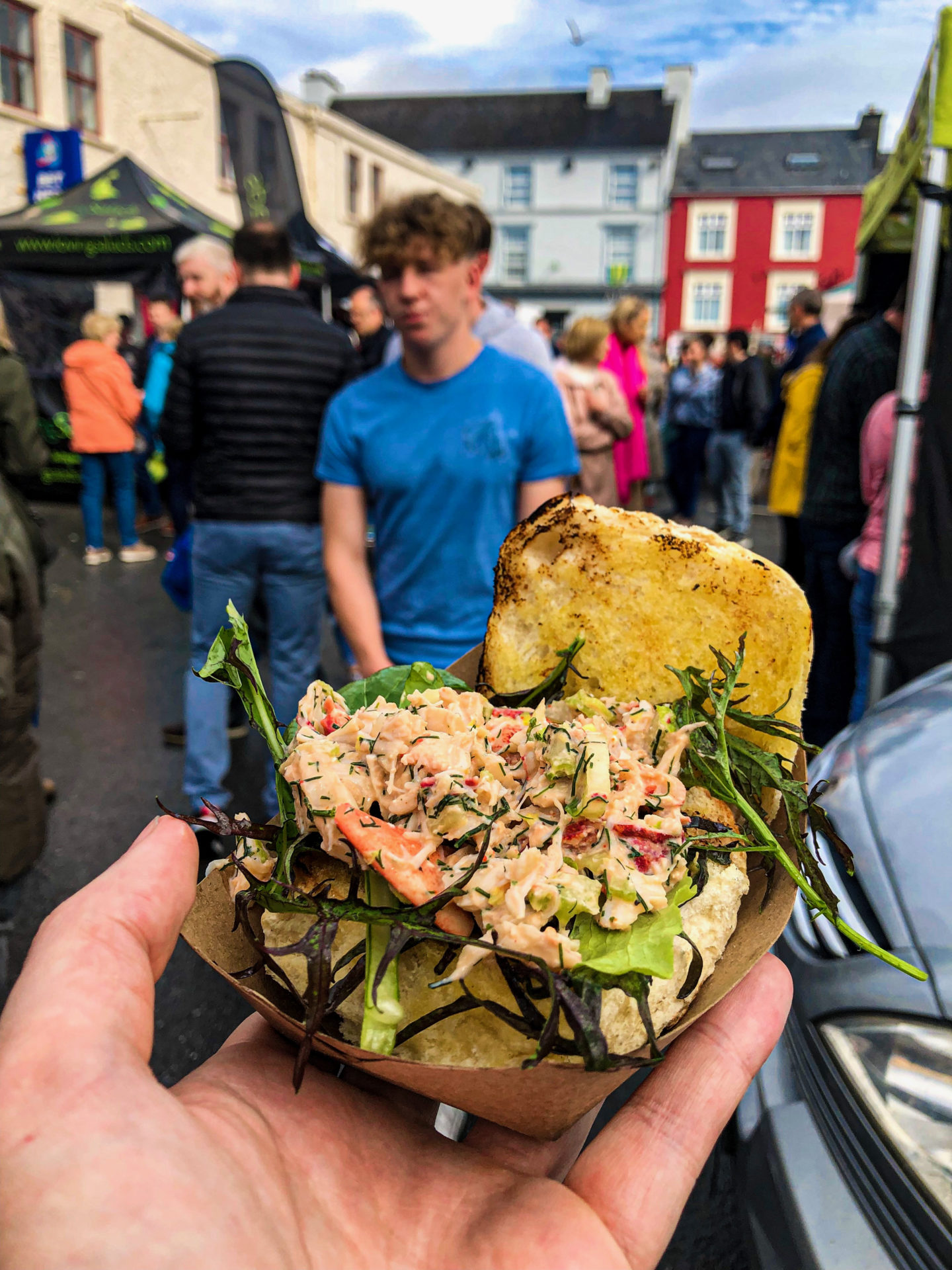 Another huge plus, if you ask us, is her chips/fries are cooked exclusively in beef dripping –– it truly is the best way and unbeatable in flavour. Salads that are served alongside burst in flavour, colour and freshness, always dressed to-order.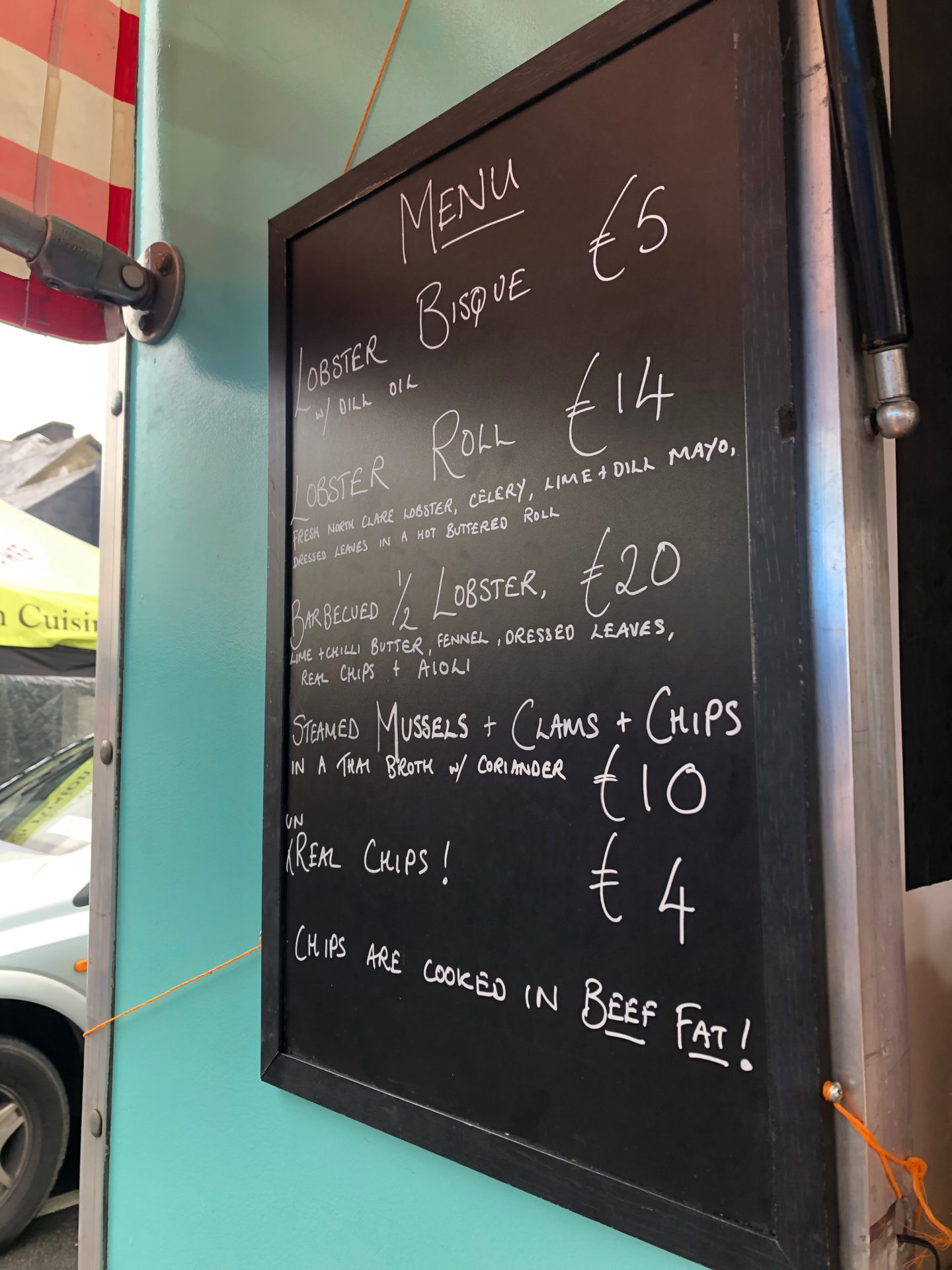 Like many food offers on wheels, keep an eye on Julia's social media pages for where she's popping up next, but if you're in Clare, stick around Kinvara, Bellharbour or Liscannor and chances are you'll stumple upon this lobster pot.
Giolladh, Malahide, North Co. Dublin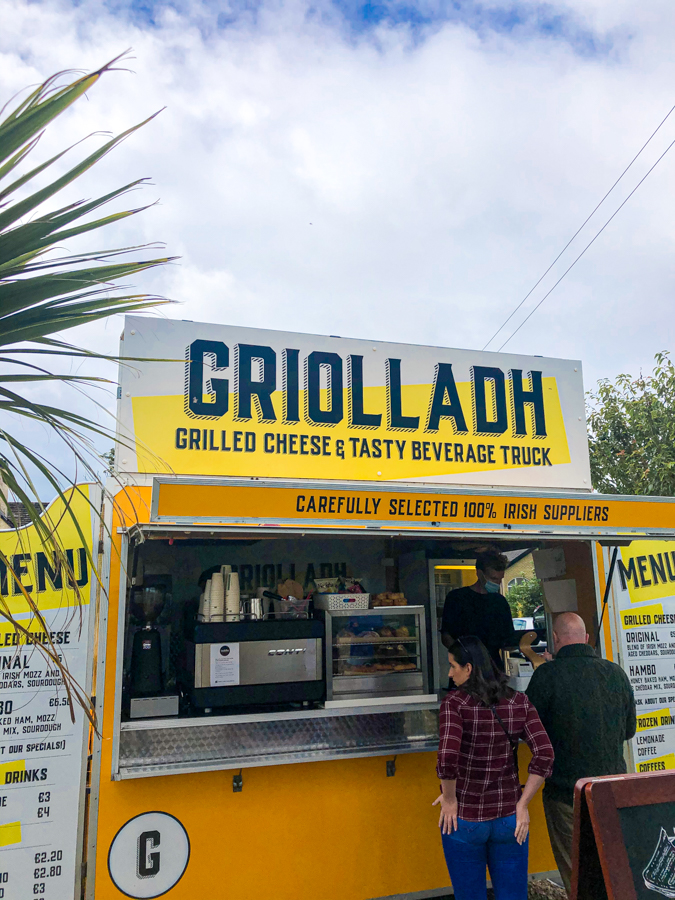 Translating from Gaeilge as 'Grilling', The Griolladh toastie and coffee truck popped up in mid-2020 quite literally in the front garden of a house on the Coast Road in Malahide! Jacob Long and Jack Brennan, both notable personalities on the Dublin hospitality scene, were out of work due to Covid-19 and came together to bounce back into business.
The menu is "simple and tasty" they say and centres around staple toasted sandwiches like the original cheese and the 'Hambo' with oven baked ham whilst specials come in and out dependant on ingredients. They also serve both hot and cold drinks, with a variety of sauces available too and coffee by Imbibe. There is a new vegan option too and we hear rumblings of other Irish classics coming on stream, like a chicken fillet roll style toastie!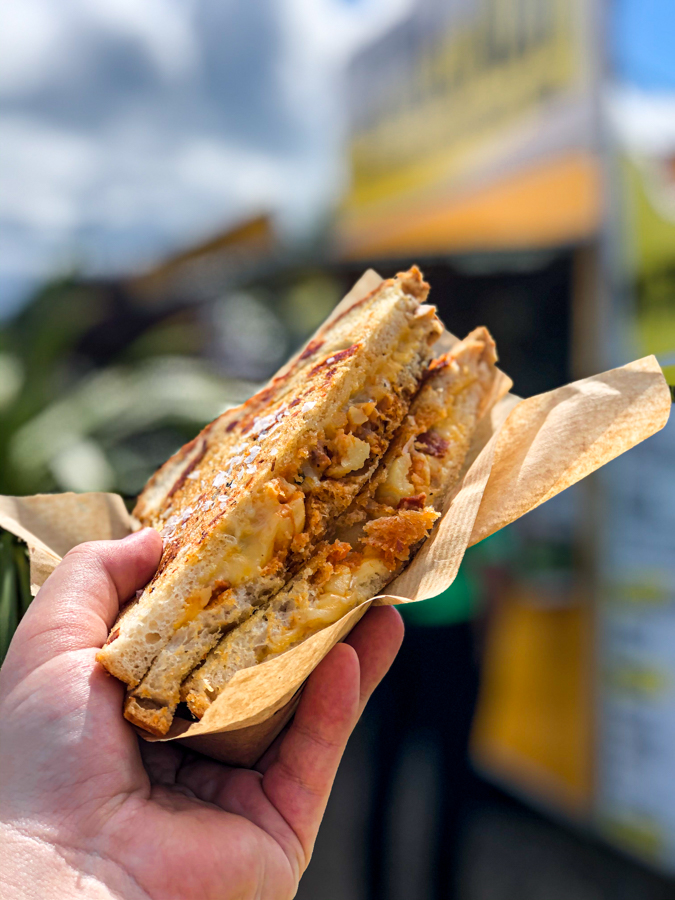 The lads have now also branched out into town by bringing Griolladh to The Globe bar on South Great Georges Street but the van will stay in Malahide. Serving 9am-5pm weekdays and 11am-5pm weekends.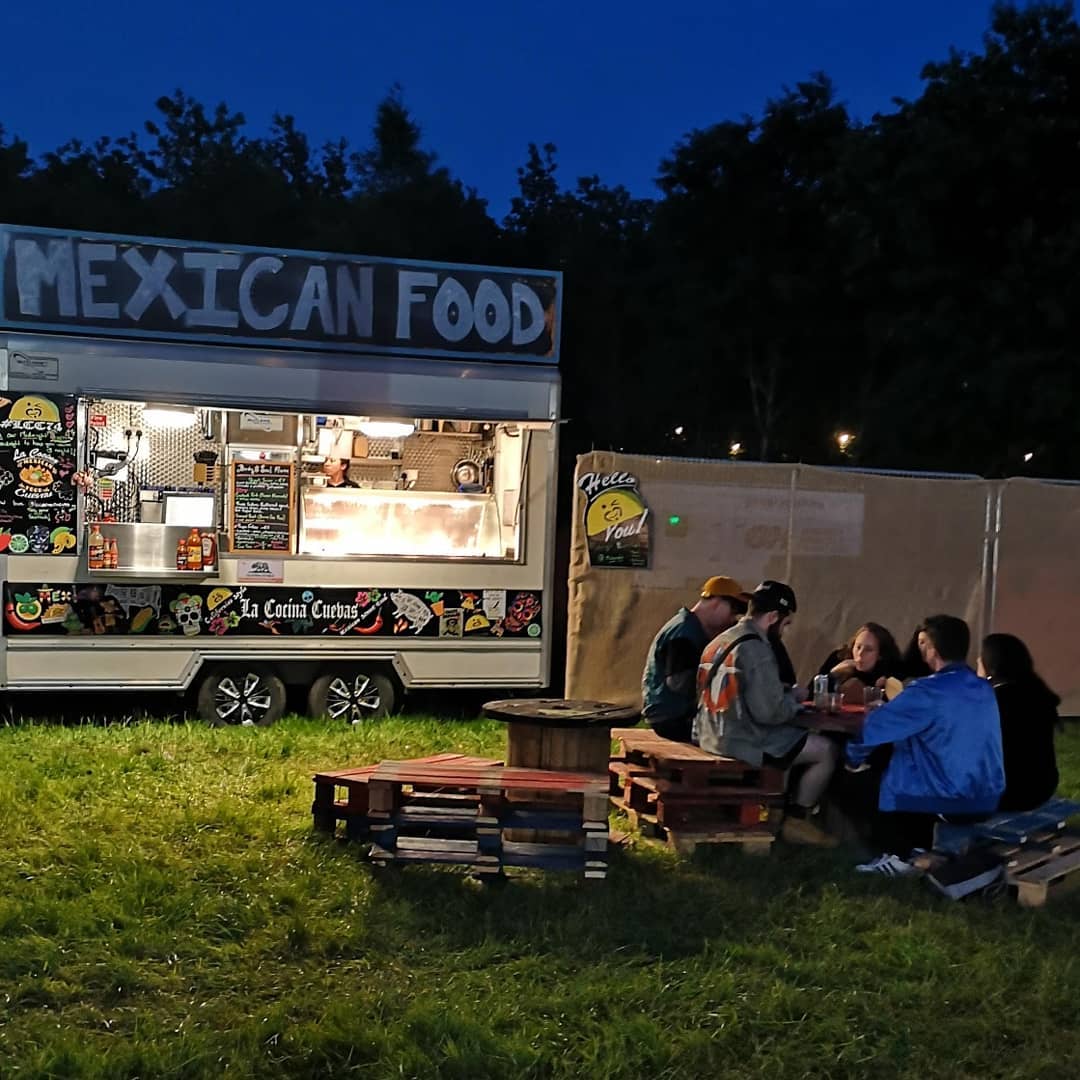 Who knew The Naul are of North Co. Dublin was hiding within a Mexican taco truck? It took us by surprise too us, and in fact one of us grew up very close to here! La Cocina Cuevas (The Cuevas Kitchen) is run by Jeremy Cuevas, a California native now displaced in the farther reaches of Dublin county with a menu of tacos, taquitos, burritos, papas fritas, burgers and elotes.
During Covid-19 it's a pre-order and drive-thru menu, with limited, first-come-first-served basis for drive-ups. The Eircode is K32 K797. Though it may taste it it might not quite reach the balmy climes of southern California at this rural area of eastern Ireland! Cuevas can also be found popping up at Dublin's Eatyard (beside the new Bernard Shaw at Cross Guns BRidge, Dublin 9)
The Salty Buoy, Blessington, Co. Wicklow; Baste BBQ Dublin 8; Roe & Co., Dublin 2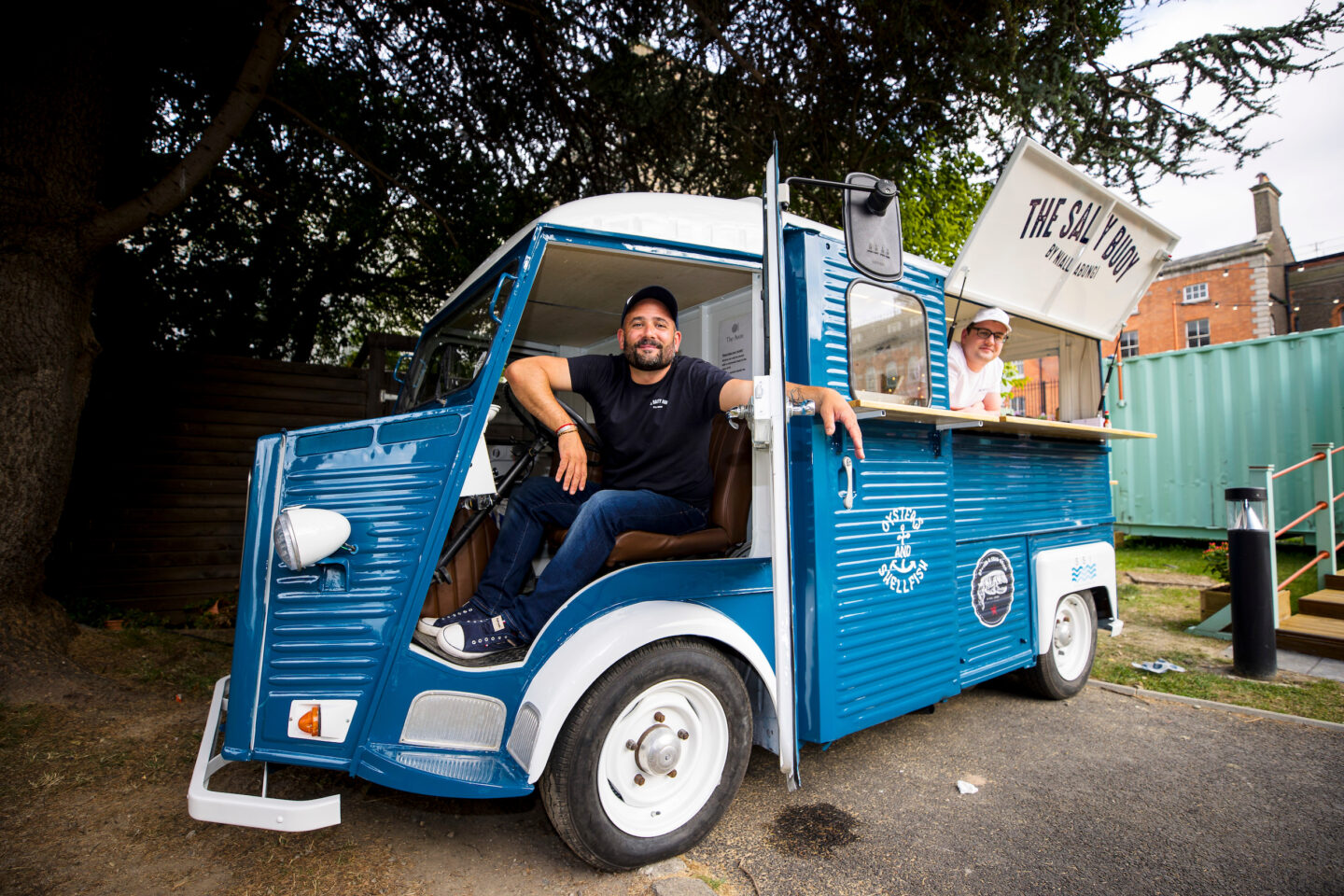 Possibly the newest on this list is Niall Sabongi's first truly remote seafood and shellfish operation. The man behind Klaw and Seafood Cafe in Temple Bar as well as Sustainable Seafood Ireland (and interviewed in this episode of Chew The Fat) has branched out on two wheels with a deadly up-cycled Citroën HY Van.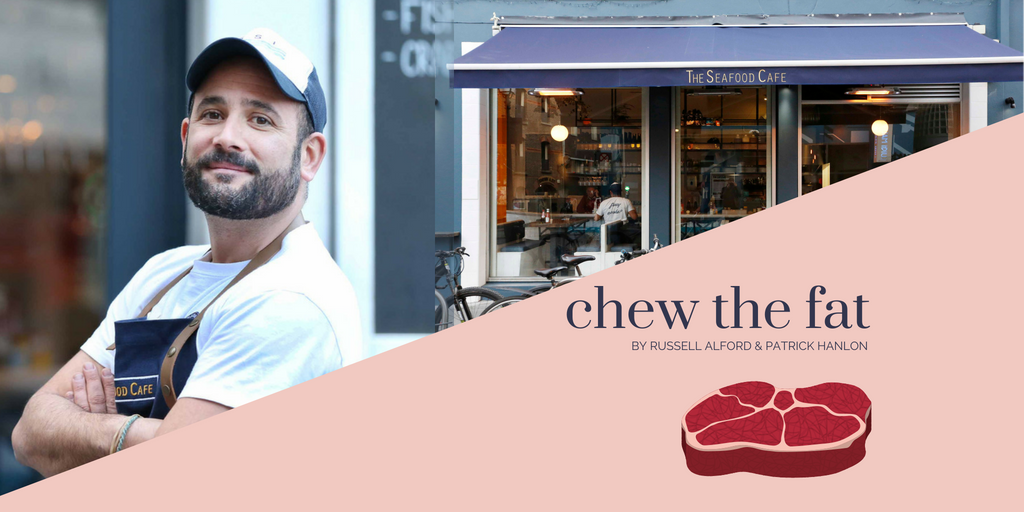 Sabongi has become synonymous with lobster rolls, oysters, dressed crab and sensational chowder, so expect a changing line-up of seafood delights, dependant on what's freshest and just-landed. With three staple locations for the foreseeable, you can find The Salty Buoy at Avon Ri, Blessington every Saturday and Sunday with a pop-up at Andy Noonan's Baste BBQ on Wednesday and sporadically at Roe & Co. Distillery in the Liberties.
Dingle is the tiny town that could. Set in the deep southwest in the Corca Dhuibhne Gaelteacht (Irish language-speaking area) in rural Co. Kerry, Dingle is a town consistently thronged with people and becoming well-known once again for its craic, ceol, tithe tabhairne agus bia –– fun, music, pubs and food!
A contender for our favourite pub of all time, Dick Mack's is an incredibly special spot that combines old world charm with cutting-edge craft –– weaving the tradition of a time-honoured traditional pub with a modern microbrewery and street food offering out back. In the yard of the pub you'll find a little hatch churning out burgers and alongside the town's sole wood-fired pizza purveyor known The Beast, together they are… well, you get the rest!
We try to get down to Dingle twice a year or so, and as far as it looks, The Beast is taking over and it's pretty much pizza full-stop right now, which is never a complaint when the pizza is this good. You'll find it running from around April 'til November (squeezing in annual highlights Dingle Food Festival and Other Voices to round out the year).
There are arguments aplenty about the best cheese toastie in Ireland, and a hot contender for sure comes from a 1950's caravan pitched up in a field a stone's throw from the Giant's Causeway. No, seriously.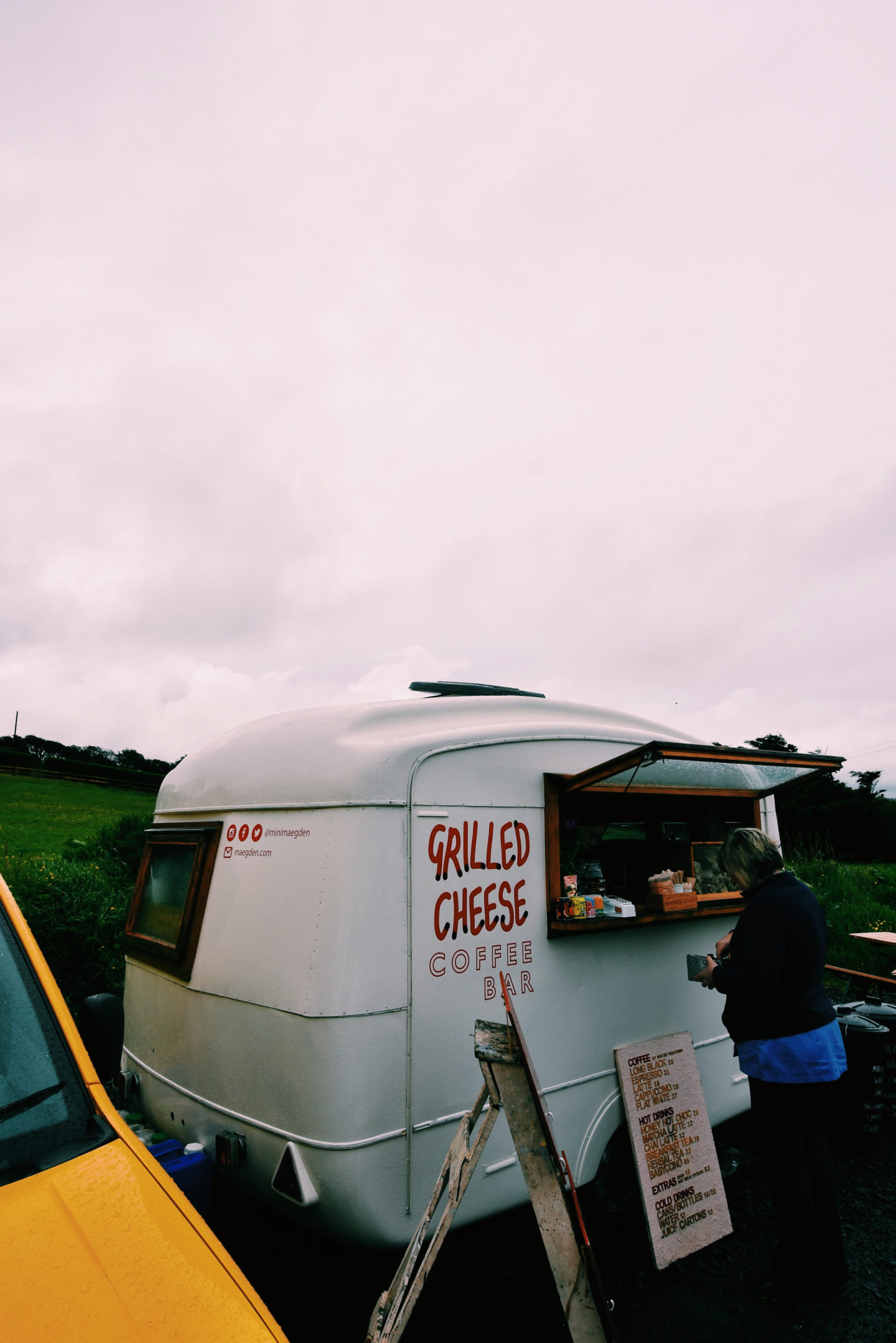 Maegden (pronounced May-den) produces toasties/grilled cheese sandwiches that are made with love, and feature some of the best cheese and charcuterie this island has to offer.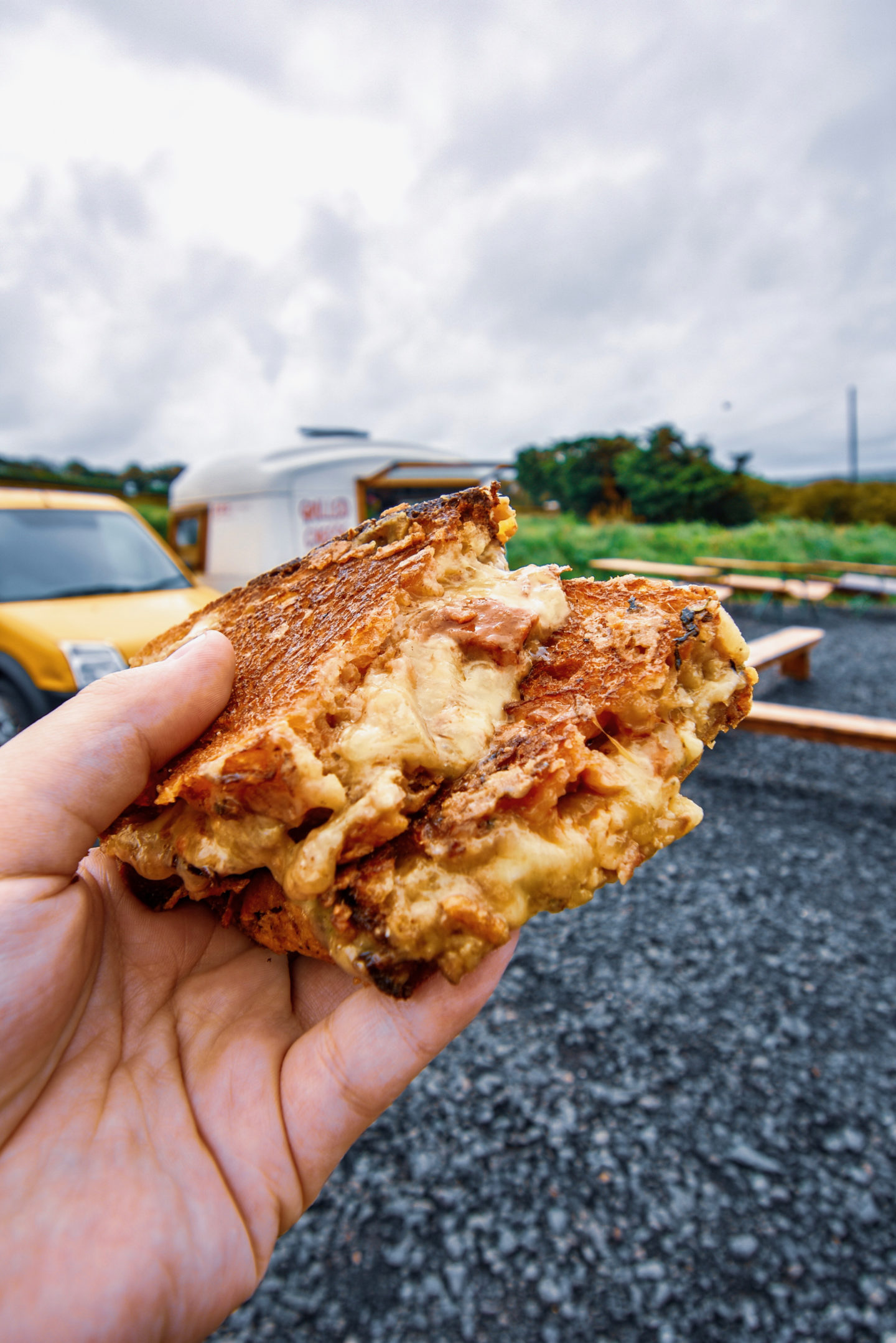 There's also a wide selection of hot and cold drinks (teas, hot chocolates and coffees) plus a couple of benches nearby to sit and enjoy everything. Our tip is to leave extra room for an Drayne's Farm ice-cream sandwich afterwards. Toastie, walk, Causeway, walk, ice-cream sandwich. You're welcome.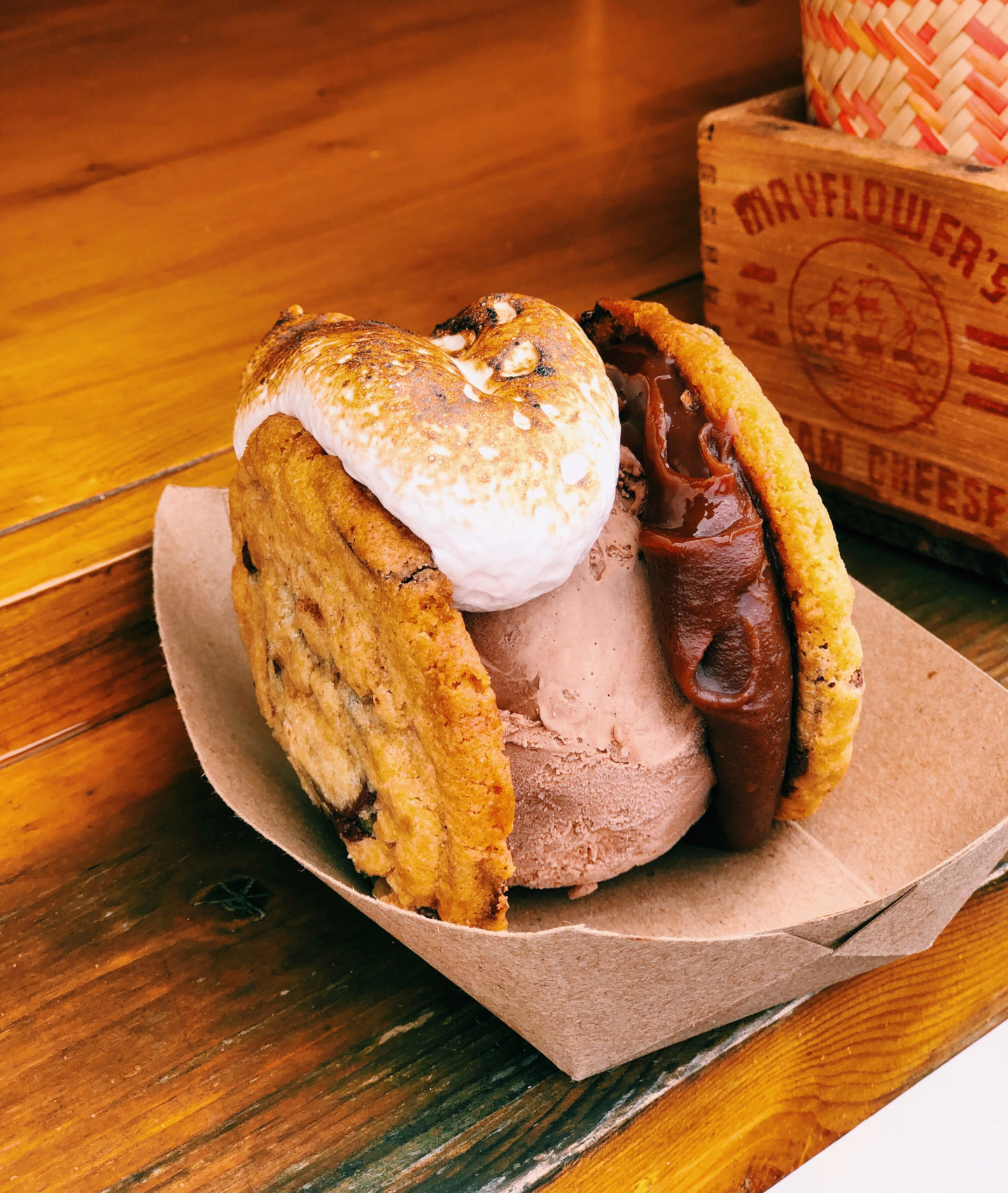 You'll find Maegden here from March to October, usually around 11am to 5pm and closed on Tuesdays. One of the many great places to eat along the Causeway Coastal Route.
Looking for something a little healthier and heartier to grab and enjoy? An offshoot of the Wildwood Cafe that regularly operated at Escape HQ, it's now based up the street on wheels! Turn left at Centra on Newry Street and you'll find the pitch, serving fresh, tempting, seasonal whole food fishes with mindful eating at play, alongside juices, kombucha and the like.
Oui Poutine, Donegall Quay, Belfast, Co. Antrim
Big Fish, Little Fish, Poutine-in-a-box! Set up at Belfast's iconic fish statue right by the Lagan on Donegall Quay, this food truck celebrates the majesty of that Canadian favourite: poutine!
A comforting carb-y, fat fest (in the most delicious and beautiful way possible) featuring fresh-cut chips, cheese curds and special gravy with a plethora of different topping possibilities. The prices are very keen and there's also some specials of other dishes, like grilled cheese, burgers, bacon butties and funnel cakes! Though poutine is a Quebecois import, they use local as much as possible, just as important is their focus on sustainability, too.
Oui Poutine also sometimes ventures elsewhere, but this is its fairly permanent home for the foreseeable! There are also veggie/vegan options and gluten-free gravy available. They usually trade from around 11:30 – 3pm on Wed, Thurs and Fri and then from 12-6pm on Saturdays.
YAS Queen. Literally. Natasha Czopor has been changing the landscape of raw and vegan eating in Ireland from the ground up for much of the past decade. With a successful range of products under her belt and stocked in many supermarkets across the country, she hit the road and has been popping up at festivals like Body and Soul and All Together Now since 2018 with her Vegan Queen "vegan junk food" truck.
Quite possibly the best, most indulgent burger we had at All Together Now in 2018, this is proper, filling and fresh, really standing out among the usual festival brigade. If at a festival near you soon – seek the Vegan Queen out! At the time of writing, Natasha is also opening a vegan cafe called Natasha's Eating House in Blessington, Co. Wicklow too – stay tuned to that Facebook page for updates.
Rivesci, (various Tipperary, Kilkenny)
A couple for the last six years, Shannon Forrest and Declan Malone are the pair behind Rivesci who make both delicious condiments and run a food truck in a converted caravan. Declan brings experience from Michelin-starred kitchens, Shannon is formerly Grow It Yourself staff whilst both are formerly of Bia + Brew in Tramore.
They had been trading for just shy of a year when Covid-19 hit and halted all events and opportunities. Quickly diversifying to survive, they turned their hands to products and have a range of delicious cupboard hero condiments using fellow local producers coming on line in a big way being part of SuperValu's Food Academy.
Picking up the pieces post-lockdown, the pair are back out tentatively out at Clonmel Farmer's Market in Tipperary and Mountain View Farmer's Market in Kilkenny whilst focusing more on their product range rather than the street food arm for the meantime whilst the pandemic continues to wreak havoc and turn the world upside down!
Another poutine? Yes, your eyes are not deceiving you! South of the border there's Lala poutine who've been slinging delicious Canadian comfort food since 2015. Though their day-to-day may seems mostly in private catering and corporate events, you'll find these guys popping up at all manner of festivals across the Republic, from Electric Picnic to Body and Soul, All Together Now to City Spectacular and beyond.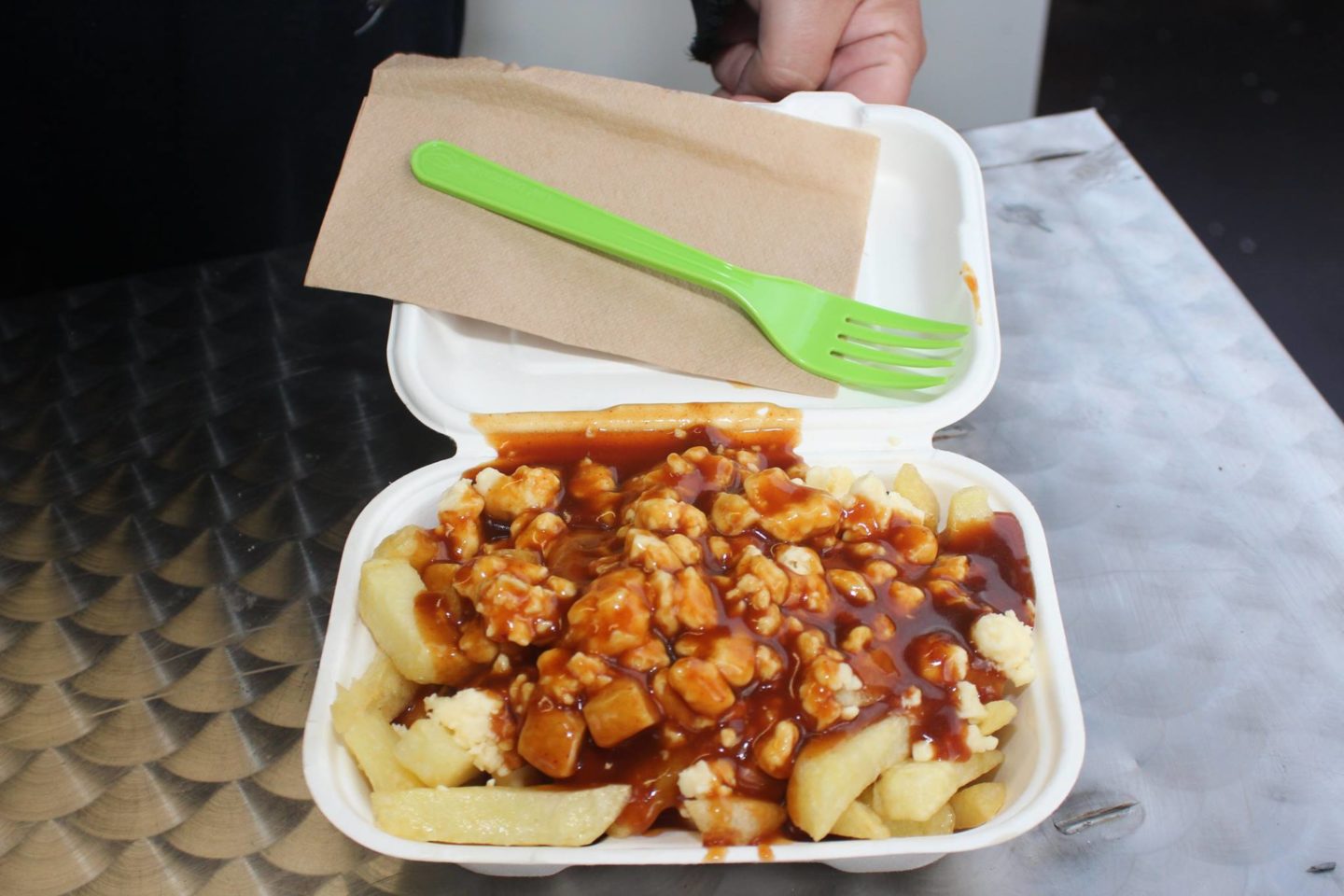 Keep your eyes peeled and your stomach rumbling, 'cause once you've tasted poutine the flavour lingers in your tastebuds forever!
The Hatch, Newcastle, Co. Down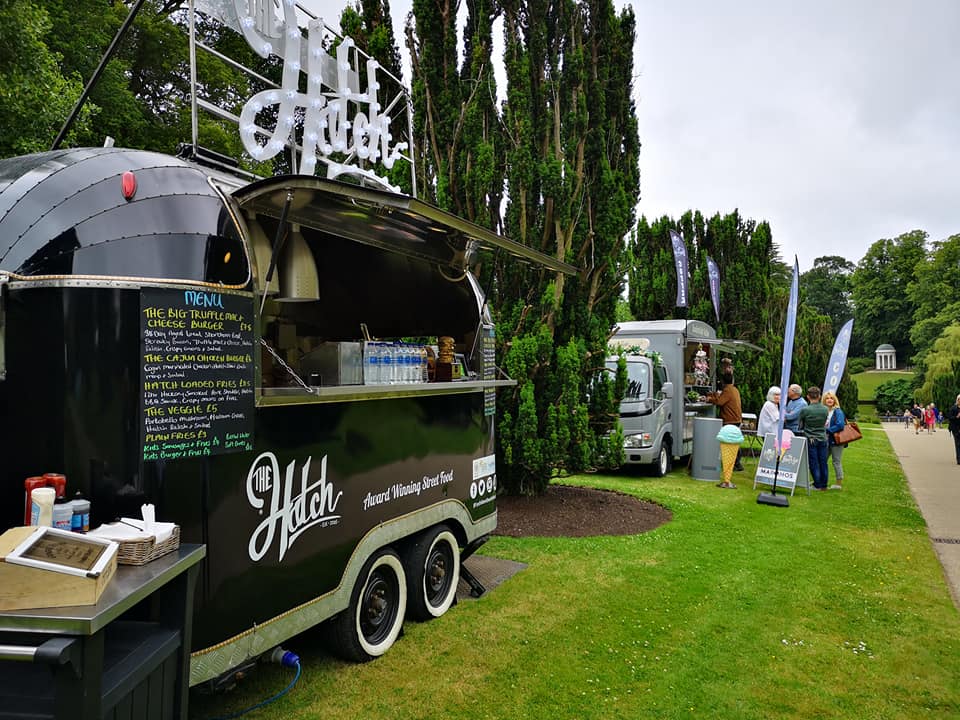 You've tried burgers, but have you tried the recently-awarded best in Ireland, yet? Not content with being named Best Burger in Ulster in 2018, The Hatch only went on and took the all-Ireland accolade in 2019.
Based in Newcastle, Co. Down (but mobile, too) this award-winning street food truck specialises in the glorious burger. Keeping it simple, the menu has classic beef, hickory-smoked pork, southern fried chicken, a panko-crusted fish option, a veggie option and different styles of dressed, triple-cooked chips (including chicken-seasoned!) as well as chicken wings, crispy squid and fish and chips. There's something for absolutely everyone here.
Ballymaloe Cookery School is the breeding ground for so many faces and voices within the Irish food industry today. So it's no wonder there sits a seasonal food truck on site too.
The Garden Café Truck is open during the summer, Thursday to Saturday from 11am to 5pm serving homemade treats, tacos, salads, soups, coffees and more. Inside the school, on a Saturday you can tuck in to their Saturday Pizzas service, run by the students and serving sensational but simple sourdough pizzas from about midday to 4pm.
Festivals, street-side pitches and pop-ups aside, kudos has to be given to the likes of Bodytonic's Eatyard in Dublin, St. George's Market in Belfast and other permanent weekly or monthly markets across the island that give a platform and a pitch to enterprising, often up-and-coming street food traders. Also, we want to spotlight a couple of entries in this feature that have sadly closed or have evolved into a new iteration…
GráLinn [NOW PERMANENT CAFE]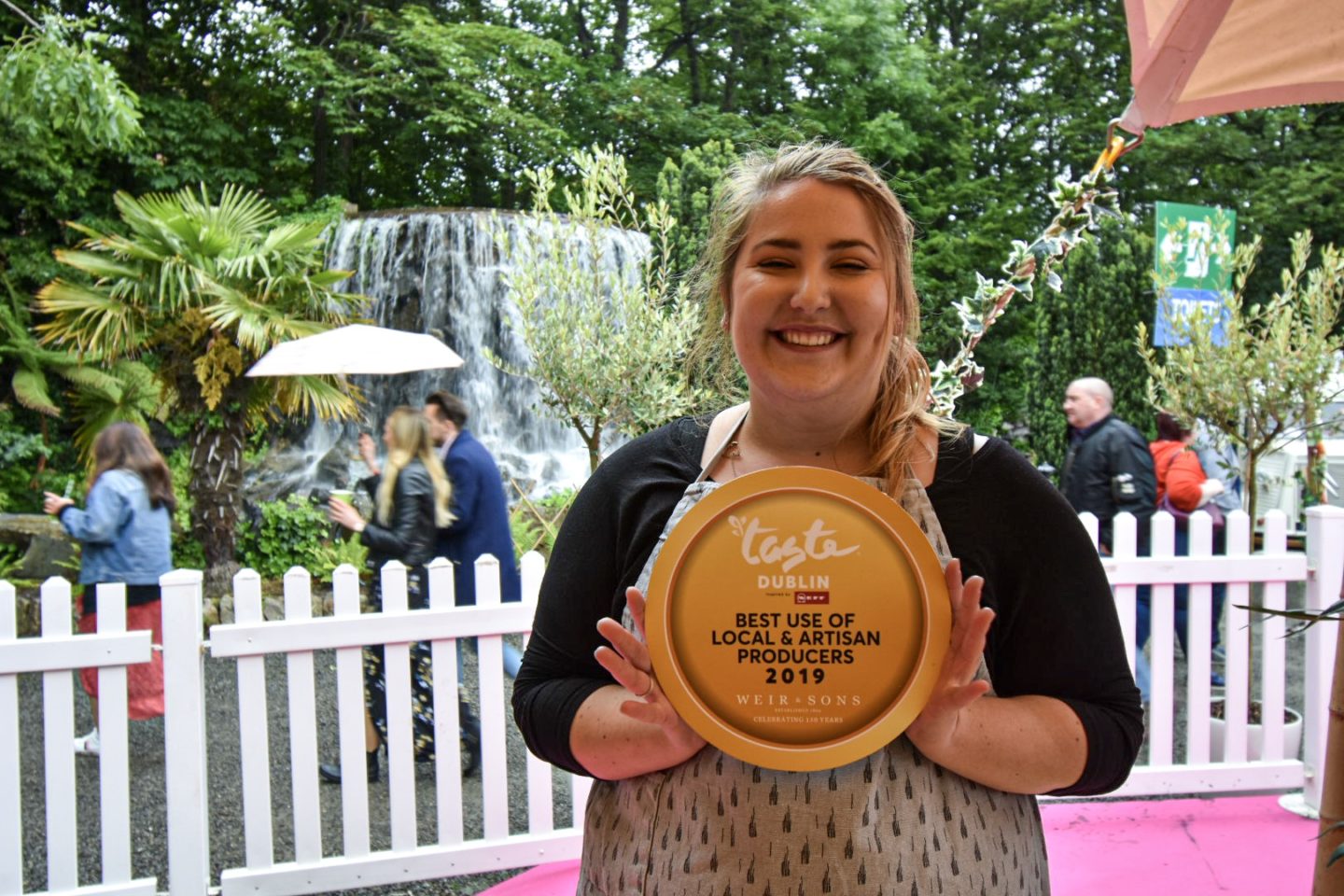 It's been a whirlwind couple of years for couple Dee Kelly and Matteo Griscti, who set up a food truck which turned into supperclubs and later turned into a pop-up as a "daily special" at none other than Taste of Dublin 2019 and won a #BestInTaste 2019 award for their use of local, artisan produce. Not bad for a one-day restaurant pop-up –– a glowing endorsement of the talent behind the wheels, here!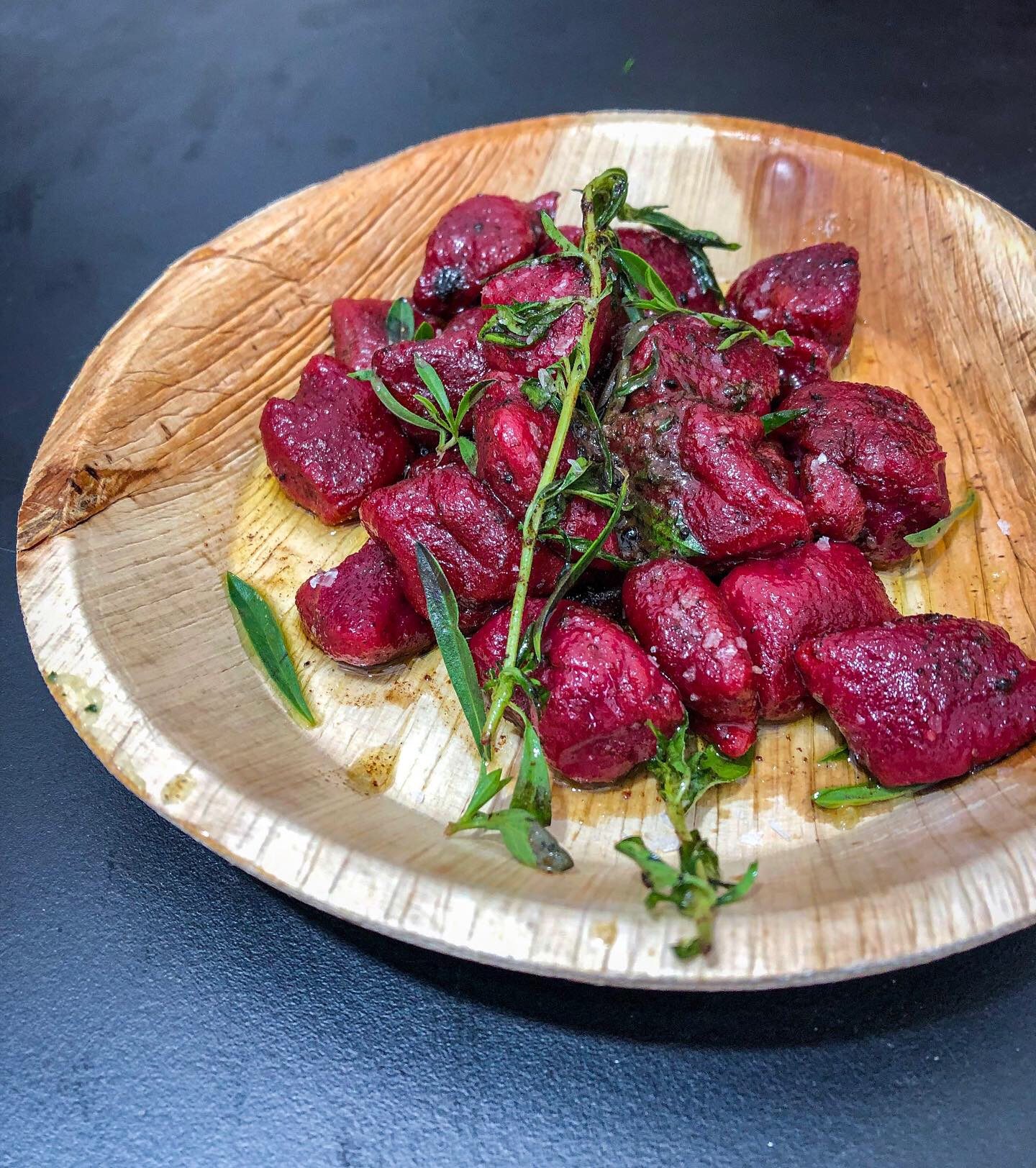 We first tasted GráLinn's (which means 'Love, With Us' in Irish) sumptuous toasties filled with local produce (like McNally vegetables and herbs, Toonsbridge cheese and Scéal sourdough) at Savour Kilkenny in Autumn 2018 and then tried all their dishes when we worked on the Taste of Dublin team throughout 2019. Historically they also popped-up at MVP on Dublin's Clanbrassil Street as well as running recurring supper clubs at Elmhurst Urban Farm on the city's northside.
In 2020 Dee and Matteo changed direction. They upped sticks, set roots and got the keys of their first bricks-and-mortar, permanent outpost in the village of Fethard-on-Sea in Co. Wexford by opening GráLinn cafe. Though this post is strictly about street food, food trucks, pop-ups and meals on wheels, we didn't necessarily want to omit these guys as that's the arena they came from and put so much heart and effort into –– so please, go check out there cafe if you're in and around Wexford!
A Texan came to Ireland to showcase just what proper Tex Mex is all about. Austin Howard and his partner Rebecca moved to the Irish capital in 2015 and went hell for leather on a dream to start a tex mex taco truck in 2018, but sadly just two years into their journey the Covid-19 crisis put a permanent end to their endeavour.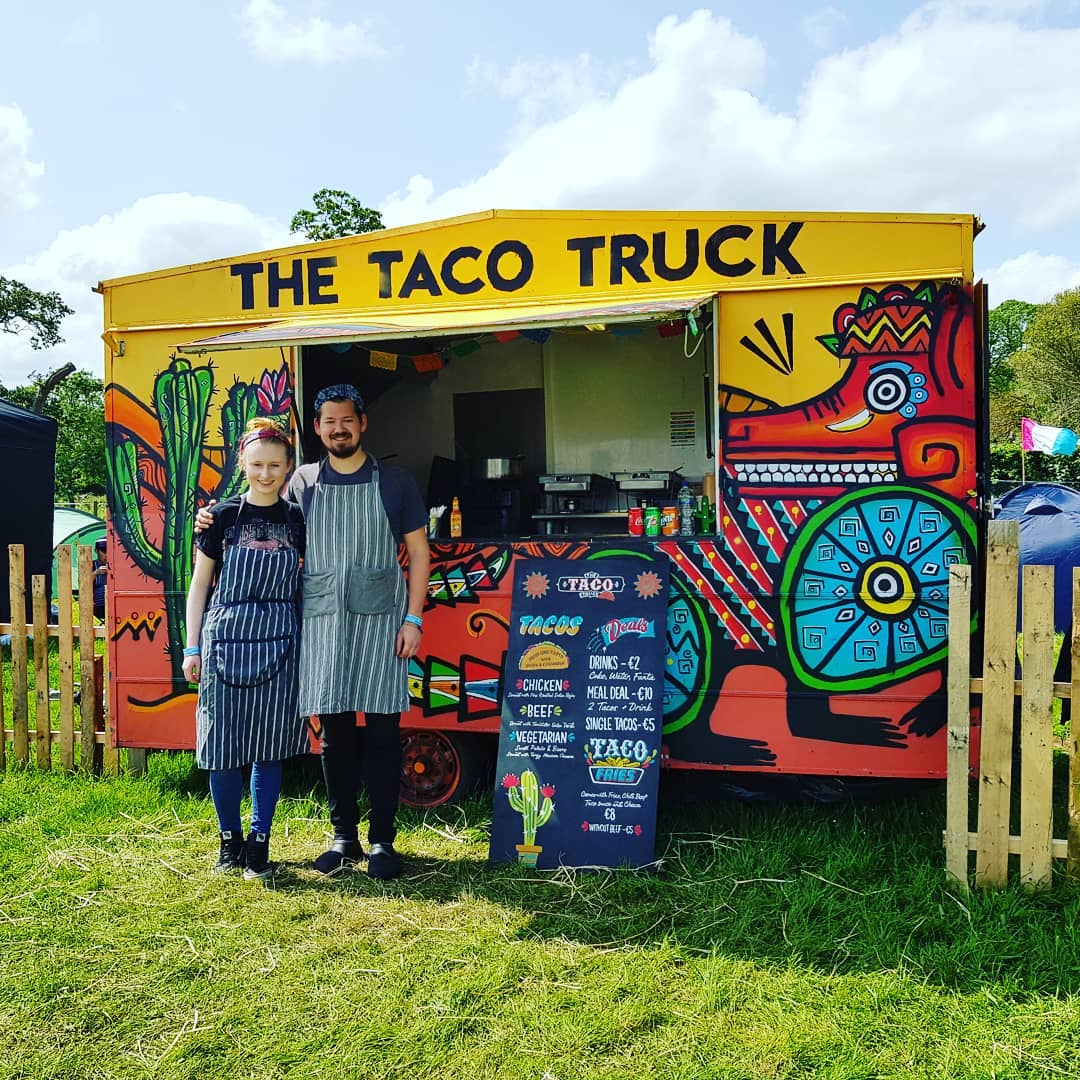 This pair have moved on but they have stated that they sold/handed over the truck to "very capable hands, who will keep the dream of delicious, authentic tacos alive!" so watch this space…
Food Depot (Gourmet Street Kitchen), Courtmacsherry, Co. Cork (CLOSED)
Sadly late 2019 also saw the closure of one of Ireland's original trucks, Food Depot (Gourmet Street Kitchen), run by Diana Dodog (winner of MasterChef Ireland in 2014) and husband Mike O'Donovan. Diana, who is originally from Hungary, arrived to Ireland after a couple of years spent in Canada and met future husband Mike when they worked together in hotel management in Cork before exploring the world together and returning Courtmacsherry (where Mike is from) to set roots.
The pair are focusing on new adventures after taking some time off, so keep their names and food credentials in your mind for future reference!