Ireland has a curious relationship with street food. Where other food destinations (London, Copenhagen, LA) are adorned with a multitude of trucks, stalls, vans and pitches that run the gamut from side-of-road ramshackle to purpose-built resplendence, Ireland has so much red tape when it comes to permits, health and safety et al that almost stops street food as a concept in its tracks on this island. "For good reason," some may argue, but after living in London and enjoying the likes of Brockley Market every weekend on our doorstep, as well as travelling the world and exploring cuisine from street food right up to Michelin star, we can't help but wonder why Ireland isn't embracing the street food truck more.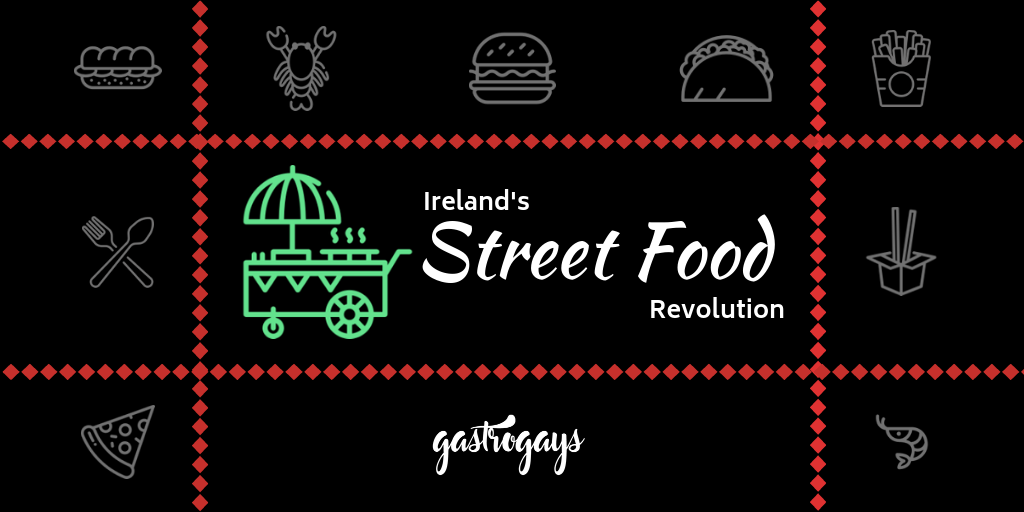 With this in mind, we're taking stock of the little corners of the island where the best street food is found and fabulously celebrated –– each one a destination worthy of discovering all on its own, but all happen to be gateways to some of Ireland's most beautiful and interesting landscapes, too! Not an exhaustive or definitive list or in any order; so please let us know if we've missed any of your favourites in the comments below. And remember, we're talking trucks, not stalls!
Misunderstood Heron, Killary Coastal Park, Connemara, Co. Galway
This place, located remotely by Killary Fjord in Connemara, has gotten a lot of press of late. Recently named by Lonely Planet as among the ten 'Coolest Food Trucks' in the world, it's also been awarded 'Street Food of the Year 2019' by esteemed food writer Georgina Heffernan – so it's certainly gotten people talking.
Located just off the N59 and by the car park of the Killary Adventure Centre, it's a majestic stop-off and a beautiful location for brilliant food. Reinaldo Seco and Kim Young co-run this street food venture that's just celebrated two years in business. He's from Chile, she's from the nearby village of Leenaun (her parents own the Killary Adventure Centre) and they travelled the world before settling down right where they met. Now in their third season they've expanded the site, evolving from a truck to a converted container (so not really a food truck anymore, but for the location, remoteness and individuality we're keeping it in this post!).
Local is celebrated – naturally, with this vast, remote setting around them – so expect Connemara lamb and Killary mussels on the daily-changing menu alongside other homegrown and handmade items. Cloud Picker coffee (who you can listen to in a recent episode of our podcast Chew The Fat) are the guys behind the coffee, too. Appoint one of the picnic tables, and savour both the food and the view – where better to stop off for lunch on a wonderful drive along Ireland's Wild Atlantic Way?
📍Derrynacleigh, Leenaun, Co. Galway
Dingle is the tiny town that could. Set in the deep southwest in the Corca Dhuibhne Gaelteacht (Irish language-speaking) area in rural Co. Kerry, Dingle is a town consistently thronged with people and becoming well-known once again for its craic, ceol, tithe tabhairne agus bia –– fun, music, pubs and food!
A contender for our favourite pub of all time, Dick Mack's is an incredibly special spot that combines old world charm with cutting-edge craft –– weaving the tradition of a time-honoured traditional pub with a modern microbrewery and street food offering out back. In the yard of the pub you'll find a little hatch churning out burgers and alongside the town's sole wood-fired pizza purveyor known The Beast, together they are… well, you get the rest!
We try to get down to Dingle twice a year or so, and as far as it looks, The Beast is taking over and it's pretty much pizza full-stop right now, which is never a complaint when the pizza is this good. You'll find it running from around April 'til November (squeezing in annual highlights Dingle Food Festival and Other Voices to round out the year).
📍47 Green St, Dingle, Co. Kerry
There are arguments aplenty about the best cheese toastie in Ireland, and a hot contender for sure comes from a 1950's caravan pitched up in a field a stone's throw from the Giant's Causeway. No, seriously.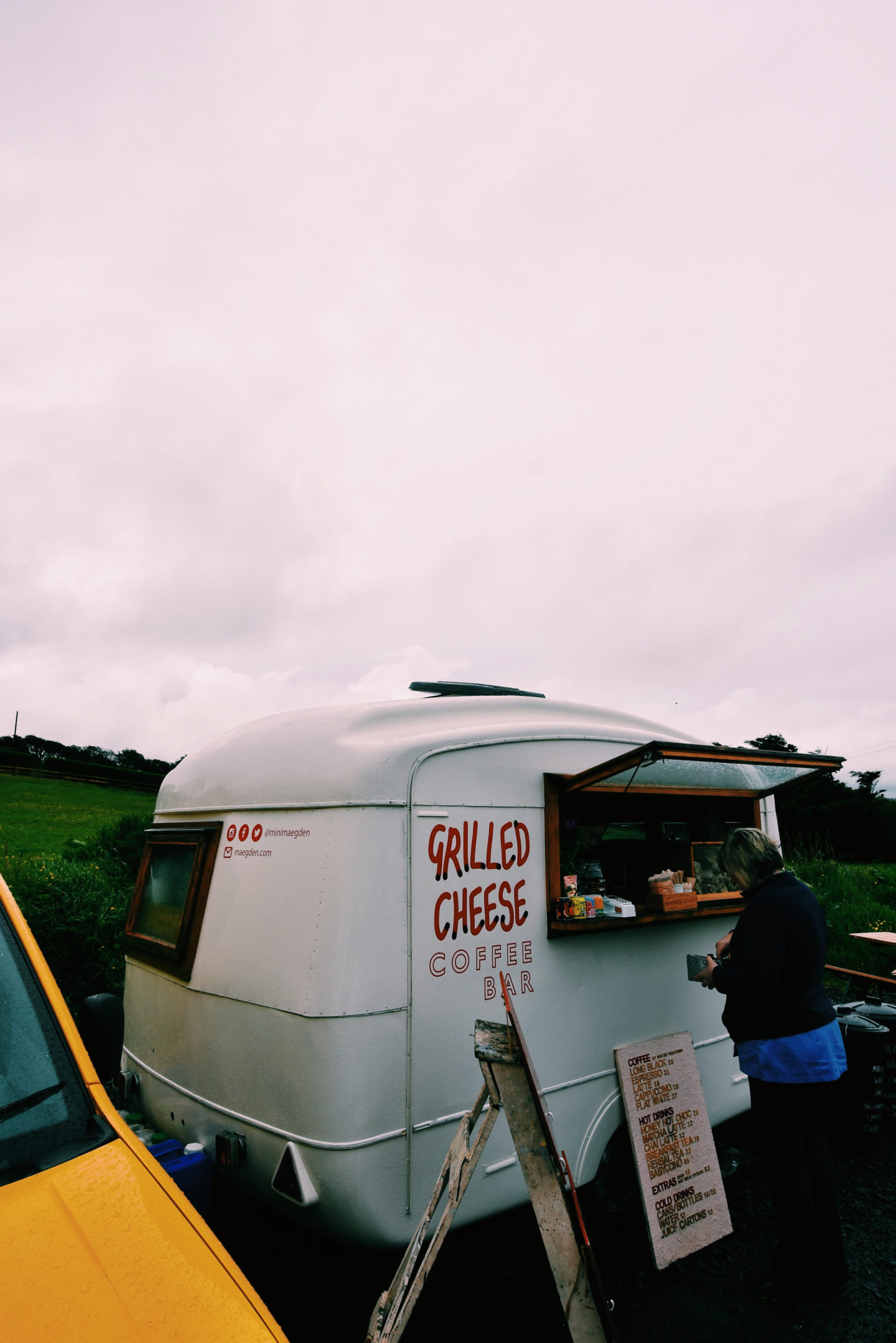 Maegden (pronounced May-den) produces toasties/grilled cheese sandwiches that are made with love, and feature some of the best cheese and charcuterie this island has to offer.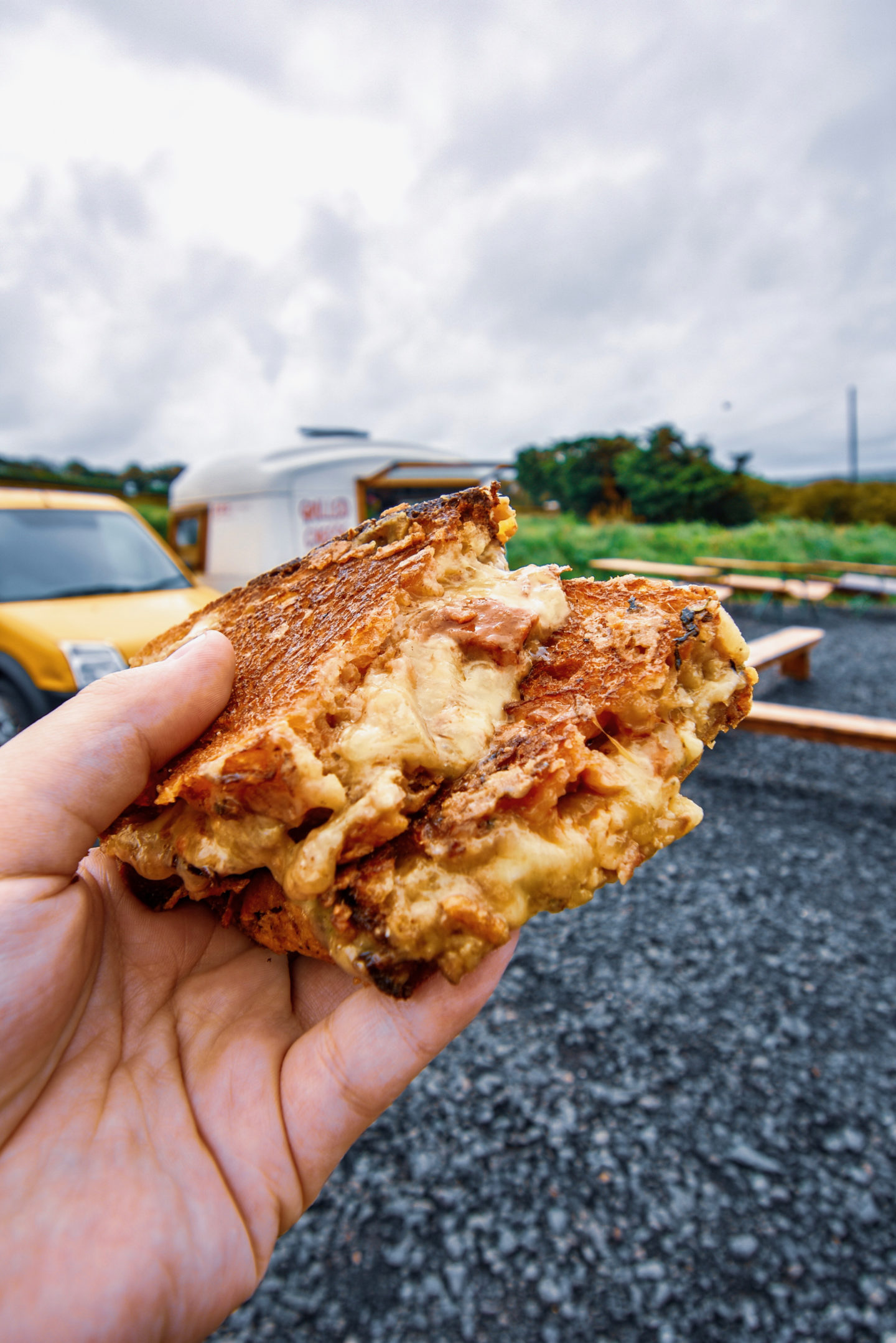 There's also a wide selection of hot and cold drinks (teas, hot chocolates and coffees) plus a couple of benches nearby to sit and enjoy everything. Our tip is to leave extra room for an Drayne's Farm ice-cream sandwich afterwards. Toastie, walk, Causeway, walk, ice-cream sandwich. You're welcome.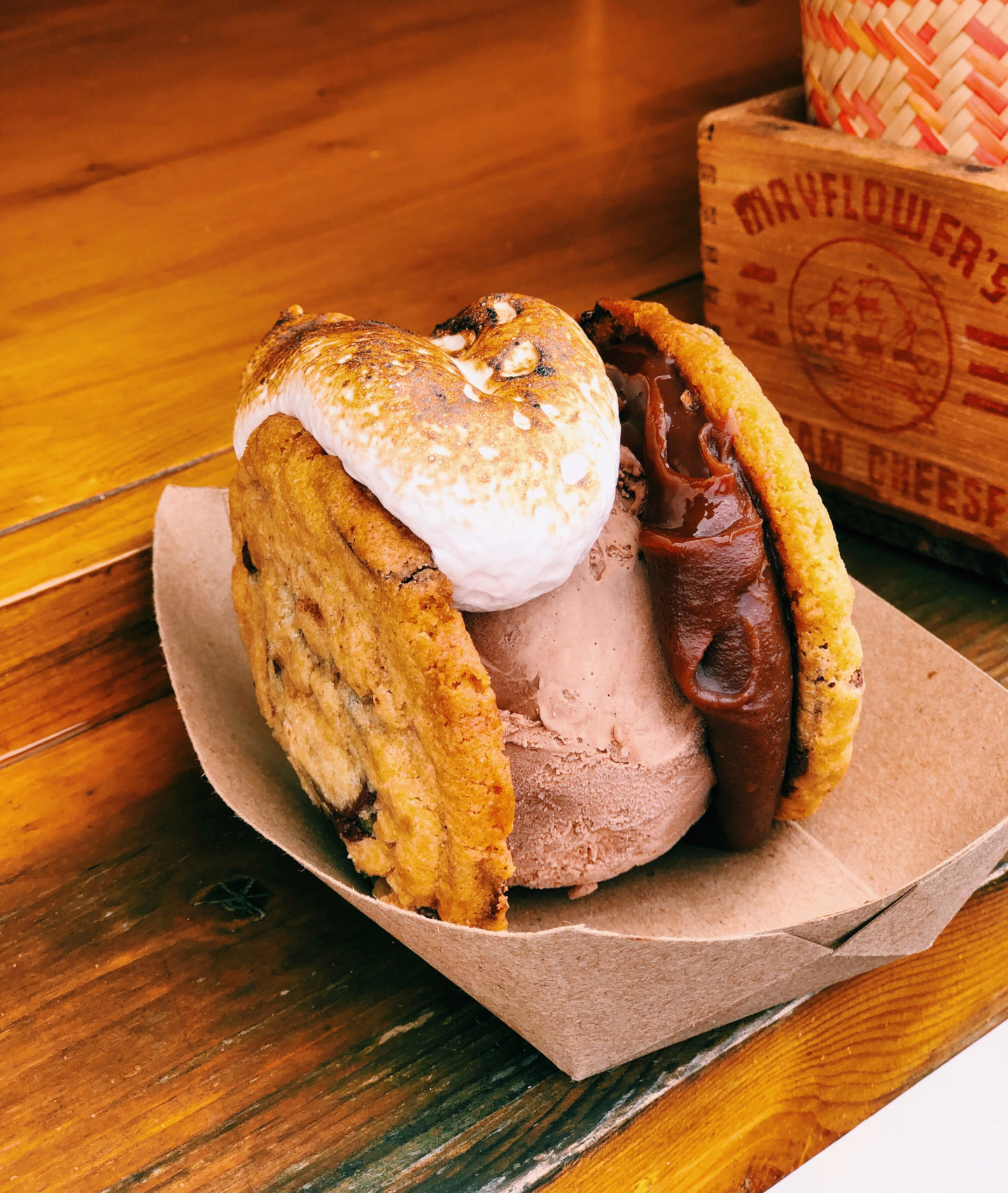 You'll find Maegden here from March to October, usually around 11am to 5pm and closed on Tuesdays. One of the many great places to eat along the Causeway Coastal Route.
📍29 Causeway Rd, Bushmills BT57 8SU
Oui Poutine, Donegall Quay, Belfast, Co. Antrim
Big Fish, Little Fish, Poutine-in-a-box!
Set up at Belfast's iconic fish statue right by the Lagan on Donegall Quay, this food truck celebrates the majesty of that Canadian favourite: poutine! A comforting carb-y, fat fest (in the most delicious and beautiful way possible) featuring fresh-cut chips, cheese curds and special gravy with a plethora of different topping possibilities. The prices are very keen and there's also some specials of other dishes, like grilled cheese, burgers, bacon butties and funnel cakes! Though poutine is a Quebecois import, they use local as much as possible, just as important is their focus on sustainability, too.
Oui Poutine also sometimes ventures elsewhere, but this is its fairly permanent home for the foreseeable! There are also veggie/vegan options and gluten-free gravy available. They usually trade from around 11:30 – 3pm on Wed, Thurs and Fri and then from 12-6pm on Saturdays.
📍1 Donegall Quay, Belfast BT1 3LA
We've long lusted after this place, which pops up at various festivals (like All Together Now and Body and Soul) but has a more permanent pitch-up around Co. Clare. Julia Hemingway arrived in Ireland a quarter of a century ago and cut her teeth in restaurants from the get-go and her mission with the lobster truck is to make fresh seafood and shellfish accessible to all.
Freshness and quality underpin everything on Julia's menu (which varies according to what she can get her hands on – crab, mussels, fresh white fish, oily fish, oysters) but lobster is a mainstay, and when it's gone it's gone, because unsold lobster is a major loss maker.
So this food truck only just about stocks enough per day. Like many food offers on wheels, keep an eye on Julia's social media pages for where she's popping up next, but if you're in Clare, stick around Kinvara, Bellharbour or Liscannor and chances are you'll stumple upon this lobster pot.
📍Various Locations (Check Facebook For Details)
YAS Queen. Literally. Natasha Czopor has been changing the landscape of raw and vegan eating in Ireland from the ground up for much of the past decade. With a successful range of products under her belt and stocked in many supermarkets across the country, she hit the road and has been popping up at festivals like Body and Soul and All Together Now since 2018 with her Vegan Queen "vegan junk food" truck.
Quite possibly the best, most indulgent burger we had at All Together Now in 2018, this is proper, filling and fresh, really standing out among the usual festival brigade. If at a festival near you soon – seek the Vegan Queen out! At the time of writing, Natasha is also opening a vegan cafe called Natasha's Eating House in Blessington, Co. Wicklow too – stay tuned to that Facebook page for updates.
📍Various Locations (Check Facebook For Details)
The Taco Truck, (Various, incl. MVP, Clanbrassil Street), Co. Dublin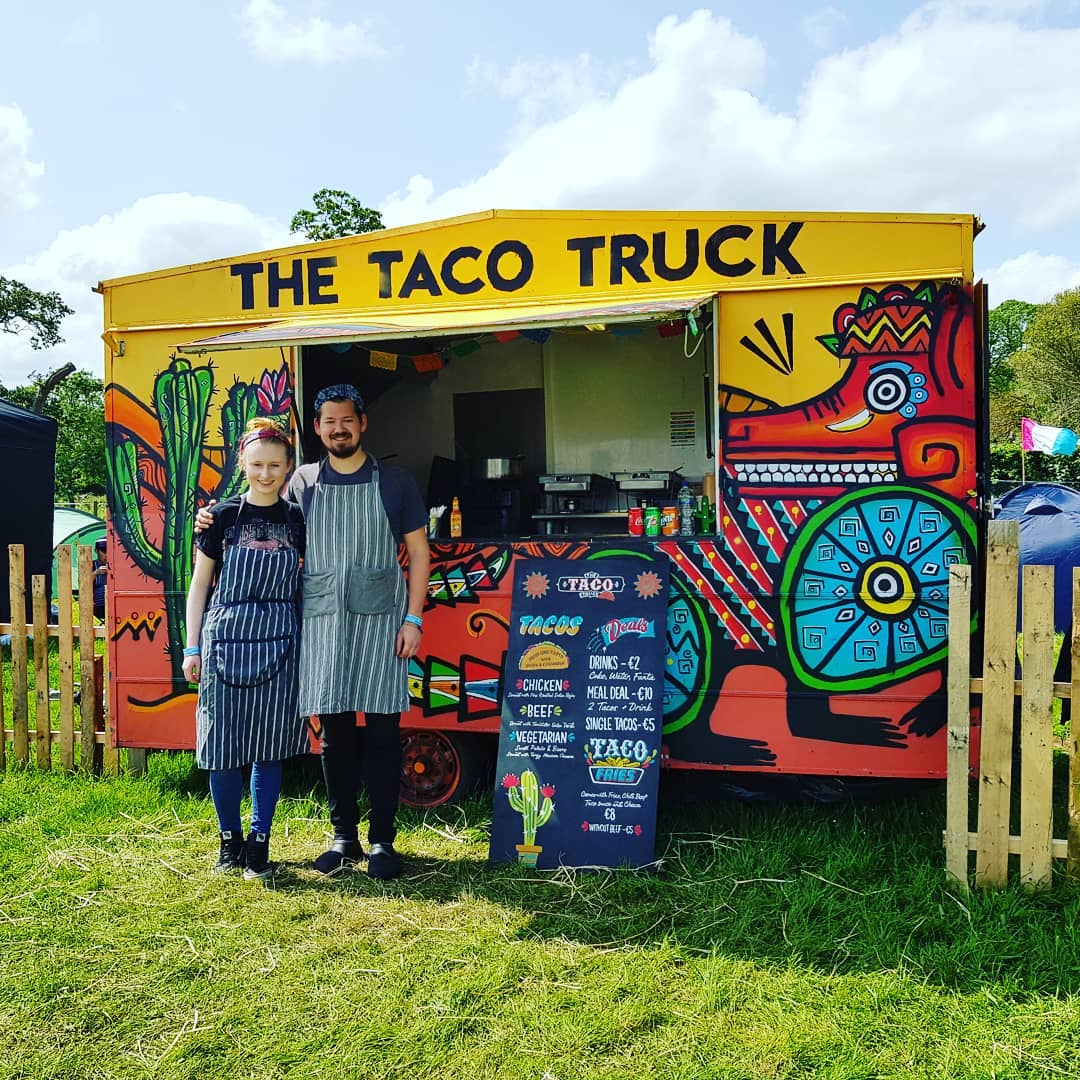 A Texan comes to Ireland to showcase just what proper Tex Mex is all about. Austin Howard and his partner Rebecca moved to the Irish capital in 2015 and went hell for leather on a dream to start a tex mex taco truck.
In 2018 it all came together and later they enlisted the help of Mexican chef Guillermo, adding local know-how to the menu before setting up shop at MVP on Dublin's Clanbrassil Street, which is where they have a semi-permanent pitch right now. At the time of writing, their opening hours are 6-10pm Wednesday to Saturday, Sunday 5-9pm. They also do different festivals and corporate events around Dublin city frequently, too!
📍29 Clanbrassil Street Upper, Dublin 8
GráLinn, various festivals
It's been a whirlwind couple of years for couple Dee Kelly and Matteo Griscti, who set up a food truck which turned into supperclubs and later turned into a pop-up as a "daily special" at none other than Taste of Dublin 2019 and won a #BestInTaste 2019 award for their use of local, artisan produce. Not bad for a one-day restaurant pop-up –– a glowing endorsement of the talent behind the wheels, here!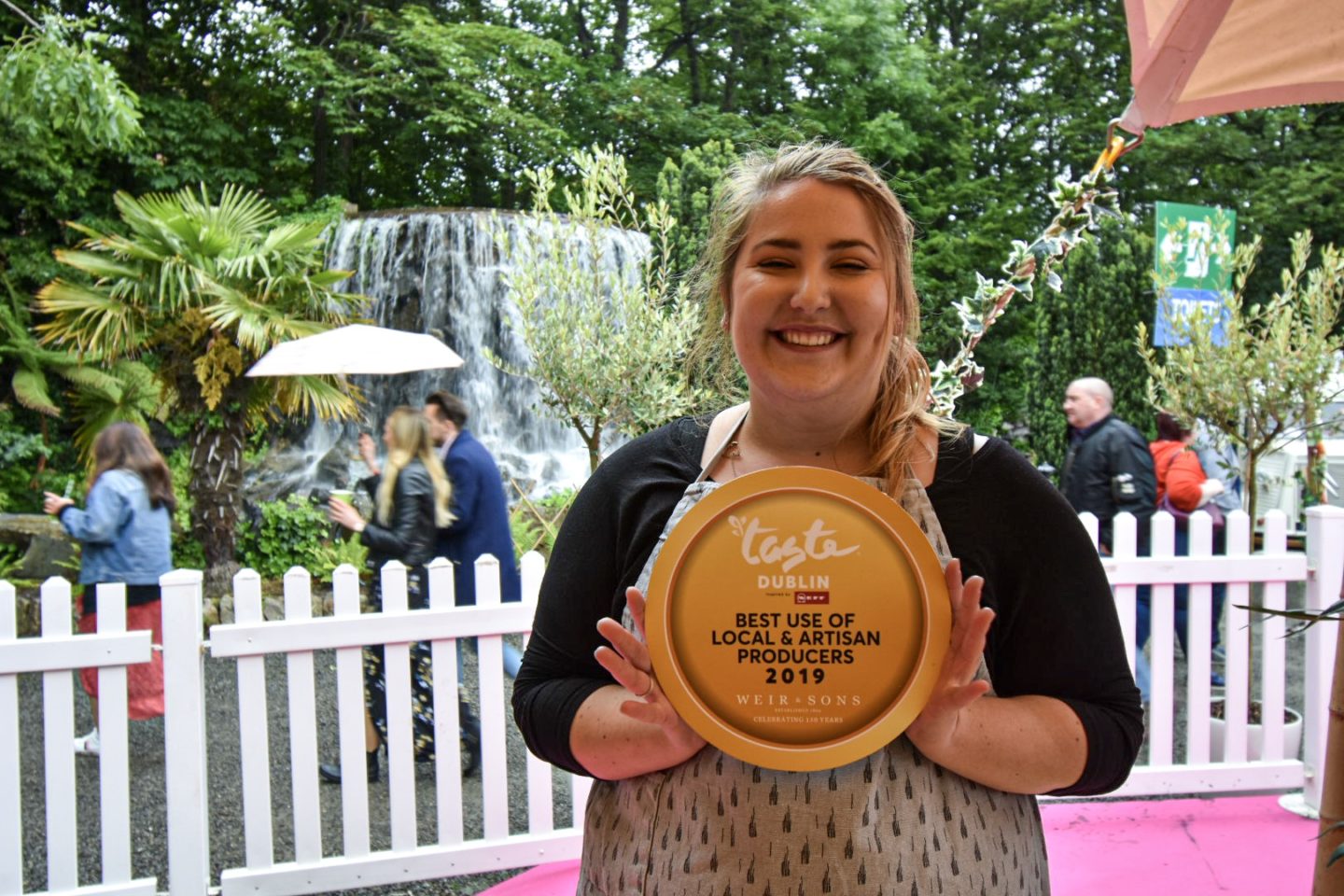 We first tasted GráLinn's sumptuous toasties filled with local produce (like McNally vegetables and herbs, Scéal Bakery sourdough) at Savour Kilkenny in Autumn 2018 and we've barely been able to keep up with their food-driven escapades since. Their commitment to local, seasonal, artisan produce is second to none in the street food/food truck sphere and the quality – of course, handled and assembled skilfully and beautifully – speaks for itself and is allowed shine.
Like The Taco Truck, Grálinn (which means 'love, with us' in Irish) has also appeared in a residency at MVP on Clanbrassil Street in the capital, as well as running recurring supperclubs at Elmhurst Urban Farm on the northside.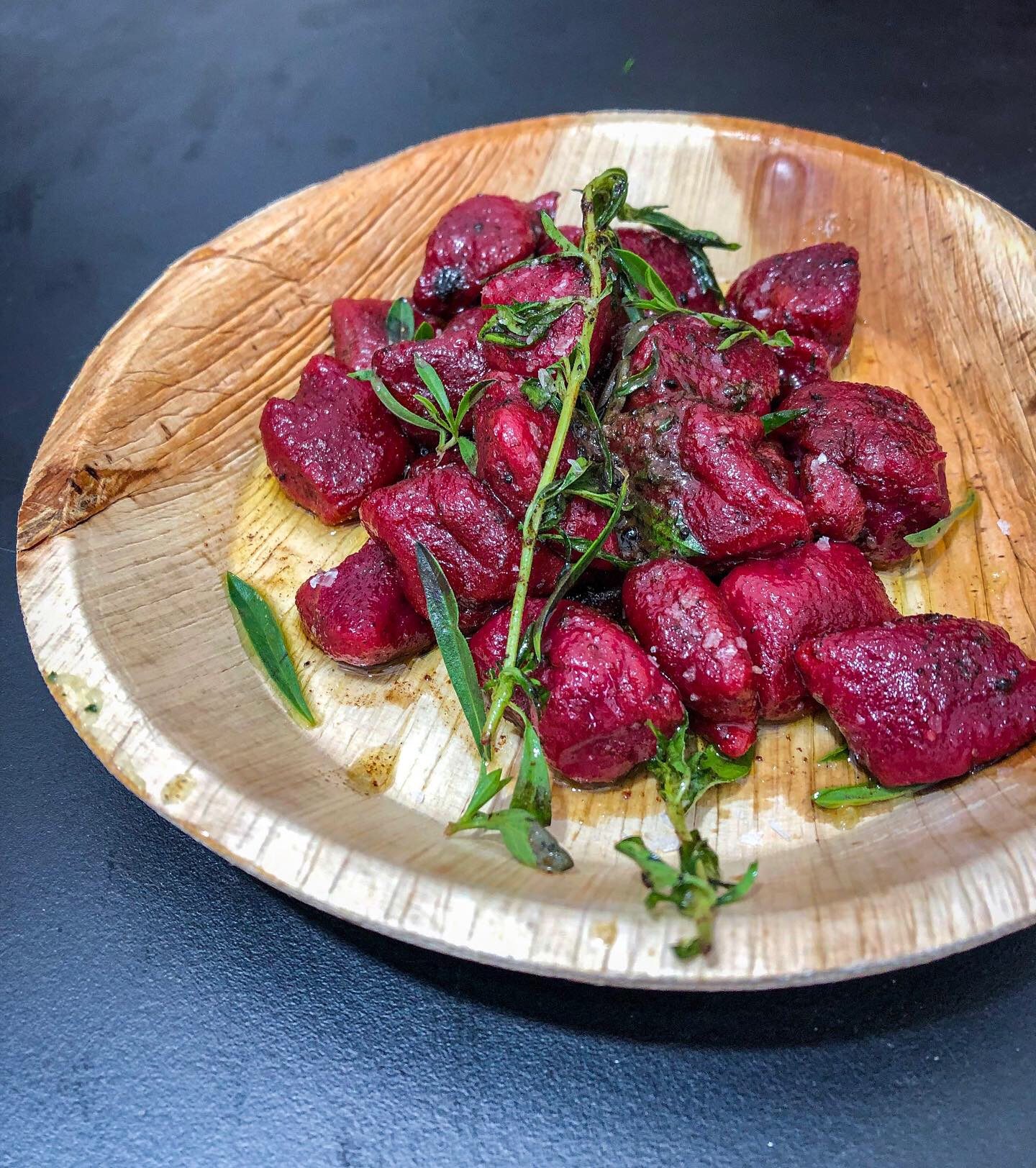 They'll be popping up in their van at festivals like Electric Picnic and Another Love Story throughout the summer of 2019 as well as number of private catering opportunities (you can book these guys for your wedding, FYI!), further into 2019 and early 2020 they'll be focusing on more consistent supperclubs.
📍Various Locations (Check Instagram For Details)
Just LOOK at these dishes. Who said a food truck can't produce restaurant-quality plates? Wraps, stews, buddha bowls, curries, salad boxes.
Food Depot is run by Diana Dodog (winner of MasterChef Ireland in 2014) and husband Mike O'Donovan. Diana is originally from Hungary and arrived to Ireland after a couple of years spent in Canada. Diana met Mike when they worked together in hotel management in Cork, then packed their bags and set off to explore the world, ending up in New Zealand before returning to Courtmacsherry (where Mike is from), then Diana won the series and they've been here since –– the precise location where Food Depot is based.
There's a worldly, global line-up of dishes on the ever-changing menu here, celebrating local intertwined with international inspiration and a focus on fresh, zingy flavours. Local favourites (and coffee roasting superstars) West Cork Coffee provide the beans for great takeaway coffees –– and though sustainability and compostable, biodegradable containers are the order of the day, they actually suggest people bring their own mugs or reusable cups instead for coffee. Love that.
That MasterChef Ireland trophy takes pride of place, too, in the truck – of course! Food Depot is found between 12pm and 4pm on weekends in the village of Courtmacsherry, right by the sea.
📍Courtmacsherry, West Cork, P72 XE86
Another poutine? Yes, your eyes are not deceiving you! South of the border there's Lala poutine who've been slinging that comforting Canadian favourite since 2015.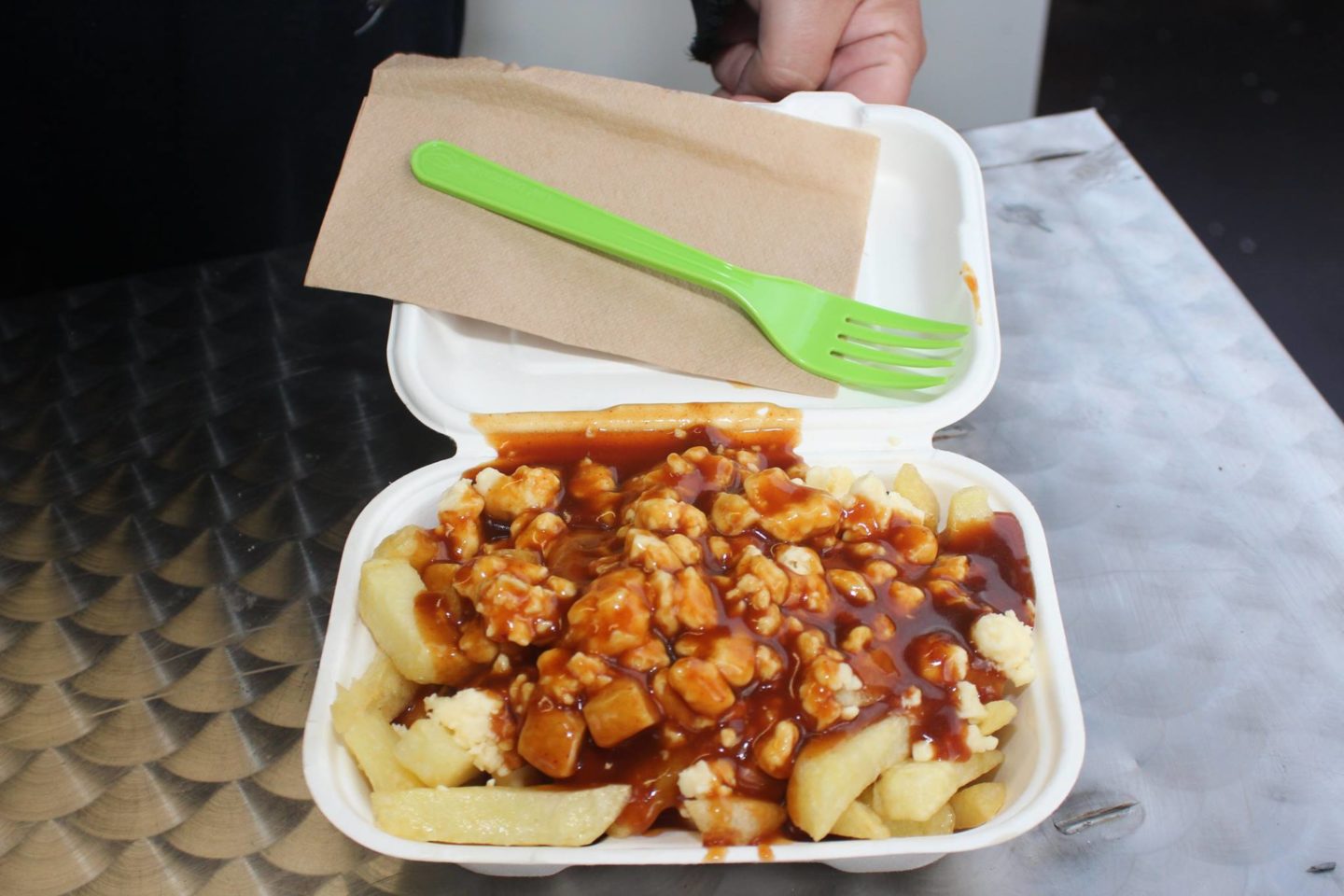 Though their day-to-day may seems mostly in private catering and corporate events, you'll find these guys popping up at all manner of festivals across the Republic, from Electric Picnic to Body and Soul, All Together Now to City Spectacular and beyond. Keep your eyes peeled and your stomach rumbling, 'cause once you've tasted poutine the flavour lingers in your tastebuds forever!
📍Various Locations (Check Facebook For Details)
The Hatch, Castlewellan, Co. Down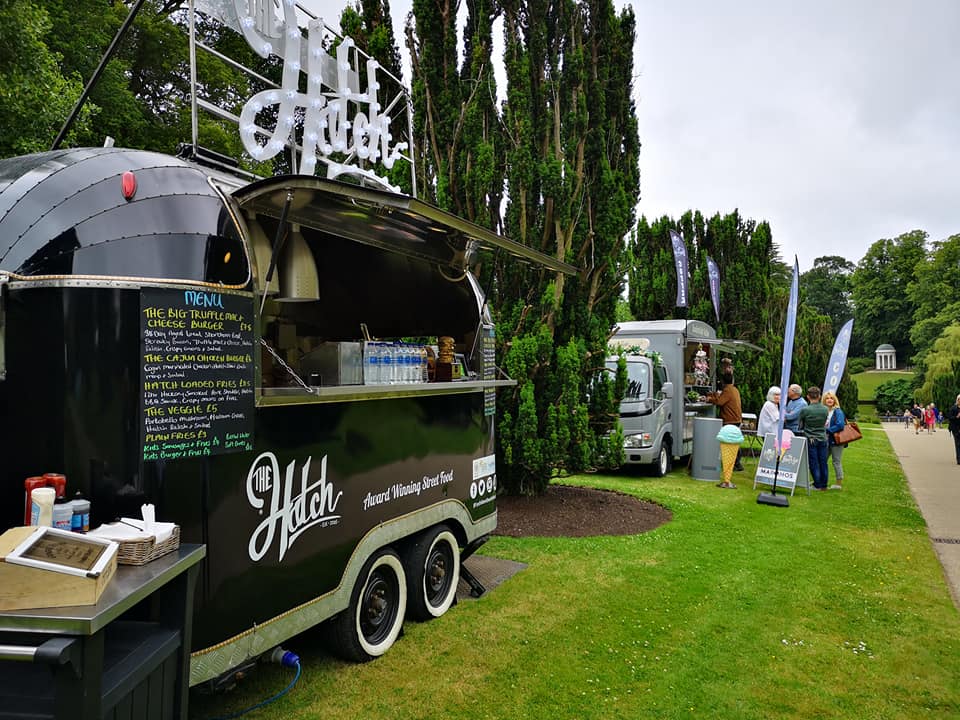 You've tried burgers, but have you tried the recently-awarded best in Ireland, yet? Not content with being named Best Burger in Ulster in 2018, The Hatch only went on and took the all-Ireland accolade in 2019.
Based in Co. Down (but travelling around, too) this award-winning street food truck specialises in the glorious burger. Keeping it simple, the menu has classic beef, hickory-smoked pork, southern fried chicken, a panko-crusted fish option, a veggie option and different styles of dressed, triple-cooked chips (including chicken-seasoned!) as well as chicken wings, crispy squid and fish and chips. There's something for absolutely everyone here. Check their social media for where they're heading to each week.
The Garden Café Truck, Ballymaloe Cookery School, Co Cork
Ballymaloe Cookery School is the breathing ground for so many faces and voices within the Irish food industry today. So it's no wonder there is a seasonal food truck on site too. The Garden Café Truck is open during the summer, Thursday to Saturday from 11am to 5pm serving homemade treats, tacos, salads, soups, coffees and more.
Festivals and pop-ups aside, kudos has to be given to the likes of Bodytonic's Eatyard in Dublin, St. George's Market in Belfast and other permanent weekly or monthly markets across the island that give a platform and a pitch to enterprising, often up-and-coming street food traders.