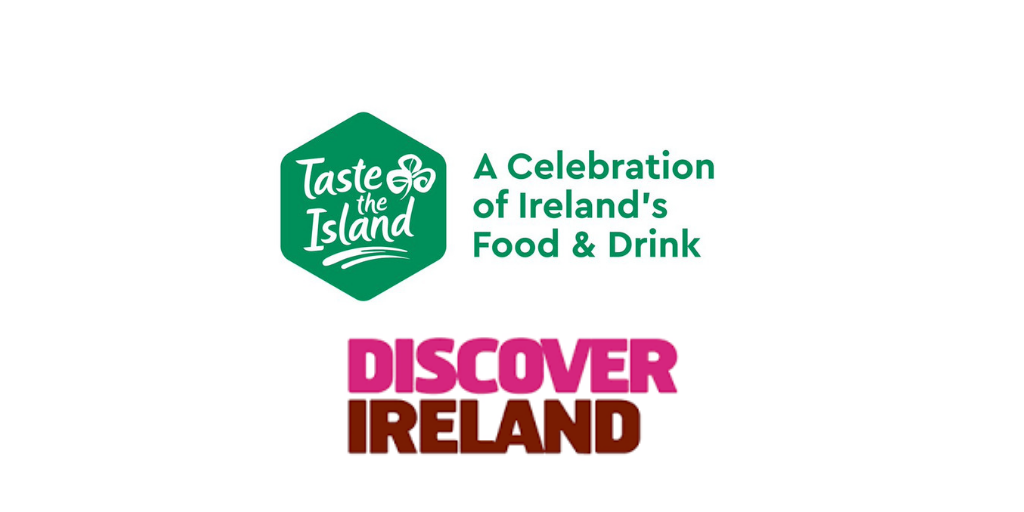 Sponsored by Discover Ireland
Did you know Ireland is Europe's third-largest island? Only behind the UK and Iceland in size, Ireland, being an island itself, also boasts little collections of smaller islands off its mainland and within those islands remote, rural communities still exist. There's the likes of Inisbofin and Clare Island off Co. Mayo and Tory Island off Donegal. Rathlin Island right at the top of Ireland above Antrim and the collection of Heir, Sherkin and Cape Clear islands off the coast of West Cork right at the southernmost point of the country. The Blaskets, out beyond Dingle in West Kerry, are now uninhabited by permanent residents, as is Ireland's Eye just outside Dublin and Lambay has but a handful of residents. Then, others like Achill Island, Valentia Island, Lettermullan and Inch Island are all extremely accessible, connected to the mainland by road bridges. But there's something unique and incredibly special about the Aran Islands.
This year, Discover Ireland (the consumer tourism arm of Fáilte Ireland) has launched #TastetheIsland, a two month-long campaign running between September and November 2019 celebrating and encouraging food tourism across the island of Ireland. North to south, east to west, Ireland in its entirety is open and ready to sate appetites and tempt tastebuds with food experiences, food tours, restaurants and special events from the land's bounty to the spoil of the sea. A three-year campaign, we're working with Fáilte Ireland as it launches and they kindly offered us the opportunity to explore an area of Ireland –– the Aran Islands has long been atop our Irish travel bucket list, and so it was meant to be.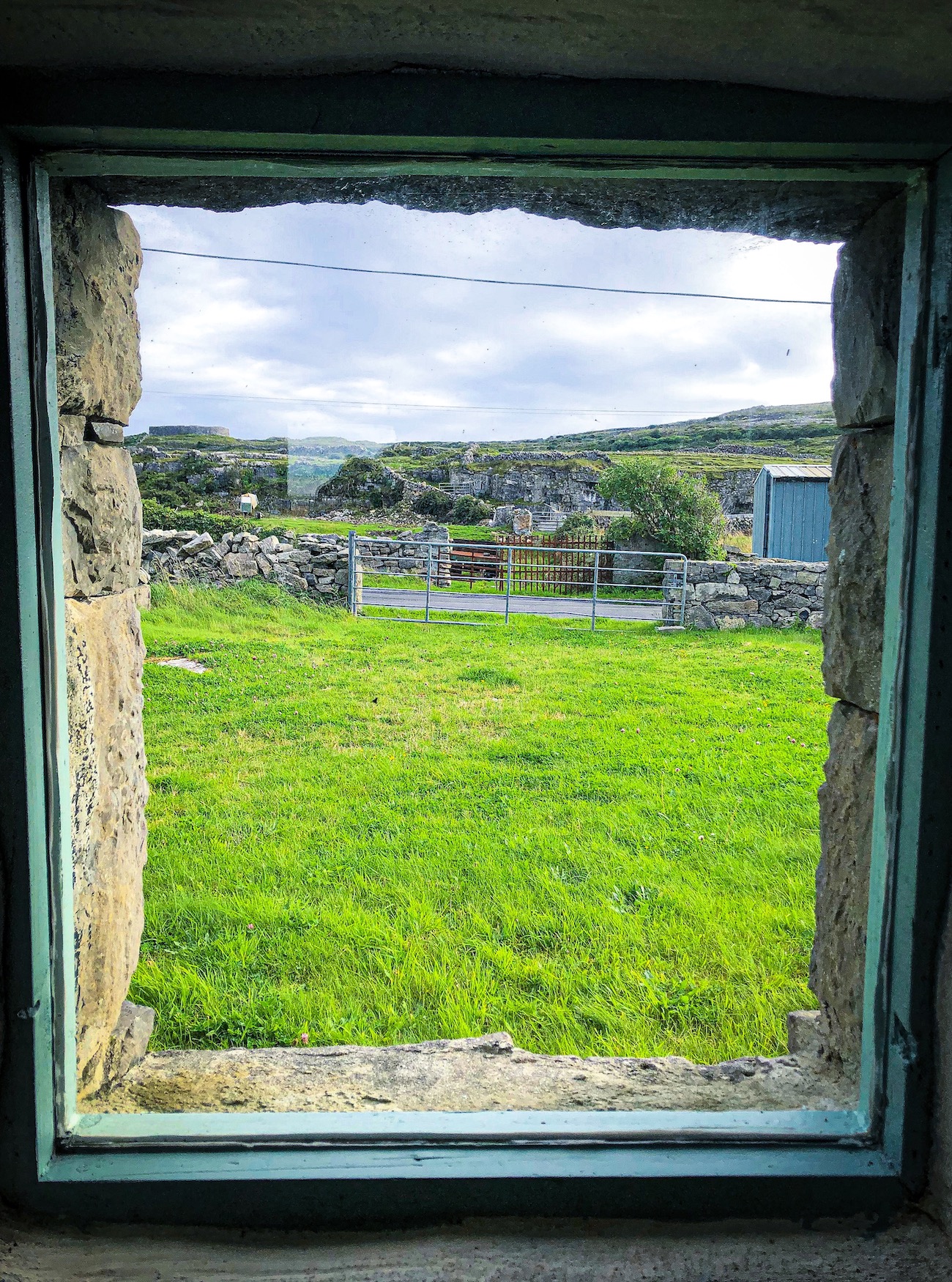 Aside from a half-day trip to the beach on Inis Oírr when Patrick was a student in Spleodar Gaeltacht aged 16 in 2005, neither of us have never explored these fascinating islands. A lasting, great bastion of off-shore Gaeltachtaí (Irish speaking areas), the Aran Islands (Oileáin Árann) are three sister islands dotted off the Irish mainland between counties Galway and Clare –– with a connection to each via ferry, in Rossaveal in Connemara in Doolin in West Clare.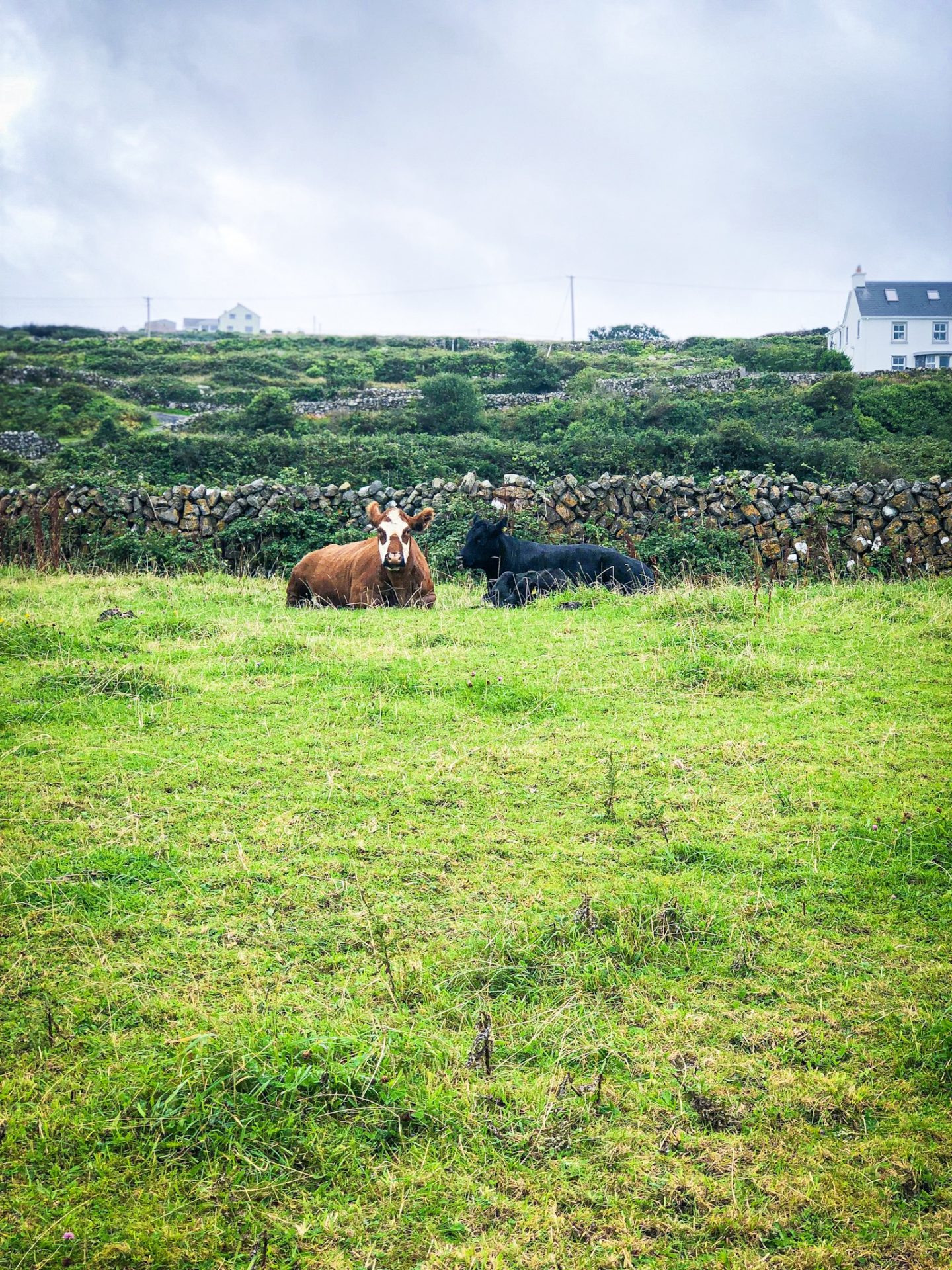 The largest, and capital, island is Inis Mór (quite literally 'big island' –– the largest off-shore island of the country without a road link) followed in size by Inis Meain ('middle island') and Inis Oírr ('westerly/farther island'). Aer Arann Islands currently operates a light aircraft flight route to Connemara on the mainland, but ownership and operations may cease as early as this current month… the future of the air route is in jeopardy. We have dreams of there being air connections to Dublin or Cork from Inis Mór, connecting Ireland's biggest cities with its largest island group, but that may be a distant dream from where we're standing.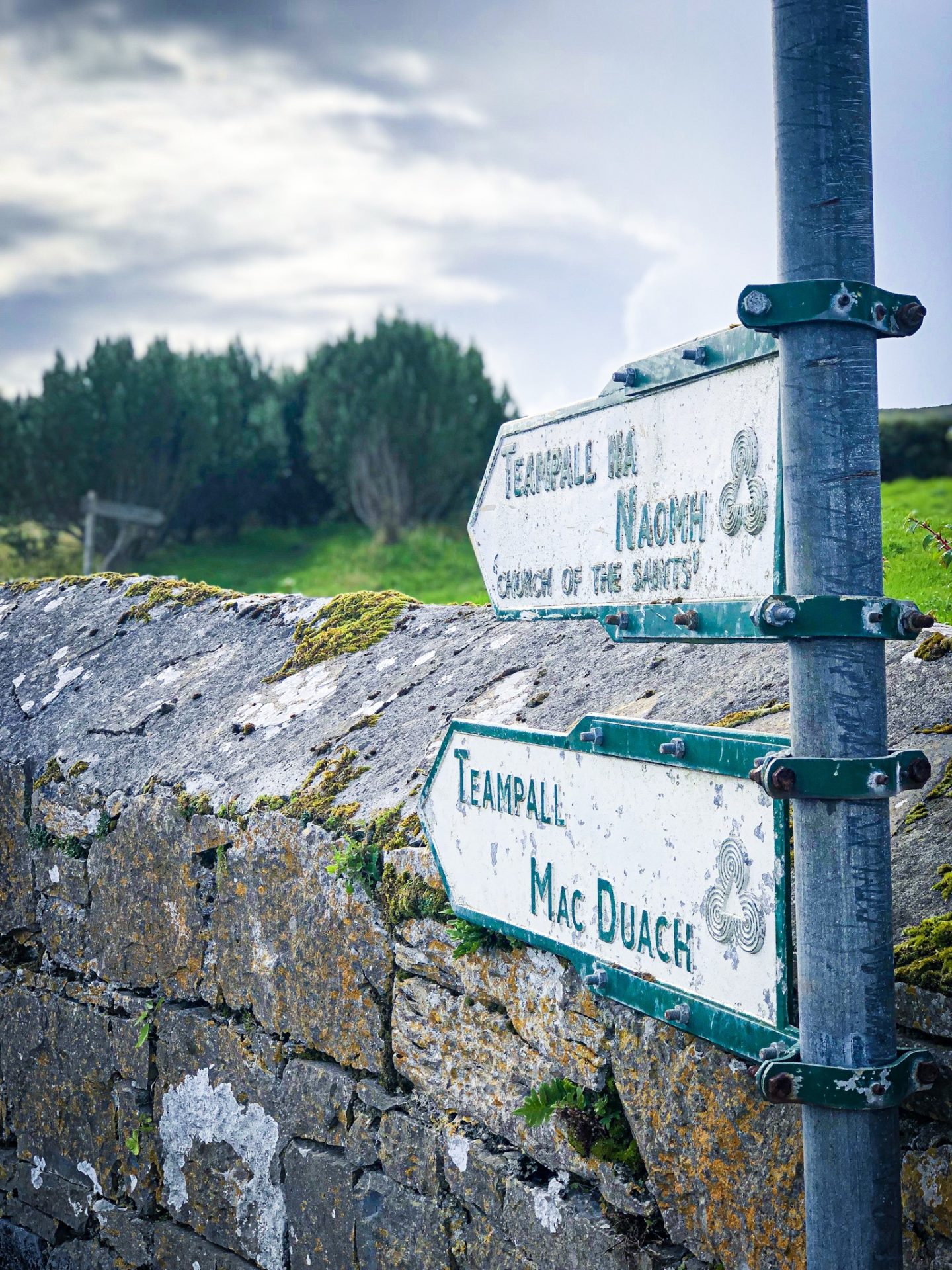 All three islands are still inhabited by 1,200 people and all natives born there are fluent in Gaeilge as their mother tongue, with English as a second language. Inis Mór has a population of around 800, Inis Meain though second-largest of the isles has the smallest population at just around 180 or so and Inis Oírr – the smallest in size, but remarked as the most picturesque – has the middle population at 280.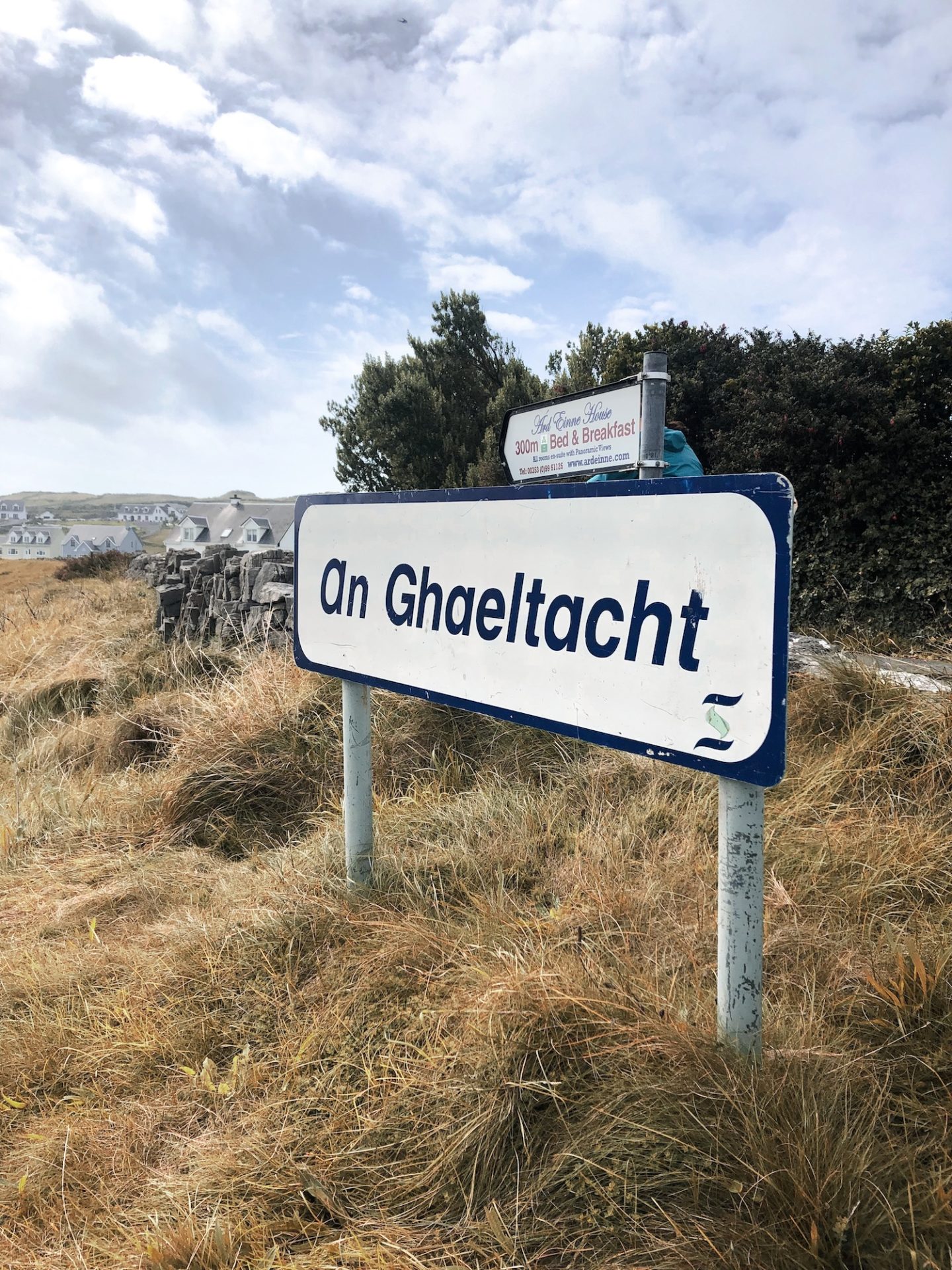 On this trip, though we tried to visit the other islands, we were based exclusively on Inis Mór and it's the perfect place for a two or three-day trip, with so much to see and do whilst also being a haven of peaceful calmness if you want to just relax and get away from it all. So what did we see, do, eat and drink? Here's all the places and activities we suggest for a trip to Inis Mór on the Aran Islands.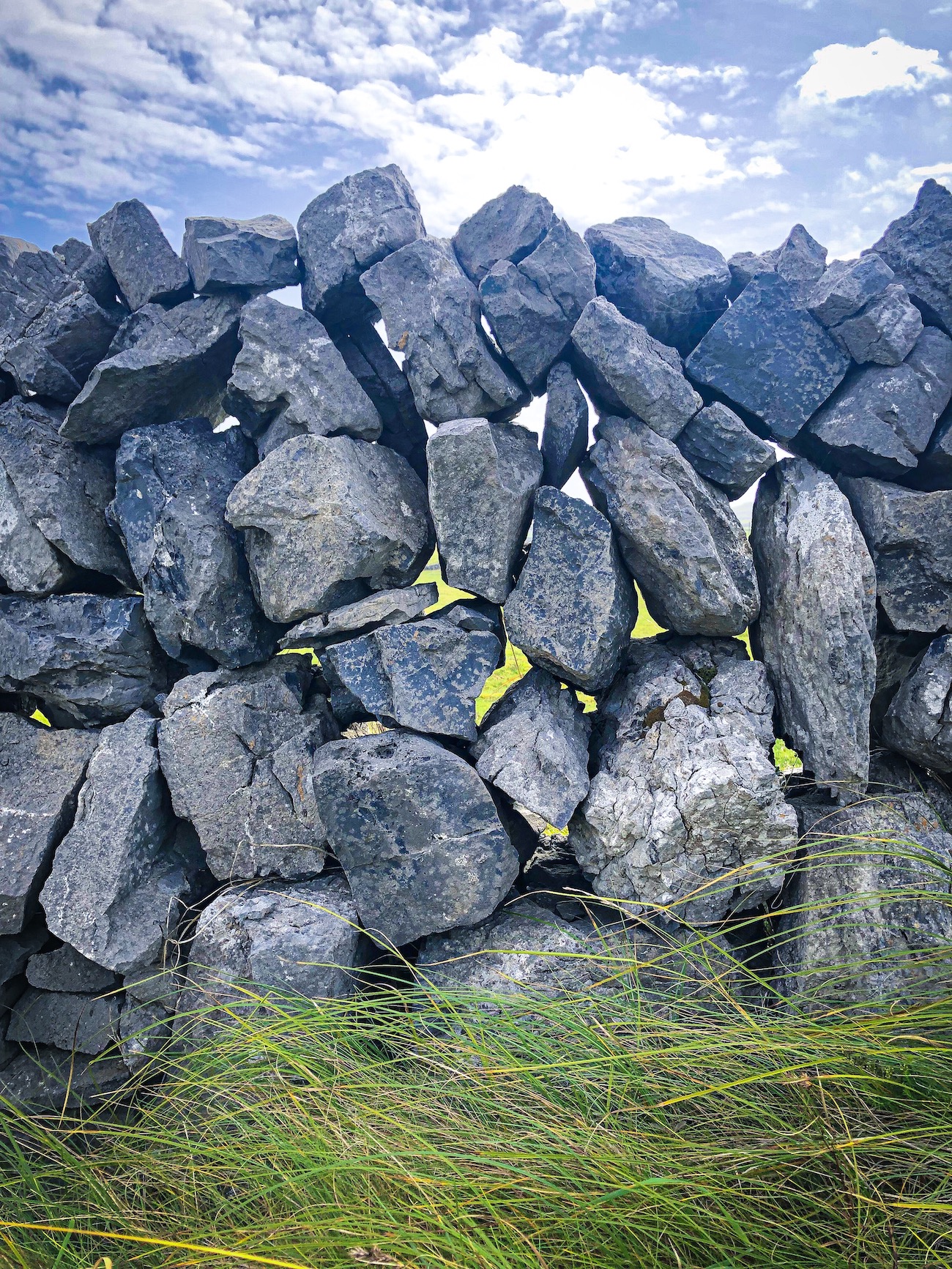 Dún Aonghusa
A breathtaking and exhilarating promontory fort, Dún Aonghusa (dún is the Irish for fort) teeters on a 300ft cliff edge by the crashing cerulean waves of the roaring Atlantic (and some of the structure lost to the sea already). Comprising three enclosures, one within the other, surrounded by rocky Cheveaux de Frise, the fort dates back to at least 800BC – the most highly active period for the site was but it's quite possible five or six hundred years before that. It was eventually abandoned around 1000AD. It's hard to know the role of function of the site, but it's clear it had a community within it and it's probable it was reserved for nobles, if not royalty.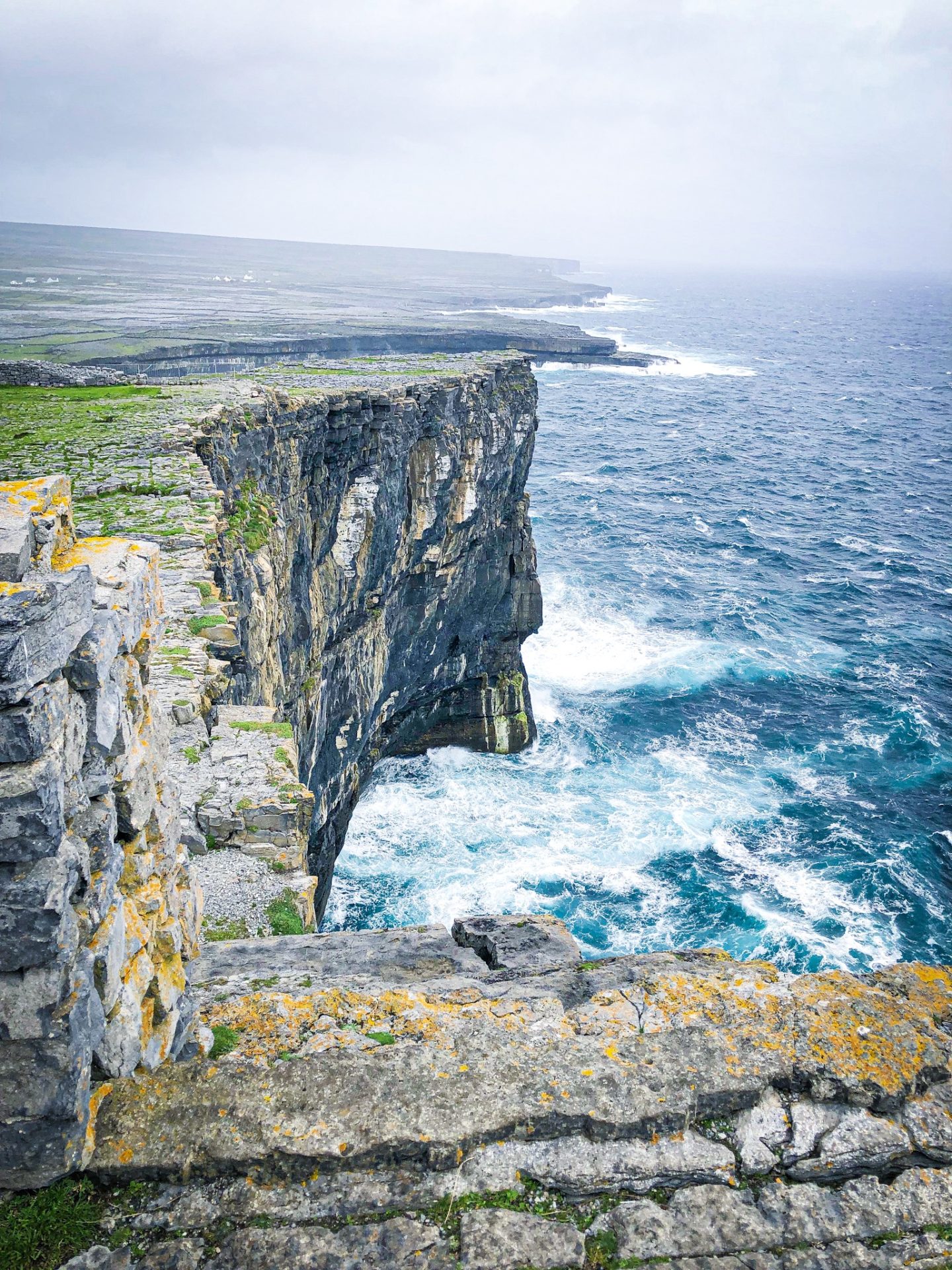 This is one of the must-visit sites on the island and entrance is €5 per adult. There is a short walk, which can be steep and slippy, for about 15 minutes to get to the site and be careful around it because it is exposed and a sheer drop. So, selfies at a distance! There's lots more information in the visitor centre, and a shop alongside.
Other sites to see on Inis Mór include the Black Fort, Cliffs of Aran (a rival to Clare's Cliffs of Moher), the Worm Hole – a naturally-made rectangular pool within the rock made famous by the Red Bull Cliff Diving Series – the seal colony on the opposite side of the island with its seats and little cafe hut and Na Seacht dTampaill (Seven Churches), a monastic ruins site in the village of Eoghanacht. Take a dip in the stunning waters of the blue flag Kilmurvey Beach, it's a crystal clear cove with golden sands and refreshing water.
For lunch, make your way to Teach Nan Phaidí in the craft village at Kilmurvey – we'd wager this is the best place to eat on the island. Esteemed food writer Georgina Campbell named it 'Cafe of the Year' in her annual awards in 2016, and it's easy to see why.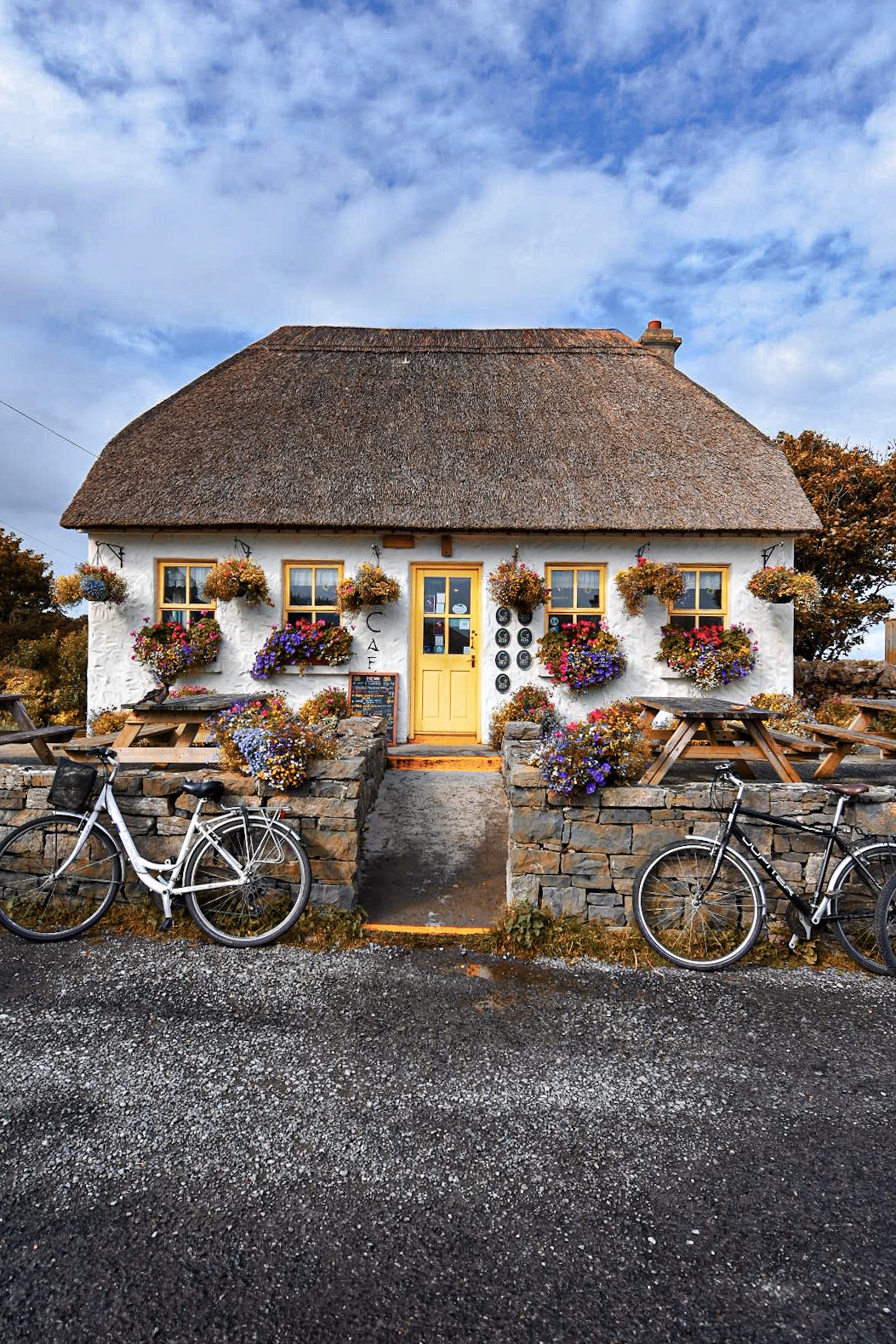 From the traditional thatching of the cottage's roof to the gorgeous hanging flowers adorning the exterior, it's a picture in itself and the interior is fittingly similar –– a dresser in one corner and huge open fireplace in the other, heavy traditional tables, chairs and booths with comfy cushions on them. Colourful, floral tablecloths, twinkling fairy lights and fresh blooms in little jars on each table. The very definition of a cosy, rural Irish cafe.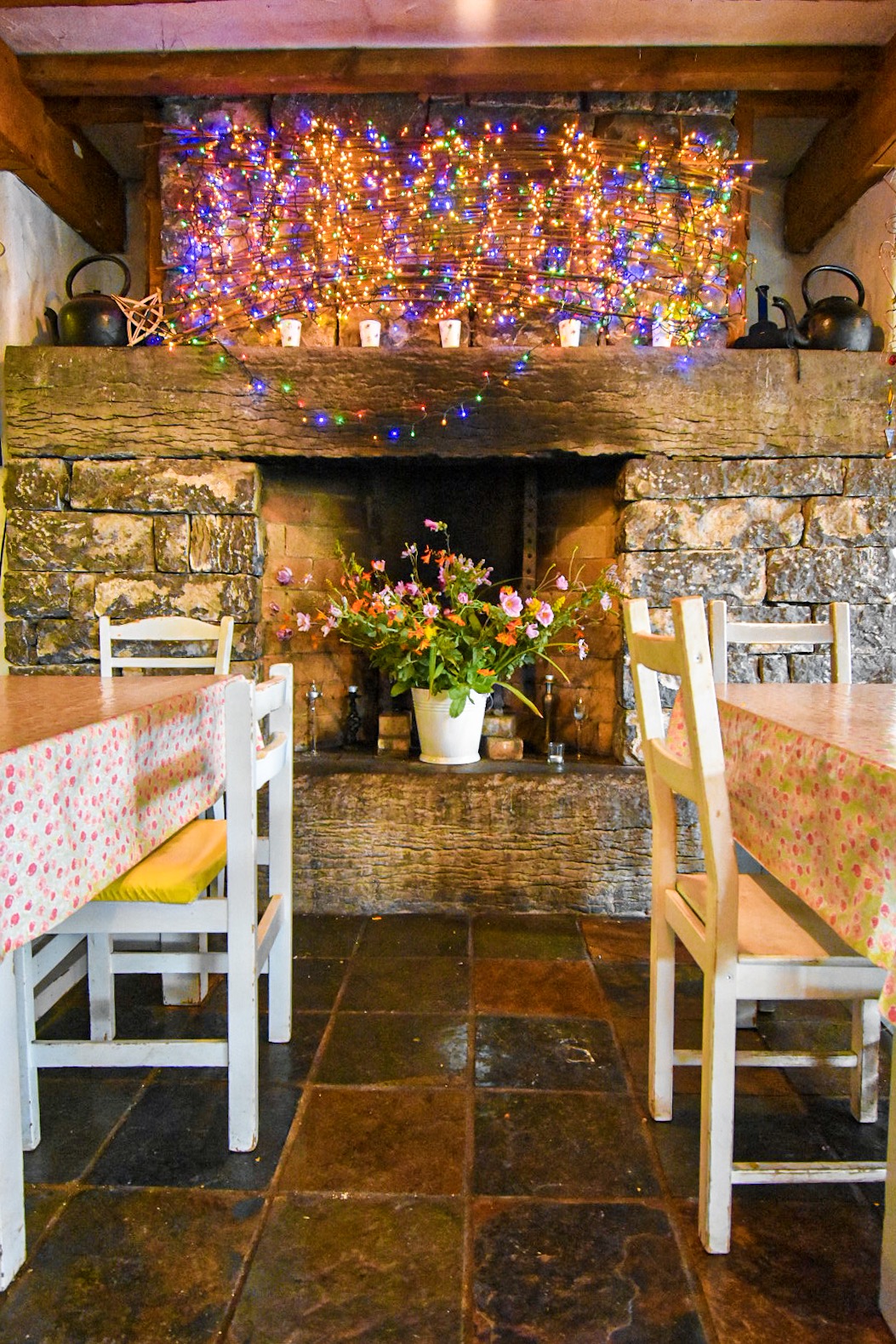 And the food. THE FOOD. It's traditional Irish at its core, celebrating local fresh produce with lighter dishes of salads and soup alongside heartier mains like their iconic beef and Guinness stew with mash and their fresh fish pie –– both of which come topped with mash and are the two exact things that grabbed us immediately from the menu.
It's the type of fare the space dictates, with hot pots of freshly-brewed tea and homemade luscious cakes calling your name for afters. Whatever you do with your time on Inis Mór –– make your way here, for sure!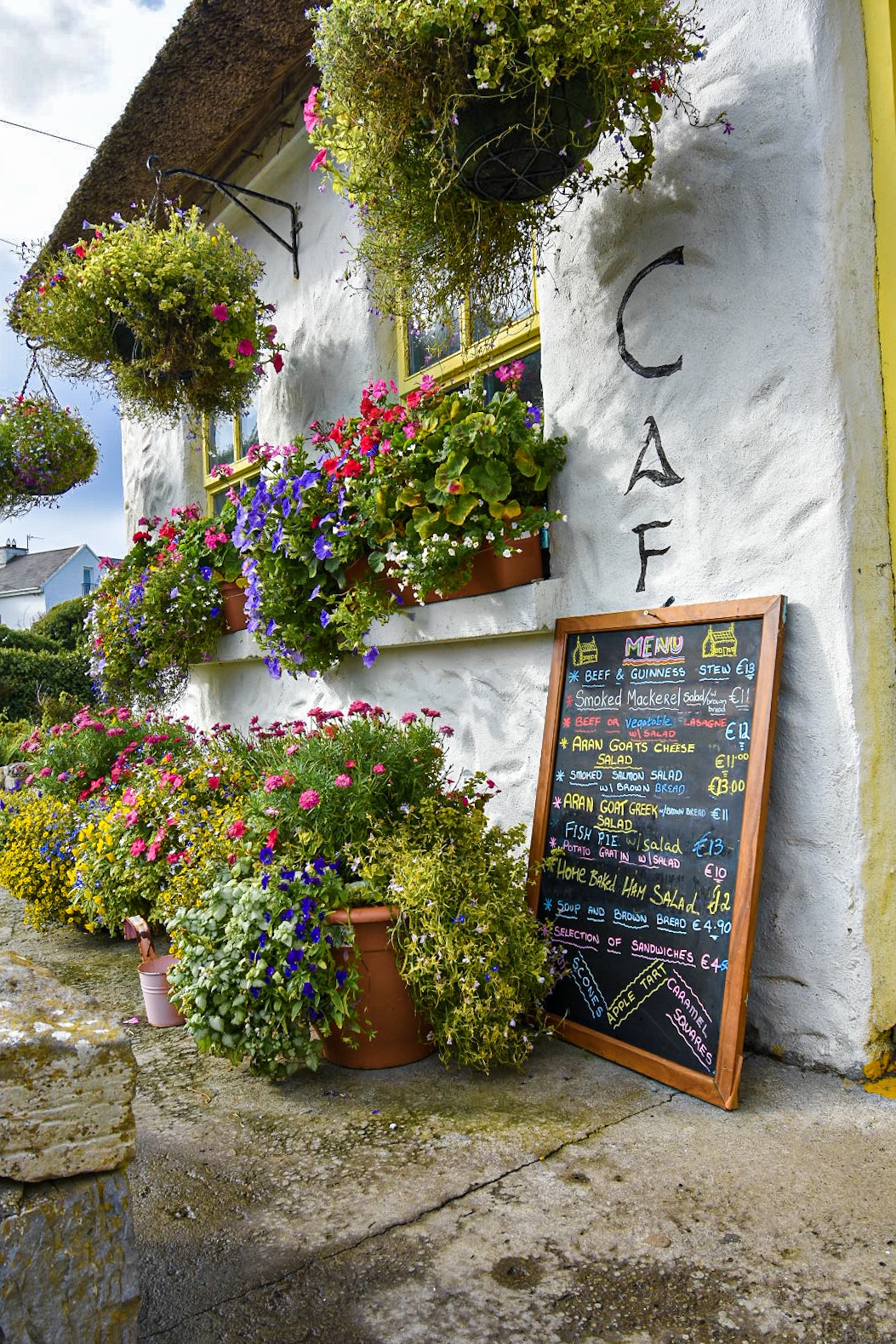 Zipping along the island on two wheels is the best way to see the island. Sure, there are minibus tours and guided tours in all different forms offered, but we think self-guiding is the way to go. Pony and trap is a traditional form of transport that's been on the island for generations, but we don't agree with horse and cart as a means of transport. They could be the highest welfare horses on earth, we don't know, but especially given modern roads and the force of their hooves on them, we just don't recommend it personally.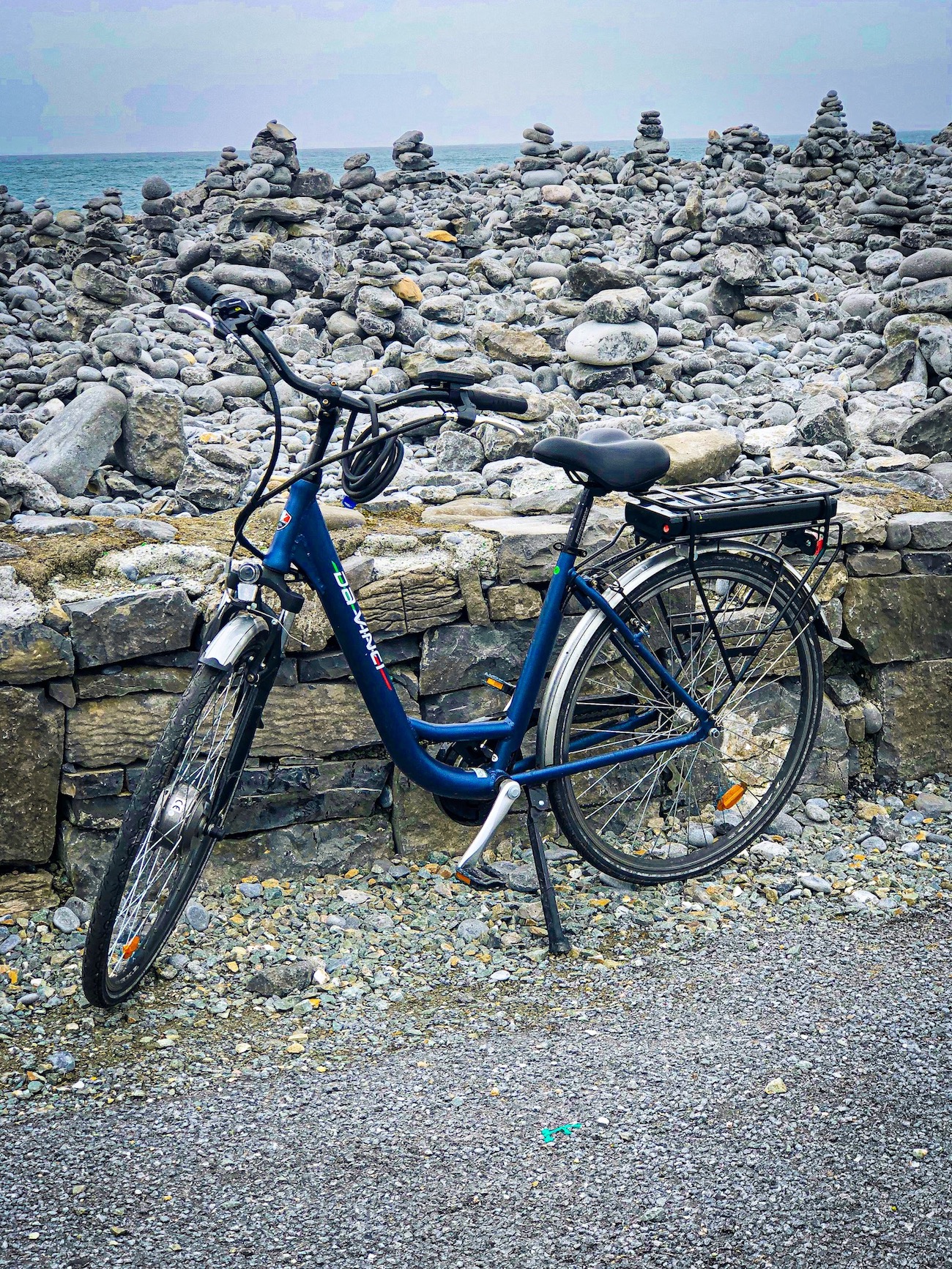 We dropped in to Aran Islands Bike Hire right by the pierto pick up e-bikes (electric bikes) which you may balk at – but being two unfit, self-indulgent food writers, one suffering with asthma, it's necessary – and we nipped around the island at around 20km/ph. A family-owned business, in 2019 they are celebrating 50 years in operation on the island.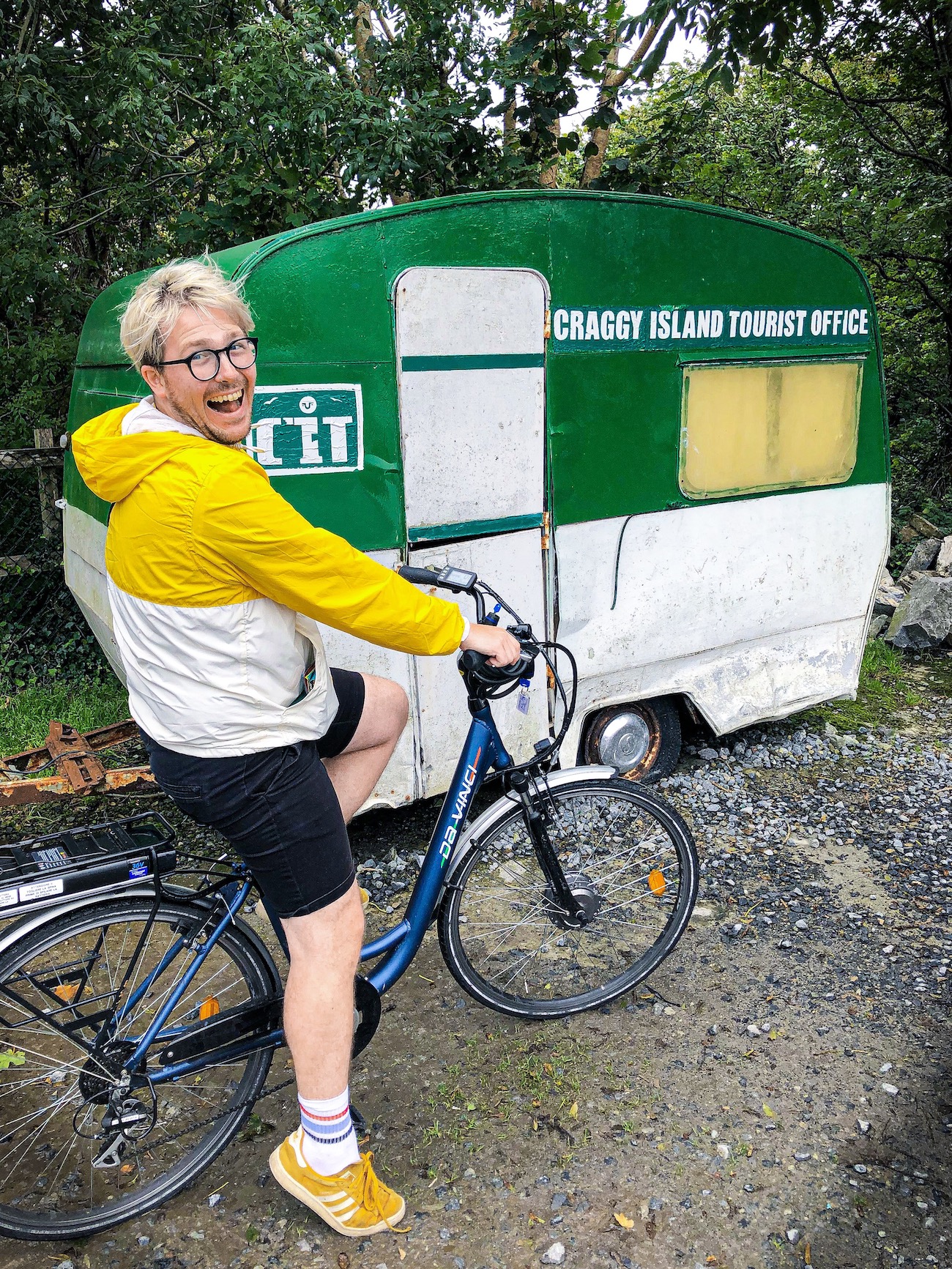 Making a lot of ground, we cycled from Kilronan down towards the Trá Mór at the southern tip of the island near the air strip. Then, made our way back through Kilronan and northwards along the coast road until we got to Kilmurvey village and the entrance to Dun Aonghusa centre. There are lots of bike racks across the island and they provide helmets and locks so you can be both safe and secure whilst cycling around.
Caife is the Irish for 'coffee', but add an accent (a fada) onto the last letter, and you get 'cafe', and Rua Caifé is a perfectly formed little island haunt.
Open from breakfast 'til late lunch, it's got no more than five or six tables and is located directly beside 'The shop' –– the Spar which is the island's sole supermarket. We found the most illusive of coffees – the flat white – here, which we didn't expect and was a boon, plus their toasties and freshly-made cakes are absolutely spot-hitting and wonderfully comforting and filling.
A Pint & A Bite
If you believe Guinness "doesn't travel well", we'd wager a trip across a bit of the Atlantic doesn't harm the black stuff, if the pints we had in three of the island's pubs are anything to go by.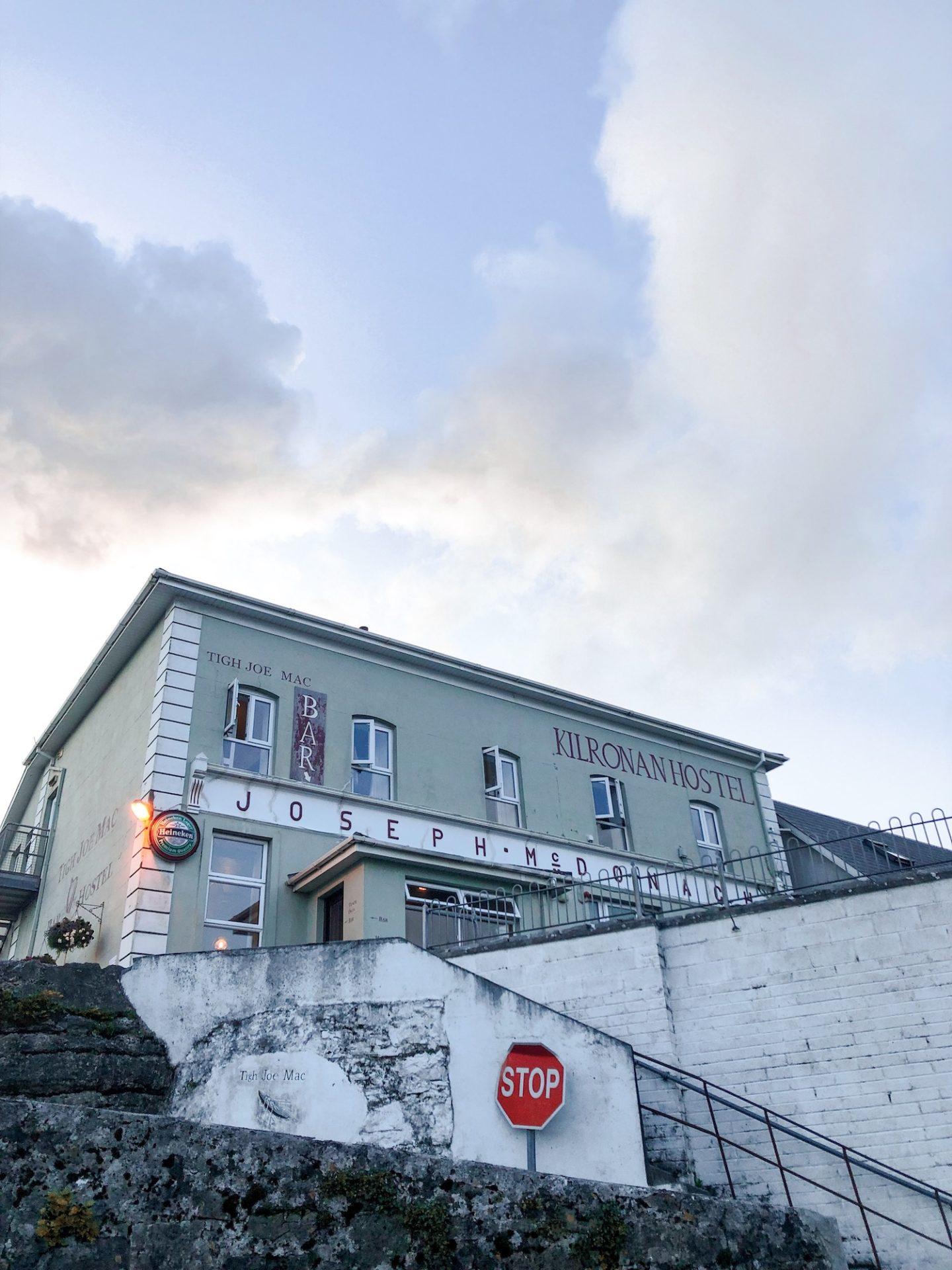 Tigh Joe Mac is the old school purveyor, and the 'Toasted Special' is a local legend that lives on! There's a handful of pubs across Ireland that also made the tentative foray into food service, but not with a whole menu, merely with a few staple sandwiches. Toasted sandwiches, to be more specific, and 'toasties', to you and us.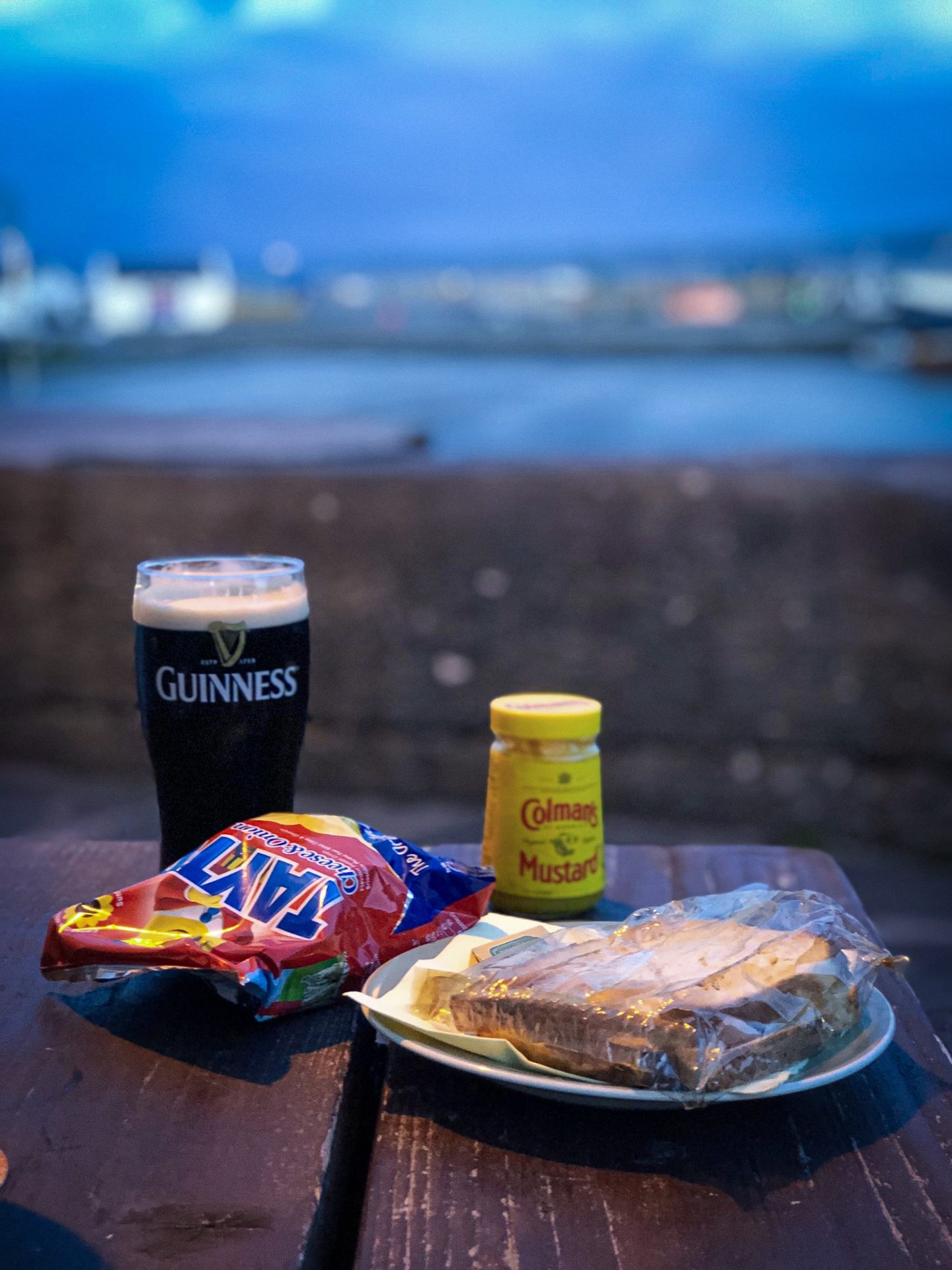 Stroll in here and cross your fingers that they have the ingredients, 'cause you could be in for a real treat. What we had above is what's known as the full three courses –– a freshly-pulled, chilled pint, a pack of Tayto (the jewel in the crown of Irish crisps) and the toastie with everything on it (ham, cheese, tomato and onion), served with mustard on the side. Simple, yes. Satisfying? You best believe it. When we posted the above image on Instagram we got TONNES of comments on the picture and in our inbox of Irish people cowering in delight and savouring the taste from the other side of the screen –– few other sights could reduce us Irish to weakness!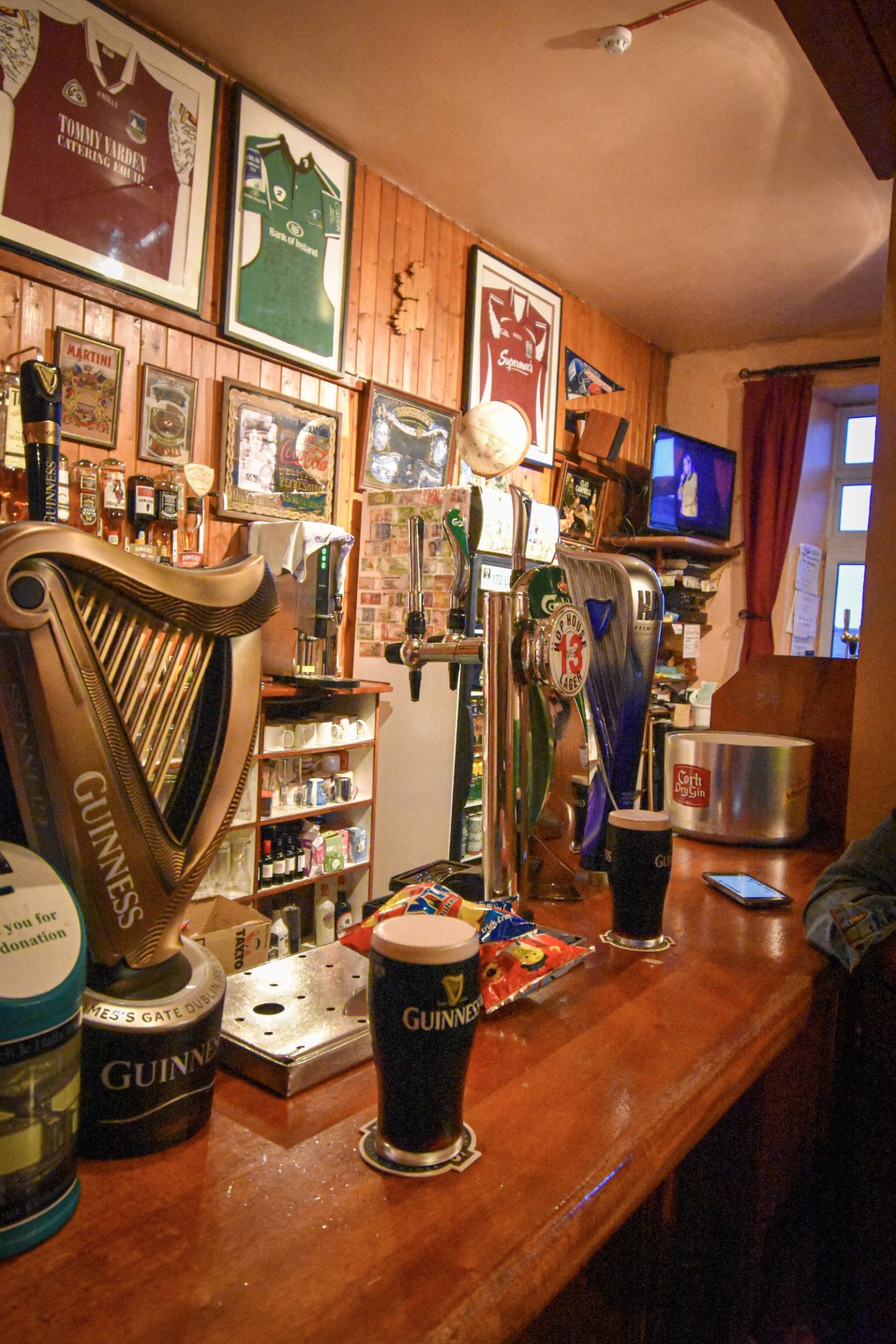 [Shout out to our local hun Peadar ó'Goill for the insider knowledge and recommendation!]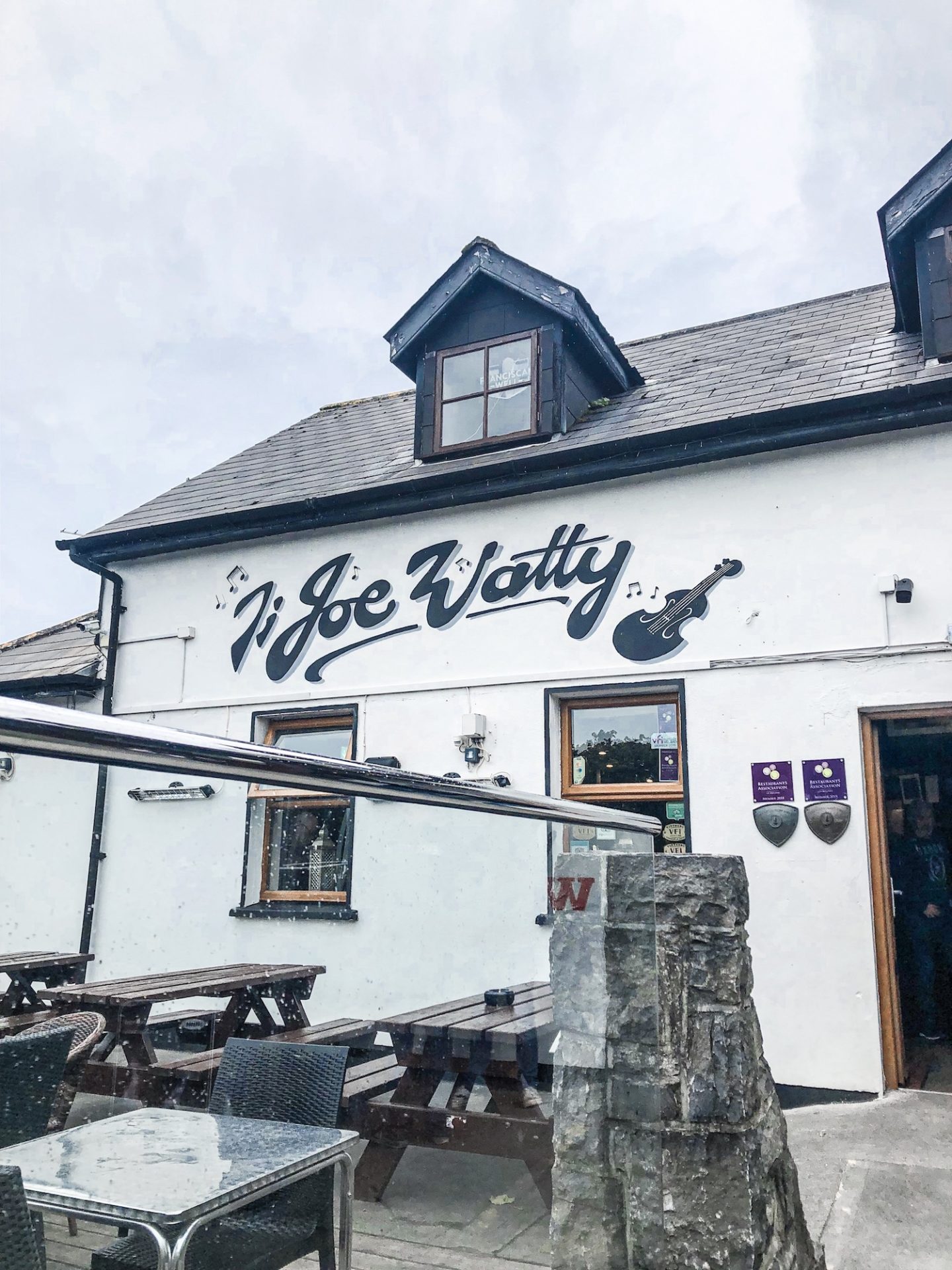 Joe Wattys is well known across the island and beyond for great food, great music and style and craic by the bucketload. Grace and PJ O'Flaherty, former operators of the Aran Islands Hotel, have been proprietors of the pub for around a decade or so and it's one of the best places on the island for food and drink.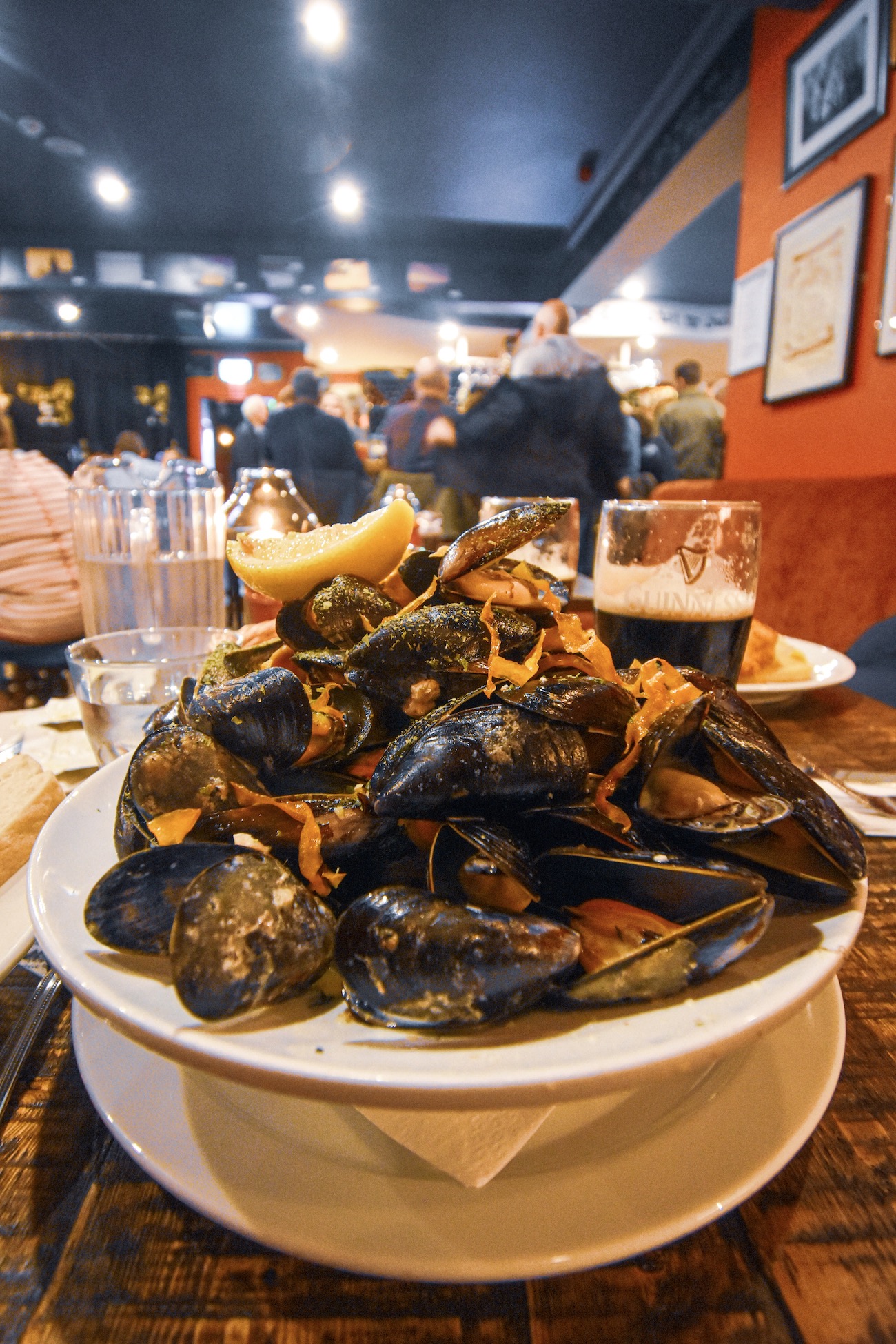 Seafood in abundance, the menu is classic and crowd-pleasing but done with care and attention to detail. Overflowing bowls of steaming mussels in creamy garlic sauce; freshly-caught and battered fish and chips with tartare sauce; crab claws in garlic butter; creamy chowder packed with prawns, white and lightly naturally-smoked fish. You name it. Great pints, live music and a lively crowd make this a must-try spot.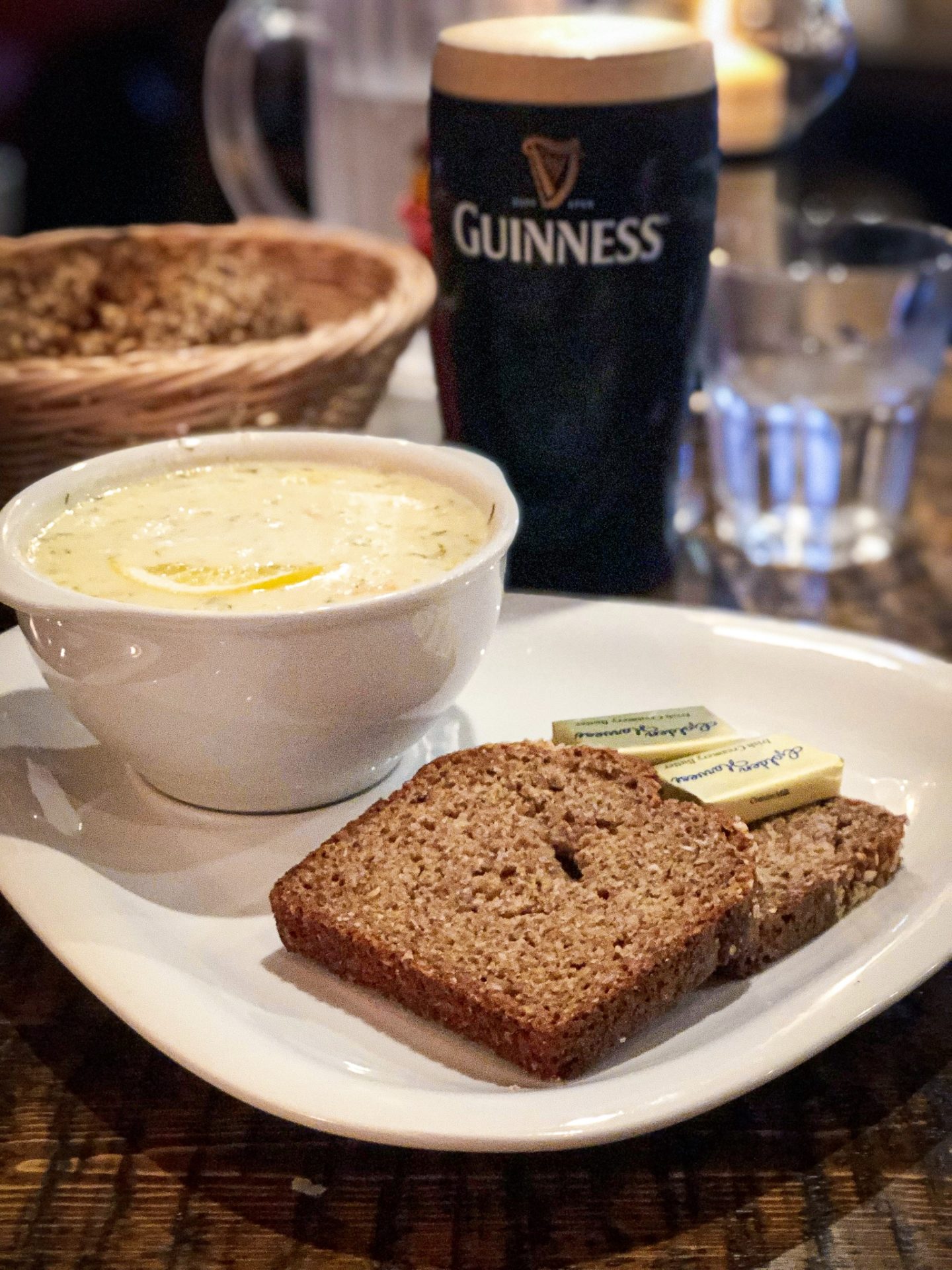 The most modern-looking interior of the three, The Bar has clearly had recent enough renovations and is both a modern lounge bar and traditional-with-contemporary-touches restaurant but it actually dates back to the early 20th century so is one of the oldest watering holes on the island. We didn't get a chance to eat here, but did have drinks here one of the nights. Right on the main intersection in the centre of Kilronan, it's actually formerly a priest's house so it's got a bit of quirkiness and is ideally placed for catch-ups over live music.
Their own growing family brought Jenny O'Halloran and her New Zealand-born husband David back closer to her family on Inis Mór four years ago. Taking over her father Máirtín's seaweed business, the enterprising couple set about revolutionising the process and creating new products from the traditional exercise of collecting seaweed from the nearby shore. Blath na Mara now boasts several products for both edible and health and wellbeing properties in their range, one of the most popular being their Aran Islands Seaweed Pesto.
We spoke to Dave for Chew The Fat as he talked us through the process and later met Jenny who told us all about the strong branding, identity and future plans of the brand. This is one to look out for –– and you can find their pesto in speciality food stores like McCambridges in Galway and Fallon & Byrne in Dublin, plus some select Sheridan's Cheesemongers for the moment.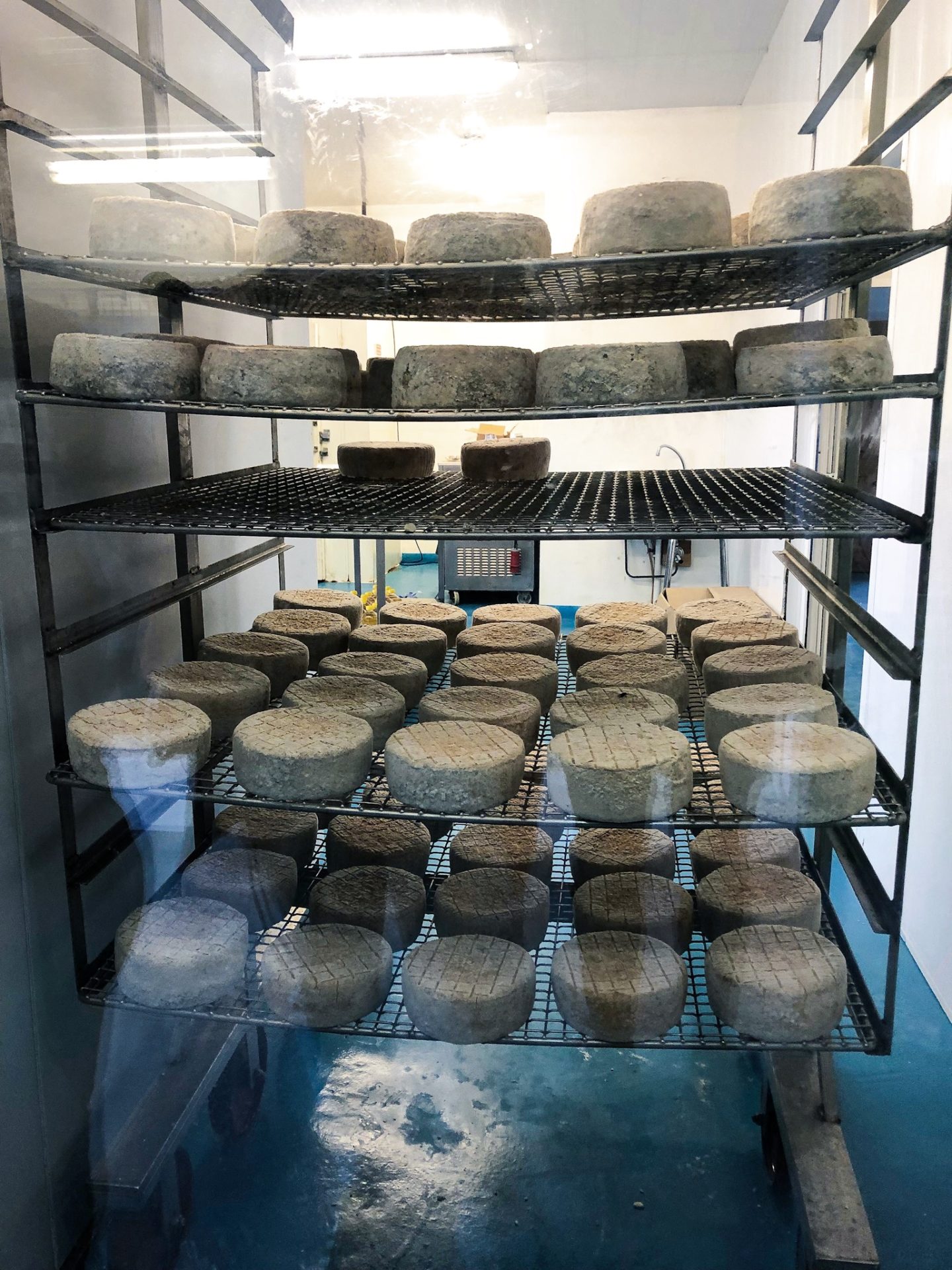 Gabriel Faherty spent 20 years as a fisherman, having spent his late teens as a pony-and-trap driver ferrying tourists around the island. Later trading trap for van, he now runs minivan tours across the island whilst also being a goat farmer, cheesemaker and a vocal food champion and local committee member. Where does he find the time? Who knows, but Gabriel is a fount of knowledge and took us under his wing showing us a couple of the sights he usually takes visitors on his tours.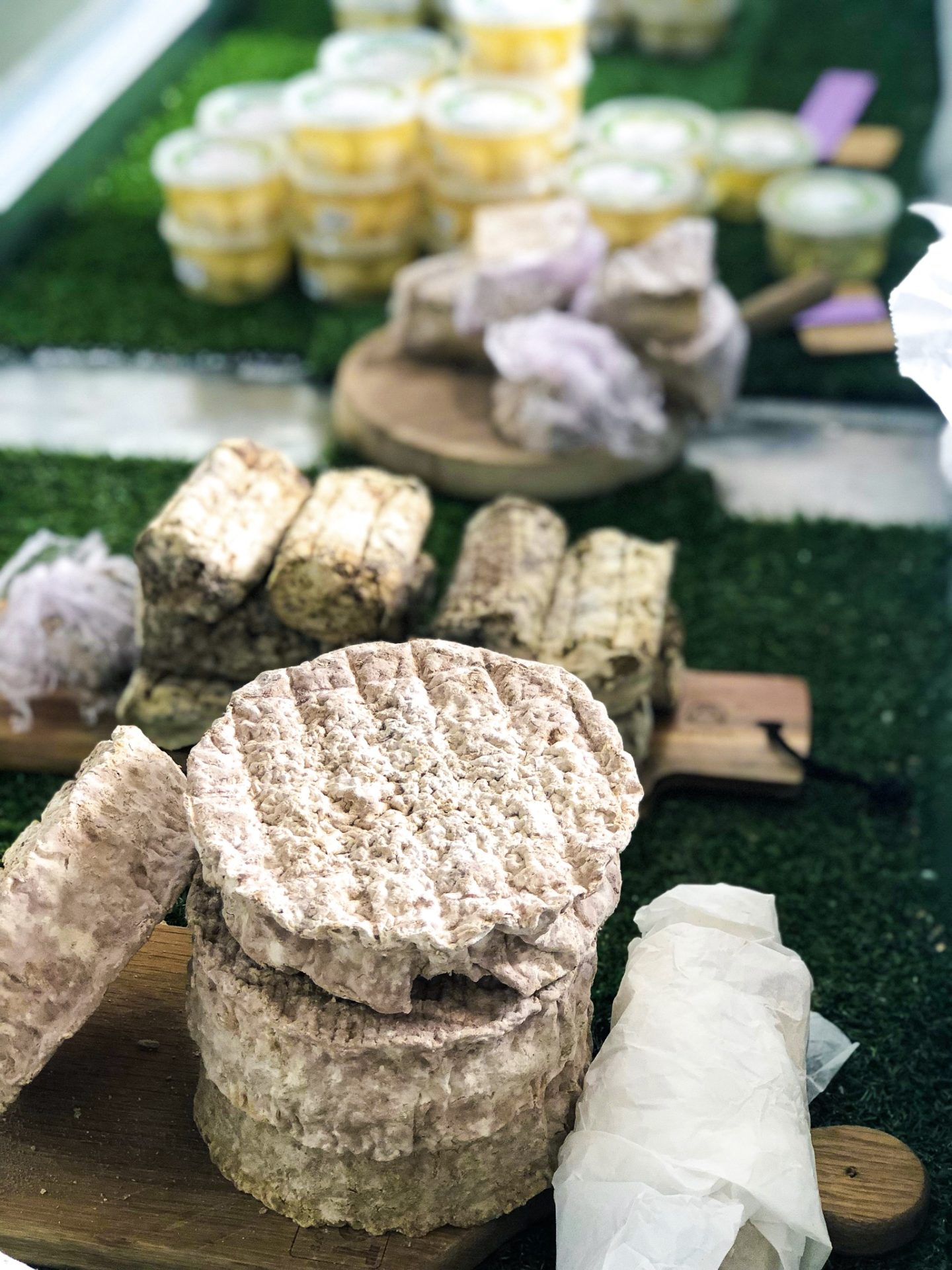 His neat little farm of 100 goats means he creates the only commercial cheese from the island through his business Aran Islands Goat Cheese and with that he has a range of fresh soft cheeses and aged cheese, including his aged ParmesAran. His goat cheese pearls, stored in oil and in a trio of flavours, are gorgeous soft creamy bursts of flavour whilst his aged varieties (not usually available in shops, find him at festivals and events – or here at his tasting room – to try) are a revelation. Goat's cheese like you've never imagined before and so many different styles from the same base product. Listen to Chew The Fat for more from Gabriel.
Another stop is one of the quirky spots on the island –– who knew the islands had its own fudge maker? A staple on the island for something like 20 years we believe, Tomás Póil the owner grew up on Inis Oírr and has a shop in Kilmurvey village as well as a hatch selling his 20+ varieties of fudge on his home island near the pier.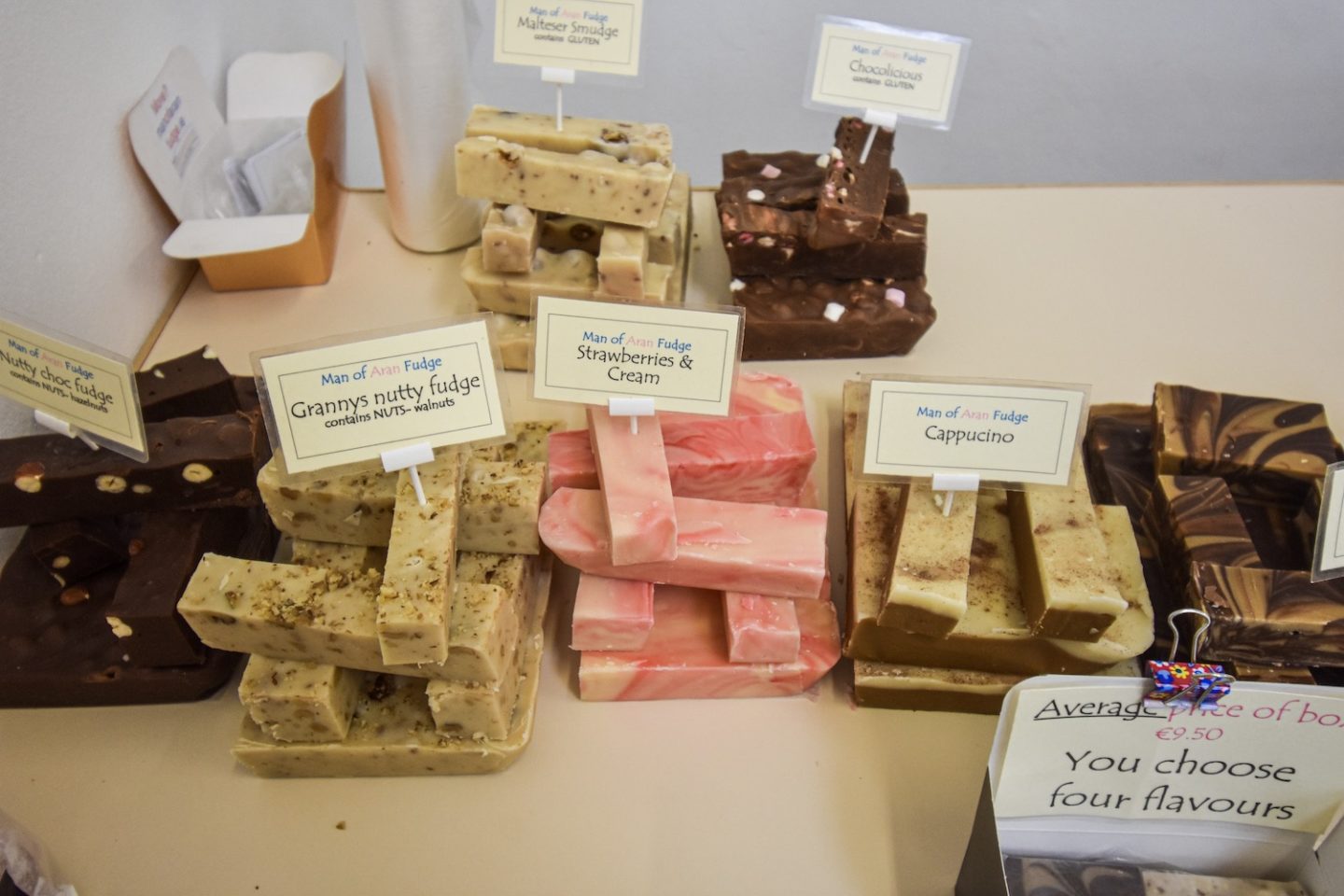 A dizzying variety of creamy fudge flavours (all made using proper Irish butter, made using the bain marie method rather than direct boiling) as well as turkish delight await, plus some other sweet treats too like cookies to go along with fresh tea and coffee.
A Moment For Lucky Star Bar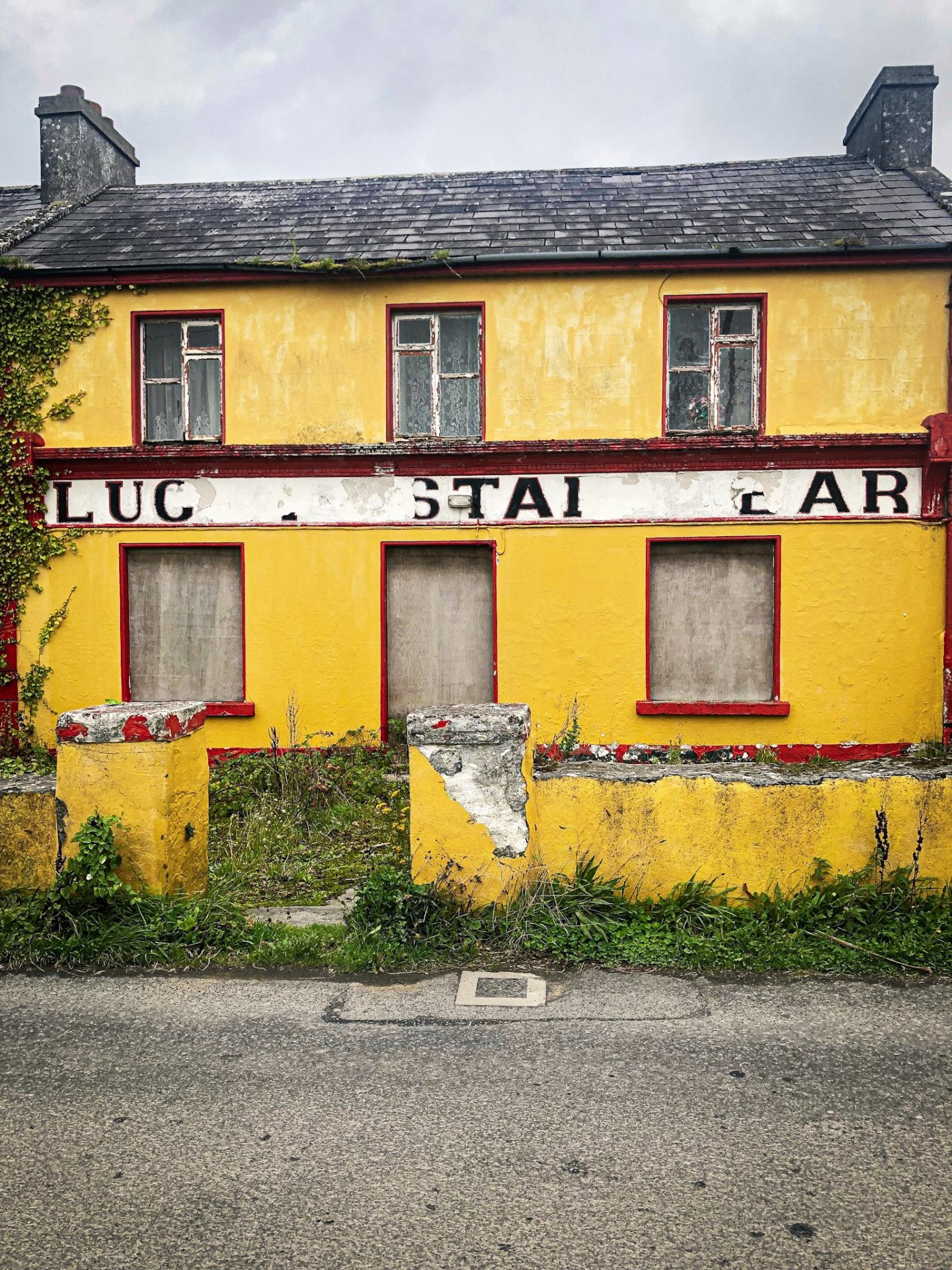 We spotted this derelict but colourful old bar and rooms just on the outskirts of Kilronan when zipping by on our bikes and it stopped us in our tracks. What a lovely, central property with such promise and potential, left to rot. Now, we flippantly shared it on Twitter and Instagram asking who we had to speak to to take it over and give it a new lease of life. Half joking, half serious, we asked around and found out pretty soon after that sadly the owner of it had only just passed away a couple of weeks previously. Incredibly sad, but maybe one day his former property will have the chance to be restored and resplendent once again –– either by us or someone else.
Aran Islands Accommodation: Where to Stay on Inis Mór
From guesthouses and hostels to B&BS and camping pitches, there's several options for staying over on the island and that's something the island really needs – overnighters. Tourists come in their droves on day trips, but we'd wager that you can't really explore the island nor get a feel for the place or the locals if you don't stay a night or two. Locals all say that "the island comes alive after 5pm, when the last ferry leaves" so really, you need to stay over.
We stayed at the Aran Islands Hotel –– the main hotel on the island, which is traditional, spacious and in a great location just ten minutes walk from Kilronan pier. Comfortable rooms, if a little dated, and a great breakfast, there are also recently-installed chalets out the back which are another great option.
Another, quirkier, newer accommodation option is Aran Islands Glamping. Set by Frenchman's beach and with adjoining camping spots to pitch your own tent, the company has nine newly-built glamping 'pods', each accommodating up to four and designed like traditional Clochans or beehive huts traditionally found in medieval Ireland made entirely of stone.
So, what are you waiting for? Come #TasteTheIsland and explore the Aran Islands with our tips and recommendations –– we can't wait to get back out West and back on these majestic islands!