2023 marks the 30th year of the prestigious and annual Irish Food Writers' Guild Food Awards, which remark the breadth, beauty and diversity of the Irish food and drink landscape.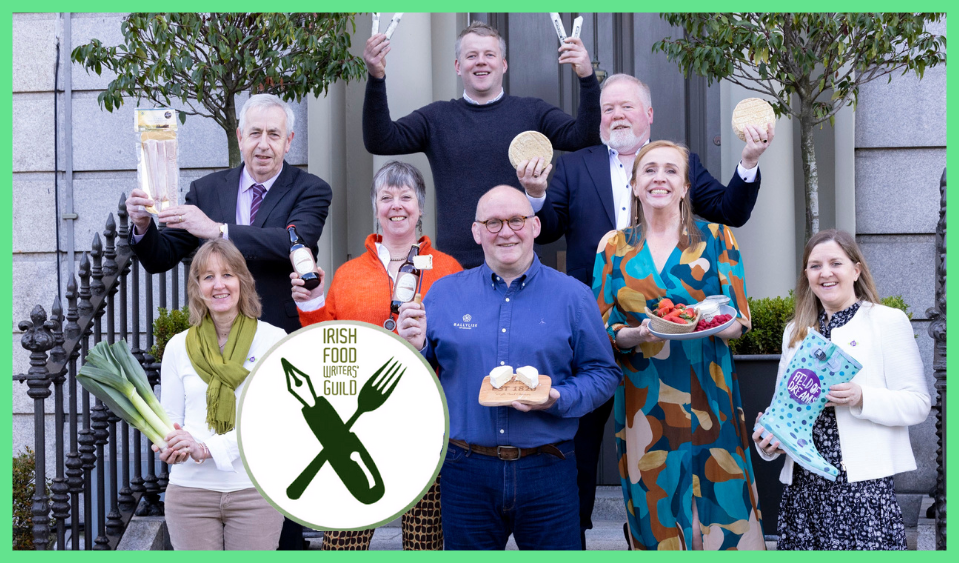 Among the winners awarded at this year's ceremony, which took place in Dublin on Tuesday 7th March, were producers of smoked Irish eel, unique sheep's milk yoghurt from Co. Mayo, a Gaeltacht-based, female-led craft brewery, an eco-conscious, sustainable pig farm operation in the Boyne Valley and blessed are the cheesemakers: Gabriel Faherty of Aran Islands Goat's Cheese for his notable contribution to Irish food and brothers Kevin and Seamus Sheridan who were bestowed a lifetime achievement award.
Across just eight awards, the membership of the collective of Irish food writers commend and celebrate Irish food and drink producers and food-based community initiatives that demonstrate a commitment to provenance, sustainability, quality and flavour above all else whilst enriching the wider landscape of Irish food and drink. With winners from as far north as Toomebridge in Co. Antrim on the shores of Lough Neagh and south as Chorcha Dhuibhne in the Kerry Gaeltacht, the Guild takes an all-island approach to their awards.
The Big Cheese
Cheese has long been an alter for the Irish Food Writers' Guild to worship at and rightfully over the last number of years several iconic cheesemakers have been awarded the Lifetime Acheivement, including the Ferguson Family who produce Gubbeen in West Cork, Marion Roeleveld of Killeen Farmhouse Cheese in Galway, and Jeffa Gill of Durrus Cheese in Cork. Former winners of this same category have included Myrtle Allen of Ballymaloe, Con Traas (The Apple Farm), Peter Hannan (Hannans Meats), Sally Ferns Barnes (Woodcock Smokery), Nicky McLoughlin (Nicky's Plaice), Veronica Molloy (Crossogue Preserves) and Oliver Hughes (Dingle Distillery, Porterhouse Group, posthumously) among others.
This year no fewer than four cheese industry heavyweights were awarded: Ballylisk of Armagh, Velvet Cloud (however, awarded for their ewe's milk yoghurt, though they do produce a range of ewe's milk cheeses), Gabriel Faherty of Aran Island's Goat's Cheese and the Sheridans brothers who are not only distributors and retailers but also educators, trainers and affineurs and cheesemakers in their own right.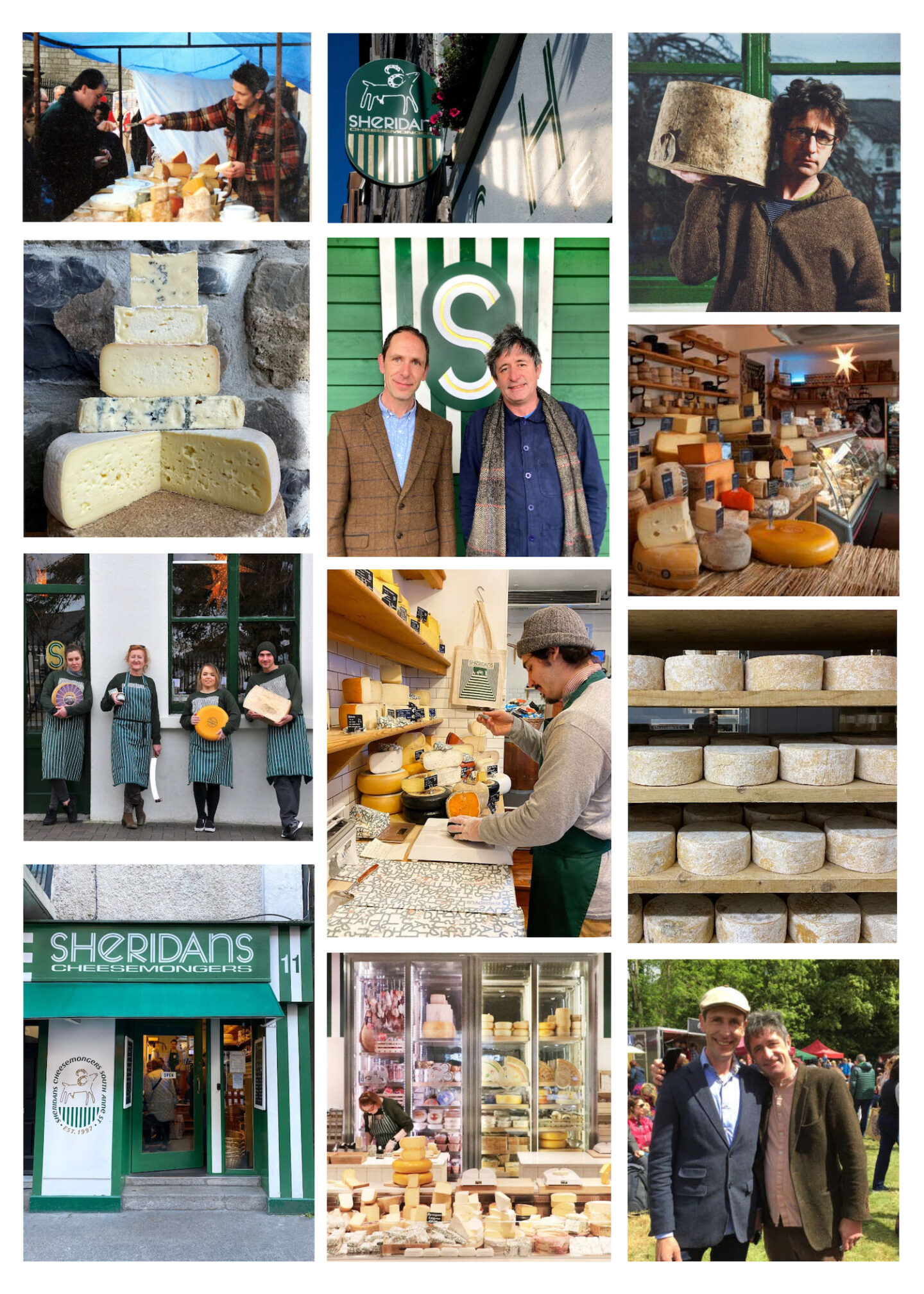 Speaking about their win, the Sheridans brothers said "We are honoured and extremely grateful to receive the IFWG Lifetime Achievement Award. Sheridans Cheesemongers is the sum of many parts, our families, our brilliant and enthusiastic teams, the customers who have been so loyal and passionate about the food they eat. But most of all the Irish Artisan food producers whose dedication to creating quality authentic food has given us and our customers so much joy."
From early days selling Irish farmhouse cheese at Galway's farmers market in 1995 to today, leading Ireland's cheese retail scene, employing over 150 people across the country and exporting around the world, the Sheridans brothers have been at the vanguard of the Irish artisan food movement for almost thirty years. Seamus is well known for his environmental campaigning as well as his work with the Slow Food movement whilst Kevin has been at the forefront of the protection and development of Irish raw milk cheeses, a long-time member of the FSAI Artisan forum, Chairman of the Taste Council of Ireland and a major leadership figure in our own local food producer network, Boyne Valley Flavours.
The pair add: "Our beginning was a leap of faith into the world of cheese but we were sure of two things: we knew we loved good cheese and we were sure there were others who did too. Our early days in the Galway market were spent advocating for Irish cheeses, the people who made them, the places they came from and the culture from which they originate. Over time we built longstanding relationships with our cheesemakers and encouraged new producers along the way… As we grew to include our favourite cheeses and foods from across Europe, we expanded into our own shops across Ireland and locations in partnership with Dunnes Stores. Through the years our mission has remained the same, bring quality artisanal cheeses and foods to the people who love and value them."
2023 also marked a return to an in-person awards ceremony, held at Suesey Street in Dublin 2 with a menu by Head Chef Deniss Lasenko featuring the winning produce, for the first time since 2020. Due to the pandemic, the awards ceremonies in both 2021 and 2022 were curtailed in favour of producing an e-zine that featured rich photography, recipes and storytelling of each of the winners (2021 here and 2022 here)
Full list of 2023 IFWG Food & Drink Awards winners:
IFWG Food & Drink Awards Judging Process
The judging process is closed to members-only (though one category, Community Award, invites outside nominations from the wider public) and is a strict, rigorous and independent process. Guild members can put forward, nominate and pitch for those they deem worthy to be awarded, which is then discussed and voted on by the membership in attendance. No company or individual can enter themselves (except Community) and stipulations for inclusion include things such as % of Irish ingredients in products, sourcing in/outside Ireland and length of time trading.
Having been members (as individuals) ourselves for several years and been involved in each annual judging process since we've been inducted, we can vouch for how professional and fair the system is. Indeed we've put forward several producers ourselves over the most recent couple of years, some of which have went on to win category awards.
"Since the Food Award's inception, each winner has been chosen independently and anonymously by IFWG members," Guild Chairperson Caroline Hennessy says, "recognising the best in Irish food by shining a light on smaller producers who might otherwise slip under the radar". Hennessy continues: "from traditional products of the highest quality to new innovations, this year's winners exemplify what is so exciting about Ireland's food and drink industry right now."
IFWG Awards –– 30 Years in the Making
Began in 1983, Hennessy explains that the initial aim of the IFWG Award was in "promoting and celebrating Ireland's indigenous food producers" and adds that "30 years on, we are fortunate to live in a country where there is more attention paid to the food we eat, to who is producing it and how it is produced. Many of the winners from the early years are still familiar names today, proof of their enduring quality and we have no doubt that this year's cohort of winners will continue that legacy."
The Awards are sponsored by Bord Bia and Una Fitzgibbon, Bord Bia's Director of Marketing, commented that the agency is delighted to continue to support the Guild and its Awards "as it consistently highlights the outstanding quality, craftsmanship and innovation in Ireland's artisan food industry".