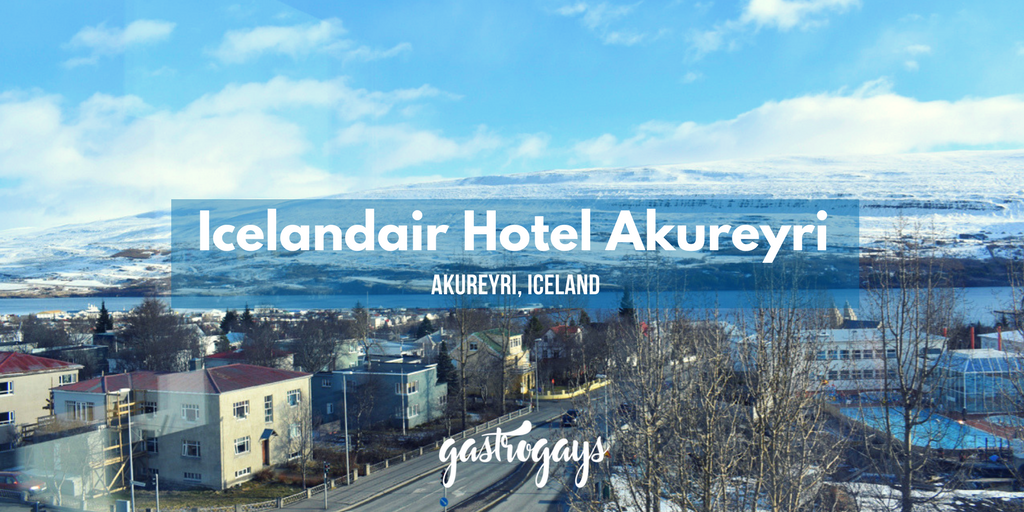 When we decided to travel around Iceland on our first visit to the country, we were thrilled at the prospect of taking an internal, regional flight and exploring a little more off Iceland's lesser-explored destinations. Iceland's second city of Akureyri was top of our list and our stay at Icelandair Hotel Akureyri was the icing on the cake of a wonderful first foray to the north of the country.
A thirty minute flight from the capital Reykjavik and a speedy ten minute drive from Akureyri airport (which is merely an unassuming landing strip located at the base of the town), Icelandair Hotel Akuyeyri is perched on Thingvallastraeti 23.
Incredibly easy to get to by car, it's also right across the street from the popular local geothermal pool and a stone's throw from the Akureyrarkirkja, the most iconic building of the city, designed by Guðjón Samúelsson (also the architect of Reykjavik's Hallgrímskirkja and hundreds of other buildings across the country). The old town and the main shopping and dining precinct is no more than an eight minute walk downhill.
When you arrive at Icelandair Hotel Akureyri the first thing that you notice is its warm, countryside feel and style. Quiet and calm, it's cosy and luxurious in equal measure with a neat reception area and bar on the first floor, the restaurant downstairs and the four floors of rooms above.
The rooms are bright, small yet incredibly functional and have gorgeous Icelandic design at their core. The accompanying views naturally elevate this beautiful bolthole beyond words.
The bathroom is not so much a separate room as a duo of bedroom off-shoots, the white-tiled shower area on one side (complete with l'Occitance en Provence toiletries and fluffy cotton towels) and the toilet and sink area on the opposite side.
Iceland has an abundance of electricity and natural power, so the rooms are toasty 24/7 – particularly nice when it's heavily snowing outside and you're wrapped up warm in what was one of the comfiest hotel beds we've ever slept in!
So, let's talk about the breathtaking views over the fjord and of the mountains that these hotel rooms afford guests. We luckily were given a top floor corner room with expansive and incredible views over the town.
On our too-quick overnight stay, a little over 24 hours, we had bright blue skies and unspoilt views on the first day and when we woke the next the entire town was covered in a thick blanket of snow, with flakes still falling lightly and a thick mist surrounding the slopes on either side.
They say Iceland can have all four seasons in one day, and we sure did get changeable weather making for a different experience and view of the area almost by the hour.
Breakfast is served at Aurora restaurant on the lower ground floor, which does double duty as it's a well-recommended spot for lunch or dinner too. We've stayed in a couple of hotels in Iceland and the breakfast here was one of the best spreads we found, featuring the usual selection of cold meats, cheeses, cereals, porridge, fresh fruit and certain hot items but also included freshly-baked cakes and biscuits, a waffle iron to make waffles from scratch and a wonderful selection of tea and coffee.
Afternoon tea is also served daily between 2pm and 5pm at the hotel, which due to time constraints we unfortunately didn't get to try but we really wanted to.
We only wished our stay at Icelandair Hotel Akureyri was a day or two longer as this is the ideal spot to wrap up in everything Akureyri has to offer, come rain, shine, sleet or snow.
Disclaimer: We paid for our stay here, though we did receive a slightly discounted press rate from the hotel group. We were not asked to write a post or share our opinions, and the above rate doesn't affect in any way our opinions or experience.