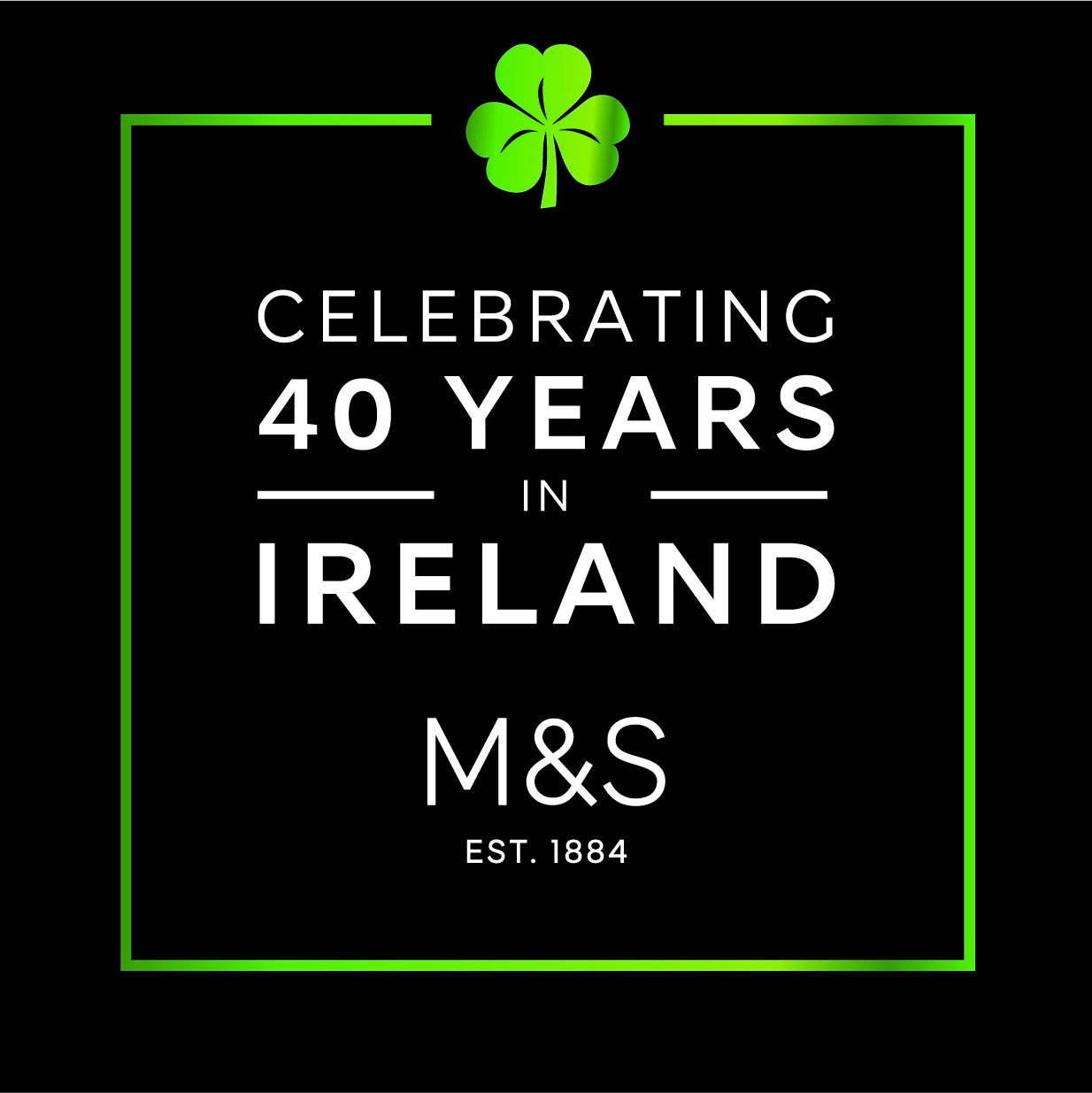 In Paid Partnership with Marks & Spencer Ireland
Easter means three things, delicious lamb, hoards of chocolate eggs and snacking away on Hot Cross Buns. We are quite traditional with them- just like our aim to eat as seasonably as possible, once spring time is over, we won't be seen enjoying a HXB until the next time the daffodils begin to shoot up. In the meantime, we're enjoying as many of then as possible. Simply toasted with lashings of butter is always preferable, but some twists and creative quirks don't go amiss either.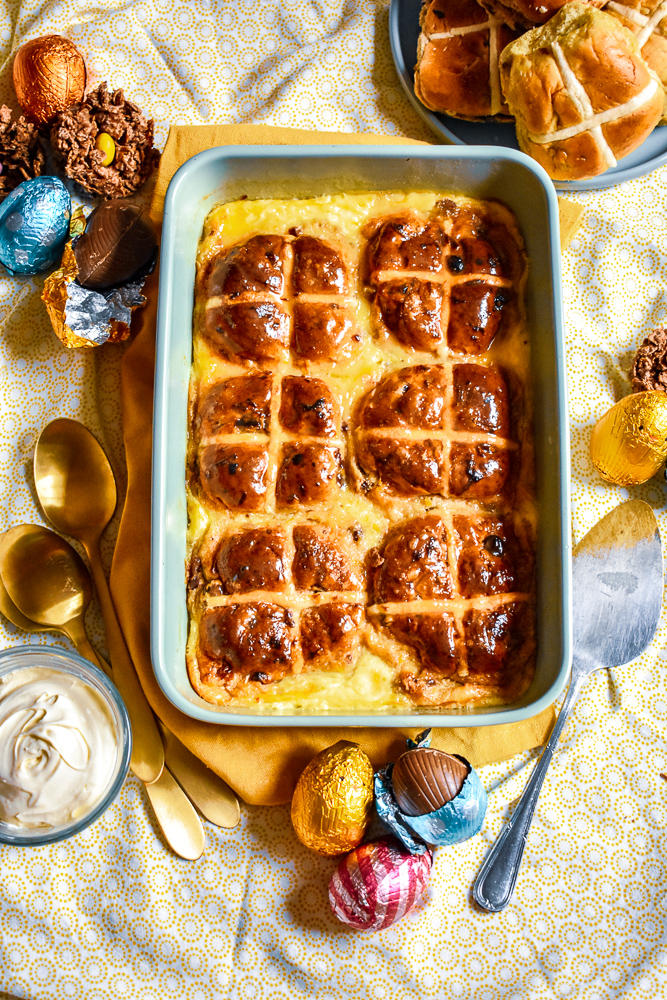 #ThisIsNotJust a Hot Cross Bun, these are Marks & Spencer Golden Hot Cross Buns, buttered and filled with Sicilian lemon curd, smothered in a homemade custard, allowed to soak then baked until golden, before being adorned in a lemon curd glaze. This is a dead simple but incredibly delicious recipe which is easy to make using ingredients available at your local Marks & Spencer.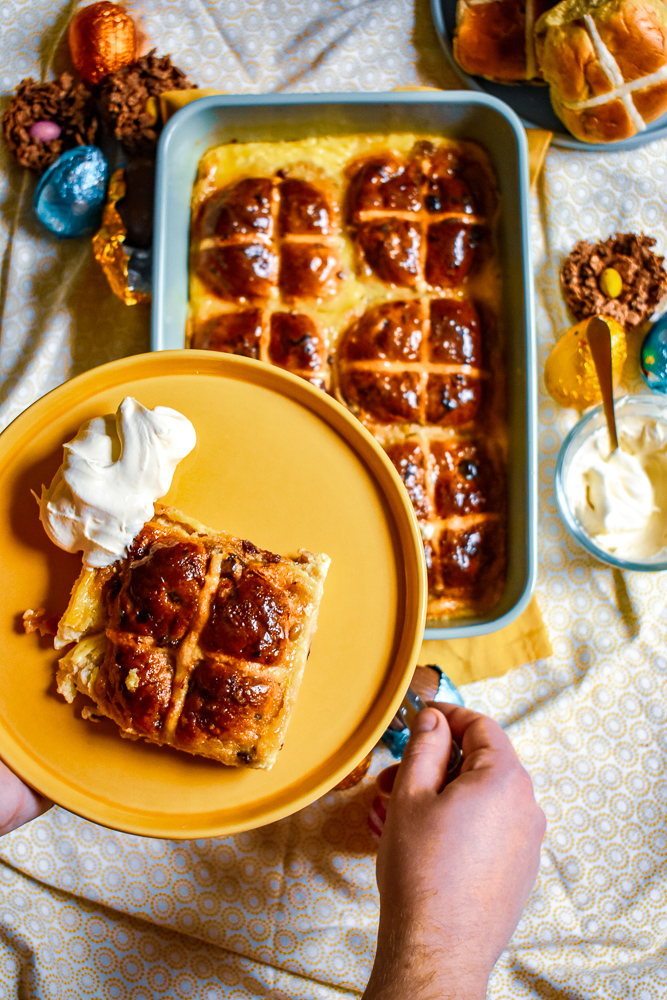 Hot Cross Bun Pudding with Lemon Curd
6 Marks & Spencer Golden Hot Cross Buns (sold in packs of 4)
6 tbs Marks & Spencer Sicilian Lemon Curd, plus extra for glaze
2 large free range or organic eggs
350ml whole milk
50ml double cream
25g caster sugar
lemon zest
butter
Butter a large rectangle oven dish. Slice the buns in half, and butter both sides. Place the bottom half in the dish, 3 on each long side. Scoop a dollop of lemon curd and spread across the surface. Top with the other side of the bun.
In a pan, heat the milk and cream until it's warm but it is vital not to allow it to boil.
Crack the two eggs into a bowl, adding in by sight two thirds of the sugar, whisking until pale.
Add the warmed milk into the eggs mixture and stir it well. Sieve/strain the mixture into a jug.
Pour the mixture over the buns, though focus most of the mixture in sections in between them. Grate some lemon zest over the dish. Leave to soak for 30 minutes or so.
Preheat the oven to 180°C
Bake in the hot oven for about 30 minutes, until the custard has set and looks golden brown.
In a bowl, take about a tablespoon of lemon curd and mix with a few tablespoons of hot water and stir to combine, until it's an egg wash consistency. Using a pastry brush, paint the glaze over the buns.
Leave to cool for about 3 minutes then serve with custard or whipped cream.I
Recipe created & published in paid partnership with Marks & Spencer Ireland featuring their new Golden Hot Cross Buns.