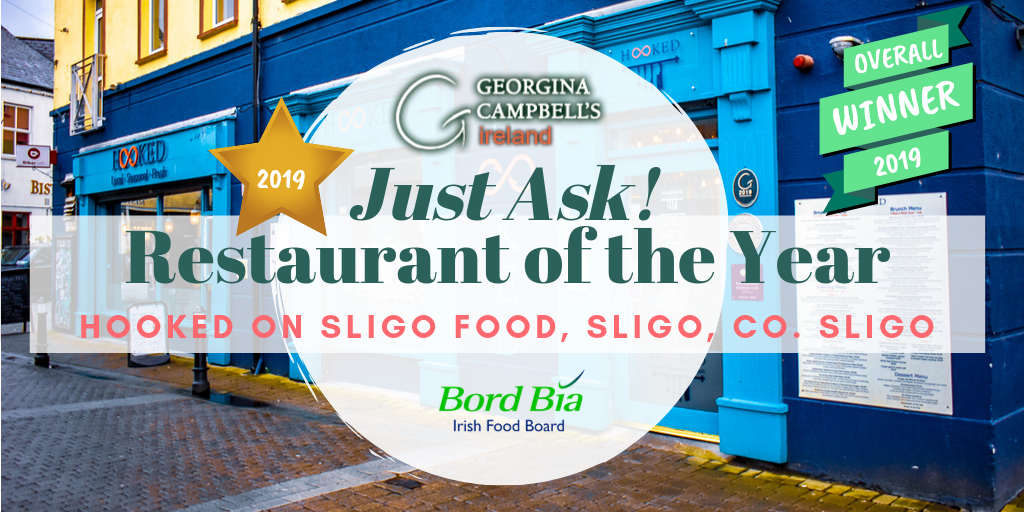 "Sligo is unspoilt… it's pure wildness… and Hooked (on Sligo Food) – to give it its full title – is all about celebrating everything that Sligo has to offer and the wealth of food producers we have in this part of Ireland," Anthony Gray tells us as we pull up chairs in the central table of his restaurant in the Abbey Quarter of Sligo City. An established restaurateur, with Eala Bhán up the road as his other restaurant, Anthony has an infectious enthusiasm for running restaurants and an undying love for his home county paired with the utmost commitment and dedication to the local food and drink suppliers.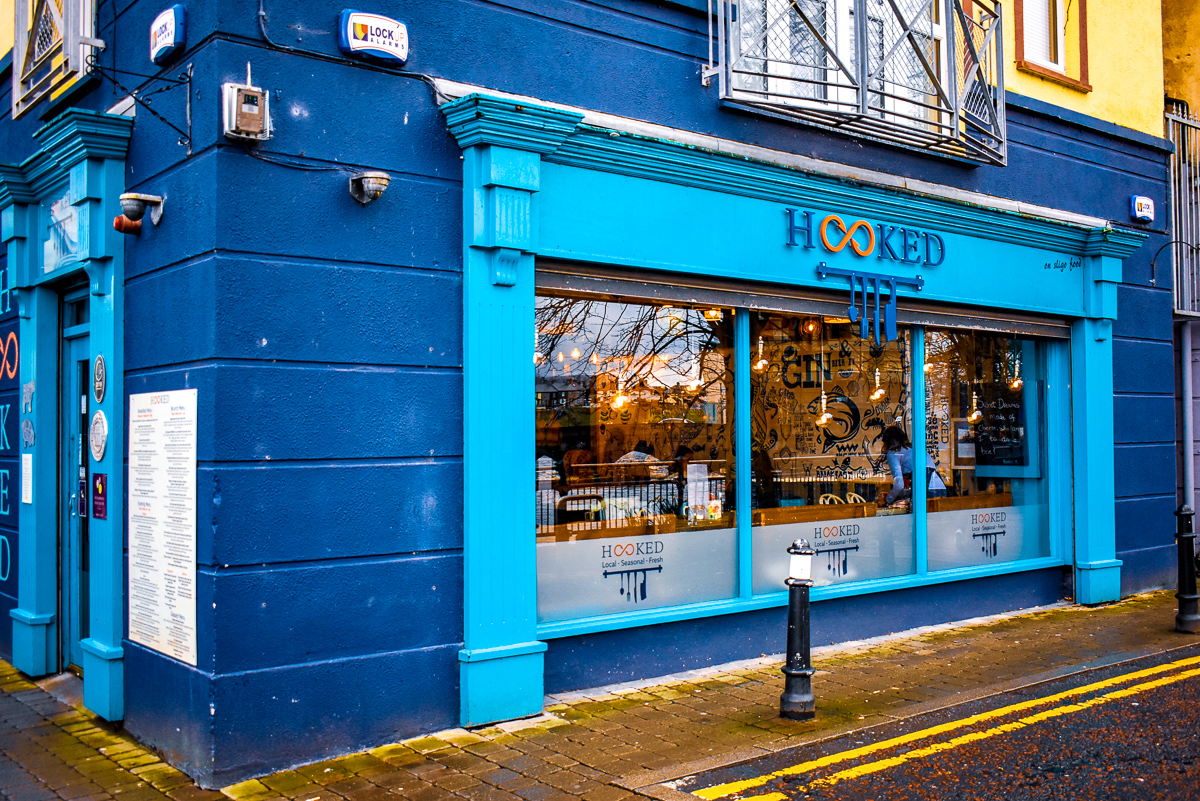 Sligo is getting a reputation for itself of late, if you haven't noticed, climbing sharply in everyone's estimations as a bonafide food destination in Ireland. And why wouldn't it be? Take one quick glance under the surface of this North West precinct of the island and you'll see that Sligo is quietly a slice of scorching hot property. The Wild Atlantic Way has opened up the western seaboard of our island, creating one of the world's most popular tourism routes, and food tourism is an integral part of the Wild Atlantic Way experience. Visitors are in for a treat as they dine along the western coast in Ireland, especially at places like Hooked – which has just been announced as the recipient of the Bord Bia Restaurant of the Year 2019 in association with Georgina Campbell's Ireland Guide.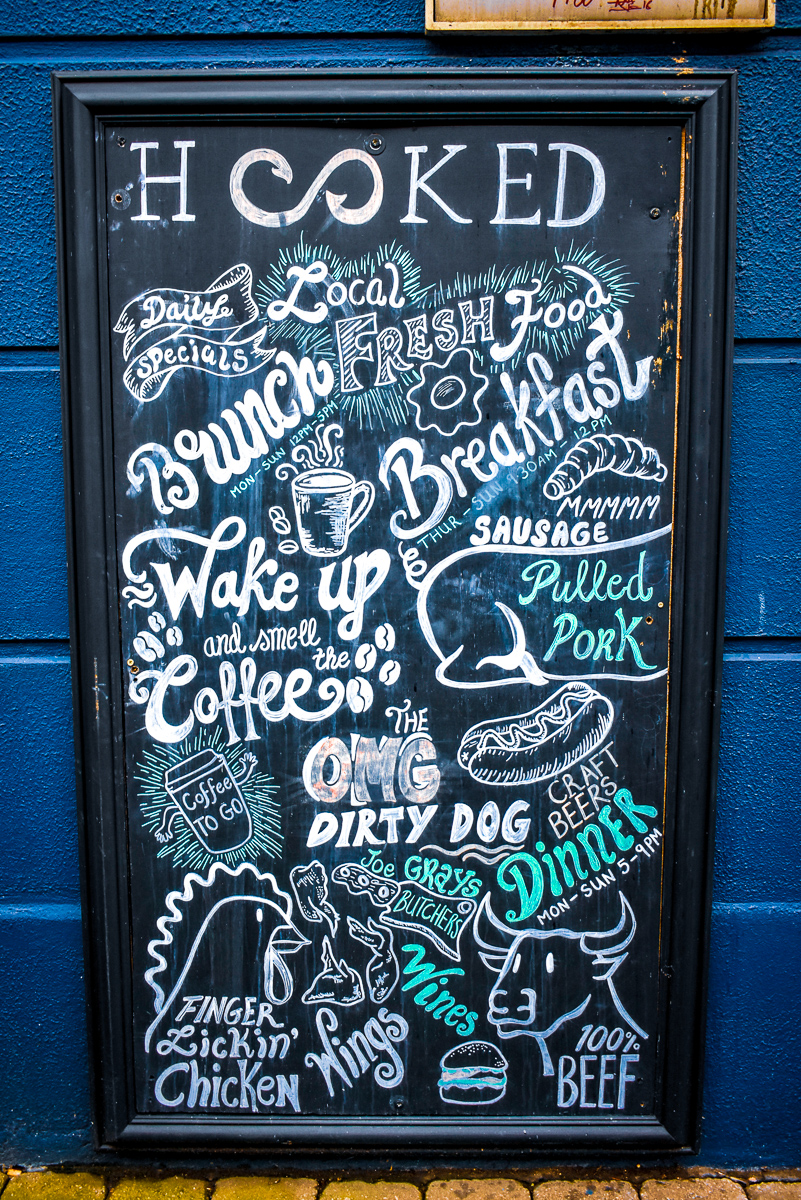 We're delighted that throughout 2019, we're working with Bord Bia and Georgina Campbell on the Just Ask initiative to delve a little further into these awards, which showcase and spotlight the crème de la crème of Irish hospitality by celebrating the best restaurants, cafes and gastropubs in the country. Established in 2009, the awards recognise restaurants which are particular about sourcing local produce and profiling suppliers on their menus to offer a true farm-to-fork culinary journey. Each month a different winner is announced and we're going to be telling their stories each month, taking you along with us to showcase the wealth and breadth of great places to eat across Ireland.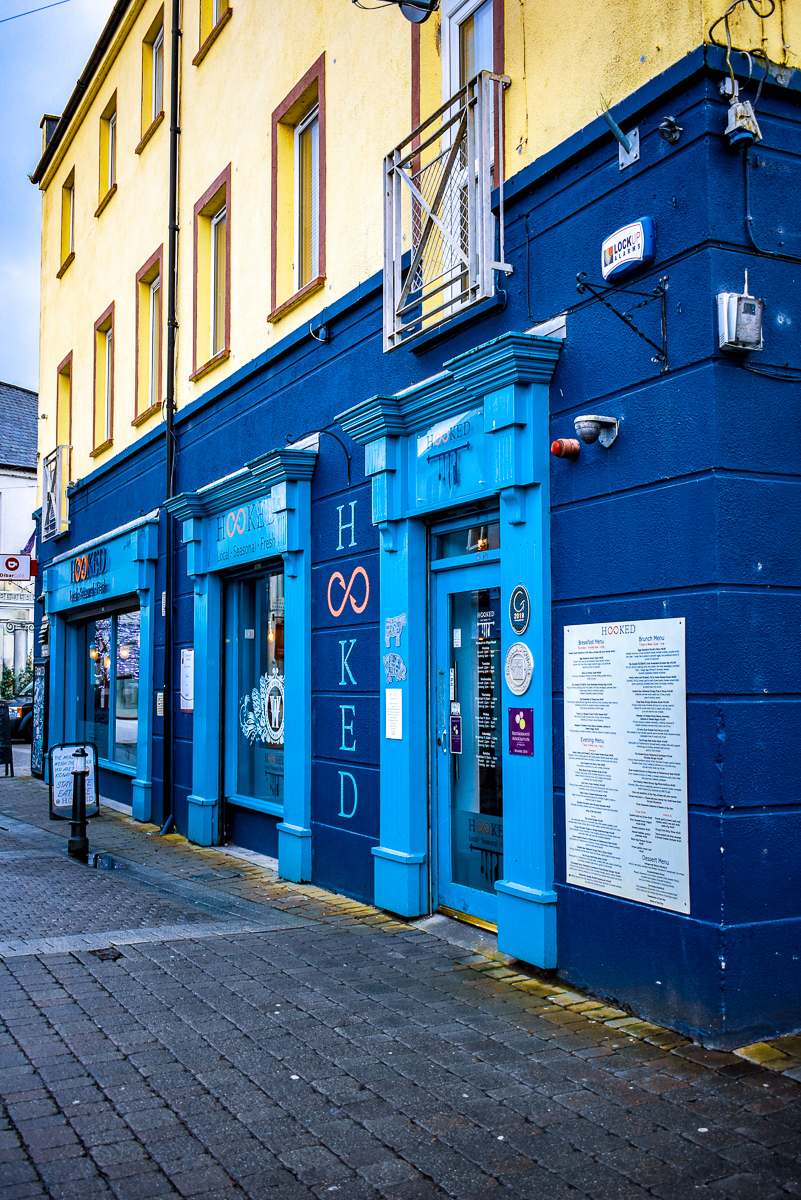 From its perch on Rockwood Parade, Hooked has a perfect view of the ever-rolling Garavogue River with glass window surround. Anthony Gray, the owner and operator who opened the doors in late 2017, has brought a couple of his local suppliers to sit around the table over coffee and tea and tell us a little more about what they all do and discuss the fabric that makes up Sligo food and drink – of which Hooked is a beacon that brings it all together serving exceptional plates of food with local produce at the heart.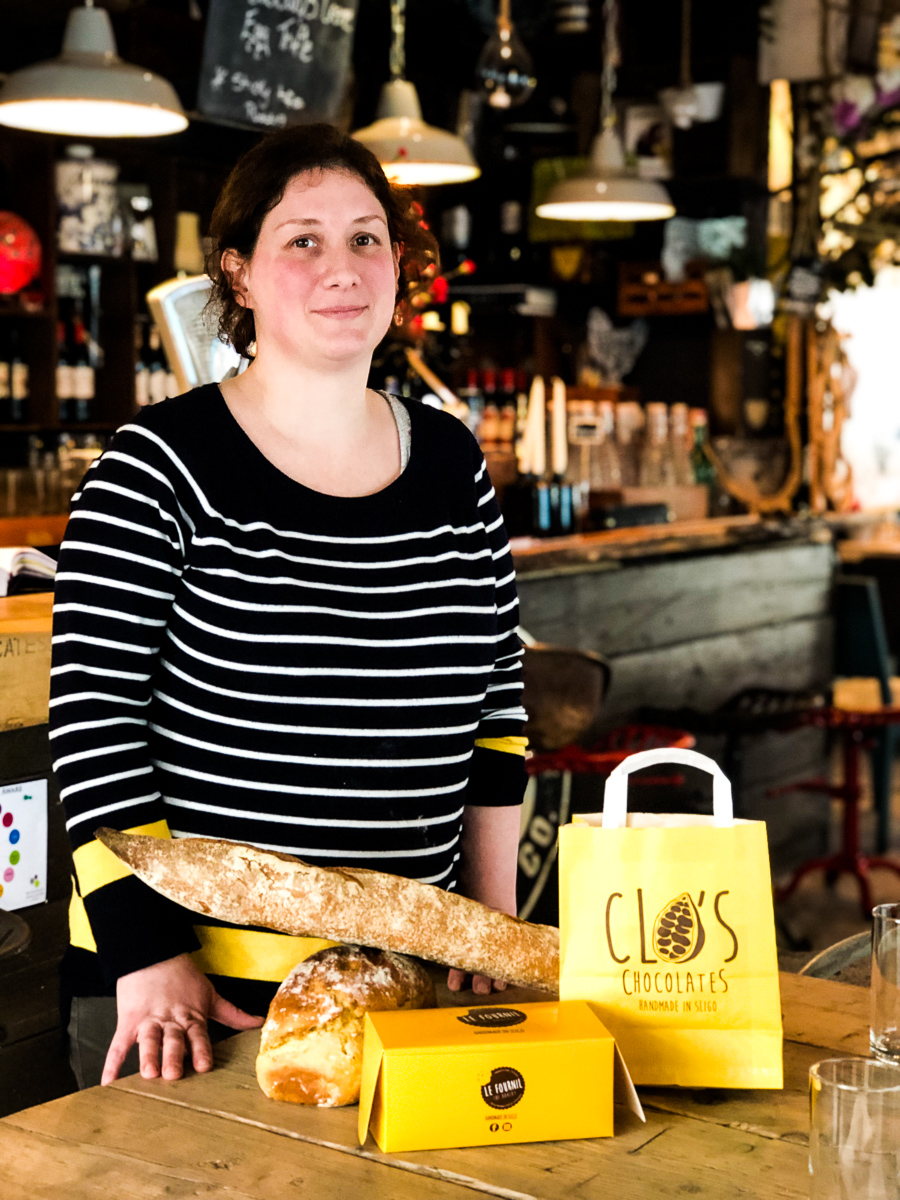 From just next door, Clotilde Rambaud of Le Fournil Bakery, tells us she arrived in Ireland 13 years ago and never left. After training in patisserie in her native France, at the insistence of an Irish acquaintance she found herself heading to the Emerald Isle to finish her final placement of her studies and never returned to live back home. Her heart was captured by Sligo and seven years ago, she and her partner, in life and work, Tomasz set up Fournil, a boulanger, patissier and chocolatier specialising in sourdough-based bread, decadent patisserie and artisanal chocolate creations, as well as great coffee and specials like cruffins, lavishly-filled donuts and seasonal treats. Clo tells us that Irish produce is second to none and among the best in the world to work with – "the butter, the milk, it's all just amazing!"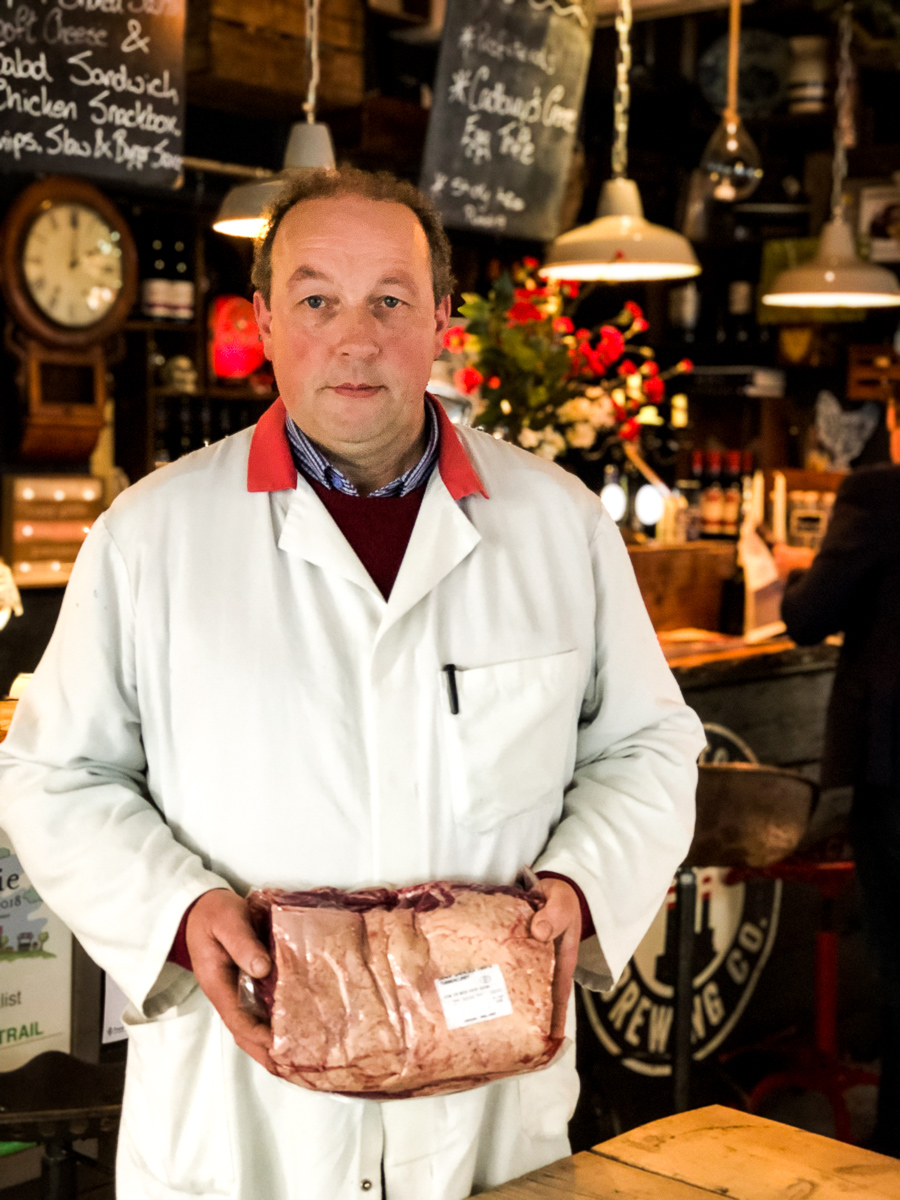 Esteemed butcher Michael Mullaney of Derek Sherlock Meats (which set up business in Tubbercurry in 1979) remembers around 30 years ago, "there were only about four places in Sligo where you could get any sort of lunch or dinner" and has seen that what began to change in small ways in the Nineties has led to an almost unrecognisable evolution of Sligo's food scene as it stands now, rich with restaurants, gloriously appointed with pubs, and the quality of produce reaching new heights all the time. So we ask has the customer changed over the years or have their tastes and expectations just evolved over time? "Provenance is everything," Michael states, whose grass-fed beef is heralded for its quality, "now, the customer wants to know what they're eating, where everything is from and they take interest and pride in what they're eating, especially local food" – which everyone at the table agrees has created a greater appreciation and a renaissance in the food scene here, mirroring what's happening across Ireland.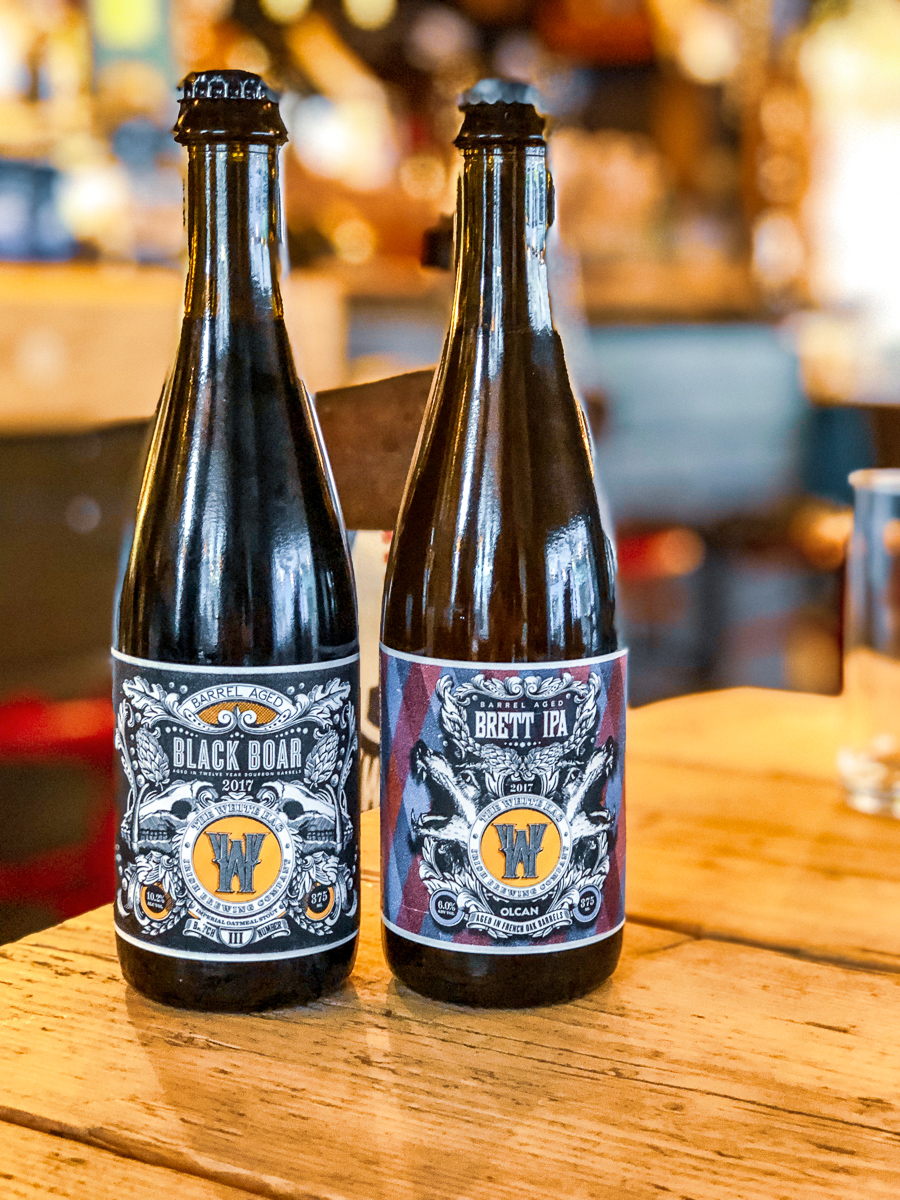 Though it's only been open just over a year, Hooked is already hugely popular and has a constant flow of customers from breakfast 'til late dinner, and they have local brewery The White Hag as pride of place on two of the taps at the bar. Steven, the ambassador for the local craft beer brewery which began around five years ago, tells us "it's people like Anthony who really champion local and support local producers which makes our job much easier". Anthony adds that "people appreciate that you're an expert in local produce and when they ask for a recommendation it's wonderful that you can tell them that this sour is brewed up the road using local heather or this this ice cream special is using some of the best gelato in the world, which happens to be made in Strandhill just ten minutes away. I've trained my staff in all the local producers we use, so that they have that knowledge and expertise – customer service is what people really look for, that's also what's changed over the last couple of decades".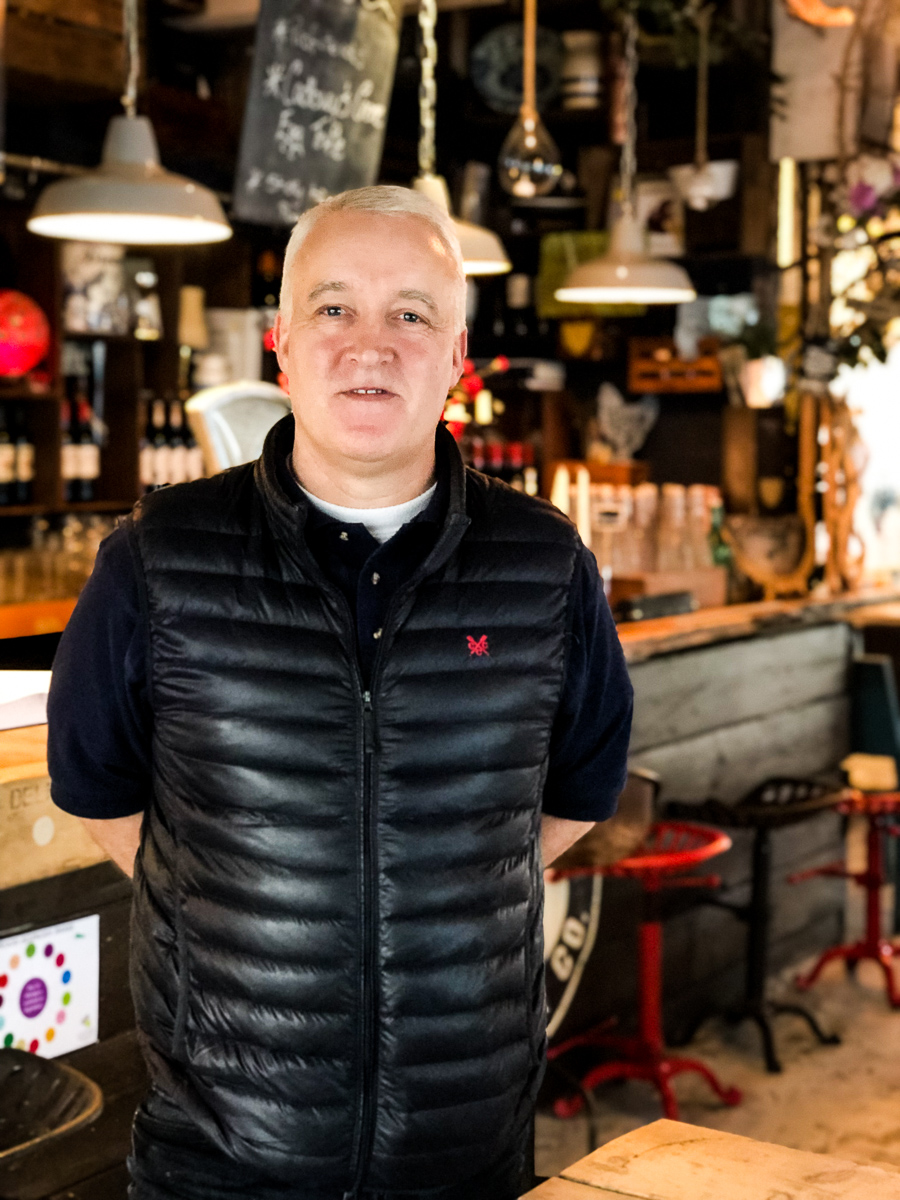 That ice cream in question is from Neil Byrne, owner and operator of Mammy Johnston's in Strandhill. Began by his grandmother Olive in 1938, he grew up in the ice cream shop which began with humble banana and vanilla flavours in big blocks "cut with a cheese string and served between two wafers" and has evolved into award-winning gelateria by the sea offering a dizzying array of flavours, from passion fruit and honeycomb to Guinness and seasonal specials like mince pie. Whatever you do, don't miss the ice cream on the Hooked menu, this simply must be tried. We got a taster of a newly-created Oreo and Creme Egg trifle special featuring the ice-cream which was quite simply: out of this world.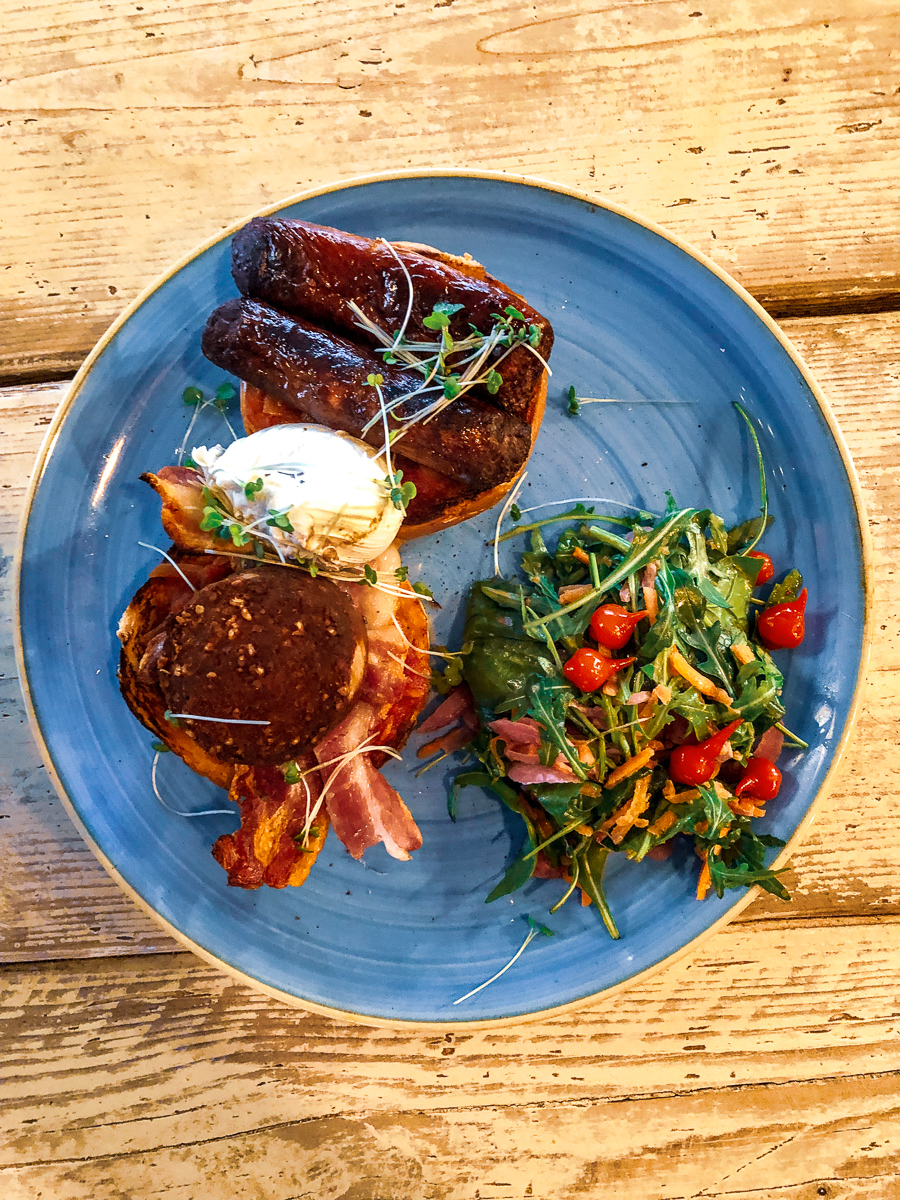 The menu at Hooked is a who's who of the finest producers the North West has to offer, and the menu lists each one, from Kelly's of Newport and Andarl Farm in Mayo to L.E.T.S Organic Centre and Ballisodare Free Range Eggs from Sligo.
The rectangular dining room is bathed in natural light, whilst the interior is a quirky mismatch of bits and pieces that bring dashes of creativity, comfort and energy.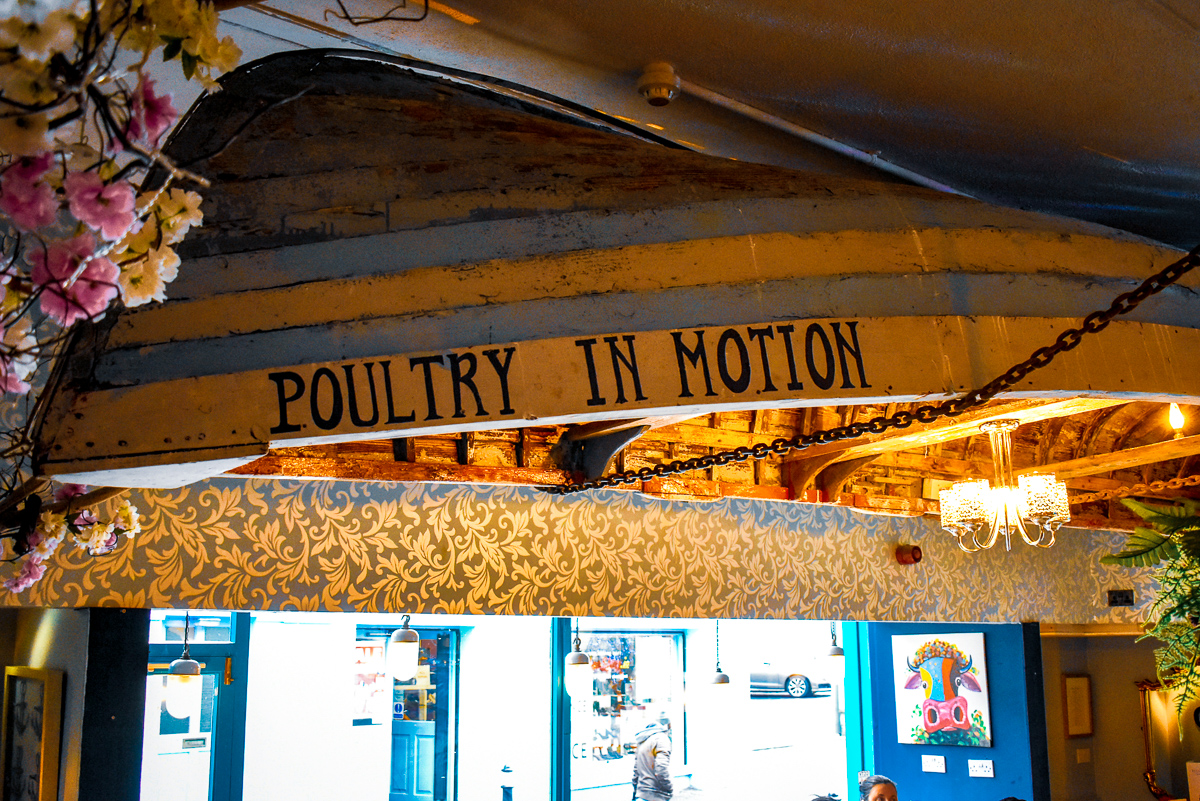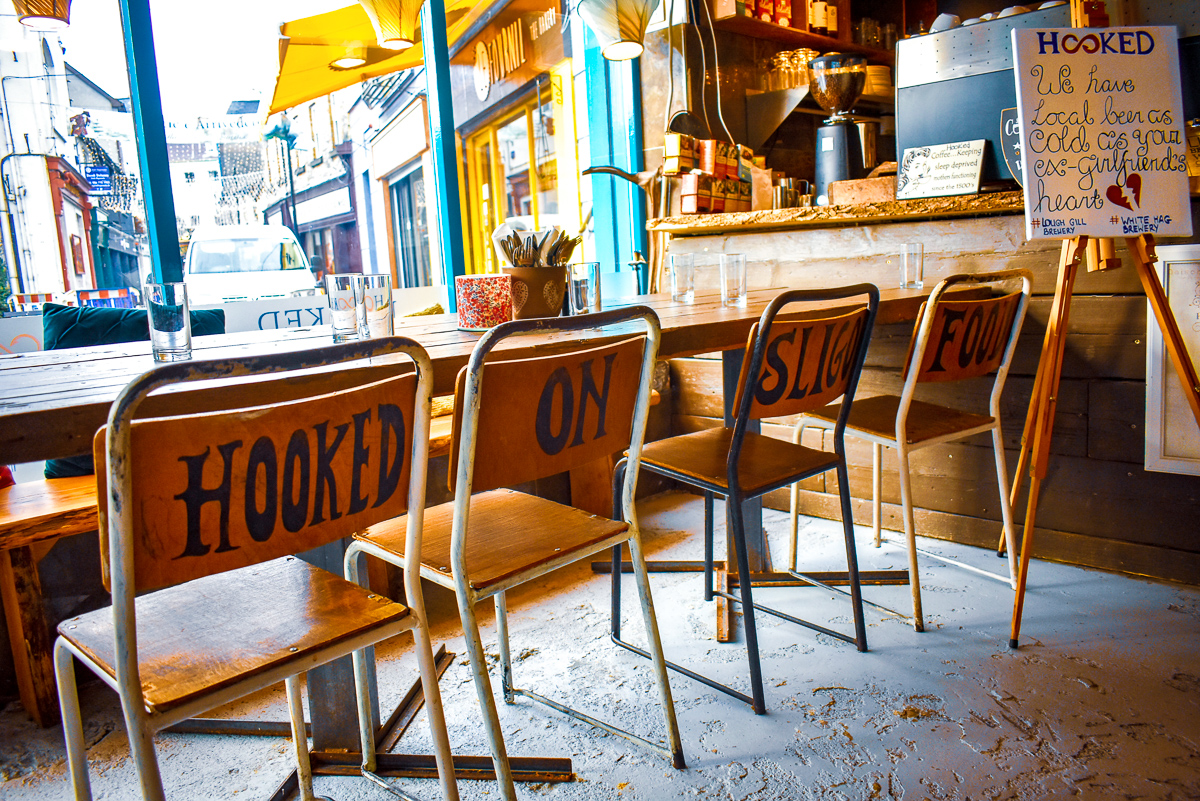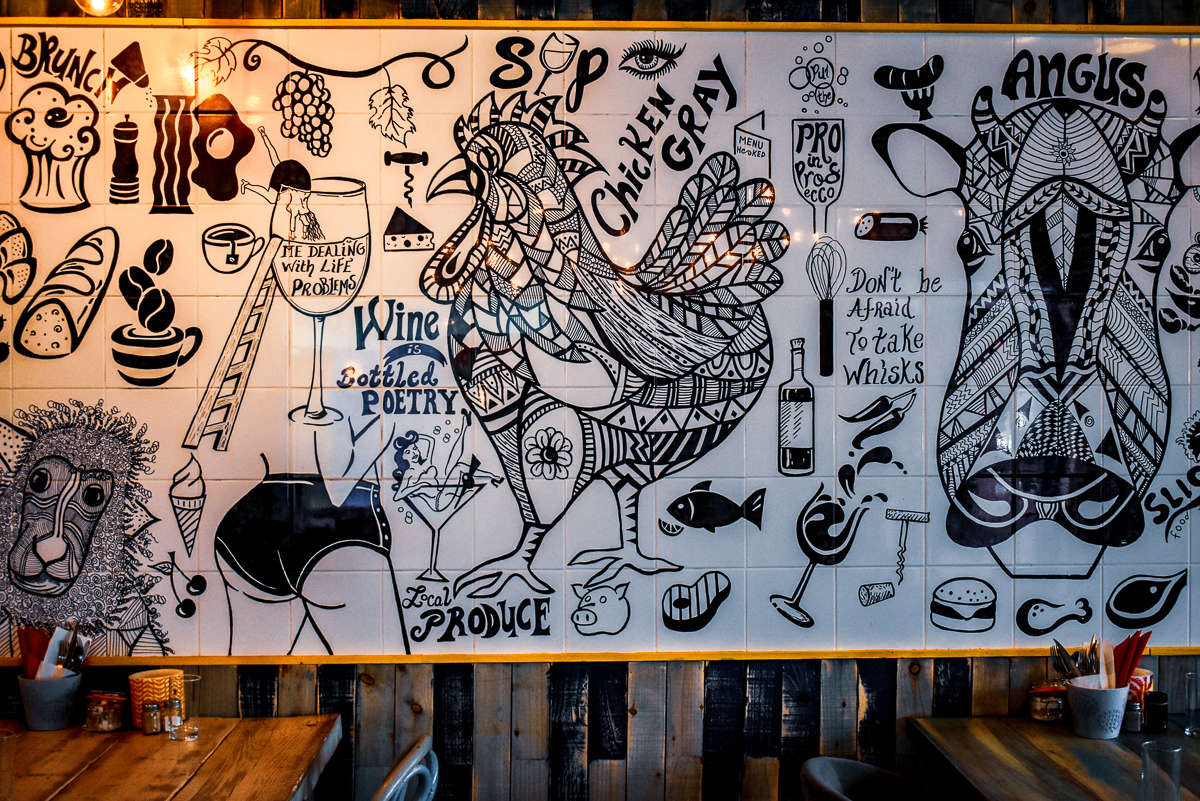 From the upturned boat hanging from the ceiling to the arch of flowers blooming in the middle of the room, the feature tile wall (designed by local artist Shantal Foley, which took over 100 hours and an endless supply of black Sharpies) to the wood panelling in hues of navy and baby blue, there's a clear sense of the sea at Hooked but the mismatched crockery, upturned lampshades, butcher's block counter and filament Mason jar feature lighting combine to create a homely atmosphere with a personal stamp to things.
The counter features a real show-stopper, the salvaged butcher block from Anthony's father's award-winning shop, Gray's Butchers, which Joe Gray began in the Seventies here in Sligo right up until the early Nineties when he retired. "We lived above the shop and I cut my teeth working in it," Anthony explains so it's really special to have this memento of his father's successful business now up-cycled and taking pride of place in his own new venture.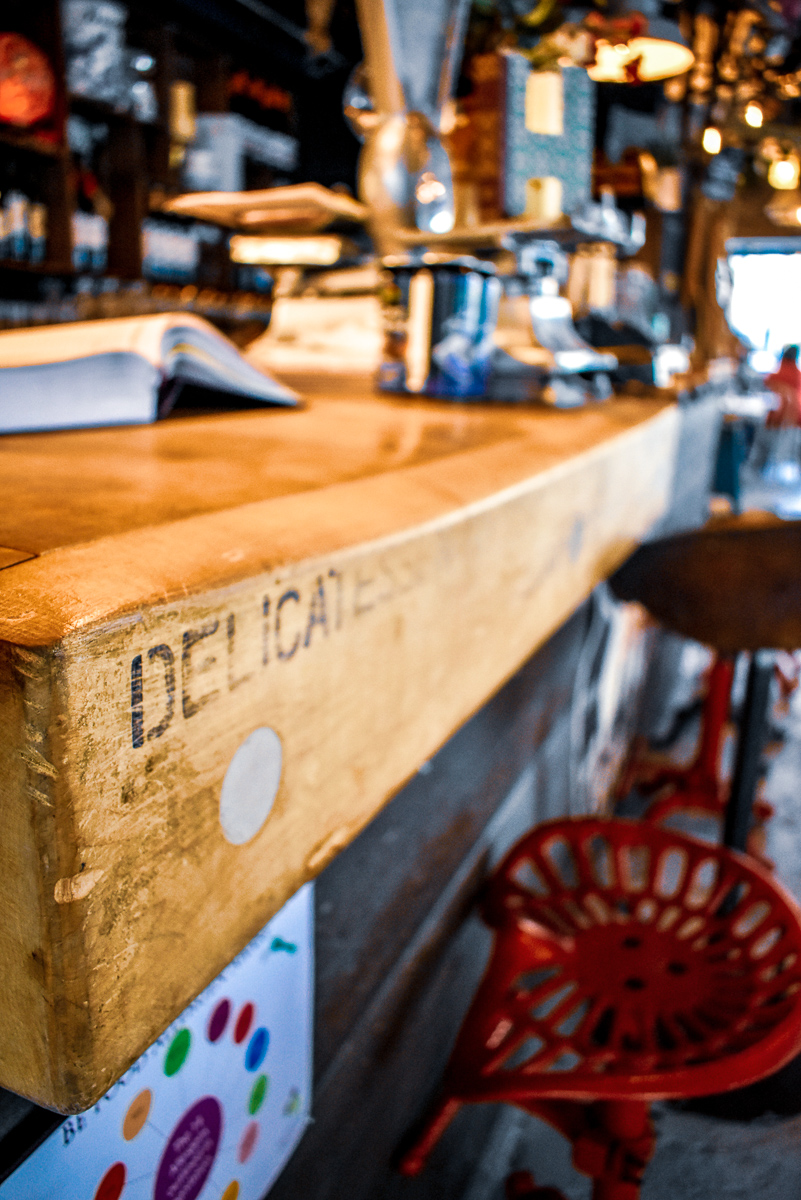 The grain still bearing the faded hacks of a butcher's knife and the curve in the middle from years of cleaning the same spot, this is just one example of many which demonstrates how much love Anthony has pumped into this place. Hooked bears all his personal touches (from the interior to the menu) paired with his passion for local that makes this one of the best places to eat in Sligo, and such a worthy recipient of the Just Ask! Restaurant of the Year award, which now sits proudly on the wall opposite the bar.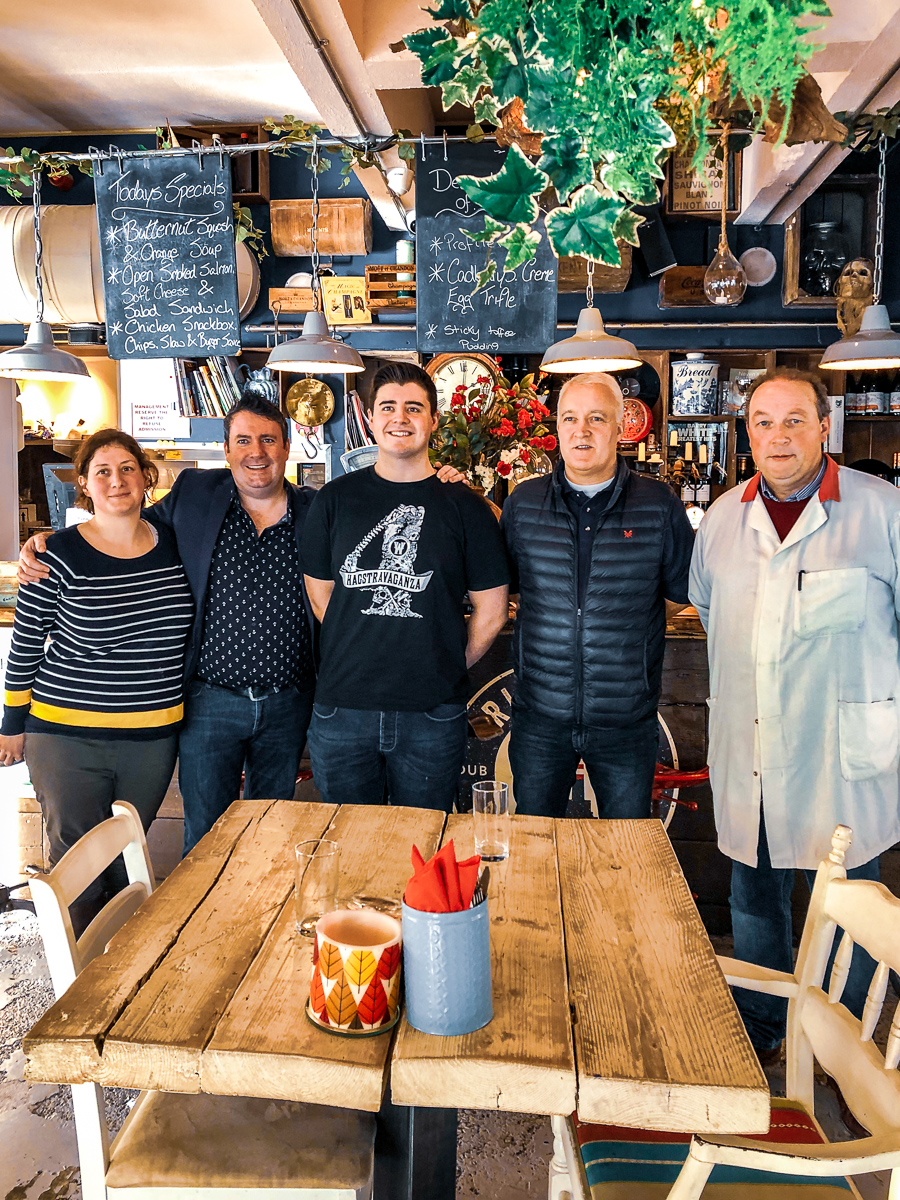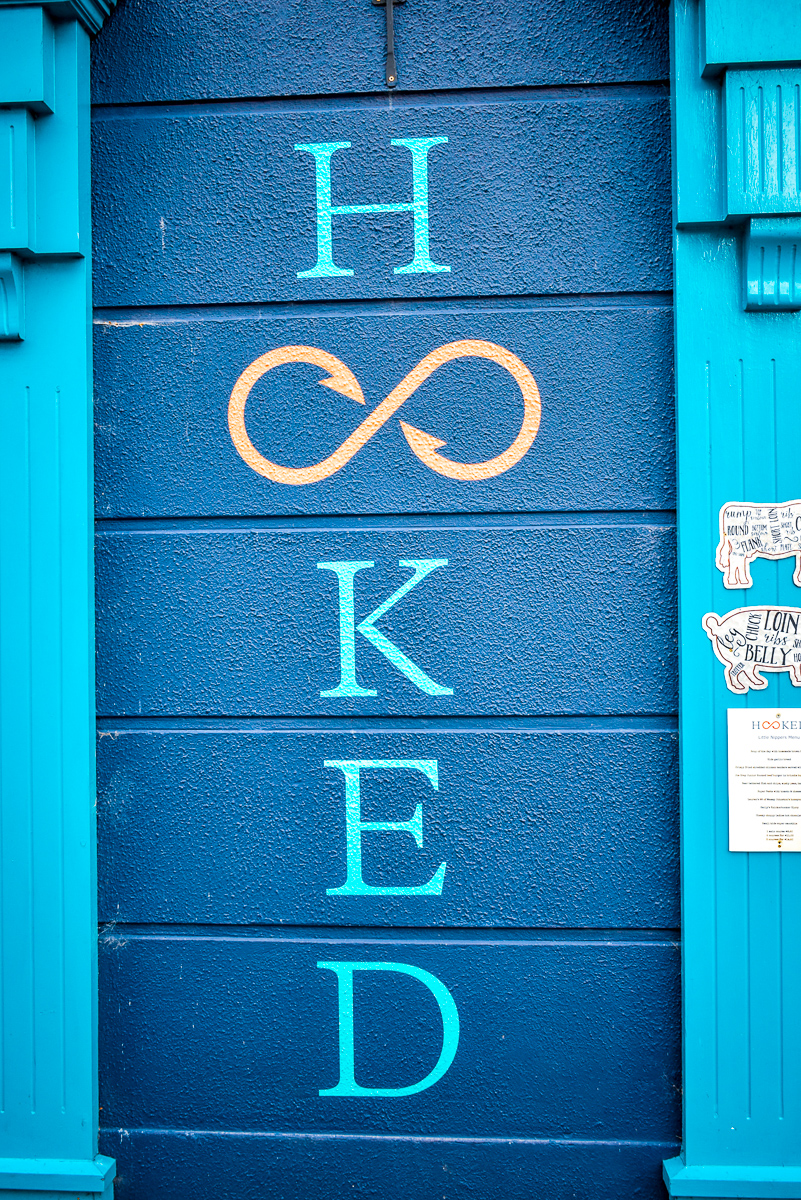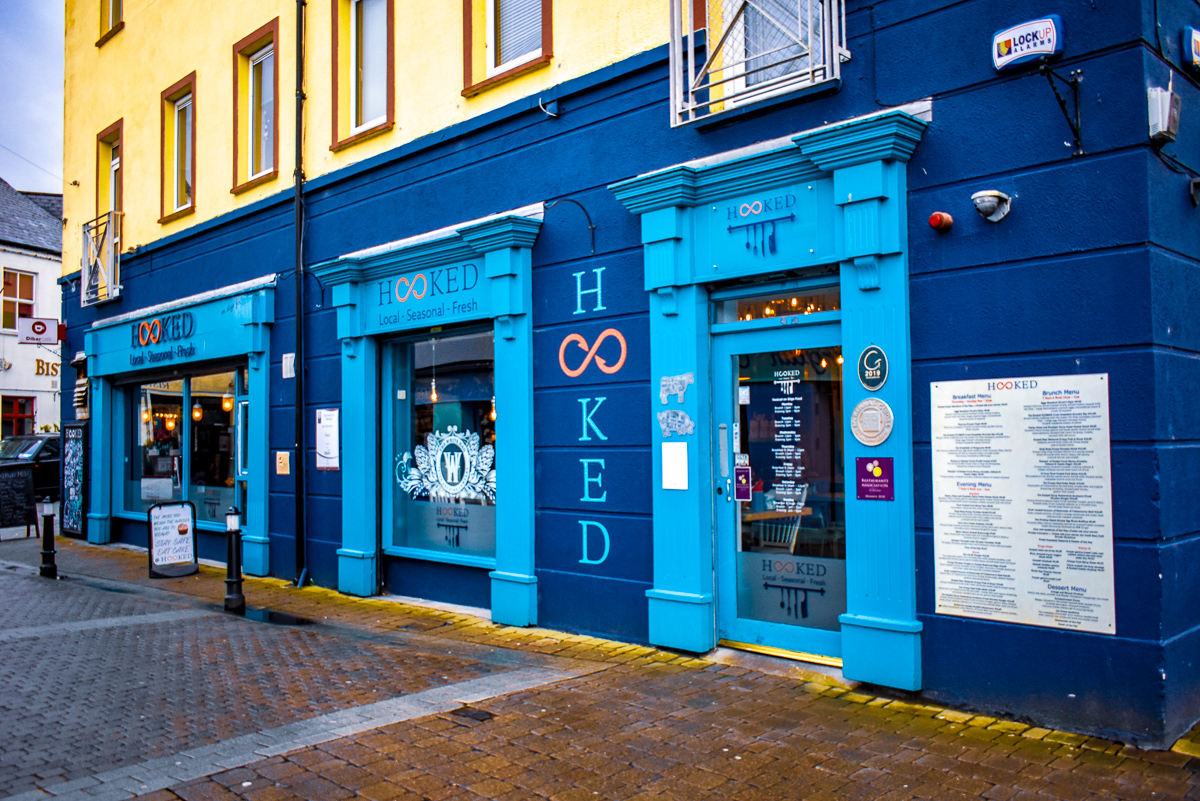 Disclaimer: This is a paid post in conjunction with Bord Bia.