We're going to preface this post with negativity and honesty by saying we've been so disappointed, time and time again, by the fish and chip game we've experienced in London; chips so greasy they're literally moist and flaccid when they should be crisp and firm and indistinguishable varieties of fish in batter that's either like an ancient shell (one touch and it breaks into a million, over-crispy shards) or so doused in vinegar and suffocated in a paper bag that the meat limps lifelessly, batter half-clinging to its host like a dead animal turned into a stole.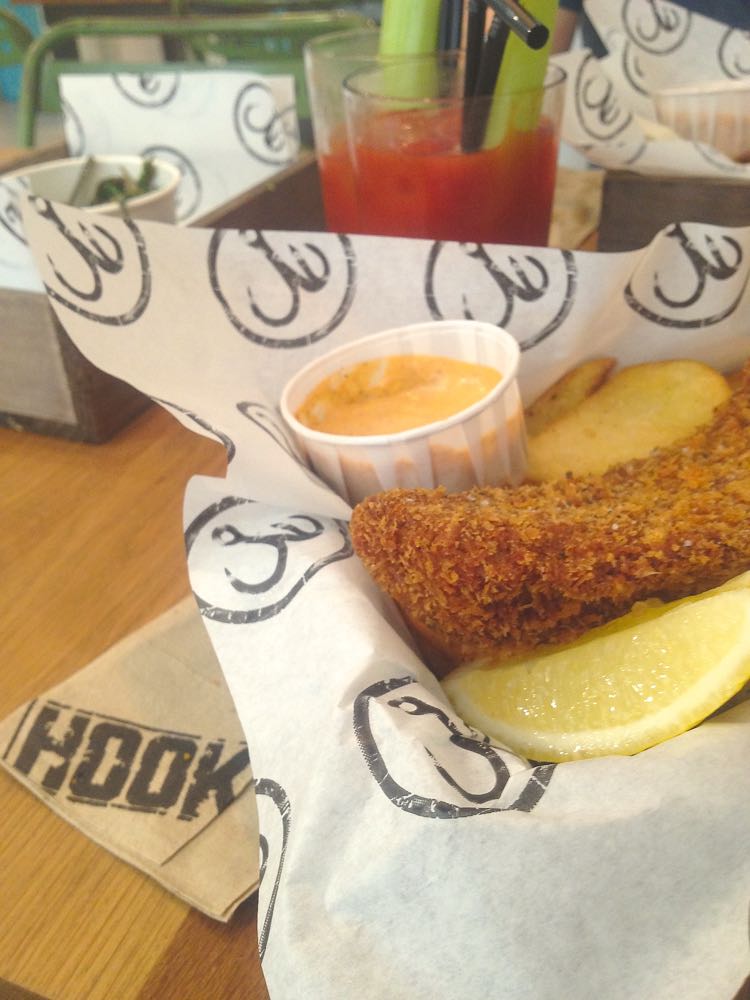 Thankfully, Hook slings us a game-changing chipper by way of two creative and talented Irish guys, and we waited so long for this to open (having been teased about it for a good year). If we are wrong with the above, please: send us the locations of the best UK chippers on a postcard!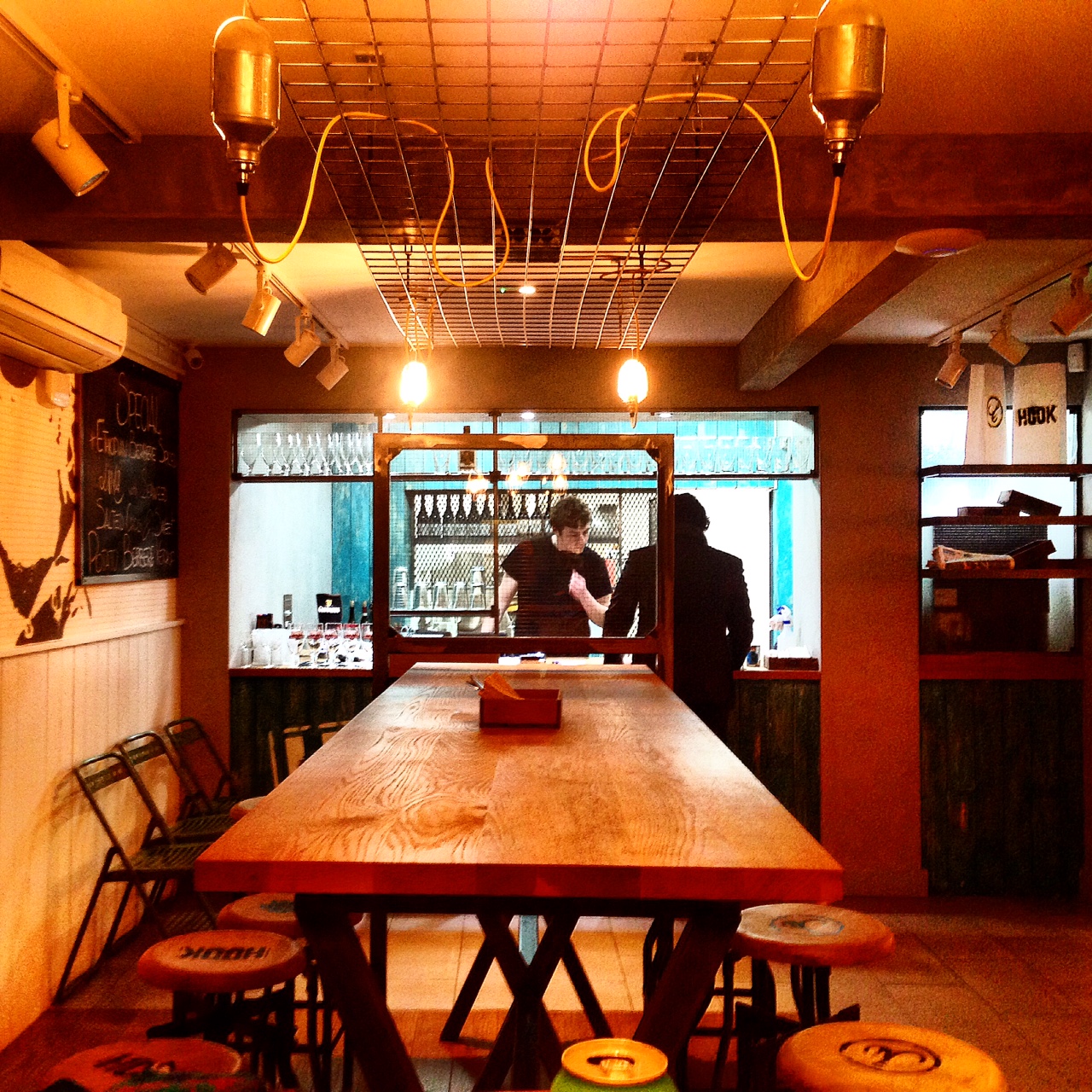 Take a trip to ever-fashionable Camden Town and you'll find one of London's most fantastic chip shop experiences, along Parkway, which also happens to be one of London's newest chip shops, and will soon be the benchmark for every other. Barry and Simon take this seriously, and we absolutely applaud it. There's a foul scent in the air that we've become distanced from our fishy friends, and this is the type of establishment that celebrates the rough and tumble paso doble that's performed on the high seas in order to reap maritime rewards that fill our plates.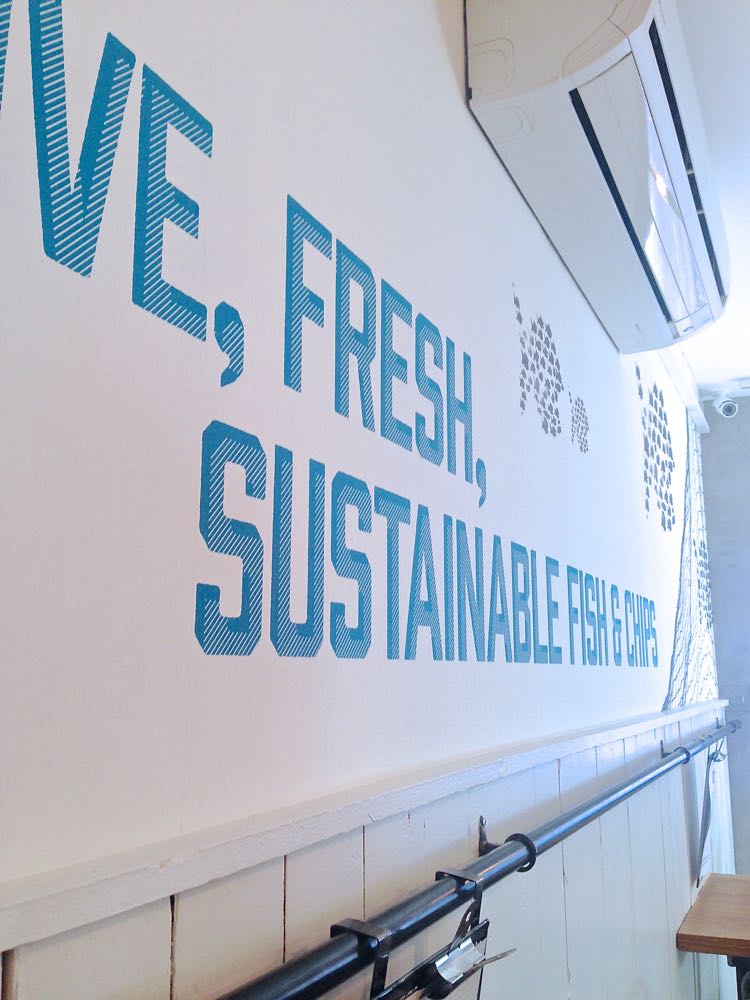 Hook is all exposed lighting, a palette of blue, a base of lightly weathered wood, and swathes of rope, beam, metal and glass, subtly evoking the textures and colours of boats, the sea, the fishing process as a whole, to make you feel far more connected to your food – because sustainability and awareness is at the heart of what these lads are doing.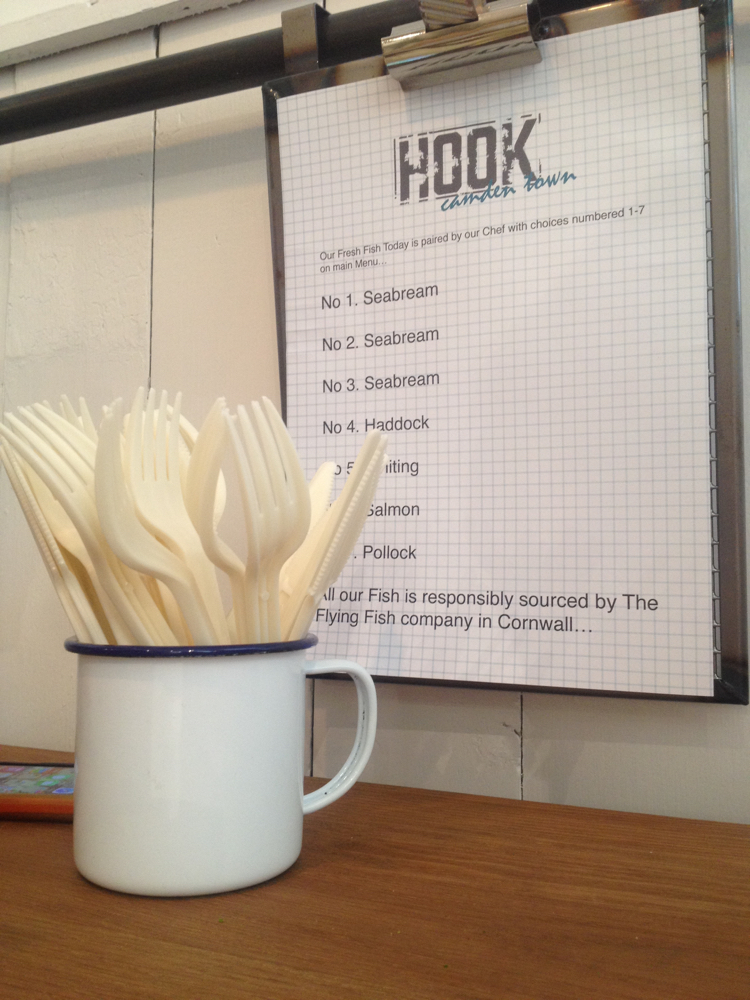 You'll find a clever mix of seating here – which is an aspect of restaurants and cafés that we've only recently picked up on, and is so important – including high stools, tables for two, long banquet-style group seating and even a cosy little terrace out the front which will be perfect in the balmy summer.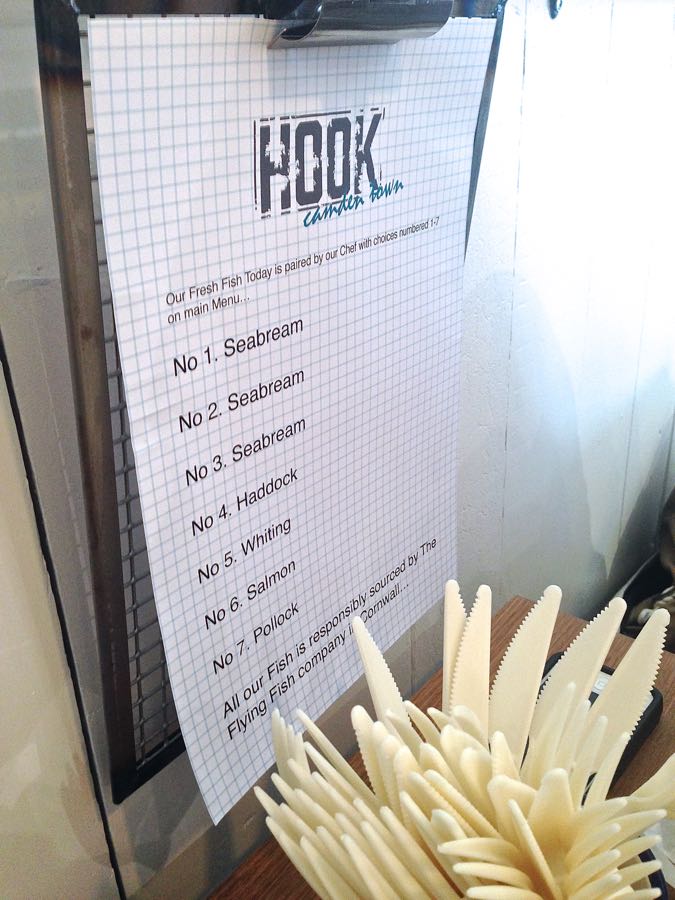 Trawl through the menu, which is similar to that in their original branch, Bia Mara in Brussels. When we ate in BM, they had the same menu replicated three times (English, French, Flemish – well, it is in the heart of EU land) and hanging as tear-off notepad sheets on three clipboards, which talked the customer through easy, straightforward steps to ordering. Hook's statement of dishes is different, with tonnes of options and combinations so may take a while to wipe up the drool and decide what you're gonna nosh on. Thankfully, Barry and the serving team are ever-present on the floor to talk diners through what's on offer and what's especially good each day.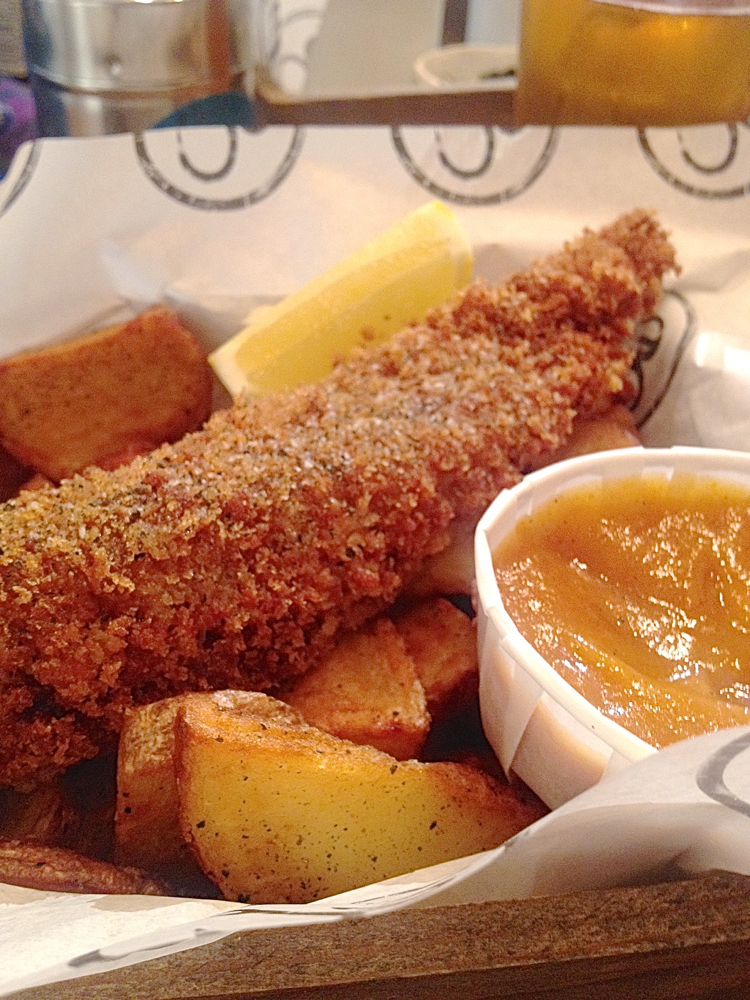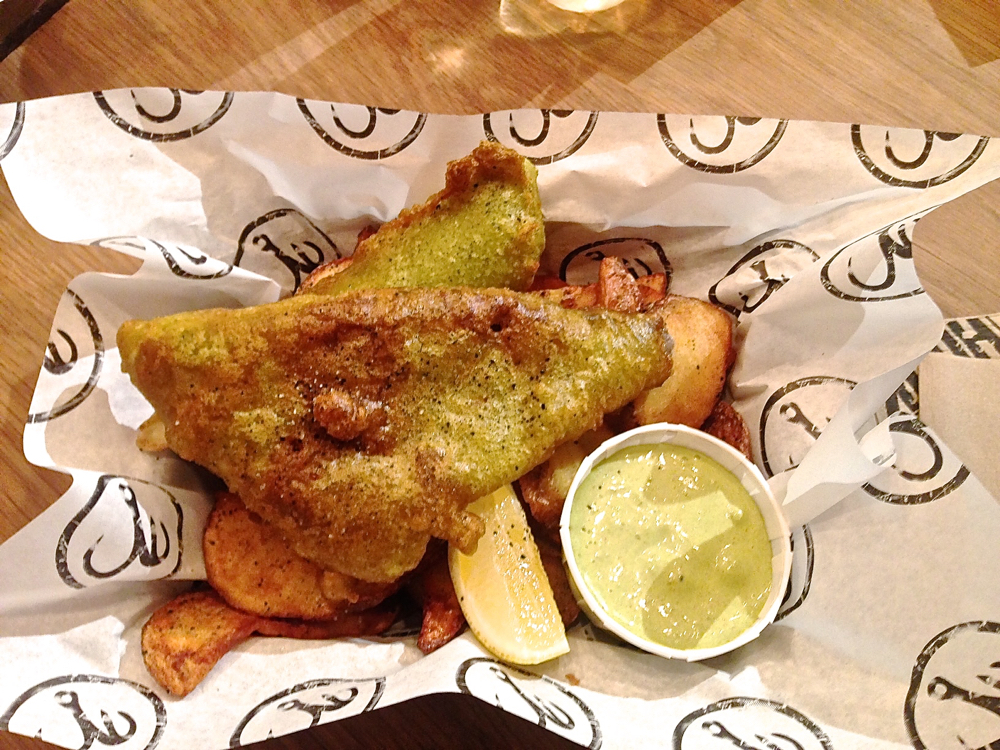 The menu changes as the daily catch does; a close relationship with the Flying Fish Company in Cornwall means that whatever is caught will end up on the menu, and within 24 hours of being caught will appear on plates. There's takeaway available, but no menu to physically take away, an example of the fact that the fish really does change depending on what comes in to the restaurant each day, however usual suspects on the menu include sea bream, pollock, ling and hake. It all tastes as fresh as it sounds; fish is firm, juicy and flaky. All the fresh flavour expected is delivered, with none of the unwanted salty, sea aftertaste that bellows from less fresh fish.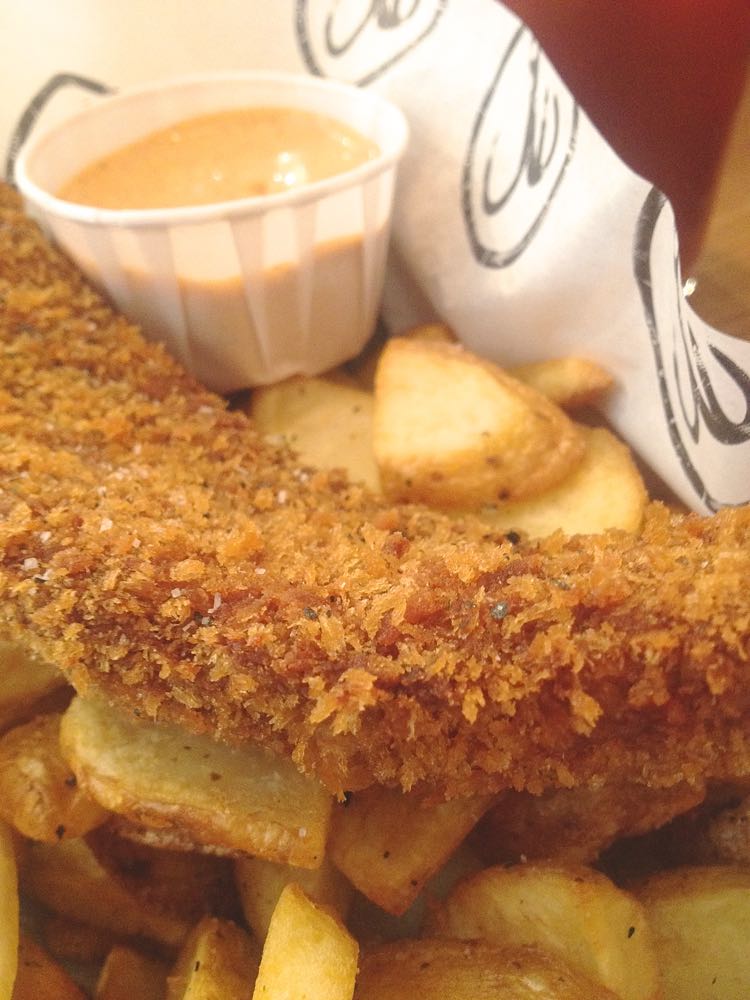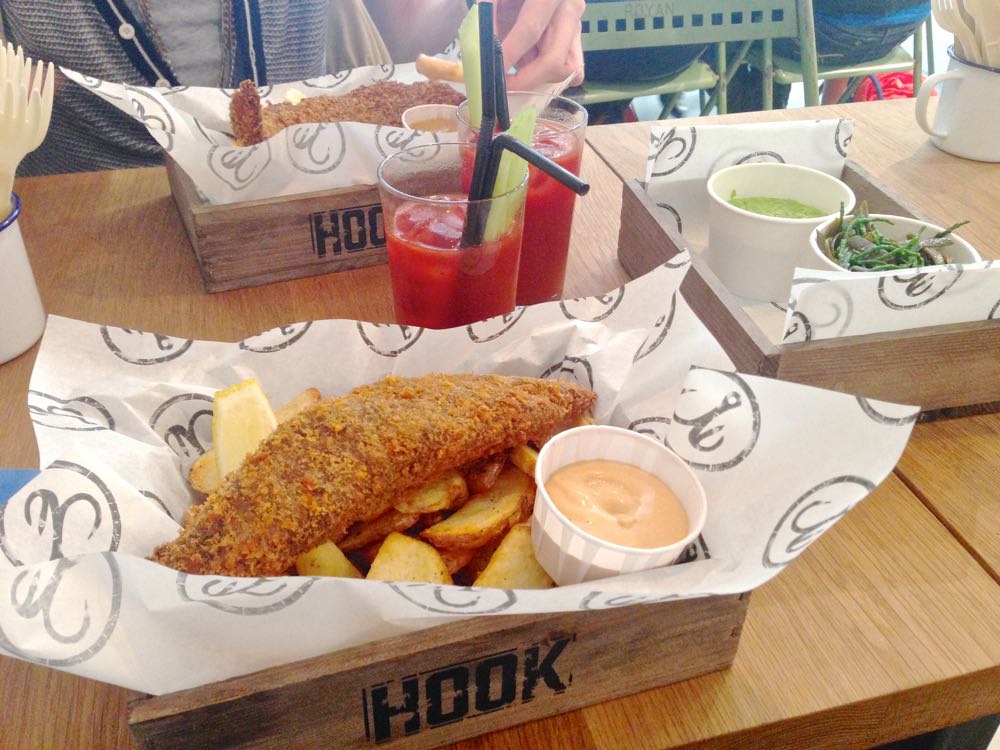 International influences punctuate the menu – as if in some freak world that fresh fish and well-cooked chips aren't tempting enough – and thankfully they only amp up the experience to 110. There's an obvious Asian backbone to the menu here, with the two types of batter on offer – panko and tempura – but there's a strong African, American and Caribbean influence in the spices and sauces, of which there's an ever-changing mulititude. We particularly love the Parmesan truffle, cajun and basil, lime and mint sauce choices.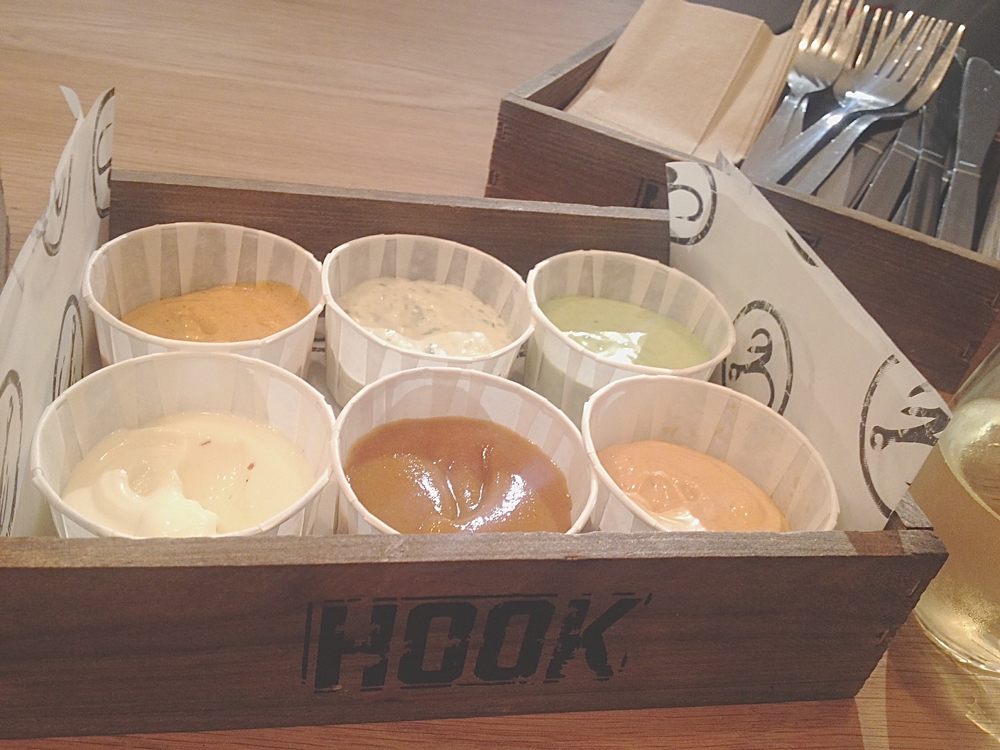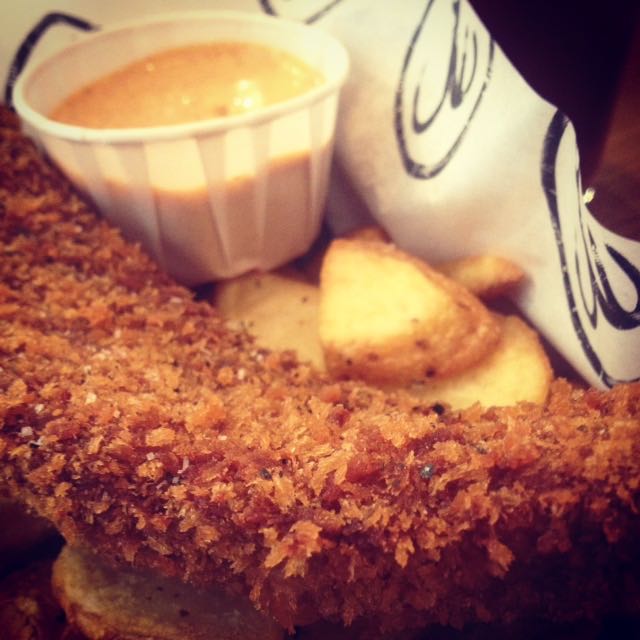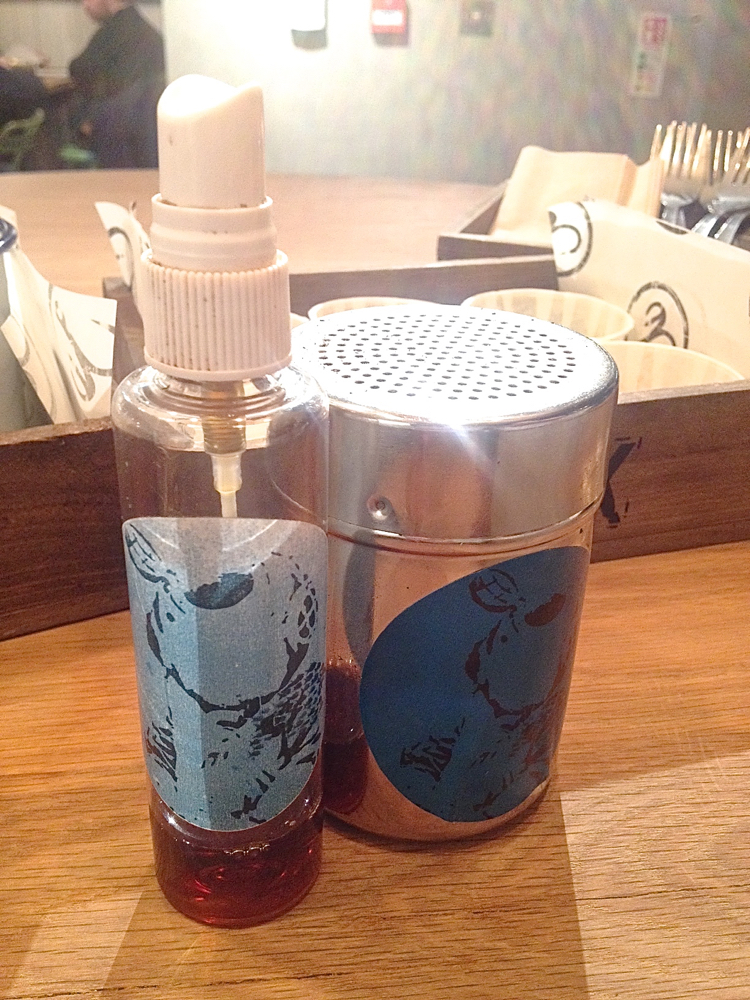 Chips are, natch, à la Belge, which is à la really-the-only-way-they-should-be. They're triple cooked in stages, and flung about as they dry and crisp in a mid-air dance  of salt and vinegar dressing. Sides are aplenty, with particular mention to the seaweed salad and the mighty, mushy peas; greenest of green and creamy with just enough bite makes these the perfect accompaniment.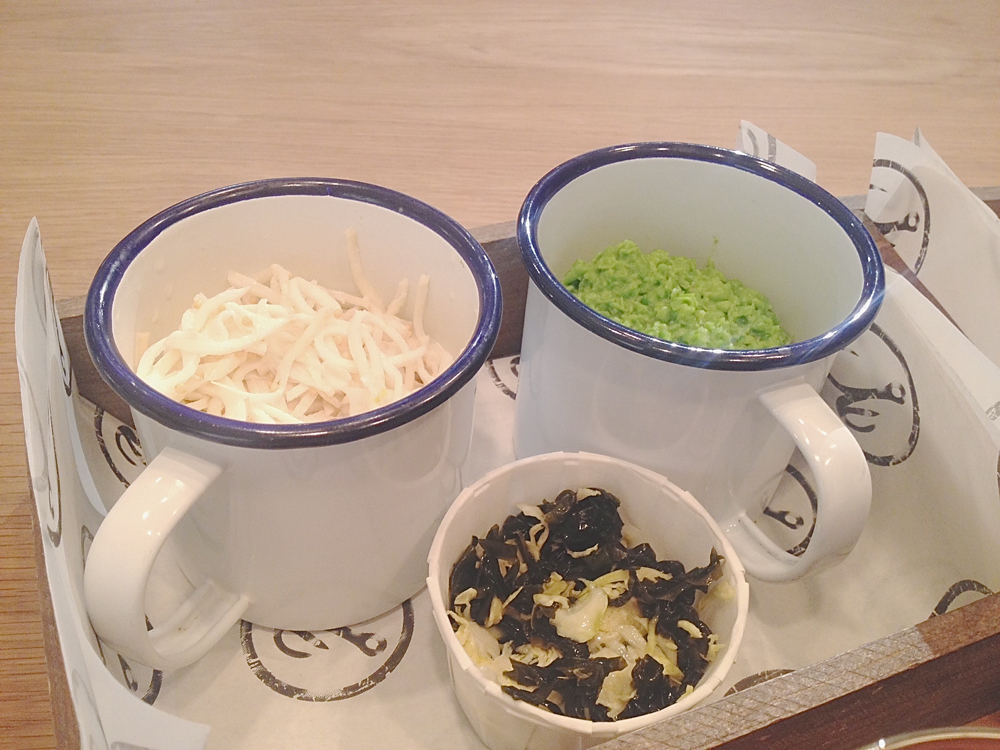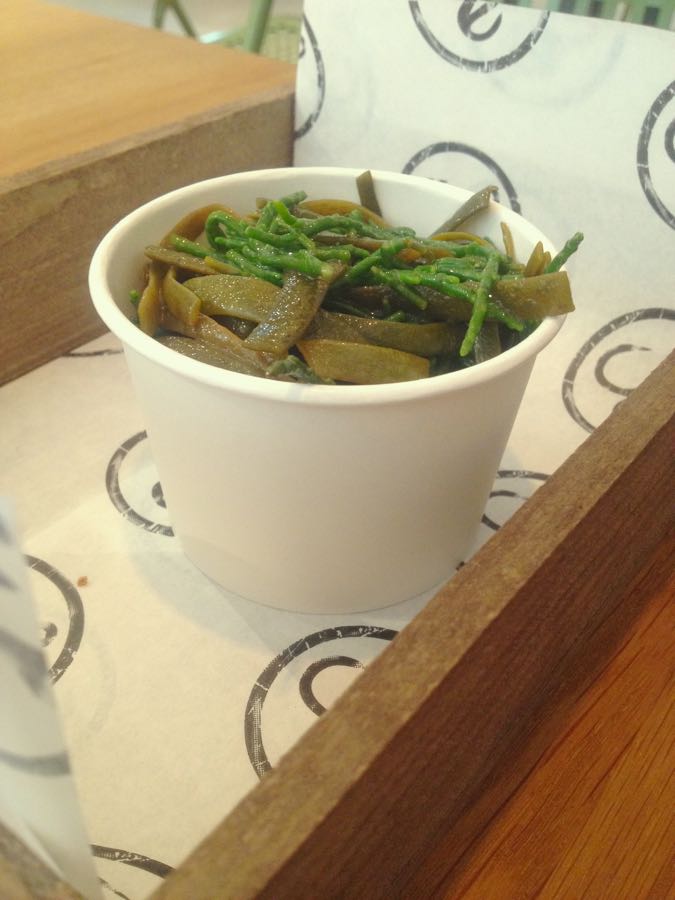 A lemon is strewn atop to season your fish in citrus as you like it. Your portion gets delivered in a wooden box. It's not as poncey as you would imagine; we're not talking about Great British Menu style gimmicks here. It fits the natural, maritime feel well  – and it's bloody easy for the staff to clear up in milliseconds.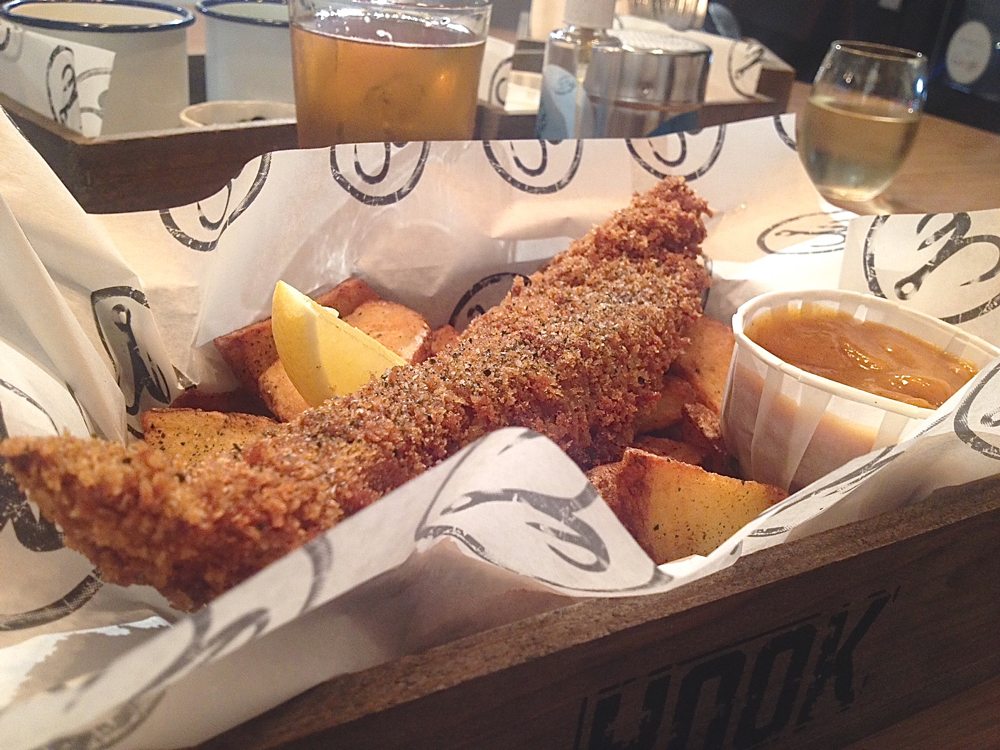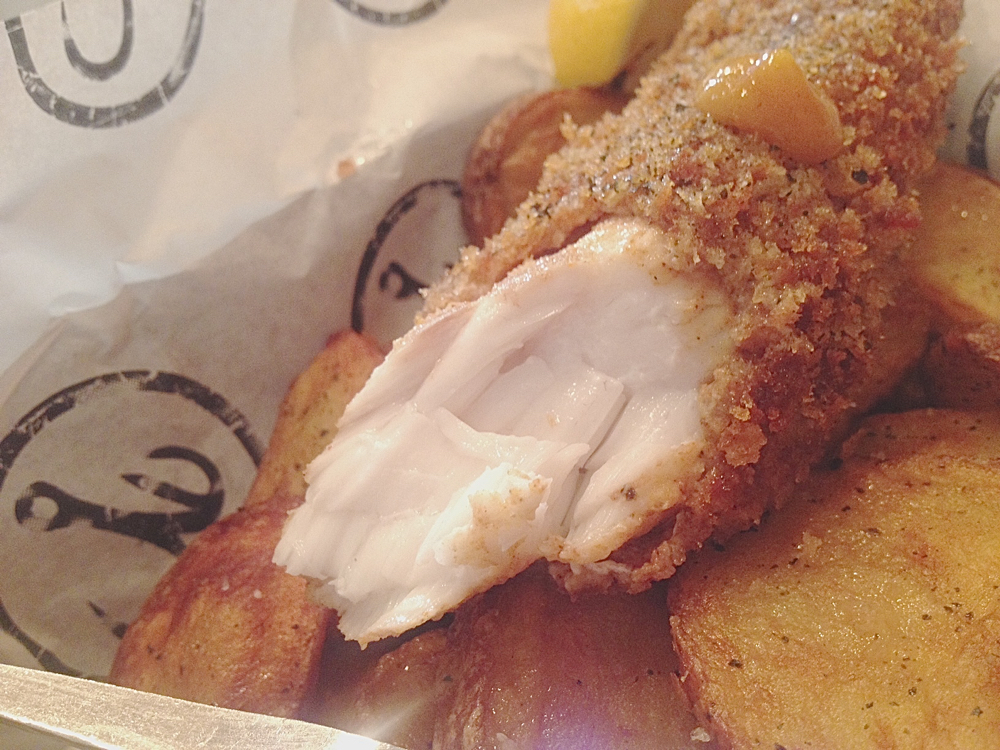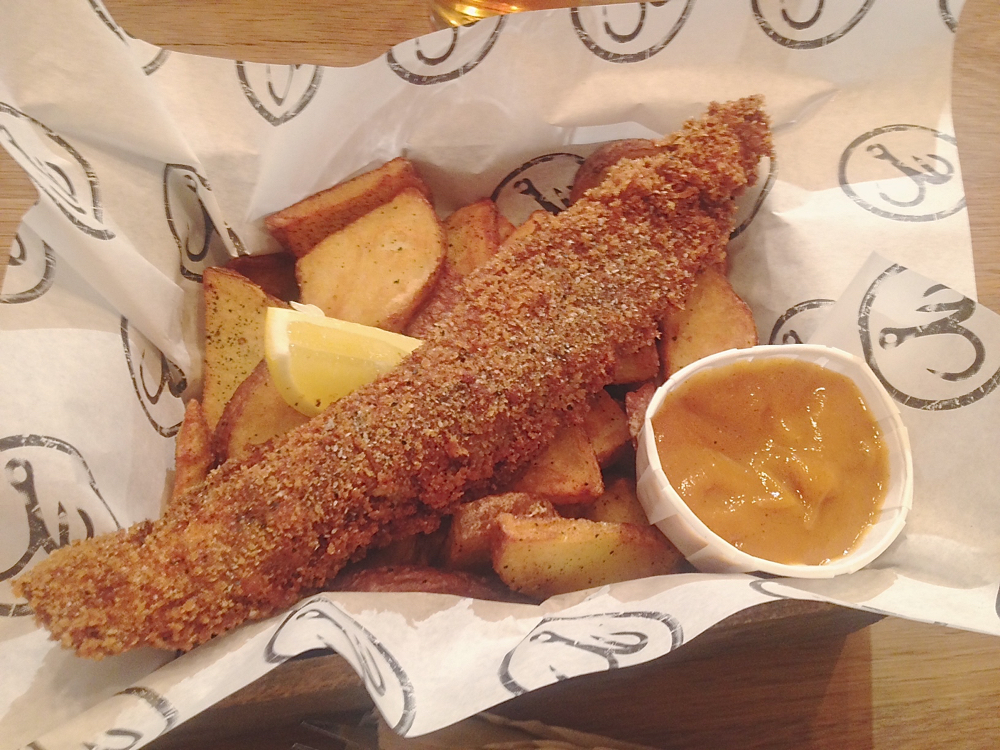 For drinks, local bottled beers are on offer, including Camden and Brixton Breweries, with a select choice of wines. Guinness on tap is soon to be installed, and cocktails with a HUGE twist are on the way. We've been given the secret scoop on some truly exciting ones, but can offer, for now, that the Bloody Mary is pretty bloody great. It was on special one weekend when we dined here…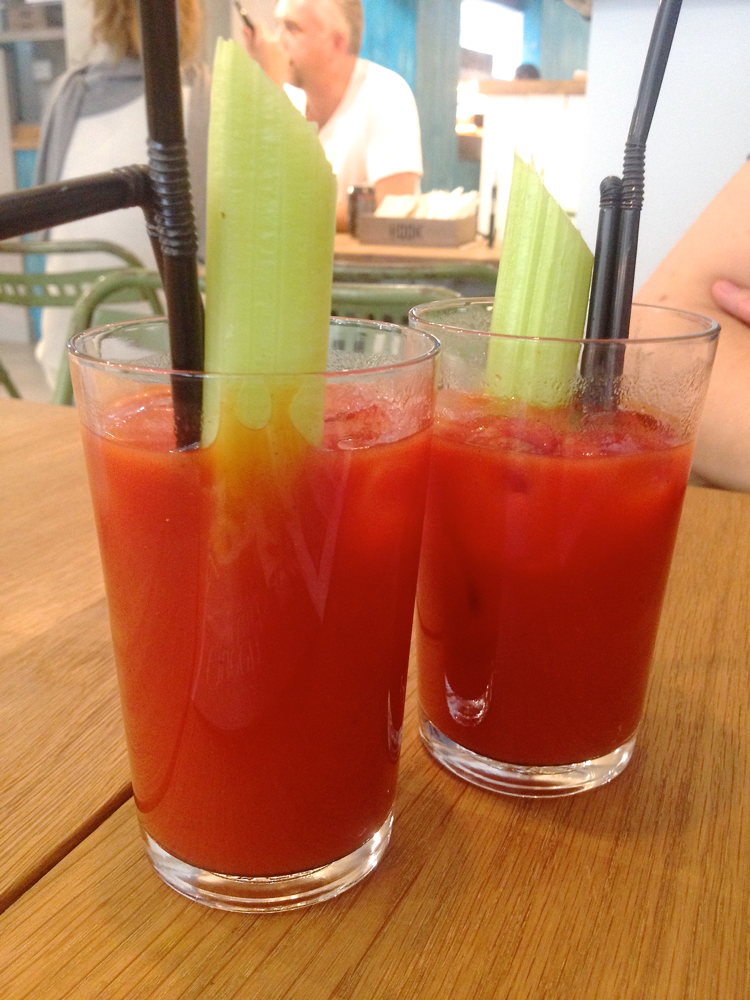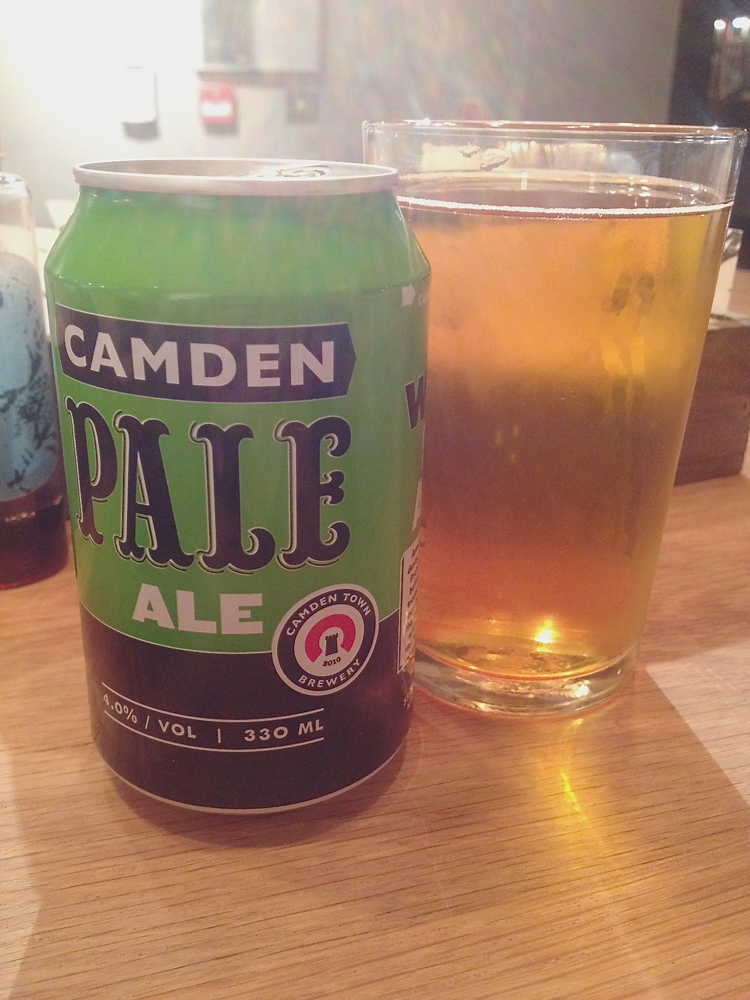 While we were finished dining, we snook a peek at the new Philippe Emanuelli book, Fish. It's completely in French, but has some of the most beautiful pictures of seafood we've ever seen, and some great recipes – including some top secret ones from the Hook/Bia Mara boys, and they're profiled in it too. Looking forward to an English language version coming out soon so we can get our hands on a copy!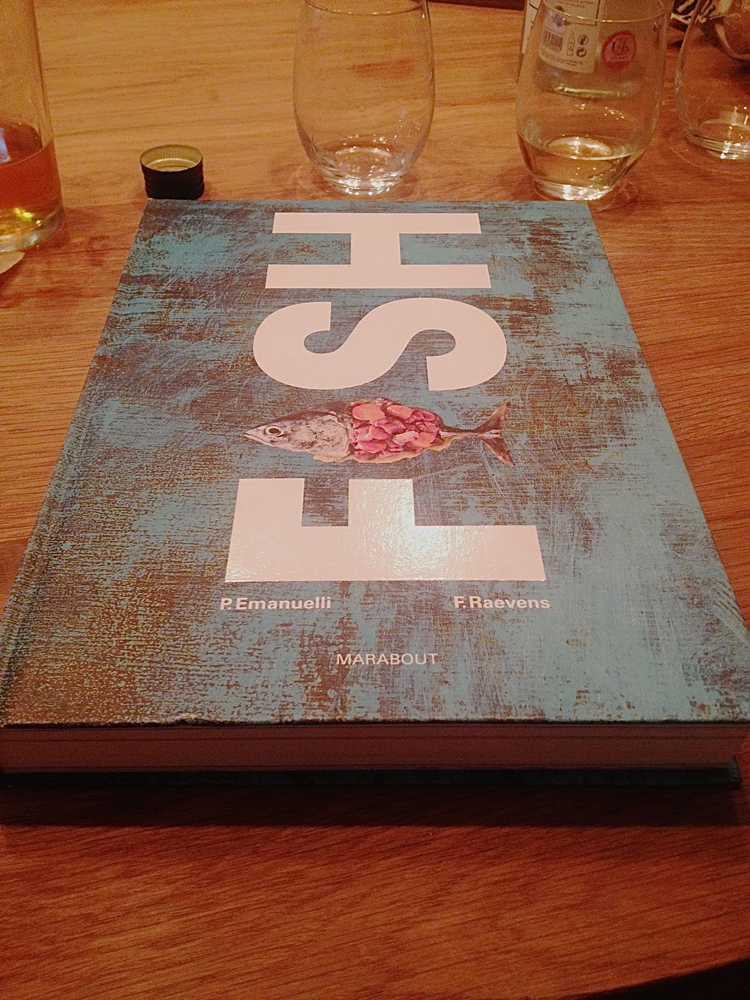 Where is it: 63-65 Parkway Road, Camden Town, London NW1 7PP
What is it: Casual, cool,  intensely creative chipper with a passion for punchy flavour and sustainability
Price: £