Who doesn't love a jambon? Staple of the Irish deli counter, ultimate comforting snack on-the-go, unbelievably easy to achieve at home.
A jambon is a buttery, flaky pastry with a creamy cheesy filling that's the perfect grab-and-go bite or mid-morning treat. Yes, these are the preserve of convenience shop and supermarket deli counters but they taste even better when fresh from the oven at home, and here's our twist on the classic featuring Roll-It All Butter Puff Pastry (the only one of its kind in Ireland!) and a hint of spice by way of The Wooded Pig chorizo!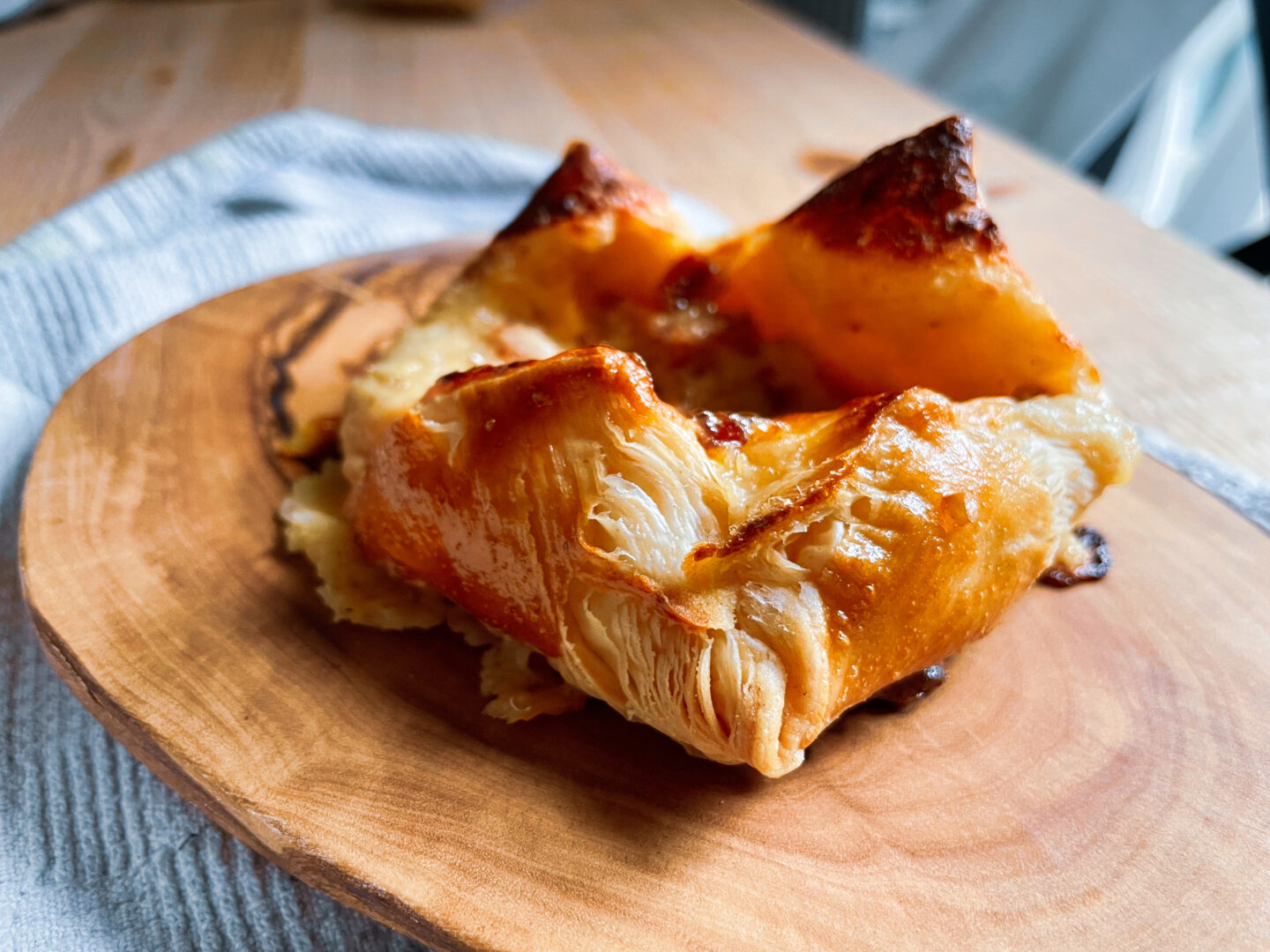 Chorizo & Cheese Jambons
Recipe Makes 10-12
400g block of Roll-It All Butter Puff Pastry
30g butter
30g flour
225ml milk (thereabouts a 'cup' if you're from the US)
125g The Wooded Pig chorizo, very finely cubed
100g cheese, grated (Cheese of your choice, we used a white cheddar but Boyne Valley Bán or the Boyne Valley Pastures cheeses would work great here too, if you can pick them up and keep it super local)
1/2 tsp salt
1/2 tsp white pepper
1/4 tsp ground nutmeg
1 egg yolk, beaten with a little milk
1. First, make your béchamel by melting the butter in a saucepan over a medium heat until lightly bubbling, then stir in the flour and cook out for a minute or two. Incorporate the milk about 100ml at a time, constantly whisking to remove lumps and make creamy, thick and smooth. Add the salt, pepper and nutmeg, then taste for seasoning, adjusting if needed, before stirring in the chorizo and cheese. When it's all come together and the cheese has melted in, decant to a mixing bowl and allow to cool completely. Once cool, you can cover and store in the fridge overnight if needed.
2. Before preparing your pastry, heat the oven to 200ºC (190ºC fan) and line a baking tray with greaseproof paper. When the oven comes to temperature, pre-heat your tray in the oven until needed.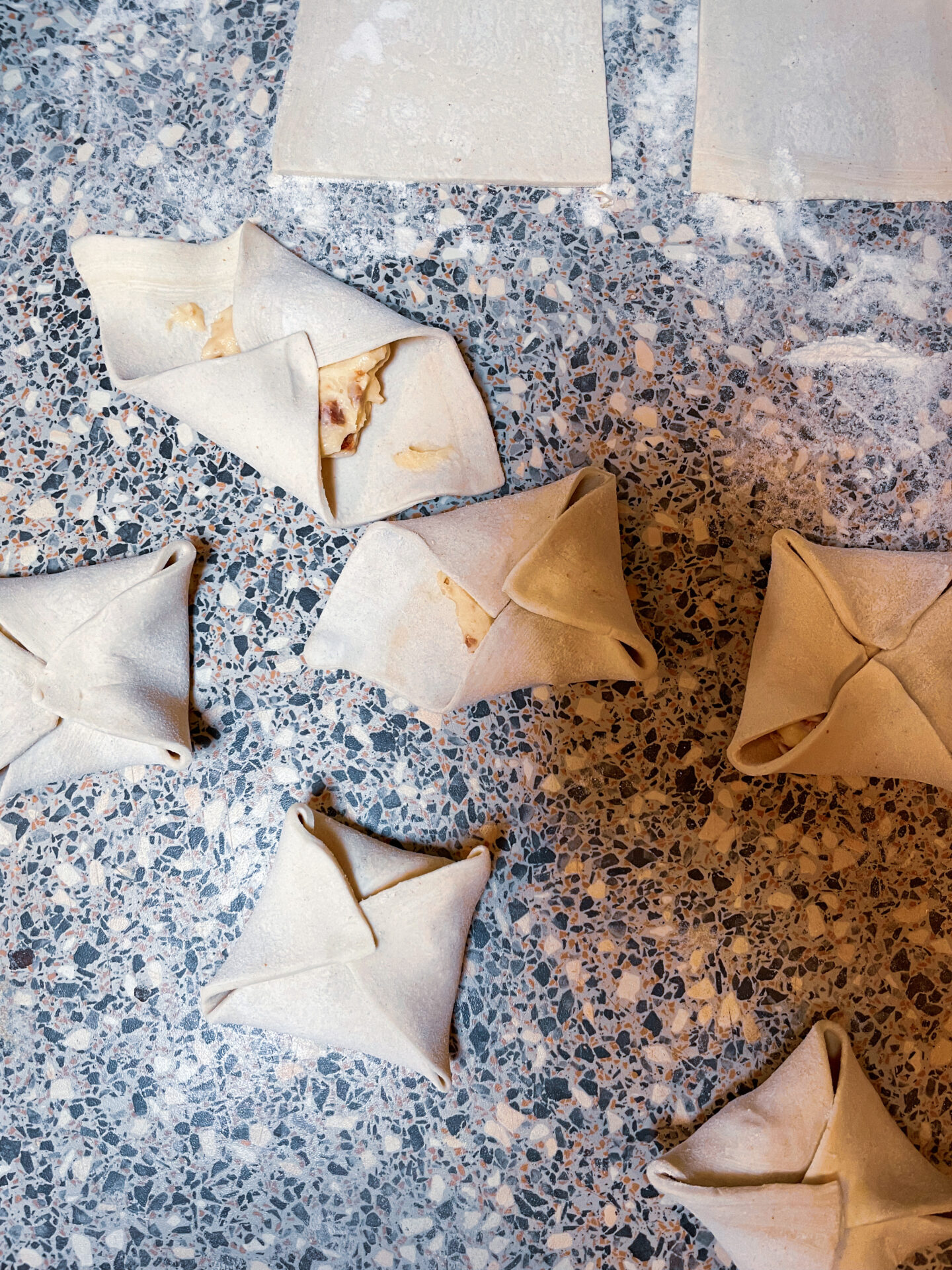 3. For the pastry, roll out on a lightly floured work surface to about 1/2 cm thickness and cut even squares (about 10x10cm) of paste.
4. Assemble the jambons by placing a heaped tbsp of mixture into the centre of each square of paste and then folding up each of the four corners to meet in the middle, pressing down lightly if necessary to secure.
5. Egg wash the top and sides of the pastry and place on the pre-heated tray, making sure to space apart (not dramatically, but just so each one doesn't touch the other) and bake for 20-25 minutes until golden and bubbling. Don't worry if the mixture overspills a little, it's all part of the charm.
6. Allow to cool for five minutes out of the oven before eating. These can be frozen at the assembly stage (mixture in the middle and corners meeting in the middle) and then just baked from frozen when needed.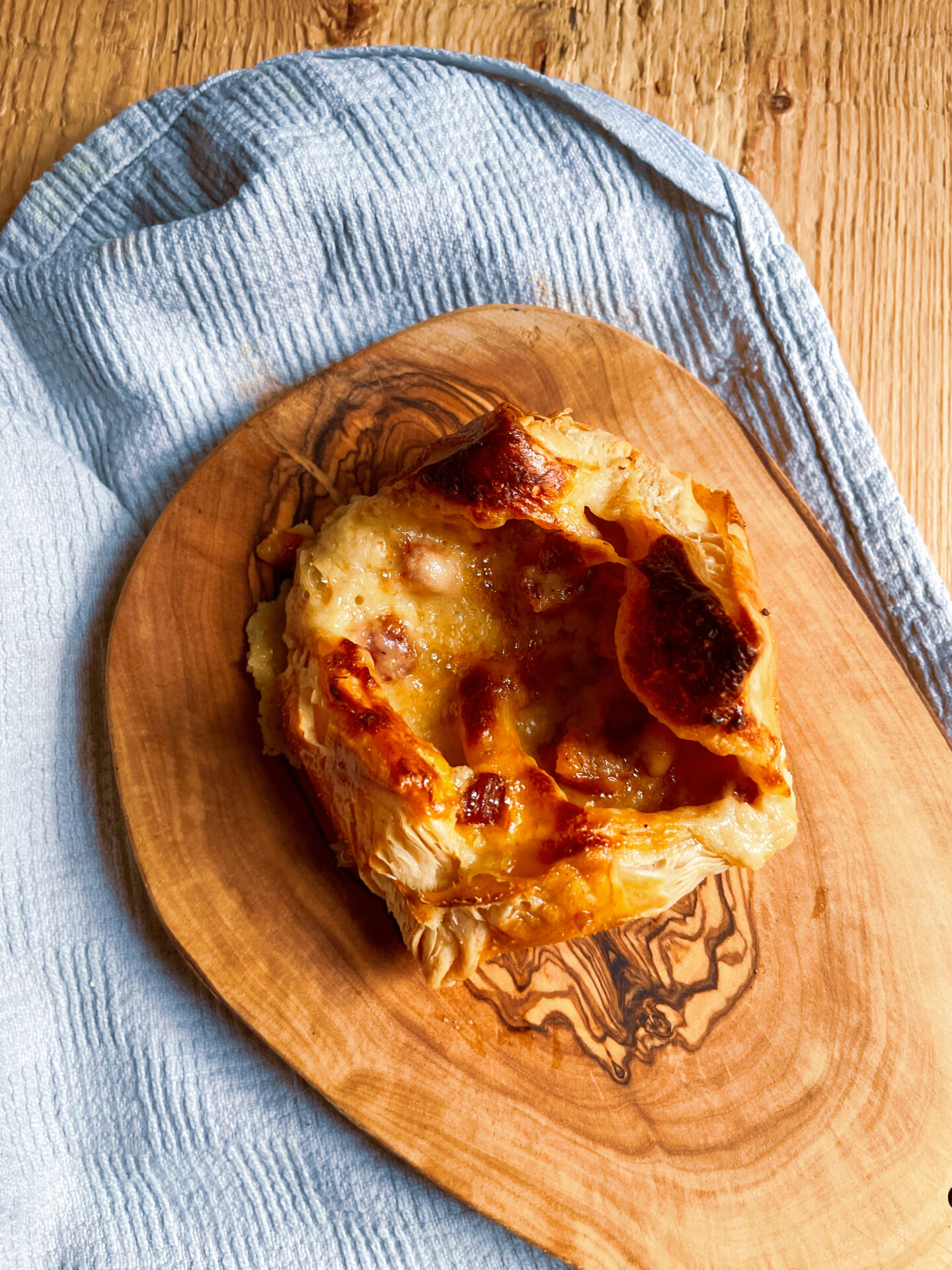 Tip: Make this a 'pizza' jambon by simply swapping out the béchamel for 1 tbsp of tomato passata per jambon and little balls or torn pieces of mozzarella in the middle or some grated Parmesan! Instead of the chorizo you could of course use chopped cooked ham here, too.