After a brisk walk on the beach along the Atlantic Ocean-battered northern coast of Ireland, there's nothing better to warm your body and your heart than great plates of food and a drink in hand whilst you warm up inside by the stove. In the sprawling seaside town of Portstewart in Co. Derry, there's a shack right by the dunes that we believe to be one of the best restaurants on the entirety of the island of Ireland. If you haven't heard before, let us introduce you to Harry's Shack.
Open since 2014 on the National Trust-owned Portstewart Strand (and younger sibling to the original which was began in Bridgend, Donegal by Donal's father, as well as older sibling to the third outpost Harry's Derry, which opened in 2017), Harry's Shack is an almost blink-and-you'll-miss-it spot – and sometimes those are the most special and sensational of all.
A 45 minute drive from Derry and an hour and a half from Belfast, you can book a table at the Shack via ResDiary, but they have no website. They're active on Twitter and Facebook, mind, but really it's word of mouth that has made this place monumentally busy and incredibly successful in a couple of short years since opening.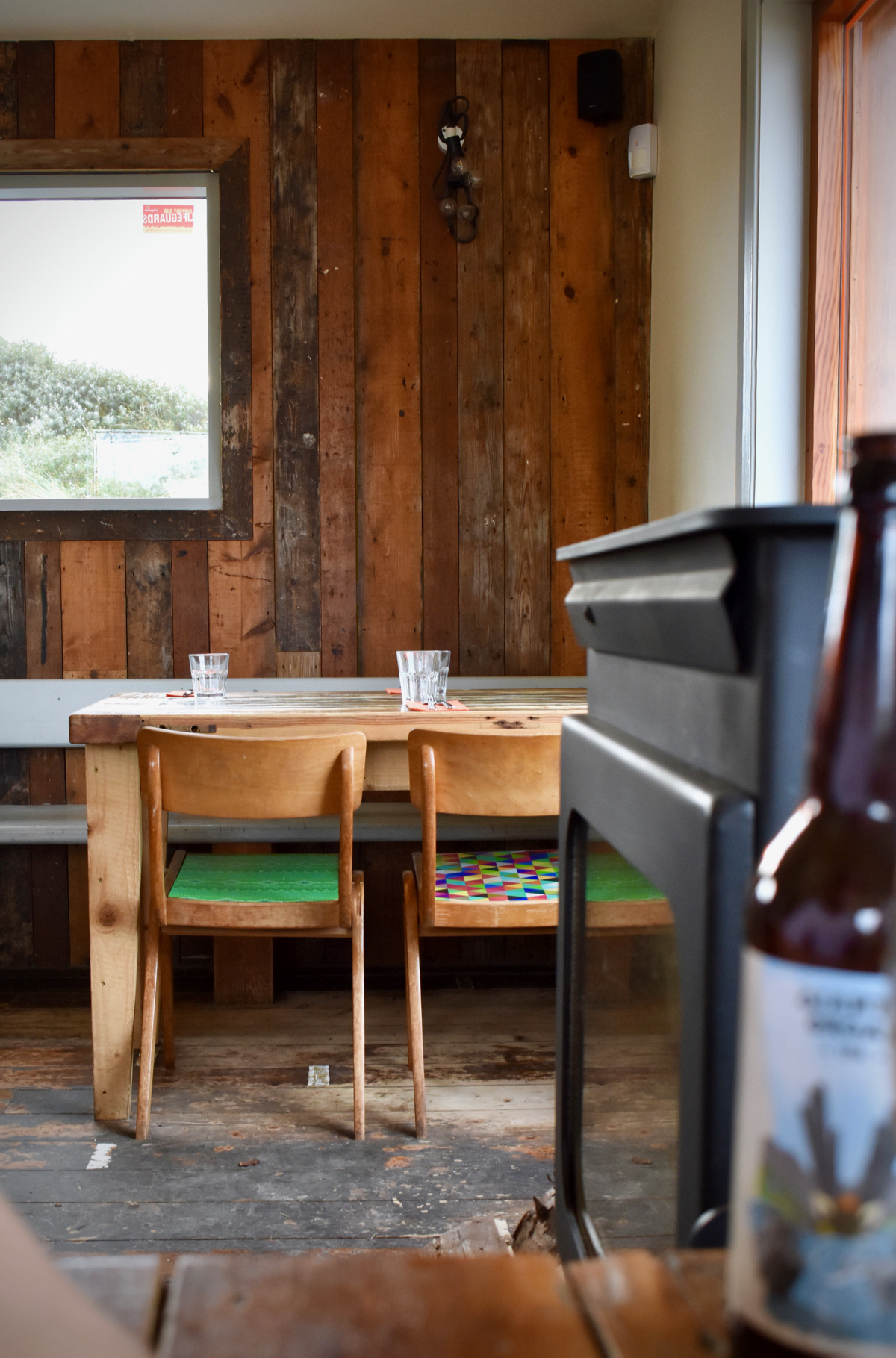 Interestingly, the most coveted table in the place is by the stove fire, in the picture above, a little two-seater by the window overlooking the Strand. Why is this so special? Well, it's become known as the 'Jay Rayner' table, owner Donal Doherty tells us. The restaurant critic visited before publishing his review in The Guardian in 2015. Of Harry's Shack, the feared, often surly-worded dining out scribe declared "it's a menu of simple pleasures done about as well as they could be… how do they do it? By doing everything so well that people drive from a long way away to get here. That makes total sense… It's as simple as this: coming to Northern Ireland right now and not going to Harry's Shack would be a stupid thing to do. Just ask a local."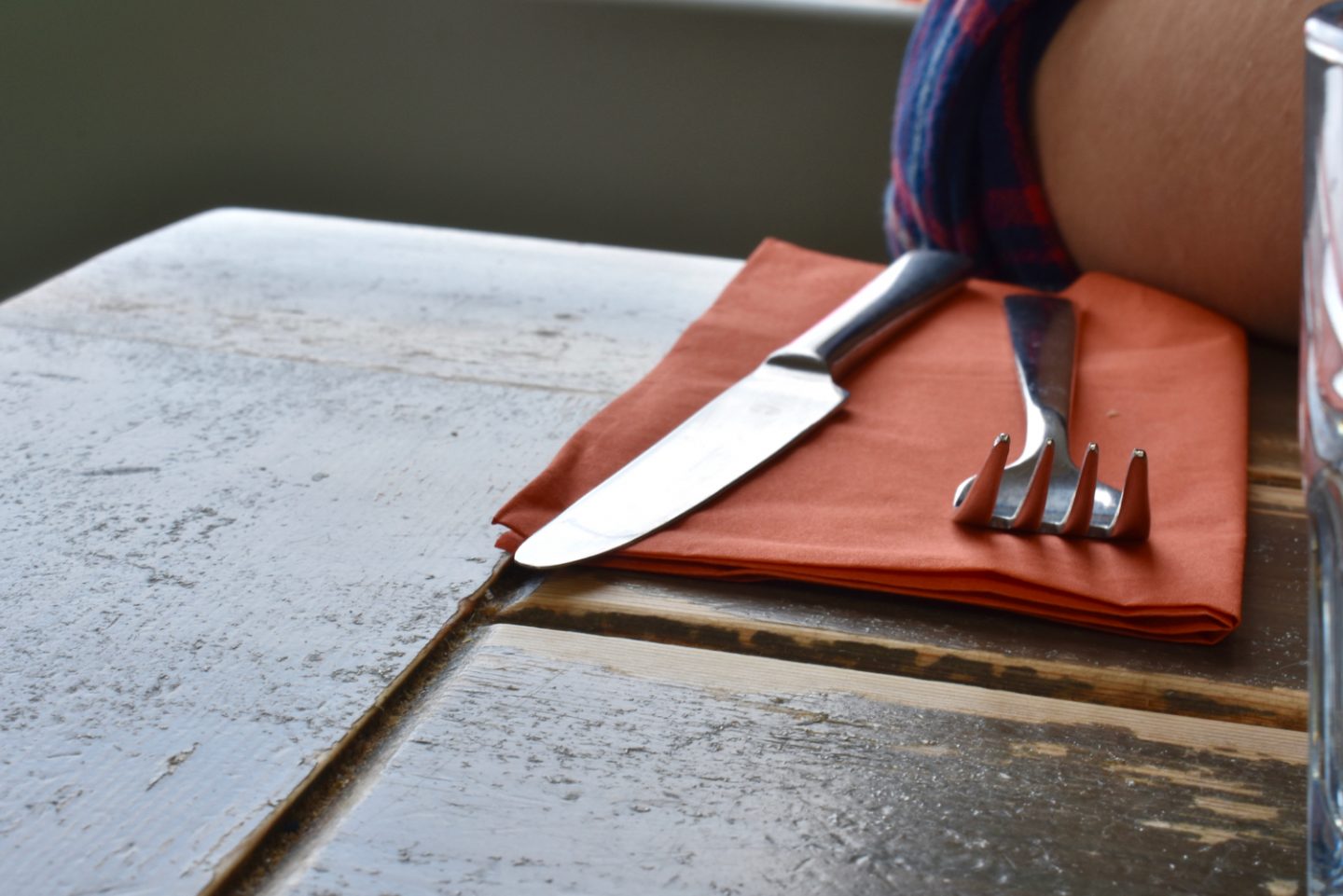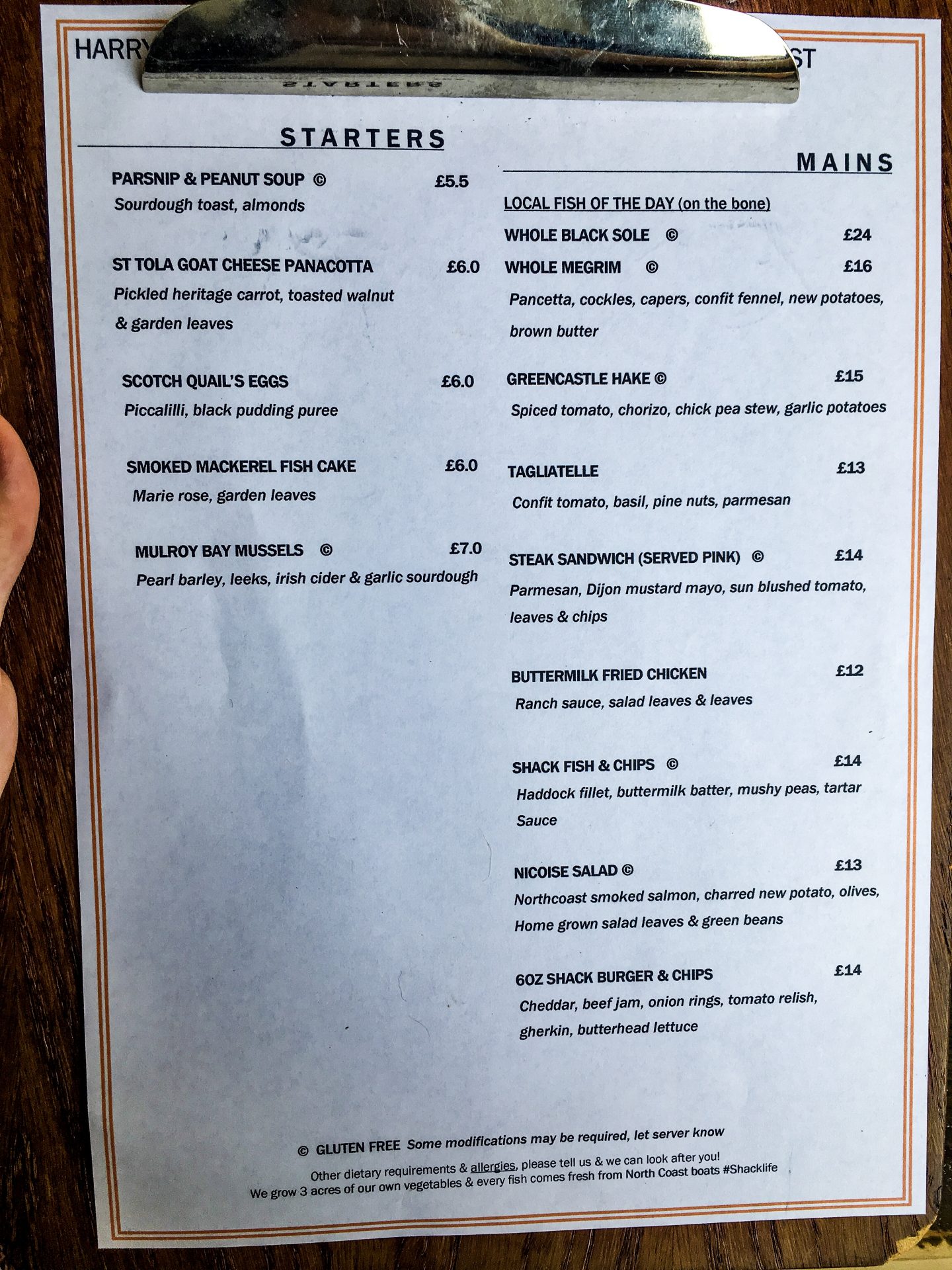 We've tried so many of the starters and our advice is this: arrive with an appetite. Easy for us to say, we know, when we have a 2 and a half hour drive from home to Harry's! You *will* want starters and you do need to make room for dessert, guaranteed. We travel with a voracious appetite in tow on every trip we make and every destination we visit, so this was no exception.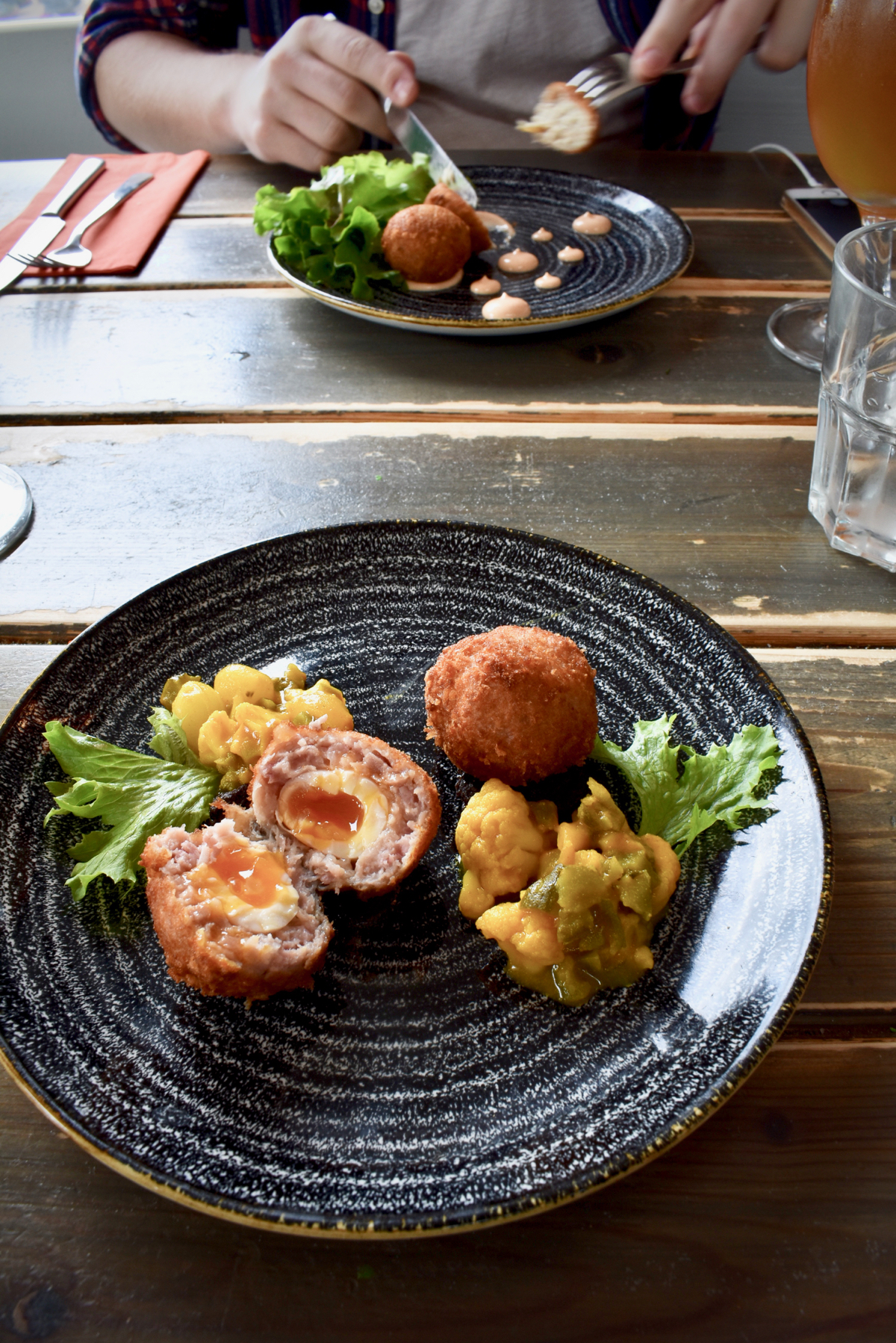 Start with the fishcakes. We had smoked mackerel ones which were light and crisp with just a delicate hint of natural smoke flavour. We also can't resist a Marie Rose sauce, so naturally we were sold. The quail scotch eggs with piquant piccalilli are the perfect little bite-sized portion to kick things off. Gooey middle greatness.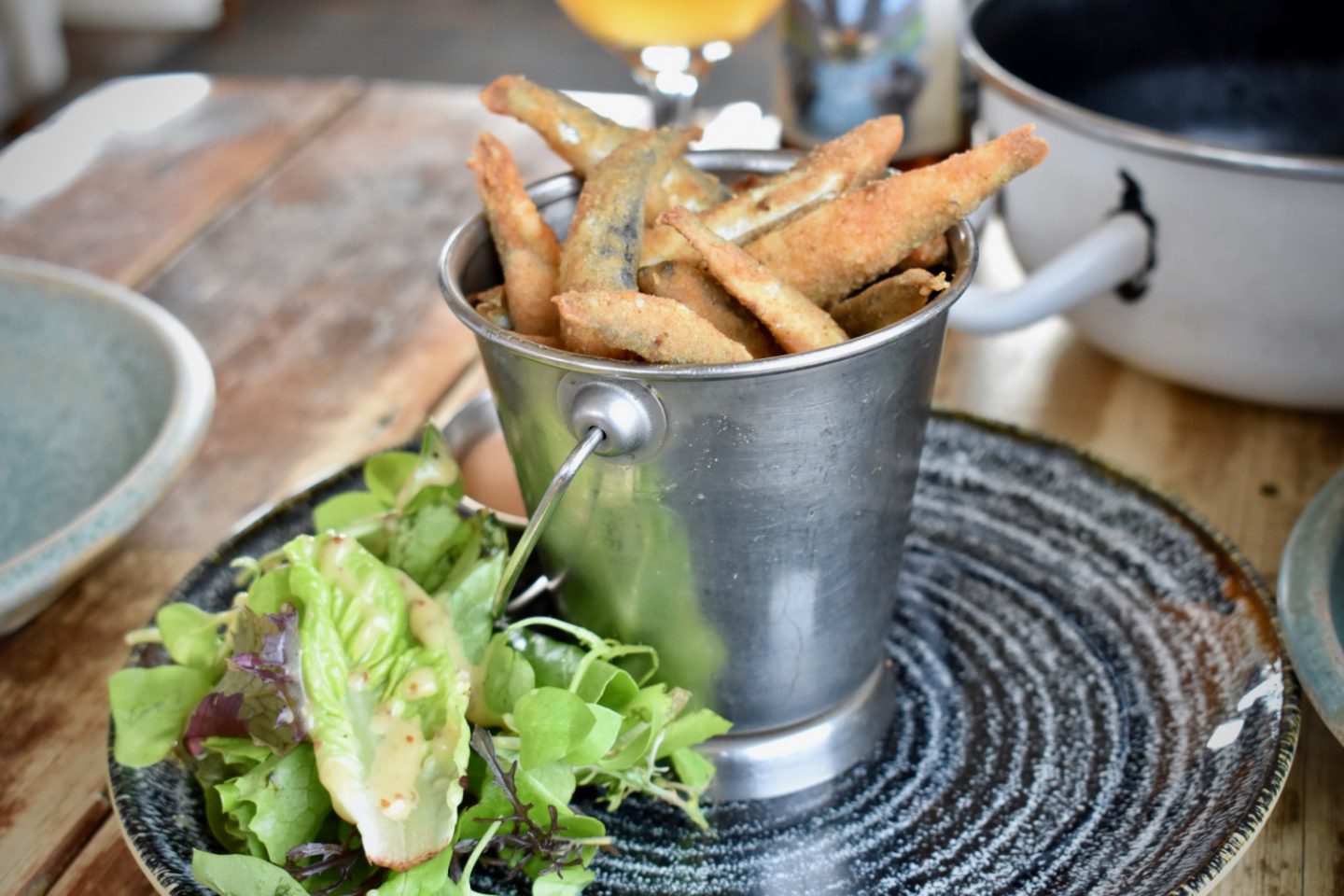 For a more substantial appetizer, the whitebait served in a neat little pail are sensational. Generously portioned, impressively lightly battered with just a whisper of crisp coating and seasoned to perfection. For two or more sharing, you must order the mussels and we won't take 'no' for an answer on this one. When mussels are this fresh and served as heartily and simple as this, the flavour truly sings. Arriving to the table steaming in their huge pot with chunks of real bread to mop up the broth, we defy you to find a better serving of these molluscs anywhere else in Ireland.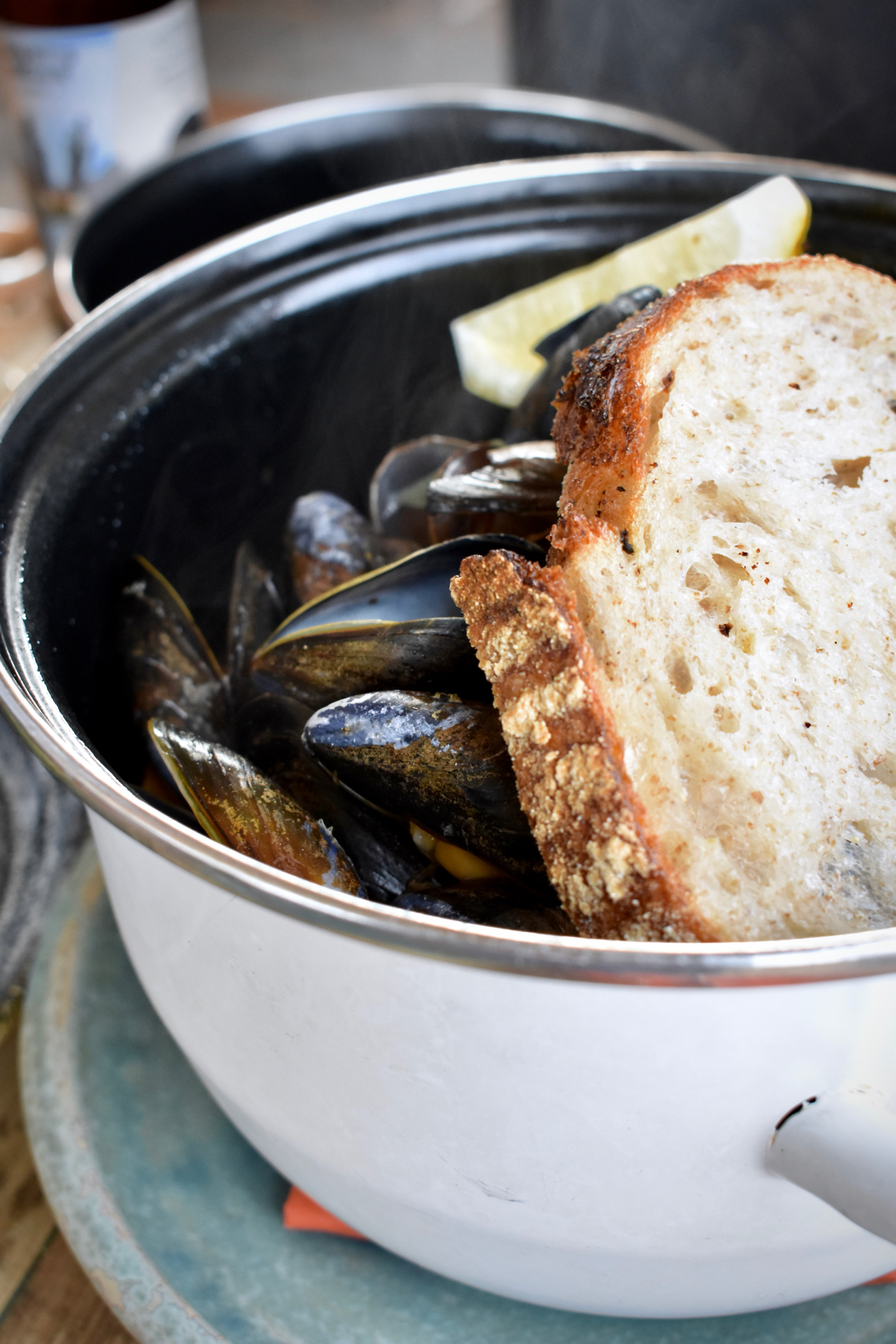 Did we mention the craft beers? Naturally you'll have to partake in a local sip as breweries dotted around the island of Ireland make up most of the beer list. We particularly adore local brewery Kinnegar, from the other side of Lough Foyle. We make a beeline for their bevvies every time we dine at Harry's because it just a phenomenal pairing. It's probably just us wistfully romanticising at this point, but we kind of feel that way of 'what grows together, goes together' about Harry's and its local breweries. Be sure to ask for a recommendation- the team will know what will suit best.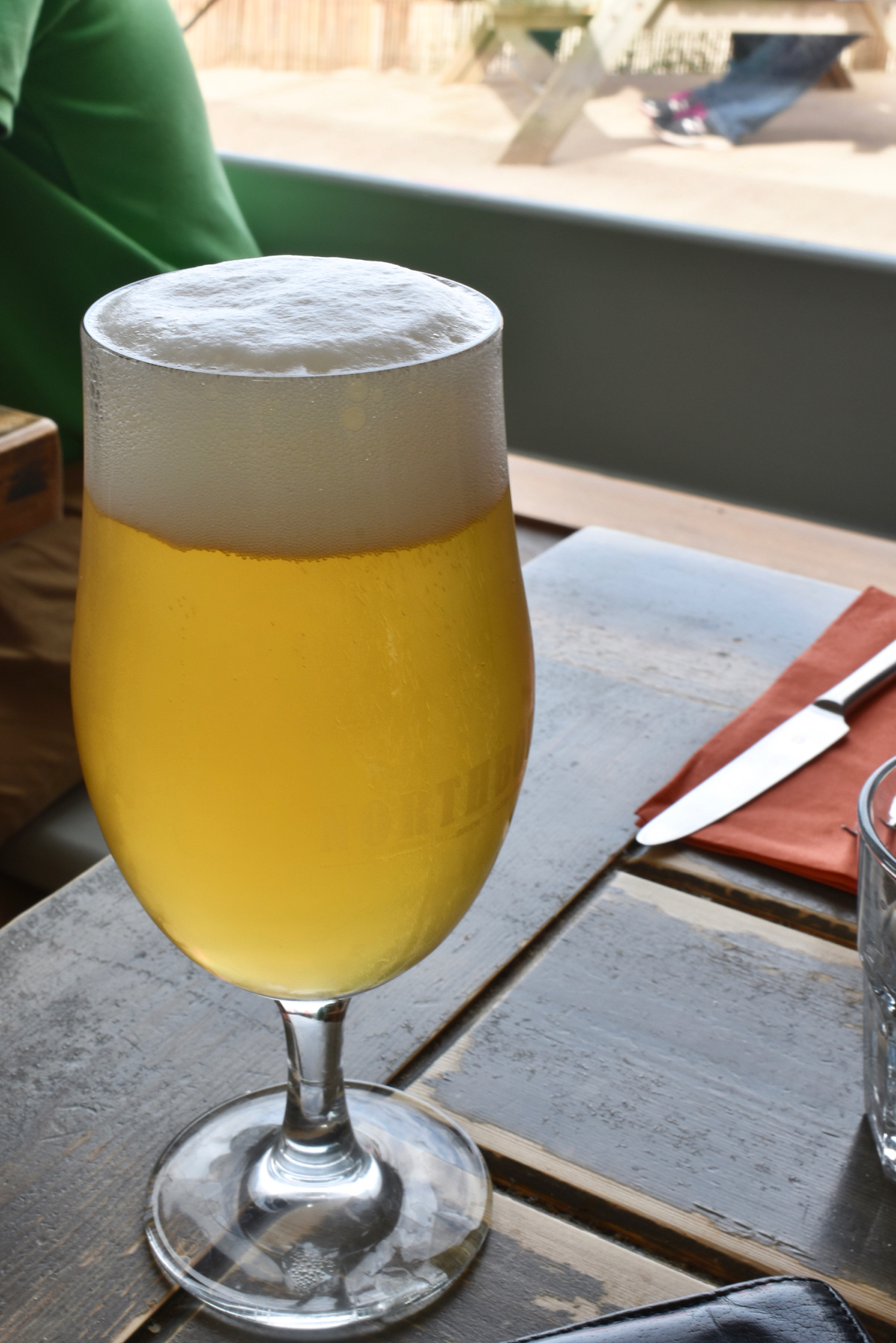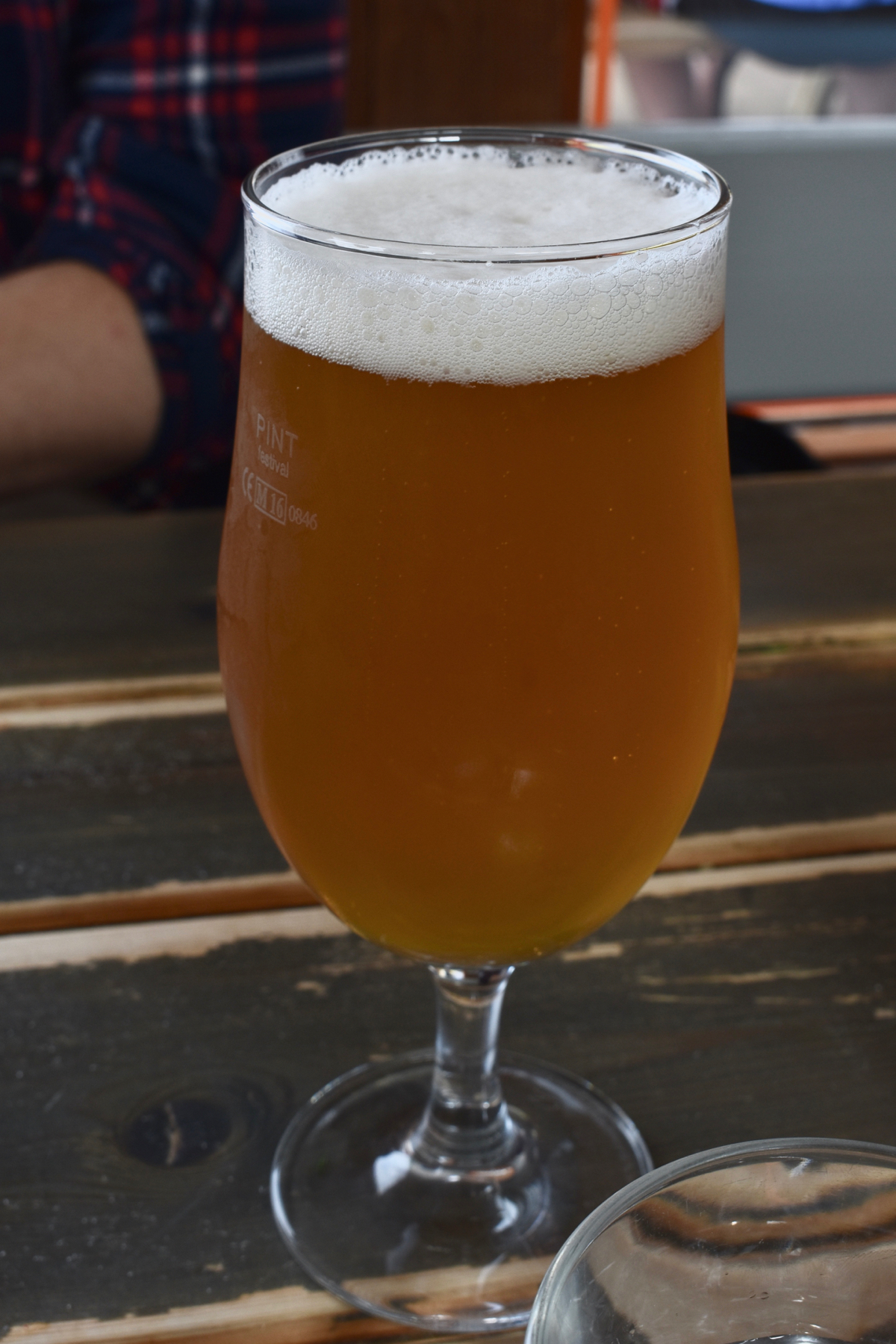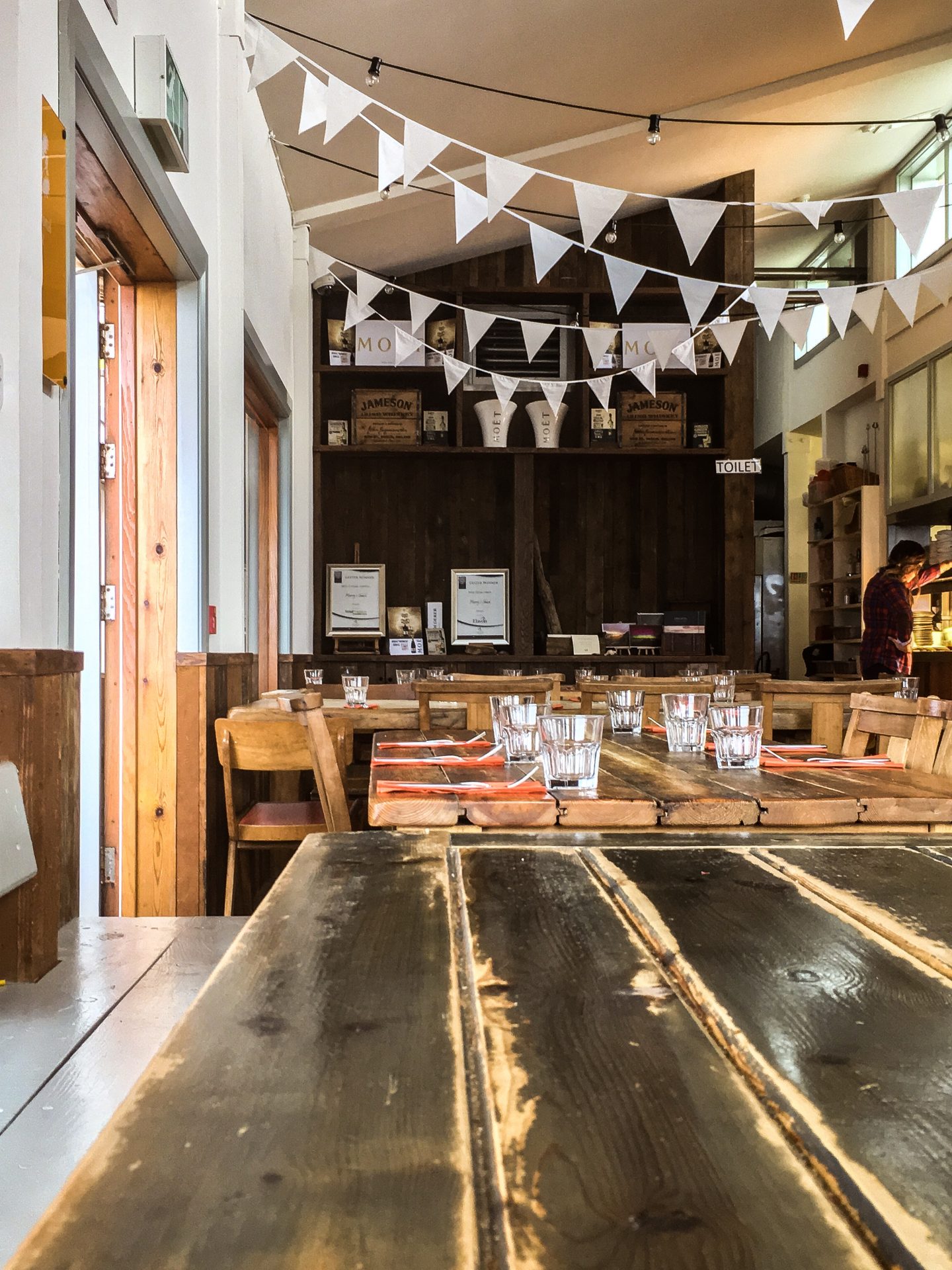 You know those places where you agonise over every main dish, weighing up whether it's worth sacrificing one for another? Yep, you guessed it. It's guaranteed here. Not only is every main pretty much stellar, you'll also really want to ask the team what's on special, what's just landed in and what they recommend on the day. You might get lucky with something very limitedly available. The sheer freshness of the food here will have you coming back time and time again. On one of our first visits, we loved that when we asked "so where do you get your fish from", Donal points out the window and says "over there". Can it get any better than that?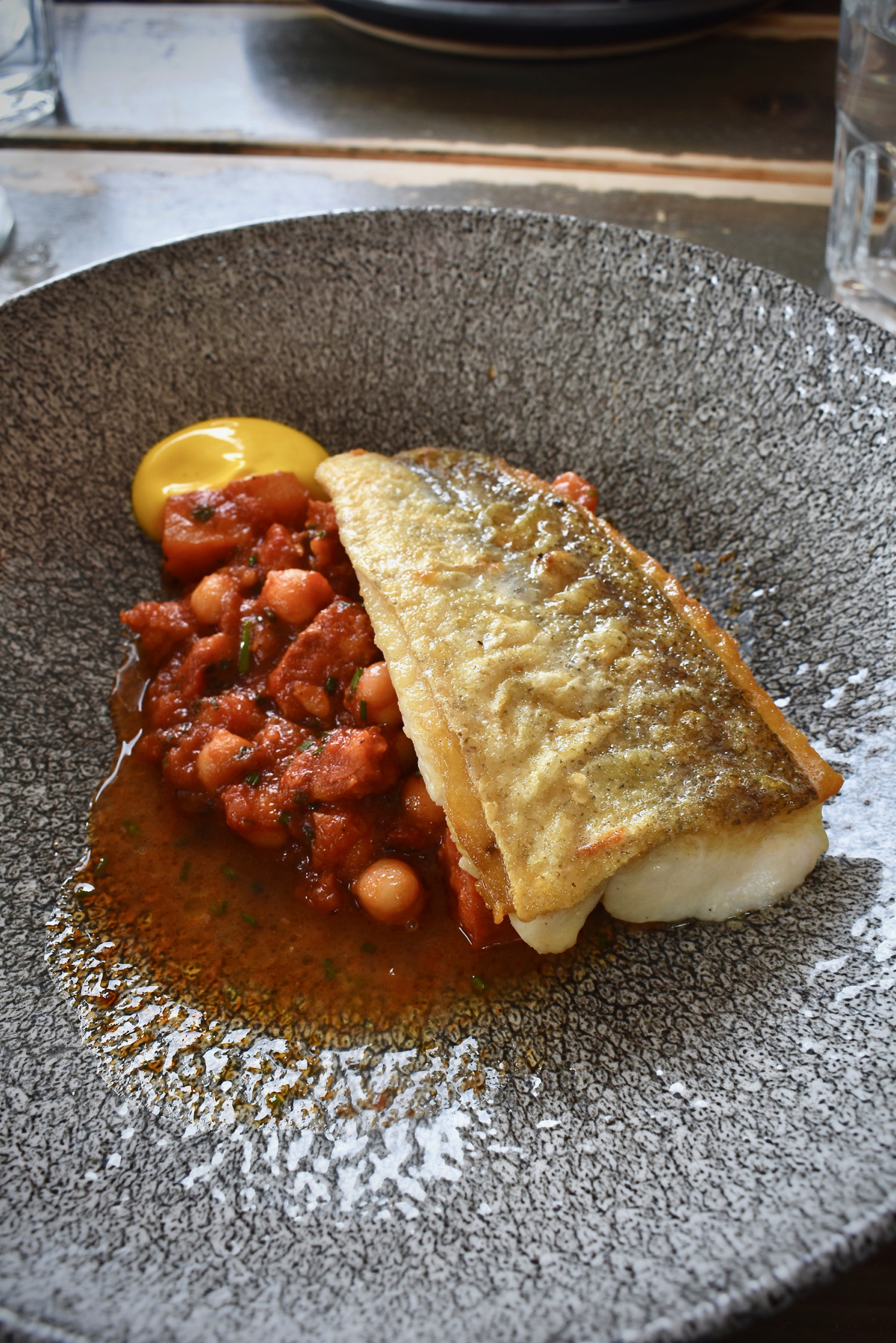 A top dish that we've enjoyed is this hake, skin crisped with a deep-flavoured yet light tomato-based bean stew plus a dollop of powerful saffron aioli on the side. Just looking at that picture above brings back the memory of exactly how it tasted.
Another of our favourite dishes at Harry's Shack is the meaty local sole, served whole, smothered in butter and seasoned perfectly. You'll wonder if eating it all is possible, and you'll prove yourself wrong. Good food doesn't go to waste. The whole fish is also exceptionally good value.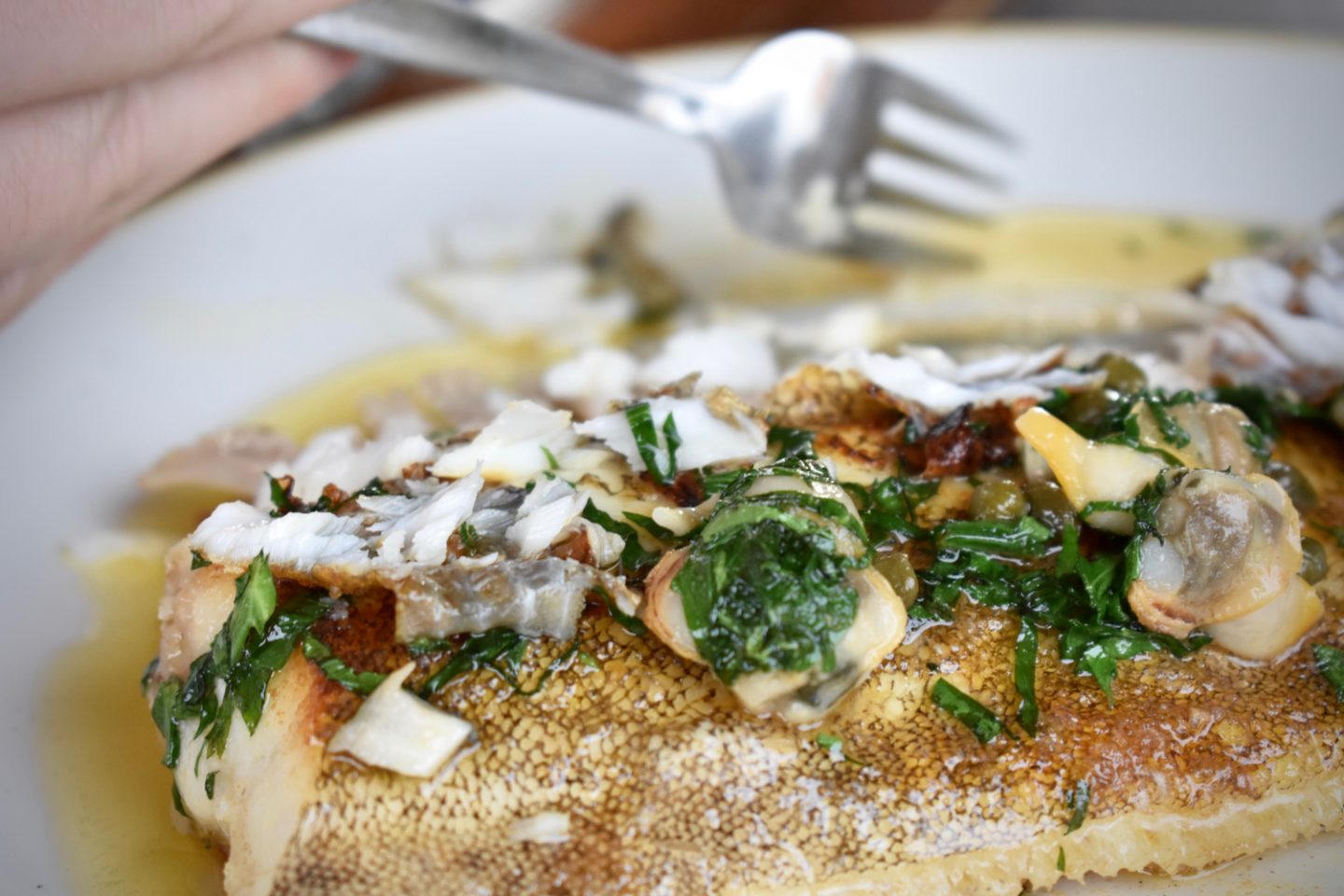 The staff also encourage diners to order and try fish served whole and cooked on-the-bone – something not very many places offer but we should all be ordering and expecting way more of. For some fish, it's simply the best way they should be served; not interfered with or served with finnicky flourishes. This, like much of the menu, changes often daily to reflect what's been landed. It's half the excitement to rock up here and not know what might be appointed as a special on any given day.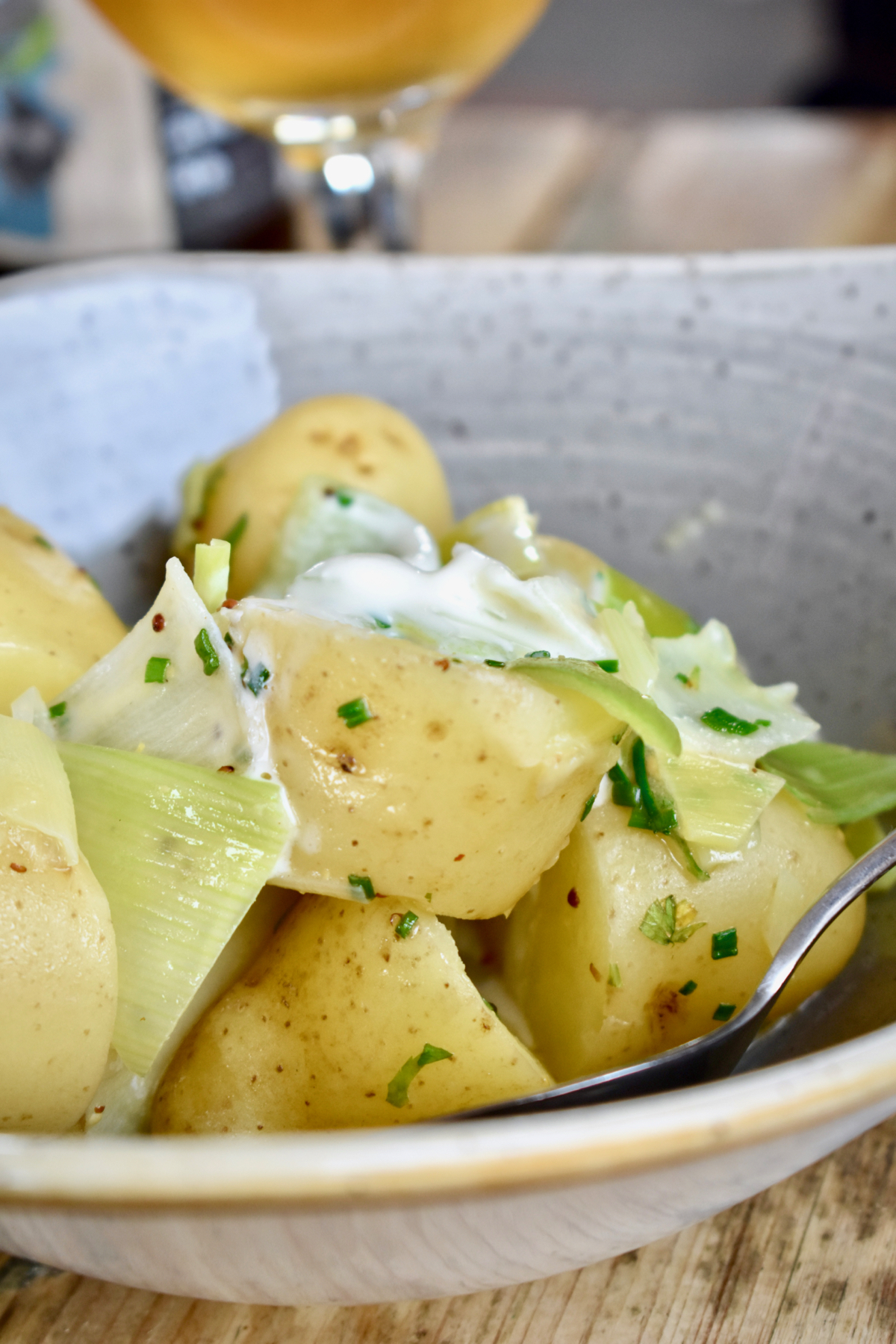 Then there's the fish and chips. Sometimes you just want that classic and comforting double act. Crisp, gnarly batter protecting juicy, flakeable, chunky white fish within. Fat sausages of potato fried so they're only licked with the lightest golden colour, crisped to the point of contrast between the crunchy exterior and the soft, fluffy interior. Of course, always a mix of crispy little bits and almost meal-within-itself 'daddy'-size chips. Caper-studded tartare and vibrantly verdant mushy peas on the side, both freshly-made and actually tasting how they should, without that bland, vague processed taste we've all become accustomed to.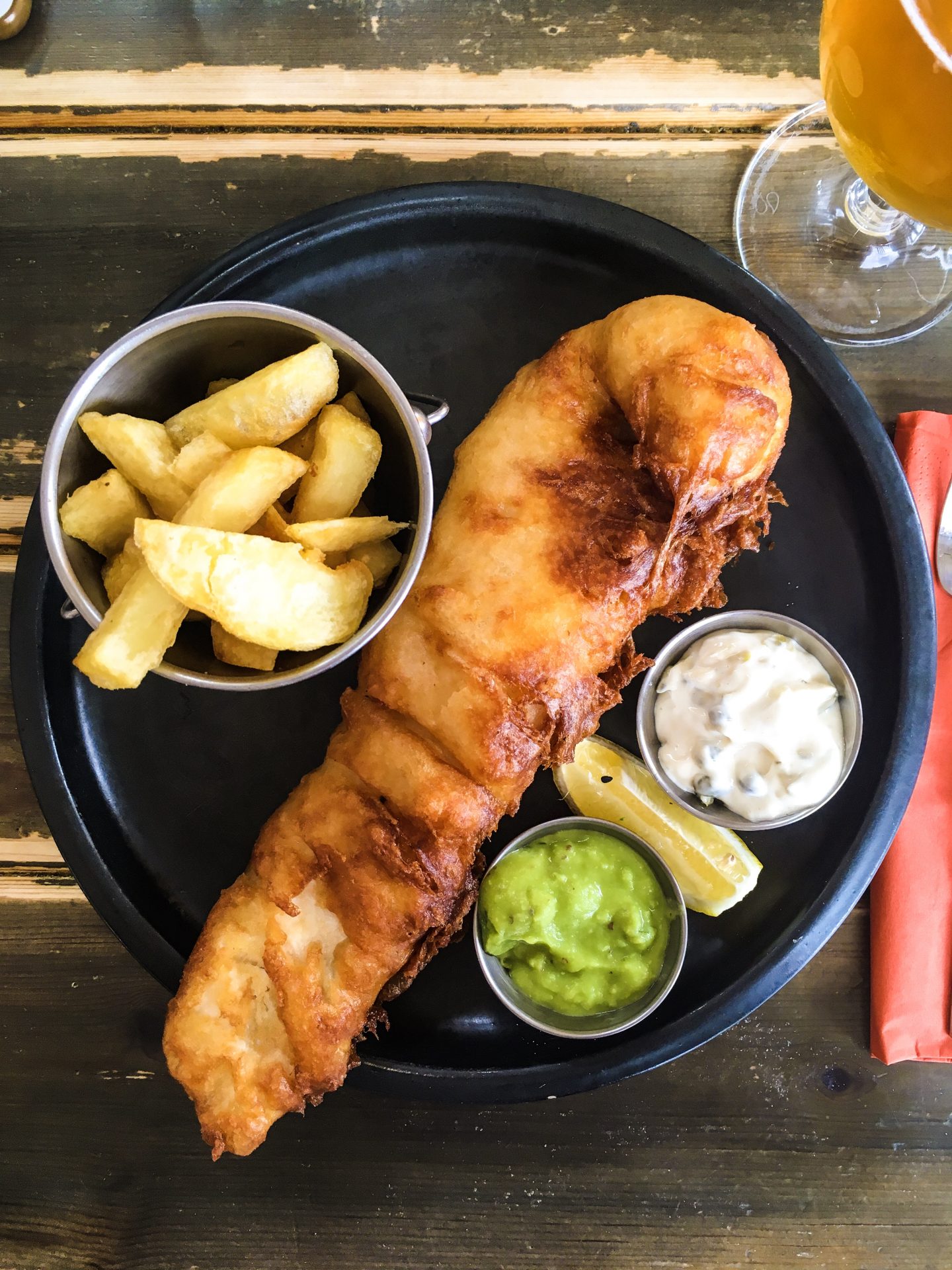 Harry's Shack is unashamed to shout about how great their fish and chips are. Where other places begrudgingly lamp this traditional dish onto the end of the menu like a sad, scrunched little post-it almost bereft of any sticky backing, here it's proudly punched atop the billing in a starring role. Fish and chips like this may well move you to tears, and we don't blame you. Non-fish fans, please don't despair. Burgers and incredible looking buttermilk chicken is also available, as are a number of salad options.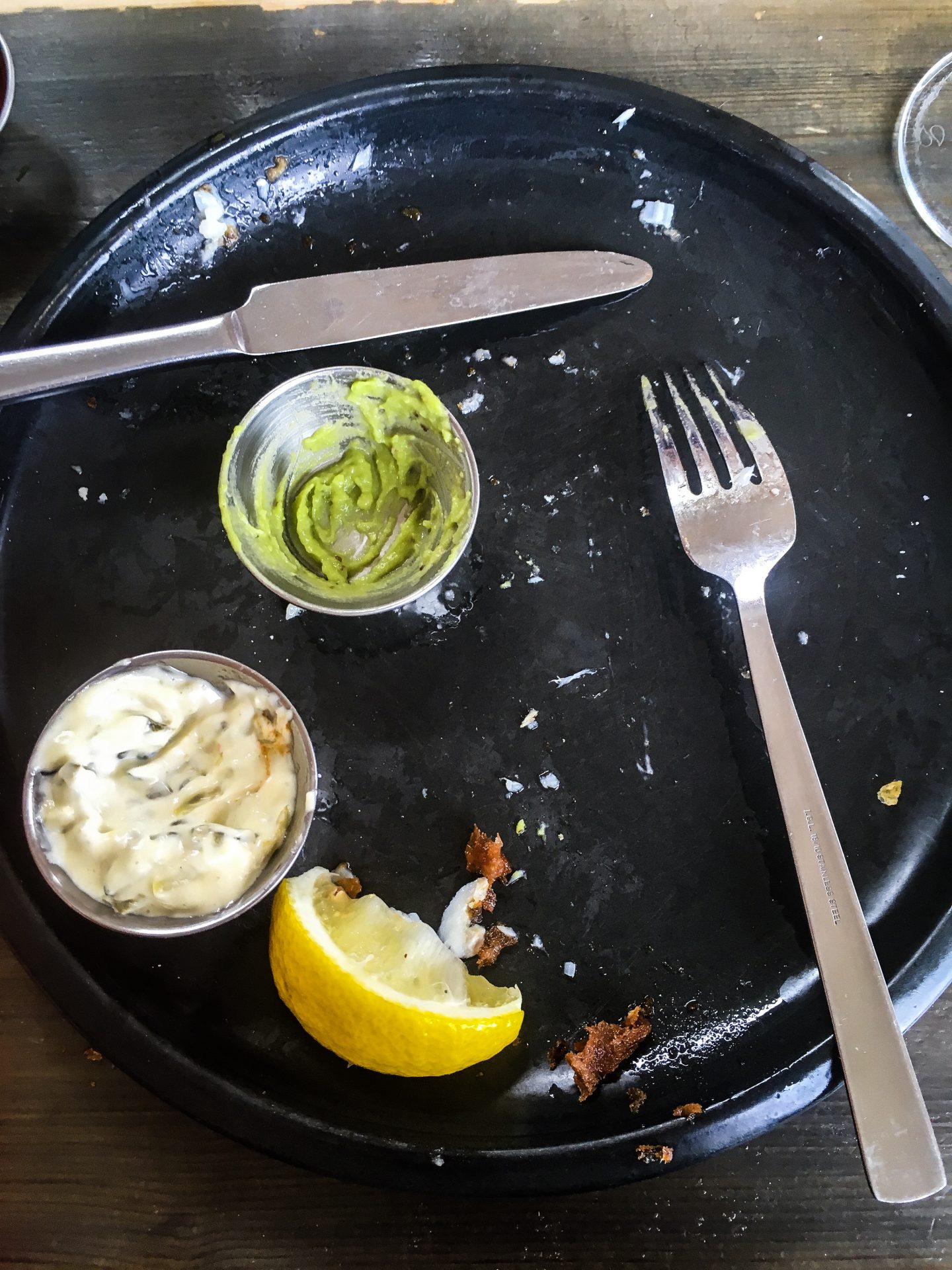 We nearly forgot about the sticky toffee pudding. THE STICKY TOFFEE PUDDING. You won't think you have room – but you *need* to make room. Just order it, and a coffee alongside too – they do incredibly good coffee.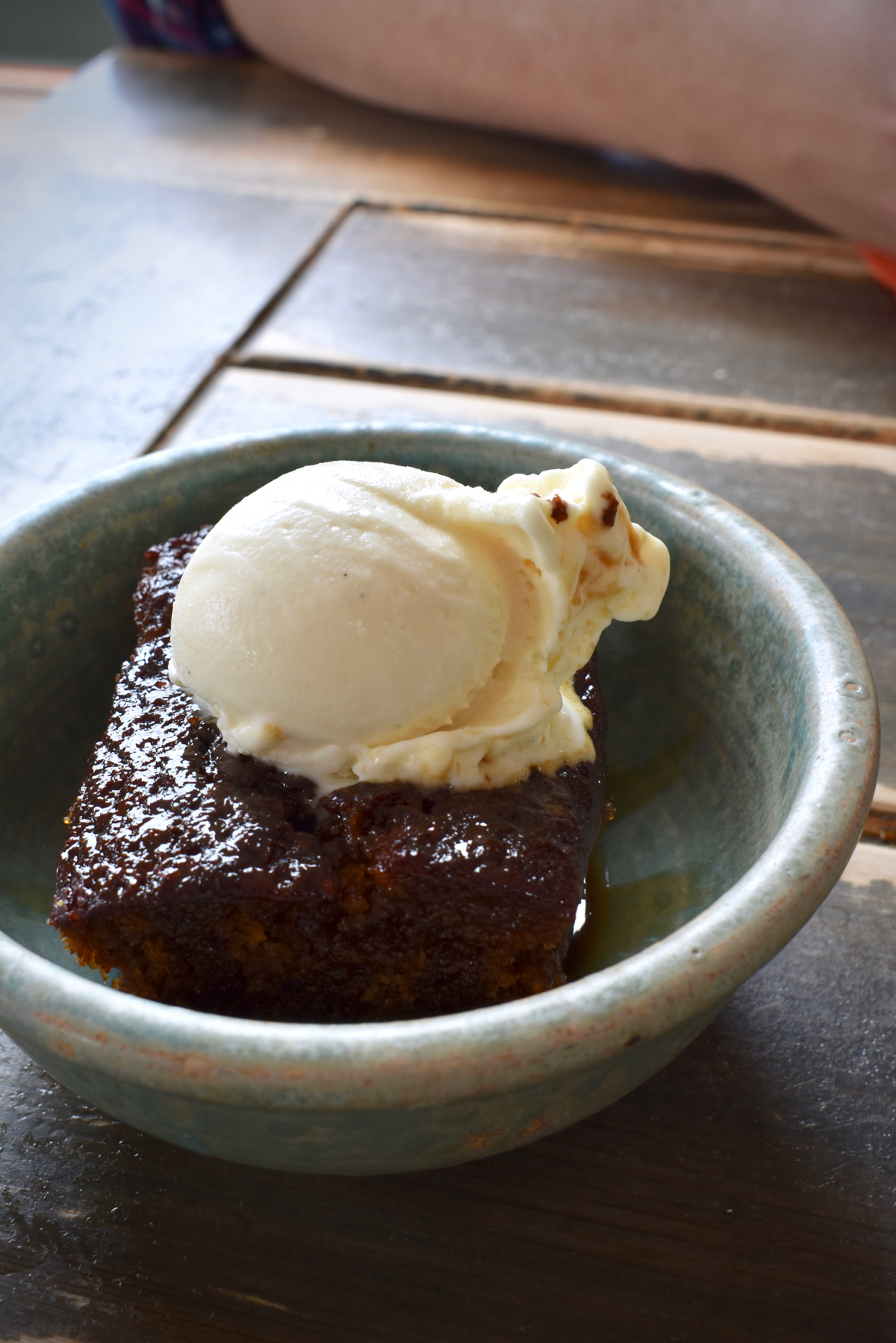 What's special about Harry's Shack is the simplicity. There's nothing wildly different about this place, maybe save for the unique location. It's just great, fresh, local seafood, that's treated really well with love, attention and a dedication to flavour, served in a friendly, stripped-back and convivial space. What sets it apart is there's no frills, bells or whistles here. Proper, proper perfect seafood fare. From the land, too, they even grow the bulk of the vegetables they use themselves.
So it's clear that there's an undying commitment to what's local, fresh and seasonal. Yes, these are a triplet of restaurant-y buzzwords overdone to death at this stage and their meaning lost in the ether, but here, it still really means something. Actually, it means everything. Local, freshness and seasonality – whether it's the whole Megrim, a dozen oyster or a brewery's newly-launched flavour – underpins everything and is the ethos with which Harry's Shack runs.
Oh, and if you're looking for restaurant Instagrammability, you've found it. This is one of the few places that continuously churn out incredible looking (and tasting) food and there's just something about the setting that makes everything photograph so beautifully.
So maybe next time you're craving a seaside sojourn or eyeing up somewhere to spend Fish 'n' Chip Friday, make a beeline for Portstewart along Northern Ireland's stunning Causeway Coastline and drop by Harry's Shack for one of the best feeds of fish on the entire island!
🐟
Further Information:
Harry's Shack
116 Strand Rd, Portstewart BT55 7PG, UK
Tel: +44 28 7083 1783, No website,

Twitter

,

Facebook
Open Tuesday to Sunday, late opening hours Saturday and Sunday
Parking is available on Portstewart Beach only, free during the week in the off-peak season (October to March), £3 for weekends, and £6 every day during the peak season. Free for National Trust members.