We're always exploring street food markets on our travels and it's the perfect quick, easy and delicious way to explore different flavours and cuisines for great value, too. You know us – we explore via our tastebuds and we're led by the mouth!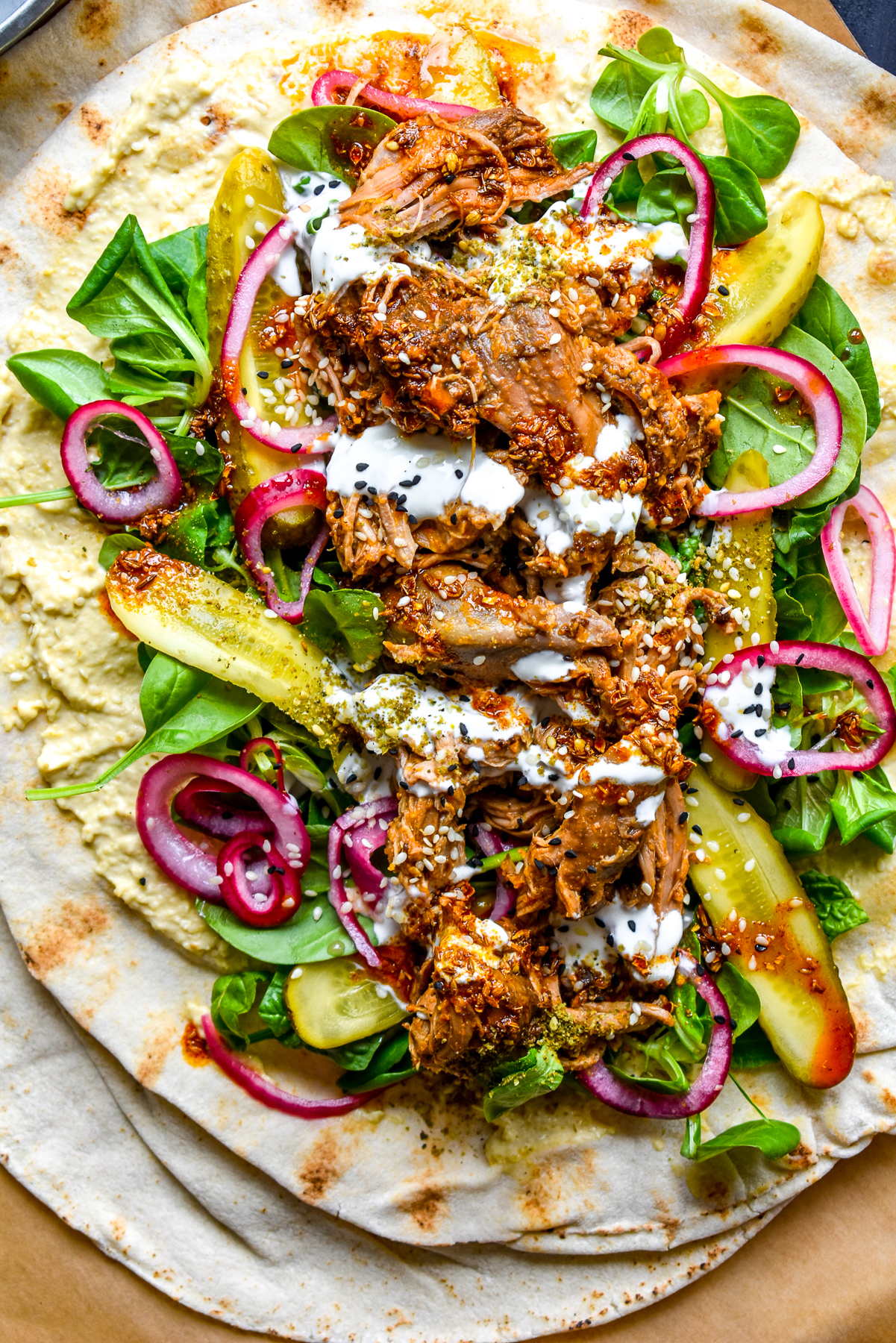 Ever want to recreate street food at home, but feel it might be a bit too difficult? Sometimes it's easier than you think. Even when we're just pottering around our own kitchen, we crave those exciting and tempting global flavours, so we're always trying to recreate and replicate them. This recipe is just that – and though it takes a tiny bit of pre-planning, it's totally worth the effort.
Celebrating a delicious cut of European lamb – a common ingredient found in street food around the world (sensationally slow-cooked, just like it wants to be) – this recipe is just a matter of assembling all the elements together, all can be either home-made or shop-bought, and seeing how all of these flavours, textures and spices combine to create a taste sensation.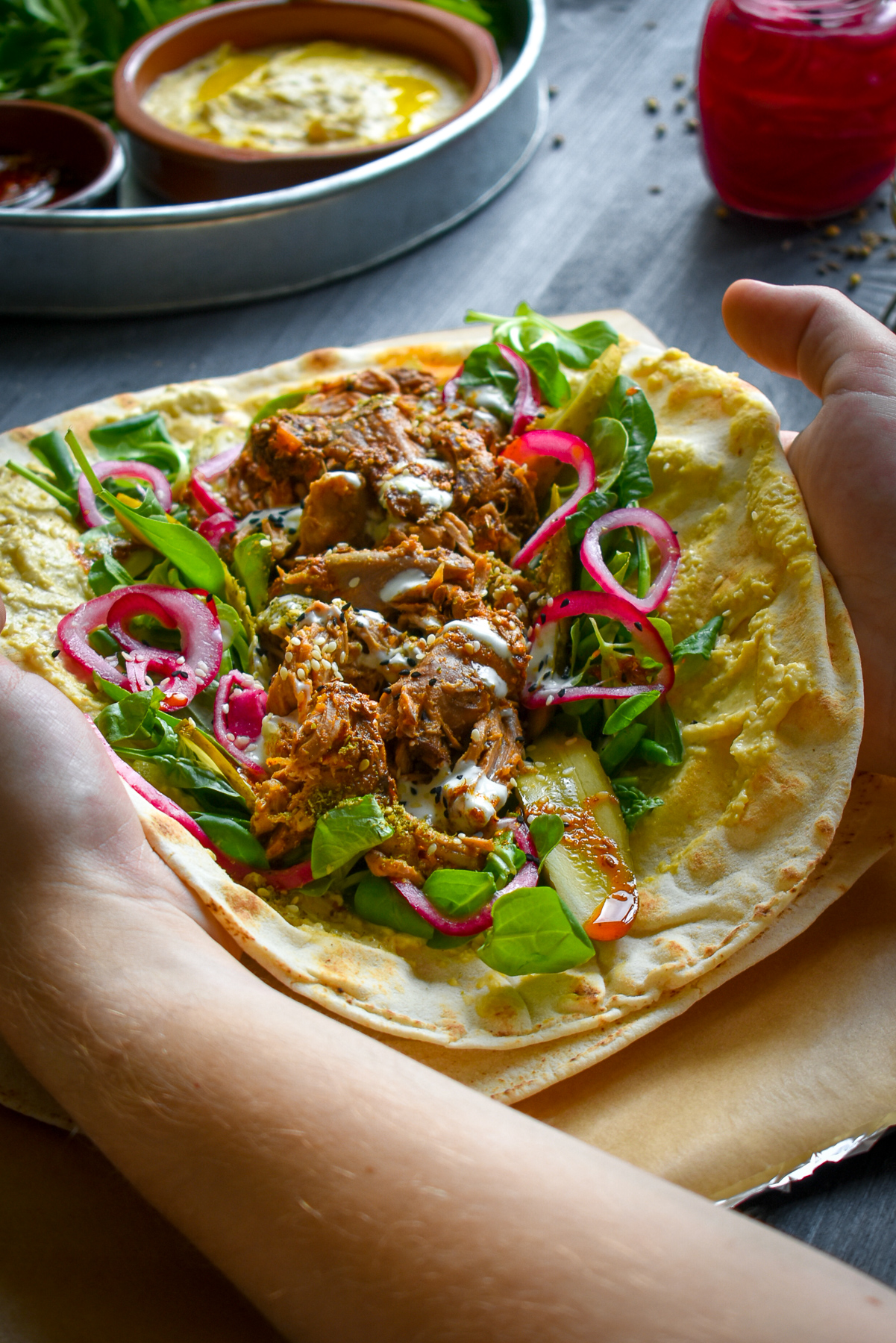 Lamb loves other flavours and the warm, piquant and balanced North African spice blend harissa is absolutely perfect in this recipe. Cuts such as lamb shoulder don't need to be the preserve of a Sunday roast, you can use lamb leg, lamb shoulder or lamb shank for low, slow cooking to produce a fabulously flavoursome dish like this with minimal effort. You could even do this with lamb mince turned into koftas, if you like!
Slow Cooked Harissa Lamb Flatbreads
Serves 4-6
For the Harissa Spice Mix:
1 tbsp Coriander seeds

1 tbsp Cumin seeds

1/2 tsp Fennel Seeds

1/2 tsp Caraway Seeds

2 tbsp Smoked hot paprika

1 tbsp Cayenne Pepper

1 tsp Flaked sea salt

1 tsp garlic powder

1/2 tsp cracked black pepper
1.2kg-1.5kg lamb shoulder, bone in

3 large onions, cut into rounds

2 tbsp Tomato Puree

100g natural yoghurt

4-6 large flatbreads or wraps

1 tub hummus

Pickled Gherkins

Pickled Onions (recipe

here

)

Lamb's lettuce, spinach, rocket or similar salad greens

Toasted Sesame Seeds, black onion seeds, Za'tar (for garnish, all optional)

Rapeseed Oil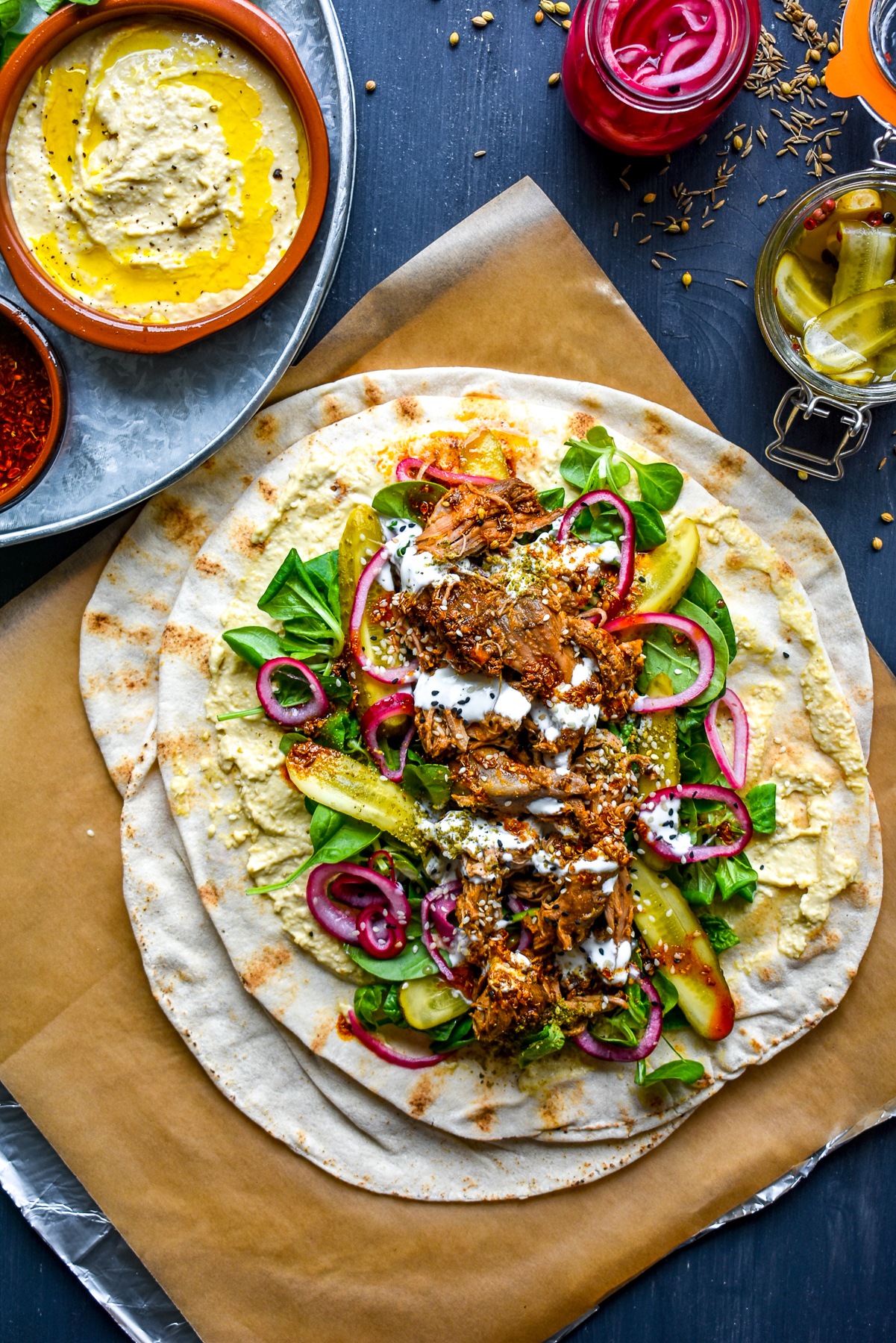 1. Remove the lamb from the fridge and packaging to bring to room temperature. Pre-heat the oven to 130ºC.
2. First, make the harissa blend. Toast the whole seeds (cumin, coriander, fennel, caraway) in a dry pan until fragrant, then crush in a pestle and mortar with the rest of the spices. Leave about 1/3 of the mixture to one side. With the other 2/3, mix with the tomato purée and a little oil or water to bring it together into a thick paste, then rub all over the lamb.
3. Take a deep roasting tin, and line the base with the slices of onion then sit the lamb shoulder on top. Add 2 cups water or stock. Cover with foil and simply leave to slow cook in the oven for 6 hours. You can make this in the slow cooker too, simply prepare the lamb the night before, place everything in the pot, turn it on when you're leaving for work and when you return from work you'll be welcomed with the gorgeous scent of spiced, slow-roasted lamb.
4. With the oven method, every hour or two (if you can remember) baste the lamb in the collected juices to keep it extra moist. After 4-6 hours, the lamb will be falling off the bone and easily pulled apart with two forks.  Leave to rest in its juices for about 10 minutes while you get the other elements prepared. You can use or discard the onions underneath.
5. In a small bowl, add about a tablespoon of olive oil to the remaining spice mix to make a drizzle.
6. Warm the flatbreads up, as per packet instructions (usually in foil in the oven for a few minutes).
7. To begin assembling, spread two generous tablespoons of hummus on each flatbread. Then add the leaves, gherkins and pink pickled onions. Top with the lamb, then drizzle over some yoghurt, followed by the spiced oil then sprinkle the seeds over everything.
8. Eat, either wrapped up in tin foil or laid out flat on a plate. Make it your own!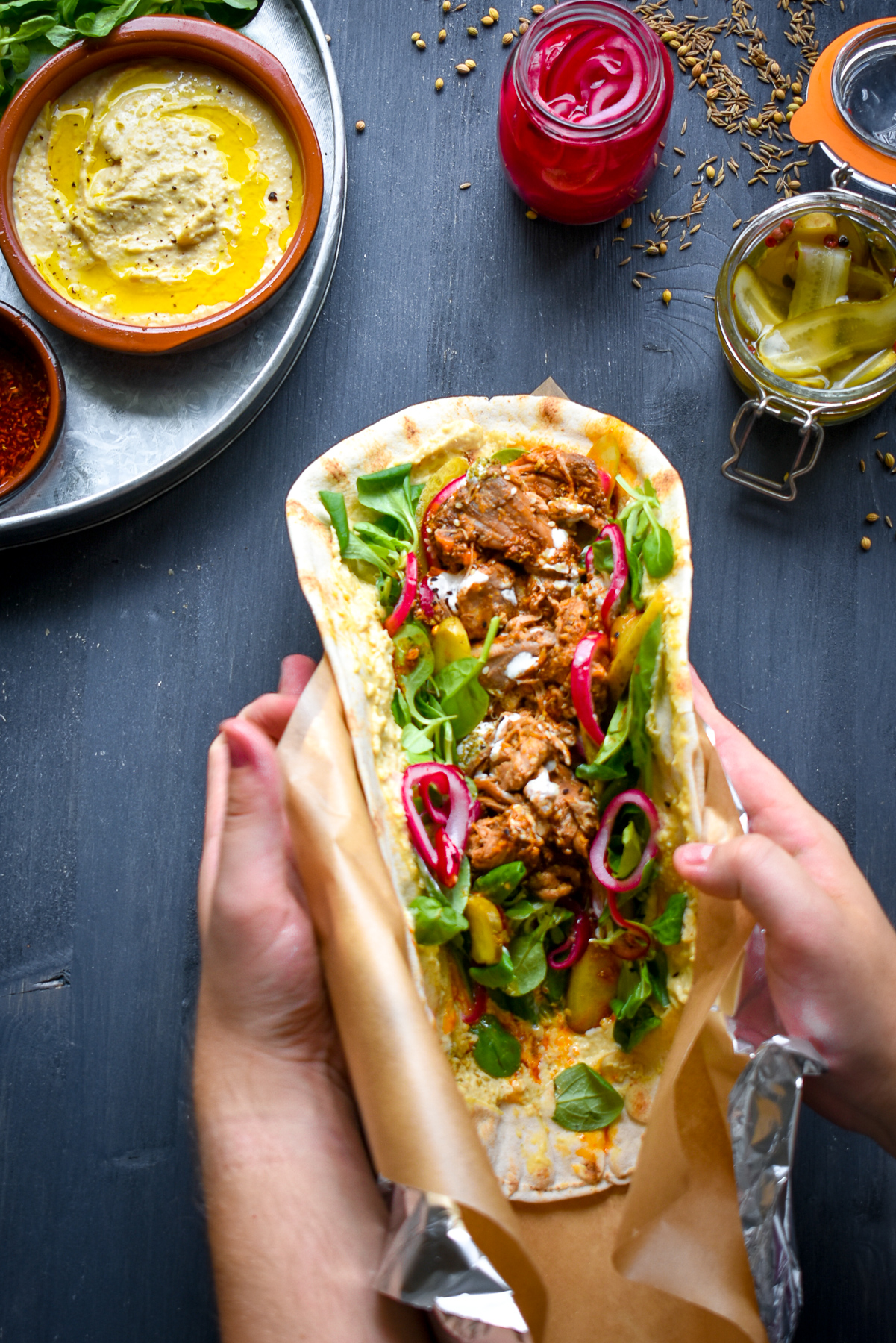 Lamb cooked like this really is magical and this recipe is so easily customisable too – if you fancy a hot sauce instead, you can use that, similarly, if you would rather make your own flavoured hummus, that's fine too! If you've got some seasonal pickles, such as pickled rhubarb or pickled courgettes for example, that flavour works well with lamb too, for something a bit more left-field. Make it your own, lamb is so super tasty, easy to cook and fun to experiment with!
This is a sponsored post in conjunction with

Bord Bia

to help promote #LambTryItLoveIt, a campaign highlighting the benefits of cooking with European lamb. For more recipe inspiration, follow @TryLamb on Facebook and Instagram.