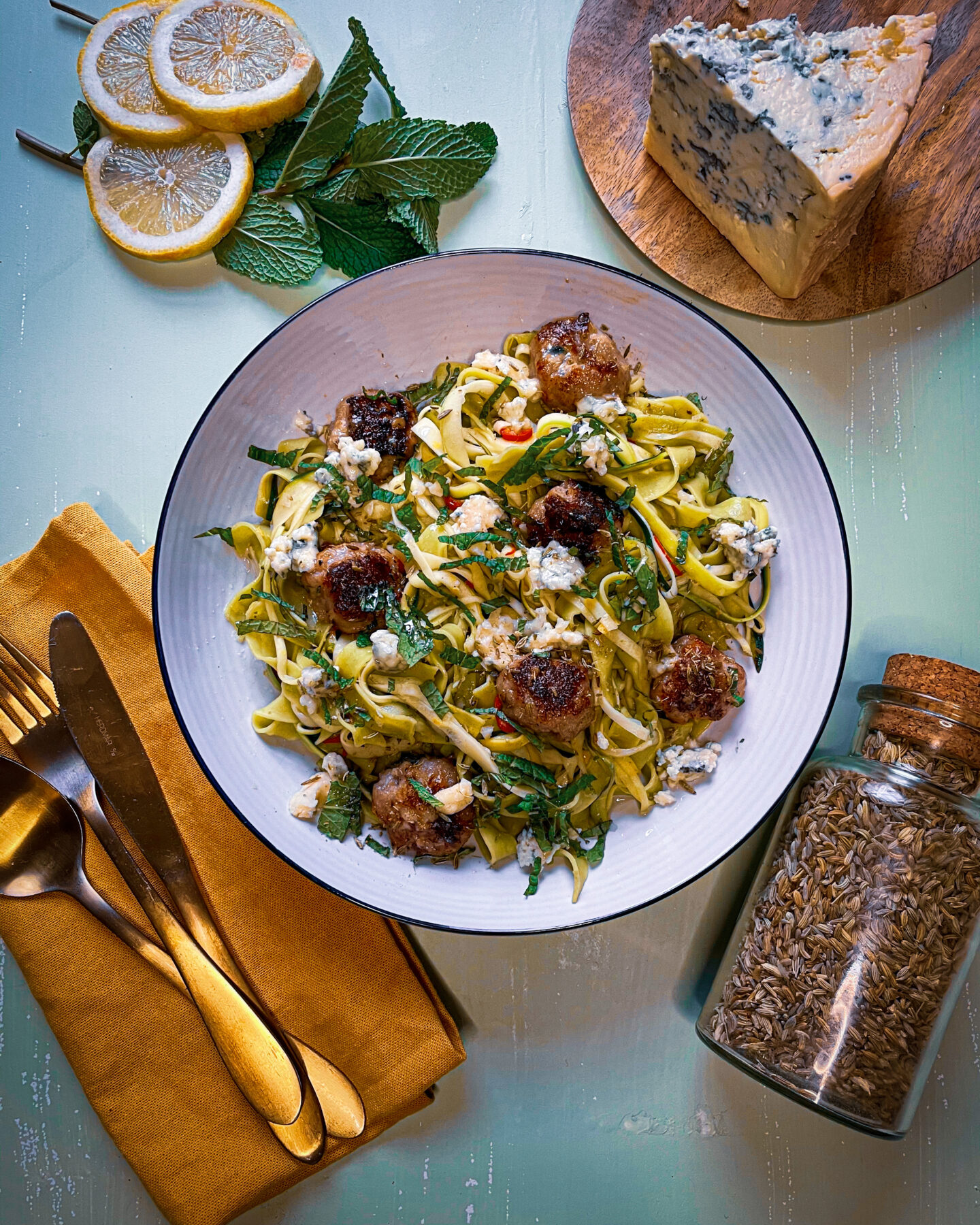 We're dubbing this our 'Green & Blue' recipe…
We were delighted to be invited to participate in this year's Cheese Your Way campaign with the National Dairy Council in collaboration with CHAFEA and funded by the EU. Following on from our Templegall and Mozzarella Soufflé recipe, for the second of two content creator challenges we were tasked to try a twist on one of Donal Skehan's recipes –– who is the NDC's ambassador for the campaign.
We loved the sound of Donal's green spaghetti and meatballs, so we thought we'd swap out the dried spaghetti for fresh spinach tagliatelle –– cooks quicker than dried and we couldn't resist that pale sage colour! Plus, we've switched the trendy Italian burrata for one of our favourites, blue cheese! Not just any blue, Bleu d'Auvergne from the Auvergne region of south central France, which we visited a year ago on a trip to Clermont-Ferrand!
Bleu d'Auvergne is a blue-veined cow's milk cheese has had AOC status since 1975, but was developed a century previous. Creamy, buttery and with a sharp blue flavour, its milder and less salty than some of its blue counterparts. We sourced this from Sheridan's Cheesemongers.
Cheese is so diverse and offers such variety, value and quality in its different expressions –– so there are so many delicious experiences to discover with different European cheeses. Cheese Your Way is an EU Commission-funded, multi-country campaign that aims to encourage people to eat, cook with and learn more about the diverse range of European cheeses.
As part of a recent study of over 500 Irish respondents, 53% are curious to discover more cheeses –– which is over double the French (25%) and almost three times the Danes (18%), plus Ireland's go-to cheese (64%) is classic cheddar. So we love our cheese and want to expand our horizons in the Emerald Isle, and that plays perfectly into our corner because we're passionate about cheese and in particular showcasing and demonstrating the breadth of incredible cheeses produced across Europe, not least of all on our home turf in Ireland.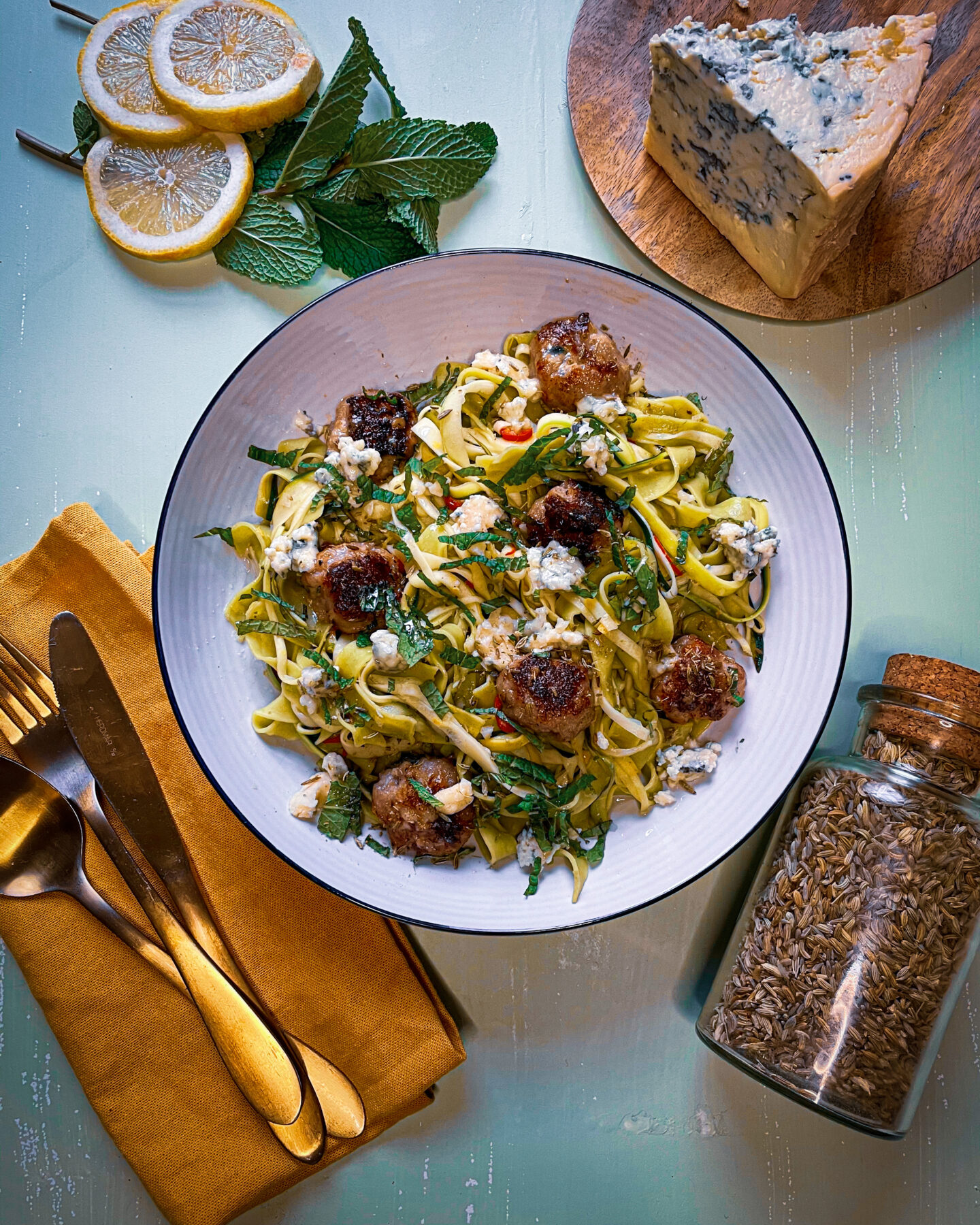 Green Spaghetti & Meatballs
Serves 4
500g fresh spinach tagliatelle (or plain tagliatelle or spaghetti, dried or fresh)
3 tbsp extra virgin olive oil
4 large cloves garlic, chopped
1 red chilli, finely sliced
2 courgettes, spiralised or thinly sliced lengthways in strips
A small handful of fresh mint leaves, julienned (finely sliced in strips)
Juice & zest of 1 organic, unwaxed lemon
150g Bleu d'Auvergne, crumbled
Sea salt and fresh ground black pepper
For the meatballs
1 pack/250-300g herb sausages
2 tsp fennel seeds, ground
1. For the stuffed polpette (meatballs), remove the sausage meat from its casing and roll into even-bite-sized balls. With each one, flatten the middle and place a half tsp of Bleu d'Auvergne in the middle, then seal up with the rest of the sausage meat and roll back into a ball.
2. In a frying pan over a medium heat, cook the meatballs with a little oil and butter until lightly browned on all sides, sprinkle with the ground fennel seeds and then put in the oven at 170ºC to cook through whilst you assemble the rest of the dish. then drain on a plate with kitchen paper. Keep warm in a low oven.
3. Cook the tagliatelle in a large pot of boiling salted water until al dente, approximately 5 minutes, longer if you're using dried.
4. While the pasta cooks, heat another frying pan over a medium heat and add a tbsp of oil to fry the the garlic and chilli together for a minute or two before adding the lemon juice, zest, and following with the courgetti, turning the heat down to medium-low. Season this with salt and pepper, then introduce your cooked, drained pasta.
5. Introduce your meatballs to the pasta pan, tossing everything together gently off the heat, then serve in pasta bowls with an extra crumbling of Bleu d'Auvergne, the fresh mint and a generous drizzle of the best extra virgin olive oil you have to hand.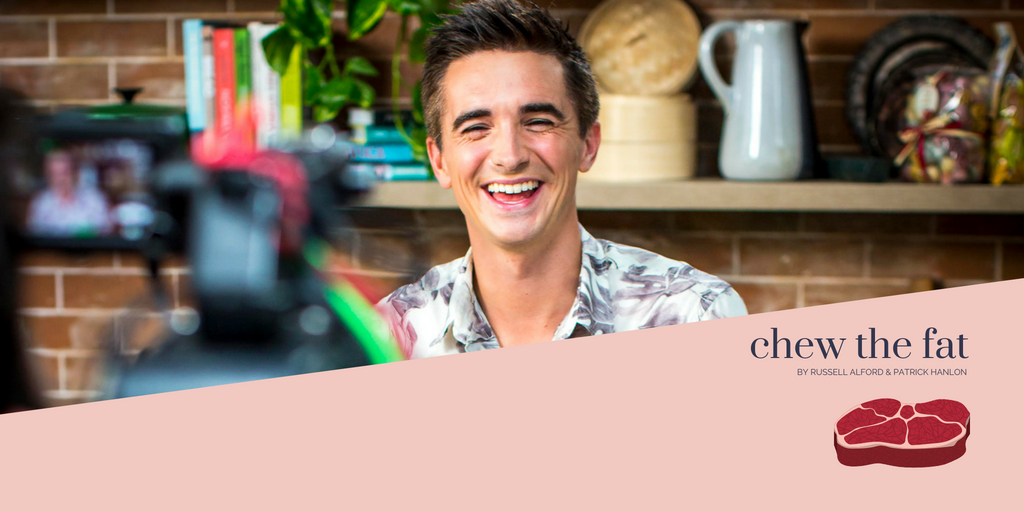 Disclaimer: This post is in paid collaboration with the European Milk Forum and the National Dairy Council