You might remember we took a little train journey last month. Well, after we got off the Caledonian Sleeper we stepped into the Grassmarket Hotel for a couple of nights. Here's what we thought about this hotel nestled within the heart of the Old Town of Edinburgh…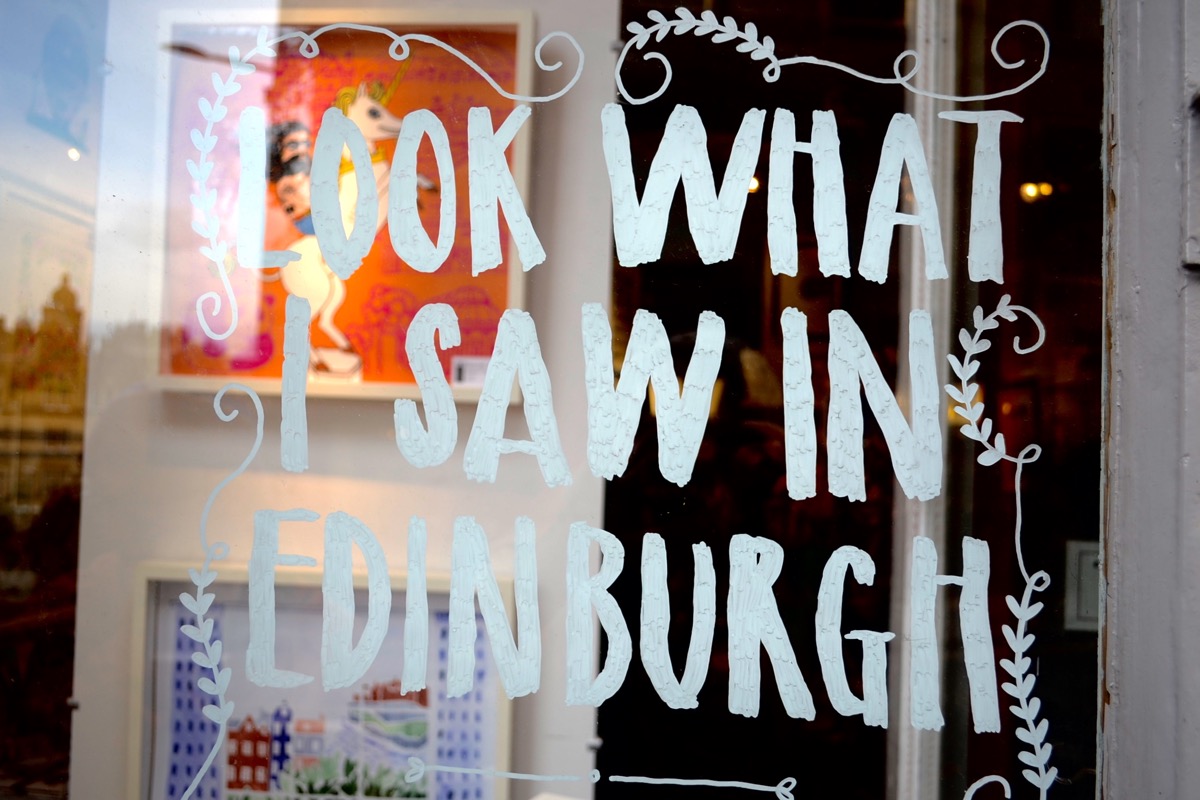 It's simple but not bare and minimal. It almost straddles the line between hostel and hotel. For the former there's the adjoining pub acting as the makeshift restaurant; the affordable price; and the casual, chilled atmosphere. For the latter it's clear a lot of money has been spent on updating this hotel for the modern day with little touches of luxury. All the essentials are finished with personality and there's educated attention to detail but still a cheeky, youthful Scottish charm about this place.
Firstly, let's talk about  to their affordable pricing structure.  The Grassmarket cleverly offers 'Mates Rates' where they give away ten rooms per month at the bargain price of £1 a night. We love this idea that's also been picked up in restaurants and cafés too with the 'tweetseat' promotions. Our speedy, deal-hunting fingers weren't quick enough to nab one, but the standard price we paid was very affordable (around £75 a night – read on to find out more about their discounts).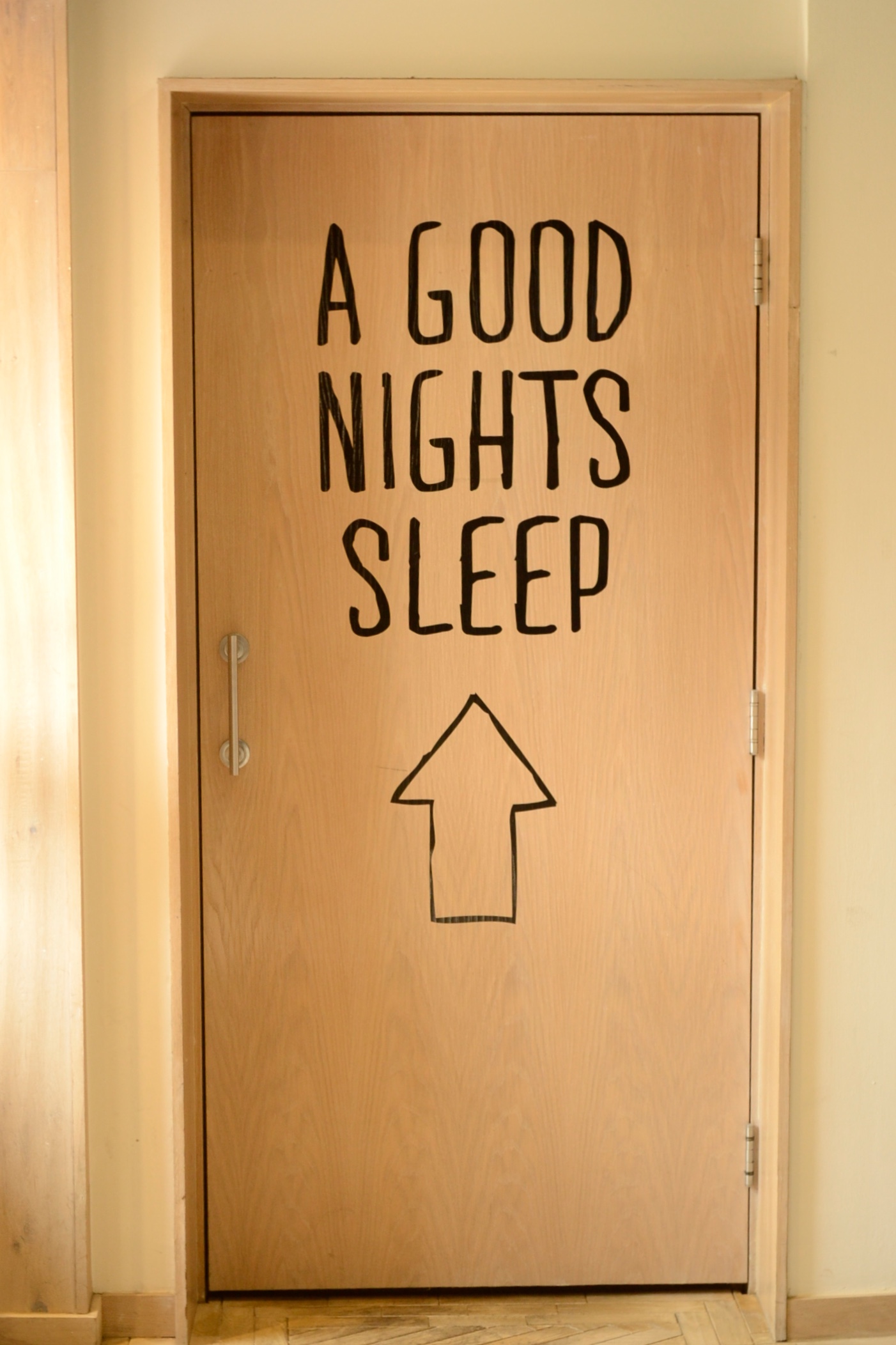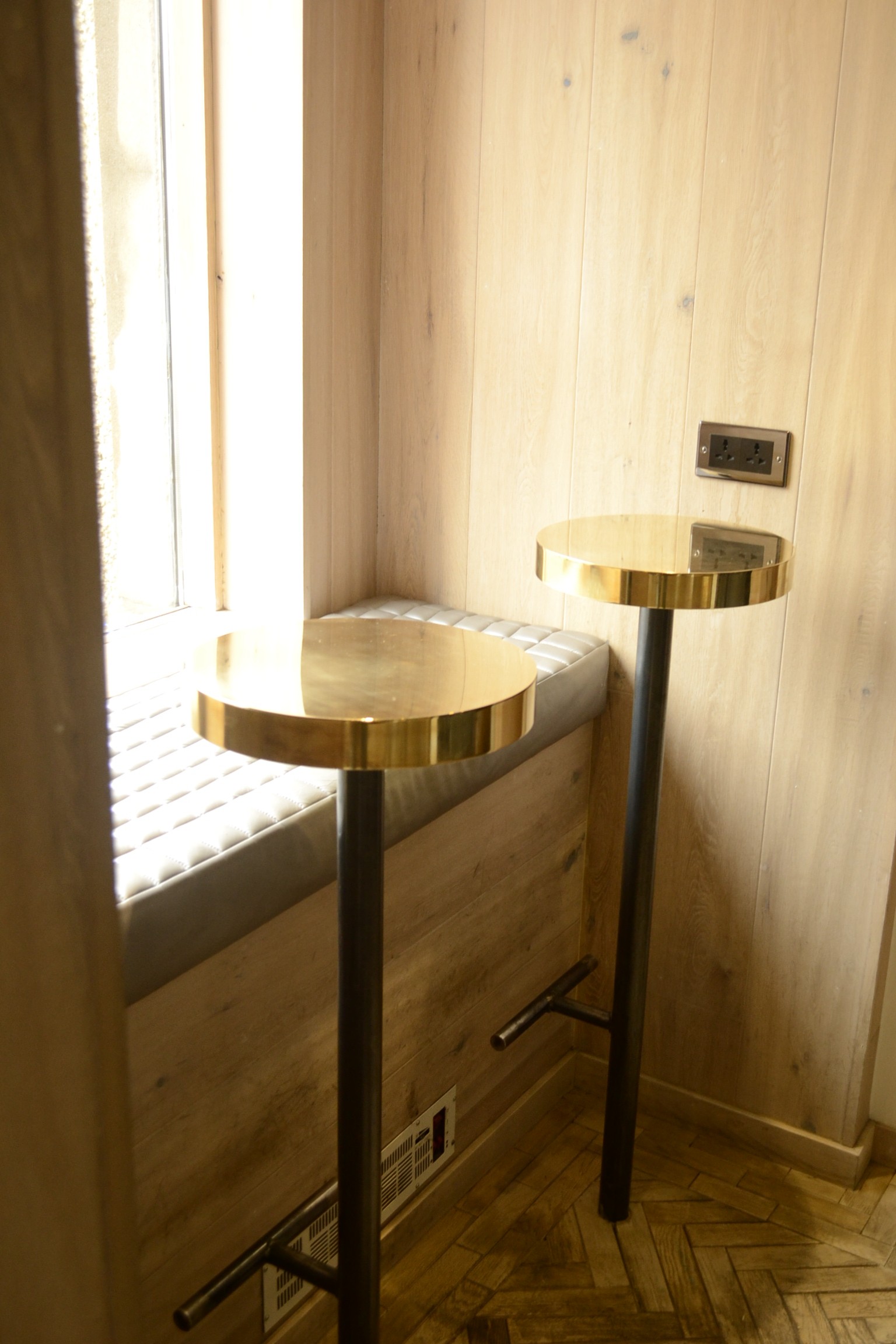 Edinburgh is so easy to get around, but you'll need your walking shoes, as there are lots of different hills and heights. The new town is quite a low basin compared to the trek up to the castle. The hotel is just off the Royal Mile and around the corner from the Castle itself, so going over and back between the New and Old Town a few times a day was pretty tiring. There are buses but we're used to living in Dublin, a similar-sized city that you have the option to walk the length and breadth without the need for public transport.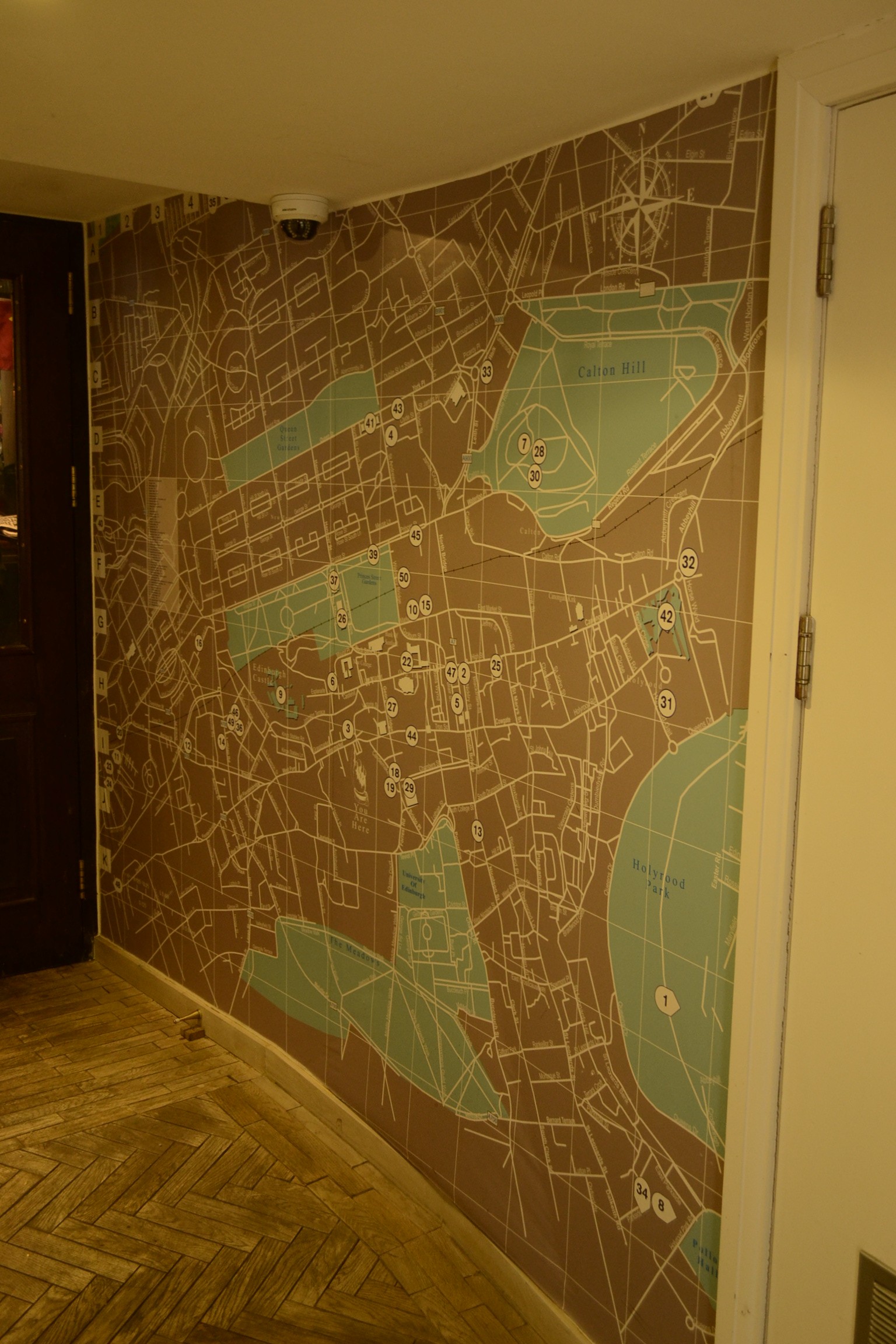 Grassmarket Hotel is located (fairly obviously) at Grassmarket, the hub of Edinburgh's old town. It sits within a hollow under the iconic Edinburgh Castle, which towers above it on its carved rock platform. Grassmarket is one of the main East-West arteries through the city centre and is full of historical architecture and steep streets.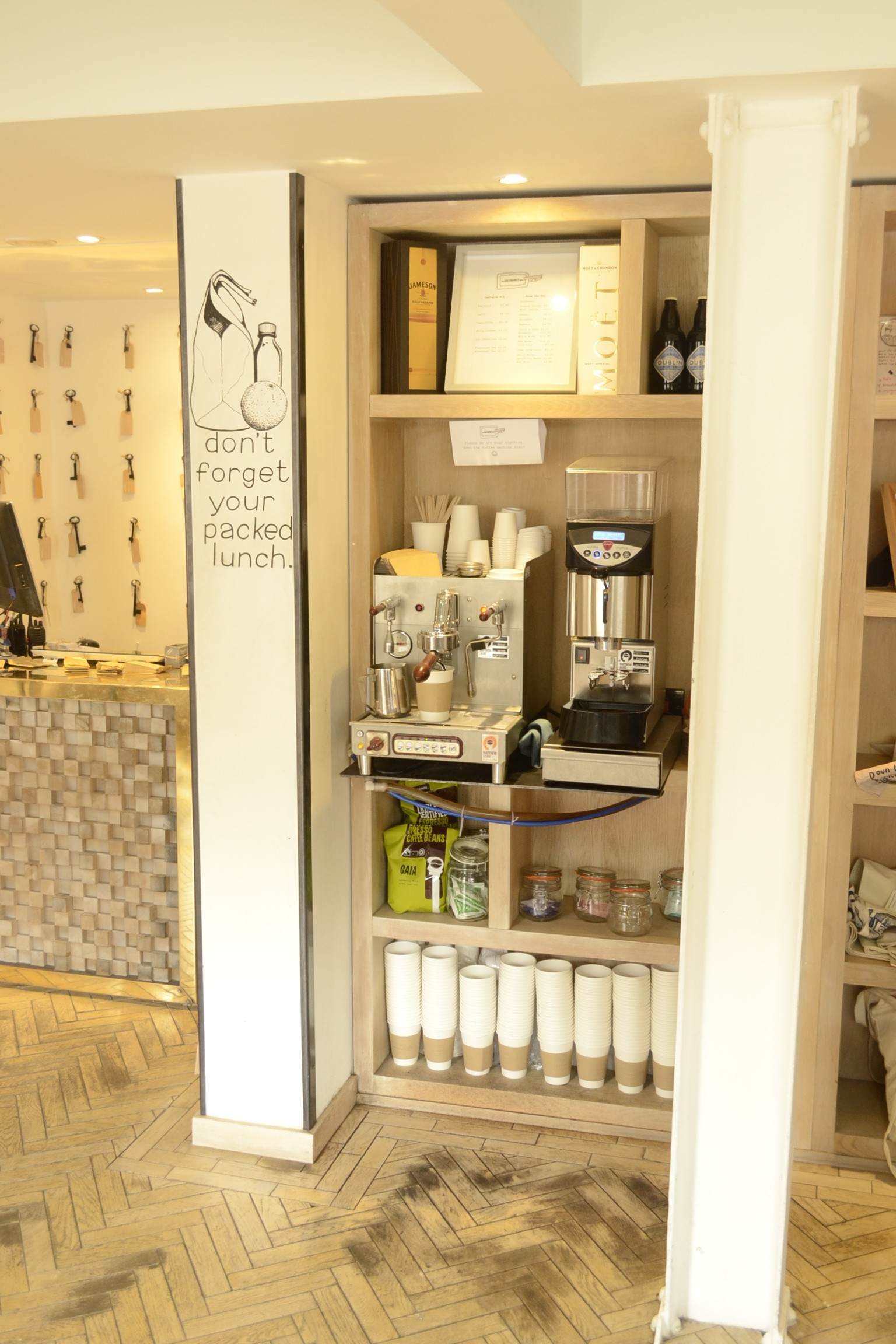 The reception is full of character with vintage keys dotted along the walls surrounding the main desk. Cleverly, the office is hidden behind a secret door accessible beyond a shelve-lined wall, filled with pastel paper-wrapped classic books, board games and quirky design flickers. The main wall is painted like a blackboard with chalky features including a large wordsearch, funny polaroid mugshot section and a Mac station underneath, free to browse for all guests.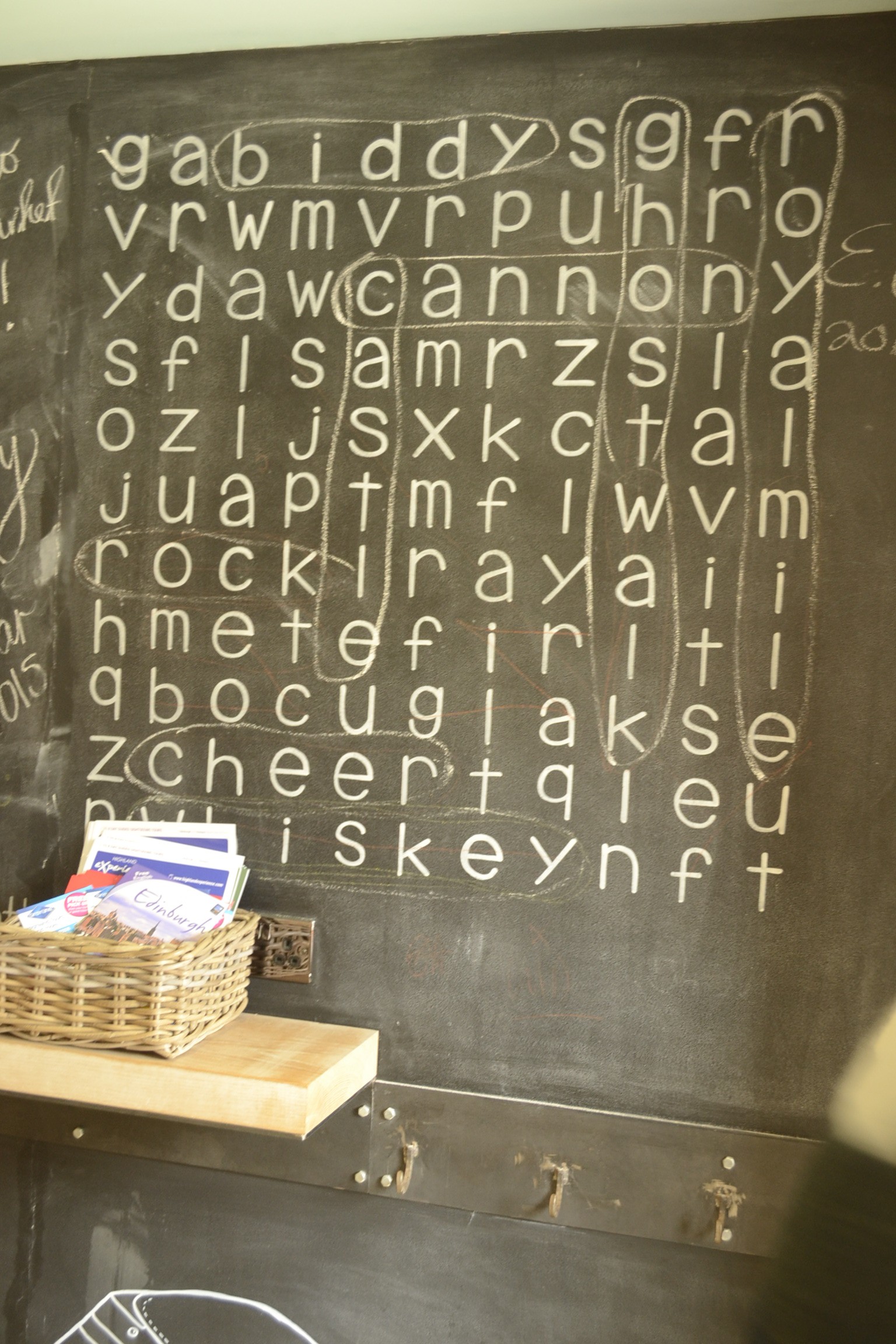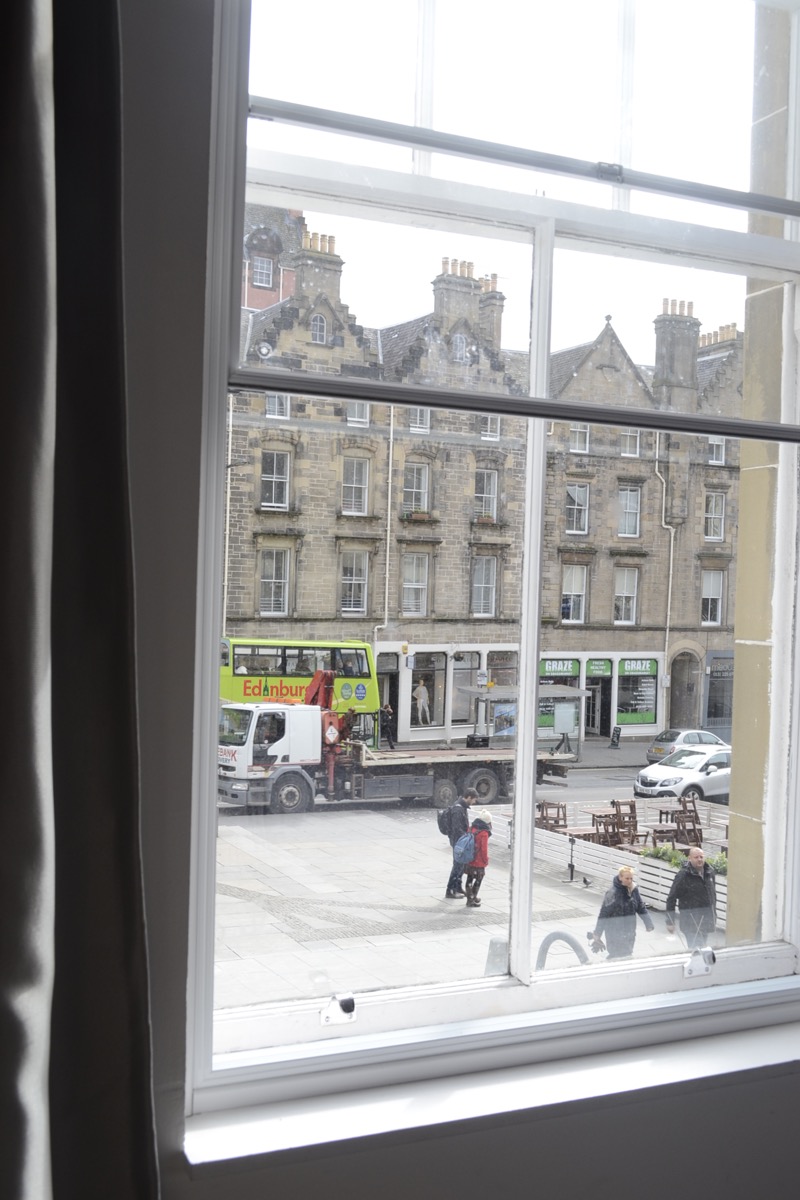 In the centre of reception is a large communal gold-gilded table, flanked by comfortable soft leather high stools. Design and fashion magazines sit on one side of the table, offset by a selection of daily papers on the other side. An espresso machine in one corner offers fresh coffee made on the spot by the staff (none of your instant muck) and tea is also available, plus Tunnock's Teacakes… which make an appearance later too!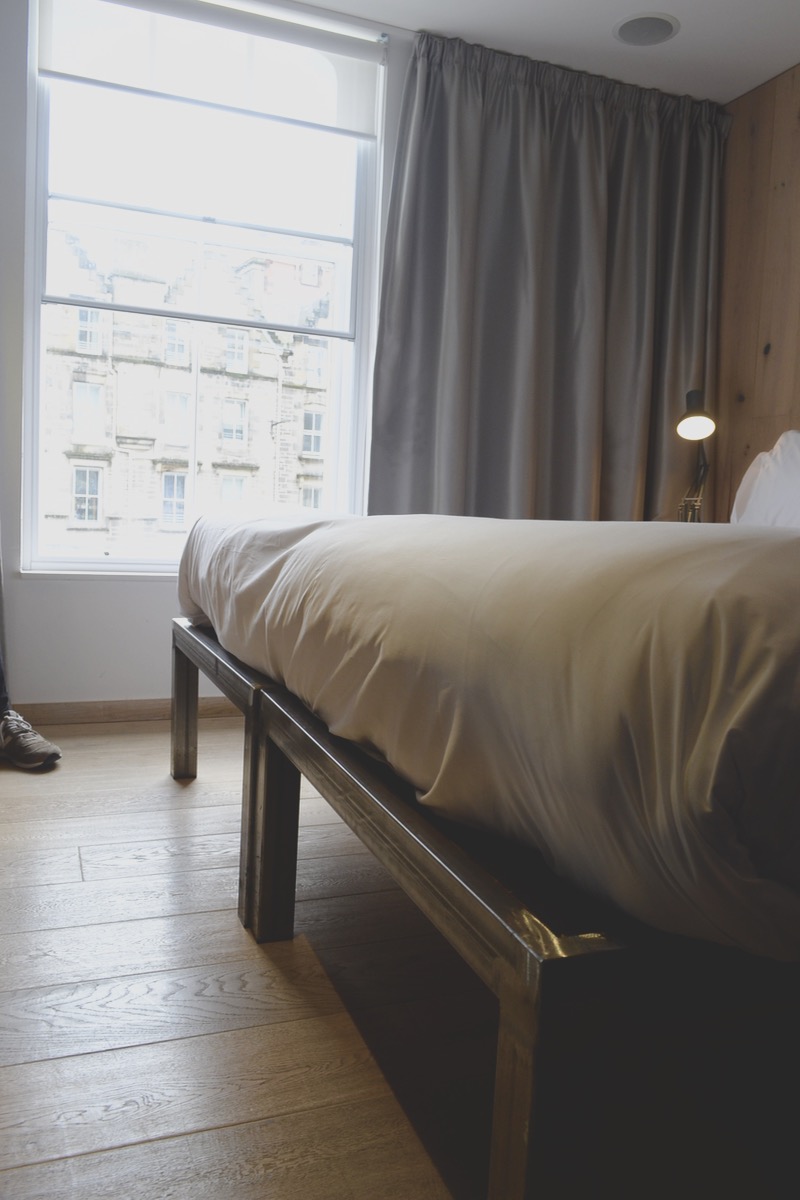 There's something you wouldn't expect with this hotel – neither from the exterior nor the interior of the lobby. There's a comic book theme in the bedrooms, which injects colour and youthful fun into sleek and modern bedrooms that boast spacious bathrooms complete with rain shower and branded toiletries.
There's storage (and the hangers aren't those horrible, noisy hotel hangers you can't steal – a total plus), a flat-screen TV and our first floor room boasted a gorgeous view looking out right onto the Grassmarket itself. There's also an iPod/iPhone dock in the bedrooms, which allows you to play music through the speakers. We didn't have the correct attachment and it seems we weren't alone, when asking for a spare connector at reception all of their extra ones had already been given out to current guests!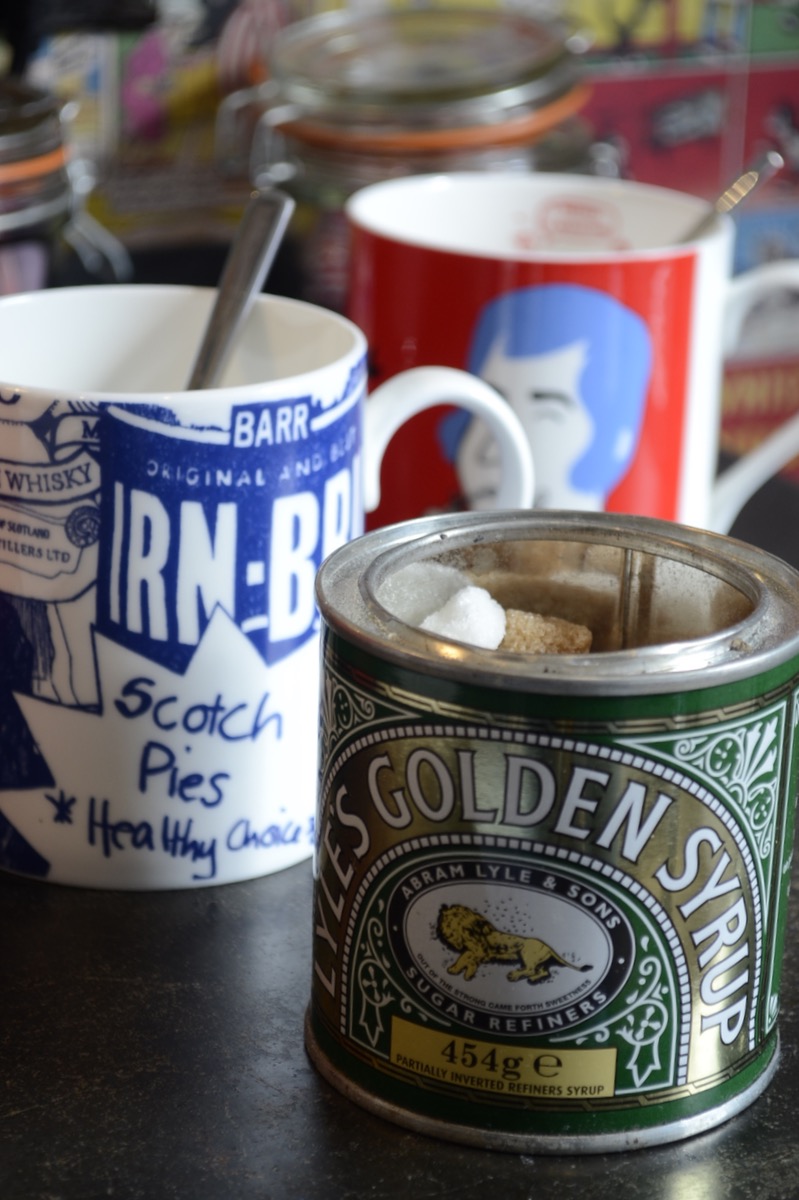 Tea and coffee is in abundance, with lots of varieties and complimentary Tunnock's Teacakes! What a novelty, but when in Scotland… we scoffed the lot (and then the ones that replenished the originals the next day) and enjoyed a tea or coffee each morning – though UHT milk is a necessary evil in hotels; we really wish we didn't have to endure its chemical taste of nothingness and weak effect on tea in each place we stay.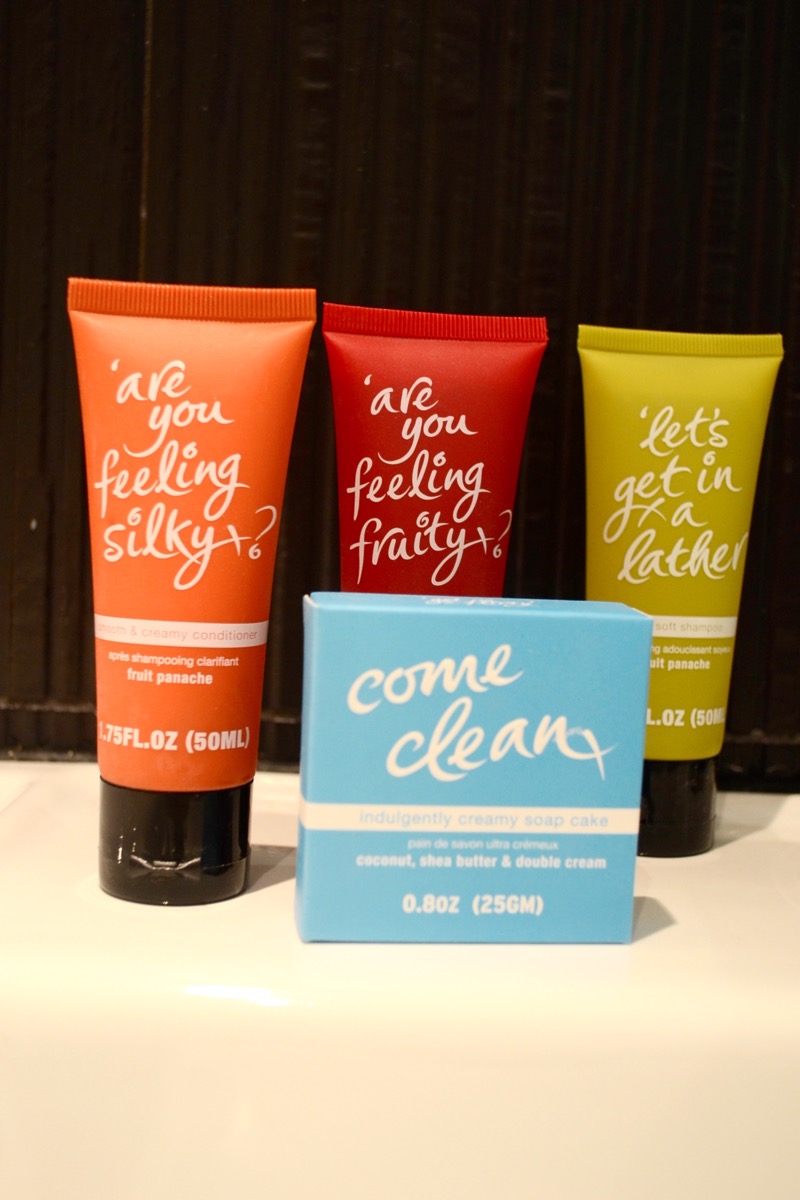 The only disappointment was the packed lunch they offer, which, when we booked the hotel months before sounded right up our street since we were hitching to the airport around midday on our final day for an afternoon flight over to Ireland. We wouldn't have had time to stop for a long lunch in the city. When we asked about it on the morning of check out, the girl didn't really seem to know what we were talking about. Granted, it's only a tiny line on their website, nestled within the offers page. We probably should have stipulated it upon booking, or called in advance, however after a minute or two of trying to explain, we all ended up on a similar page but we weren't sold on it and left a little sad. We got the impression that it wasn't something guests take advantage of too often. A real shame, as 'don't forget your packed lunch' is emblazoned on the wall right by the front desk – and it's a fantastic idea and could really champion some local Edinburgh or Scottish food produce especially for foodie travellers like us.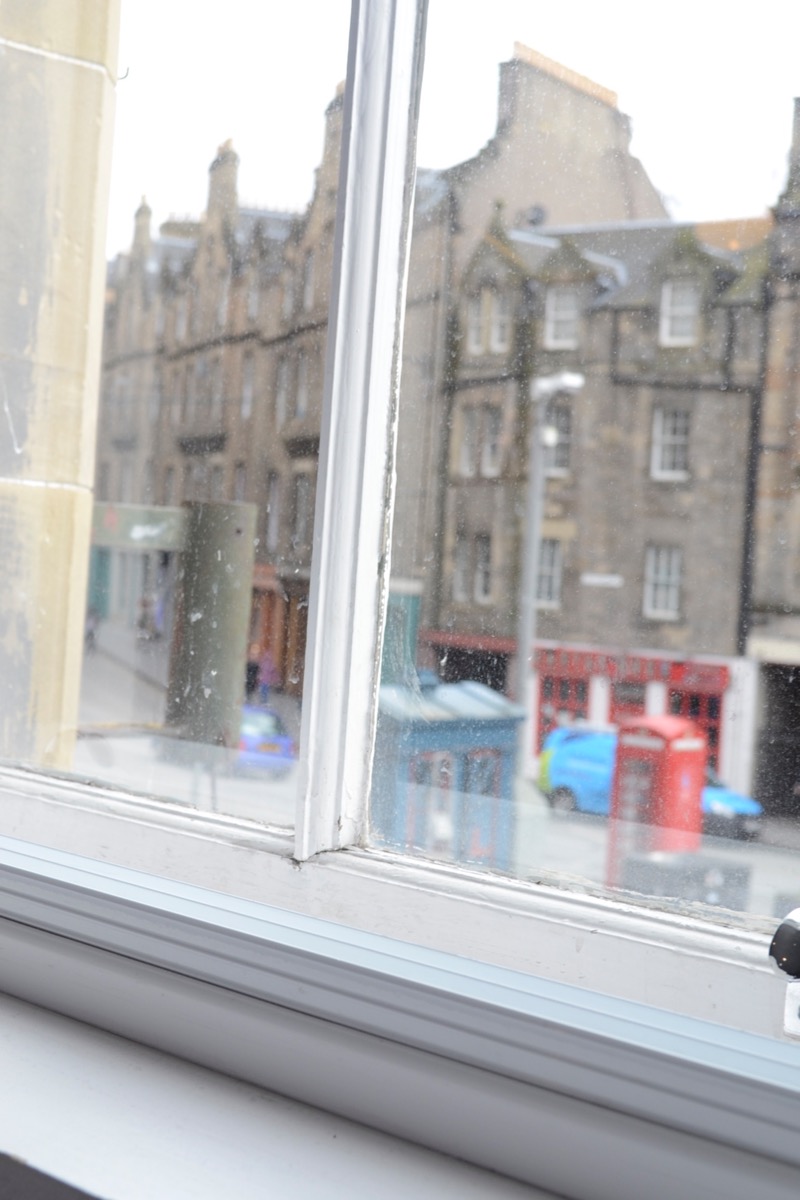 Hula juice bar is right beside the hotel to grab a juice to go or have a lingering healthy breakfast or lunch close-by. Up the winding street, there are a variety of independent boutiques to drop in to and you simply must stop at Stag2 (Warburton Gallery, Victoria St.) where Richard Conway makes the meanest espresso and has an expert curation of magazines to buy and flick through. Stop in for a hearty lunch and people watch from the large bay windows of this historic gallery or indulge in a late afternoon milky coffee with a little baked treat on the side.
Want to book?
Grassmarket Hotel has provided us with a discount code for all our readers to enjoy 15% a booking at the hotel. Simply click here when booking and enter code 'CE4' in the promotion box and, voilà, enjoy a discounted stay in the beautiful Scottish capital. We're already planning our return visit. Subject to availability, this discount won't expire so you can use it over and over and you can book up to a year in advance! Wahoo!
*This is not a sponsored post or a post with affiliated links – simply our humble opinions. We paid for everything ourselves and any endorsement is personal and fuelled by our first hand experience*