Meatballs is one of our favourite dinner dishes. It takes a small bit of labour but the result is always fantastic, comforting and delicious. Sometimes we enjoy 'em Swedish style, with a creamy sauce, a scattering of dill and a touch of Lingonberry jam on top, while on other occasions, a rich tomato-based, Italian style sauce is the way to go.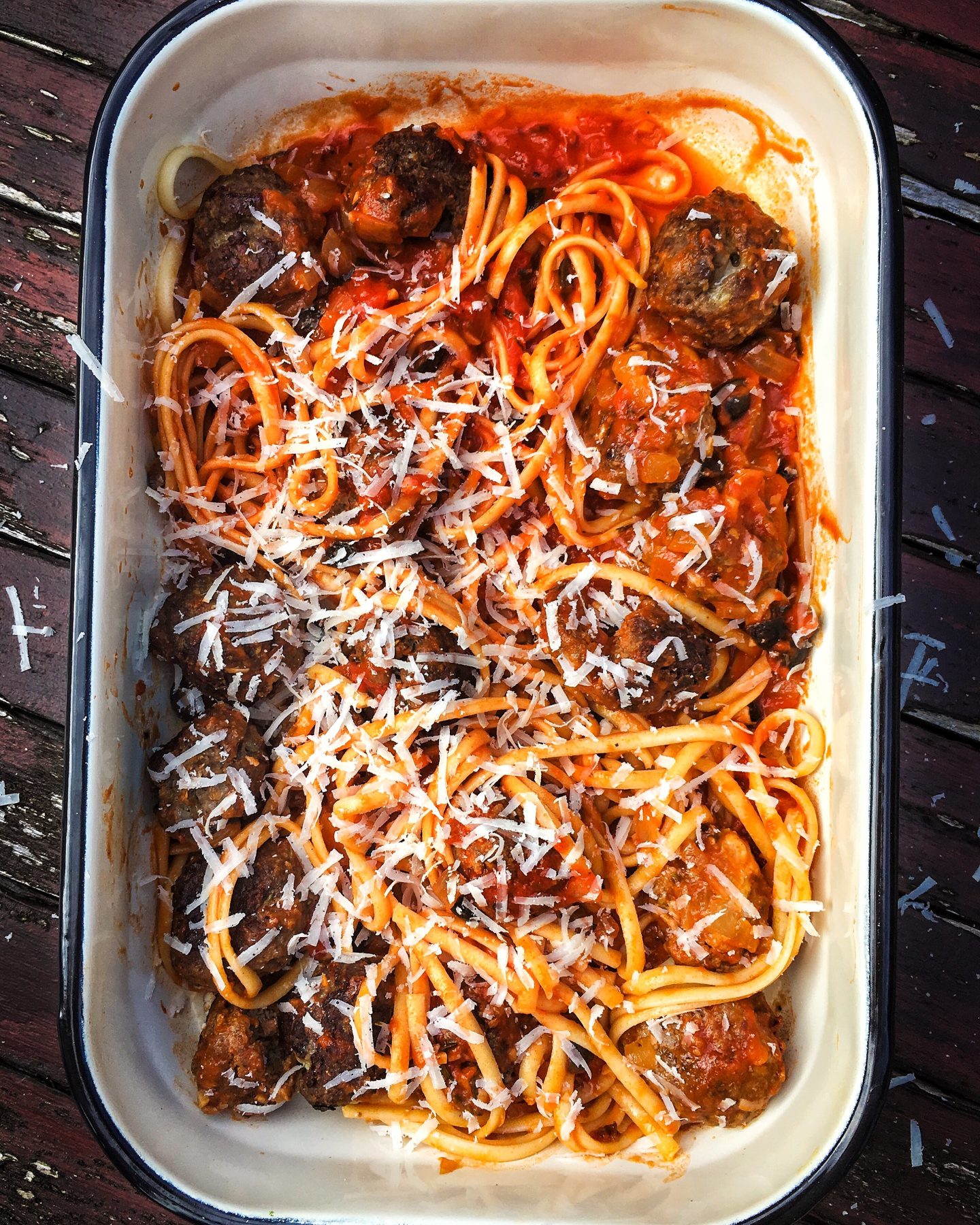 Though on this occasion, we've decided to spice things up in the kitchen, per se. We wanted an element of surprise, tension and trepidation when we ate. So we came up with meatball roulette, featuring one of our all-time favourite cheeses, gorgonzola. Take your chances with each meatball – will it be meaty, herby and flavoursome? Or will it be rich, cheesy and sharp with an oozy middle?
Gorgonzola Meatballs in Simple Tomato Sauce

For the balls
480g beef mince (high quality if possible, min. 10% fat)

50g dried breadcrumbs (see tip at the end)

Half red onion, finely diced

2 cloves garlic, minced

3/4 tablespoon of dried herbs (Italian herbs or Herbs de Provence)

A hefty fresh crack of black pepper

Pinch of salt

1 egg

20-30g blue cheese, cut into cubes (We used Gorgonzola, but Stilton, Cashel Blue also work)

100g plain flour, seasoned
 For the tomato sauce
A can of chopped tomatoes (or tomato passata) and 5 ripe tomatoes (skins taken off and chopped, if possible and hold onto the vine if they come on one)
Half a large onion, diced
Three cloves of garlic, bashed and diced
A bay leaf
10 black olives, drained and chopped
100ml white wine (or water)
Fresh sprigs of rosemary and thyme (dried will work if you don't have fresh)
1 tbsp honey
Oil, for frying

Method
Some people are great multi-taskers, others aren't. We've separated this recipe for the sake of those who aren't, so it's a great use of time – for example, the perfect starting point to make the meatballs is while the sauce is simmering. Otherwise, some cooks feel more confident making the balls first. Read the recipe first, then figure out which you're more comfortable with!
1. To make the sauce, Slow cook the onions and garlic in a little oil on a medium-low heat for about 10 minutes until soft, translucent and beginning to colour. Add the roughly chopped herbs half way through.
2. Deglaze the pan with the water or wine and allow to reduce down and cook off before adding in the fresh tomatoes, followed by the tinned tomatoes or passata, the bay leaf, the honey and the vine. Bring up the heat to a boil and then reduce down to medium-low again, clamping on a lid to cook out for 20 minutes.
3. To make the meatballs, place all the ingredients except the cheese and egg into a bowl. Using your hands, mix together everything until it's well combined. Crack the egg in to help bind it all together and continue to mix until it stops crumbling up.
4. Then in your hands, take a piece of the meat mixture, roughly between the size of a Brussel Sprout and a golf ball, and roll into a ball. We managed to make 18 meatballs in total by the way, but it could stretch to 20.
5. For the roulette element, for every second meatball you create, stick a small cube of cheese in the centre and fold the meat around it. Keep on a separate place to one side if you have fussy eaters. Roll them lightly in a little seasoned flour and continue until all the mixture is rolled out.
6. Heat a bit of oil in a large frying pan on a medium heat. Then like a clock face, place each ball in a formation, starting at 12, 1, 2 and so on. The reason for this is so you know which one you placed down on the pan first, when you're turning them over. Fry for about 3-4 minutes on one side, before turning over and repeating. If you have a suitable lid for the frying pan, cover, as the the steam helps cook the meatballs.
7. Now, take the lid of the sauce pan off, increasing the heat a little to reduce the sauce for a further 10 minutes. When at a thick, non-watery consistency add in the olives just to warm through (if you add them earlier in the process the flavour will be overtaken). You can also pour in a small splash of cream here to make it that bit richer, or just keep it classic. Add the meatballs for the last minute or so to coat in the warm sauce.
8. To serve these gorgonzola meatballs, some spaghetti or linguini works well (cook to packet instructions) or any freshly-made pasta reigns supreme here. Alternatively, try with some warm polenta or a great big bowl of buttery mash.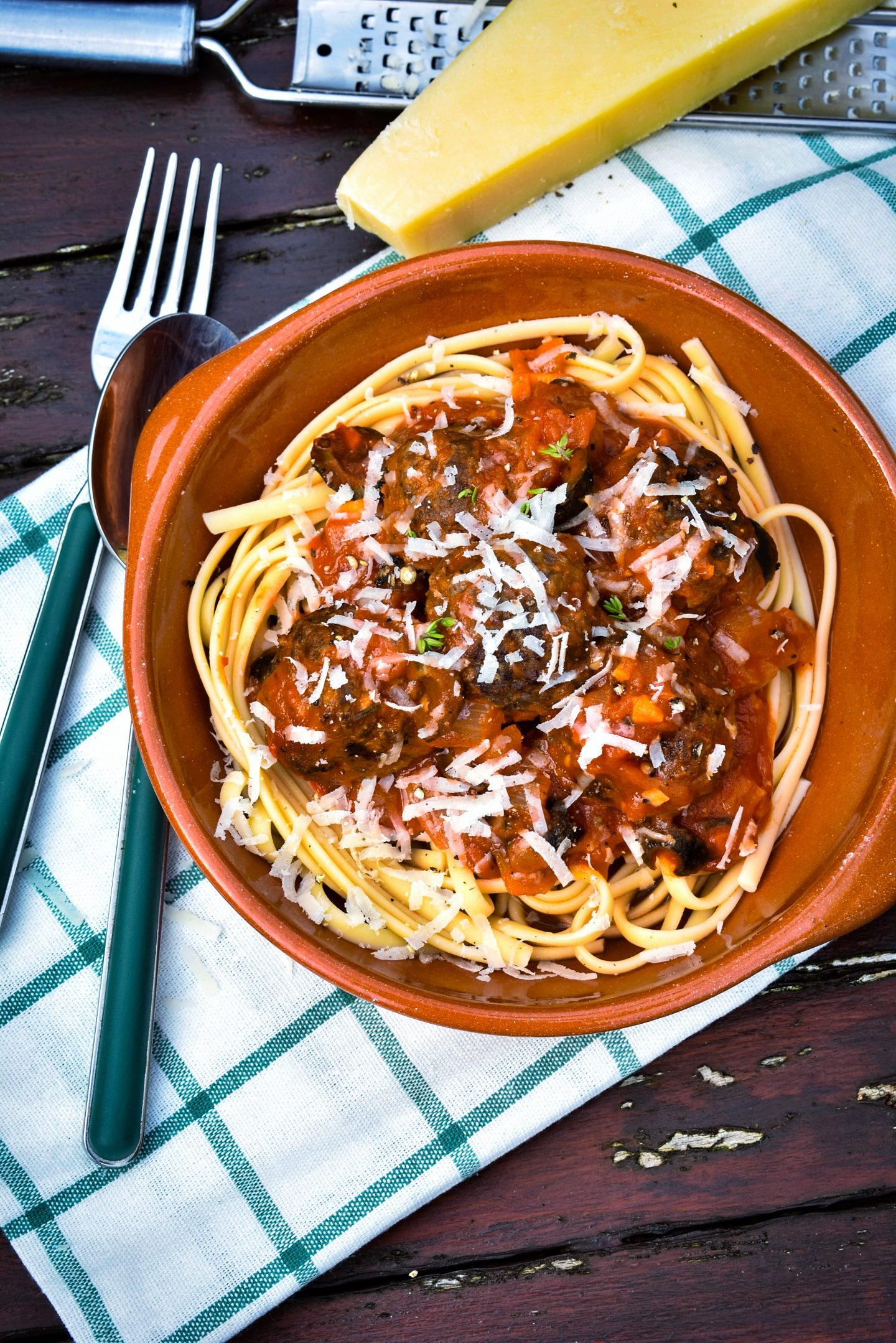 Tip: to avoid using dried breadcrumbs from a can, blitz some leftover bread in a food processor. To dry it out, place flat in an oven on a baking tray at 150C for about 5-8 minutes until slightly toasted but the moisture has drained. Place any leftovers in a zip-lock bag and keep in the freezer.