The term 'resort' over time has been reduced to connotations of sub-standard, all-inclusive package holidays pivoted around a jam-packed pool. Paper umbrellas in too-sweet cocktails. A few palm trees dotted around and clusters of plastic poolside tables and chairs.
However, that term when applied to somewhere like Galgorm Resort and Spa (#AF) should reinvigorate the senses, conjuring up something truly remarkable and a dash of modern luxe. Let us set the scene: a lush, verdant riverside paradise appointed with a host of comfortable pods, private corners, jacuzzis, hot tubs and plunge pools, weaving between indoor and outdoor with a lavish bar and cafe and expansive treatment centre.
Note: This post may contain affiliate links, which earn us a tiny percentage commission if you book via our website
We've had a couple of false starts, us and Galgorm. A place we've long lusted after and had an awareness off – as well as publicising in our writing many, many times before we stayed – we never quite made it up to Ballymena until mid-2020, when we finally checked in. We're going to delve into four key areas here –– the room(s), the fine dining restaurant, the gin bar and of course the spa and thermal village, so the latter is where we're going to start…
Galgorm Spa, Treatments, Hot Tubs and Thermal Village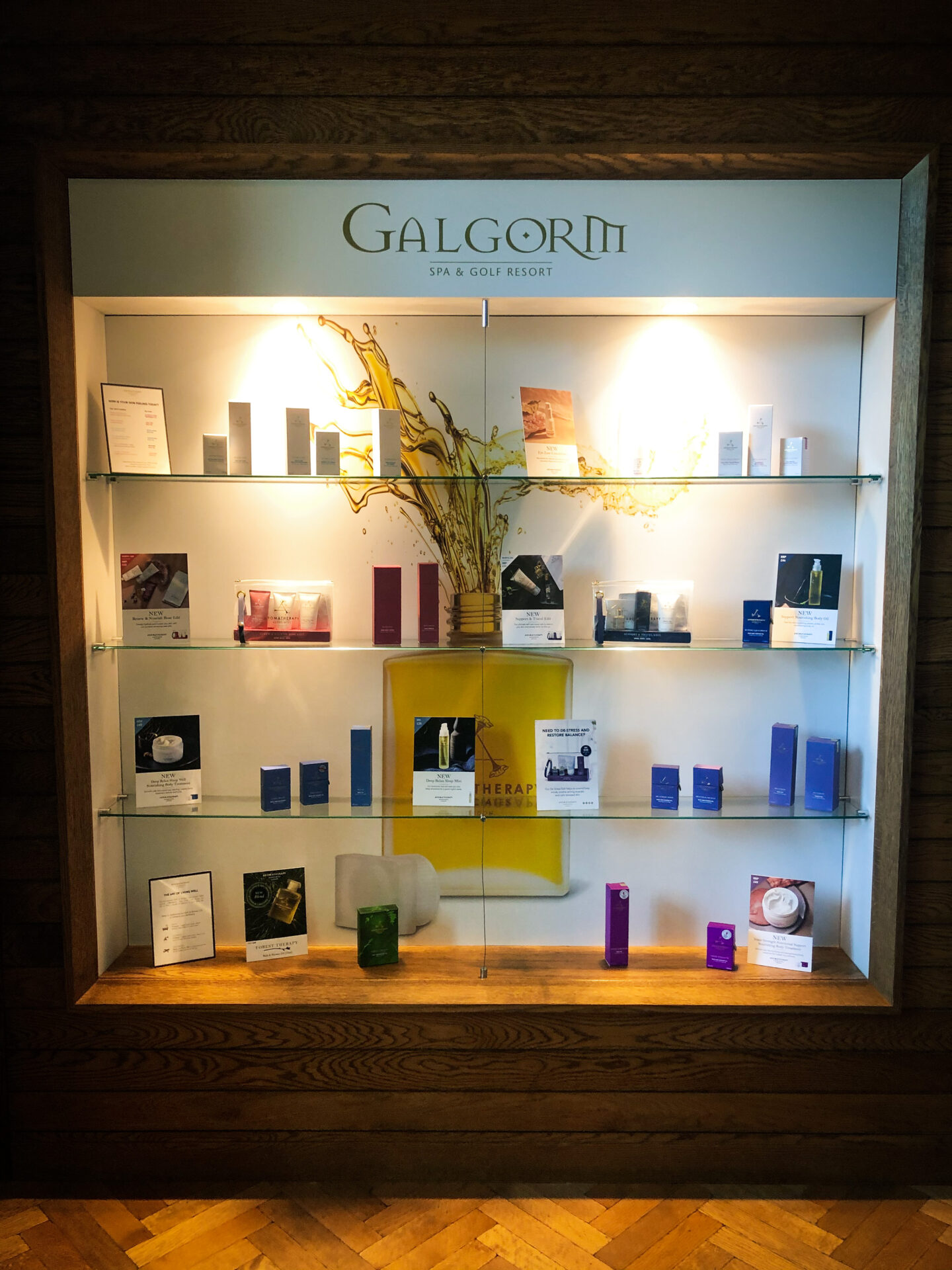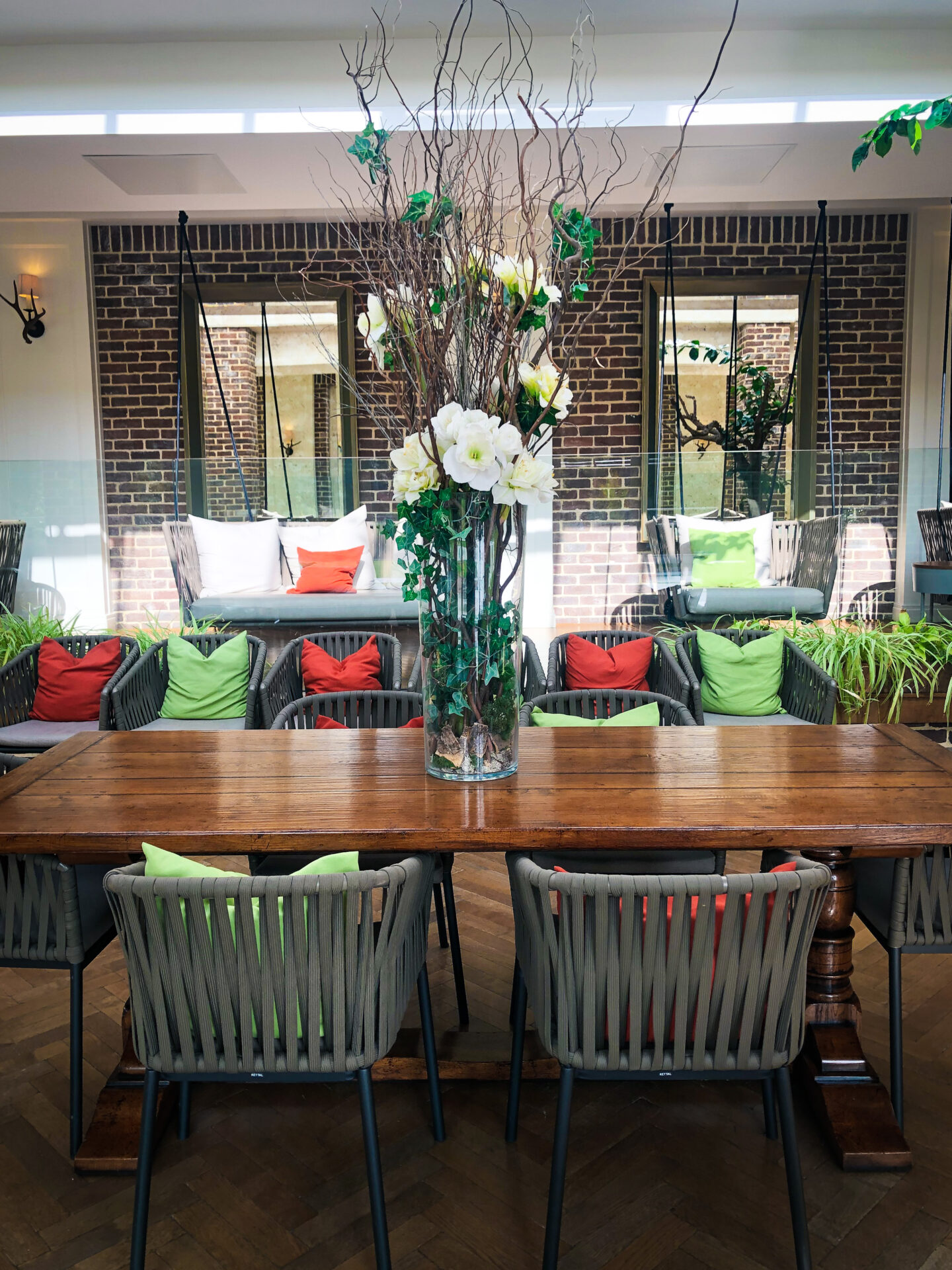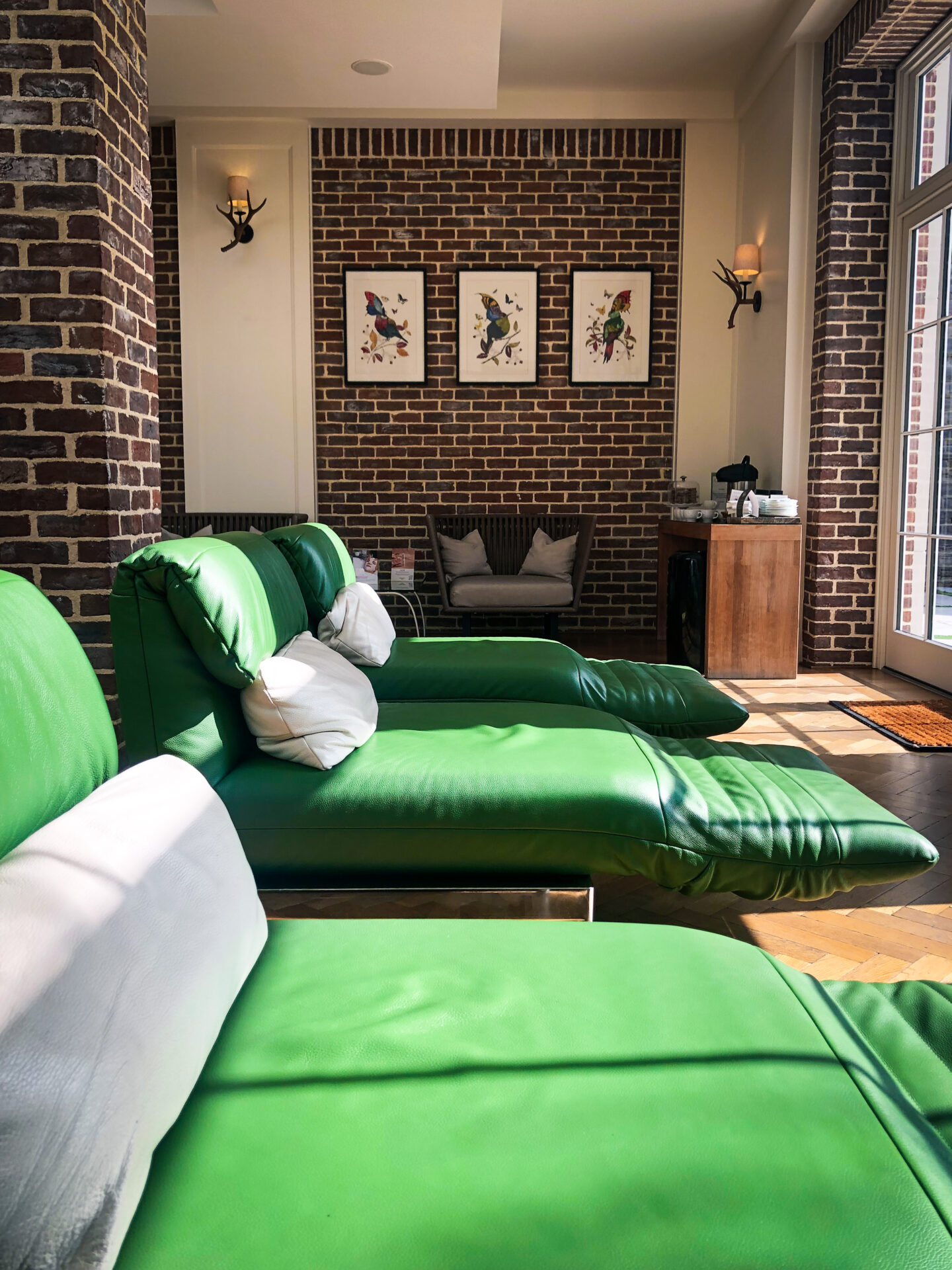 This *has* to be amongst the most premier spa-thermal village options on the island of Ireland. Monart, who? At Galgorm, the Thermal Village is actually mostly outside, set expansively hugging and around the River Maine and mixing jacuzzi and pools with little steam room and sauna pods, heated lounger areas, bars and cafes. It's been beautifully done (and there's plans to extend it, we believe) and it really feels like an escape and an outdoor adventure that you could spend all day in. Note: your room rate/type will dictate if you can continue to use the Thermal Village facility on the day of check-out or not.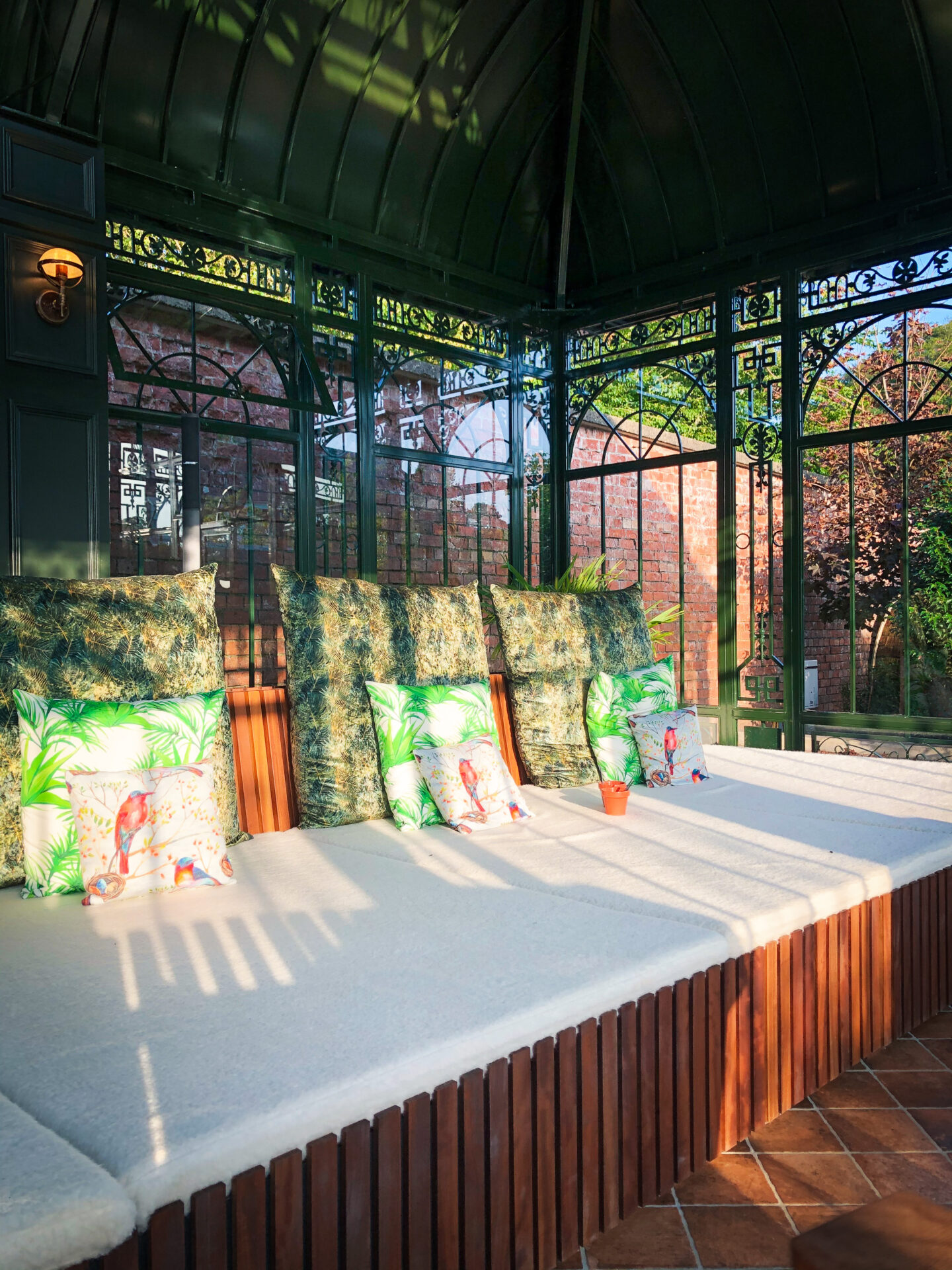 From the spa reception on floor 1, you go opposite directions, either left into the treatment area or right into the spa and thermal village. Through the lavishly-decorated changing rooms (even the men's one was stunningly set up) you emerge the other side into the main indoor pool and heated seat area with a large steam room towards the back. Then, from here you'll be outside most of the time. Peak time is around 3-6pm daily, understandable as that's right after many check-in so people generally make a bee-line straight for the Village.
Our advice, keep exploring until you can't go any further. The way this Thermal Village is set up there are lots of different nooks to nestle in and you might not easily find them all, so keep exploring and definitely consult the map on their app to make sure you've crossed off everything they offer.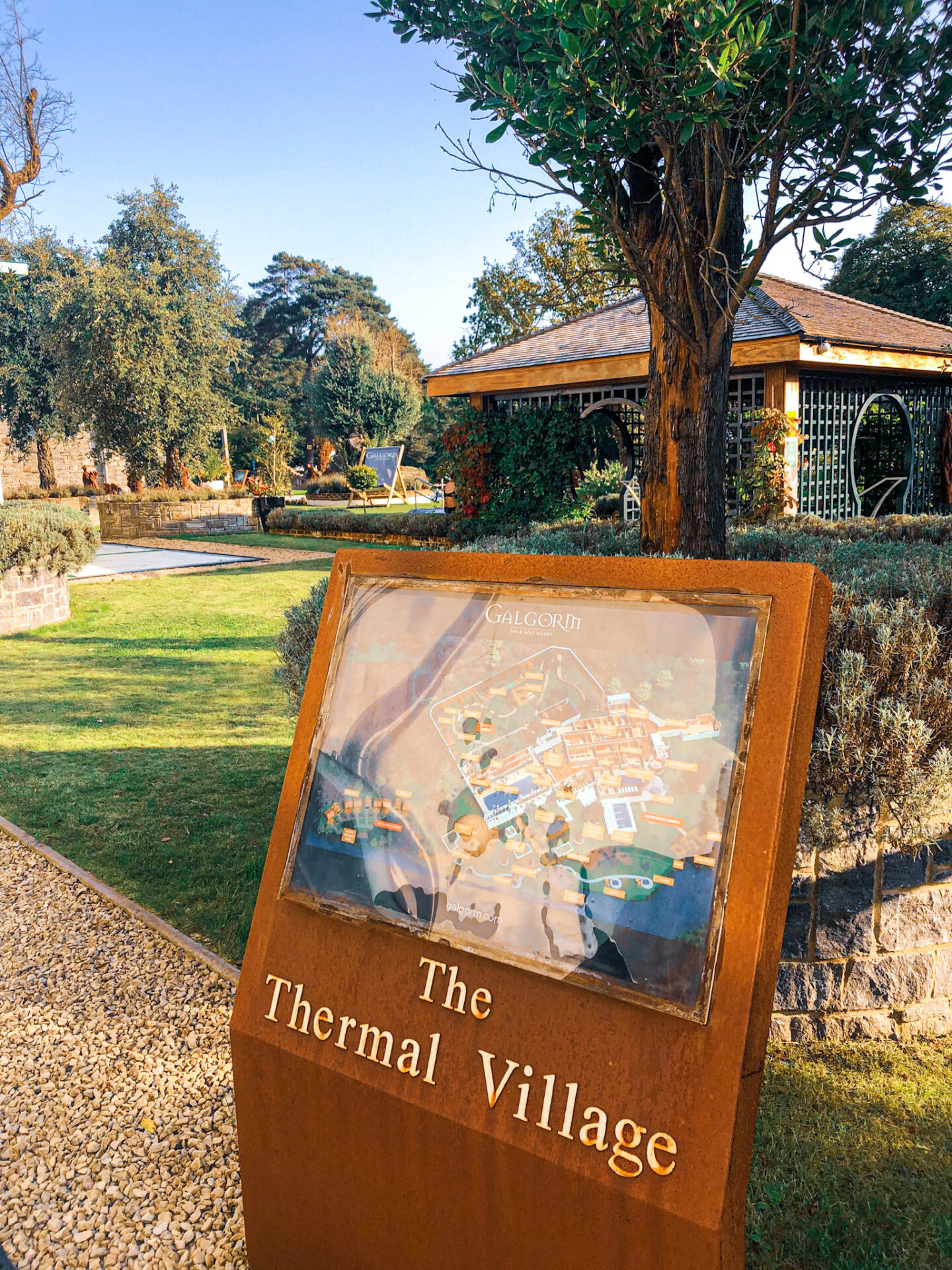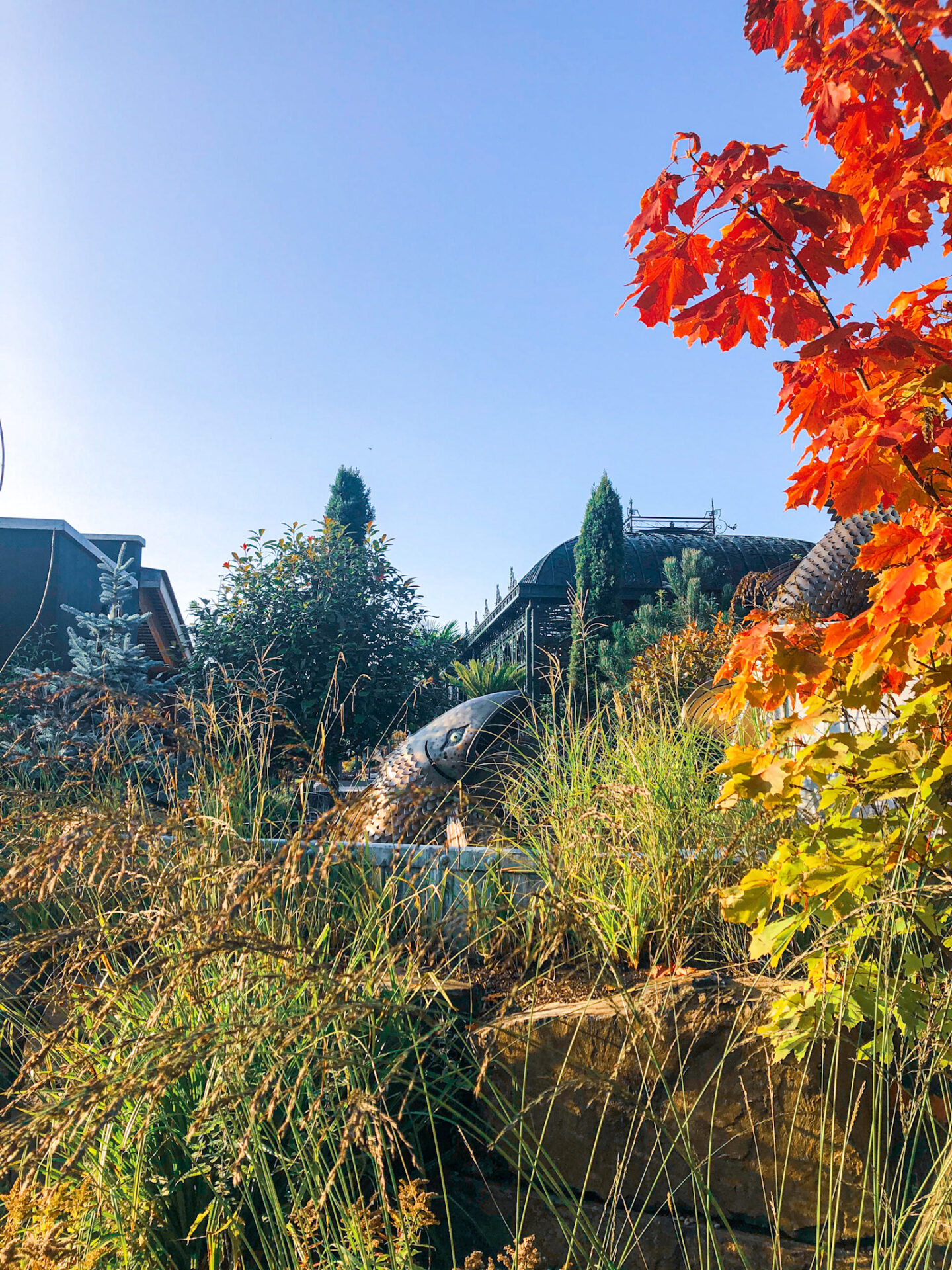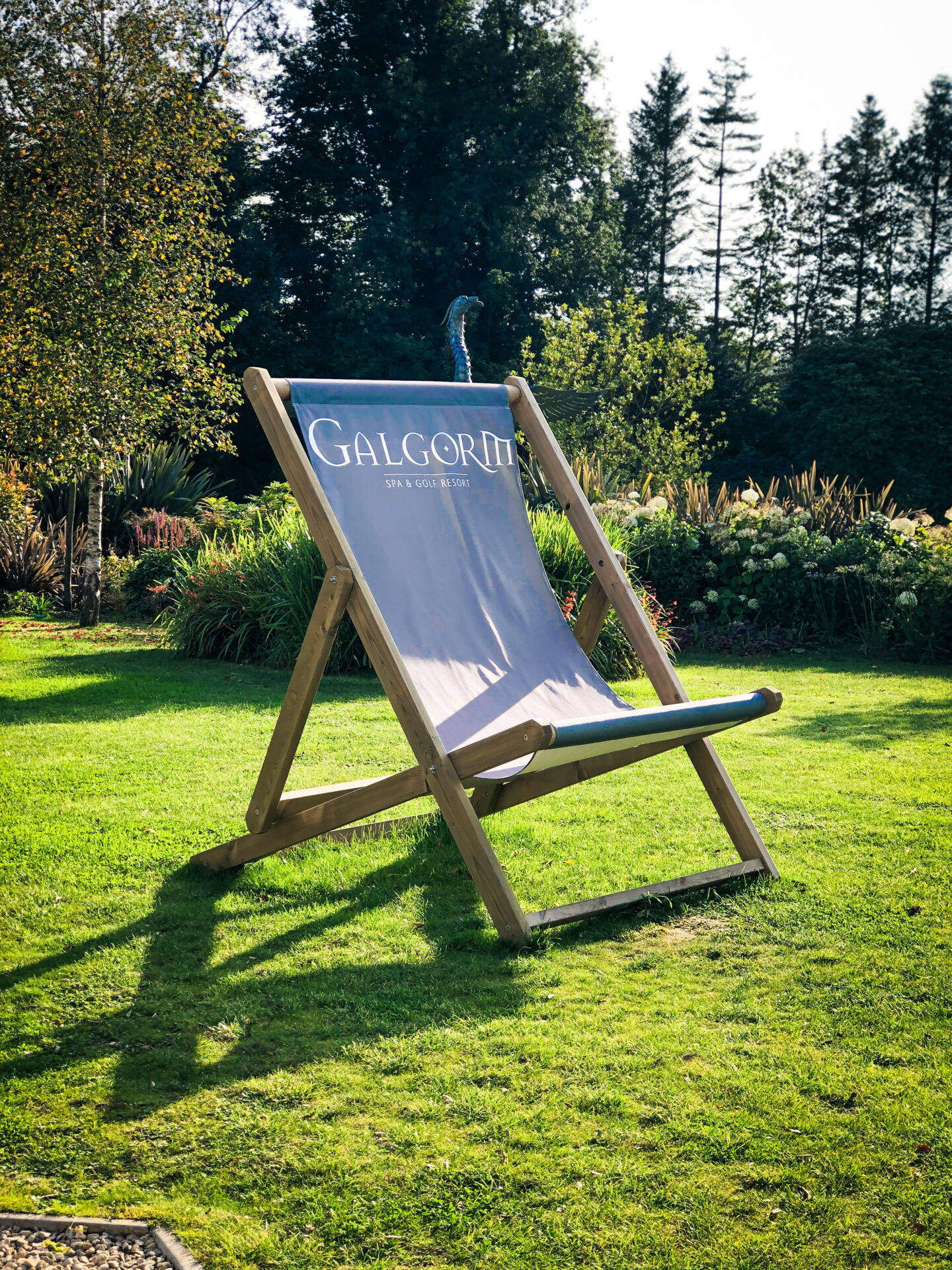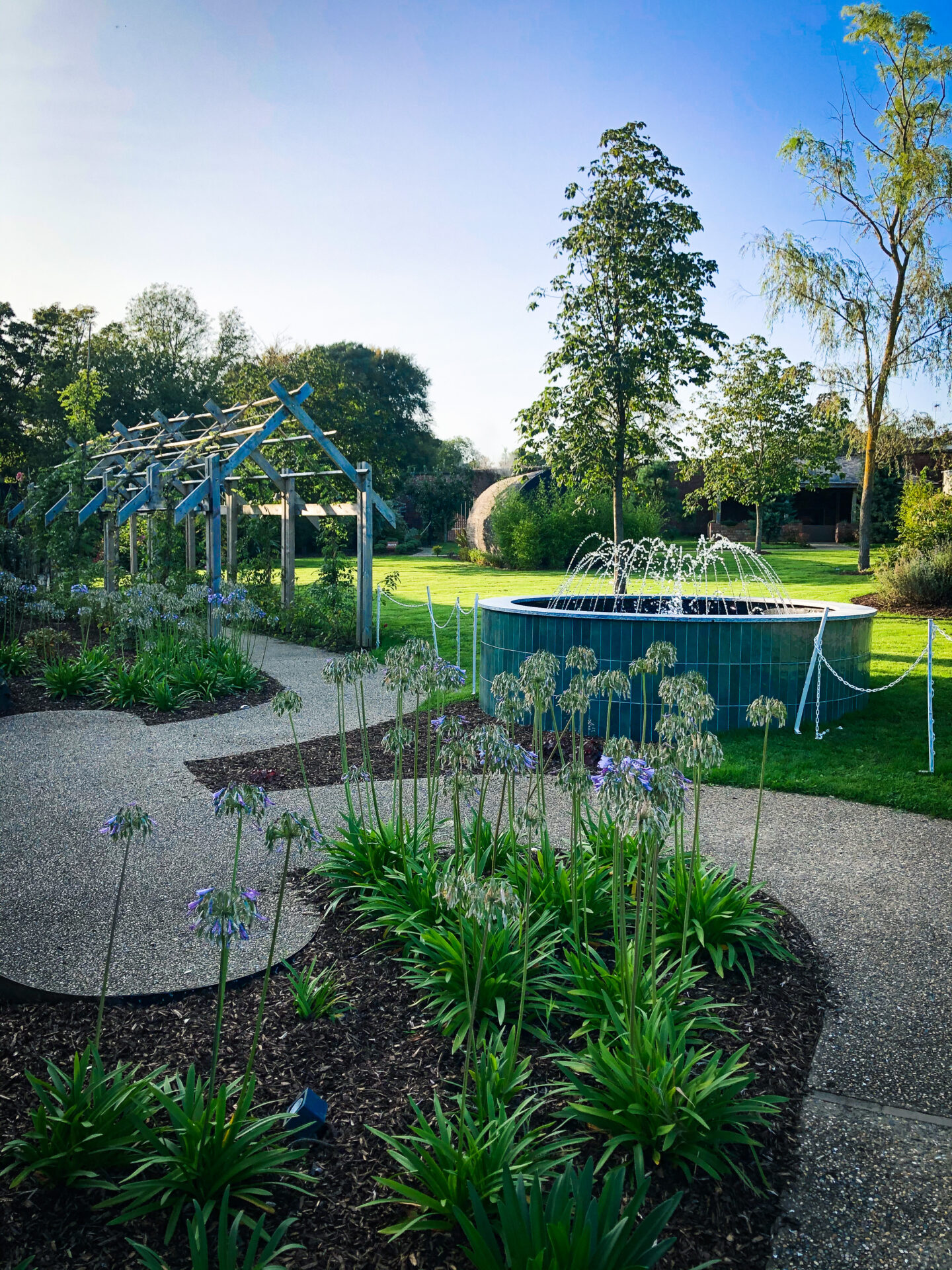 The Alpine Area was one of our favourite spots as it seemed much quieter and had little Scandinavian sauna pods and wooden cabanas where you could lounge, charge up your phone, read a book or even take a snooze. These came complete with heater, lights and even a little curtain for privacy, as well as two deck chairs.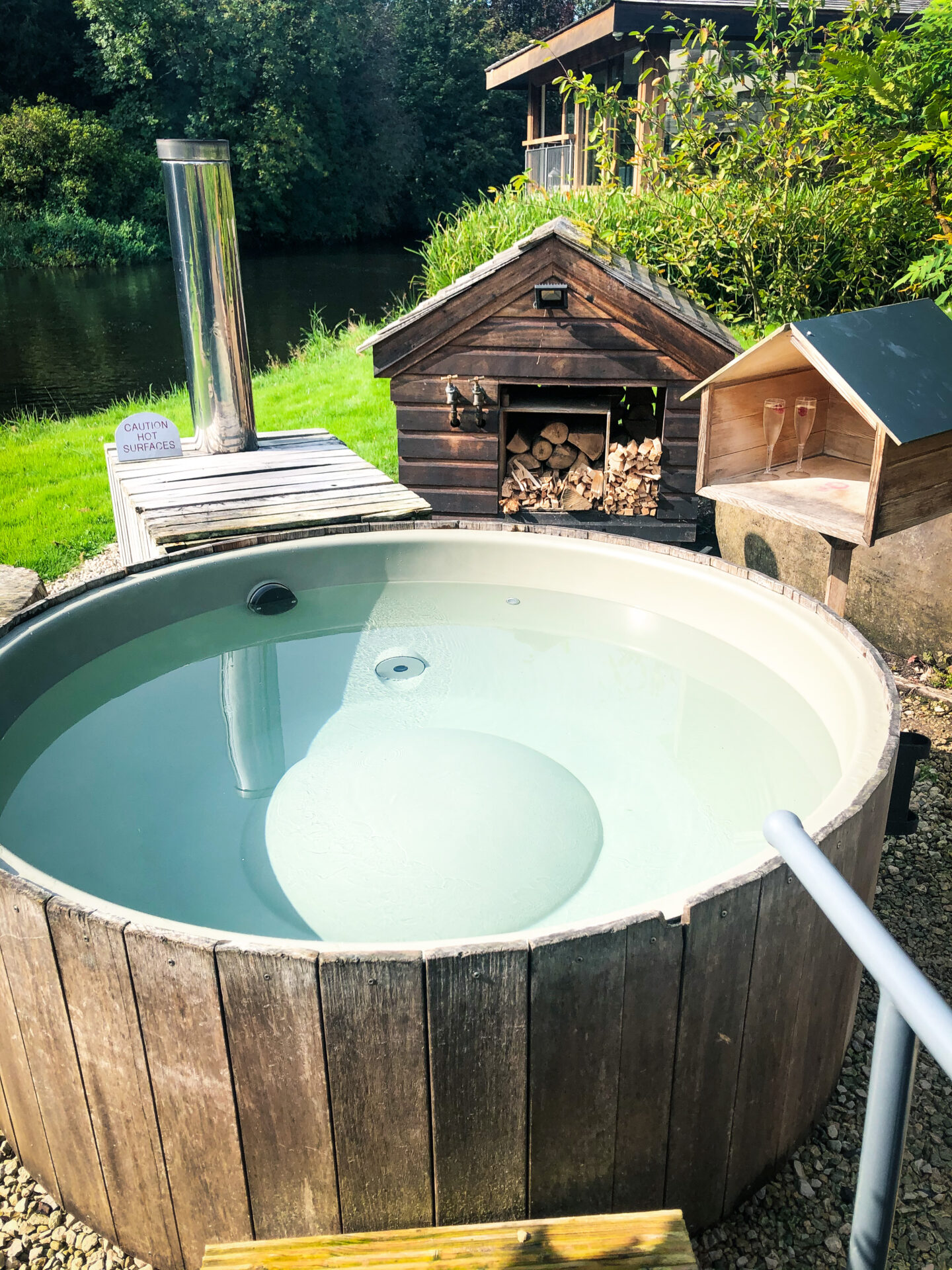 There are a number of private hot tubs dotted along the riverside, prettily surrounded by greenery where guests can book one of the Riverside Bathing Experience tubs for an hour for a leisurely, peaceful and secluded experience. The smell of smoke of the wood-burning heater as you arrive to one of these hidden areas is delicious, whilst each one feels very separate and each boasts a pretty view looking out over the river.
As we visited during the Covid-19 pandemic we didn't feel too happy sharing bathing spaces with other guests in close proximity so when we heard that this was an option, albeit at a premium, we definitely wanted to check it out. The cost for one hour per couple, including a glass of Prosecco, is £60 which we think is very steep, and probably wouldn't pay again, in hindsight. It's wonderfully rustic and romantic, but the novelty does wear off after about 15 minutes and in these particular hot tubs there's not the option to jump between the hot tub and an adjoining seating area.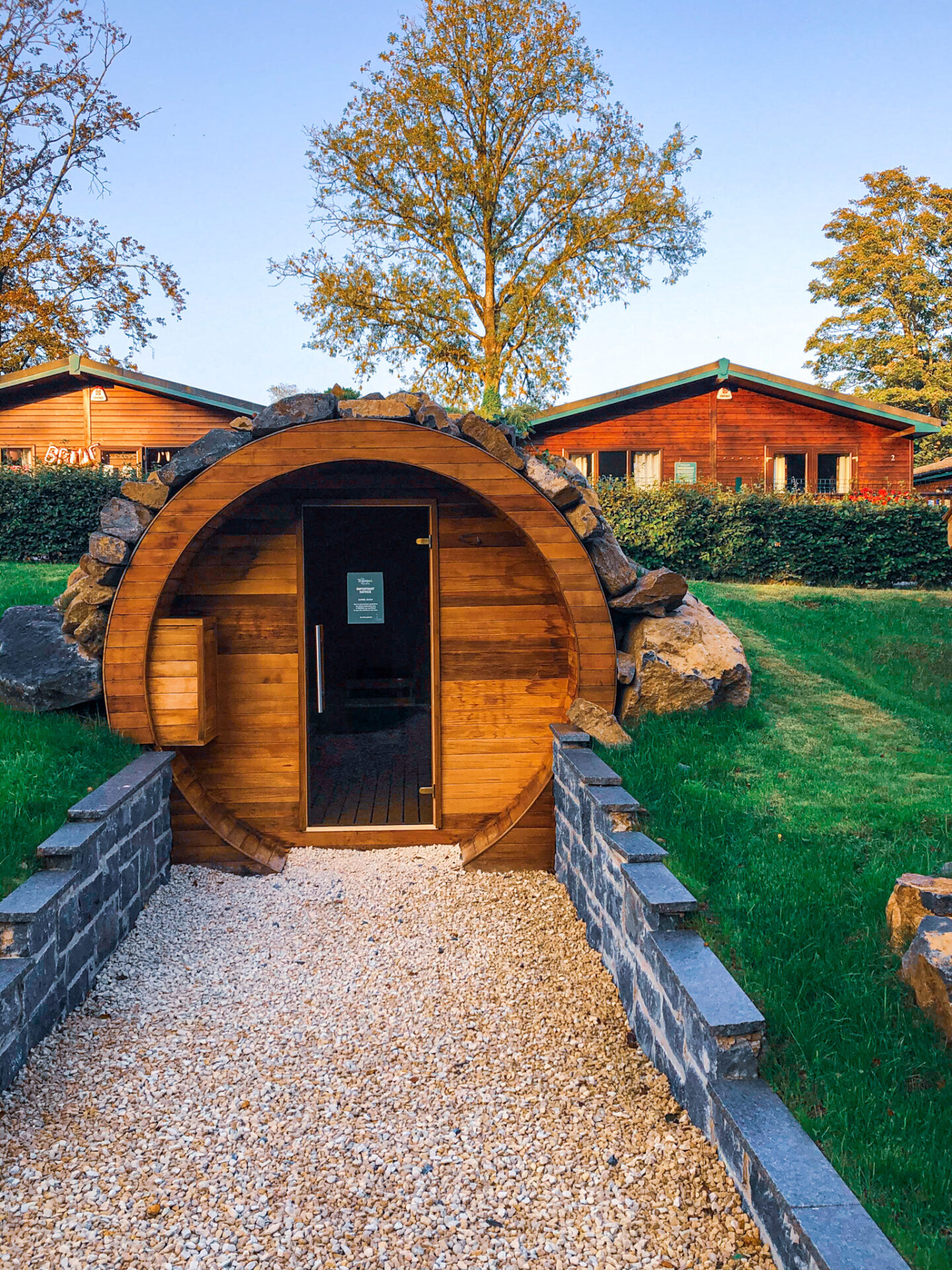 That option is even higher priced again with the 'Serenity Bathing' experiences. Set up towards the northern point of the Thermal Village by the little apple orchard are private wood cabins with heated bed seats and a private tub infused with your choice of Aromatherapy Associates bath oils. The downside of these is no river view. The website is pretty sneaky by not disclosing the prices of both of these, but the Riverside was £60 and we think we heard the Serenity is around £80-£100. You can also get a package that includes lunch per person, too.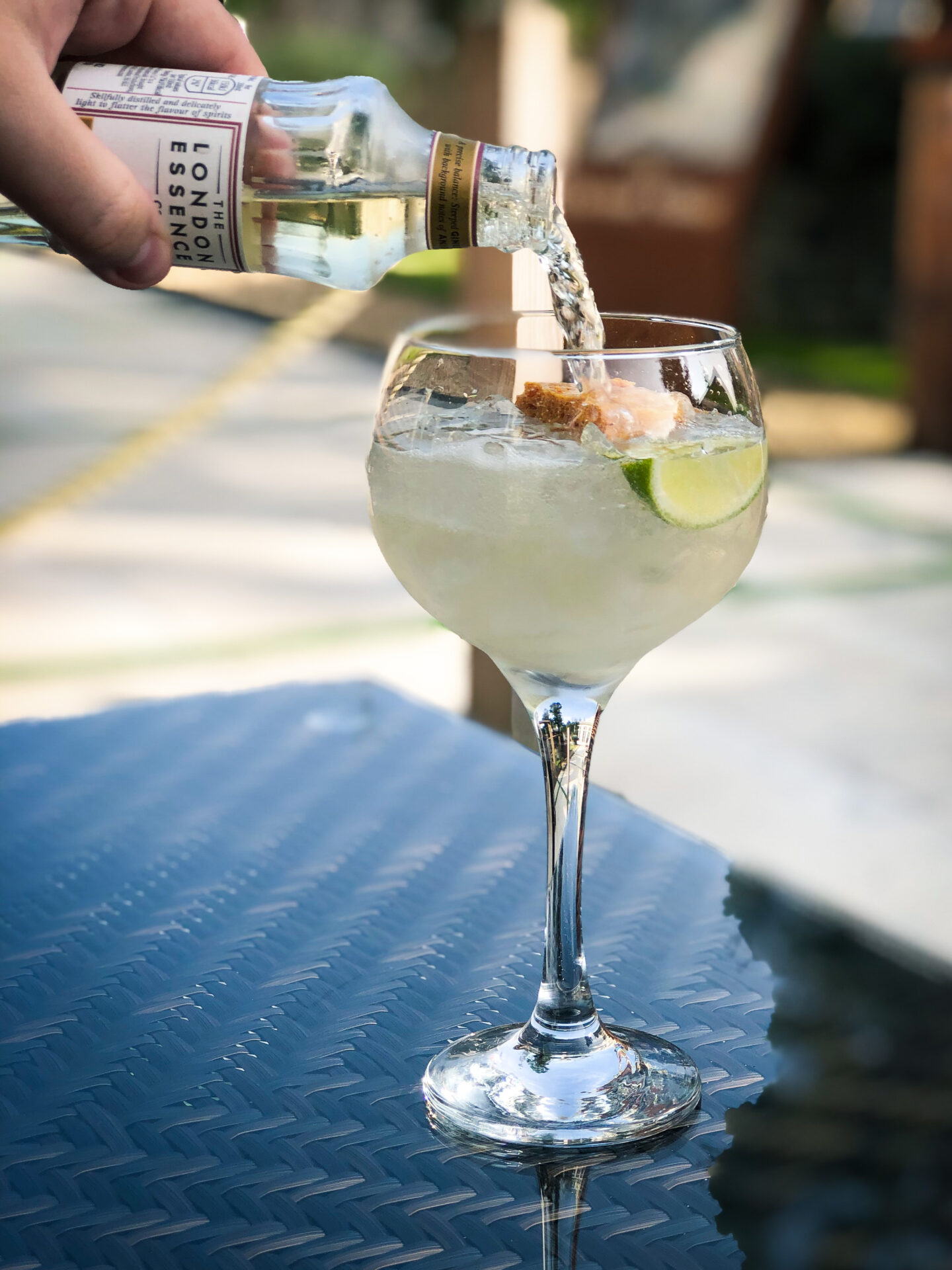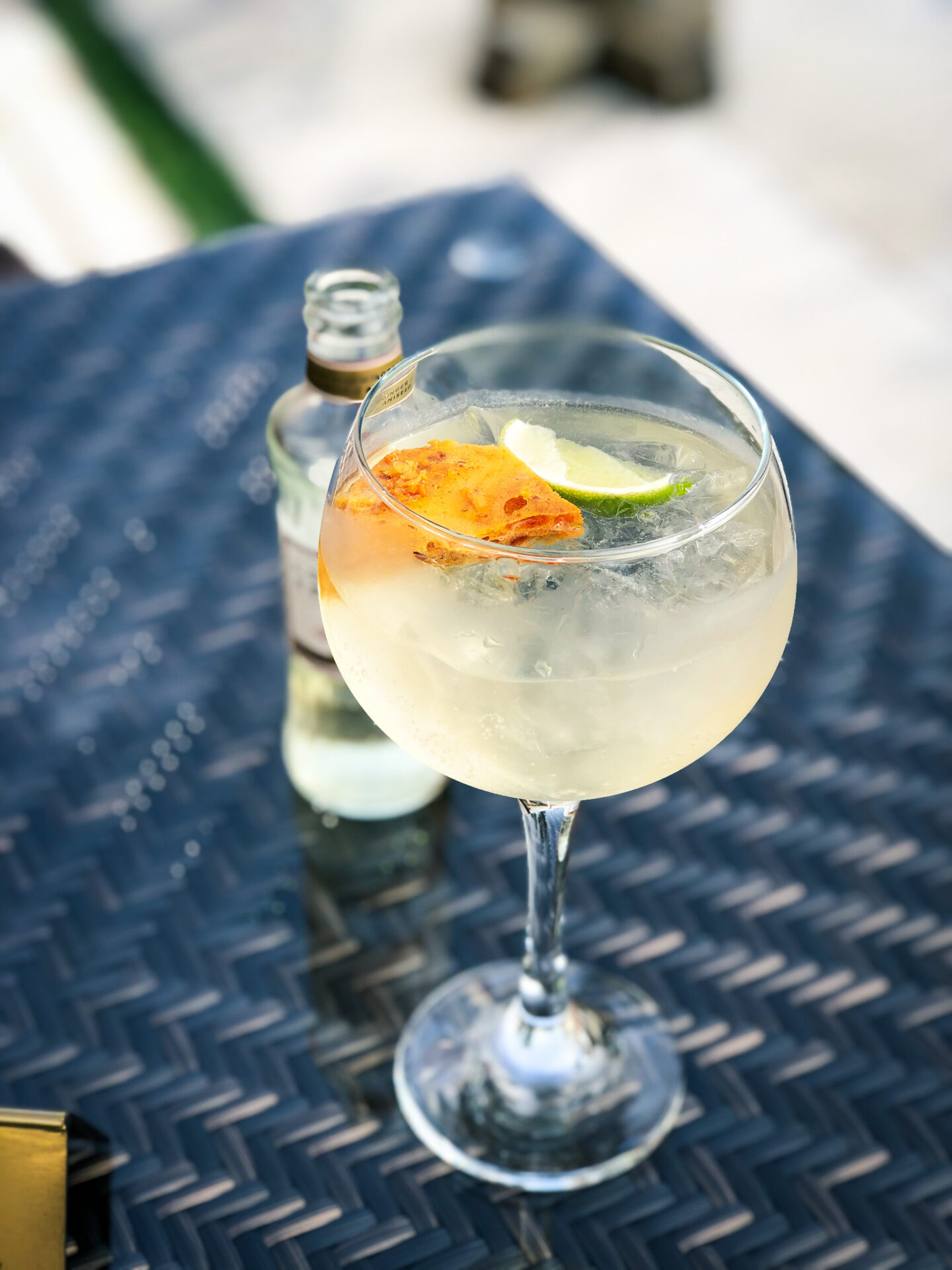 Lunch at the Elements cafe is nice, if – again – a little pricier than we would like. Each cocktail or gin serve is in the £11.50/£12.50 price bracket, as standard, and we opted for one of our favourite local gins with lunch: Jawbox, served with fresh honeycomb, lime and ginger ale (rather than tonic). The food offering is light in style and centres around salads and bento boxes. We went for two of the latter, the Teriyaki Salmon and Teriyaki Chicken options, which come with a little crunchy veg side salad, some chilli sauce, a fresh fruit salad and a fairly stodgy mix of pre-cooked white rice with peppers and peas stirred through it. A nice idea, not particularly executed amazingly, and at £15.50 per box it's definitely expensive, but it's really the only option for eats whilst you're in the Village.
In terms of treatments, the spa is set on the other side of the village secluded within the hotel building. A short maze of hallways delivers you to the treatment centre reception, where before your booked experience you'll fill out their medical questionnaire which was one of the most expansive we've had, in a good way. It covered everything from minor to major health requirements, and even gave a chance to green light the level of pressure you wanted in a treatment and also whether you'd like the treatment to be just background noise or if you'd be happy to have some conversation throughout.
We were booked in for the Taste of Galgorm experience (note: complimentary) and it entailed a 90-minute treatment with elements of the best of what they offer –– back message, hand and arm, leg and pressure point foot, hair conditioning and nourishment as well as a no-touch facial using Dermalux LED technology. You'll consult with your therapist before beginning on any health issues and how you'd like to feel afterwards, choosing your particular aromatherapy oils. We both really enjoyed it and for a pair who don't get to a spa very often, we relish any opportunity. The 90 minutes flew by and we both emerged incredibly relaxed. The price is £120pp on weekdays and £125pp on weekends.
What we *will* say about the prices is that, if you're travelling from the ROI to NI and possibly booking a stay at Galgorm with all the bells and whistles, check the exchange rate as, as it rises and falls, it can represent good value for those who use € when the two currencies are near-parity.
The River Room: Fine Dining at Galgorm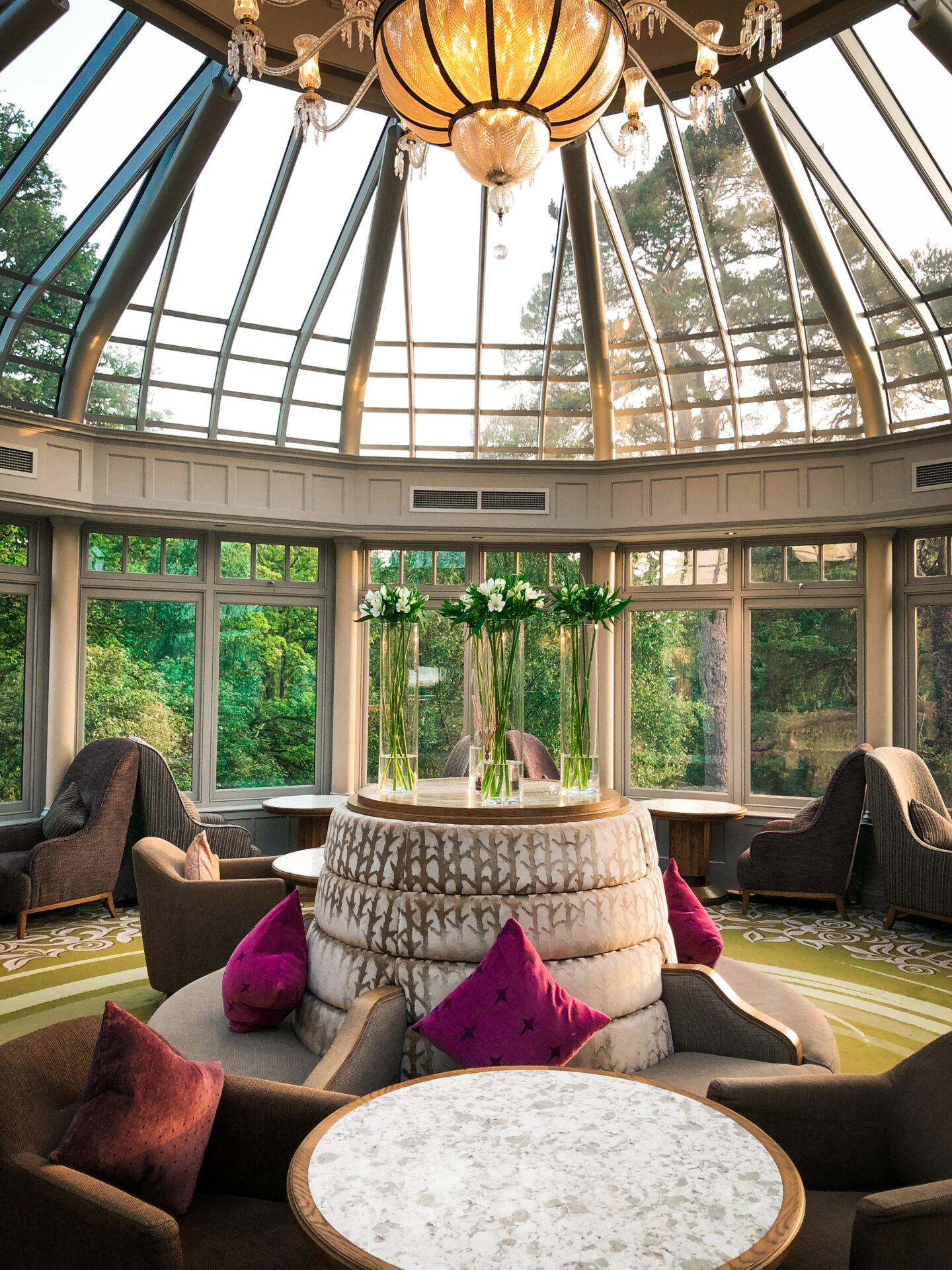 The River Room at Galgorm Resort & Spa is the fine dining option and is set around this beautiful oval-shaped room, all opulently styled with restraint in the table stylings and really encouraging guests to focus on what's on the plate whilst enjoying the verdant views outside. The restaurant continues down a couple of steps to another level. The menu is a set tasting menu that celebrates local producers and seasonal flavours. Think: whatever is freshest, at its peak, growing with abundance or just landed, and you've got it in one.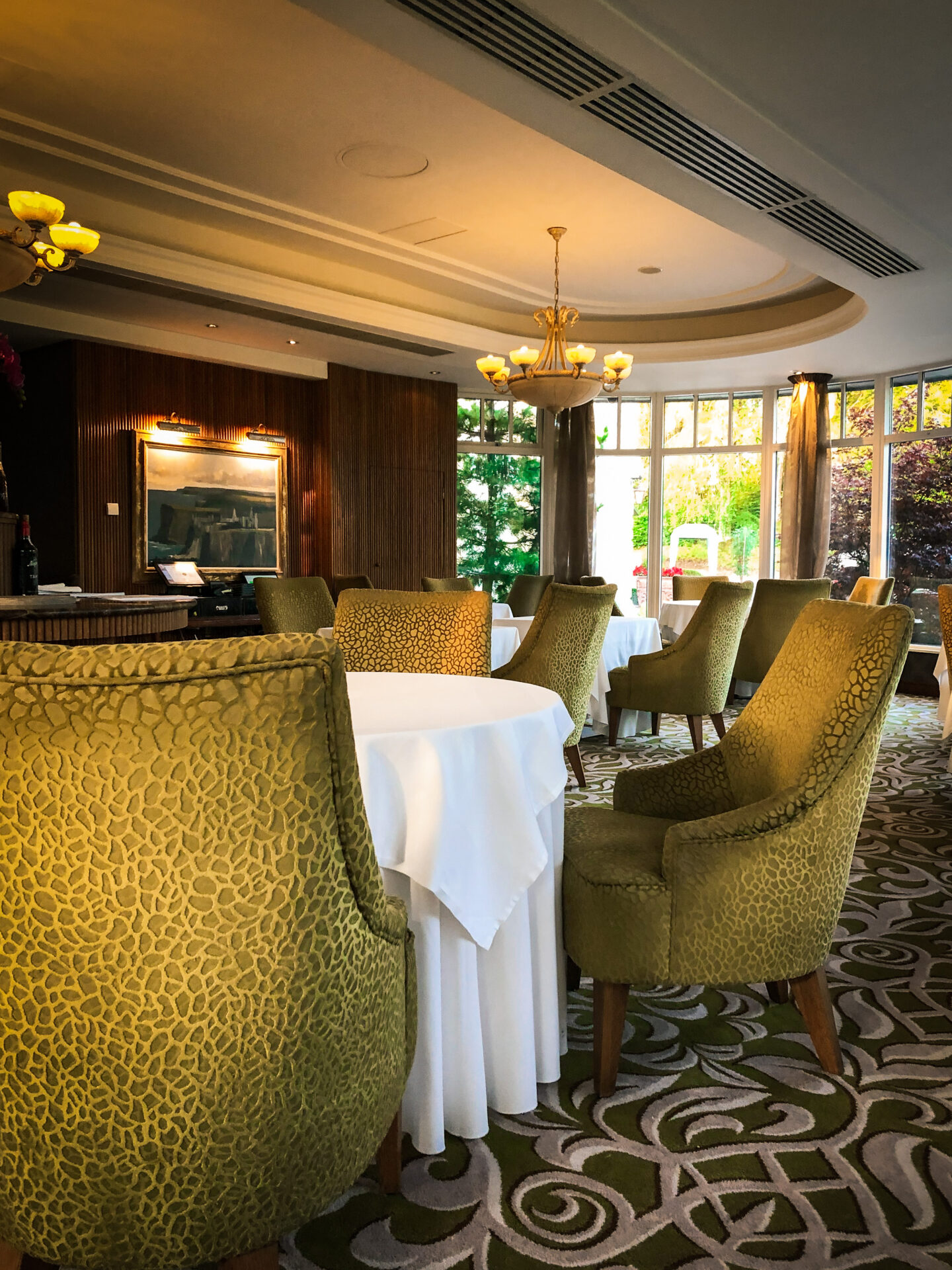 Chris Rees is the resort's Executive Head Chef, who ties experience both in-house (previously rising from sous to head chef under ten years ago) and externally, with four years service in Belfast's Michelin-starred OX restaurant under his belt. He's an experimental chef when it comes to flavours but refined and elegant when it comes to plating, whilst his passion for pointing out stellar local produce shines through. The River Room has also been awarded 3 AA Rosettes. The two set menus cost as follows: meat menu £70pp and vegetarian £65pp. We chose one of each so we could get all the options.
We started with a glass of Laurent Perrier Champagne –– we usually go for Crémant instead (a personal thing, we prefer it to Champagne) but was only available by the bottle. The wine list, actually, is very extensive –– spread over three large pages of a menu (with a whole other separate 'Sparkling Menu' available on request!) there are lots of interesting bottles here at great value price points. The wine flight is £35pp and we opted for that as the choice to pick one bottle was so huge. The flight allows diners to enjoy 4-5 paired glasses to the different dishes throughout the tasting. If you take into account the set menu prices, it's roughly £100 per person for either tasting menu and the flight.
The dishes we had when we dined included Kilkeel crab, St. Tola goat's cheese, foie gras, halibut, mushroom ravioli, Antrim beef with black garlic, spelt risotto and both desserts the same being warm almond cake with blackberries, lemon curd and rosemary, followed by coffee and petit fours. All in all, bold flavours in refined and clean combinations and what's nice was that the wine pairing wasn't necessarily the same for the courses of the different set menus, sometimes it was, so it wasn't just a case of pairing a wine to a starter or a main it was proof the sommelier team had really thought about the flavours of each dish and chosen wines appropriately.
In terms of other dining options you also have the more casual Gillies Grill and the Italian restaurant Fratelli Ristorante within the property. As it was so busy when we stayed we tried to book a table at either on a second night and they had no availability, so would advise to book in to any of the dining options upon check-in.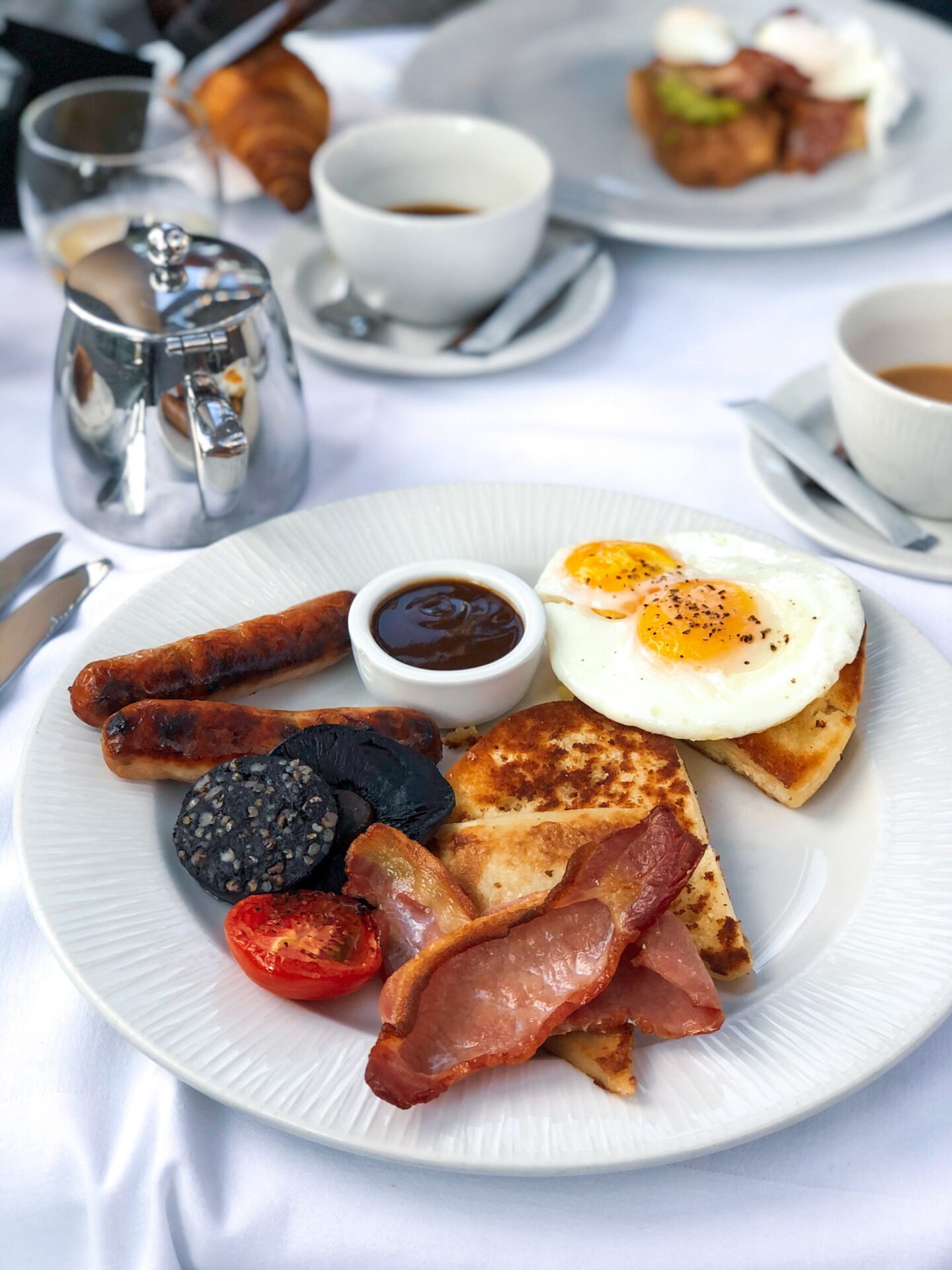 Breakfast is also served in the River Room and formal bar area, and is wonderful. Now, we'll get to the room!
If you're already considering book a stay at Galgorm Resort and Spa (#AF) we'd love if you'd consider booking via our partner link, we earn a tiny % commission for each booking!
We were set on the fifth floor in a very spacious 'deluxe' room that had a comfortable king-size bed, an expansive bathroom with shower and batch and view over the River Maine and the Thermal Village. There are some suites and more premium rooms who also boast a balcony or several rooms, but we didn't have one of those. The room we stayed in was spacious, comfortable and impeccably clean –– couldn't ask for more but nothing especially 'wow' to report, either.
As mentioned we stayed during the Covid-19 pandemic and in lieu of a turndown service a little box is left at the door each night or instead of daily cleaning you can request a "stay over box" with fresh robes, towels, toilet paper, toiletries, mini bar refills and other in-room essentials. *whisper* the mini bar is also complimentary!
The Gin Library at Galgorm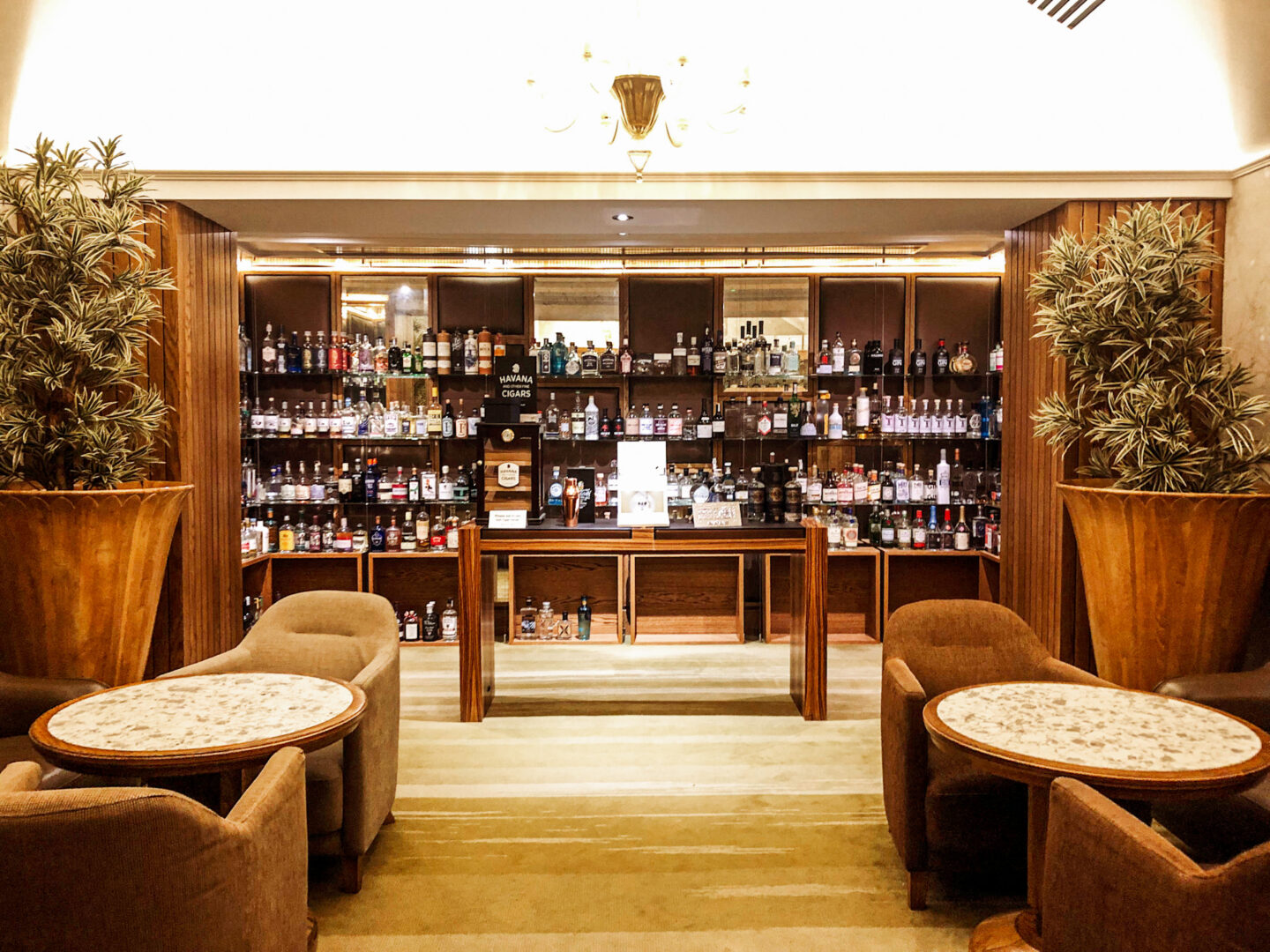 Now you know us pair love a gin –– we often dedicate the whole month of post-Christmas slump that is January to 'Ginuary', a month-long celebration of all things gin distilling. So of course Galgorm has always piqued our interest for one aspect alone: the Gin Library. Boasting over 500 expressions of the clear spirit, it's the biggest gin collection on the island of Ireland and keeps on growing!
Ryan McInerney, the Gin Library manager, is a fount of knowledge of all things gin and has an encyclopaedic knowledge of the collection and which gin is best served in which style or cocktail. We had to delve into their selection of Aussie-made Four Pillars (which is hard to find in this part of the world) as well as a dirty martini with one of our favourite Scandi gins, Hernö. There's a daily gin tasting held at 6:30pm where you can learn more about gins and try their serve of the day, we believe it's around £30pp.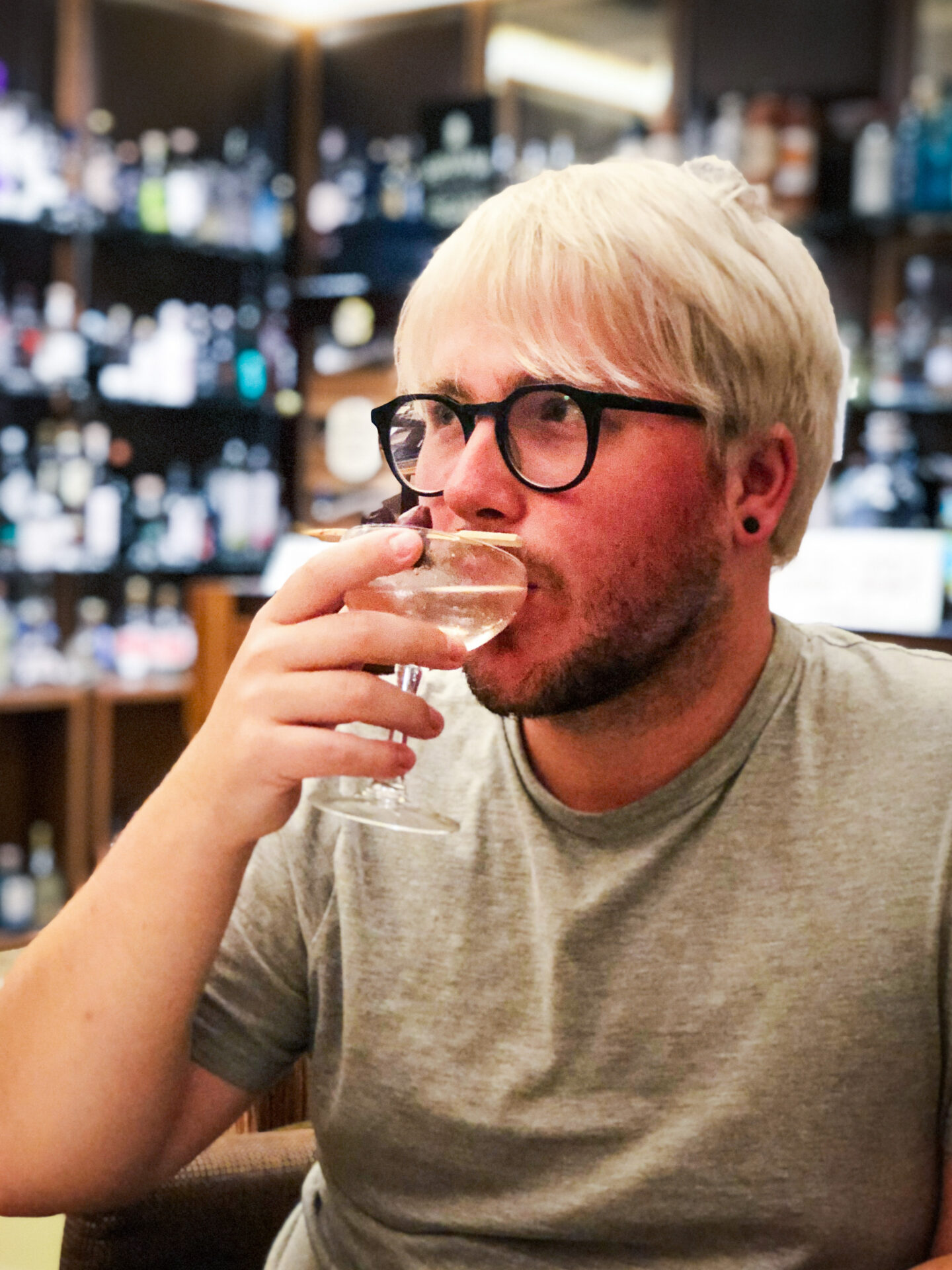 As mentioned at the start, we felt for a while that just how it kept working out, Galgorm and us wasn't ever going to happen considering the amount of false starts, but we're so glad we finally got to experience it. Most people come for the spa treatments and thermal village, but we suggest coming for the River Room and that iconic Gin Library Bar! As good for food lovers as it is for hedonists.
Disclaimer: AD – Invite; As this is a property in the United Kingdom organised via an agency operating on their behalf in the same jurisdiction, the signalling for this complimentary, gifted stay is "AD – Invite" –– both the resort and the agency had no say over this content, no final sign-off/approval and no money changed hands from theirs to ours, in fact we paid for several additional elements directly at the resort on top of what was offered so we could report on as full an experience as we could.
If you like this content and want to support us to continue making these 100% free-to-access features, you can Buy Me A Coffee.