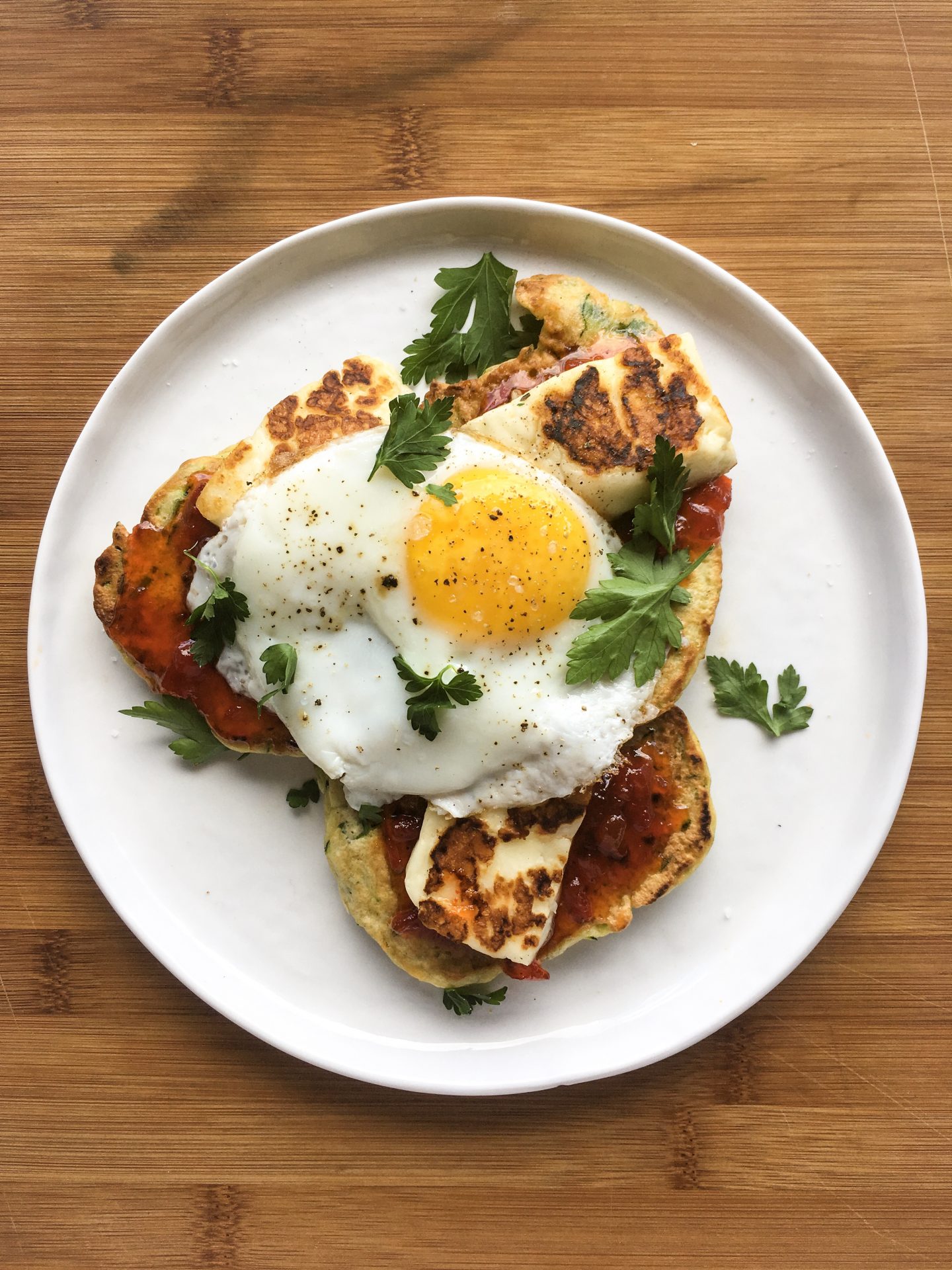 Brunch options tend to be limited to eggs, bacon, toast, pancakes, and after a while, it can be a bit dull. We've been making courgette fritters as an alternative for a while now, and they're a really quick and simple way to get some more veggies into the best meal of the day and add a different dimension to the breakfast spread. Like all good brunch dishes, these fritters are best topped with fried eggs.
1 large courgette

100g plain flour

1/2 tsp baking powder

1/4 tsp nutmeg, freshly ground if possible

2 large eggs, whisked

A handful of chopped fresh parsley and chives (optional)

A little butter or oil, to fry

Salt & pepper to season
Halloumi, sliced in 2cm slices

Store bought chilli jam (Recipe for a quick homemade one is below)

fried eggs
1. Coarsely grate the courgette into a mixing  bowl and add the flour, baking powder, herbs (optional) and seasoning along with the whisked eggs. Slacken the mixture if necessary with a little water or milk.
2. Stir everything to combine until it's thick dropping consistency as you heat 1 tsp of butter and a little drizzle of vegetable oil in a frying pan over a medium-high heat. Dollop spoonfuls of the batter into the melted butter and flatten slightly.
3. Allow to cook for two minutes or so before flipping – the fritters will go a gorgeous golden colour and be firm and crisp but still soft and almost bouncy in the middle.
4. Take off and allow to sit on some kitchen paper whilst you cook the rest. This recipe makes six fritters
5. In the meantime, figure out what you're going to have with your fritters. Think of them like pancakes, lots of toppings will work. Grill some bacon and fry some slices of black pudding; make a quick hollandaise sauce to pour over poached eggs; or as we're doing, cut some halloumi into thick slices and place on a dry frying pan for about a minute on each side, searing until golden and tiger-striped. Dollop some chilli jam on the fritters, and top with the halloumi slices, a fried egg and a scattering of more herbs.
Simple & Quick Chilli Jam
Makes about 300g
6 medium red chillis, roughly chopped, including the seeds

2 cloves of garlic, chopped

thumb size piece fresh ginger, sliced and peeled

4 medium tomatoes, roughly chopped

125ml white wine vinegar

110g sugar

1/4 ground cloves

1/4 teaspoon ground nutmeg

2 tablespoons soy sauce

pinch of sea salt
1. Combine the chillis, garlic and ginger in a food processor.
2. Place in a saucepan with the tomatoes, vinegar and sugar, spices and soy sauce and bring to a boil over a high heat. Then reduce the heat down and cook for about 45-50 minutes, by which time the mixture will go shiny and sticky. Stir it occasionally, and if it's drying up too much, add a few drops of water, and regulate the temperature. Add seasoning.
3. Transfer to a sterilised jar, seal up and allow to cool before using. Store in fridge for up to 3 weeks.