An ode to bakeries and a passion for plumptious plums.
That's plump + scrumptious, btw.
Let's have a moment of appreciation for plums. We feel they don't quite get the appreciation they deserve. Similar to other stoned fruits, they're considered messy to eat on their own, leaving a slimy, wet goo around the mouth and a damp stone needing to be discarded. But when cooked, magical things happen.

As seen on TV3's Six O'Clock Show (December 2016)
Tough plums are a tried-and-tested Tinder match for wintery, mulled spices such as cinnamon, star anise, nutmeg, and so forth. They all work in such harmony together, you'll wonder why they ever needed to look elsewhere for love. Softening the heart of the plums, they leach out their sweet juice, maintain their shape for the most part and then hand over seamlessly their cold, hard stone within. A fairytale ending, eh?
This recipe is as much at home at the breakfast table as it is in the dessert bowl. It's pretty hefty on the sugar front, so definitely worthy for a rare treat-me brunch at the weekends.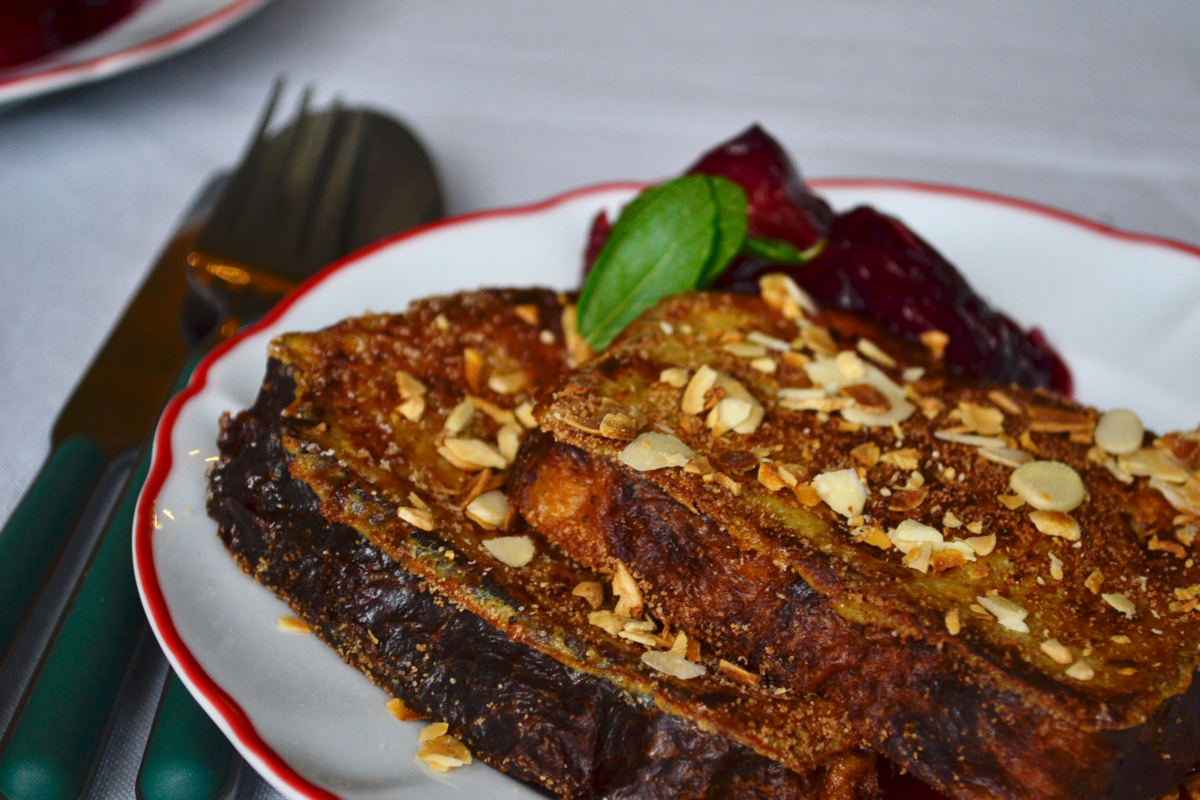 We're blessed that where we live there's a number of fantastic bakeries, including Blackbird, and fantastic independent retailers who support them, such as General Store in Peckham (where we bought it) gets a daily delivery  of fresh breads from Little Bird Pedlar, a small bakery which delivers produce by bike every day. One of Pedlar's insanely tasty creations is their butter loaf, similar in texture to a croissant, with a dark crust and a rich buttery, brioche-like crumb. We've seen similar beauties at Yeast Bakery near Broadway Market/Netil Market. Though to be honest, any good quality brioche loaf (not pre-sliced) will do!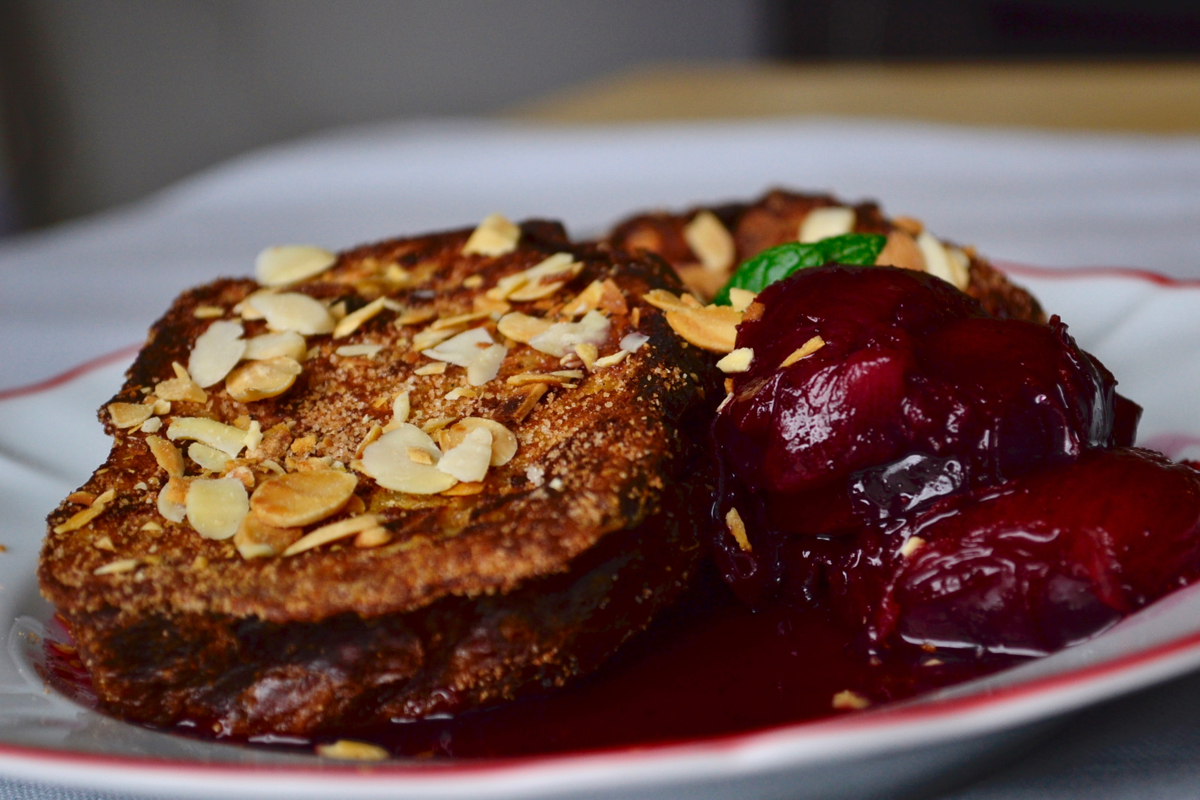 Winter Spiced French Toast
For four, but a pair of greedies like us can polish off the lot!
For the plums
400g plums, some in half, some in quarters
2 tbsp crème de cassis
half a stick of cinnamon
two star anise
1 tsp of ground cardamom, freshly shelled always best
1 tsp ground cinnamon
For the French Toast
1 loaf butter loaf/croissant loaf/brioche. Sliced thickly
3 large free range eggs
60ml full fat milk
2tsp vanilla extract
1 tsb Speculoos spices (Cinnamon will do too)
30g butter and a drop of oil for frying
50g caster sugar mixed with 2 tsp cinnamon
Flaked almonds, toasted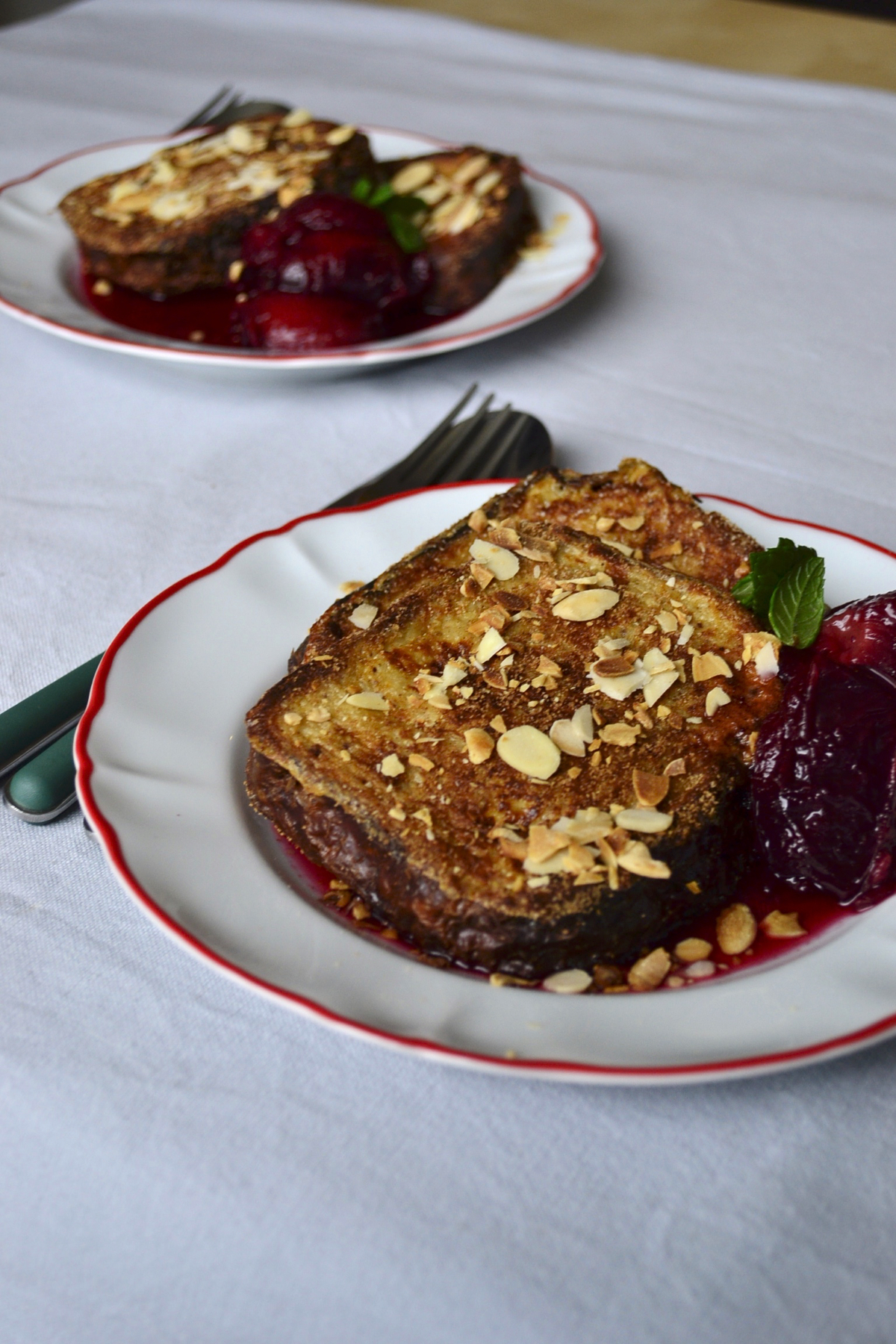 1. You can prepare the day before by stewing the fruit, however there's something more comforting about having fresh, warm plums here.
2. Halve and quarter the punnet of plums, the size difference is nice here as some will retain their shape and others will begin to break down offering a difference of texture. Keep the stones in when cutting – they're far easier to remove once cooked as they literally slip out when gently coaxed.
3. Cover the fruit and spices with warm water, slosh in a little crème de cassis and heat on high until just about bubbling, then return the heat to the lowest setting and allow to stew together for 10 minutes, at which point the plums should be soft and yielding. Pop off the heat, clamp on a lid and leave to stay warm whilst you rustle up the toast.
4. Beat the eggs with the milk, vanilla extract and spices in a jug. Then pour mixture into a shallow dish, such as one used for a lasagne dish, or even a baking tray, place the slices into the eggy mix and leave to soak for about 5 minutes on each side.
5. While they're soaking up all that eggy goodness, get a dry frying pan and toss a a layer of flaked almonds on and gently turn them golden on a medium heat (keep an eye on them!) Decant into a bowl or plate until later.
6. Melt the butter on a gentle, medium heat in the same frying pan and add a splash of flavourless oil. Time now to cook the egg soaked bread. It can be very floppy, so a spatula or a fork allows easy transferring from the dish to the pan. Fry as many slices as you can comfortably fit on the pan, turning once they have become crisp and golden brown. The whole thing should take no longer than five minutes.
7. Remove and dunk into a mixture of caster sugar and cinnamon to give a bit of extra sweetness, but this is completely optional.  Repeat if you're making more.
8. Serve with the stewed plums in syrup from earlier, and scatter a handful of toasted almonds over them. A sprig of fresh mint goes extremely well with this dish, adding a touch of herby freshness to it, but is optional.
If you've got leftover plums, serve with some ice-cream and crumbled biscuits for a simple and comforting post-roast desert. Deeeeelish! Kids and teens – this is a fantastic brunch idea to make for parents on a lazy weekend, or maybe St. Stephen's Day/Boxing Day breakfast? New Year's Day would be magical with a plate like this…