One of the most simple and elegant tipples we've ever made at home; the beauty in recipes like these is that they're so damn effortless to achieve at home. There is a caveat, however: for a recipe so straightforward and basic, you really need to invest in the best produce you can.
We ran a Twitter competition a while ago with Champagne + Fromage. From the name, you will have already guessed that this deli, shop and bistro specialises in two things in particular. An unlikely pairing to some, maybe? Direct from small, artisan cheese and Champagne producers across France, Champagne + Fromage brings rustic fare and fizz to the heart of London (three branches so far– Brixton, Covent Garden and Greenwich). Providing the perfect little nooks to indulge in luxurious cheeses, creatively-topped tartines and pop a bottle of bubbly between two; we love that they've captured and recreated the atmosphere of a little French bistro in some of the most popular areas of the English capital.
Champagne + Fromage particularly specialise in Grower Champagne. We all know Champagne's pre-requisite is that it's grown in its namesake region of France, right? Well within that area, of course there's going to be extra special pockets of true craftsmen who produce exceptional, unique and varied Champagne.
Exceptionally affordable, this French fizz is made by artisan producers in small, independent vineyards resulting in a pure taste and quality reflecting the subtleties of the French terroir. Grower Champagne is what everyone should be popping as a real treat this Christmas – ahead of the growing trend for this which will definitely take off in 2016/2017.
As a thank you for helping them spread the word, we got a bottle to try ourselves and we decided to put it to good use by making this cocktail, which we insist you must try! What a perfect Christmas morning cocktail or tipple to welcome guests for a toast? The one we tried was the Michel Furdyna Carte Blanche (£29).
What can be bad about a gin and Champagne combination? Nothing! Our gin of preference is always, without a doubt, Dingle Gin, produced in the lush county of Kerry and one of the crispest, cleanest gins we've ever tasted – our drinks trolley is never short of a bottle. A relatively brand new gin on the market, Dingle represents one of only a handful of craft gins produced in Ireland (others being Shortcross from Nothern Ireland and Blackwater in Waterford in the south east). Ireland is having something of a renaissance with the white spirit and business is booming on our home island as locals and visitors further discover vodka and gin produced in Éirinn. In this cocktail, the Dingle Gin stands up to the delicateness of the grower Champagne in a really beautiful but still subtle way.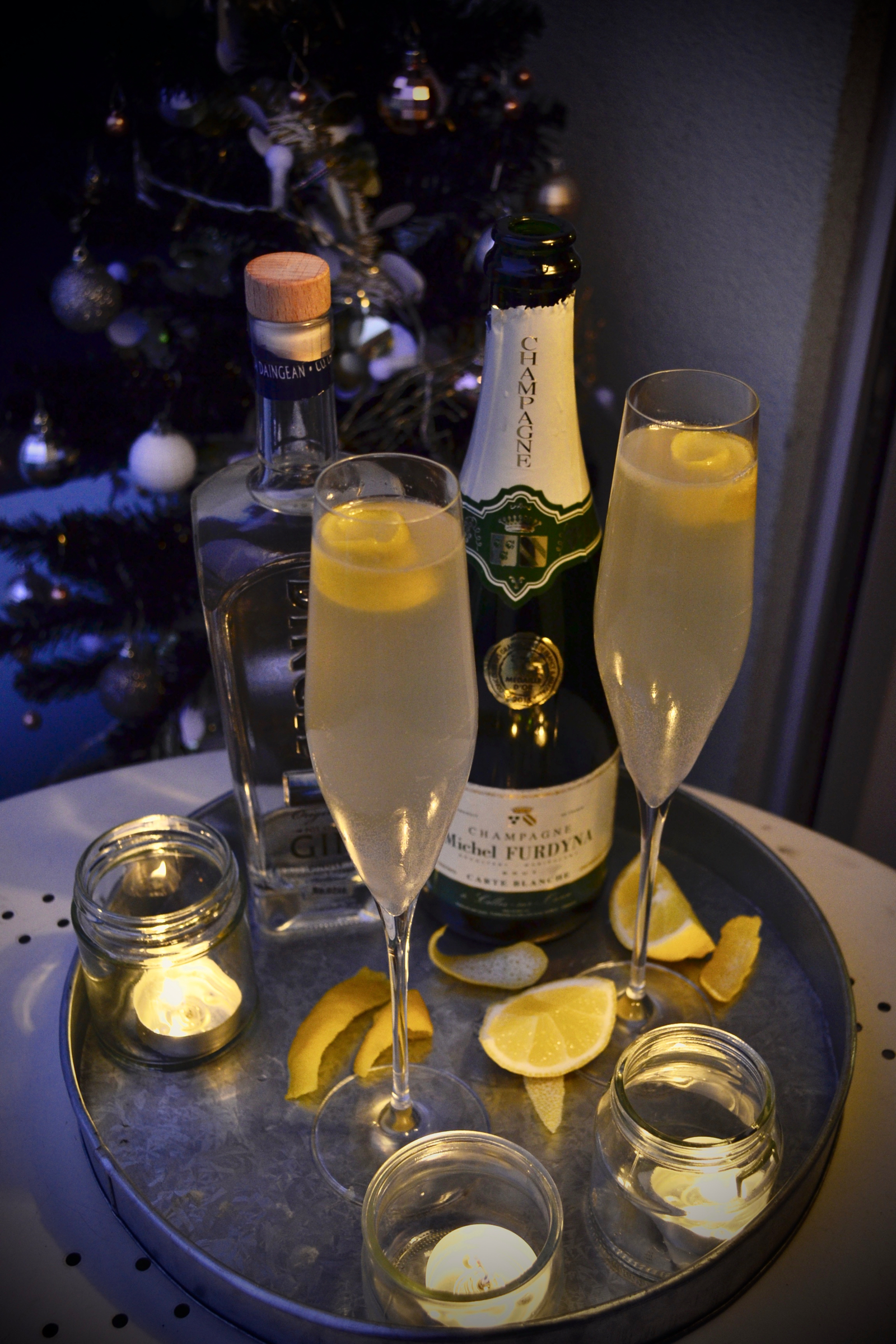 French 75
Serves two
60ml gin (approx a double shot, or two singles)
30ml lemon juice (organic, unwaxed)
30ml simple syrup
Champagne
lemon peel, to garnish
To make your simple syrup, simply combine two parts water to one part caster sugar and heat in a pan until it comes to a boil. Allow to cool completely before using.  Whilst cooling, use a vegetable peeler to shave the peel of the lemon.
Combine the gin, lemon juice and simple syrup with lots of ice in a cocktail shaker. Shake vigorously for a minute before straining into a chilled flute.
Top up with the Champagne and garnish with a a curl of lemon peel.
Chin, chin!