14 months since opening, The Foyle Hotel has already woven itself neatly into the fabric of the small market town of Moville, overseen by Executive Chef Brian McDermott and family. Set in a stunning 200 year-old building (marking its 200th year this month, in fact) which was vacant and run down for much of the last decade until local entrepreneurship and pride got this prime spot in the middle of town back in action –– through local ownership, local investment and creating a place for both visitors and locals to enjoy, run by welcoming locals.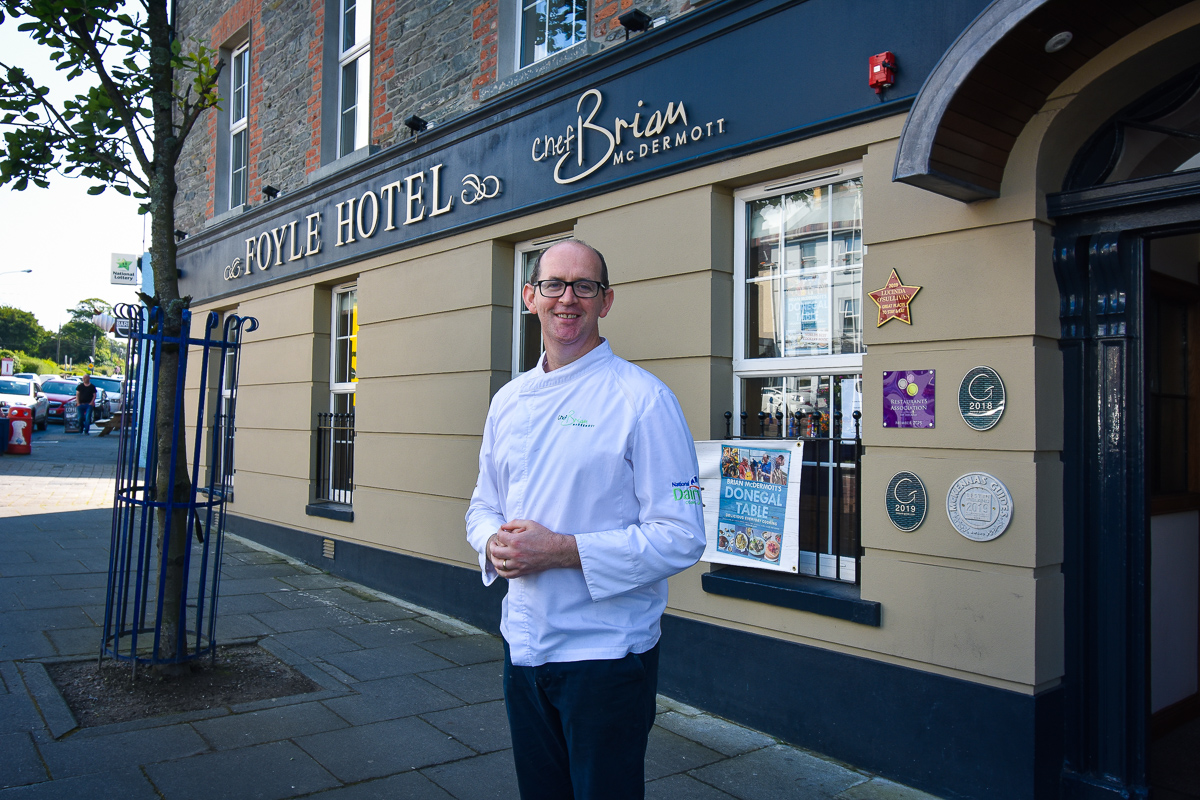 As sun sets on a bright-skied, lingeringly balmy July day, Chef Brian McDermott joins us after we arrive from the three-hour drive and after we've tucked into some of the delicious dishes from the menu, which is small, packed full of local ingredients with provenance at its heart and representing serious value. Setting his 6″4 self down beside us in one of the neat little banquette booths set into the corners of the restaurant space, Brian beams with pride when each guest gets to experience the flavours of his home area through his style of cooking and his brand of hospitality –– but we feel he's also beaming because of a recent accolade, too.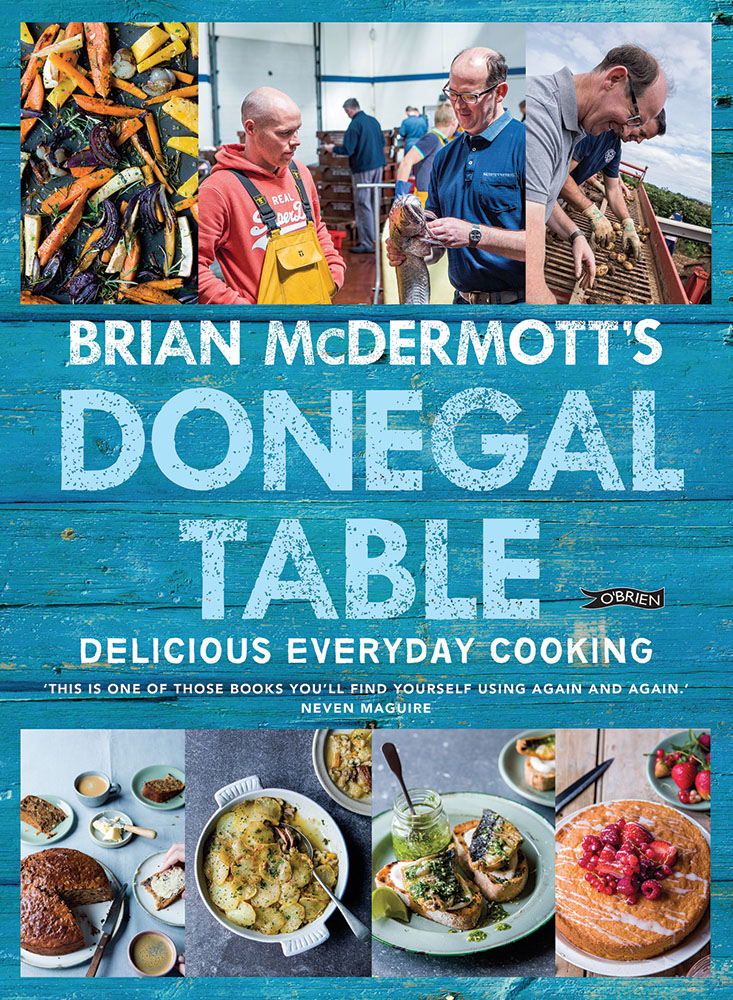 Not a week before we land at his door, he took home the accolade of the world's best cookery book by a chef at the recent Gourmand World Cookery Book Awards 2019 ceremony held in Macau. 'Donegal Table' is a shining example and reflection of everything Brian is about, and now the world is getting to know it.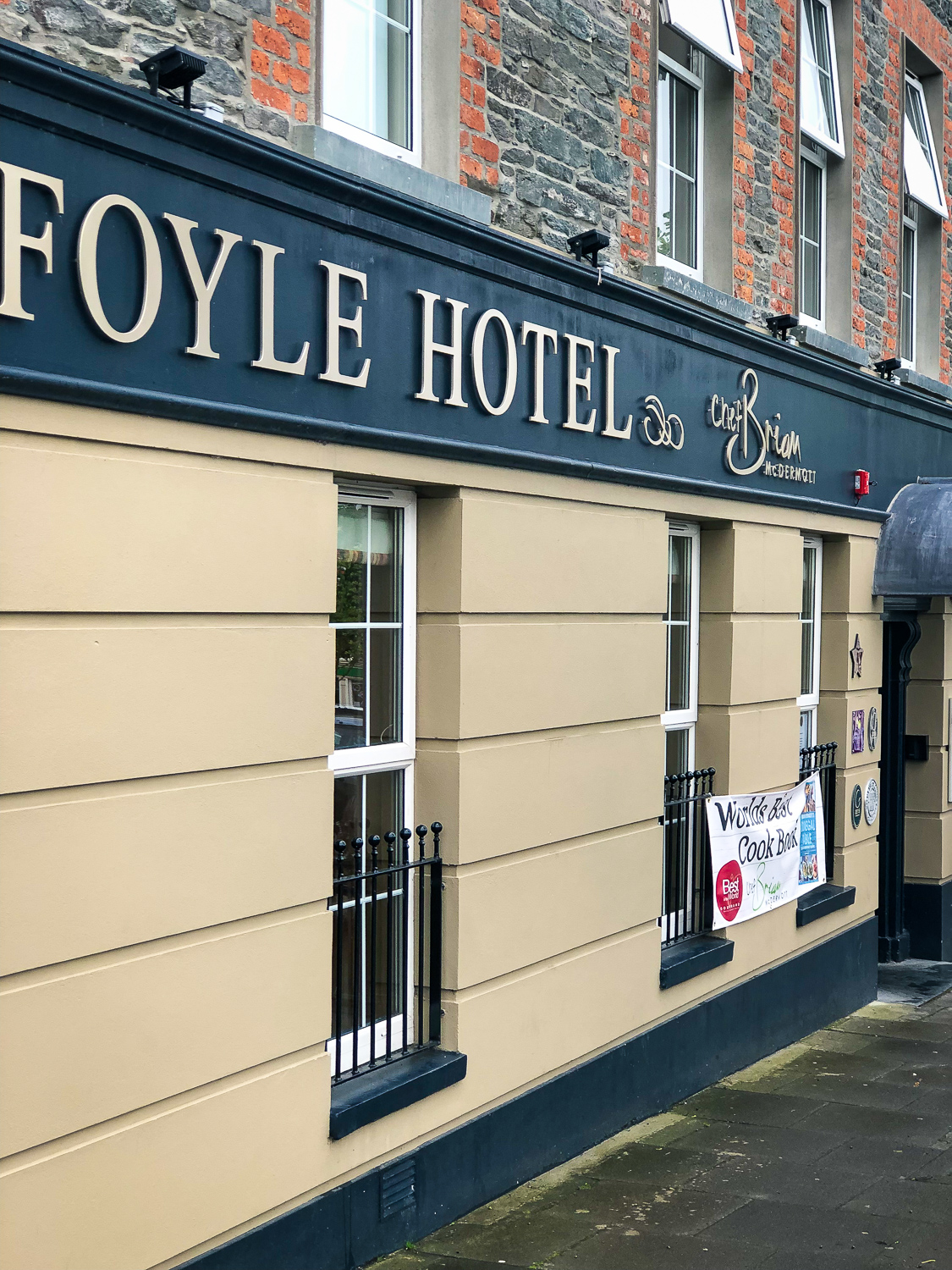 Right along Main Street, appointed elegantly in the frontage by its original brickwork and a slew of awards proudly displayed in plaques by the door, there's a sense even from the outside that The Foyle is no ordinary small town hotel, bar and restaurant in rural Ireland. The restaurant is open in style, with a small raised plinth for a number of tables, and weaves itself into the bar area harmoniously, the entire ground floor appointed in a modern bar style still sympathetic to the traditional features of an old world pub (cabinets for memorabilia and snugs for quieter conversations etc.).
Moville bears roughly 1,400 inhabitants, but it can swell to at least three, if not four, times that in the busier summer months when occupancy is at its peak. The Foyle is a 16-room cosy, boutique-style hotel with modern furnishings and finishes. Brian says "some people don't use or like the term boutique anymore, but I still like it because it means a level of personal service," and this is evident in every way this Chef-Proprietor operates. His wife, Brenda is hands-on in the daily running the hotel, restaurant and bar, as are his two girls Niamh and Aoife. This is a true family-run operation and it's a family welcome, family warmth throughout and you leave with a real sense of being personally looked after, whether you're just dining or staying overnight too.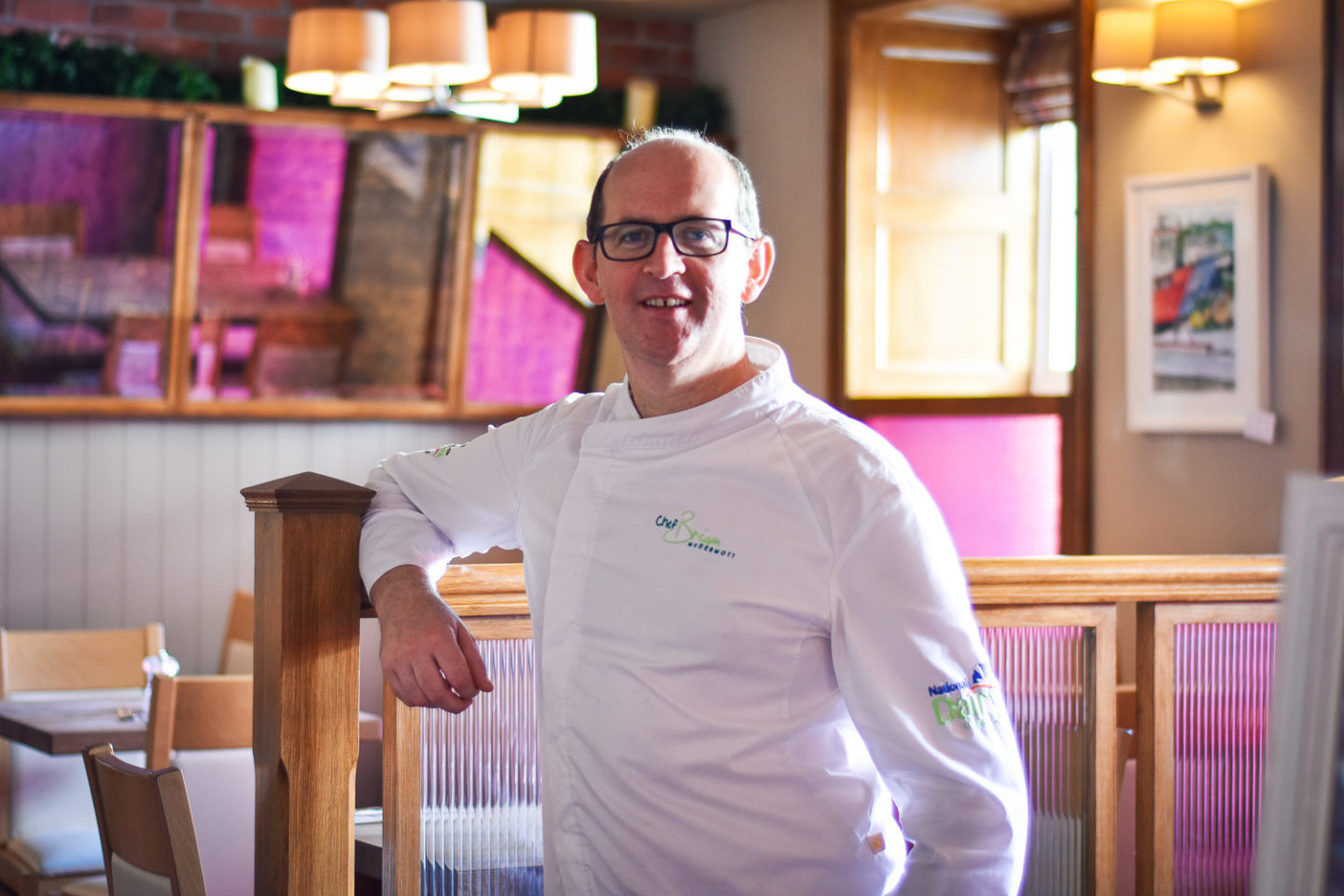 "My marketing strategy is that I don't have one, never have, you know. My marketing strategy is my next customer," McDermott quips, a man who although a clearly impressively skilled chef is also fine-tuned to the littlest details in hospitality and management.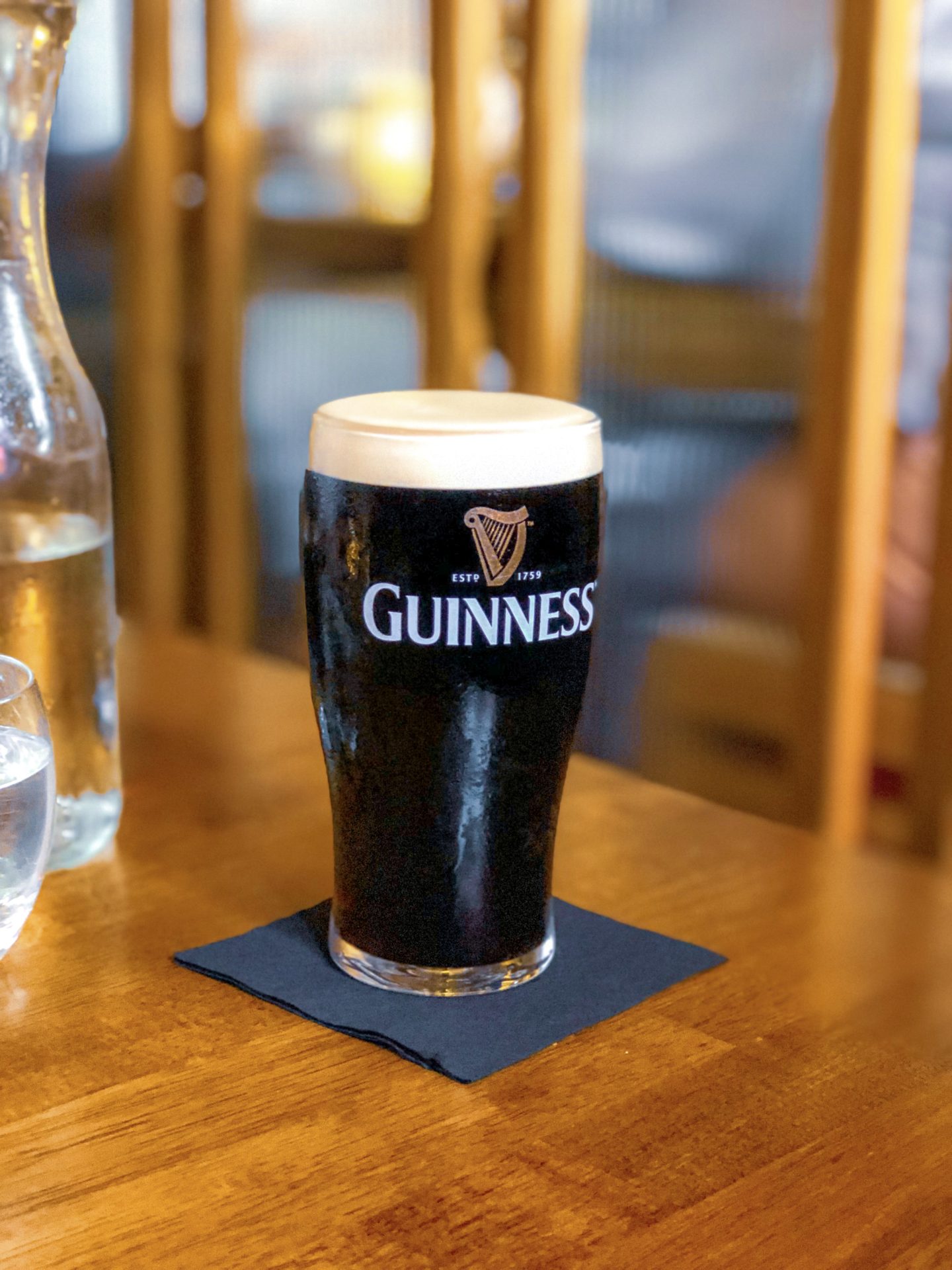 McDermott's ethos on the menu for the 70-seater restaurant and bar is to use "fresh seasonal ingredients from local producers and suppliers" and his menu features "tasty, healthy food based around traditional recipes and local produce". On the menu, he explains that "we couldn't price that higher, not like in Dublin" pointing at one of the menu options, half-joking, half-serious, explaining that his customer base expects wonderful dishes full of flavour, but still balk at prices these types of plates may fetch in the capital. So, not only will international tourists see value on the plate, Irish tourists on staycations will also see a marked value and provenance in every dish.
The Foyle Hotel is the recipient of the Just Ask Restaurant of the Month for July 2019, selected by Georgina Campbell's Ireland Guide and Bord Bia. The Just Ask Restaurant of the Month rewards eateries across Ireland that exhibit best practice in demonstrating transparency in the sourcing of the food on their menus.
Underneath his wide-eyed smile and approachable demeanour, McDermott is a savvy businessman in the best way possible –– he knows his customer, and more importantly keeps making them happy. Speaking about The Foyle Hotel's suppliers and producers, McDermott explains: "In too many hotels, food is an afterthought. Here, food is at the centre of everything we do. Irish meats and poultry come from trusted suppliers including William Doherty Butcher and Noone's Poultry of Clonmany. Doherty Roe Vegetables and Whiteoaks Acorn Organic Farm near Muff supply us with our fresh produce, while free range eggs are supplied by Seamus McHugh. All our seafood is locally landed, the majority of which is supplied by John Byrne Seafoods and Greencastle Fisherman's Co-op.''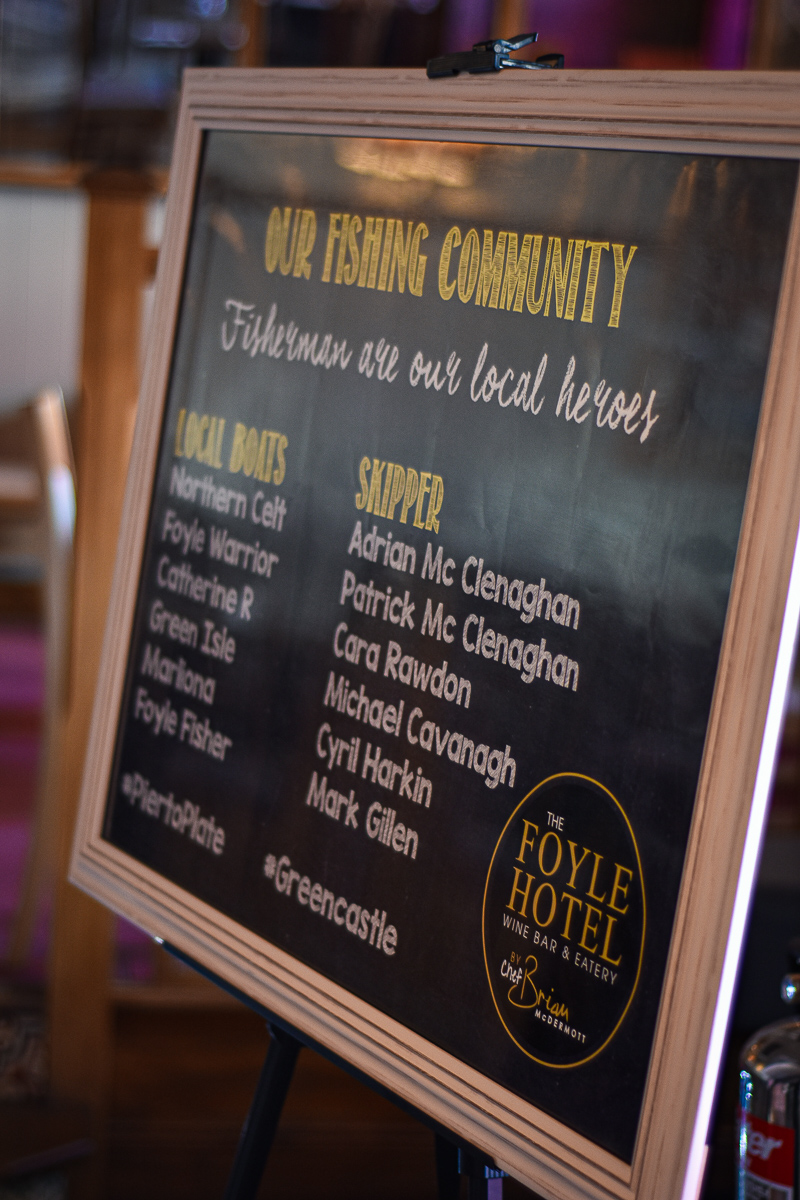 Greencastle is a brisk 3km coastal walk away from the hotel and fish couldn't be fresher, landed daily and arriving straight into the restaurant for same-day service."That beautiful John Dory you had earlier this evening," Brian explains, "arrived in the kitchen an hour before service and was filleted when the order came in." Chef continues: "In this beautiful county, we're surrounded by water and Donegal has some of the best seafood Ireland offers, so we wanted to celebrate local fishermen. We champion them on our menu and have them on a sign just inside the door, plus they are not only our suppliers but our regular customers –– so chances are, the fish you're eating tonight from the menu at The Foyle Hotel, a couple of tables away is the skipper from the boat that landed it. We want to make that connection between our guests and our suppliers."
Georgina Campbell, upon awarding The Foyle Hotel this month's Just Ask winner, commented: "Good food is, of course, the main attraction… but the difference is the quality and local provenance of ingredients, which, as Brian's followers will know, are cooked simply and carefully to allow the true 'Taste of Inishowen' to be enjoyed. A sense of place is the driving philosophy of the cookery weekends that are hosted by Brian – and all this, plus a keen focus on customer service, make a visit to The Foyle Hotel by Chef Brian McDermott yet another seriously good reason to head for Donegal".
Located a mere 30 minutes drive from Derry city across the border with Northern Ireland, Brian leaves us with a bold, proud and honest statement: "there are no borders in food and tourism" and explains that the customer base of The Foyle Hotel are food lovers primarily, but Inishowen (the region of Donegal with Malin Head at the top and Moville at the heart) provides everything for visitors, from serene walks and nature to stunning coastal drives, friendly, welcoming locals in restaurants, pubs and shops to all manner of water-based adventure sports.
We'd later leave Brian and spend the next day or two driving around Donegal and exploring its vast beauty and dotted coastal towns… but the road kept turning back towards Inishowen, and we'll be back in Foyle Hotel before we know it, we think.

DISCLAIMER: THIS IS A PAID POST IN CONJUNCTION WITH BORD BIA.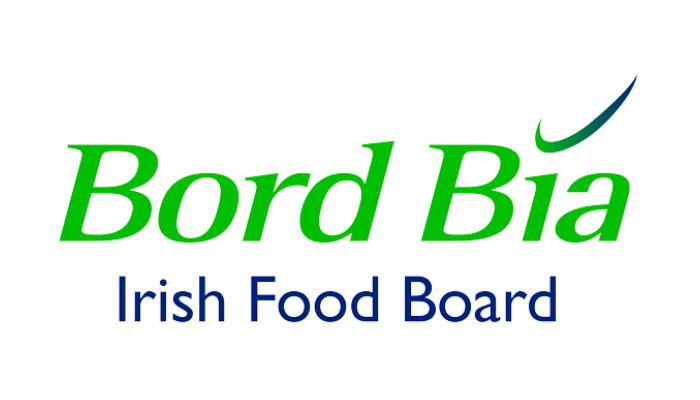 SEE MORE OF OUR FEATURES OF THE JUST ASK RESTAURANT OF THE MONTH WINNERS HERE:
FEBRUARY 2019 – BASILICO, ORANMORE, GALWAY
MARCH 2019 – THE WILDS, ENNISCORTHY, CO. WEXFORD
APRIL 2019 – BLACK CAT, SALTHILL, GALWAY
MAY 2019 – DUNMORE HOUSE, CLONAKILTY, CORK