We had every hope for 2021. We really did… things seemed to be taking an upward, positive turn in comparison to the struggle that 2020 was, but in many ways we've arrived back at the same station we ended '20 in. However, through the murky waters of the last two years, publishing has continued to push out fabulous titles from talented authors to keep us all cooking and enjoying the greatest pleasure in life: food!
For the last five years in a row (2017, 2018, 2019, 2020 and now 2021) we've been appearing on The Last Word with Matt Cooper on TodayFM here in Ireland, annually rounding up the best cookbooks and food books in advance of the Christmas rush. From cookbooks to handbooks and food memoirs to miscellanies, each year it's the perfect excuse to look back at the past 12 months of cookbook publishing and see what sticks out!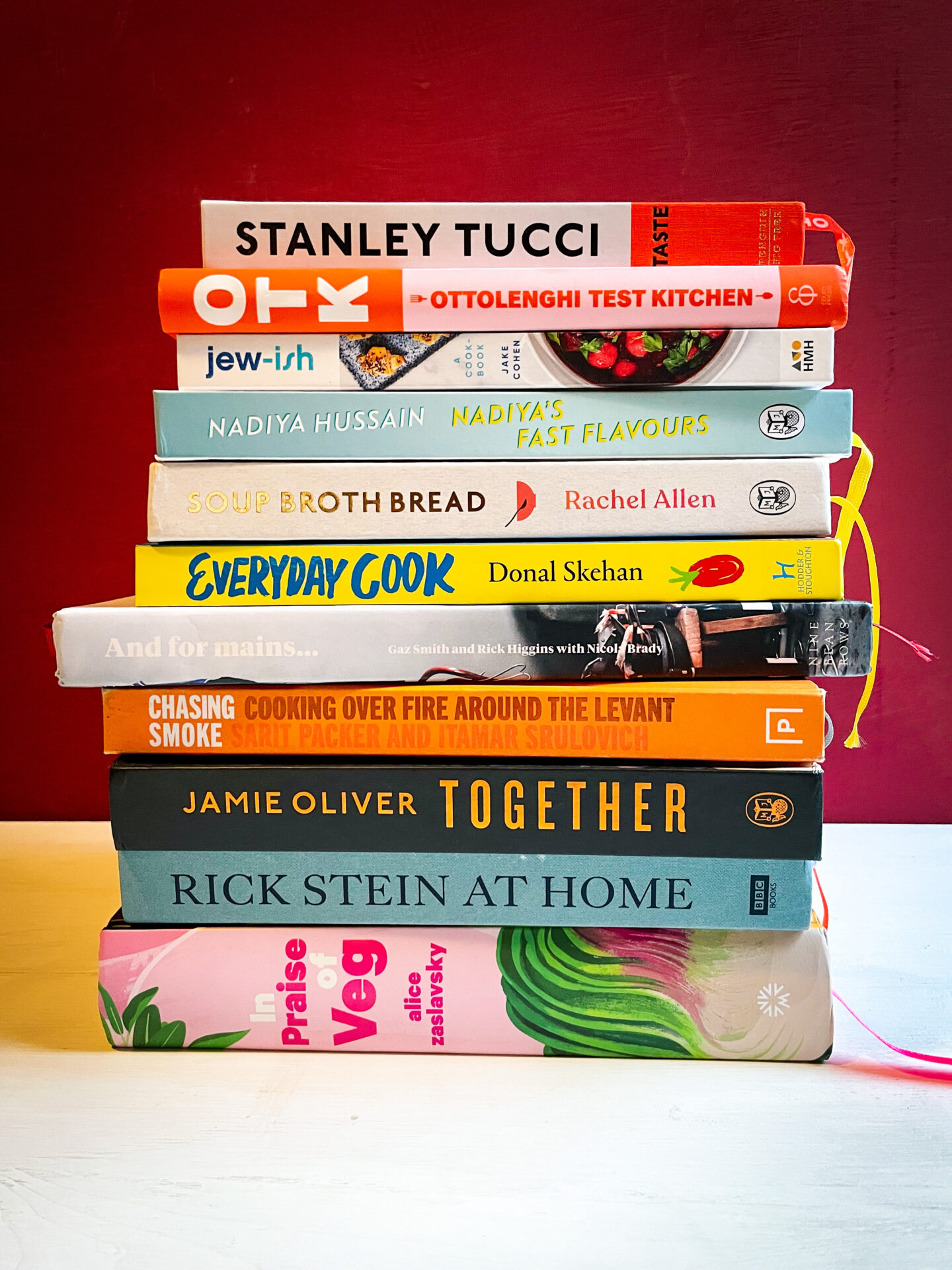 As our hit on live radio is often very confined, time-wise, seven of these 11 books were talked about on-air, but we just couldn't fit them all in, so this is an enhancement and a broader overview of the books we enjoyed most this year. We'd love if you'd consider these as gifts with the food lover in mind this season of giving, they really do reflect a bit of diversity in terms of cuisine and cookery style, and we've made so many recipes from these throughout the year –– so hopefully you'll find similar joy in them to us!
Note: Links to most of these books are Affiliate Links [#AF] via Book Depository, and that means that if you click-through and purchase any of these titles directly from our site we earn a tiny percentage commission, however we have also linked to other stockists for which we earn no commission. We love to support cookbook authors year-round and especially profiling their publications at Christmas, so to help us continue supporting them we're so grateful for you supporting us in even the smallest ways.
In Praise of Veg (A Modern Kitchen Companion) –– Alice Zaslvasky
This hefty, hardback tome to vegetables is probably the book that's dazzled us the most this year. If you don't already know we harbour an unhealthy binge-fuelled obsession with MasterChef Australia, and Alice Zaslavsky is one of our favourite ever contestants, but this chef, broadcaster and educator is so much more than a MC contestant. This is putting vegetables, in all their diversty and rainbow-hued glory, at the forefront but this is not a vegan book, nor a vegetarian book, nor a healthy eating manual. It's a book that simply celebrates veg like it deserves to be –– especially timely as we believe most people are currently reconsidering their relationship with (and over reliance on) meat whilst trying to consume more veg through plant-based dish ideas.
This is colour coded, grouping veg of similar colours together and, thus, easy to jump to specific recipes rather than consult the appendix. You also can tell Alice's education/broadcaster background and passion, as it's so simply laid out and incredibly engaging, with lots of useful information, plans, tips and advice. This is the biggest book we're including this year and this is for the person who wants IDEAS at every turn. You can't pick this book up and put it down without having ten ideas running around your head. Acessible, practical, awe-inspiring — who knew everyday eating could be this good? Order your copy here (#AF)
Which recipes to cook?
Hasselback parsnips (pg 56)
'KFC' Keralan fried cauliflower w/ coconut chutney (pg 86)
Corn fritters (pg 116)
Sichuan sticky aubergine (pg 270)
Seventies dinner party sprouts (pg 440)
Ottolenghi Test Kitchen: Shelf Love –– Noor Murad & Yotam Ottolenghi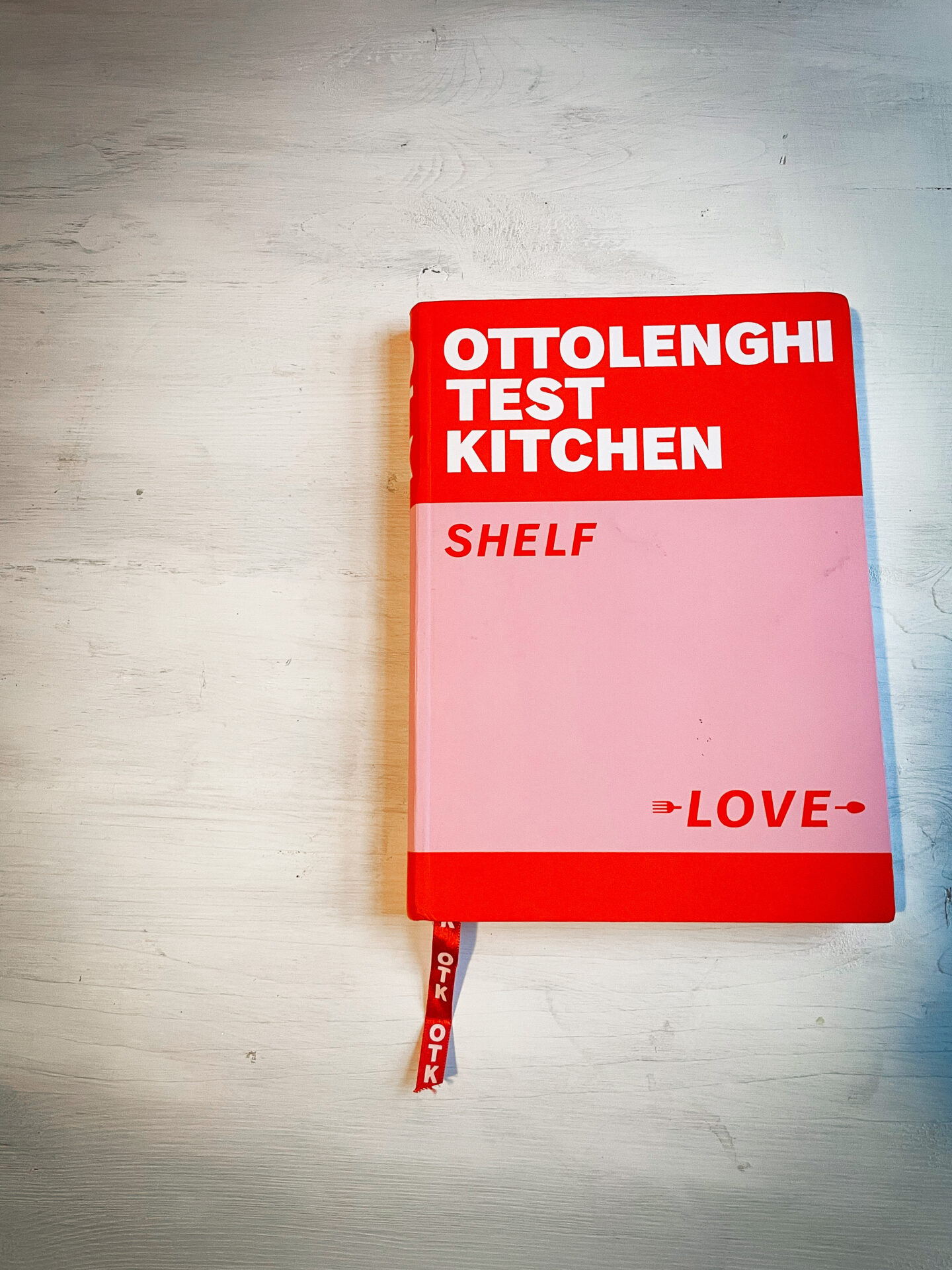 Ottolenghi is a name synonymous with exciting, global plates full of big flavours and great textures, but Yotam Ottolenghi obviously has a whole team behind him, across his books, columns, restaurants and more, so this is the first collaborative 'OTK' book, which is all about skills and solutions in a collaborative approach. Tackling the everyday kitchen shelf or cupboard (tins, jars, odds and ends) and turning them into a dazzling dish, as well as rooting out those bits and pieces languishing at the back of the fridge. Interestingly this had a working title of 'Stripped' as it stemmed from an act of kitchen raiding, decluttering and simplifying home cookery, but 'Shelf Love' is a more positive, fitting title demonstrating an appreciation of the basics.
Who is this for? This is similar to other Ottolenghi titles, in that it's a book for the cook who already is comfortable in the kitchen but craves frequent global inspiration in their cookery, whilst also aimed at the thriftier cook. In many ways, this book is very alike how *we* cook at home –– being inspired by the odds and ends and ingredients to hand, rather than a prescriptive set of ingredients a recipe dictates to go out and source. The recipes are all punchy, flavour-led and thrifty, whilst erring on the simple rather than the technical side. Use the notebook pages on the back to scribble your notes and make this your own kitchen handbook. Order your copy here (#AF).
Which recipes to cook?
Delve into the definitive take on dreamy creamy hummus and pita (pg 20-23)
The giant couscous cake (pg 48)
Sesame crusted feta (pg 54)
Braised beef short ribs w/ butter beans and figs (pg 125)
The 'Chocoflan' is totally intriguing — a brownie and flan combo (pg 226)
And For Mains… –– Gaz Smith & Rick Higgins with Nicola Brady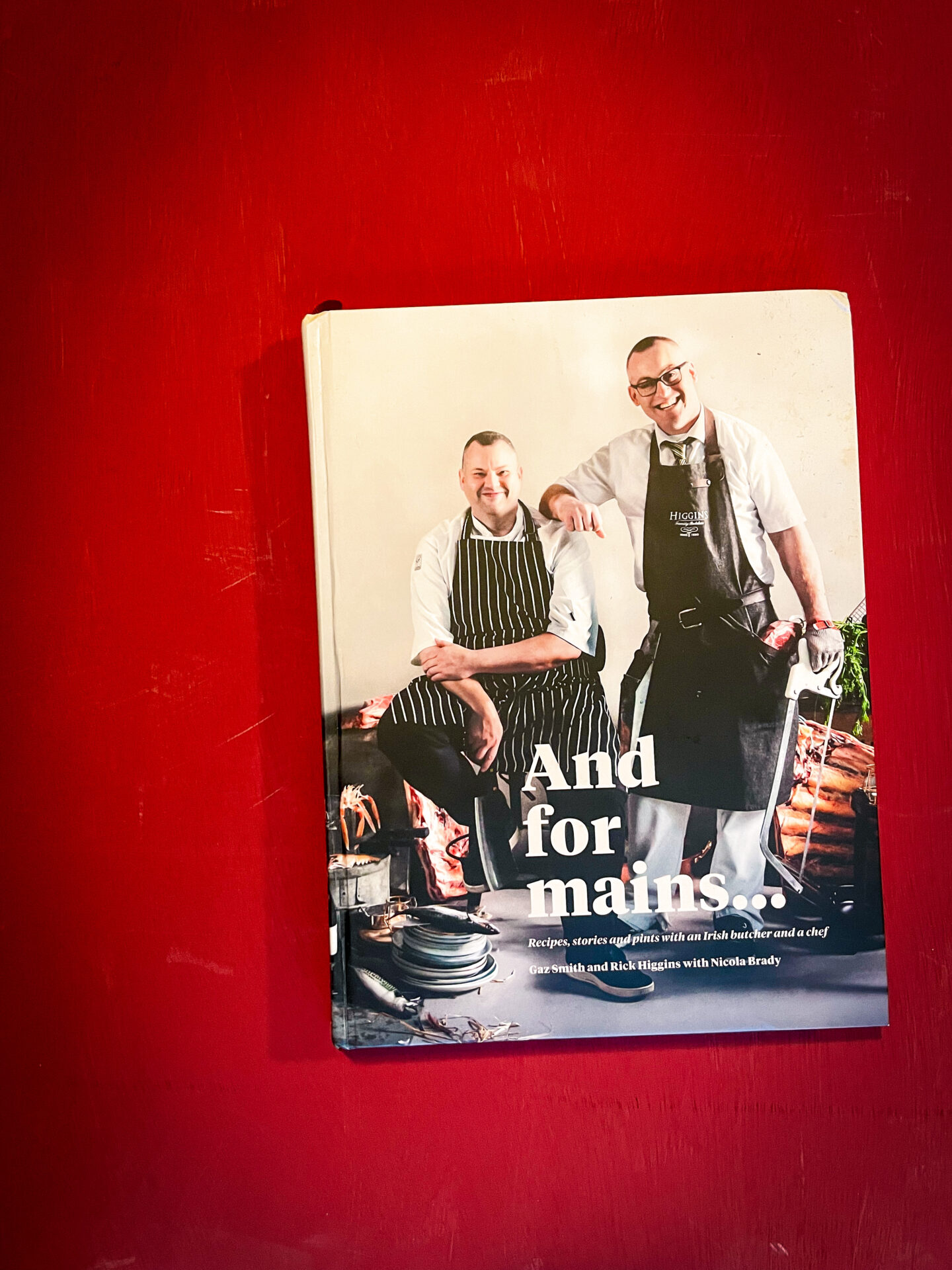 Nine Bean Rows Books (€39.95), Pre-order on AndForMains.ie
With a tagline of "recipes, stories and pints with an Irish butcher and a chef" you can just tell this book is going to be bursting with personality. That it is, and these pair of messers and unlikely friends bucked the trend and instead of waiting for a publisher to come to them, they went down the scary self-publishing route in the middle of a pandemic, so it's all a bit bonkers and back-to-front but they made it look sleek and effortless. For those who don't know, this pair are modern day Dublin deities in the food world and if you haven't ogled fourth generation butcher Rick Higgins' (of Higgins Butchers in Sutton) wares or eaten Gaz Smith's stunning food at Michael's in Mount Merrion, well you just haven't quite lived yet… And you probably don't understand the title, but it's the oft-quipped one-liner from Gaz for those who manage to tackle the seafood or surf and turf platter and live to see the sight of the dessert menu.
We love that Rick and Gaz's personalities jump off the page, and talented writer and author Nicola Brady captures the pair perfectly – alongside stunning imagery from Katie Quinn and John Murray. This is a serious cookbook that doesn't take itself seriously. It's a bit of a peek beyond the pass, a collection of butchery skills and seriously moreish, lavish recipe ideas that are perfect for the host or those who love to entertain with dinner parties and feasts. This is not everyday cooking, but we wish we could eat this food every single day.
Which recipes to cook?
All of them, seriously; them all. Even the assiette of petit fours.
Soup, Broth, Bread –– Rachel Allen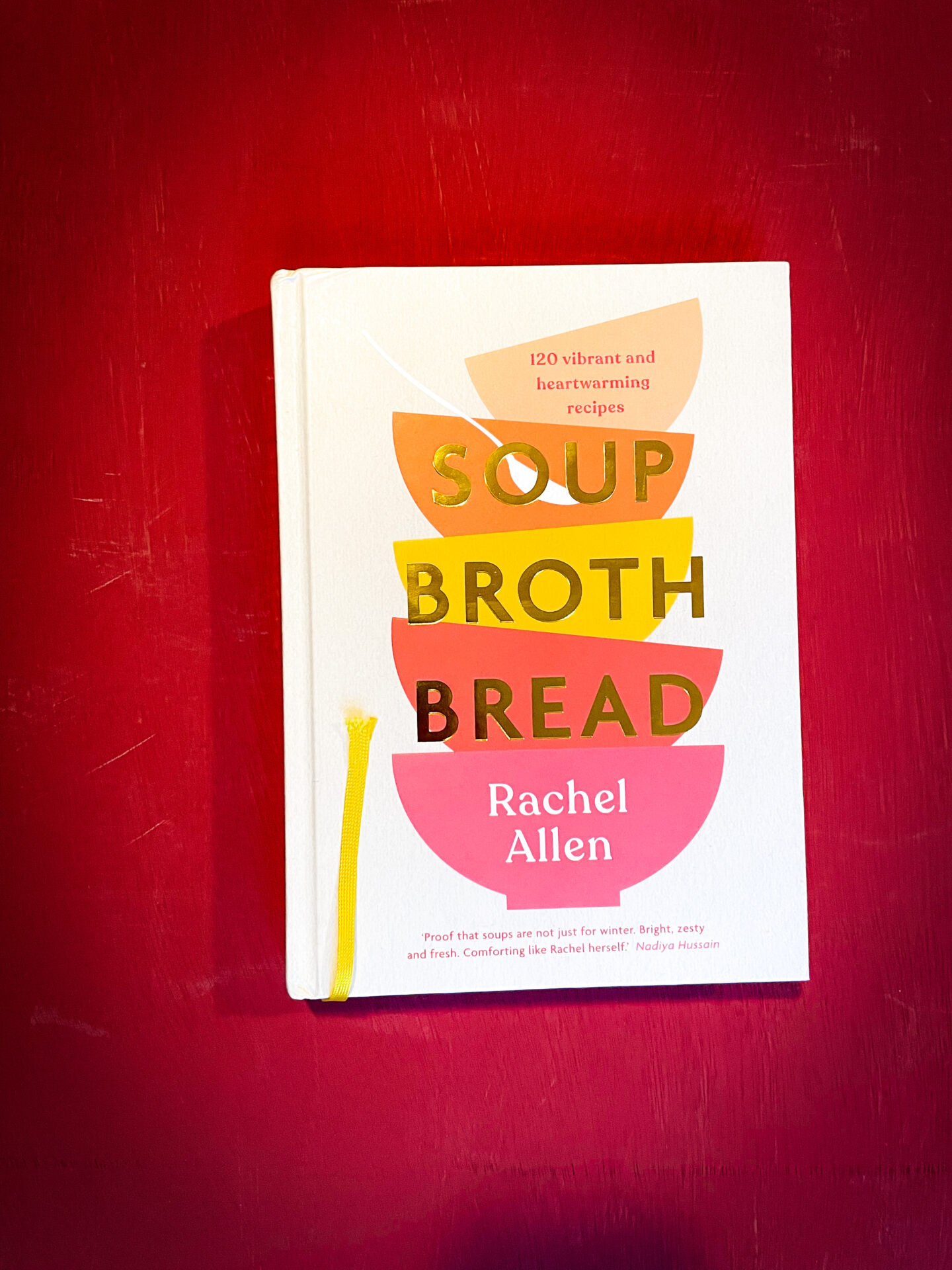 You probably think: okay, how far can soup go? But that's only the starting point and, this – which we believe is Rachel Allen's 15th book! – is a love letter to the world's most ubiquitous dish. Every cuisine across the globe has its own take on this style of dish, which can "nourish a cold or heal a broken heart" (a line we adore!) and this book is packed with Rachel's signature know-how, wisdom, tips and advice. Of course, as an experienced teacher at the world famous Ballymaloe Cookery School, you can rely on Rachel Allen to be precise and instructive in all her recipes.
Across 120 recipes, you'll find dish ideas from West Africa, Italy, Hungary, China, Spain, France, South East Asia, the American Deep South and soup and broth recipes which run the gamut from ramen, goulash, gumbo and gazpacho to congee, consommé, laksa and pho. First, broken up into seasons (spring, summer, autumn, winter) the book then delves into other soup-adjacent things like breads, garnishes and accompaniments, such as oils, sprinkles, pestos, salsas, sauces, and stocks. Order your copy here (#AF)
Which recipes to cook?
Tomato, coconut and coriander soup (pg 76)
Chilaquiles (pg 84-86)
Potato, parsley and thyme soup with chorizo for an update on a classic (pg 123)
Buckwheat scones (pg 239)
Garlic butter knots (pg 219)
Everyday Cook –– Donal Skehan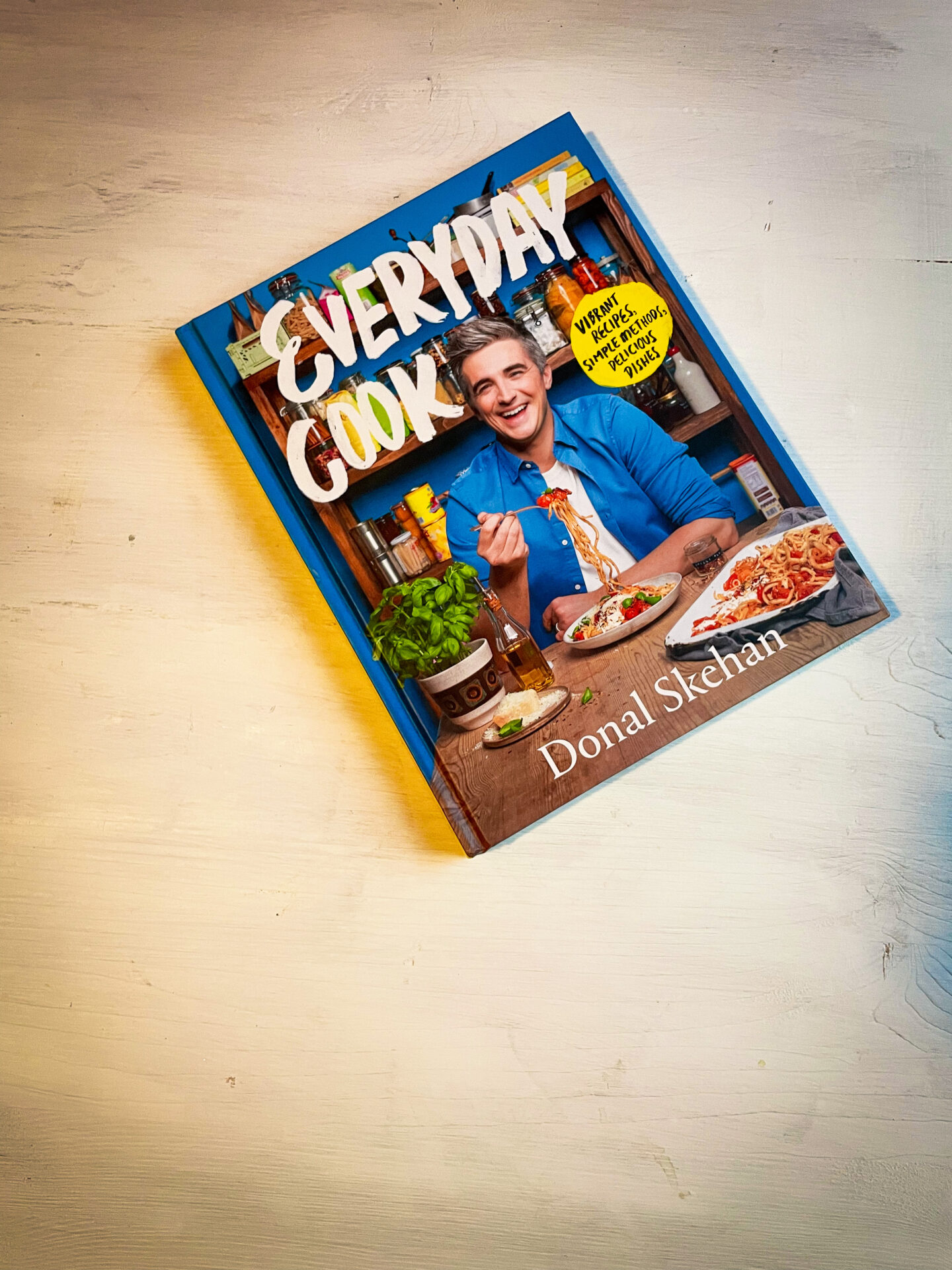 Donal Skehan takes a different turn with his tenth cookbook, it almost feels like the emergence of a new era. Now with a young family and based back in Ireland after a couple of years in Los Angeles, Everyday Cook feels a little 'American' with its bright, zingy graphics and streamlined, clean design. It's almost a case of the sum of the best parts of all his previous releases –– there's a dapple of Meals of Minutes style 15-30 minute meals, there's a hefty kick of Kitchen Hero style favourites, there's a sprinkling of elements of Fresh, Eat. Live. Go and Super Food In Minutes all the while wrapped up in a format that offers clever meal planning, prep ahead staples, freezer heroes and moreish desserts.
Ideal for young families, this is aimed at those who are short on time and want simple, classic recipes made-modern with ideas for how to batch cook, prep in advance, love your freezer, limit the hours spent in the kitchen and also have your cake and eat it, too. Donal is a great friend of ours and we can't support him enough and though many people may consider him the 'healthy dinners' or meal plan cook, we still think desserts are one of his most iconic elements –– and the dessert chapter is simply a showstopper in and of itself.
As the man himself says: "These are recipes that will help you to manage life and all its twists and turns, while still allowing you to pull together meals that are nourishing, vibrant and delicious… you'll turn to this book time and again to create a useful routine, make your kitchen work for you and bring ease, flavour and speed to your everyday cooking". Order your copy here (#AF) and also check out Donal's Kitchen, the new membership community with loads of recipes and videos.
Which recipes to cook?
Crispy hoisin duck wraps
Chicken saltimbocca
Korean sliders
Chicken cheddar cobbler pie
Pretzel chocolate Rice crispie treats + the entire dessert chapter (we mean it!)
Jew-ish: Reinvented Recipes from a Modern Mesch –– Jake Cohen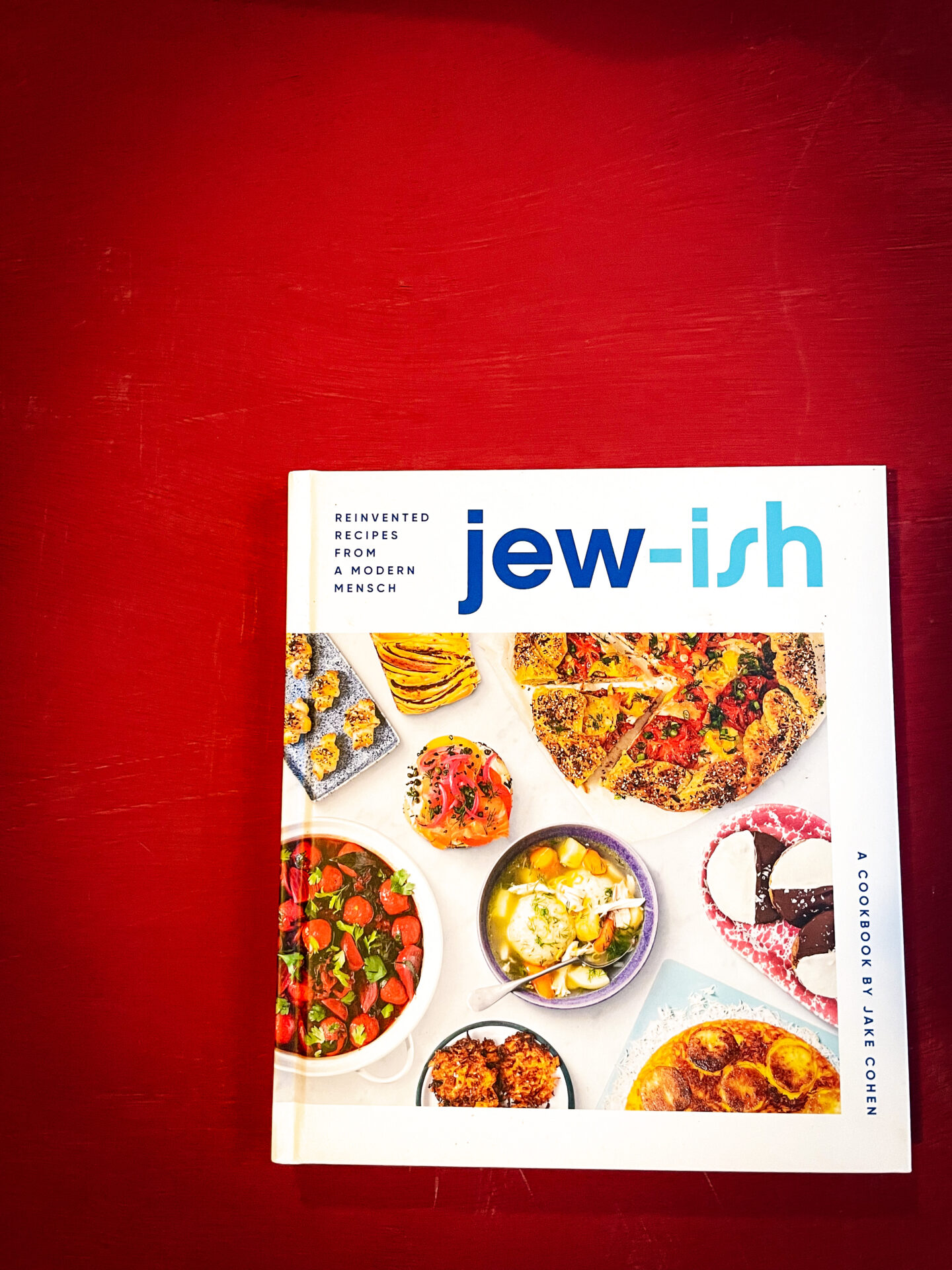 Houghton Mifflin Harcourt (approx €28) Order on BookDepository (#AF)
We've witnessed Jake Cohen's star soar on social media over the years, from Saveur to The Feed Feed, TastingTable to Time Out New York, now he's finally a published author and a TikTok superstar (1.4M followers!) to boot. There was always only going to be ONE book Jake Cohen could publish as his debut and this is spot on: he's reinventing classic Jewish cuisine with a contemporary touch, and he's the best guy to do so. We love Jewish cookery in its various forms and were lucky enough to dine with a family for Shabbat once and really offered us an insight into hearty Jewish hospitality, rituals and family celebrations and this book reflects all of that.
The 'ish' in the title alludes to the fact this is an entry point for those who are not themselves jewish, but still being familiar and useful to that large audience too. Cohen is Ashkenazi heritage whilst his husband is Persian-Iraqi so there's a diverse array of flavours and techniques. Order your copy here (#AF).
Which recipes to cook?
Perfect Challah
Cacio e pepe Rugelach
Pumpkin Spice Babka
Saffron latkes
Chasing Smoke: Cooking Over Fire around the Levant –– Sarit Packer & Itamar Srulovich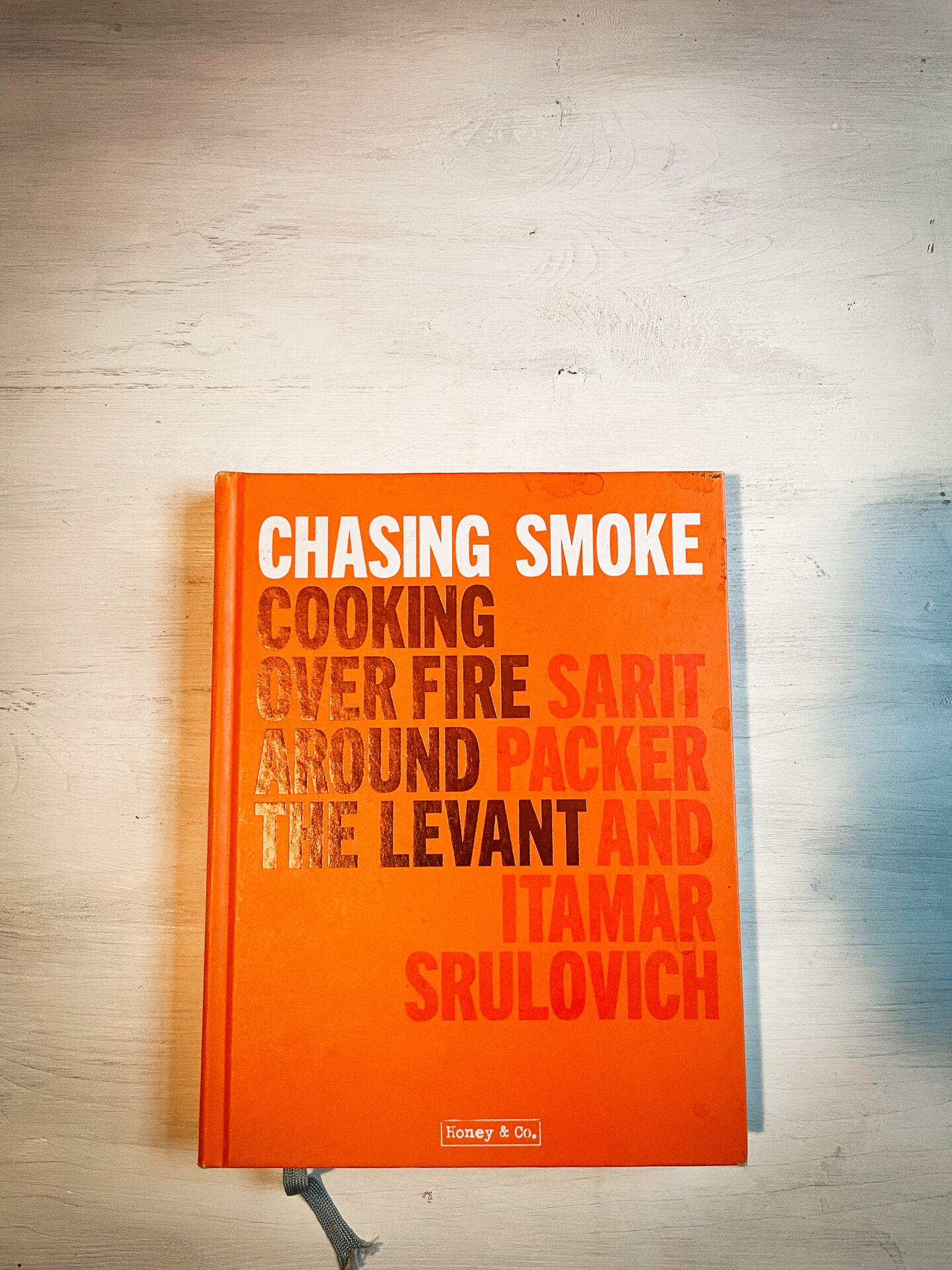 Award-winning restaurateurs Sarit and Itamar – behind London's Honey & Co. restaurants – are traversing the Levant (Eastern Mediterranean roughly around Lebanon, Syria, Iraq, Jordan and both Israel and the Palestinian territories) and cooking over fire in their latest book, which collects recipes, stories and communicates culinary tradition and culture along the way.
Fire has always been central to the husband-and-wife's culinary style and this is barbecue in a way, but not as you know it: more rustic, more elegant, natural and unrefined –– lots of vegetables and seafood rather than just hunks of meat over coals. As good for the cook who loves modern BBQ and looking for something different as well as for those taking tentative first steps in cooking over fire. Who would love this? The more well-travelled cook or those looking for a reference book for an adventure in food escapism. Order your copy here (#AF).
Which recipes to cook?
Turkish Adana kebabs
Pomegranate chicken wings
Grilled peaches
Together: Memorable Meals Made Easy –– Jamie Oliver
A homage to home-cooked feasts and the great food that brings people together and makes memories at the table. In his latest book – which also has some of his own family members on the cover – Jamie Oliver offers menus, chapter-by-chapter to create in-full or dip and in and out of with 130 recipe ideas as well as sections broken up into seasons and occasions, from brunches and picnics to seasonal celebrations like Halloween and Christmas. The great thing this book offers is both ideas and scale, so everything from cosy dinner for two to lavish feasts for fourteen, this has all the planning prepared for you and ensures you can comfortably host and entertain however many mouths there are to feed, or whatever the occasion!
We were thrilled earlier this year when Jamie Oliver personally picked us out as one of his favourite accounts on Instagram, and by this point we have so many of Jamie's books that we're amazed he and his team (and family!) are still knocking out unique recipe ideas and books that fly to the top of the charts, there's a Jamie Oliver book for everyone!
Which recipes to cook?
Instead of picking out recipes, this book is brilliant at delivering menu concepts that offer variety and interest in every plate, so check those out and find your favourite. We personally love the 'Taco Party' menu!
Rick Stein At Home –– Rick Stein
Annoyingly, this is the only book we forgot to take a picture of on it's own, but you can see it at the base of the pile here. Look, we love Rick Stein. We love his approach to food, and food-led travel, in fact we think we love him more the more he ages. There's an element of 'no nonsense' that creeps in more and more and we just adore that throughout Rick's approach, both in the kitchen and when presenting his travel TV shows.
Rather than focus on a destination, ingredients or his restaurants like previous books, in this Rick takes stock of his remarkable life told at his own kitchen table through his cooking. From childhood classics and favourite home-cooked meals to dishes that evoke powerful memories and mark personal milestones. Find over 100 recipes which each have a special place in Rick's heart. Order your copy here (#AF).
Which recipes to cook?
Braised Pork Belly with Soy and Black Vinegar
Cornish Bouillabaisse
Apple Charlotte
Spiced poached pears in blackberries and red wine
Nadiya's Fast Flavours –– Nadiya Hussain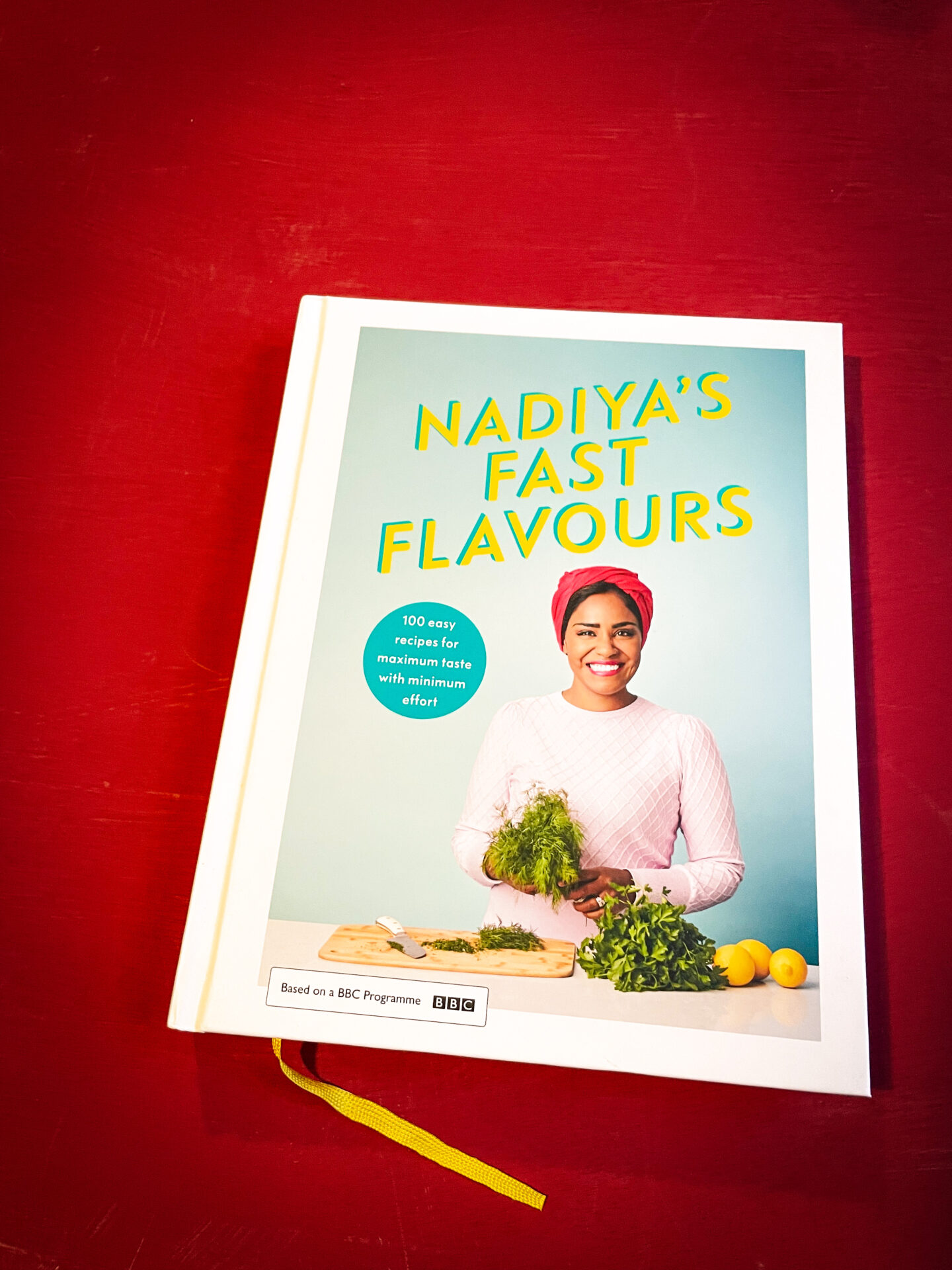 Can you beleive this is Nadiya Hussain's fifth book? We kind of can! Nadiya has become so universally cherished by the great British (and Irish!) viewing public since winning The Great British Bake Off six years ago, and she's become equal billing with the very judges who awarded her! You'll find her books neck and neck in the charts with the likes of Paul Hollywood and Mary Berry and she's got the top billing of accompanying series to back it up! If there was any doubt that Nadiya has "made it", let that be the marker.
In this book, Nadiya is cutting away any of the unnecessary stuff and zoning on on two things: packing in flavour, as one, and time saving, as two. Sour, sweet, spicy, zesty, earthy, fruity, herbal – Nadiya's delicious recipes offer new and innovative ways to pack meals with flavour, using clever shortcuts and food hacks that save on spending hours in the kitchen. Order your copy here (#AF).
Which recipes to cook?
Coffee-glazed focaccia
Sumac plums
Blueberry and fennel ice cream cake
Brioche custard french toast
Peanut butter egg curry
Taste: My Life Through Food –– Stanley Tucci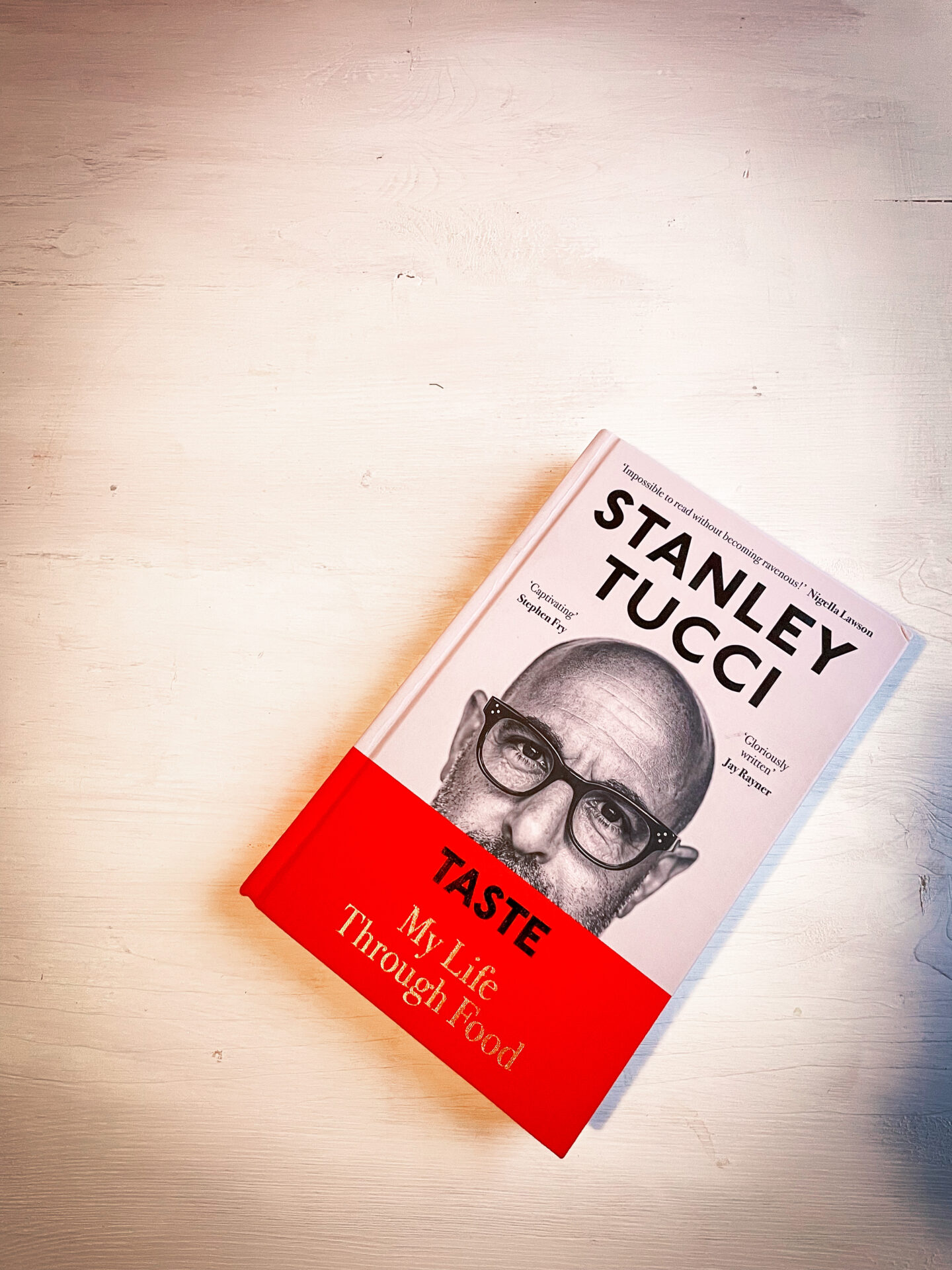 Not a cookbook, but a memoir punctuated by recipes, tales, gossip and a life lived and loved through food. If you don't yet follow the inimitable Stanley Tucci on Instagram, what are you waiting for? The iconic actor is a wonderful storyteller and – different to his debut cookbook The Tucci Table – here he is telling the stories of his life through food: the people he's met, the places he's been, the roles he's held, the experiences he's had, and the person he's become. You can tell that one of his biggest loves of his life has been food, from childhood conversations at the dinner table through to his own recent battle with cancer (the disease which sadly claimed his first wife) which fundamentally altered, challenged and affected his connection to food.
Great as a stocking filler, it's not too heavy a book and could get through it in a sitting or two. In terms of recipes you'll – of course – find cocktails, but also Italian dishes, stews, soups, sauces and more in an eclectic mix, which reflects the stories of an eclectic life! Order your copy here (#AF).