Autumn sometimes stirs a sad melancholy in people. It seems everything is changing for the worse. "Goodbye to summertime", the evenings are becoming darker, and the weather turns damp, dreary and downcast. People are pining for and clinging on to the warmth and brightness they've just had for three to four months, cursing the return to school and the long slog at work until Christmas – when the next substantial holiday comes around…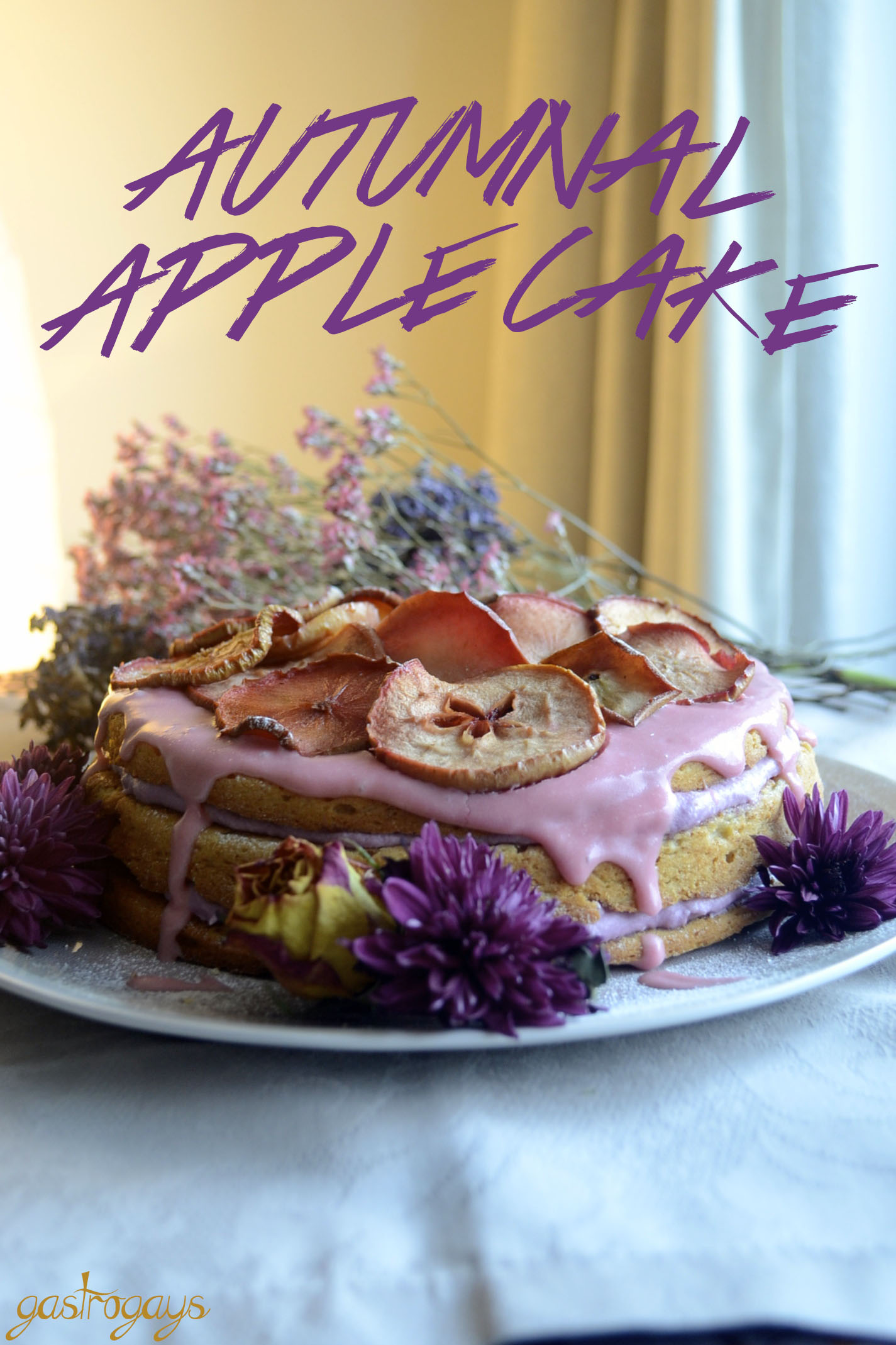 It would be so nice if we all embraced the Autumn change in the air, which is a change for better, not for worse. It gives nature a chance to breathe,  shed a layer of skin and recuperate for next year's harvest. It gives everyone that warm feeling and chance to layer up with jumpers, scarves, gloves and overcoats. It also basically rolls a red carpet to the table for the triumphant return of hot drinks. Hot chocolate finds it's feet in this season, and the smells of spiced coffees and warming toddies fills the sprightly air.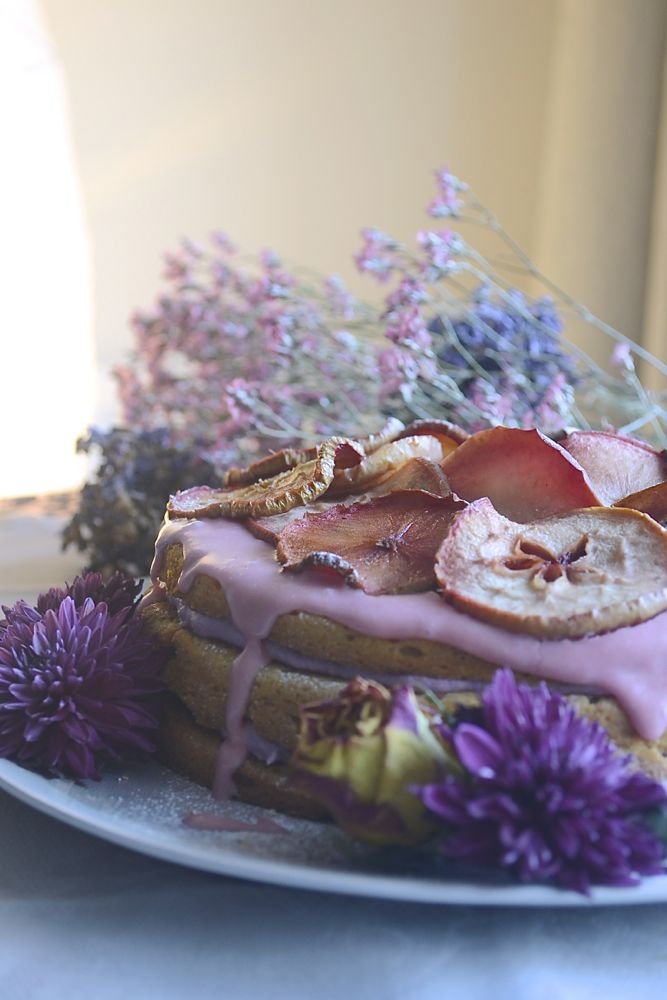 This cake embraces all that Autumn brings to the table. The colours are both pastel and golden, the deep red and brown of the apple slices mimic the colours of the forest floor as green leaves turn every shade from yellow and russet.  The sponge is rich and sweet, and three layers mean you get three times the enjoyment.
We love making cakes that are show-stopping, but we are by no the World's best bakers. In keeping with the celebration of the ending  of summer being an invitation to the new, exciting beginnings of Autumn, Patrick first made a version of this cake to celebrate the work done by a colleague who was leaving his team in work. There's a few different steps and processes in this cake, but the taste, and the look, is so worth it. Celebrate Autumn with this….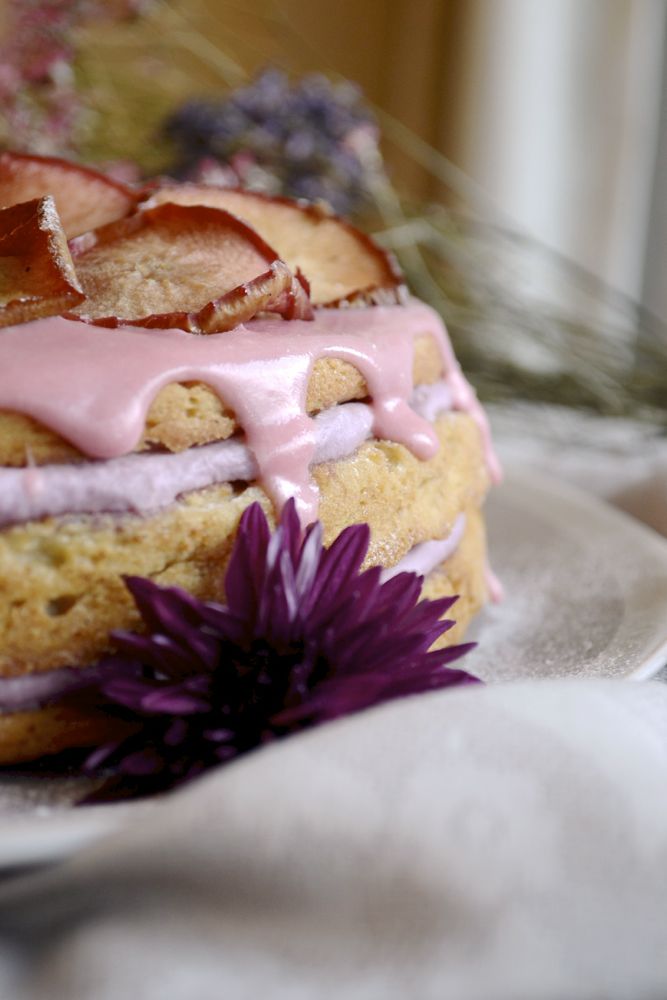 For the cakes
325g plain flour
1.5 tsp baking powder
1/4 tsp salt
175g unsalted butter, room temperature
50g brown sugar and 50g golden caster sugar
500g apple purée, homemade from a bag of apples
1 vanilla pod (optional star anise and cinnamon stick)
3 medium, free-range eggs
For the slices
1 extra apple, medium and cut in thin slices (1/2cm or 1/4cm if you can by hand)
Juice of one large beetroot
For the buttercream and icing
equal quantities of cream cheese and butter
icing sugar
lemon juice or water
red and blue food colouring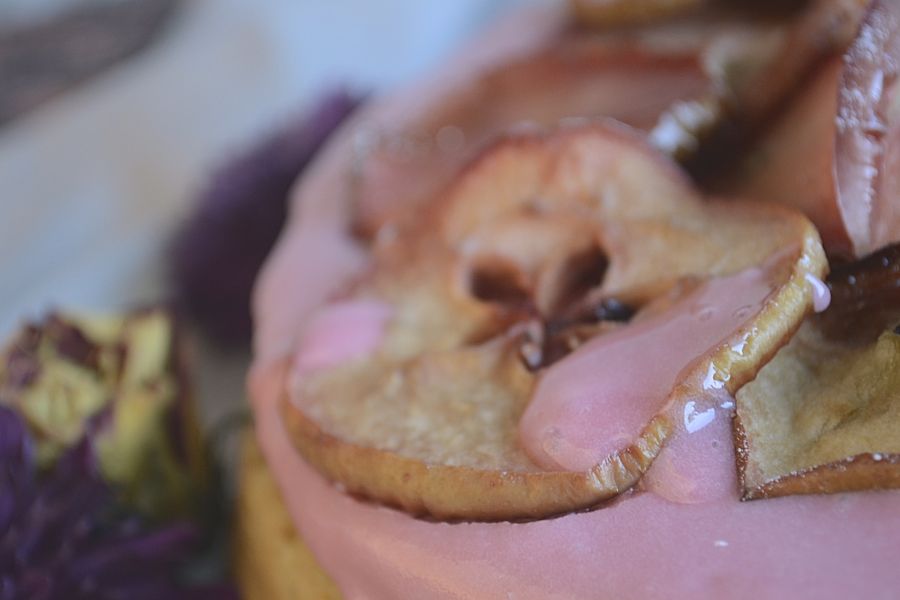 Method
1. Pre-heat the oven to 170°C. Line a large baking sheet with greaseproof paper, or a silicone sheet.
2. Draw the juice out of a large beetroot. We blitzed ours in the food processor, then wrung out in muslin to get the juices into a shallow dish.
3. Dip the apple slices into the blood red juice to colour, then arrange slices of apple a centimetre apart, in rows on the baking sheet. Drizzle with a tiny bit of flavourless oil and sprinkle with some brown sugar. Bake until just curling, slightly browned and almost crispy. Cool on a baking rack.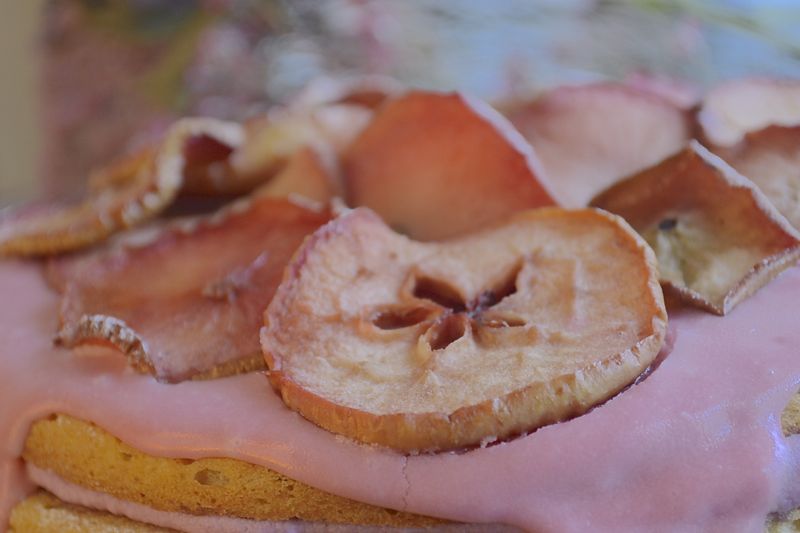 4. Peel, core and cut up the rest of the apples into chunks, using about 450-500g of local apples (if you can). Then put into a pan with about 100ml of water, a vanilla pod (but scrape out the seeds, and keep to the side to use in the cake later) and the caster sugar. You can add a stick of cinnamon and star anise if you wish for extra spice and sweetness.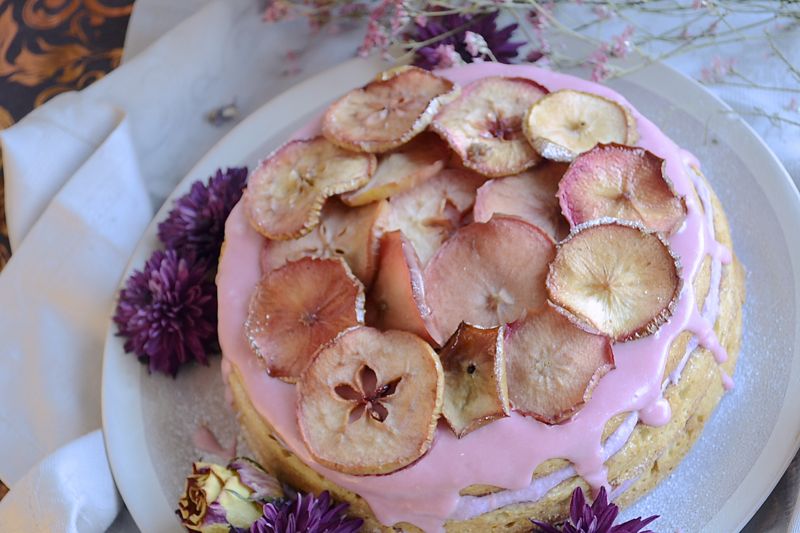 5. Allow to come to a boil, then simmer gently for twenty minutes. Transfer to a large bowl, take out the vanilla and spices, and allow to completely cool. You can spread on a plate if you want it to cool quicker (the larger surface area will cool the mixture quicker).
6. Meanwhile, cream the butter and brown sugar together for five to ten minutes in a large mixing bowl. The butter must be room temperature for this to happen, then the mixture will lighten in colour, double in size and be whipped and aerated.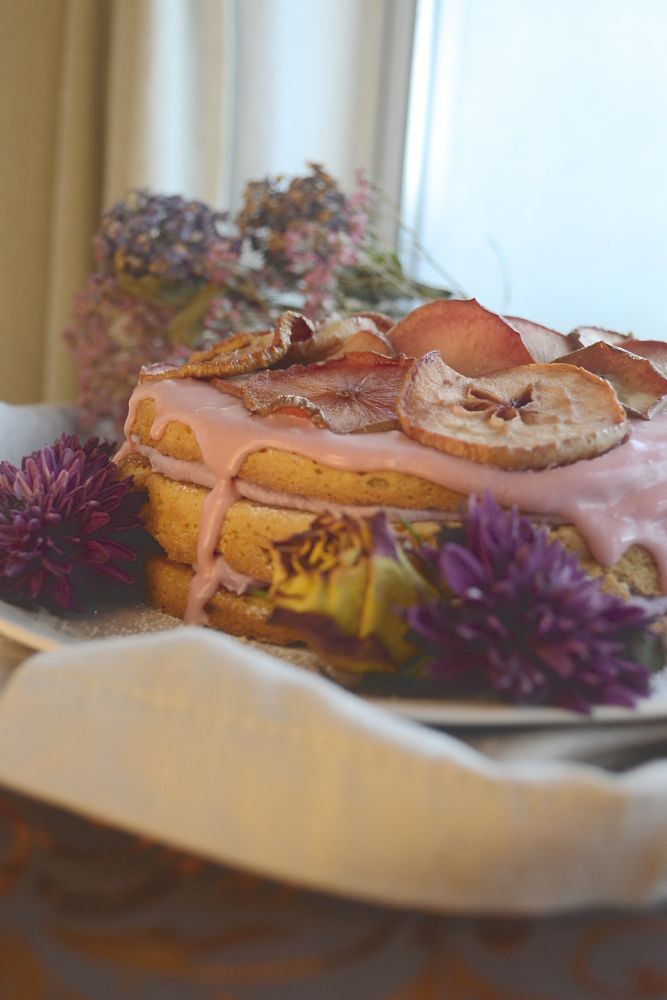 7. Grease three same-size tins very well, we used 20cm tins. You can grease and line if you like. Pre-heat the oven to 170°C.
8. Fold the dry mixture (flour, salt, powder) and eggs alternately into your butter mixture, beginning and ending with the flour – this will stop the mix curdling and will reduce the amount of stirs you will need to do to bring the mix together, and therefore keeping as much air in as possible.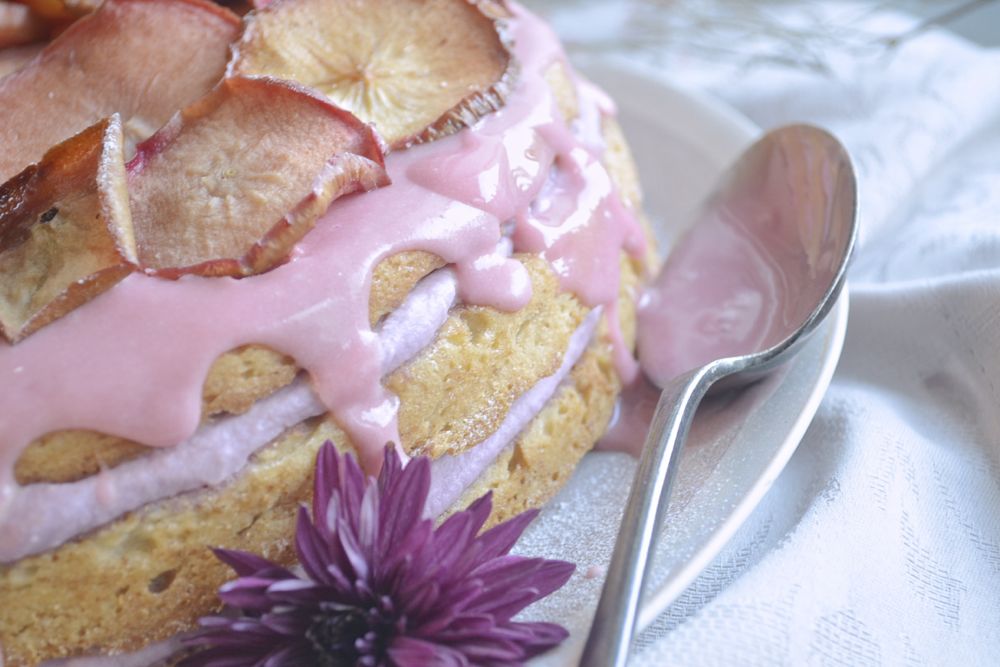 9. For the final folding in, add the cooled apple purée and the fresh vanilla seeds. Then transfer the mix, a third in each tin.
10. Bake for 22-25 minutes until just golden and a skewer comes out clean once inserted. Remove from the tins and allow to cool on a rack.
11. Make your buttercream. We used buttercream to sandwich the cakes and on the top we used just coloured icing. We used half buttercream and half cream cheese, that we then coloured lilac with a couple of splashes of both red and blue food colouring. Chill well before using. You can make this at least two days before the cakes if you need to save on time.
12. For the icing, simply mix a little water or lemon juice with lots of icing sugar until it's a thick consistency that will just about, but not fully, run down the side of the cake. Think of a thick double cream consistency and you're there. We mixed a tiny drizzle of red colouring into the icing to turn it a pale pink.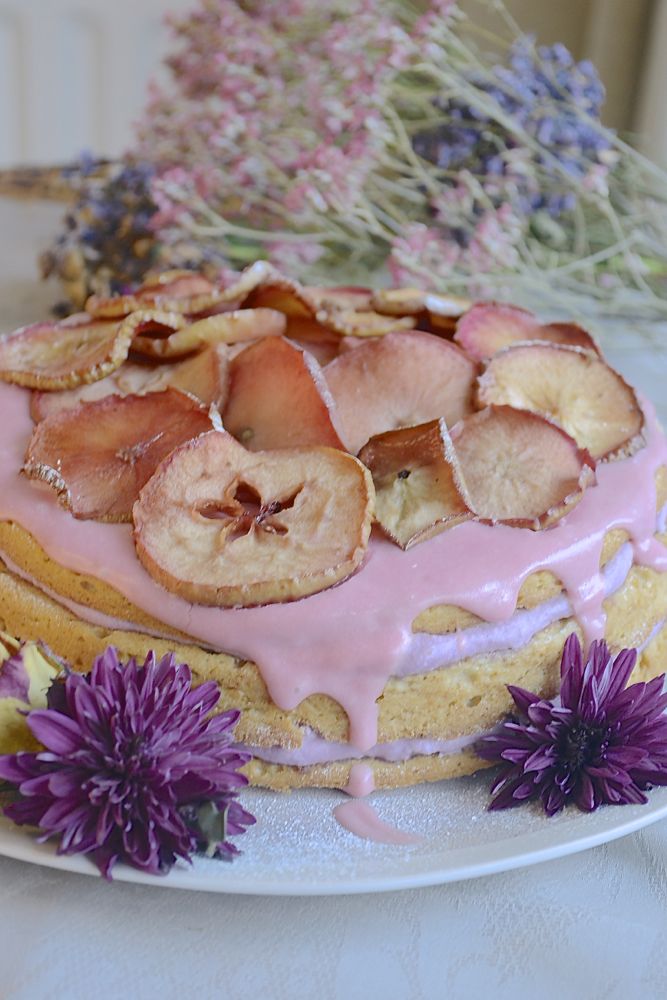 This cake will serve eight people, but best to leave it for a greedy four to six, after all, we're allowed to embrace Winter weight soon enough, right?