In May 2017, thousands of Eurovision superfans – ourselves included – will descend upon Kyiv, the capital of Ukraine, for the next instalment of the world's biggest and most-watched song competition and the second time the city has hosted.
Returning to Ukraine following Jamala's powerfu victory with 1944 in Stockholm, a win which was symbolic for many reasons. Ukraine had only just returned to the competition in 2016, following a break in 2015 as the country was dealing with a difficult military situation, coupled with the annex of Crimea by Russia – an action widely condemned by the rest of the world.
A triumphant return it was… they only went on to win and cinch their second win since their Eurovision debut in 2003. Funnily enough, their first win was historic too, the fastest debut country to take home the title, following Ruslana's 2004 win with Wild Dances. (Yes, we know Serbia won on their debut in 2007, but as a nation, they have competed under the names of Yugoslavia, Serbia & Montenegro and finally as Serbia since 1961…let's give Ukraine this one!)
With 2 wins in 13 years, two second-place silver medals, and a pair each of 3rd and 4th place finishes,Ukraine is a force to be reckoned with, and celebrated for bringing some epic songs to the show – almost always making the top 10 on the final leaderboard. Here's 8 examples of how amazing Ukraine is at the game we call Eurovision.
1. Ruslana goes wild (2004)
Normally, it takes countries several years of competing before they make a large enough impact to snatch the title, but not for Ukraine. In 2004, just one year after debuting, Ruslana – in full warrior princess garb – stomped her way to victory. A clever, eye-catching concept complete with fire, drums and animal skins, Wild Dances stood out for being ballsy, brash and so visually compelling compared to every other entry. Some could argue that between Ruslana and Turkey's Sertab Erener (the 2003 winner) a new era of Eurovision came about, where just a good song isn't enough.
2. Be My GUUEEEESSSSTTTTT (2012)
Okay, you may turn your nose up at this one, but bear with us. We were shocked when Gaitana – Ukraine's entry at Eurovision 2012 in Azerbaijan – ended up being one of their worst-performing entries ever. At the contest in Baku, Be My Guest placed middle of the road at 15th out of 26 entries, which, let's face it still isn't that bad, but it's such a jovial, catchy and memorable anthem – which she belted out like few others. However, performing second-to-last in an unprecedented strong line-up,  wasn't going to help Gaitana. The contest was stormed by Loreen, which won for Sweden.
3. The greatest diva performance of all time: Shady Lady (2008)
If royalties were paid based on YouTube views, we'd bet our views alone could put Ani Lorak's children through college! We can't even count the amount of times weekly we play this song (Spotify, catch up please!) What can we say about Ani Lorak's Shady Lady… The impeccably to-the-second choreographed routine, the costume, those high notes, the silly lyrics, the catchy beep beep. It's the absolute spirit of cheesy Eurovision captured in one song. In that painfully close-yet-so-far situation, Ukraine came second to Russia's Believe by Dima Bilan.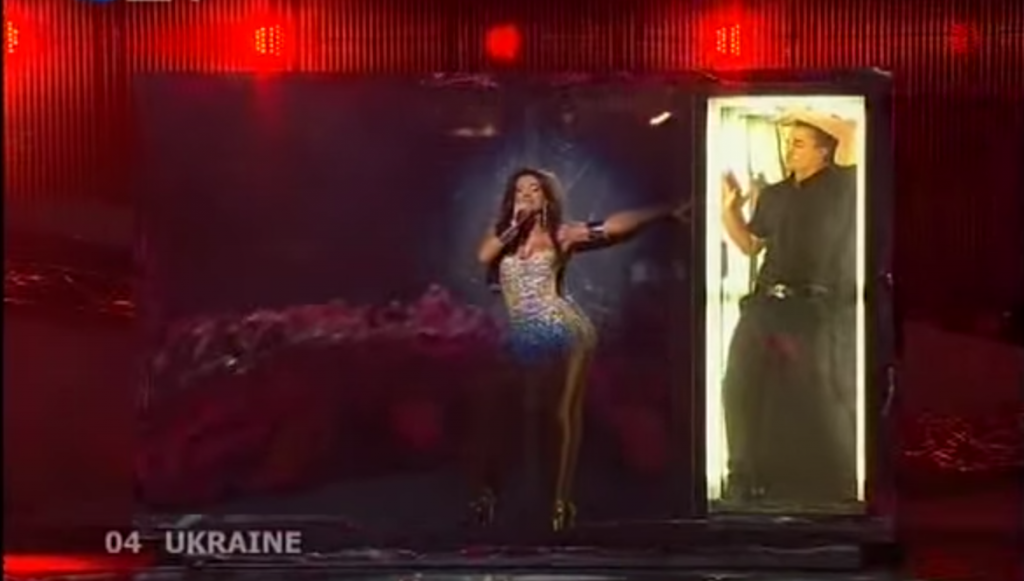 Interesting then, when the tables turned at Eurovision 2016, Ukraine took the title with a ballad and Russia's Sergey Lazarev's You're The Only One routine definitely took blatant hints from Shady Lady… No? Just us?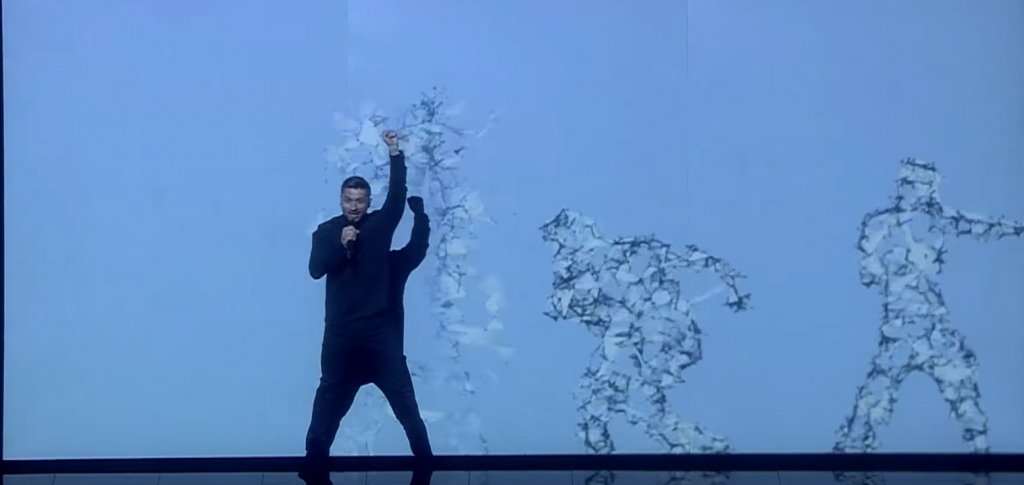 4. …and a man in a hamster wheel! (2014)
First off the bat, let's talk about the elephant in the room. Or should we say hamster in the room. Yes, there is a man going round and round in a hamster wheel, but if that shocks or disgusts you, we may need to sit you down for our lecture on 'What the Eurovision Song Contest looks like'.
But as far as we're concerned, this song is pretty timeless. The perfect opener for Eurovision 2014 in Copenhagen, Denmark, Maria Yaremchuk's Tick Tock came a very respectable fifth place. Delivering on the vocals, feisty fierceness and a complete gimmick, it's a tough song to tire of!
5. Giants defying Gravity (2013)
Yep, nothing to see here… Just a 7-foot tall giant and a damsel in distress (in a bodycon dress). To us, the giant gimmick is totally unnecessary as Zlata Ognevich's song stands defiantly on its own without the need for silly staging. In saying that, it takes a confident singer and powerful song to keep your attention performed solely on a rock in the middle of the stage, but Zlata's Gravity pulls it off!
Coming third in Eurovision 2013 in Malmö, this was perfectly timed for all the Disney Frozen euphoria and gave everyone ice princess realness. Rousing vocals flitting between minor and major chords coupled with a stunning singer, this feels like a different scene from whatever movie Wild Dances would be in!
6. Show Me Your Love (2006)
We'll be the first ones to agree that there was about a five or six year streak during the early noughties where Eurovision was woeful! Song standards were rock bottom with tasteless tricks and tired tracks by the bucketload but with usually the very few good songs in a bad bunch rose to the top to take the title.
There were some diamonds in the rough, like in 2006 with returning champ Carola's Invincible for Sweden, Spain's Las Ketchup sisters and also little 'ol Tina Karol for Ukraine. Let's put that into perspective: the UK sent Daz Sampson with his schoolyard rap that year…..
Show Me Your Love was a shining light amongst a dark cloud of crap –an upbeat Eastern European ditty with just a sprinkling of Greek notes (seeing as the contest was held in Athens). It didn't manage to take a top five spot, but came a fine seventh and stayed in our heads forever more.
7. HELLO EVERYBODY! (2007)
This, ladies & gentlemen, is Eurovision with the fun factor turned to 90. Welcome to when Eurovision was at its peak of wonderful weirdness.
Verka Serduchka, representing Ukraine in 2007, gave us one of the most joyful, playful and most camp songs ever and we loved every second of Dancing Lasha Tumbai. Verka is best known as a drag queen character in Ukraine and her participation wasn't without controversy. Needless to say, Europe fully embraced this party-popping, Eastern European anthem, now fondly remembered by fans and non-fans alike. It was unfortunately pipped to the post on the night by Serbia with just 30-ish points between them.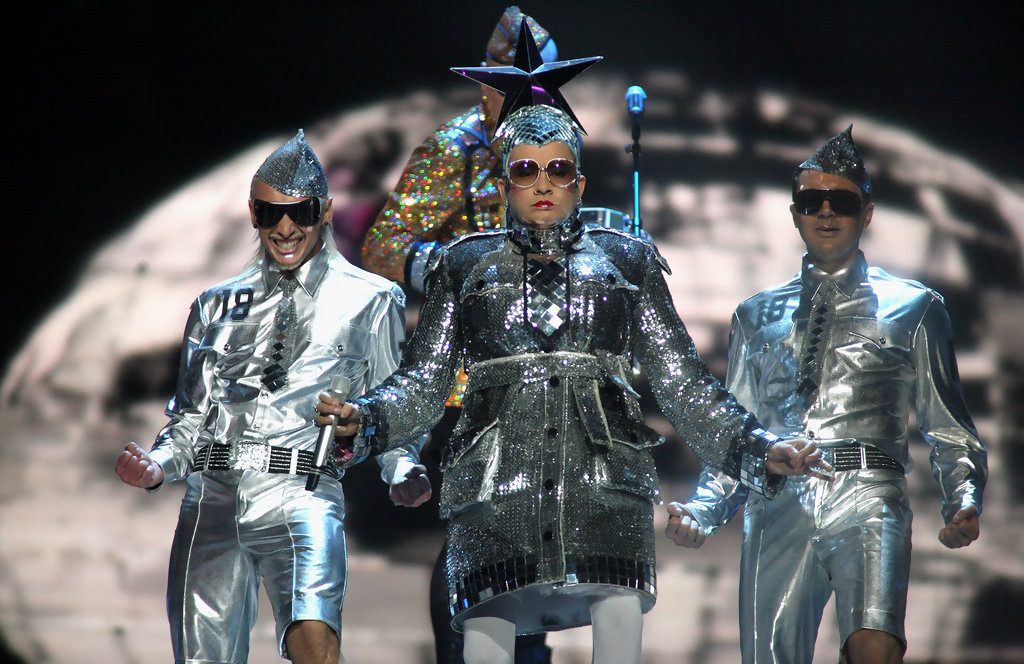 Verka hasn't disappeared into the ether though, appearing in several Eurovision sketches and also delivering jury results for Ukraine. Might we see more of Verka at Eurovision 2017 in Kyiv? We hope so!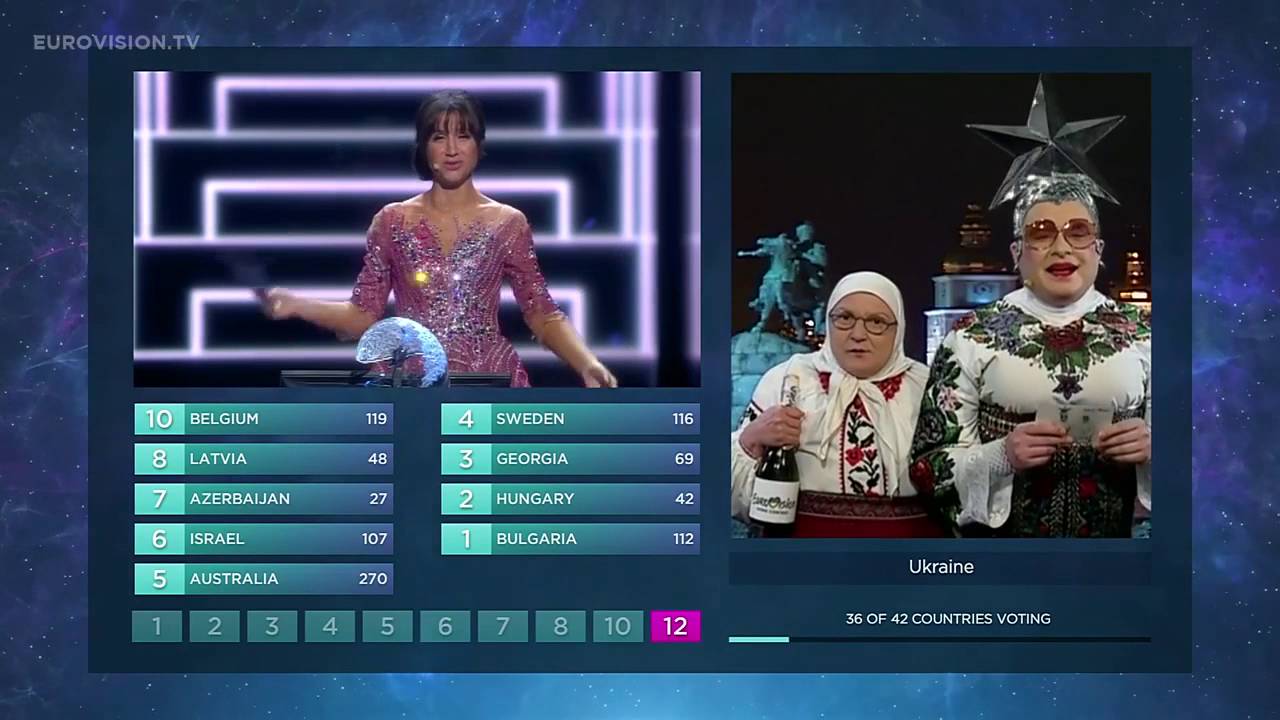 8. Chilling & Controversial 1944 (2016)
We know we know, all listicles about Eurovision and Ukraine will finish with this song but we're not going to give you the same old spiel.
When we heard that Ukraine were coming back to the contest, we were incredibly excited (as you can probably tell), we secretly hoped that they'd choose Kazaky, as we're massive fans of them, but when we heard 1944 we were completely caught off guard!
Stunned on first listen,  Patrick instantly declared "this is going to win", whilst Russell wasn't so sure. Low and behold, Jamala succeeded spectacularly and brought the contest back to Ukraine.
We were in Globen Arena during Semi-Final 2 for Jamala's qualifying performance and the minute her song started, the atmosphere changed. No screaming, no shouting, you could hear a pin drop as everyone was rooted to the spot and haunted and mesmerised in equal measure. That's the power of a winning song, no matter what you say about Jamala or her win. It affected and captivated people at every performance.
https://www.instagram.com/p/BISblNsBWBl/
Ukraine has given us a variety of entries, good and bad, but their force is unstoppable, emerging as one of the most successful nations in the contest already… and long may their conveyor belt of incredible tunes continue turning!
#GGEurovision