Bet you didn't realise these songs actually *almost* took the title.. We've all but forgotten these modern classics that all finished within the top five and stood within a whisker of taking home the trophy and title. Ultimately though, it wasn't meant to be. Though these tracks earned legions of fans, they are resigned to runners-up in the history of the Eurovision Song Contest. Read on to discover what could have been…
Eric Saade Popular (2011, Düsseldorf)
Sweden almost grabbed the title a year before Loreen stormed Baku with Euphoria! At Eurovision 2011 in Düsseldorf, Eric Saade came third with Popular. A beautiful specimen of a man, this performance was beyond polished with spot-on choreography… even if the vocals weren't as up to scratch as they maybe should have been.
Unfortunately this lost out to the alleged fix that was Azerbaijan's first win, Ell & Nikki's Running I'm Scared, coming just a few points behind Italy who returned to the contest after a 13-year absence to come runner-up.
Željko Joksimović – Nije Ljubav Stvar (2012, Baku)
Željko is a Eurovision anomaly, having represented two different countries (sort of) and also presented the Contest, but never won. Well-known as the host of Eurovision 2008 in Belgrade, following Serbia's surprise win with Marija Šerifović's Moltiva, it was actually in 2004 when the Eurovision audience was introduced to Željko when he achieved second place in Istanbul for Serbia and Montenegro on its debut performance.
Fast forward almost a decade and in 2012 he made it within the top five once again, this time solely representing Serbia. During an incredibly strong year, this Serbian language ballad seriously stood out, taking third place behind the runner-up Russian babushki but couldn't compete with Sweden as Loreen's Euphoria racked up a record-breaking 12 points from 18 different countries.
Margaret Berger I Feed You My Love (2013, Malmö)
This dark, synth-heavy, string-filled love song was a confident turn for notoriously nul points-awarded Norway. A pared back yet icy performance with impressive build, Margaret's bold track was an early favourite. Despite receiving 12 points only from its Nordic neighbours – Sweden, Finland, Denmark –Norway stood a steely chance at taking the title with consistently good scores from almost every country.
However Margaret finished fourth, 100 points behind eventual winner Denmark with Emmelie de Forrest's Only Teardrops. Aside from Alexander Ryback's monumental win in 2009, this is still one of Norway's best-performing entries of the past decade or two.
Natasha St. Pier – Je n'ai Que Mon Âme (2001, Copenhagen)
Canadian-born Natasha St. Pier arrived somewhat out of obscurity to achieve France's best result since the mid-Nineties. A love ballad, powerfully sung, drew natural comparisons to Celine Dion, a fellow Canadian who competed in Eurovision (and won for Switzerland in 1988).
On the night, BBC commentator Terry Wogan stated, more than once, that Natasha's entry for France was the best song and stood the greatest chance. However, Natasha ended up fourth and victory, bafflingly, went to Estonia with a new-age, clean, party rap Everybody by Tanel Padar, Dave Benton & 2XL. That group disbanded soon after winning. France should have won.
Lisa Andreas – Stronger Every Minute (2004, Istanbul)
Though shaky at the start and a little sleepy, Lisa Andreas took us to church with her lulla-ballad, Stronger Every Minute, representing Cyprus. UK-born with Greek Cypriot heritage, 17 year-old Lisa captivated the crowd at Eurovision 2004, hosted by Turkey. She crooned her way almost to the top, finishing in fifth overall whilst a game-changing self-styled Xena Warrior Princess, Ruslana, secured Ukraine's first victory with Wild Dances and brought the 50th Eurovision Song Contest to Kiev in 2005.
The Common Linnets – Calm After The Storm (2014, Copenhagen)
Who knew this bluegrass, down-tempo Dutch ditty would shoot straight to second place in Eurovision 2014, hosted by Denmark? Formed just before taking part in Eurovision, The Common Linnets at the time was made up of Ilse deLange and Waylon (though the band's male members have changed regularly since).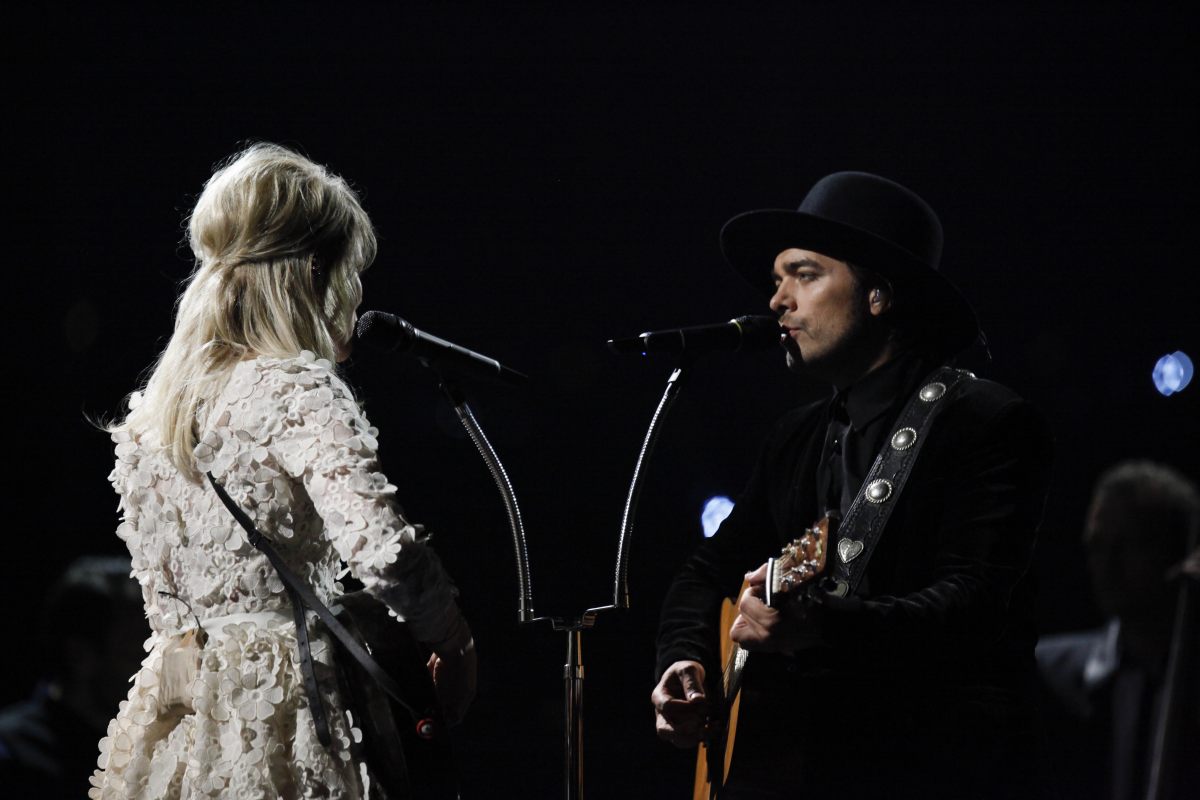 This was a real departure, sound-wise for Eurovision and the fans obviously responded incredibly positively, though Austria's Conchita  Wurst couldn't be caught by close of play – even being declared the winner before the voting had finished! Afterwards, this track reached No.9 in the UK Singles Chart, compared to Rise Like A Phoenix which peaked at No.17 whilst this is also The Netherlands' best-performing entry since their last win in 1975, Teach-In's Ding-a-Dong. 
Hadise – Düm Tek Tek (2009, Moscow)
Trust Turkey to do a bit of belly dancing to help their chances. Following Sertab Erener's win for Turkey in 2003, Hadise tried a similar strategy at Eurovision 2009, hosted in Russia.
Belgian-born Hadise, with Turkish heritage, performed her stompingly infectious Düm Tek Tek complete with a hefty whack of Eastern spice and sex appeal. It was primed to do well when the contest went its most easterly  location to date, the Russian capital of Moscow (before Baku assumed that accolade in 2012). Hadise finished fourth, but at least she reignited everyone's desire to belly dance.
Ukraine – continuously robbed!
Let's not forget two separate occasions, year-on-year, that Ukraine almost clinched the title, Verka Serduchka with Dancing Lasha Tumbai in 2007 and Ani Lorak's Shady Lady in 2008.
Read more in our post about the Power of Ukraine in modern Eurovision.
Dima Bilan – Never Let You Go (2006, Athens)
Aside from the horrendous mullet and Justin Timberlake styling, eventual winner for Russia Dima Bilan came a very close second at Eurovision 2006, hosted in Greece.  Freakier still, the half woman-half white piano on stage.
Though two years before the far better Believe would eventually bring the contest to Moscow, the top two in 2006 couldn't have been more chalk and cheese, with hard rock Finnish monsters Lordi achieving 50 points more than Bilan.
WTF Eurovision 2003?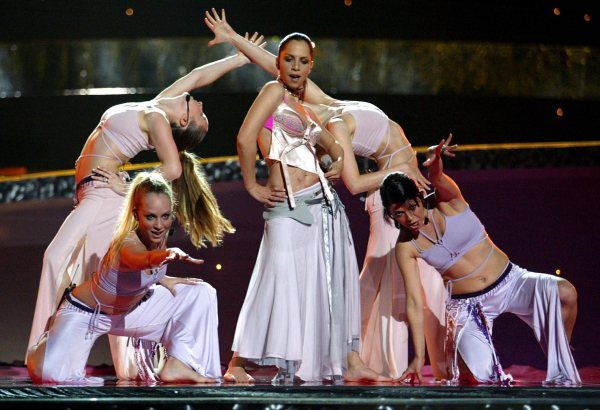 It was a photo finish between the top three acts at the Eurovision 2003 final, held in Riga, Latvia. Though Turkey's Sertab Erener grabbed victory (167 points) at the last second, both Belgium (165) and Russia (164) were mere points behind. Too close to call for much of the voting procedure, this is the stuff Eurovision fans live for.
Three very different countries, wildly different artists and each as iconic as the next. Belgium's Urban Trad offered a refreshingly simple, 'come together' track in an imaginary language whilst T.a.T.u – never without controversy – performed an incredibly modern 'call to arm's type track entirely in Russian.
If you can cast your minds back to the time, it was widely reported in the press that SHOCK HORROR, there would be LESBIANS. AT EUROVISION!? How times have, thankfully, changed. Interesting to note, the UK and Ireland were the only two countries not to give a single point to the Russian duo. Had they have even given one or two points each, Russia would have won. How it all might have been different, eh?
Carola – Invincible (2006, Athens)
Oh you forgot about this one didn't you? One of Sweden's most celebrated schlager divas and one of their most successful Eurovision acts, former winner Carola Häggkvist returned triumphantly to the Eurovision stage in 2006 fifteen years after winning with Fangad av en Stormvind at Eurovision 1991 in Rome. Let's not forgot she also competed as a 16 year-old in Eurovision 1983 in Munich with Främling, finishing a respectable third.
Battling through the Swedish selection process Melodifestivalen to earn her rightful place to represent, she summoned all her power and the mite of the world's most powerful wind machine to try to bring victory to Sweden once again. Sadly her schlager-by-numbers anthem achieved just fifth place. She would, in 2008, return to Melodifestivalen once again to try her luck, this time as part of a duo…
Chiara – various (1998, Birmingham; 2005, Kiev)
Poor Chiara. Ever the bridesmaid, never the bride. A three-time competitor for Malta,  two separate occasions saw Chiara relegated to runner-up whilst her third attempt found her towards the bottom of the leaderboard.
Firstly was her well-documented upset and anger following her first defeat, as The One That I Love was pushed at the last second to third behind Israel's Dana International and United Kingdom's Imaani when Birmingham hosted in 1998. Then, in 2009 she was the first Maltese Eurovision act selected solely by public vote and so, triumphantly, she returned to the contest with Angel at Eurovision 2005 in Kyiv, Ukraine.
Though presenting another heartfelt ballad showcasing her powerful set of pipes, she just couldn't catch Greece's Helena Paparizou in 2005. The less said about 2009 the better, where she ended up 22nd place in the final. Still, Chiara is one of the most successful Eurovision acts of all-time, counting all of her awarded points from each entry. She sits slightly behind two others on this list in fact: Dima Bilan and Carola Häggkvist.
A few more votes might have had very different results, wouldn't they? What are some of your favourite Eurovision Top Five entries that almost made it to the top spot? Let us know in a comment!
#GGEurovision