There's no set formula to win Eurovision, but there are very distinct trends. Folk may seem a bit passé and naff, but you'll be surprised how well folk-influenced entries do, even in recent years.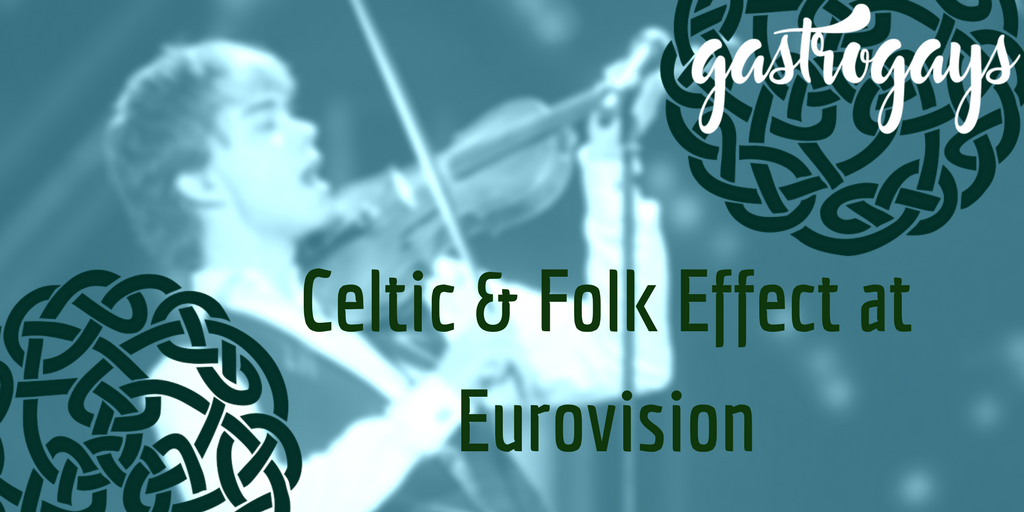 Ireland: Serial Offender (A Case Study)
Firstly, the biggest offender of this style has to be Ireland, though they've found both great success and devastating loss by playing the Celtic card. A Celtic influence has underpinned countless of the country's entries, even resulting in winners in 1970 and 1995.
Dana – All Kinds of Everything (Ireland, 1970) 🌟
in 1970, both the UK and Ireland were the only real contenders, racking up most of the votes available. The UK came armed with a 50-piece orchestra and apparently were so sure they would win had pre-organised a celebratory party for afterwards. In the end, they were runners-up that year with a similarly styled folk-pop number 'Knock Knock, Who's There' from Welsh singer Mary Hopkin, which finished just six points behind Dana – Ireland's first ever winner. More lullaby than rousing Celtic set dance, 18 year-old Dana stood out with her simple yet effective song.
Eimear Quinn – The Voice (Ireland, 1996) 🌟
Another Irish winner emerged in 1996 in Oslo, Norway, bringing the contest back to Ireland for an unprecedented fourth time in five years. Eimear Quinn's haunting, goosebump-making and Celtic-heavy The Voice came first with a comfortable margin of 50 points between it and the runner-up, Norway. This is Ireland being as Irish as possible – but not tacky or twee –and winning!
Also, though it wasn't particularly folky or celtic, Ireland's only entry in its native tongue, Gaeilge, could have gotten the full Céilí stylings if they decided to in 1972, but they went for a more subtle style. You can also thank Ireland for Riverdance too – the most iconic interval act ever performed at Eurovision is all about Irish folkore and mythical Celtic traditions.
However, the same can't be said for Ireland's recent offerings spiked with a traditional twist.
Can-Linn ft. Kasey Smith – Heartbeat (Ireland, 2014)
Just take Can-Linn in 2014, which failed to even make the final with its odd mish-mash of Hollywood glamour and Celtic styling. With incredibly shaky vocals from Kasey Smith it failed to clinch one of the coveted ten places for the final, ending up 12th in its semi-final.
But worse even that that, Ireland's only-ever last place finishes in the Eurovision final have occurred with two different Celtic-styled entries.
Ryan Dolan – Only Love Survives (Ireland, 2013)
A year before Kasey Smith's crash out pre-final, Ireland just scraped into the final with Ryan Dolan's Only Love Survives. A great vocalist but put on stage with an awful song and some very tacky, obvious performance gimmicks (shirtless, greased men; tribal styling; bodhráns; Celtic imagery). What was with all the leather too? Ryan performed last on the night and fittingly finished last with just five points.
Dervish – They Can't Stop The Spring (Ireland, 2007)
Then to an entry which might as well have been in Irish, or even in a made-up language as it was impossible to work out what Dervish were singing about. Seemingly a concept-first idea, this was Ireland's most twee entry ever and quite possibly its worst offence. Complete with 18th century dress and every traditional instrument they could get their hands on, Ireland came last with, you guessed it, five points.
But Ireland hasn't nipped away at this musical style alone, oh no, it's use has been rampant by varied countries across Europe. Here are some other notable celtic and folk entries in Eurovision's recent history…
Justyna – Sama (Poland, 1995)
For Poland's second-ever entry they went for something completely different, even though their debut with Edyta Górniak resulted in them coming in second place. A darker ballad with soaring string accompaniment, Justyna's song, translated as 'alone' in English, was about isolation and loneliness. Deserved to do better we think, as it ended up in 18th place with just 15 points awarded, however it performed first on the night – a tough gig. That incredibly long-held high note at the end makes this a memorable and classic Eurovision entry.
Aisté – Strazdas (Lithuana 1999)
Singing in her native Samogitian dialect, Lithuania's second-ever entrant, Aisté, brought a triumphant dose of folk to Jerusalem, Israel at the turn of the century. However, the scores weren't in her favour and she came 20th of 23 entries with just 13 points. Lithuania is still waiting for its first win.
Urban Symphony – Nocturne (Norway, 1995) 🌟
With just 24 words, this is Eurovision's most-instrumental winner to date, relying heavily upon whistle, flute and violin. It has an Irish connection too, the lead violin player is Irish woman Fionnula Sherry. Ten years after they first won with Bobbysocks, this delivered Norway's second win and 15 years later they would host again following their third win.
Alexander Ryback – Fairytale (Norway, 2009) 🌟
An historic win for Norway with the most amount of points ever awarded, before the new voting structure came in in 2016. This was a much-needed win for the competition and for Norway. Alexander Ryback's violin love song is still a huge hit to this day.
Severina – Moja Štikla (Croatia, 2006)
Straddling between pirate and peasant, this little call-and-respond ditty from Croatia took everyone by surprise for its high energy routine. Lots of traditional Croatian folk stylings and simple lyrics (the title translates as 'little stiletto') made this a memorable folk-tastic performance and finished in a respectable 12th out of 24 on the night in Athens.
1996: The year Celtic and Folk Eurovision exploded
Something was in the air in 1996. The top four finishers at Eurovision 1996 – hosted in Oslo, Norway – all had a distinct celtic or folk vibe and this year in particular is a record for folk influence on the Contest, following Secret Garden's win with Nocturne. Ireland would ultimately succeed with Eimear Quinn's The Voice, its most Celtic entry ever.
Maja Blagdan – Sveta Ljubav (Croatia, 1996)
Dat high note! We're not sure if it's officially or unofficially the highest note ever reached at Eurovision, but Maja Blagdan is definitely in contention for that accolade. Those two top-of-range high notes set this song apart instantly, as well as its folk stylings. It is still tied with another entry as being Croatia's most successful effort to date – it came fourth.
One More Time – Den Vilda (Sweden, 1996)
A winter piano ballad with classical stylings and ample strings from One More Time for Sweden, one of whom is Nanne Grönvall (one of Sweden's celebrated schlager divas!) and the song was written by her husband Peter. The melodies make this one!
Elisabeth Andreassen – I Evighet (Norway, 1996)
Even Sweden's neighbour Norway, whose entry was former Eurovision winner Bobbysocks' now-solo Elisabeth Andreassen with I Evighet, had a bit of a traditional tune to her song, which came second.
Sebnem Paker – Besçinci Mevsim (Turkey, 1996)
Turkey offered an entry featuring their traditional tunings as well in 1996, albeit with a bit of a jazz slant. It came 12th out of 23.
Lúcia Moniz – O meu coração não tem cor (Portugal, 1996)
Ukelele at the ready! Lúcia sings about Lusophone (Portugese) life, language and culture in this entry – which is still Portugal's best-performing entry to date, it came a very respectable sixth. Sadly, Portugal is still the longest-waiting country for its first win. Recognise the singer? She went on to have a big music career and then appeared as Aurélia in Love Actually!
Dan ar Braz & l'Heritage des Celtes – Diwanit Bugale (France, 1996)
France wanted a bit of the action too! Does the name of the band give it away? This is sung in the Breton language of Northern France and features traditional instruments heavily – even the Irish uilleann pipes. It wasn't entirely well received and finished 19th.
Mariana Efstratiou – Emis Forame To Himona Anixiatika (Greece, 1996)
Even the Greeks were at it! This came 14th.
…Now, back to more current attempts at folk and celtic.
Emmelie de Forest – Only Teardrops (Denmark, 2013) 🌟
The shriek of a tin whistle and the bang of drum paired with a barefoot girl, folk is at the heart of this recent Danish winner.
Christina Gulbrandsen – Alvedansen (Norway, 2006)
Ethereal and incredibly Nordic, this Norse entry at Eurovision 2006 in Athens is very Celtic Woman. This finished in the middle at 14th place, just below Severina for Croatia.
Sebalter – Hunter of Stars (Switzerland, 2014)
An infectious whistled melody with lots of bango and violin to back it plus claps aplenty, Sebalter is universally remembered for this sweet little tune, which is their best-performing entry of the past decade, it came 13th.
Flor-de-lis – Todas as Ruas do Amor (Portugal, 2009)
Another folksy little love song from Portugal, which came 15th in 2009.
Nox – Forogj Villag (Hungary, 2005)
Taking a bit of a lead from the previous year's winner, Ukraine's Ruslana, Hungary achieved a very respectable 12th place with Nox. Let's face it, this entry is all about the choreography and what an impressive jig it all was!
Željko Joksimović – Nije Ljubav Stvar (Serbia, 2012)
A piano ballad with folk influence that rises gently to its cruscendo, this is what's more likely to fare better in modern day Eurovision – a contemporary twist on a folk or celtic piece of music. Though this came an incredible 3rd in Baku, Azerbaijan, before this Željko actually came second in 2004 for Serbia & Montenegro  and then presented Eurovision when Belgrade hosted in 2008.
Ruslana – Wild Dances (Ukraine, 2004) 🌟
If you couldn't tell already by the Xena Warrior Princess styling, this is a song with serious folk undertones, interpreted for a modern audience. It's more of a battle cry than a little ditty sung by the fire, but it's got that folk twinge none the less.
Knez – Adio (Montenegro, 2015)
Knez is a big name in his country and this was surprisingly well-received, reaching 13th place in the Eurovision 2015 final in Vienna, Austria. It worked for this small Balkan state – this is their best result ever in this current form as standalone Montenegro. Guess who wrote and composed the song? Look above a few spaces.. that's right, Serbia's Željko Joksimović!
ESDM – Contigo Hasta el Final (Spain, 2013)
Oh lord, nerves were at the heart of this one not to mention a Spanish folk vibe. They must have been singing this to Ireland. It's translated as 'With You 'Til The End' and that's exactly where both ESDM and Ryan Dolan landed at close of play in 2013, at the end of the leaderboard. Ouch.
#GGEurovision