Eurovision is a contest which is organised by the European Broadcasting Union (EBU). They network together broadcasters from across Europe, and the world for news, images and the likes. The song contest came about in 1956 as a way to help heal the wounds of World War 2 through music. How lovely! This year the grand final is taking place in Vienna on Saturday May 23rd.
As the UK through the BBC is one of the biggest contributors financially to the EBU, alongside broadcasters in France, Germany, Spain and Italy, they are automatically given a pass to the final. All other participating countries must battle it out in two semi-finals.
In short, it's all down to Money Money Money!.
Everyone committed Eurovision fan will know that Ireland won the contest the most, with a staggering 7 wins, three of which were in a row. But both Sweden, who gave us ABBA and Loreen, and the United Kingdom are both in joint second place with five wins each.
Back in the early days of the contest, the Eurovision was only competed by a small number of countries. Voting was done by a panel of judges until 1998, which was when televoting was introduced, putting the power in the hands of the people.
In the early 2000s the competition began to grow even more as countries from the former USSR starting to compete. Accusations of "bloc voting", where neighbouring countries, as well as countries which share ideologies would be generous with points eventually meant the votes were split 50/50 between jury and the public vote.
 / Via The Daily Edge
We ain't complaining, though. If it wasn't for this expansion, we'd never had seen this incredible Ukrainian performance, by Verka Serduchka.
Britain last won in 1996 when Katrina & The Waves off of "Walking on Sunshine" won in Dublin. The following year, the fabulous Dana International won for Israel, making it the most exciting thing to happen in Birmingham ever. Other notable winners included Lulu, Sandie Shaw, Brotherhood of Man, and Bucks Fizz.
/ Via YouTube
Some songs may not have won, but were bloody popular. Despite not hitting some of the high notes and the very of-the-moment dancing, Gina G's " Ooh Ahh… Just A Little Bit" was one of those typically amazing 90s tracks that everyone knows and loves.
Hitting those high notes has been a problem
Who are we to judge? We are not professional, or even amateur singers. But we all know that the test of great vocalists worldwide is being able to reach that note. Yes, THAT one. The high one. Perfect to end a powerful song, the one that introduces an epic key change, or in the case of Eurovision, the one so high that the wind machines come on automatically.
Exhibit A
Josh Dubovie from 2010 came last with just 10 points.
Exhibit B
 / Via Eurovision Song Contest
The Hump (aka. Englebert Humberdink). He can sing, no doubt about it. But this was his one chance to impress Europe, and just toward the end, the note just wasn't quite right. Epic ending though.
Staying in tune has also been an issue.
First impressions matter. If you're out of tune at the start, you must try to regain it. Sadly, Jemini, never did. Needless to say, we were crying through the pain of it all. Don't get us started on those dance moves.

Bonnie Tyler, the legend that she is, represented the UK in 2013 and didn't do great either results wise despite her preexisting fame. The whole song started off a bit weak, and it seems she was aided greatly by her backing vocalists quite a bit too for the higher notes.
However, some of her "dance moves" make us wonder if she had a quick bevvy to steady her nerves?
This reminded us of a drunk aunt who wouldn't hand back the microphone at a wedding.
This was just swaying and holding onto the mic stand for dear life.
"Hey I know yo…no turn it into a dance move"
We still believe in you Bonnie!
Some years have been tragic.
One word that will send shudders down the spines of any British Eurovision fan is "Scooch"
Not only was the song just cringe worthy in its performance, the entire thing sounded like the most sexually charged flight of your life. Something we are sure British Airways would not encourage, even in First Class. At least the reclining seats would've been of some use on Scooch Airlines.
There are some years that are just totally forgotten about.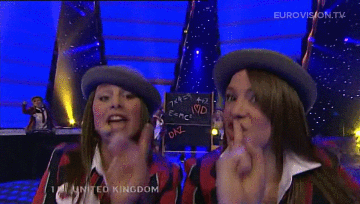 In 2006, Daz Simpson introduced to Europe a bunch of cockney angry schoolgirls who looked in their twenties, while shouting at us all about the benefits of education.
This wasn't a total points disaster, it did somehow get 25 points and placed 19th out of 25. Well done Daz.
Don't call us, we'll call you!
There were a few near misses too…
Remember when Katie Price competed in the BBC selection show, "Making Your Mind Up?". Luckily, Javine won with a song all about touching fire. Don't get us started about that.
That could've been embarrassing. Not quite Scooch embarrassing, but close enough.
Some entries have done pretty well.
/ Via BBC
Well one has. This fantastic performance provided by Jade Ewen, with Andrew Lloyd-Webber on the piano was the best result in recent years, coming 5th. Those were the days, eh?
Some entries should've done better.
 / Via BBC
Molly Smitten-Downes, who competed for the UK in 2014 should've done a lot better than placing 17th. The Caroline Flack look-a-like had a great image, a fantastic modern song and for once, people around the UK ACTUALLY liked it. Getting an emerging artist from BBC Introducing seemed the way to go, but the rest of Europe didn't approve.
What about 2015?
So in the last few years, the winners of Eurovision have consisted of a bearded lady, a Claudia Winkleman doppelgänger, an adorable Norwegian violinist, and a German girl who says the word "day" very oddly.
There is no set rule as to who should win the contest. This year, the United Kingdom has put their hopes into a twosome called Electro Velvet, singing a twenties inspired track called "Still in Love With You".
All is very well and good with this track. Catchy song, rememberable, but we're not so sure on the scatting.
Betting shops are guessing Alex & Bianca will fall just short of the top 10, however, commentator Graham Norton said at Eurovision's Greatest Hits that in a year of ballads, this track may do well.
Here's hoping.
GastroGays Eurovision Predictions
There are some great entires this year, apart from Electro Velvet. We have picked out our top ten on right here!