If you haven't noticed before now, we adore Eurovision. We take it very seriously. Like, very seriously. It's been  particularly exciting, enthralling and exhausting in the past few years and millions of people across the world will agree. You might not like #Eurovision at all, but maybe we can convince you how fun and addictive this continent-wide singing contest can be over the next 30 days 'til the contest lands in Vienna. First up, here's our Top 10 predictions for this year's final!
UPDATED AFTER THE FINAL!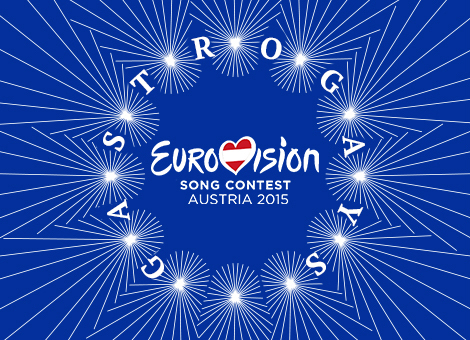 We're such super fans that last year we correctly predicted the top 5. Remember our 2014 predictions? This year, we've become even more obsessed than ever, resulting in friends & family worrying about our sanity, NATCH. We were so excited to attend the Eurovision Greatest Hits show in Hammersmith in March, and to the London Eurovision Preview Party, getting an advance glimpse at some of this year's entrants live on stage. We've even spent most Saturday evenings with a huge home-cooked meal and bucket loads of wine whilst  re-watching old contests again (stop judging).
We've whittled down our favourite tracks from this year's competition to help guide you through the show. Right off the bat, there's quite a number of songs that don't sound "like a Eurovision song" – something which many people use as an insult (rude). When we first heard the previews of each country's entry we felt it could be quite a weak year, however after watching back a couple of other contests from the past, every year is a healthy mix of good and bad, the ugly and the downright, bat-shit crazy. Particularly this year, many of the heavy hitters have only been revealed towards the deadline date which explains our initial worries.
UK – Since we live here, let's start with this one. We do NOT agree on this one at all. Padz thinks it's too chintzy, too camp and sounds like a song that wouldn't have even made a semi-final in the 'dark years' of Eurovision in the mid-late 2000s. Rusty loves everything about it, to the extend he's learning the dance moves. The UK ALMOST had their idea on the right track with Molly last year, but unfortunately her personality and performance left a lot to be desired – great track though, still. Graham Norton said during the Eurovision Greatest Hits show that "in a year of ballads this may do really well". The twittersphere let out a communal 'WTF?' when this song was unveiled but bookmakers have been kind to the track so far, so we shall see.
It isn't their worst track, remember Scooch's 'Flying The Flag'?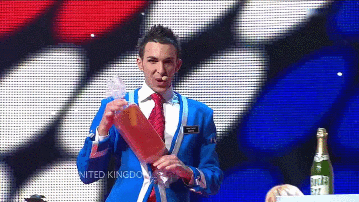 Plus with a slight pro-Great Britain atmosphere that is lingering due to the imminent arrival of a new Royal Baby, it could possibly be either the UK's best result since Jade Ewen in 2009, who came 5th… orrrrr it could be another Englebert Humple-flop. UPDATE: Almost last place, though it got a point or two. It was just an awful song with too many gimmicks. 
Australia – Could it not have been Kylie?! SERIOUSLY? SERIOUSLY!
This is a nice little dance-y number which will likely do well in European charts whether it wins or not. Guy Sebastian will represent Down Unda' with a track that screams of Olly Murs crossed with the backing track from a KFC Bargain Bucket ad. Nice; catchy; but not as game changing as we would like from the die-hard, dedicated followers from afar, the Aussies. He will automatically get lots of votes because of the gimmick of being in the competition for one year only (provisionally) and we can almost predict him coming easily within the top 5 and it being quite tense and exciting wondering if he will take the trophy home to the other side of the world!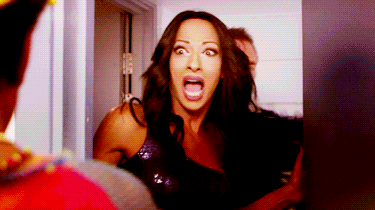 Rumours circulating are saying that if the Aussies win, the contest will return to Germany (as it must be held in Europe) though we feel it should be Britain considering the UK hasn't had a chance to host since Birmingham 1998 when Dana International won. We aren't biased. At. ALL. UPDATE: Ooh, the land Down Under almost came out on top! Guy Sebastian managed to grab 5th place!
Spain – we adored Ruth Lorenzo (of UK X Factor fame) last year which sadly only came 10th, but her song is nothing compared to this fiery ballad. A nicely paced track, this is powerful but will require a confident and note-perfect delivery (hit those high notes, gurl). As a member of the 'Big 5', Spain do suffer from the lack of exposure gained during the semi-final. UPDATE: Edurne failed to wow the juries or public and finished disappointingly 21st!
Belgium – Yes, we know, it sounds like Lorde for the first ten seconds. A male Lorde. It's uncanny! Coincidence or deliberate? Either way it's exciting, different, catchy and completely current. Loïc Nottet is only 19 and has one incredible voice. On our initial hearing of it, we thought this was a duet not a solo artist, because of his range. Belgium, despite winning the content in 1986 hasn't had a great decade since qualifying was introduced, only making it to the final in 2010 and 2013, but doing quite well on both occasions. Nottet's track will really appeal to the younger generation of Eurovision fans, and is in a relatively weak semi-final. The staging and performance of what is an amazing, radio-friendly track will be crucially imperative to its success. UPDATE: For a very conceptual performance, Belgium was massively well-received on the night and managed to nab 4th place!
Italy –three really hot young men singing a song of devotion to you in the language of love. Well played, Italy, well played. This is going to do REALLY well and we would be shocked if it doesn't finish in the top five.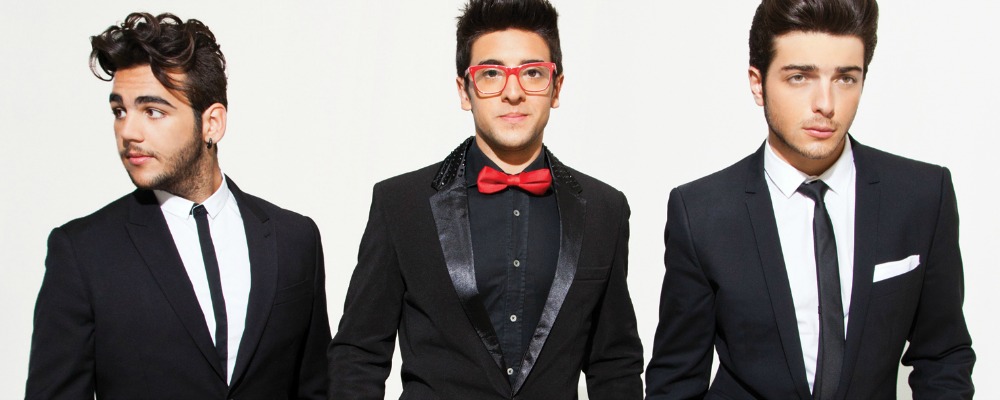 Though, we've heard both Italian and English versions of this song, so we wonder if they will buck tradition and try for wide appeal with English lyrics at the final or just stick to their guns and sing in Italian. They only have one chance as, like Spain, the UK, Germany and France, they're automatically in the final so only have the one performance. We think it works well enough in Italian and will likely get the housewives', young girls' and the gays' votes. UPDATE: After performing last and closing the show, and though they sat in the top spot for pockets of the voting procedure, Italy resulted in 3rd place. Very respectable.
Serbia –  Has Adele has been hiding away in Serbia all this time?! Teehee…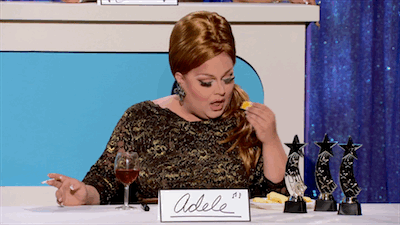 Ginger Minj, oh sorry, Bojana, brings a rousing lets-hold-hands-and-love-one-another number which then transforms into a disco dance floor belter – classic Eurovision!
It's nice, but we need to see the performance as we think Serbia may go ALL out for this one! Probably won't win, but we wish Delta Work all the best in the competition.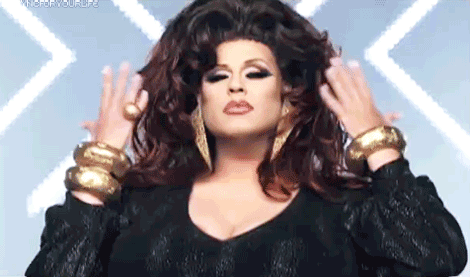 UPDATE: It was a very cheesy Eurovision-style performance, but the purists amongst us love that and rewarded Serbia and Bojana with 10th place in the final!
Iceland – has really pushed the boat out this year. Every single time we've heard this track, we have to double take, because it really does not sound like your standard Eurovision song. It's hauntingly similar in style to so many big female pop artists around at the moment and it's giving us a little Emmelie de Forrest's 'Teardrops' – the winning song two years ago for Denmark. This could commercially do very well chart-wise, post-competition too. Remember the runner-up track last year,  'Calm After The Storm' by The Common Linnets from The Netherlands. It peaked at number 9 in the UK charts, while Conchita only reached no.19. UPDATE: Eeeeek, after an awful vocal performance Maria didn't even qualify for the final. Nerves seemed to get the better of her… we were gutted!
Macedonia – F.Y.R. Macedonia's effort this year is quite a slow starter in a way, but once it builds towards the chorus, it becomes a really stand-out track. By the end, it does leave you wanting a bit more. A very catchy and powerful song that again, is in a weak semi-final so has a good chance of reaching Saturday's final. UPDATE: This was a disappointment as it failed to qualify. Not only were most people distracted by the fact Daniel looked like he was in a flashers jacket, and looking a bit too casual for Eurovision, the backing vocalists who appeared about of nowhere came on stage a bit off-key, and in a way ruined the song. Also, on a few occasions poor Daniel just didn't hit the notes, and he knew it. One of those songs which is miles better recorded than performed live, which doesn't really work on a live TV song contest.
Belarus – From the country that brought us a track called "I Love Belarus", this year they've given us a surprisingly great entry. Since taking part in the contest first in 2004, they've only qualified for the final four times, and never really make a huge impact. But this track really could change that for them. "Time" is ticking so many boxes for us: really upbeat; catchy sing-along lyrics; a bit of an ethnic sound to it too. The performance, we reckon will be quite interesting, if the official video is anything to go by. It's giving us a little Azerbaijan's 2013, albeit with a lot more sand. 
UPDATE: Wobbly vocals, sounding a bit huskier than on the recording, we had high hopes, as described above, for the performance, but it was a bit let down and didn't qualify. To be honest, it didn't deserve to move through to the finals. Though we question why a few managed to progress at all…but that's for another blog post.
The last track we're going to bring you is so far already considered the winner of the competition, but as you've read above there are plenty of strong contenders and we know for a fact Eurovision is rarely a runaway competition. Bookies' odds will change a thousand times in the month leading up to the competition.
Sweden, the land of ABBA and Loreen take Eurovision so very seriously, and we really admire that. Their selection process, the Melodifestivalen is bloody massive. Their last couple of entries have come incredibly close to stealing the crystal microphone, notably in both 2014 (Sanna Nilsen 'Undo') and 2011 (Eric Saade 'Popular'). This year, the Swedish song is outstanding. It begins sounding a bit like Avicci's "Wake Me Up" but then stands on its own and really makes you want to sing along. If the Melodifestivalen performance is anything to go by, it's also going to be a visual treat- because of the cartoon images behind Måns Zelmerlöw – who casually just happens to be drop dead gorgeous too. [BTW, how FIERCE is the guy doing sign language in the above video?]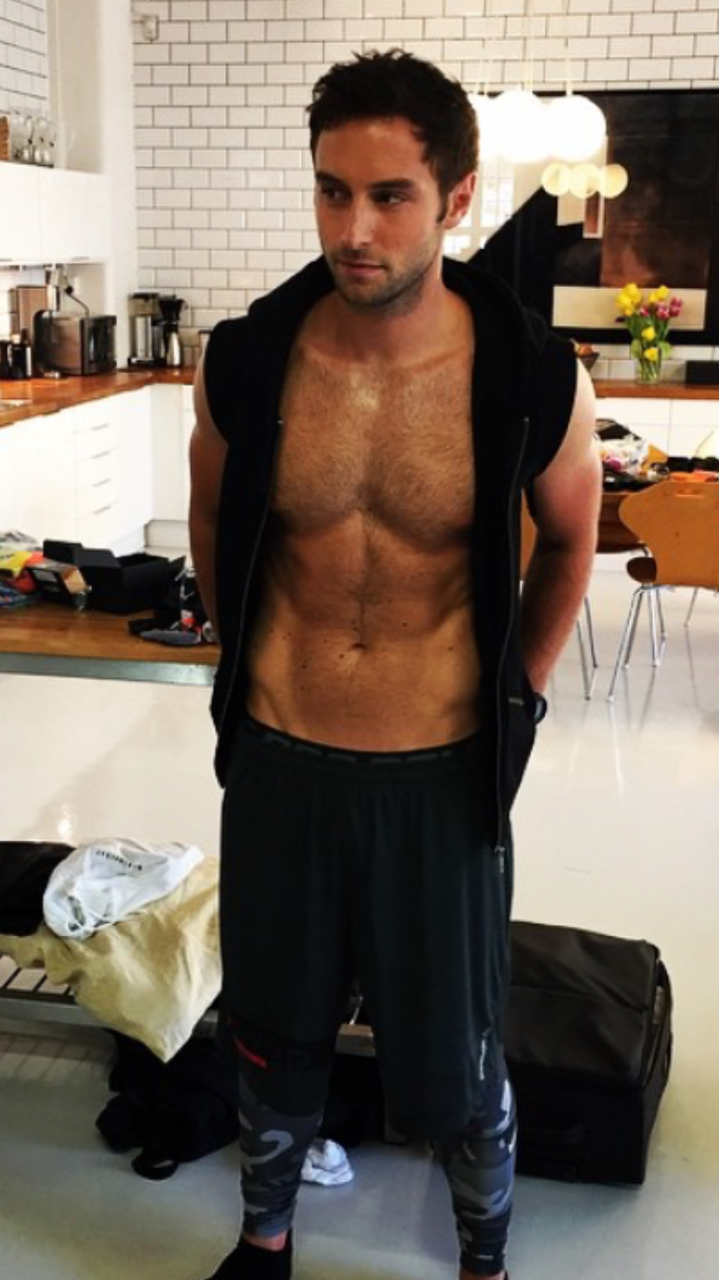 Bookies are firmly behind this hunk so far (leave the jokes to us, please) and Euro-fans across the world are really loving this. It's very possible it will be Sweden 2016, but not without a bit of a fight first. That said, we have an innate fear about Sweden winning again. Ireland, as every Irish person will tell you until the cows come home, are the most successful country in the contest's history – winning seven times –whilst Sweden (and the UK, surprisingly) are second with five a piece. If either were to win again, it would close the gap uncomfortably and could quickly  knock Ireland off its podium unless Ireland takes the contest far more seriously… No more Linda Martin influence, please!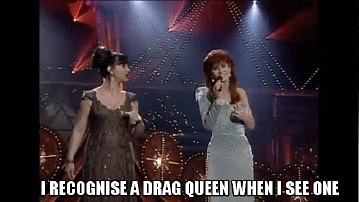 UPDATE: Our Mans did it! He went and won the whole thing and we're already booking our trip to Stockholm in May 2016!
You will notice our patriotism hasn't dictated this Top 10 countdown, as we haven't included Ireland's entry. Molly Sterling sings a very pleasant track, and she's incredibly talented with a beautiful voice still only 16 years old too! But as tracks go, and as much as we want our homeland to do well, we don't have a rousing, excited feeling about this one. It's probably the most traditional ballad we've sent in years, but we will wait and see… UPDATE: Molly didn't qualify, as predicted! A shame but wasn't the right song to send.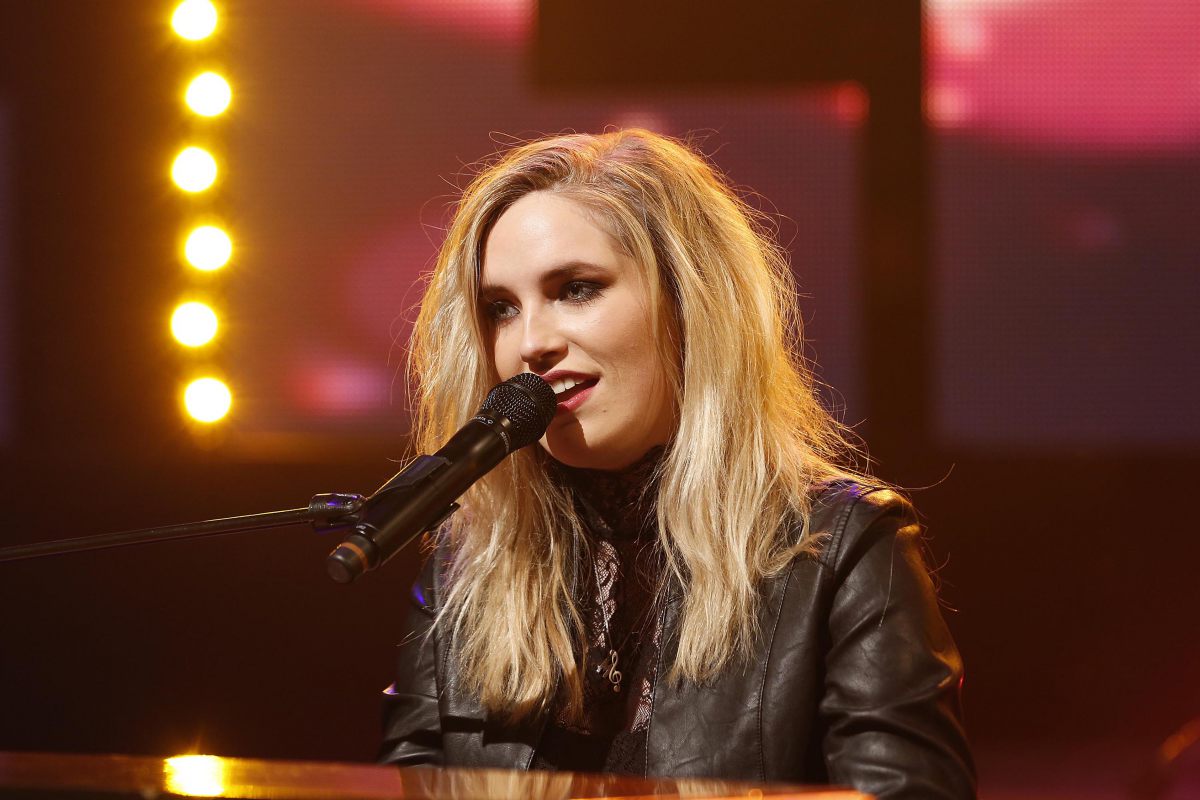 The bottom line is that a song at this stage can really only tease you. We cannot stress enough how important and influential the performance is for every single Eurovision act; a great song is not enough to win. Even in the betting markets, the order is changing constantly, as more preview shows are taking place, giving punters a greater glimpse into the competition. 
To listen to our playlist in full on YouTube, click here.
For our collection of recipes for your Eurovision viewing party, click here.