Say CHEESE!
We're super delighted to be back on board with the Cheese Your Way campaign throughout 2021, and even more excited that we're playing a part in the greatest competition ever –– awarding the ultimate comforting cheesy recipe with one of three top prizes: a €2,000 Ireland's Blue Book Voucher, a €500 Ballymaloe House voucher or a €200 Sheridan's Cheesemonger hamper. As of mid-April this competition has concluded, and you'll see the winner and two runners-up as we're sharing their recipes to the cheese-loving masses!
Joining forces with the National Dairy Council and the EU-funded Cheese Your Way campaign, we want to unearth what's cooking, melting, bubbling and being served in homes across Ireland! What comforting, cheese-focused dishes have you been cooking throughout lockdown and beforehand? Have you a recipe that boasts a unique story or showcases a cutting-edge flavour combination? Then this recipe challenge, with its incredible prizes, is aimed at you!
In a recent EU funded survey 53% people stated they are curious to discover more cheeses but Ireland's firm favourite cheese at 64% is cheddar. The fact that Ireland is open to exploring different cheeses is exciting as there are so many varieties to choose from locally and further afield. This competition is a celebration of Irish and European cow's milk cheeses, of which the continent is responsible for 46% of all global output! Europe as a whole offers more than 1,000 varieties of cheese, so there's a whole world to explore, each one a little bit different and individual than the next, from Danish Blue to French Brie de Meaux and the likes of West Cork's washed rind cheeses Milleens, Durrus and Gubbeen here in Ireland.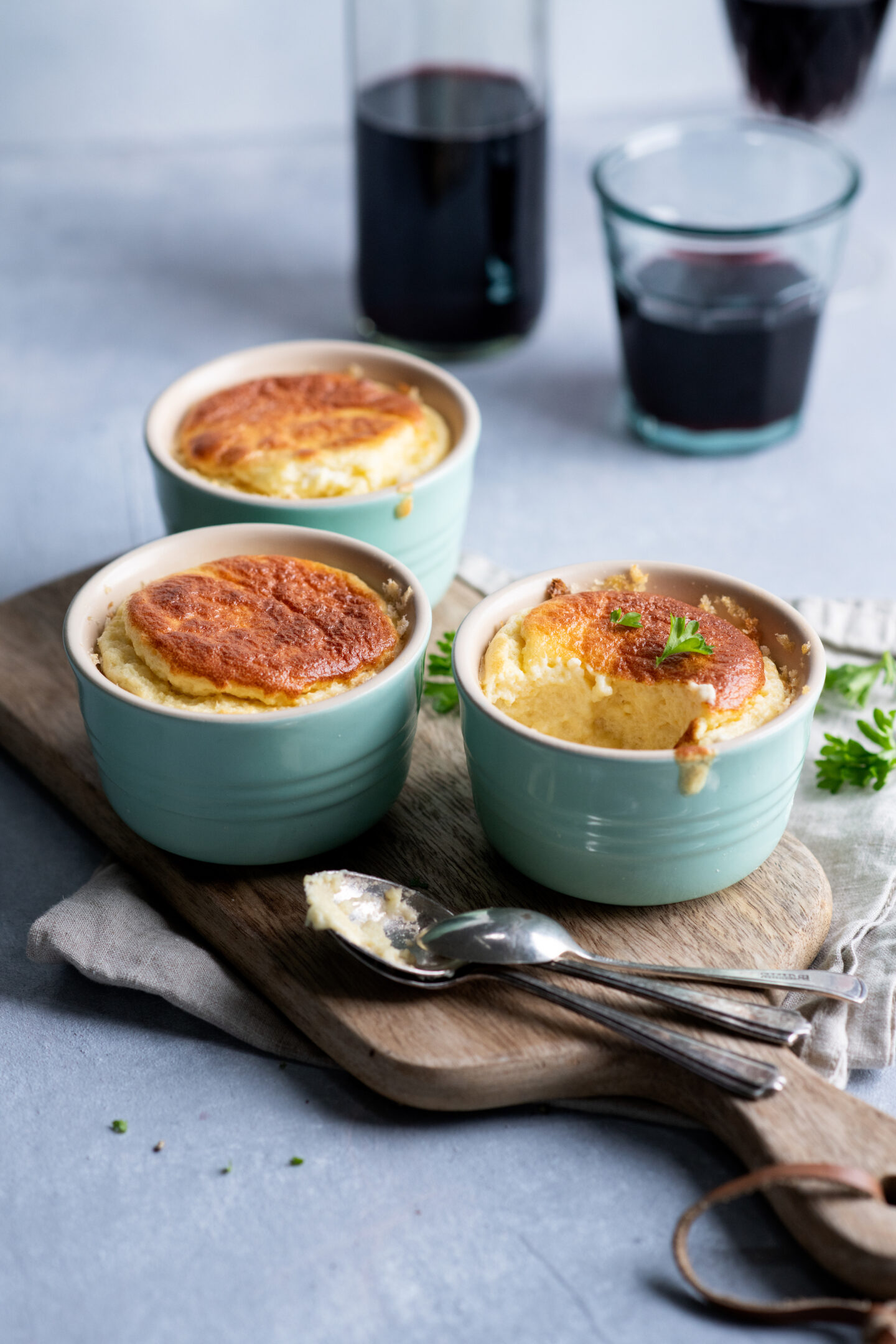 The world of delicious Irish & European cheeses has consumed us too over the past year! We undertook our own cheese training via Academy of Cheese to up our culinary know-how, so we're excited to offer some hints and tips to help you along the way! We adore cooking with cheese as it is so easy to use as well as being delicious. All it takes is a little bit of know how to transform a recipe from normal to phenomenal with the right cheese and flavour combinations, so here are some hints from us:
Cheddar + Pairings
In Ireland, our love for cheese means that we eat it a lot, and have a long history intertwined with the production and supply of dairy, of which cheesemaking is a huge part –– in fact, a survey from 2014 found we Irish consumed 11.5kgs of cheese per capita! It's no surprise that cheddar is Ireland's favourite cheese, but even delving within that world there's serious diversity and difference, from creamy white cheddar or umami-tinged red cheddar to crumbly and sharp aged or 'mature' cheddar.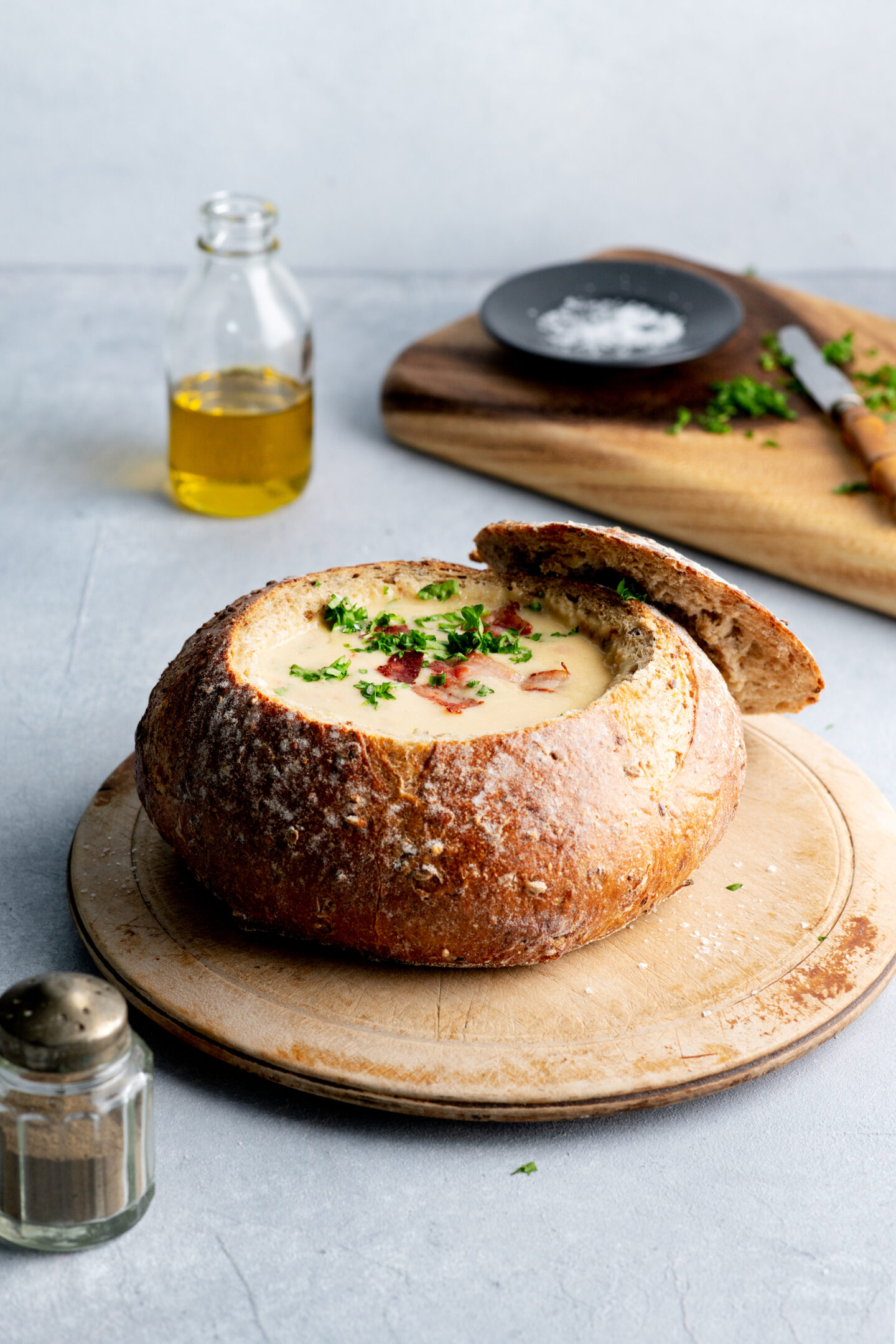 When thinking of recipes celebrating cheddar, the likes of ingredients that go perfectly with this style is fatty meats like ham or even cured meats like Chorizo. Cider, whiskey and beer are all equally great with cheddar, and its dominant flavour is amazing in different breads and pastries. So diverse, you'll be surprised how well the likes of white cheddar pairs with tropical fruits, or how sharp red cheddar pairs effortlessly with delicate herbs like chive.
Dutch and Alpine-Style Cheeses + Pairings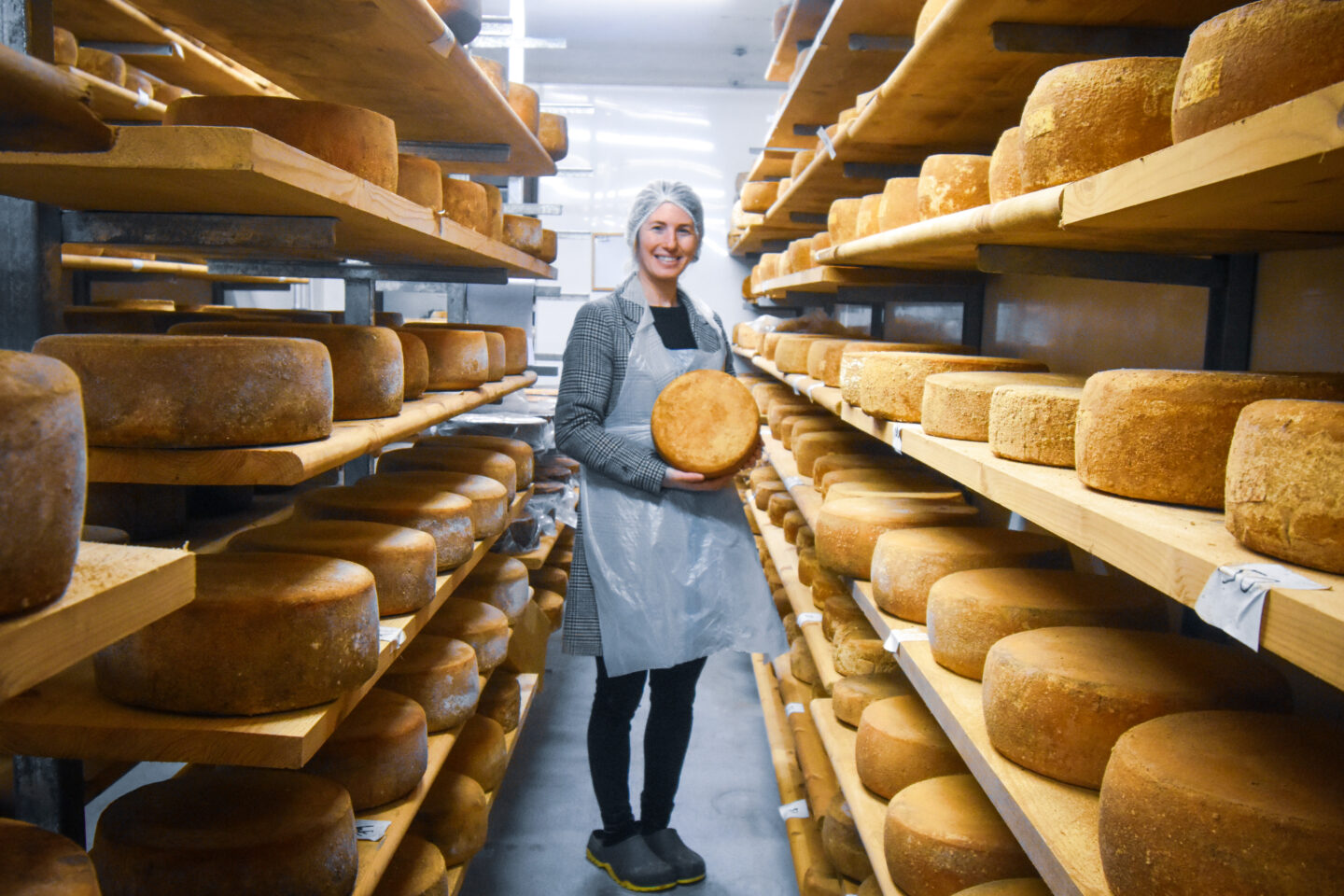 You probably already know and love the classic French king of hard 'cooked' cheeses, Comté, and the likes of Gruyère and Emmental. Did you know Ireland also produces similar styles to this? Try Kylemore Farmhouse Cheese from Galway, and both Bó Rua and Templegall (Hegarty's Cheese) from Cork. Likewise, Dutch Gouda is amazing and has similar varieties in Ireland, like Coolea in Cork and Killeen (cow's) in Galway.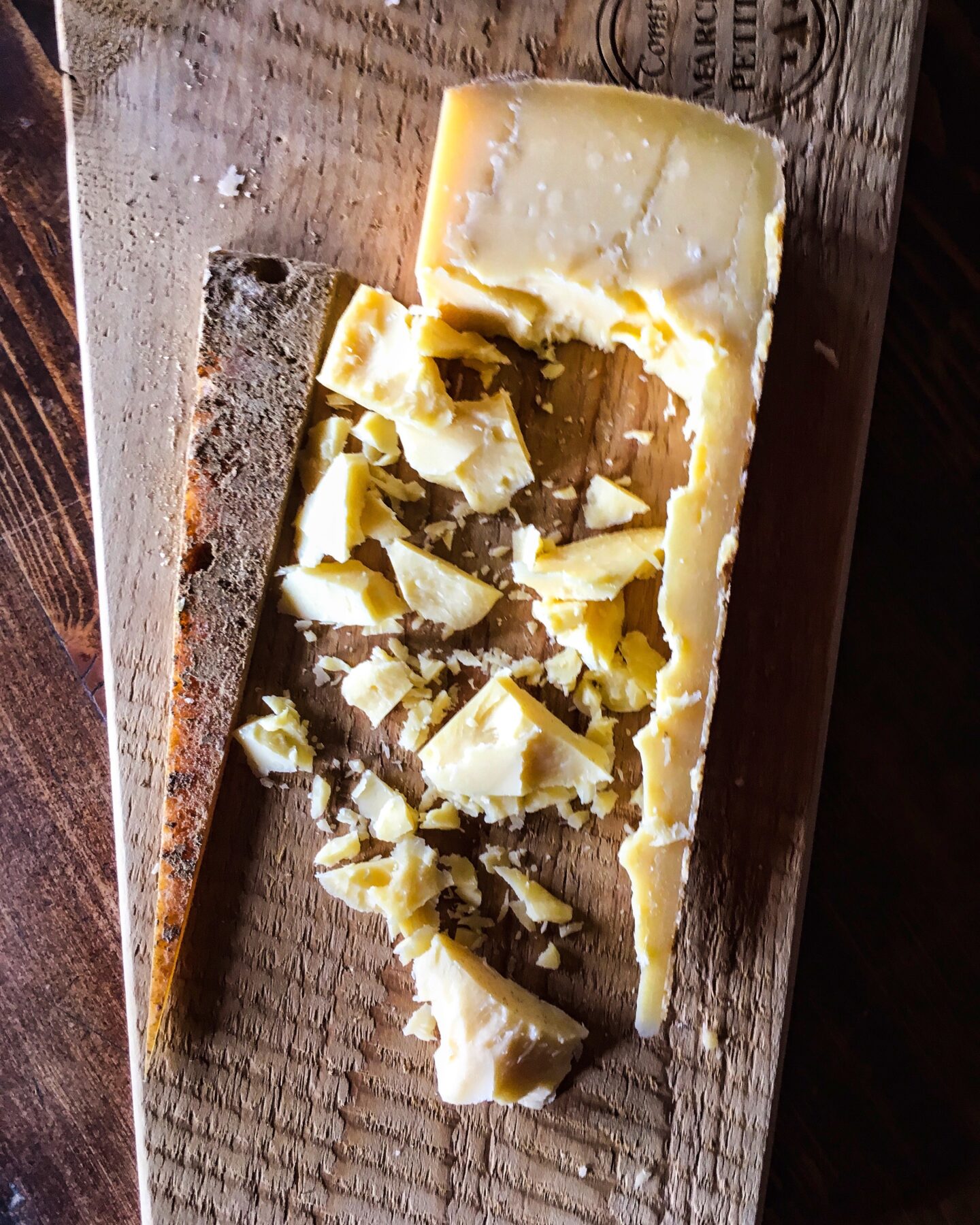 Alpine style cheeses love to be paired with nuts, especially roasted nuts, and work really well with fruit –– everything from crisp green apple to balsamic strawberries. Reflecting the nutty, earthy, umami notes often found in this style of cheese, think of flavours like soy, miso, mushroom, smoke, rye and even coffee! This style of cheese really offers itself up to so many techniques and delicious recipe interpretations.
Bloomy Rind Cheeses + Pairings
Love the vegetal, earthy, creaminess of bloomy rind cheeses like the archetypal French classics Brie and Camembert? You'll love Cooleeney, Wicklow Bán, Wicklow Blue, Cavanbert and Ballylisk. These creamy numbers with edible rinds love sharp fruit to cut through them, so think of lightly acidic and sharp fruits like green apple, pear or blackcurrant whilst sweet wines like Calvados and Port also have a similar effect. Herbs love bloomy rind cheeses too, especially dried herbs or woodier herbs like sage, and they make a great match with both garlic and chilli.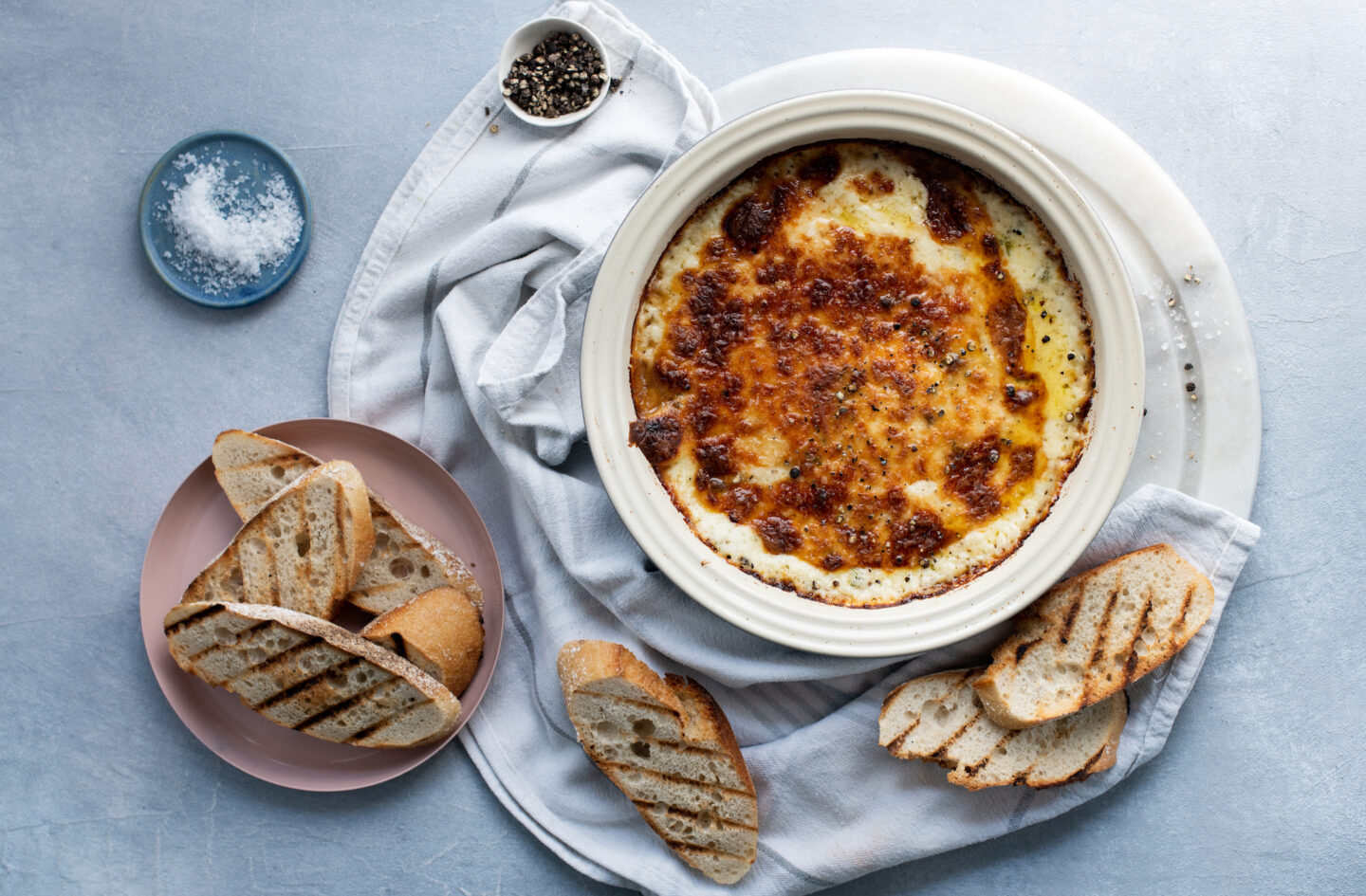 This style of cheese really stands up to the likes of crusty focaccia and sourdough as well as creamier nuts like cashews and walnuts.
Blue Cheeses + Pairings
Finally, blue cheese –– of which Ireland produces some of the best in the world, and don't be afraid of this; it runs the gamut from creamy and seriously mild to crumbly, salty and strong. We love the dairy richness of the likes of Denmark's Castello Danablu but we think Cashel Blue from Co. Tipperary is truly sensational. Likewise, other, slightly more intense, blue cheeses from Ireland include Young Buck from Belfast/Ards and the lesser-spotted red wax-sealed Kerry Blue.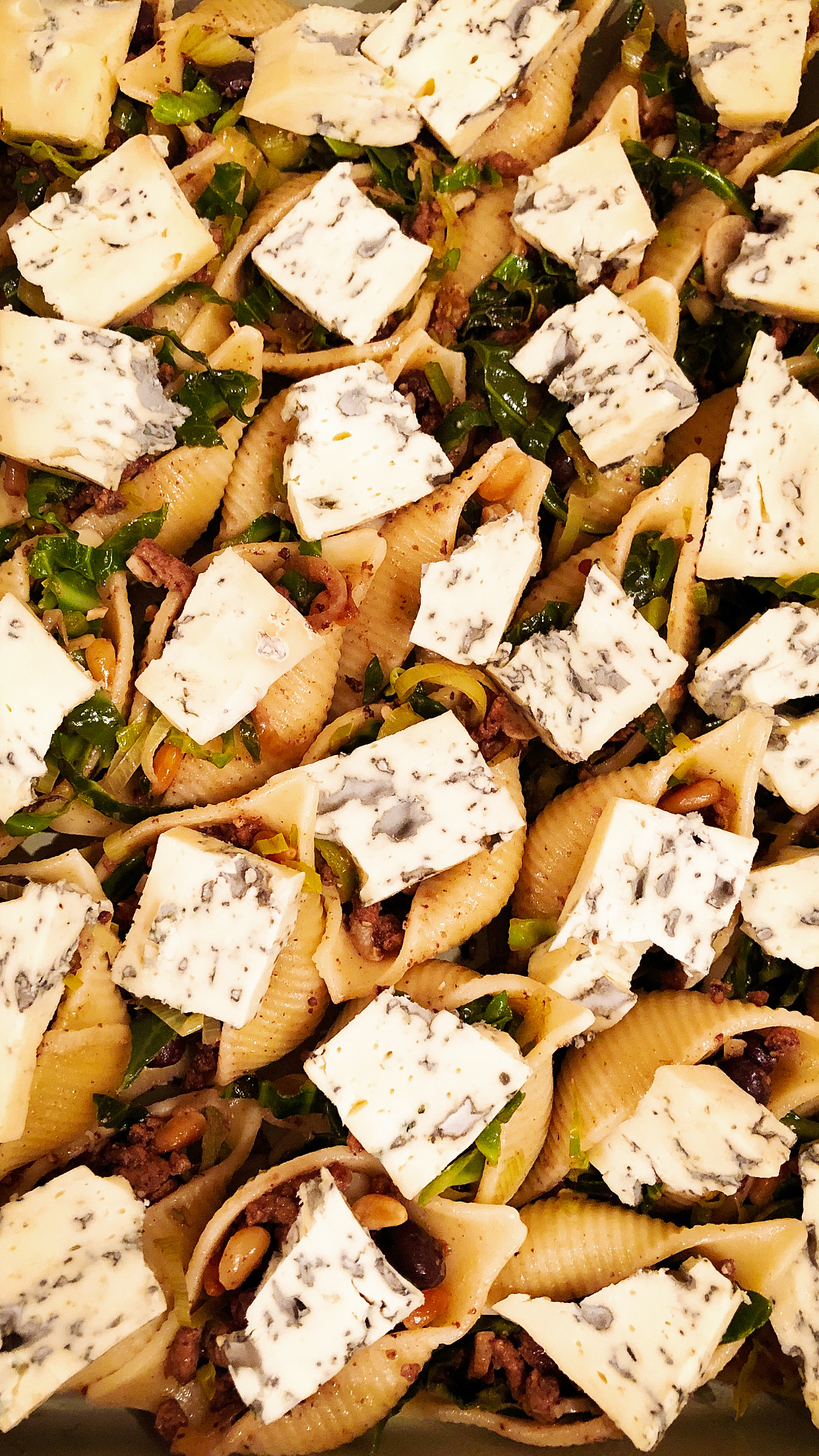 Blue cheese goes great with sharp, peppery and bitter leaves, so think mustard greens, cress, nasturtium, rocket and endive. Likewise herbs such as chervil and sorrel. Sharp and sweet vinegars work well with this style, as do rich meats like steak and even game. Dark berry fruits work surprisingly well with blue cheeses, as do concentrated fruits like fig, date and chutneys, pickles, preserves and jams.
Hint 1: Consider Combining Cheeses!
If you've ever savoured a fondue or delved into a quattro formaggi pizza you'll know the wonders of combining cheeses into one neat mouthful and the complex flavours that you would presume fight against one another but in reality melt or mesh beautifully together. Cheese stands so well on its own, pairs so amazingly to additional ingredients, but cooking, baking or serving different types together can be magical. Don't just be confined by sticking to one cheese if you feel it limits your options. Remember, this campaign is all about celebrating cow's milk cheeses, so make sure those are the star –– but that's not to say they can't have some support acts… Three Cheese Chicken Kiev, anyone?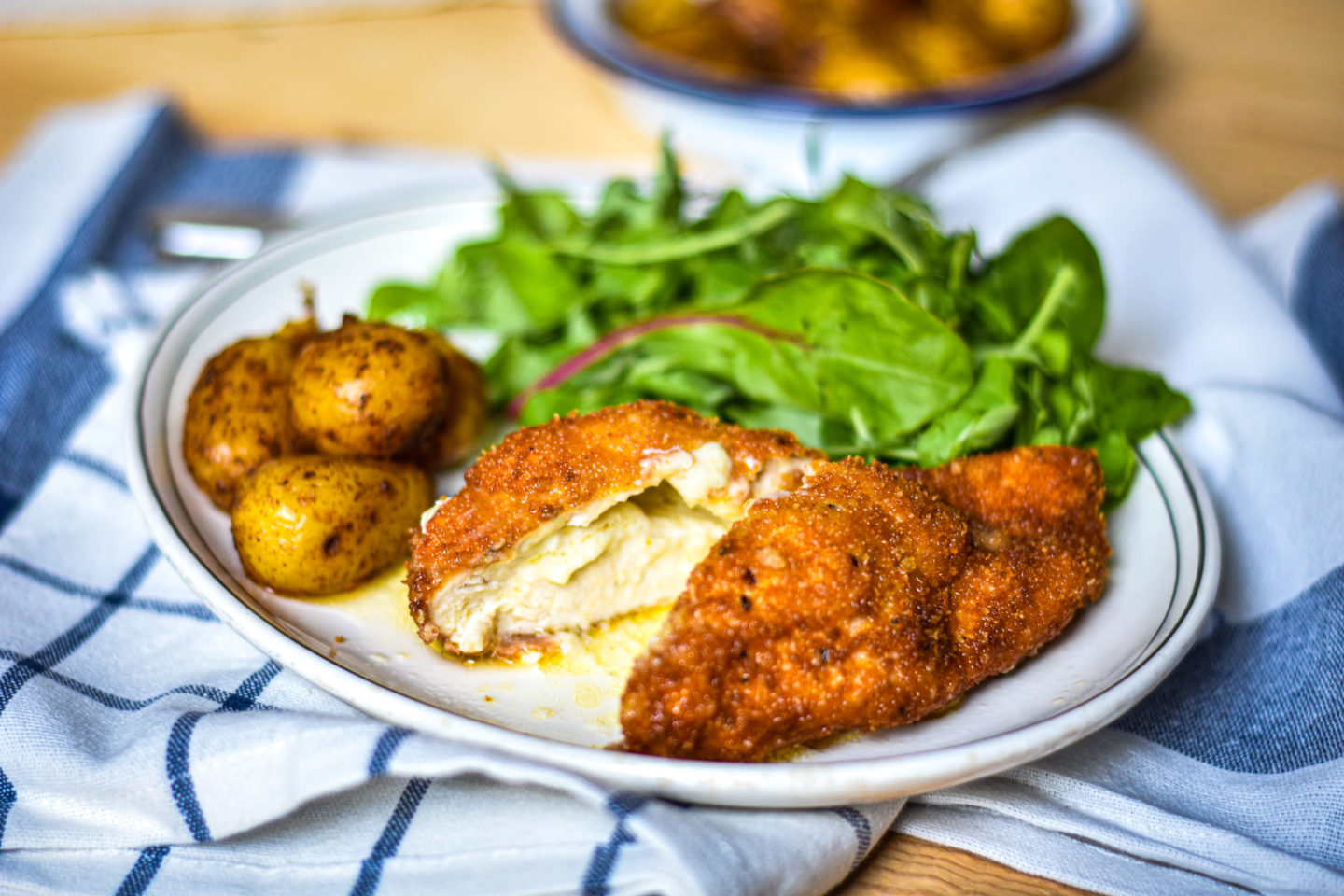 Hint 2: Think About Your Process…
Cheese is so versatile in that it can be treated in myriad delicious ways and is so adaptable to diverse cooking methods, so it's worth exploring the vast array of ways you can celebrate cheese! What about baking cheese into bread? Deep-frying cheese as croquettes? Drizzling a cheese sauce over nachos? Rolling cheese in nuts and serving in a salad? Stuffing cheese inside meatballs? Crowned and sandwiched inside an unctuous toastie? Grated and oven-baked into cheese crisps? Bubbled into a cheesy fondue? Lavished over crusty bread atop soup? Stuffed into Jalapeño poppers? Blitzed into a cheesy dressing?
Hint 3: Let's Talk About Texture
When developing recipes this is something we are always conscious of, and it's something chef's will tell you can make or break a dish: different textures. No one wants to labour over mouthfuls of a meal with the same texture, which is why soup so often is served with bread, or why mac and cheese is made even better with a pangrattato (crispy breadcrumb) topping.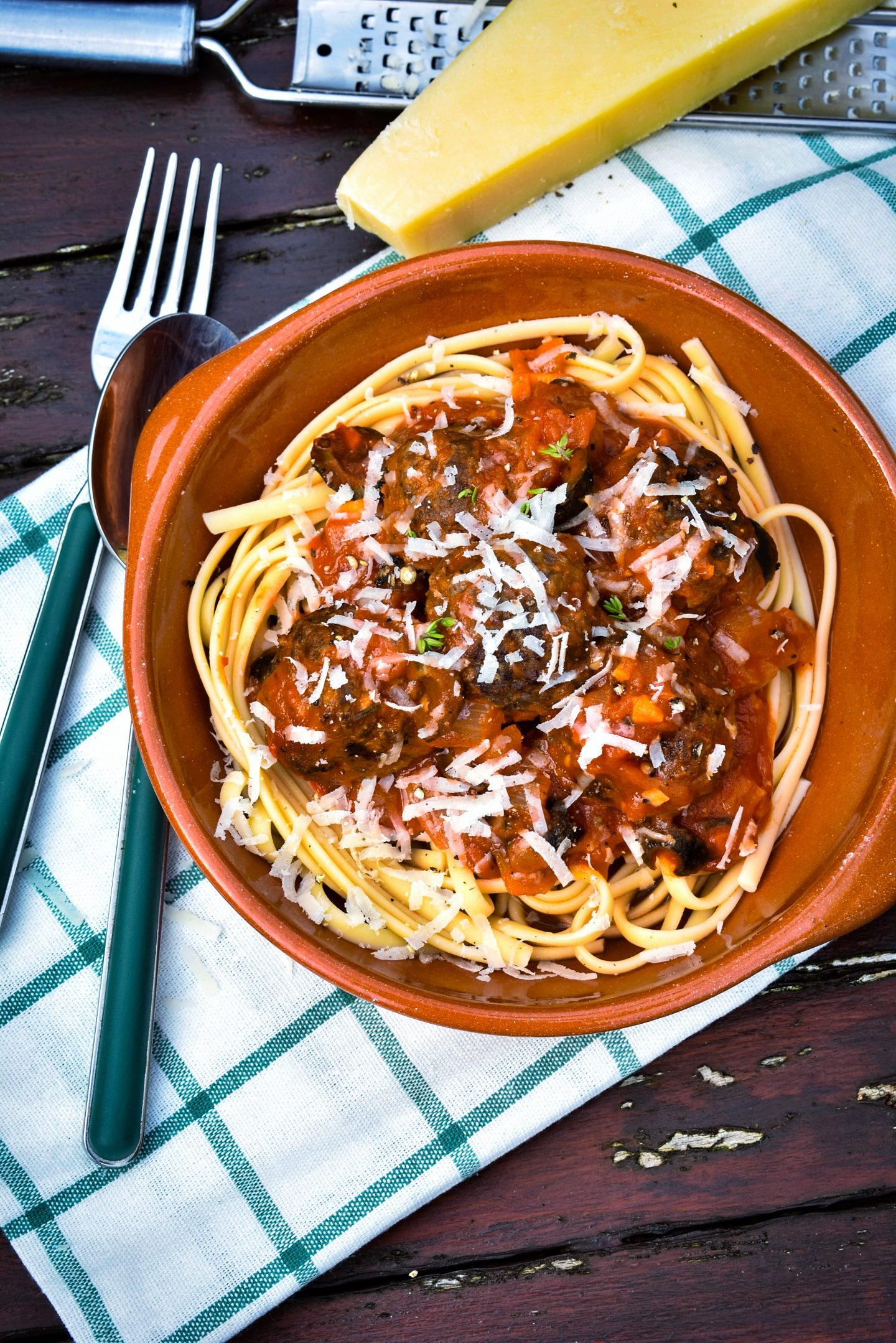 Hint 4: Create Harmony and Balance
Salty, sweet, sour, bitter and umami. These are the five 'tastes' that the tongue reacts to, and one of the biggest pieces of advice we can give as recipe developers is to consider the balance in a dish. If you're using a really intense, aged cheddar with a significant salty bite you might want to consider balancing it with something sweet.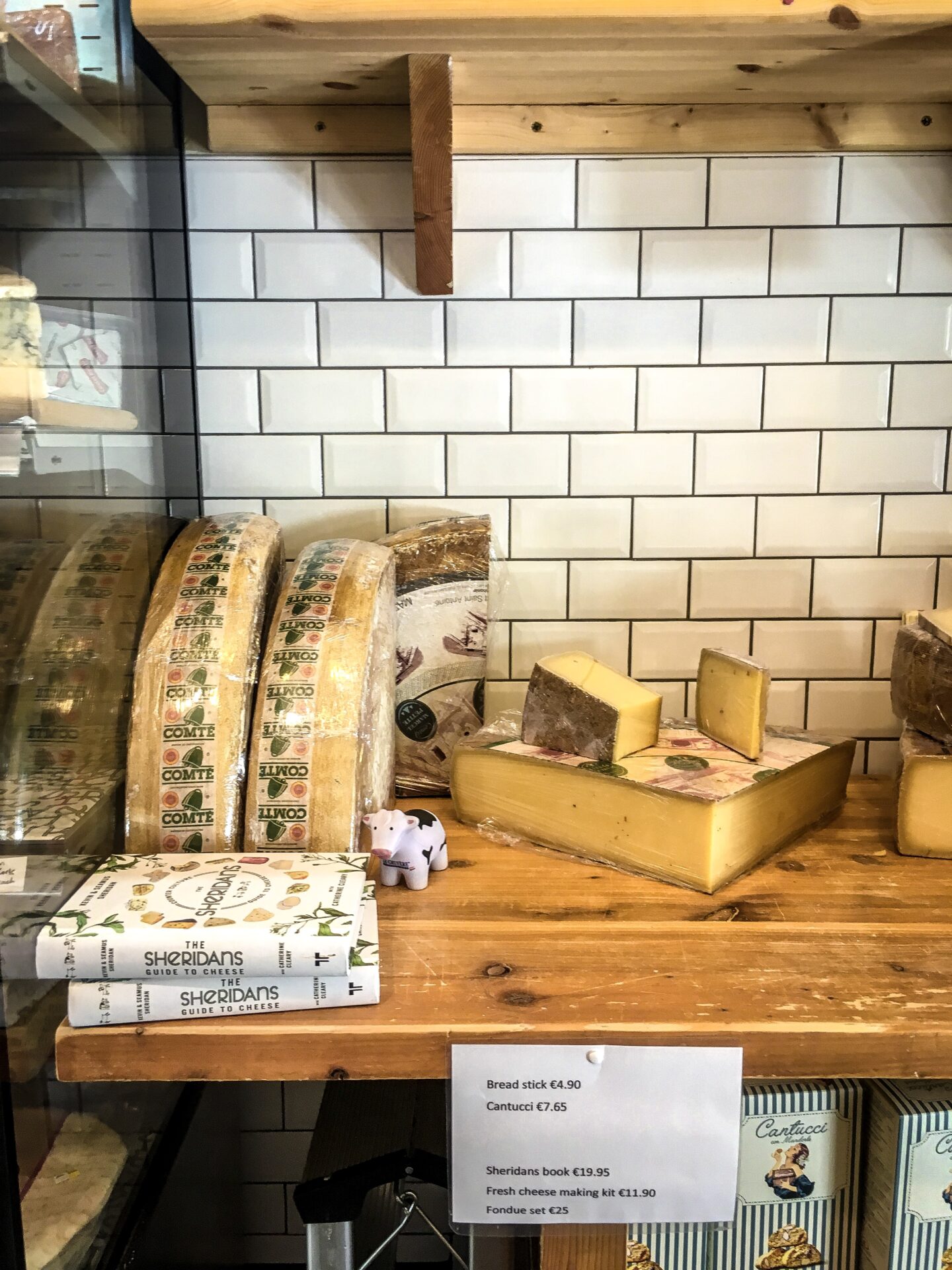 Don't be afraid of the likes of bitter and sour, which add depth and zing to dishes respectively. Umami is that rich, concentrated 'savoury' flavour like roasted tomatoes, pan-fried mushrooms, red meats, soy sauce. If your dish is too much of one of the five tastes it will throw everything off balance, but get the seasoning right and balance those 'tastes' and you'll be onto a winner, trust us!
And now for the winners….
🥇 1st Place (Winner) Recipe: Courgette & Cooleeney Arancini Balls with Arrabbiata Sauce from Sinéad Henry Bezy
Serves: 4-6 (depending on how hungry you are)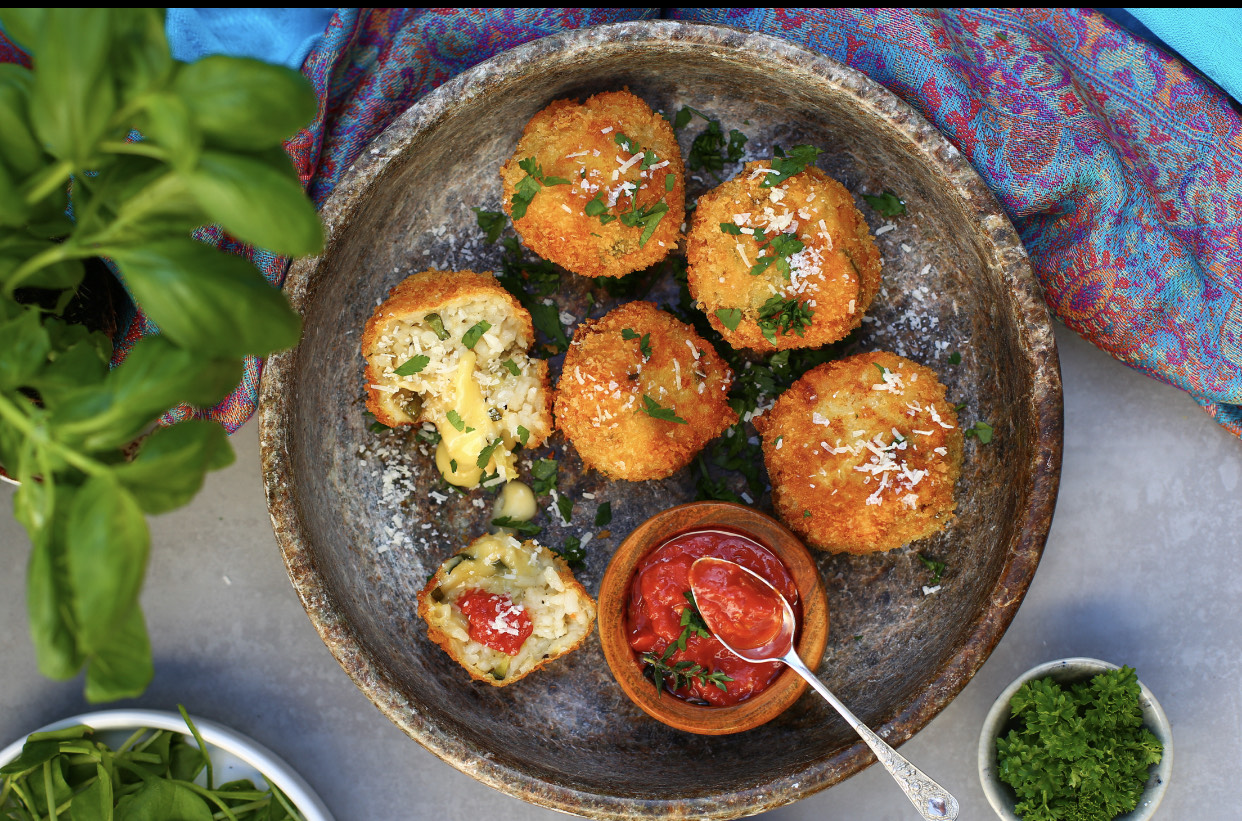 Sinéad says: "There is a little bit of work involved with these lads but they are worth it! I often see myself making a risotto as an excuse to recreate these delicious balls of cheese delight. Any leftover risotto screams Arancini Balls. They can be stuffed with a variety of fillings but in my opinion, cheese is a must. I have experimented with many different cheeses but the creaminess/nuttiness of Cooleeney is a winner for me as it oozes out unapologetically. Any type of brie or camembert also works a treat. I previously lived in Naples where I was first introduced to the joys of arancini balls, a common indulgent street food stuffed with béchamel and ragù. I decided to create a lighter version by using courgettes. Ever since living in Italy I have become slightly obsessed with creating different versions of this dish. The rich arrabbiata sauce and melting cheese is a match made in heaven and I would happily eat a plate of these for dinner. In the absence of travel, why not try this recipe and pretend you are eating them on the bustling streets of Naples. Buon Appetito!
Ingredients:
For Risotto:
2 tbsp extra virgin olive oil
2 cloves of garlic, minced
2 shallots, finely diced
1 courgette, finely chopped
80ml white wine
500g risotto rice
1.5L vegetable stock (add a bay leave and some fresh thyme)
70g Parmesan Cheese, finely grated (keep the rind)
Salt and pepper
For Arancini Balls:
200g Cooleeney Cheese, cut into small chunks (including rind)
2 eggs, lightly whisked
150g plain flour
300g panko breadcrumbs (if you cannot find panko you can use ordinary breadcrumbs)
Sunflower oil (for frying)
For Tomato Arrabbiata Sauce:
1 tbsp olive oil
3 cloves of garlic, minced
1 fresh red chilli, finely chopped
½ a bunch of fresh basil, roughly chopped
400g tin of chopped tomatoes
Salt & pepper
To serve
Parmesan cheese
Fresh parsley, finely chopped
Method:
To make the risotto, heat up the olive oil in a large pan and sauté the onions and garlic until soft. Add the courgette and continue to cook for a few more minutes. Add the risotto rice and cook for one minute.
Pour in the white wine and continue to cook for two more minutes. In a separate pot, heat the stock over a low heat and add the thyme and bay leaf. It is important that the stock is hot as you add it into the rice.
Continue to stir the risotto and gradually add the vegetable stock as the rice absorbs it. At this stage, if you have a parmesan rind, add it to the risotto as it adds an additional cheese flavour. Continue gradually adding stock, stirring until the rice is cooked. The time can vary but takes approximately 20 minutes to cook the rice. The amount of stock you need will depend on your rice. If the rice is too dry, add more stock until it is fully cooked but still has a bite.
Add the parmesan cheese and season with salt and pepper. Remove the parmesan rind at this stage (if added).
Once the risotto is cooked, you can either eat it or allow it to cool to make your Arancini Balls.
To form the Arancini Balls, scoop a portion of the cooled risotto into your hand. Place a chunk of Cooleeney Cheese in the centre and shape it into a ball. Repeat with the remaining risotto and cheese. Place in the fridge for about 10 minutes to help them keep their shape.
In three separate bowls, place the flour, beaten egg and Panko breadcrumbs. Firstly, lightly coat the Arancini Balls in flour, then coat in the beaten egg and finally coat in the panko breadcrumbs until they are fully covered. Repeat until you have used up all the risotto.
Heat the sunflower oil in a deep pan until it reaches about 180ºC. Deep fry the balls for about 4 minutes on either side (or until fully golden). You may have to fry the balls in batches. Drain any excess oil on kitchen paper.
To make the arrabbiata sauce, place garlic, chilli and basil stalks in a pan over a medium heat with the olive oil and fry for two minutes. Add in the tomatoes, season with salt and pepper and cook for 10 minutes over a medium-low heat. Blend until smooth.
Serve the Arancini Balls immediately with the tomato sauce, grated parmesan cheese and lots of fresh chopped parsley.
🥈 2nd Place Runner-up Recipe: Lockdown Ricotta Cheese Pie from Heather Heath
Heather says: "My inspiration for this pie came from me living in Malta for 6 months. They use Ricotta cheese a lot for both savoury and sweet dishes. One of their most popular dishes was called Pastizzi which is a bit like a Maltese pasty and was delicious. The Mother of the family I stayed with was a wonderful cook and I remember many a dish she cooked with Ricotta so making my own pie using Ricotta cheese has brought back some very fond memories of my time in Malta and a bit of a tribute to Mrs Cachia who only died recently at the age of 93!"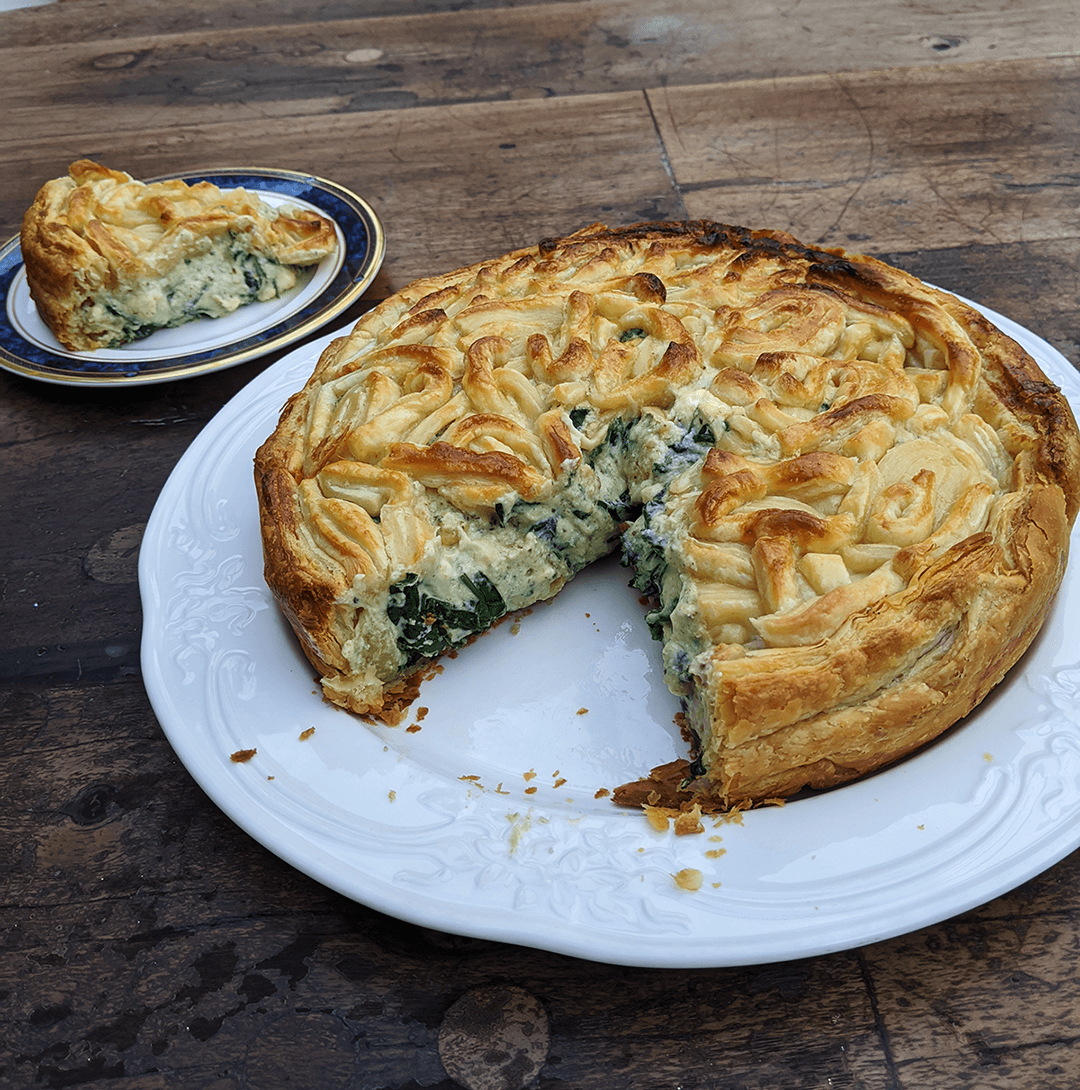 Ingredients
500g Ricotta Cheese
300g Feta cheese (cubed)
300g Spinach
4 tbsp Pesto (or more to taste)
2 Eggs (one of which beaten)
Salt & Black Pepper to taste
500g Puff Pastry (2 packets of ready-rolled is ideal)
Method
Grease a cake tin (9.5 inch by 2.5 inches deep) with butter and set oven to 180 degrees. Use one packet of puff pastry to line bottom and sides of cake tin and blind bake for 15 minutes (or until slightly golden)
As base is cooking prepare filling: mix together ricotta, feta, pesto, spinach (wilted first in a pan with a little butter and excess moisture removed) and one egg in a large bowl.
Remove the base from the oven and allow to cool a little. Meanwhile, roll up about ¾ of other packet of ready rolled puff pastry then whilst still rolled slice into half inch rounds.
Put the mixture into the cake tin, spreading evenly over the base. Slightly loosen the pastry rounds – some may even unroll but that's ok – and place the pastry rounds on top of pie making sure not to leave any gaps (it doesn't have to be perfect) This will give the pie an interesting top instead of a plain flat one!
Use the other egg (beaten) as egg wash to brush over the top of the pastry.
Bake in oven for 15-20 minutes, or until golden brown.
🥉 3rd Place Runner-up Recipe: Irish Fondue by Pierre Dogliani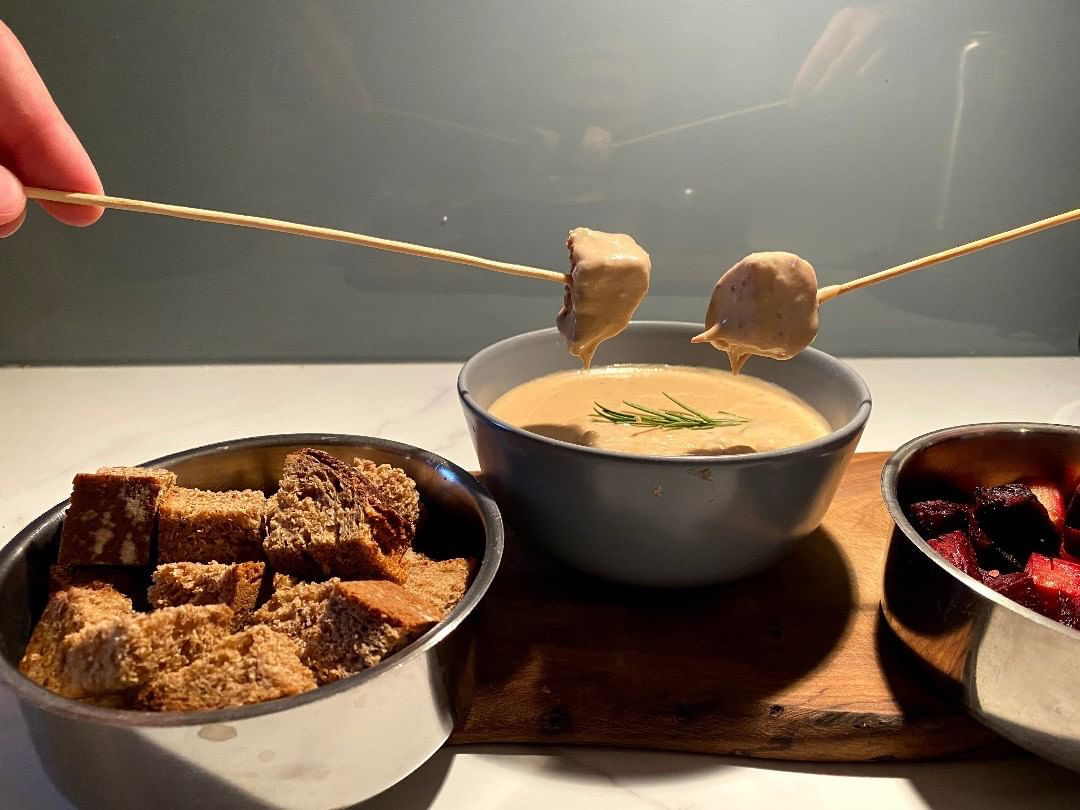 Pierre says: "This recipe is inspired by my love of cheese, of my home country (France) and the country I now live in (Ireland). Being French, cheese has always been an important part of our meal, and we were having (and still have!) cheese at the end of each meal. Unfortunately, my mother does not like cheese, so the only cheese-based dishes we were having were melted cheese dishes such as Raclette, Fondue or Tartiflette. It took me a long time before I discovered Fondue on a trip to the Alps –– my first dip and taste of Fondue is still something I think of from time to time! It is the perfect comforting, fulfilling and tasty dish to have after a long, tiring and cold day! For this competition, I have chosen to recreate a fondue using only products from Ireland, especially the cheese –– as the amount of high quality Irish cheese has been a really nice surprise when I moved here!"
Ingredients:
100g of smoked Drumlin from Corleggy Cheese
100g of Drumlin from Corleggy Cheese
100 g of Boyne Valley Bán from Boyne Valley Farmhouse cheese
1 garlic clove
1 shot of Jameson whiskey
1 spoon of Wholegrain Irish mustard
150ml Guinness
To serve:
Diced bread (I even made a Guinness bread!)
Diced roasted vegetables (I used some diced beetroot, carrot and potato)
Method:
Cut all the cheese into small pieces, or grate it into shreads.
Put the Guinness, mustard and Jameson in a pot, peel and add the garlic clove, bring it all to a boil.
Add all the cheese and lower the heat, stirring continuously until the cheese has melted.
Enjoy! Dip in whatever you like!
Tip: While cooking, you can finish the Guinness, and take another one while eating the fondue! Otherwise a light red such as a Beaujolais would paired perfectly!
#ATastyMessageFromEurope #EnjoyItsFromEurope