At the time of writing this, we've been absent from Dublin for just over three and a half years. Though based in London we've never taken our eye of the Dublin scene, in fact, we've probably kept an even closer eye on it…  watching with interest from afar, for fear we'd lose a grip of it. One restaurant we've been eyeing up for years is Etto.
You could say Etto and us were like two ships passing in the night. Funnily enough, the team behind Etto are fellow Dubliners-turned-Londoners and Etto arrived on the Dublin restaurant scene almost simultaneously as we upped sticks and as the team behind it. Having earned their stripes and spent their time in the British capital, partners Liz Matthews and Simon Barrett returned to Irish soil and teaming up with head chef Barry Fitzgerald,  Etto was born in a Dublin, raw yet also ripe from a crippling recession. (Update: though Barry has now opened neighbourhood bistro Bastible on Leonard's Corner in Dublin 8).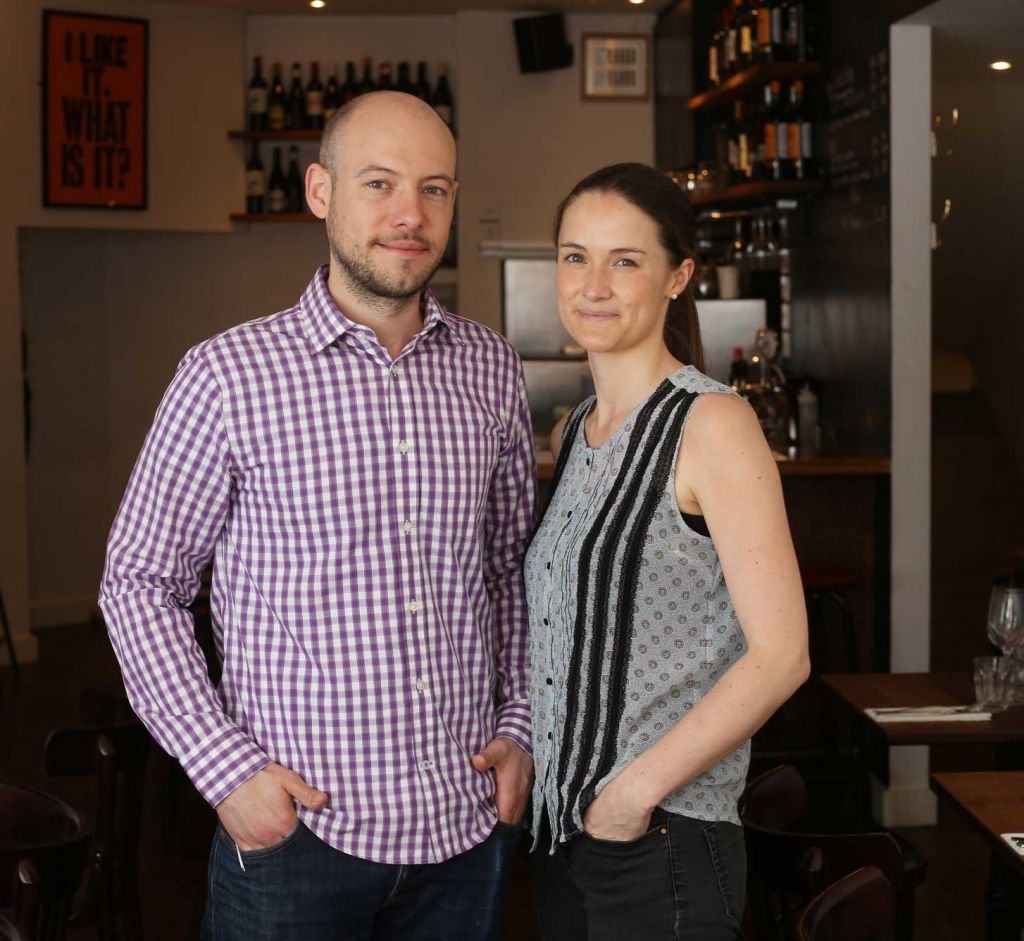 To describe Etto in one sentence: this is where a wine bar and a bistro meet and fall in love. An informal wine bar with Italian influence in the kitchen and a cosy, neighbourhood restaurant feel. The cooking is as sensational as the keenly curated wine list, and both haven't gone unnoticed. Celebrated, and even awarded, for their 'wine experience', Etto has retained a Michelin Bib Gourmand since 2014.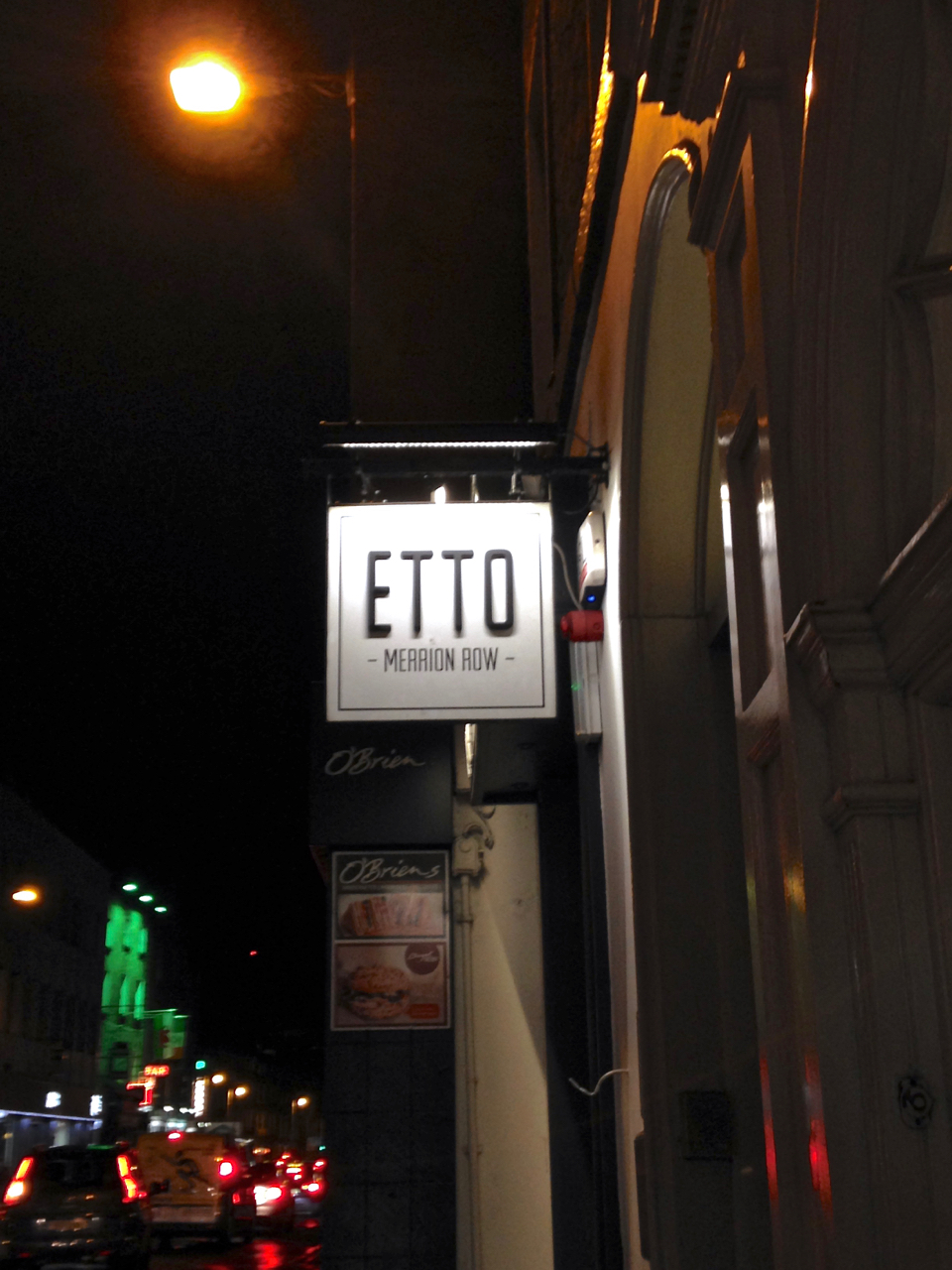 Sitting along Merrion Row, in what was previously an outpost of legendary Dublin vegetarian restaurant Govindas, it's a bit blink-and-you'll-miss-it with just a simple black door and an overhead sign. From the outside-in and throughout the menu, simplicity sits at the fore font.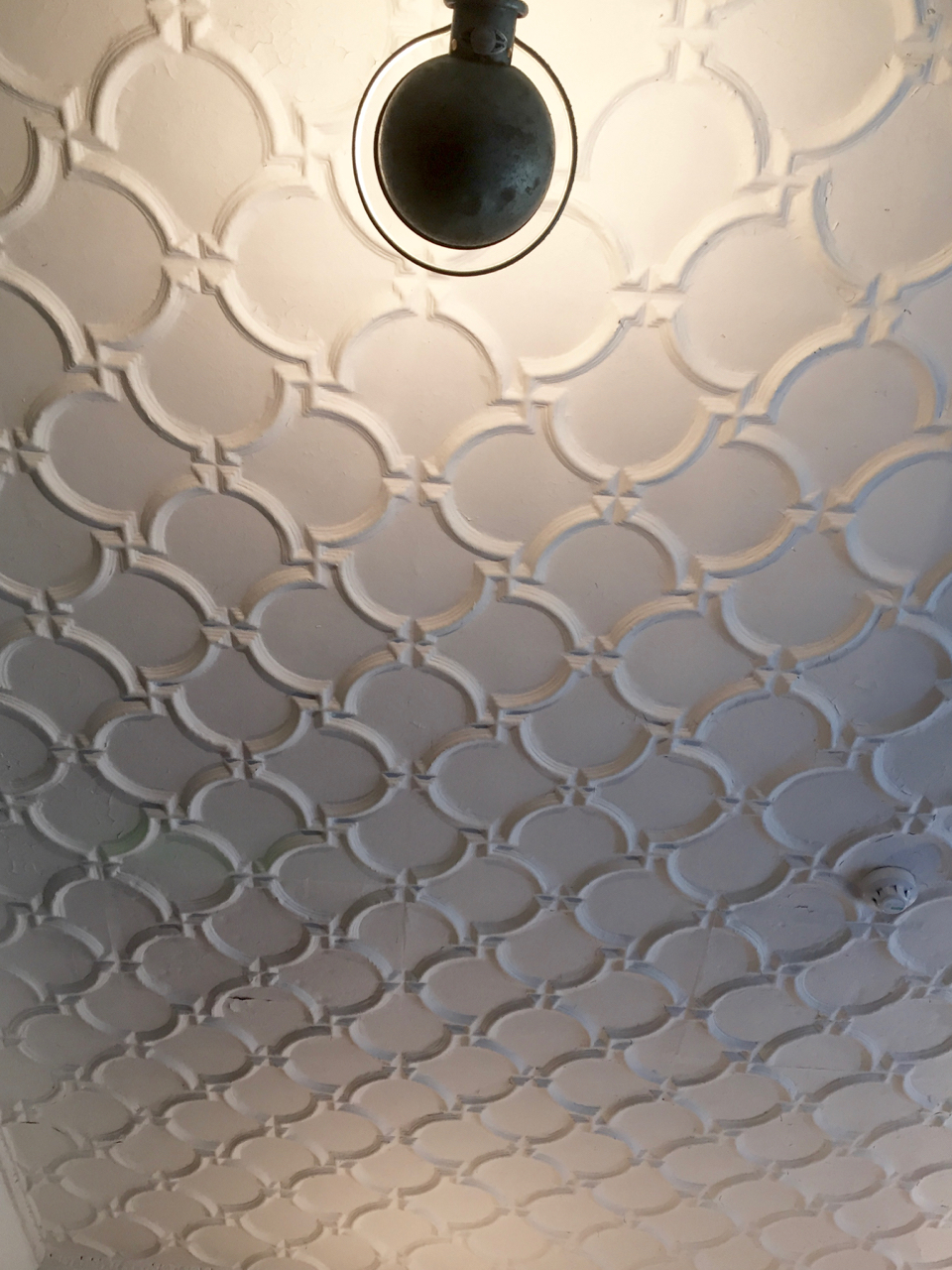 The walls are monochrome, save for a few black-boarded panels; the wooden tables are small, simple, square; and the bentwood oval chairs are like a page from any other casual bistro with smart style.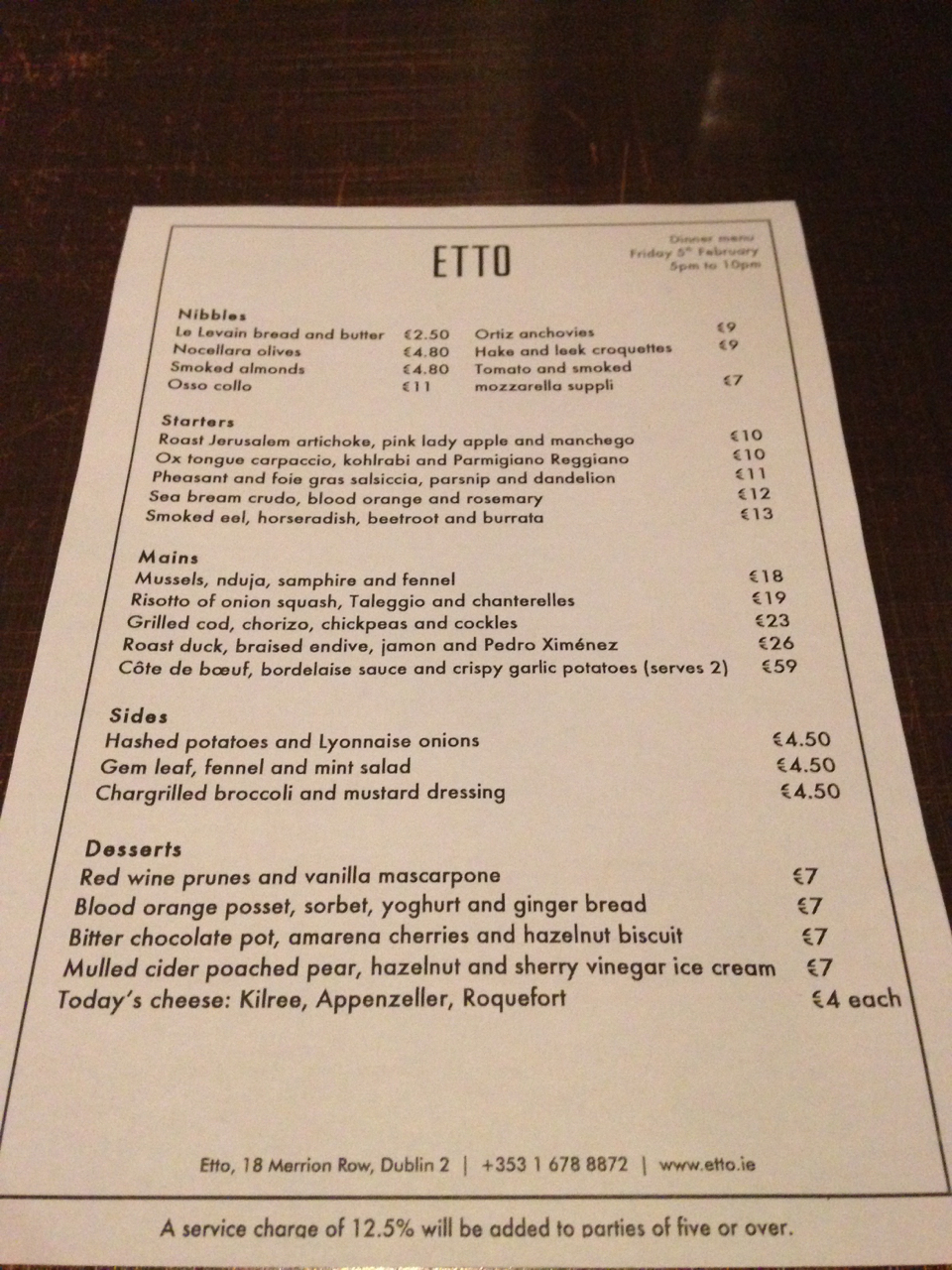 The menu is freshly printed daily on a simple A5 piece of paper with a black frame. There's nothing showy about Etto. From the interior to the menu, it's the produce that's the star. Everything allows for the dishes and wine to speak for itself on an uncrowded platform.
The wine list celebrates interesting grape varieties, unique blends and small producers the world over. Choose from the well-appointed list for bottles to share whilst if you just fancy a glass, each day you'll find a handful of incredibly affordable options on the specials board. Not only is the tiny bar stocked with a selection of craft beers, there's even Prosecco on tap at a very reasonable €7 per glass. Hallelujah!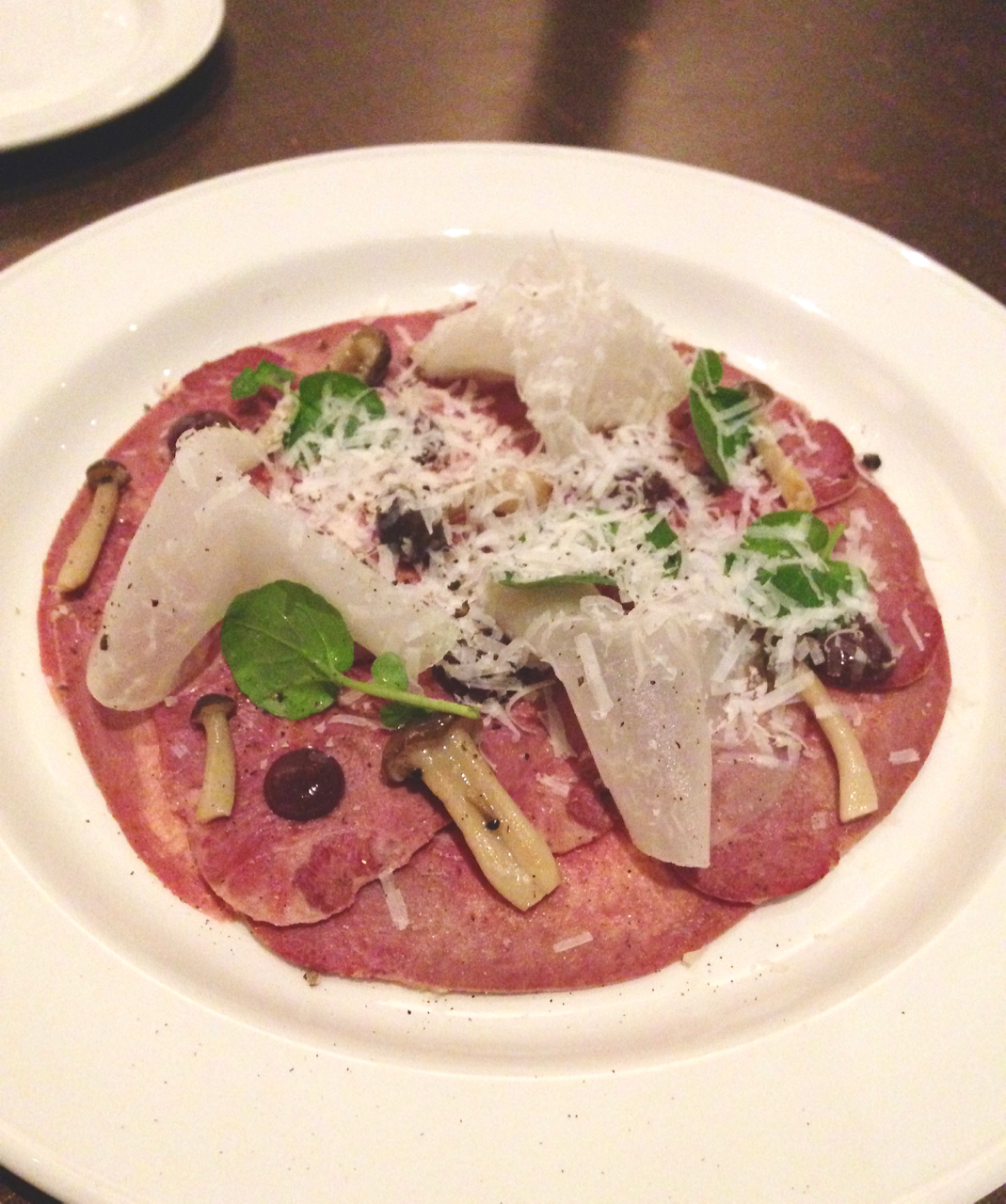 Seasonality anchors the menu, as do small producers whilst the Italian theme subtly seasons everything. Stand-out dishes include the red wine-soaked plums; the cherry and caramel chocolate pot with hazelnut shortbread; the carpaccio (we've had both venison and ox tongue); the fish croquettes (cod, hake); and the pigs cheek in Fino sherry – if you find any on the daily-changing menu, order instantly.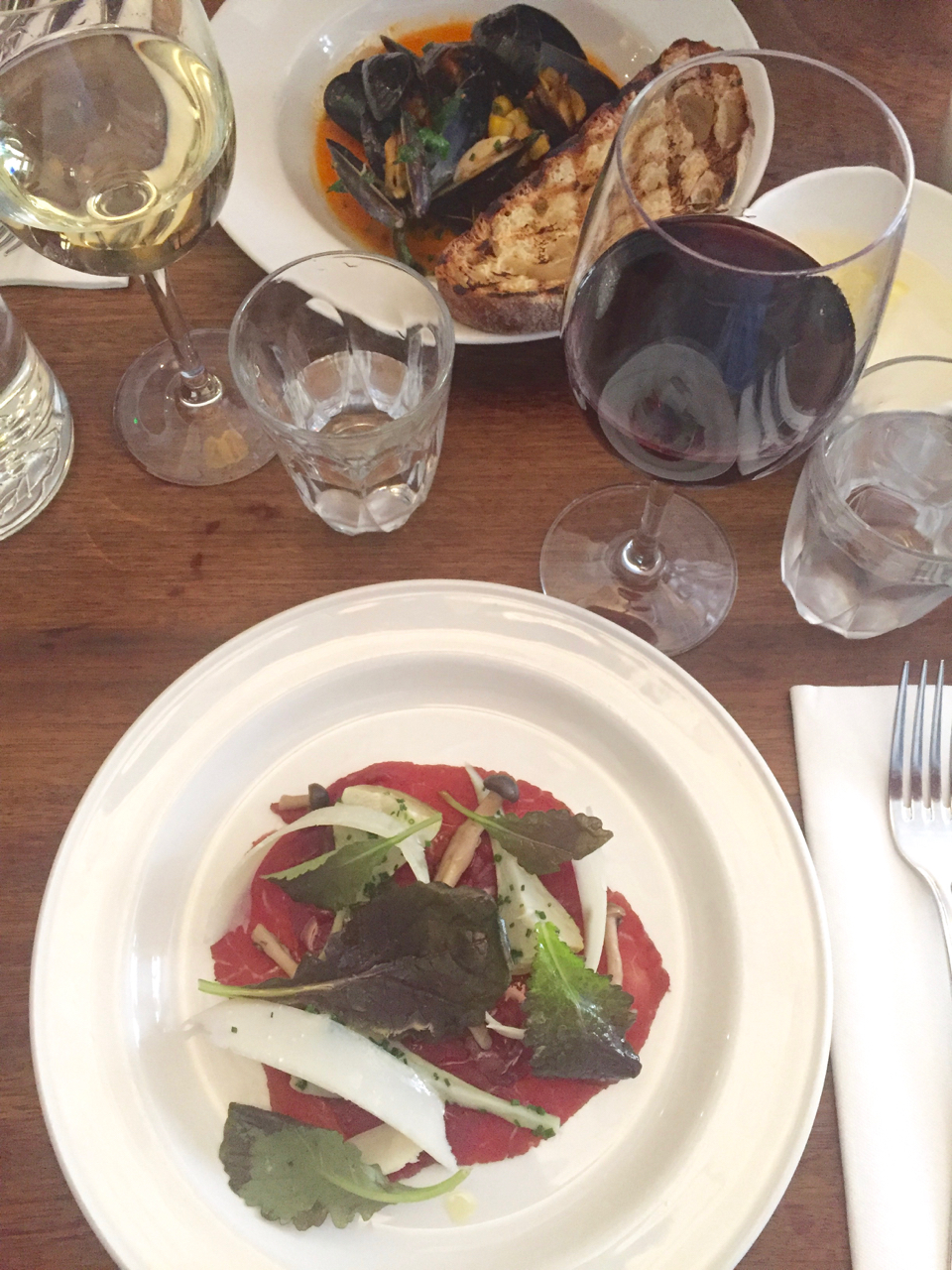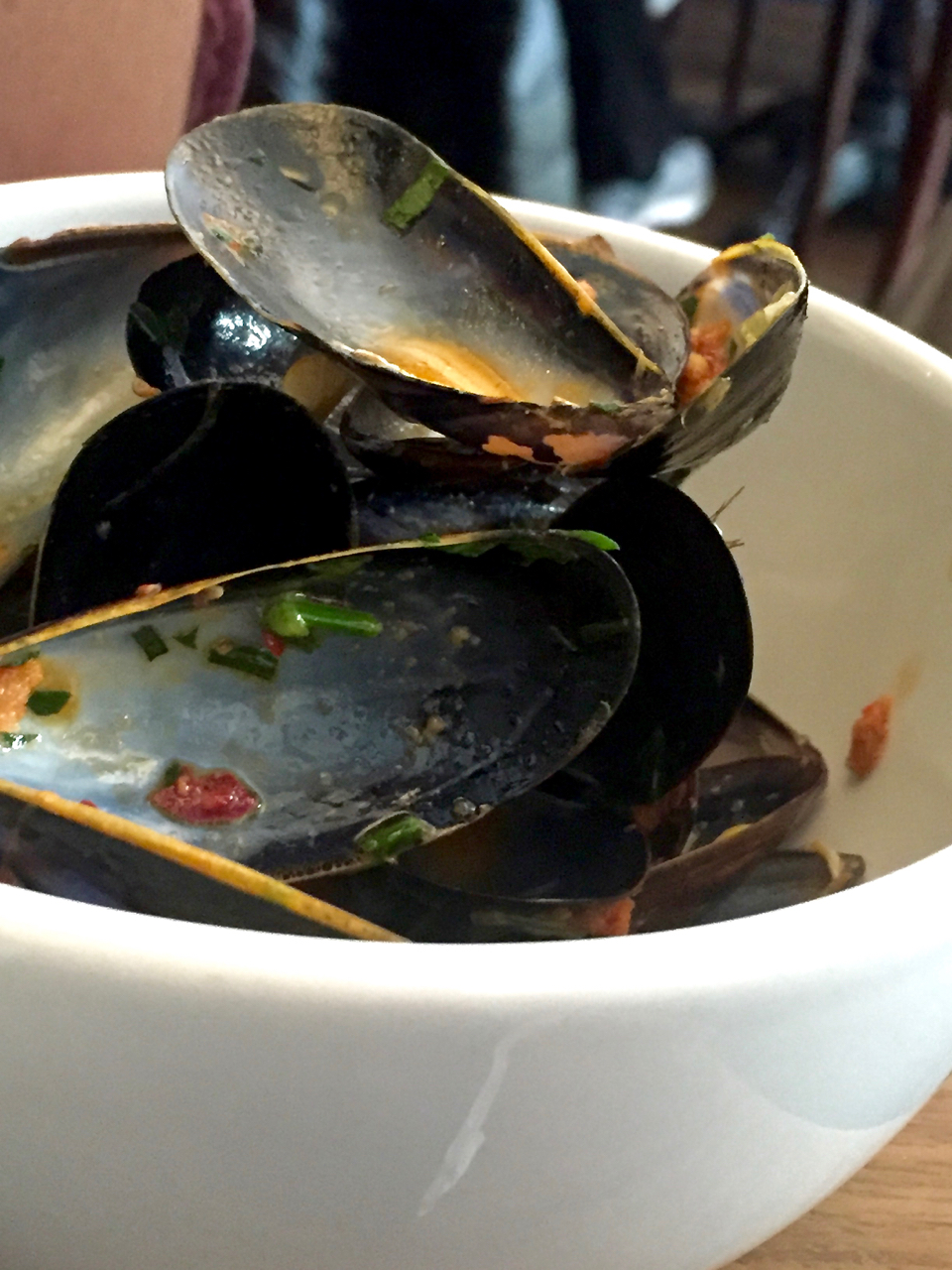 What's lovely about Etto is that it's perfectly acceptable to drop by and share a few small plates and a bottle of wine as it is to enjoy a solo lunch with a glass of something you mightn't ordinarily choose or a blow-out feast taking up the entire table.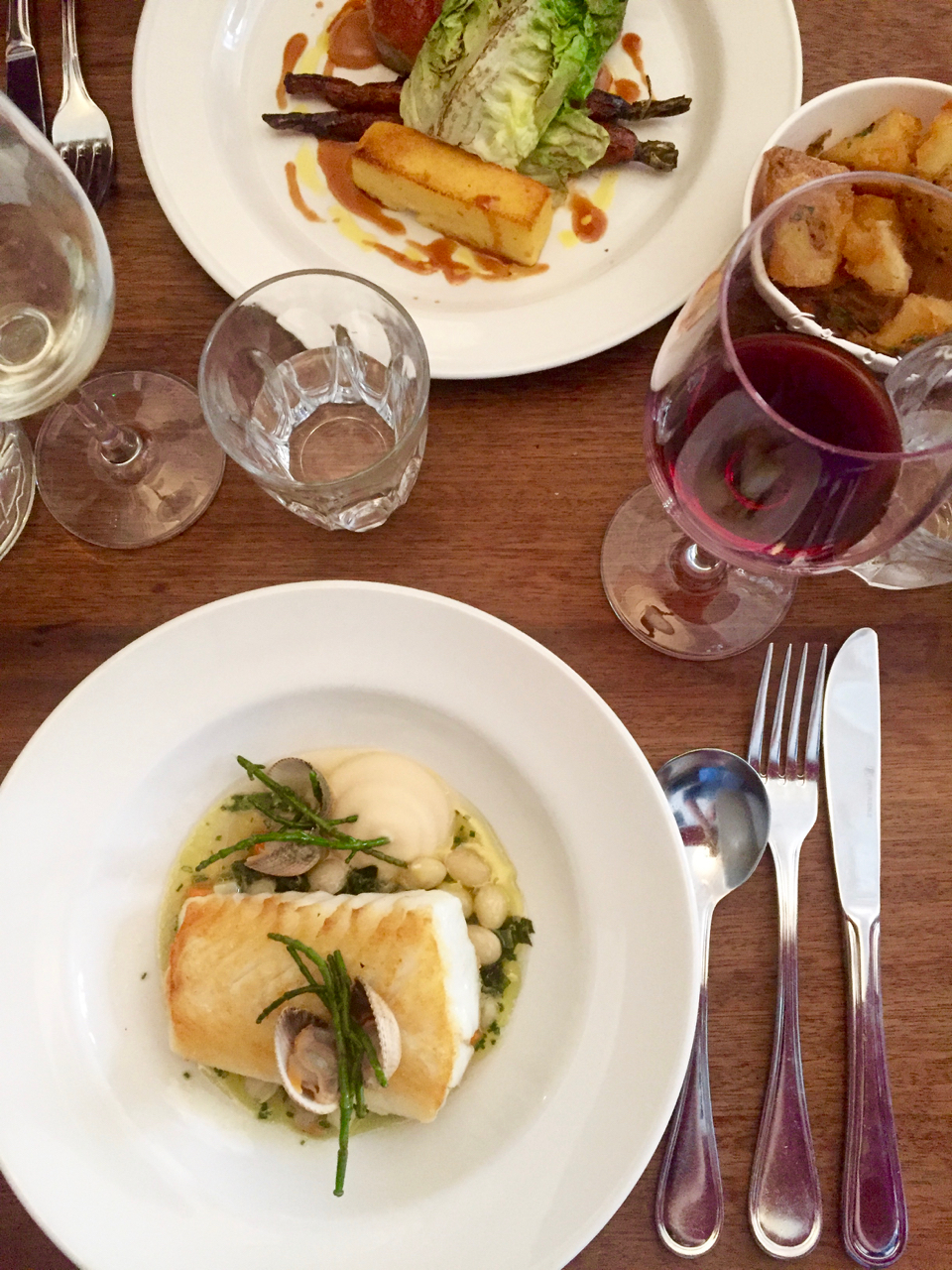 The three-course Saturday Lunch and Pre-Theatre menus offer particularly good value at €28 each. If dining on Monday, Tuesday or Wednesday evenings, the five-course Chef's Tasting Menu (€35) is well worth booking for, featuring some of the classic dishes and most popular specials.
The côté de boeuf is truly outstanding. Chargrilled to perfection and served medium-rare, this is one of the best hunks of meat you could possibly order in any Dublin restaurant. At a hefty €59 (for a two-person portion), it's especially fabulous shared between four with a line-up of support-act sides.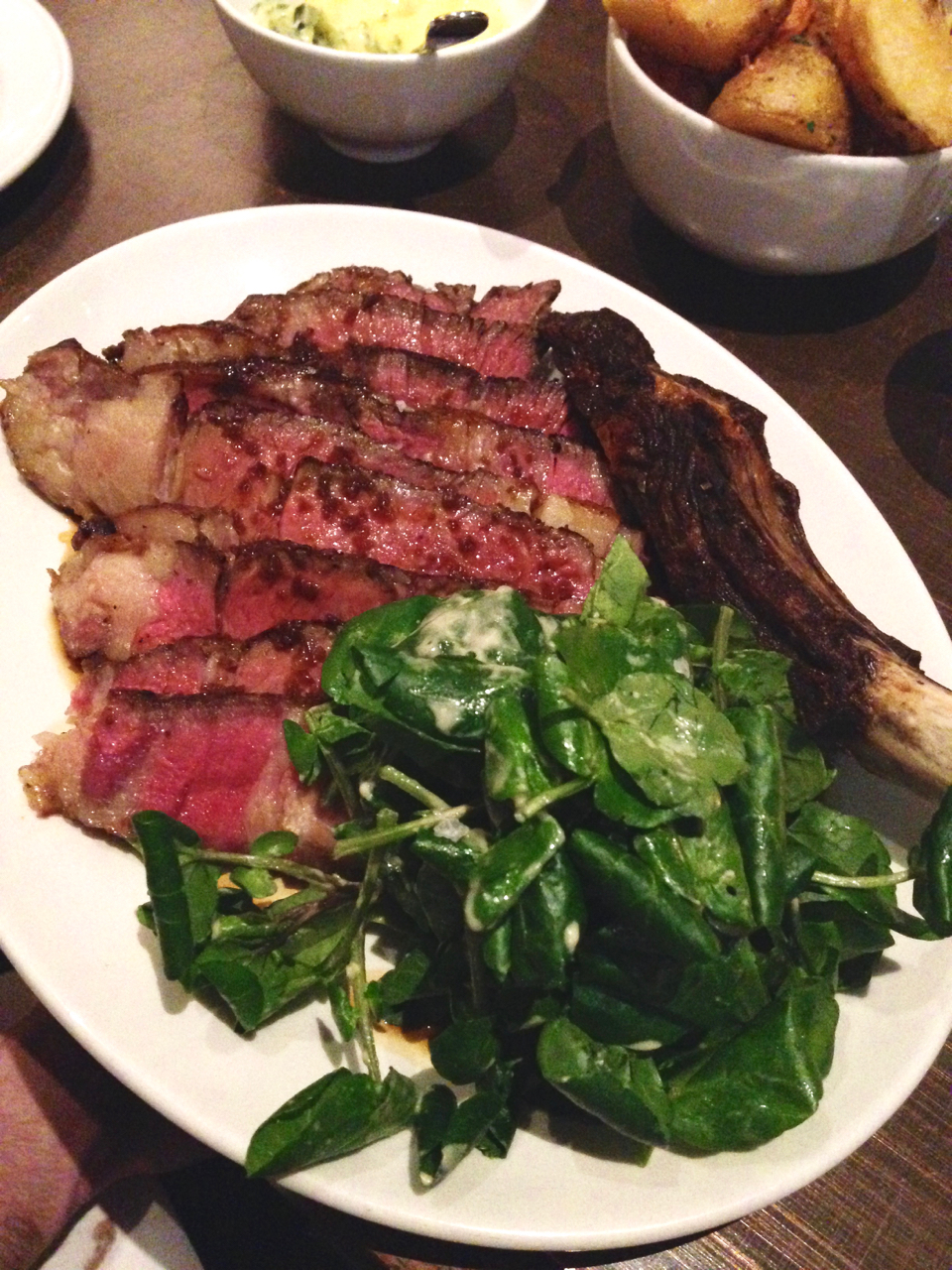 Meltingly soft in the middle with an intense beefy flavour, each bite delivers that cheek-sucking, salty, scorched flavour that you expect from exceptionally-reared steak that's treated with precision, care and love, cooked to perfection. The côté is not only worth the price point it's also worth the wait, cooked to-order for each table – get a glass of Prosecco and some smoked almonds to tide you over whilst you salivate in anticipation.
Back to those sides, each of which is vying to be the star attraction making it impossible to choose between them (so we usually get almost every one).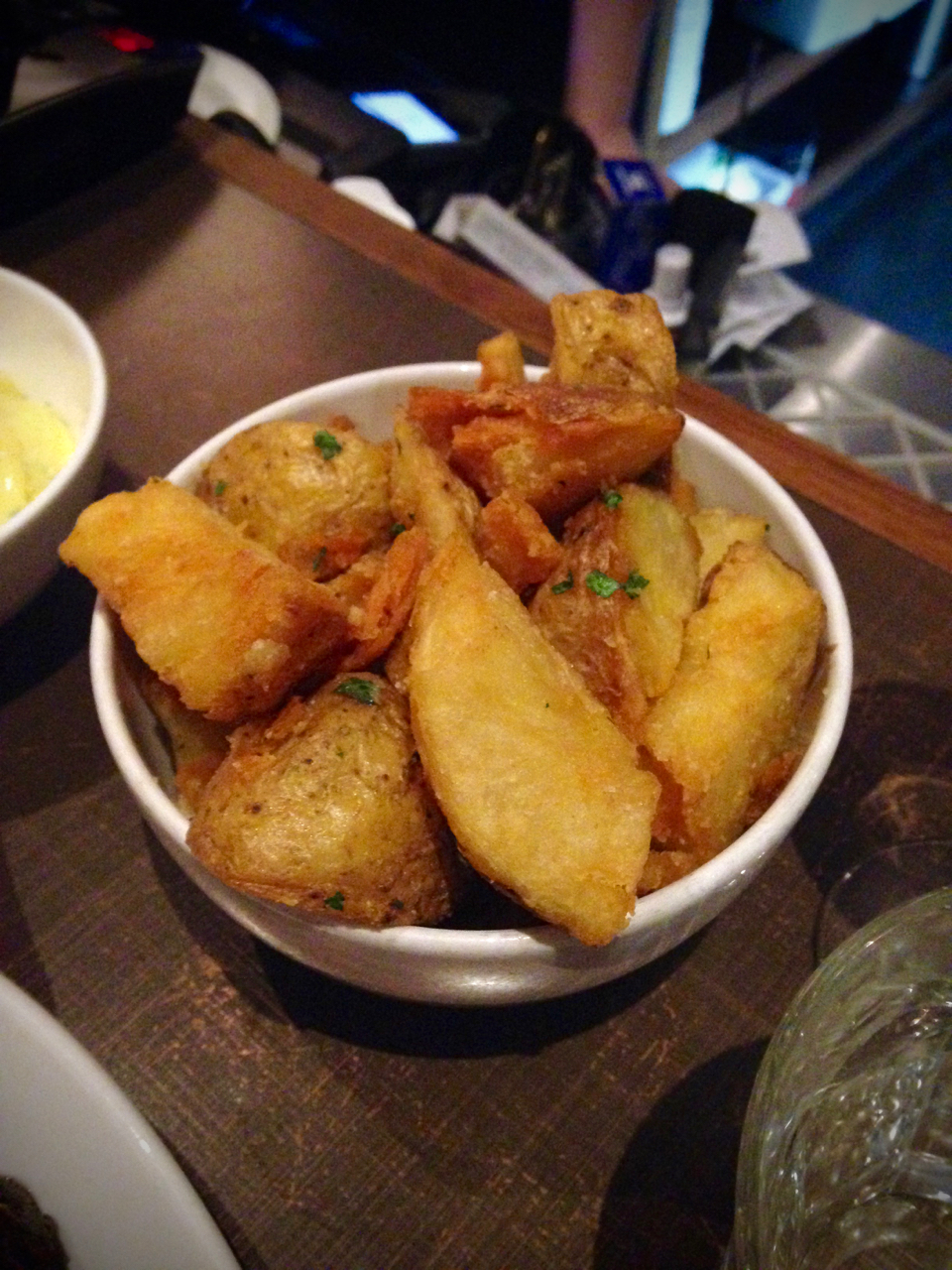 We cannot recommend the hashed potatoes and Lyonnaise onions enough. If we could write a love letter to those potatoes, we would. London might fawn over Quality Chop House's confit potatoes but in Dublin these surely reign supreme as the city's most sensational starchy side. Simply put: must-order.
We've always been fans of eating at the bar, which is a big trend in London yet Dublin has been slightly slower to embrace this more relaxed dining style. We love the close interaction between staff and customer. There's a heightened buzz and atmosphere when you're up close and personal with the goings-on of a busy bar. There couldn't be a better place to perch and enjoy a couple of outstanding seasonal dishes coupled with a rich, spicy glass of red on a cold Dublin night than the bar at Etto. Maybe Delahunt on Camden Street, another of our favourites!
If you find yourself around Stephen's Green on a busy Saturday, in a standstill and at a loss ideas-wise for lunch, Etto is a shining light. Treat yourself to a Negroni or Aperol Spritz and two or three courses here, where there's usually walk-in tables available. But past 5pm on any night (closed Sundays), you'll need to book. This place is popular and fills fast, so book ahead if your heart's set.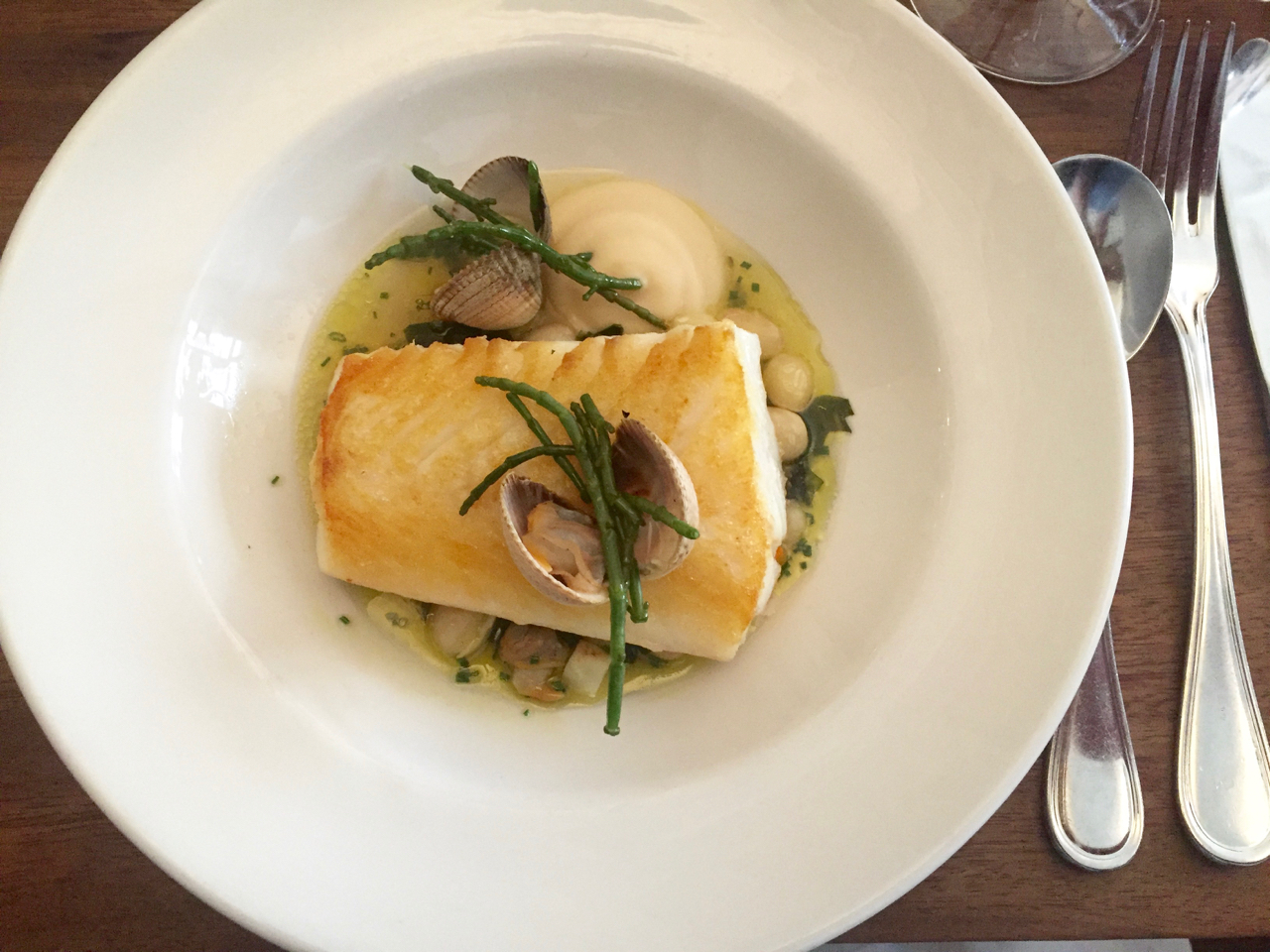 Some Dublin-based Irish food experts, whose words we read and rely on a weekly basis – Irish Times critic Catherine Cleary, and Totally Dublin's Aoife McElwain  – have raved about this restaurant, so don't just take our word for it.
A final thing we love about Etto is how compact it is, it's no more than a few tables, a couple of well-trained staff and a tiny kitchen packed with incredible chef talent. Whilst taking a trip down a creaky stair or two to the bathrooms below, you can usually peer into the busy kitchen.
You might also spot another wonderful sight we relish in restaurants – a stack of cookbooks. Every story in the world has already been told, we hasten to add. No recipe is unique and everything comes from somewhere else. This is what keeps the world turning. We love seeing restaurants proudly displaying the books that give them inspiration – a nod to chefs, recipes and restaurants that have helped them shape what they now offer. That sight cements precisely in our minds the type of restaurateurs and chefs we want to cook for us and we want to support in return.
Disclaimer: Not sponsored, we would tell you if it was. We've paid full whack every time we've dined here because we love this place!
Still need convincing? Read more about Etto from our friends Gin & Griddle.