Ciao, Torino! It's been over 30 years since Eurovision last took up residence in Italy and for the first time ever the Eurovision Song Contest will be held in the beautiful Northern Italian city of Torino, or Turin for us English-speakers.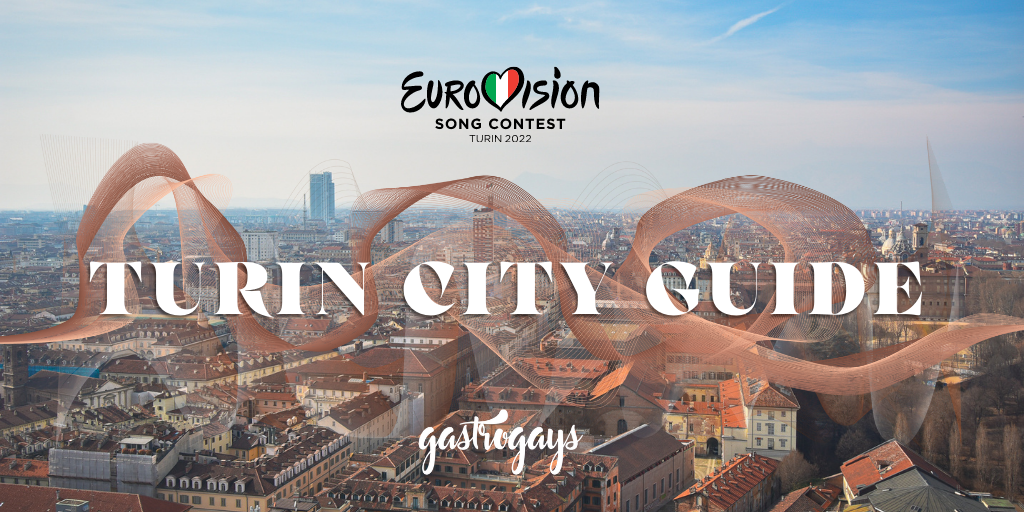 Following Måneskin's win in Rotterdam last year, the Eurovision Song Contest – the word's biggest live entertainment television show – will take place in Turin in May 2022. This will mark Italy's third time hosting the contest. The first was way back in 1965 in Naples (brought to the contest from Copenhagen by 16 year-old Gigliola Cinquetti, and won in Naples by French singer France Gall for Luxembourg) and the second was in the Italian capital, Rome in 1991. Toto Cutogno brought the contest back to Italy from Yugoslavia with Insieme and in Rome – where Italy's pair of previous winners Toto and Gigliola jointly hosted – Carola nabbed Sweden's third victory after a tie at the top.
After the cancellation of Eurovision 2020, and the heavy restrictions put in place at Rotterdam 2021, Turin 2022 will be the first time since Tel-Aviv (2019) that many Eurovision fans will resume their pilgrimages to the hosting city. We've already spent a week in the city in February so we're here to help you along the way with our tips, advice and recommendations on what to do, what to see, where to eat and drink and how to get around and spend your time in the city of Turin.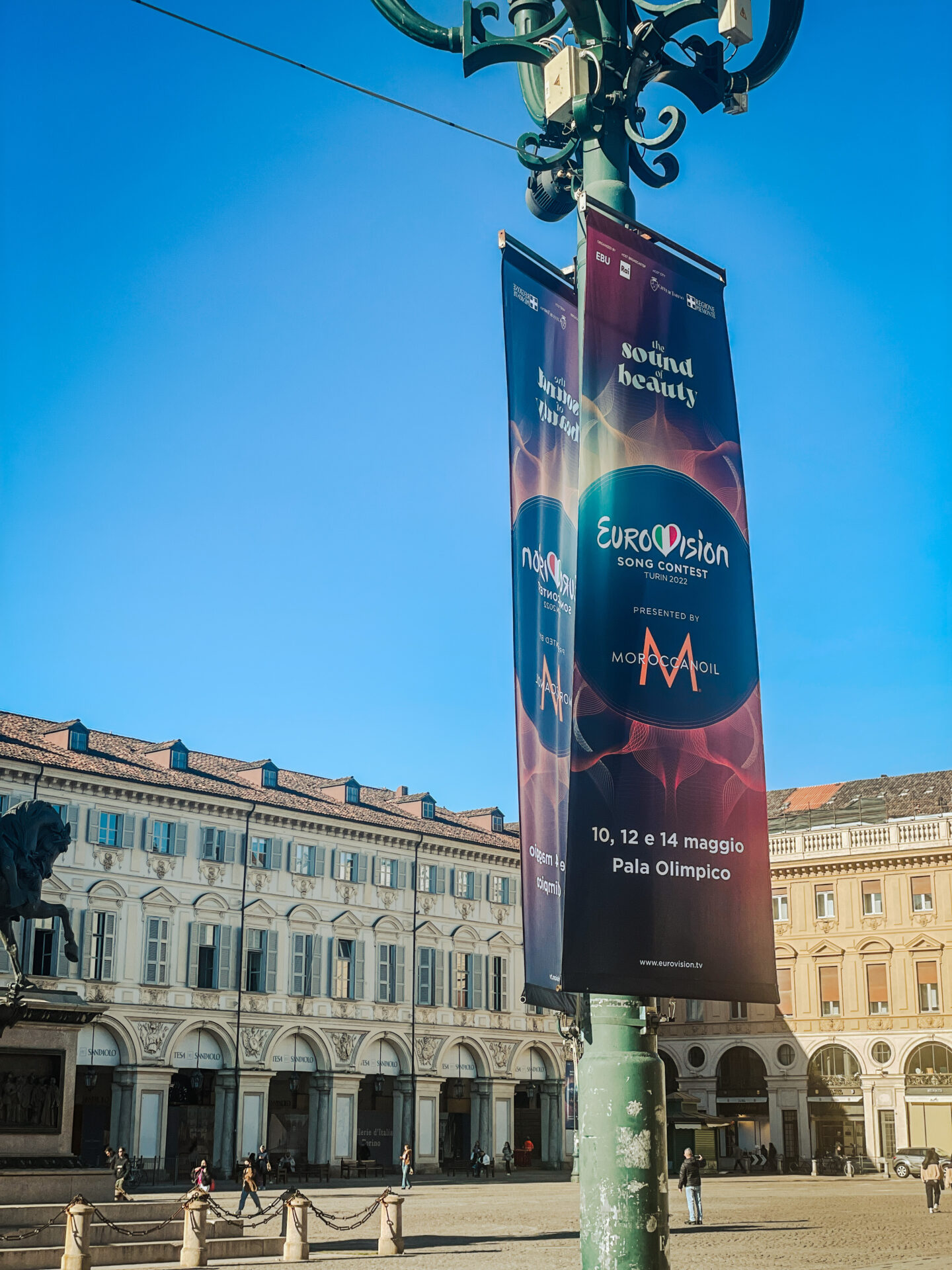 Eurovision 2022: Top Line Details for Turin
Eurovision 2022's live shows will take place in the Pala Olimpico in Turin, with the Semi-Finals taking place on Tuesday 10th and Thursday 12th of May and the Grand Final following on Saturday 14th May 2022. We've written a whole post on the Eurovision 2022 Host Venue PalaOlimpico so head over there for details about how to get to the venue. HERE is the line-up for Semi-Final 1, and HERE is the line-up for Semi-Final 2. The Final will be made up of 25 countries consisting of the top 10 acts from each semi-final plus the Big Five countries (Italy, France, United Kingdom, Germany and Spain) which receive automatic qualification for the final each year.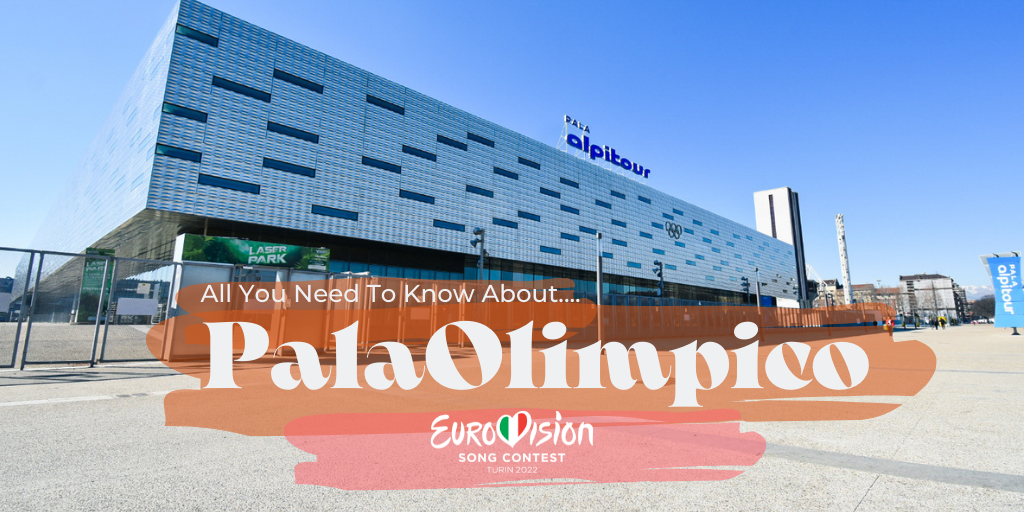 Eurovision Village will be held closer to the city centre in the stunning Parco del Valentino, Turin's second-biggest public park. This will run for a week from Saturday 7th – Saturday 14th May and will feature lots of live performances of both Italian and international acts and will also host live screenings of the main Eurovision 2022 shows, so if you haven't gotten tickets that's your next best bet. The park is ten minutes' walk from the main train station of Turin, Porta Nuova and the metro stations Marconi and Nizza are within walking distance, too.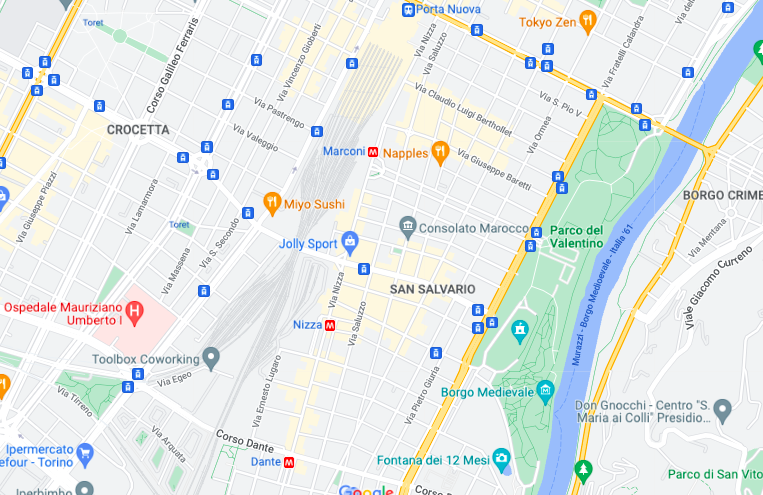 The Reggia de Venaria Reale is Turin's answer to Versailles and this lavish former royal palace will be the location of the Eurovision Turquoise carpet and opening ceremony. The ceremony takes place on Sunday 8th May and will be hosted by two of Rai's commentators for this year's ESC, Carolina Di Domenico and Gabriele Corsi. Venaria Reale is about 20 minutes drive outside the city centre.
Basics About Turin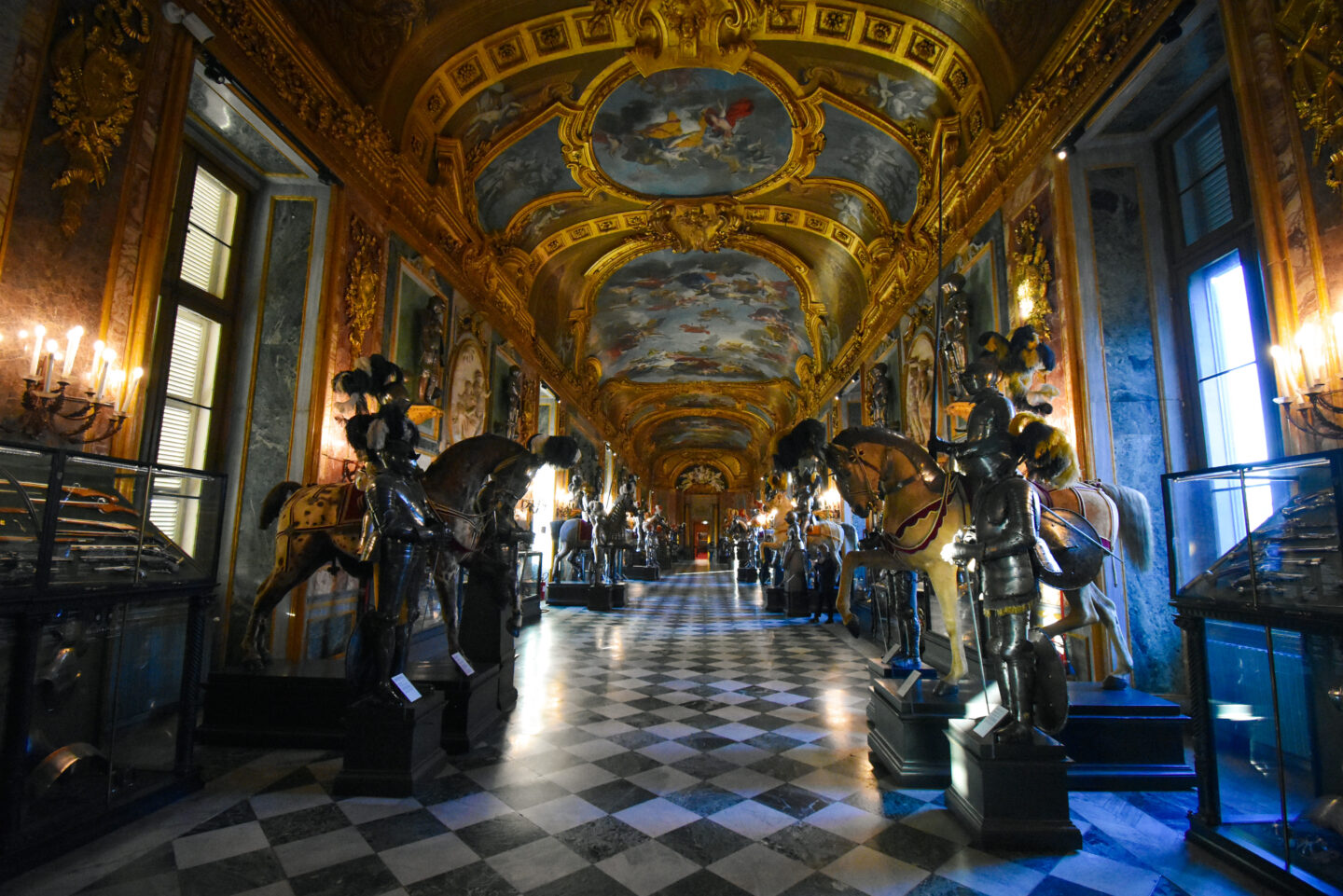 Torino was actually the first capital city of a united Italy. For just four short years, from 1861 to 1865, it was the most important city in the country. Later, Florence took the mantle for six years before Rome ––which has been the capital of Italy ever since. A city set in the shadow of the Alps and once the main seat of the Duchy of Savoy (Savoie), Torino is Italy's only 'Royal' city, so you'll find regal palaces, resplendent residences, historic buildings and museums full of lavish goods documenting a bygone time of pure royalty.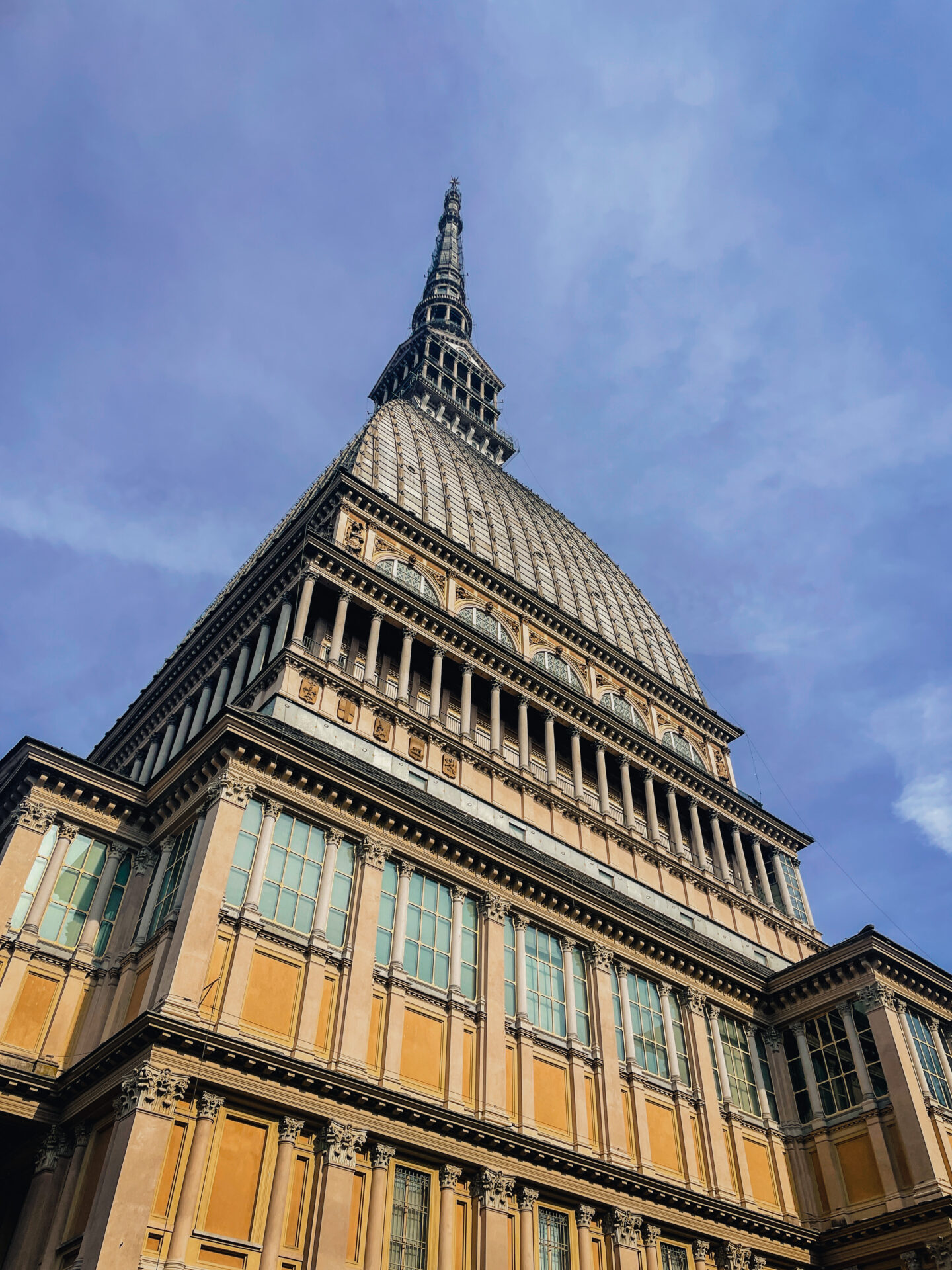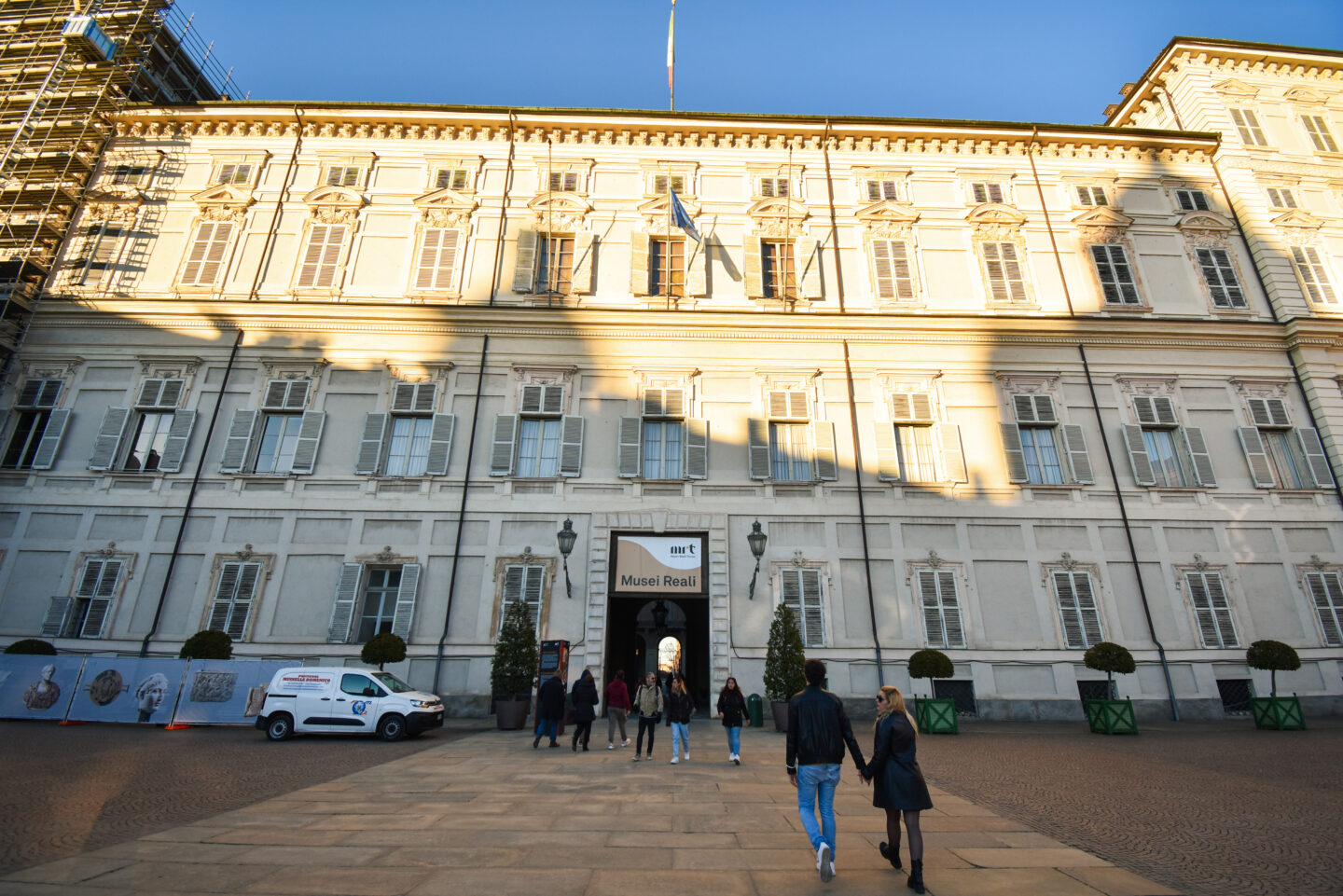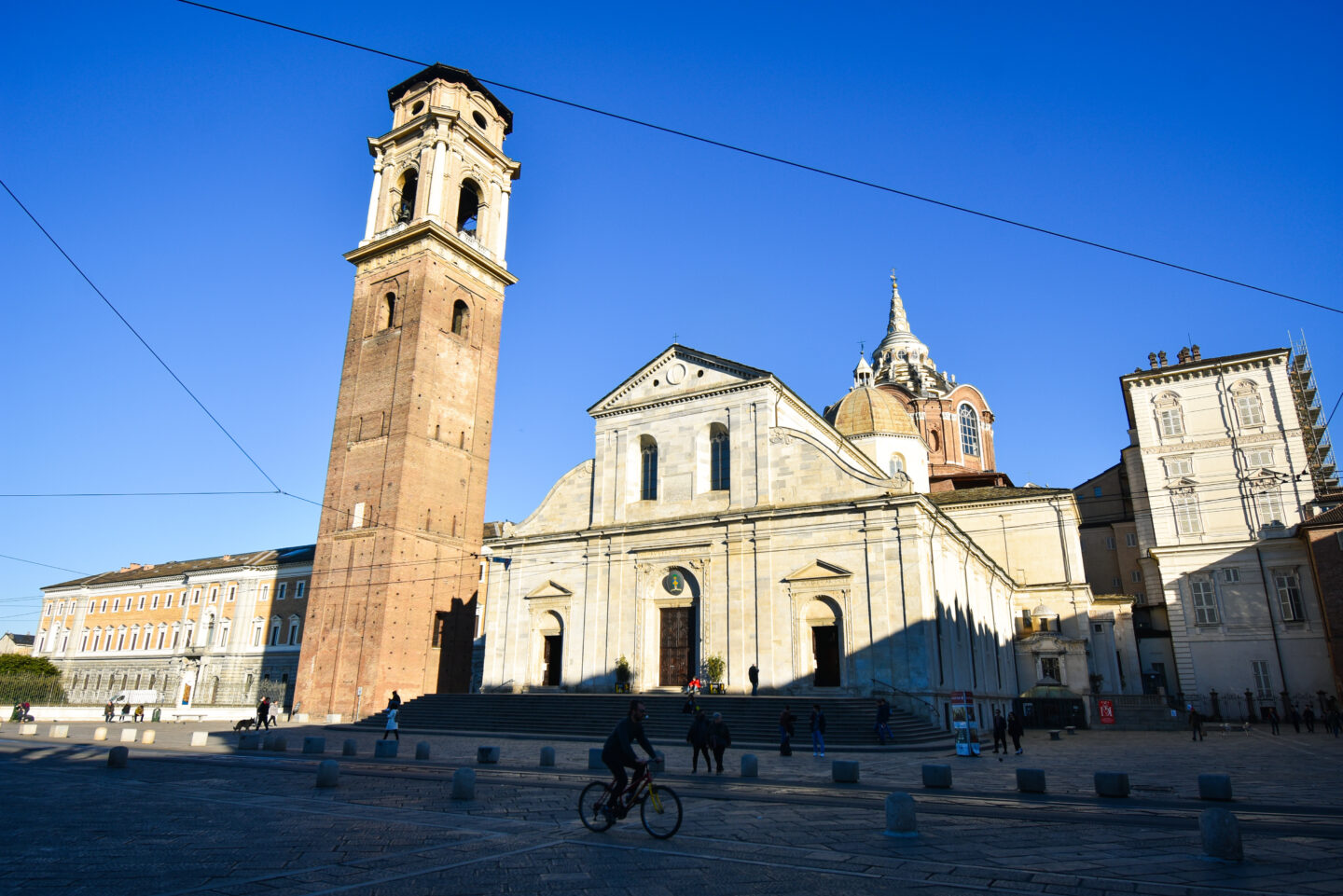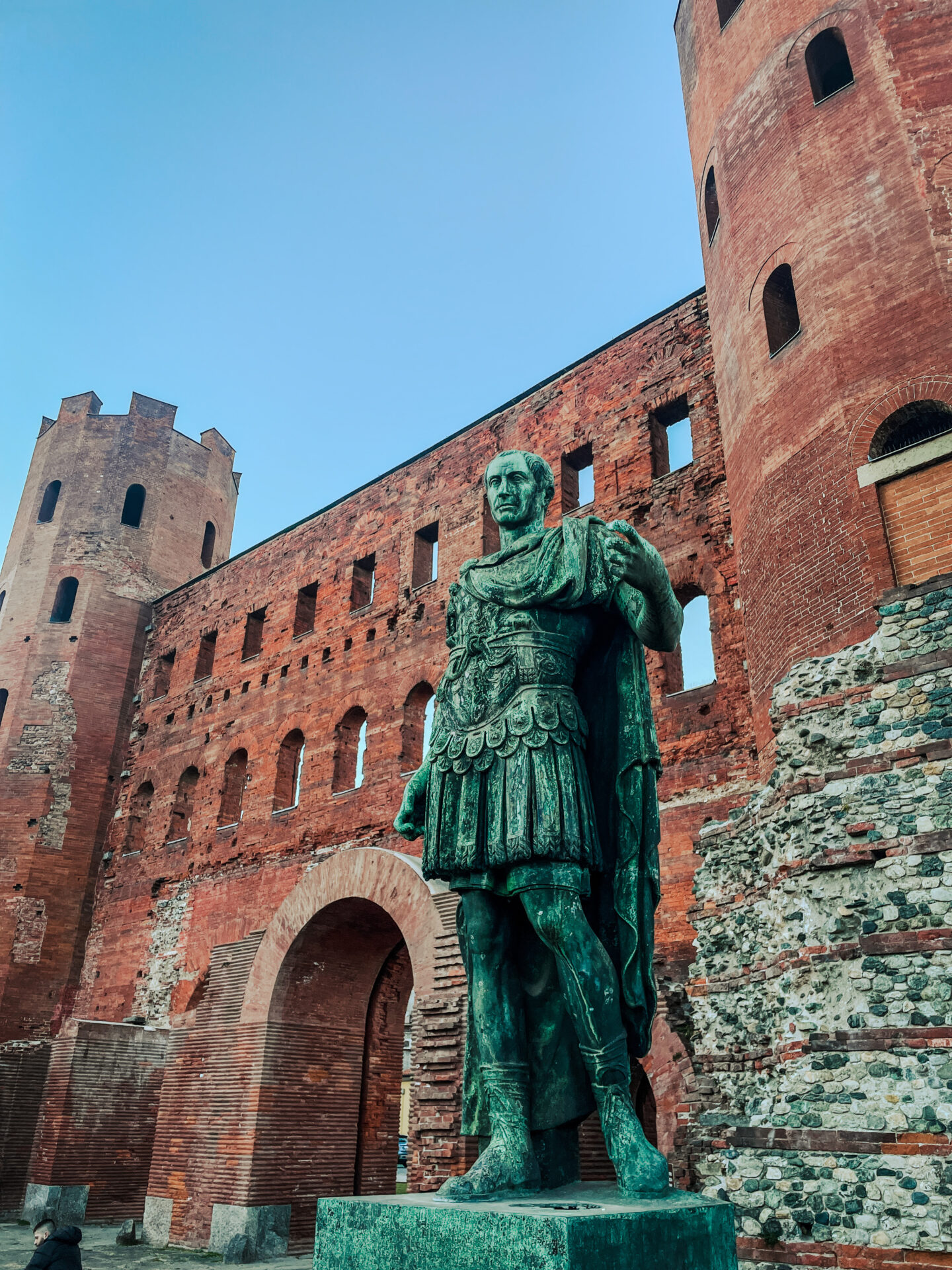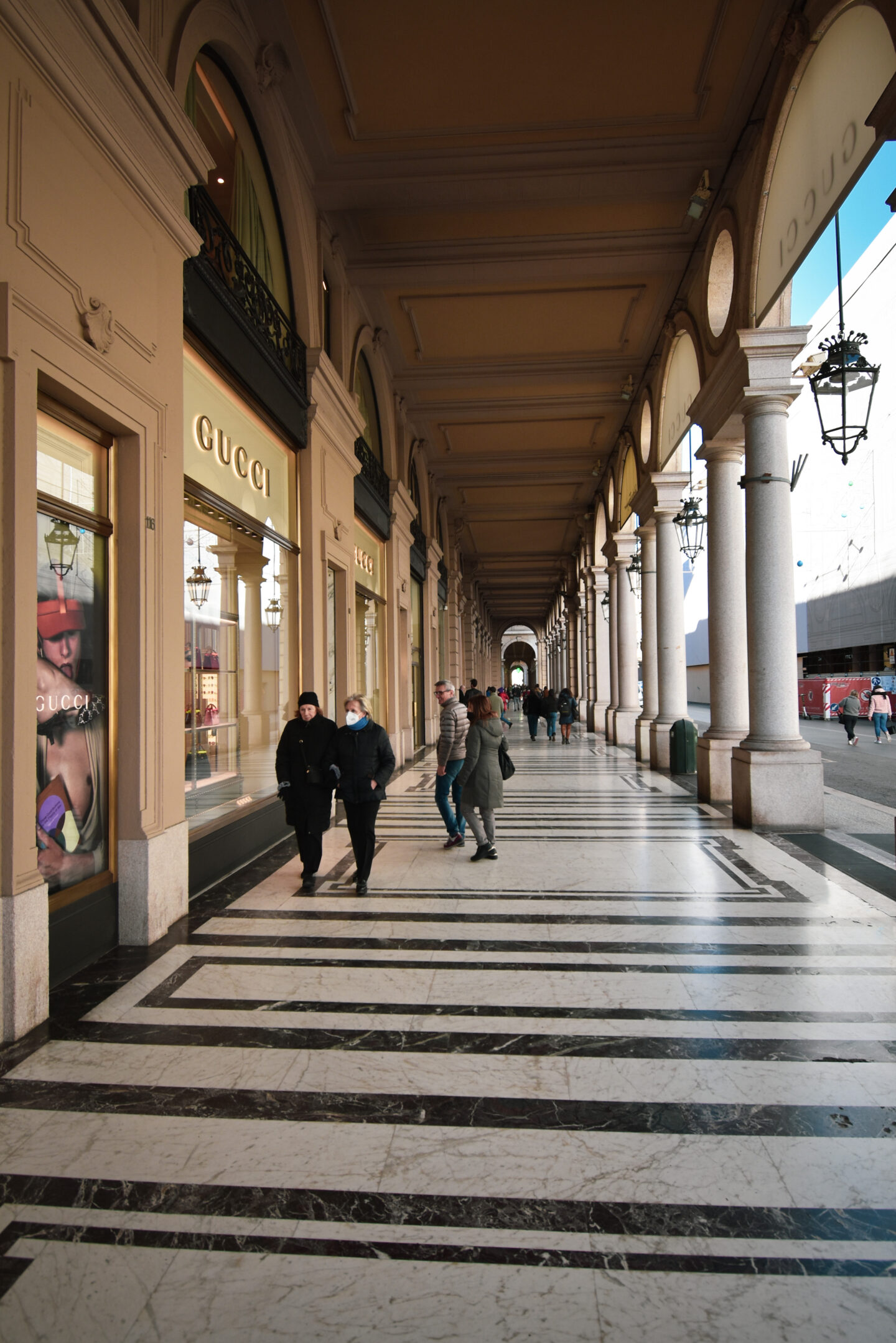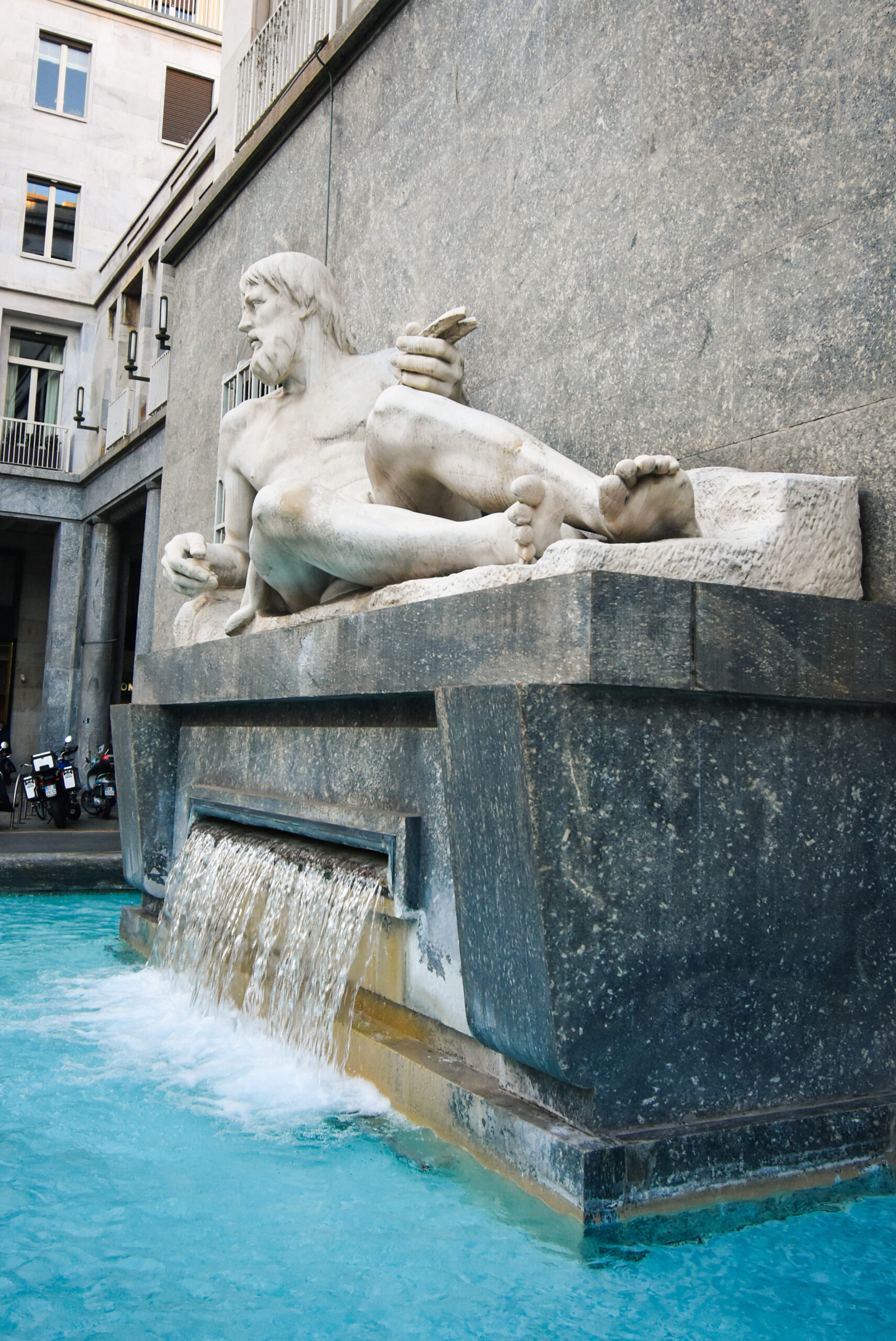 You might think of the Shroud of Turin when you hear the city's name. The Italian car manufacturer FIAT also may come to mind –– in fact, FIAT is an acronym and the 'T' at the end stands for Torino. FIAT still has a huge presence in Torino in the Lingotto district, as well as seeing nippy little FIATs as the car of choice driving around the city. Slow Food as a concept was born in this region of Piedmont and the first ever Eataly was opened in Turin in 2007. Another notable name in Torino is Carpano, the first-ever vermouth brand, named after its inventor and the former Carpano factory now houses Eataly.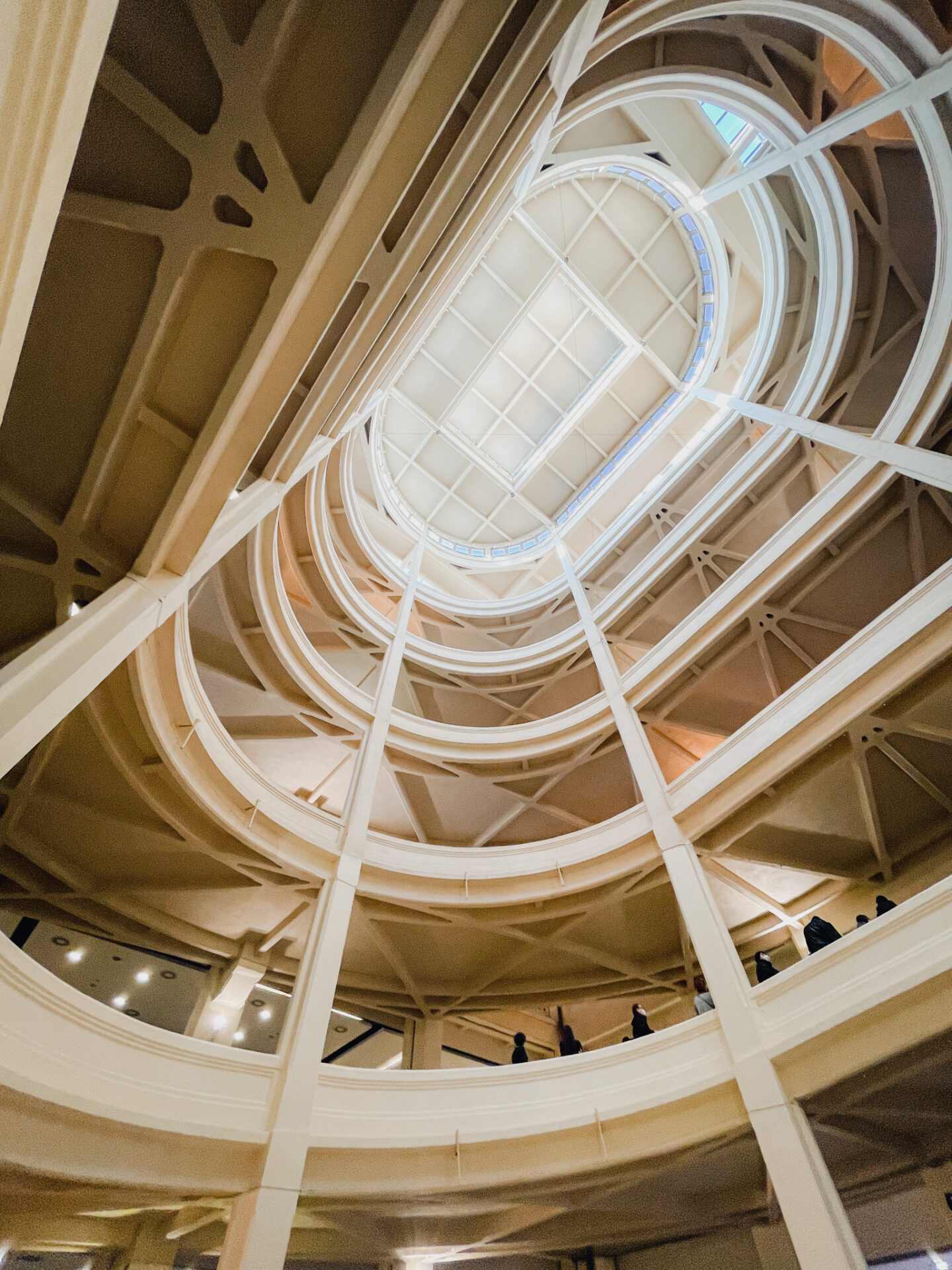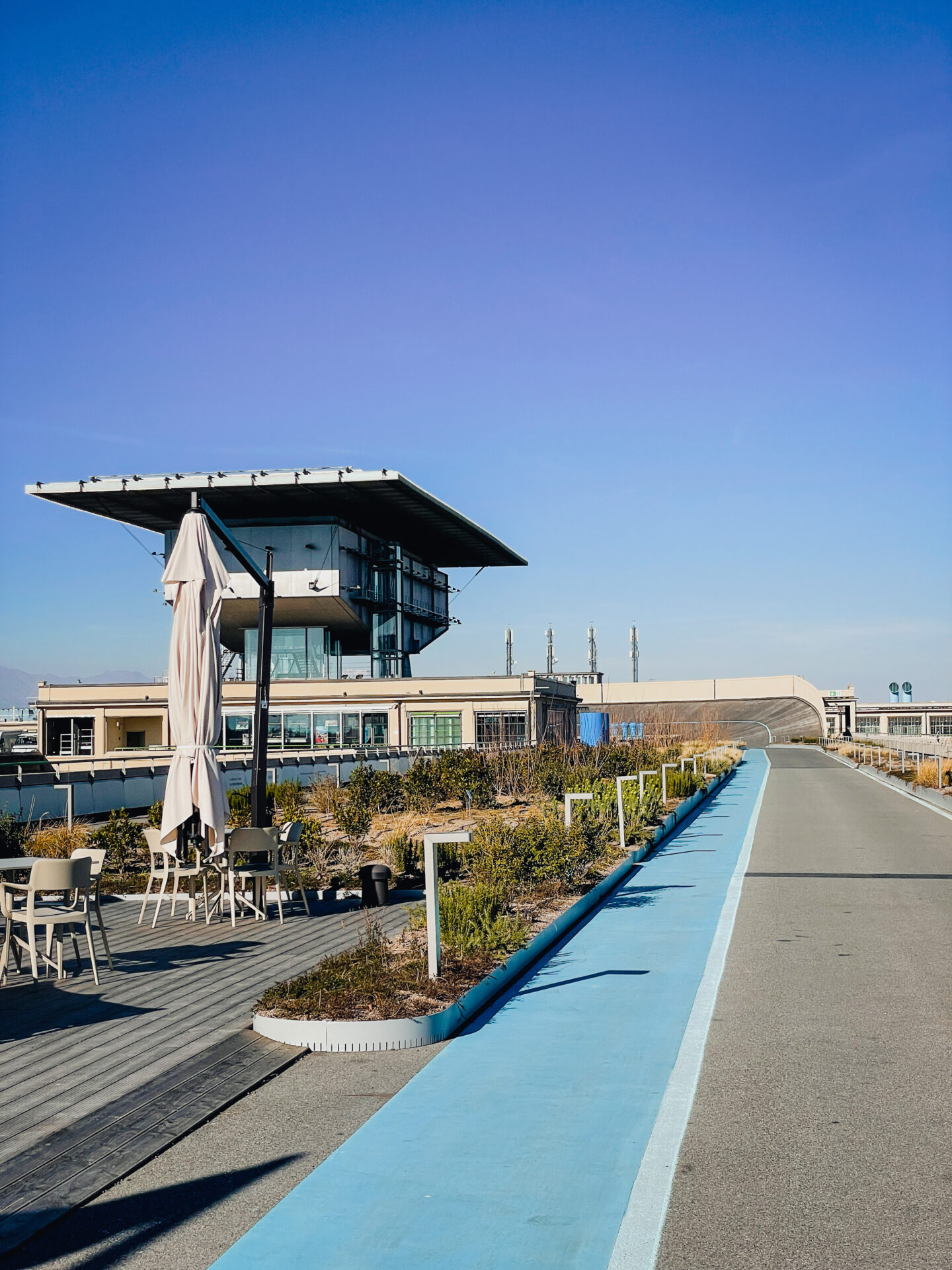 Most people in the modern day will know Turin for its hosting of the Winter Olympics in 2006, which still to this day is a source of immense pride for the city and its legacy continues. Turin sits about two hours from Milan by car (some trains are much faster!) and similar distance from the coastal city of Genoa. The population of Turin is akin to Seville, Dublin, Porto and last year's host Rotterdam.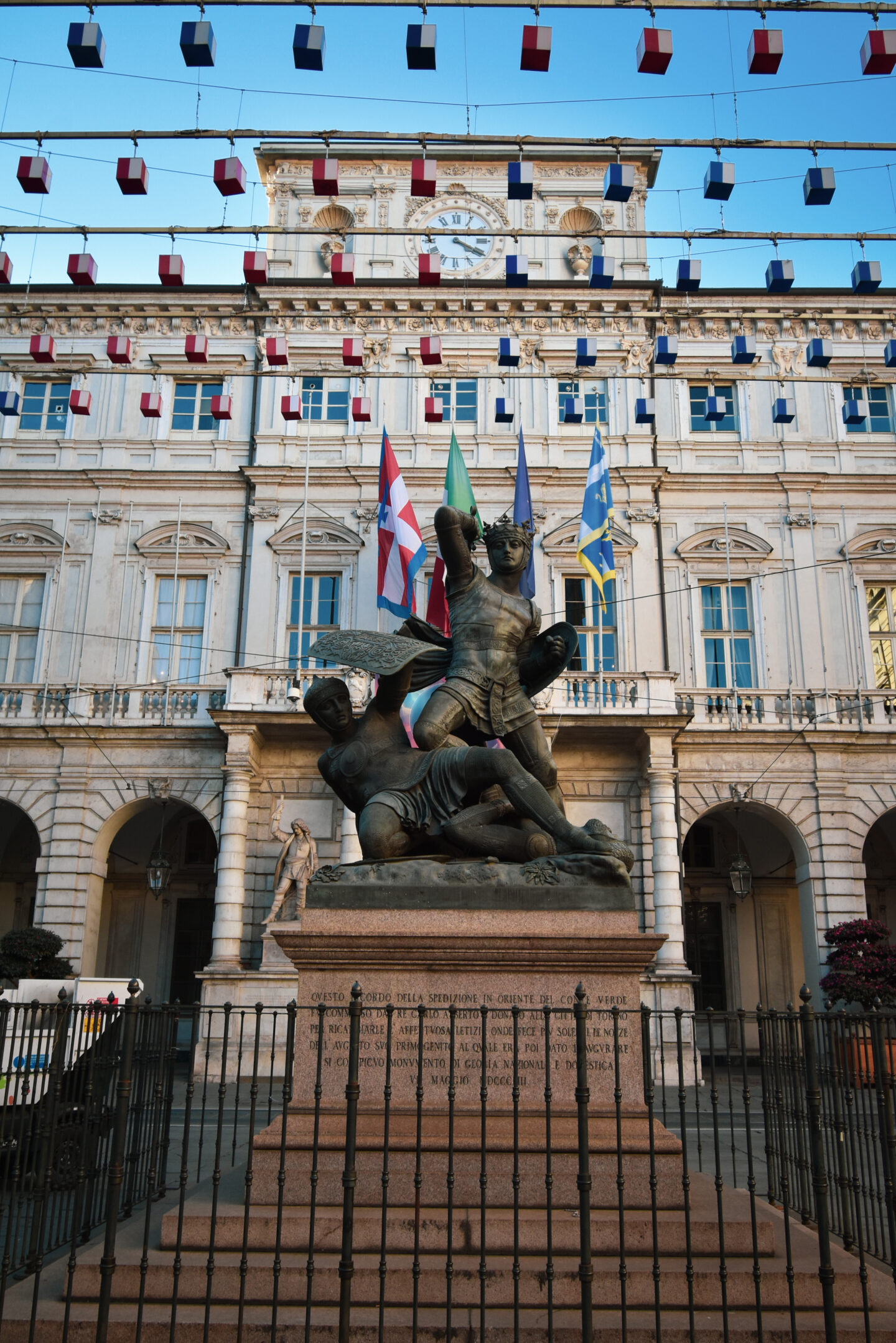 Weather in Turin for Eurovision 2022: ☀️🌦⛈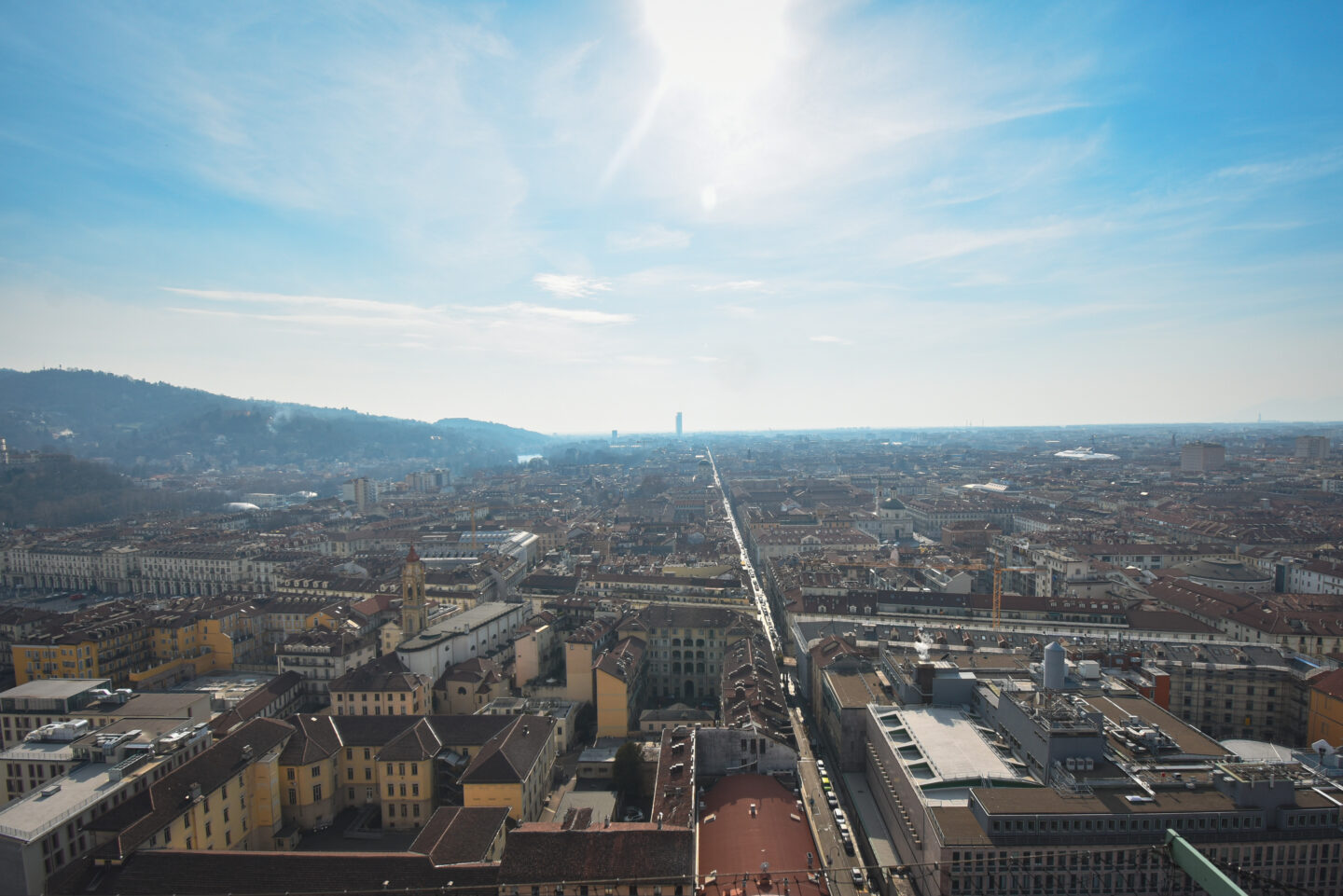 As spring merges into summer, expect the weather to be nice, bright and warm in Turin, between 10ºC and 20ºC in the month of May. At the time of writing, the predicted weather for Eurovision week could sit around 25ºC! However, May is also the rainiest month of the year in Turin, so pack for warm weather but also expect rain at some point, even potential thunderstorms. See below the weather chart for May 2022…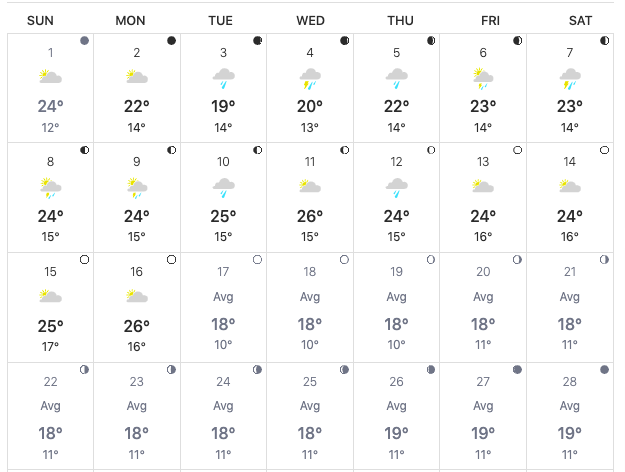 Transport: Getting To Turin from Torino Airport
Torino Airport sits 16km outside the city and does have a train service connecting into the city, however in 2022 – due to construction works on part of the line – the train only runs from Caselle (the stop at the airport; the airport is also known as 'Turin-Caselle') to Veneria. The SF2 bus will continue the journey and honour tickets onwards to Porta Susa, where the service terminates. The ticket, purchasable at the airport via the ticket machines, costs €3.20 and lasts for 100 minutes. From Porta Susa you can connect onwards via bus, tram and metro.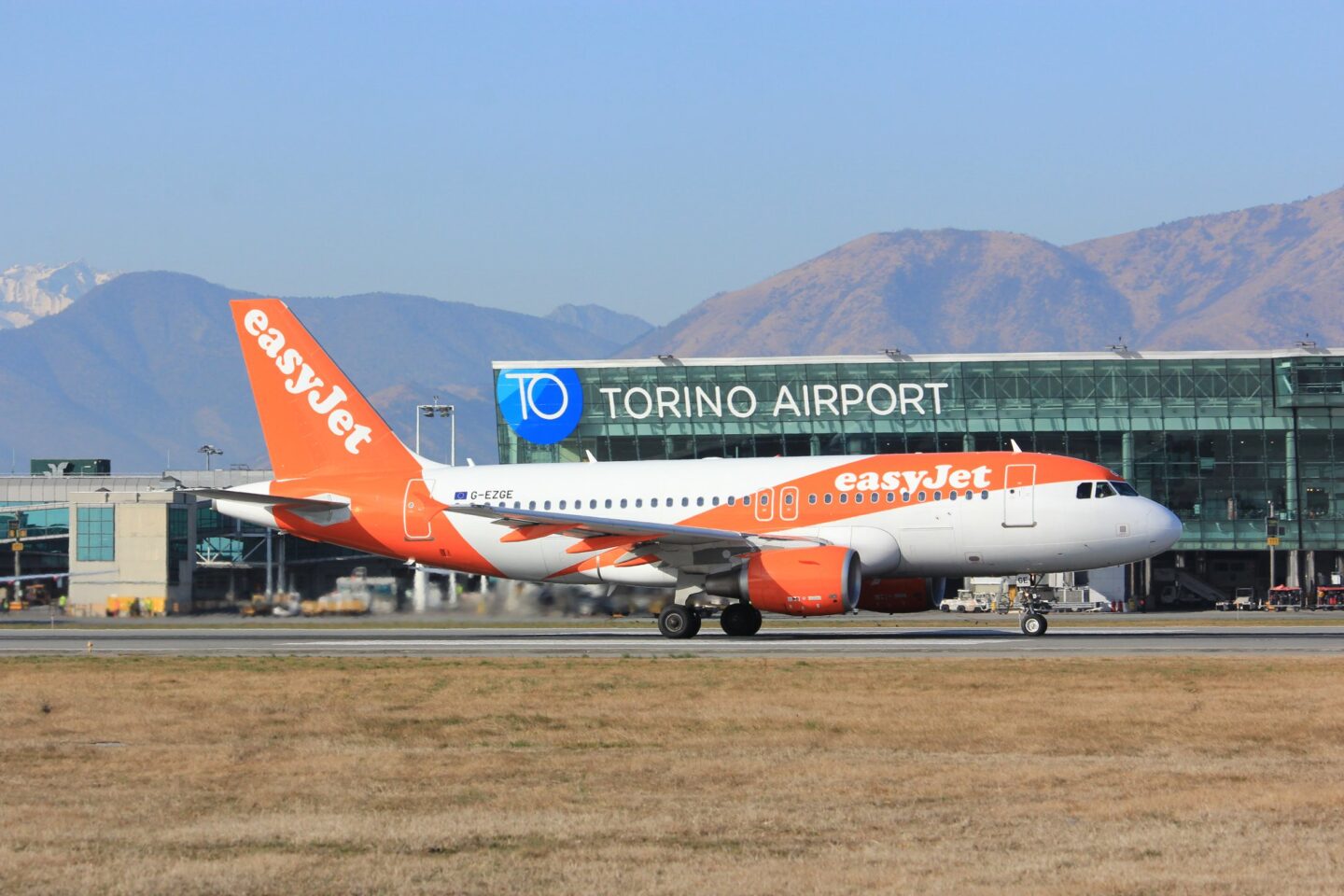 We haven't taken this route before as we came to Torino via rail from Milan, but we believe the last train from the airport station is around 20:15 daily. Getting *to* Turin Airport we believe the first buses leave Porta Susa at 05:30 (maybe around 06:00 on Sunday) and get to the airport around 06:05. Among the airlines which fly to Torino Airport include Air France, easyJet, British Airways, Ryanair, KLM, Vueling, Iberia Regional, Wizz Air and Ita Airways, plus others on seasonal contracts.
Transport: Getting To Turin via Rail
If you're arriving to Turin by rail from other airports or parts of Italy, there are two major rail stations in the city: the main, busiest station Porta Nuova, and the second-busiest station Porta Susa, both in the city centre. Both stations serve Milan, by standard rail and high-speed, with operators including Trenitalia, Italo and Frecciarossa however Porta Nuova is the terminus and starting point between Torino and Milano. Porta Nuova is the third-busiest station in Italy (even though Torino is Italy's fourth city, it eclipses the passenger numbers and departures in Naples, the country's 'third city').
Train travel in Italy is usually a very enjoyable experience. Most of the country is connected via a mix of high speed, sleeper, local, commuter and international services. It is possible to travel from Paris Gare Du Lyon to Torino Porta Susa (or onward to Milan) on a recently launched high speed service. Switzerland is also connected via rail, whilst a new service connecting Italy to Spain is due to come on board in 2022, but not in time for Eurovision.
Most likely many people attending the Contest will be travelling in via the main airport in the north of Italy, Milan, and then onwardly travelling to Turin via rail. Note: Milan has three airports, Malpensa, Linate and Milan Bergamo Airport. The former is connected directly to Milano Centrale via a rail link, but Linate is not connected via rail or metro to the train station –– you'll need to get a bus or taxi. We took an Uber in February from Linate to Milano Centrale door-to-door and it cost €24.
The average cost of a train between Milan and Turin is around €20 per person, but this depends on operator and how early in advance you book your ticket. There are also different 'levels' to ticket prices, including business class which sounds expensive but comparatively it's often not that much more than the standard prices.
Transport: Getting Around Turin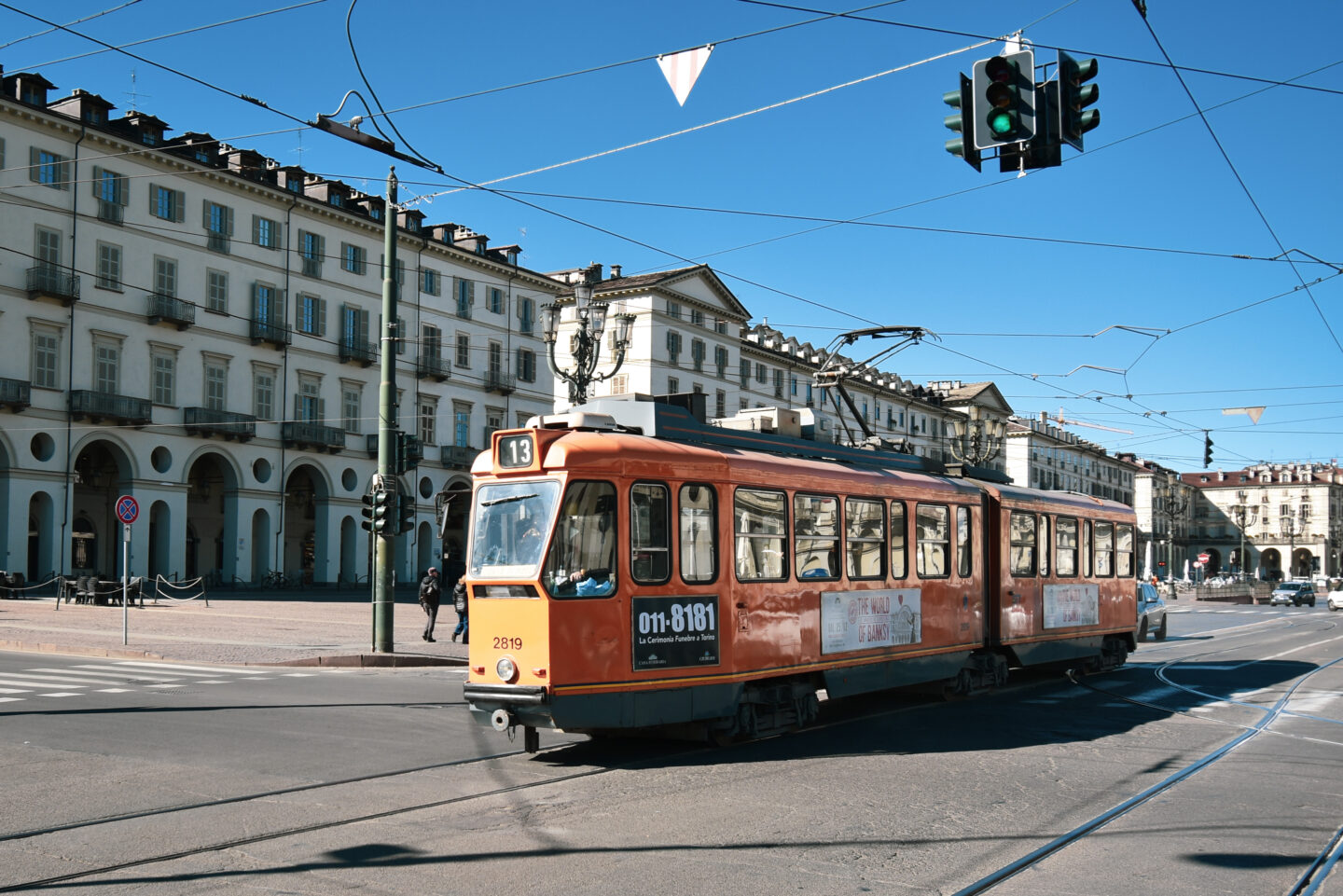 This is obviously subjective to where you are staying in the city. Turin city centre is very walkable and flat, minimal hills, and in the most part accessible. The porticoes, not as ancient or famous as Bologna's are incredibly beautiful, set around the major avenues and handy that you're covered in the event of poor weather.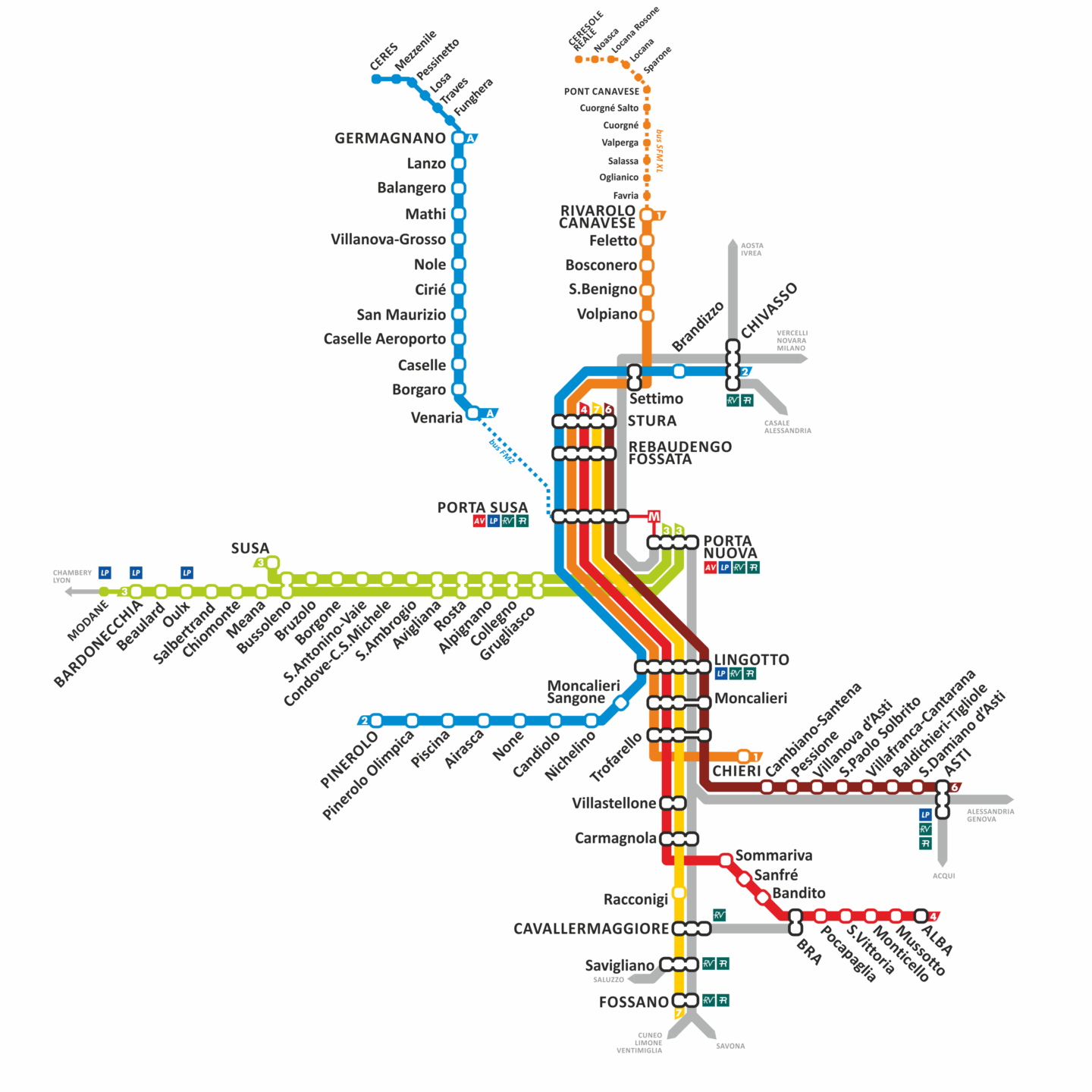 Gruppo Trasporti Torinese (GTT) manages the public transport in Turin, including a single line metro. The Turin metro, which opened in 2006 to coincide with the city hosting the Olympic Games, has 23 stations, running from Fermi in the west through the city centre to Bengasi in the south. It has been added to bit-by-bit since then, with a further extension planned to open in 2023.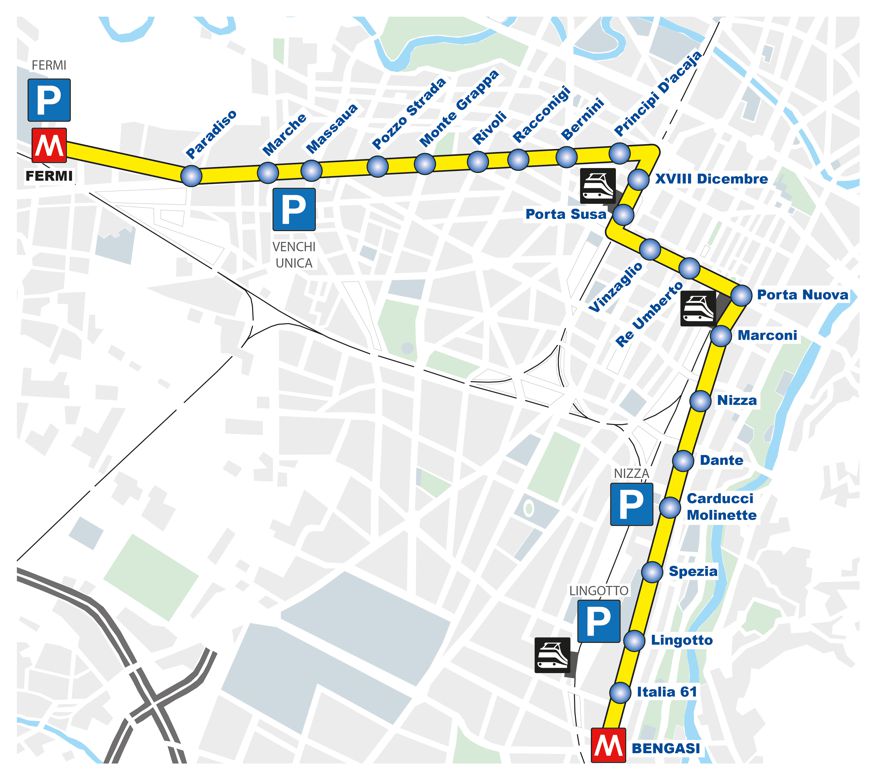 Single tickets cost €1.70 and allow you 100 minutes within the transport system from one you first 'tap in', including transfers to tram and bus. You can use contactless payment as your ticket where there are participating turnstiles. A daily ticket costs €4 and can be used on unlimited public transport. The metro runs from 5:30am to 00:30am daily (on Sunday, later start at 7am, and on Monday earlier close at 22:00).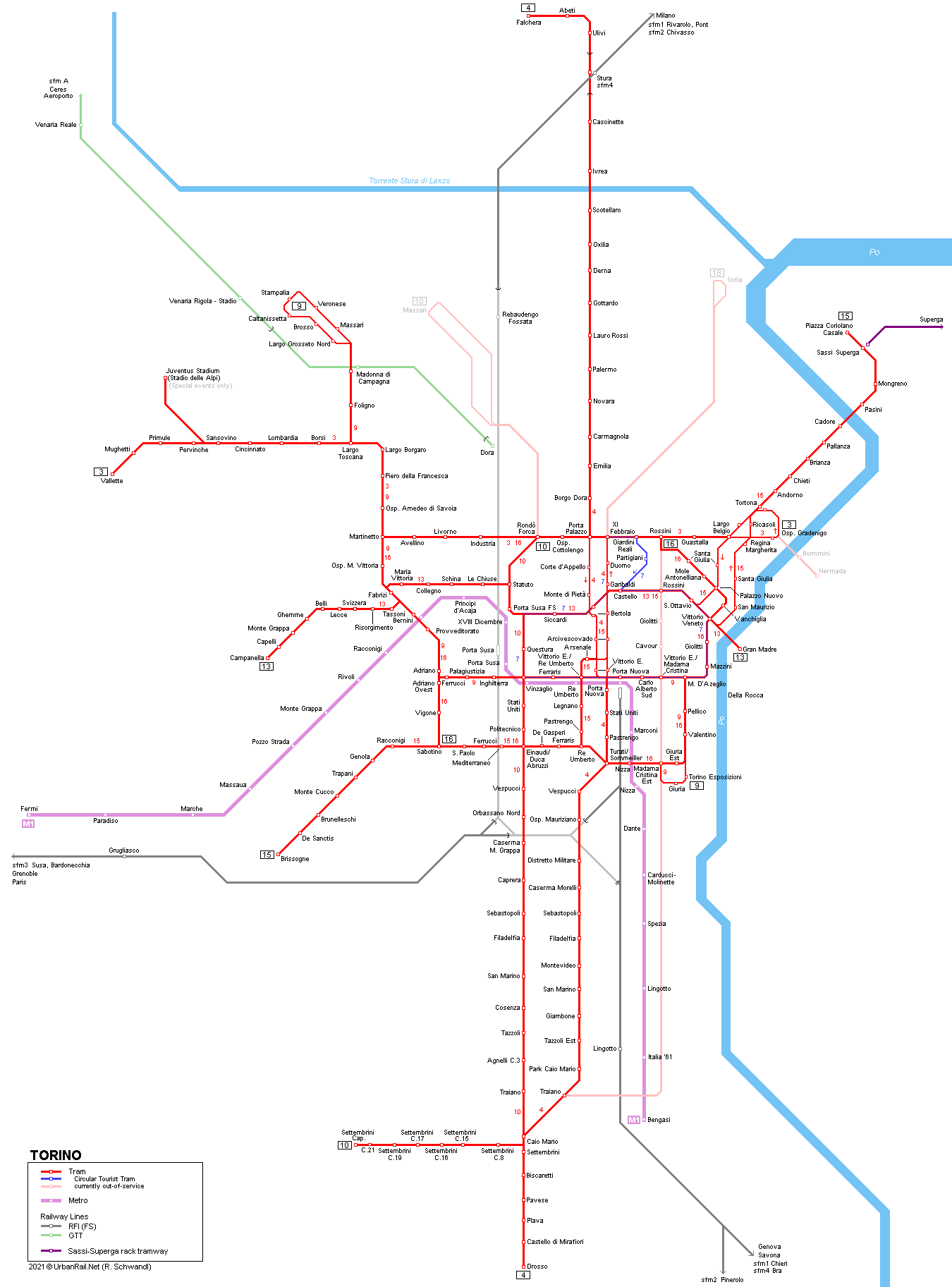 Aside from metro, there's an expansive rail and tram infrastructure in the city. The tram network has 10 lines and the bus network has over 80 lines.
Things To See & Do in Turin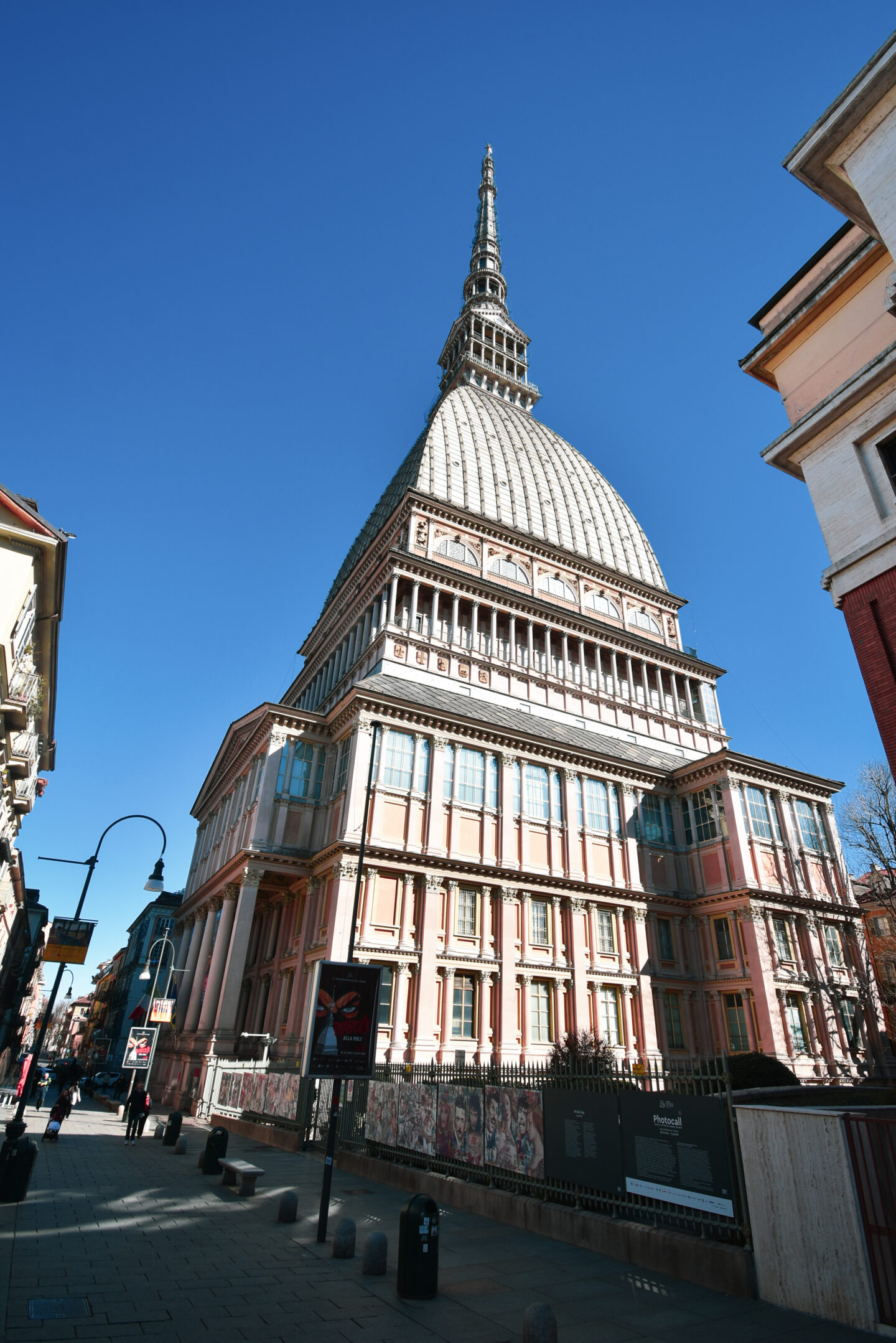 The symbol of the city is the Mole Antonelliana, which was originally designed as a synagogue but now houses the Museum of Cinema. Take the panoramic lift up 85m for impressive views over the city. You can combine a visit to the museum with a trip on the lift, or just do either/or.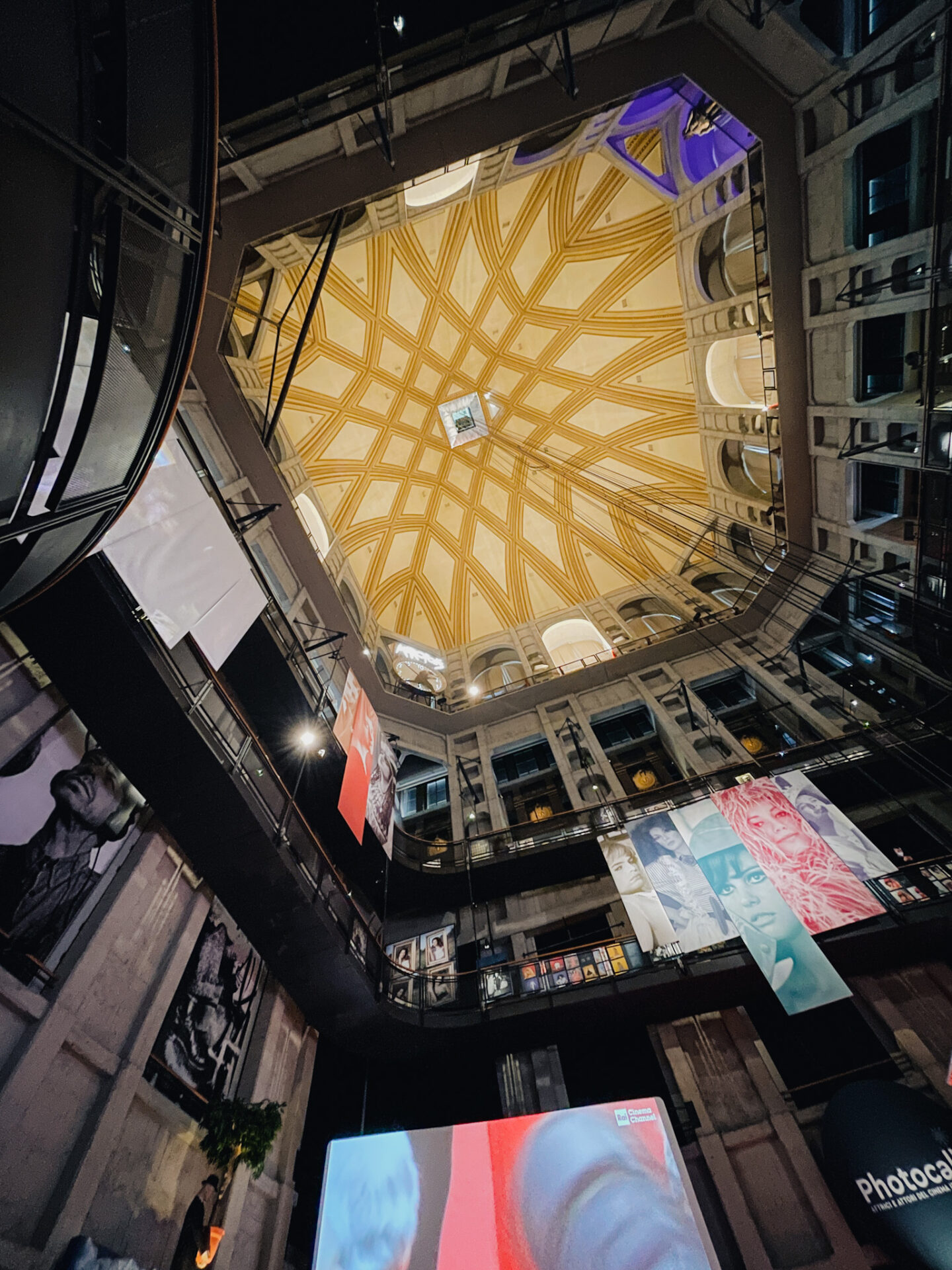 Broadcaster Rai is the broadcaster leading this year's Eurovision Song Contest hosting duties, but with a key office and studio in Turin, they've recently unveiled an Rai Museum of Radio and Television which is freely-available to visit.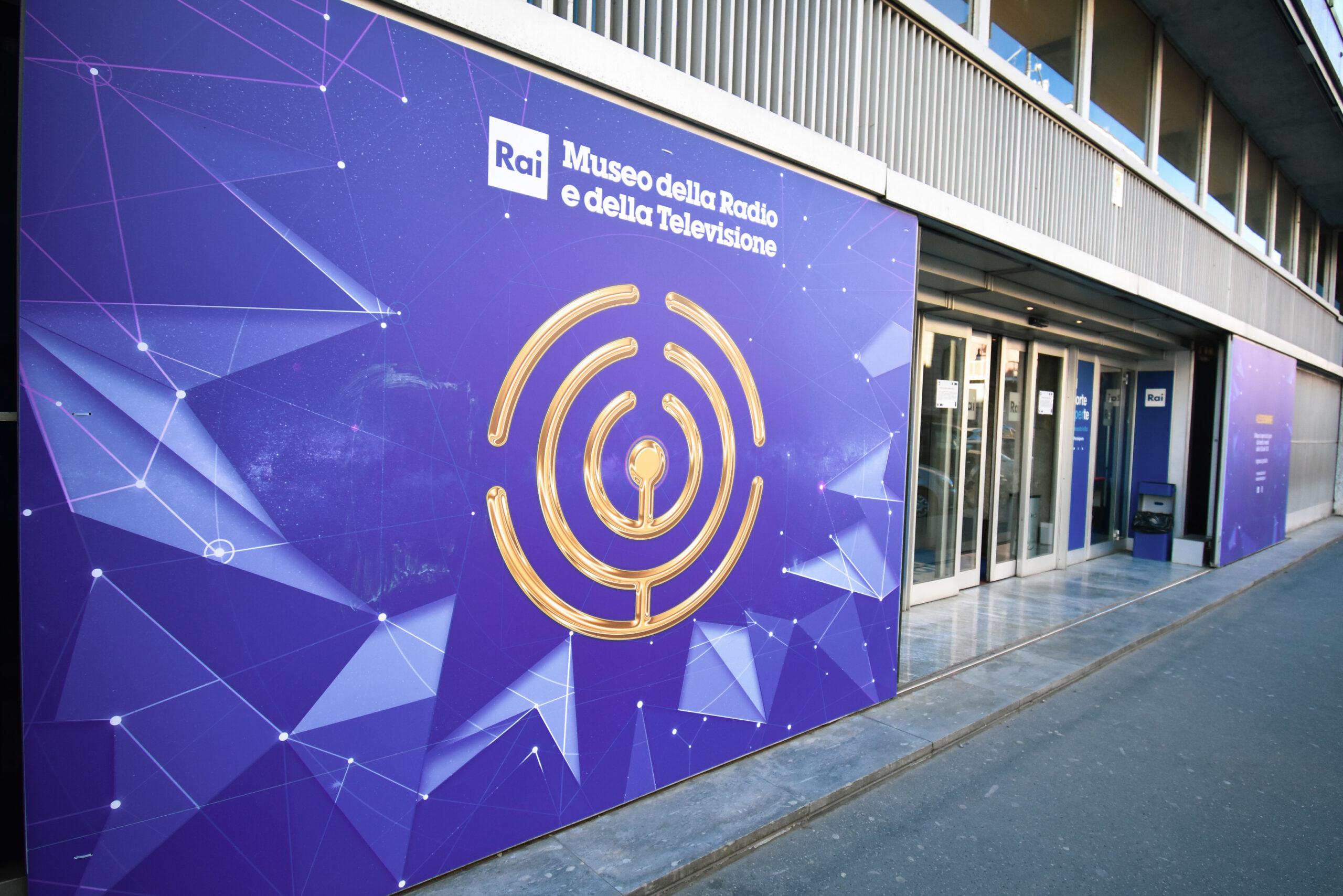 We visited in February and the team talked us through the entire space, which is so well-created and has evolved over the few years from what was an idea created in the pandemic. Understand how broadcast has evolved over the years, including a look into the San Remo festival which pre-dates Eurovision and is still the format for Italy's selection for Eurovision annually. Located on Via Giuseppe Verdi, the museum is open from 9:30am to 6:30pm daily and closed on weekends.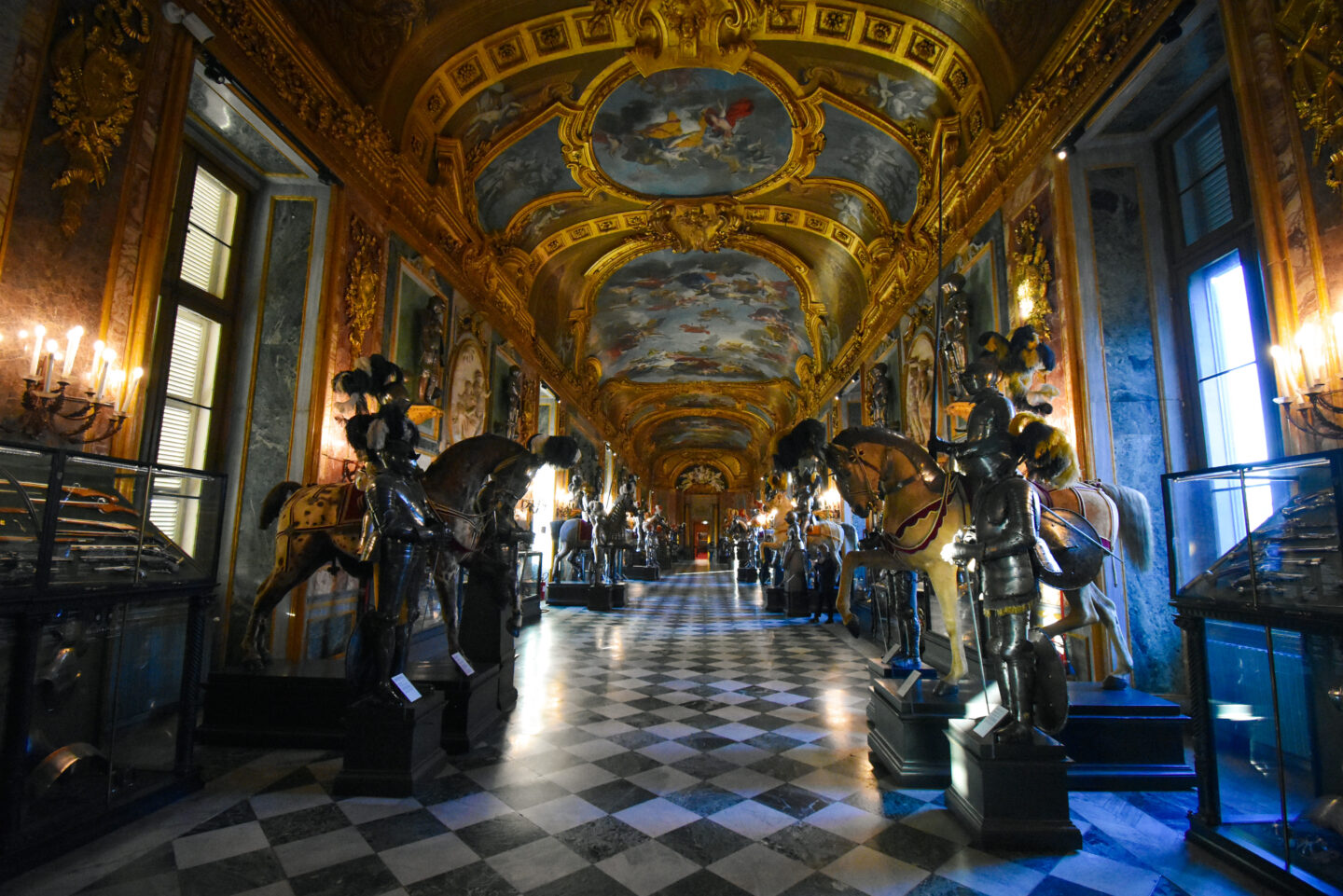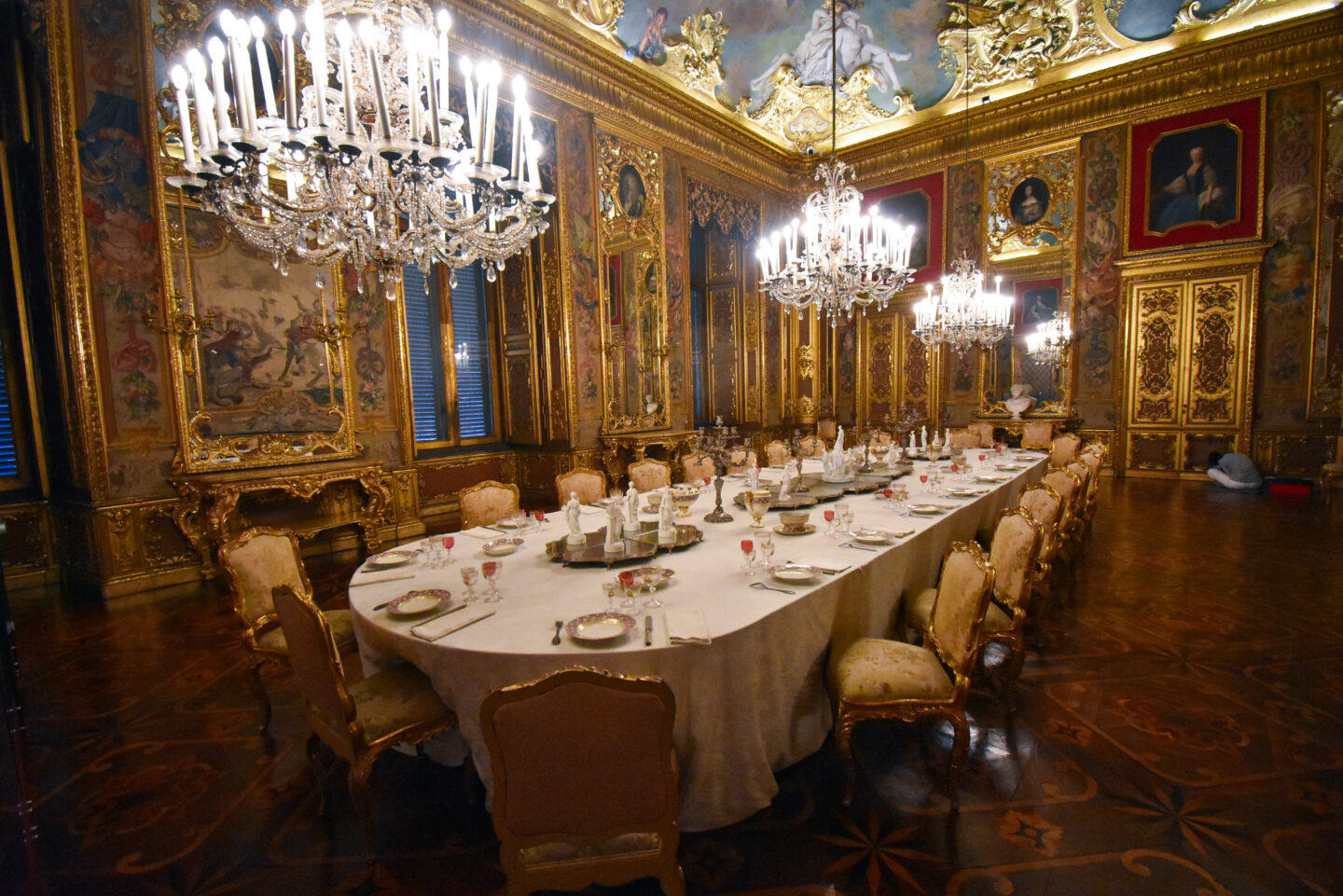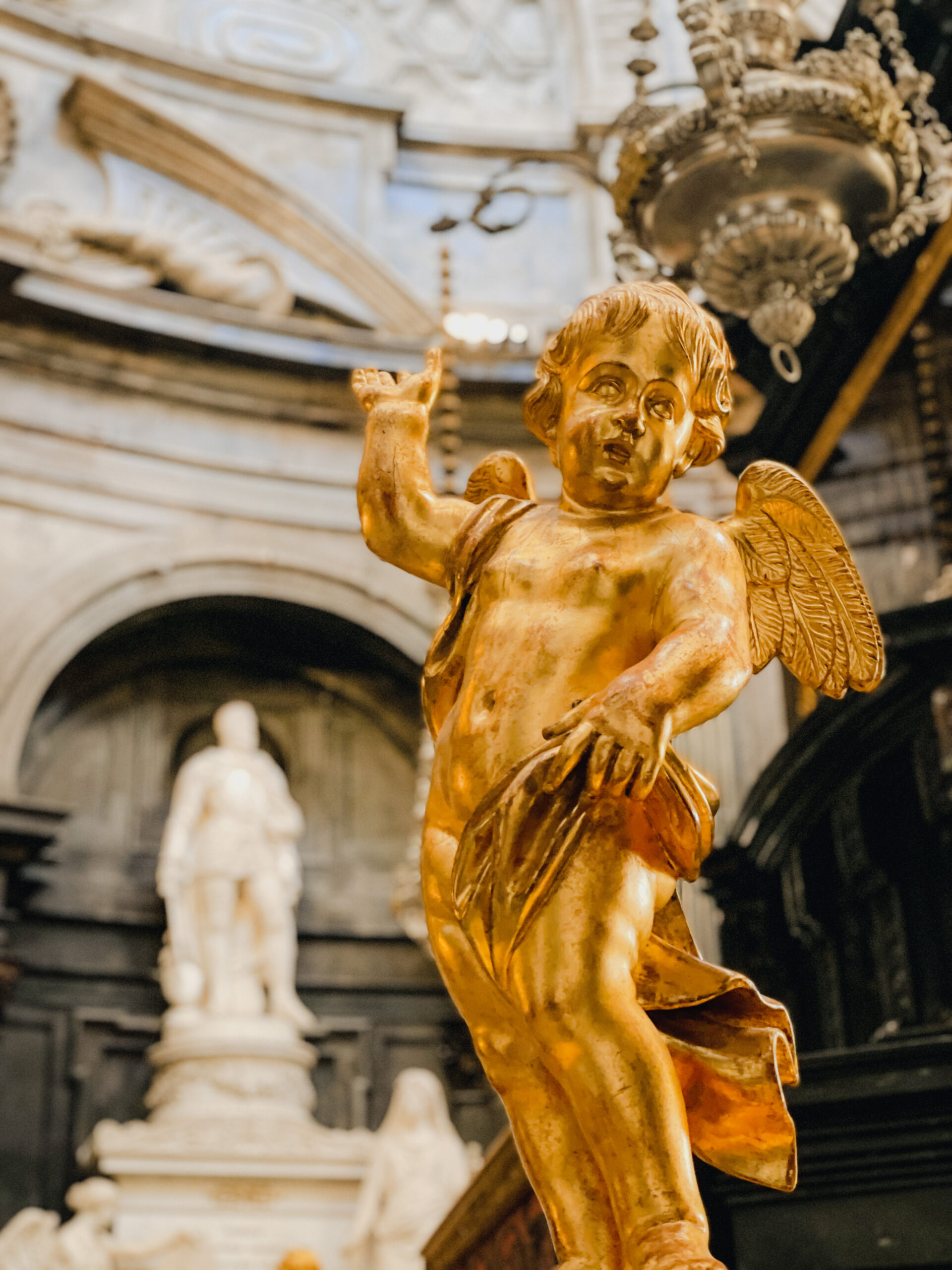 A visit to the Musei Reali at the former Royal Palace is absolutely essential. Being the first capital of the Kingdom of Italy in 1861 under the seat of Savoy, the Savoy storyline has really shaped Turin to this very day and seeing how lavishly the Savoys lived is something we really recommend. Take about 2-3 hours to visit the palace and walk the grounds.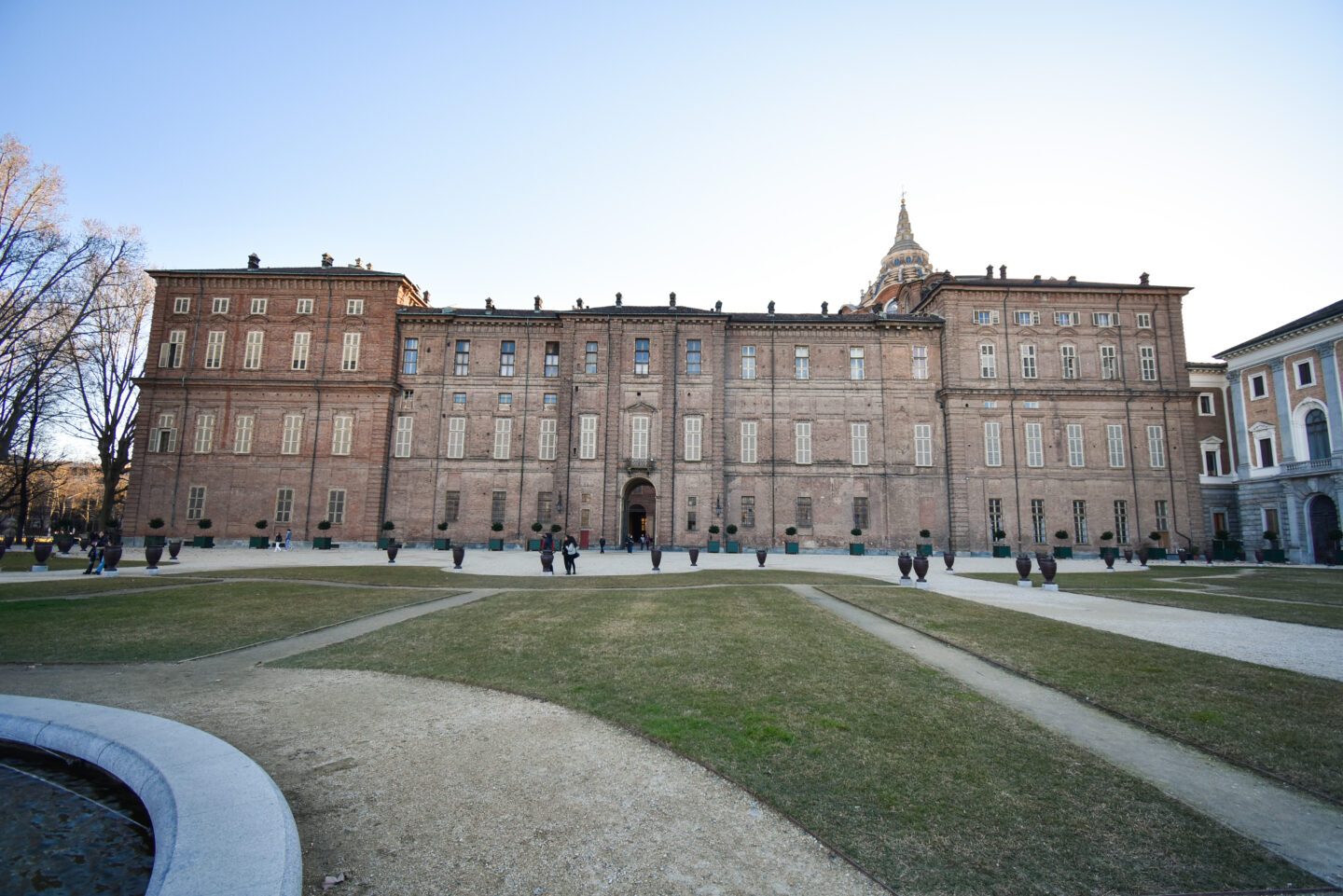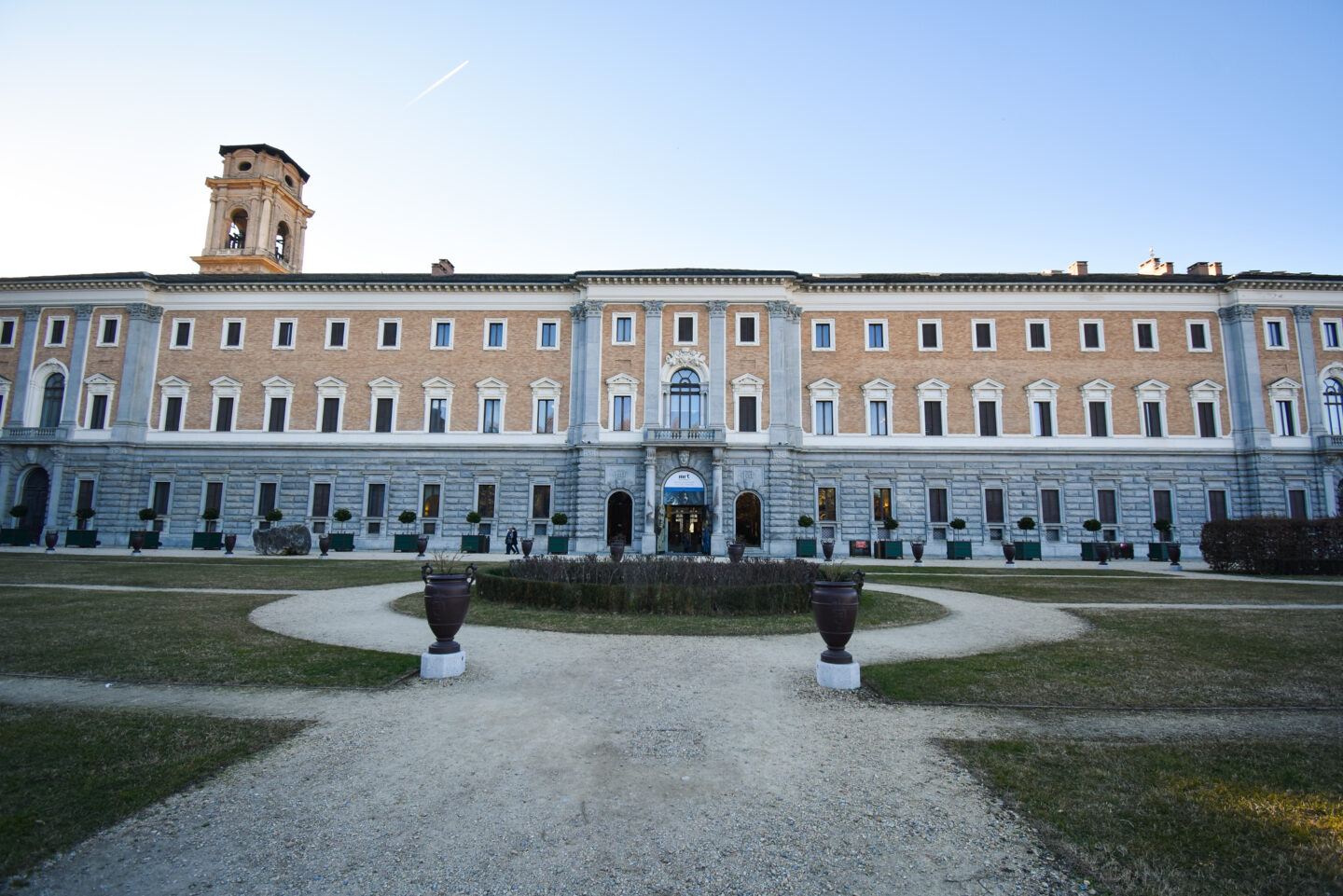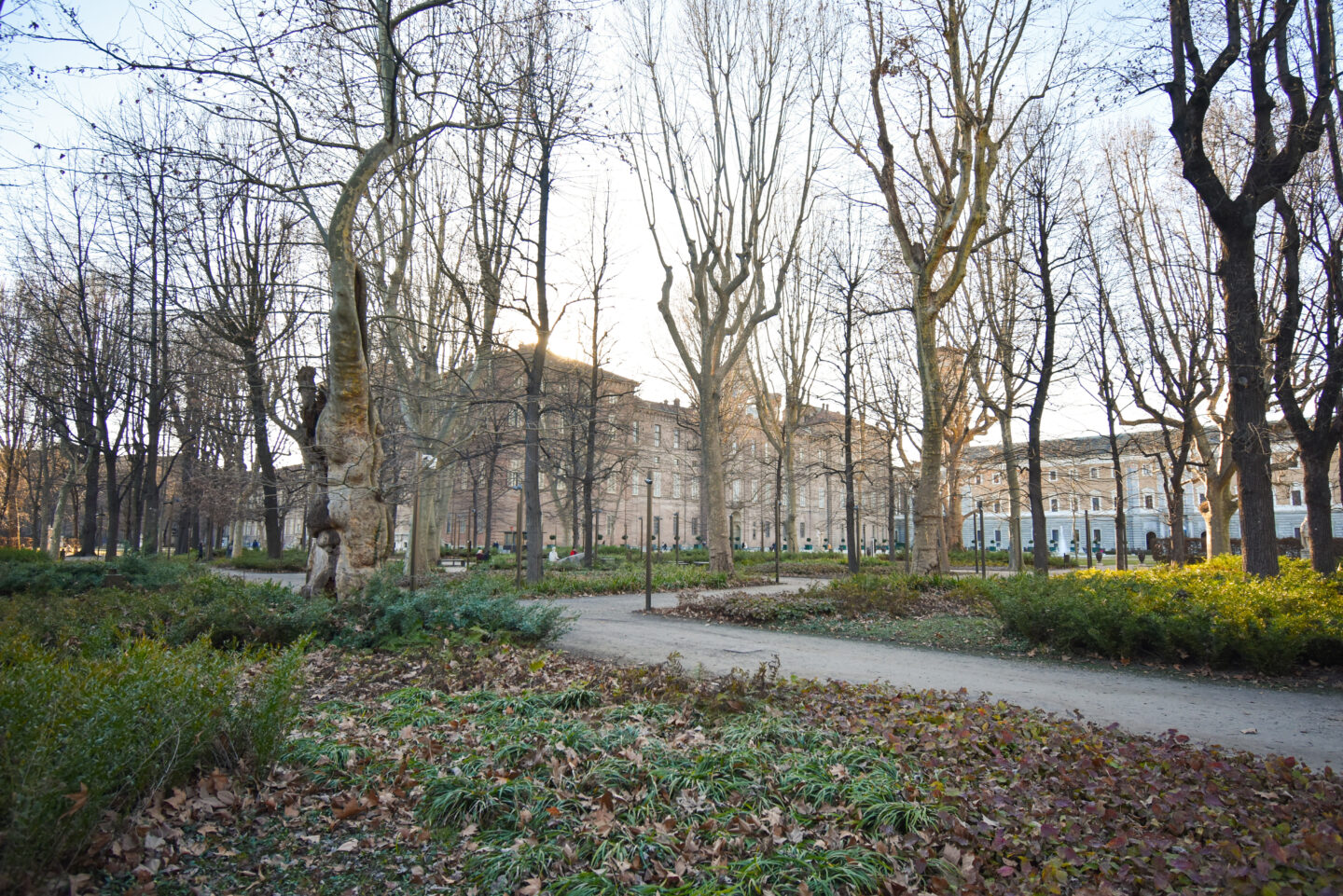 Turin has a real treasure in the form of the Museo Egizio, the largest collection of Egyptian artefacts outside Cairo. Discover 4,000 years of history, art and archaeology in one of Turin's most popular museums. Another great exhibition is the Pinacoteca Agnelli, a fine art collection housed within the Fiat exhibition on the top floor of Fiat's old factory building, the Lingotto Building. Enter the museum via the shopping centre below.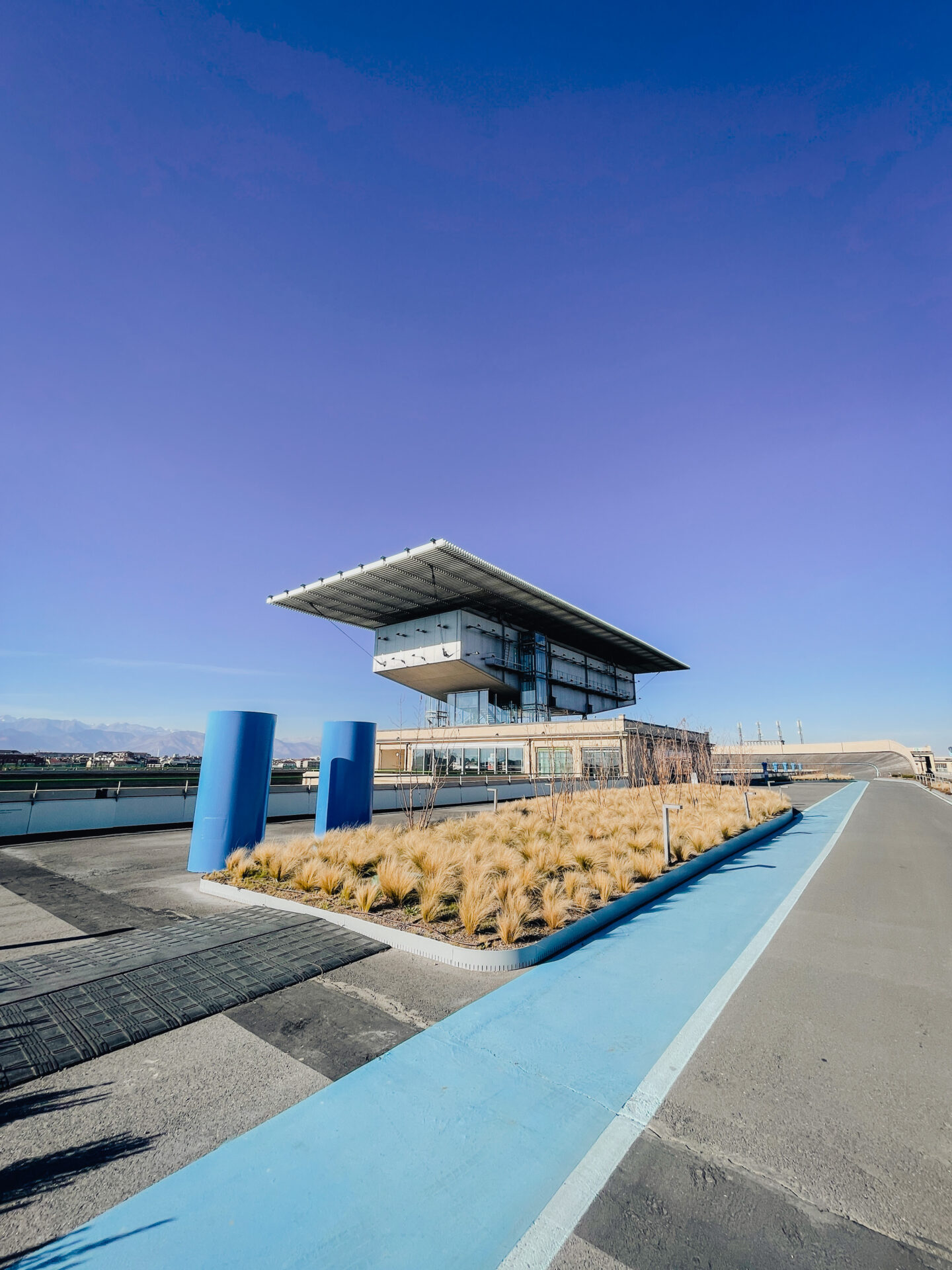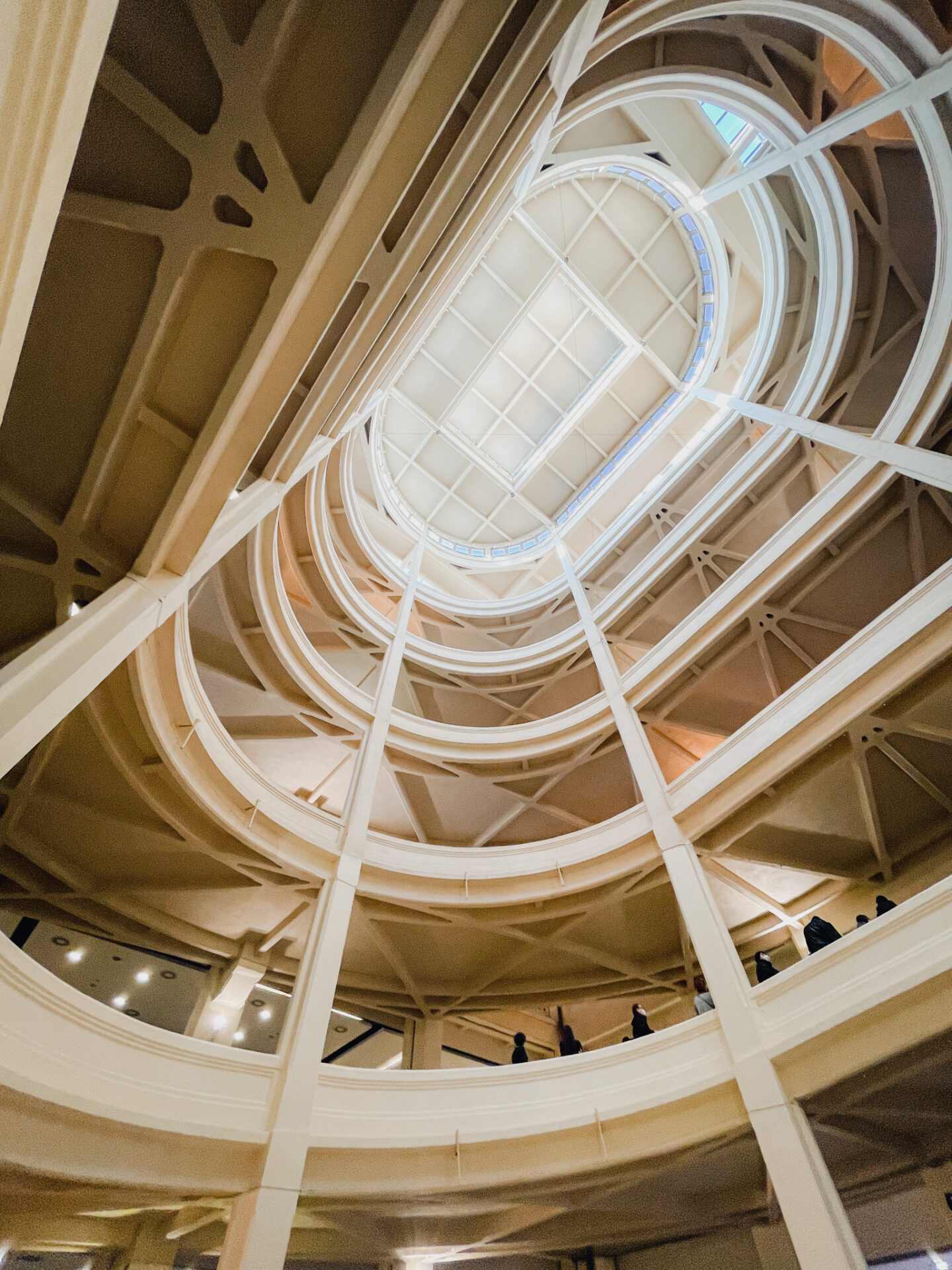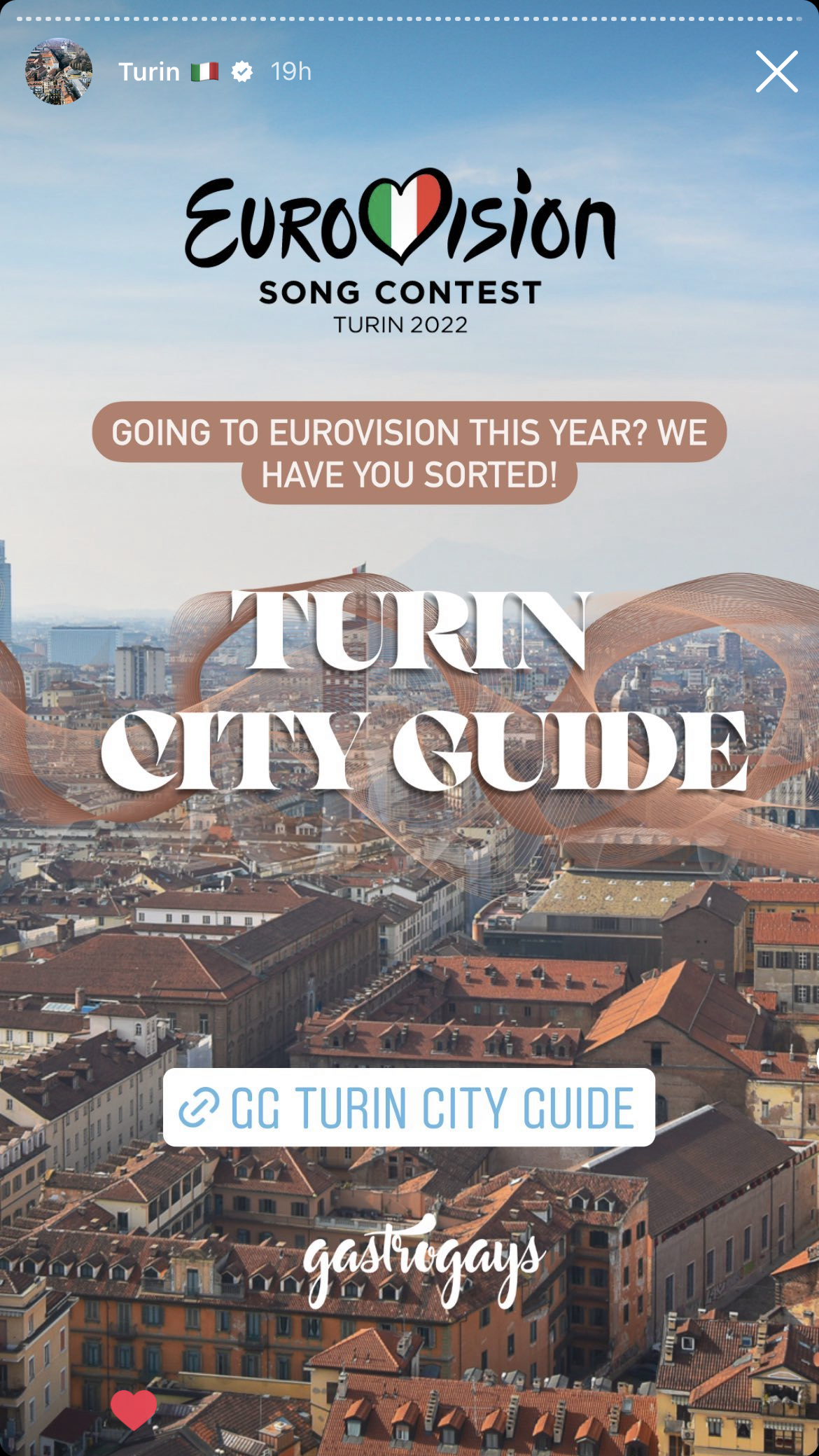 Where to Stay in Torino
It's been no secret that accommodation has been hard to come by this year for Eurovision fans. Lots of talk online has pointed to sold-out hotels and overpriced Airbnbs, whilst the city of Turin has been at big risk of losing overnight visitors to nearby cities like Milan — where fans will just travel in and out to the city to attend the shows, rather than spend time and money in the host destination itself. A real shame, but such is the issue with hosting the mammoth Contest these days. We stayed in two different hotels whilst in Torino on a press trip and can very much recommend both –– described below, one a more budget-friendly, business-style hotel and another a more luxe, premium offering.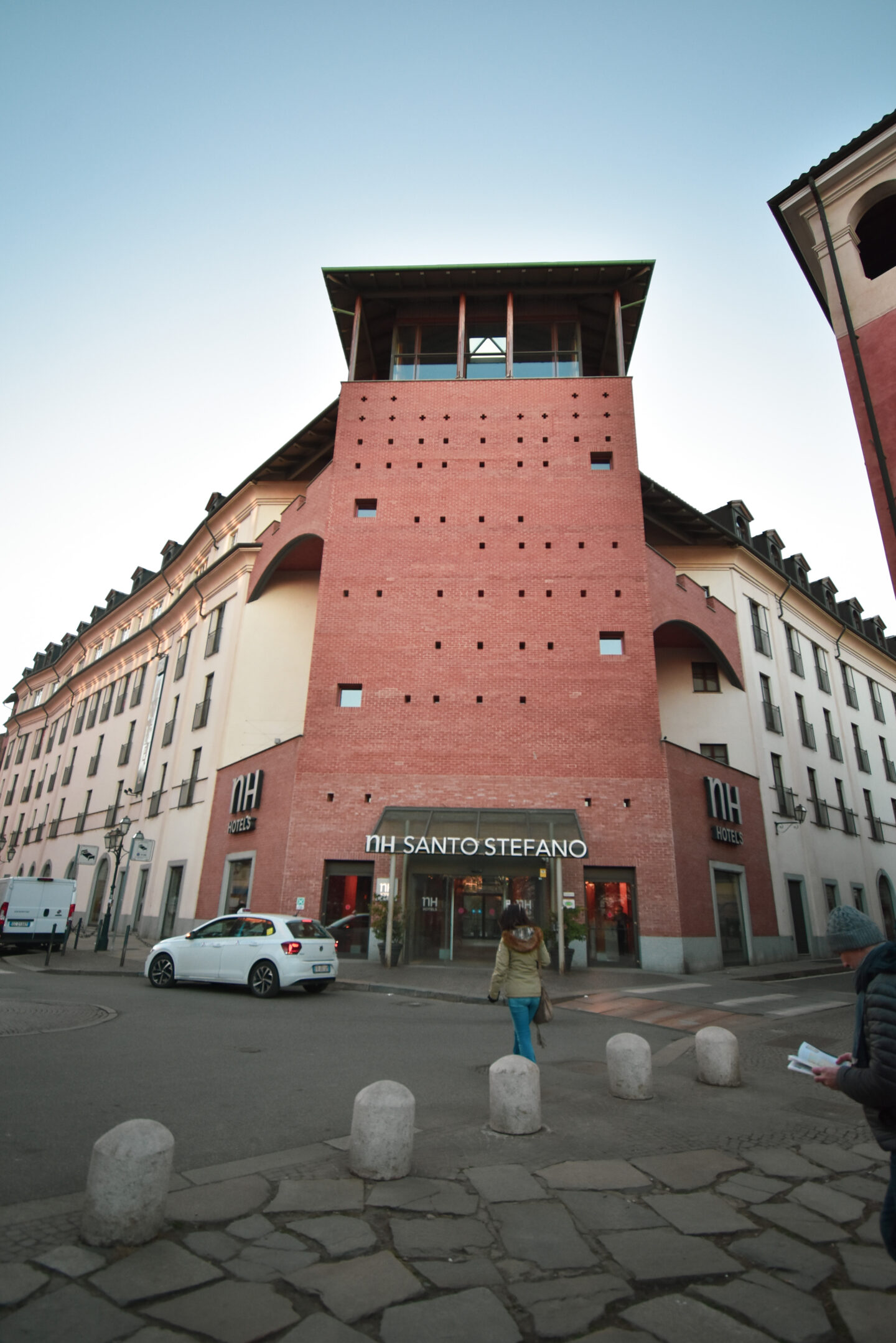 Right by the Quadrilatero, the old Roman quarter of the city by the Porta Palatina, Hotel NH Santo Stefano Torino is a unique hotel set into a former tower building. The staircase wraps upwards right around the interior void of the building, from reception on the ground floor up to a top-floor viewing platform. Comfortable, spacious, modern rooms (some with historic details) in a mix of styles and a great breakfast spread, plus located in one of the best, most energetic parts of the city.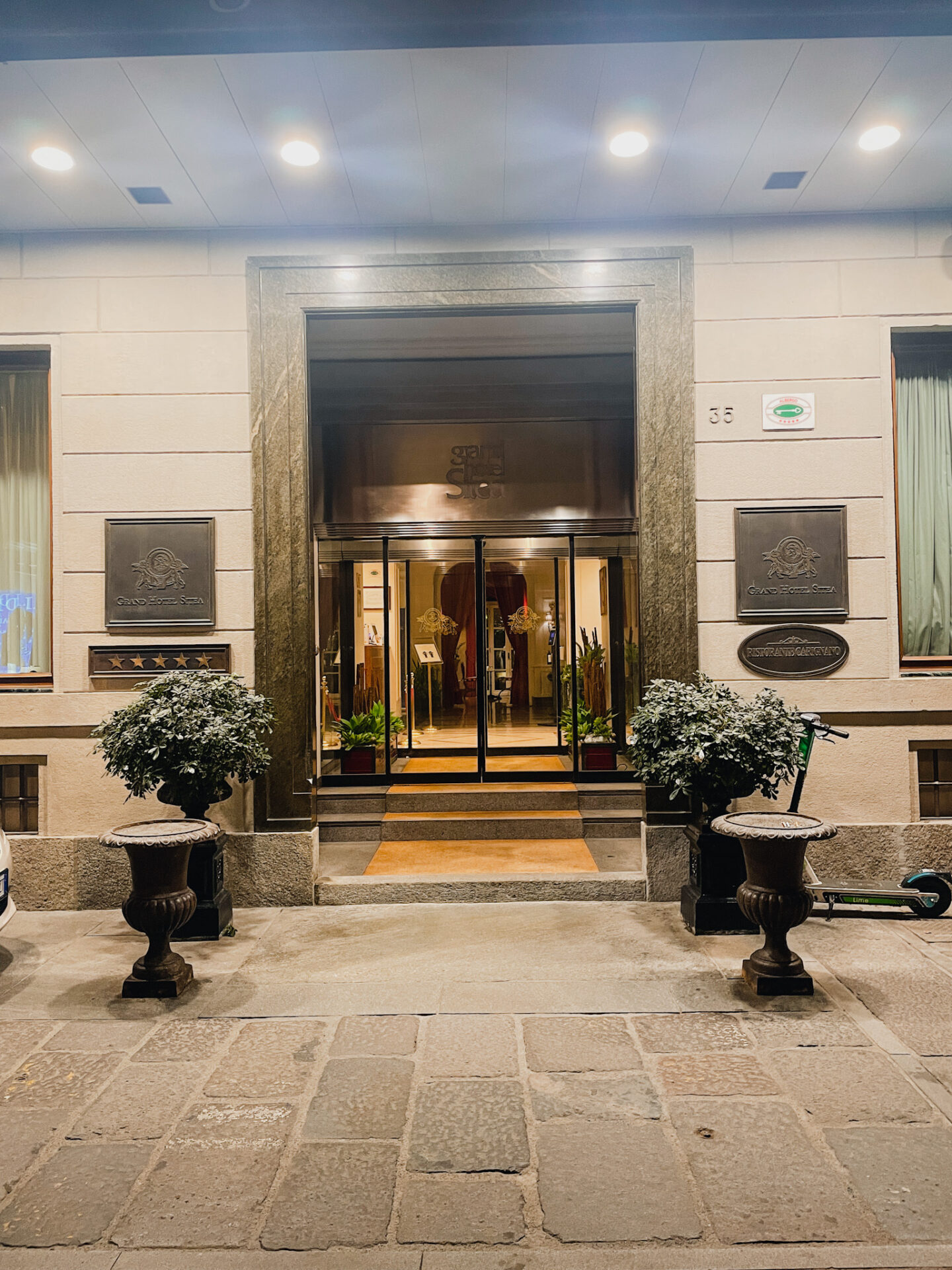 If you're looking to splash out on a five star hotel in Turin, Grand Hotel Sitea is the one. A few minutes' walk from Porta Nuova train station, this luxe hotel is traditional Turin made contemporary with stellar service and beautifully ornate rooms. Set just off Via Roma, the hotel also boasts an award-winning restaurant and a cool, cosy cocktail bar.
For a more budget option, try designer hostel Combo which we took a quick peek inside and looked amazing. Definitely somewhere worth considering for future stays in the city. Forget what you know about old school, grimy hostels with poor facilities, this is the future of hostels where the finishes are smart and modern, the space is lofty and there's a big emphasis on community and connection, through art, food and music.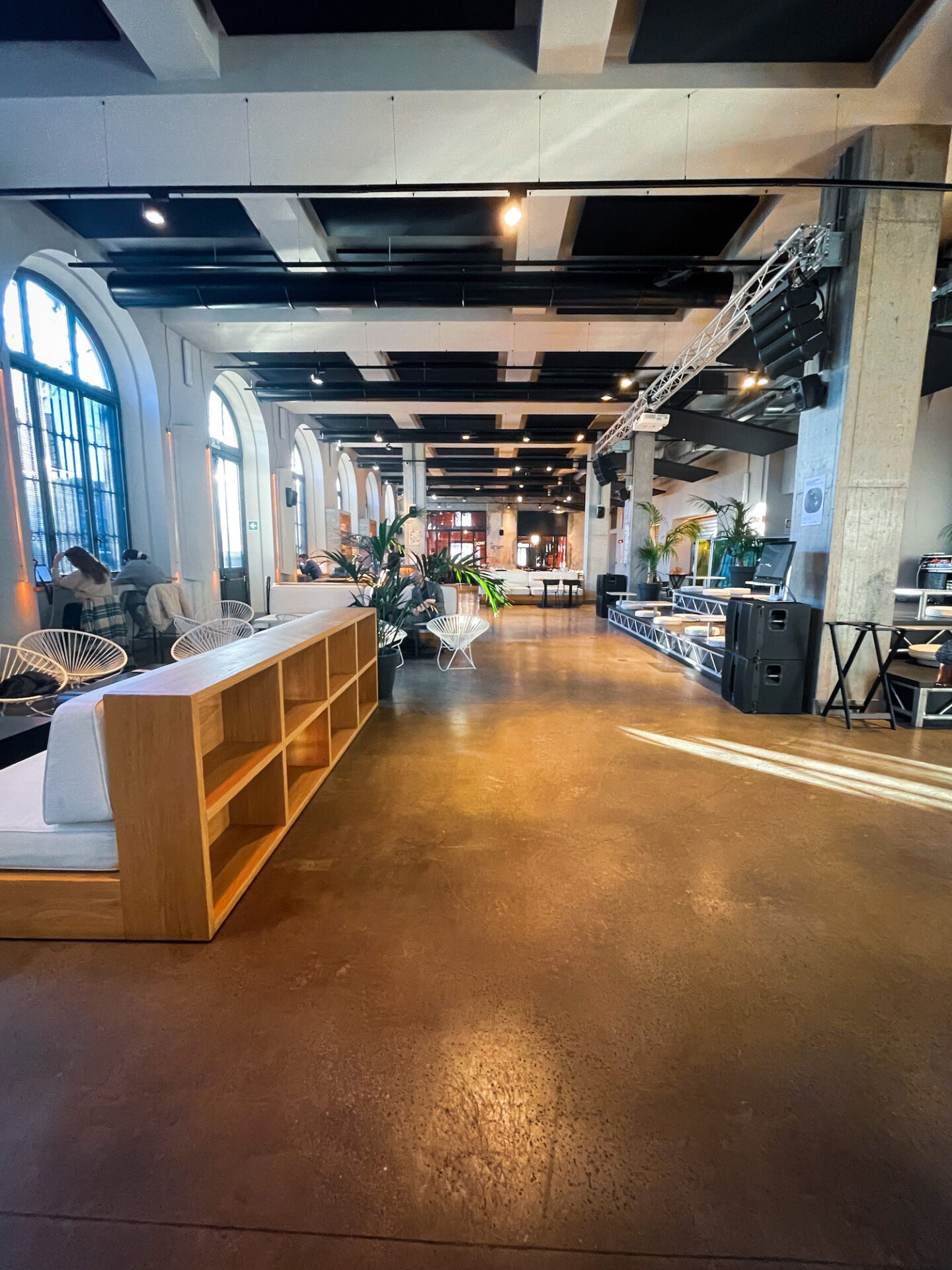 They have similar properties in Milan, Bologna and Venice but in Torino their space is set in a former fire brigade barracks which fell into disrepair in the 1990's and took three entire years to bring back to life.
Where to Eat in Turin
Many places in Turin are traditional, and will serve their take on Piedmontese cuisine –– from ultra classic to contemporary evolutions, and of course great wines. The hive of restaurants and bars is around the Quadrilatero area, the old Roman quarter, but there are many great places to try across the breadth of the city centre. Of course, many of you probably came here for the big Google Map we do every year pinpointing different places to eat and drink –– you'll find that at the end of the post, and there's so many included that we can't elaborate on here in words, so well worth checking that out whilst in Turin and exploring different areas.
For Eurovision, we always find our casual dining recommendations are best-received, as many visitors are spending their evenings at the arena or at different ESC events rather than lavish dinners, so we'll start with the more casual, lunch/early evening options and then offer some other suggestions.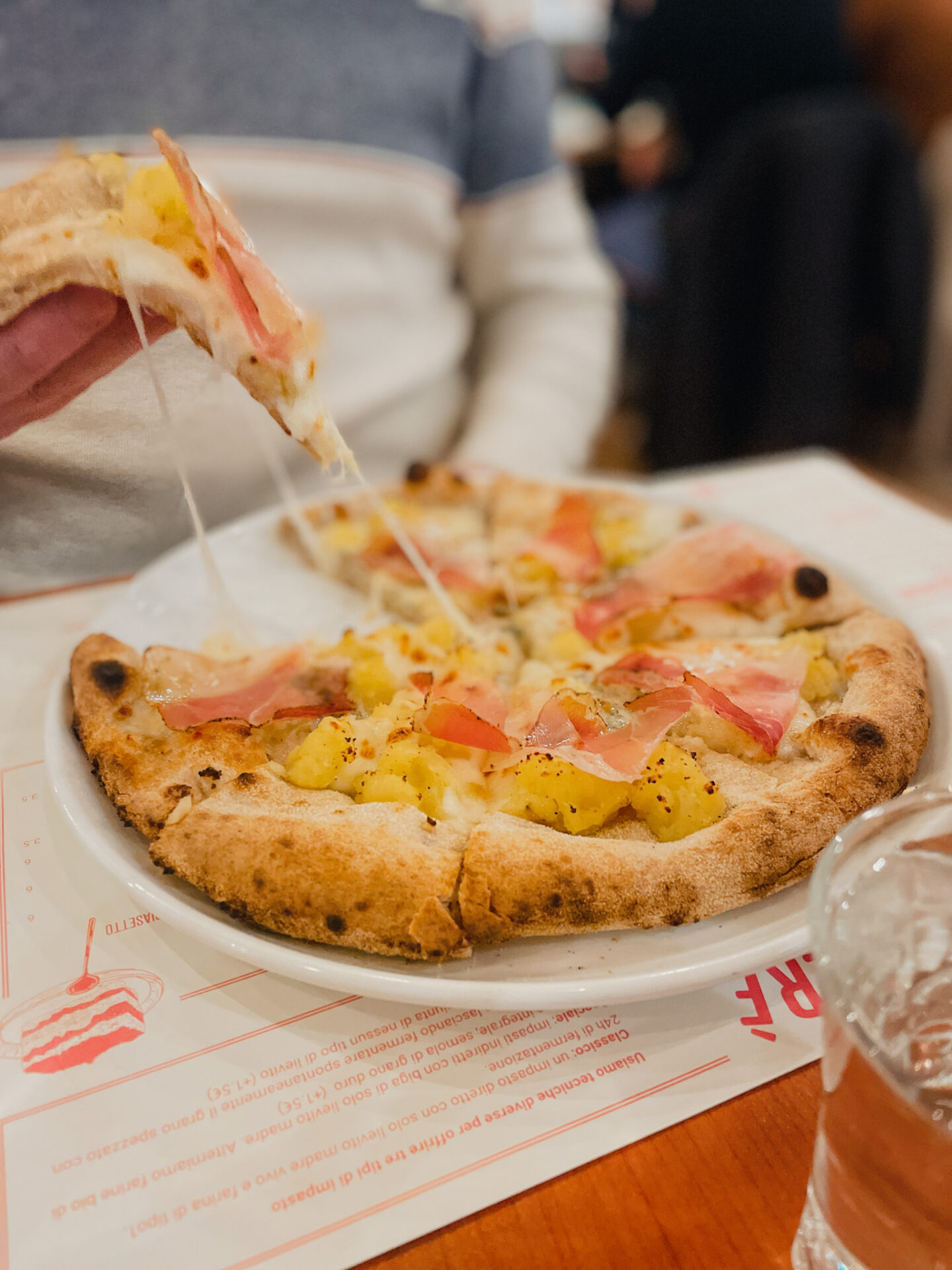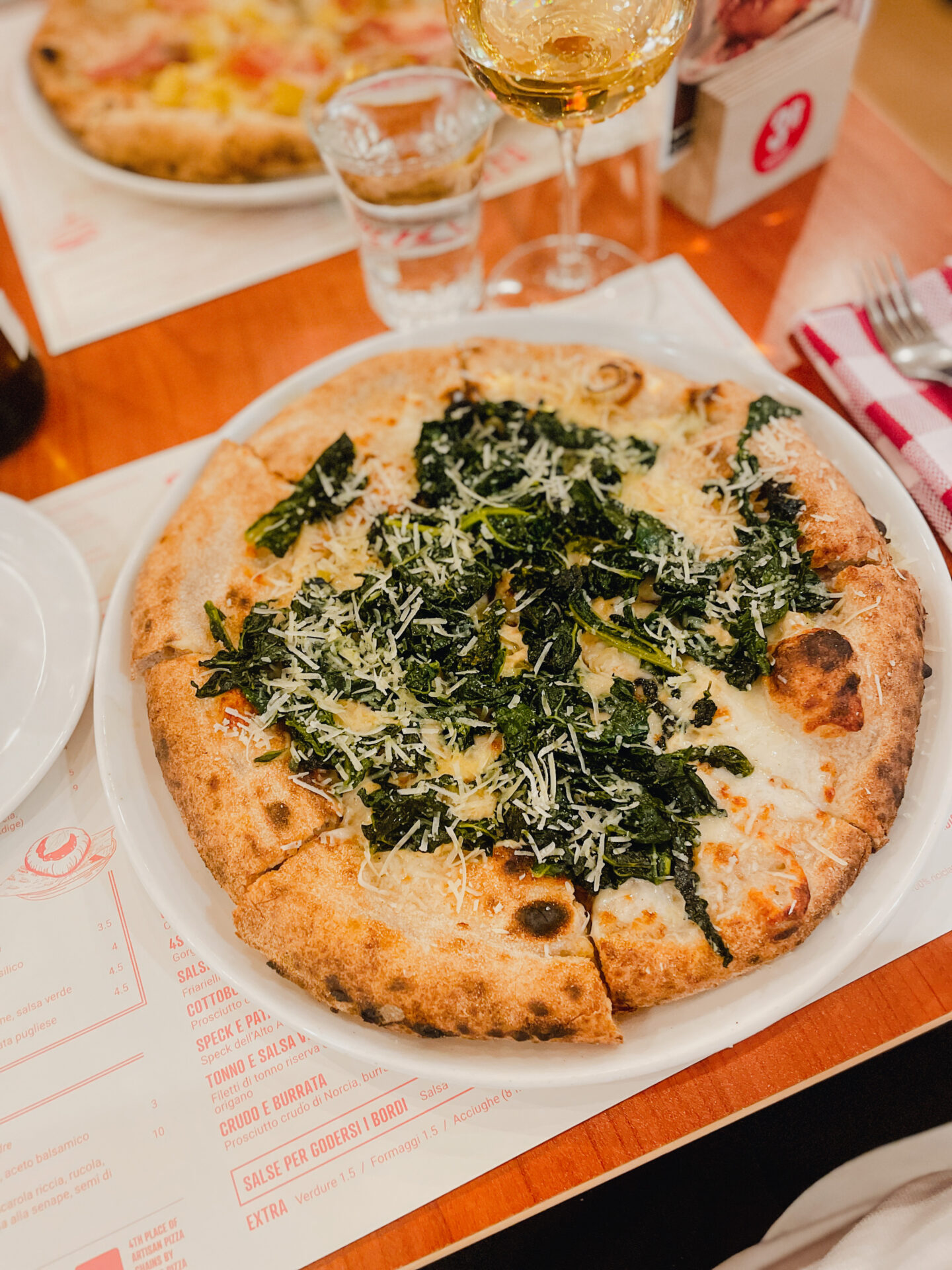 Some of the best pizzas in northern Italy, Berberè is a sourdough pizza place which began by two Calabrian brothers in Bologna and now boasts branches across Milan, Rome, Verona, Florence and two in Torino as well as one in London!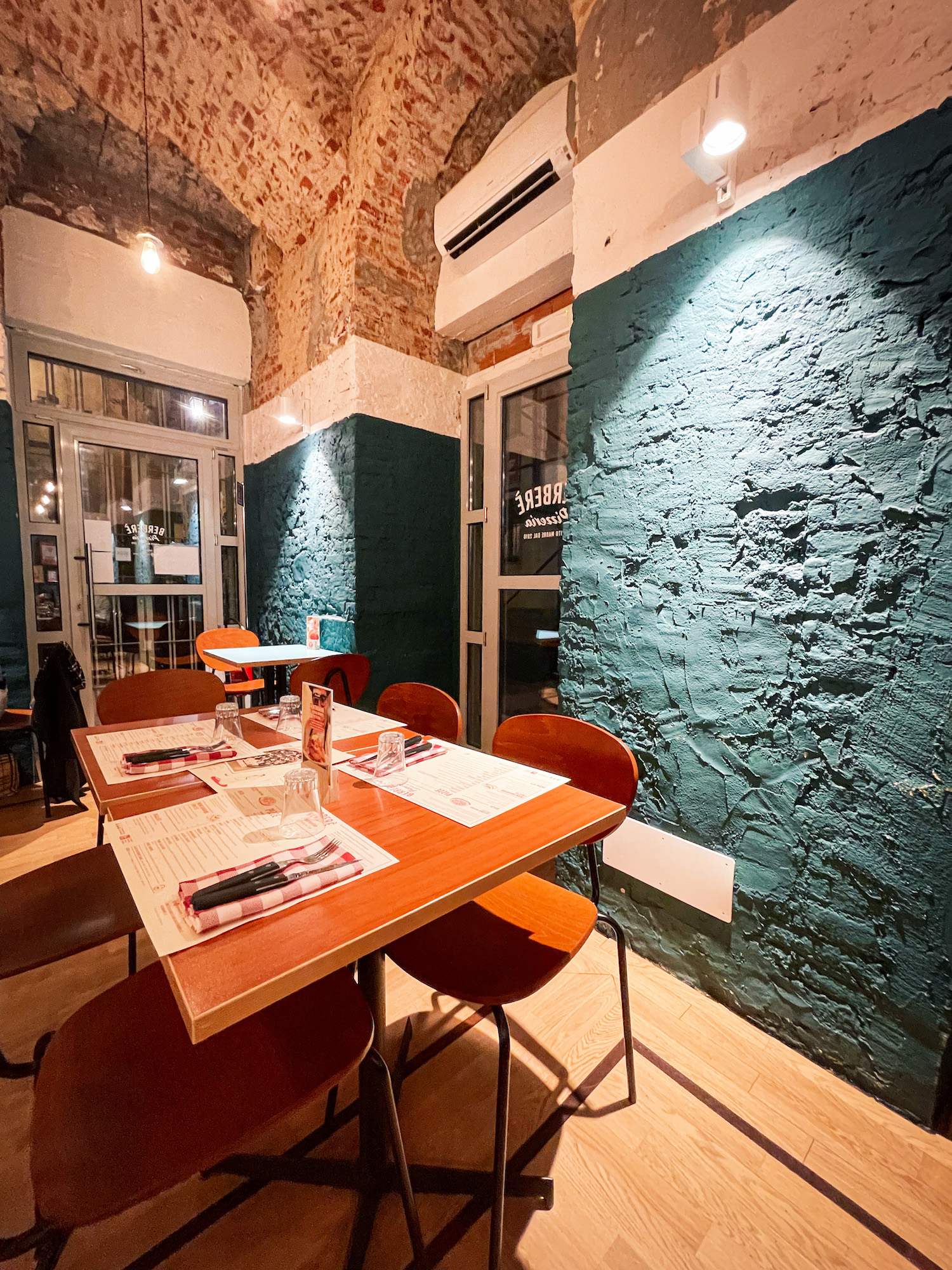 Their particular about their flour, their sourdough is living and slow-proving and they also offer alternative grain doughs, like spelt and Senatore Cappelli. Great for groups to order a couple of pizzas and share (they always all come pre-sliced in eighths) with a delicious variety of toppings and a well-formed, short wine list. berberepizza.it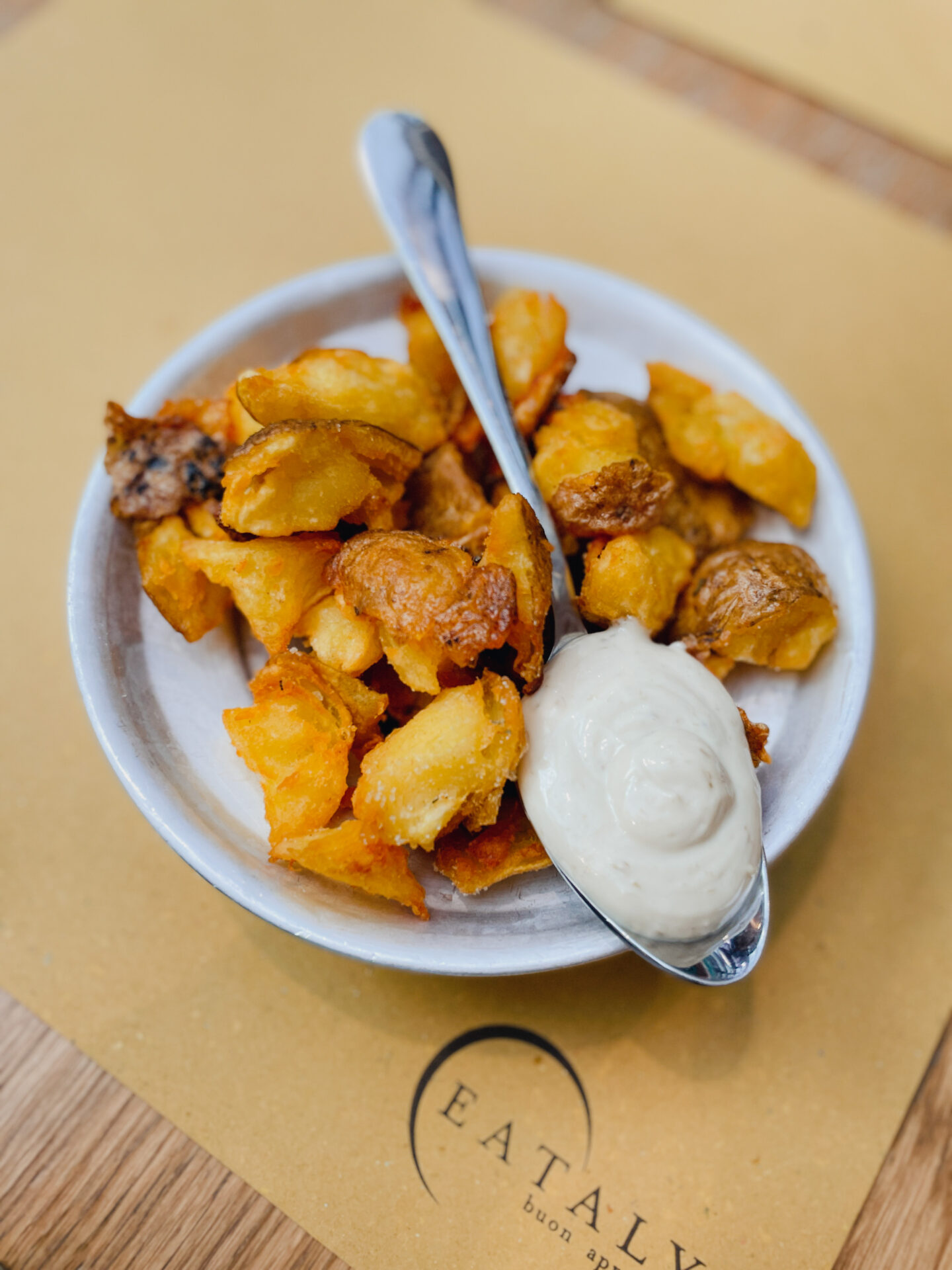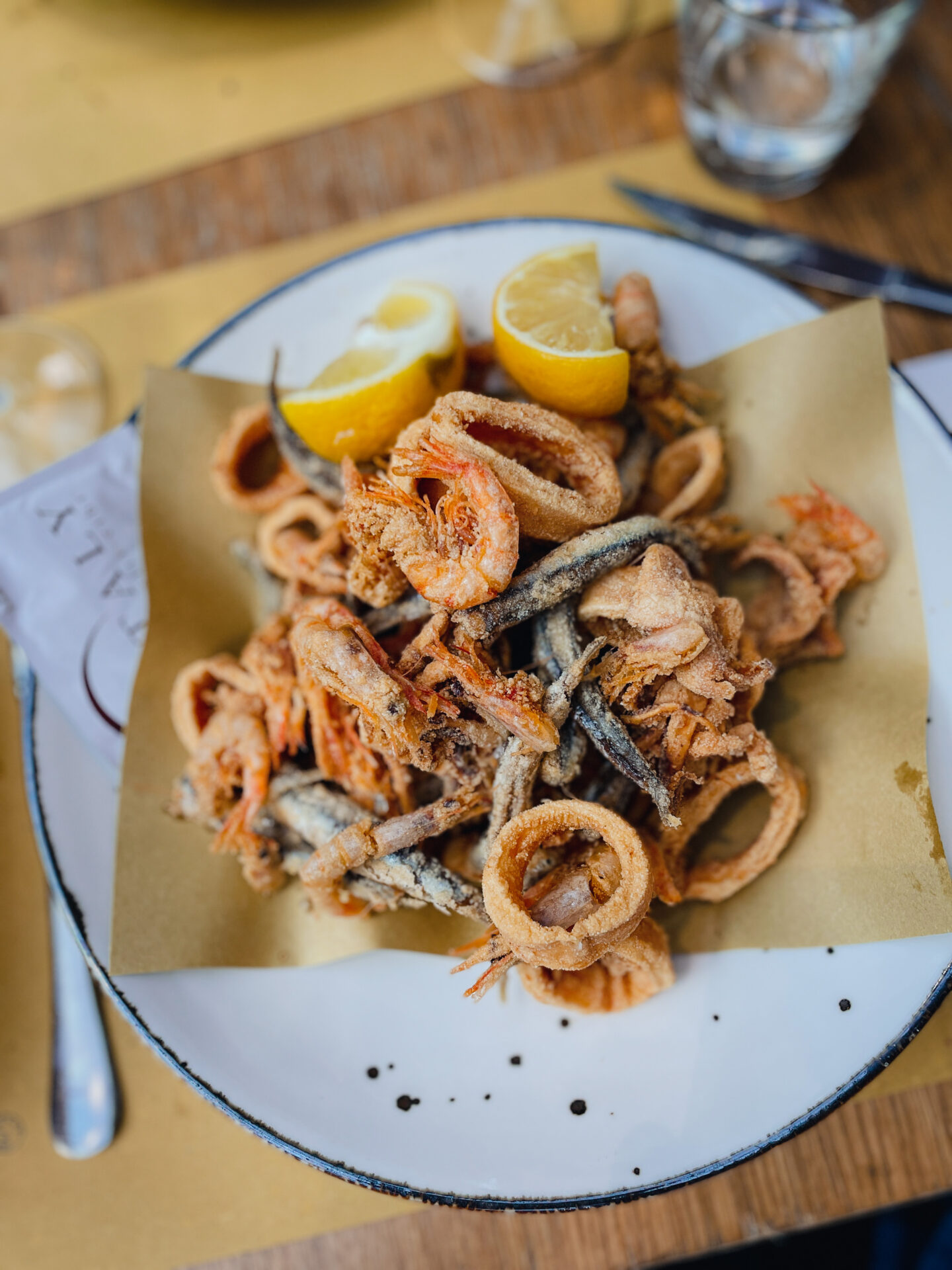 The first in the world, Torino is the birthplace of Eataly, opening in the former Carpano factory in the industrial Lingotto district in 2007 and now with over 40 locations worldwide, including many across Italy and the biggest in Rome.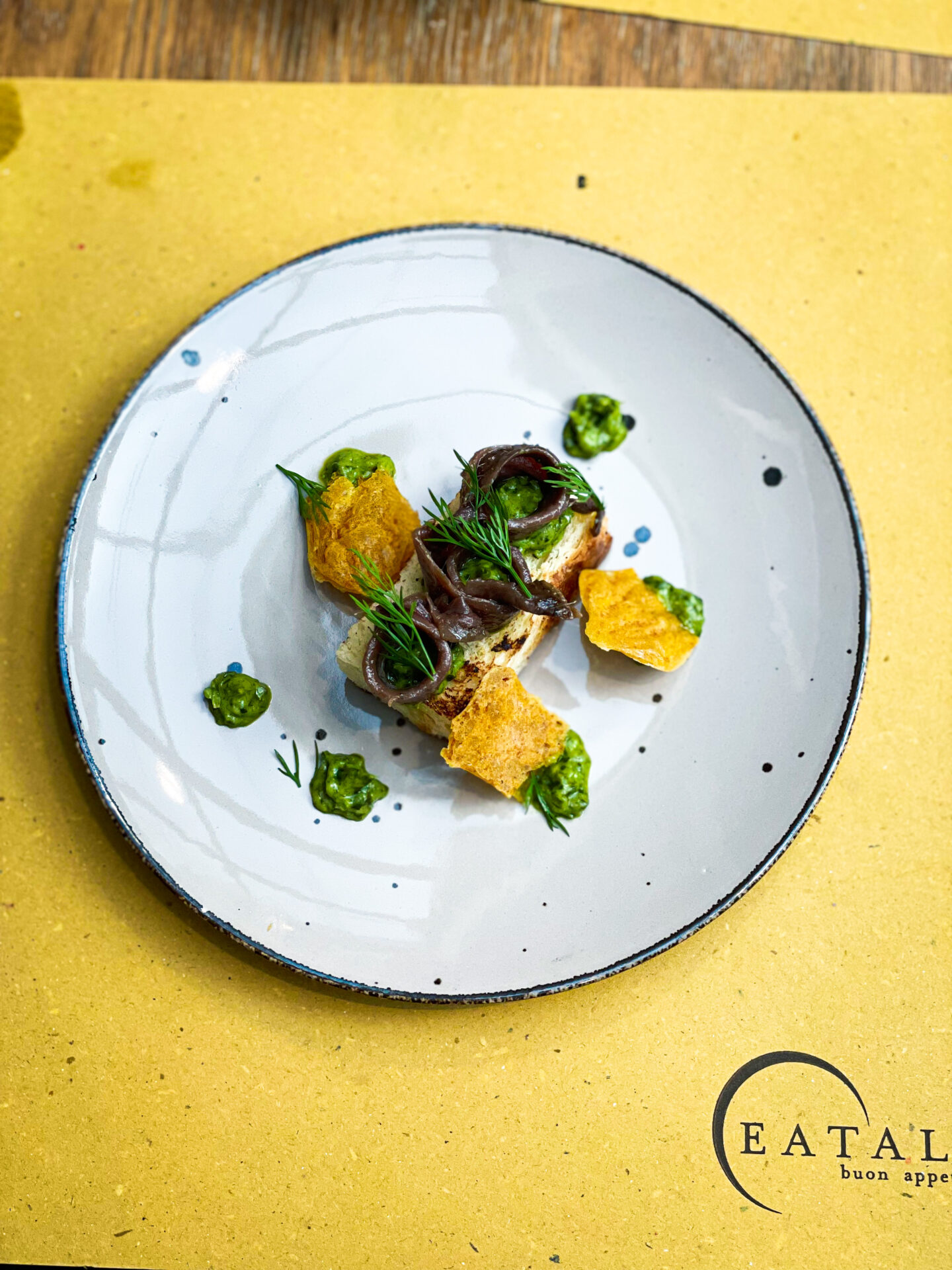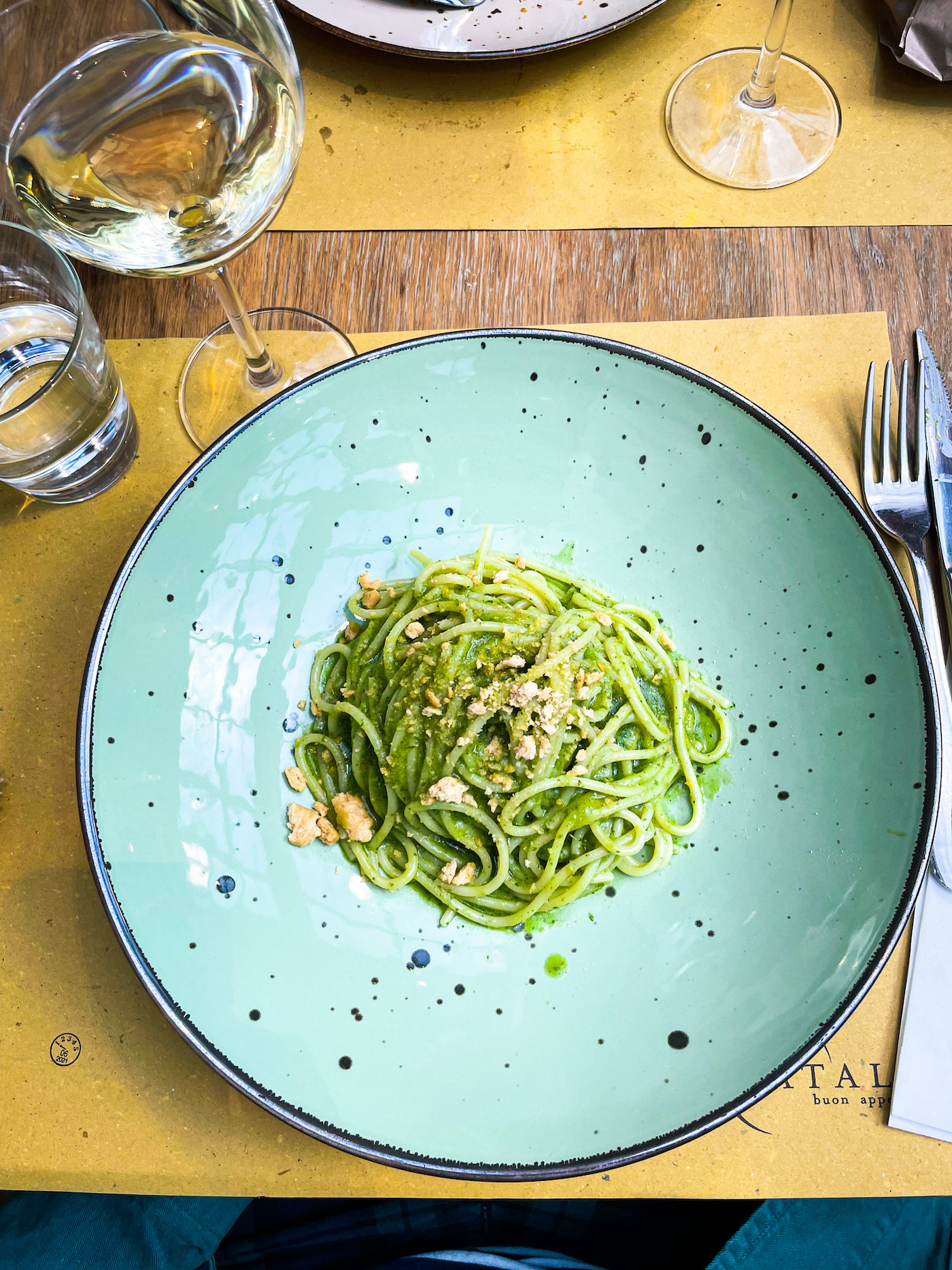 Eataly is a dining-retail destination which celebrates the Italian larder with the best of local ingredients, from wines, meats and cheeses to fresh pasta, tinned foods and breads and cakes. There's many places within the Eataly complex to eat and drink, simply take your pick –– though at lunchtime there will always be queues for tables. eataly.net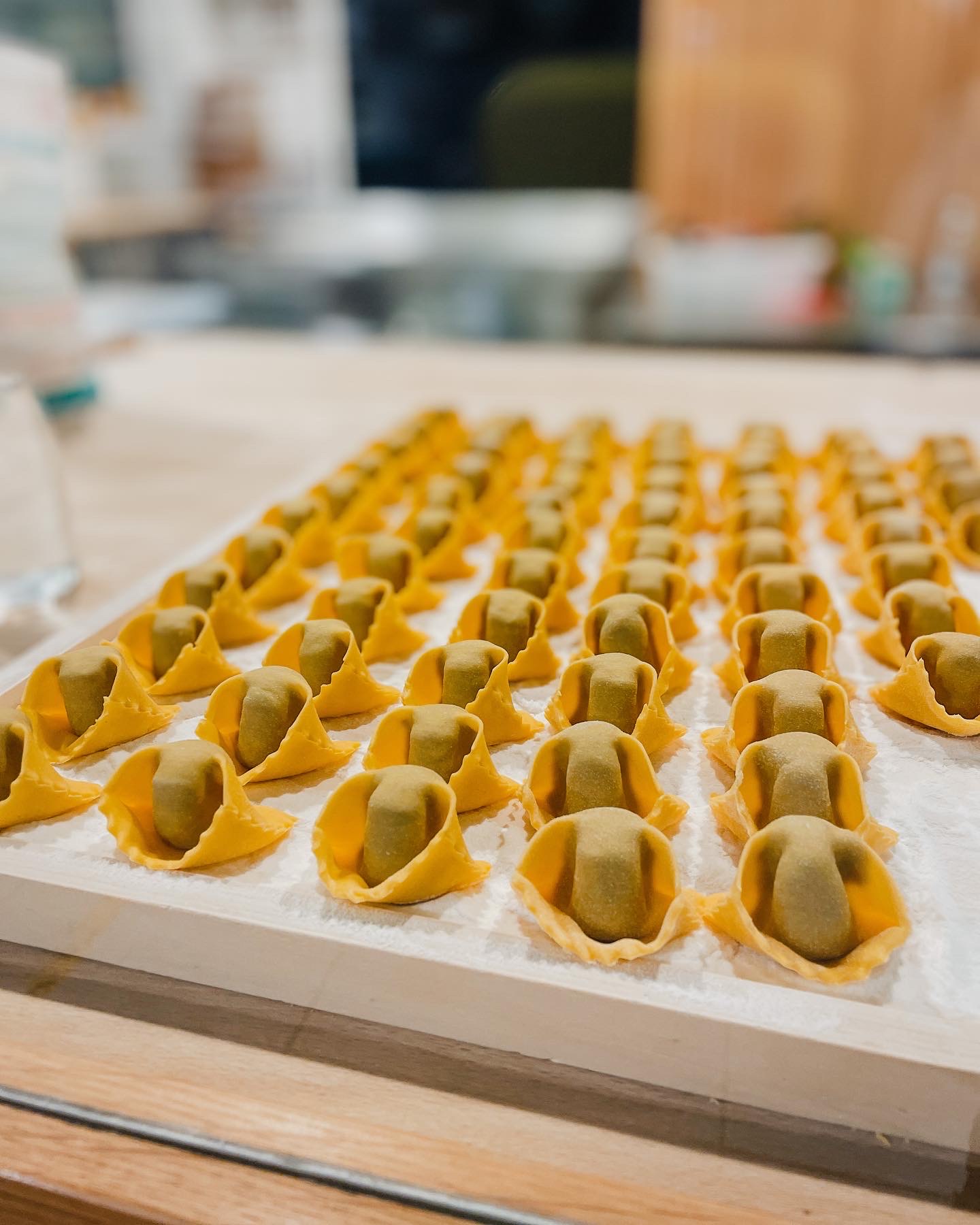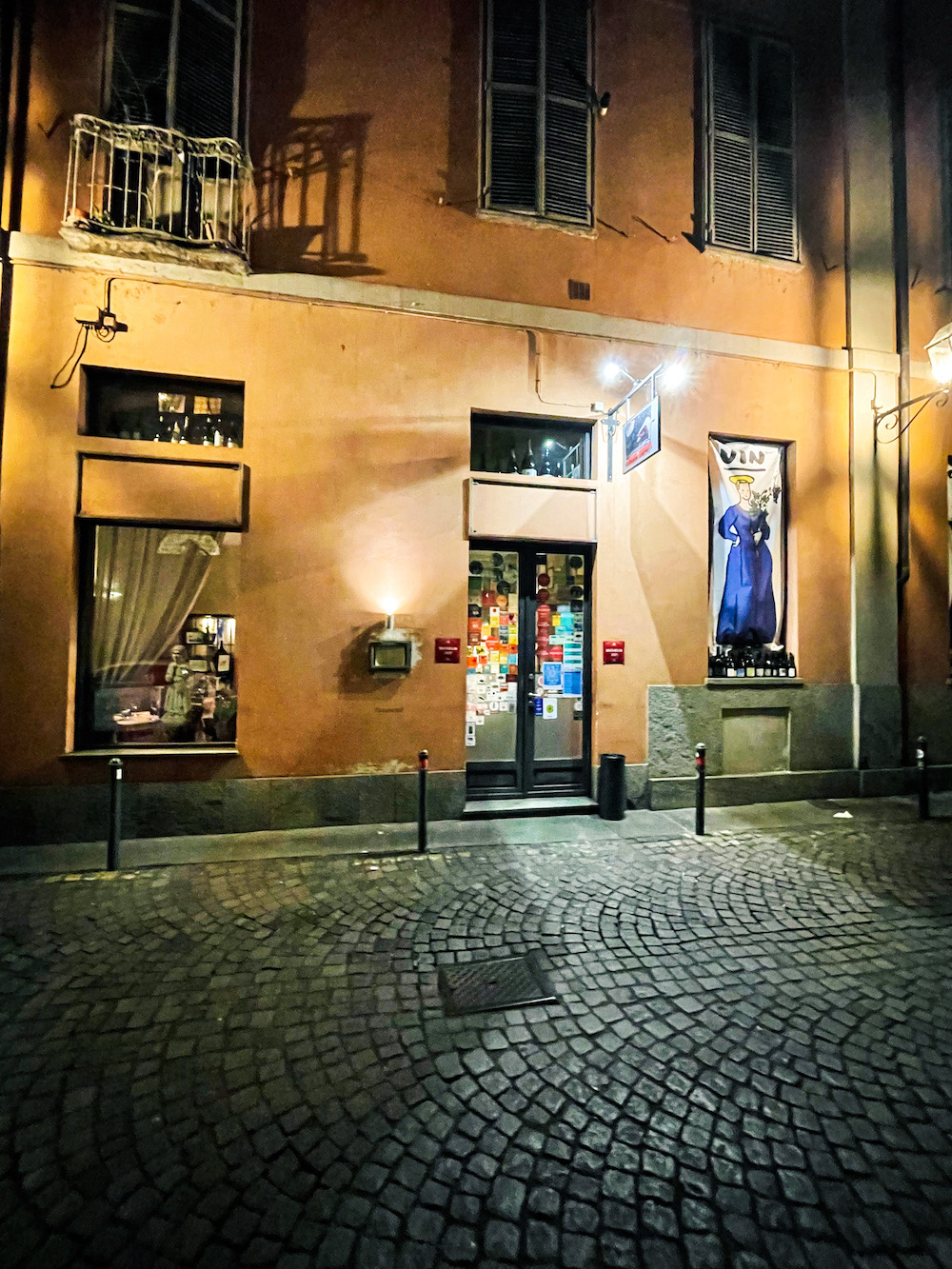 A cool, contemporary twist on traditional Piedmontese dishes, with a distinct focus on lesser-loved cuts and offal, Consorzio is a small dining room that slaps with attitude. Focusing on 'bistronomoy', there's a huge wine list (big old world bruisers mingling with new, natural finds and everything between), strong cocktails and casual service, there's a reason this place has won many, many awards since it opened almost 15 years ago.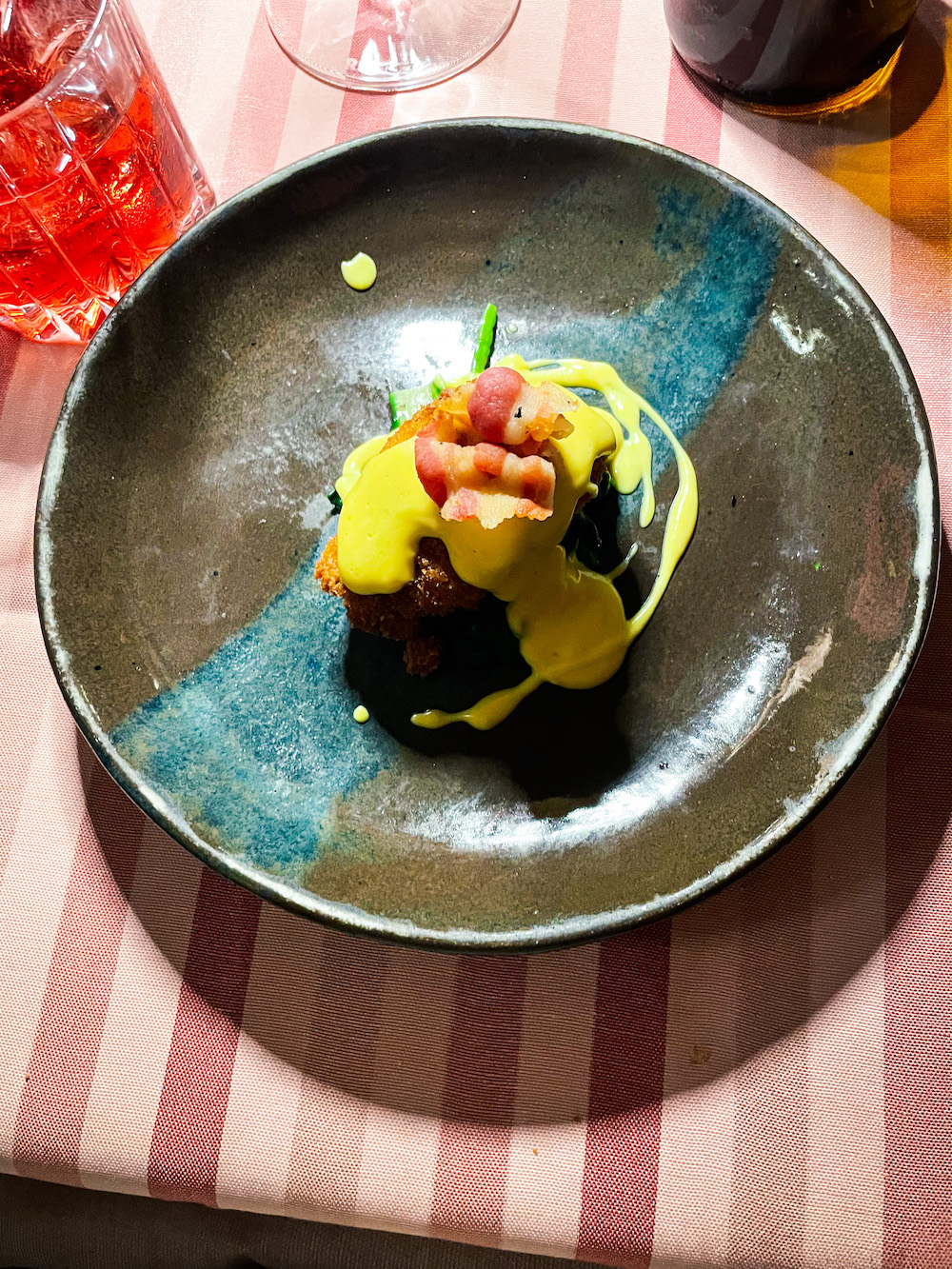 One of those reasons is value, and this place has retained Michelin Bib Gourmand status since 2020, which rewards restaurants offering great quality cooking for less than a particular price for a couple of courses. Here, the tasting menu is €38 per person, but the a la Carte is also keenly priced. Open six days a week for lunch and dinner, we'd suggest pre-booking here as early as possible –– we've already booked our table for Eurovision week! ristoranteconsorzio.it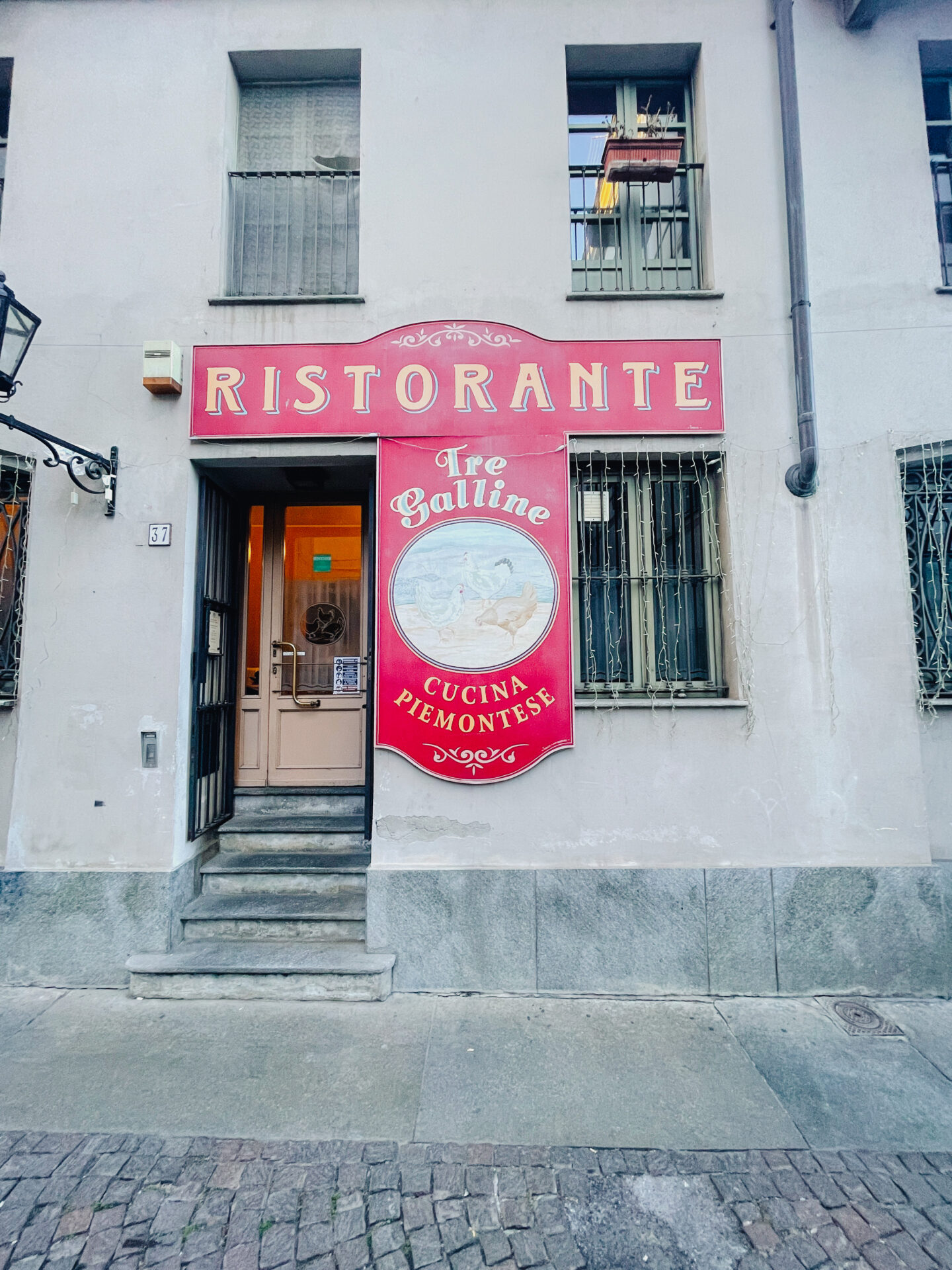 One of Turin's most historic restaurants, Tre Galline means 'Three Hens' and this property dates back well over 500 years as an inn and restaurant. Under the current management, a renovation 30 years ago gave the restaurant a new lease of life and is an incredibly popular place to eat with locals and tourists alike. Particularly famed for their trolley service, where meats are sliced at the table and a cheese trolley follows later, the vibe here is old school classics and warm, familiar service.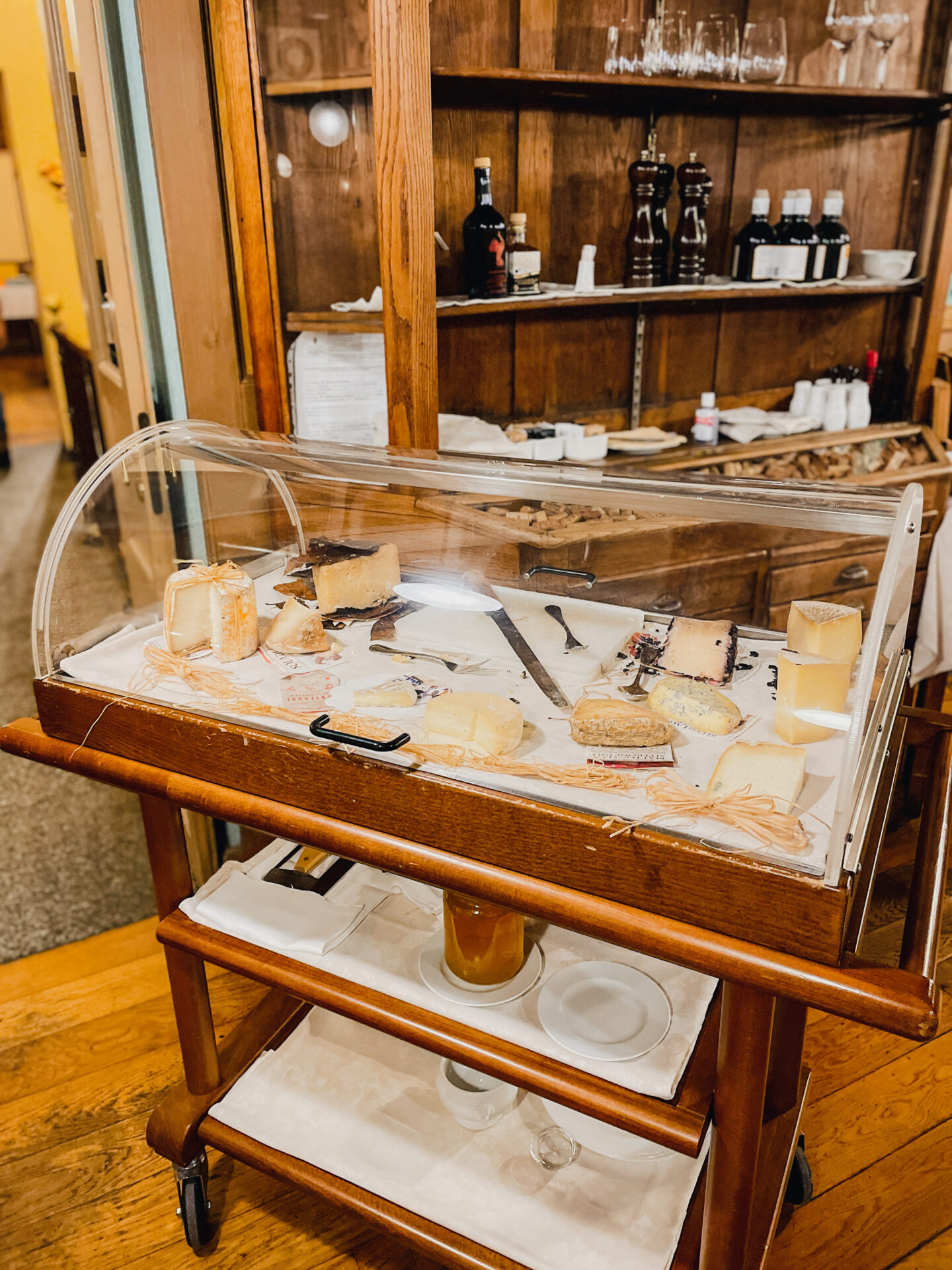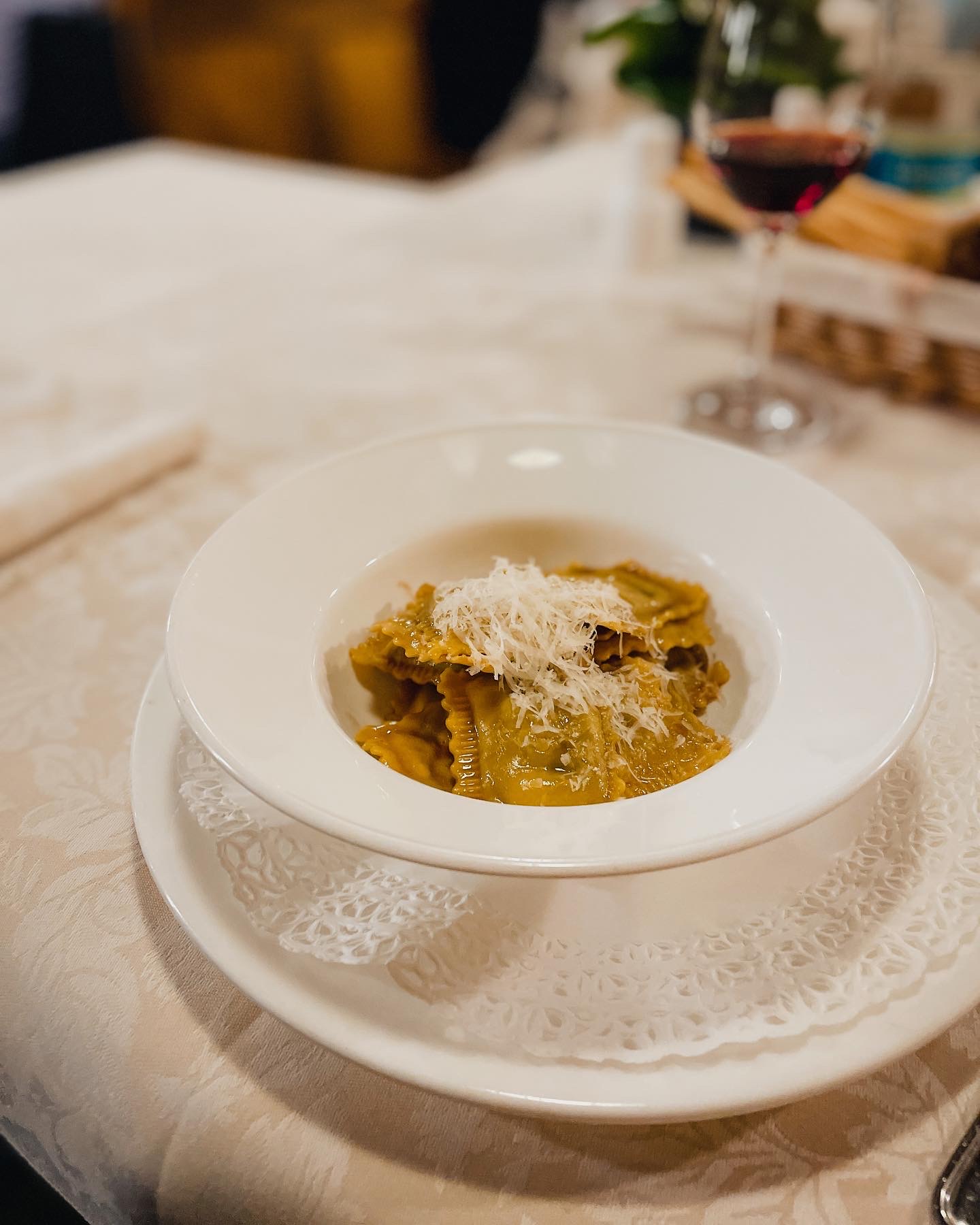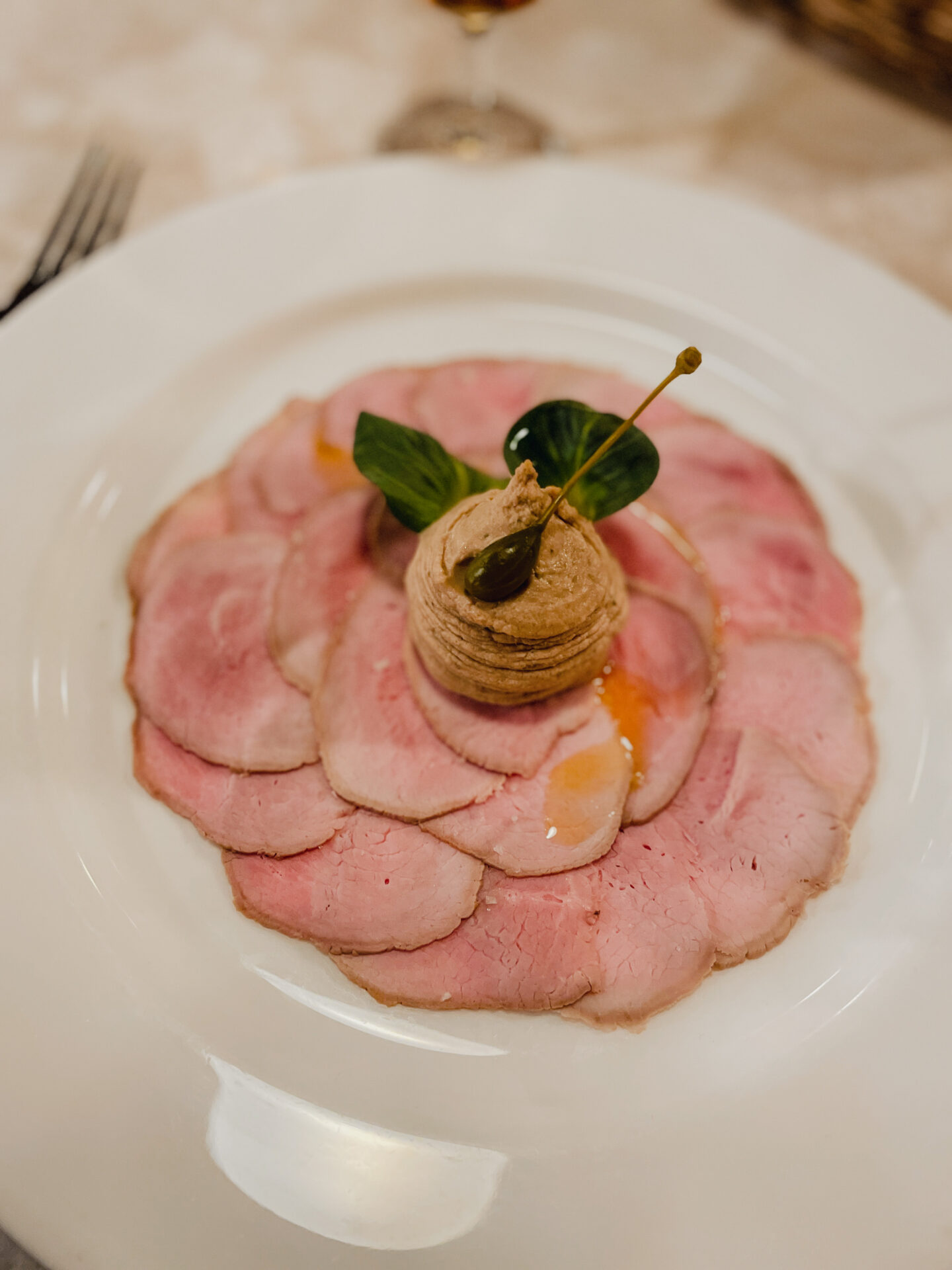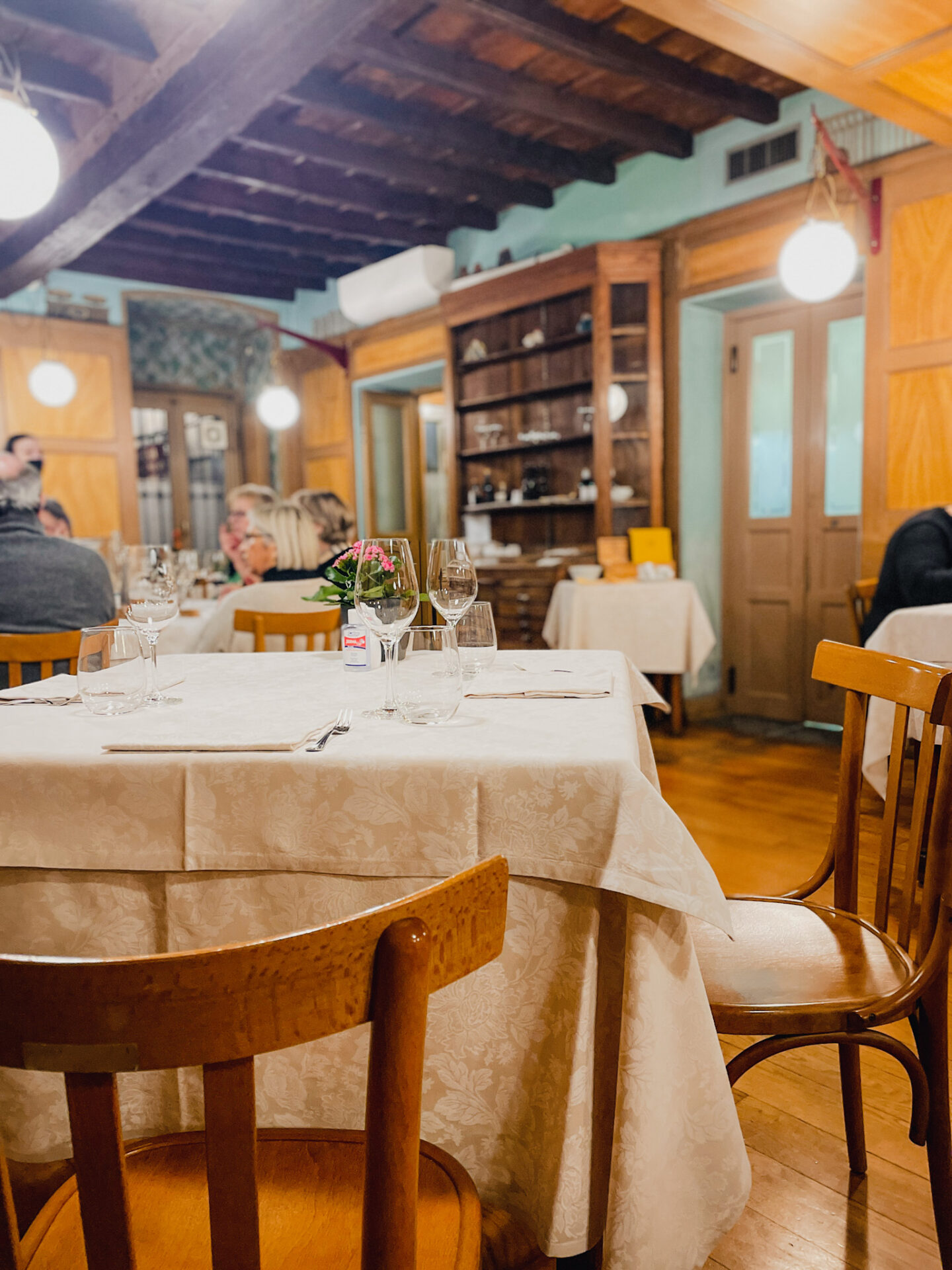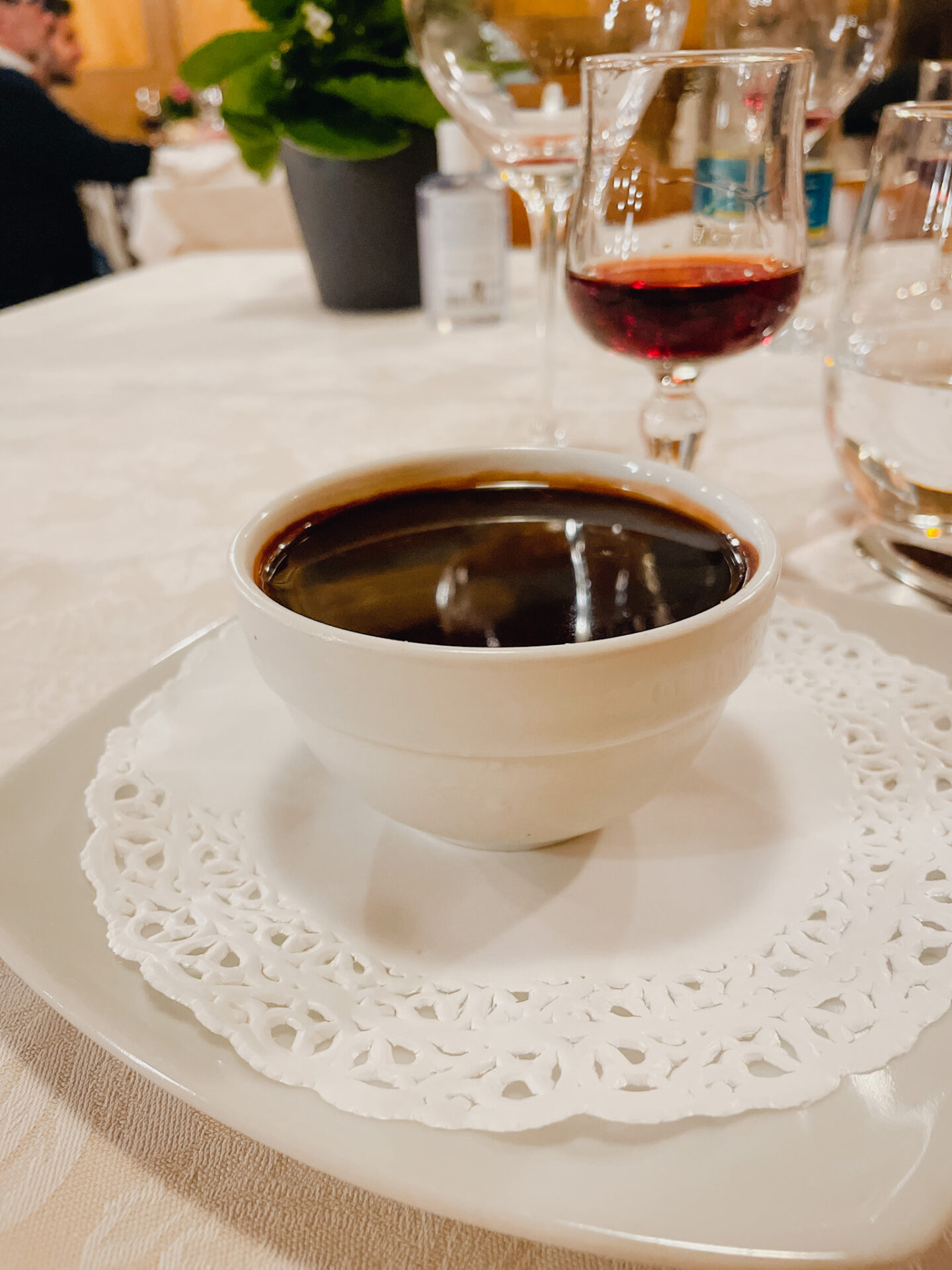 Can't choose from the neoclassical menu? Try the €50pp tasting menu. More a destination for evening dining, open from 19:45 Monday – Saturday, on Saturday and Sunday there's an added lunchtime service between 12:45 and 14:30. Pre-booking advised. 3galline.it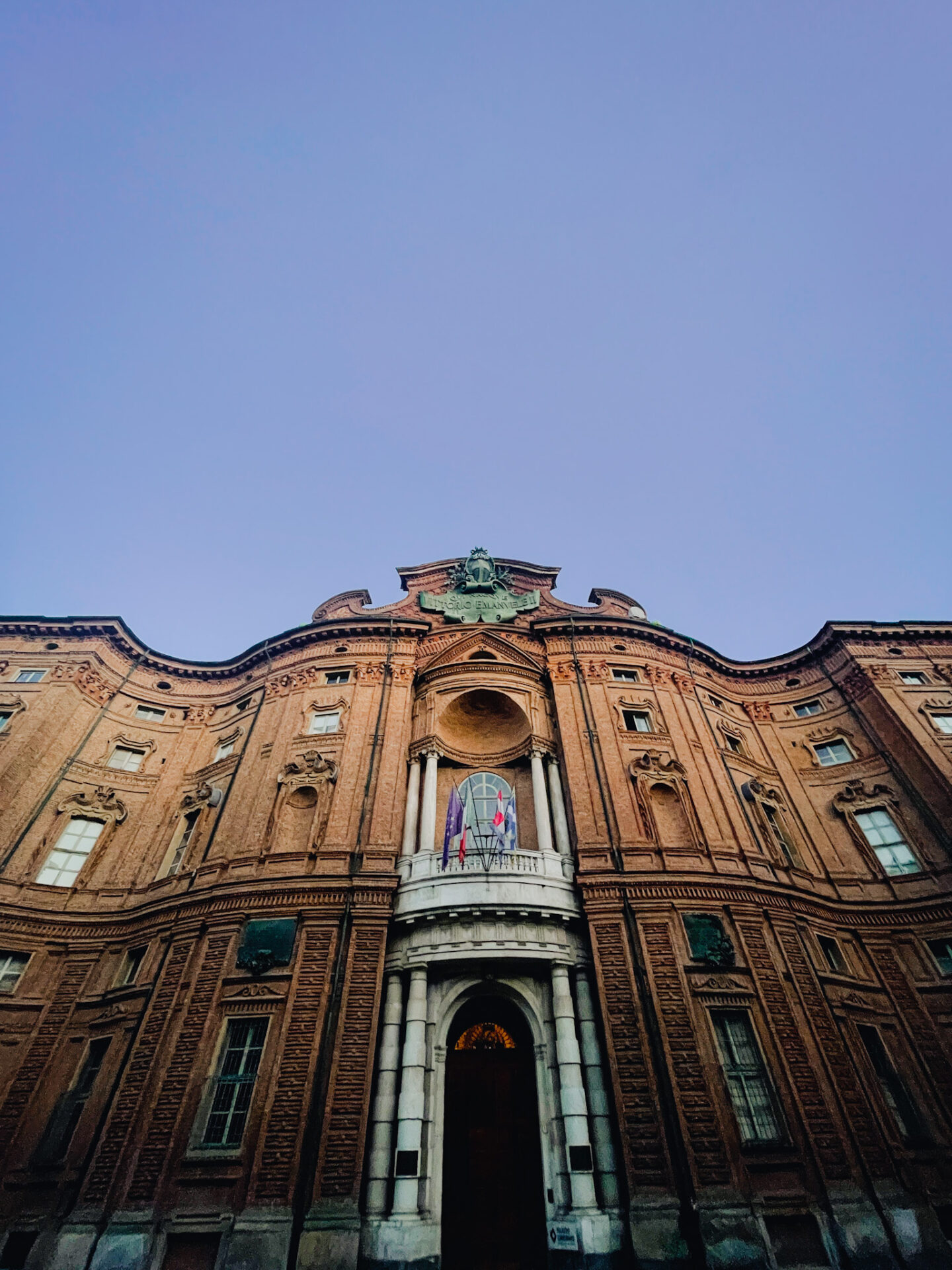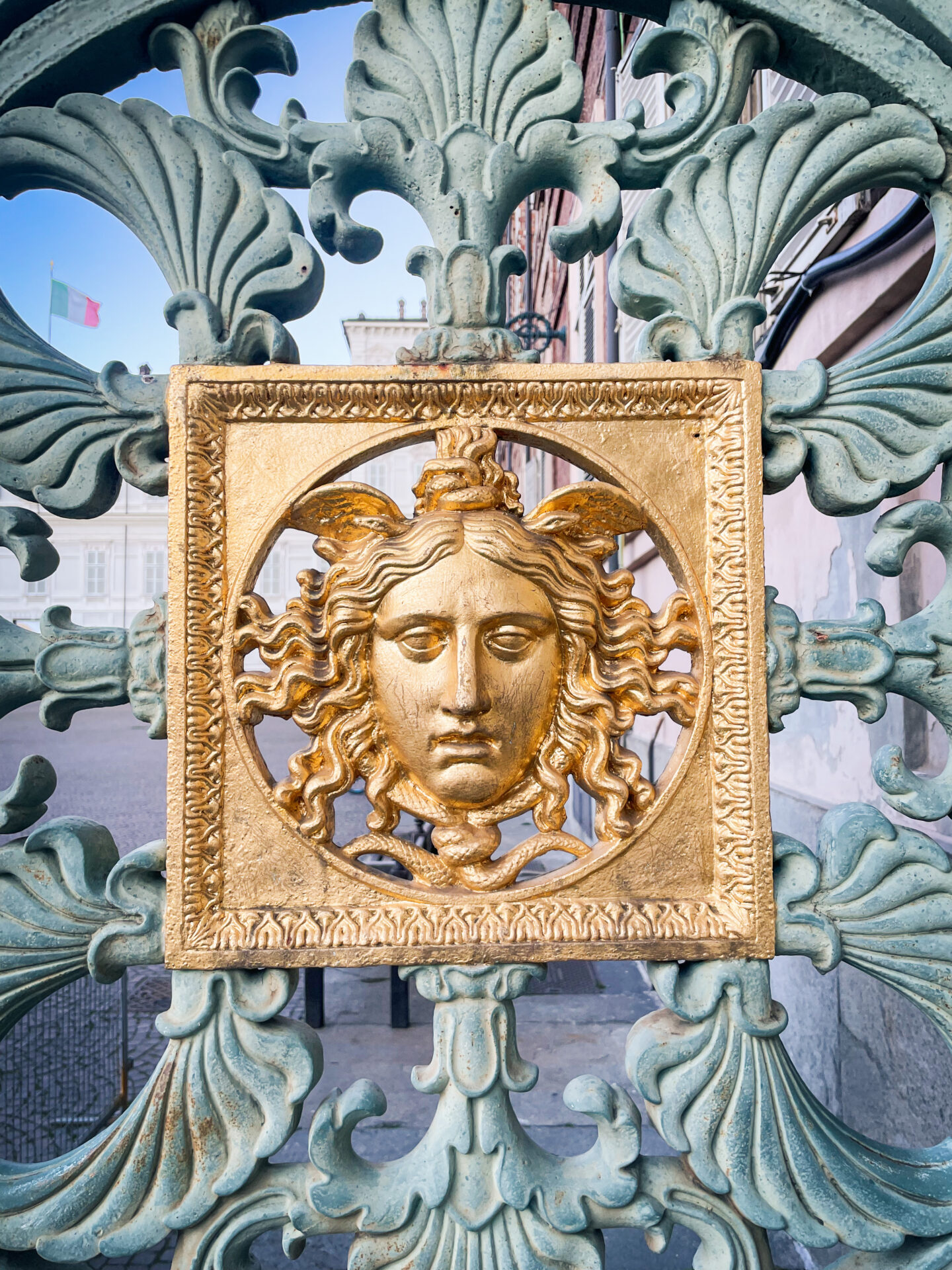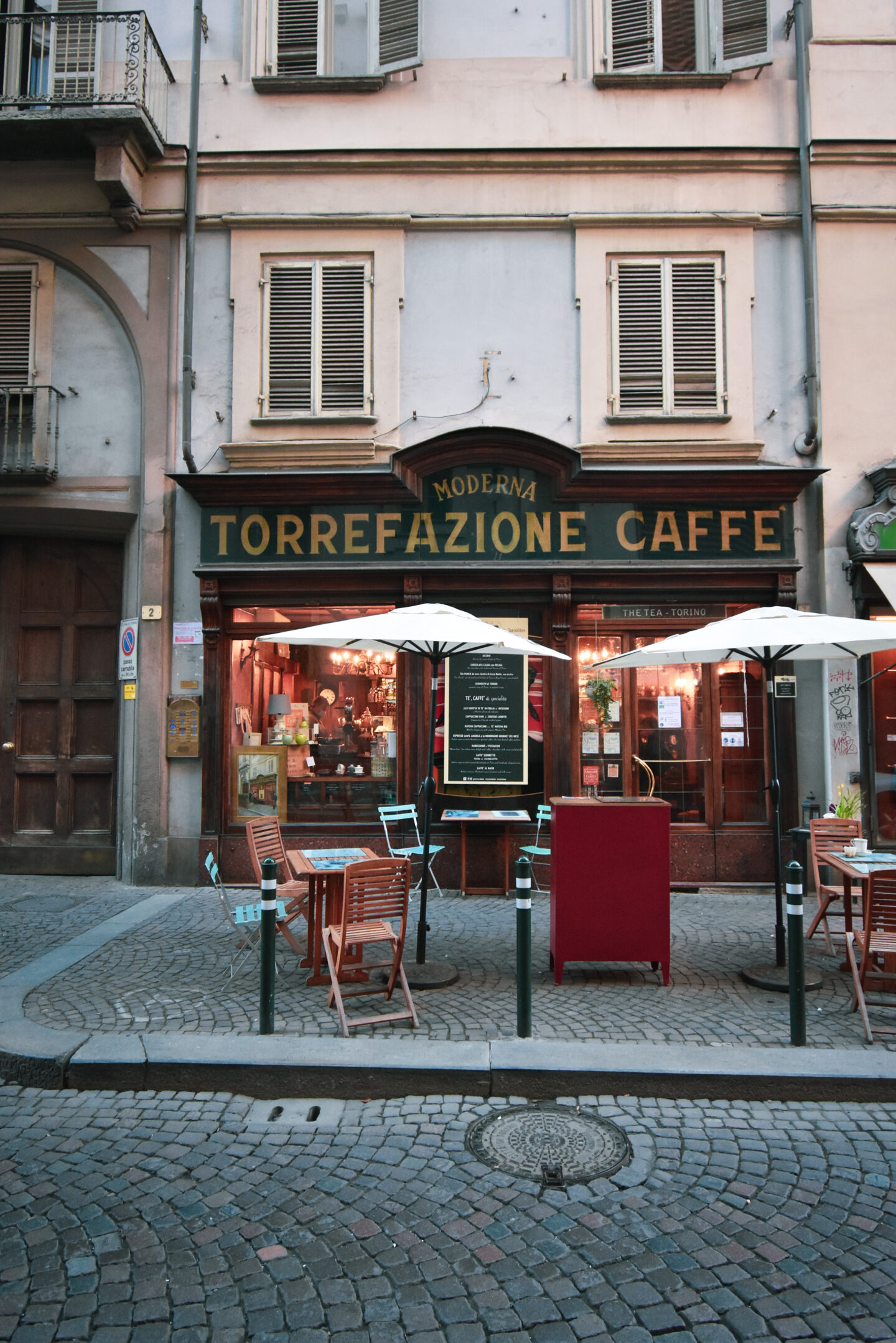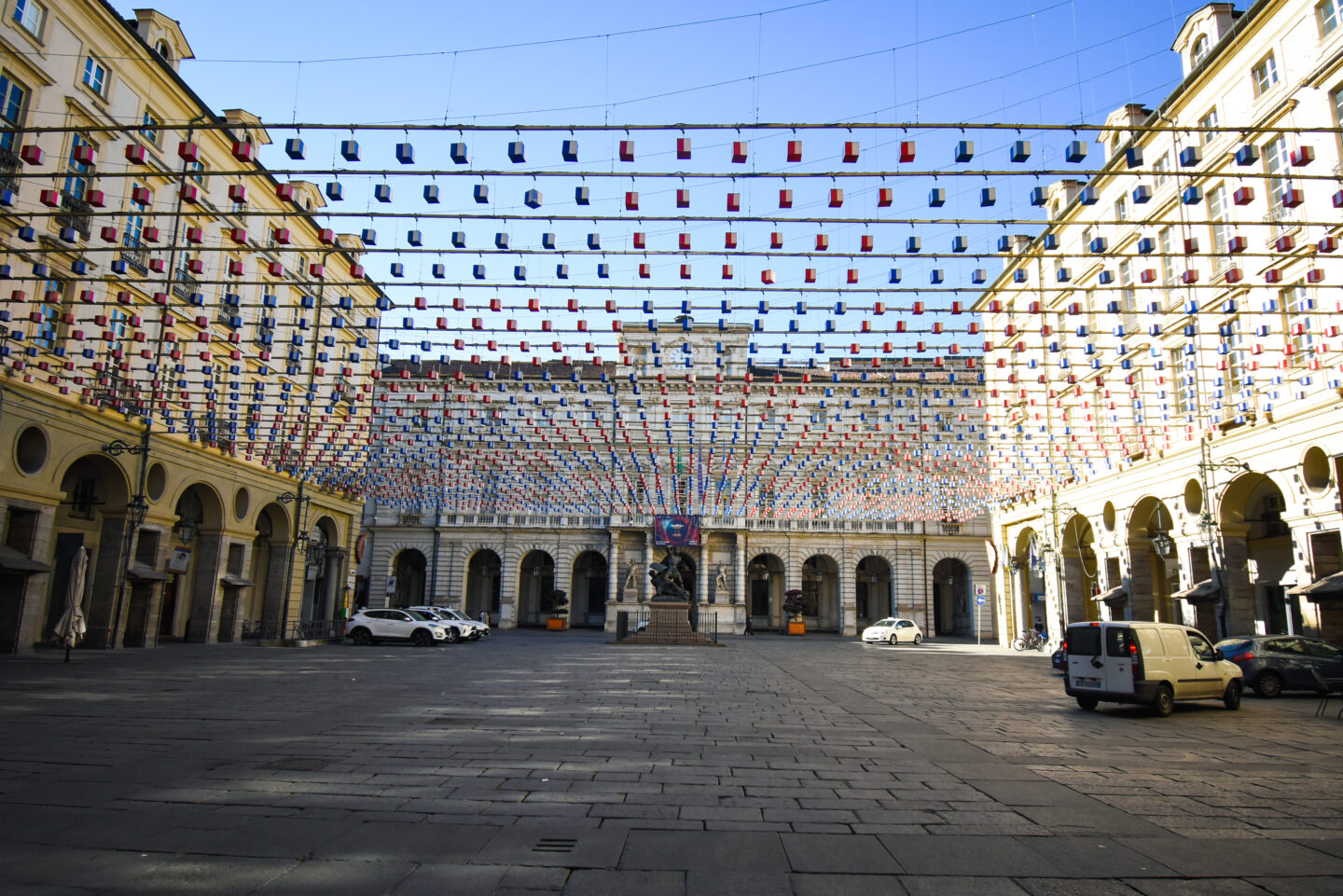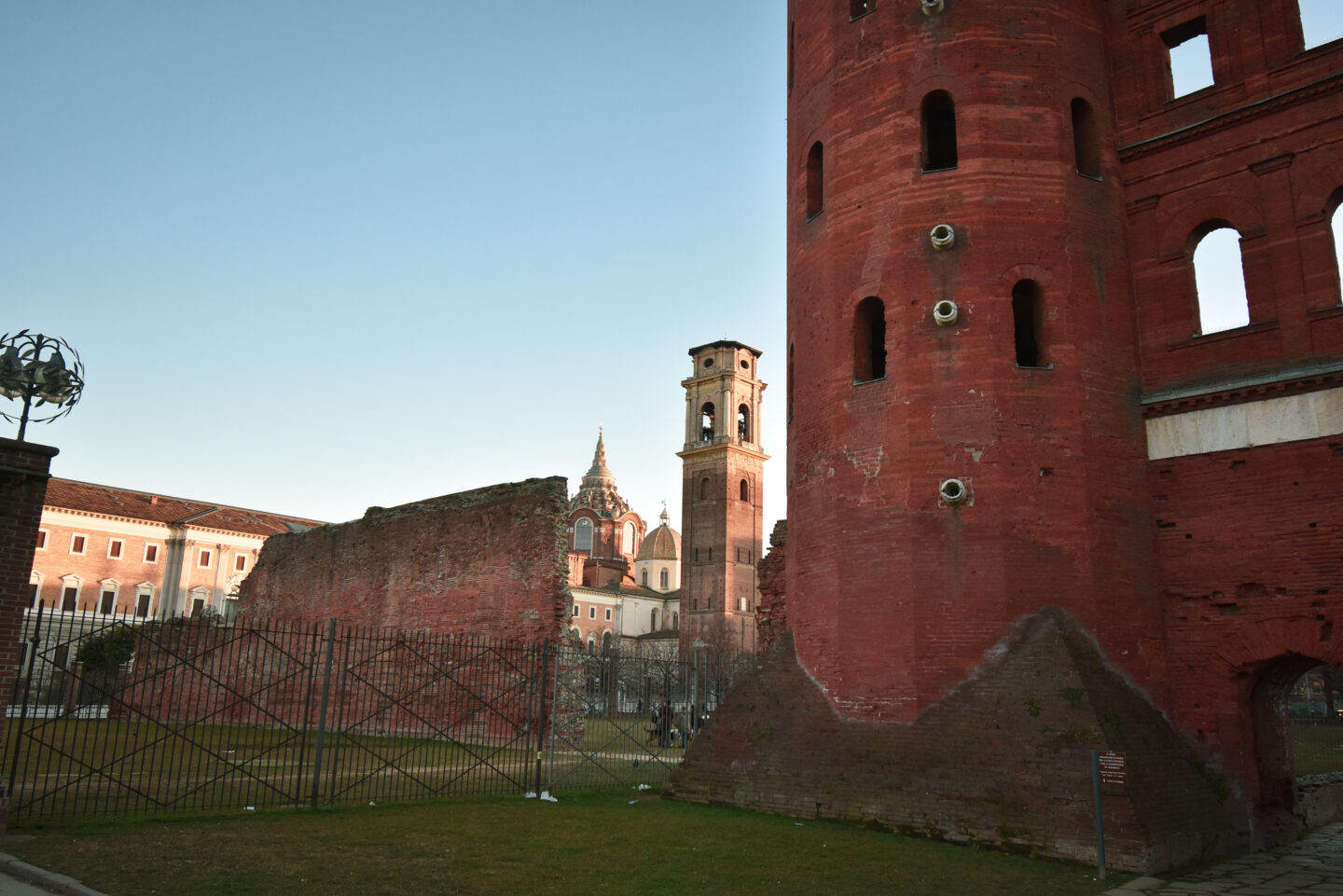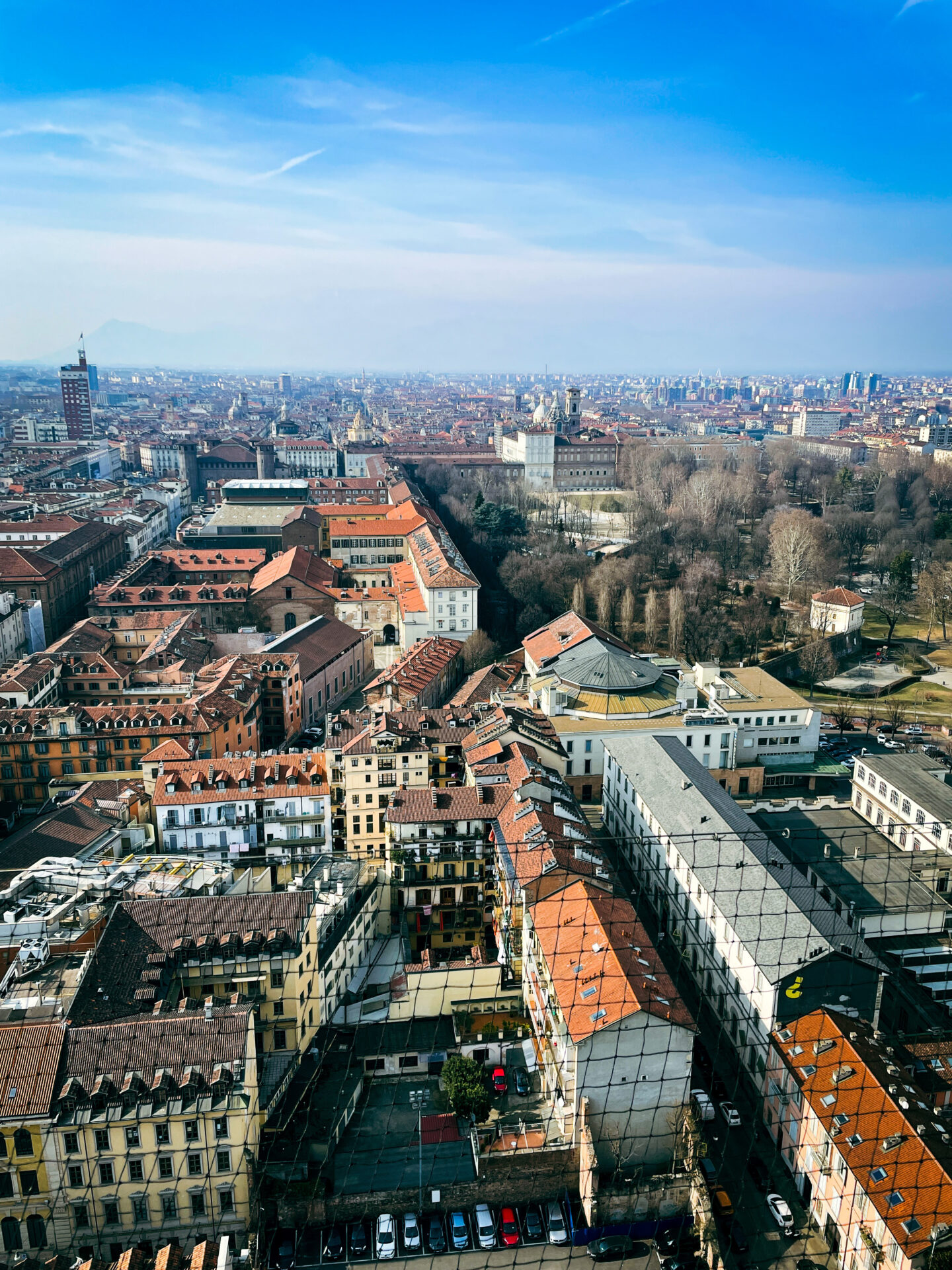 Turin's Grand Cafes
Caffè Elena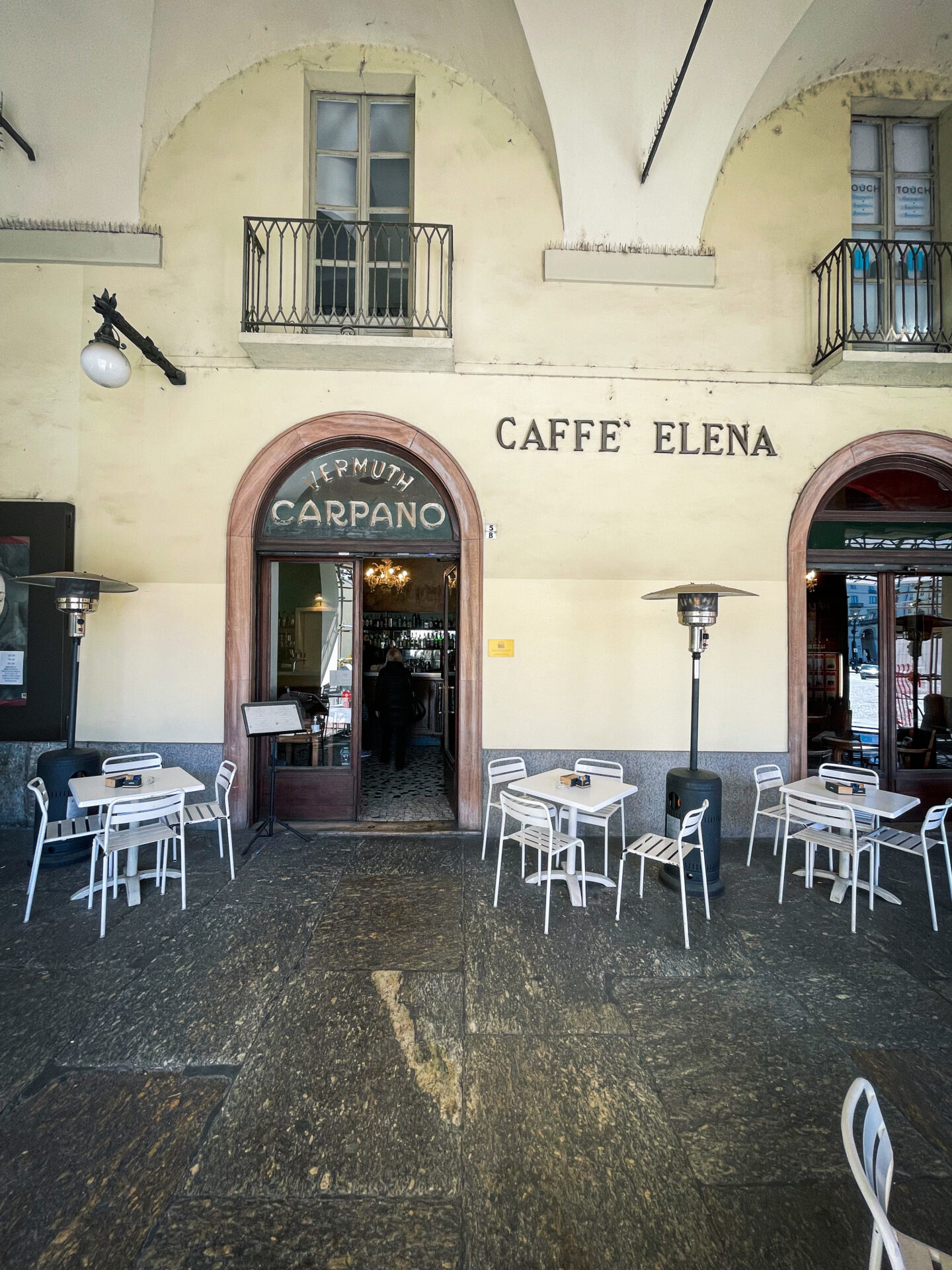 Caffè Elena is an historic cafe-bar on Piazza Vittorio Veneto where Giuseppe Carpano (nephew of founder Antonio) trialled and perfected his royally-endorsed vermouth creation, and from there would build the factory that established the first vermouth and cemented the iconic Carpano name.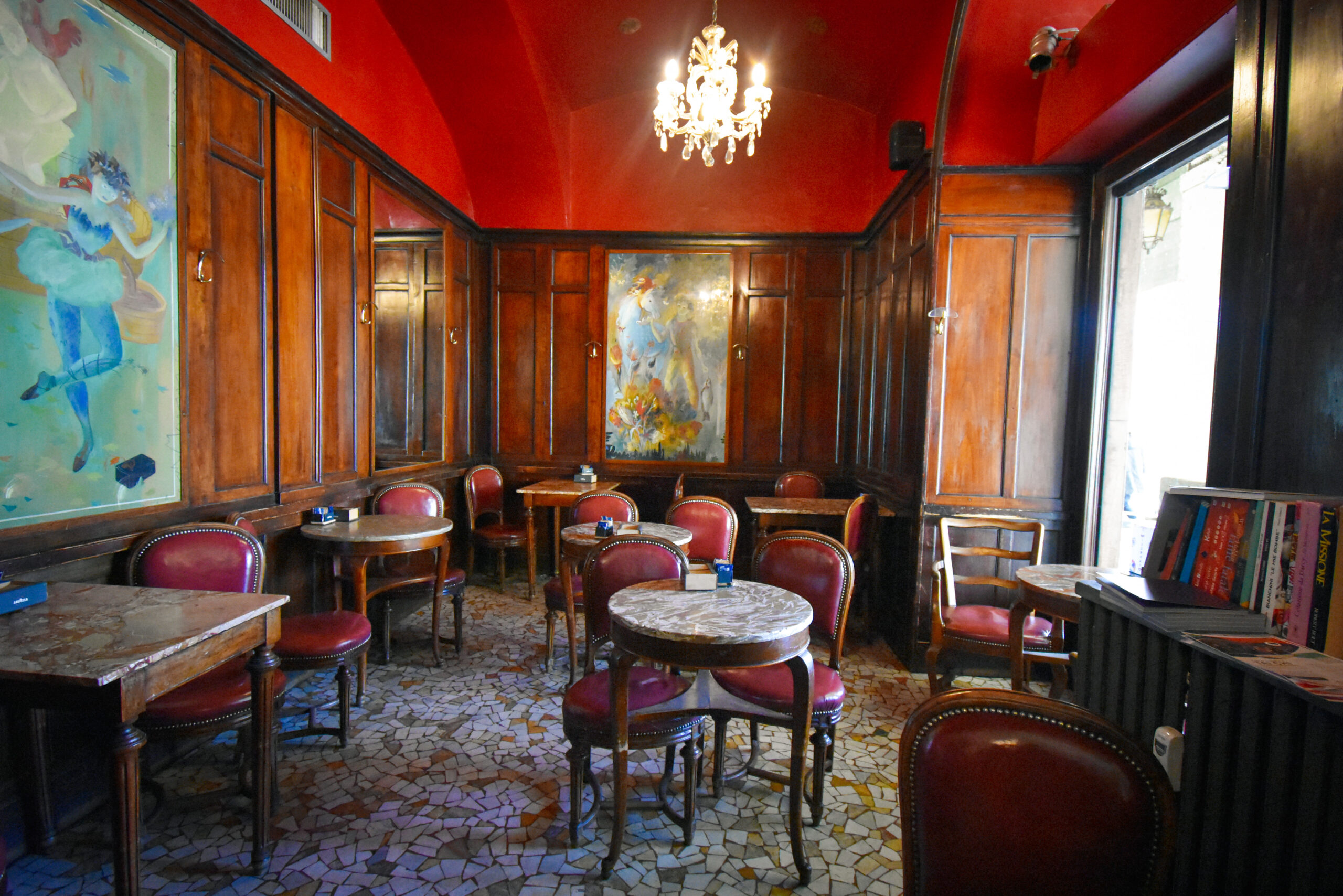 Dating back to 1899, you'll notice the original till by the doorway and a totally preserved old cafe interior whilst there's a modern, expansive terrace to the front which is more popularly used. This is where Torinese locals harmoniously mingle with the student population and tourists and it's open 'til midnight nightly (sometimes 2am on weekends). A perfect spot near the Po for aperitivo, whilst the food is also delicious, too. caffeelena.it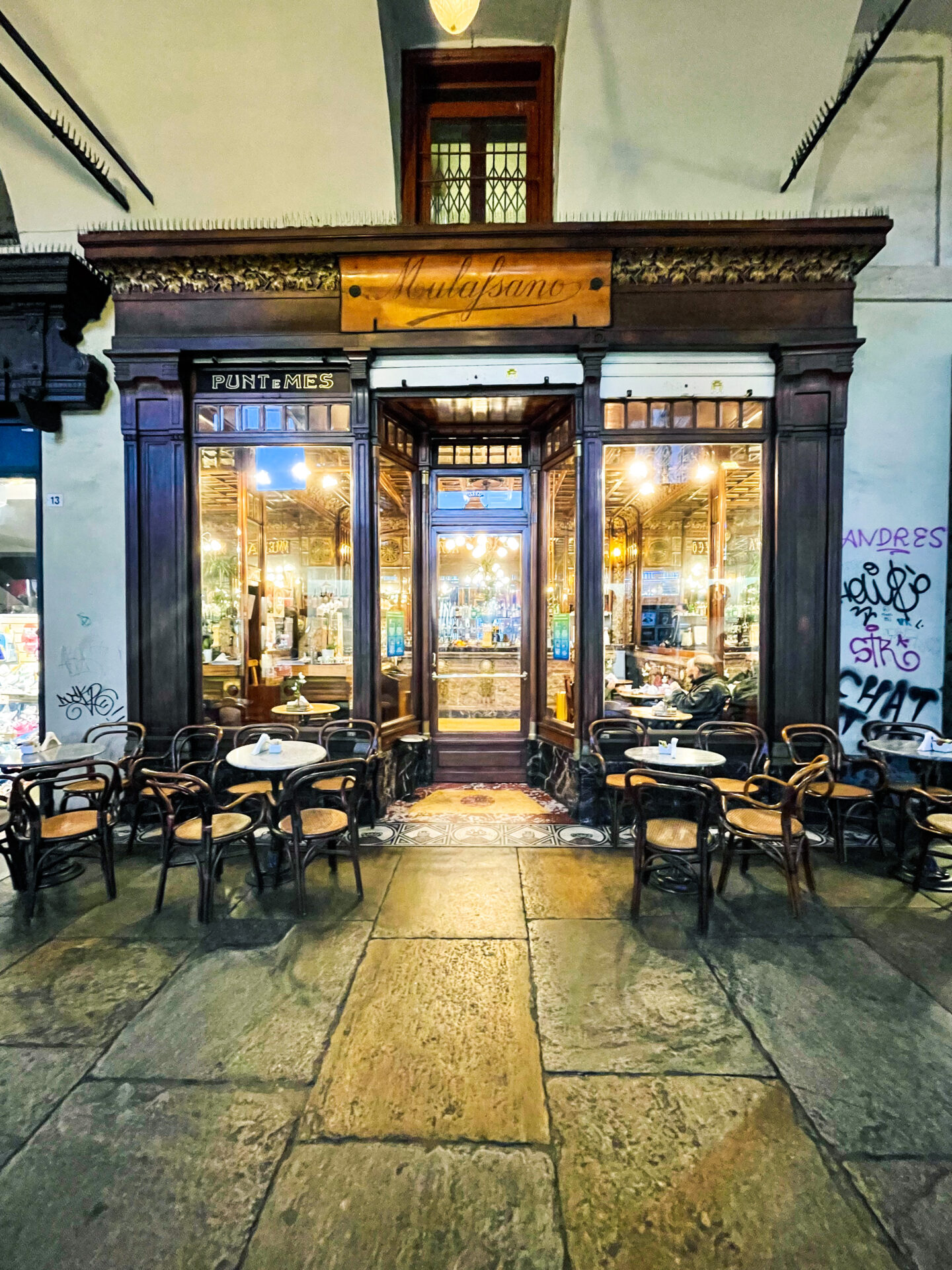 This tiny 30 square-metre cafe on Piazza Castello has endured for over 100 years and is purported to be the place where the tramezzino was first served in Italy –– what we know as the modern-day sandwich. A daytime spot for dining and drinking from 8am to 7pm most days, well worth a visit. caffemulassano.com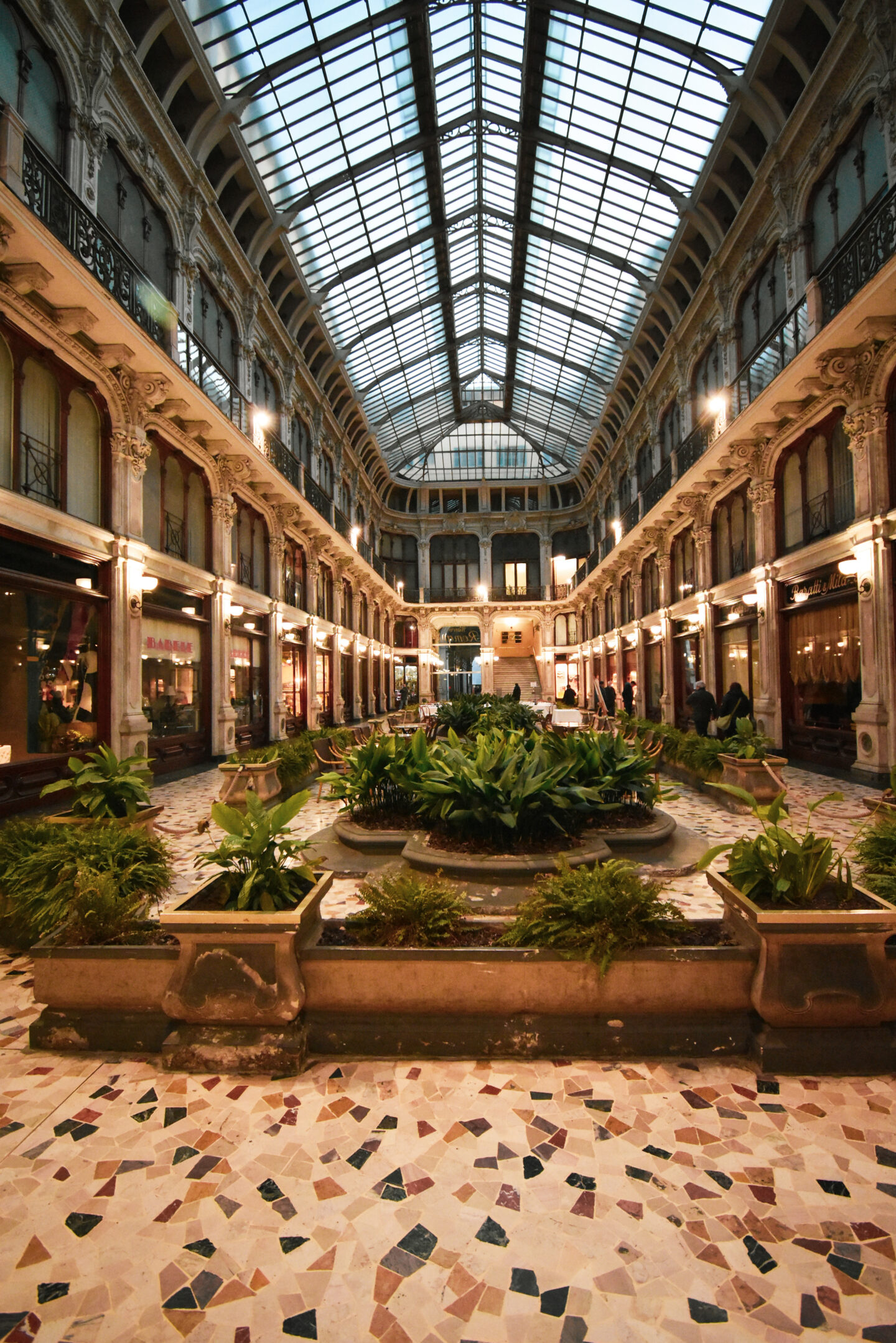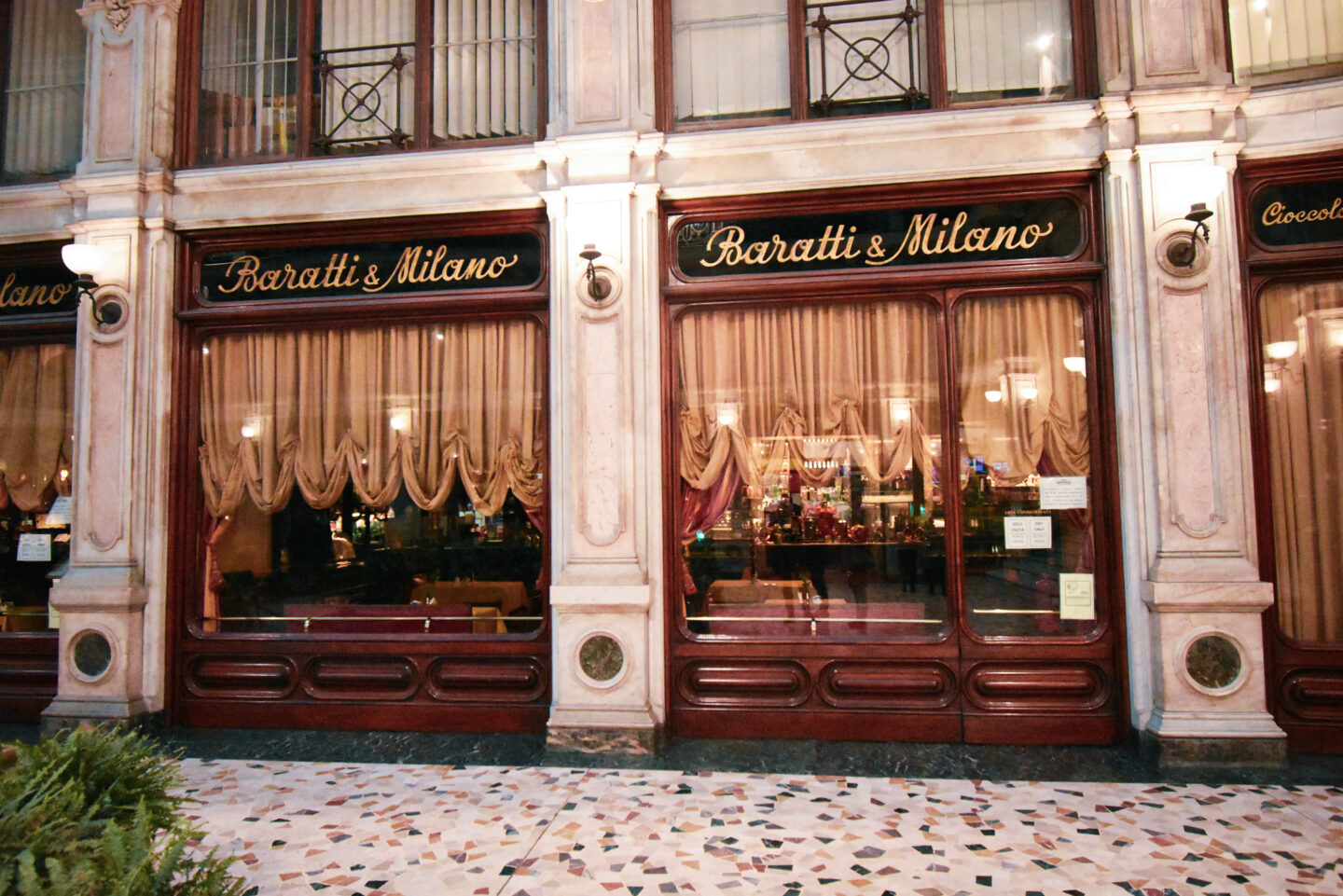 Steps away from Mulassano is the caffe-restaurant Baratti & Milano, a historic Grand Cafe institution in Turin — this coffee house was a meeting point for the bourgeoisie and intellectuals of the 20th century as well as favoured by the royals.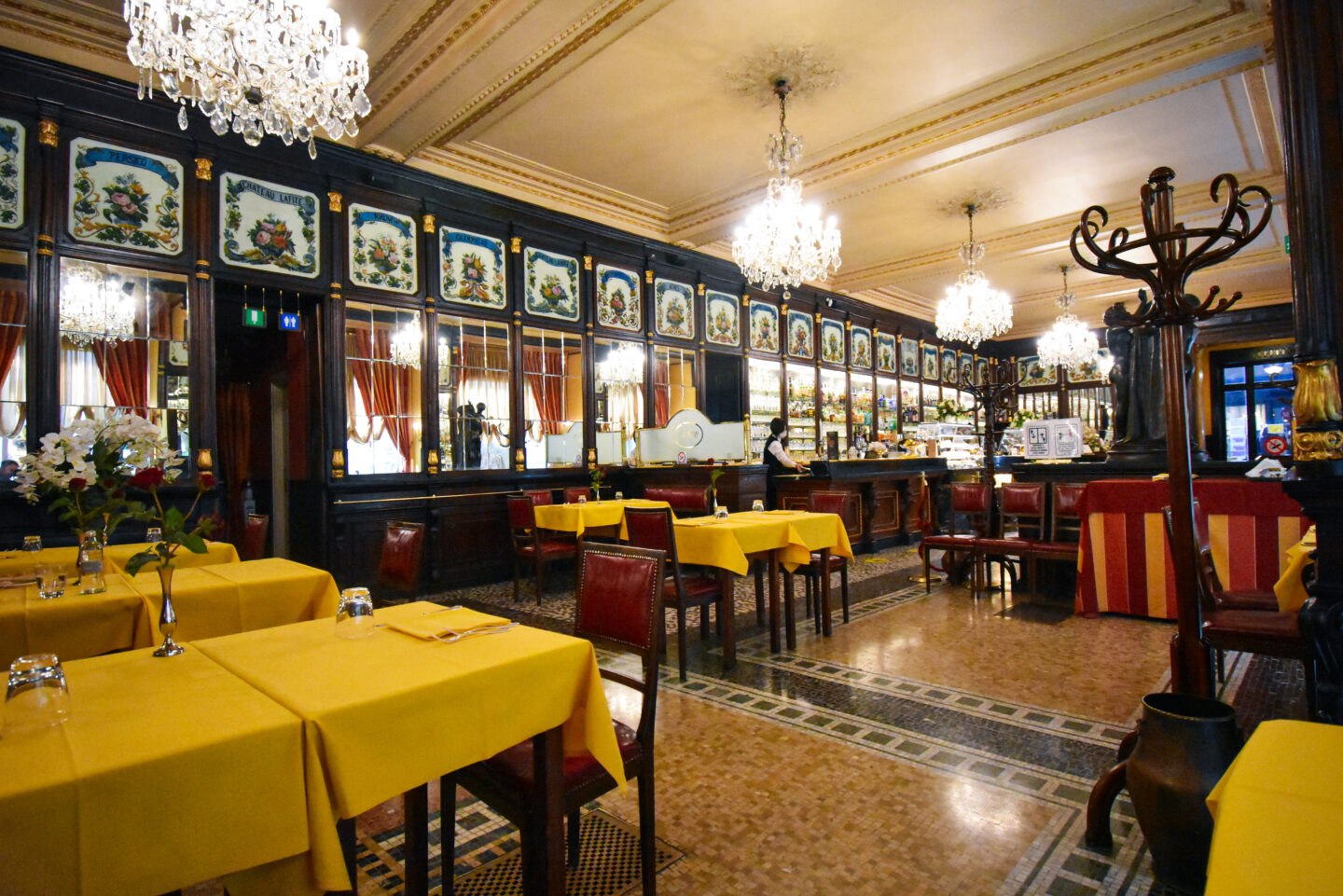 Begun in 1858, the brand has become one of Italy's most well-known chocolatiers, originally begun by two confectioners who called the business after their surnames. The caffè is set within the stunning Galleria Subalpina with an interior that's all stucco, marble, gilding and mosaics. An opulent space for an old world dining experience with wonderful service and traditional dishes. barattiemilano.it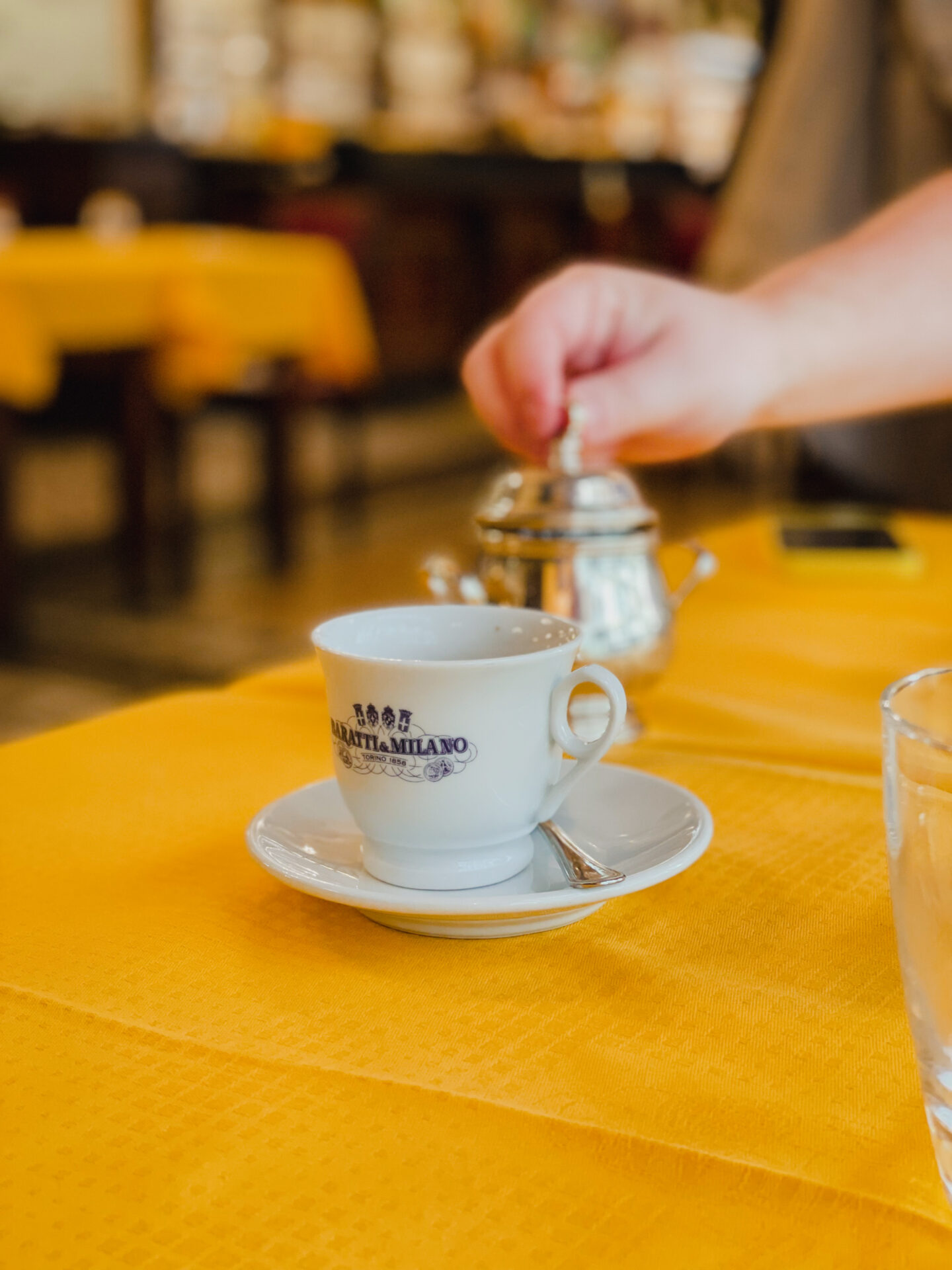 Caffè Torino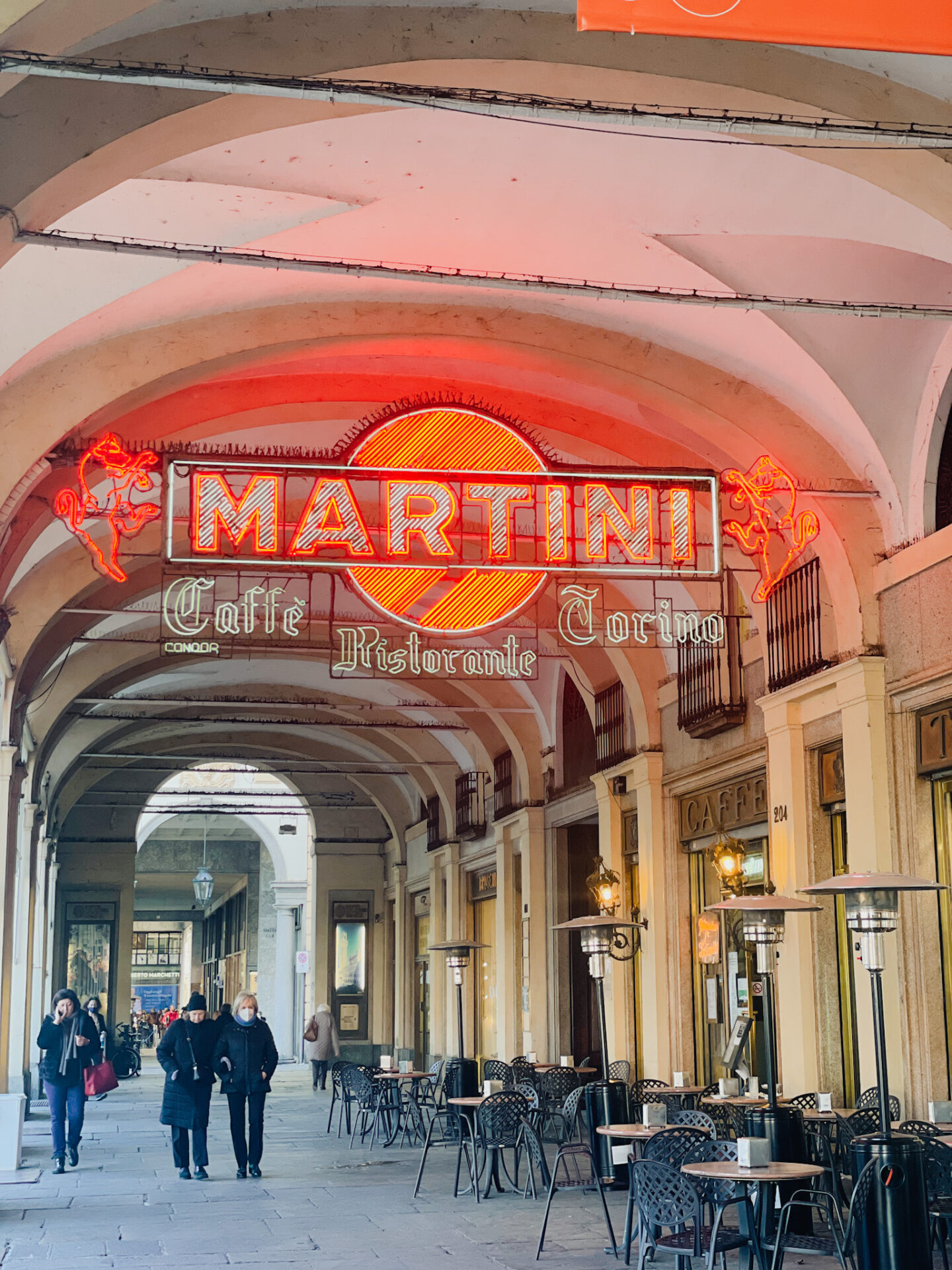 You can't miss the martini sign overhead at Caffe Torino on Piazza San Carlo. A staple in the city for over a century years, it first opened in 1903 and had an expansion in the Thirties and renovation in the Nineties. Inside you'll find lots of Belle Époque details, including the sweeping staircase centrepiece. Also look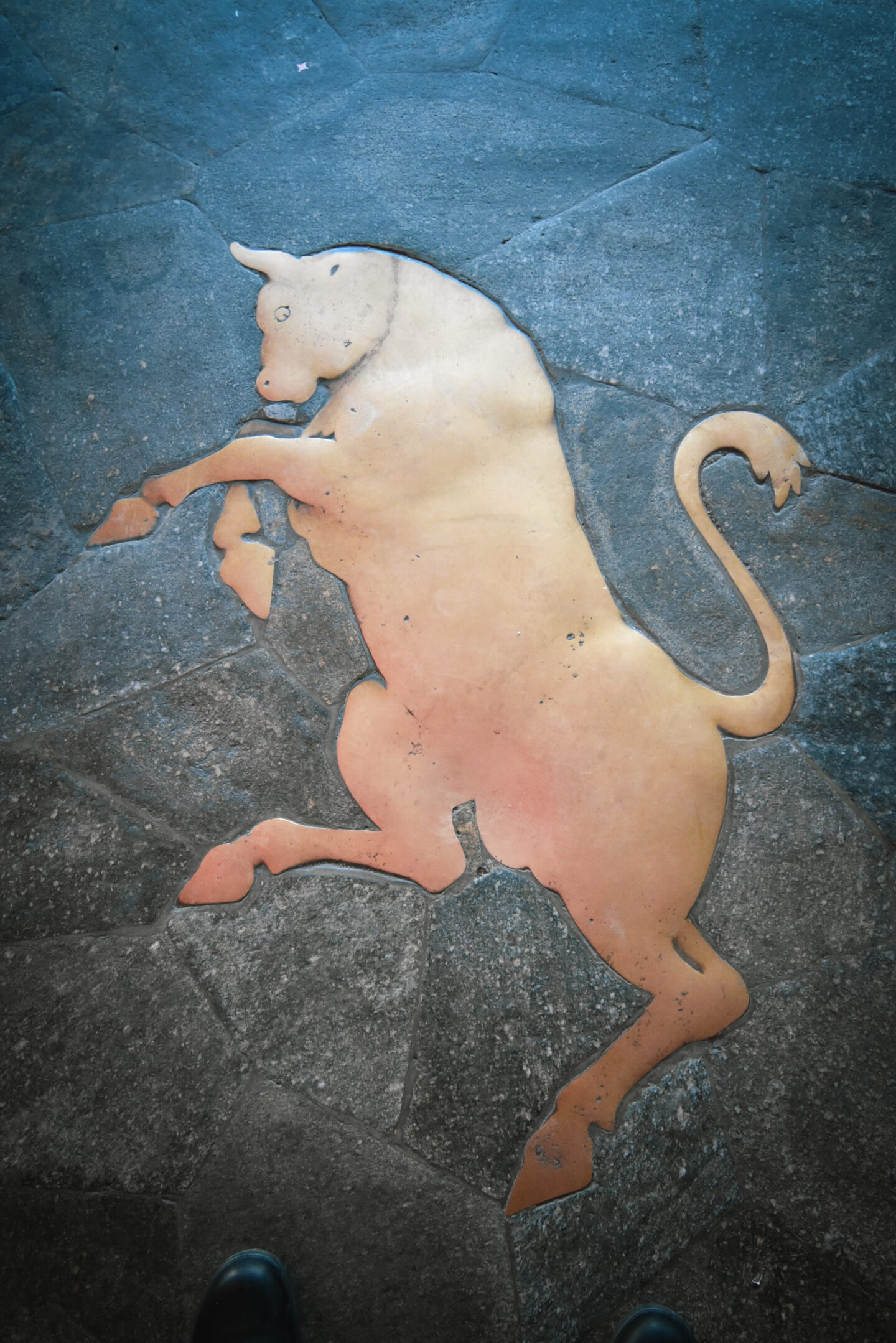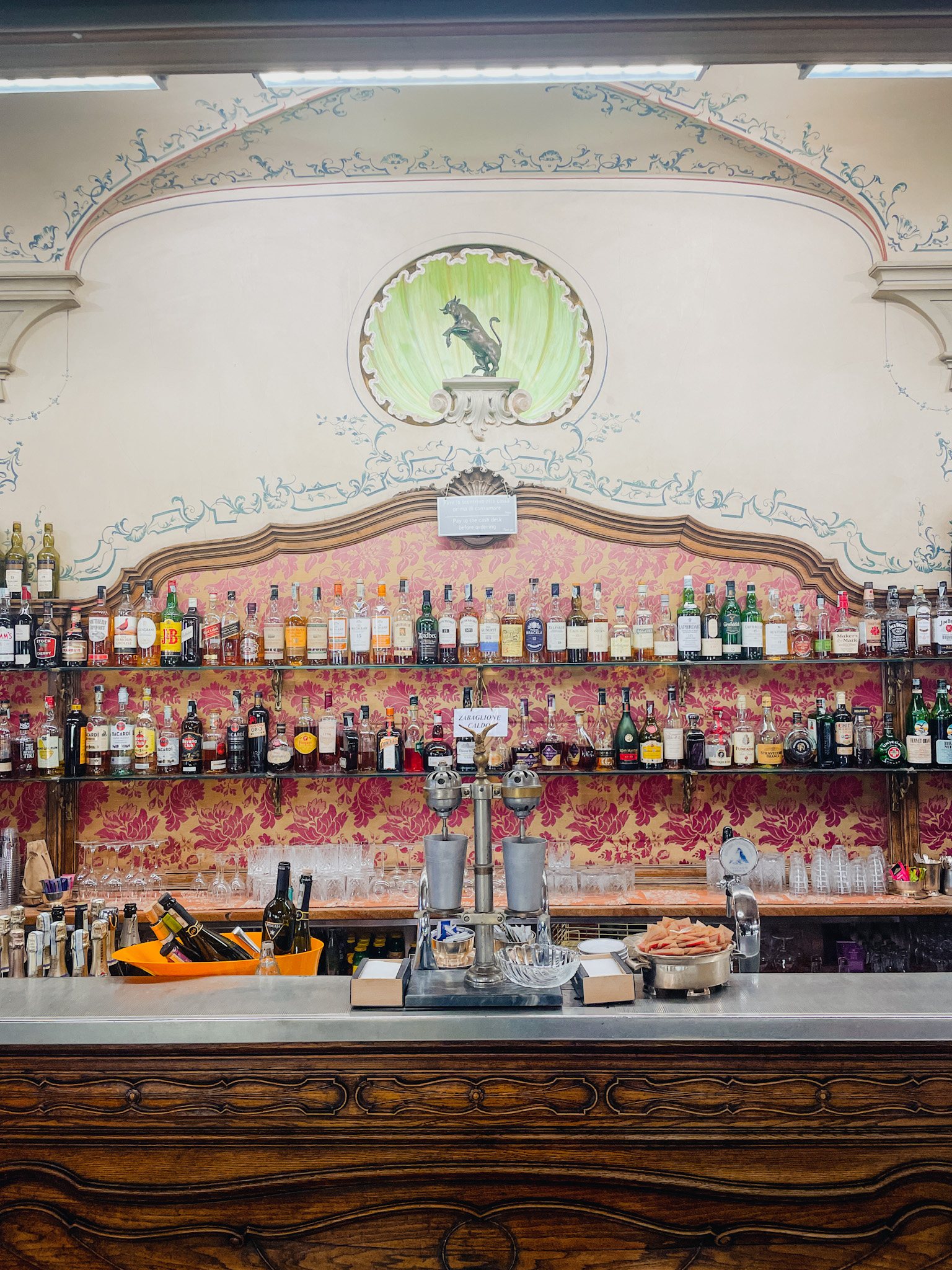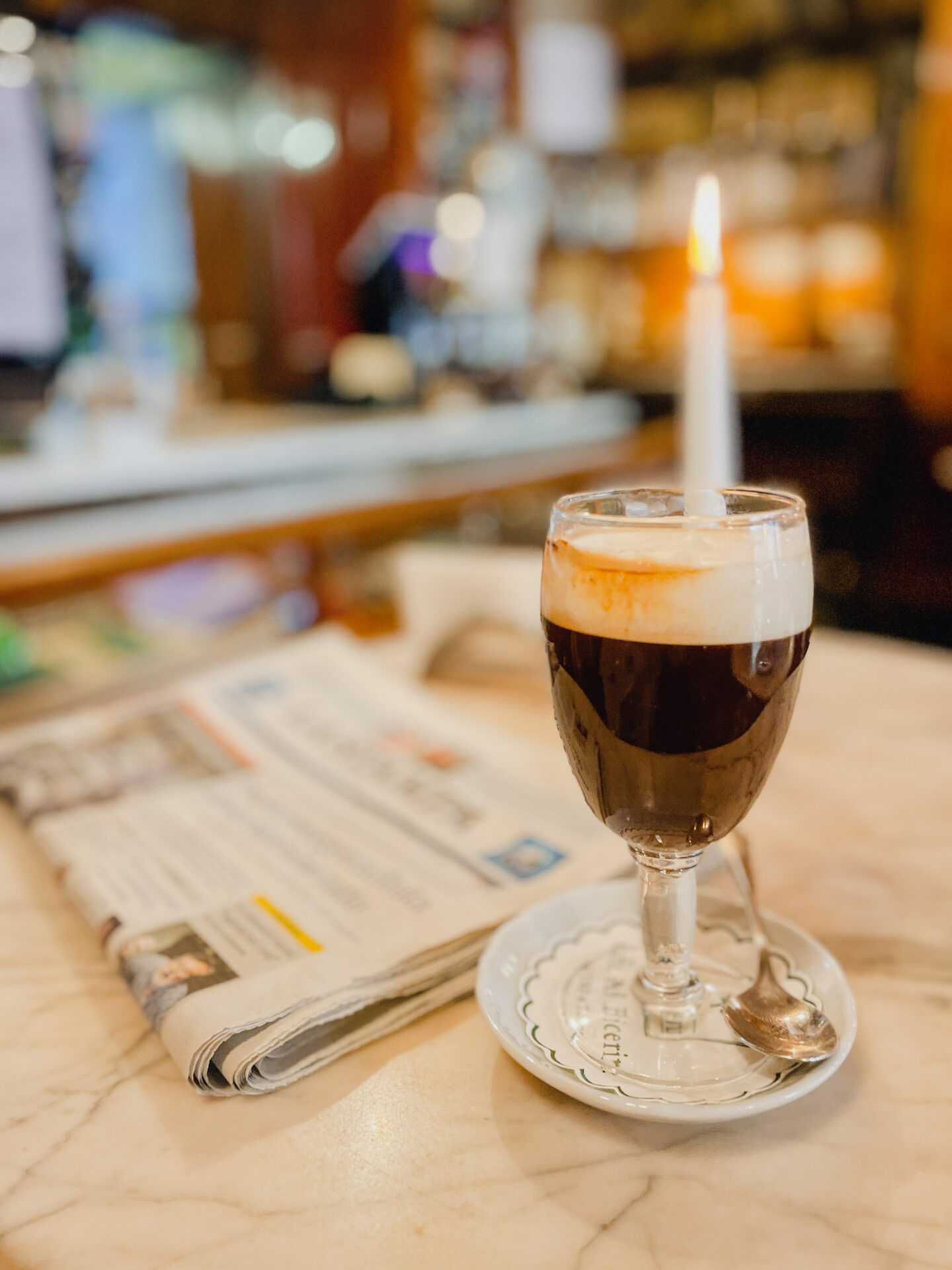 The originator of the famous hot drink of Torino: Bicerin (the first part of the word pronounced like a female dog) which is a rich combination of coffee, drinking chocolate and cream. Since 1763 this has been served around the city and here is purported to be the original and original recipe. Appoint yourself at one of the small tables on the terrace outside but inside is really worth a look or grabbing a table: gorgeous bijou living room-style cafe with twinkling candles and newspapers. There's often a queue, be warned. bicerin.it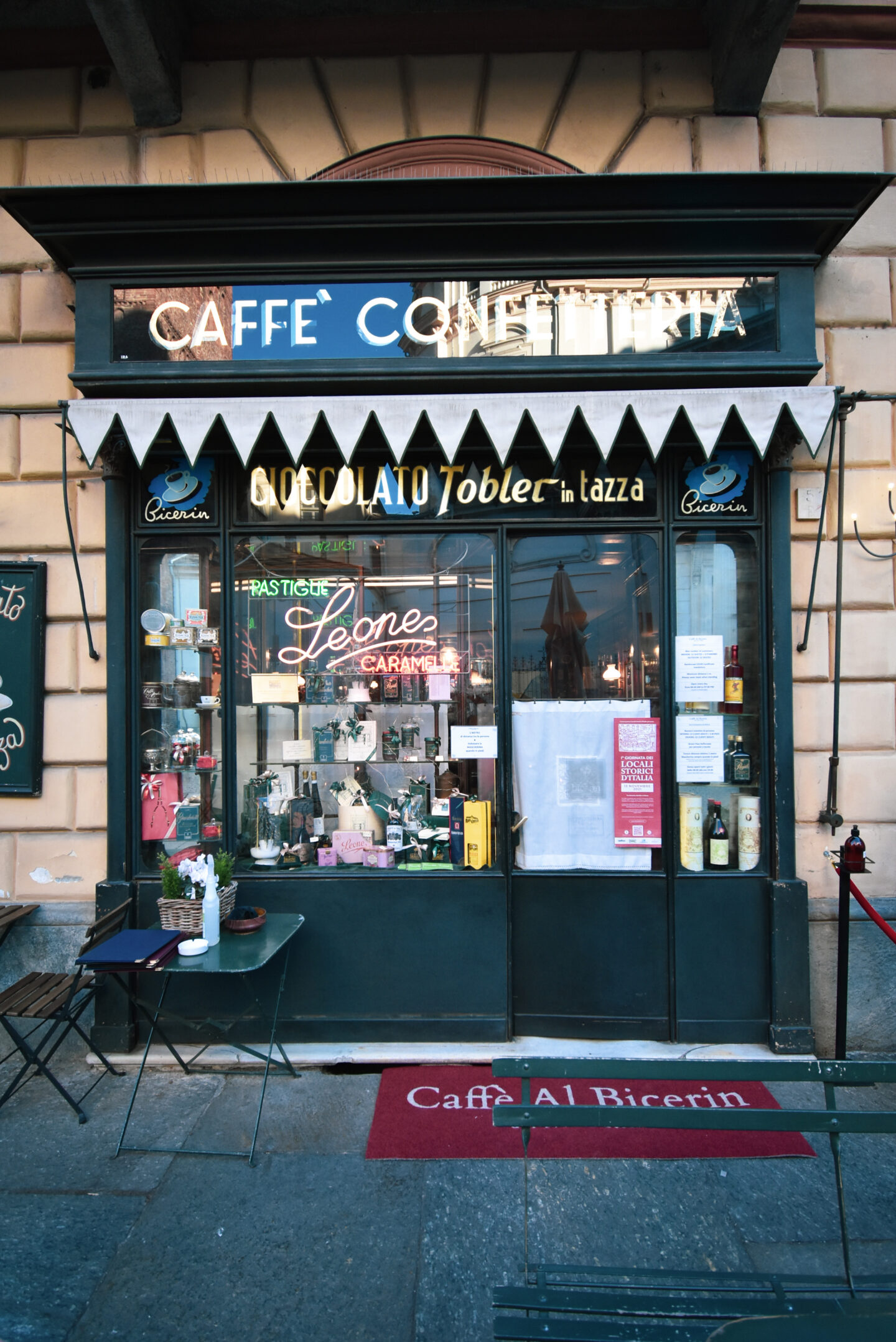 The Tea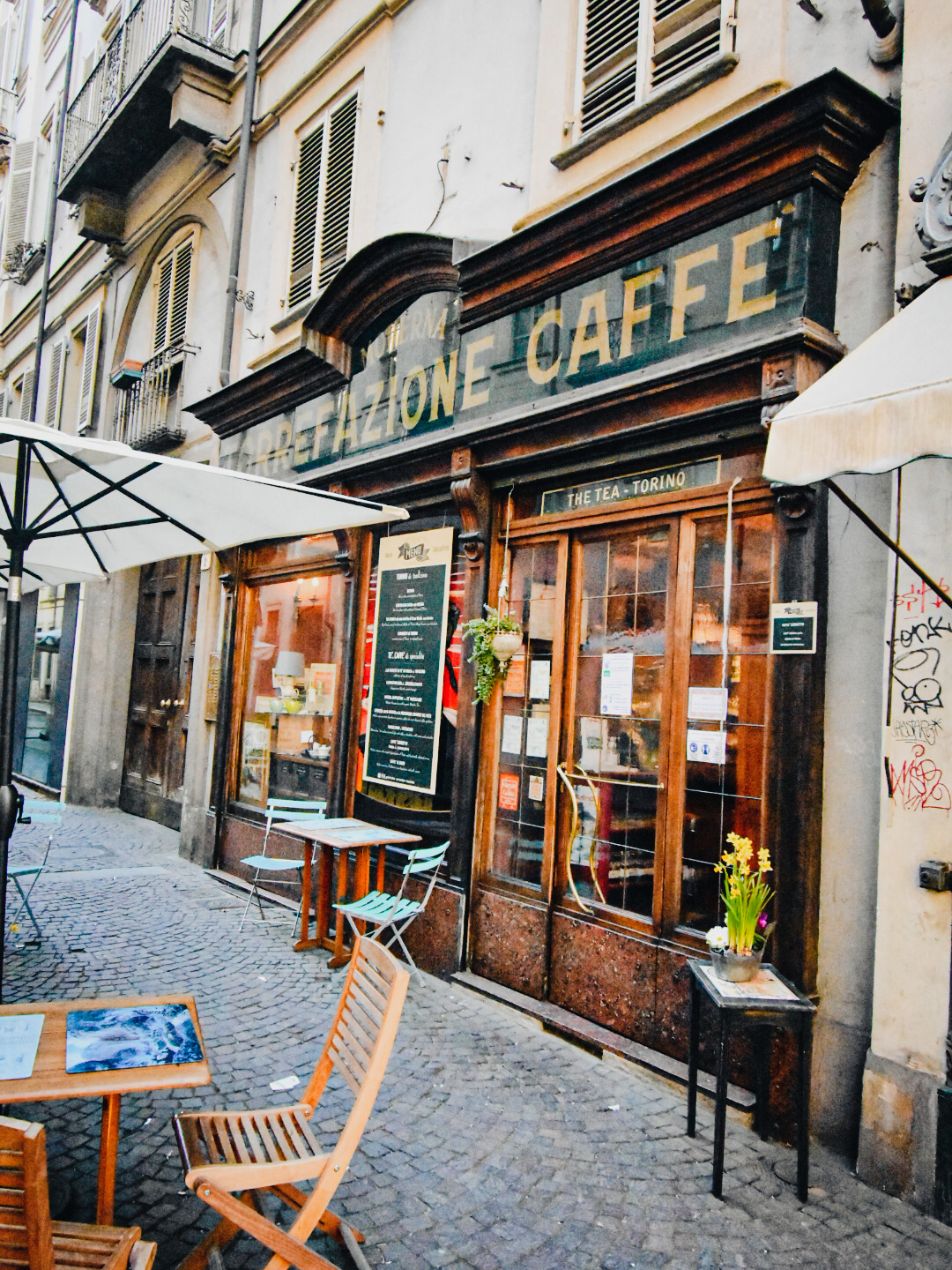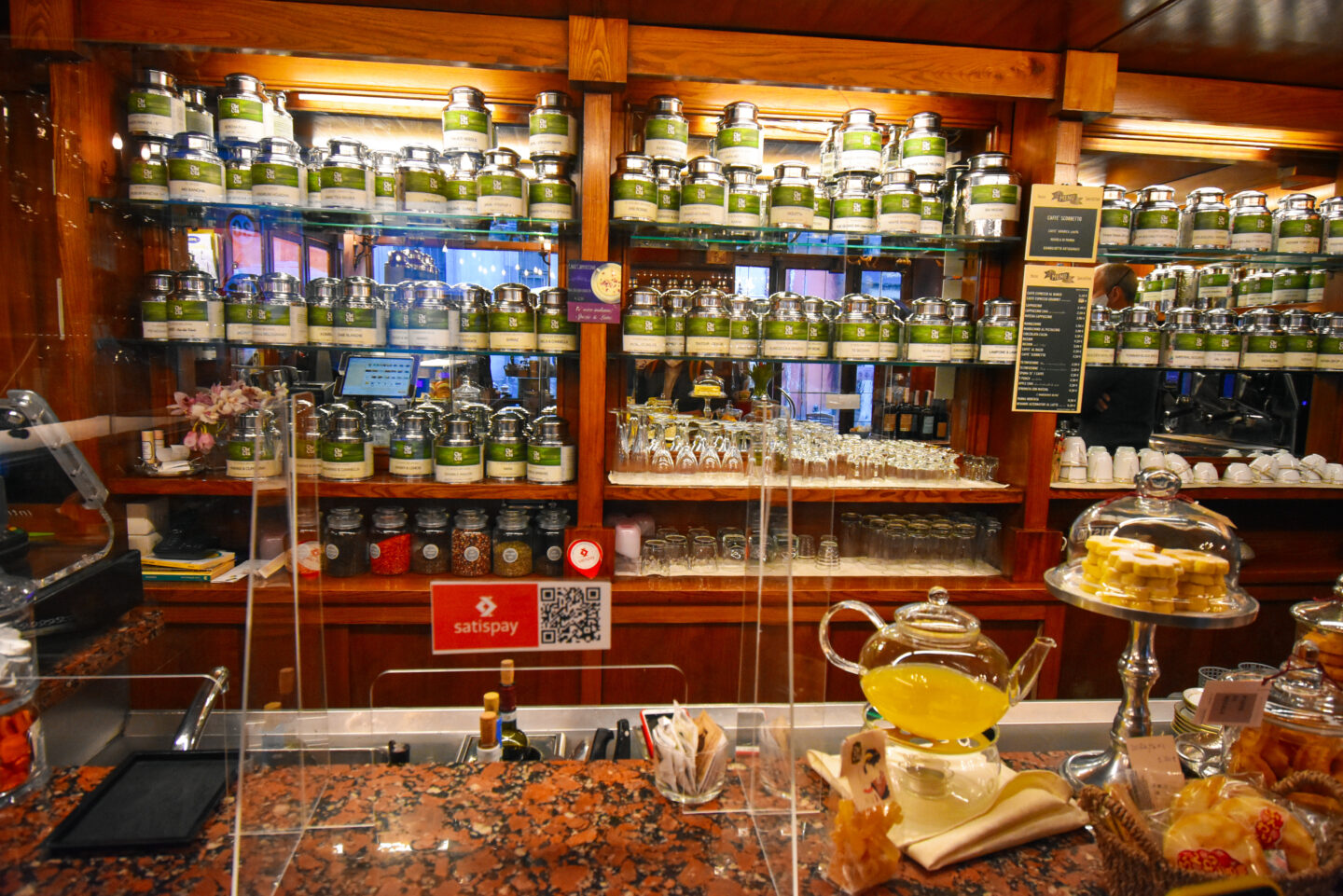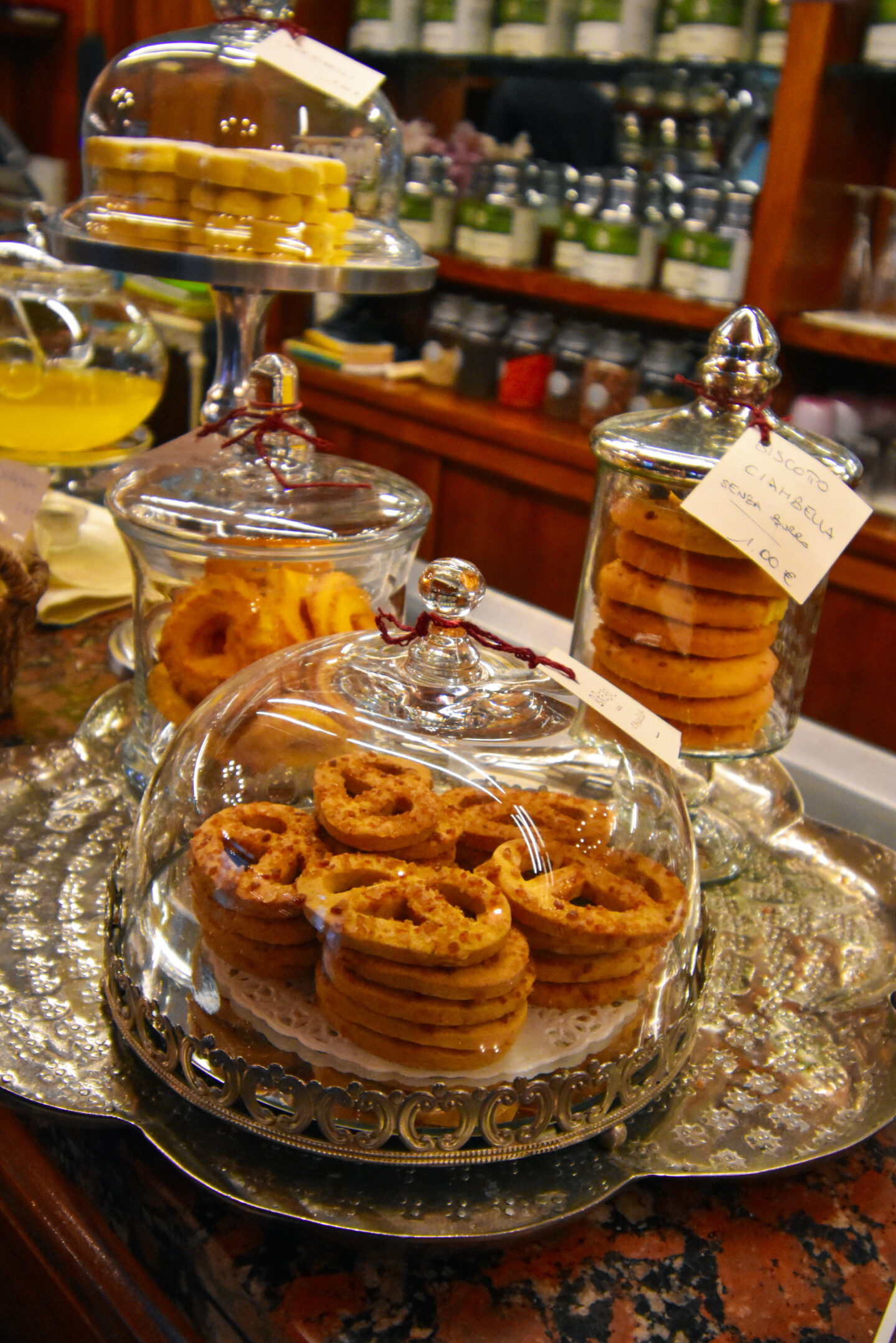 A lasting legacy of the Savoy reign, Merenda Reale could be called Italy's equivalent of British afternoon tea, by way of France. A sit-down experience of a hot drink accompanied by an oft-tiered selection of small, sweet and savoury treats, it's a dining experience with a royal pedigree which has suitably evolved over the centuries.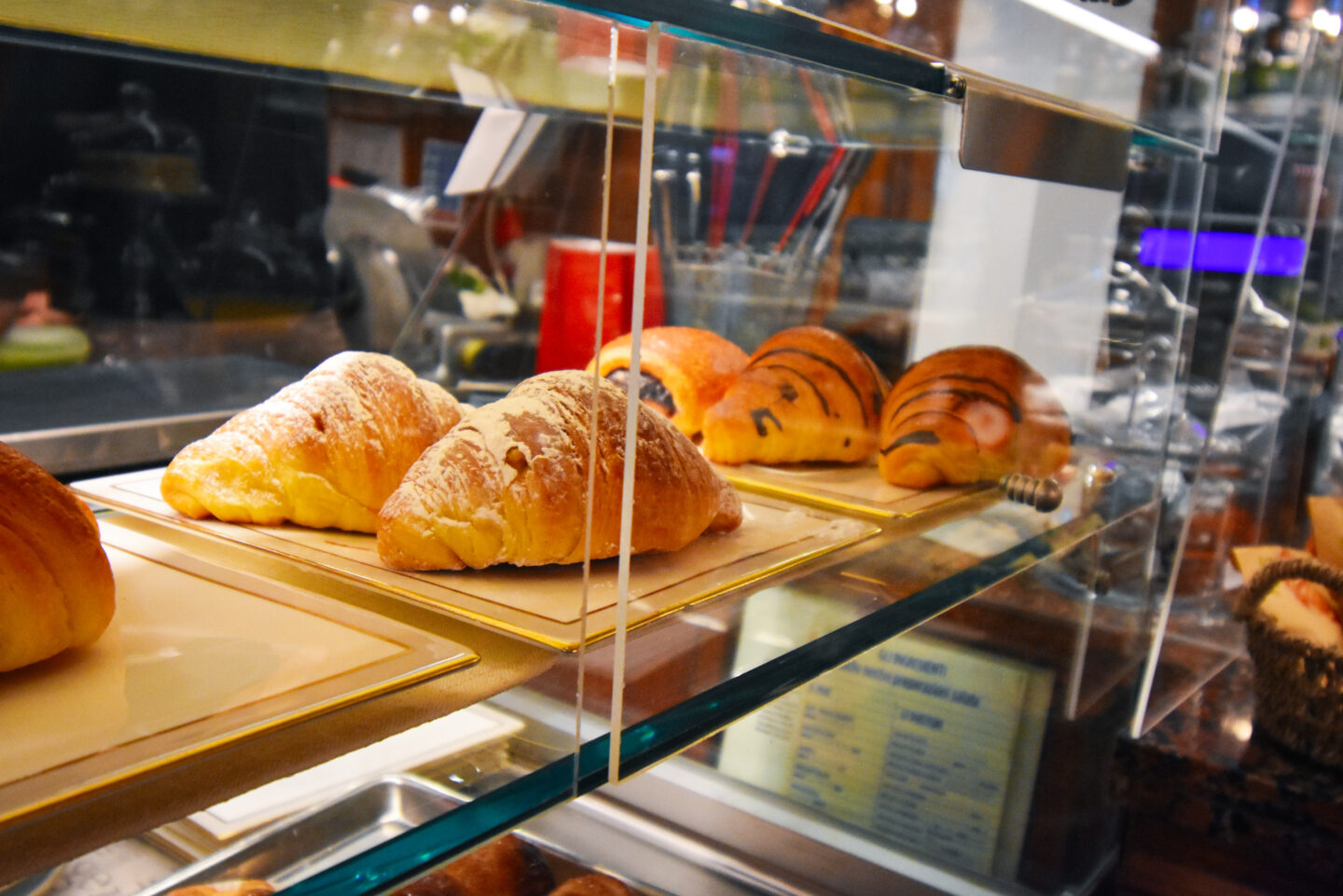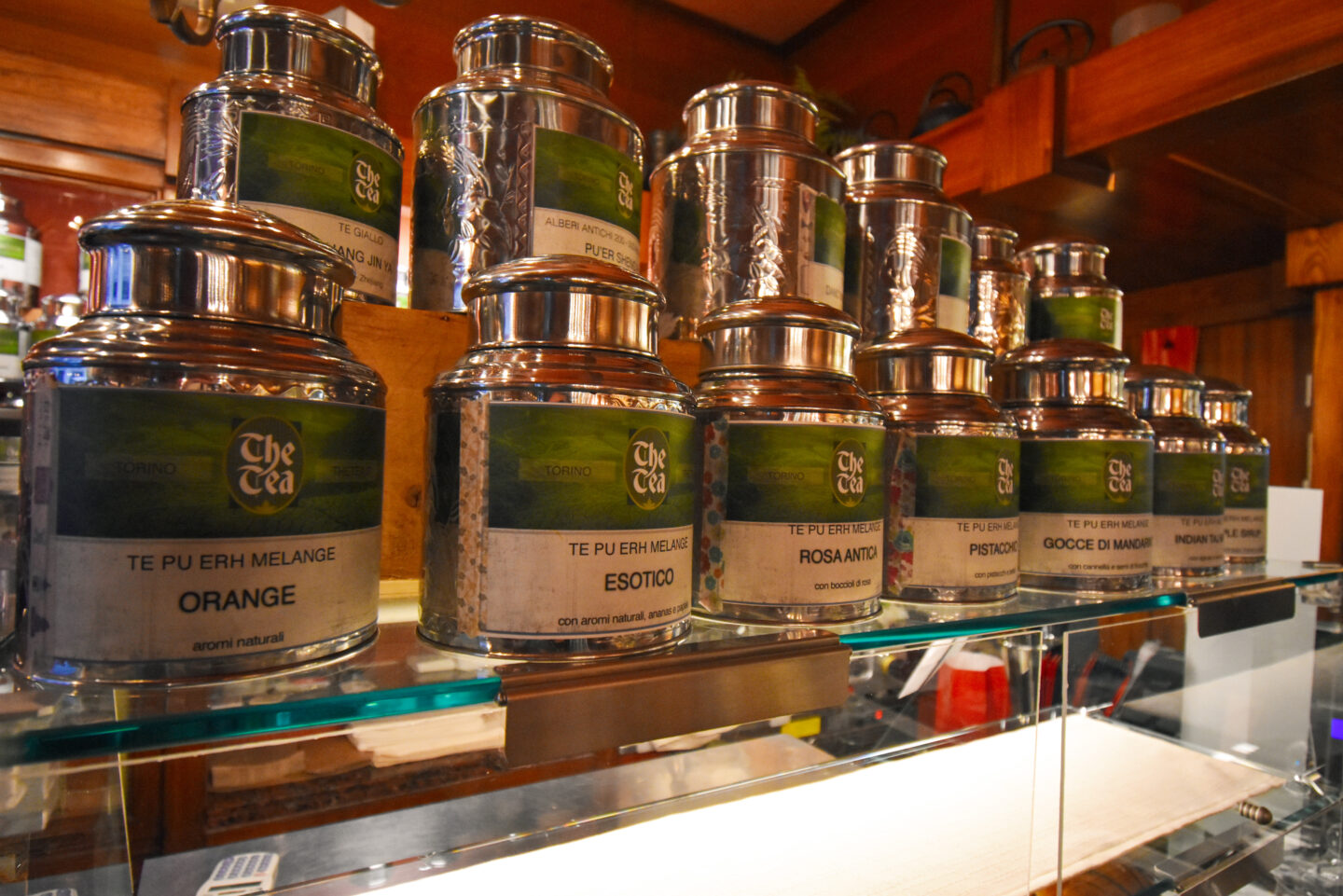 The Tea Torino is a bijou, family-run apothecary-style tea shop and espresso bar from the Carità family, led by Claudia, her partner Christian and her mother Maria Rosa. Merenda Reale is served here for just €10/€12 per person, which includes your choice from a wide selection of teas, coffees or even the Torinese classic, Bicerin, alongside the baked treats. Complete with charming, warm service set in an incredibly pretty space, we would suggest pre-booking for this unique experience.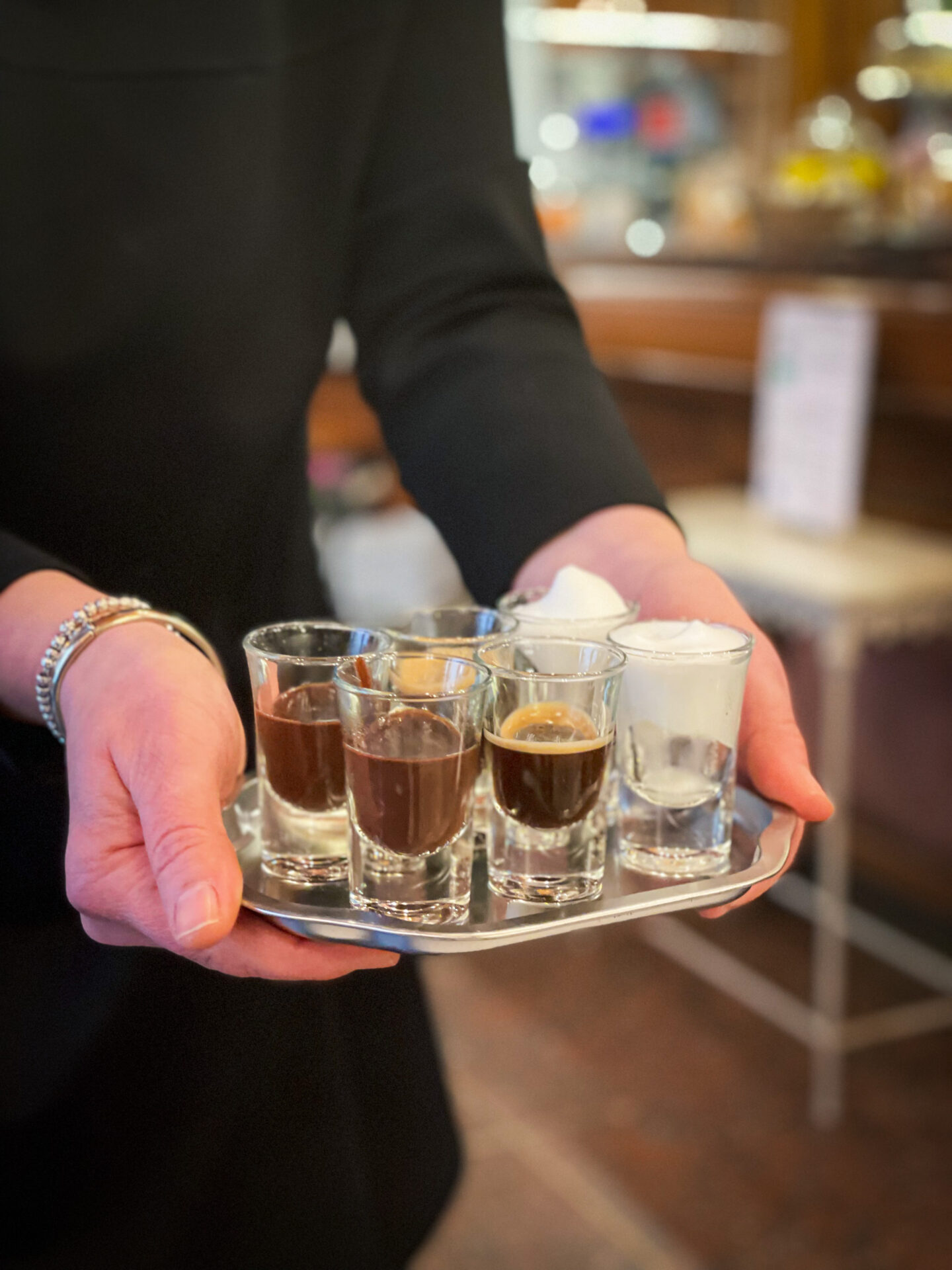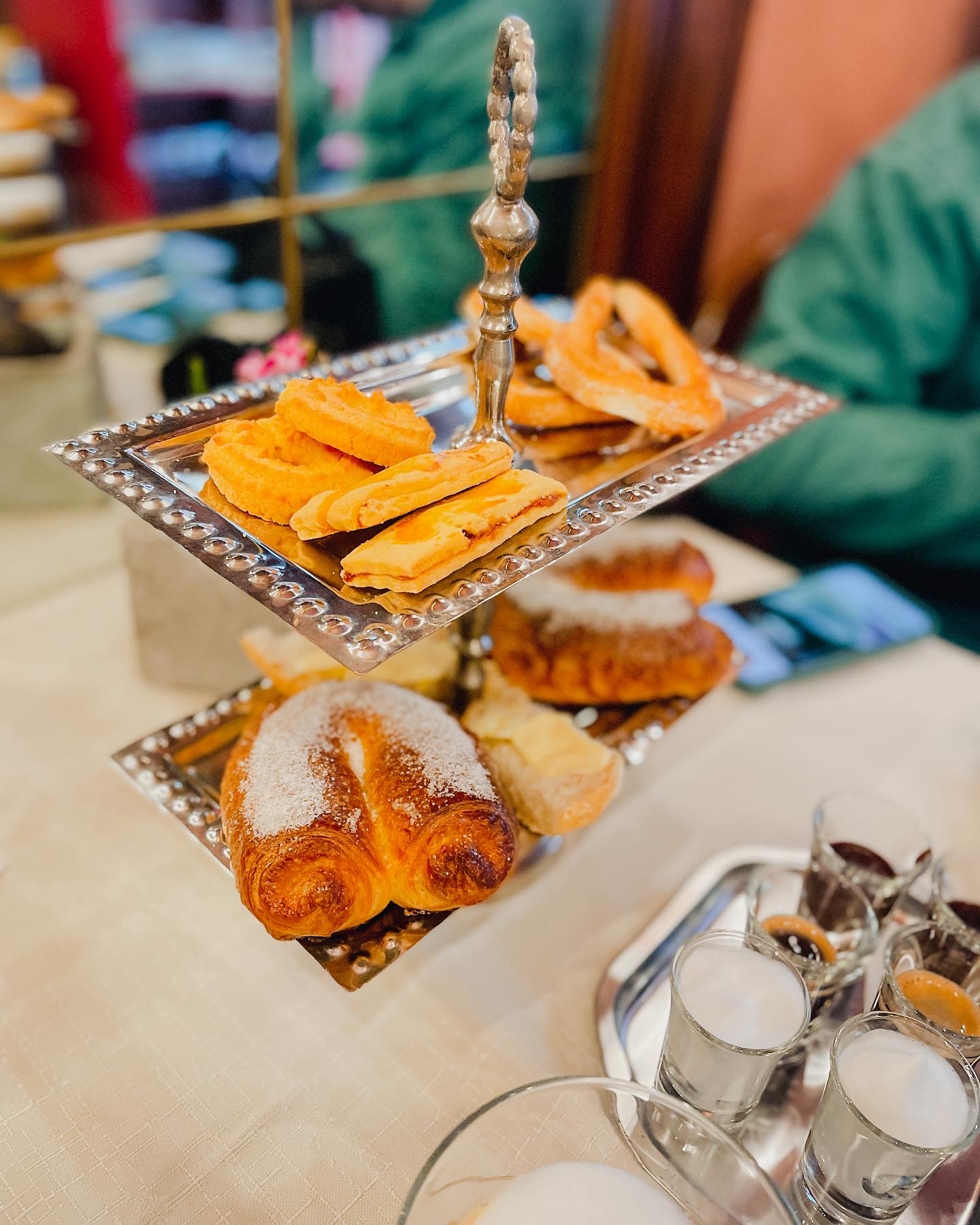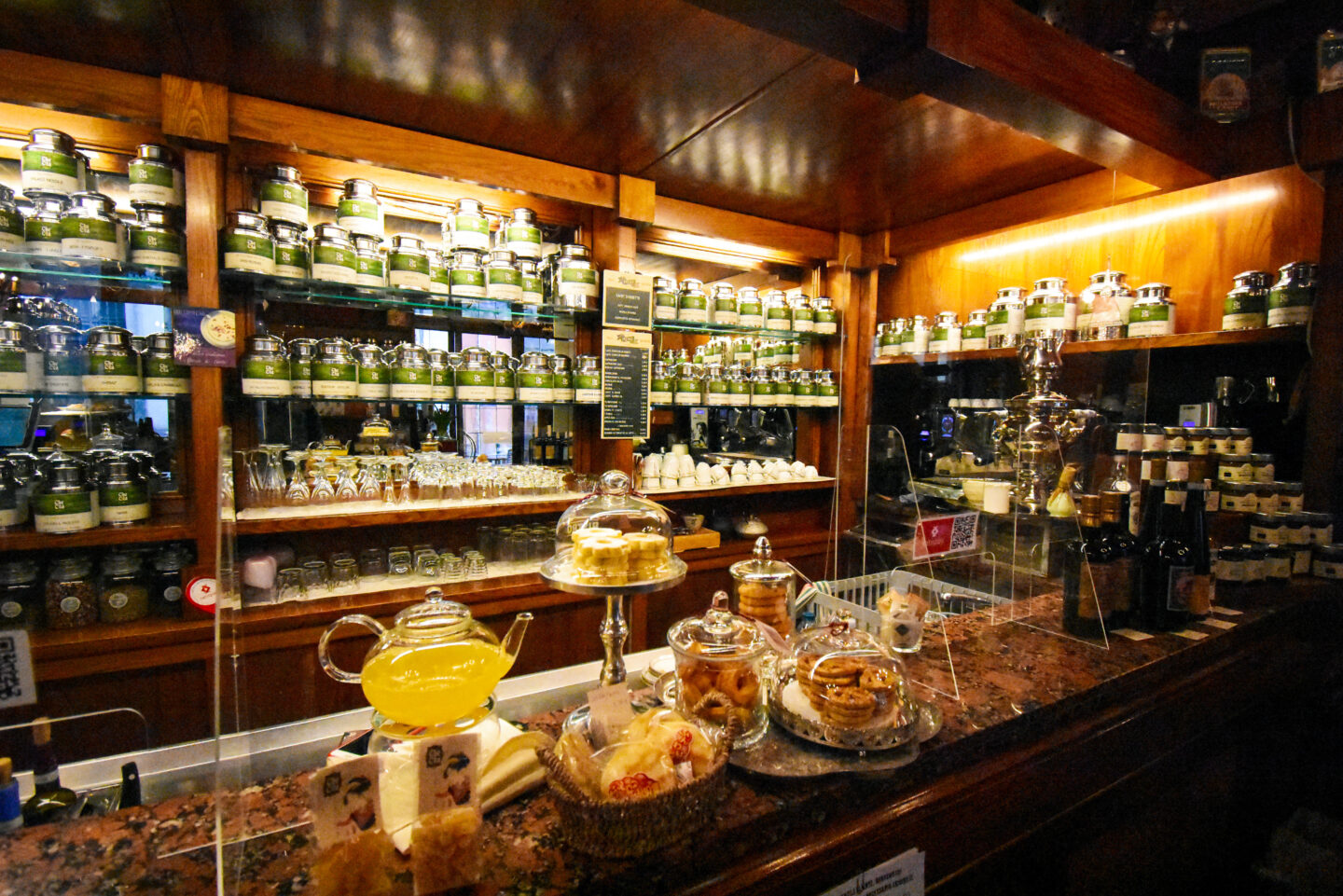 Other great, historic cafes in the city include Caffè Reale and Caffè Platti. See more in our map at the bottom of this post.
Best Bars in Turin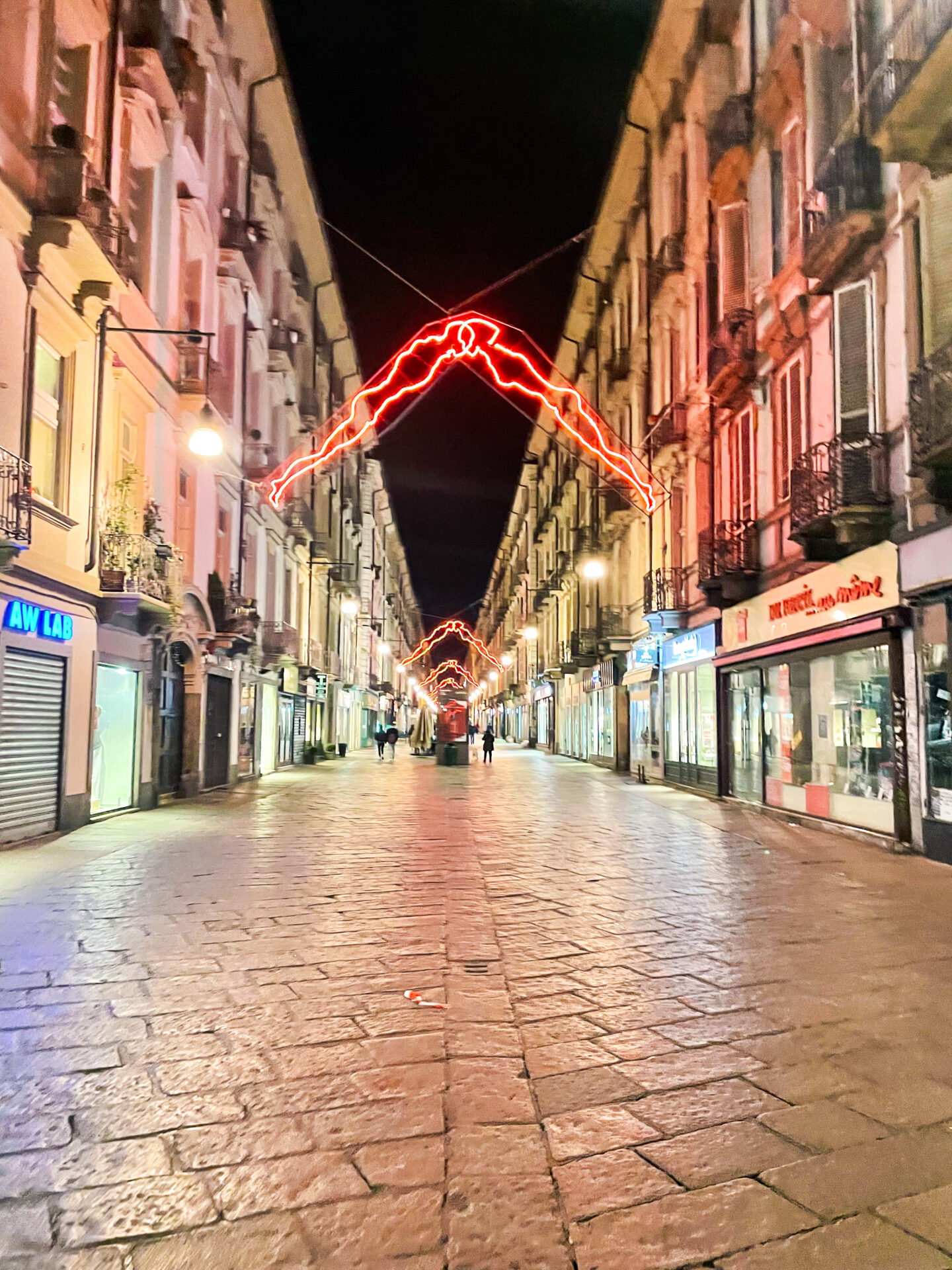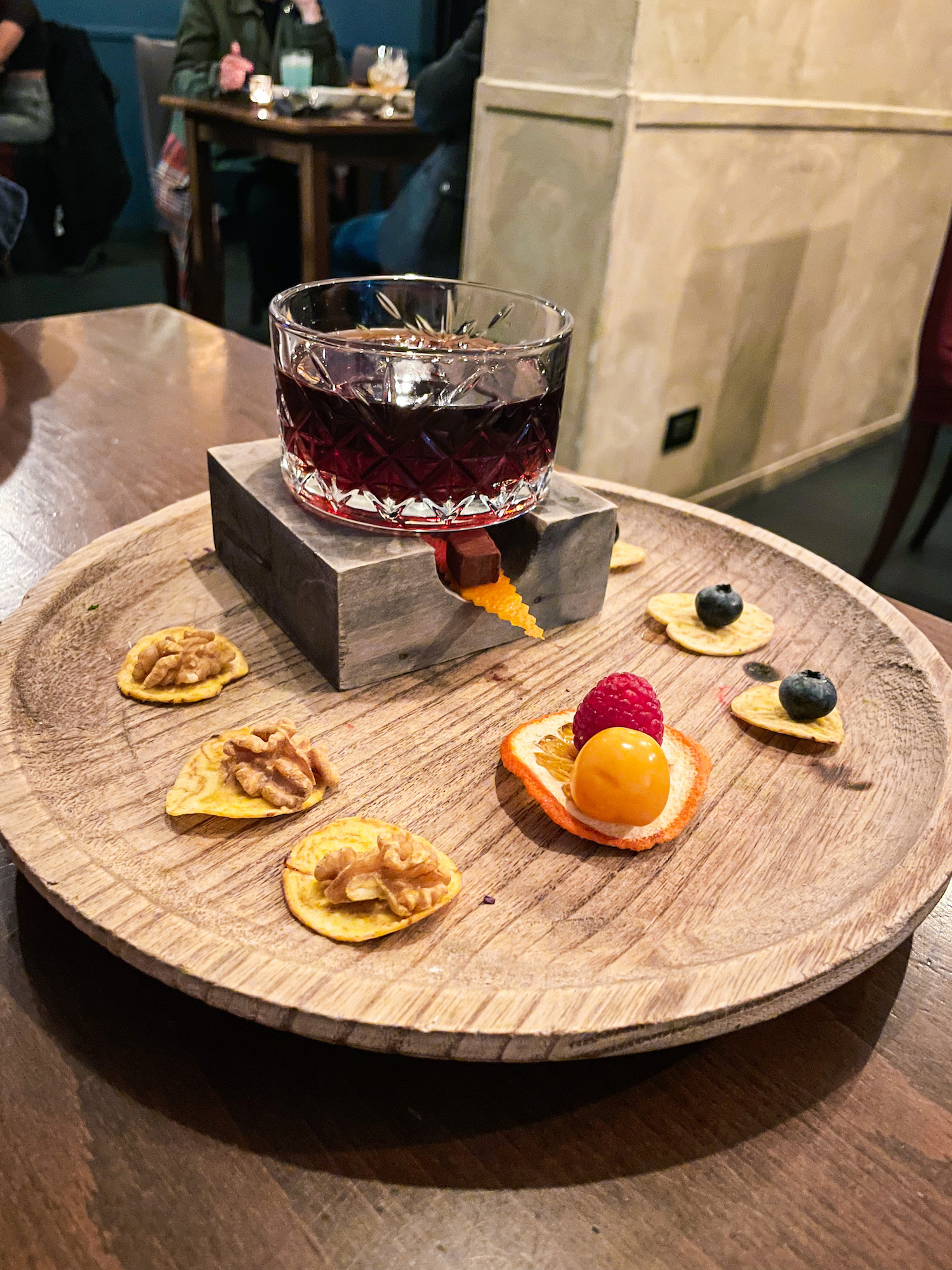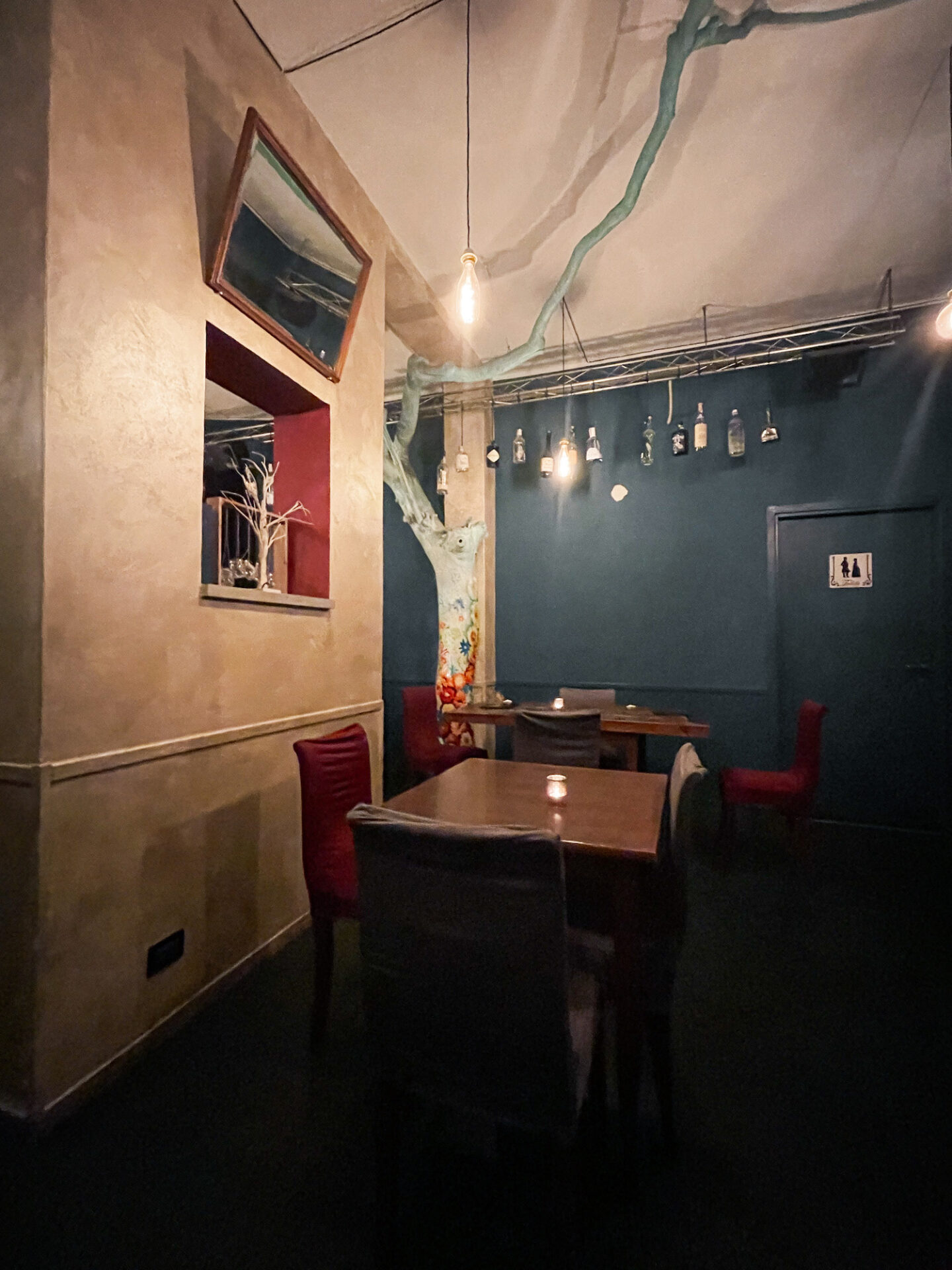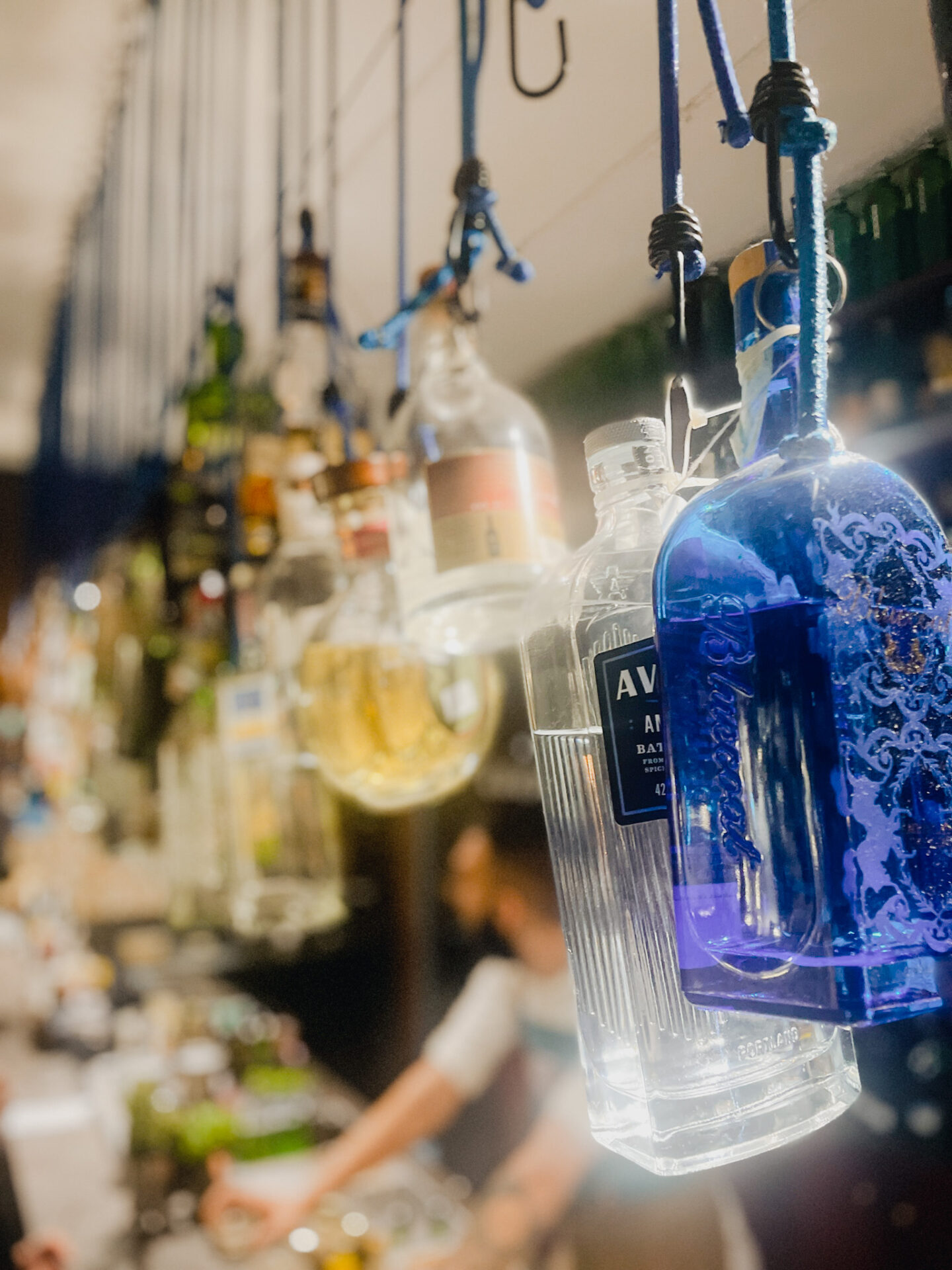 In terms of places to drink we found great cocktails at The Smile Tree, where we also had a vermouth pairing which was really interesting. Staff were really great on service too. Opens 'til 1am most days, 2am on weekends.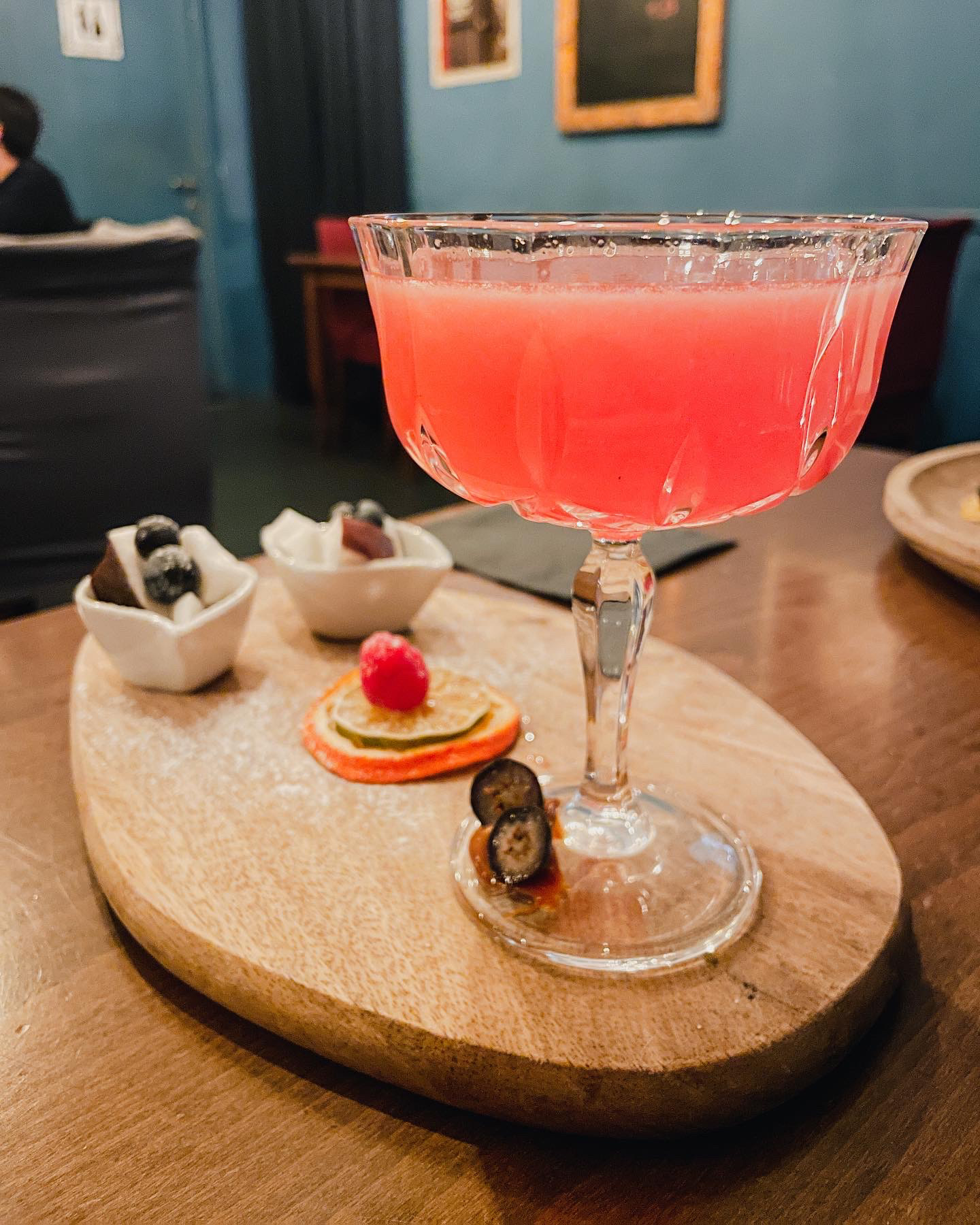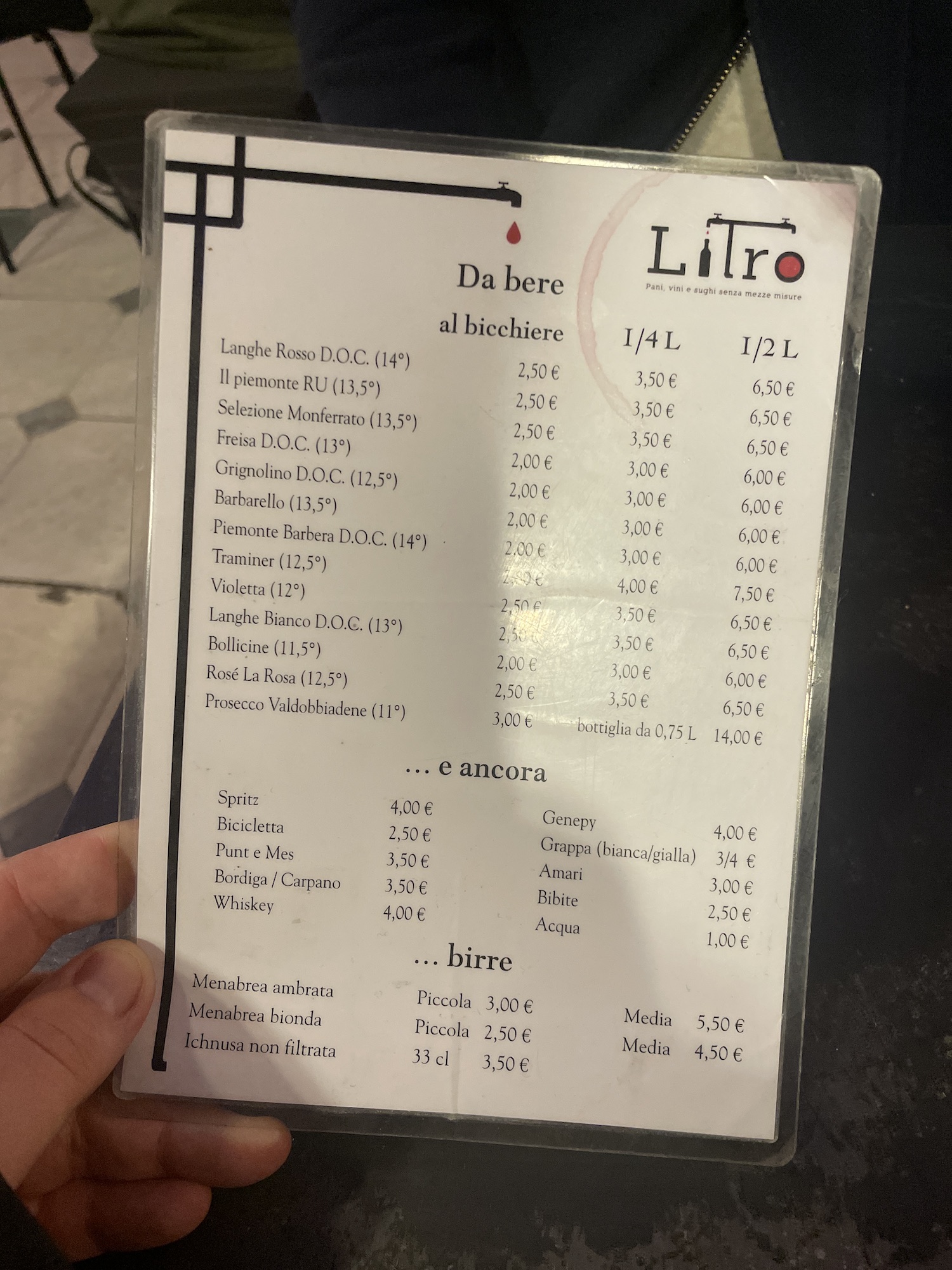 We stumbled upon Litro Galleria too as it was close to our hotel and it's a great little affordable bar set within the Galleria Umberto. We went for carafes of local wine on tap but there's also beers and cocktails too. Open 'til 11pm most days. A cool natural wine spot is Botz. The square around Giardino Bottero had lots of little bars and terraces to enjoy drinks, we found ourselves at FAB Coffee Lounge and Bar once or twice, too. Likewise the area around Piazza Vittorio Veneto is a great, central spot to base yourself at if you want terrace-side tipples.
We're back in Turin for the whole week of Eurovision Song Contest's live shows in May 2022, so we'll keep adding to this guide as-we-go and will elaborate on more suggestions as we have time, but you'll also find all of these recommendations and so much more pinpointed on our map below! Check out our Instagram Highlight too.
If you found this useful, you can buy us a coffee!