Come for the Guinness and the gab; stay for the unbelievable grub in Dublin. You have two chances to blow brunch right outta the water every single weekend – use them wisely. Here are the must-order dishes from where we believe are the top spots for brunch in Dublin city.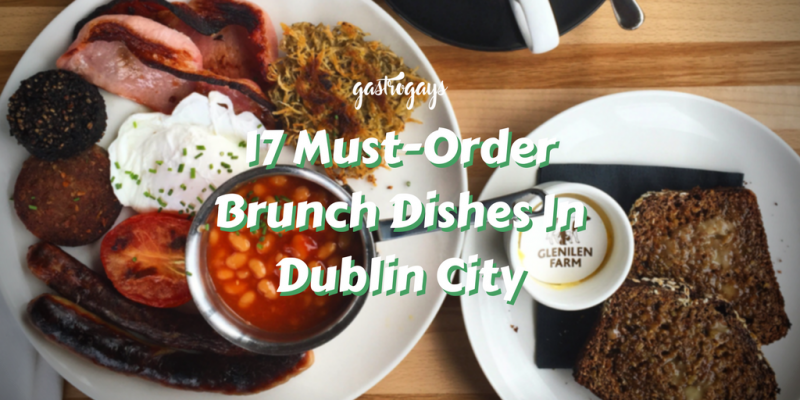 1. Ricotta Hotcakes at

Two Boys Brew

(€11.50)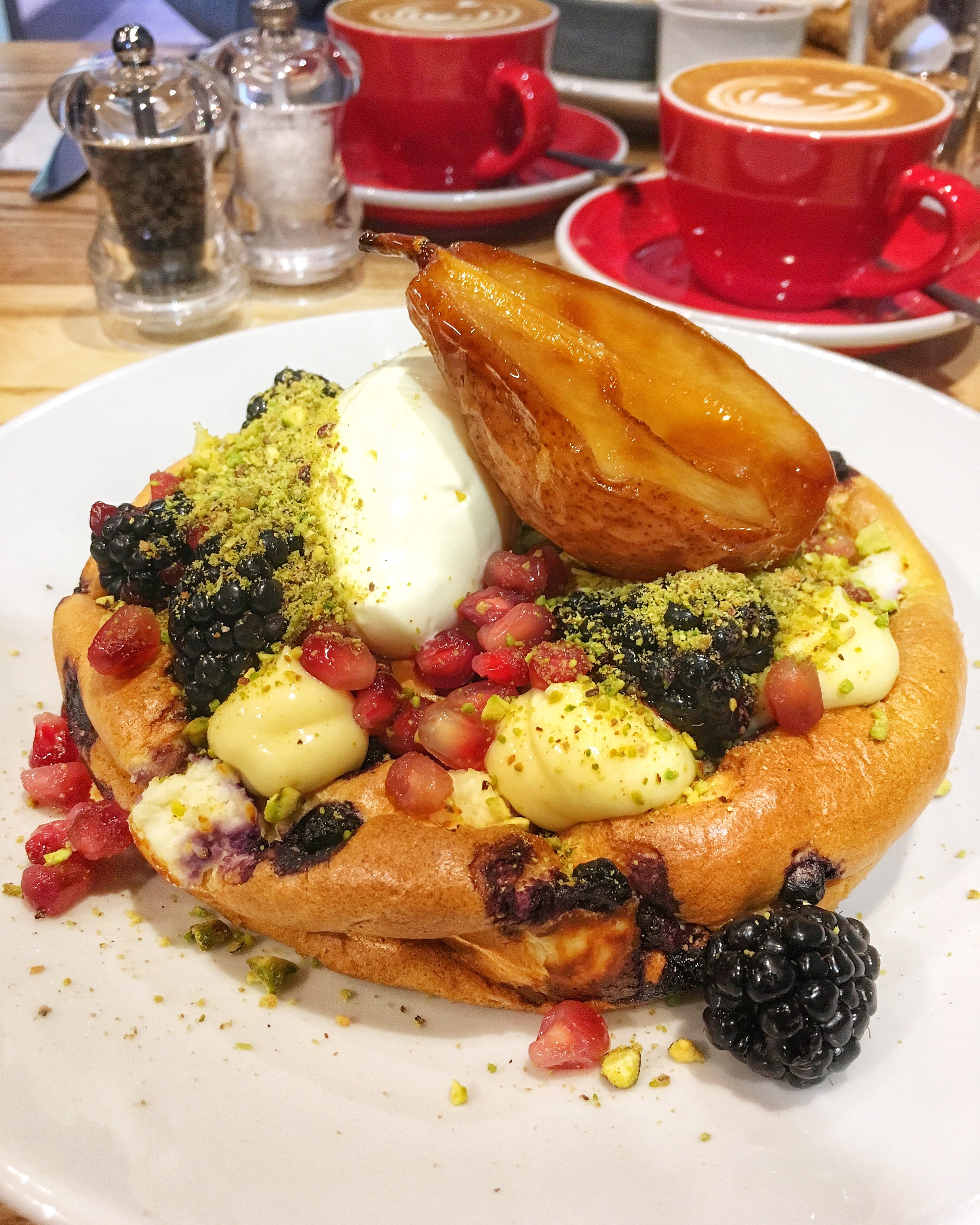 This stellar little dish is served daily at perfect Phibsboro cafe Two Boys Brew, run by our friends Taurean and Kevin – who also hail from our hometown! Having cut their teeth in London and Melbourne, the two returned to open one of Dublin's best *ever* cafes and the brunch spot the city has been truly pining for.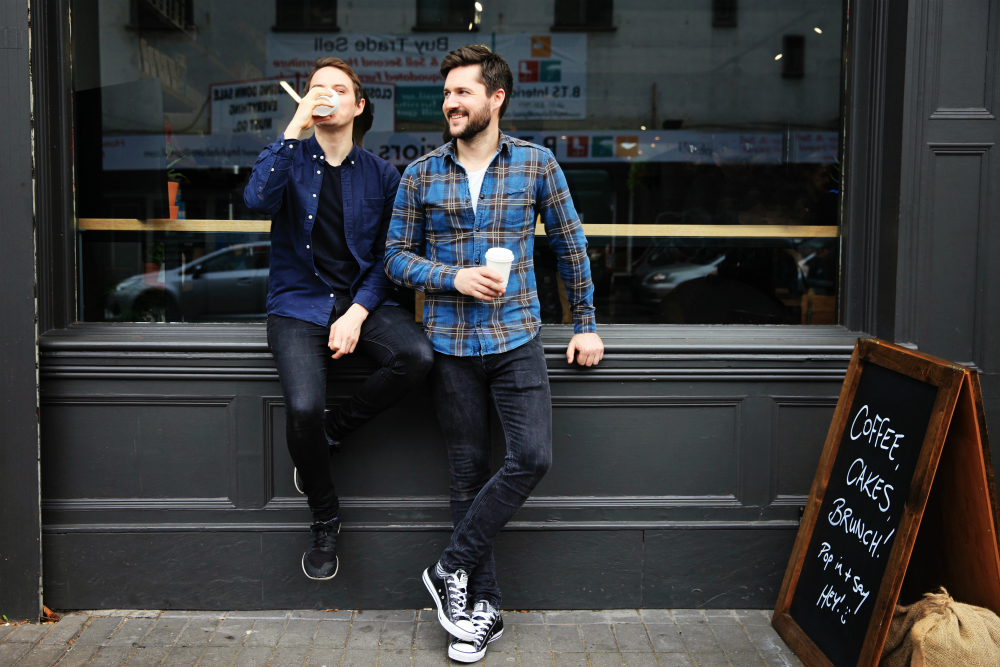 Exceptional coffee constantly on the go, 'Melbin' brunch cafe vibes and a menu that's short, to the point and delivers with every dish. Their hot cakes are the most iconic – and probably most-Instagrammed dish – that they serve and it comes topped with fresh berries, roasted apple, vanilla cream, sweet dukkah and oat crumble.
2. Green Eggs & Ham at 3FE (€12)
3FE is known for its coffee credentials – arguably the team that truly brought third wave coffee to the city. Their brunch is absolutely stellar, with a short, weekly-changing menu punctuated by some classic staples, but offering lots of fresh, seasonal choice. On their most well-known dish, the classic Green Eggs & Ham, they use Whole Hoggs gammon, which is a great pork producer from our part of Ireland – the might Boyne Valley – and serve it on Guinness bread with spinach, poached egg and herby créme fraîche. Naturally it needs to be washed down with one of their exceptional coffees. Get here early (they open 9am on weekends) 'cause tables get snapped up every Saturday and Sunday super fast!
3. Fumbally Eggs at The Fumbally (€6.50 + €2)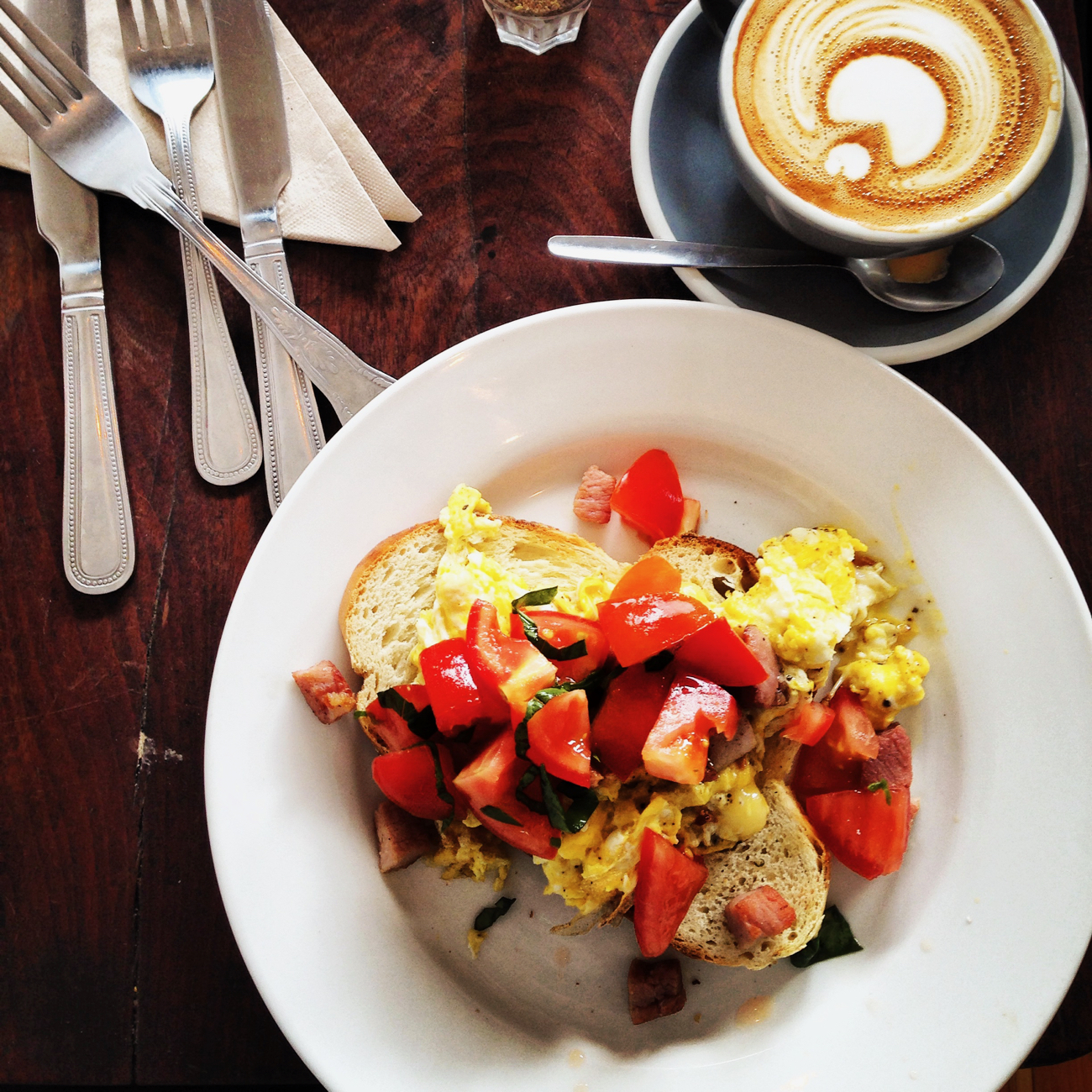 A stone's throw from St. Patrick's Cathedral in hipster-filled Dublin 8, The Fumbally is all about fresh, simple, healthy and inspiring dishes served alongside exceptional coffee. A small, well-formed menu includes all-day breakfast options like lightly scrambled olive oil eggs on sourdough with Gubbeen cheese and tomatoes. It's a plate of sheer and simplistic beauty, especially with an additional serving of Gubbeen hot smoked ham. Served Tuesday – Friday from 8am and Saturday from 11am. Fumbally also do a MEAN avo toast, by the way.
4. The Brunch Fish Board at The Winding Stair (€13.95)
Sea food. Eat it. Wrap your net around this clever catch of smoked fish – from Burren Smokehouse, Terry Butterly and Stephen Kavanagh – at The Winding Stair. Served Saturday and Sundays 12pm 'til 4pm, it includes homemade Dillisk (seaweed) bread, crème fraîche, pickled cucumbers and caper-berries. Healthy and very, very Irish located just a stone's throw from the Ha'penny Bridge – the symbol of Dublin straddling its murky water, the River Liffey.
5. Double Baked Egg Skillet at Hatch & Sons (€9.50)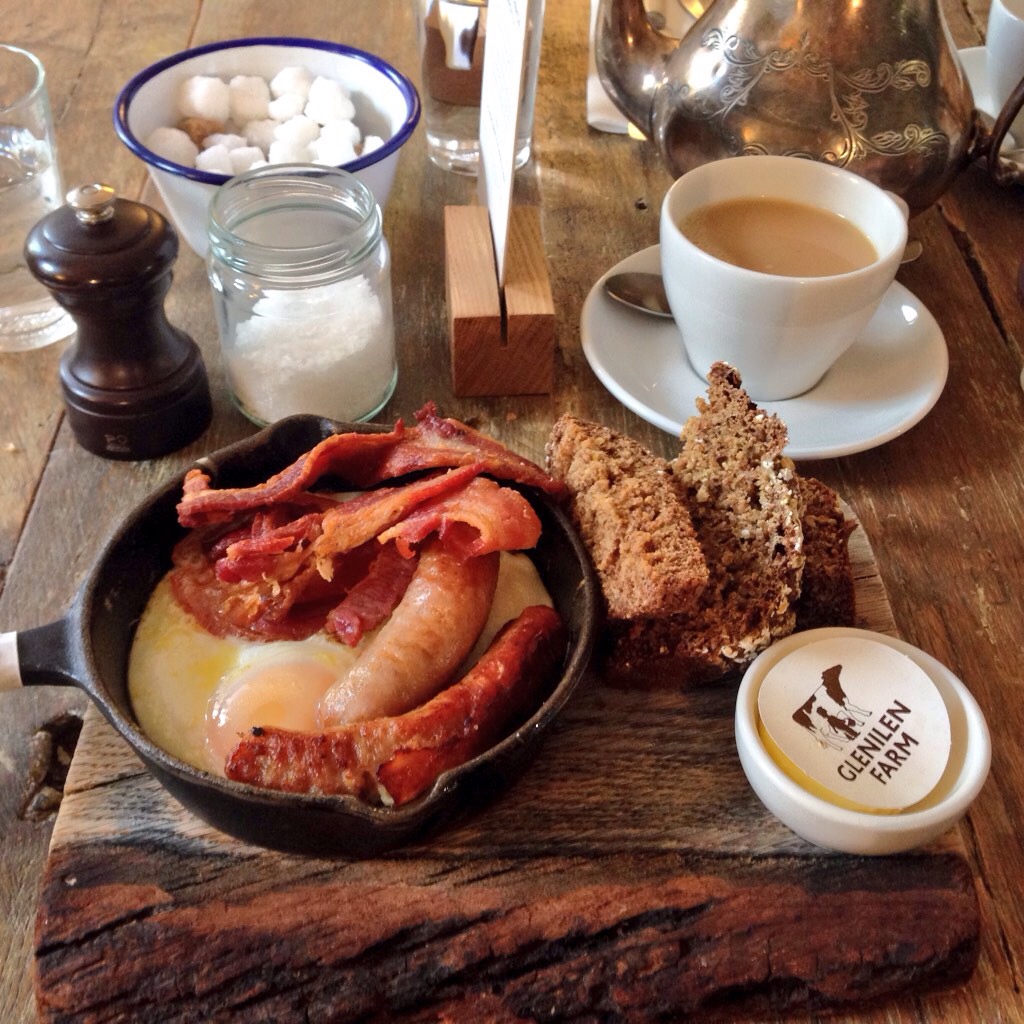 This is the stuff Irish Mammies would be proud to see their sprogs eat in the big city. Hatch & Sons under the Little Museum of Dublin just across from St. Stephen's Green has a real breakfast winner, and it's under a tenner! A duo of baked eggs, crispy bacon, sausage and roast tomato alongside brown soda bread and Glenilen Farm butter. Heaven!
Naturally, this has to be served with lashings of Barry's Tea in a vintage teapot, too. Hatch & Sons has also opened a second branch in the lavish surrounds of the Hugh Lane Gallery on the Northside of the city, too. So you've double the excuse to try this dish – which is available all-day long.
Their blaas are also legendary, available all day and as Irish as they come!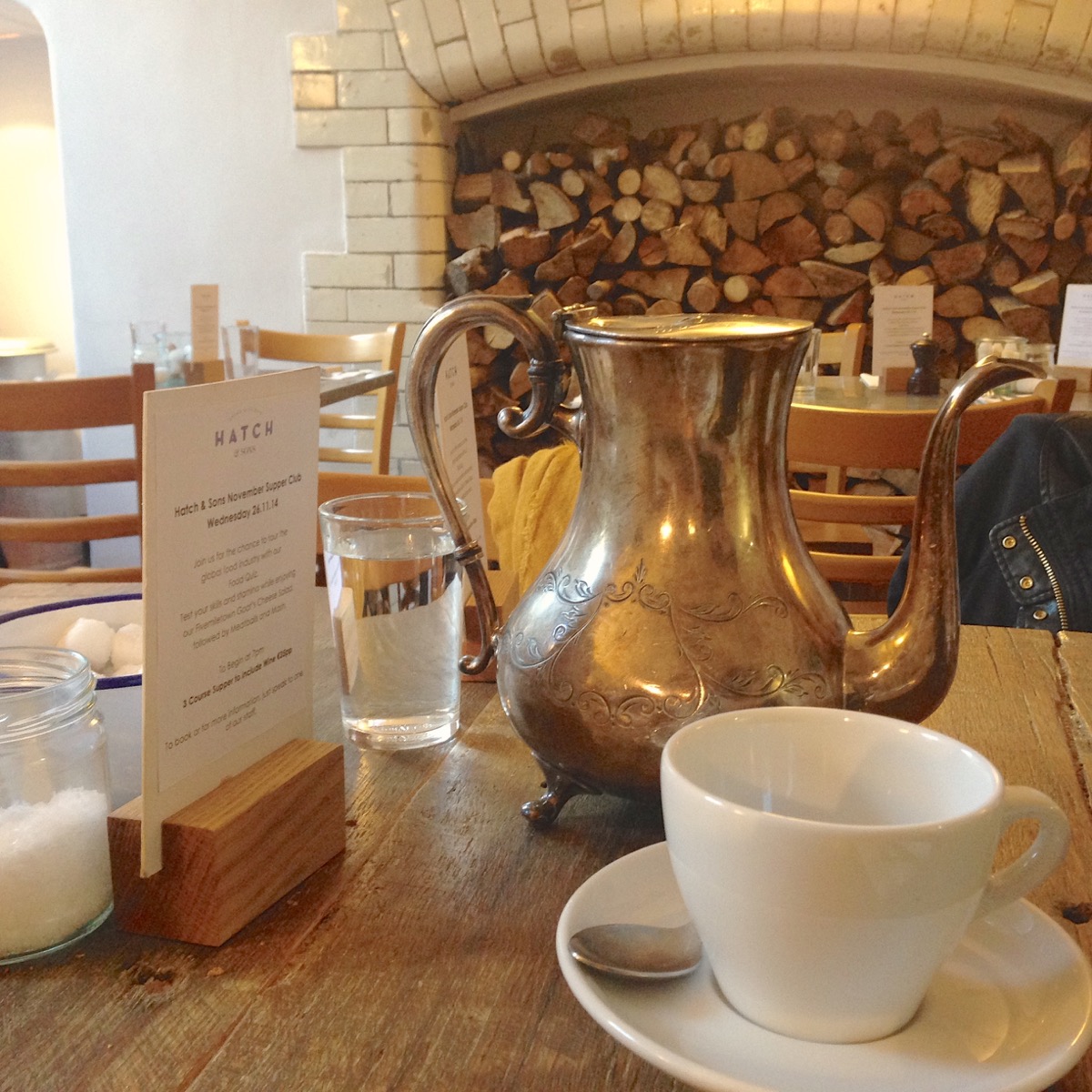 6. Turkish Eggs Menemen at Brother Hubbard (€10.50)
Available at both Brother Hubbard on Capel Street and on Harrington Street, this is perfect for when you want a right kick up the arse to start the weekend. Spicy, creamy, herby and savoury, this take on a Turkish classic includes scrambled eggs, roasted pepper, tomato, red onion salsa, chilli, whipped feta, yoghurt and Kalamata olives with a refreshing smack of freshly-cut herbs, all on top of toasted 'Georgian Bread' with spinach.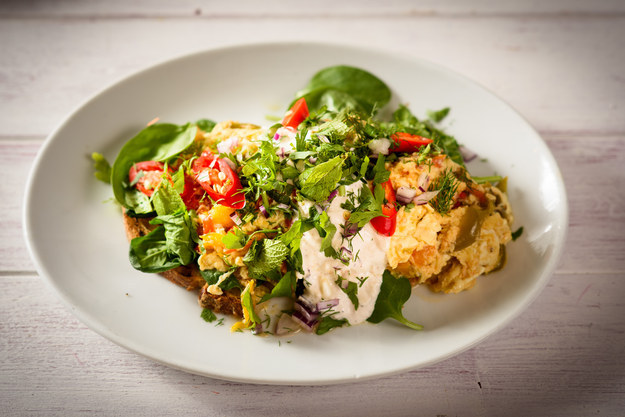 Make it even better with a serving of pulled pork, pan-fried chorizo or smoked salmon for about €3 more!
https://www.instagram.com/p/BEOAnftl2C5/
Just off Camden Street, this cafe has been making waves among the foodies and brunch aficionados of the city in the year or two since it opened.
Their Eggs + Greens comprises two poached eggs on a slice of rustic loaf with McNally kale, parsley, garlic yoghurt and paprika oil – a proper upgrade from hard boiled eggs & spinach that's for sure! Add on a dreamy serving of either Gubbeen chorizo or Kanturk black pudding for €2.50, go on!
8. Breakfast Pie(s) at Love Supreme (€5-ish)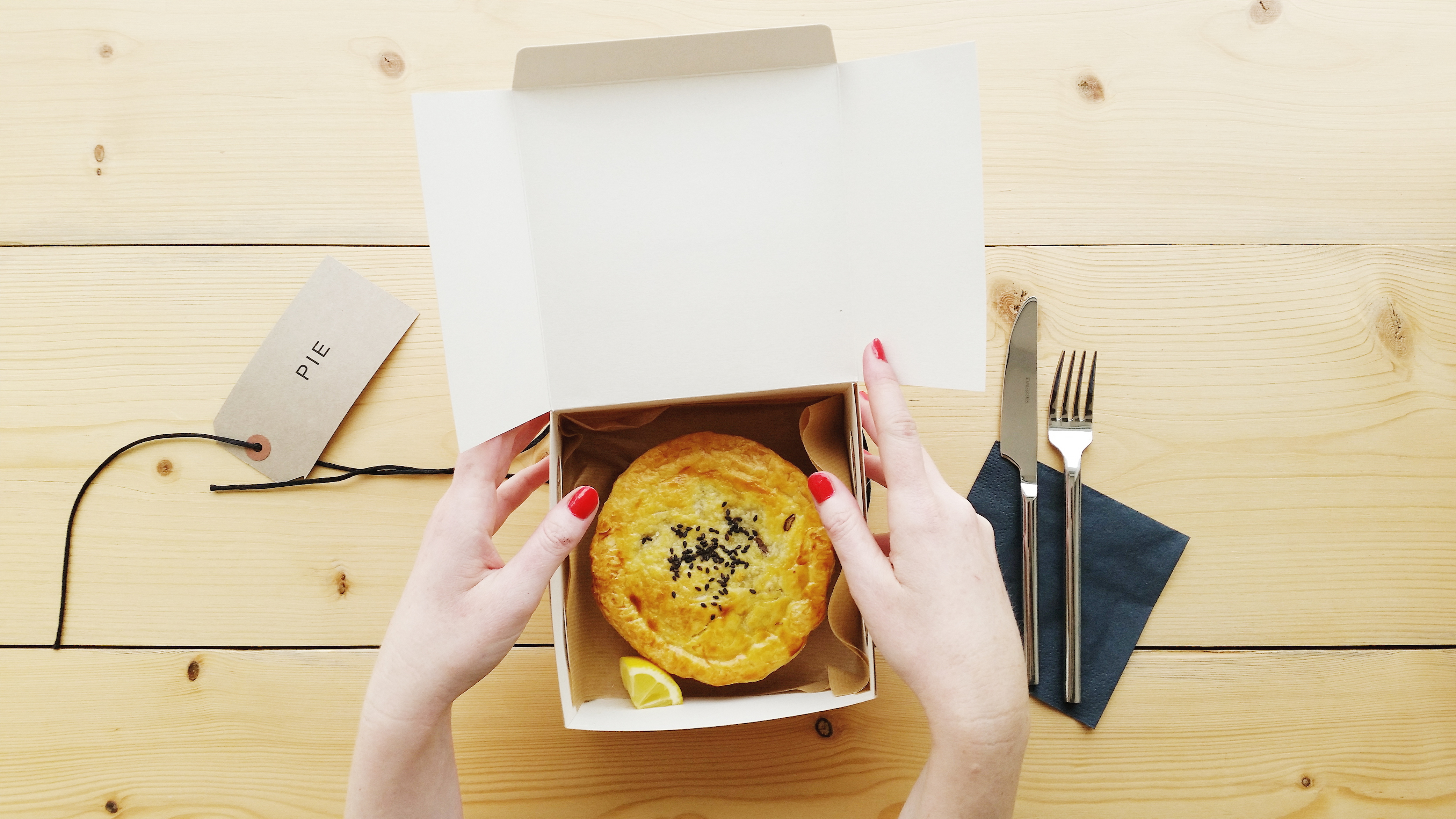 Get your sleepy ass to Manor Street in Stoneybatter for an entire breakfast inside a personal-sized pie. Not even joking. There's usually a selection of about 3 flavours, all made fresh each morning in their micro bakery. Act fast, though, cause when they're gone, they're gone.
Open weekdays from 9am, weekends from 10am, it's a bit of a squeeze here, counter seating as standard, but so worth it! Their coffee is also stellar, coming from Koppi roasters in Helsingborg, Sweden.
9. Acai/Smoothie Bowl at Eathos (€8.50/€9.50)
For a healthier take on brunch, head over to Baggot Street for a designer brunch that's healthy, gorgeous and wholesome all at the same time. Run by Lisa Murrin and her team, Eathos is all style AND all substance, with a menu that takes trends and makes them long-lasting. Overnight oats, organic porridge and buckwheat pancakes are their bread and butter but the menu is also appointed with the likes of bunny chow, avocado smash and their signature acai and smoothie bowls. A pretty picture in one compact little bowl, full of goodness, these are so hard to resist.
10. Coco Pops French Toast at San Lorenzos (€13.95)
They call it the 'Brunch of Champions' and where else have you seen Coco Pops-coated French toast? This beastly beauty is served with caramelised banana, peanut butter, mascarpone whipped cream and Belgian chocolate sauce. It flies out the door so that's testament to how good it is! If you like your brunch boozy, loud and absolutely banging, head to San Lorenzo's on George's Street, every weekend from 10am.
11. Bacon & Roast Pear Sandwich at the Pepperpot Cafe (€6.50)
If there is a sandwich that is making everyone in Dublin crazy, it is THIS. The Pepperpot Cafe is set in the stunning surrounds of the Powerscourt Townhouse, a Dublin destination in itself, and this self-sufficient cafe makes and bakes everything from scratch! The first time we tried it, we were sold one mouthful in. It just works SO well!
Roast pear, excellent quality bacon and Mount Callan bacon is like music to our ears, served on fluffy, filling, homemade white bread. Dreamy! Try it with one of the lemonades they have on offer! The Pepperpot Cafe opens Saturdays from 9am and Sundays from midday.
12. Morcilla & 'Nduja Hash at l'Gueuleton (€13.50)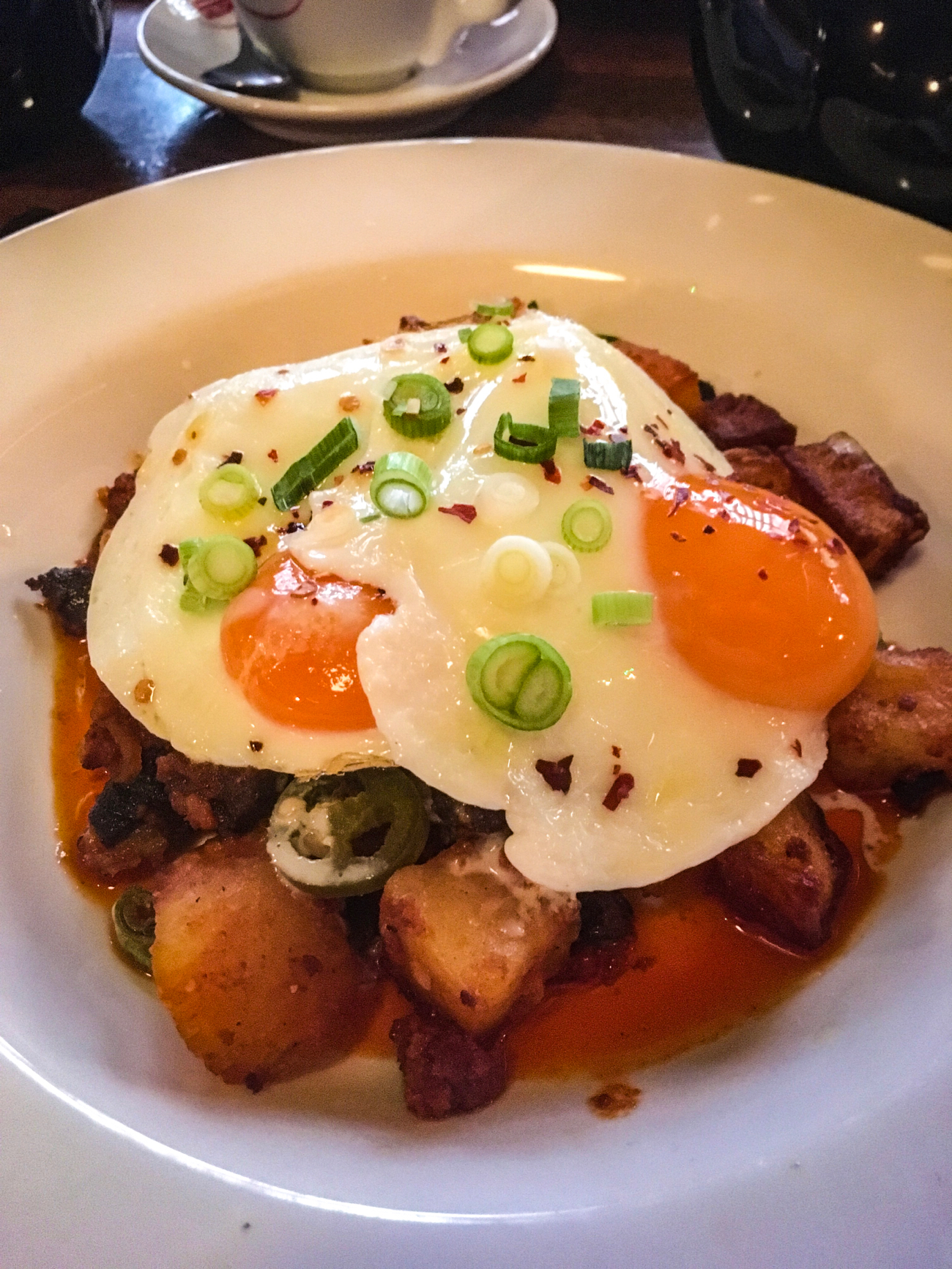 A fiery start to the day, l'Gueleton on Fade Street is known for its indulgent dishes and twists on French classics. At brunch, every weekend from they've got steak and eggs and burgers to crêpes and creme caramel. But we think the dish that really stands out is their fried potato hash, particularly the fiery Mediterranean-inspired one with Italian 'Nduja, Spanish morcilla sausage, chilli friend eggs, jalapeños, spring onions and lime créme fraîche. The most expensive of their three 'hash' options (the others are €11.90 and €12.90), we think this is the one to order!
13. Black Pudding & Halloumi Salad at Wuff (€9.95)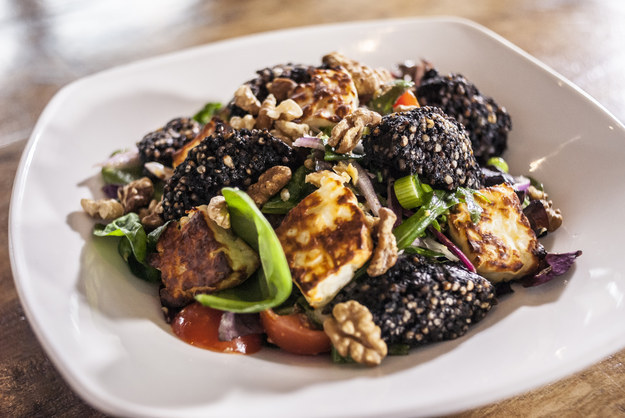 Black pudding is a contentious one. Some love it, some hate it. Some do 'ave em. Some don't. We absolutely adore it and jump at the chance to order it anywhere it's on a menu. Embrace it here at Wuff, where they use our chums Clonakilty's famous blood puding – served alongside salty, gorgeously griddled halloumi in a warm salad, lusciously dressed in honey and mustard. Wuff-ly! 
14. The Gubbeen Toastie at

Fia

, Rathgar (€7.50)
Praise be, Gubbeen! Adore this toastie at Fia in the south Dublin suburb of Rathgar. A hot Tartine sourdough squeezed within with Gubbeen smoked ham and Gubbeen cheese, slathered with caramelised onions and dressed with McNally's organic leaves. Incredible flavour and incredible value. The mushrooms on toast is also epic. This cute little cafe is a total knockout!
15. Baked Eggs at Slice (€8.90)
How Do You Like Your Eggs In The Morning? Some will say "not with smoked fish" and others will welcome this savoury revelation.
Baked eggs alone are enough of a worthy wake up call, especially served with dippy bread. Tailor yours with bacon, sausage or smoked mackerel at this sexy little slice of a cafe in Stoneybatter, serving all-day brunch on weekends 9am to 5pm!
16. Sharing Roast Chicken at ELY BAR & GRILL  (€25)
Wondering what to do tomorrow? Try out #Brunch @elybarCHQ #Dublin Whole roast chicken, eggy dishes, cracking coffee, Tarte Tatin pic.twitter.com/svRWYjGSeI

— ely restaurants (@elywinebars) November 3, 2017
A whole roast chicken might not be the first thing you think of when brunch pops into your head, but for those times where it's a little more lunchtime than mid-morning, brunch at ELY BAR & GRILL, Custom House Quay dictates ordering THIS dish. €25 for a gorgeously roasted chook with the trimmings served in Dublin's premier wine bar – what could be better? Their entire brunch menu is more lunch-style dishes than egg-based bites, so if that's your bag, ELY BAR & GRILL is your best bet!
17. The Works at Sophies (€13.95)
Sitting atop the designer Dublin hotel that is The Dean (full post, if you want to read more) you'd pay for the view at Sophie's alone! Perish the thought of sloppily-served fry-ups as this chic little number is daintily plated all pretty and perfect.
It's hard to make a fry-up look pretty, and Sophie's has done their best here. The freshly-made rosti is always a joy and everything on the menu is local Irish produce. Served daily 'til 11am and weekends 'til 3pm.