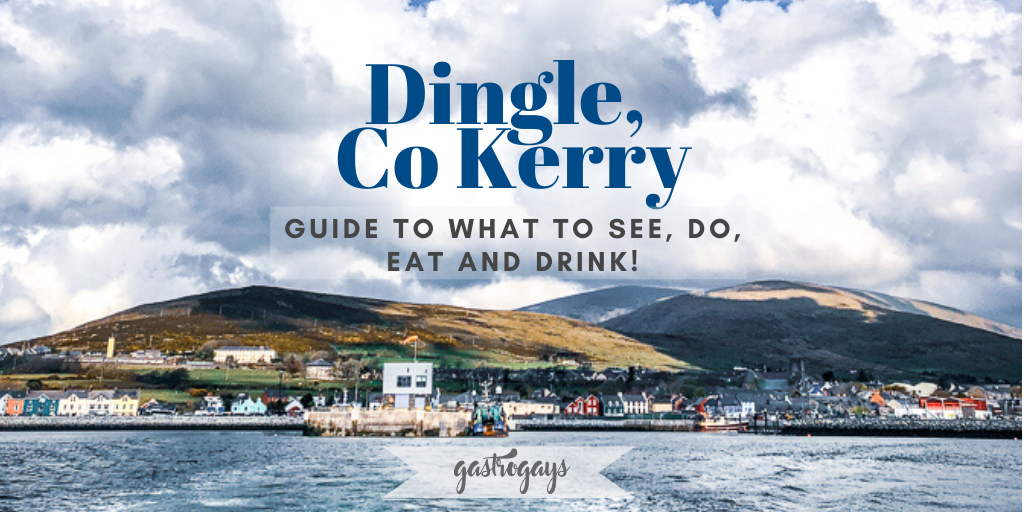 The old wartime song 'It's A Long Way To Tipperary' is null and void thanks to the joy of the M7 for folk like ourselves from the Pale. Instead, in 2019, maybe we should all harmonise on 'It's A Long Way to Dingle' –– as that definitely still stands. It remains a simple truth and sentiment shared by those who travel to this southwestern peninsula from any other corner of this island about how incredible the destination of Dingle is, whatever length or method of travel it dictates. We, too, dream of a motorway connecting us to this incredible, quirky, cosy little cove of a place, but part of the joy and allure of experiencing Dingle is the long journey there.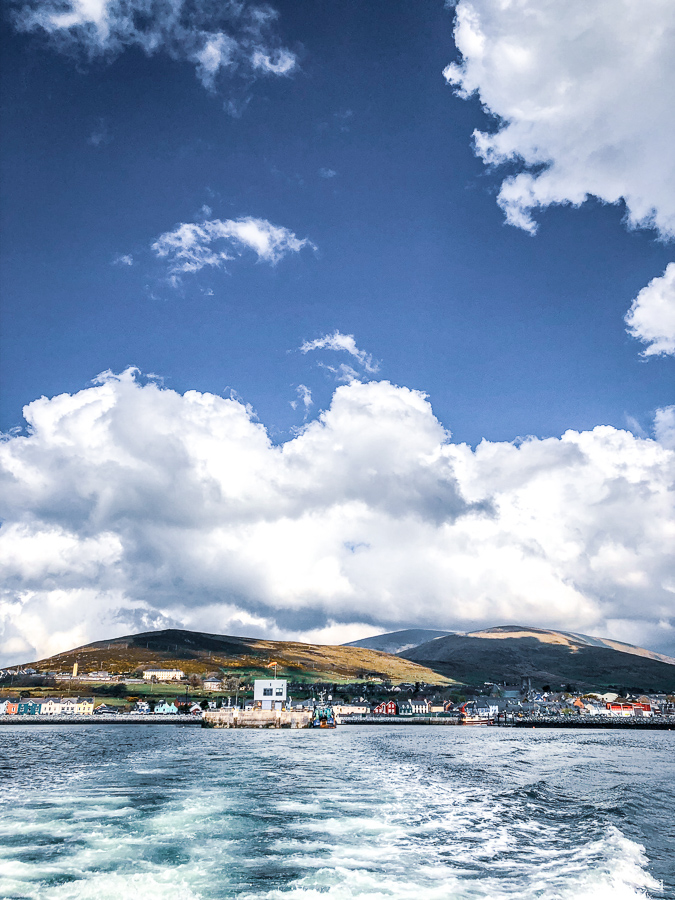 Passing bustling market towns of Abbeyfeale and Newcastle West, zooming through Tralee and eschewing service stations for sleepy villages and picturesque coastline and rolling countryside. The Kingdom, the colloquial nickname for the county of Kerry, is a beast in space and size –– from Dingle you're over an hour away from any and all of the larger towns like Killarney, Kenmare and Tralee, so no matter what, Dingle is a pilgrimage. The beauty of the journey really blossoms once you cross over into the furthest reaches of Kerry's regal county and make your way to this corner set on a peninsula on one of the farthest western pockets of Ireland.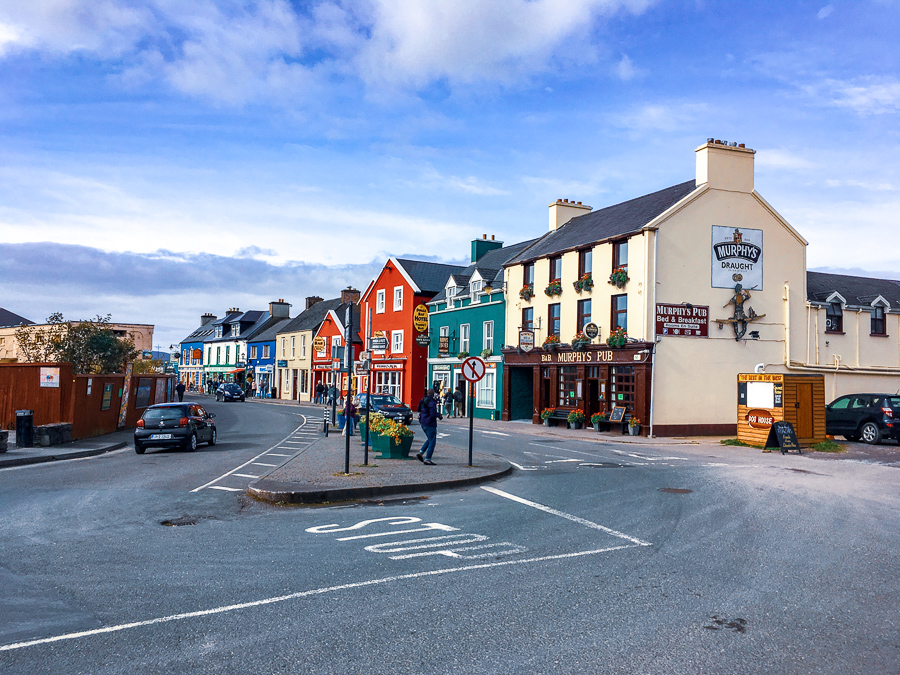 Motorways are wonderful, but we'd actually adore a sleeper train service to Dingle. Imagine chugging and crawling from the capital to the wilds of Kerry; going to sleep after dining and a nip of uisce beatha in the cart outside Dublin and waking up with the sun rising over the Slea Peninsula and sleepy Dingle coming to life for another day. Yet there isn't even a train line beyond Tralee, so that dream remains intangible, for now.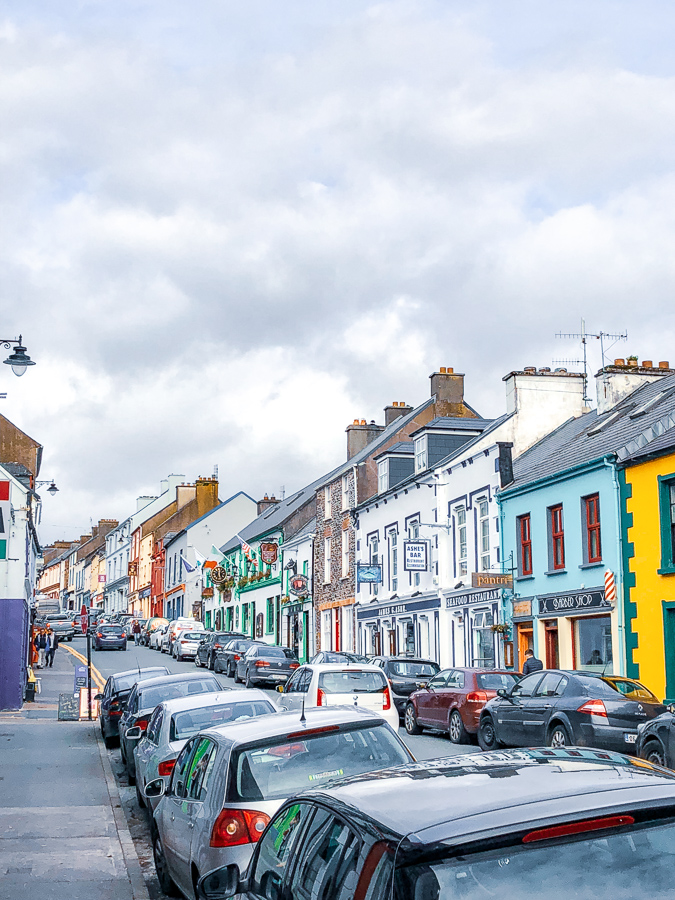 Dingle is a destination we find ourselves making the long journey to several times a year, not least because of its pretty picturesque sights and serene seaside location but because it's a well-heralded food and drink destination.
Every October, the Blas na hEireann awards judging and prize-giving rolls in, coinciding with the Dingle Food Festival. We're proud to have judged the last number of years of the former, therefore enabling us to experience the latter and both are now an annual fixture on our calendar. Though we've visited at other times of the year with friends and family on various trips, that weekend annually in October is electric and sees the town thrive and truly emerge from the cocoon in celebration of one of the finest food festivals in all of Ireland. So, we know Dingle quite a bit and we're often asked where to eat and drink… so thanks for reading our little love letter to Dingle at the beginning, now here's the information you came for.
When you're by the sea, it should be mandatory to eat as much seafood as possible. Restaurants such as The Boat Yard as well as Out Of The Blue are highly commended locals, visitors and critics alike. We really liked Fentons too which has a classic menu mixing meat and seafood dishes in an eclectically-styled large townhouse location.
For us, nothing beats that seaside double act of fish and chips, and two places serve these exceptionally – Reel; and The Fish Box.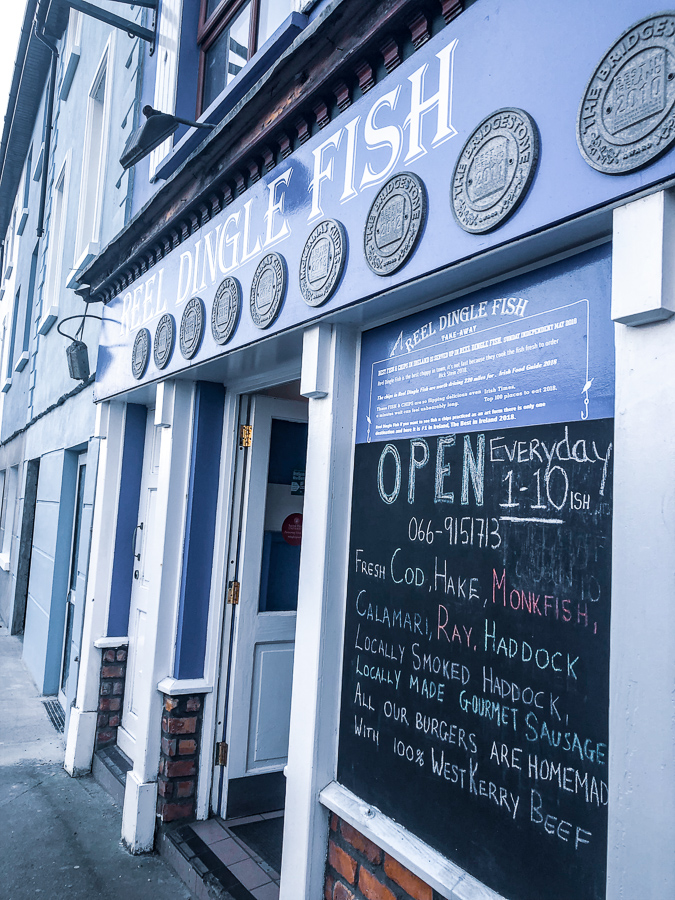 Reel is a long-established takeaway spot, set in the heart of the town by the SuperValu. A bit blink-and-you'll-miss-it, Reel is a bit of a 'hatch' of a spot but what it lacks in size or seating it makes up for in flavour. Freshness is the forte here, as nothing is frozen and everything is prepared, battered and fried to order. Prices are naturally a little touch higher than your local chipper, and as it's cooking-to-order you'll wait a while, but it's worth it for the flavour and freshness.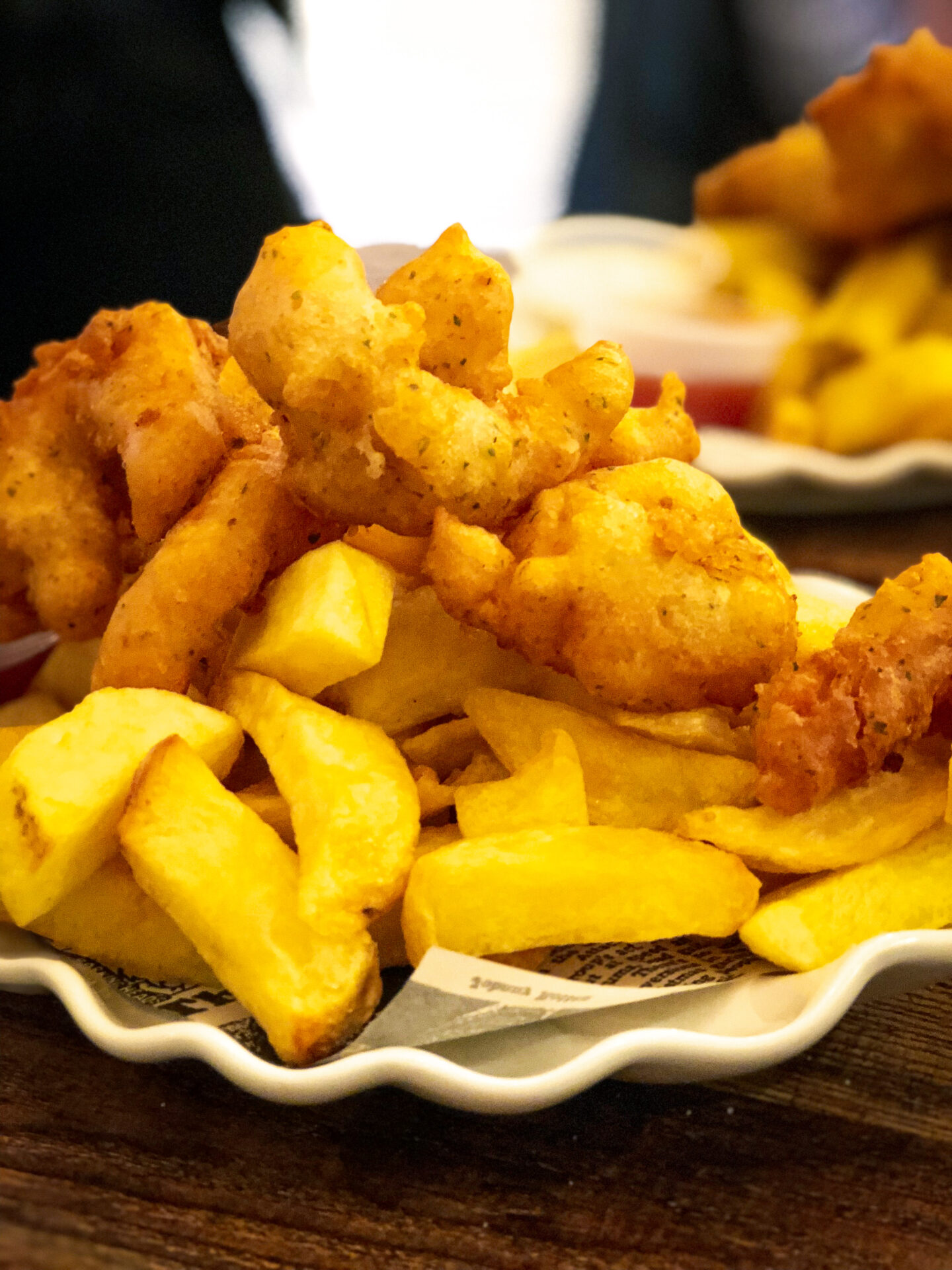 New kid on the block is The Fish Box, run by the Flannery family who opened in late 2018 and have been lauded with praise and business ever since. The third generation connected to the sea, having their own trawler Cú na Mara means that they have control over what comes in and how frequently it does, so what's caught lands on the menu quite literally as it reaches land.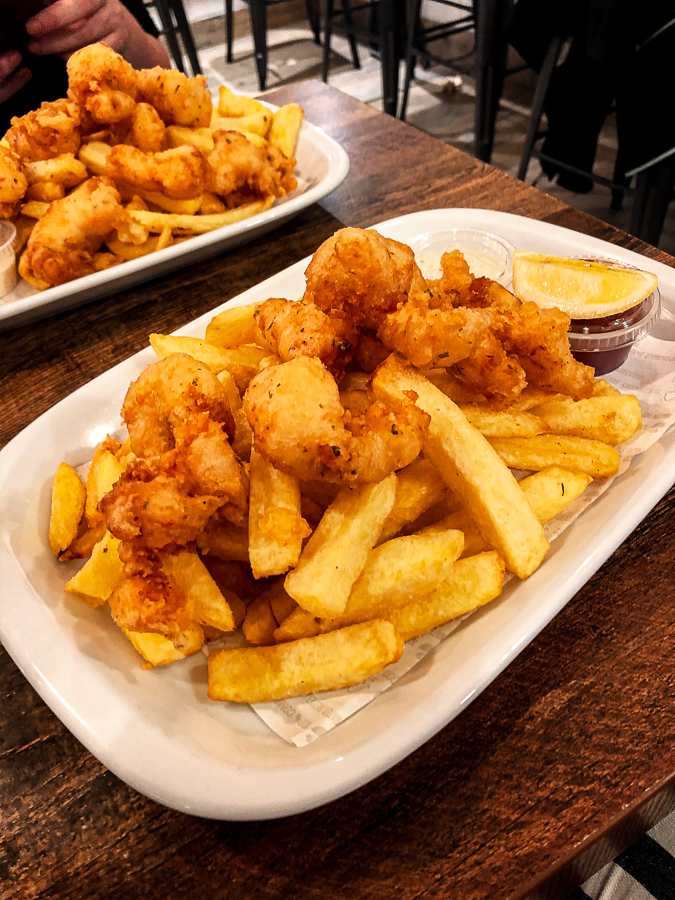 They operate sustainably, so what comes in is sold and when it's gone it's gone, so always consult the daily-changing menu at the restaurant. It's both a sit-in and take-away and there's about 30 seats so you can sit and enjoy a drink and some snacks whilst you wait for your choice to cook fresh in the open kitchen.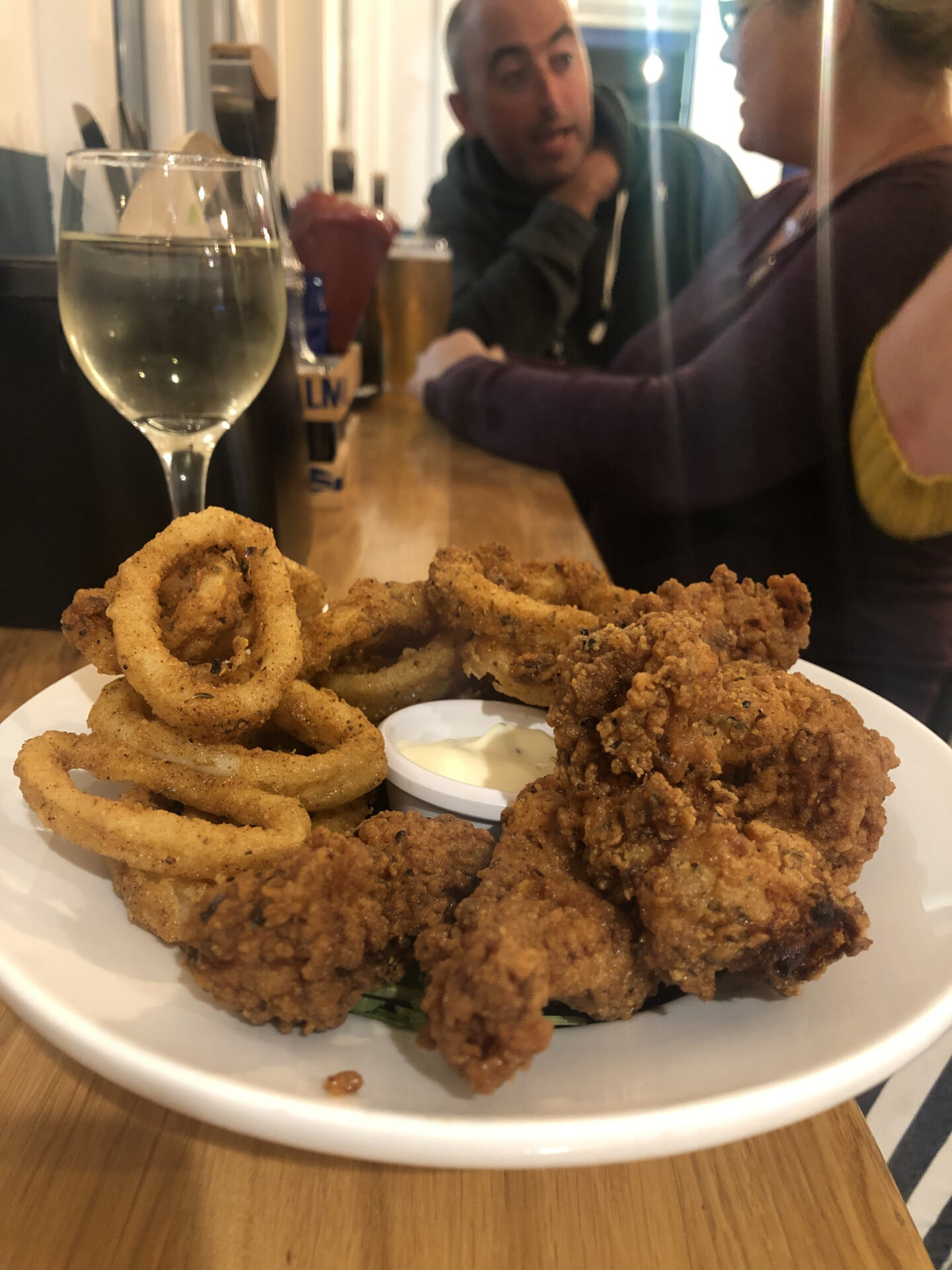 The Flannerys are wonderfully warm and fabulous hosts, plus skilled when it comes to the kitchen and everything on the menu here sings with freshness and flavour. Dad fishes, Mam Deirdre is the chef, and Patrick and Micheál run the restaurant with their sister Eimear.
If deep fried food isn't your thing, there are a number of salads, wraps and healthier/lighter dishes. But if the tempura prawns are on the menu and available, do yourself a favour and order them – the sweetest and most flavoursome prawns we've had in some time.
Dingle by way of Spain and bringing the sunshine and warmth in both food and name, Solas – the Irish word for 'light' – is another great spot to book for a meal in Dingle. A small tapas restaurant on Strand Street with big, bold flavours, chef Nicky Foley's menu comes from one of the tiniest kitchens we've ever seen and features staples such as croquetas (we've been informed there occasionally is a seafood chowder croquetta from time to time) and octopus carpaccio to meatier dishes of succulent pork belly and sirloin steak cooked to perfection.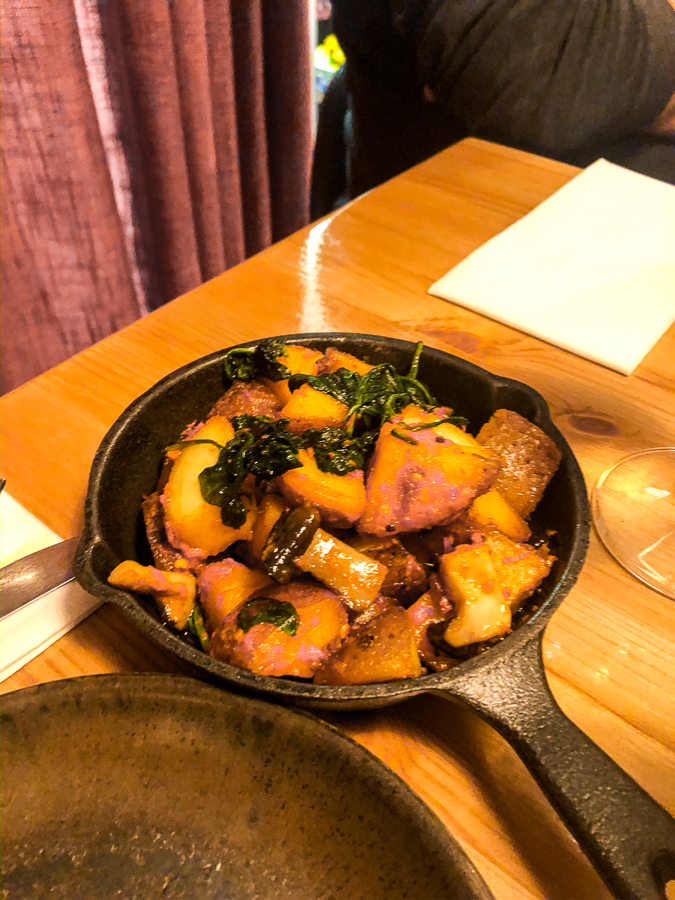 Probably one of the hottest tables in town, it's easy to see why and a recent hefty feed we enjoyed in a group of six cost less than €200 with three bottles of fabulous wine, all the snacks and about ten small plates. Warm service, small tables and cosy corners, this is a must-try.
Land to Sea (+ More High-end Dining in Dingle)
Recently awarded with a coveted Michelin Guide Bid Gourmand just six months into operation, Land to Sea is run by husband and wife team Chef Julian and Katia Wyatt. He's English and she's French-Italian, and somehow they ended up in West Kerry. In early 2019 they opened their doors to their neighbourhood restaurant on Main Street serving a contemporary menu that's 'modern Irish' at its core, celebrating local produce in abundance.
A short early bird menu served daily from 5:30pm offers a fabulous calling card for their style of food at great prices (three courses €30), whilst a larger à la carte is served daily until 9:30pm and a six-course tasting menu of some of their signature dishes is €48. Booking is advised.
Three other fine(r) dining gems in Dingle are Global Village a couple of doors up on the same street with a sharp focus on fresh, local, Irish vegetables and seafood in particular with a wonderful value early bird and tasting menu option too. The Charthouse near the water on The Mall, which has been a family-run fixture in the town for just shy of two decades (opened 2000). Like its peer restaurants, local, seasonal and seafood feature heavily with classic techniques and modern skills championing Irish produce. Another new kid on the block is Random Restaurant on Dykegate Street, where head chef Mark O'Callaghan delivers an ever changing food experience based on local, seasonal, high quality produce – with a local's palate and local knowledge in mind, being a local himself. So you'll find local shellfish, fresh seafood and beef from his own family herd.
It's not all about restaurants – or indeed, fish and chips – in Dingle, though, there are some excellent more casual spots, perfect for a coffee break, for brunch or just a little snack while exploring the town.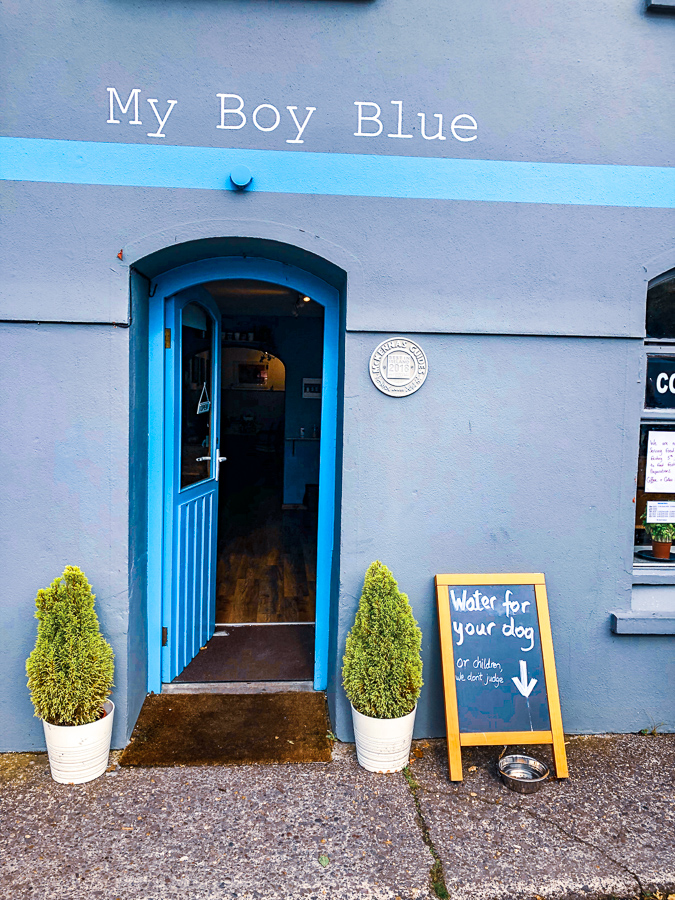 This cafe on the corner of Holyground screeched onto the scene in summer 2017 from couple Stephen Brennan and Amy O'Sullivan and has been hugely popular since – also a frequent haunt of ours when we're in town. Serving top quality 3FE coffee, and brunch dishes that wouldn't be out of place in any of the capital's most popular Sunday morning establishments, this is an all-day affair running from morning to mid-afternoon.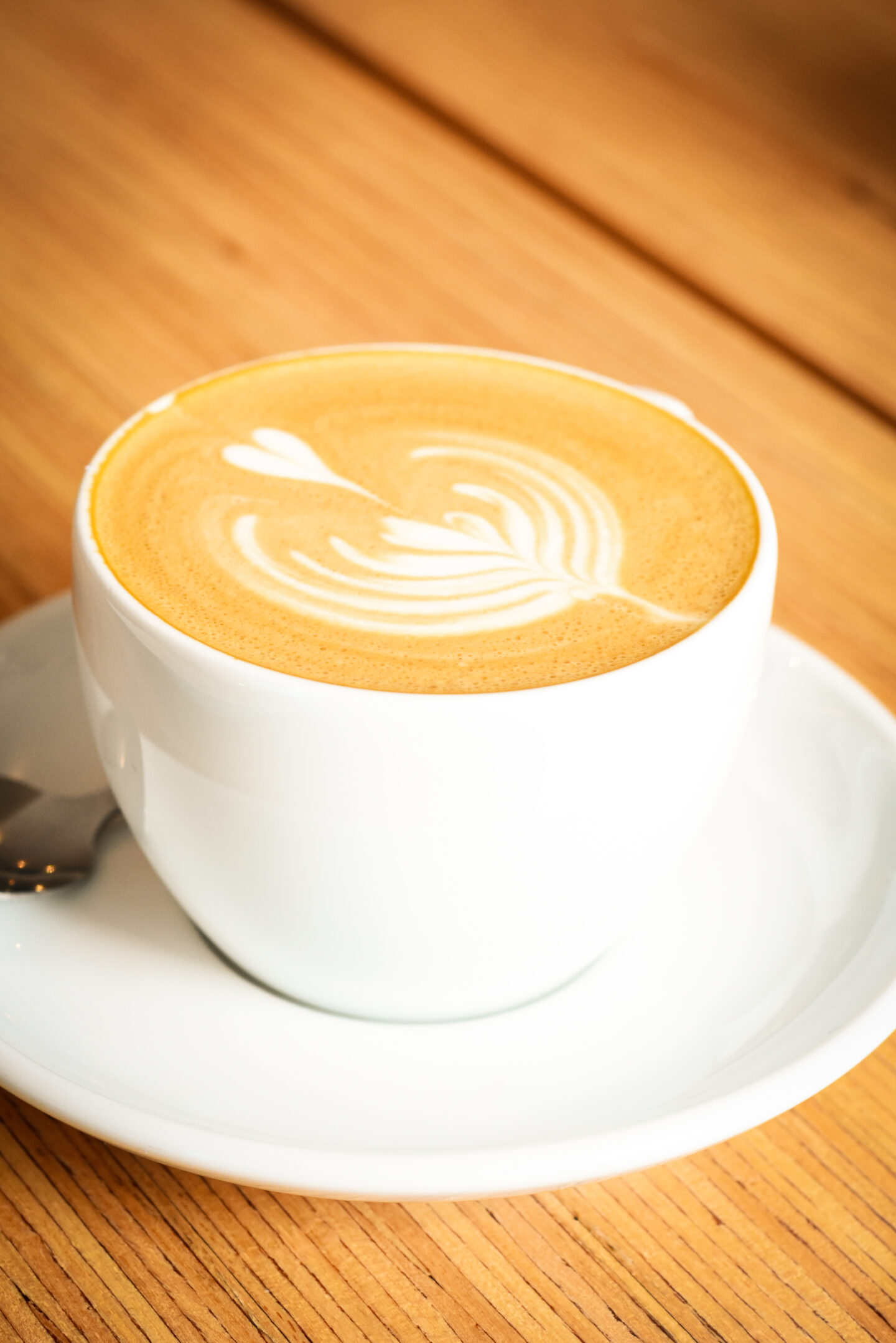 The freshly-made cakes and sweet treats are a must, but save them for after a bowl of soups or one of their baps, sandwiches or salads to keep you going throughout the day. If they have their ICONIC fish tacos on the menu when you drop in, you must order them –– that's non-negotiable.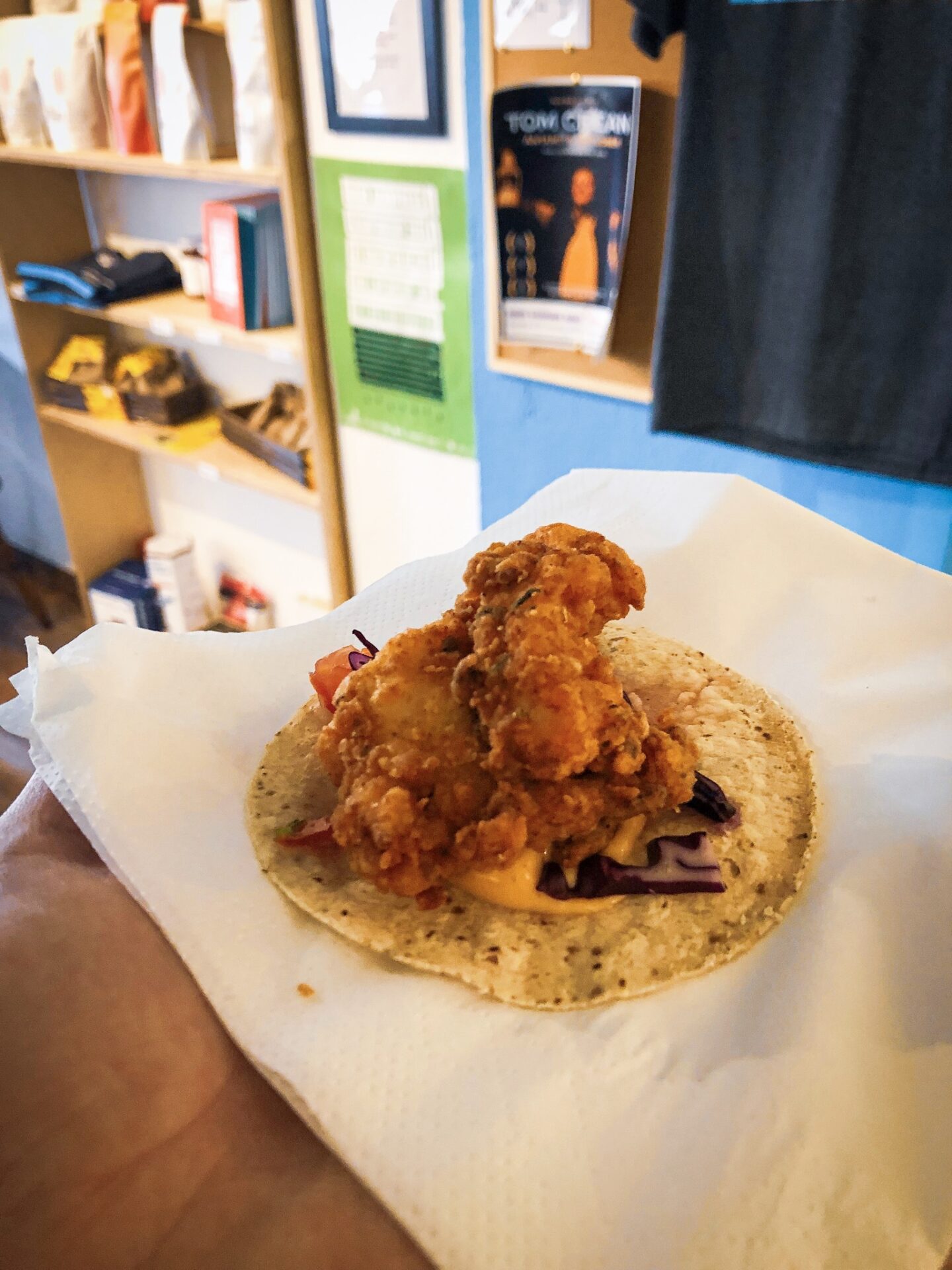 The interior is all soft and light and comforting with baby blue and pared back wooden touches in a minimal but functional and still cosy style. With a small, really friendly team – who we're unsure are actually aware of how good they are, this really feels like a beacon of a new, younger generation emerging in Dingle and evolving the culinary landscape in a fabulous way.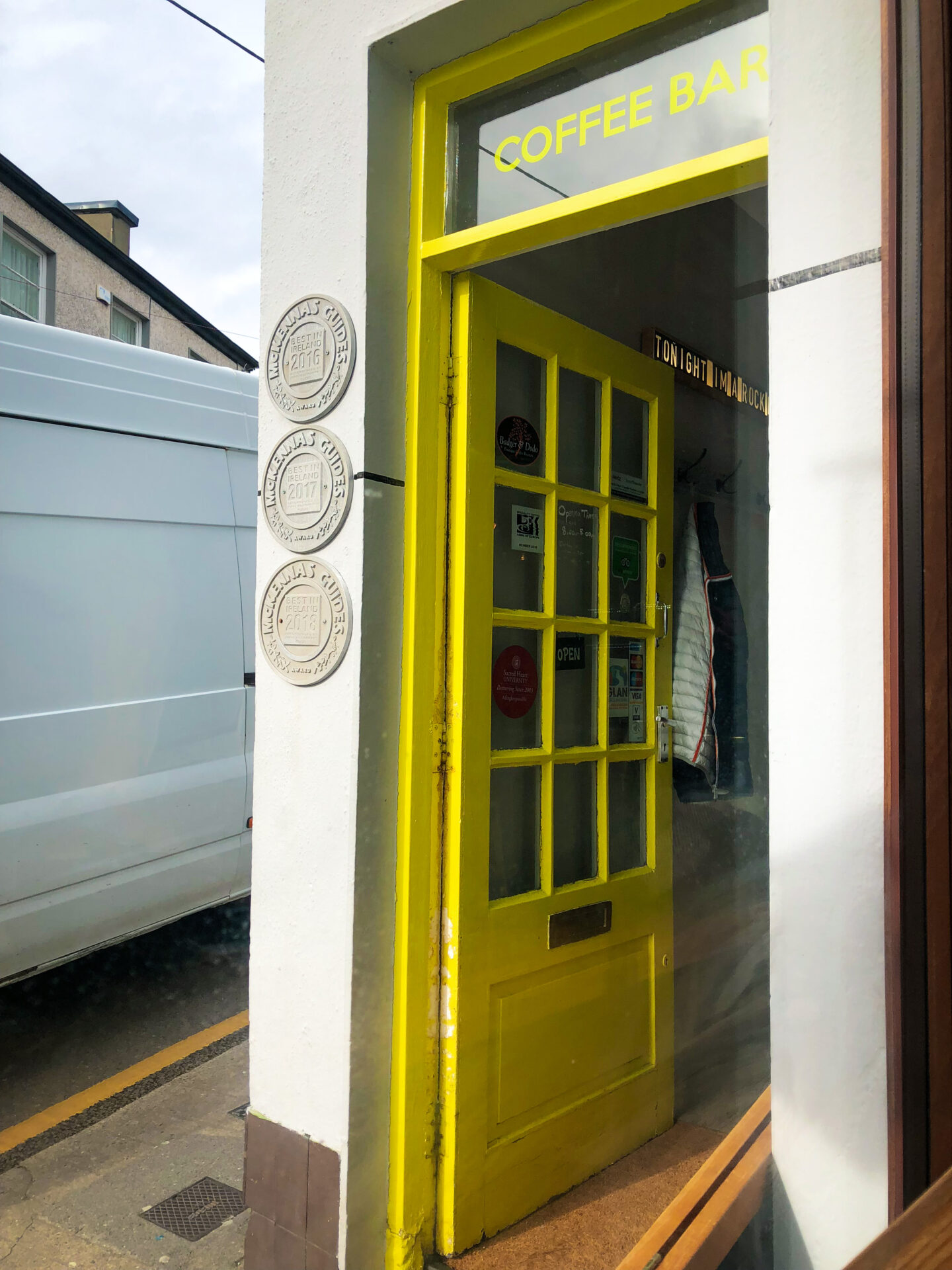 In that same breath, coffee is also the focus for nearby Bean In Dingle is a third-wave cafe, family-run, which has kept the town well caffeinated since 2015 on Green Street. In fact, when it opened, it was so popular on its first day they actually ran out of coffee. Fast forward to the present, and alongside snack-time staples such as local Annascaul sausage and white pudding rolls, they also roast their own coffee for retail is the most eye-catching yellow bags. A great spot for lunch or just lazy coffee grazing.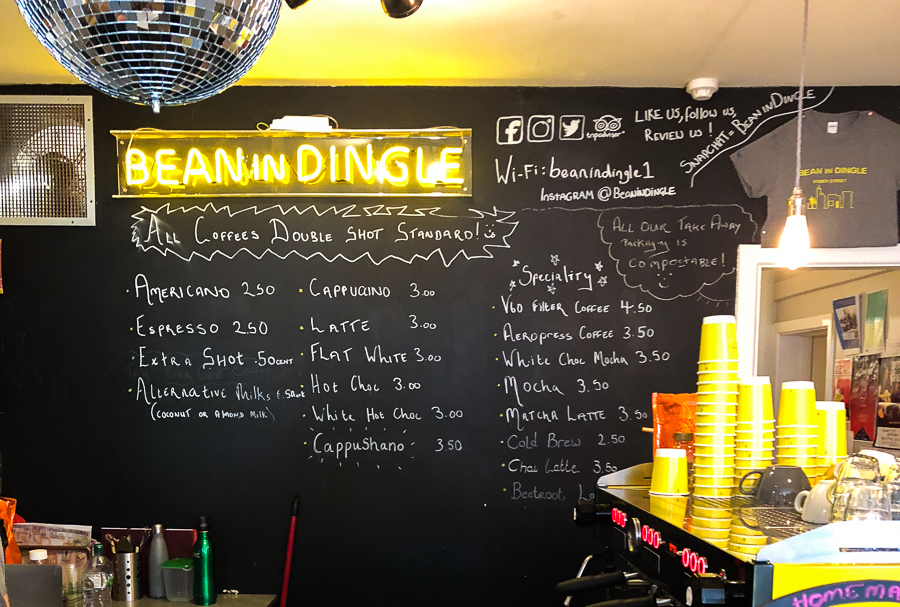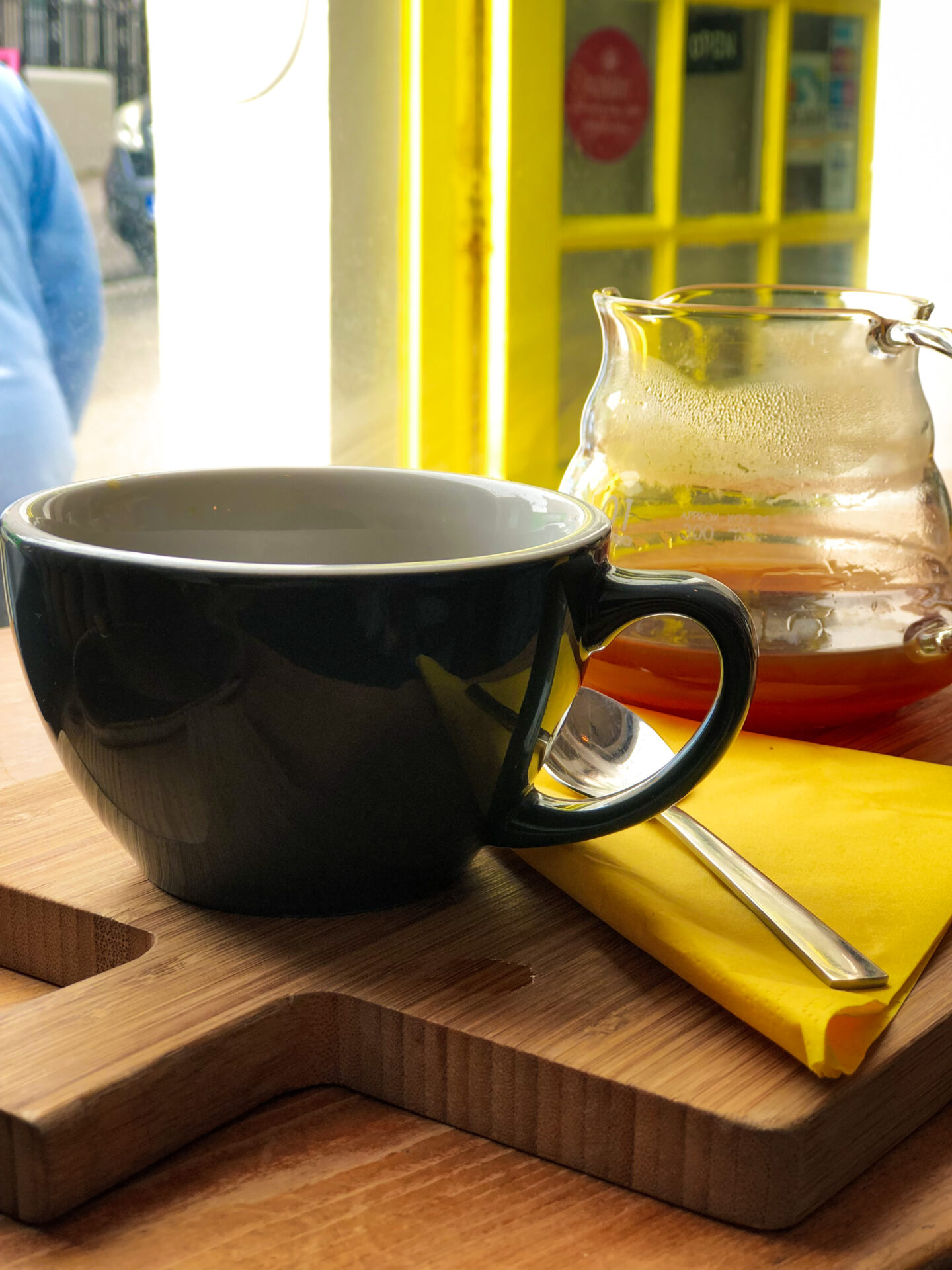 Goat Street Social is another cafe/brunch spot as is Pantrí, but we've only dipped in and out of the latter and haven't ever tried the former so those are ones to keep on your list too, but we can't personally recommend much from either, but many we know have good things to say about both.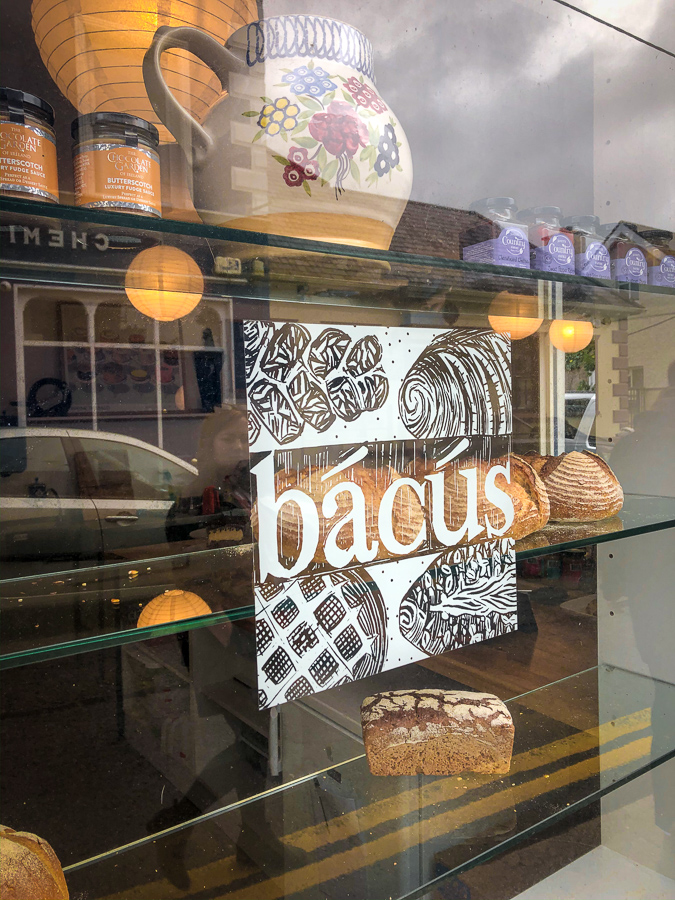 Nearby is a local bakery which is the perfect cross between hipster and traditonal, without being too in your face or wacky. Bácús – which is Irish for bakery – is making wonderful sourdough, as well as fluffy buttermilk loaves daily cakes, cookies and pastries like cinnamon buns and tartlets. Local restaurants not only in Dingle, but in Killarney and Tralee, support this business too, so expect to see the name on menus around the county. Orla Gowan has been operating the bakery for a decade now and is continuing to go from strength to strength with a loyal following.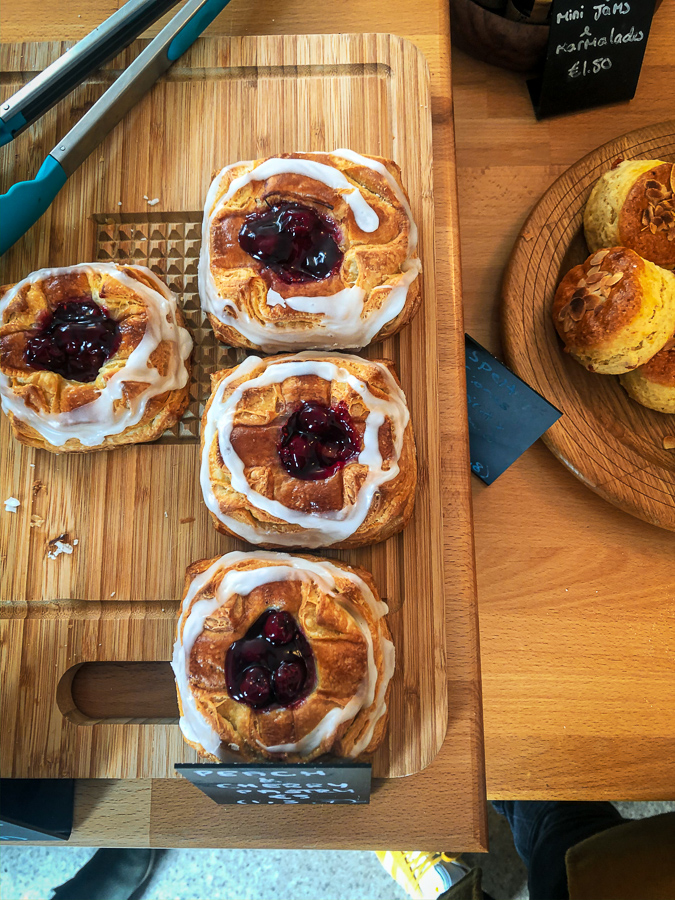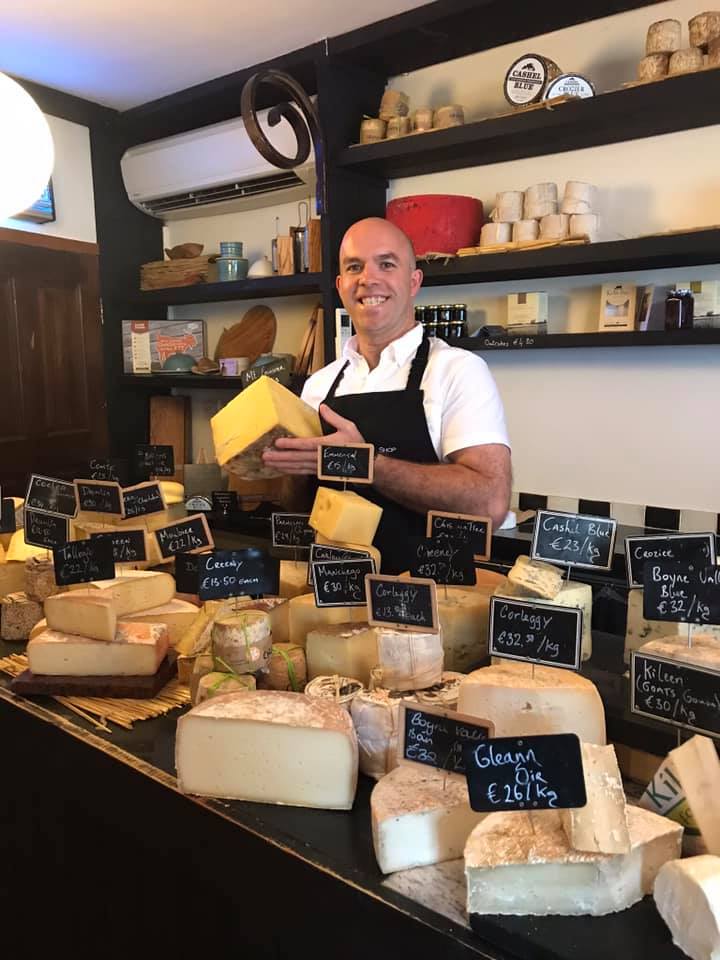 Right 'round the corner from the bakery, drop in to Mark Murphy's shop which is stocked with a glorious selection of Irish and European cheese –– from hyperlocal, rare and artisan farmhouse styles to something a little quirky and Continental. The staff are knowledgeable and ultra approachable and there's also a selection of wonderful ambient Irish produce too including crackers, chutneys, spreads, oils and more.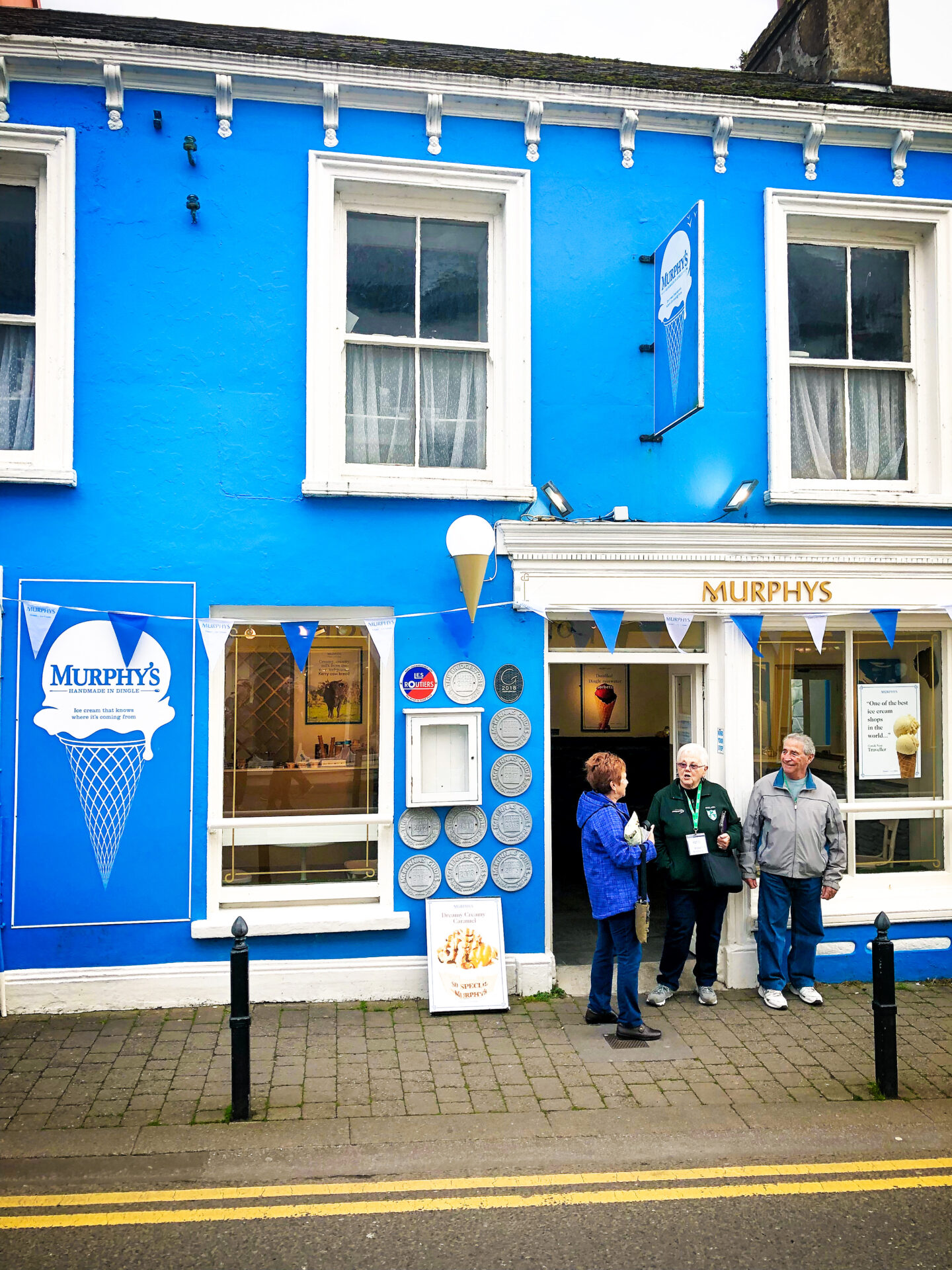 A visit to Dingle without popping into Murphy's Ice Cream should be a punishable offence, if you ask us. We often visit their outpost in the capital city on Dublin's Wicklow Street whenever we have friends from abroad holidaying in Ireland, but when we're in the home of it, it's the height of rudeness not to grab a couple of scoops or a cone of this magnificent original ice-cream parlour.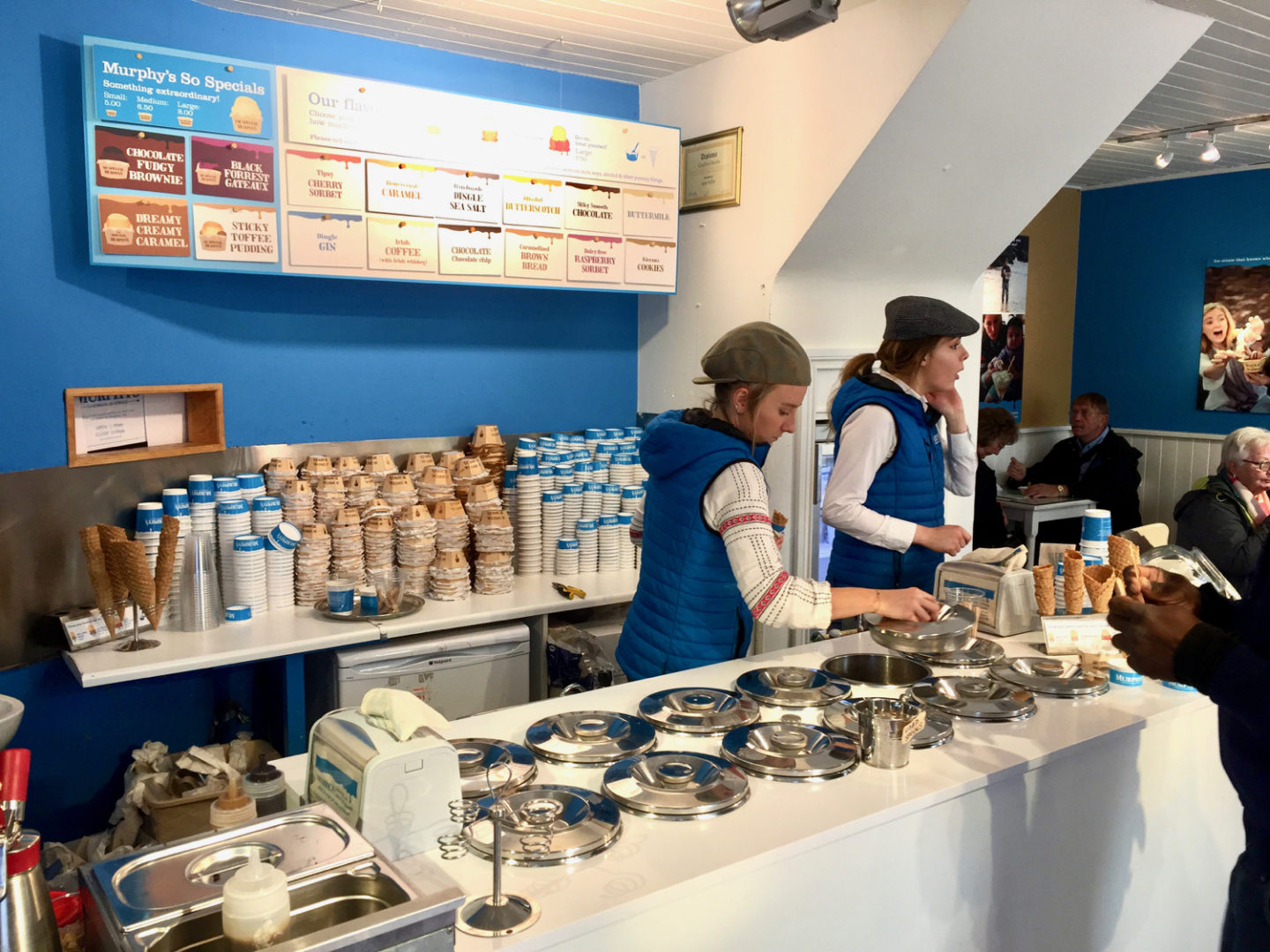 Serving a a select line-up of flavours, made using locally sourced milk and tastes ranging from the old faithful and reliables right through to the innovative and sheer bonkers – every scoop is delicious.
Flavour highlights for us are always the Sea Salt, the Brown Bread, Buttermilk (when it's available) and naturally, the Dingle Gin ice-cream. This isn't a 99 with a flake in it; so expect to pay around over €4 for a cone, but believe us, it is worth it.
McCarthys Crêpes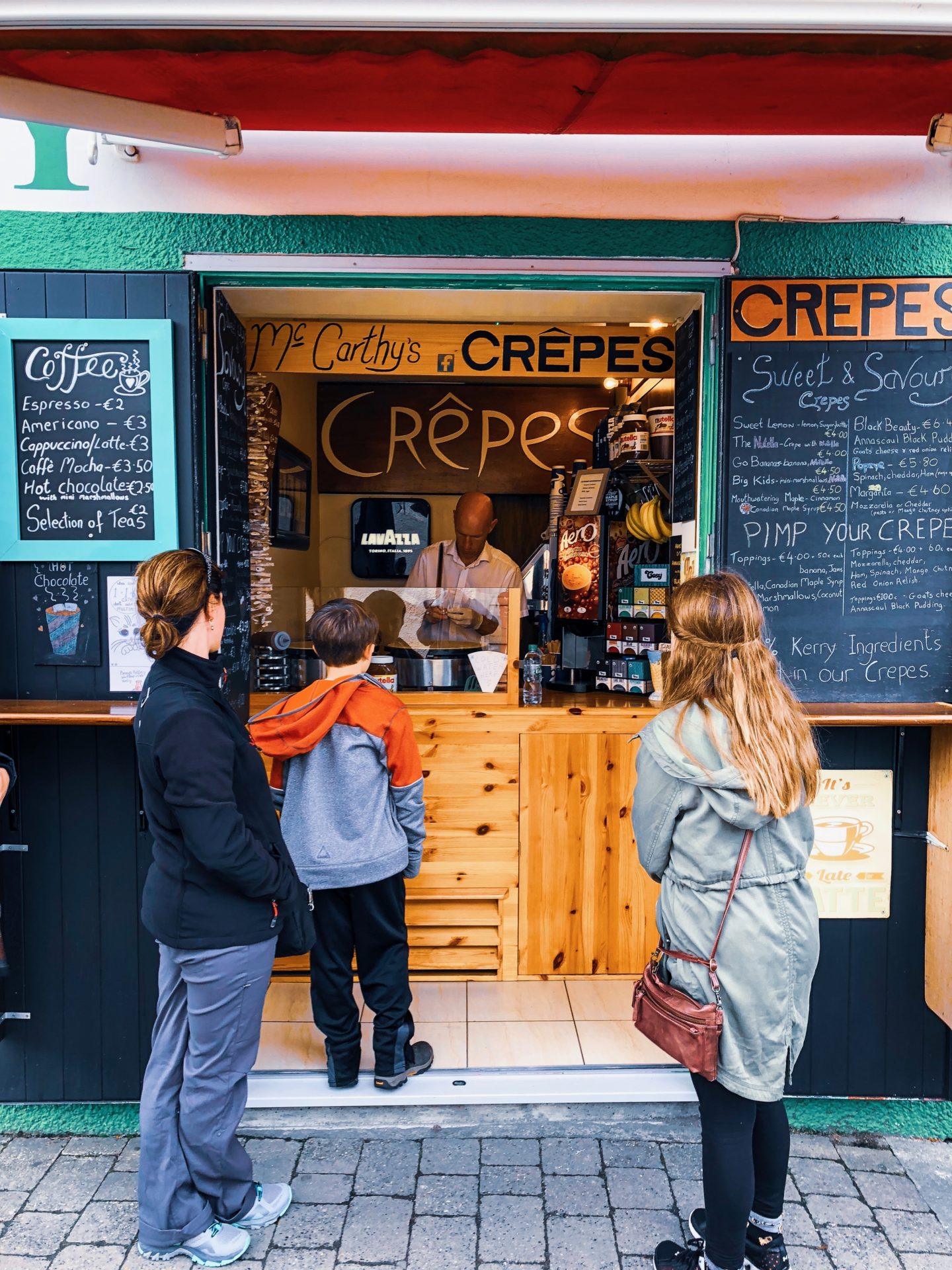 Take a short walk down Strand Street, pass a couple of the pubs and you'll see a small hatch. Actually, that's a lie, you'll probably smell it first. This blink-and-you'll-miss-it hatch is one of our favourite places in Dinlge for a quick bite. McCarthys cook all their crêpes to order and have a variety of sweet and savoury options.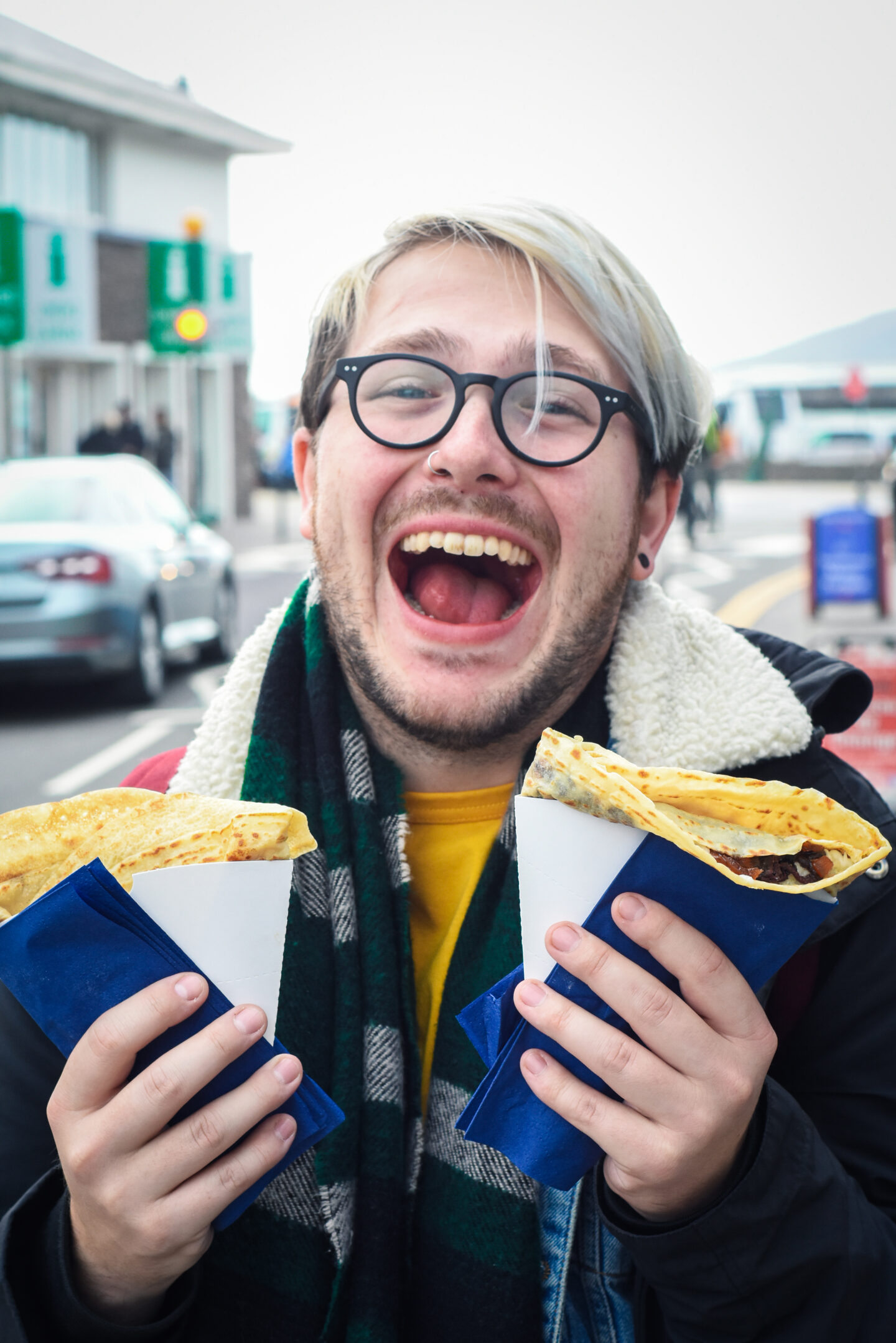 Go sweet and simple with lemon and sugar for €4 or something deliciously savoury like, our favourite, the locally-made Annascaul black pudding one with goat's cheese and a caramelised onion chutney. Tell them we sent ya!
So now that eating it taken care of, let's talk about drinks. First off the bat for us without a doubt is Dick Macs, which is probably among our favourite pubs in all of Ireland. As you walk through the door, you're greeted on the left by a small leatherworker's corner and on the right, by a typical traditional original wooden bar.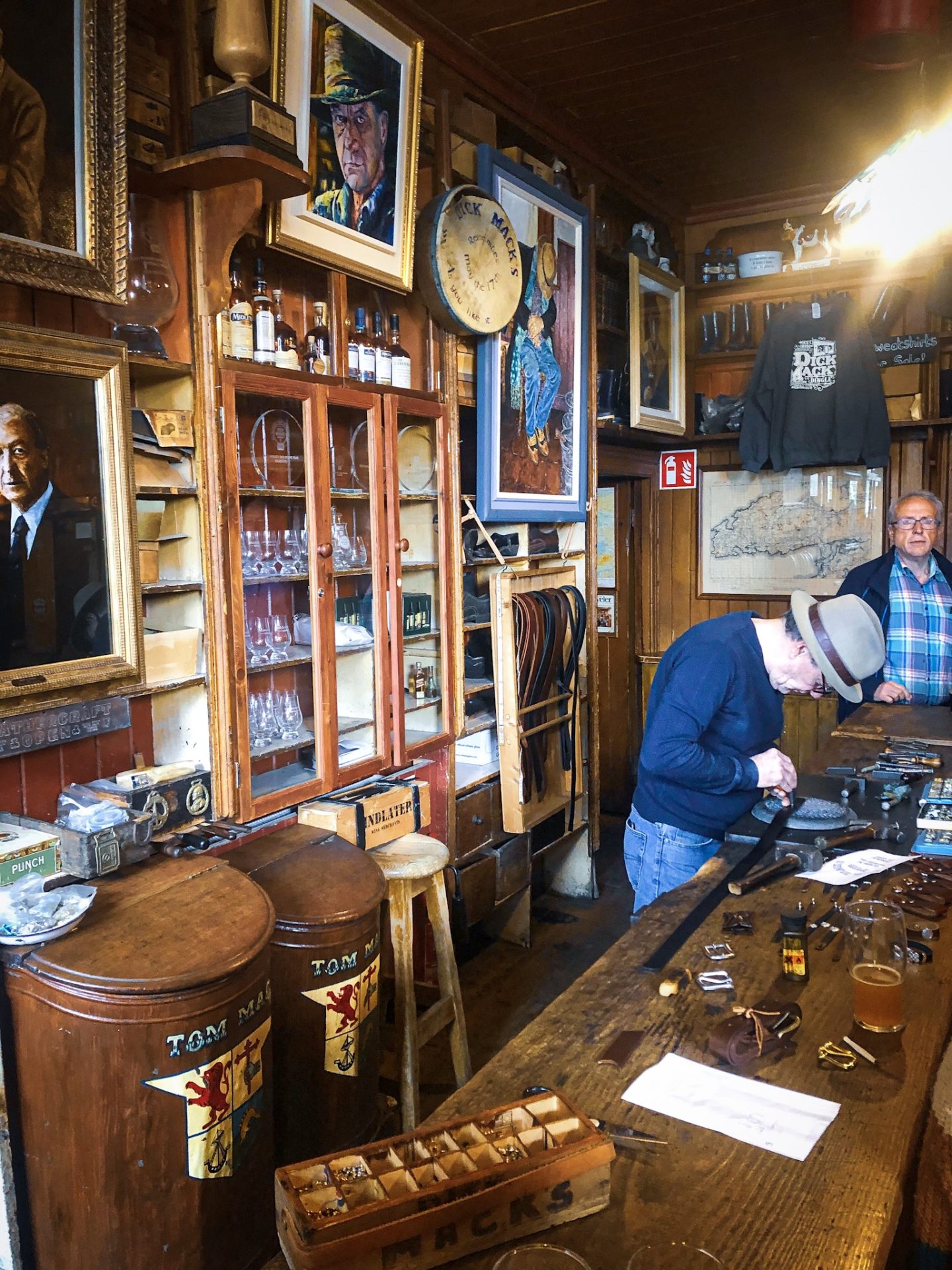 Dick Macs was opened by Tom MacDonnell in 1899, at a time when a light railway ran into the town. Tom also worked on the rails and realised people traveling to Dingle would need leather work done, so the concept was born. You can rock up during the day and have a belt made right before your eyes, as you sink a pint or two.
When it comes to the pints, Dick Macs do it differently. The usual suspects are there, as is a jaw-dropping selection of spirits (notably Irish whiskeys) but on tap and in bottle are craft brews from right here on-site – and all taking Kerry pubs by storm.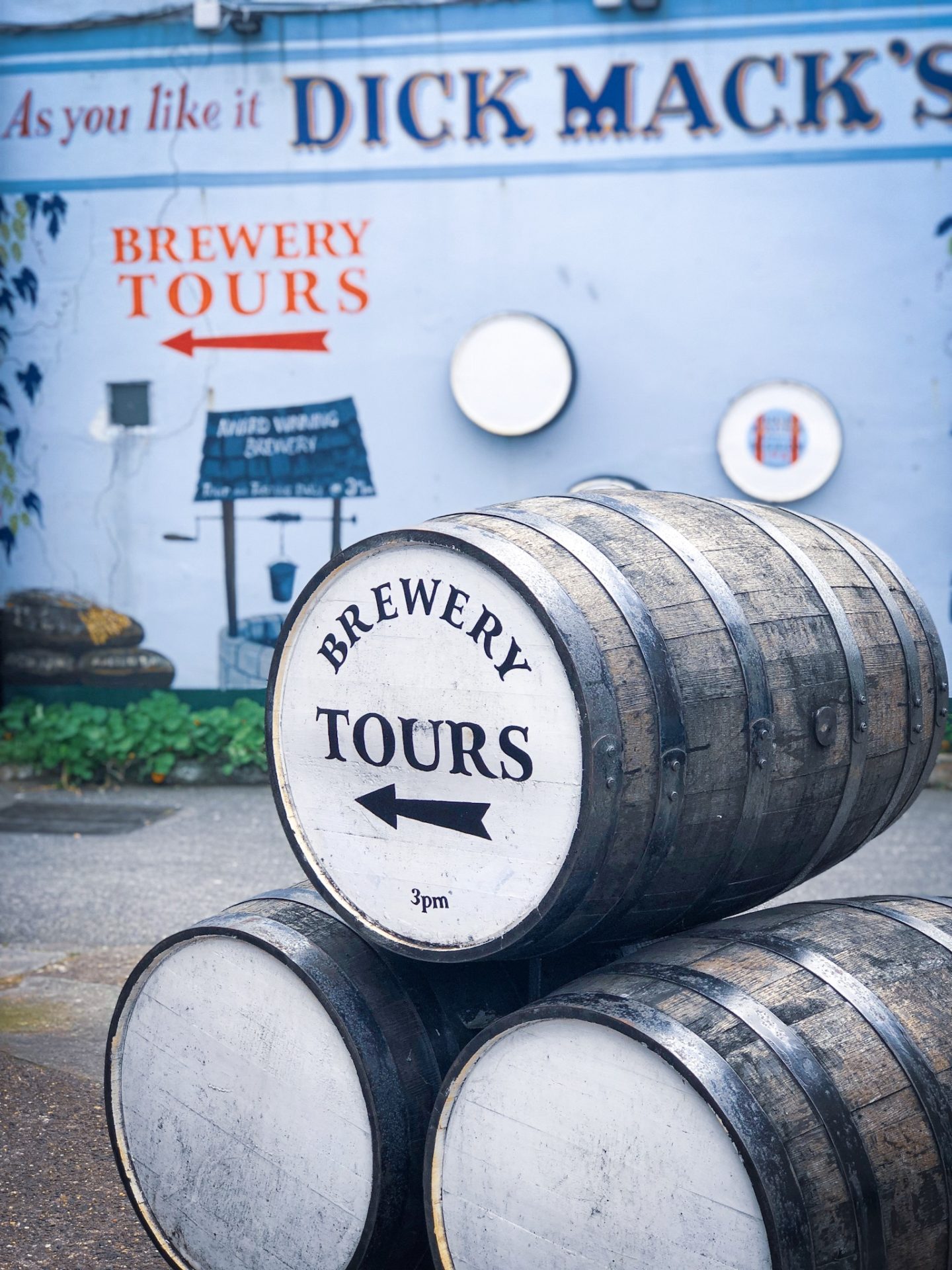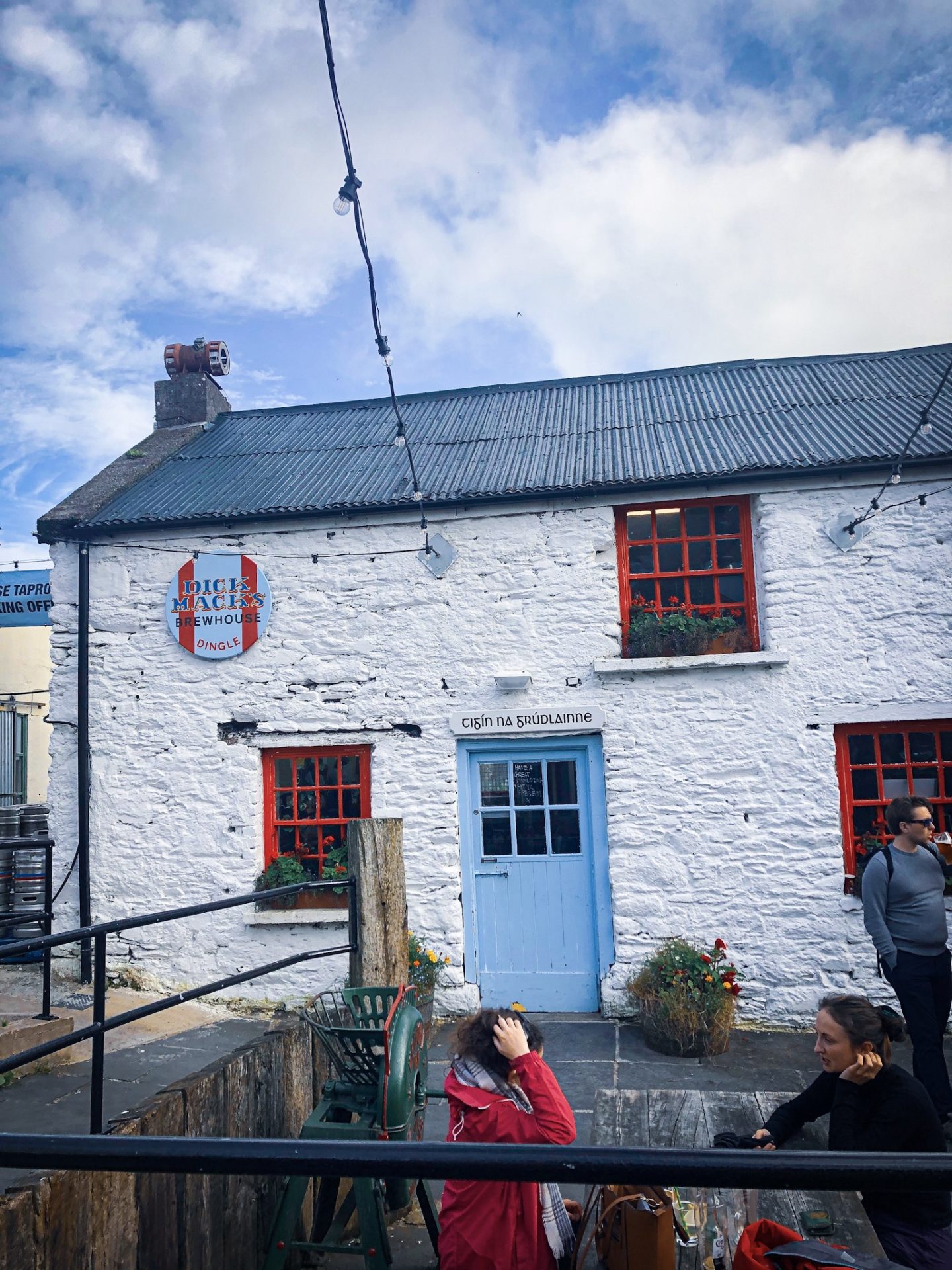 Dick Macs Brewhouse is only in operation two years and based out the back in a converted 1800s animal shed. Small but mighty, there's also a brand new taproom and tours are offered every single day for around 3pm costing €12pp and you'll get to sample some of their super special, small batch brews that the pub has on rotation. For groups, best to book in advance here on their site.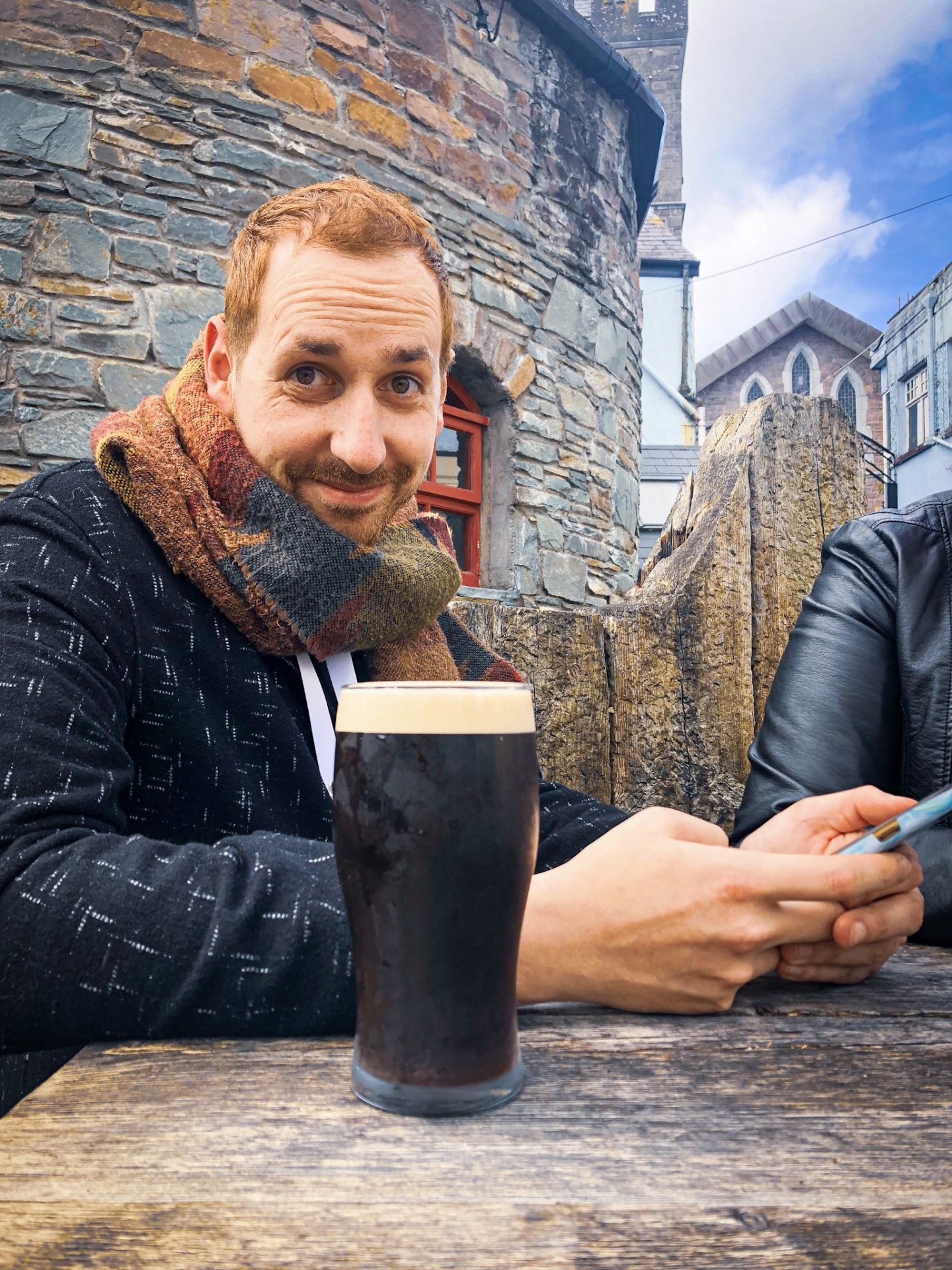 In those two short years, they now have around seventy taps in pubs around the county, and are brewing to their absolute capacity. Their Coffee Stout is legendary, winning Gold at the Blas na hÉireann awards two years in a row, and uses local Bean In Dingle roasted coffee too, so it's hyper local.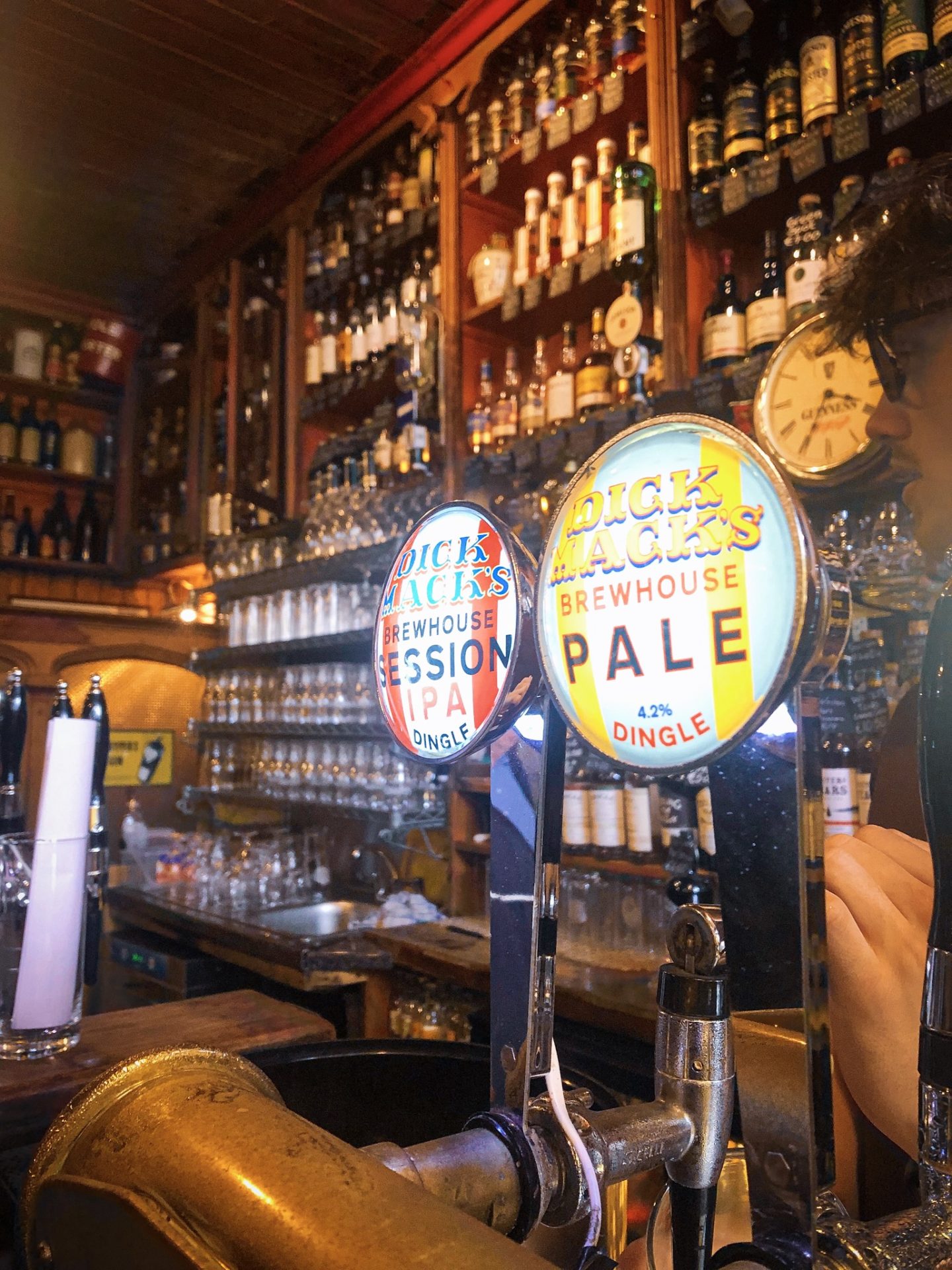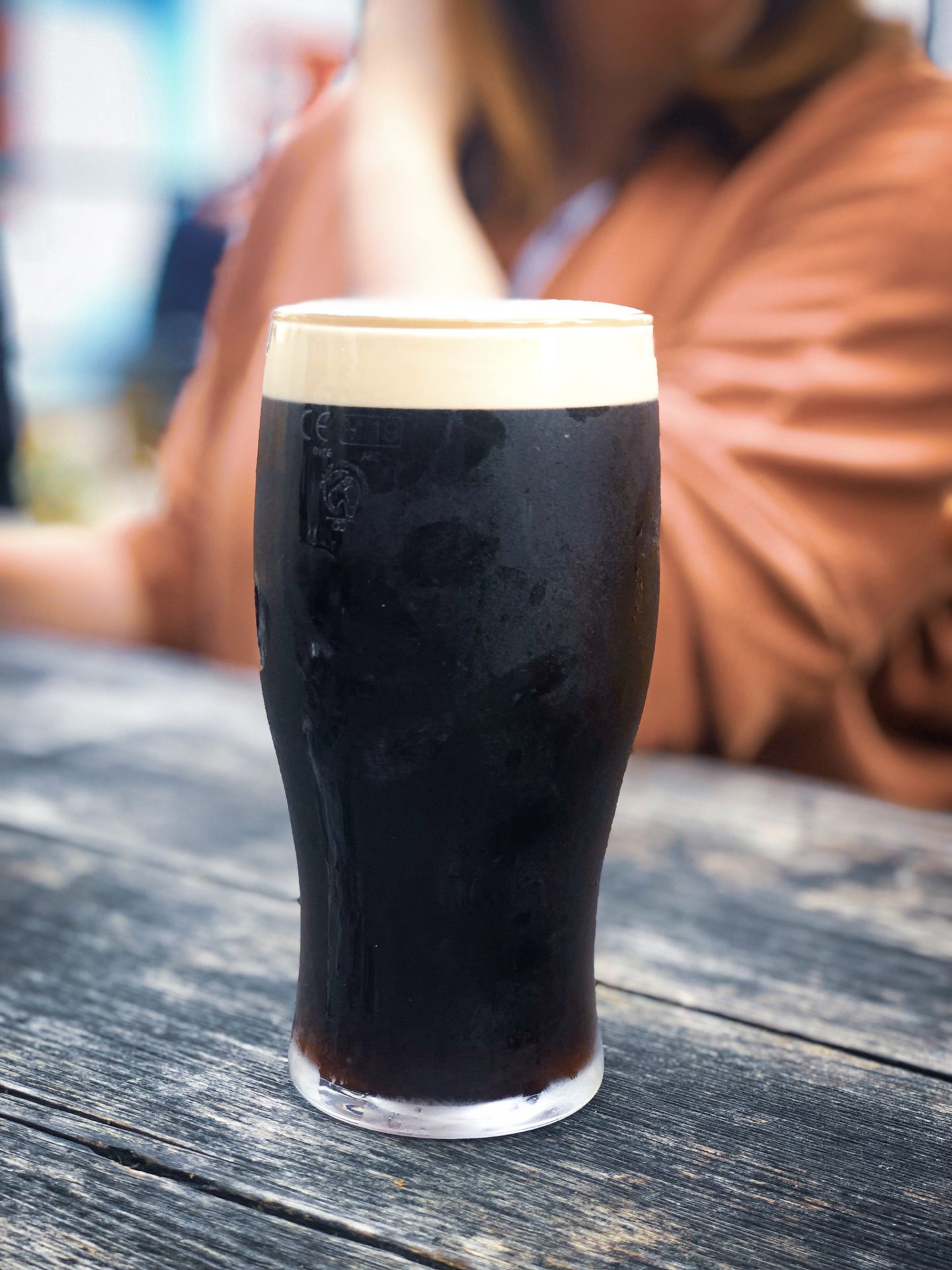 The Pale Ale and the Session IPA are also both top quality – and any seasonal specials have been a treat. Feeling hungry? There is the BEAST in the courtyard too, a street food truck serving wood fired pizzas, which we wrote more about in our Irish Street Food Truck Revolution feature.
Foxy Johns
Keeping the hardware theme going, a visit to Foxy Johns is a must. The hardware store doubles up as a watering hole, and on a chilly or drizzly day, a creamy, chilled pint enjoyed on a pew by the fire is among our most favourite places to be and feelings to feel in the world.
Kennedy's
Brightly-coloured Kennedys on Upper Main Street is another of our favourites, whose snug is literally a broom cupboard and the colourful exterior belies the interior as it's a traditional pub-slash-former family home. Owned by a young couple who inherited it from grandparents and started it back up again, it's a mismatch of little rooms and cosy corners with a small bar at the front and very good value drinks.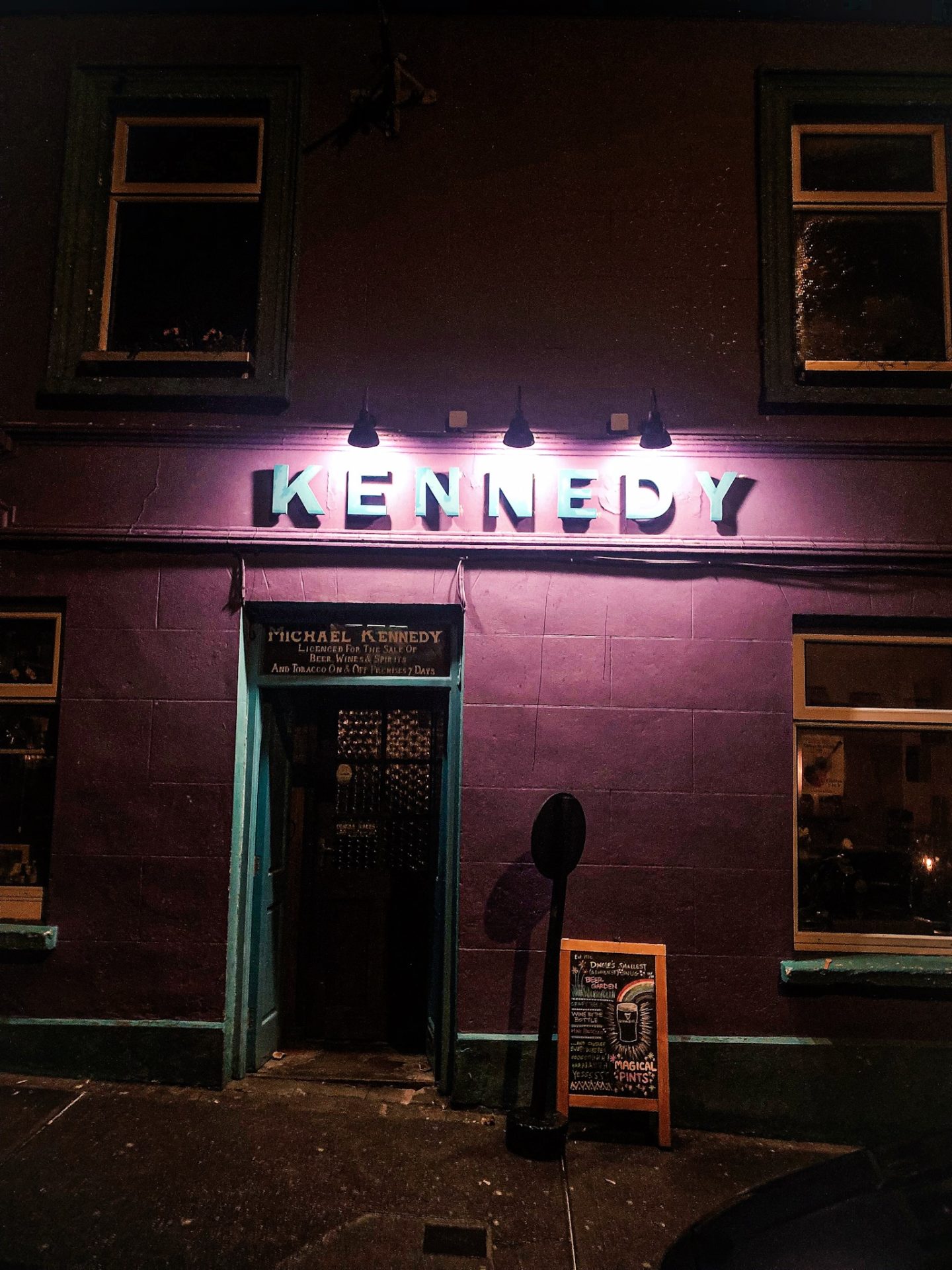 Likewise, a perennial favourite is the green and white-slicked Paddy Bawn Brosnans on Strand Street, which feels a bit like you're stepping into someone's living room with its small bar and old couches set around the open fire. Owned by a celebrated former local footballer, it's actually first and foremost a sports bar (shock, for us, we know!) and recently celebrated its 60th anniversary; open since 1958.
A little known fact: we actually got into gin because of Dingle Gin, all those years ago. Just before the Great Gin Revolution of Ireland (working title!) took place in the early part of this decade, our view was clouded by bad memories of Cork Dry Gin drowning in cheap tonic water. But then we sampled Dingle Gin – a groundbreaker and benchmark in terms of the Irish gin revival – and it begun a love affair that hasn't ever ended.
Dingle Distillery is a truly impressive space. A large warehouse on the outskirts of the town is split over several levels allowing you to get a good look at the inner workings of the distillery. A tasting of some products are included in the tour (€15 per person), and you can learn more about their range which includes gin, vodka and whiskey.
If you're seeking some extra activities while in the area, a few we suggest include:
Meet Fungie, The Dolphin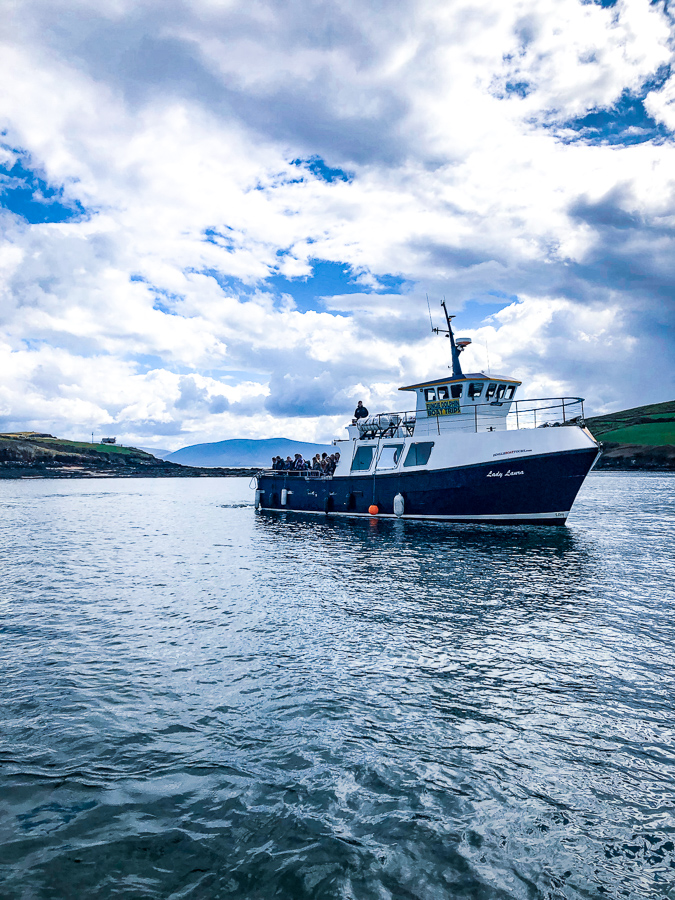 Fungie The Dolphin – a local celebrity and national treasure of sorts – is a Guinness World Record holder as the longest recorded solitary dolphin on the planet, after spending 35 years in and around the Dingle Bay and is beloved by all. The Dingle Dolphin Tours is a very enjoyable experience, and costs around €16 for an adult. You usually get a refund if you don't see Fungie either, but they operate on a fairly high percentage of sightings. Seeing the town and bay from the water is an experience within itself and you don't go too far out, so waters remain relatively calm. The whole experience is about an hour or so, and pre-booking online is advised. The same company also offer tours to the Blasket Islands a little further out to sea.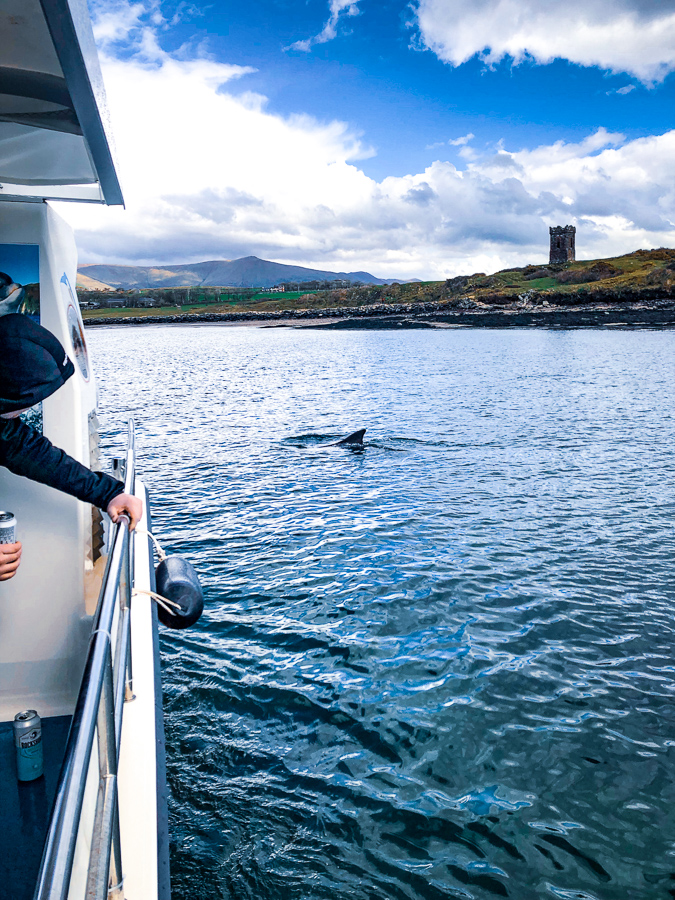 Explore the Dingle Peninsula on the Slea Head Drive
Dingle is about two thirds of the way down the peninsula and from the town there's a wrapped coastal drive which has the Blasket Islands viewpoint as the mid-point.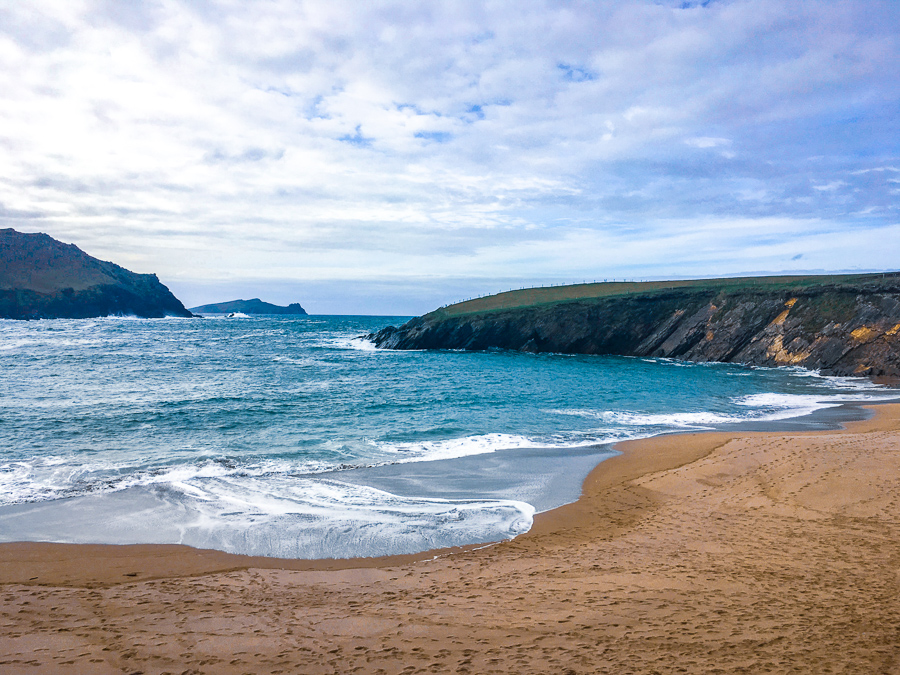 It's worth hopping in the car or taking a bike and exploring it by road, taking in the picturesque sights of Clogher Strand with the most stunning, dramatic crystal clear waves crashing the strand; Ventry (Ceann Trá) and Wine Strand – which are also great for swimming; Dunquin Harbour with its windy road and rocky descent; Slea Head Viewing Point outside Coumeenoole; Beehive Huts and Famine Cottages.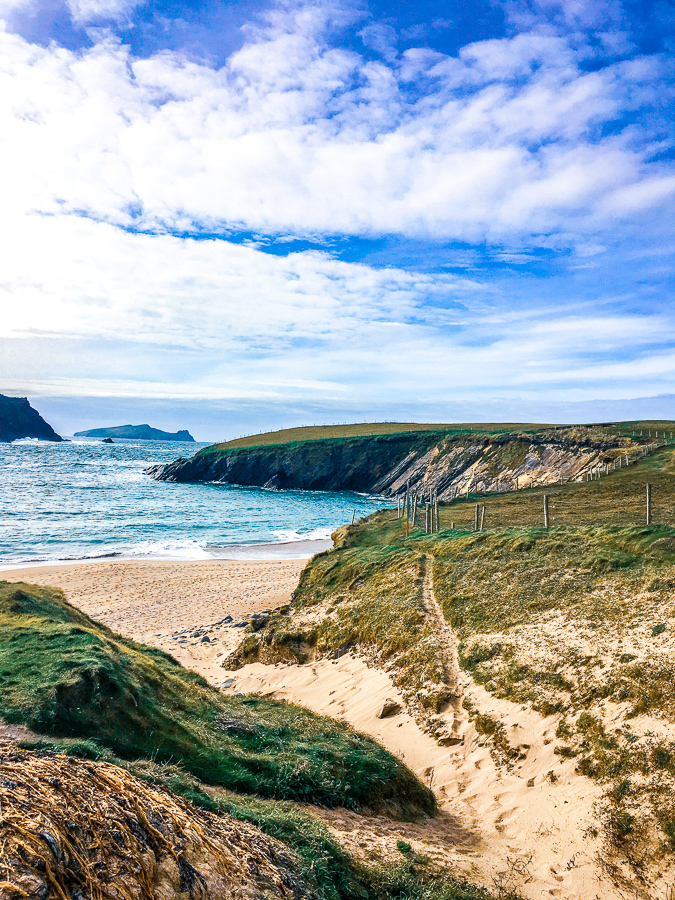 Whilst on the Drive, visit Tig Bhric and the West Kerry Brewery to try their beers. The first microbrewery in Kerry – operating since 2008 – it's based by the pub which has been in the same family for 100 years. We adore their small selection of beers, in particular the golden ale Béal Bán (which translates as white mouth) whilst they also have a porter, a stout, a red ale and a pale ale. For tours, organise in advance by emailing West Kerry Brewery at this link. The pub also has rooms for accommodation and serves lunch. Follow them on Instagram for a snapshot of rural brewery life!
Another place for lunch on the drive is Tig Áine, an Irish speaking bialann (restaurant) based in a large house. We've tried to go twice but it's been closed, so take your chances on their opening hours and use it as a great way to practice your couple of words (cúpla focal) like: Dia Dhuit (dee-a-gwit; hello), Ba Mhaith Liom (ba-why-lum; 'I would like') Go Raibh Míle (gorra-meela; 'thanks!') agus (aw-gus; 'and') Slán! (slawn; 'goodbye!')
Louis Mulcahy Pottery is also a popular stop-off point with a design shop and cafe, and you can even rock up and try your hand at throwing some pottery. No need to book (unless groups of 10 or more) simply turn up and if a potter is available (usually 11-4pm, Monday to Friday) you can turn your own pot and/or take a workshop tour.
The Blasket Centre at Dún Chaoin is a truly fascinating interpretive centre detailing the history and decline of island life over the decades and is a great way to spend an hour or two learning more about island life, Irish language and traditional customs. In a beautiful modern building, operated by the Office of Public Works, the views out towards the islands really offer perspective and a closeness between visitors and the islands, and it grounds you enough to feel like you're tucked away at the bottom end of Ireland.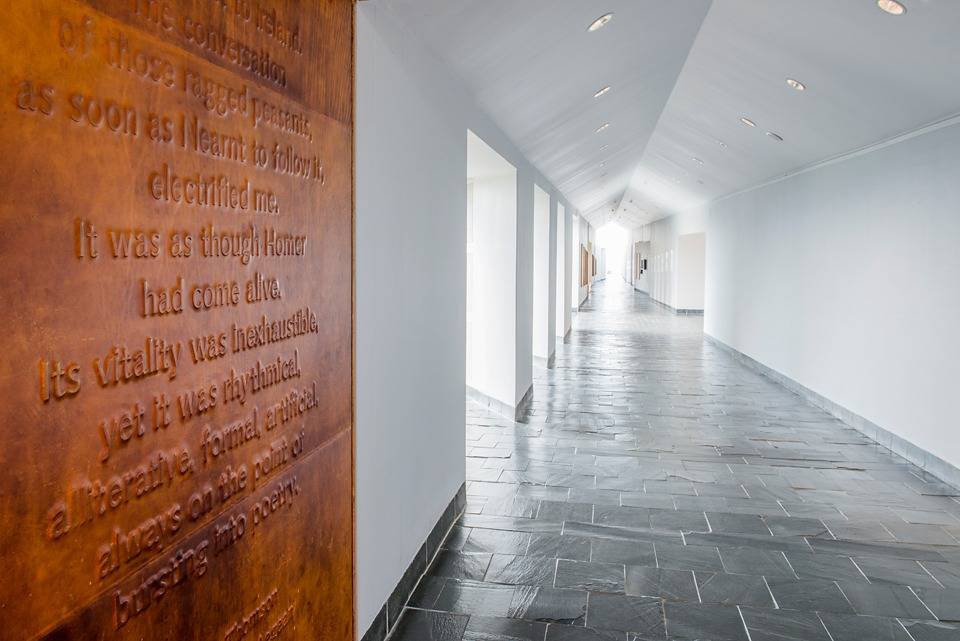 Inch Beach
Surfer's paradise in a southwest reach of Ireland – Inch Beach is a spectacular blue flag beach on a spit backed by dunes that stretches 5km and is magnificent for views.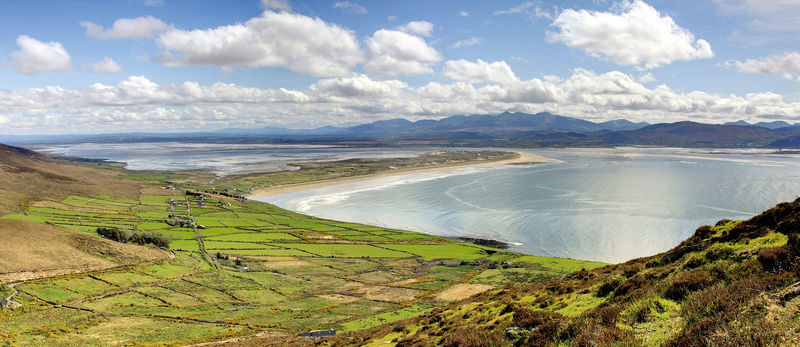 Experience An Conáir/The Connor Pass
If you want views, you've got them with this old road which leads out of Dingle and up over one of Ireland's highest mountain passes. Some say that coming into Dingle via the Connor Pass is like descending in a light aircraft rather than arriving by road.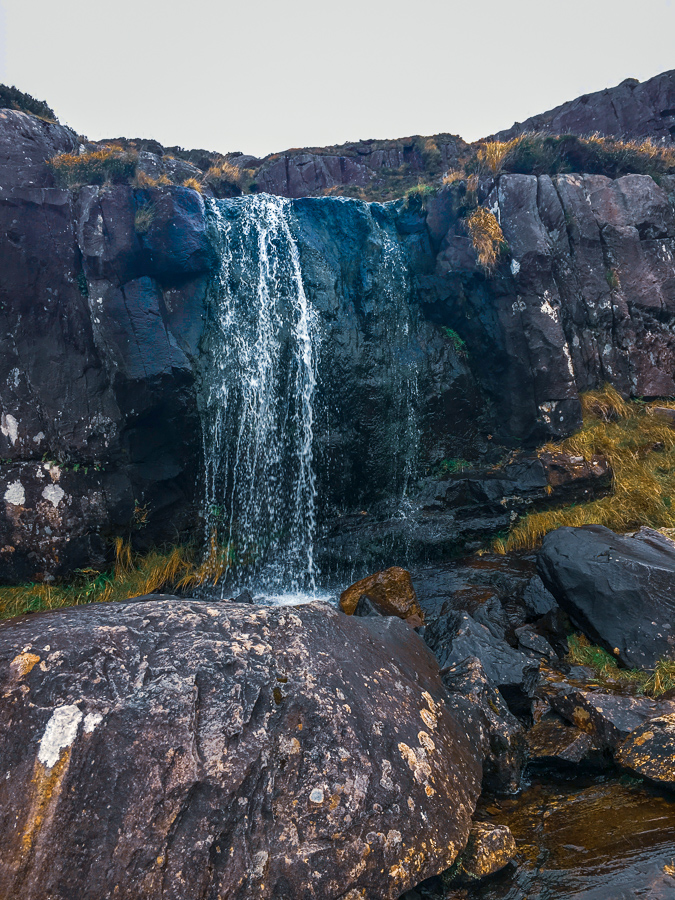 You'll find narrow roads, sheer cliffs, waterfalls and little lakes as well as huge rolling valleys and sheep minding their own business blocking the road. But with that you also get unbelievable moody views, incredible vantage points and a heart-in-mouth experience as you turn some of the corners or wedge your way up and over the pass. Two main viewing points are the summit car park at Pedlar's Lake.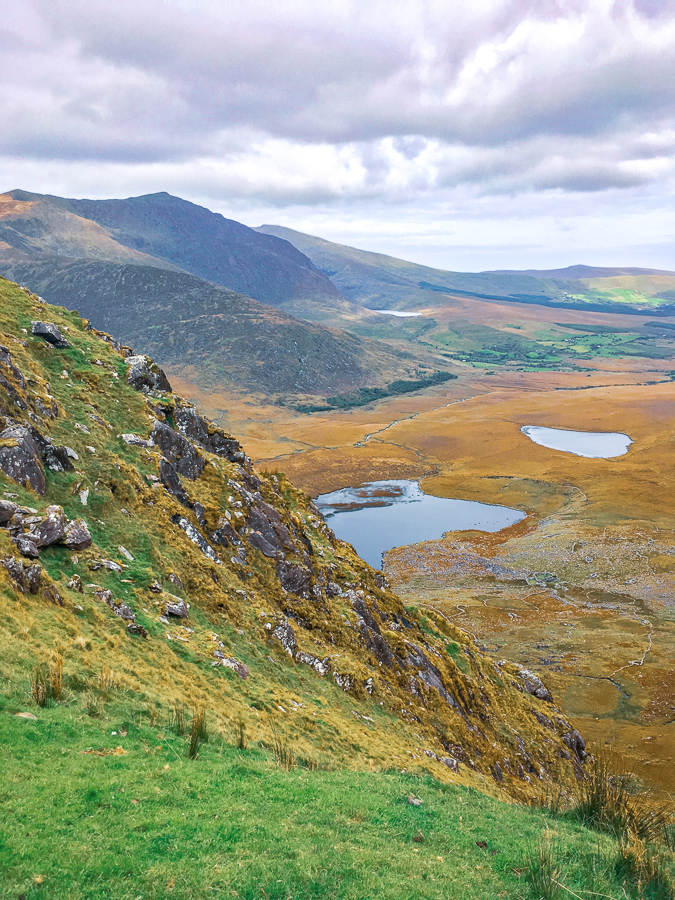 Where to Book a Stay Overnight in Dingle
Where to stay in Dingle? Well there are LOTS of self-catering options, and we've particularly loved Glór na hAbhainn Holiday Homes (#AirbnbAssociate Link –– we earn a tiny commission from bookings direct via this link!) which we've personally booked with a group a couple of times when we've visited Dingle. Spotlessly clean, modern, spacious houses within easy walking distance of the town.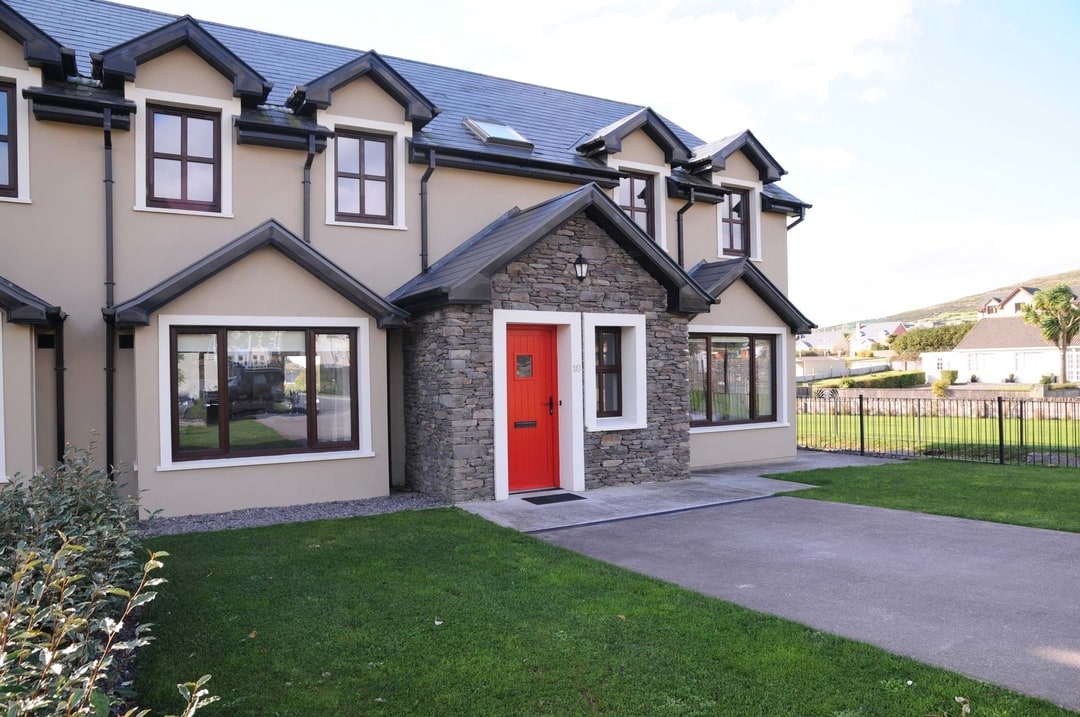 We've also stayed at Dingle Skelling Hotel (Booking.com #AffiliateLink) before, too, which is the largest hotel in the area and has a spa, expansive car park, bar and restaurant. We've never stayed with Brian and Helen of Castlewood House but we've heard wonderful things about their gorgeous guesthouse and their fabulous, highly recommended breakfast.